Here we share the advantages of an open vs closed kitchen design layout to help decide which is best for you.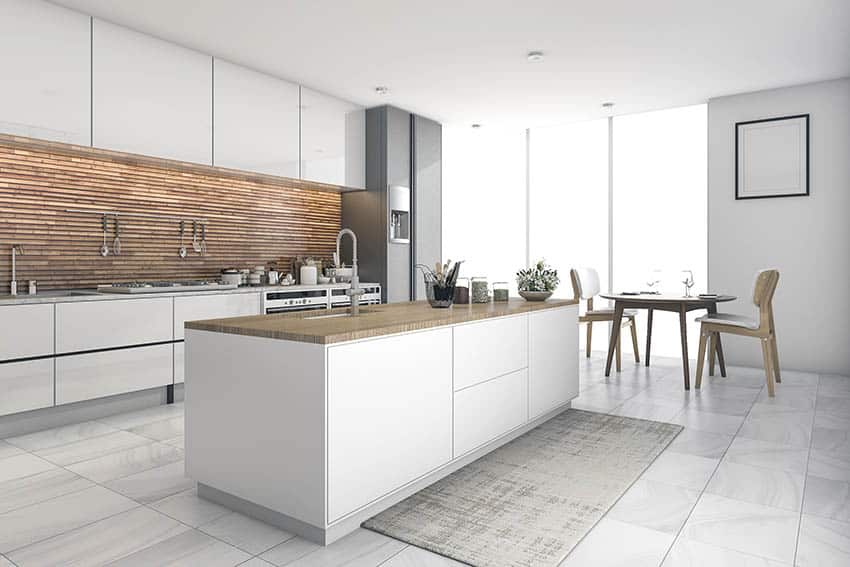 After deciding what kind of kitchen lay-out and style suits your home the best, you still need to make a decision over whether you are going to go with an open or a closed kitchen plan.
The kitchen is often times considered the heart of the home. It is where food is prepared and often times it is an area in which people like to socialize in.
Depending on what you envision your kitchen being – a place to prepare meals, a communal gathering place, or a private area to practice your culinary skills – there are pros and cons to both an open or a closed kitchen.
To help you make up your mind about what type of kitchen plan will best suit your space and your overall vision of what you want your home to look and feel like, read up on what exactly is the difference between and open and closed kitchen and the advantages and disadvantages of both.
What do we mean by an open kitchen?
When we talk about an open kitchen we are basically talking about an open concept kitchen area which is not walled in. Not one that does not have walls, but one that has less than four walls so that it is not closed off from the rest of the home.
An L-shaped kitchen is an example of an open kitchen because it has walls, but only two. This means that the rest of the room is open to the rest of the home. A U-shaped kitchen, on the other hand, can be either open or closed, depending if you want to place a wall at the end of the U.
The open plan kitchen is a rather modern invention. Traditional home designs tended to lean towards closed kitchen, separating the area from other rooms in the home.
More modern home design, especially for those with a smaller living area – such as apartments and condos, tend to favor open kitchen designs.
Advantages of an open kitchen
The main reason that people, especially those who live in smaller areas, choose to have an open kitchen design is because it makes better use of the space available to them.
The (AIA) American Institute of Architects surveyed homeowners and found that as of 2017, 44% believe kitchens integrated with the family space to be a priority.
According to the American Institute of Architects, open kitchens are still a popular design plan as they integrate the kitchen with informal living spaces. This allows for more opportunities for cooking and even eating to be a communal bonding experience.
Many open plan kitchens are placed next to either the dining room or the living room. This type of design allows those working in the kitchen to still carry on a conversation with those in these adjacent rooms.
Another reason to have an open plan kitchen is it increases the feeling of space. If you have a small or medium sized home, keeping rooms open instead of closing them off with walls makes the whole home feel more spacious.
An open kitchen also provides you with a bright and airy workspace. Eliminating walls allows for better air circulation and more natural daylight to enter the room.
What do we mean by a closed kitchen?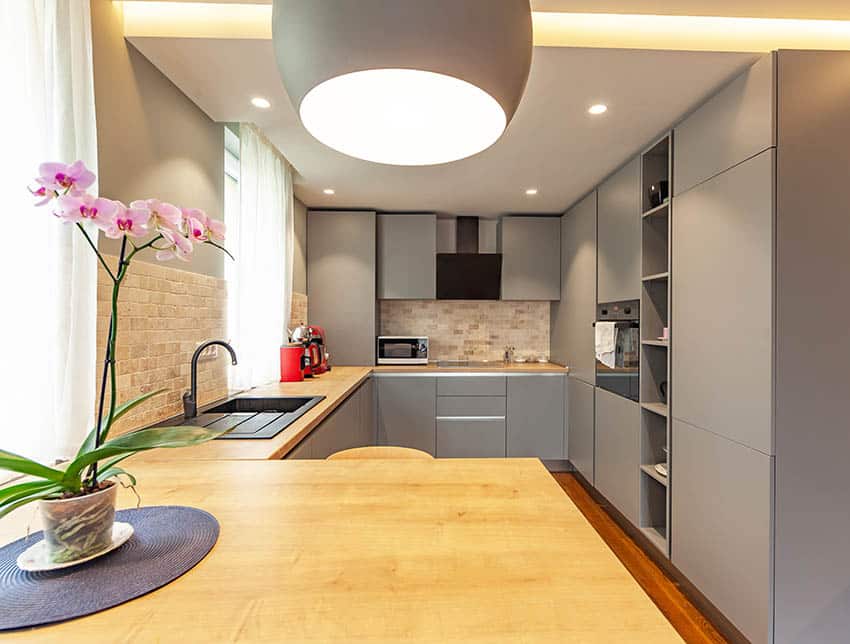 The defining feature of a closed kitchen is that it has a full contingent of walls and is accessed by a doorway. A closed kitchen design is a traditional design feature that is often used in homes that are going for a rustic or country interior design style.
A U-shaped kitchen can be considered a closed kitchen design, as can a galley-shaped kitchen. What is important is that there is a closed space that is dedicated completely to cooking and food preparation.
Traditionally, households – especially those in the "upper classes" – wanted to keep the messy and "unsightly" business of food preparation away from the rest of the household and especially from the eyes of guests.
There was also a bit of classism at play as food preparation was left in the hands of the household help, so a closed kitchen kept them separate from the family and the guests.
Advantages of a closed kitchen
As we covered above, a closed kitchen is considered a bit "old-fashioned" and can come off as confining and not a good use of space but it still has its fans.
A closed kitchen design can still have several advantages in this day and age — especially if you are a serious cook or someone who likes messes kept out of the way. A closed kitchen gives you a private space that is dedicated to cooking and cooking prep.
Let's face it, cooking may be a pleasurable activity but it can also be rather chaotic. Some cooks would prefer to not be disturbed at their work – to many cooks spoil the broth — or distracted by the fact that they can see and hear other people.
Cooking and cooking preparation can also get rather messy, as it can produce a lot of waste material and there is always the possibility of spills.
Some cooks would rather not have people seeing the messy "magic" behind the process and just bring out the finished dishes, nicely presented and plated, to the dining area.
Having a closed kitchen also reduces the risk of cooking odors – be they pleasant or unpleasant – from permeating into other areas of the home. It also keeps the sounds of food preparation, such as the use of a noisy appliance like a blender or food processor from disturbing other people in other rooms.
Perhaps the biggest advantage of having a closed kitchen is it means that you have more storage and work space.
For example, if you have an L-shaped open kitchen, you only have two walls where you can install storage equipment like cabinets and your counter space is limited to just one or two areas against the walls or maybe a separate kitchen island. A closed galley style kitchen on the other hand can offer much more cabinetry space.
If you enclose your entire kitchen area with walls, however, you will have a bigger area to place cabinets or install cupboards. You can also have more counter space built in along all the walls, creating more workspace.
So what is the better kitchen plan? An open vs closed kitchen design? It all depends on taste. What type of space do you envision your kitchen design? What type of activity do you envision taking place in your cooking space? And finally, what suits the overall style and design of your home? These questions will help you decide the best kitchen layout for you.