In this gallery you'll find beautiful open kitchen designs with living rooms, showcasing different ideas for paint, finishes, layouts, and decor.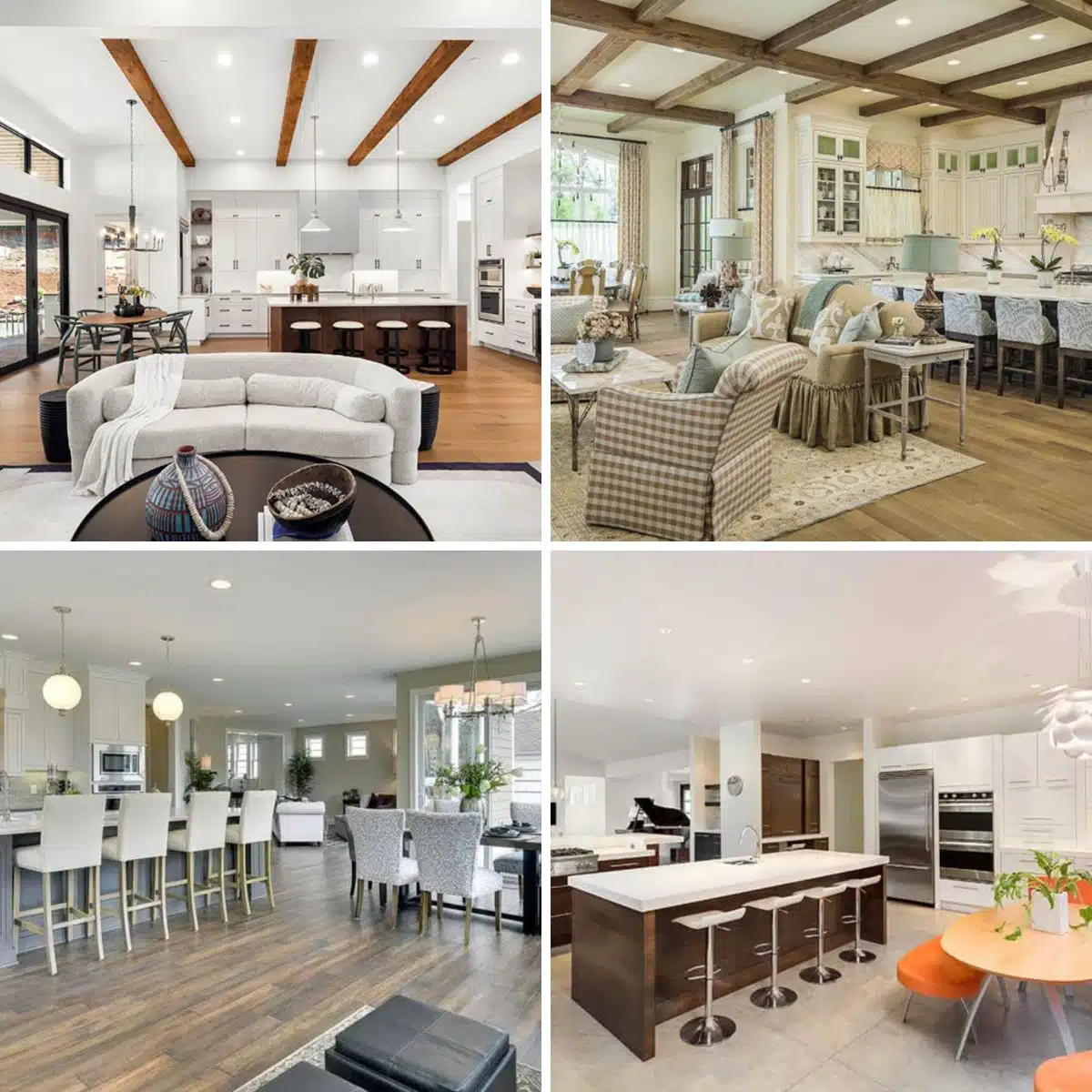 Homes & apartments with open plan designs continue to be popular, especially among new developments. Such layouts are favored because they help save space and give a lighter feel to the space. Open plan layouts are often applied on common areas, such as the living room, dining room & kitchen for residential properties.
People usually have different reasons for favoring open layouts. The living room & the kitchen are not often placed adjacent to each other, as the dining area is usually the one placed adjacent to the kitchen. Placing it right by the living area does have its advantages, though, most especially if you love multitasking & entertaining your guests.
An open plan living room allows you to see what is happening in the living area while preparing food (or perhaps watch TV while cooking) and also allows easy access & communication with the people in the room, making it perfect for entertaining guests.
---
How to Define Spaces in An Open Kitchen and Living Area Design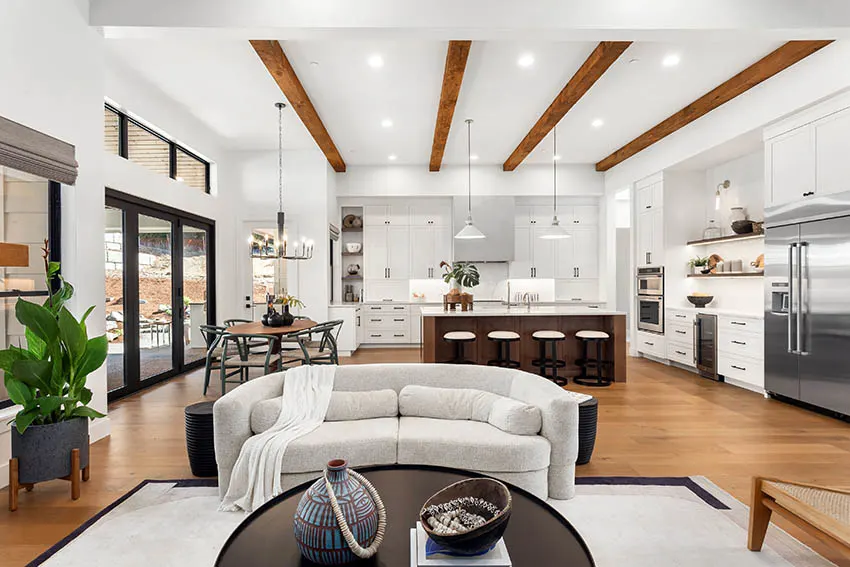 For this question, we asked architect and designer Ellen Siloy, for her best tips on how to define open concept kitchen and living room design spaces:
Group Furniture. Sometimes, it only takes a little rearranging of furniture to define areas in an open living and kitchen space. For instance, group sofa lounges together to create a cozy area for conversations without impeding the open feel of the space.
Placing furniture at an angle, such as a lounger at a 45-degree orientation, helps differentiate the spaces while adding dimension and character.
Use Low Profile Furniture. A simple low-profile sideboard can easily define space without blocking the view. Choose a double-sided console, for instance, so that the storage shelves can be accessed on both sides, adding functionality to your seating area.
Area Rugs to Anchor Spaces. One of the easiest ways that interior designers differentiate zones in an open plan is to use an area rug to anchor the different elements.
An area rug can pull together the elements into one space. One can also choose a different pattern or color for each area to further define spaces.
Use a Different Floor Material or Directionality. Like area rugs, using different floor materials for each area can easily define spaces. This method of defining between an open-concept kitchen and a living room is practical when at a renovation or building stage.
Kitchen design is concerned with those material possibilities. It is not only about building up the physical form; it also relates to the social life within kitchens. – Food Practices and Family Lives in Urban China, Chen Liu
Assign a Focal Point in Each Area. Creating a standout design feature in each area can also add interest and a focal point to the spaces.
A large painting for a living area and an eye-catching backsplash, for instance, are great ways to draw the eyes to the spaces -and, like the rugs can bring the elements from each space together.
Use Lighting to Differentiate Spaces. Different types of lighting can help to create distinct areas. Use overhead lighting in the combined room areas, and use task lighting over the dining table or reading nook.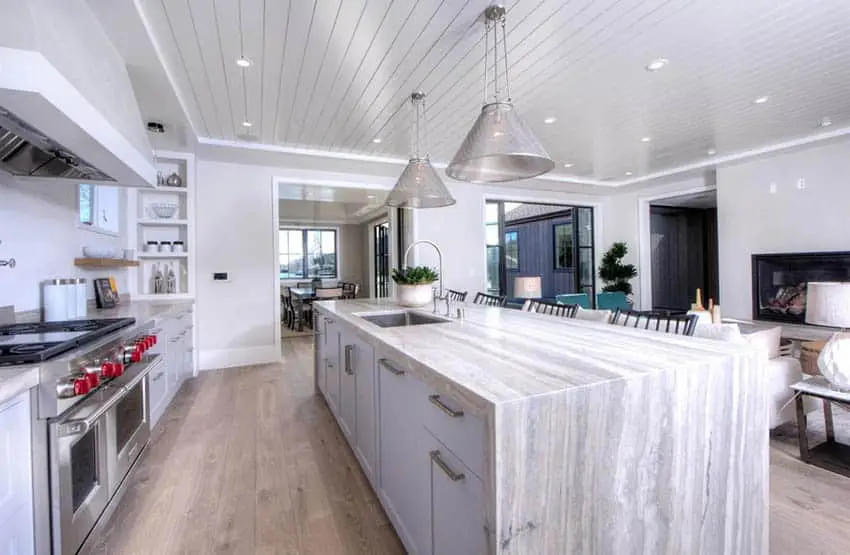 Utilize Vertical Lighting Fixtures. While a different color or temperature of lighting can define each space, a vertical light fixture can create an invisible boundary between spaces.
Use Color to Create Boundaries. Painting the walls or using wallpaper in different tones can define the areas. However, be sure to choose tones that won't clash.
The areas can have the same color but with a different undertone, whereas usually, the kitchen has that warmer hue. A subdued version can create that subtle difference as well.
Use Architectural Features to Separate Spaces. Utilize architectural features like columns or beams and use them to define different areas. Wooden stilts or screen products are a popular option for living areas, particularly in traditional homes, and can create an attractive feature.
Explore Metal Accents. Using metal accents such as the floor or wall inserts can give that subtle difference between spaces. Metal room dividers can also add a more obvious barrier and add an interesting layer of texture. Then, unify elements by adding metal accents to the living and dining area.
Creating an open plan living room and kitchen involves carefully considering the functionality and character of both spaces. The idea is to incorporate various materials, seating arrangements, and design aesthetics to create a cohesive yet distinct family room.
---
Paint Ideas for Open Living Spaces and Kitchens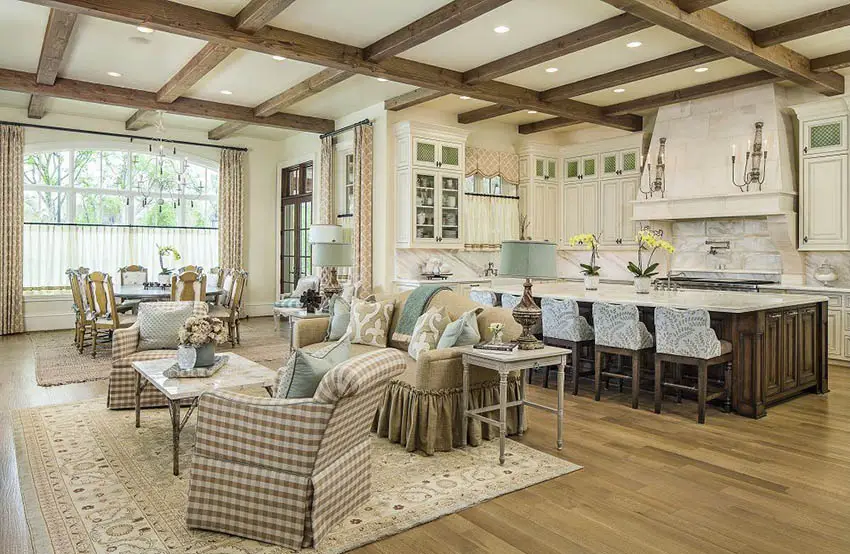 We talked with interior designer Giezl Ilustre, about how she chooses to paint for an open concept kitchen, and here is her reply:
When deciding on a paint color for your open living room & kitchen, remember that it should be able to tie together the two spaces without seeming over-repetitive. It should be able to match or complement the colors used in both rooms.
To get the right balance, carefully consider the big picture to create a cohesive design. For a balanced design flow, you will want to bring a little of each color from one room to the next. To learn more about the best kitchen paint colors take a look at this page.
For suggestions, try playing with different shades of white, taupe, and warm colors, as they are generally easy to match with any style. You can also use neutrals like gray for more contemporary looks or light brown shades for a warm and cozy feel.
Try using colors of different intensities from the same color palette. The use of a color wheel can help you find complementary color schemes that will have a pleasing effect. For example, shades of blues and greens often work well together.
The lovely country style kitchen shown above takes full advantage of the open layout, connecting the cooking, dining, and living area. Warm colors & finishes give it a romantically antique feel. The cream kitchen cabinets match the room's furniture and decor items to provide an inviting ambiance.
Decorating Open Floor Plan Living and Kitchen Areas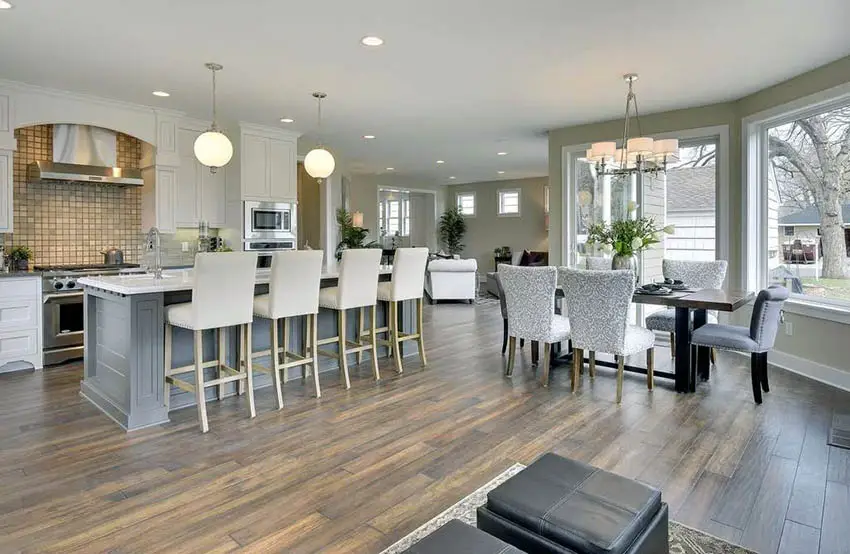 There are many fun ways you can decorate and style your open kitchen and living room. Just keep in mind to avoid blocking views to maintain good visibility in both spaces.
Play with textures – Use textured finishes on some walls, such as the backsplash or the fireplace. A subtle change in texture goes a long way and helps keep your design from feeling bland.
Use contrasting colors – Contrast the primary color found on your room's walls and floors (primary color) with color accents (secondary color) to provide a pleasing scale in your design.
Add pendant lamps – Unique pendant lamps instantly add more style and personality to your design. This especially looks good when placed above an island counter.
Add plants – Instantly add life to any family room space by adding live plants and flowers. Not only would it make your space look more alive, but it also helps clean the air!
Utilize the correct amount of lighting – Make sure you have adequate lighting and create focal points on accents and details such as built-ins, artwork or areas of contrasting color to create visual interest.
Below are excellent examples of open living rooms and kitchens with information and details you can take inspiration from.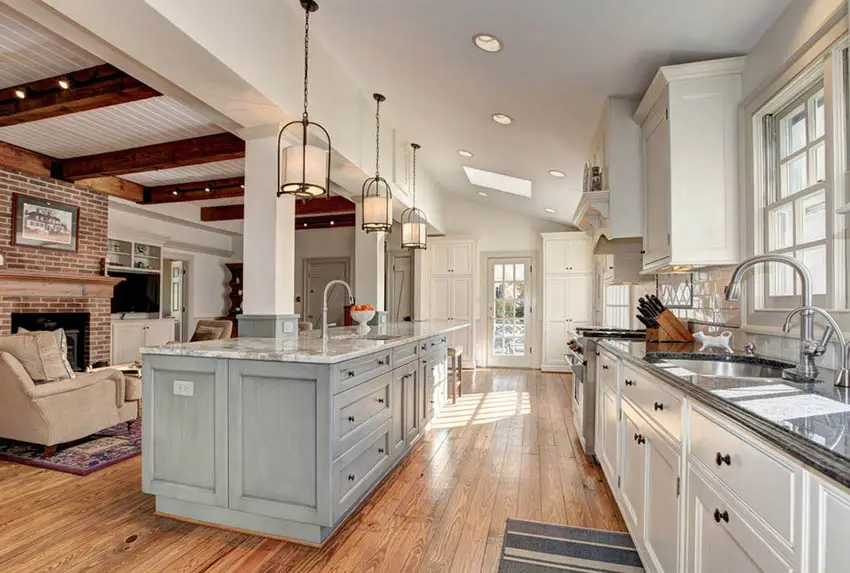 Classic French style cabinets in powder blue and white create a light and refreshing atmosphere. Brick-clad fireplace and wooden beams add texture and depth to the design.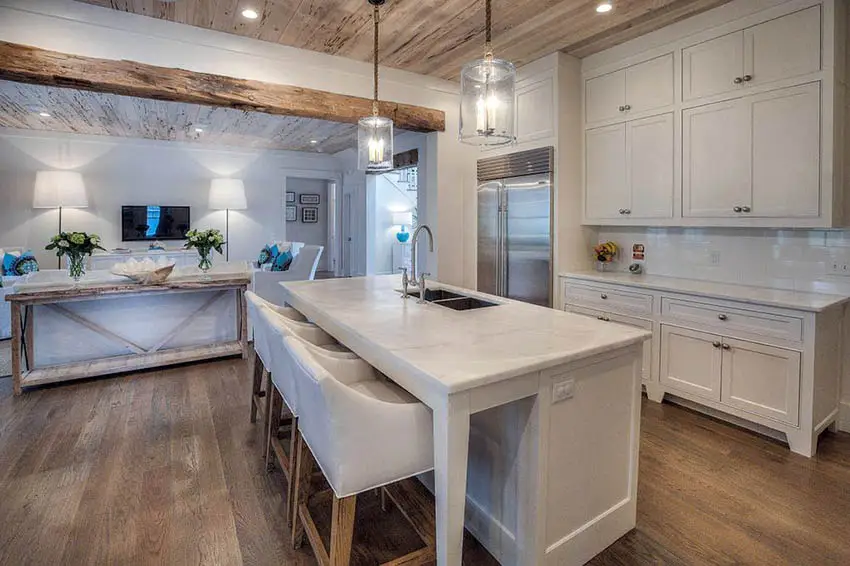 Limited space made using white food in the kitchen cabinets the most practical choice. The cooking area layout is placed perpendicular to the living area, using the console tale and the sofa top to separate the two spaces workout completely blocking it from one another.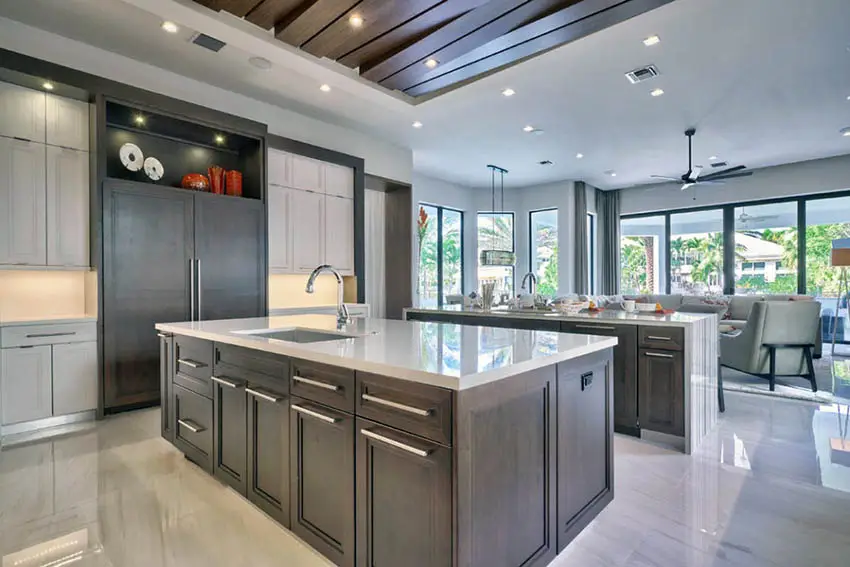 The kitchen is the main feature of this open layout, as it occupies most of the space. The sofa faces the kitchen island counters to facilitate entertaining, while the large windows and tiled floor provide a sense of care and attention to detail. The dining space is seamlessly integrated, allowing for easy entertaining.
Open Plan Kitchen, Living, and Dining Room
Open plan dining rooms and kitchens are more common as making them directly connected/sharing the space is more practical.
The efficiency of serving the food just right after you have prepared it makes it an ideal choice for families and those who like to interact with guests. It is the ideal layout for multi-taskers.
This kitchen is a great place to entertain guests with a wide open concept with plenty of space. Adding that bright orange modern bench adds a nice pop of color, warmth, and a more refreshing vibe to this sleek design.
A long kitchen peninsula facing the living room with a stainless steel cooktop provides plenty of work space for meal preparation.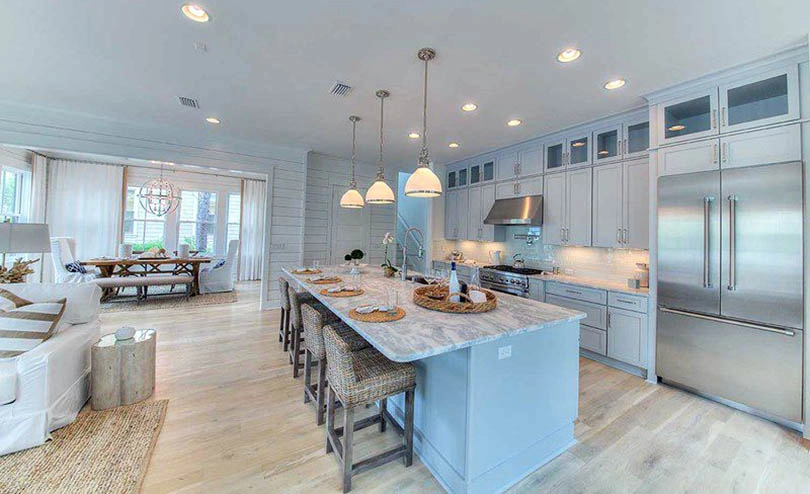 This contemporary kitchen features a large open-plan design that reaches into the dining area and living room. The room has beautiful light oak flooring that ties it all together and looks great paired with the white cabinetry and marble countertops.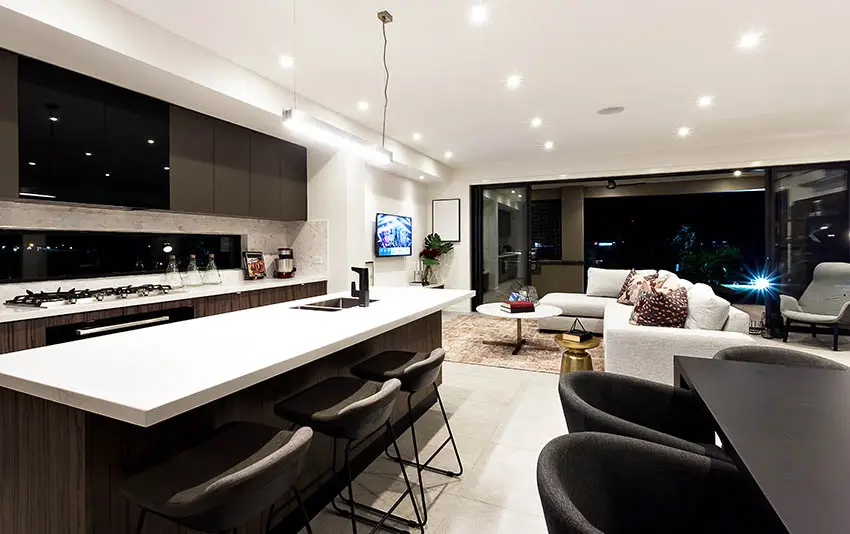 This open plan kitchen is directly accessible to both the dining area and the living area, making it an ideal space for families who enjoy food preparation together. This also helps make the space feel bigger, as fewer partitions create the illusion of a bigger space.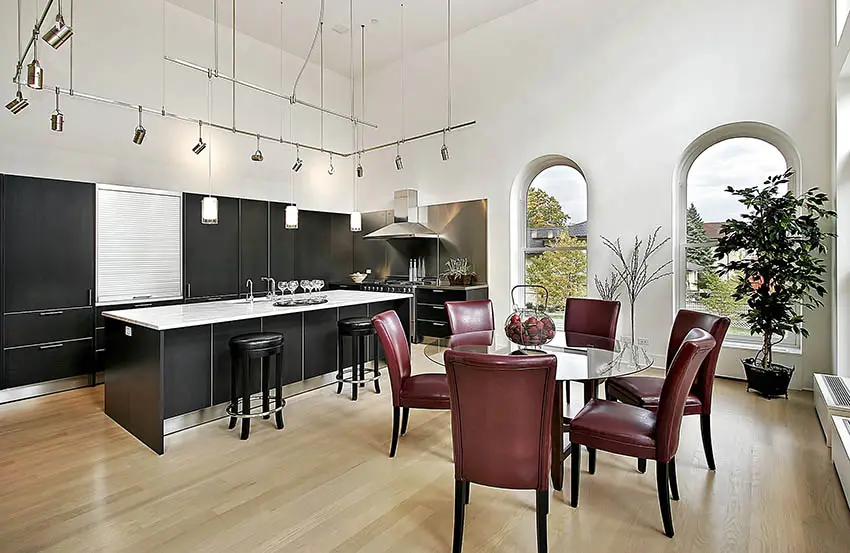 The high ceiling gives this kitchen and dining area a spacious feel despite its small floor area. The layout is a sleek combination of dark, wengue cabinets and marble countertops, while the dining area is a simple 6-seater round glass table, making it an ideal breakfast area.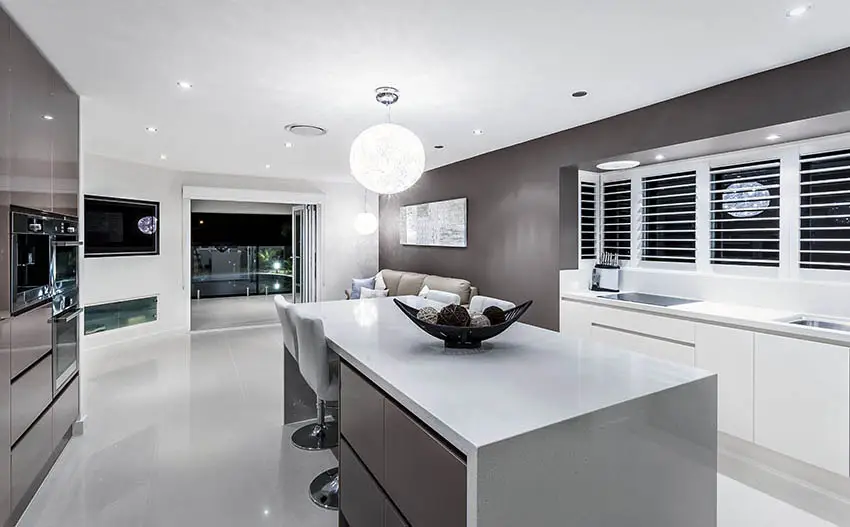 With a very limited floor area available, adapting an open layout for the kitchen, dining, and living areas is the ideal arrangement. Instead of a separate dining area, the island also doubles as the dining table, enabling the design to maintain a sleek and minimalist feel with large open areas. Large globe pendant lights make a large statement and complement the recessed lighting.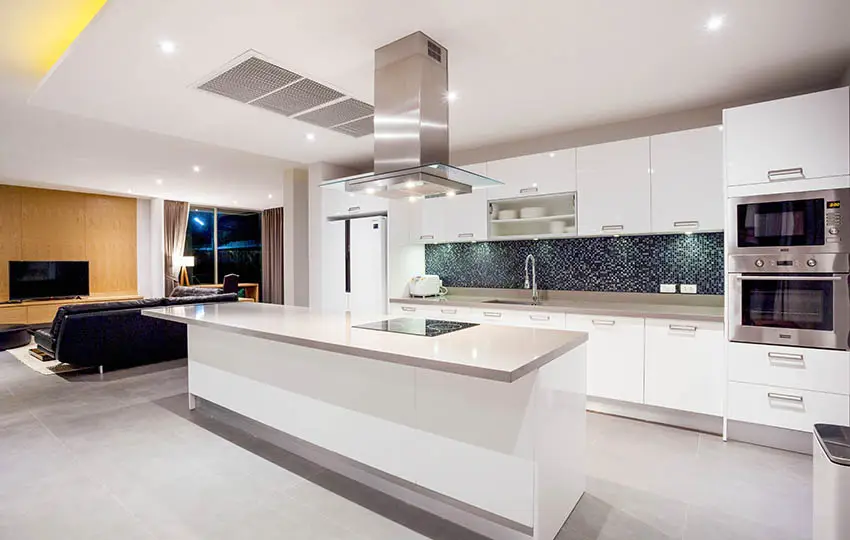 The use of glossy white kitchen cabinets helps make the space look bright and very modern to match the overall concept of the space. The living area is directly accessible from the long island, and the TV is even visible from the cooking area, allowing you to multi-task.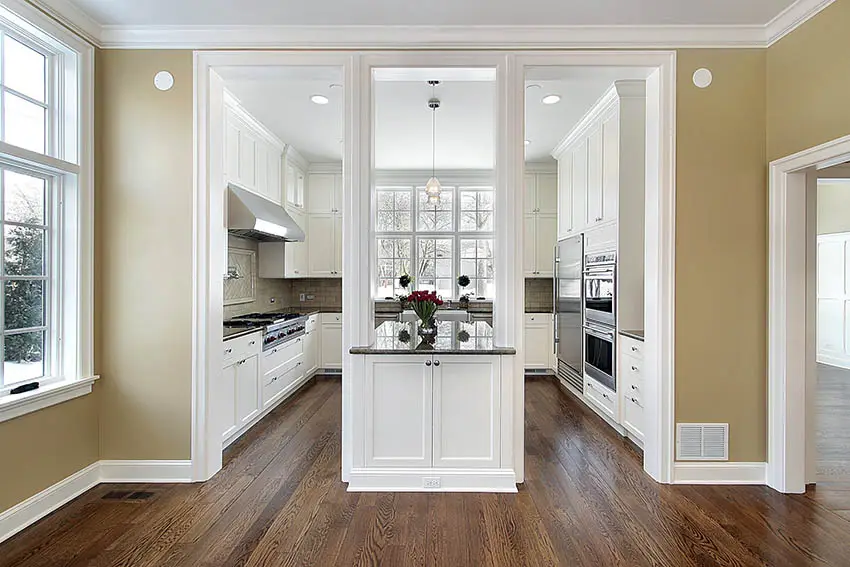 An illusion of division is created using a series of door frames in this classic style kitchen design. The floor plan allows you to have a sense of privacy in the kitchen while, at the same time, maintaining the open layout, as everything within is still easily visible.
This type of design is often the result of necessity, as the support beams may be costly to remove during an open concept remodel. Creative layouts can help optimize the space even with these structural limitations.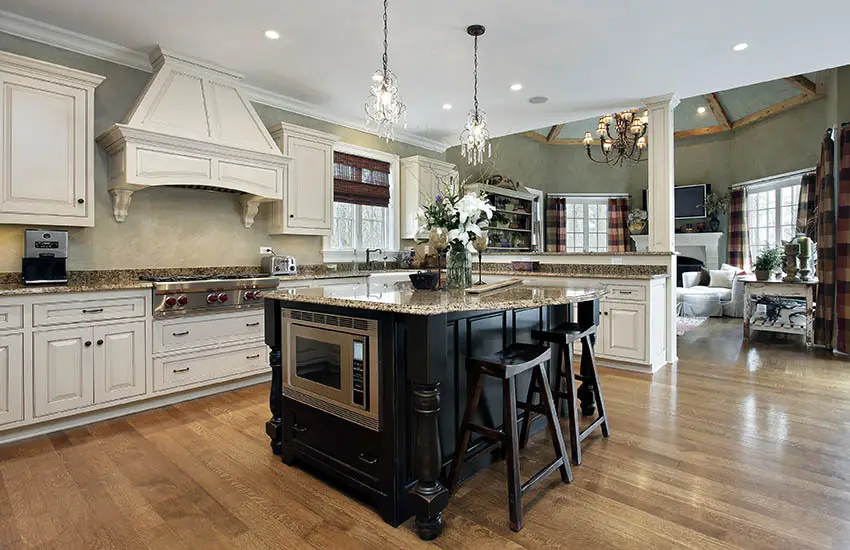 If you want to maintain a definite separation between spaces yet don't want to use a full division, using a higher counter to divide the kitchen between the living area is a good design solution.
This allows you to create a demarcation between the two spaces while maintaining enough visibility and easy access between the two spaces.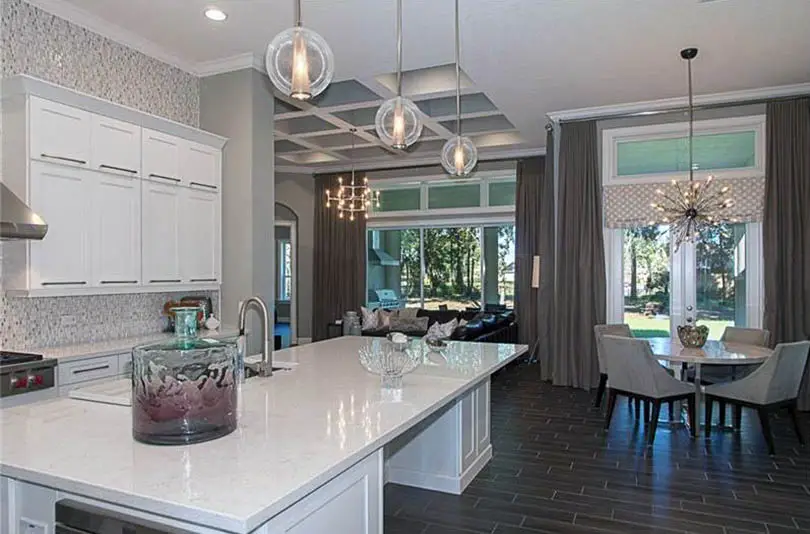 Using all white for the kitchen helps balance out the dark brown color used on the flooring, while also bringing your attention towards the cooking area. Porcelain plank flooring was used throughout the floorplan and is coordinated with the lighter gray curtains.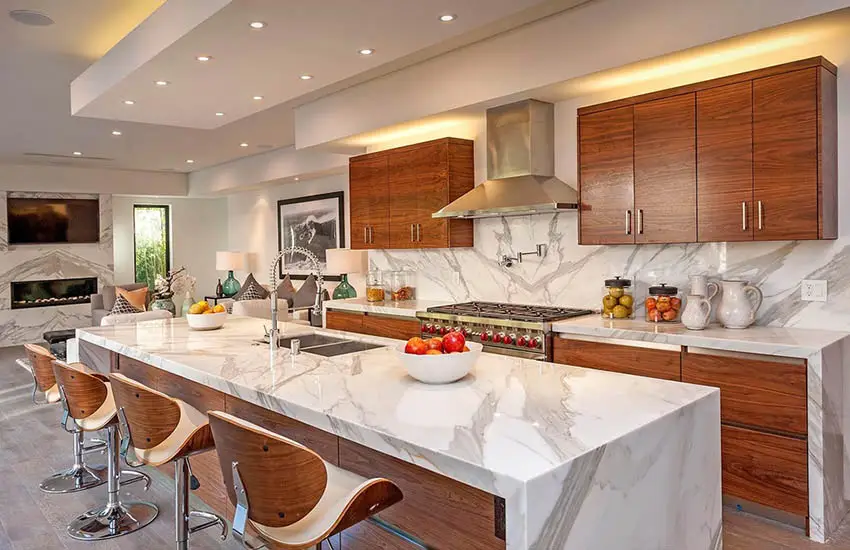 Marble continues to be a popular material choice for its classic appeal and versatility. It instantly adds a more sophisticated & luxurious feel to any space.
In this case, marble was used in both the kitchen countertop and backsplash and the living area fireplace, tying up the look of the two spaces.
The golden maple cabinets add a warm touch to the overall feel of the space. Fresh fruit in glass containers and bowls acts as decor to add shades of color to the theme.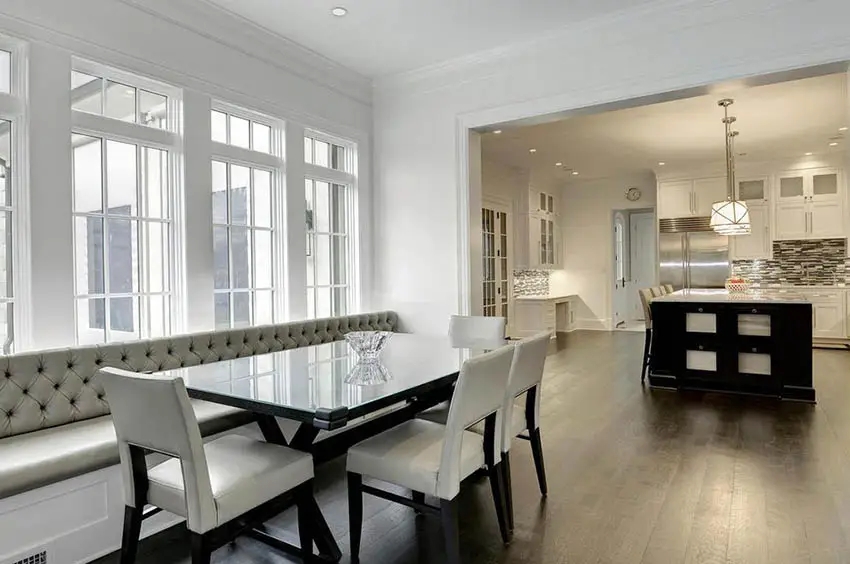 Structural limitations sometimes hinder creating a completely open layout, but you can always find ways to work around it. This dining and kitchen, for example, uses a large opening between the two spaces to help achieve the look and feel of an open layout.
The layout incorporates a dining space, with easy access to both the living room and a beautiful window-lined design.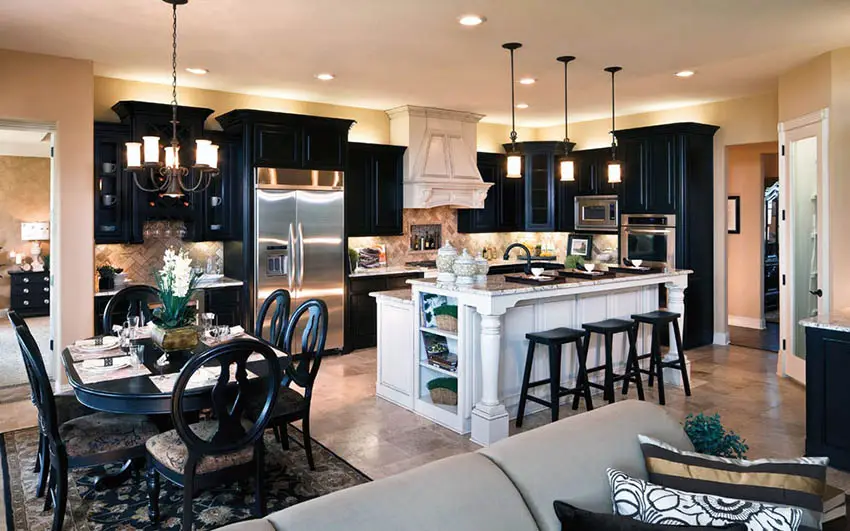 The small floor area makes an open plan necessary for spaces such as this example. With careful planning, it was successfully able to create an open layout that combines the kitchen, dining, and living areas. It also maintains a cohesive look, featuring classic style furniture, home deocr accessories, and cabinetry.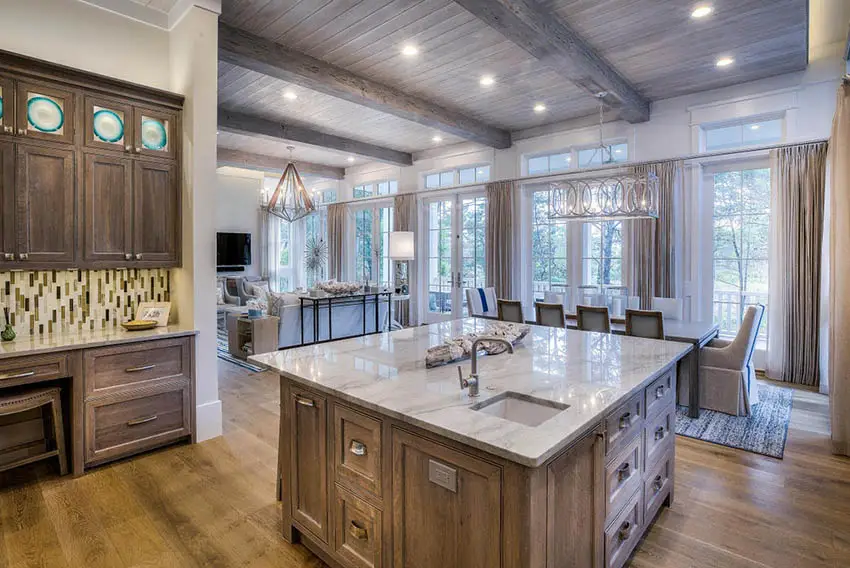 Elegance with a touch of rustic appeal is the main charm of this open layout kitchen. Classic French style architecture and matching furniture pieces, combined with classic-inspired cabinets and lighting, make this design look refreshingly classy.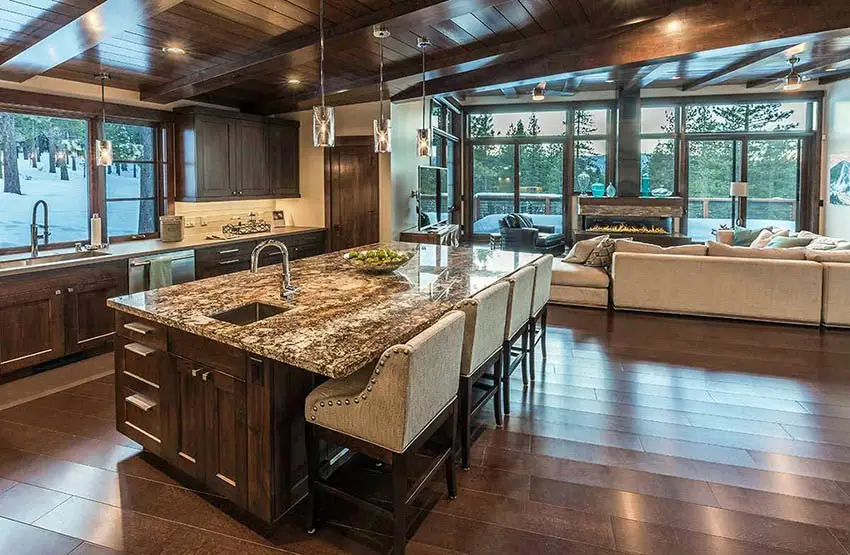 Modern with baroque inspirations, this contemporary kitchen and living area is a gorgeous example of open plan design.
The amount of natural light and the tasteful finishes used on the floors, walls, and ceiling not only add to the beauty of the space but also help tie up the design/overall look.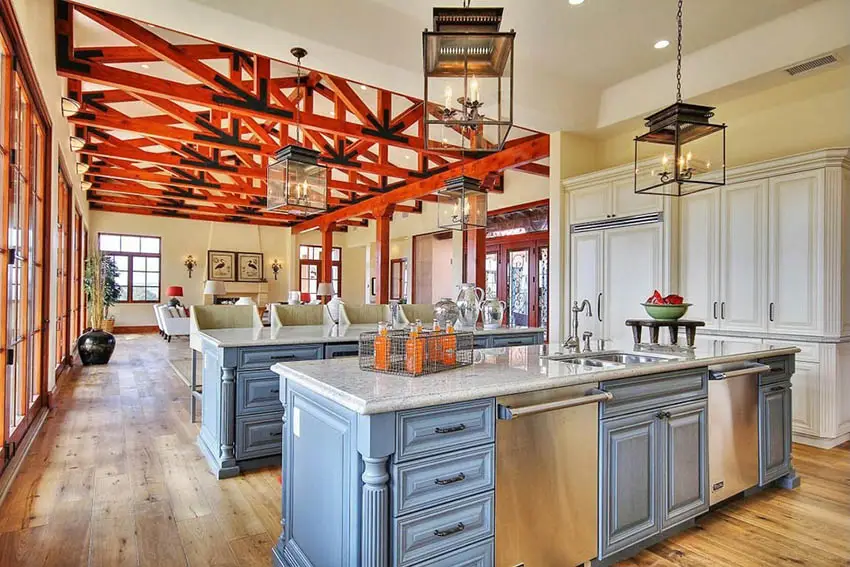 By exposing the solid beams and trusses on the ceiling, the space not only adds a more open feel but also gives it more personality. Soft cornflower blue kitchen cabinets give a light and refreshing feel to the mainly warm-toned color scheme.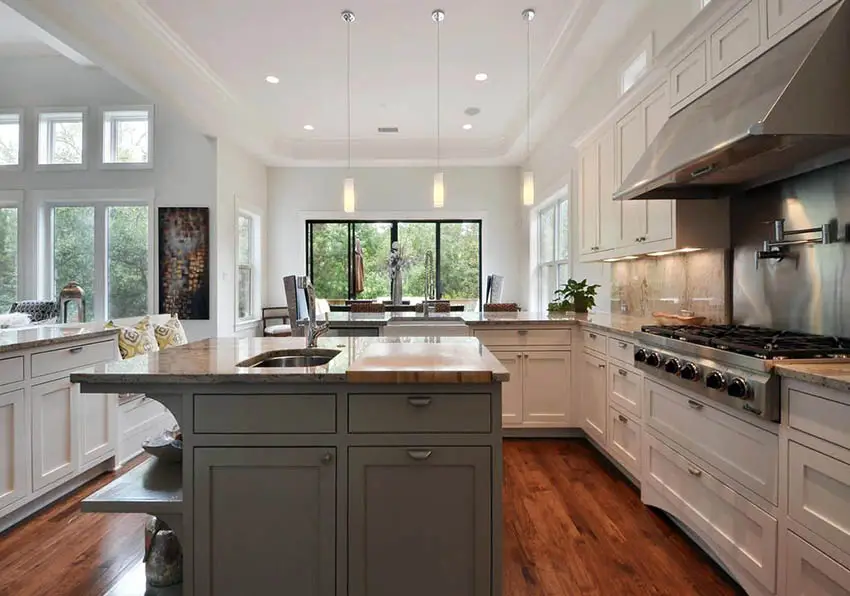 Another great example of an open layout with a clear space demarcation. This kitchen uses kitchen counters to separate the kitchen from the other areas while still maintaining an open layout.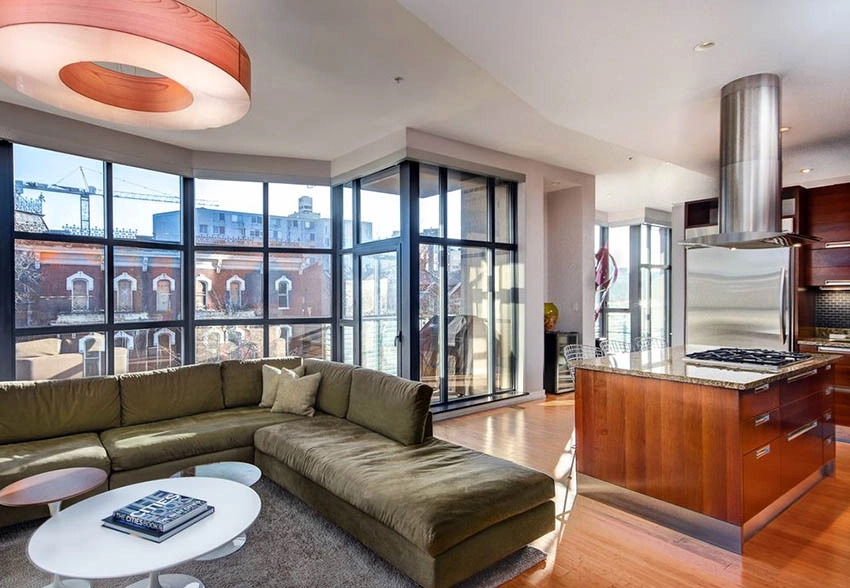 Many apartment and condo owners are faced with how to design a smaller space that provides for the kitchen, dining, and living room. This contemporary design offers an open concept with a breakfast bar island adjacent to the living room with a green sectional couch.
Open Concept Kitchen & Living For A Small Space
Small spaces benefit the most from open layout concepts. There are, of course, limitations and challenges depending on the floor plan you are working on, but once you find a way to work around the limited space, the open space layout's benefits will definitely outweigh its cons.
Smaller spaces would need more careful planning, and you should remember how you use the space in actual practice. The design should definitely make your life easier according to your routine/habits or otherwise help improve your current practices.
For kitchens, modular kitchen cabinets are a great practical choice, as they allow flexibility and mobility. Because of the possibility of limited counter space, consider built-in appliances to help save space.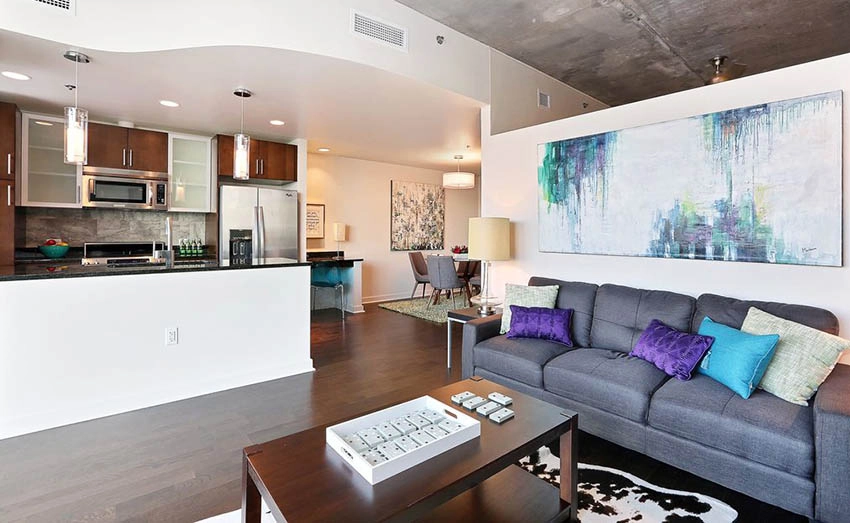 This apartment features a compact kitchen with a peninsula and an open plan layout opening to the dining area and living room. Having the sink in the peninsula countertop is beneficial while cooking to entertain and carry on conversations with those in the living space.
Wood flooring ties the rooms together while decor and furnishings such as the dining room's area rug, purple pillows, and the living room's artwork help to designate each individual space.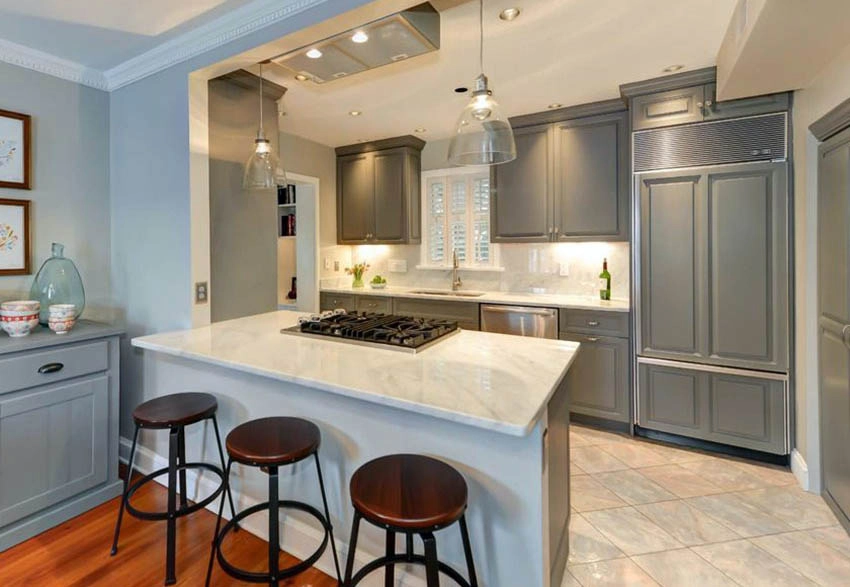 This contemporary kitchen's design allows the cook to face family and friends while preparing meals and looking out upon the grey painted living space. A peninsula with pendant lights combined with recessed fixtures and under-cabinet lighting offers ample illumination.
A marble-topped peninsula is ideal for families to eat on the go and for socializing and entertaining. The gray and white kitchen design offers a neutral, complimentary color palette that is attractive and sought after.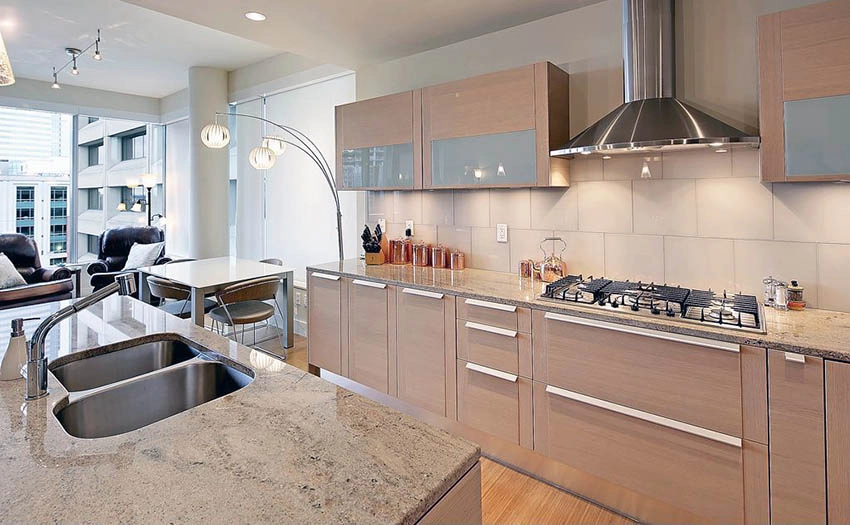 This apartment features a contemporary galley design with modular cabinets that opens up to a small dining and living area with high ceilings.
A large glass window allows plenty of natural light that is enhanced by various light fixtures such as modern track lights, globe pendant floor lamps, and recessed and under cabinet lighting.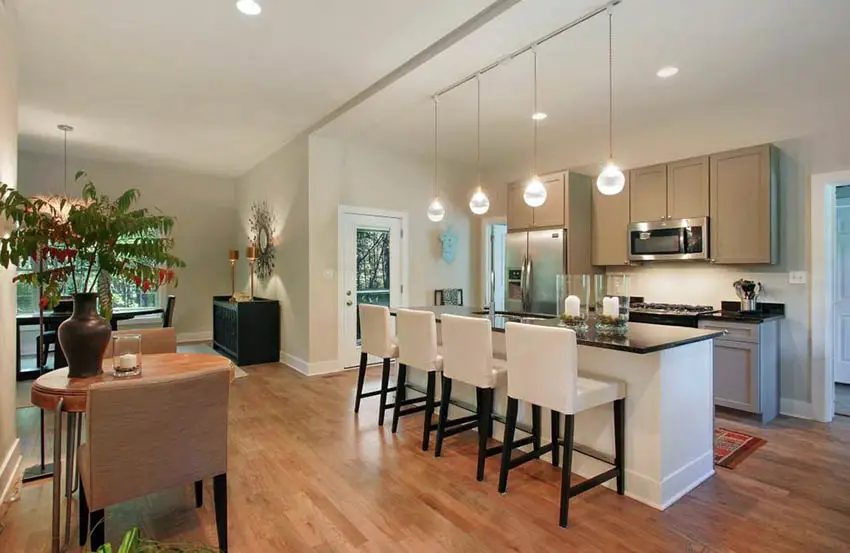 This open plan kitchen opens to a small dining area and living room. The microwave oven is built-in with the overhead cabinets because of the very small countertop space left.
For small kitchens, finding sufficient counter space can be an issue. Using a portable island is a great way to allow diners to eat in the space and help the cook face outwards while keeping an eye on small children or entertaining guests. This wood-topped portable island also has a countertop that hinges up, providing even more space when needed.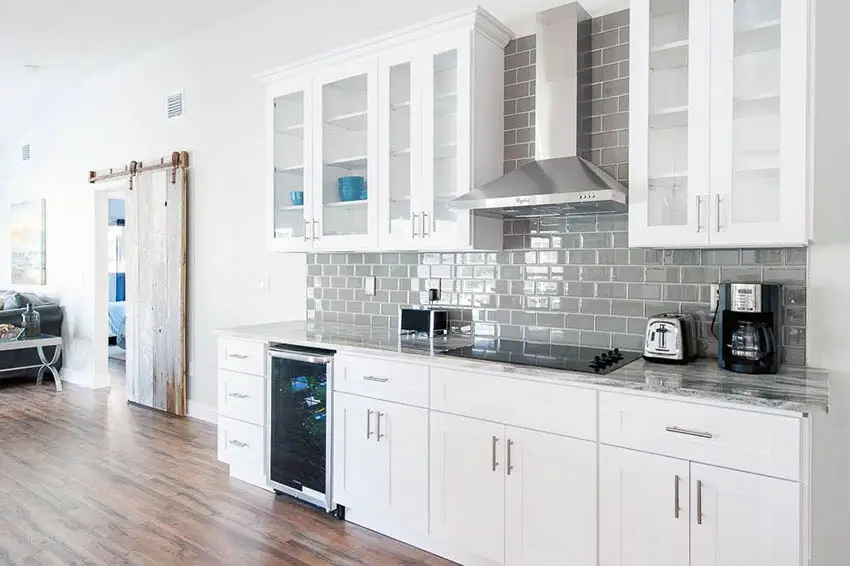 Some house plans really don't have the luxury of the space, so a more compact layout design is needed such as this. You can do away with a kitchen island if there is really no space for it, and try using sleek & compact appliances that fit your kitchen counters.
For even more open plan ideas visit our gallery of open concept kitchens.