Discover if a petrified wood countertop is right for your kitchen including what it is, price, care tips, and other materials that look like petrified wood countertops.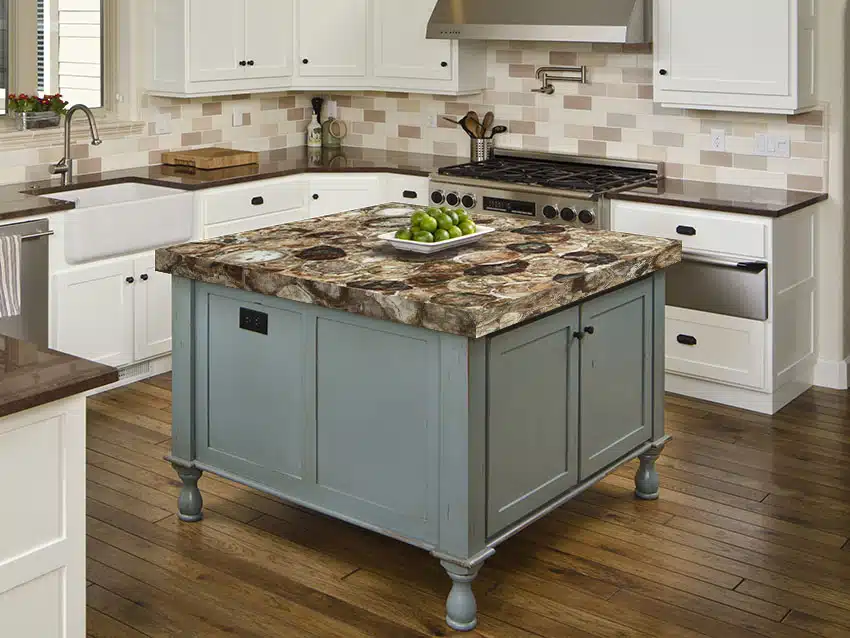 Petrified wood countertops provide a unique aesthetic and practical advantages for homeowners looking to upgrade their kitchens or bathrooms. These unique countertops are perfect for those looking to add a bit of nature to their home.
With its unique design and durability, petrified wood can provide an earthy feel to any space while still withstanding everyday use's wear and tear.
What Are Petrified Wood Countertops?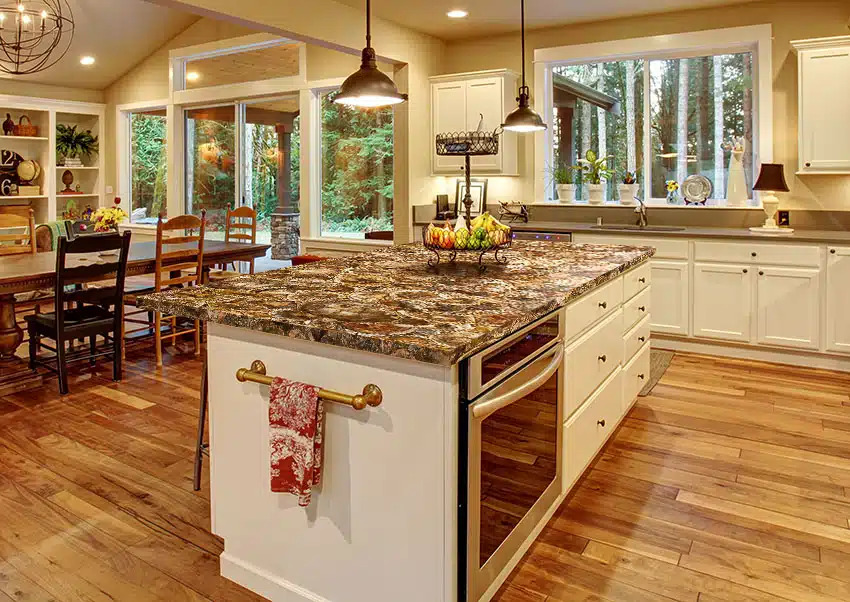 Petrified wood countertops are quickly becoming famous for many homeowners as they offer several advantages. These unique countertops feature solid pieces of petrified wood that have been polished and sealed with a protective finish, giving them an elegant appearance. In addition to their distinctive look, they have several practical benefits.
The most apparent benefit is their durability. This tough material will not chip, crack, or scratch easily. It is also resistant to bacteria and other contaminants, making it an ideal choice for busy kitchens. Additionally, it has a natural cushioning effect, making it more comfortable than different countertop materials.
Another benefit is the variety of colors and patterns available. This material has naturally occurring veins, swirls, and other designs that give it a unique appearance.
Since no two pieces are exactly alike, each countertop will be one-of-a-kind. Homeowners can also choose from shades of brown, black, red, and other colors to find the perfect look for their kitchen or bathroom.
They are also low maintenance. Unlike other materials such as granite and marble, they do not need regular polishing or sealing to maintain its luster. Homeowners can clean it with a damp cloth and the regular use of mild soap.
If you're considering adding this material to your home, talk to a professional to determine if it's the right choice. With proper care, they can last many years and bring beauty and functionality to any space.
Petrified Wood Countertop Slab

These stunning slabs are perfect for those looking to add a touch of nature to their kitchen. It's beautiful and unique grain can bring an earthy, natural feel to any space. The countertop slab is a durable material makes it ideal for high-traffic areas such as kitchens and bathrooms.
The process of petrification occurs when minerals in the ground replace organic material. Over time, this natural process creates a hard, durable stone perfect for countertops and other surfaces. The result is a unique look that can't be found anywhere else; each slab will have its own unique pattern and coloration.
They are also incredibly tough. Regular maintenance and care allow these slabs to last for decades without cracking or chipping. Plus, they're easy to clean; a simple wipe-down with a damp cloth is all needed to keep it looking great.
The process of creating these one of a kind wood countertops is also quite simple. All it takes is a slab of the material, some sealer, and a few tools. The material can then be cut to size and sanded down to create the desired shape.
Countertop Price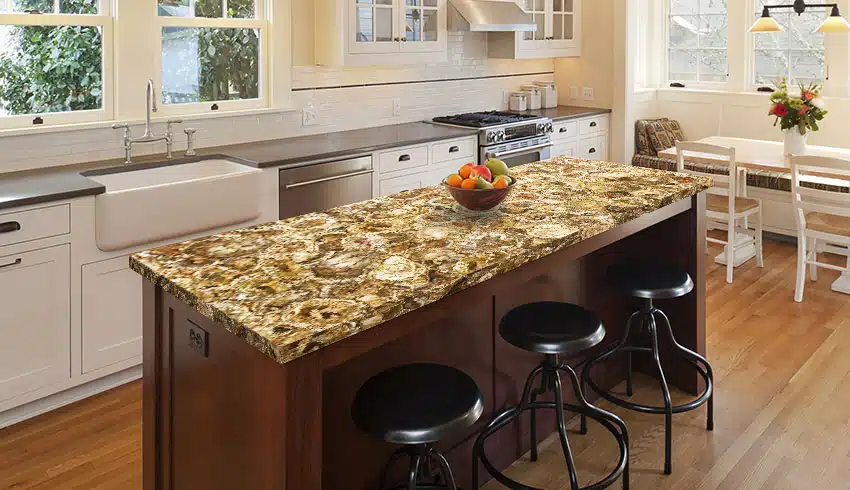 These natural stone surfaces can be a stunning design element in any kitchen or bathroom. With their interesting patterns, colors, and textures, they make an eye-catching statement to any space.
The cost of petrified wood countertops varies widely, depending on the type and size of the slab. Generally, a basic slab will start at around $50 to $70 per square foot.
The price increases if you choose higher-quality wood or larger slabs. Expect to pay between $90 and $150 per square foot for higher-quality wood and larger slabs.
The installation costs are also relatively high. The average installation cost is between $35 and $50 per square foot. This includes the labor and materials needed to install the slab, such as sealants and finishes professionally. On top of that, you may also need to pay the costs associated with shipping the slab from the supplier to your home.
The total cost can range from $2,000 to $4,000 or more, depending on the size and quality of the slab, as well as installation costs. Getting quotes from multiple suppliers and contractors is essential to ensure you get the best deal possible.
These countertops can add a unique and beautiful look to any home. The cost of these natural stone surfaces may be higher than other materials, but with proper care and maintenance, they can last for many years.
If you're looking for an interesting conversation piece and a beautiful addition to your home, petrified wood countertops may be worth the investment. – interior designer Maria Bott.
Care Tips
Not only do they provide an attractive aesthetic, but they also offer durability and resistance to stains. Unfortunately, the material is not as strong as other hardwoods, so it needs special care if you want it to last for years.
Here are some tips for keeping your petrified wood countertops looking their best.
Clean Regularly: It's porous, absorbing spills and stains if not cleaned up quickly. Make sure to wipe down the countertop regularly with mild soap and warm water to prevent staining or discoloration.
Use Coasters: To avoid scratching or discoloring the wood, use coasters for all glasses and mugs. This will help preserve the integrity of your countertops surface and keep it looking its best.
Avoid Harsh Cleaners: While some cleaning products may be effective on other surfaces, they can cause damage. Avoid harsh or abrasive cleaners on your countertops, and stick to mild soap and warm water.
Seal Regularly: It's naturally resistant to staining and discoloring, but it's always a good idea to seal the surface regularly. This will help protect it from everyday wear and tear and unexpected spills.
Avoid Excessive Heat: It can be sensitive to heat, so avoid placing hot pots or pans directly on the surface of your countertops. Using a trivet is best if you need to set a hot item on the countertop.
By following these simple steps, you can keep your countertops looking great for years to come. With a little bit of preventive care, they should last you a lifetime.
Proper maintenance and care will make your countertops beautiful for years. Follow these tips to keep them looking their best, and you'll be able to enjoy their unique beauty for many years to come.
With a bit of extra attention, your countertop can become a focal point in your kitchen or bathroom and a conversation piece for years to come.
Countertop Materials That Look Like Petrified Wood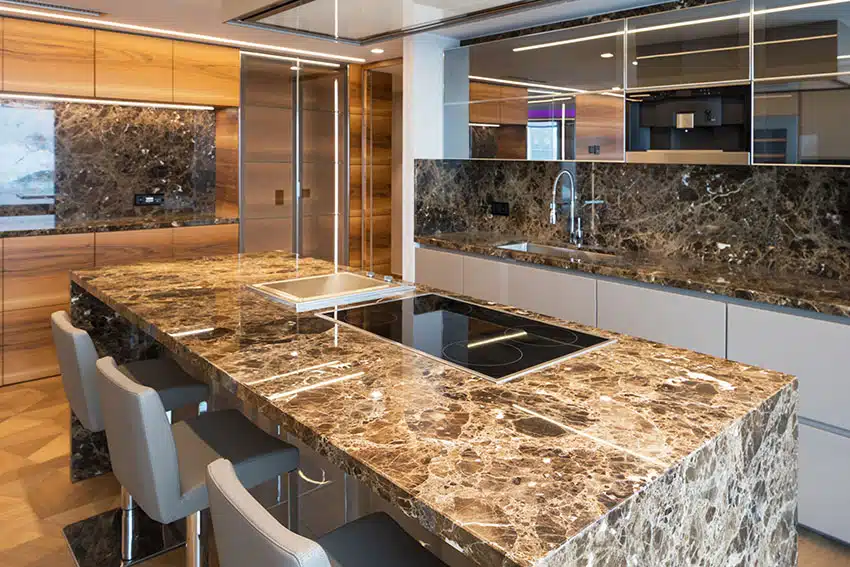 With the availability of manufactured materials, it's becoming increasingly difficult to find natural petrified wood in large enough quantities for a countertop application. Luckily, several countertop materials look similar wood and come in various colors, styles, and textures.
Quartzite is a natural stone that's long been popular as a countertop material. It has the striking appearance but with greater strength and durability, making it an ideal choice for countertops.
Quartzite can come in a range of colors from off-white to gray and brown, with some options having a veiny, mottled look that's similar.
Laminate is another popular countertop material that can look remarkably like this wood. Laminate comes in an array of colors, patterns, and textures – many of which have an elegant style. While laminate is one of the more affordable countertop options, it's also not as durable or heat-resistant as natural stone like quartzite.
Concrete is an increasingly popular choice for countertops due to its durability and modern look. Concrete can also be stained to resemble this wood with various colors and patterns. Concrete isn't as heat resistant as quartzite or laminate, so it's best used for bar tops and other surfaces that don't require food preparation.
If you're looking for a countertop material with the look of wood, there are plenty of options to choose from. Quartzite, laminate, tile and concrete all offer a similar look in various colors and patterns – so you're sure to find one that works for your kitchen.
Be sure to consider each material's durability and heat resistance before deciding. With careful selection, you can transform any kitchen with the timeless look of petrified wood.
See more related content in our article about recycled glass countertops here.