Here we share kitchen countertop ideas with white cabinets for a variety of design styles.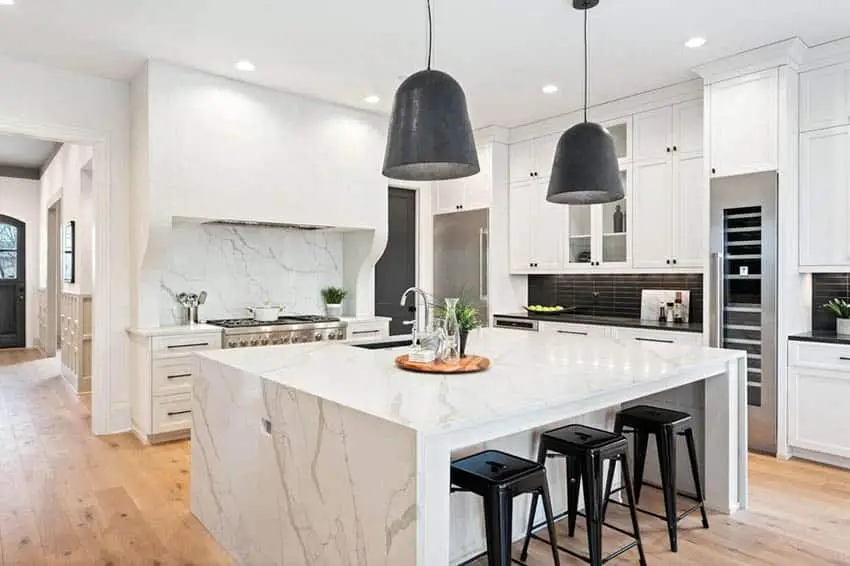 White cabinets are an easy choice since they will match just about any color countertops, so you are not stuck in a box when it comes to selecting the other finishes in the kitchen. White cabinets are extremely versatile and offer many different styles to choose from for your kitchen design.
Different types of kitchen countertops can be paired with white cabinets to give them a specific aesthetic to the space depending on the style you want. Below we've shared the most popular ways to pair countertops with white cabinets.
Get Dark Countertops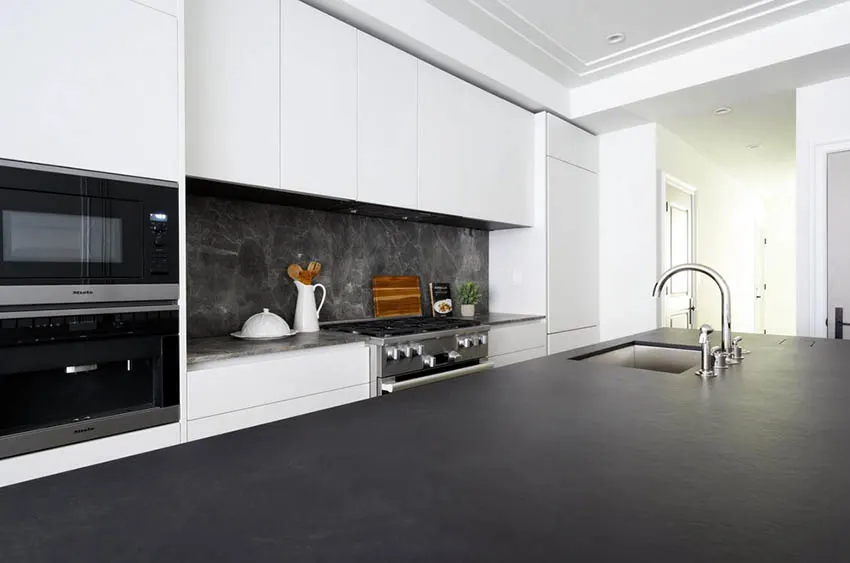 Adding a bold, dark contrast to white cabinets gives an edgy look. The contrast of the dark and light are perfect for a contemporary or modern kitchen, but also works for a number of other styles.
This black soapstone island adds allure and contrast to the design and coordinates well with the stainless steel range and appliances.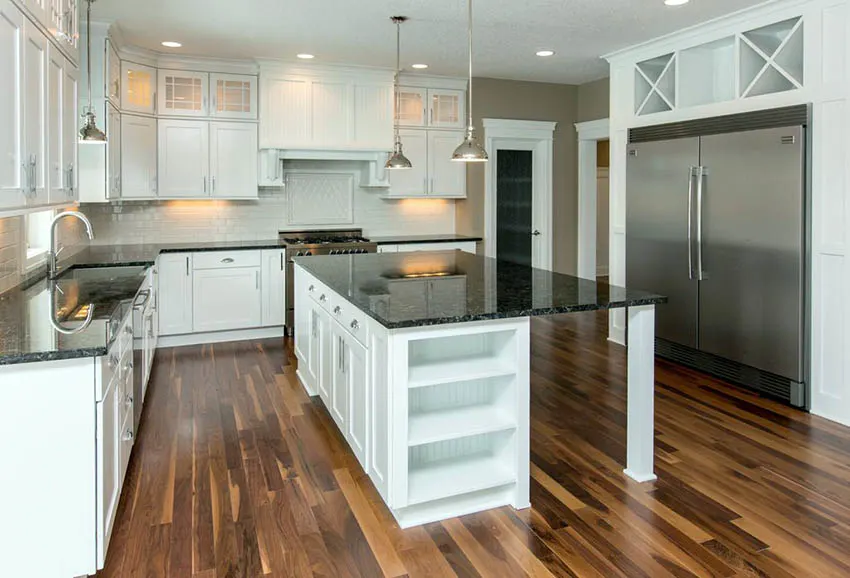 One of the best ways to tie the cabinets and the countertops together is to have a dark countertops with swirls or flecks of white floating in the surface that match the white cabinets. This helps those pieces pop out in the darker background of the countertop.
The l-shaped kitchen with central storage island features the same dark granite and is offset with the light color cabinetry, beige paint and light wood flooring.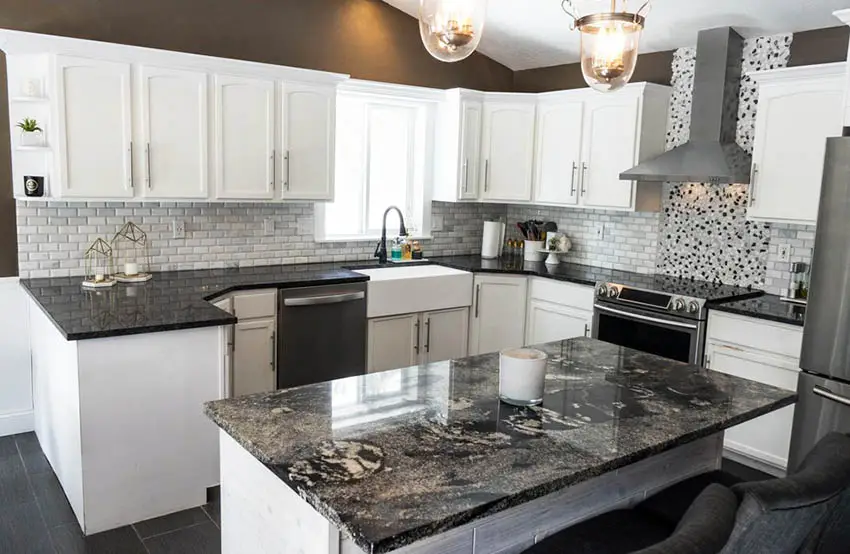 Darker countertops can be either cool or warm colors, which gives it a wide variety of uses and is a very common choice when it comes to white cabinets. See more examples of white kitchens with dark countertops here.
Bright and Light Countertops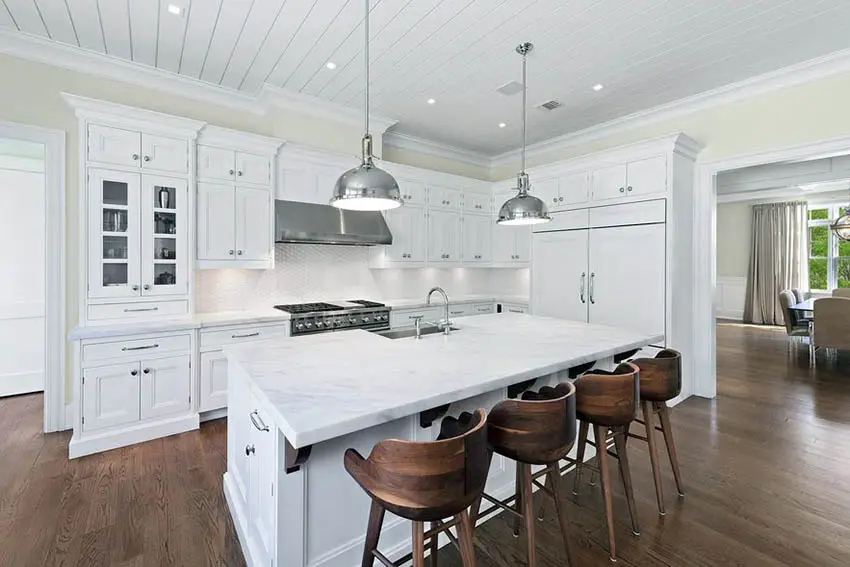 As with the dark colors mentioned above, lighter countertop selections also are available in cool and warm tones, offering endless uses and pairings. The Yellows, beiges and creams all pair nicely with white to give a soft and warm aesthetic to the space.
Silver cabinet hardware, island sink and large metal pendants add a reflective touch that helps the room contemporary and stylish. Four bar stools and an open-concept allows for entertaining many people or relaxing with friends and family.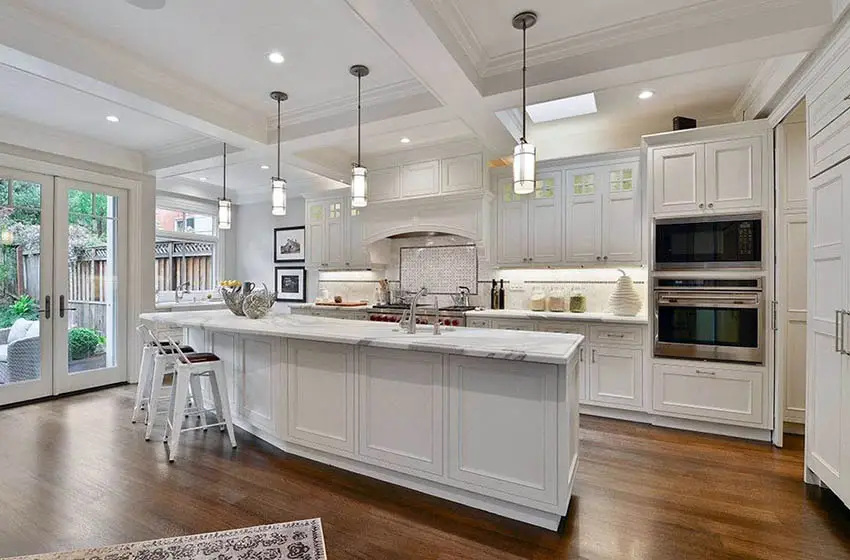 Cooler, light grays and pure whites can give a light and fresh appearance to the kitchen. With these light colors it is also easy to add more accented design to the countertops, whether it is dark veining or accent pieces on the countertops, white gives a pretty clean slate for creativity to take over.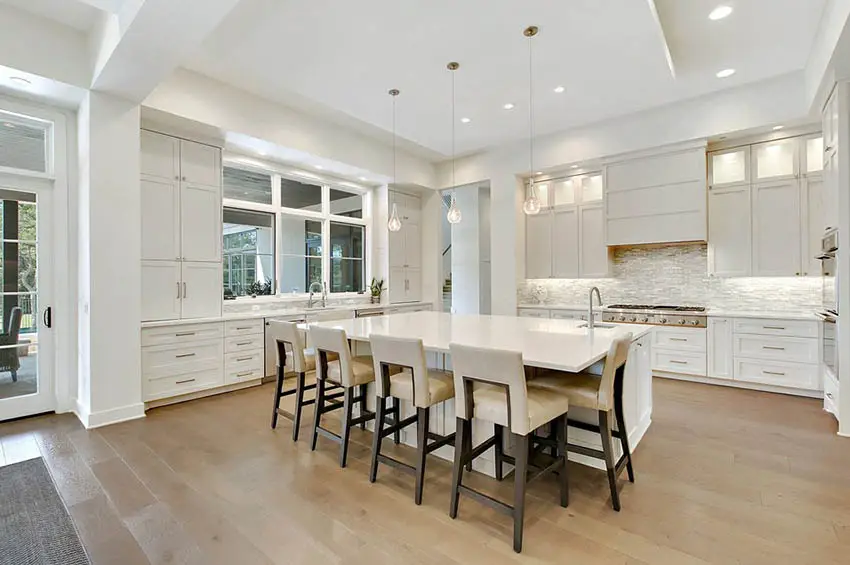 Going all white, or all light gives an airy and open look that will fit into a number of different styles. Adding the previously mentioned veining or flecks to a countertop will keep the open and light feeling to the room without the space feeling too clinical, or being able to see any tiny piece of dust or crumb. These are hidden easier with minor breaks in the pure white or off white kitchen.
Utilizing large windows to get as much natural light as possible creates an inviting backdrop and a sense of well-being. The floor to ceiling Shaker cabinets with glass doors offer plenty of opportunity for storage and decor items.
Bold Color Countertops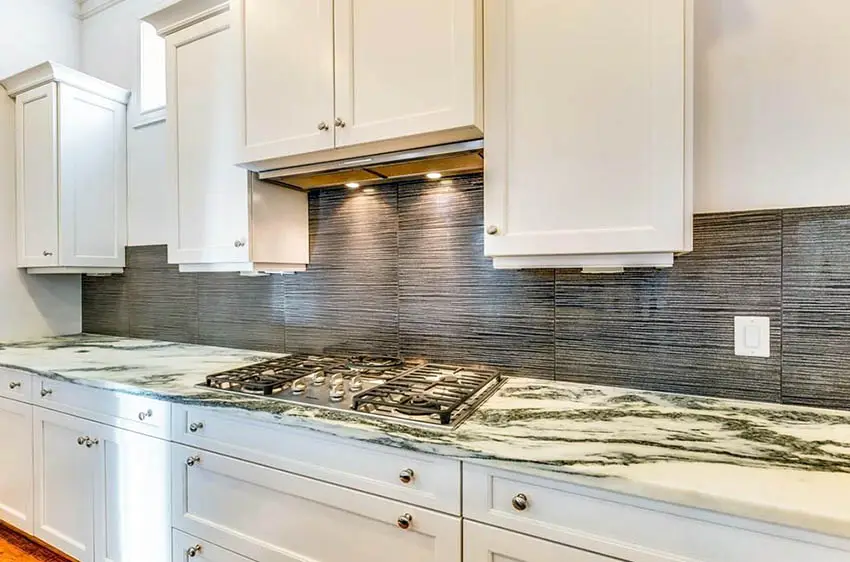 As mentioned previously having white cabinets' means you can pick virtually ANY Countertop your heart desires. This includes accenting the counters with a bright blue, inviting green or alluring red countertop. Going bold can be the turning point of a boring black and white counter, screaming class and luxury.
This is a design idea that is better done as less of an impulse and more thought out to make sure the other accents in the kitchen will coordinate. With the light white cabinets the vibrant countertop selection does all the talking while the cabinets even it so it doesn't overwhelm the space.
Black & White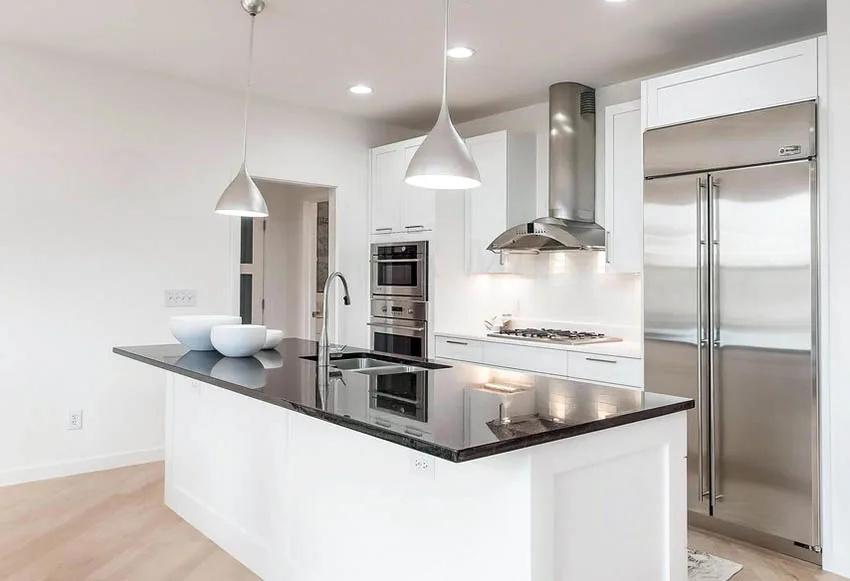 A combination of black and white countertops can give you just the right mix of contrast for your kitchen design. This design creates plenty of visual interest as well as can be used to achieve a traditional black and white design.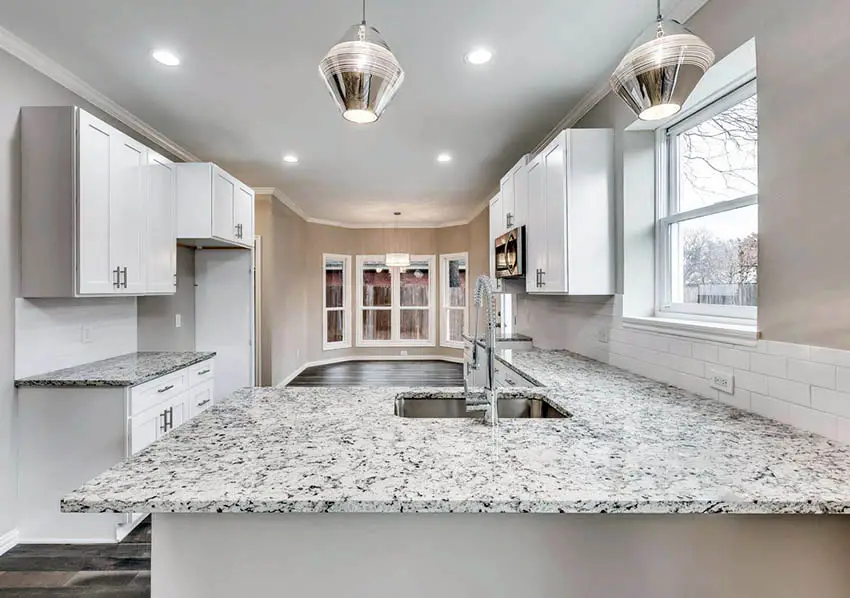 A black and white style Dallas granite countertop can also provide an inviting mix for a white kitchen design.
Stylish Gray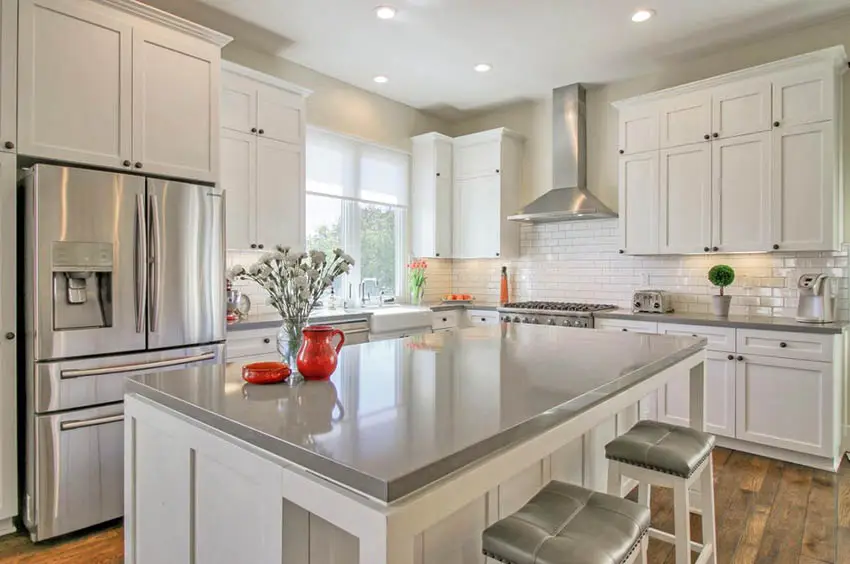 Gray laminate countertops look stylish when combined with white cabinets and are often used in modern and contemporary kitchen designs. These countertops are the right shade for not coming across as too dark. Since gray is the perfect neutral color it can help even out a bright white kitchen design and help it appear more even.
Countertop Materials for White Kitchen Cabinet Designs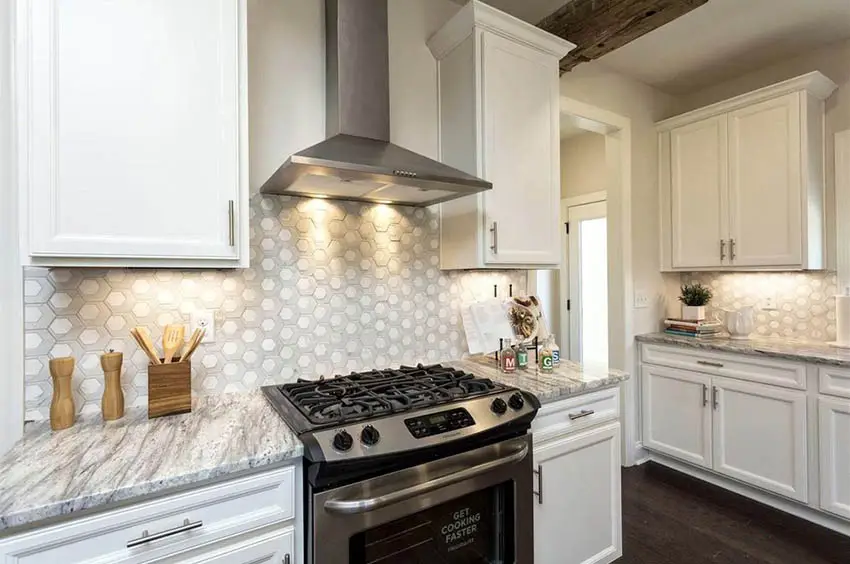 As important as the color chosen to pair with white cabinetry is, the material is just as important. Some of the materials are only available in certain colors as well as each different material has its own natural or man-made patterns that are associated with the material. White cabinets give a pretty forgiving palette in this situation so most options are pretty valid to pair with.
Quartz Countertops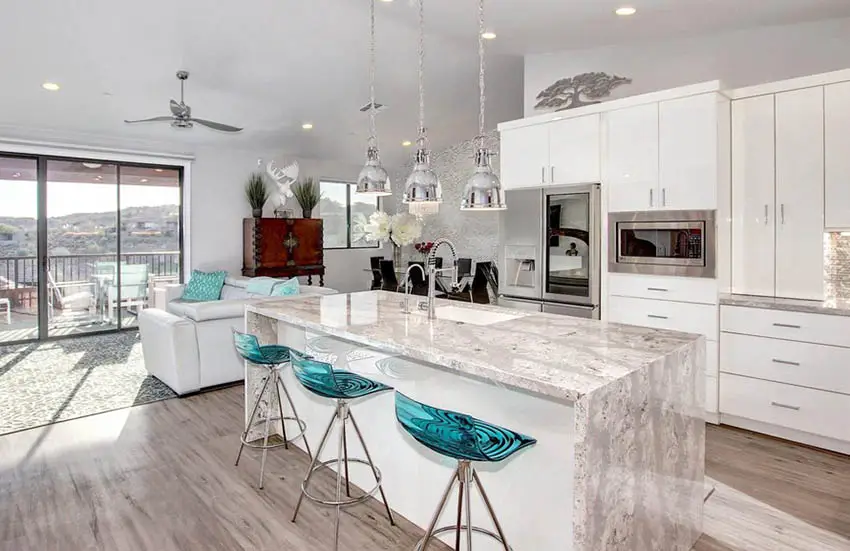 A slab of quartz is one of the most sought after finishes when it comes to countertops. Quartz countertops pair beautifully with white cabinets in a light color of white or off white with varying flecks and veins that keeps the space neutral and natural. This material is particularly common in more traditional kitchens.
Natural Stone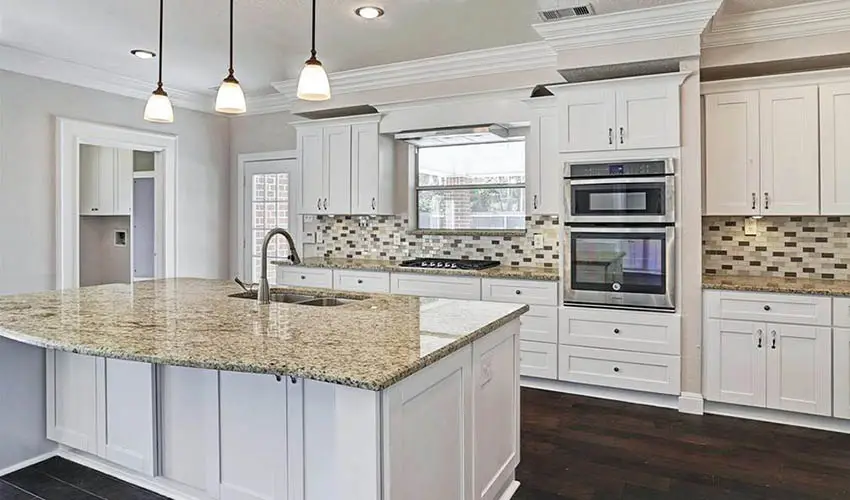 One of the most popular choices for natural stone is granite countertops. Granite like other natural stone such as marble, quartz is extremely durable when compared to other types of countertops. Granite is still a top choice due to the abundance of colors available as well as its price and natural beauty.
Unfortunately natural stone materials will not be able to come in a perfect pure white color, due to the naturalness of it. That being said natural stone counters come in a variety of unique colors that can fit into the design you have in mind. See more examples of kitchens with white cabinets and granite countertops here.
Wood Countertops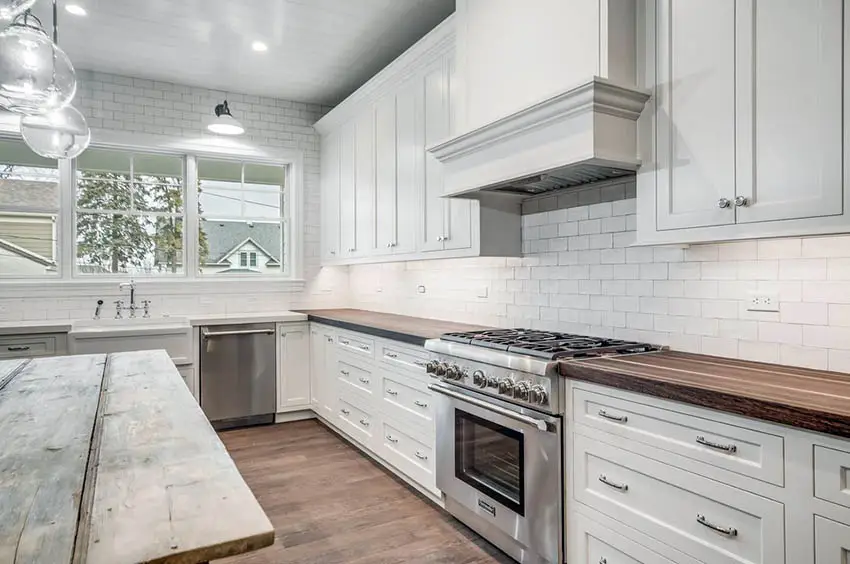 Wood countertops will accent with white kitchen cabinets in a warming way. Adding a wood countertop makes a space feel more intimate and inviting which is a good contrast to what could be a clinical white cabinet.
The white cabinets with a wood countertop even themselves out by balancing the natural and man-made elements of the space.
These are typically used in a more traditional or rustic kitchen design. It is important to make sure this wood coordinates with the other woods in the home. Wood also gives a softer feel to the space since sound echos less off of the softer surface of wood versus a stone surface.