Here we share our gallery of white kitchen cabinets with dark countertops including a variety of finishes, materials and design ideas.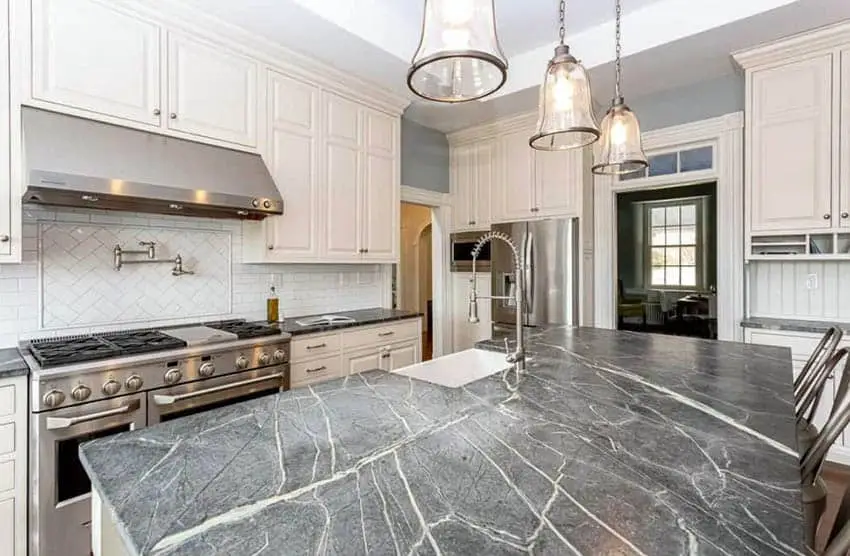 In any interior design, colors play a vital part in determining the overall ambiance and look of a space. For common spaces, such as the living room and the kitchen, it can be observed that a simple or neutral color palette is often used that can easily blend with other interior details or accents. These details can be easily updated without having to repaint or change furniture pieces.
For the picture above, dark soapstone countertops with gorgeous natural vein details are best showcased when paired with white kitchen cabinets.
White Cabinets and Dark Counter Designs
White is a really popular main color of choice for common spaces, most especially for kitchen designs. White is often used for kitchen cabinets because it always gives a bright and clean look, even for more bulky & classic cabinet silhouettes.
Additionally, because kitchen cabinets could be quite expensive, using white ensures you have a kitchen that will not go out of style.
Although using white kitchen cabinets has its many benefits, an all white color scheme with very flat shades has a tendency to look too "sterile".
A simple solution for that is to add a little contrast to the white cabinets. This is usually achieved through the use of a different wall paint color, backsplash tiles, stone or countertop color.
Darker countertops look even better when paired with white kitchen cabinets, and are also less susceptible to stains and marks commonly found on light-colored countertops.
Below are some gorgeous examples of white kitchen cabinets combined with various dark countertop materials for your inspiration: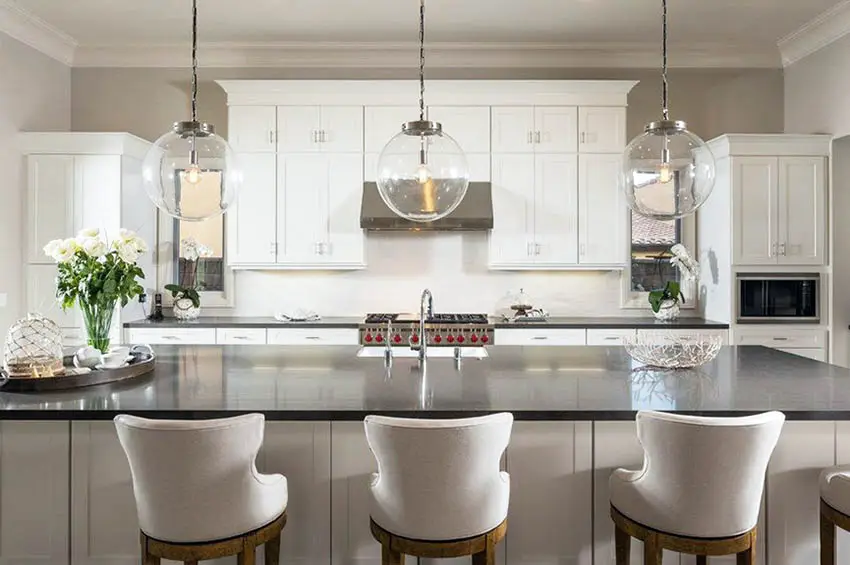 The most common combination for contemporary kitchens would be white kitchen cabinets and black granite. This example shows a simple straight edged slab of black granite that gives this kitchen a more modern, sleek appeal.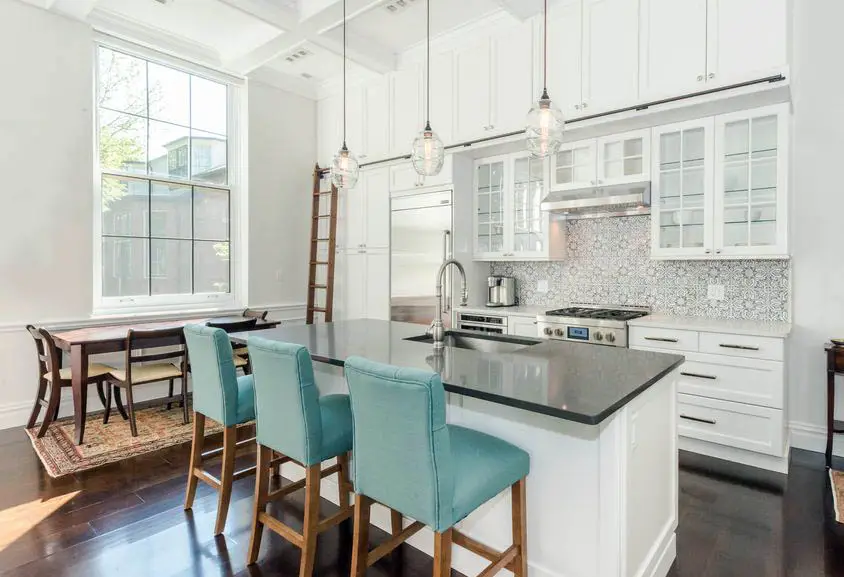 Using a black countertop on only the center island makes it the focal point of this small kitchen.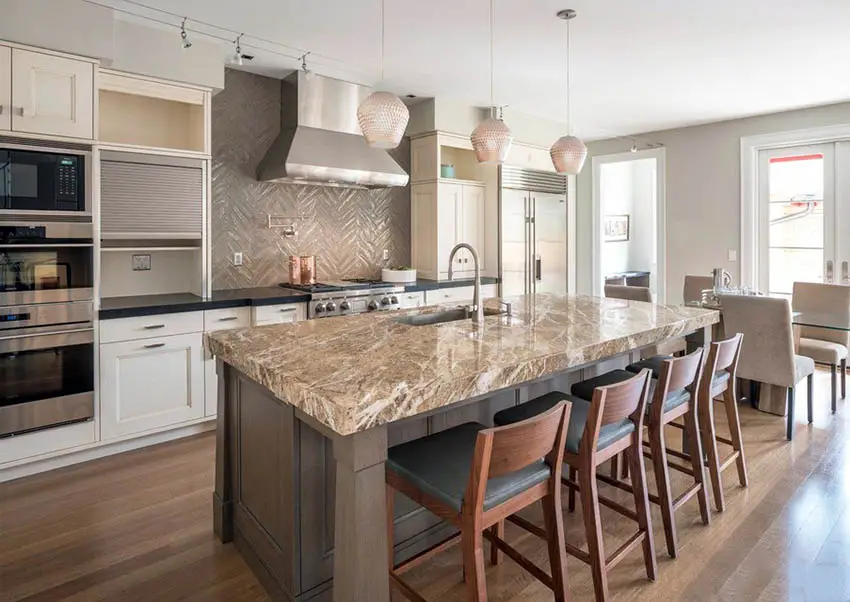 The cream kitchen cabinets with black solid granite counters help bring more brightness in the wood-dominated kitchen-dining area.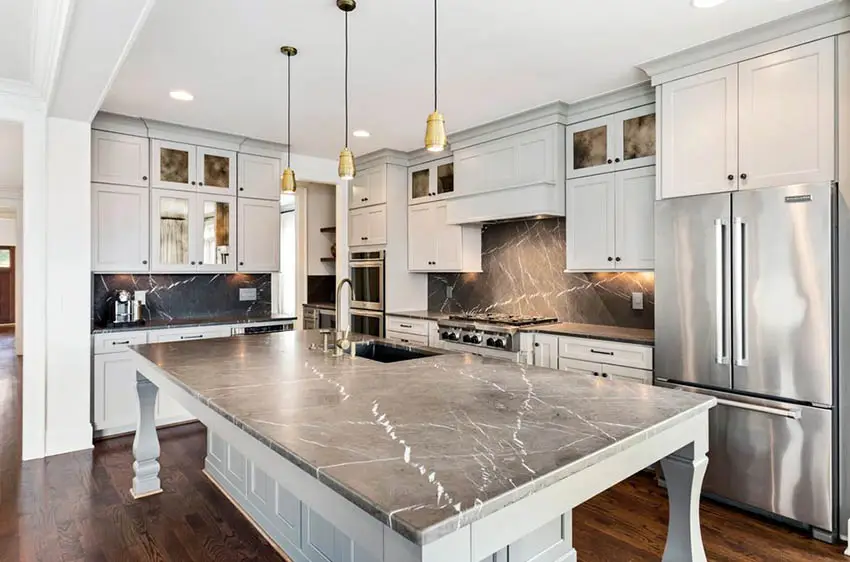 By using a gorgeous soapstone countertop for this giant kitchen island, you effectively make this massive counter the focal point of the kitchen even if you use the same material on the wall counters and backsplash. The large clear surface area allows you to showcase the natural veins and patterns of the stone you selected.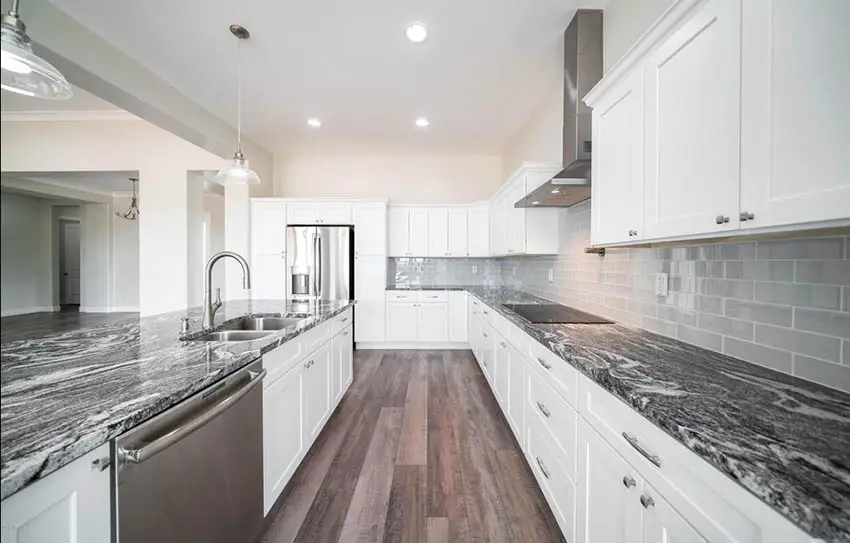 This type of Granite is known for its unique speckled pattern that really draws attention. Because of the intricate natural pattern/grains of this material, it is best to combine it with plain surfaces such as an all white cabinetry and a solid-colored or a matching backsplash.
White Kitchen Cabinets with Black Countertops
Using black countertops with white kitchen cabinets gives an even bolder contrast that really gives a modern & contemporary vibe to any kitchen space. To add color to the space you can bring in decor items such as small appliances.
Color can also spice up the design through the use of wall coverings, backsplash and artwork. Here are some gorgeous examples: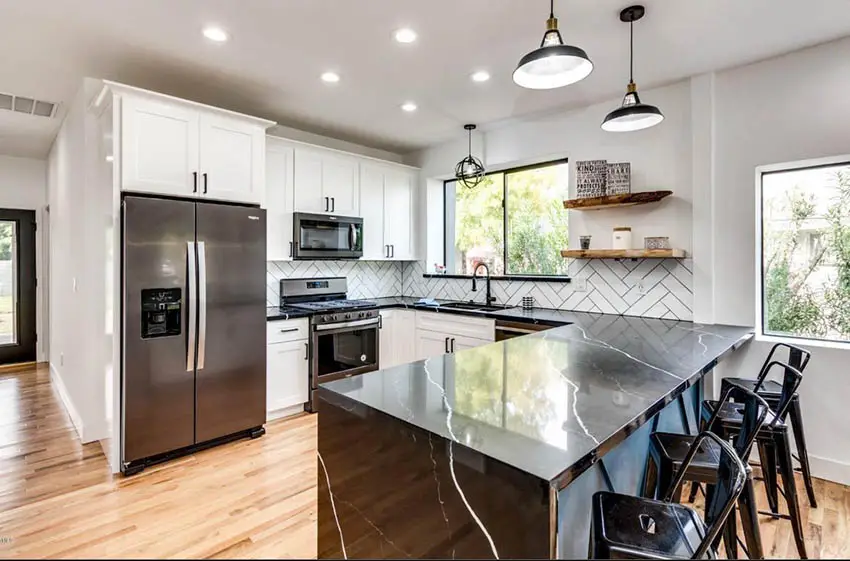 A contemporary kitchen that uses black quartz countertop paired with white paneled modular kitchen cabinets was combined with open shelves in natural wood finish.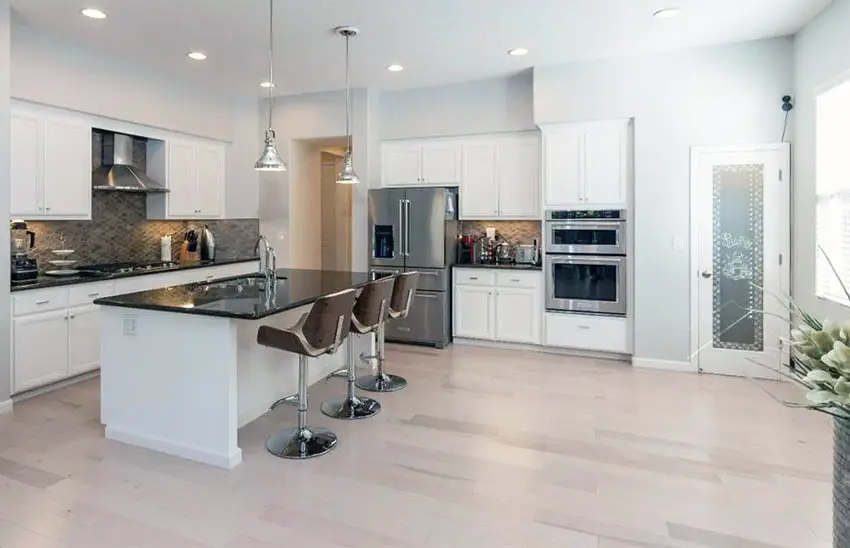 Because the majority of the finishes used in this large kitchen space is light – white kitchen cabinets, light gray walls, pale beech wooden floors – using black granite countertops help put the whole look together by adding balance and contrast to the space.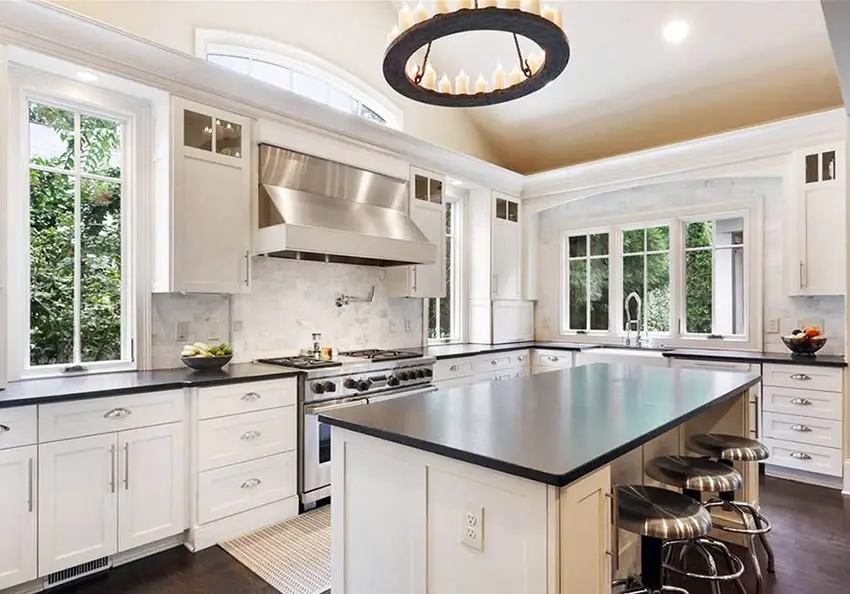 A vintage-inspired look is achieved by using off-white on the kitchen cabinets that complements the classic architectural details of the space. By using a satin finished black countertop, we help add a touch of modern detail to the kitchen to give it a more updated appeal.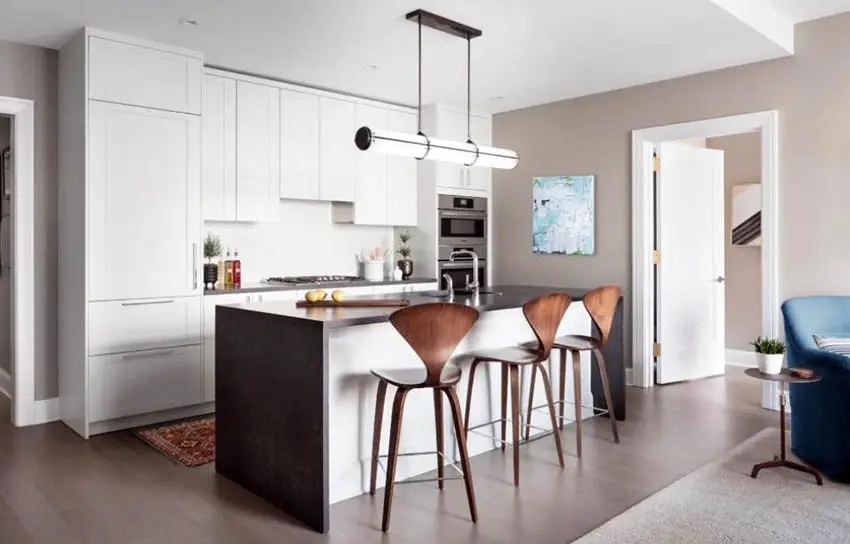 Black granite was used to wrap around the top and the sides of the large kitchen island in this modern kitchen space.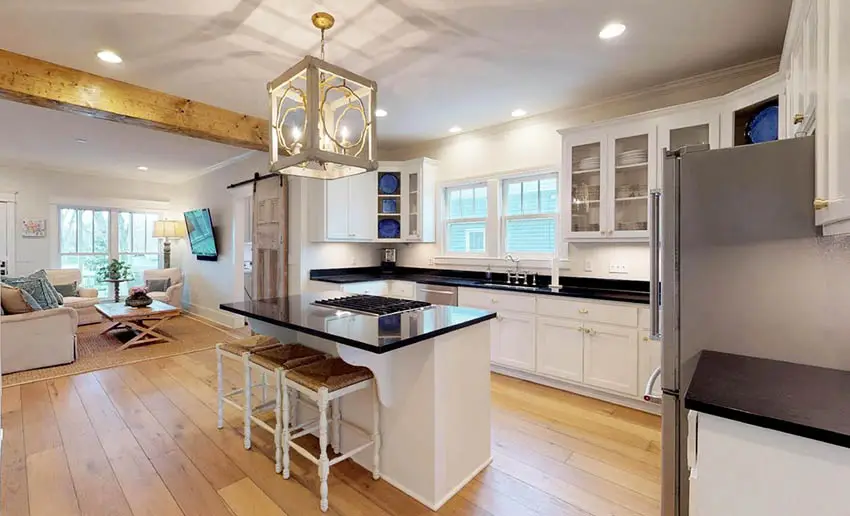 Glossy midnight black granite is the perfect pair for this simple all white kitchen cabinets.
Black Granite
Black granite countertops are a natural choice to contrast against white cabinets. Granite is timeless, durable and looks beautiful.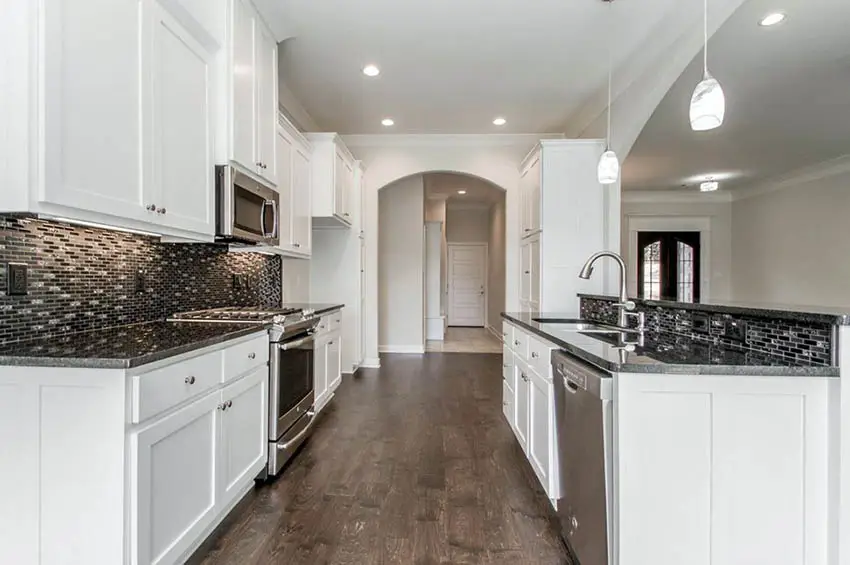 The black granite countertops with its subtle black and gray specks definitely pairs well with the black and gray glass mosaic tiles used on the backsplash. Moreover, they perfectly give contrast against the flat white finish of the kitchen cabinets.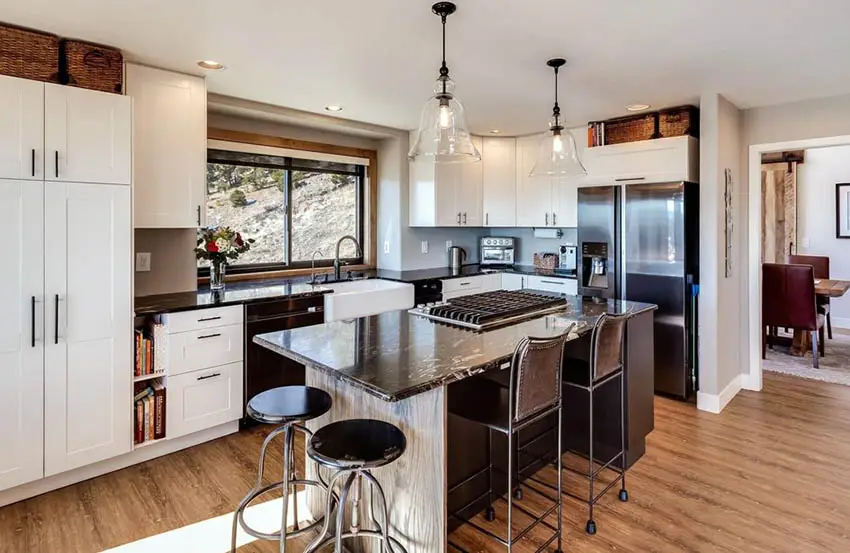 The black granite used on the kitchen island counter uses a bullnosed edge and rounded corners for added safety and comfort.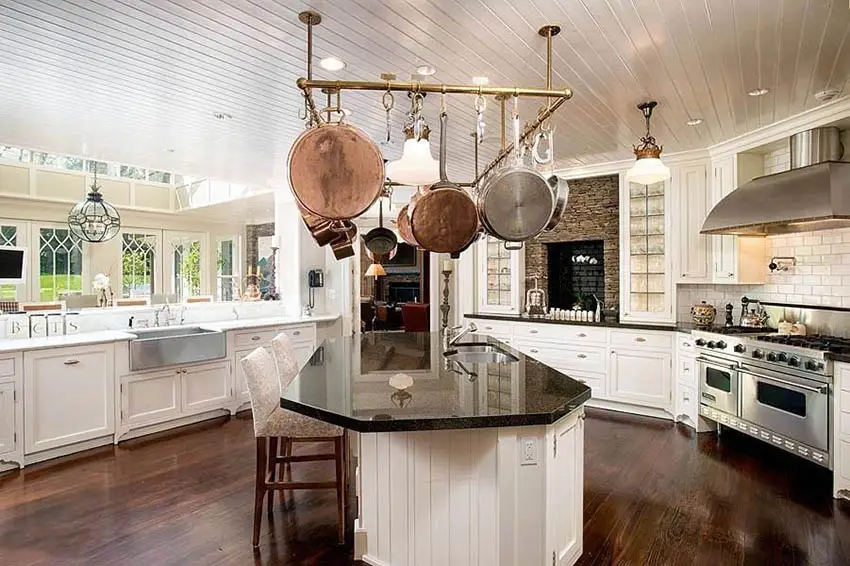 For this large classic country style kitchen, the diagonally-oriented kitchen islands tapers-off the corners of its black granite countertop to make the space safer for its users.
Antique White Kitchen Cabinets with Black Granite Countertops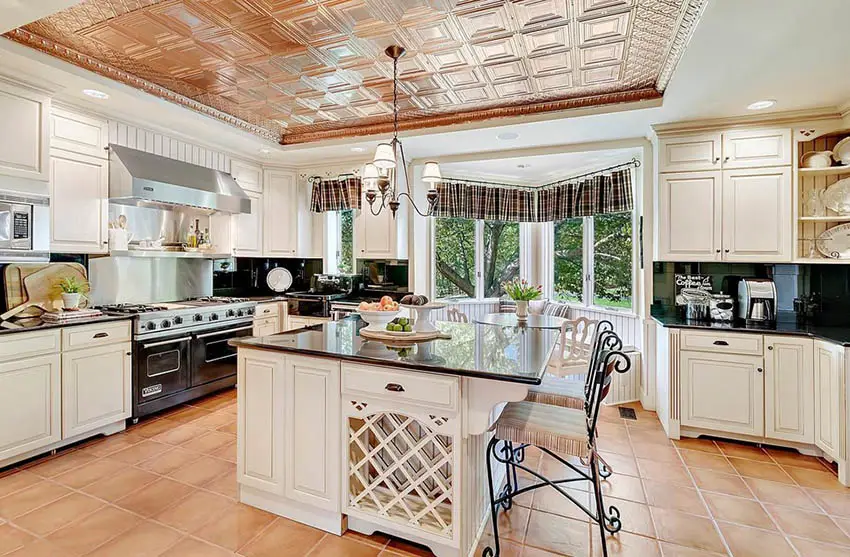 From the intricate coffer ceiling and the classic French provincial kitchen cabinets, this large kitchen is definitely a vintage kitchen of our dreams. The antique white kitchen cabinets are topped with black polished granite counter tops to add modern touch to the space.
Modern Cabinets with Black Countertops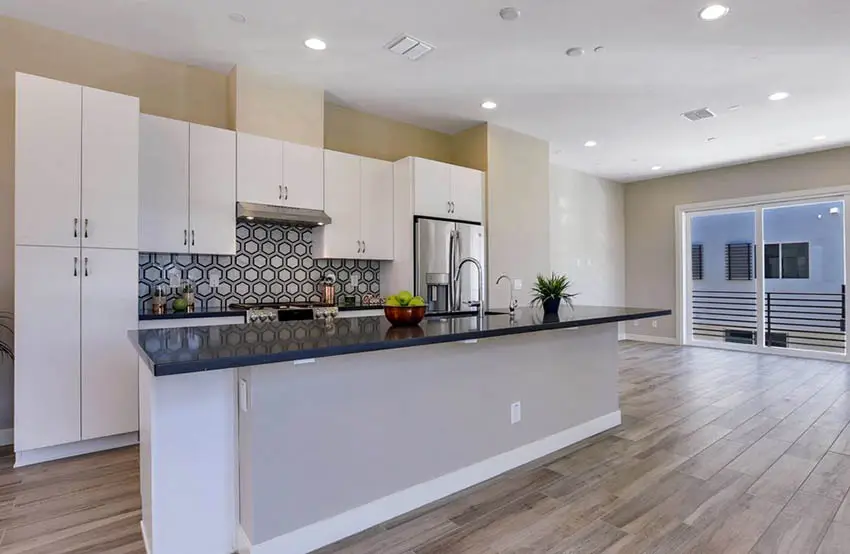 This is an excellent example of a modern white kitchen that uses black granite countertops to help add more depth to the all-white color of the cabinetry.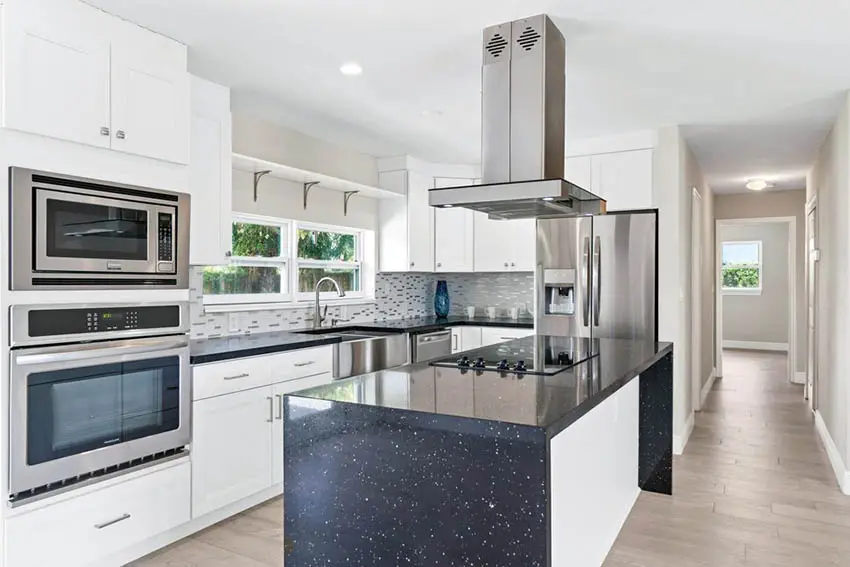 This black granite top with bold white speckles add a subtle texture/pattern to the very simple all-white scheme of the kitchen.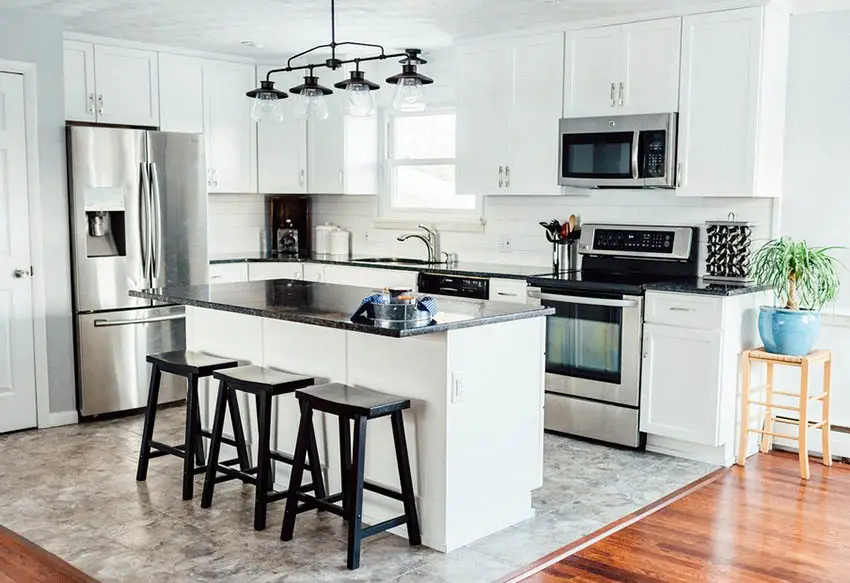 This small L-shape kitchen keeps a consistent black and white color scheme for its counters, appliances and furniture pieces. Black galaxy granite countertop was used to give the white kitchen a more modern appeal.
White Kitchen with Black Marble Countertops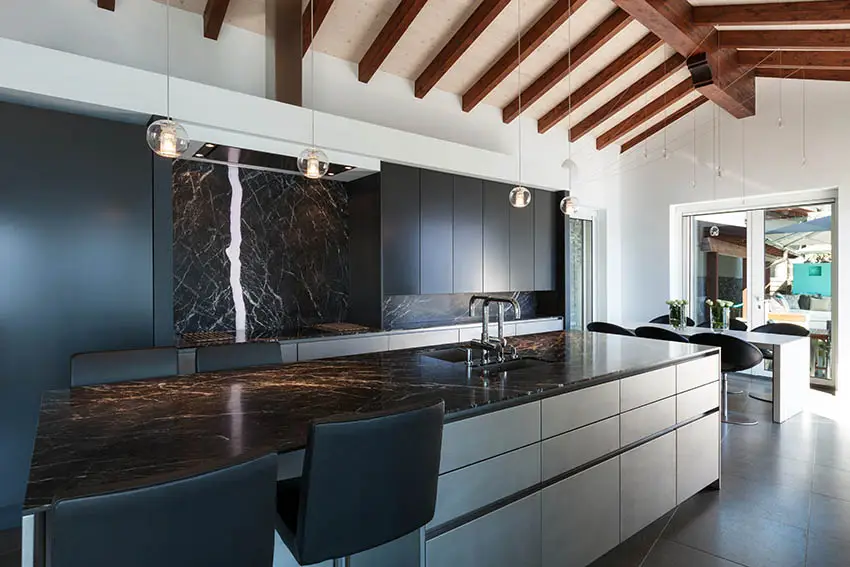 There is something stunning about the combination of white cabinets and black marble countertops. This modern kitchen uses both white and black cabinets with an spectacular marble slab backsplash with streaks of gold and cream veining to create an amazing impression.
White Kitchen with Gray Countertops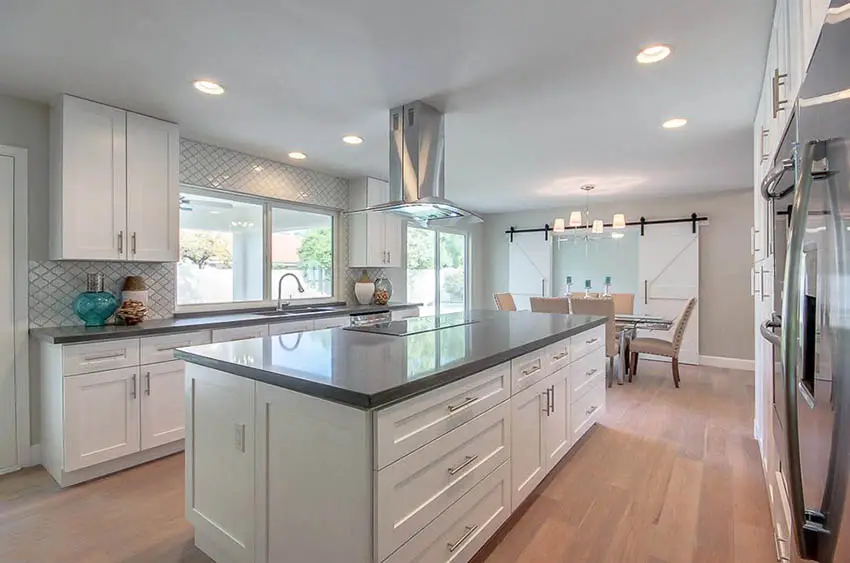 If you want a softer contrast and retain a contemporary feel to your kitchen, using gray for your kitchen countertop is a nice alternative.
This modern kitchen uses gray countertops in combination with its white paneled kitchen cabinets. See more gray and white kitchen ideas on this gallery page.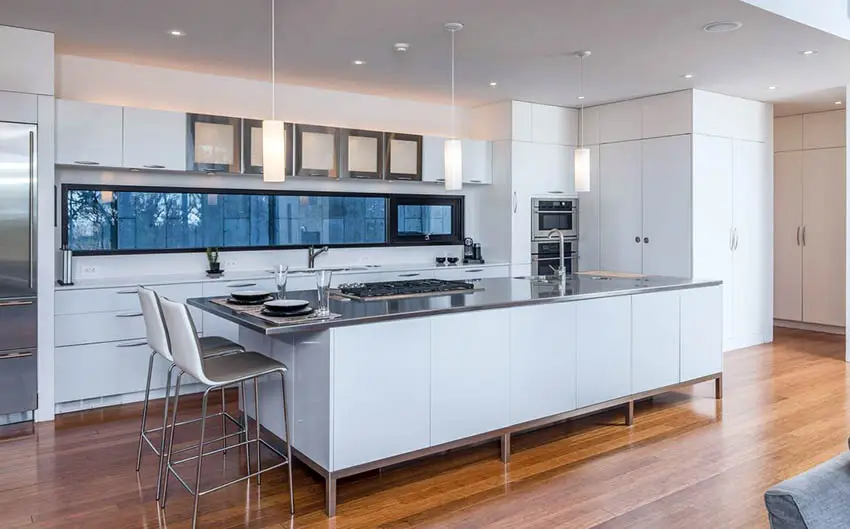 For this modern open concept kitchen, stainless steel was used as countertop instead of natural stone. Popular for commercial kitchens, stainless steel is often lauded for its ease of maintenance and durability.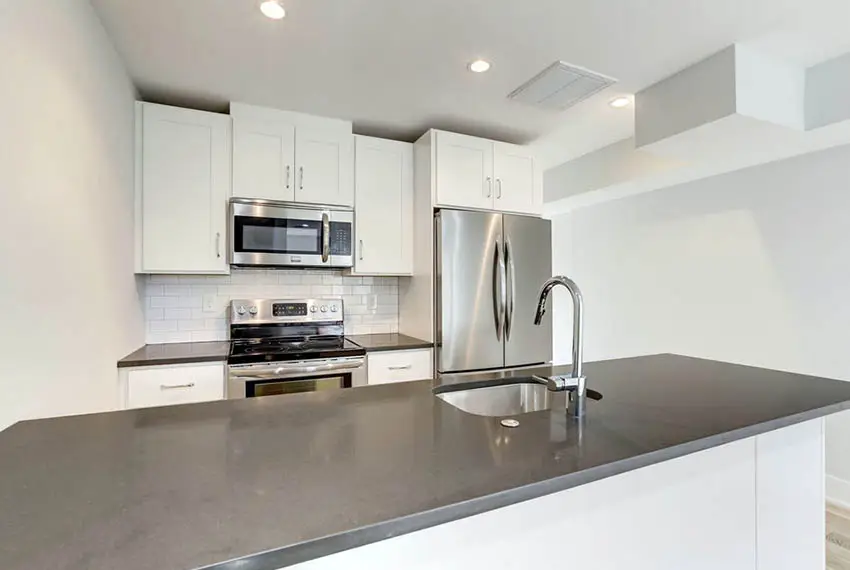 A satin/semi-matte black granite appears a bit lighter than polished granite on this kitchen peninsula design. If you want your counter a bit lighter, you can use a semi-matte finish granite instead.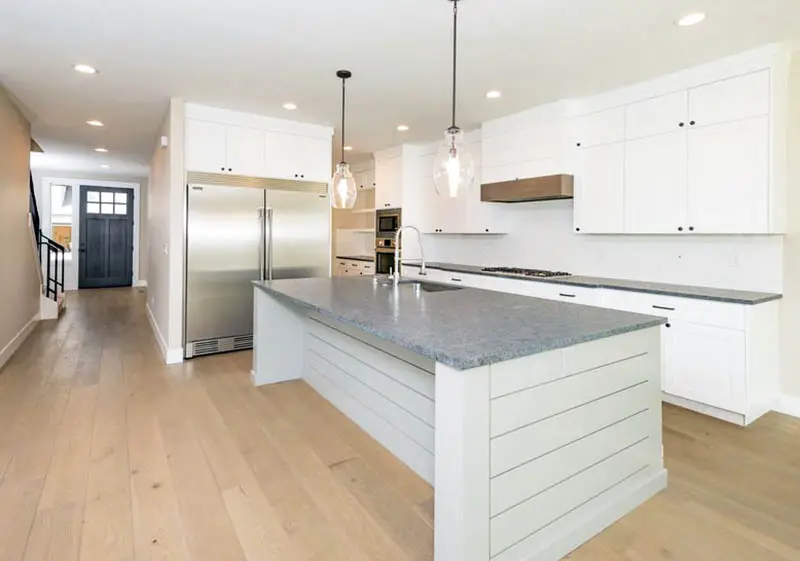 This large shiplap kitchen island uses a gray salt and pepper countertop to give the surface a more rugged look.
Kitchens with White Cabinets and Brown Countertops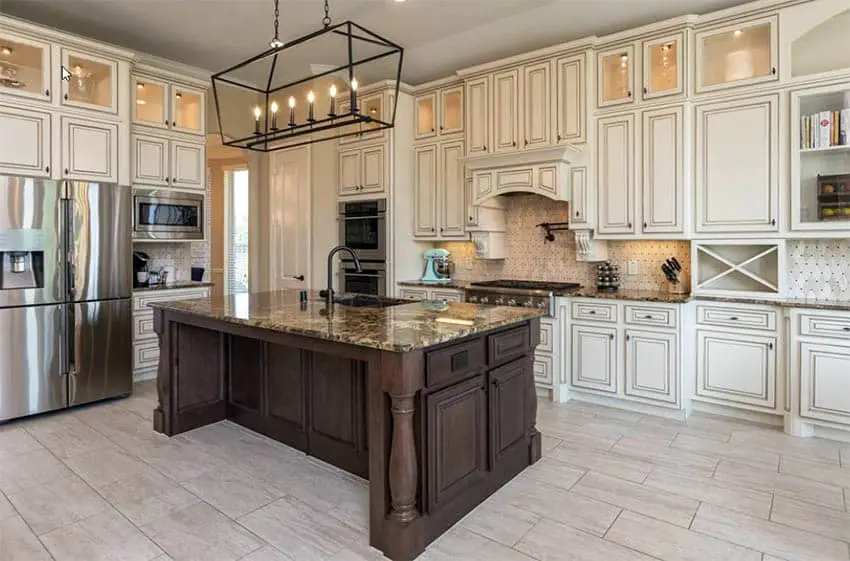 Brown countertops can also be paired with white kitchen cabinets if you prefer a warmer look for your kitchen. This French style kitchen uses a gorgeous slab of Persa Brown granite to complement the walnut countertop and the cream colored kitchen cabinets.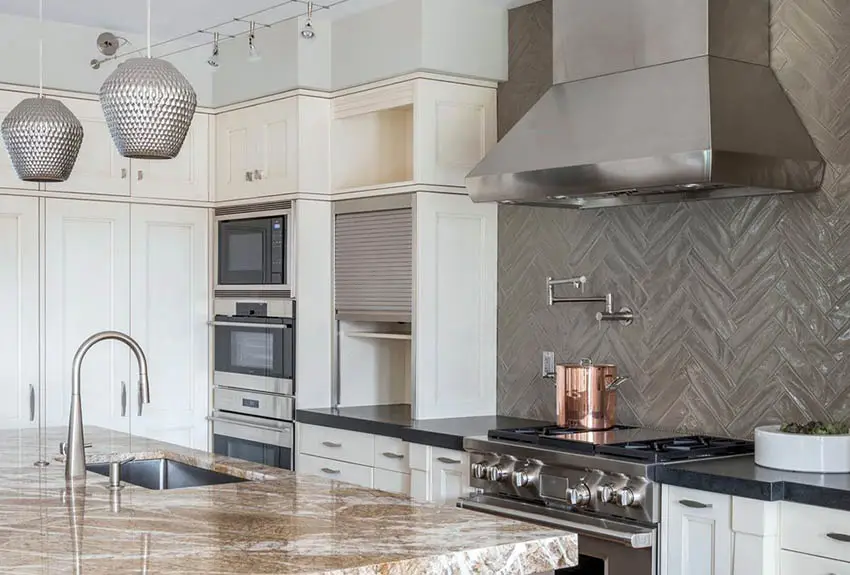 By using a fantasy brown quartz countertop, the large kitchen island instantly becomes the focal point of this modern kitchen that's mostly composed of blacks and white.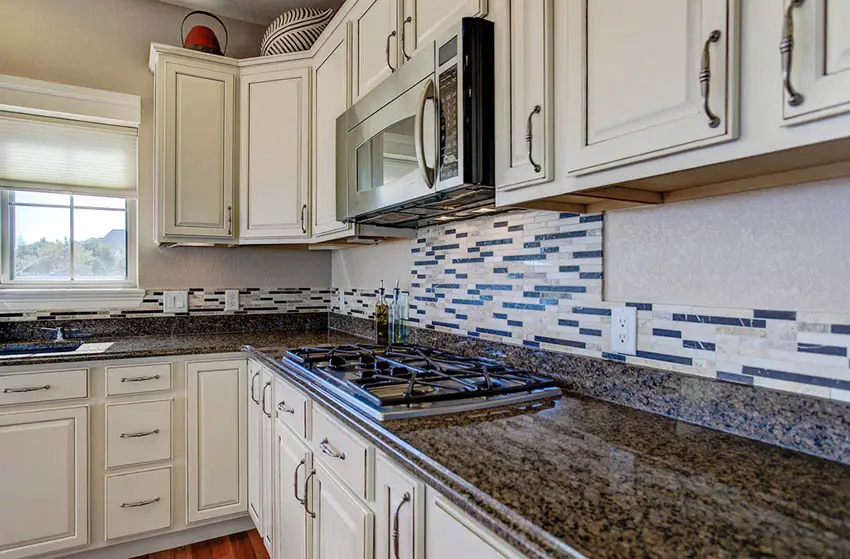 These brown granite counters gives just the right amount of warmth to this classic style off-white kitchen cabinets.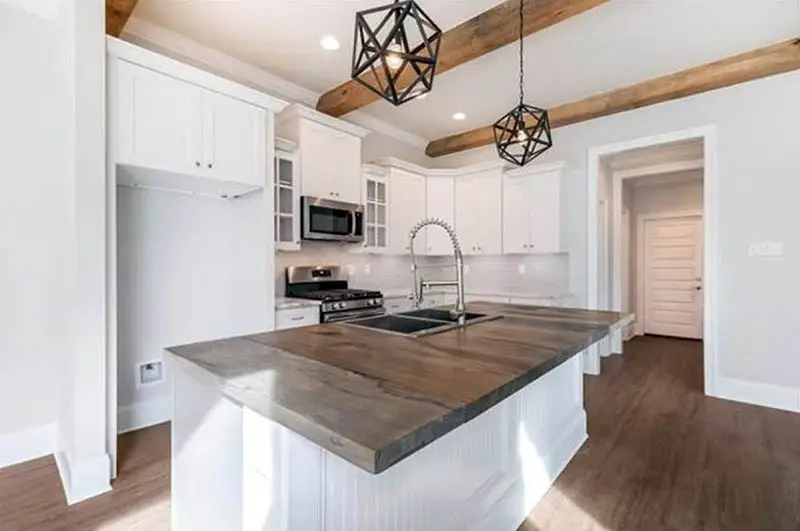 To complement the exposed wooden beams on the ceiling, this white modern farmhouse kitchen style uses a dark solid wood slab as its countertop, resulting in a modern kitchen with a rustic touch.
Kitchen with White Cabinets and Dark Countertop Island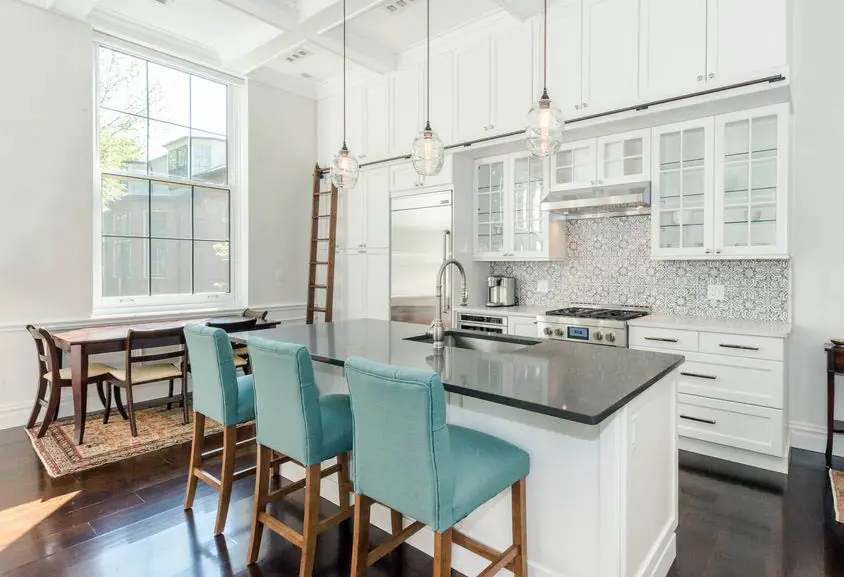 This gorgeous kitchen-dining space has a generous ceiling height, making the white kitchen look light and airy.
Because the main kitchen counters use white quartz countertops, the black solid surface countertop on the kitchen island stands out more. A large sink is built-in to the island, with plenty of space to either side for food preparation.
This large kitchen island design uses black granite countertop to add more color and texture variety to this modern transitional style kitchen.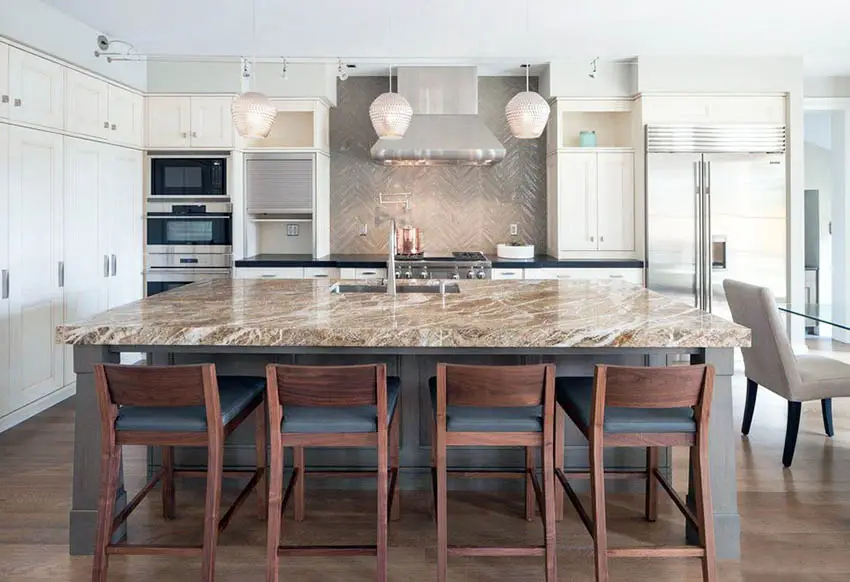 This beautiful contemporary kitchen design brings together white Shaker cabinets with a brown quartz island with dark gray wood base.
The main kitchen cabinets are of black quartz to provide contrast, while the light gray porcelain tile backsplash helps offer visual interest to the back wall. The brushed metal hardware and range hood tie in with the backplash to match the gray island for a cohesive design.
See more kitchen countertop ideas with white cabinets here.