This gallery of frosted glass backsplash designs includes its pros and cons, style, cleaning tips, frosted glass tile and sheet backsplash.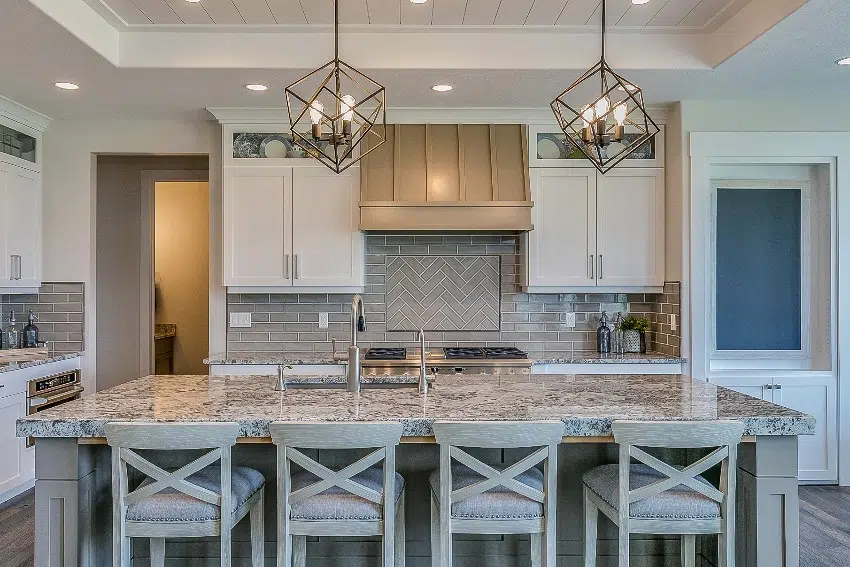 Kitchen remodels are a big endeavor and something that takes up a lot of time, cost, as well as effort. One practical technique to remodel the kitchen is to update it with the use of frosted glass backsplash.
Frosted glass backsplash is practical, easy and convenient to use and maintain, and of course, looks great and contemporary for a kitchen design.
What Is Frosted Backsplash?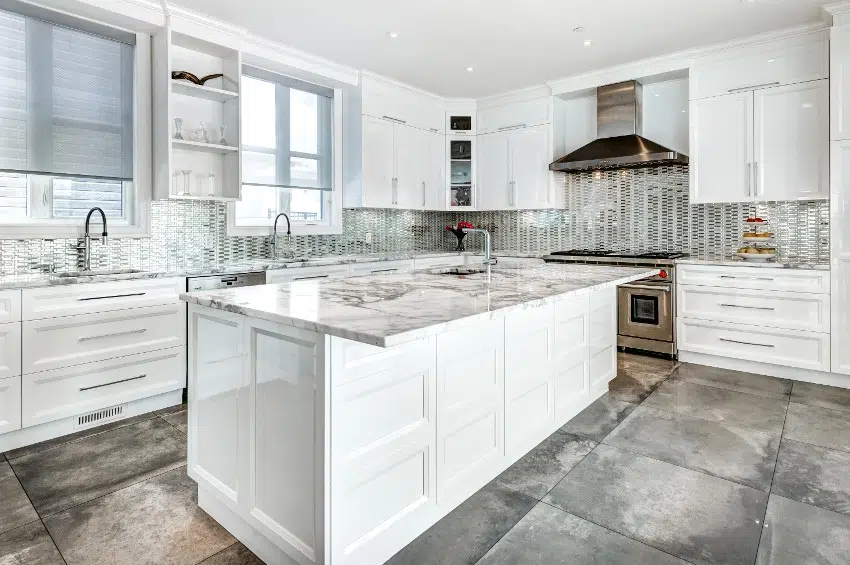 Frosted glass backsplashes have been around in the American and European markets for several years now. They're around for a pretty good reason.
They make for simple and practical solutions for your kitchen backsplash needs. Essentially, it's a piece of sheet glass that can be painted with a color of your own choice and then installed or mounted up on your kitchen wall.
A frosted glass backsplash is something that is highly customizable so you can create absolutely any look or color palette or even design that you may have in mind.
If you're redoing the overall look and feel of your kitchen, you can match it with whatever you're working with. If you need it to work with an already existing design and color palette, you can make it work with whatever you have right now as well.
Not only is it customizable, a frosted glass backsplash in the kitchen can also turn out to be extremely functional. It's quite easy to clean and maintain.
On top of all of this, it works as a cheaper, lighter, and at times even a more attractive alternative to quartz backsplash or other natural stone materials oftentimes used on kitchen walls.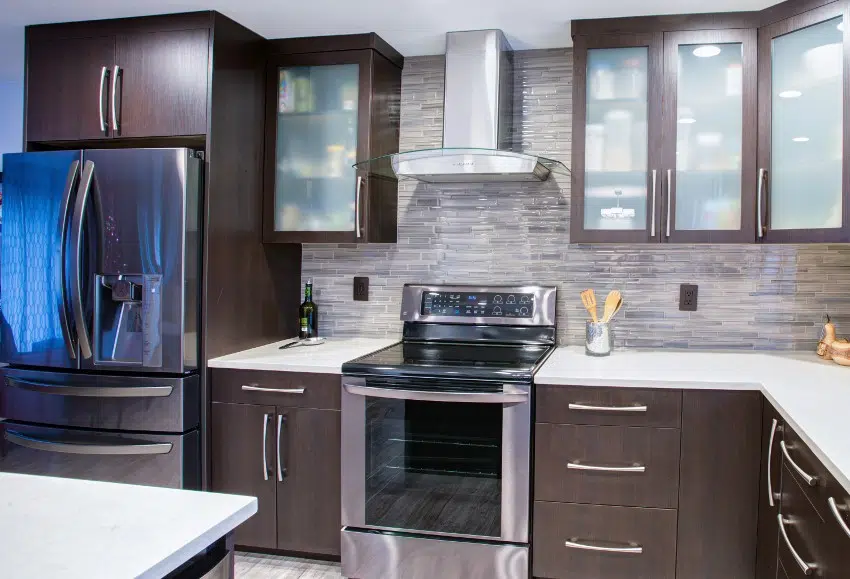 A common dilemma a homeowner is oftentimes faced with is whether or not the concept of a frosted glass backsplash is going out of style. Glass in the kitchen is all the rage now but one can't really be quite sure how long that will be or if there's an ongoing shift towards other materials in place of it.
Thankfully, it isn't. A frosted glass backsplash is still pretty much on-trend but the elements surrounding it are slowly changing.
Frosted Glass Kitchen Backsplash Ideas
Here are some things to keep in mind when sourcing what can and cannot go with your frosted glass backsplash upgrade in the kitchen: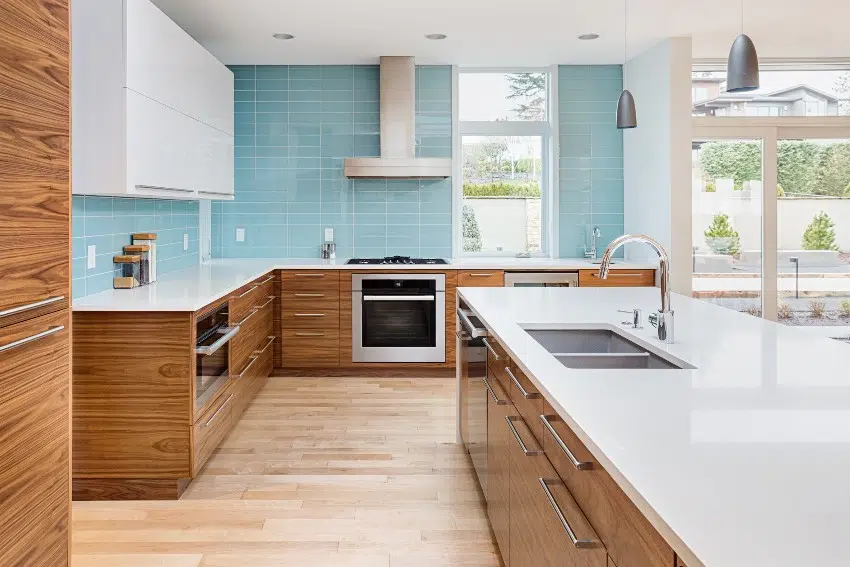 Keep it bright and colorful when it comes to your color options. – Neutral or monochromatic options for your glass backsplash are currently out. These days, it's all about bold and dramatic colors that can really take your kitchen design to a whole new level.
There is also the concept of "backpainting" added onto this wherein aside from just a solid color, patterns or even limited sceneries can be pained onto the back of your glass. This makes it more eye-catching and more vivid.
Work on making your glass finish "shiny". – Although glass is already intrinsically shiny, there are other things you can add on to make it even more so. Try to look at options of getting LED backlighting so really make your backsplash glow.
Adding an illuminated glass countertop to pair along with it can make the design more cohesive and more visually appealing. See our backlit countertops design guide to get more ideas.
Bigger is better. – Smaller and mosaic type patterns have the impression of being retro and unless that's specifically the look that you're going for, bigger is always better when it comes to the size of your frosted glass backsplash. Upgrade the size of your glass options.
This brings in a more modern and "together" look, then a pattern or a mosaic collection of smaller pieces. Glass is extremely customizable when it comes to its size and shape and it really all depends on what your preferences will turn out to be at the end of the day.
Height advantage – A taller frosted glass backsplash spanning your entire kitchen wall instead of just small portions of it can bring in a different type of "wow" factor and can completely transform your kitchen into something that looks glamorous or modern even with that single upgrade alone.
Pros And Cons Of Frosted Glass for Backsplash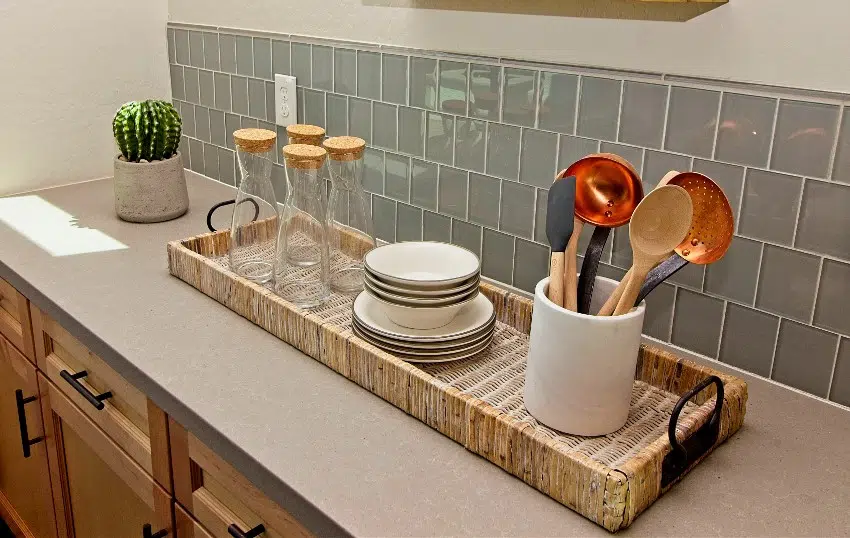 A frosted glass backsplash has its own pros and cons, of course. It's important for you to be well versed with what both sides are so that you will be able to make a fair and educated decision about whether you should include it in your kitchen design or not.
Pros of Frosted Glass Backsplash

Easy to clean and maintain – All you really need to clean up a frosted glass backsplash is a piece of soft cloth, and a soap and water mixture.
If there aren't any deep etches or scars on the glass, cleaning it up can be quite a breeze and will require nothing more than just a simple wipe-down of its surface.
There's also very little (if any) leftover residue for you to worry about. This makes a frosted glass backsplash a really great material to opt for in the kitchen where sanitation is a must and where food prep usually leads to a lot of spillages, food and oil splatters, and a variety of other liquid and viscous messes.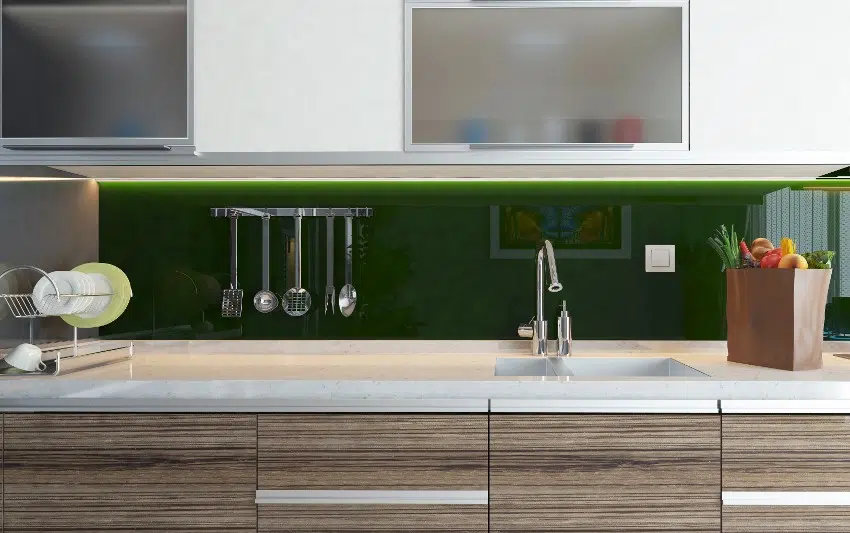 It has no grout joints. – Glass surfaces do not require sealing of any kind. This is why this material stands out from its other rivals such as marble, granite, and other natural stone types.
Aside from the required cleaning, there is no need to constantly reseal once or twice a year from there on out after installation.
Reflectiveness – Glass is a material that naturally reflects light, both natural and artificial. This means that you will be providing natural illumination for your kitchen space while you're at it. Kitchens need to be well illuminated.
This is where food prep happens and you need to have ample amount of lighting all the time so that you'll be able to go about efficiently and with no challenges somewhere along the way. (Dim kitchens and sharp knives in in it can be quite dangerous).
Visually attractive – With the addition of a frosted glass backsplash, you're able to transform your kitchen, making it look chic, updated, and modern. It works extremely well with a contemporary type of design and delivers a very clean and seamless look to the space.
Efficient – Glass is a material that looks clean and stays clean. You don't have to worry about constantly having to deal with messy walls and you don't have to clean up as much.
The backsplash ensures that it catches everything (especially oil splatters), and once you've wiped it down, you have very little left to clean up.
Versatile – There are a lot of design options with frosted glass backsplashes. Glass can come in any design, texture, or size you may want or need. It's customizable and you don't have to settle with the limitations of store bought options.
Cons of Frosted Glass Backsplash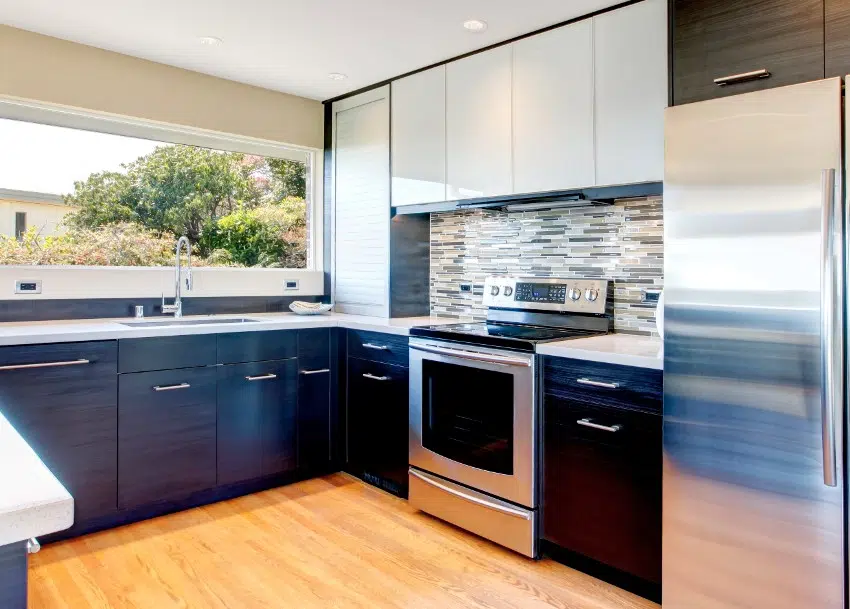 Glass may crack. – It's one of the main challenges of working with glass. It can be quite durable but it isn't exactly shatterproof. It may crack if you clean or scrub up on it too hard. It may also obtain sights of damages if you accidentally shift it off of the wall that it's installed on.
Requires delicate professional installation – The margin of error in the installation of a piece of frosted glass backsplash can be very slim. This isn't something that you can DIY at all.
You need to make sure that only seasoned professionals are getting your installation done. Any dust, debris, or bugs trapped in between the wall and the glass during the installation may stay there for good and there wouldn't be any way for you to get them out.
Damages on the glass may instantly require replacement. – Any damages on the glass, no matter how minor, may instantly require replacement. Repairs aren't usually an option in the event that glass gets damaged because of the nature of its material.
Frosted Glass Tile Backsplash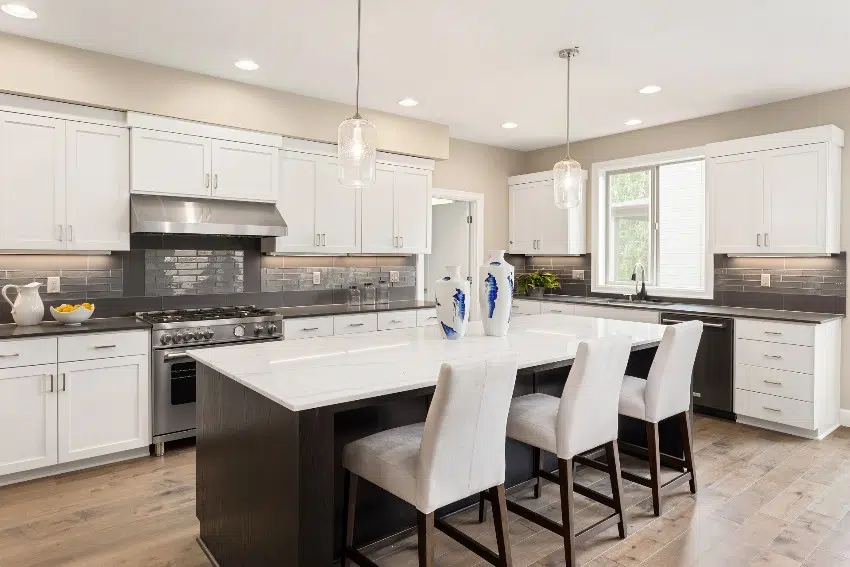 Glass tiles are easily customizable. They particularly stand out because of their attention grabbing appearance. They can come in a myriad of colors, designs, and patterns. They can easily convert your backsplash wall into your kitchen's main accent wall.
Glass tiles have a rather interesting trait of reflecting the light spectrum which can dramatically visually expand your kitchen space.
If you have a small kitchen, it won't cramp it up at all and can instead make it appear bigger than it actually is. And because it's made out of glass, it's also quite easy to clean.
Frosted Glass Subway Tile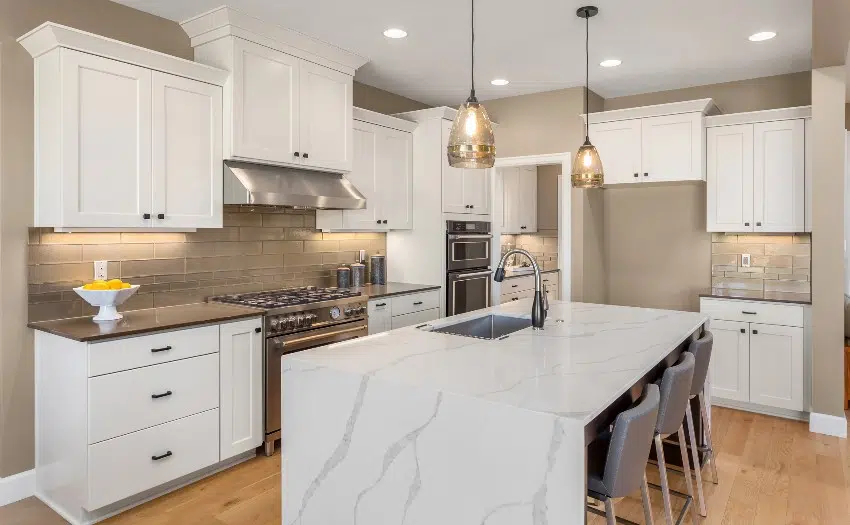 Frosted glass subway tiles used as a backsplash are timeless, classic and rather minimalist. They have a certain look to them that appeals to homeowners who want to keep their kitchen design simple and seamless.
Subway tiles are impervious to water especially with the proper grout and sealer. They can be transparent, translucent, or even colorful depending on what your tastes are.
Glass subway tiles are also oftentimes made out of materials that are either recycled or recyclable. They take half as much energy to manufacture compared to regular ceramic tiles. So if you want to be environmentally conscious with your remodel materials, it's great to consider them. See more subway tile kitchen backsplash design ideas here.
Frosted Glass Sheet Backsplash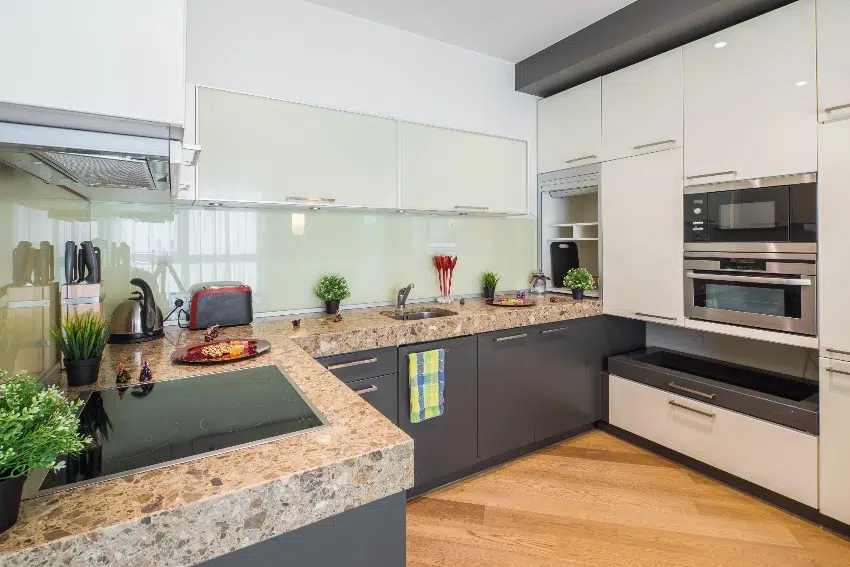 A frosted glass sheet backsplash in your kitchen is very low maintenance, as with most glass materials. It is also moderately priced. Although glass usually has the notion that it can be very expensive, this is not always the case.
Sheet backsplash doesn't require an extensive installation process and you can pick out the type of thickness as well as material you would like to go for, it's a rather moderately priced option. It makes it very easy to take on a kitchen look or design and make it completely your own.
As an added benefit, a glass sheet is also quite easy to clean and is resistant to stains and mildew, making it very hygienic to have in the kitchen.
A popular alternative to using glass is to use one of the popular brands such as Corian for the backsplash which is constructed of an acrylic resin.
How Do You Clean Frosted Glass on a Backsplash?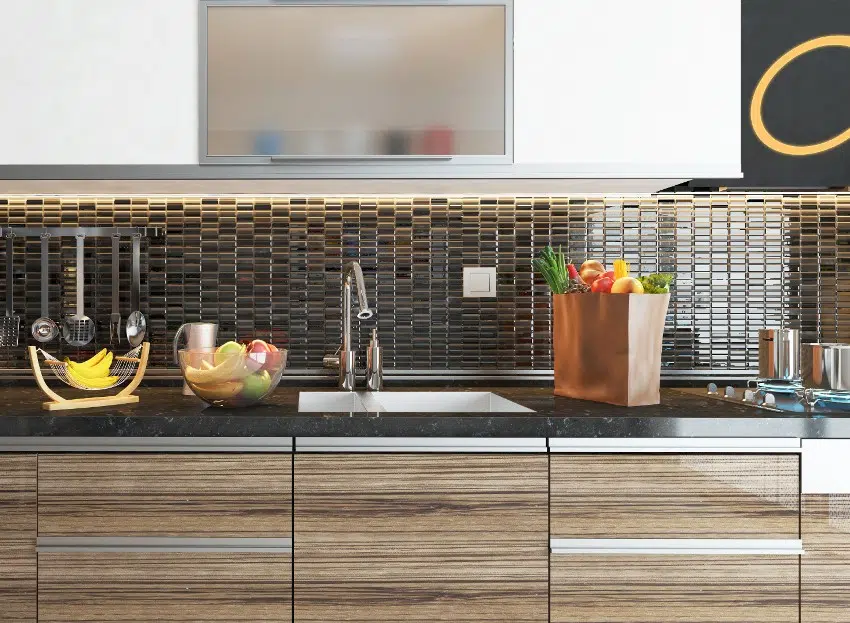 Thankfully, cleaning your frosted glass backsplash is simple and easy. If it doesn't happen to have any deep etches or marks on its surface, it doesn't really have the capacity to retain dirt and grime or anything of the like.
Even if it does though, cleaning up can still be very easy. The options are usually to either go for cleaners that are acidic or basic (their levels on the PH scale).
Bases work well against common dirt and grease. This is usually where cleaners that have ammonia and bleach fall under.
Windex and other glass gleaners also fall under the base category. If it's something that feels "soapy" is a pretty good indication that it's a base.
Acids, on the other hand, work well against hard water stains. These are usually harder to remove compared to common surface dirt and grease.
Mineral deposit cleaners you find in stores, vinegar, and citrus products or actual citrus all fall under this category. Common glass cleaner brands such as Bark, Lime Away, and CLR are also considered acidic.
Safety note: It is highly advised that you use rubber gloves at all times when cleaning up your frosted glass backsplash.
Not only will this provide your skin with a layer of protection from whatever cleaning substances you're using, this will also ensure that you don't end up leaver fingerprint stains on your glass surface.
Different Methods for Glass Backsplash Cleaning:
Baking soda and vinegar
Start off by spraying a vinegar-water solution (equal parts) mixed in a spray bottle.
Finish up by wiping this down with a clean soft cloth.
For tougher dirt or stains, you can presoak with a baking soda-vinegar paste mixture, slather it on the stained spots, and then finish up with the vinegar water spray.
Mineral deposit cleaners
Spray the mineral deposit cleaner on the surface roughly around 12 inches or a foot away from the glass surface.
Let this soak on the glass surface for about 10 to 15 minutes or as indicated on the product bottle.
Wipe it off with a clean soft cloth.
This usually applies to hard water stains on your glass surface.
Glass cleaner products
These are usually harsher than the other products or substances mentioned on here so make sure that you work in small areas or patches.
Follow directions of usage indicated on the product bottle.