On this page we share kitchen garage door designs including garage door style windows and conversion tips to change the layout of your space.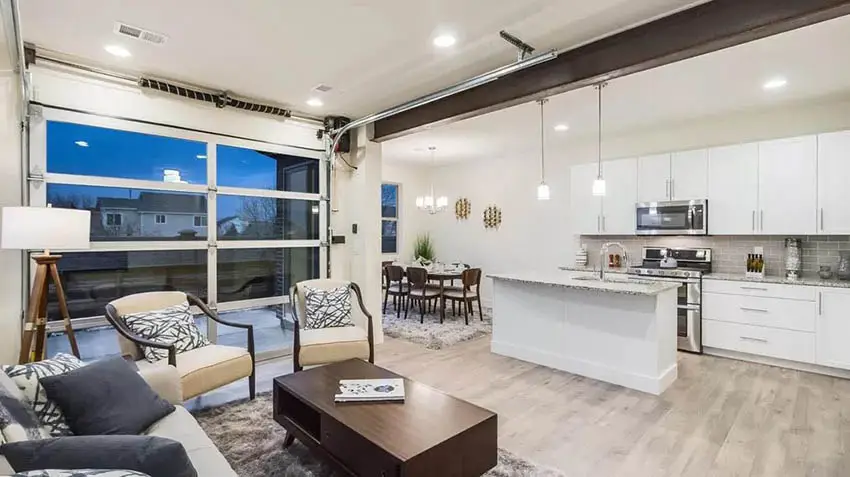 You've probably heard of garage doors used as opening for living areas, and it's a really nice way to provide a very large, automated opening for your living room. Using garage doors for the kitchen, however, is a little more uncommon, but you'll surely enjoy the different benefits and advantages of installing one in your kitchen.
Garage doors used in other areas of the house (aside from the actual garage), has been gaining popularity recently, especially when styles that has glass panels have been introduced. If you're still unsure read on to see several different types one can choose from.
Garage Door Style Kitchen Window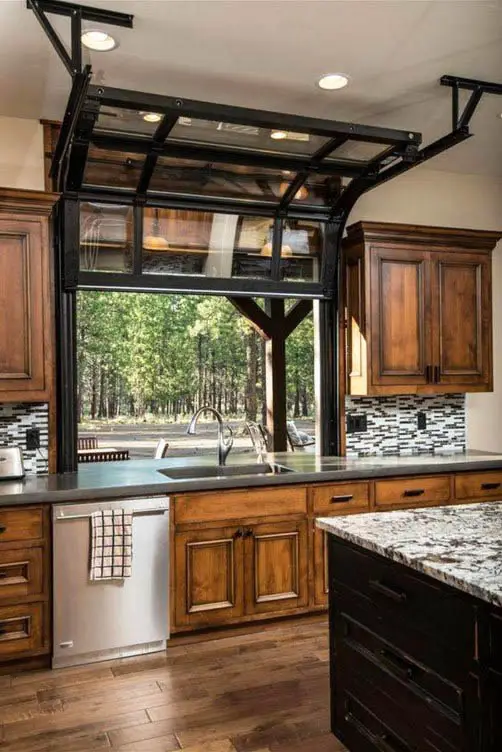 If you don't have space for a full-length garage door, you can also use the same mechanisms and hardware to create a small kitchen garage window. This is a great idea if you have enough ceiling space for the garage window to fold onto, and a perfect way to improve air circulation in the kitchen.
Here are some of the benefits of installing garage door windows in your kitchen:
Large Openings – because of the mechanism and design of garage doors, they can be fully opened, allowing you to maximize the opening. The large opening of garage doors and garage door windows also make it very efficient when you need to move in large items, such as appliances, furniture, construction materials, or even simply lots of grocery shopping.
Light – if you use steel-framed glass garage doors or windows, you'll be able to increase the amount of natural illumination to your kitchen space the same way a normal window or door does.
Automated / mechanical opening – Hands-free door opening? That's very possible when you have a garage door installed!
Space-saving – you can install very large garage window or door openings on virtually any space, even small kitchens, as long as you have enough headroom for the garage door mechanism
Improved ventilation – most small kitchens have ventilation issues, because they're usually only installed with small windows – using a garage window will solve that problem, as the large opening will help improve the airflow even in the smaller kitchen spaces.
Aesthetic / Design improvement- garage doors are a great way to connect indoor and outdoor spaces seamlessly. Connect it to your yard, patio, deck, or pool area to create a more laid-back ambiance to your kitchen!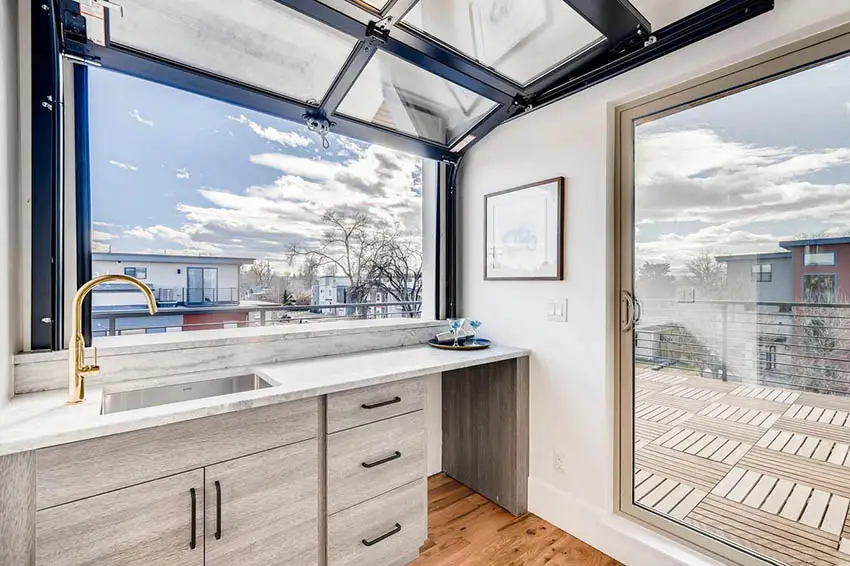 For smaller kitchens like this, ventilation is even more important as the fumes and smells can be trapped while you're preparing food. The garage door mechanism allows an almost full-opening for your window, so ventilation is not a problem if you have one installed. Just keep the window up and open when you're preparing food that produces a lot of smoke or smell.
Converting a Window to a Garage Kitchen Window
There are many ways you can include a garage door style kitchen window to your space. You can easily convert any existing opening (door or window), and use it for your garage door or window. You only need to check for two things:
Load capacity – If you're installing very large openings, you might need to consider if the ceiling can bear the load of the size of the door or window you are installing. Garage style doors and windows can be a bit heavier as it also has other mechanical parts and tracks.
Ceiling height – Make sure that you have enough headroom even when your garage door or window is rolled up to the ceiling to avoid accidents!
Garage Kitchen Conversion
Aside from converting existing door or window openings to garage door style, another popular way is by converting your existing garage to a kitchen, or a kitchen extension. This can be a practical choice, as many kitchens are designed to be very close to the garage to easily transport supplies and grocery to the pantry / kitchen storage. In most cases, you only need to take down walls or partitions to connect it to the garage, otherwise, you'll need to fully convert the garage space as a new kitchen, installing all the necessary plumbing and cabinetry.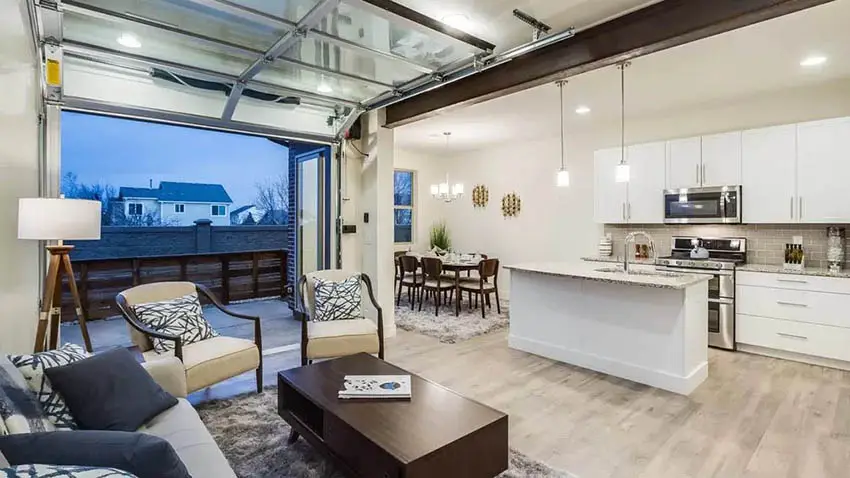 Garage door in living room and kitchen.
For this kitchen, you can see that the kitchen was originally right beside the garage, so the original walls between the garage and the kitchen was taken down to connect the two spaces. The garage itself was converted into an open living area, while the kitchen added a kitchen island to visually divide the kitchen from the living space. The garage door provide a large and bright opening that is easy to access. In this example, the small living area connects to the patio deck, giving you a pleasant outdoor view from both the kitchen and living areas.
Converting a garage to kitchen from scratch can cost between $6,000, but can go as high as $50,000 depending on the size, materials, and finishes you specify. If you have existing plumbing lines nearby, the kitchen conversion might cost less. Do consider the pre-existing condition of your garage before deciding on converting it to a kitchen – ventilation, electrical lines, plumbing, insulation, etc.
You can consult a local contractor to asses your current garage for conversion viability, and try to plan according to your allotted budget. You may need planning permission to convert a garage into a kitchen, but do check with your municipality or city's zoning department to see if there are any regulations regarding garage conversions.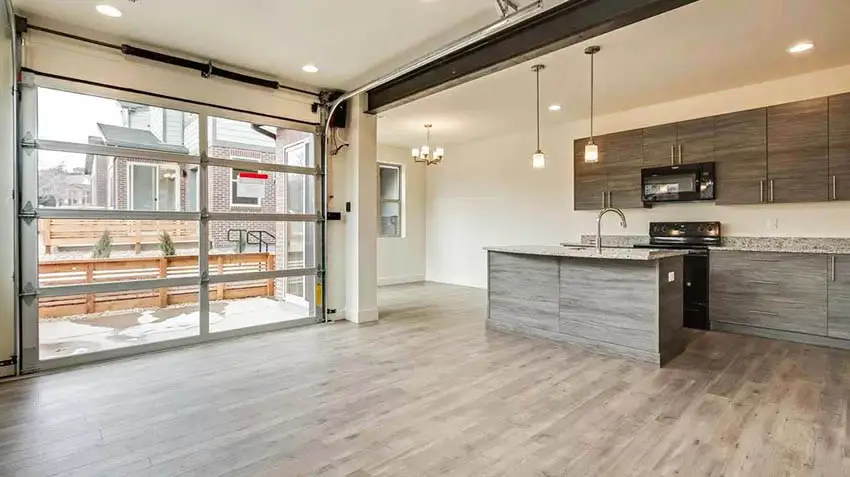 This is similar to the previous layout wherein the kitchen was situated right beside the garage area. The walls dividing the garage and the kitchen were torn down, and an I-beam was added for additional support. The garage door is metal-framed glass, so there's a lot of natural light coming into the space. Visit this page to see more examples of garage to living room conversions.
Garage Kitchen Conversion Design Considerations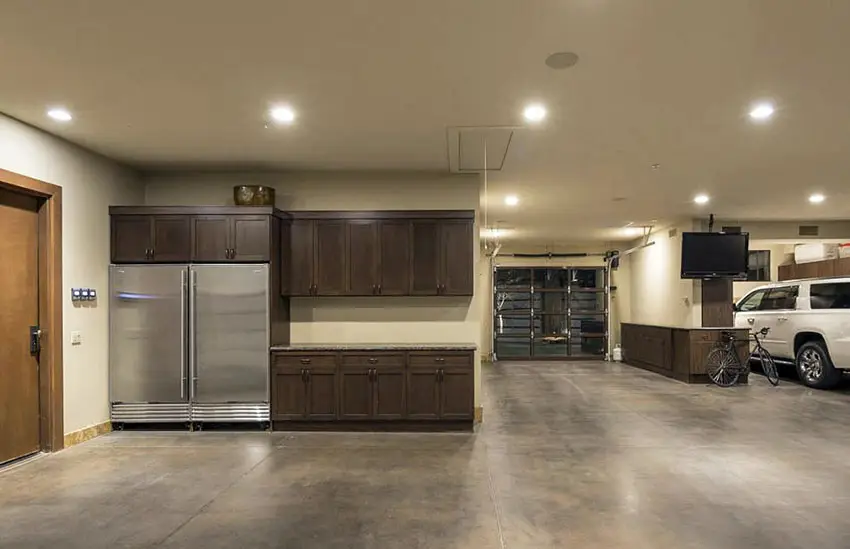 Once you have decided to convert your garage into a brand-new kitchen, here are the very important design and planning considerations you need to discuss to ensure a successful renovation:
Budget – set a budget to keep it realistic. You can compare various quotations from contractors in order to determine a realistic working budget for your project
Size – You will need to carefully determine the exact size of your garage dimensions to ensure your design is planned properly.
Insulation – you will need to check the existing insulation of your garage to make sure it will be a comfortable/livable space
Flooring – does your garage have flooring or is it just concrete? Do you plan to change it to tiles, wood, or other materials? Floors will also add a lot of cost to your overall budget, so plan this accordingly
Electrical / Wiring – do you have enough power for your kitchen? You might need to add more load, convenience outlets, and switches.
HVAC – you will need to asses the current heating / cooling system of the garage, or if you will need to add one to make it a livable space
Walls – you might need to add dry walls, or other additional finishing to the existing walls to make sure there's no moisture seeping through!
Plumbing – you will need to have running water and plumbing system to complete your kitchen
Cabinetry – if you're starting from scratch, now is your chance to plan your kitchen well. Consider your current and anticipated storage needs when planning the cabinets, and also take note of the existing appliances you're going to use or install built-in. If everything is new, always plan with the "kitchen work triangle" in mind for a more efficient kitchen workflow.
To create your own plans there are many types of garage design software that can help you visualize your ideas.