Here we take a look at porcelain kitchen countertops including their cost, pros & cons and how they compare against granite and quartz.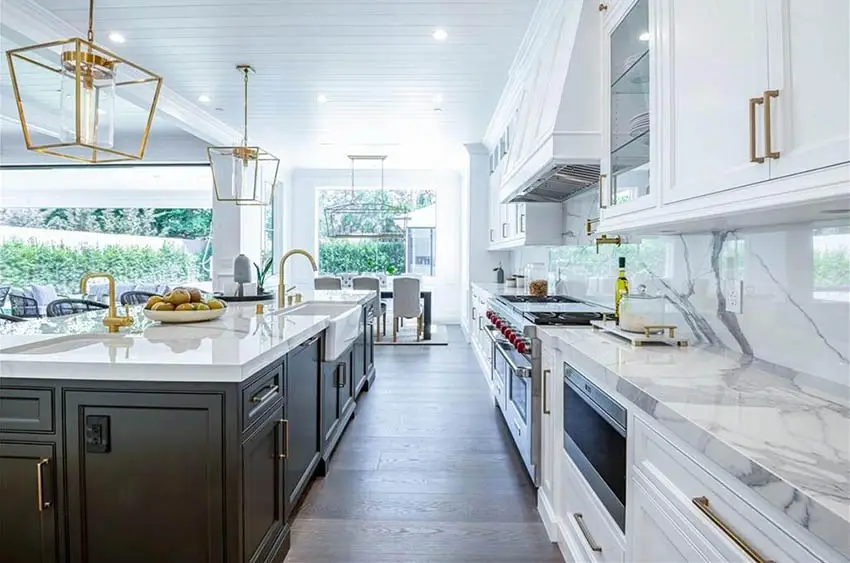 The popularity of porcelain countertop for kitchens has grown over the last few years and more than a passing trend. Incorporating this sleek and versatile ceramic slab material adds value to the interior design of your kitchen.
These porcelain slabs are appealing, strong, low-maintenance and durable and are comparatively cheaper than quartz and marble. Choosing a porcelain countertop is a smart option and the most cost-effective way to upgrade your kitchen.
What Are Porcelain Countertops?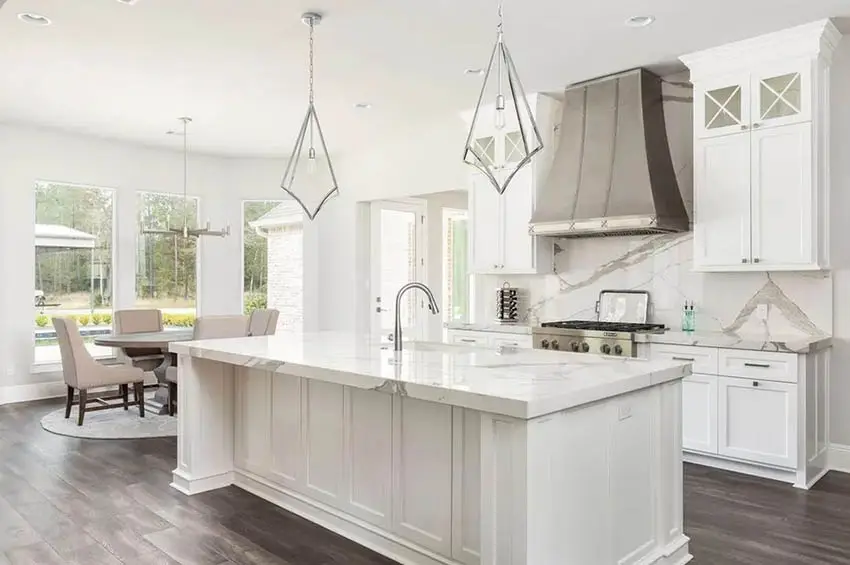 Porcelain is a compact pottery clay which is white with fine-grained substance. It is usually a translucent hardened clay which is porous, opaque, and coarse. Porcelain is made by heating a mix of powdered China stone and kaolin (white China clay).
Extremely high temperature of about 1450 °C is needed to heat porcelain which causes the powdered China stone to form into a dense and highly durable material, while the kaolin helps retain its shape. The result of this mixture being exposed to high temperature contributes to the porcelain being resistant to stains, heat, UV rays, cracks, scratching, and chipping.
There are also impurities present in the clay such as silica, mineral oxides, and feldspars, these minerals contribute to the strength and color quality of the porcelain.
Once the porcelain slabs are manufactured to be used for countertops, a coat of pigmented glaze is applied to give the porcelain a similar appeal like that of a natural stone or marble and to create different colors and patterns on the porcelain slab.
How Much Do Porcelain Countertops Cost?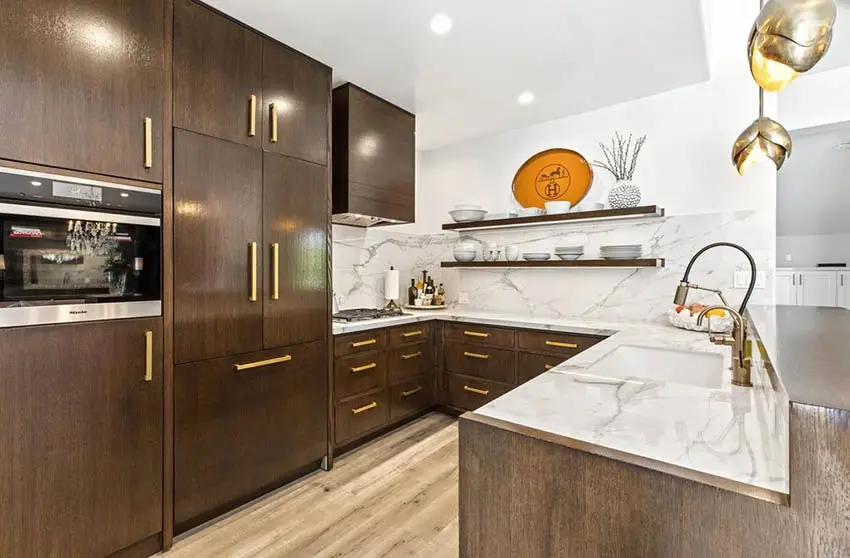 Due to its fragile nature and rather complex fabrication process, porcelain kitchen countertops are slightly higher priced to that of quartz. For the regular porcelain slab with no special features included, can range from $60 to $100 per square foot.
Another factor that proves to contribute to the cost of porcelain countertop is finding a fabricator with good experience working with these porcelain slabs; and in this case it is difficult since porcelain countertops are in a way still new to the U.S. market.
Porcelain Slabs For Kitchen Countertops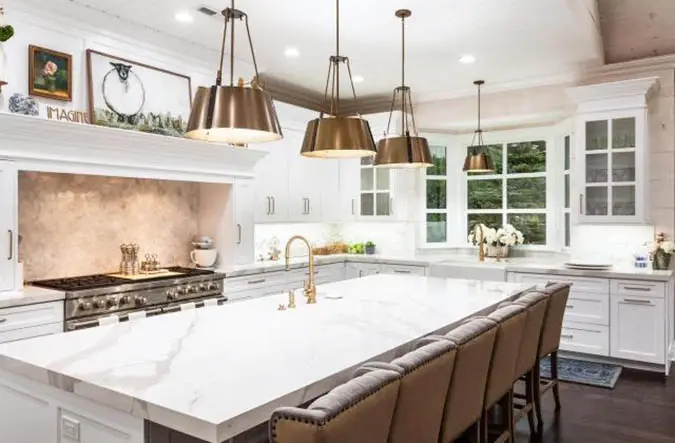 Popularity of porcelain countertop has recently gained recognition and is on the rise in the United States. Porcelain countertop can either be glazed or unglazed. The glaze decreases porosity and reduces the risk of staining. Glaze also increases durability and adds shine to the porcelain slab.
Unglazed porcelain has its colors extending through the full thickness of the porcelain slab; unlike glazed porcelain wherein the pattern or color is only on the surface and does not go through the full thickness of the slab.
Porcelain Countertops Pros and Cons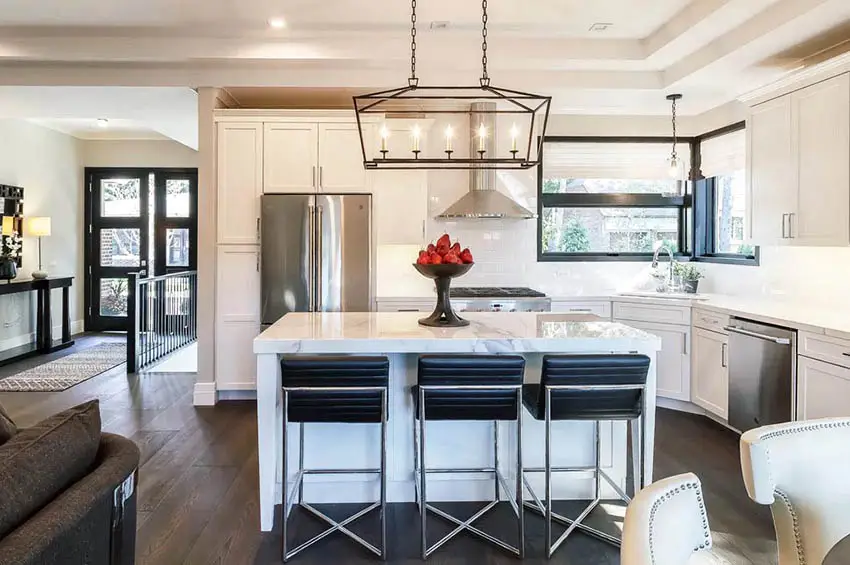 Before purchasing you may want to know whether porcelain is good for kitchen countertops. To give you a clearer idea for using porcelain countertop as a design option, we would like to share with you an in-depth look at the advantages and disadvantages in the characteristic of this sleek and stylish surface material that is rapidly gaining popularity among designers and homeowners.
Pros
Resistance to Heat – Exposure to extreme high temperature in manufacturing and fabrication, porcelain countertop can withstand heat coming from hot pots and pans directly placed on top of the porcelain countertop.
Resistance to Stain and Scratches – Since porcelain is non-porous, liquids do not absorb, and it is resistant to most chemicals and acidic foods and drinks.
Porcelain is also resistant to scratching due to its tough structure similar with granite and quartz. Chemicals will not discolor or bleach and will not dull or etch the surface of porcelain countertop making porcelain ideal for high-use areas.
Resistance to Ultraviolet Light – Porcelain is a great choice for outdoor countertops since it is also resistant to sunlight.
Hardness and Durability – Porcelain is 30% stronger than the hardiest granite and extremely durable. It can stand up to most impacts and extensive use making it possible to slice and dice food on its surface without having to worry about knives damaging the countertop. Porcelain countertop is also highly resistant to abrasion and fire.
Easy Maintenance – Cleaning up made easy. Because of the extreme high temperature involved in its manufacturing, porcelain is completely impervious to the bacteria, fungi and molds which can cause hazardous to oneself. The glaze on the porcelain makes it waterproof and very easy to clean. Porcelain countertop is a very hygienic surface. Using just a damp cloth, warm water and a disinfectant solution would wiped-away germs, dirt, and other bacteria.
Variety of Colors and Patterns – As an engineered stone, pigments can be added during manufacturing and fabrication process of porcelain to have its surface looking like natural marble, wood, steel, or concrete finish. Solid color porcelain is also available as well as having patterns which mimics other natural stone.
Size and Thickness – Porcelain is a lightweight material and can be manufactured in extra large porcelain slabs which can give you more options and choices when incorporating porcelain countertop in your kitchen or other applications in your design.
Environmentally Friendly – Porcelain can easily be recycled because it is made of raw and clay-based material making it 100% natural product.
Cons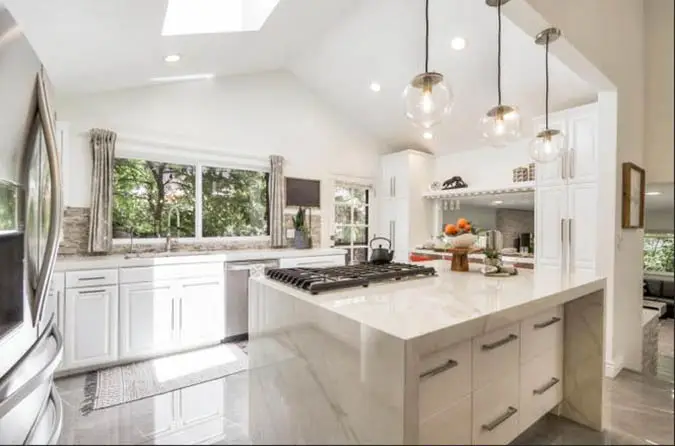 Cost – The price of the porcelain countertop is a major factor to consider. Fabrication of this high-density material must go through a lot of process which contribute a lot in the cost. Finding the right supplier and fabricator who knows the material well is difficult since porcelain countertop is thinner than others and it is not an extremely common material.
Prone to Cracks and Scratch – Porcelain countertops have the tendency to crack when applied a blunt force. Although porcelain countertops are scratch proof to an extent; using ceramic knives will scratch the porcelain surface easily.
Edge Profile – Porcelain countertop has limited edge style options since the material is so thin. But porcelain countertop can still have mitered edges to create a consistent pattern such as the square edge. Edges that are available in the market for porcelain countertops are round, beveled, straight, cover and waterfall.
Patterns and Design – Porcelain's design and pattern does not exist all the way through the slab since patterns are printed on the top surface only; and so printed design will not be visible on the countertop's edges. In case there would be chipping, the design and pattern will not be seen all way through.
Finishes – Porcelain countertops does not have as many options than those of the natural stones. Polished high-gloss, matte and honed finishes are among the most common finishes available in the market.
Porcelain vs Quartz Countertops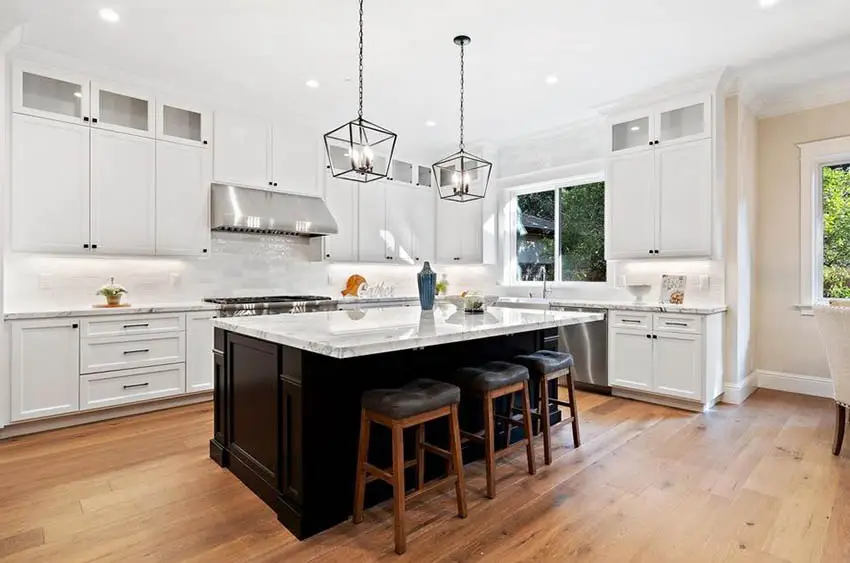 Quartz is a man-made non-porous surface making it a safe material to use for countertops, plus it is hygienic. Quartz countertops are made from polymers, pigments, resin and quartz making it highly durable.
Design options are also available looking like natural stone such as Calcatta marble and Statuario marble among the most popular designs.
Porcelain countertops are made from ceramic clay and mineral coloring which make its surface also highly durable due to their exposure to extreme heat. Porcelain countertops are also non-porous and can be fabricated to have remarkable realistic design imitating the look of natural stone, wood grains and even concrete countertops. The latest form of porcelain countertops comes in a lighter weight having 3/16" thickness making it advantageous in the installation.
Porcelain vs Granite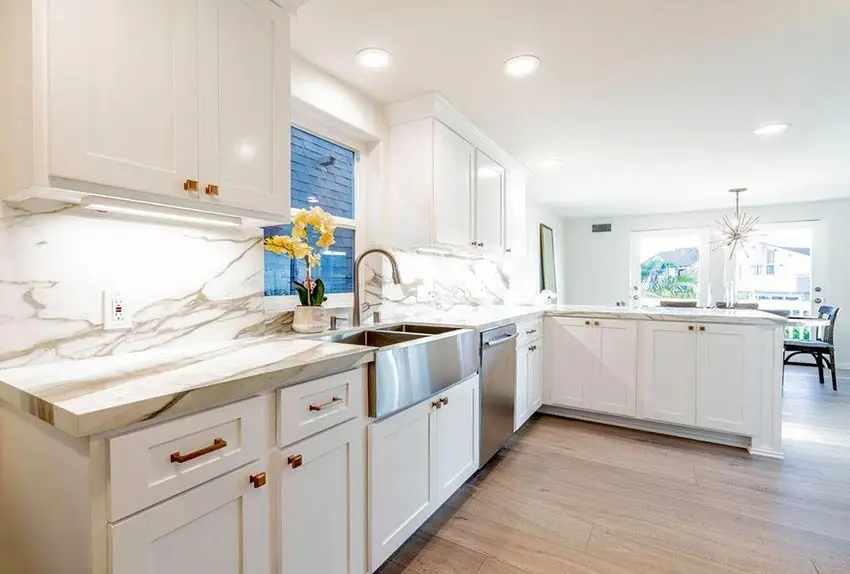 Porcelain is 30% harder and stronger than the hardiest granite as mentioned earlier in this article, making it the second most durable countertop unaffected by the hard wear of everyday.
Granite is quarried from the ground in their natural state and then sliced into slabs making them a genuine natural stone used for countertop surfaces. Granite is exceptionally durable and is also scratch and heat resistant. In general, granite countertops are stain and chemical resistant and are considered to be low maintenance.