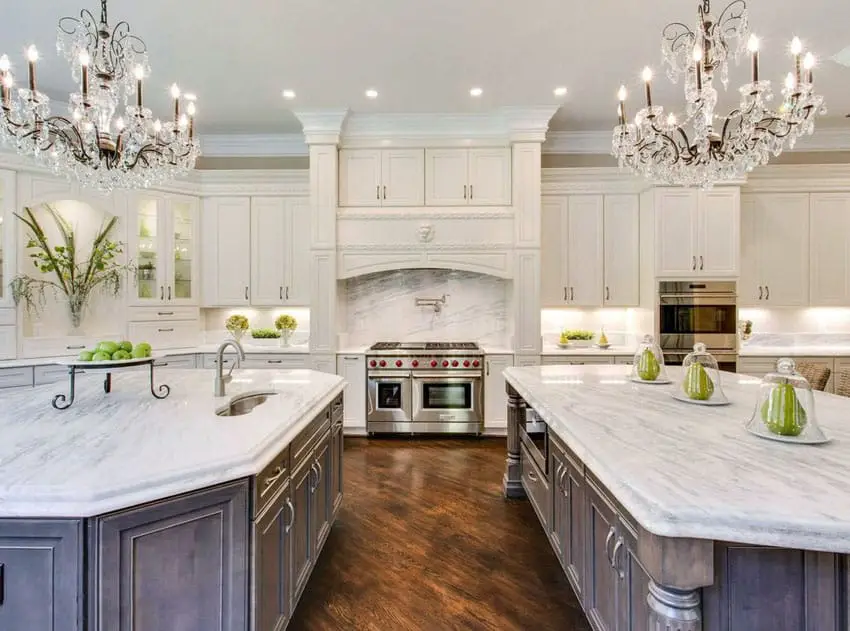 Welcome to our gallery of stunning gourmet design ideas. These kitchens are a chefs dream come true and come equipped with professional appliances, multiple ovens, large countertops, plenty of under cabinet storage, and an effective work triangle. Take a look at these ideas for inspiration for your next home or remodel project.
Exuding the elegance and class of classic designs, the gourmet kitchen in the picture above, uses high-quality materials and finishes in order to create this beautiful design.
It uses hardwood flooring and wooden cabinets, combined with marble countertops for a clean and elegant surface. The area gives enough space for the two large islands, allowing multiple users to work at the same time.
For some families, the kitchen & the dining area is not only a place for eating and cooking, but rather, a place for family gatherings. This is the reason some families take the design very seriously.
For food enthusiasts, chefs, and basically, anyone who has a passion for cooking and takes their cooking seriously even at home, considering a gourmet kitchen in your home would definitely make cooking at home more enjoyable.
What sets apart a gourmet style from typical home designs is that its design is patterned on professional kitchens. More than the aesthetics, the placement of appliances and the overall layout is given much importance, delegating sections for cooking, food preparation, storage, washing and serving.
Gourmet kitchens are equipped with professional-grade equipment, but with design aesthetics that would match the interiors of your home.
Designing gourmet kitchens takes a bit more effort and collaboration between the designer and the user/s of the kitchen. Aside from the general layout & design style, many aspects are taken into consideration during designing to be able to create a gourmet kitchen to match your needs.
Gourmet Design Characteristics
Here are some of the most important factors when designing a gourmet chef's kitchen:
Frequently-used appliances/equipment – each person has a personal preference for appliances, so it is important to know what type you prefer and which ones you will use the most to be able to successfully integrate it into the layout.
What type of food you like to prepare? – different dishes require different equipment and tools, so it is important to know so you can allot spaces easily accessible for its tools, storage and equipment
How many people use the kitchen at the same time? – this is especially important so that there is enough hallway space for an efficient traffic flow
Do you entertain guests while preparing food? – some love multi-tasking and showing off their cooking prowess to their guests. If you are one of those, then it's good to consider attaching or integrating a bar counter into your island, or providing a sitting or dining area
Special equipment and tools – depending on the dishes you like to cook, there might be special equipment you might want to use, so it is important to take note of this, especially if you want them to be built-in
Your storage needs – what kind of food/ingredients do you store? Which ones do you use most often? How much do you need for storage? – these are just some of the questions you need to consider so that sufficient space would be allotted for storage
Your cooking habits & preferences – design a kitchen that works according to the way you prefer to work in for an even more enjoyable experience
The layout should match your needs and your cooking habits to make it very efficient and functional. Durability of materials and ease of maintenance should also be given emphasis, since the appliances would most likely be well-used and are not merely installed for display.
Lastly, the aesthetics of the space should never be forgotten, as it is still part of your home and should somehow match the overall ambiance of the interiors. Understanding your needs and requirements is the key in creating a well-designed gourmet kitchen that would make cooking a pleasure even at home.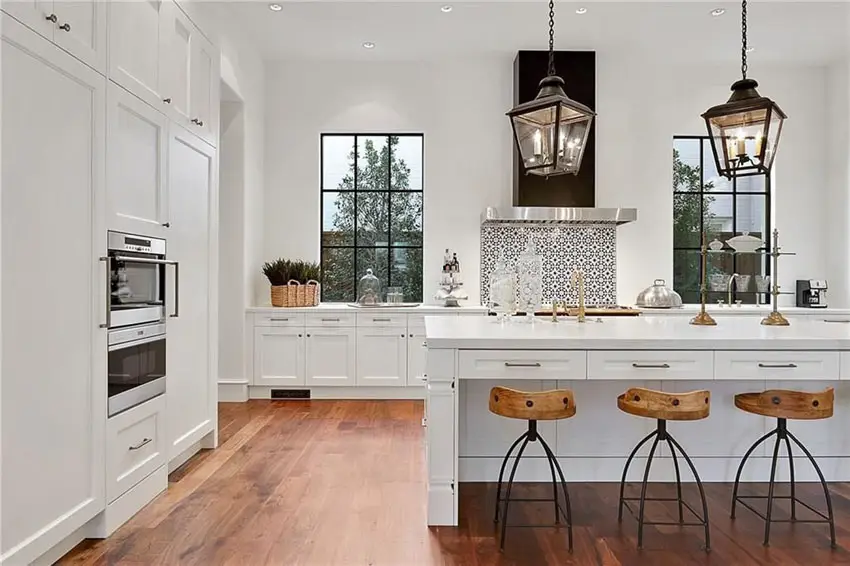 A gorgeous contemporary style gourmet kitchen with industrial elements, giving it a unique flair and tons of personality. Cherry wood floors combined with white walls and high ceilings create a spacious and airy ambiance.
All cabinets are white and uses white solid surface for the countertop for a seamless surface. This space dedicates its storage and wall-units on the left side, and in the middle is a large island for food preparation, entertaining, as well as washing.
What is a Gourmet Kitchen
The hallmark of a gourmet kitchen is its professional appliances, effective work triangles, large cabinet storage for pots/pans, accessories and utensils, large countertops and a layout that encourages entertaining. Gourmet kitchens should be laid out for maximum efficiency with zones for food preparation, cooking, and cleaning.
Here are a few of the top features of a gourmet kitchen:
Gourmet appliances – Appliances should be geared toward performance. Chefs prefer professional gas ranges with a double oven to prepare multiple dishes at the same time. One should be a convection oven to ensure that food cooks evenly throughout.
Stain-resistant countertops – Easy-to-clean countertops are a must. Durable materials such as granite, quartz, and stainless steel are some of the least porous and most stain-resistant.
High-end refrigerator – French-door style refrigerators with freezer drawers on the bottom are effective for their space-saving design and convenience. Putting food products near eye level makes them easier to quickly reach while preparing meals. However, many chefs prefer a separate refrigerator and freezer if given the choice.
Cooktop or sink in the island – Having the cooktop or sink installed in the island is great for those who want to have conversations with family or entertain while cooking. Having the cook top on the island and facing quests while cooking provides good Feng Shui principles that many chefs prefer.
Warming drawer – A warming drawer helps keep food warm until it's ready to be served. A warming drawer is far superior to reheating items in the microwave, which can affect the taste.
Microwave drawer – Often hidden from sight under the countertop and built into the cabinetry, a microwave drawer can free up needed counter space and provide a clean appearance.
Dishwasher drawer – A dishwasher drawer is effective for those who do a lot of entertaining. This can be placed separate from the main dishwasher and closer to a bar sink where dirty glassware can be easily managed.
Beautiful Countertop Materials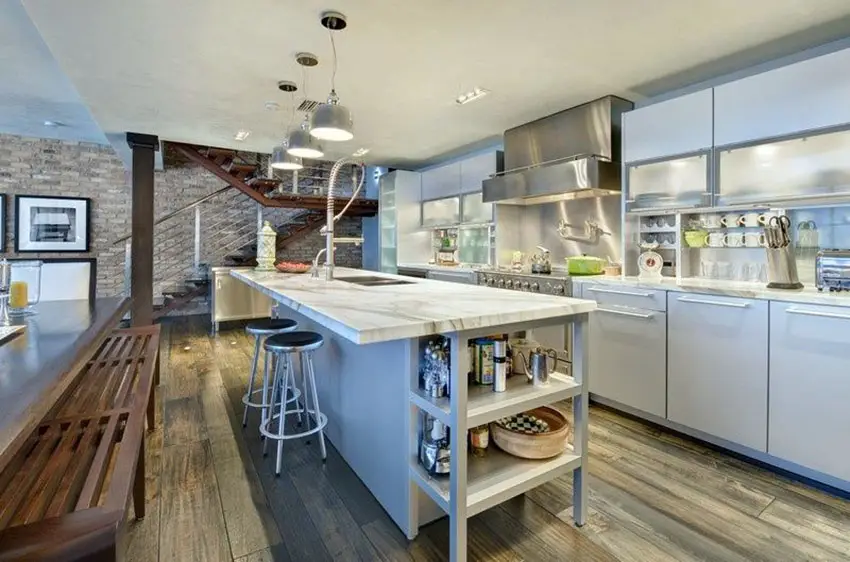 This beautiful contemporary space showcases lovely Calacatta marble countertops and a functional island with a built-in sink and storage. The layout offers an effective work triangle with easy access from the stovetop to countertop space and accessories.
Luxury Appliances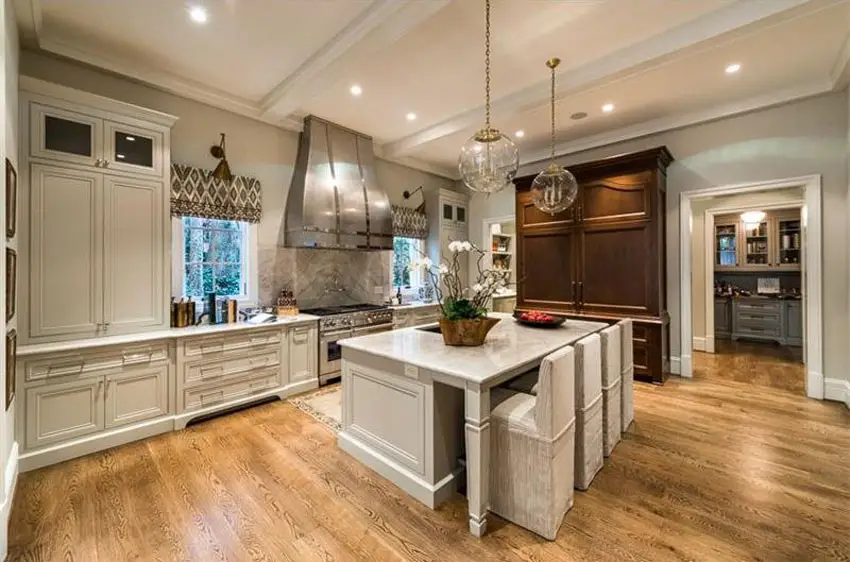 Going for a more traditional style, this gourmet space keeps a very classic look by concealing the equipment and appliances in cabinets. This allows for a cleaner look, and would not disrupt the illusion of an old, classic kitchen.
Nevertheless, it is still fully equipped with industrial-grade appliances and has a large area to work efficiently.
Large Range Hood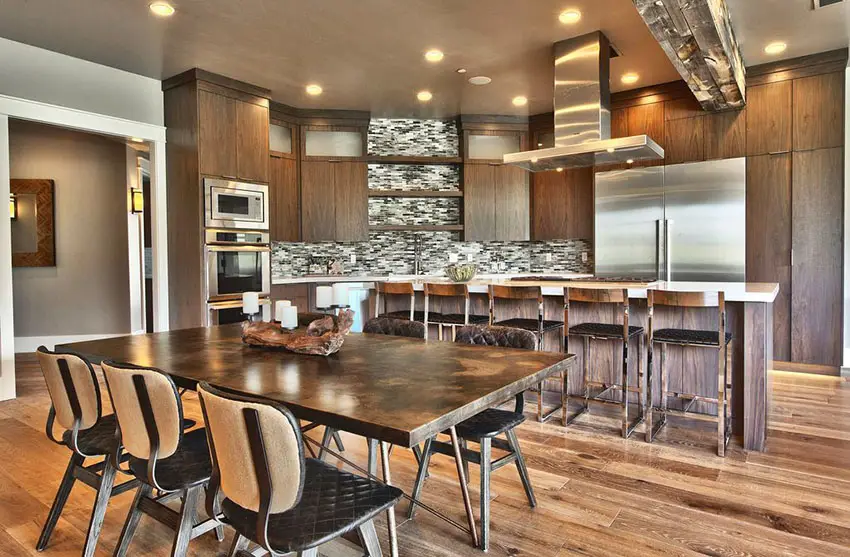 This contemporary design features a large breakfast bar island with a built-in cooktop. An island with cooktop is recommended for those who want to maximize conversations with friends and family while preparing food.
A range hood over the island oven facilitates air circulation, removes harmful exhaust, and helps keep the room well-ventilated.
Abundance of Cabinets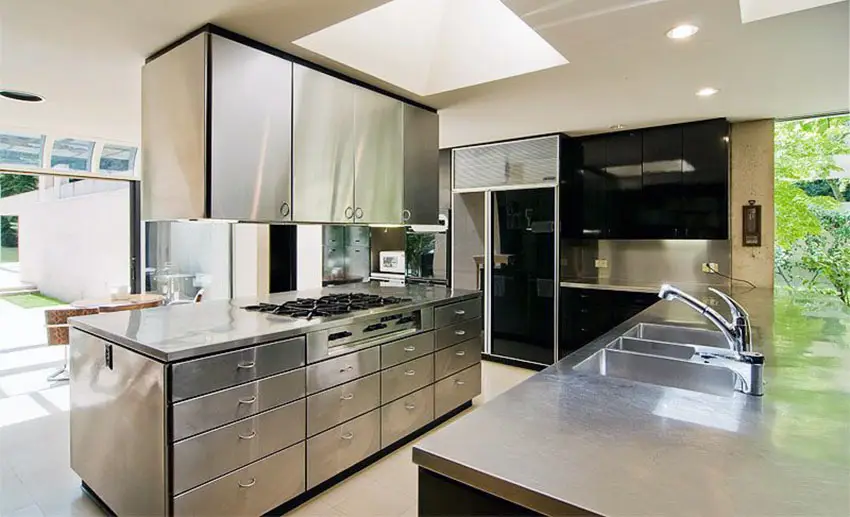 This modern design offers an effective layout with stainless steel countertops for ease of cleanup and efficiency. It features a useful work triangle with two islands. One island provides a built-in cooktop with overhead cabinetry, while the other island has a built-in sink.
Eat-in Dining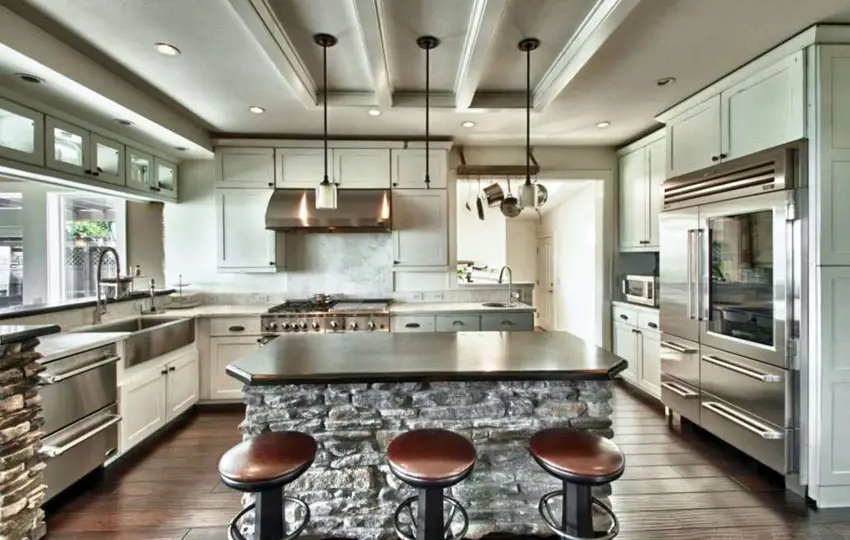 For a more casual and homey look, this gourmet kitchen uses a simpler style for the paneled cabinets, and combines it with white marble for a clean look.
One large square island is placed in the middle to give a large preparation area, which also doubles as a bar counter
You can see that this space uses professional-grade appliances, most of which are made from stainless steel for an easy-to-maintain and durable space.
Efficient Layout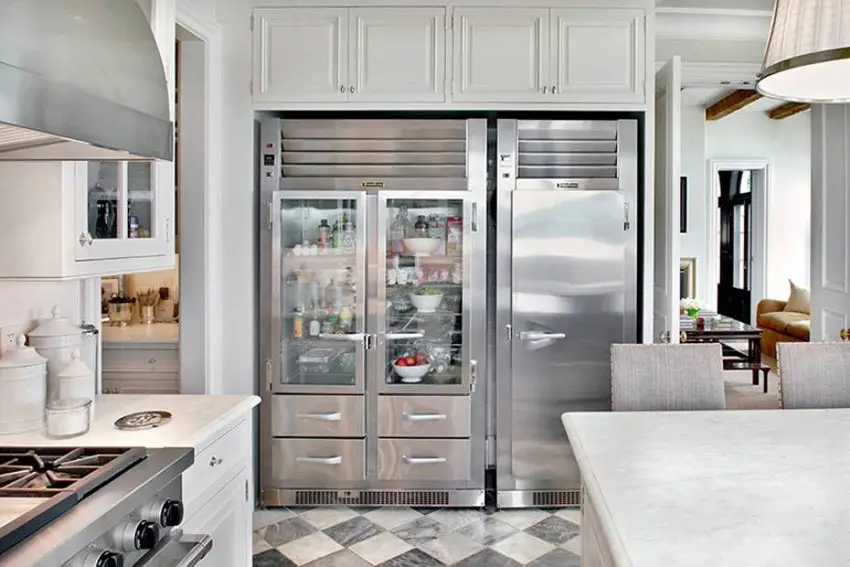 With a smaller floor area, this gourmet kitchen compensates by creating a more efficient layout. For this layout, food storage is placed in one area with industrial-grade appliances, while the cooking and preparation areas are also separate.
White is the color of choice for the cabinets, while quartztite was used for the countertop for an easy-to-maintain, non-porous surface.
Large Kitchen Island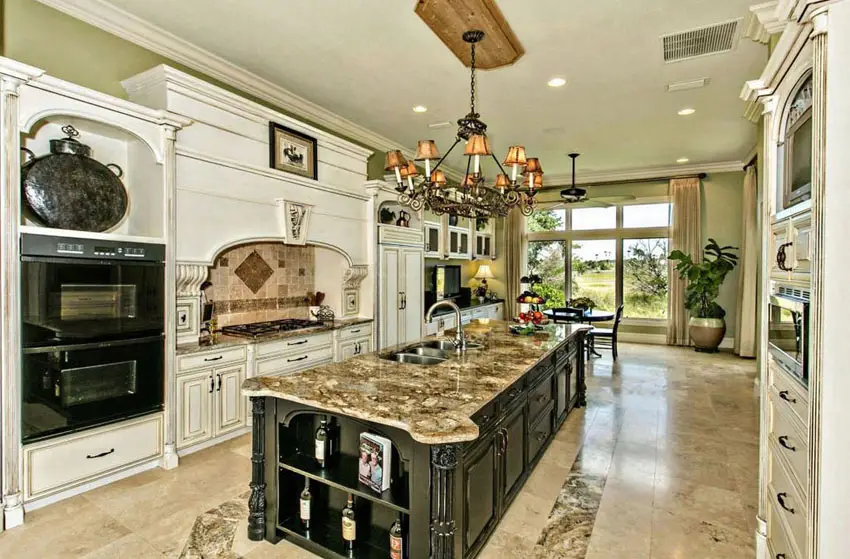 The large space dedicated for this gourmet kitchen was definitely maximized in this design. With a classic French style aesthetic, it gives off a very elegant and antique feeling to it.
However, don't let the vintage look fool you as this space is fully equipped with modern equipment and appliances. It has a large enough floor space to allow multiple number of users at one time, making it a joy to work in this space with your family.
Contemporary Styling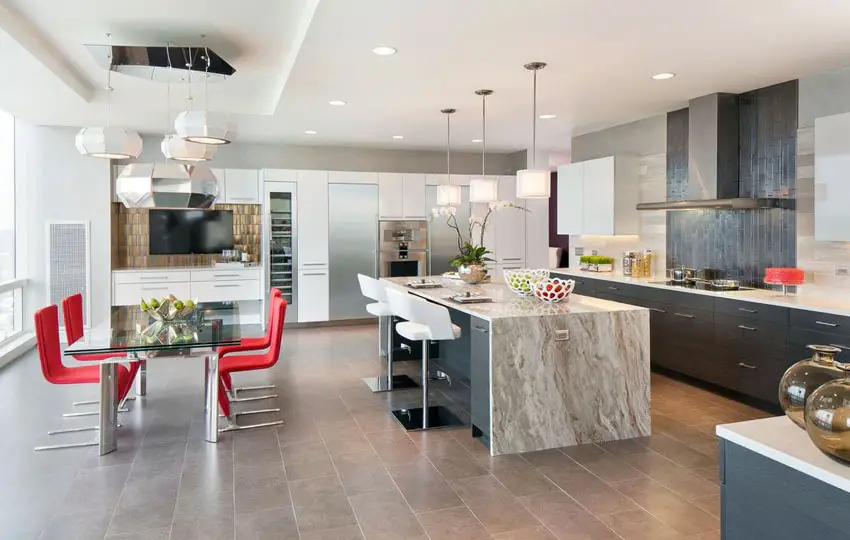 To coincide with the modern interiors, this kitchen also goes for a modern contemporary look, with clean lines and smooth surfaces. The large floor area is shared by the kitchen & dining area, but most of the walls are occupied by the kitchen, allowing lots of storage space.
As it goes for a clean, modern design, equipment such as high-end Miele appliances are built into the modular cabinetry to blend in. The other modular cabinets are very minimalist as well, with no moldings, and a simple flat profile.
The wall for stage and the built-in oven uses all white laminates, while the base cabinets for the rest of the space uses dark gray. The rectangular island not only serves as a preparation area & bar counter but also acts as a divider between the kitchen and the small dining area.
Durable Backsplash Materials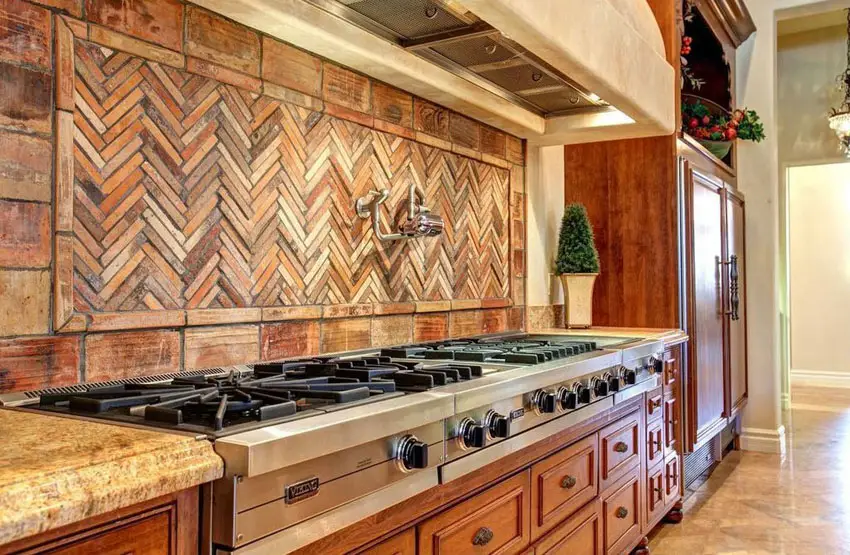 Vintage appeal is definitely given emphasis in this gourmet kitchen. It uses warm colors and a combination of textures to achieve this look.
Teakwood cabinets are combined with golden granite counters, and paired with a brick backsplash with a combination of brick layout, creating an interesting pattern/texture on the surface. The multiple gas burner Viking stove top is an absolute favorite of chefs worldwide.
High Ceilings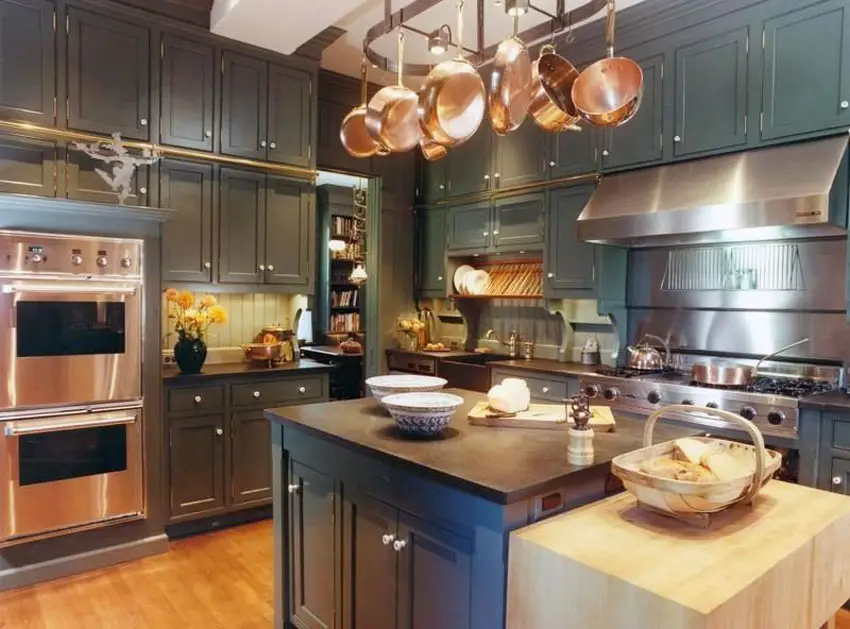 Despite the lack of floor space, this gourmet kitchen instead maximized the high ceiling to allot for storage. Cookware and dinner plates are all within easy reach of the central island with under-counter storage.
This enabled them to dedicate the counter space to important equipment and appliances. The classic paneled cabinets are painted in a deep green color, giving it a rustic, masculine vibe.
French Revival style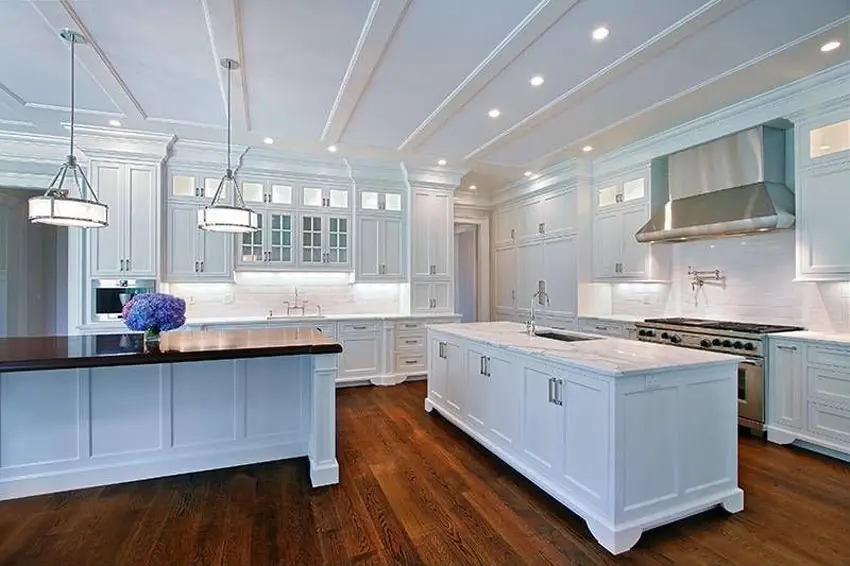 Going for a French-revival style, this gorgeous gourmet kitchen boasts space, efficiency, and a great space workflow. The classic-inspired cabinets are all in white, as well as the paneled ceiling.
The countertop uses white marble & paired with white bricks for the backsplash for a nice clean look in contrast with the Mahogany wood flooring.
It has two large rectangular islands, one with a built-in sink, and one with hardwood countertop, allowing multiple people to work simultaneously.
Efficient Kitchen Work Triangle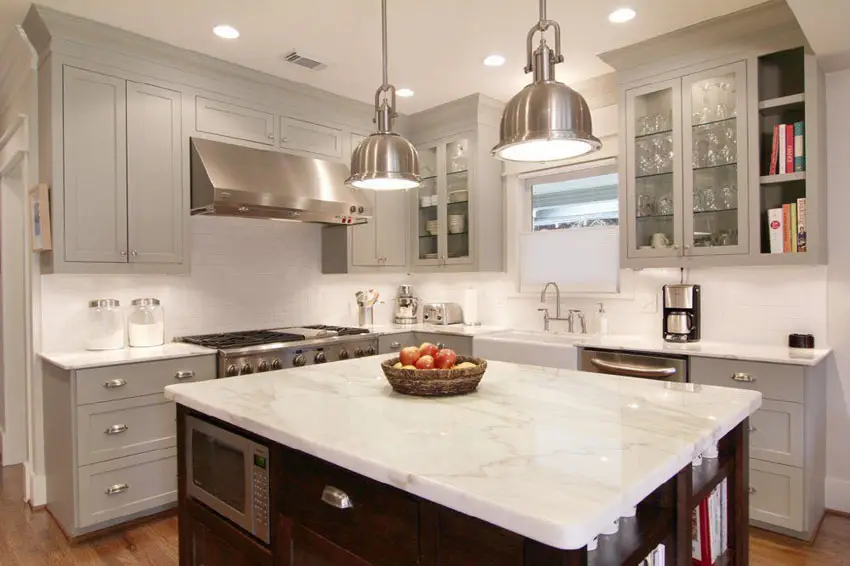 Even with smaller floor areas, a gourmet kitchen can still be achieved through efficient planning. This is a good example of a small gourmet space that was able to create and efficient workspace by maximizing built-in equipment and storage.
It has a transitional style, using light gray paint for the L-shape counter and a classic Mahogany finish for the marble-topped island.
Open Layout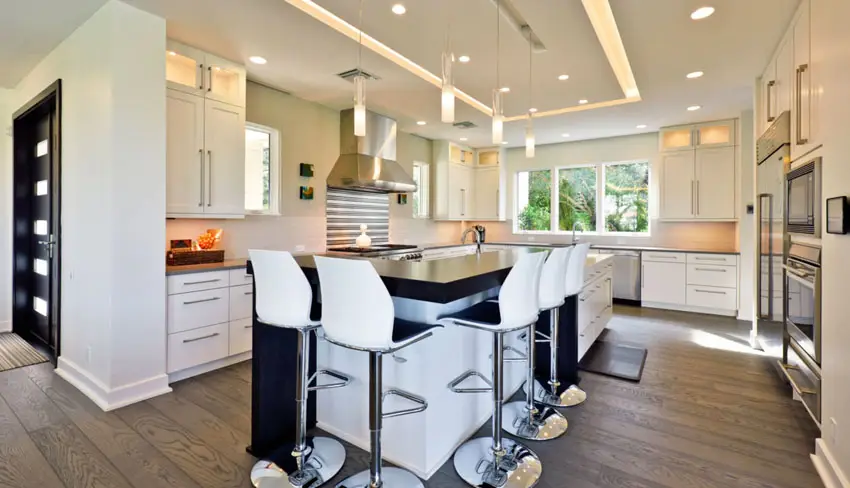 The open layout of this contemporary gourmet kitchen makes it feel more spacious and airy. Rustic walnut floors sets a warm atmosphere in the space, emphasized further with the use of warm white lights.
It is very simple – creamy white cabinets and a long multi-level island which divides the counter into a worktop & a high bar area.
Tuscan Style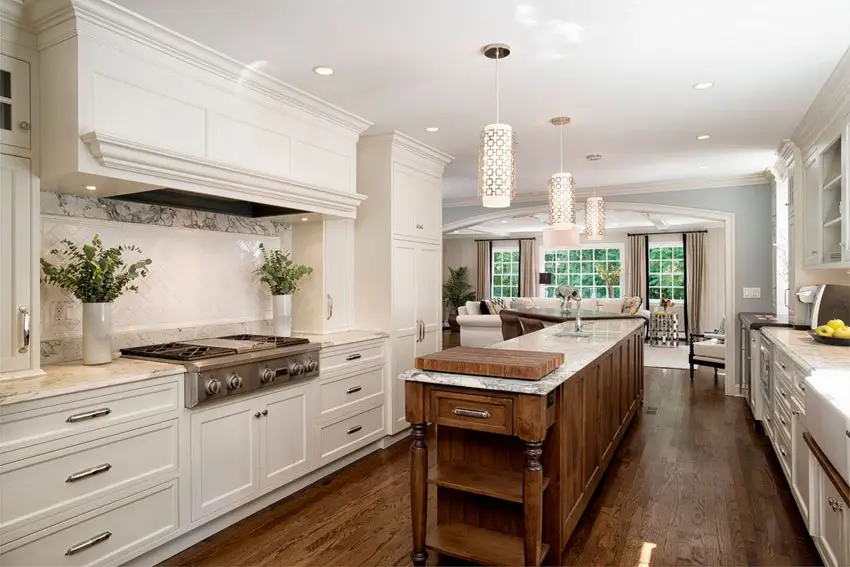 This lovely Tuscan-style gourmet kitchen has a great combination of finishes. The combination of Golden Oak flooring and island with the creamy white paneled cabinets creates a gorgeous look with a very elegant appeal.
The equipment and appliances were also built into the cabinets for a cleaner layout and to help the stainless steel equipment blend in with the classic cabinetry.
Stainless Countertops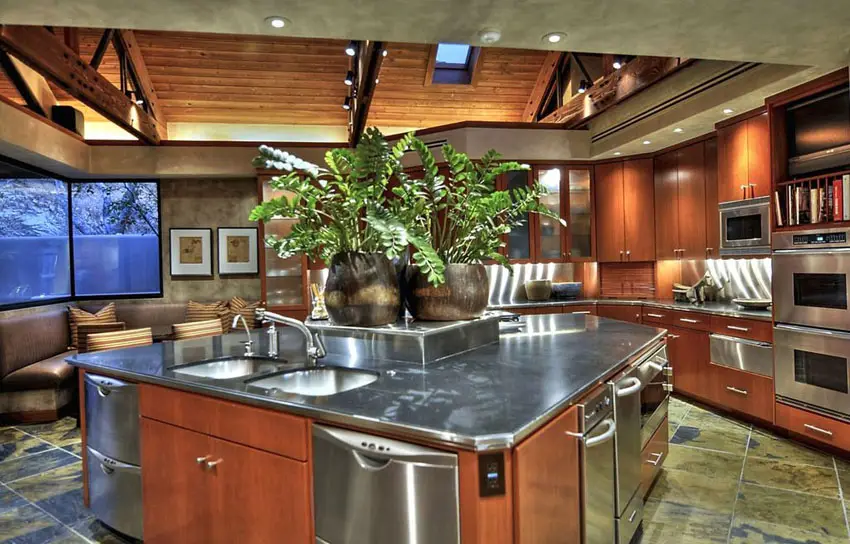 Boasting both space and ceiling height, this gourmet kitchen is definitely a show-stopper. The large floor area & high ceiling allow the use of larger equipment, a bigger island, and darker colors. This example uses a combination of modern and rustic finishes, creating an industrial-inspired look.
The cabinets are made from cherry wood for that warm classic feel, and topped with black granite for a modern look. The stainless steel appliances and equipment, though built-in, were not concealed and instead left their stainless steel finish stand out from the cabinets, making them easy to locate.
It also uses a uniquely shaped and massive island, which has a raised platform in the center with rubber tree accents. The enormous island allows simultaneous users without traffic flow issues.
Transitional Style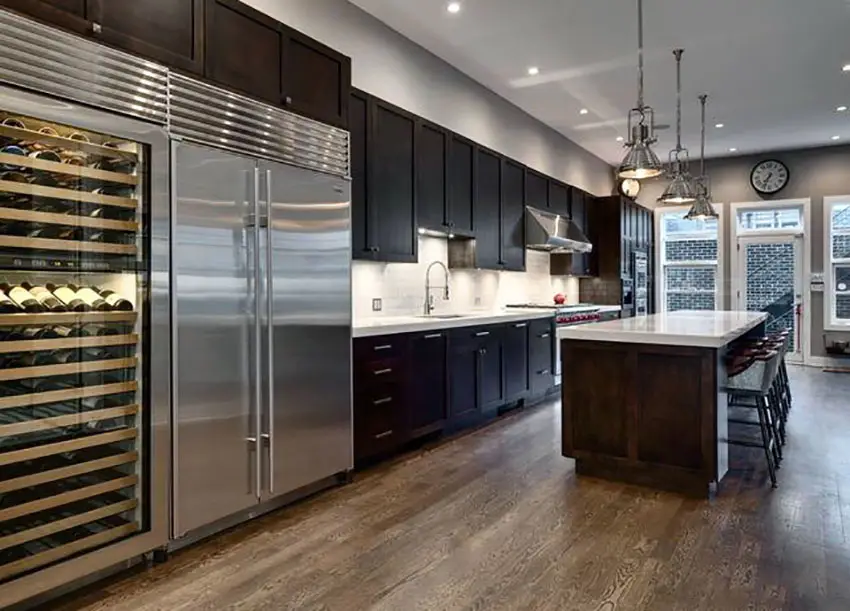 A very attractive transitional style kitchen that uses simple cabinetry with rustic finishes to achieve this somber look. Light walnut floors add texture and a subtle warmth to the space, while the dark Mahogany cabinets add a bold touch to the mostly-gray walls.
It is equipped with a large two-door fridge, a wine chiller, and other professional-grade appliances built into the cabinetry. There is also an island that functions as additional work space & a dining/bar area.
Mediterranean Design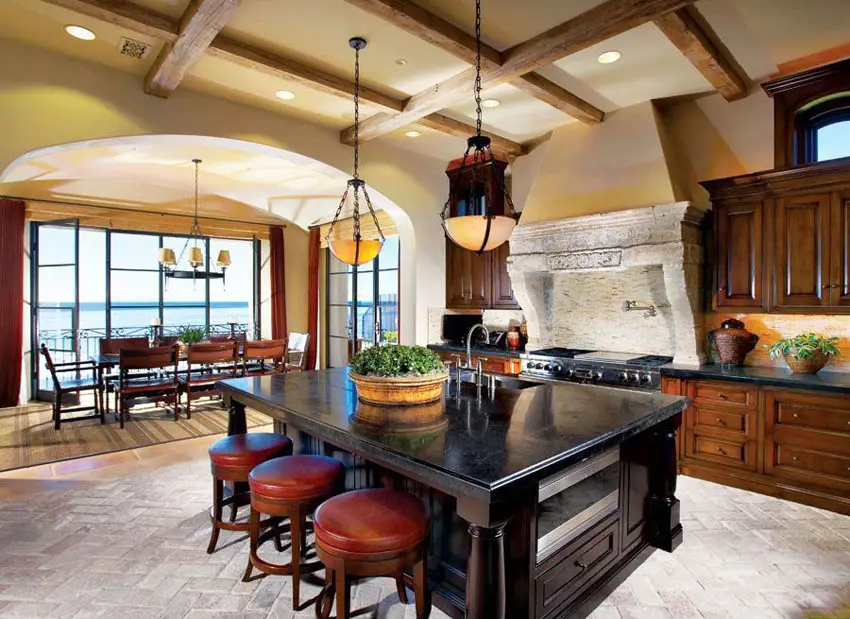 Combining Mediterranean architecture with Baroque interiors creates a great balance of light and massive elements. The high ceiling and large arch openings of the architecture help balance the massive nature of the furniture pieces.
For this example, solid walnut cabinets with a masonry range hood were used for the built-in cabinets, while a smoother dark wengue finish was used on the massive island with black galaxy granite countertop.
Wood Cabinet Finishes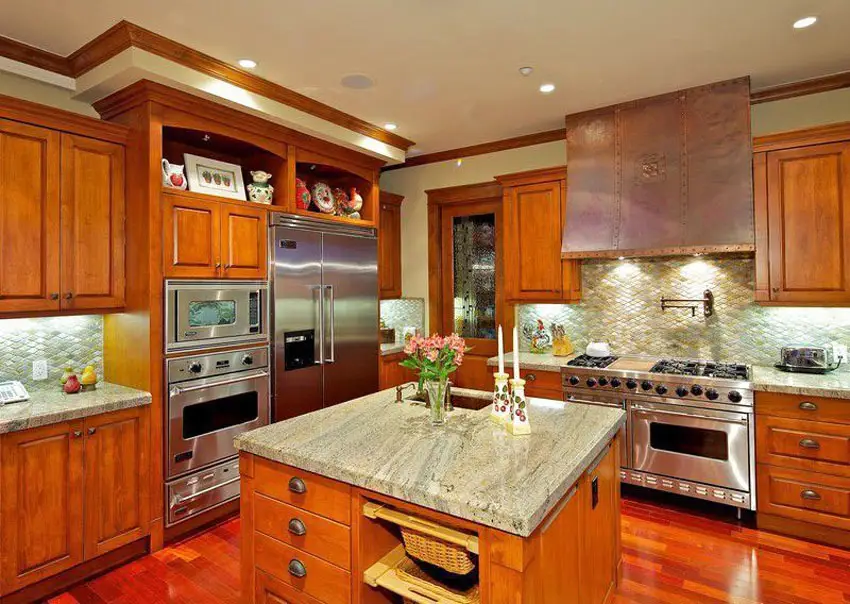 Going for a very warm color scheme, this gourmet area uses wood finishes with strong orange/red undertones to achieve this look.
Redwood flooring was combined with solid cherry wood cabinets, while the natural sandstone counters and taupe walls help tone down the strong orange tones, while still keeping with the warm color scheme.
The large fridge and ovens were grouped together at one side, the gas range placed on another wall, and the washing area was placed on the island, for an efficient workflow. An abundance of recessed lighting and under cabinet fixtures help keep the work surfaces illuminated and bright.
Neo-classic
Combining entertainment with food preparation was put at the forefront while designing this neo-classic gourmet kitchen. Terracotta orange walls create a bold and rustic background color, helping the white cabinetry stand out.
The equipment was built-in and concealed within the cabinets so that it maintained a very traditional look. These integrated appliances' custom details give the room character and a luxury feel.
It also places a large L-shape island which serves as a preparation & washing area, as well as a divider since it has a higher bar counter attached, allowing you to entertain guests while preparing food.
Central Cooktop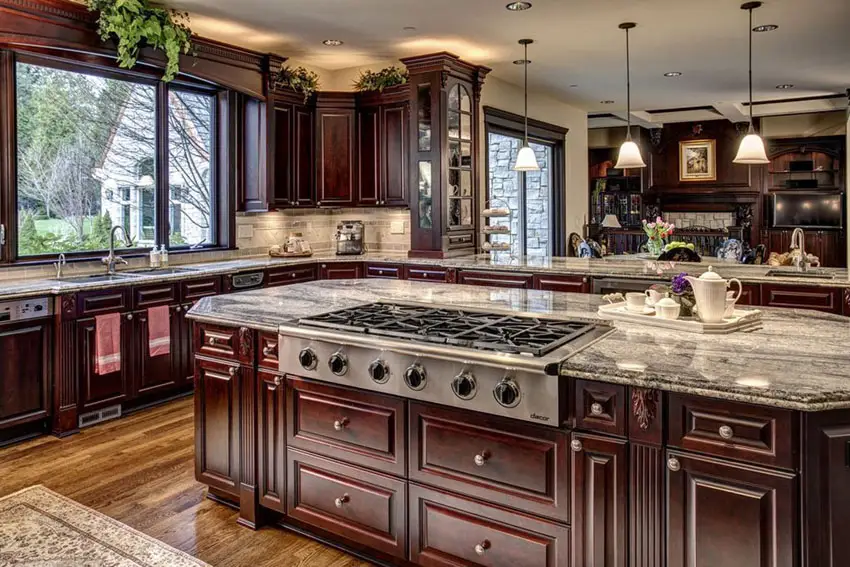 This gourmet kitchen goes for a more formal classic feel for its design, using redwood cabinets and gray marble for the countertop, creating a bold yet elegant look.
In order to maintain the traditional look of the space, the equipment was built into the cabinets and concealed inside, showing only the cooktop controllers built-in to the island for easy access.
When it comes to island appliances, you have many options, such as a stove, dishwasher, wine cooler, warming drawers or even a small fridge.
Extra Large Range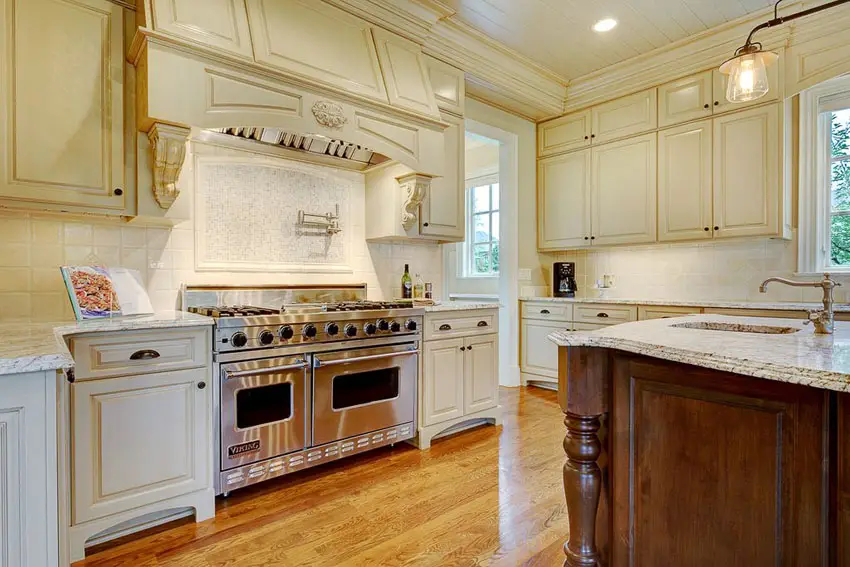 Gourmet design ideas don't need to be contemporary. For those who love traditional style cabinets but dislike the "heavy" and intimidating look it gives, would love this example, as it uses a lighter maple wood for the cabinets instead of the typical oak, walnut, or mahogany.
This offers a light yellow/creamy color, making it look lighter and more modern. The professional-grade Viking oven is popular with chefs worldwide and definitely gives this space a gourmet feel.
What type of chef's kitchen is your favorite? Let us know any tips, or organizational information you have in the comments section.
Related Kitchen Island Design Galleries You May Like:
Kitchen Islands With Seating – Kitchen Remodel Cost – Kitchen Design Guide – 143 Luxury Kitchen Designs – 77 Kitchen Island Ideas