See the pros and cons of counter height tables including what they are and a comparison between table height, counter height and bar height table sizes.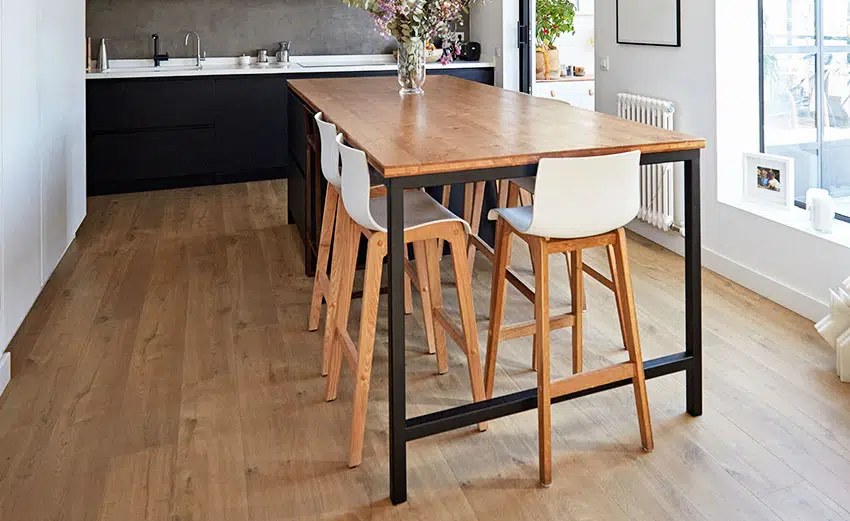 Counter height kitchen tables have been present for quite a long period. The very first counter height units were kitchen islands that often moved into eat-in kitchens to allow for counter space and a little space for a few people to eat their quick meals.
Counter height setups have expanded over the last decade or so to accommodate practically any style of table set seen at standard dining height, and are now prevalent not only in kitchens, but in formal dining areas, open-concept areas, and entertainment rooms as well.
Although regular-height tables are more widespread, counter-height tables can be extremely beneficial in some situations, particularly in modern furniture settings. Nonetheless, just like any type of furniture, a counter-height table has advantages and disadvantages that you must weigh before buying. Let us discuss it.
What are Counter Height Tables?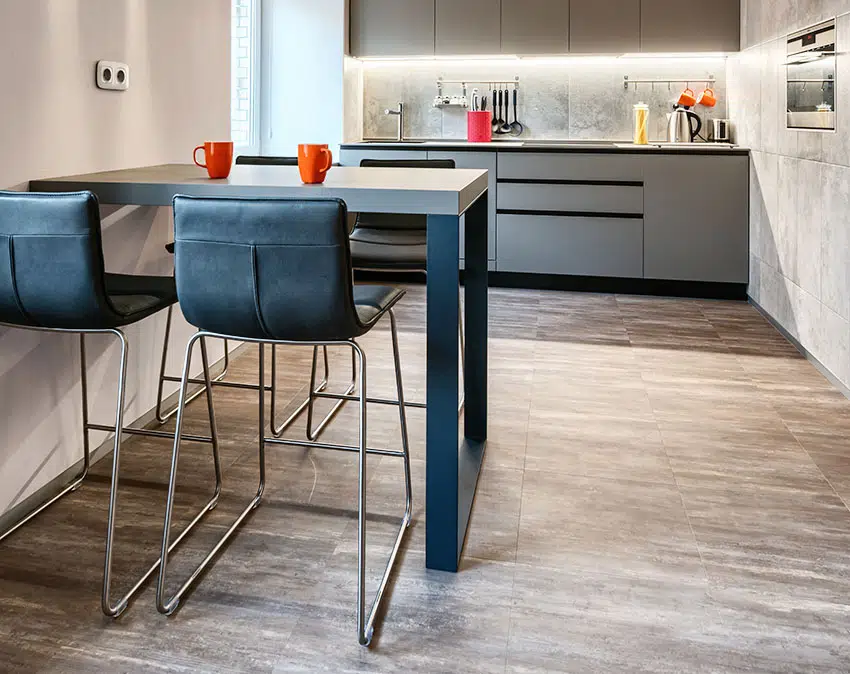 A counter-height table is generally taller than a standard dining table. For several reasons, a counter-height set is a terrific option if your outdoor or kitchen area is limited. Counter-height tables, for example, have more compact tops. Ultimately, these sets may easily enhance casual meeting areas in your residence.
Counter-height tables can be so casual as they allow you to interact with other people in the dining room conveniently. Maintaining the same height for your kitchen island and table creates a seamless work surface and excellent buffet space.
Since there is less of a height gap between individuals sitting and standing, guests will feel more at ease conversing around counter-height tables. They could easily fit into small rooms, kitchen corners, or party spaces.
How High is a Counter Height Table?
Counter-height tables are normally 34 to 36 inches tall, and the counter stools and chairs that go along with them have seat heights ranging from 24 to 27 inches. These tables are approximately the same height as a kitchen countertops or islands. Read more about kitchen island sizes here.

Counter Height Table Pros
Provides Extra Space and Legroom
Although counter stools can be used for sitting, most counter-height tables come with a set of seats that have been pre-measured and shaped to fit the table's heights. Counter-height tables provide additional legroom, which is particularly beneficial for homeowners who are too tall to sit properly at a regular-height table.
Despite the fact that counter-height tables are frequently as large as regular tables, they offer the impression of conserving space. Certain counter-height models conserve space by having detachable pieces that allow the tables to fold up into smaller components or extend to accommodate more people.
Very Stylish and Modern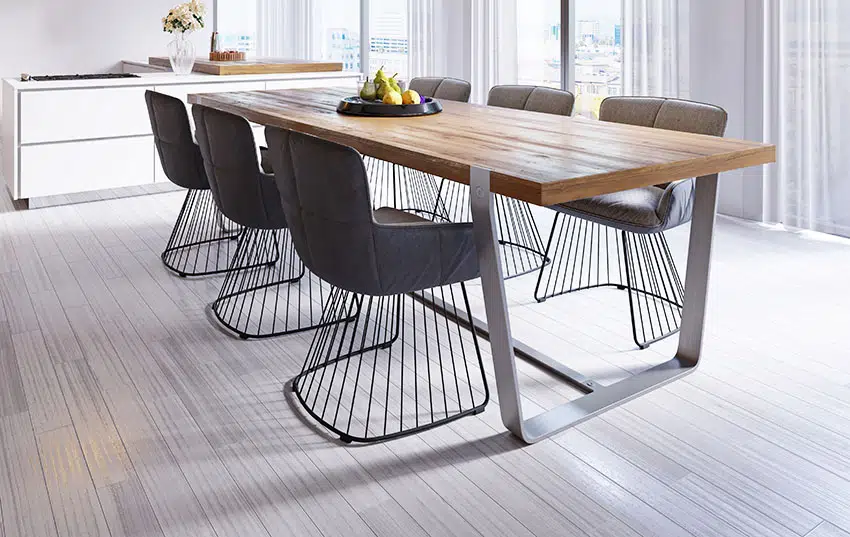 The counter height table is one of the trendiest table options in dining areas. It gives your house a modern, yet minimalist, appearance. It is a great design solution if you want to add a modern vibe to your home.
This design feature is simple, but it has a tremendous effect on your ambiance. Hence, if you want to add a touch of modern flair to your home, we recommend going for a counter-height table.
Very Ideal for Pet-Owned Houses
If you are taking care of pets in your house, specifically dogs, your counter-height table will encounter far less wear and tear. With lower regular tables, large dogs might unintentionally scratch them with their collars.
If your dog is tall, it can possibly reach your regular tabletop! Thus, if your pets have a habit of accessing your table, going for a counter-height table would be a more practical option.
Counter Height Table Cons
Can Be a Bad Option for People with Back Problems
People with back problems might find these high tables and chairs bothersome. Regular-height tables allow you to put your feet on the floor, but counter-height tables do not. This type of seat may cause discomfort if you have back problems.
Small Kids May Have a Hard Time Eating at a Counter-Height Table
Counter-height tables might be challenging for tiny children to dine at. The table could be too high for them to move up on the high chairs. As a result, you will need to assist them whenever they eat their breakfast, lunch, and dinner. There are very few high chairs that are suitable for counter-height tables.
This could be an issue if you still have children who eat in high chairs. That is why if you have little kids at home, or plan to have more, we suggest delaying the purchase of your counter-height table first in favor of a more appropriate one.
Limited Number of Designs and Sometimes Hard to Find
Counter-height tables are not as prevalent in common furniture shops as regular-height tables. Thus, each shop will have a small selection of designs. It could be tough to find a counter-height table that matches your design needs when looking for a specific shade of wood or form of a table.
Aside from that, counter height tables can be quite difficult to find. This might be an issue when searching for the correct counter-height table for your dining space.
Counter Height vs Table Height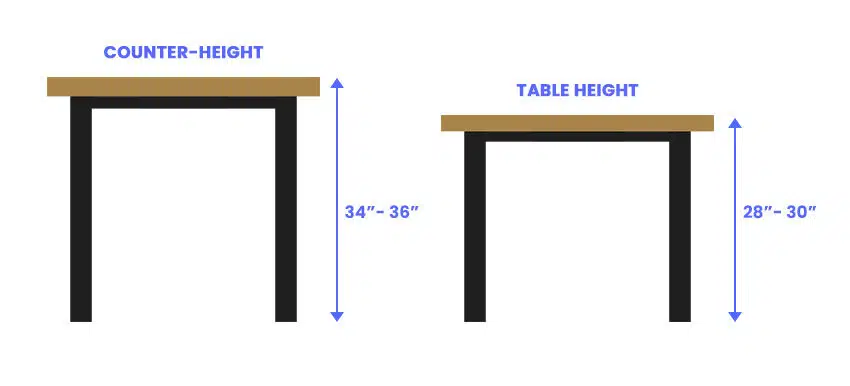 Counter-height tables typically have the same height as your kitchen counter or island, ranging from 34 to 36 inches, as previously mentioned. They are higher than standard dining table dimensions for some important purposes.
A counter-height set is a good alternative if your dining room size is slightly confined. Counter-height tables generally have smaller tops. Moreover, these sets complement casual meeting locations like breakfast nooks and gathering spaces.
Counter-height tables are far more beneficial if all the household members in your home are adults. But compared to a standard table, counter-height tables could fall short in terms of design options. Plus, they are not advisable for houses with small children and handicapped ones.
Dining tables range in height from 28 to 30 inches, while regular dining chairs have seat heights ranging from 17 to 20 inches. These are the most common and readily accessible table heights, regardless of whether they are intended for outdoor or indoor usage. Read more about dining room chair dimensions here.

Because of their popularity, standard types of dining tables come in a wider range of sizes, designs, and material kinds than counter-height tables. The majority of homeowners like dining-height tables and chairs more because their feet can simply reach the ground, making sitting more relaxed. They are also more handicap-friendly than counter-height tables.
If you want a table that can easily fit into your limited dining space, allow you to interact with your guest, boast a stylish yet minimalist vibe, go for a counter-height table. But if you prefer a more user-friendly, practical, and easy-to-find table, go for a standard dining table.
Bar Height vs Counter Height Table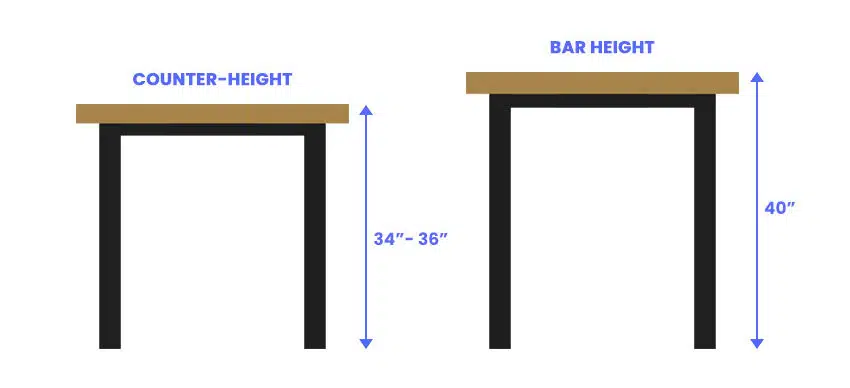 Bar-height tables are sometimes known as gathering tables, pub tables, or standing tables. They get their name from the idea that they are usually encountered in bars, pubs, and restaurants.
They are normally 40 inches in height, and they are ideal for accommodating guests at home because the seats in bar-height tables remain quite close to eye level with those standing. Bar tables are often smaller in size than standard and counter-height tables.
Bar-height tables are much higher than counter-height tables. Bar-height tables are designed for people who want to gather while drinking wines and cocktails. They make your dining or outdoor space more modern and eye-catching than counter-height tables. However, counter-height tables are a more practical and easy-to-use option than bar-height tables.
Is Counter Height More Comfortable?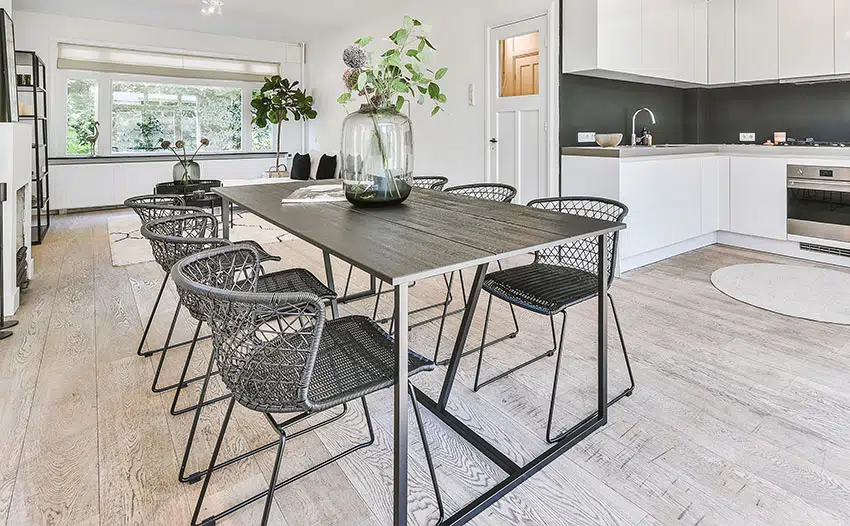 Counter-height tables are frequently utilized as an additional preparation surface in or around a kitchen, as well as to give a less formal environment for people to socialize.
For that reason, people are more likely to feel more comfortable chatting with other people around a counter-height table than a standard table because there is less of a height variation between the people who are seated and standing.
However, as previously stated, people with back problems might get uncomfortable dining at a counter-height table.
Does a Counter Height Table Make a Room Look Bigger?
Generally speaking, yes. The increased height of a counter-height table makes your space appear larger than it is.
For more related content visit our article about the standard height for counter, bar and table here.