Here we provide a guide to the standard height for counter, bar & table measurements.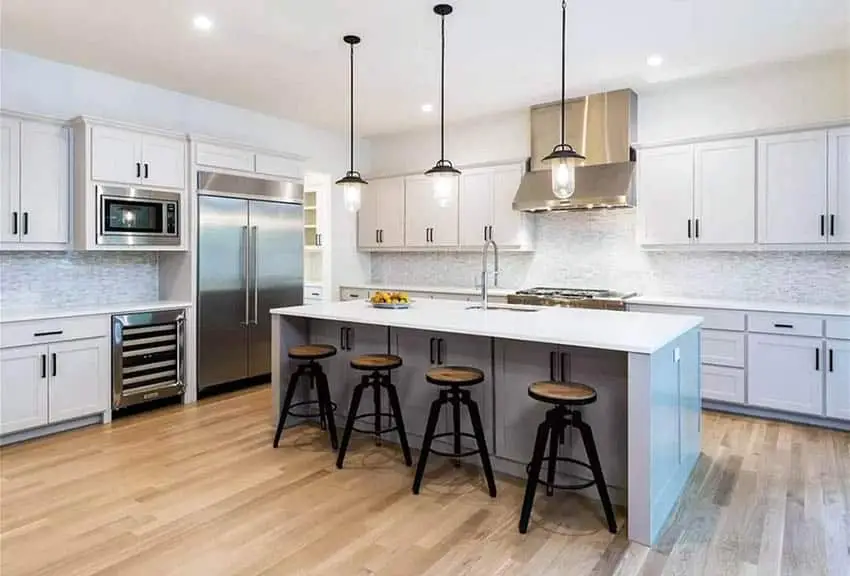 So, it is wise to make sure that everyone who shares and spends time in the dining room are comfortable and not only enjoy great food; but also delight in the ambiance of the room.
In planning out your kitchen and dining spaces, it is of great importance to really consider the standard table heights to make the best decision and be comfortable enough to enjoy your meal with friends and family.
There are three different popular table heights that are frequently need for interior design. These are dining table, counter height and bar height. Here we cover each of them in order.
Standard Table Heights
Standard dining table height ranges from 28 to 30 inches off the ground and so look for dining chairs having seat height between 18 to 20 inches.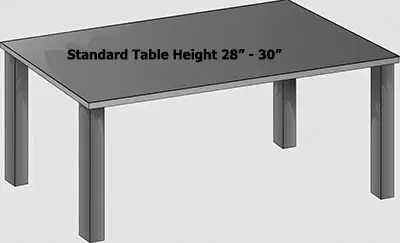 Standard Counter Height for Tables 28″- 30″ (29″ Very Common)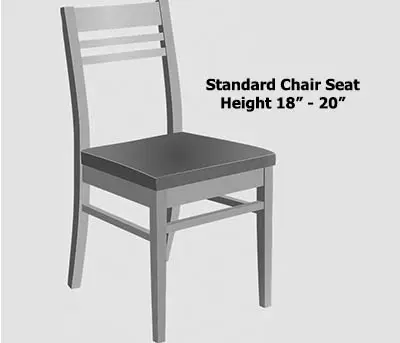 Standard Seat Height for Chairs 18″- 20″
Standard Counter Height
Kitchen counter height tables are usually about 34 to 36 inches tall and will need chairs with seat height that ranges from 24 to 28 inches.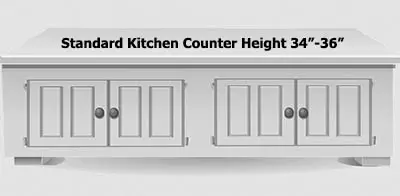 Standard Kitchen Counter Height 34″- 36″ (36″ Very Common)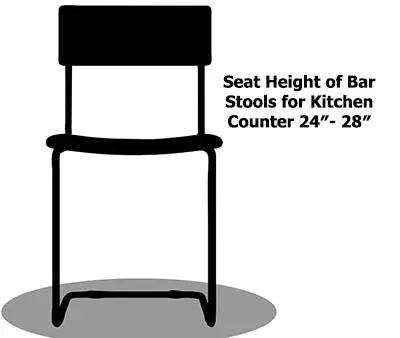 Standard Seat Height of Bar Stools for Kitchen Counter 24″- 28″
Standard Bar Height
Bar height table generally measures around 40 to 42 inches height range, so you may want to use bar stools or chairs which measures 29 to 32 inches from ground to seat.
Bar Height Tables 40″ – 42″
Bar Height Stools 29″- 32″
Choosing the Right Options
It is imperative to know and understand your options in designing your dream kitchen and dining room areas in order to perfectly fit your lifestyle, the way you prefer to prepare, cook, eat your meals, and entertain your guests. Measurement is very essential in interior space planning, having the knowledge of the standard sizes and heights for the counter, tables and chairs will give you that perfect sense of comfort and flexibility in your kitchen and dining space.
What's the Standard Height of a Dining Room Table?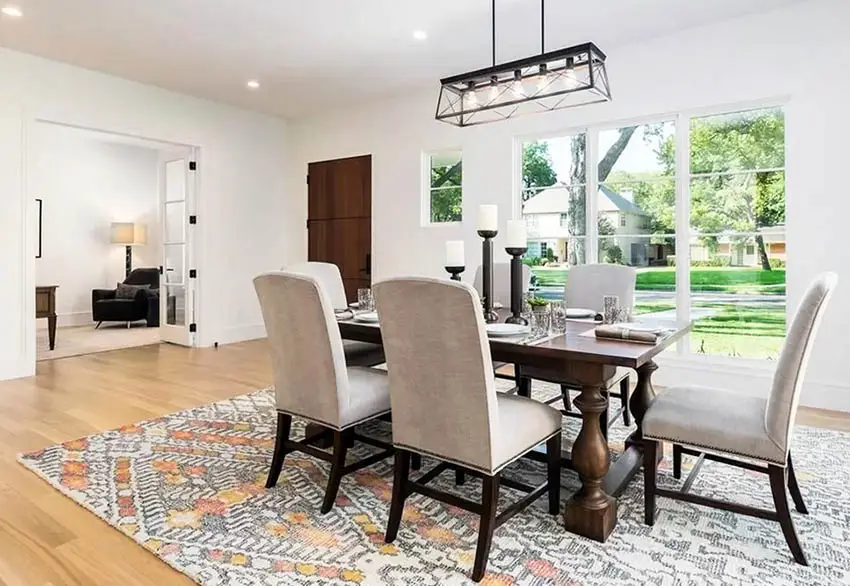 The standard dining table height with the right standard height dining chairs are the most popular option for the more intimate and formal gatherings because you and your guests can sit for longer period of time with feet touching the floor. A plus for standard dining table is that there are many different styles to choose from when looking for the perfect dining table and chair. Additionally, it can be ideal for family dinners since it is easier to fit extra people if need be. If you have a guest or a family member in a wheelchair, a standard dining table height can be easily accessible to that person to join in. Since standard dining seat height are lower, it is a safer option for young children.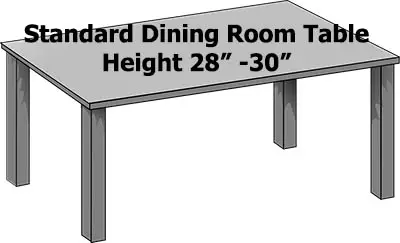 Homeowners who enjoys entertaining while cooking in the kitchen, kind of like an eat-in type kitchen layout will prefer having a kitchen counter height table. This type of table can serve as an extra kitchen space for food preparation and can also double as a kitchen island. Moreover, if you want more extra leg space best choice is a kitchen counter height table. It will tend to be more comfortable especially with tall homeowners or guests and makes it easier to hang around with people standing around the kitchen.
Small kitchens have limited or don't have much space to work with, and so bar height tables are the perfect choice because of their smaller size. Due to the bar height tables' size and height they are not considered to be a formal dining table but they can be a very versatile piece during parties because guests can place their drinks and plates while socializing and can either sit or stand around the table comfortably.
Finding the Perfect Chair and Stool Height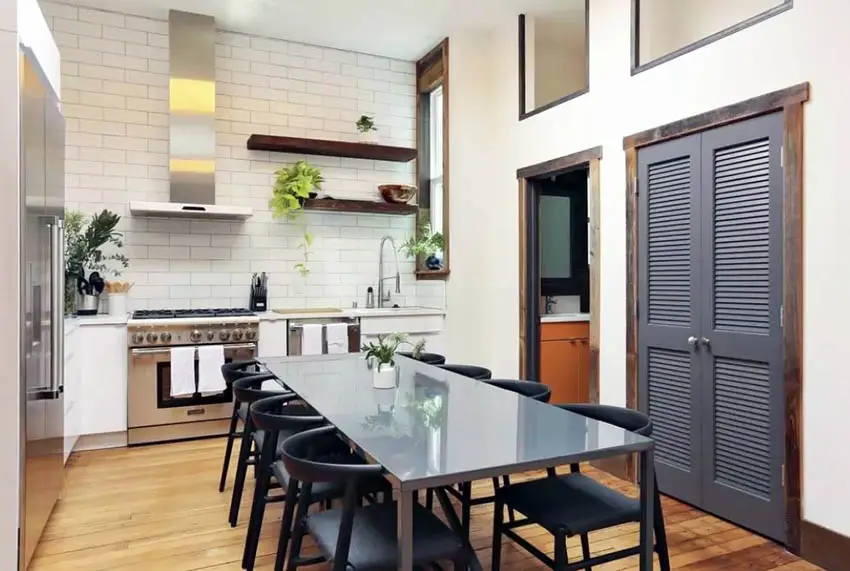 Choosing the right size of chair or stool for your dining table is very important. It was mentioned earlier that the ideal seat height for dining chairs is 18 to 20 inches from the floor for a standard dining table height.
For a more casual and versatile seating, choosing to use stools will be a perfect option especially for a kitchen counter table or a bar table. Ideal seat height for kitchen counter stool is between 24 to 28 inches high; while for the bar stool height it is usually 29 to 32 inches tall. For added elegance in design, use a taller bar tables from 44 to 47 inches and pair it with a bar stool of around 33 to 36 inches high.
But if you need a stool which can be a perfect pair for any table surface heights, try to consider stools with adjustable heights.
Measuring the Ideal Chair Height for your Table
Here are some tips on how you can measure the perfect chair height:
• In order to calculate the ideal chair height for your table, you have to measure from the floor to the top of your table.
• Subtract 10 to 12 inches from your table height. This is the best clearance to be able to sit comfortably even when your legs are crossed. Consider extra space into your calculations especially when your countertop is thicker than the standard thickness.
• For stool height measurements, measure from the feet of the seat to the top of the chair or stool. When measuring the seat height, make sure that you do not include the height of the backrest of the chair or stool.
The Spaces In Between Table and Chair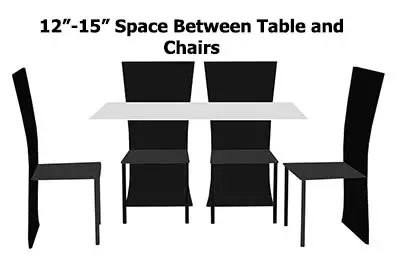 For all types of tables- be it a standard dining table, a kitchen counter table or a bar height table, make sure that there's at least 12" to 15" of space between the tabletop and the chair seat.
For tables with apron
An apron is a decorative panel that connects the surface and legs of a table and provides structural strength and support to the furniture; the ideal space between the bottom of the apron and the chair seat should be 7".
Armchair Height
For armchairs, there should also be at least 7" clearance between the chair arm and underneath the table surface or bottom of apron.
Make sure that there is always enough space between chairs or stools for you and your guests to comfortable dine without bashing into each other's elbows. For each type of table, make sure that there is at least 26 to 30 inches of space between the center of each chair for a more comfortable seating arrangement. For any end chair or stool, allow at least 14 inches from the center of the end chair or stool to the wall or end of the table. By doing so, you will have enough space to maneuver in siting down or getting up without getting in the way of the other person beside you.
It is also important to consider the width of the seat by measuring from the widest part of the seat. For example, chairs or stool which are 16 to 18 inches wide, there should be 21 to 22 inches between the centers of the two chairs or stool. Chairs and stools that are 19 to 22 inches wide should have 24 to 25 inches in between the center of each chair or stool. Those with armrests, allow 8 to 10 inches between the edges.
Kitchen Countertop Materials and Thickness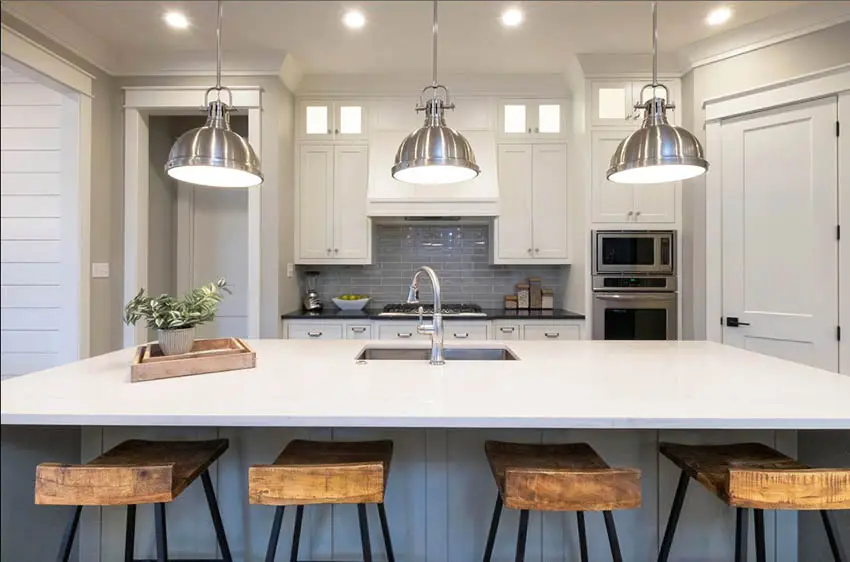 There are several factors to consider when choosing what countertop material is best to use for your kitchen. The most widely used countertop materials are quartz, granite, marble and laminate. Each countertop material has its own advantage to consider in deciding on what is best to use in your kitchen.
Quartz countertop is the most popular choice if you prefer solid engineered stone. Quartz stone has a wide range of styles, size and color to choose from. Quartz is very stylish, durable and easy to maintain. Quartz countertops have three types of finish – polished, rock face and grain.
The three standard thickness of quartz used for fabricating countertop are 1.2cm which is equivalent to 3/8", 2cm equivalent to 3/4" and 3cm equivalent to 1 ¼". Usually, the 1cm or 1.2cm quartz countertop are used in pre-fabricated countertop with laminated edge and are pre-polished. Pre-fabricated quartz countertop usually has a 1cm body and has a 2cm edge. For the 1.2cm body, the edge has a thickness of 2.4cm while the 2cm body countertop has a 4cm edge.
For kitchen countertop, a 3cm thick quartz is typically used in order to apply a custom edge such as bullnose edge, half-bullnose, dupont, ogee edge which can make your kitchen countertop more appealing; since kitchens are usually a focal point of your home.
Granite is also a popular choice for those who want a natural stone countertop. Aside from its ability to hold up against slicing and dicing and other kitchen activity, granite stone is durable, and it is also heat-resistant. Granite countertop fabrication is typically available in 2cm or 3cm thickness and comes in a wide variety of color.
Marble is known for its eye-catching appearance and its biggest strength are its aesthetic charm and timeless beauty. Marble can blend well with a variety of materials such as stainless steel, wood and tile. Marble provides great functionality in your kitchen and it absorbs heat better because of its high thermal conductivity. For kitchen countertop, 3cm thickness is best to use and can give homeowners more options for the kitchen countertop edge profiling.
Thinner and lighter countertops such as in the range of 1cm to 1.3cm are ideal for vertical surfaces such as the waterfall edge used in kitchen counter islands. Since it provides lightness, it makes it possible for designers to build special applications such as wall cladding, elevator casing, and floating counters with a minimal foundation support.
Outdoor Furniture Height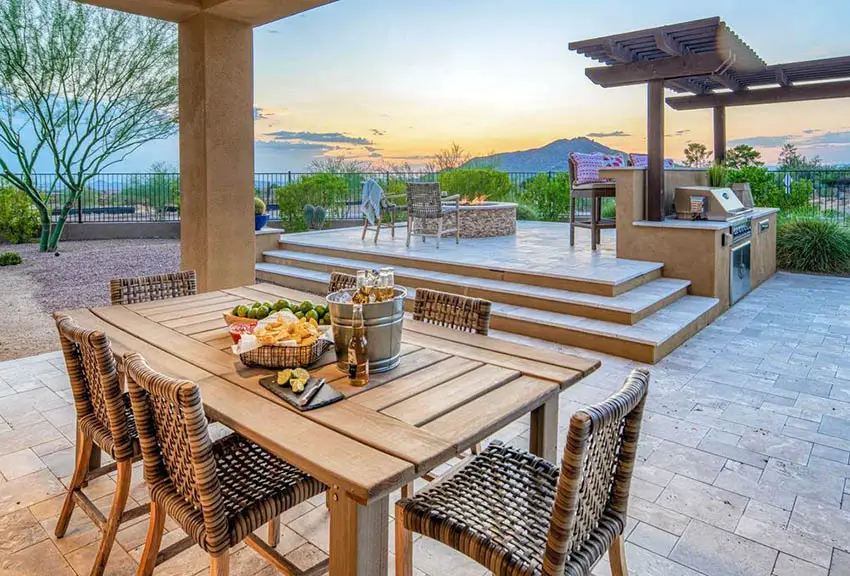 Table space and seating are very important factor to consider in creating a welcoming ambiance and a functional space for entertaining. This outdoor furniture usually comes in sets, such as dining set and lounge sets. Each tables, chairs, stools and sofas should perfectly match and coordinate in both style and size in order to create a unified look and achieve the comfort and function for each furniture piece.
Standard sizes for outdoor furniture are very much the same with the indoor table and chair heights; the only difference is in the materials used for the furniture.
Standard outdoor dining table height is 28 to 30 inches. Dining chairs and bistro chairs with 18 to 26 inches in height are best to pair with this type of tables. Always keep in mind that the dining table height does not rely on the size of the tabletop.
Counter height tables are slightly higher than the standard dining table. A counter height table usually measures 34 to 36 inches and can be paired with chairs or stools at with a seat height of 24 to 26 inches. Counter height tables, chairs and stools are great choices for informal dining and best for entertaining guests in the patio.
For a more casual outdoor dining, bar height tables are a popular choice for architects, designers and homeowners. The standard bar height table is 40 to 42 inches and best to be paired with bar height chairs or bar stools with a seat height of 28 to 30 inches for perfect outdoor entertaining.
Aluminum is the most popular contemporary outdoor furniture material since it can resist rust and moisture damage. It is strong and lightweight making it very portable and can be easily stored. Steel and wrought iron on the other hand, are heavy enough to hold out strong winds and other weather conditions.
Traditional outdoor furniture is made of synthetics such as plastic and synthetic fabrics for upholstery. Synthetic resin wicker furniture is also weather-resistant and more durable since it is usually made of PVC, nylon or high-density polyethylene.
For a warm, trendy and casual feel, a more common choice is a wooden outdoor furniture for its natural weather resistance and durability such as pine, cedar, teak and acacia.
Final Thoughts
When shopping for your tables and chairs, always keep a measuring tape handy because even if most heights are made with the standard heights it is still important to measure the exact height that you need.
Our character as a person is formed and developed within our family because it where you receive love and attention. Usually, a good conversation is one way to receive such courtesy and care; and it usually happens at the dinner table. And you want those memories to be the best ones to be reminisced.
"The Fondest Memories are Made when Gathered around the Table"