Here we share the most popular types of kitchen islands including pros & cons and design styles.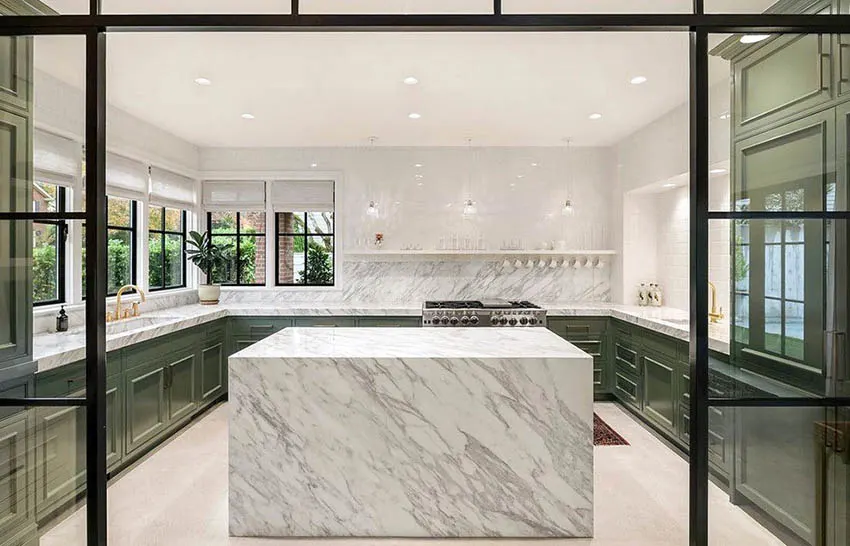 A kitchen island is a countertop and usually cabinet that is freestanding from all the other pieces in the kitchen. Kitchen islands are often places of gathering and provide additional workspace, storage, and seating for meals or casual dining.
An island is also a great additional space for sinks, cooktops, and built-in appliances, and does not typically include overhead cabinetry. There are many different shapes and sizes that these islands come in, and some of the most popular are described below.
Rectangular Kitchen Island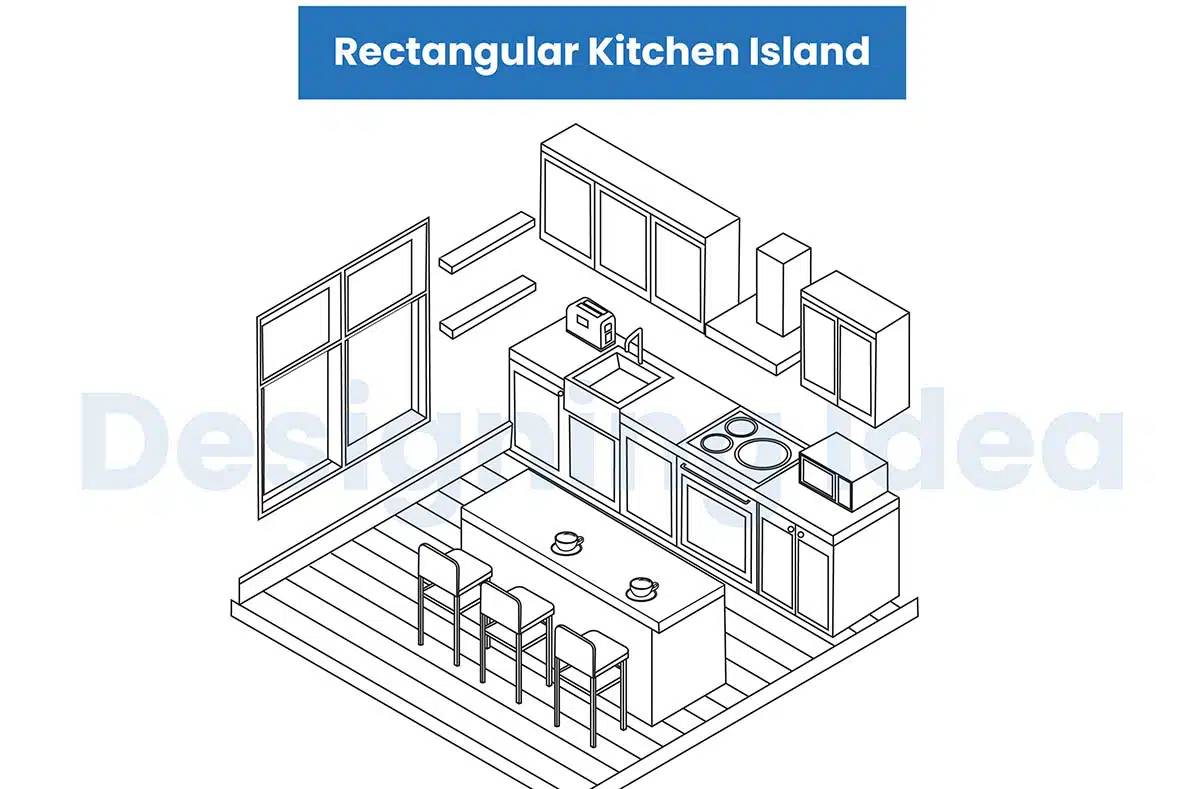 A rectangular shaped island is also referred to as a galley kitchen island. This type is pretty to the point and just adds a simple counter with cabinets below for some added space for cooking and seating.
This is great for relatively smaller kitchens as it uses as much storage space as possible by not having any inaccessible corners.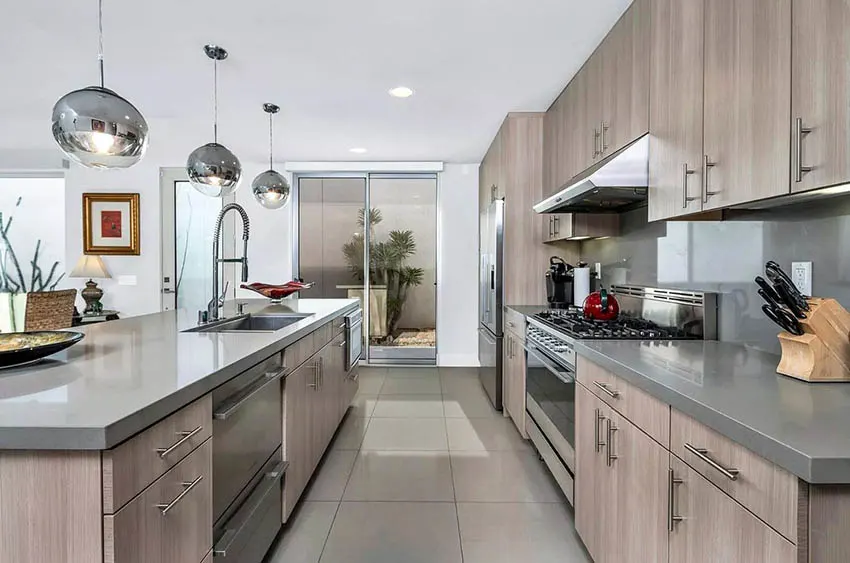 Unfortunately these types of kitchen island designs are not that suitable for adding sinks or appliances unless it is extremely long (which could cause disproportion) and is generally unspectacular, and used more for function than style.
L-shaped Island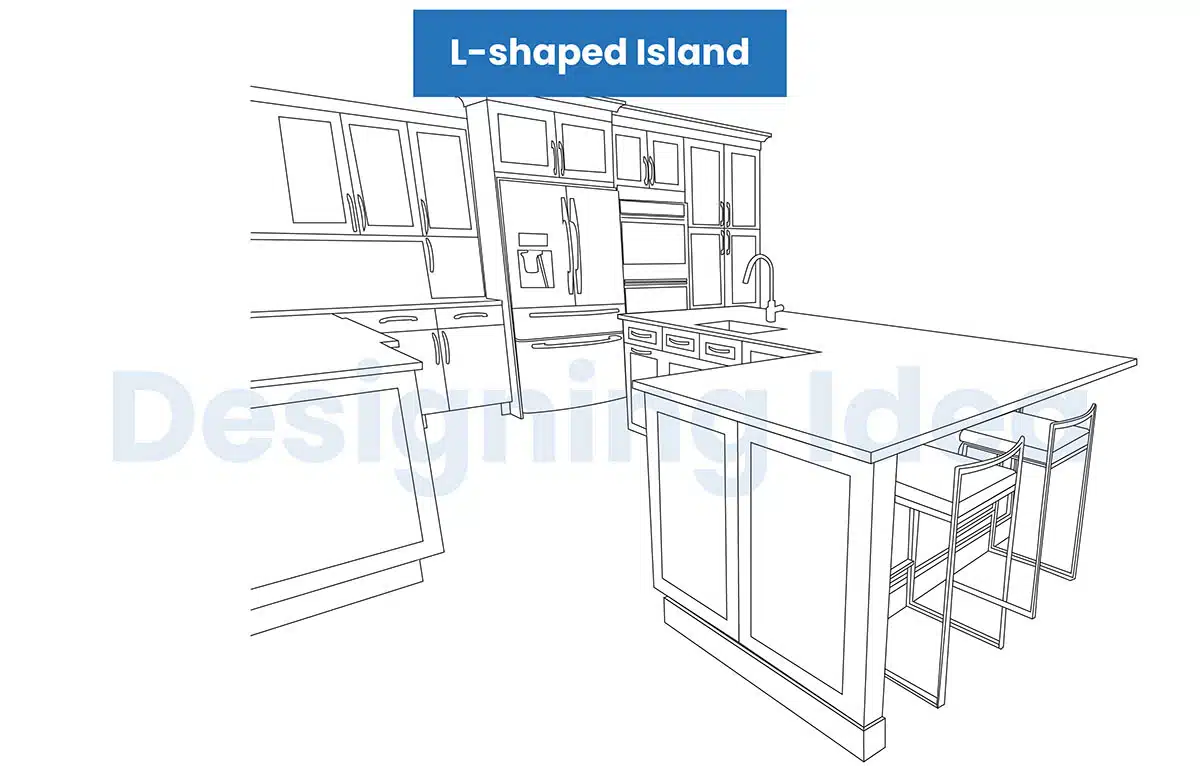 Not to be confused with an l-shaped kitchen with an island, an L shaped counter is exactly how it sounds, it is in the shape of an L.
This can be a great addition to a kitchen with a lot of free space, where the island can utilize the otherwise dead space and create a separation between cooking space and dining space.
L shaped islands are typically spacious for cooking, seating and storage. For those with a small kitchen space, or not need for many users or space, the L shape may not be the ideal as it could mean things are too spread out.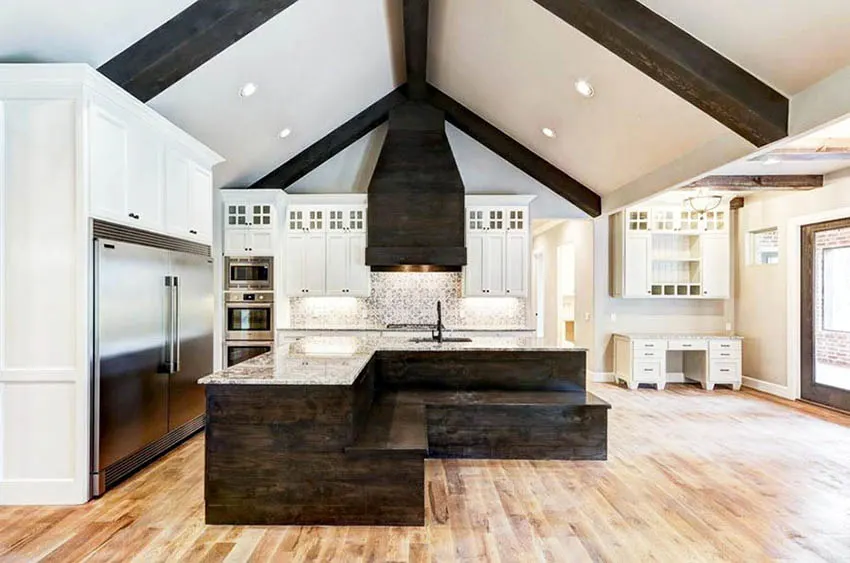 With the L shape in particular it does have one sharp corner that does not particularly use the space in the best way, as accessing some things in the corner could be difficult.
Circular Kitchen Island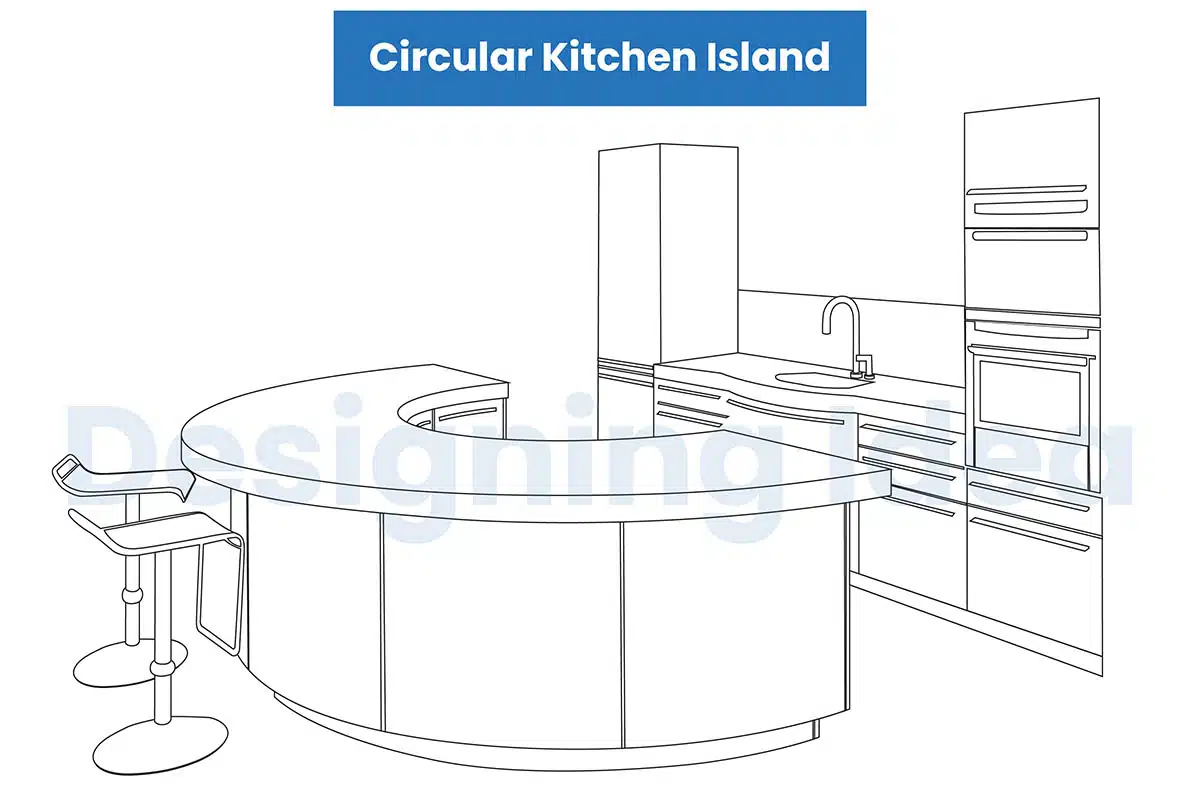 The vast major of kitchen islands come in one shape, which is rectangular. You'll have a hard time finding many completely round kitchen islands in new home construction. However, you find many custom kitchen island designs with with circular ends and elongated curves.
A circular kitchen island adds some elegance to a kitchen, but also takes up a lot of space. They help add visual interest and bring focus to your beautiful countertops.
These types of kitchen islands have a abundance of preparation and serving space as well as storage and seating.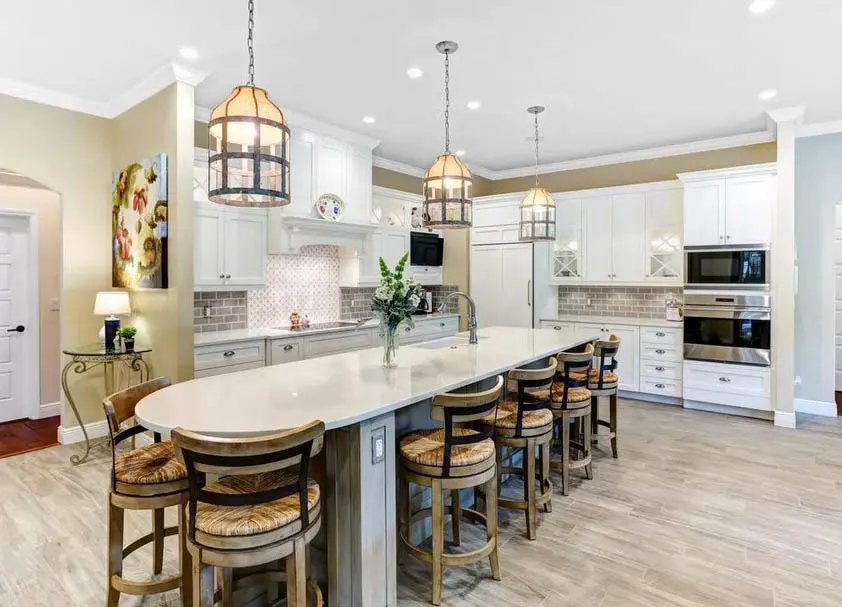 While it is not the most efficient use of space, a rounded island countertop design is an extremely creative and visual choice for a kitchen island.
Double Island Kitchen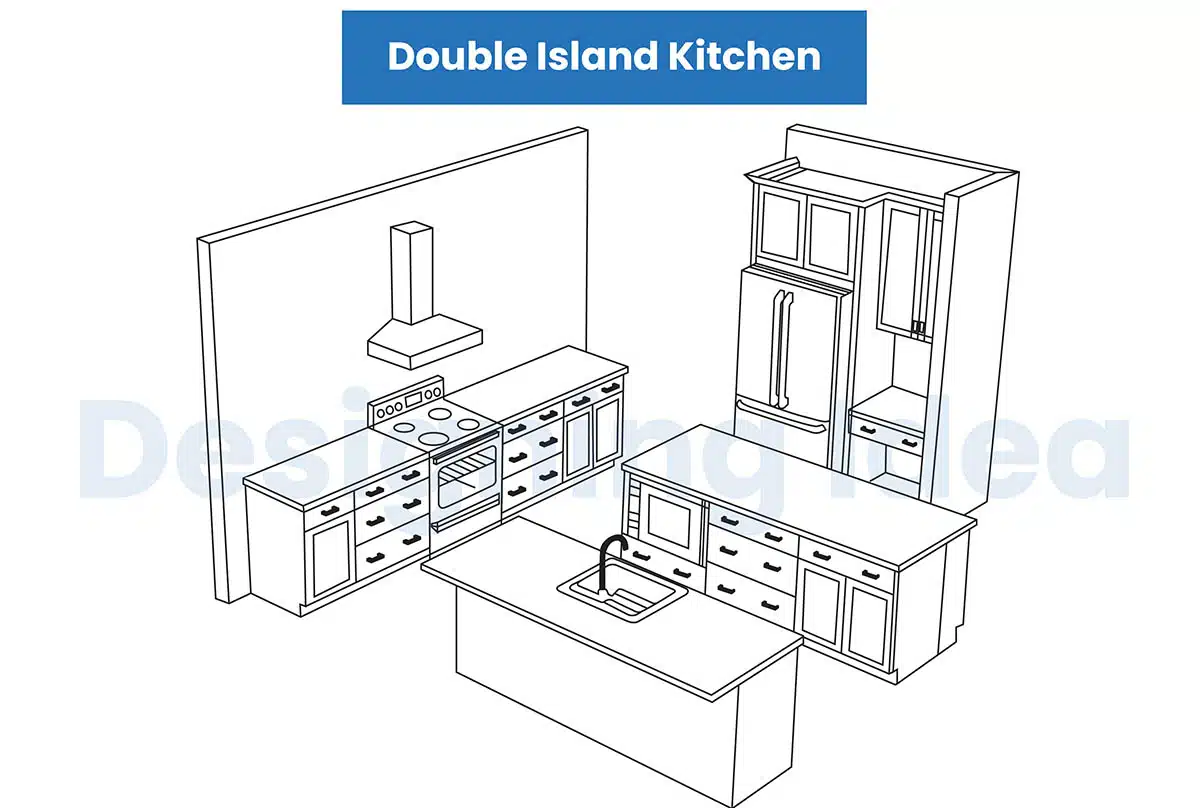 A double island kitchen brings a lot of elegance and functionality to the space. For one thing it looks quite impressive to have a separate space for in-kitchen dining and another for meal preparation. Kitchens with two or more islands are great for those who like to entertain or have large families.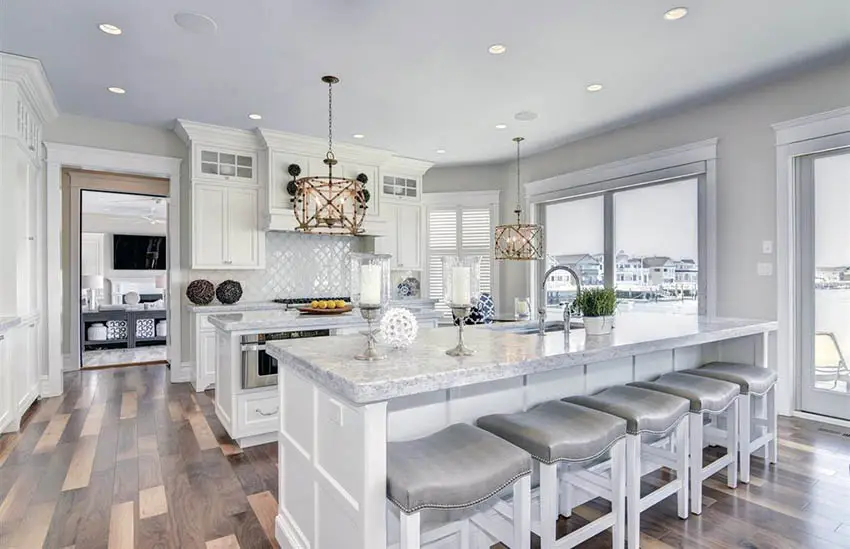 A two island kitchen can cramp the space if your layout is not large enough. In addition one would need to constantly walk-around and between the islands which could inhibit work flow while cooking meals.
The added kitchen cabinets in a two island design provides extra storage space and the option to store small appliances, dishes, or pots and pans.
Contrasting Kitchen Island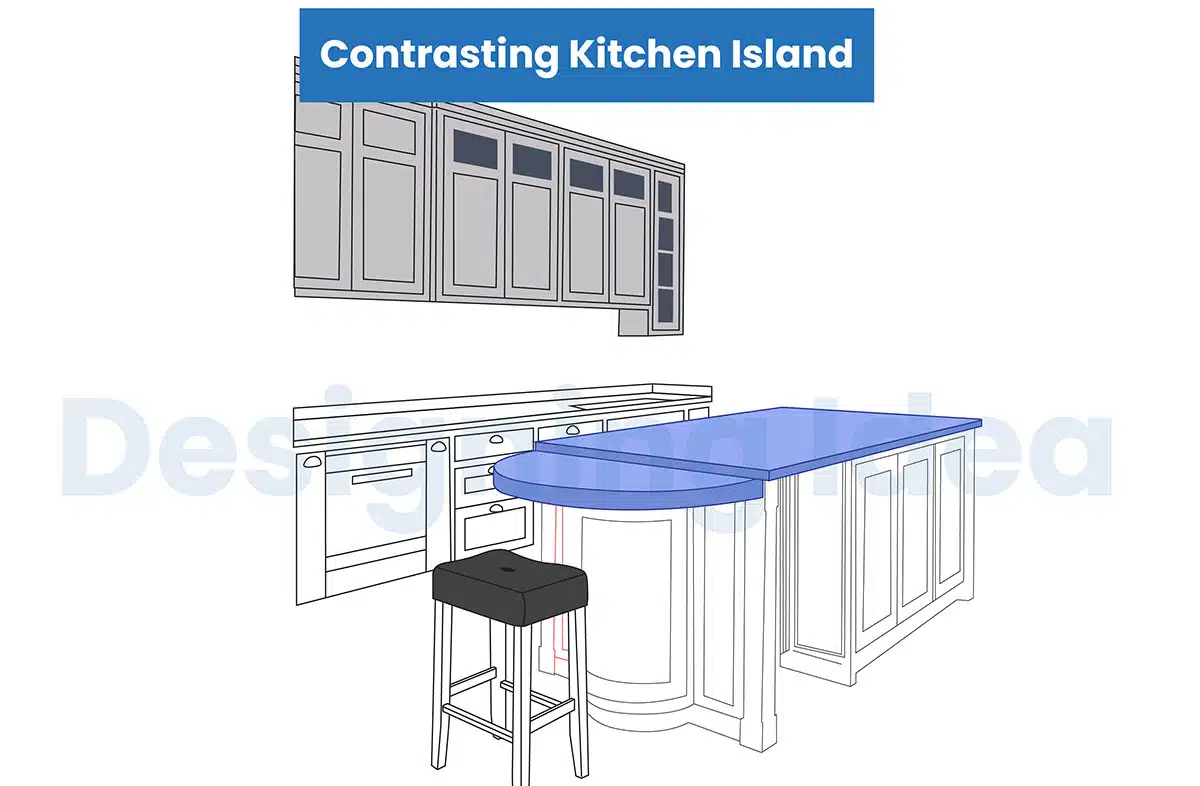 A kitchen with contrasting island has a different color for the cabinet of its island than the main cabinets. This type of contrasting kitchen island design creates a focal point for the eyes and brings drama to the space.
A totally kitchen design with the same color for the island and main cabinets is symmetrical however with colors like white can appear too washed out.
A different color island can be paired to match flooring or other accent pieces such as a table, built-in cabinet or decor with great results.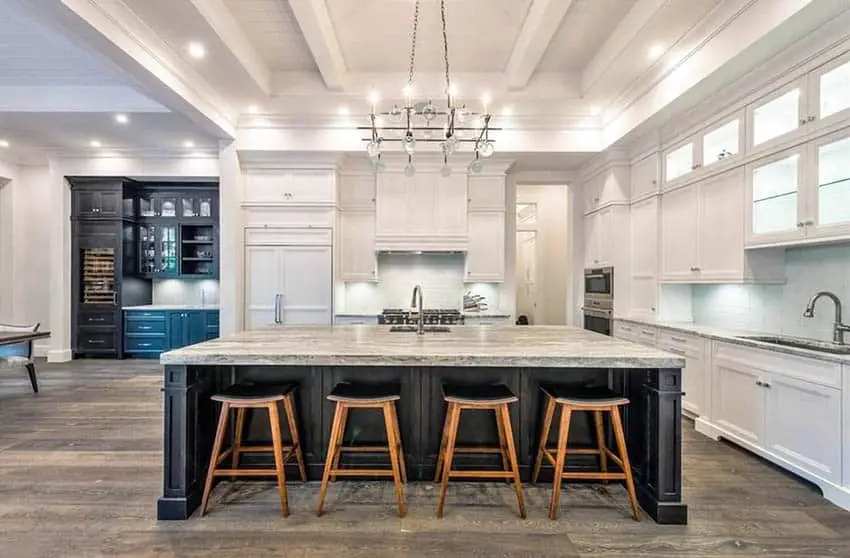 When considering a different color island its important to think about how it ties in to the overall room design. For best results think about how the island could be paired with something else in the space.
U-shaped Island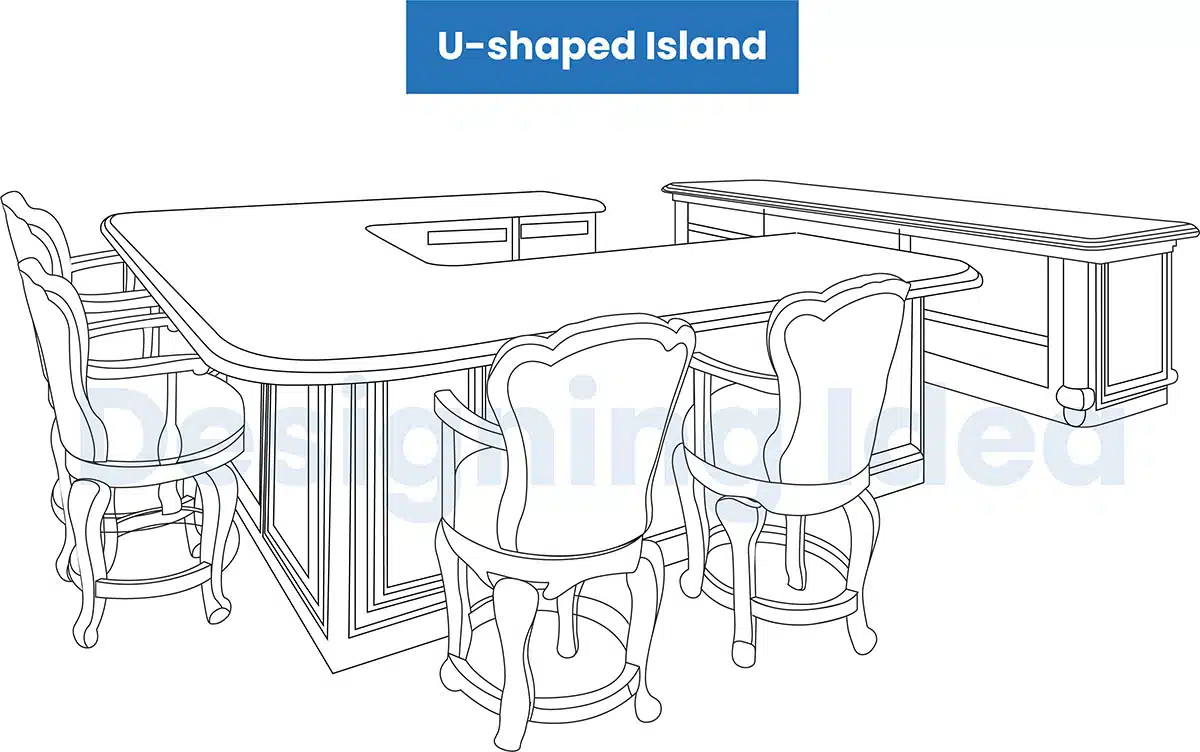 Who knew alphabet soup was really just trying to teach you about the shapes of islands you could get? Another type of island is the shaped like the letter U.
This type of island is ridiculously spacious and functional. This is best for kitchens with multiple users at once and creating large meals or entertaining large groups.
These types of islands are often fully functional (which we go over a little later in the article) and have a ton of seating, storage and working areas.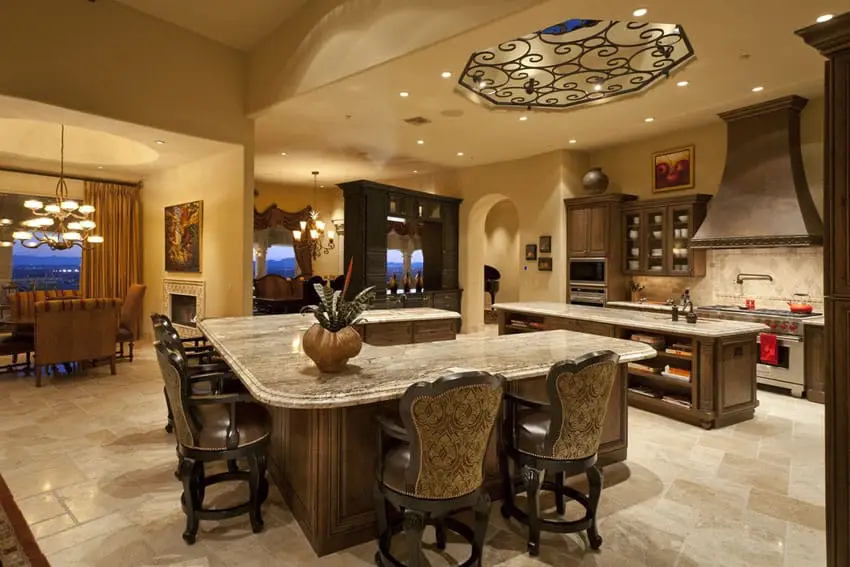 A u-shaped island design is not for everyone though, some do not need this much space and it can be a hassle to have to move from one side of the kitchen to the other and clean a great deal of surface. This type also is expensive and takes a lot of room in the kitchen, which is not ideal for every kitchen design.
Portable Kitchen Island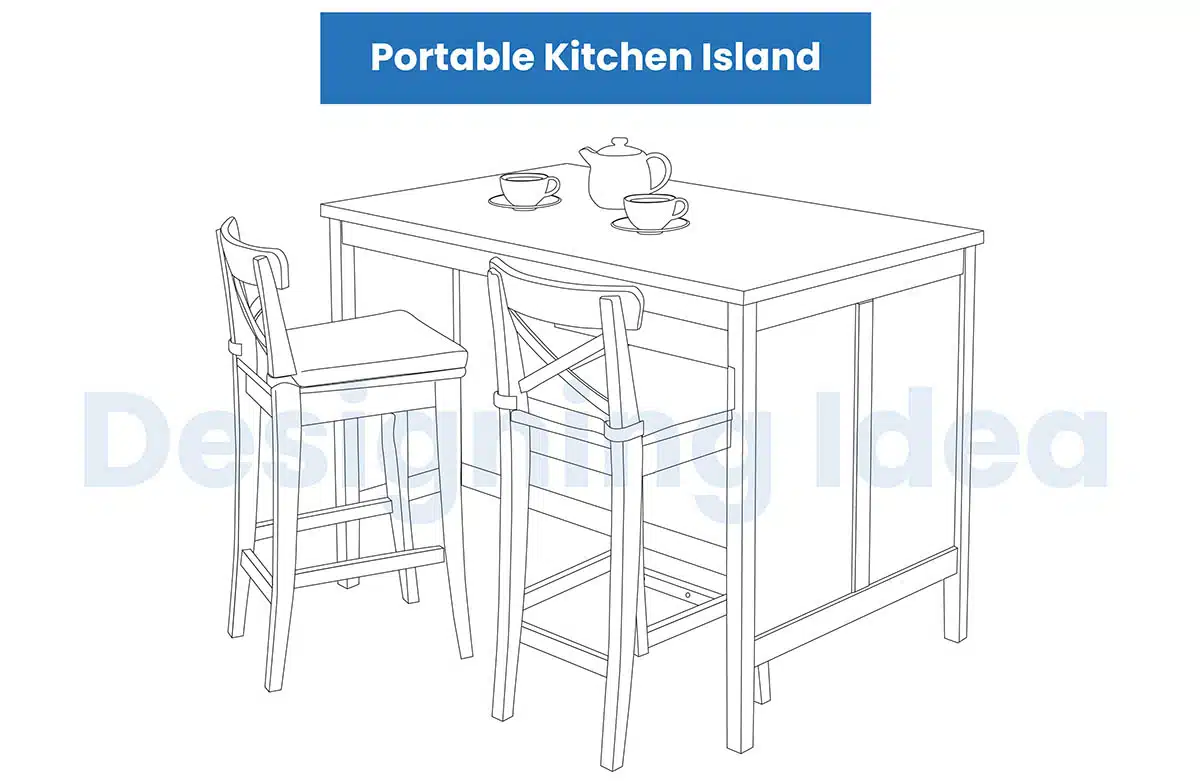 For those that entertain or would like more space for meal preparation a portable kitchen island is a great choice. These are sometimes known as a rolling islands or movable islands. Portable islands are great for smaller or modular kitchens that need extra preparation or serving space.
Portable islands are also extremely cost effective compared to built in casework. Plus, they are easily moved from the kitchen to the dining or living room for serving, or into storage after finished use.
Portable islands offer under counter storage which can be used for pots and pans. Some even offer room to store your bottles of wine. They can come with a variety of surfaces such as granite, quartz or butcher block to name a few.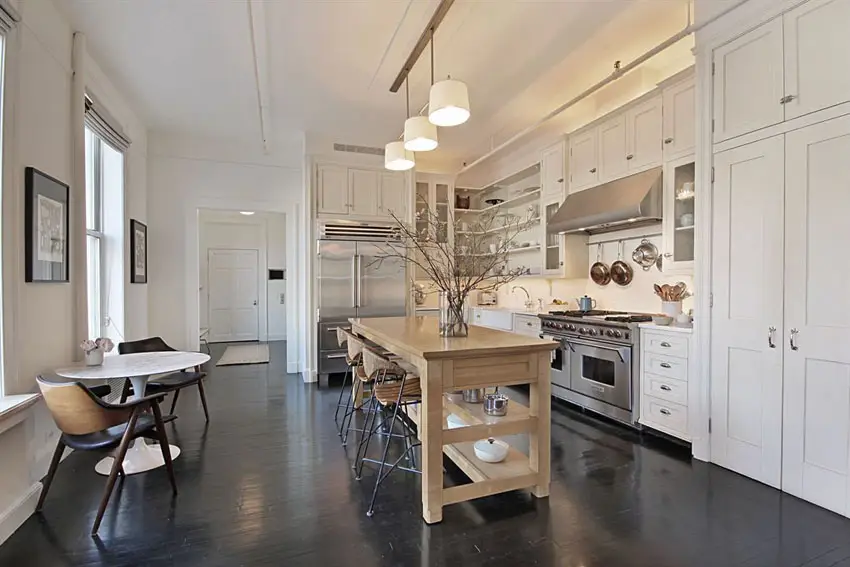 Unfortunately something freestanding is not always the best solution. Sometimes it can be a pain to store and take out every time you need it depending on the size. On top of that, they do not typically offer a lot of storage, if any.
Anything on wheels is going to be a little less sturdy than something built in, so you do need to beware of the portable island accidentally moving or not being able to perform certain tasks, depending on the material used.
Kitchen Island Table (Furniture Style)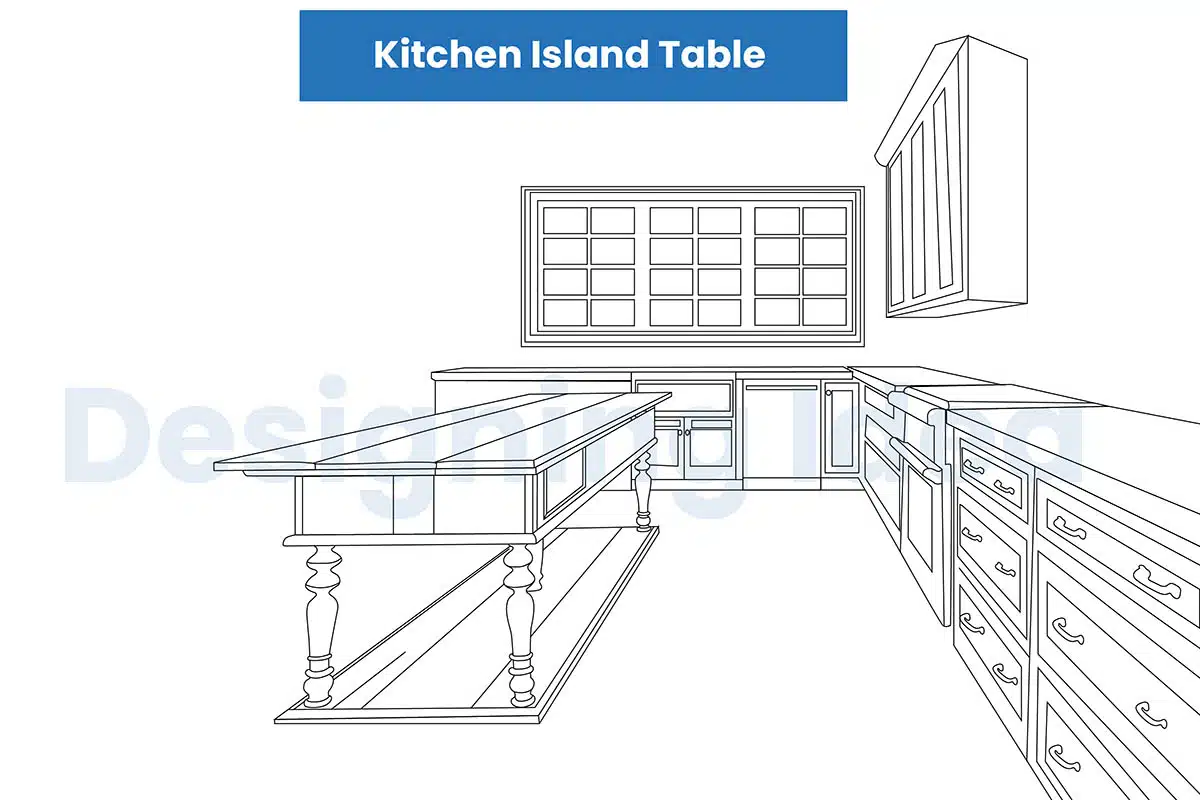 There are often items that you find that look perfect in a space, but do not quite fit the function, but if it you can make it work, you are going to make it work. Whether it be a family heirloom, or an antique that spoke to you a furniture piece type of island add immense character and intrigue to a kitchen.
These pieces are typically small and open, allowing for a bright and light space versus a typical bulkier island. Unfortunately these are not as practical as they are visually appealing.
Furniture style island tables are not built for cooking and preparation, meaning they do not possess very durable surfaces for the kinds of wear and tear or the liquids and such that are used on a kitchen surface.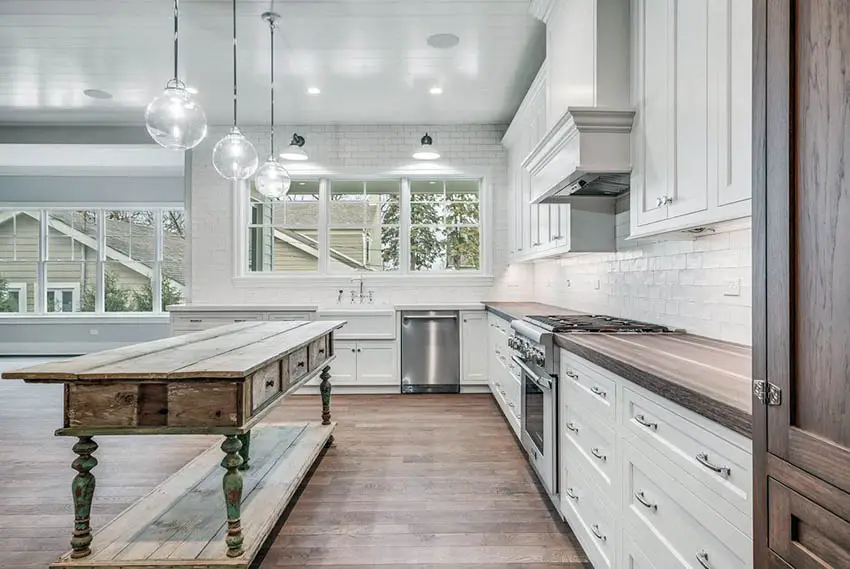 On top of that, there is not really any storage that can be utilizes for anything besides a few decorative items. If the item is older, it may not be able to withstand the beating that it takes from the motions of cooking and prepping, which could be a great downfall.
Full Function Kitchen Island (Water, Electricity &/ or Gas)
A fully functioning kitchen island is a great luxury. This type of kitchen island contains such as electrical components, gas oven, running water and drainage. Using those added amenities there can be different appliance and sinks added to the island, adding for a more functional space.
A fully functioning space can be a kitchen island with a stove, cooktop, microwave drawer or refrigerator. They are often used as a focal point in modern kitchens and are popular additions to both large and small spaces for gathering.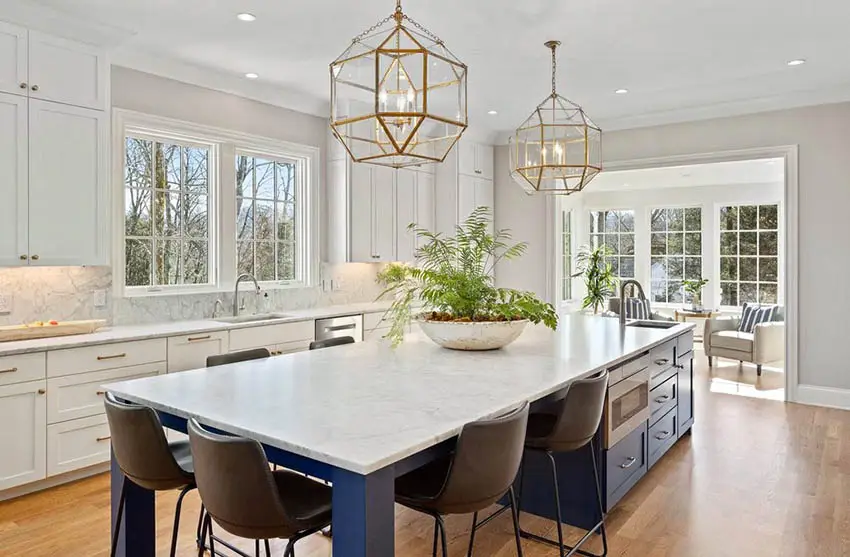 This is almost like having an additional kitchen, and is great for multiple people using the space. The only real downside to this is that it is an expensive add to a kitchen and it requires a great deal of space and work for it to be completed.
Sink Island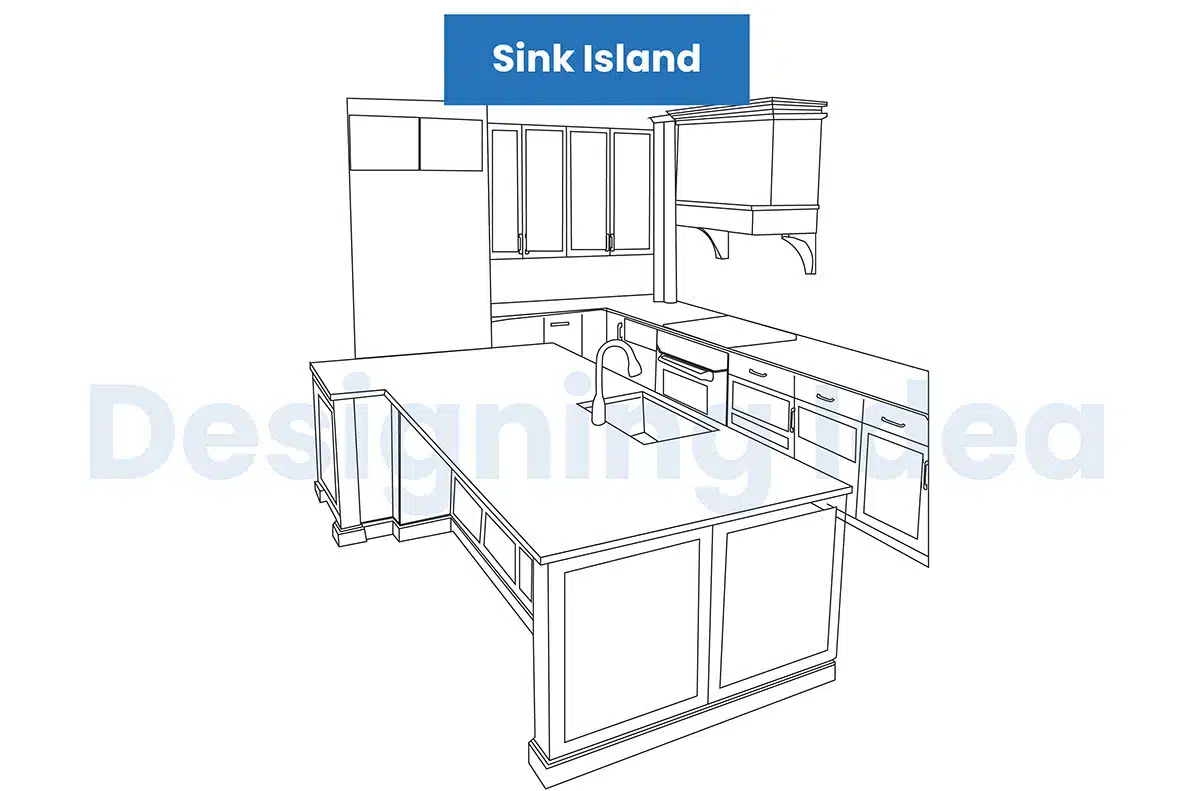 Another amenity that is extremely useful in the kitchen island is a sink. This does require plumbing to come into the island faucet, which is typically an added cost.
A sink in the island is useful if you need a separate space for food prep or cleanup, and don't want any overhead kitchen cabinets to get in the way. This flexibility allows one sink for dirty dishes, while the other is being utilized for a variety of other needs such as preparation of ingredients for cooking.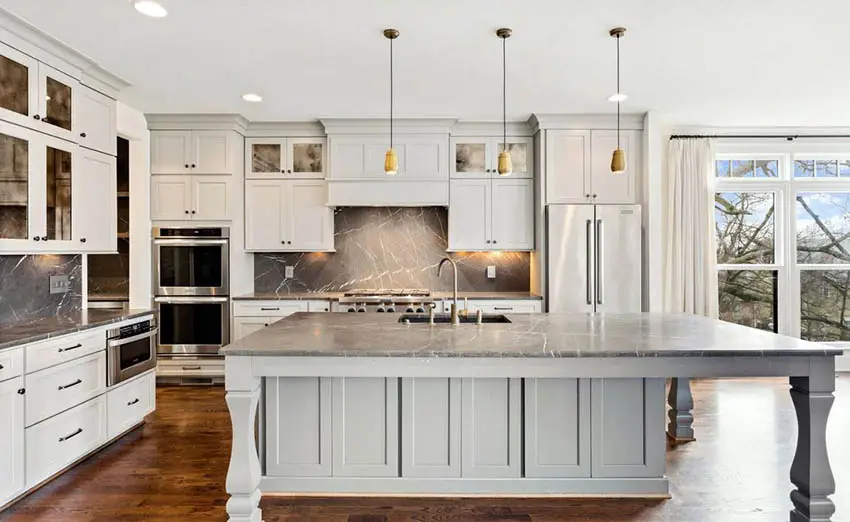 This type is commonly accompanied by a dishwasher next to it in the island. The dishwasher is about 24 inches, but still has usable counter space and the sink needs about 36 inches. You will need the island to be larger to accommodate the mentioned items.
Cooktop Island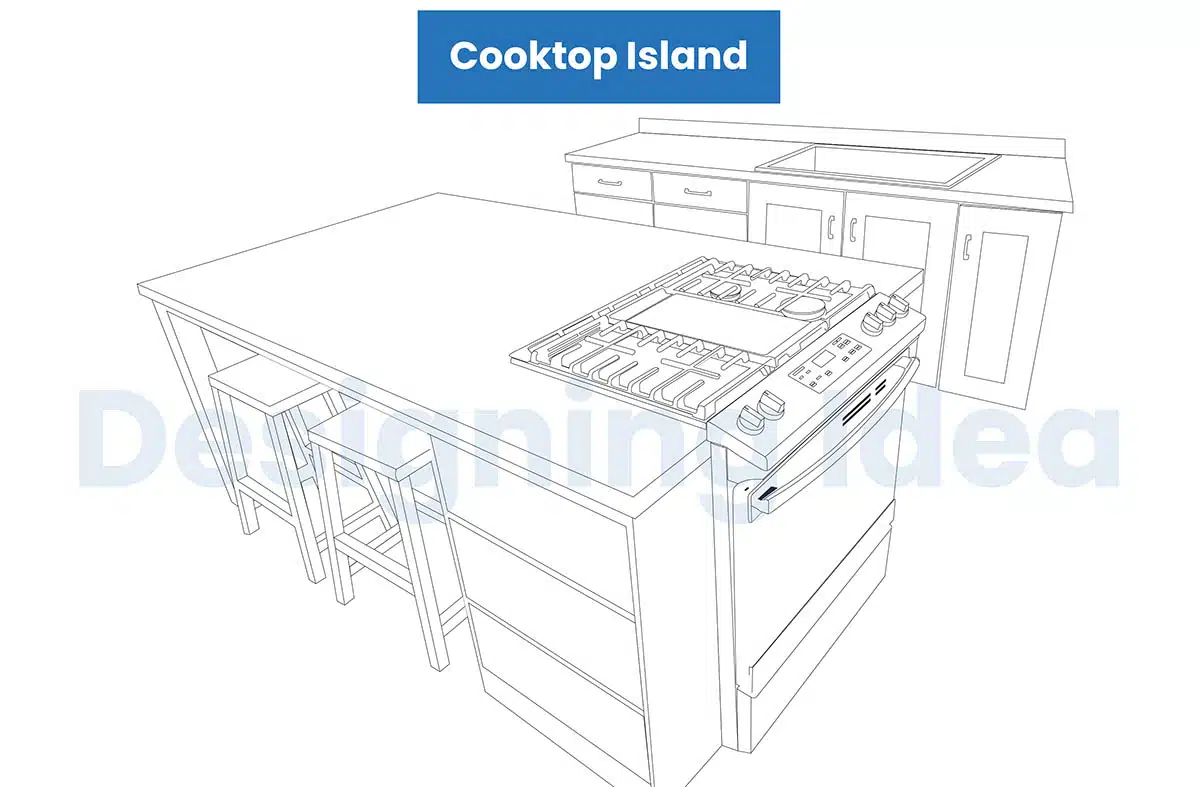 A cooktop island is something that can be included in a fully functional island, as it needs power or gas lines to run, depending on the type of cooktop you have.
Cooktops take up a hefty amount of space and you want some on either side, as well as space away from any seating in the island. Typically the cook top itself is 30 inches to 36 inches.
You will need to provide for some type of ventilation with the installation of a cooktop in the island. you can suspend a range hood from the ceiling or some designs use venting that is built-in to the surface. Stainless steel hood materials can match with other appliances and finishes to give a cohesive look.
Storage Island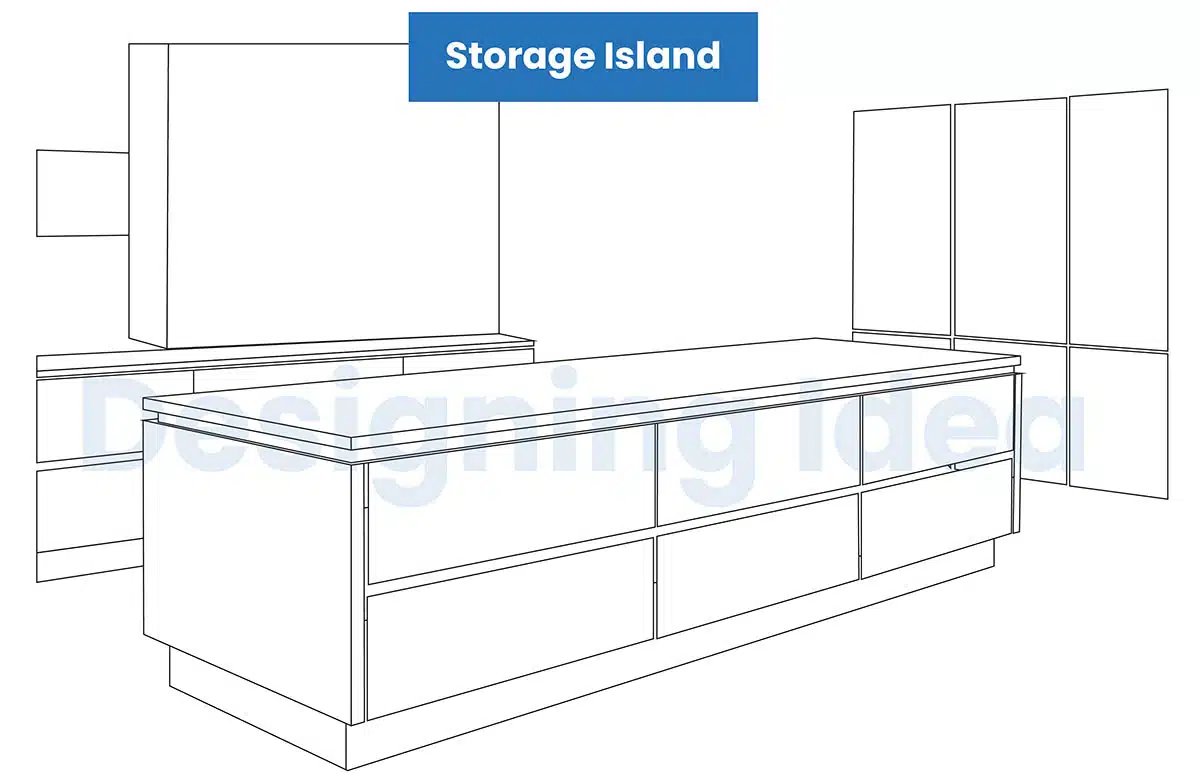 A storage island is pretty simple in design and costs. Storage islands have built in cabinets and drawers based on the needs of the user. These are common as they do not require any extra plumbing or power.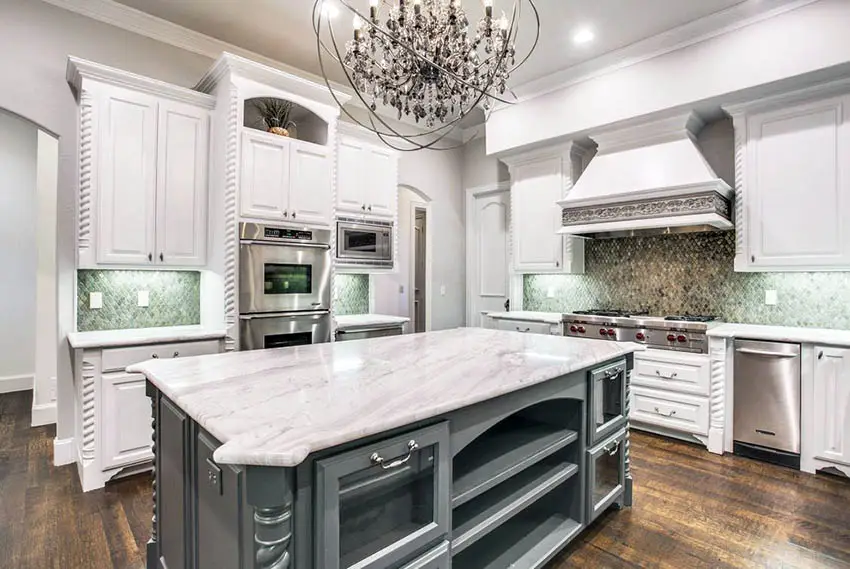 Under island counter storage with glass doors allows one to easily see and access pots & pans. Open shelving is also a helpful addition for those often used kitchen utensils.
Custom Kitchen Island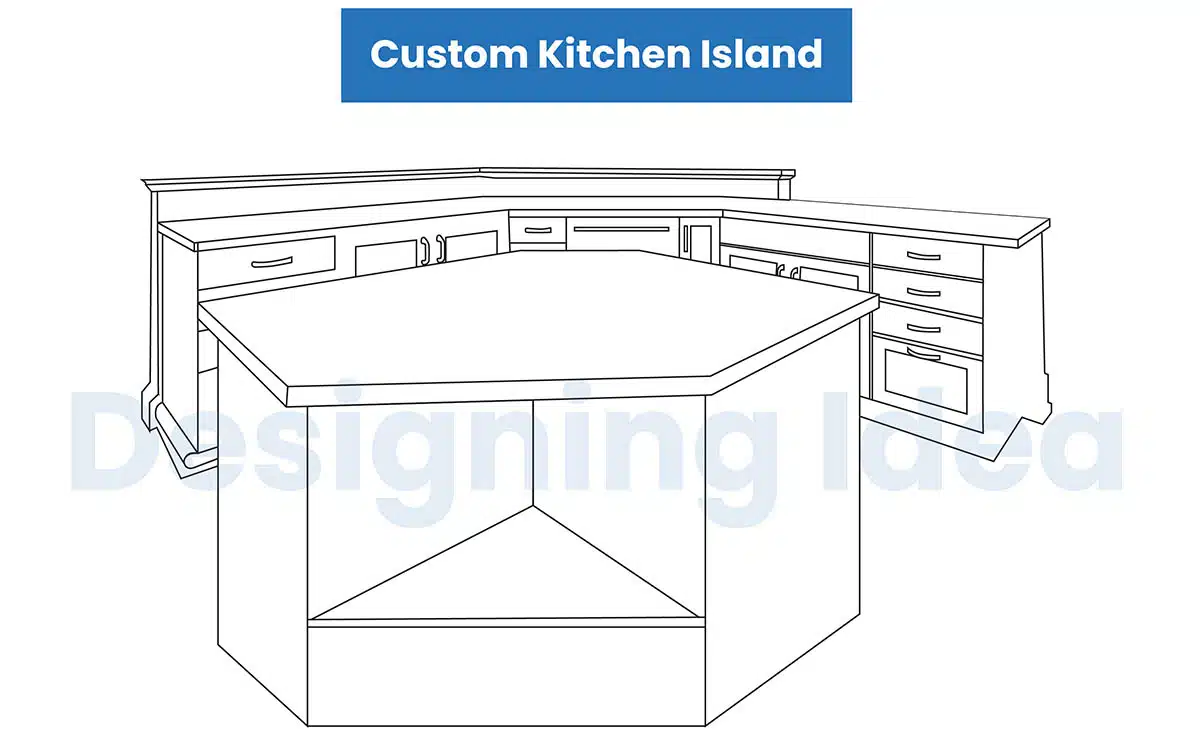 A custom kitchen island is a design that is constructed specifically for the layout of the room. It can be practically anything you can imagine such as a kitchen island with bench seating, geometric design, or have the inclusion of a sink or appliance.
Some of the popular elements and benefits of a custom island design include:
Storage – special cabinets or drawers, lazy susan, expanding spice racks
Special features – pull out cutting board, power outlets, wine cooler, warming drawer
Lighting – under cabinet lighting, colorful LED's or focused task light fixtures
Countertop – different countertop material than the primary cabinets
Bar seating – extended countertop for eat-in dining
Unique finishes – custom corbels, leg posts, trim and molding
Decorative front and side panels – shiplap, beadboard, Shaker style
Appliances – cooktop, oven, dishwasher, refrigerator and microwave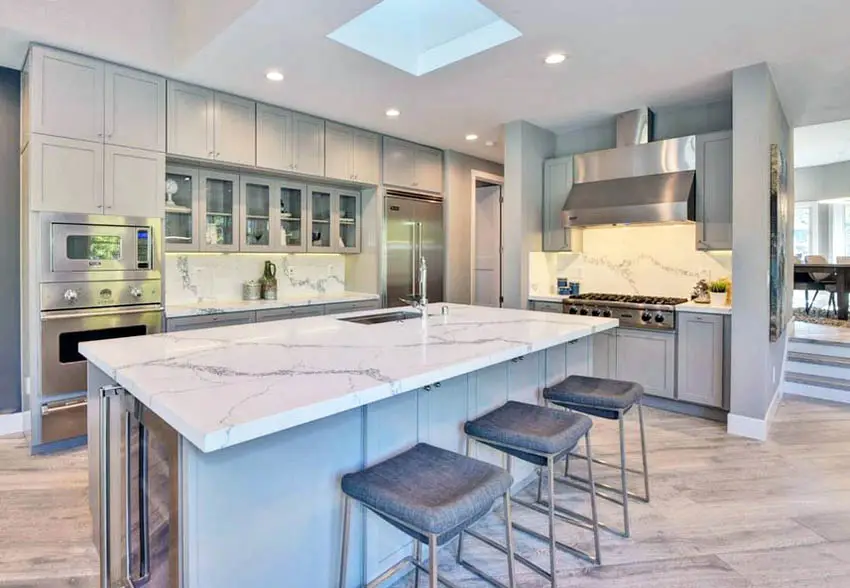 The inclusion of a wine fridge on the side of this island design provides easy access to your favorite beverage items.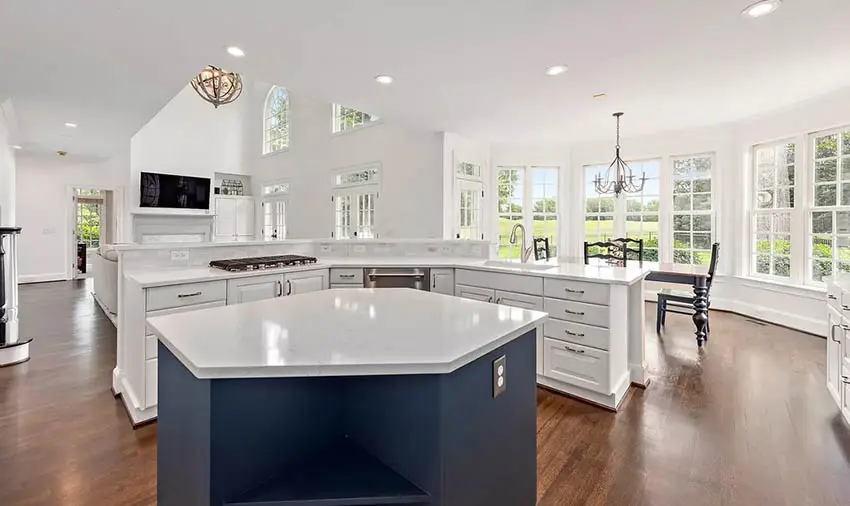 The cost of remodeling your kitchen layout with a custom island design may be the thing that hold one back. While a standard kitchen island costs about $3000 to $5000 to install a custom model can easily cost in excess of $10,000.
Two Tiered Breakfast Bar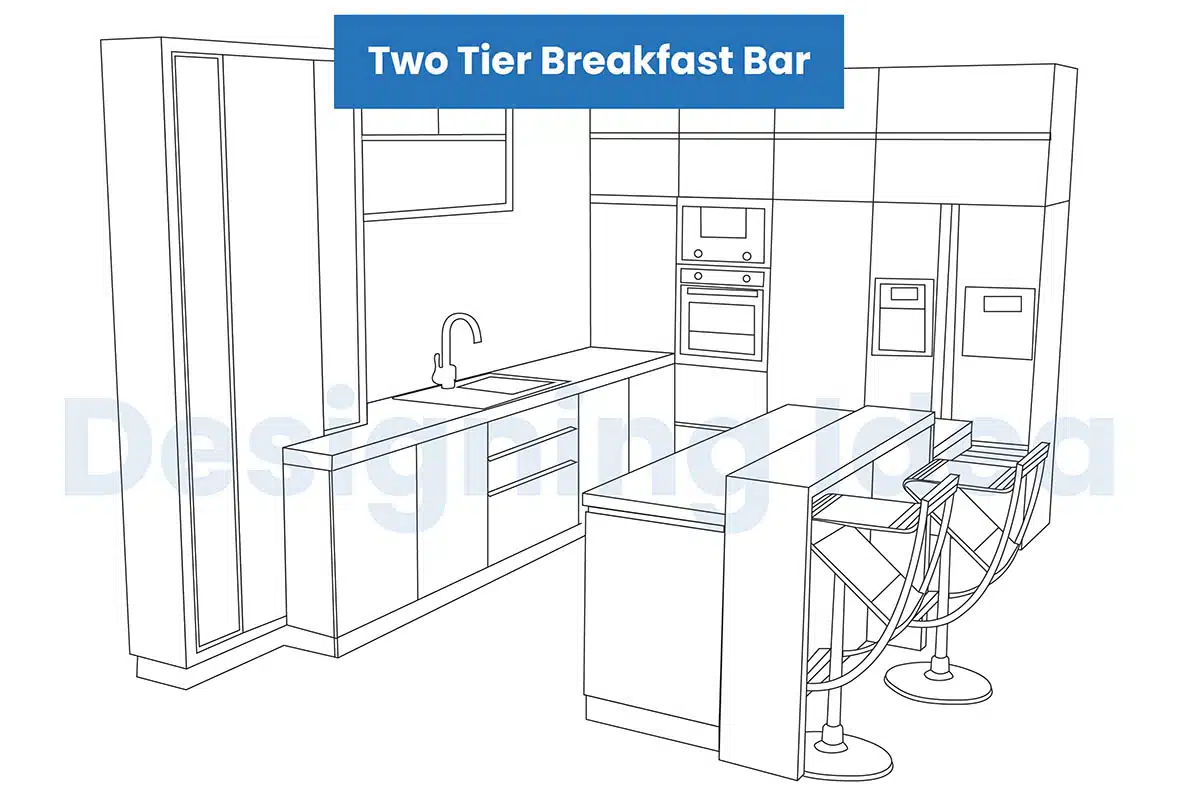 A two tiered kitchen island breakfast bar is great for getting the best of both worlds without intermingling them too much. This design has two different heights, one counter height for cooking and a taller for the seating.
This is especially great for islands that include a cook top, so that the people sitting at the counter do not accidentally come into contact with the hot surface.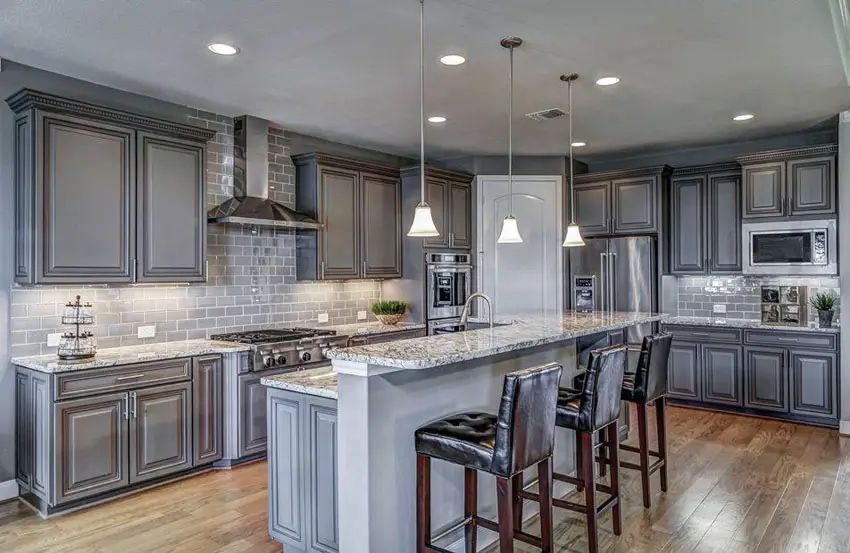 This is also good for ergonomics as ideal cooking height and bar height is different. Unfortunately this does take some of the prep space, as you cannot use the raised part of counter.
Dining Island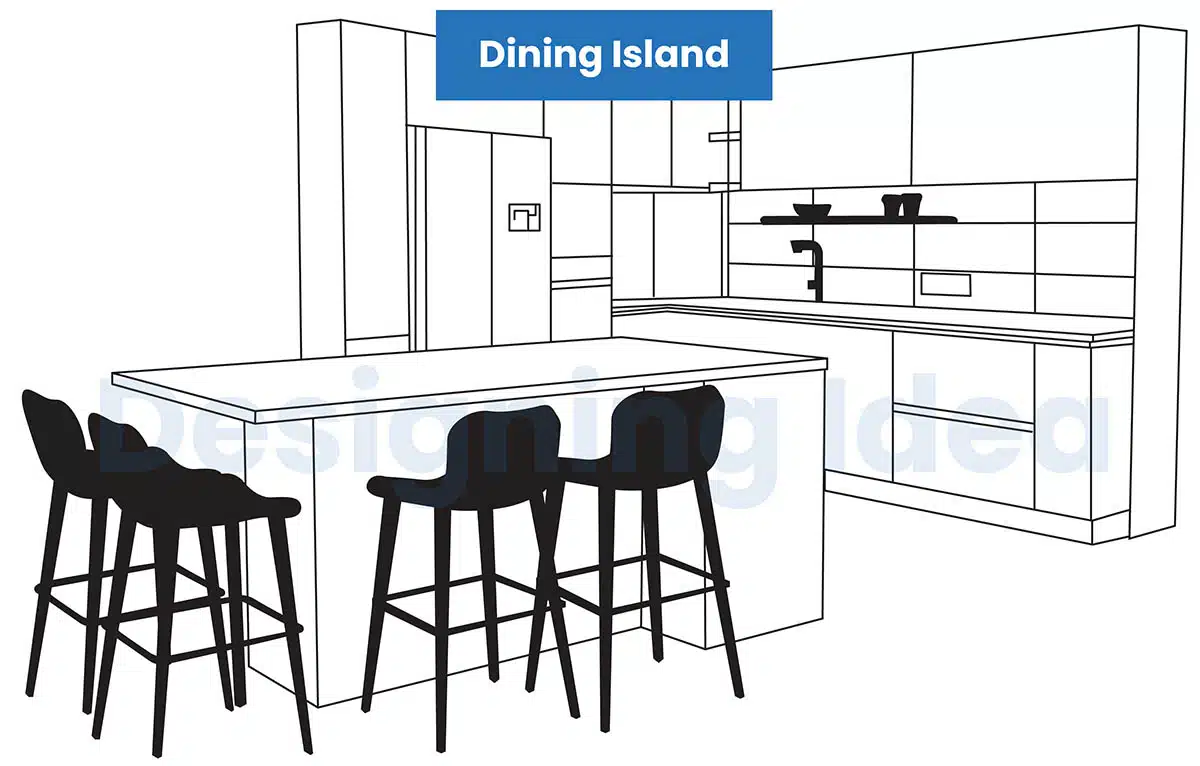 Most of the above mentioned islands can include dining. This functions by having one side of the island's countertop extend out to accommodate stools or chairs to create a kitchen island seating space.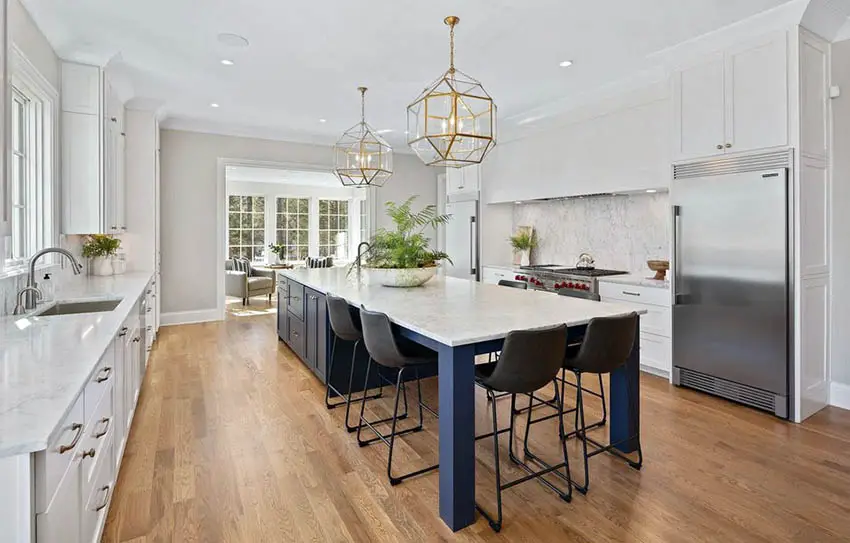 These types are usually extended 10 inches to 12 inches to create enough space for a person to sit comfortably. However, it's important to maintain plenty of space between the island and main cabinets so the chairs do not interfere with your path.
What kitchen island ideas are your favorite? Share your experience, details or tips about installing an island in your home in the comments.