In this guide to the best kitchen sink material, you'll see the different types used for kitchen sinks including their pros & cons, and what is the most durable sink material.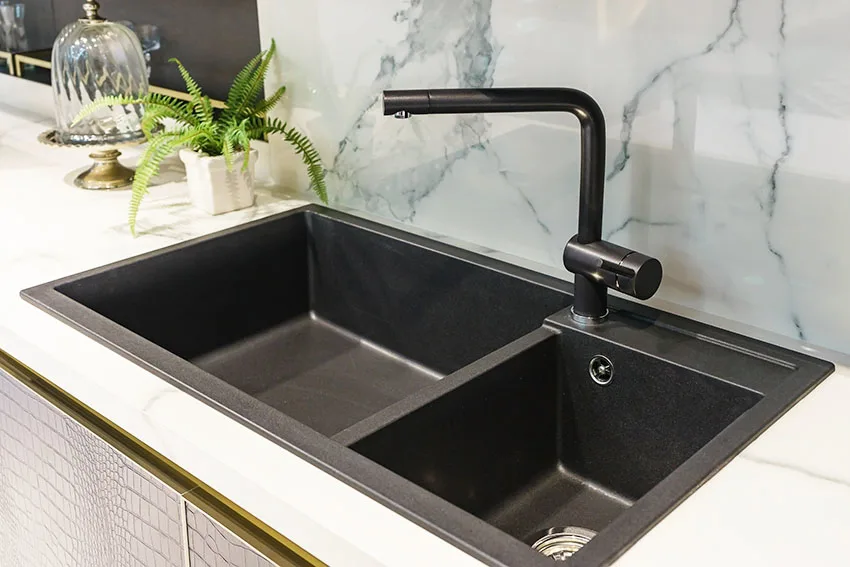 One of the most functional elements in your kitchen area would have to be the sink. They can come in a wide variety of materials. The mere range of options can make it very difficult for you to decide which particular option will turn out to be best for you at the end of the day.
The first thing to think about is which types of sinks will suit you best in the first place. Luckily for you, the moment that you've decided on the size and color, the type of material for the sink shouldn't be that difficult to decide on from here on out. Let's go through the various materials available and what their pros and cons are.
Stainless Steel Sinks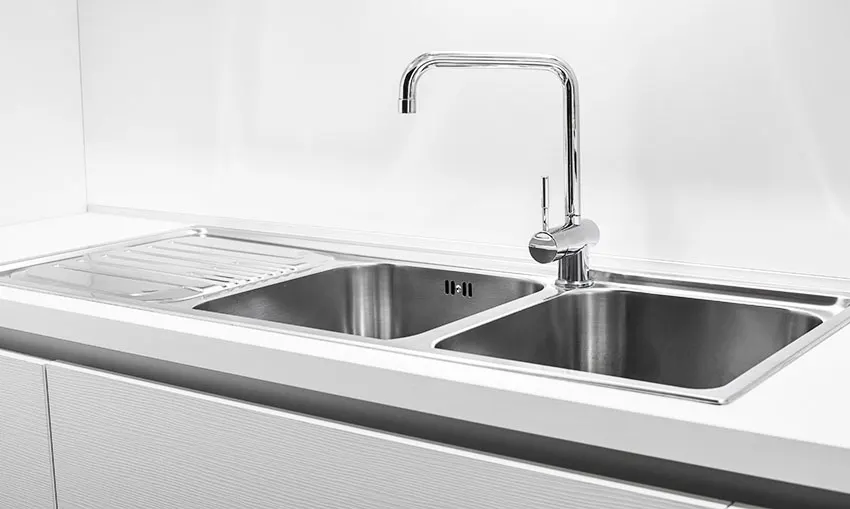 Stainless steel sinks have always made it to the very top of the list of sink materials to go for. Apart from the branded ones such as Kohler, they are also some of the most affordable ones in the market.
70% of the kitchen sinks that have been commercially produced are made out of stainless steel so it's pretty safe to say that this material is commonly and readily available, too.
Stainless steel products are given classifications based on their gauges. The ones with the lower gauges are usually cheaper whereas those with higher ones are usually more expensive.
Most sinks come with gauges ranging from 15 to 24. However, there are plenty that comes with gauges ranging from 18 to 22. The gauge indicates the type of thickness that the sink falls into.
A lot of people would be under the impression that the heavier a sink is, the better its quality is. But this isn't always the truth. Based on statistics reports from consumers, say that the gauge does not always dictate the quality of a kitchen sink.
Although it is good to note that heavier sinks are less noisy and are less prone to dents than thinner ones. This is one of the main pros of a stainless sink. It's far thicker and sturdier compared to the usual materials out there. It can also resist stains and temperature changes quite efficiently.
Some cons that come along with stainless steel sinks though is that they are veritably noisy. It is louder compared to other materials which is why a lot of manufacturers opt to spray coat it or pad it to minimize the amount of noise it generates.
It also shows scratches and spots more easily. This means that they can turn out to be quite difficult to maintain and keep clean.
Natural Stone Sinks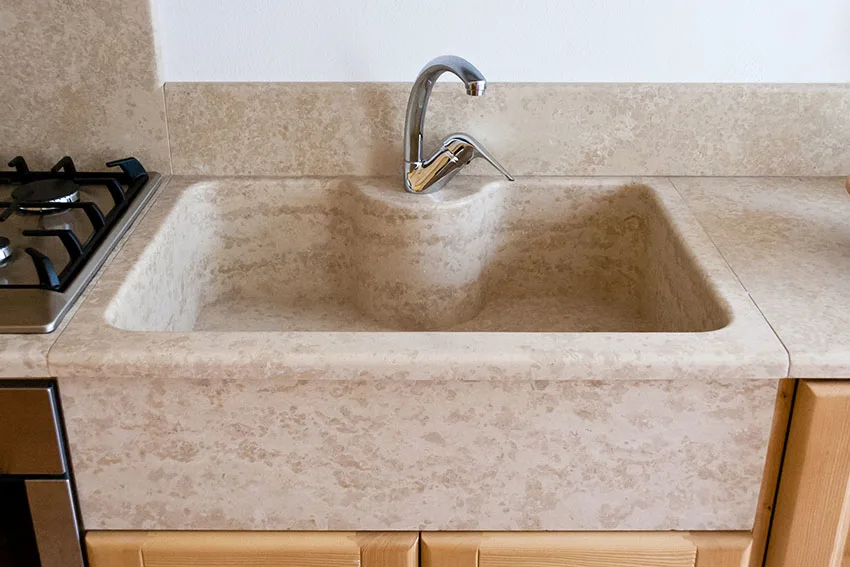 Natural stone sinks are one of the best kitchen sink materials out there. They can be made out of marble or granite. They naturally look shiny and polished and have a certain wow factor to them that's quite hard to ignore in the kitchen space.
This is the main reason why a lot of homeowners fancy them. They can make your kitchen stand out and sparkle. What's unique about this type of sink is that it is made or carved out from a single block of stone. This is why the cost of such a sink can be quite high.
There's a certain premium that goes with natural stone sinks though. They can be real head-turners, they look great and they're pretty durable.
They are considered veritable investments and something well worth the amount of money that you put into them in the first place. They can be made out of marble, slate, granite, or some other type of natural stone that's commonly available in the market right now.
A downside though is that they are naturally porous, as with most natural stones. What this means is that it will take water on and it can also stain pretty well. If you want them to last longer, you need to make sure that they are properly sealed and maintained at least twice a year.
Harsh cleaning agents can also end up damaging them so that's another thing you need to be careful about at the end of the day. You will also need to make sure that you have a sturdy enough sink cabinet that will be able to support its heavy weight so that's another major downside for you to look out for with natural stone sinks.
Granite Composite Sinks
Granite composite sinks are of course, as the name suggests, made mainly out of granite. What this means is that these sinks are made out of a mixture of crushed granite and a combination of resins.
The ratio is oftentimes made out of 20% resin and then 80% crushed granite material. There may be some differences in the mix here and there but for the most part, that's the ratio that's being observed.
The main advantage of sinks like this is that they don't require as much maintenance as the other sinks do. This is because, for the most part, they are made out of granite, a highly durable material. You are guaranteed that you will have a sink that's made to last you for years.
On the other hand, a major drawback is that granite tends to hold water a little more compared to other materials. This is because granite is a non-porous material. Thankfully though, this isn't something that you have to worry too much about.
Once a granite sink has bonded with the resins, it can become somewhat waterproof. Pair that up with proper maintenance and sealing and you have a sink that can withstand the test of time.
Enamel Kitchen Sinks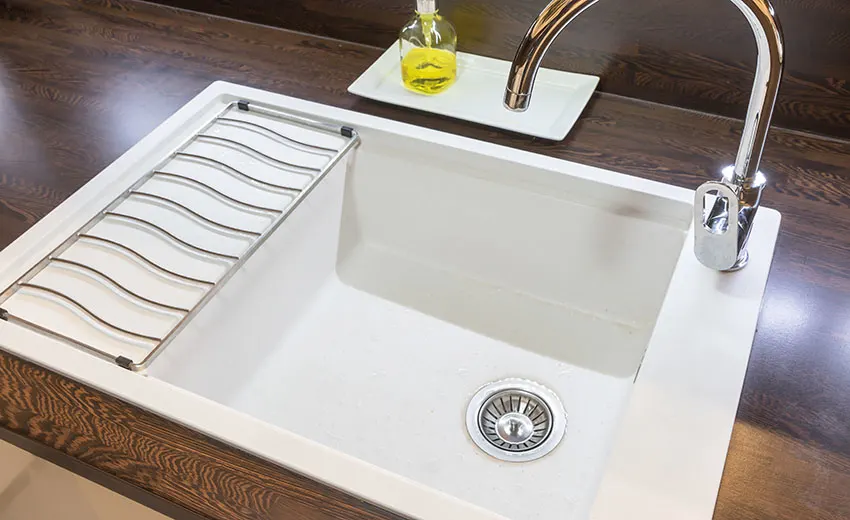 Enamel kitchen sinks are a little more old-fashioned and traditional but they have certain appeals to them. For starters, they are formed by a glass base that is fused with a cast iron coating.
They can come in plenty of colors, and look and feel so much smoother than any stainless steel sink. It is one of the strongest and most durable sink materials known to man but it does have its certain downsides.
It is quite heavy and what this means is that it will need a sturdy cabinet to support its weight. Also, the enamel coating on these enamel kitchen sinks can easily break off if you aren't careful. The use of the wrong abrasive sponge could easily end up ruining its surface.
Extra time and care need to be put into its cleaning and maintenance and you need to make sure that it is properly handled at all times or it will end up causing major and permanent damage to your kitchen sink.
There are DIY kits to help out with any damages but they can be a bit tricky to handle. You can also get this done with the help of a professional.
Quartz Sinks
Quartz composite sinks are highly durable. They work well with traditional and transitional designs in the kitchen. If you are quite a fan of natural stone but you aren't that fond of its high price tag, quartz composite sinks just might be the perfect fit for you.
It mixes natural stone bits with resin, creating the look of a solid piece of natural stone as a result. It is uniform and porous all the way through. It also means that it happens to be quite resistant to chipping and staining.
Despite the added durability though, you need to keep in mind that delicate dishes and glasses might end up breaking if they are accidentally dropped into the sink. It means that you need to go about your sink business with extra handling and care.
Porcelain Sinks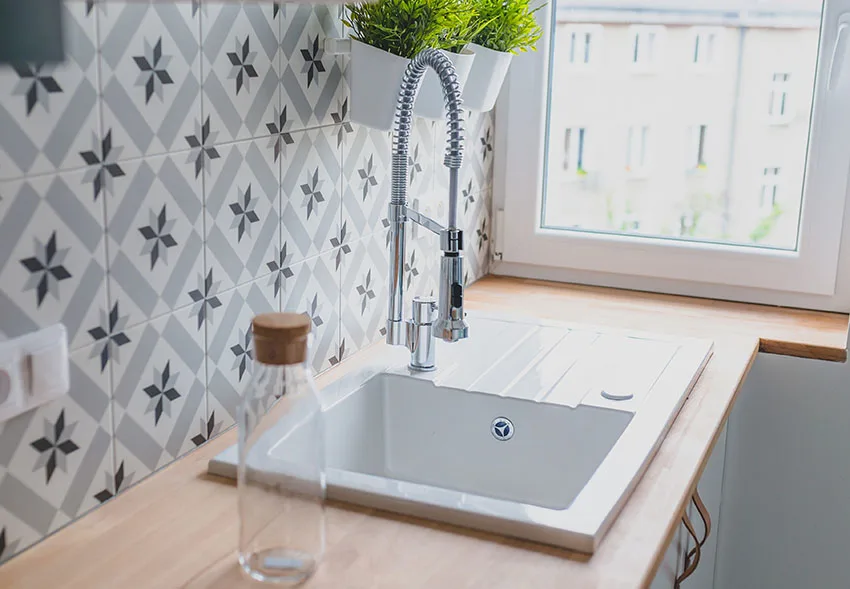 Porcelain sinks are made out of traditional materials. It has been used for centuries not just for sinks but also for dishware, toilets, and so much more. You can typically find porcelain used for different types of kitchen & bathroom sinks, including the popular large basin farmhouse sinks.
How porcelain is formed is that kaolin clay and potter stone are usually fired and fused in a kiln to very hot temperatures. These silicate materials are the main building blocks for your porcelain sink structure.
The result is a material that's very dense, smooth, but most importantly, nonporous.They're durable and great just the way they are. But when reinforced with coated steel or some other type of protective coating, they can last even longer.
They can come in a wide variety of colors but white has always been the classic and has a timeless and classic appeal to it. It is also easy to clean. It doesn't scratch or stain easily.
It does come with downsides though. Porcelain may be susceptible to chipping and cracking. It can also be quite heavy and can be a bit harsh on your glassware. It would be smart to have some type of protective silicone mat to help you prevent damage during the process.
Porcelain is also a much heavier material so you need to make sure that your kitchen cabinet is reinforced enough for it to be able to withstand the extra weight.
Cast Iron Sinks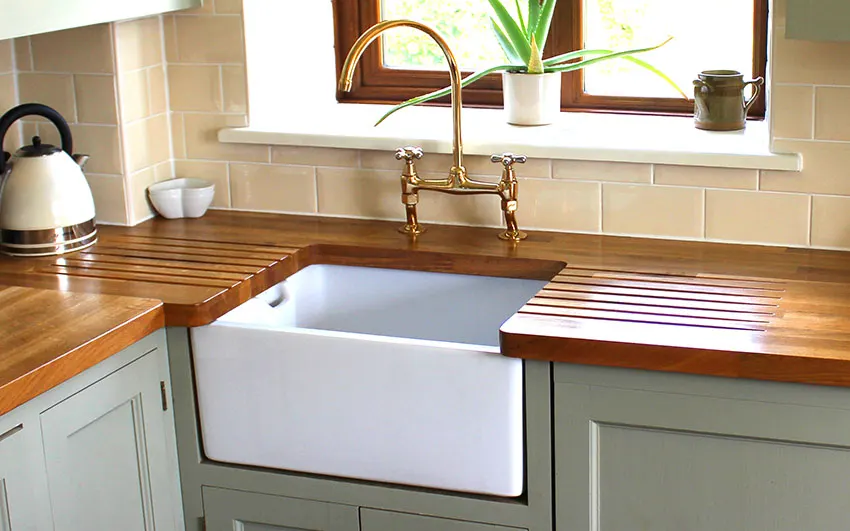 Cast iron sinks are best known for their smooth and shiny appearance. They are hands down one of the favorite sink materials for homeowners. They are highly durable. They are beautiful. And they have been known to last for years, or even for lifetimes.
They can go on and on for years without losing their natural beauty. If you are into sink materials that can last for long periods with little to no maintenance required, cast iron sinks would have to be the material for you. Iron all by itself can be quite prone to rust.
This doesn't make them very ideal as sink materials. However, this can be remedied through casting. How this is done is the iron surface is coated with a heavy porcelain enamel finish.
This enamel coating is the main differentiator that prevents the sink from scratching and rusting and even staining. The enamel coating on cast iron is unique as it isn't just painted on. It has been melted on the material, effectively binding with it during the process.
It effectively hides any water spots, making cast iron sinks one of the most maintenance-free sink materials you will ever get your hands on. This also makes your sink resistant to fading as well as to extreme light exposure. This can be quite common in the kitchen as it happens to be one of the sunniest areas in the home.
There are different styles and colors you can choose from. The more colored a cast iron sink is, the more you typically have to pay for it as a rule of thumb.
There are some downsides to this though. Over time, the enamel may break off from the surface. When this happens, the iron can quickly rust given the fact that sinks are wet almost all the time.
Another downside to casting iron sinks is that they also weigh about three to four times more than an average sink. This can make it very difficult to support the weight of the sink.
This means you need it mounted on something that's a little more reinforced than usual. This can tack on to your upfront costs as well.
Fireclay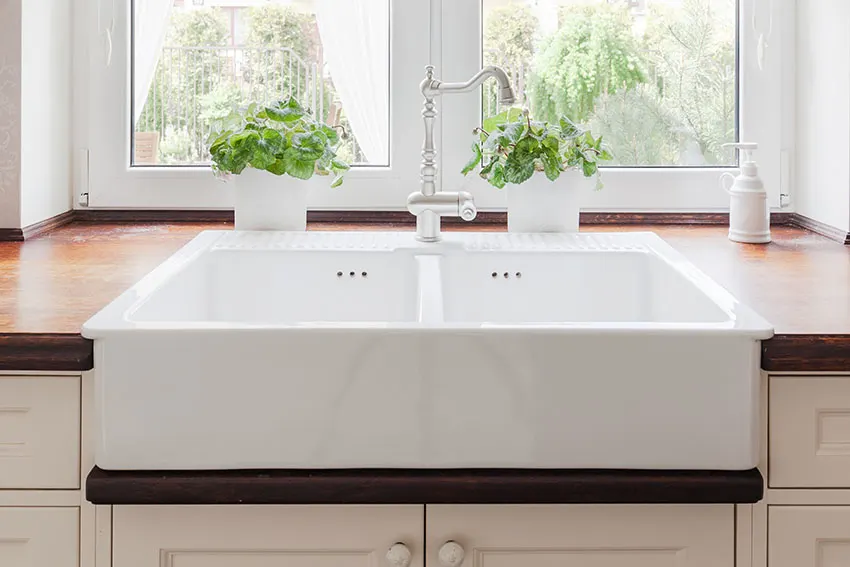 Fireclay kitchen sinks are rather unique and interesting. How the material is formed is that the fireclay is molded out of ceramic clay and turned into the shape of an actual kitchen sink. Once the initial sink shape has been formed, it is then left to dry out at extremely high temperatures for about 40 minutes or so.
Once this has been done, a porcelain enamel coating is then applied. This is also done at extremely high temperatures ranging to 200 degrees Fahrenheit and upwards and for much longer periods – around 20 hours or longer.
The heat being incorporated in the process is the element that's responsible for fusing the main ceramic material to the enamel at the end of the day. This increases the strength of the product tremendously.
Although it can make the product a little more durable, it can still break though when it falls to the floor. So fireclay sinks need to be handled with care, especially pre-installation. These sinks can come in a lot of different styles and colors, too. They are common for farmhouse-style kitchen designs.
A major downside to fireclay sink installation is that it can develop cracks and sustain damages especially when not handled with extreme care and expertise. On top of this, it would also mean that this kitchen sink's costs can be a little more on the high end.
Smaller-sized sinks can range from $400 to $500 while bigger-sized ones can well be above $800 or so.
Solid Surface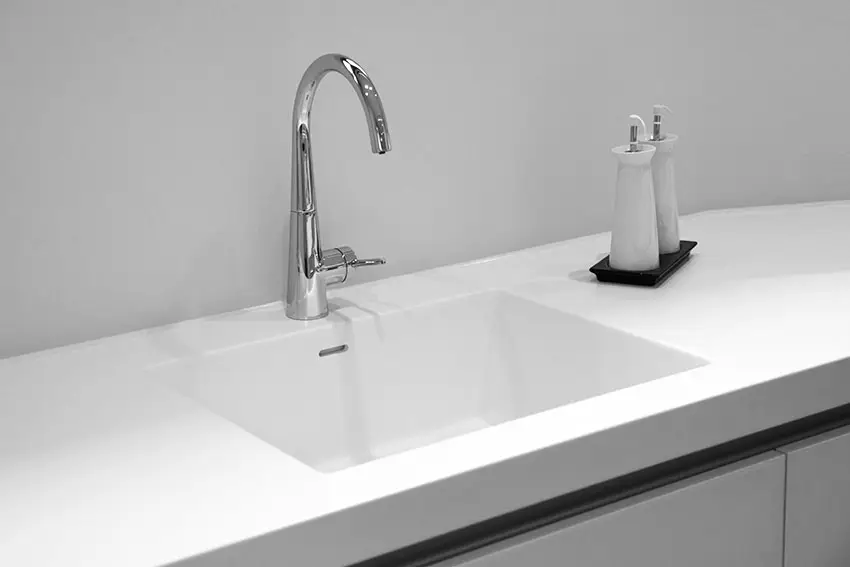 There are plenty of solid surface materials for you to choose from. Some can be made out of resin material mixed in with some resins to form a single solid surface.
It's a better alternative compared to other materials because of its nonporous nature. They come in a lot of diverse purposes but for the most part, they make for really great sinks. If some parts chip off, you can easily smoothen the rough spots out.
You can also quite rest assured of the fact that it can withstand extremely high temperatures. Because of that, it is easily one of the best kitchen sink materials in the world.
A downside though is that you need to veer away from any rough scouring pads. This can ruin the solid surface and is something that you need to avoid at all times as much as you can.
Copper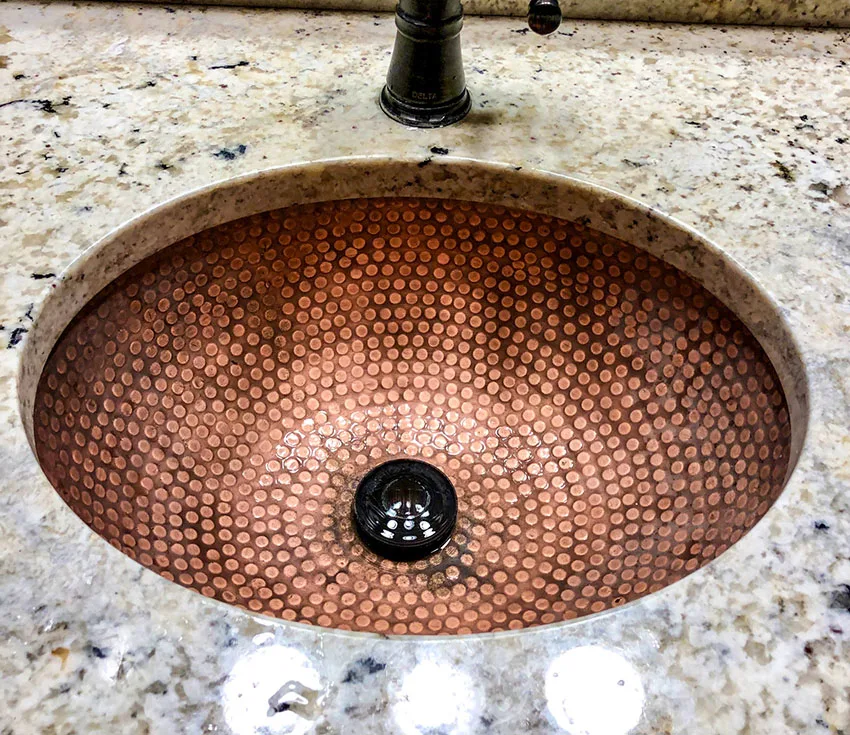 Copper kitchen sinks can look very attractive and eye-catching. But on top of looking great visually, they have special characteristics that can make them stand up above the rest.
Very similar to stainless steel sinks, copper sinks are measured based on their gauges, and depending on the kind of thickness they have, they can tend to be a little noisy as well. Copper sinks are oftentimes made or crafted out of hand.
This is why artists favor them so much as a material to work with. They have a known patina in their finished products. A characteristic that's unique only to copper. It has a somewhat shiny appearance. It also has a somewhat brown discoloration on the surface. High-quality copper usually requires minimal maintenance and nothing more than the occasional deep clean.
There are drawbacks, however. For example, the patina, once it sets, can be quite difficult to keep under wraps. It would be in your best interest to just accept copper the way it is as it ages as opposed to trying to fight it off all of the time.
Regular copper sinks can also be difficult to maintain at the end of the day. They can have issues such as improper drainage. Before you venture into the thought of opting for a copper sink, you need to keep in mind that proper research needs to be done. This will help you avoid any issues at the end of the day.
When pairing with kitchen faucet finishes you can go with dark natural colors such as a rustic bronze, oil rubbed bronze or black. If you have a lighter color copper copper sink you may be able to use brass faucets.
Acrylic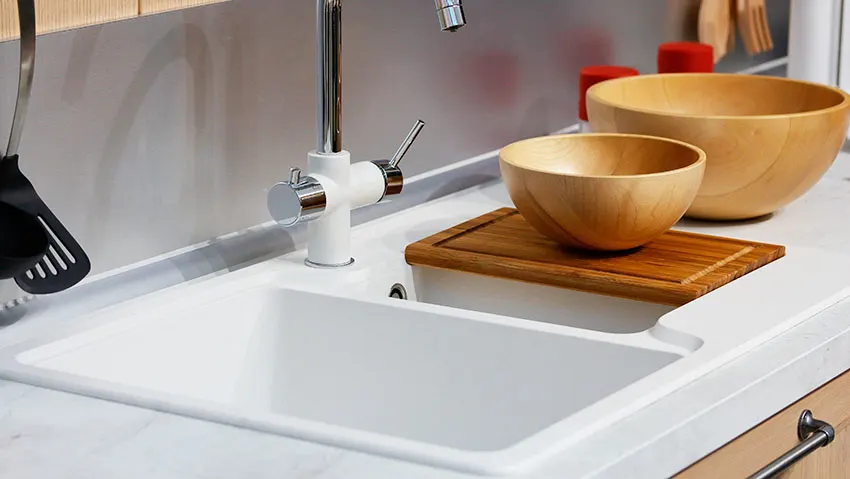 Acrylic kitchen sinks are attractive looking but they are also quite cheap to get your hands on. If you are looking for a quick and cheap kitchen remodel, your best budget bet would have to be on an acrylic kitchen sink set.
It is in the form of some type of plastic or fiberglass. It can come in plenty of designs and colors. And the best part about all of this is that acrylic is pretty lightweight. You can easily polish or sand off any rough surfaces in the material. Maintenance is a breeze.
More than all of this, you can rest assured that this material is durable enough to last you for a long time and at the same time, it won't break any of your dishes during the process.
A major downside to this though is that it cannot stand the heat. You are going to be constantly dealing with hot ingredients, hot materials, and even hot boiling pasta water and that can be an issue if you have a sink that can't stand up against it.
What Is The Most Durable Sink Material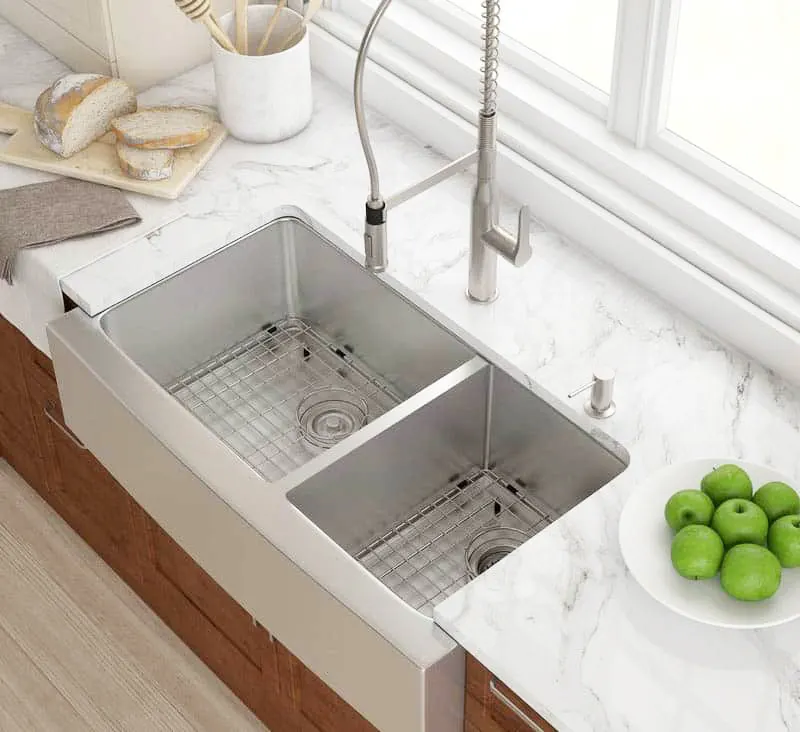 Interestingly, the most durable sink material would also still have to be stainless steel. You really can't go wrong with it. This material is extremely durable, stain resistant, and long-lasting. It will be able to withstand the weight of heavy pots and other dishes being unceremoniously dropped in it.
At the same time, it can be quite great at resisting heat, scratches, or even knife etches. These things are pretty common in the kitchen and if you want a sink material that will be able to hold up against the challenge, then your best bet would most definitely have to be a stainless steel sink.
It is by far one of the strongest materials for you to with. It can come in various types, styles, and sizes. You can readily find both drop-in and under mount sink styles with single, or double bowl wash basin designs.
A stainless sink doesn't stain easily. It is something that you will be able to clean up easily without any special treatment or special cleaning products.
At the end of the day, you need something that will be able to hold up well against heavy use. Remember that your kitchen sink should end up being one less thing you have to worry about it.
You need something that can be there and then something that you can forget about, not another thing you have to take care of all the time.
A stainless steel sink does just that and so much more. It gives great bang for buck value for your money. It's well worth the investment that you're putting into it at the end of the day.
Best Material For Undermount Kitchen Sink
The best material for an under-mount kitchen sink would have to be stainless steel. It is one of the most popular materials out there. It's modern and sleek, and it provides a contemporary look to your kitchen space.
You can pair it with various countertop materials from wood, to stone, to granite composite, and so on. Undermount kitchen sinks provide a so much more elegant and classic look as opposed to basic drop-in sinks.
For the best quality and best ease of use, we recommend that you look for stainless steel undermount kitchen sink that has a gauge of 16 to 18.
Popular Kitchen Sink Materials Infographic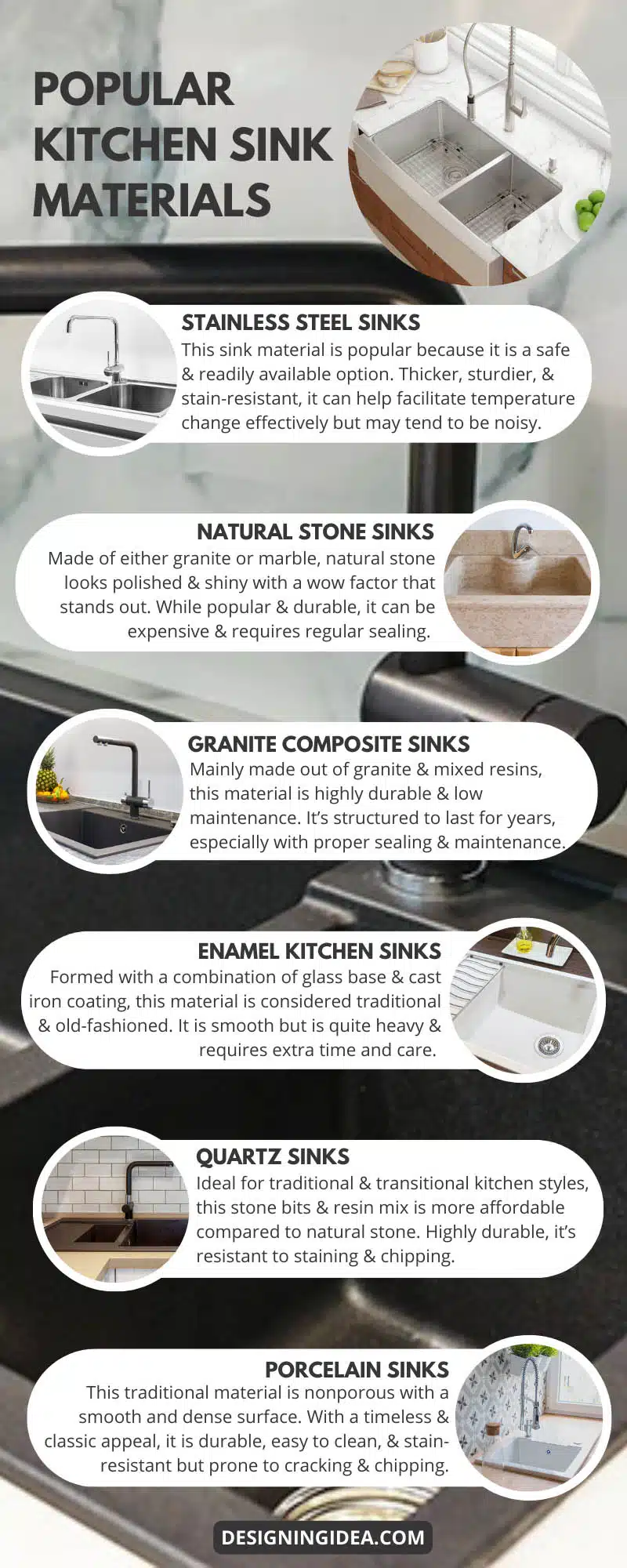 Visit our guide to kitchen sink sizes for more related content.