In this undermount vs drop in sink comparison guide you'll see what they are, pros & cons, differences in counter space, cleaning, maintenance and which is the better kitchen sink option.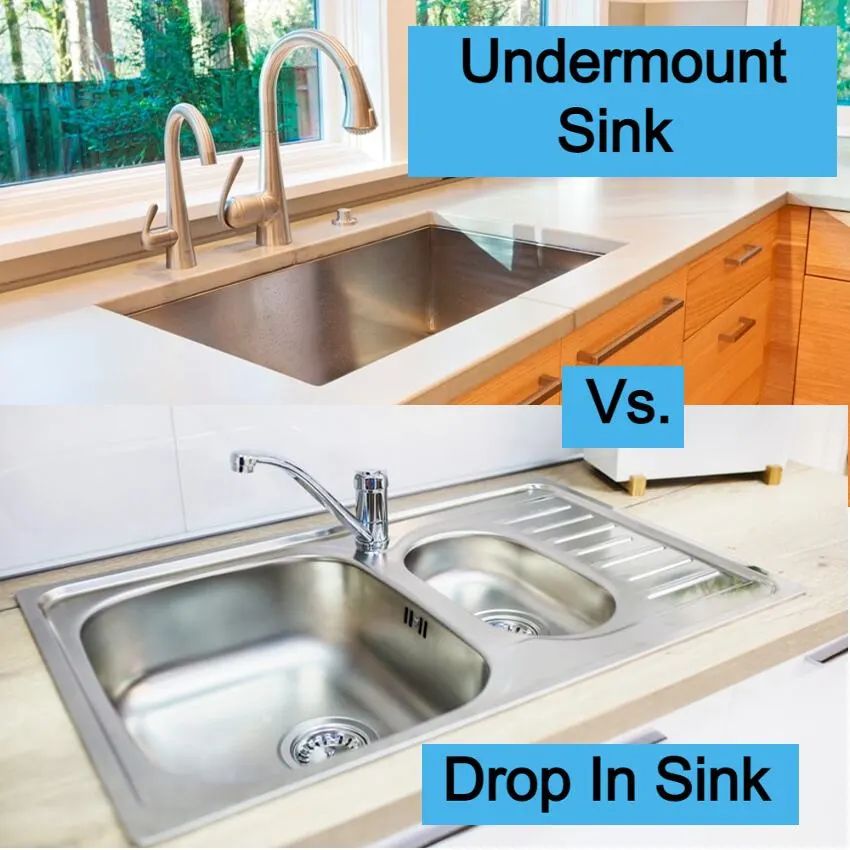 Every homeowner, whether creating a new kitchen or renovating an old one, will need to look for a suitable kitchen sink at some point.
Although there are many different sink styles for both kitchens and bathrooms, there are only two major ways to install a sink: undermount and drop-in. Undermount sinks are quite modern, having only gained popularity in the previous 50 to 60 years. Nonetheless, drop-in sinks are a development of centuries-old plumbing systems.
There are benefits and drawbacks to both types of sinks, but there are certainly important factors to take into account when comparing an undermount sink with a drop-in installation. Continue reading to discover the primary differences between these two types of kitchen sinks.
What Is A Drop In Sink?
Drop-in sinks are a widely known alternative in the marketplace. A drop-in sink is positioned on top of the countertop, with the rim holding the majority of the mass. This rim keeps the sink in position using discreet steel clips from beneath and caulking to solidify the connection between the sink rim as well as the countertop.
Extra mounts screw firmly against the bottom of the countertop. Furthermore, some kitchen sinks constructed of heavier materials, such as cast iron, do not need metal clips because they can keep stationary on their own.
Drop-in sinks, similar to undermount sinks, come in a number of styles and sizes such as single-bowl and double-bowl types. Read more about the standard kitchen sink sizes here.

A drop-in sink is also known as a top-mount or self-rimming sink – these terms quite effectively reveal the fundamental difference between the two types of sinks. Drop-in sinks come in a variety of materials, notably stainless steel, ceramic, porcelain, quartz, and granite. These sinks may contain holes for faucets, or perhaps the faucets can be mounted straight on the countertop.
In addition, drop-in sinks are frequently chosen by DIYers who want to renovate their bathroom or kitchen. The sink can be mounted rapidly and effortlessly.
Pros And Cons Of A Drop In Sink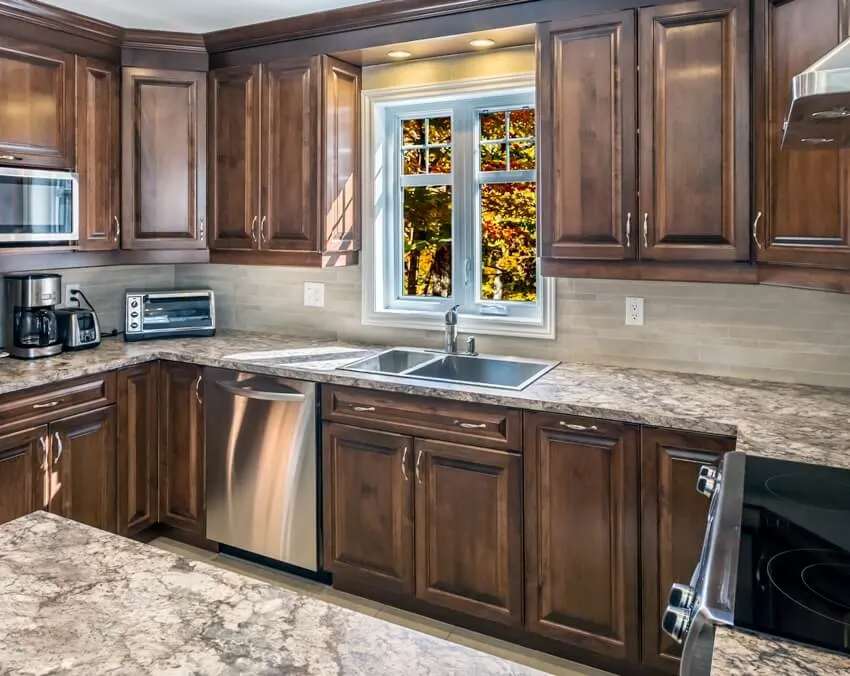 Pros of a Drop In Sink
Drop-in sinks are a favorite option by countless homeowners. Here are the pros of a drop-in sink:
Drop-In Sinks Have Incredible Versatility – One of the most significant advantages of drop-in sinks is their versatility. They are not only obtainable in a range of materials but they may also be customized.
Drop-in sinks are compatible with any countertop material, even laminate. And as previously stated, drop-in sinks are available in porcelain, ceramic, granite, stainless steel, and other materials.
Moreover, they could have a single, double, or triple basins. Faucets can be placed directly on the upper surface of the countertop or created with openings to support other types of faucets as well as fixtures, contingent on the layout of the sink.
Uncomplicated and Hassle-Free Installation – Drop-in sinks are simple to install since they essentially slide into the countertop and sit on top of it. Furthermore, they are more straightforward to install than other forms of sinks.
A drop-in sink does not normally require additional support below since its sides are placed on top of the surface, plus, there are reinforcing clamps located at the underside.
Highly Cost-Effective – Drop-in sinks are one of the most frequent types of sinks and are therefore quite inexpensive. The sink itself is typically less costly as well as the installation. Additionally, they are simple to clean and re-caulk as necessary for maintenance purposes.
Excellent Availability – The drop-in sink is extremely common. Every sink manufacturer is anticipated to provide a wide range of options, including a variety of drop-in sink colors, dimensions, and materials.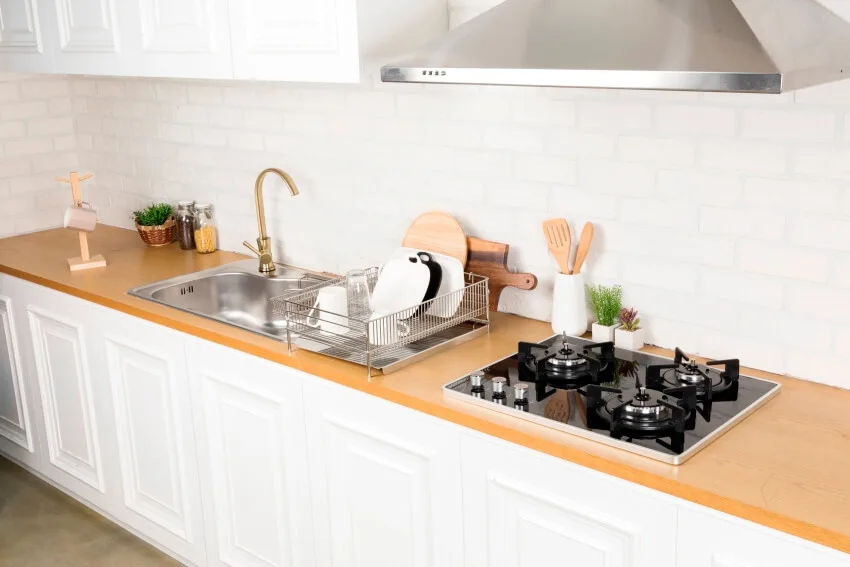 Cons of a Drop In Sink
Despite its many benefits, a drop-in sink also has its drawbacks. Here are some of them:
Drop-In Sinks Need to be Placed Only on Heavy and Strong Countertops – Even though drop-in sinks are designed to support their own mass, they are, nonetheless, very heavy sinks.
Since they sit on top of the countertop, they necessitate strong, solid, and weighty countertops to hold them up firmly. However, this is generally not an issue because most surfaces, even laminate, are strong enough to handle this classic type of sink.
Drop-In Sinks Consume Extra Counter Space – Drop-in sinks require somewhat more counter space than undermount sinks as they have a noticeable lip that sits on the countertop. This might be discreet though depending on the form of the sink, thus it might not be a concern for your kitchen layout.
Seams Become A Small Hindrance When Cleaning Countertops – Since the seams are more noticeable, drop-in sinks are simpler to keep clean and maintain, but they also pose an obstacle when it pertains to cleaning and disinfecting your countertops.
In addition, it is not always possible to just wipe moisture, food, and other spills into the sink because they could stick to the lip. Sometimes, you must clean the countertop up to the edge of the sink and then proceed to the surrounding area.
What Is An Undermount Sink?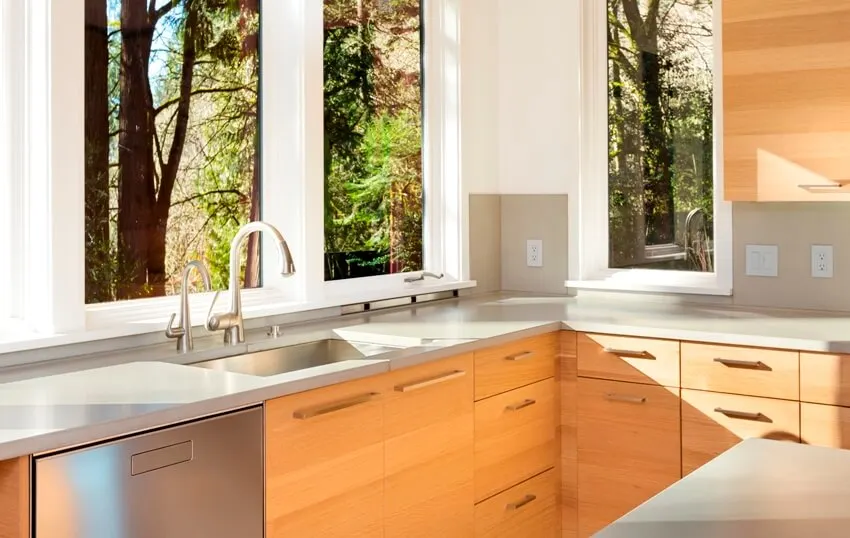 Instead of sitting on a rim, an undermount sink is attached to the underside of the countertop, hence the name "undermount". Undermount sinks are installed from the bottom and are kept in place with a combined application of silicone adhesive as well as brackets. Bolts or a thick epoxy solution are often used to hold the bracket supports.
However, it should be noted that the opening in the counter will be apparent and subjected to water when using an undermount sink. As a result, undermounts are typically utilized with substantial materials that can be sealed and polished like granite or marble. Caulking is also required to create a watertight barrier between the sink as well as the counter.
Aside from that, undermount sinks allow for a continuous flow across the kitchen countertop. Undermount sinks are typically obtainable in stainless steel, porcelain, ceramic, or composite, giving you the option of a single or double bowl undermount. Plus, undermount sinks are typically utilized with hard surfaces, natural stone, or quartz countertops.
Pros and Cons of an Undermount Sink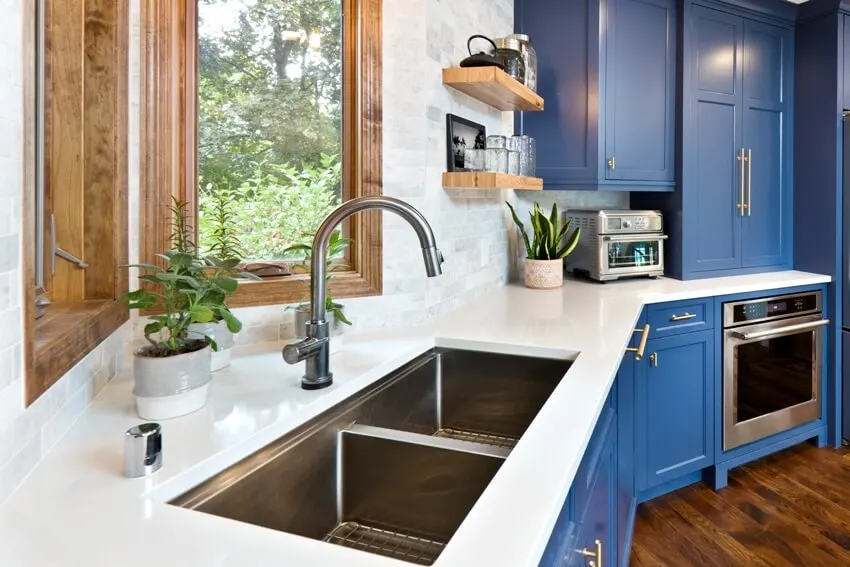 Pros of Undermount Sink
Undermount sinks are increasingly getting popular nowadays. Here are their pros:
Undermount Sinks Normally Have Unique Features – The smooth design is one of the reasons why so many homeowners are resorting to undermount sinks for their newly constructed kitchens or renovations.
The sink's lip is recessed against the countertop since it is positioned beneath the surface. This results in smooth, uninterrupted lines that are ideal for contemporary or modern interior décor.
Additionally, the sink's faucets can be wall mounted for a distinctive appearance. Your household members and guests will put more emphasis on the other décor in your home if the attention is not drawn to the sink in your space.
Very Easy to Keep Clean – You know how simple it is for food and other debris to become stuck in the small cracks surrounding the sink, particularly if you have tried to wipe off a counter with the lip of your sink barely above the rest of it.
Well, if you are exhausted from wasting brushes just to clean those filthy areas, you can invest in an undermount sink as it is very easy to clean. Because the sink's lip is underneath the counter's surface, all you have to do is simply wipe any food particles straight into the sink and wash it away.
Several undermount sinks even feature a built-in draining panel to keep the wet dishes off the counter. With an undermount sink, everything appears to be cleaner, smells better, is time-saving, and is less laborious.
These Sinks are Trendy; Ideal for Modern-Style Homes – Undermount sinks are a great way to integrate a popular trend that will still be fashionable and practical in a couple of decades.
For instance, the floating sinks of the past few years might look beautiful, but they will not be practical as individuals make adjustments to their houses.
Furthermore, an undermount sink does have the seamless aesthetic that is common in modern-style houses nowadays, and it allows for any design scheme in the surrounding space. Because it is simple to keep clean, new residents will appreciate it for many years to come.
Undermount Sinks are Generally Space-Saving – You might have trouble finding enough room in a small kitchen. If you utilize an undermount sink, the sink's edge will not interfere with available counter space. Many kitchen island sink ideas utilize an undermount design for this reason.

Alternatively, you can use the area all the way up to the edge of the undermount sink. This makes using compact equipment, work surfaces, knife slabs, or even storing a dish drainer or other miscellaneous objects on your counters convenient. This space-saving solution is ideal for apartments, condominiums, and smaller houses.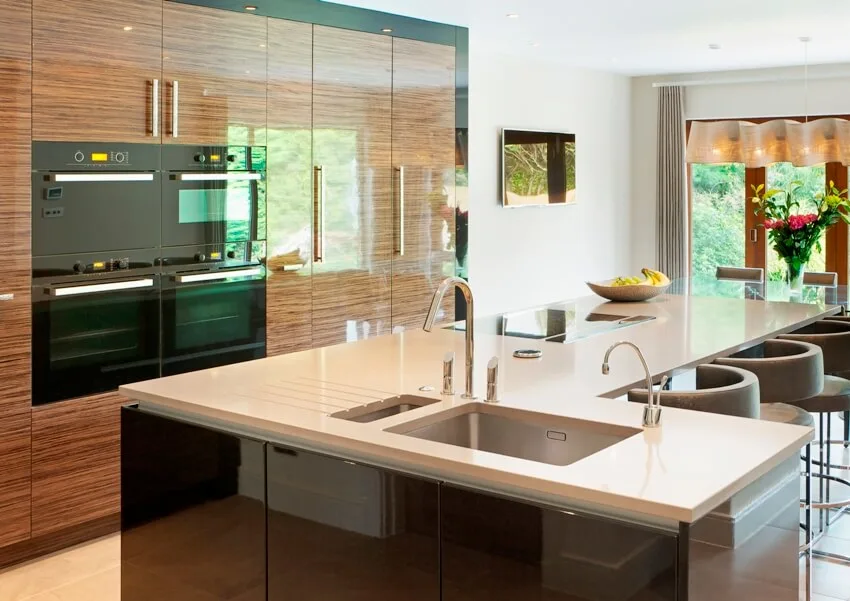 Cons of Undermount Sink
Although undermount sinks offer a lot of advantages, they also have their own set of downsides. Here are some of them:
Undermount Sink Needs Professional Installation; Not Ideal as a DIY Project – Once you decide to use an undermount sink, you must hire a professional to install it. The sink might end up causing major leaks if not properly installed.
For instance, this sink necessitates the use of a high-quality sealant. Overall, the installation process might not be ideal for do-it-yourselfers.
When hiring somebody to mount your undermount sink, you can inquire about their expertise as well as the materials they use. A qualified installer will normally apply a two-part epoxy adhesive and finish the edges with silicone caulk.
To securely attach the sink to the countertop, the expert may decide to use screws, clamps, or straps. When done by an expert, the complete operation usually takes less than an hour.
These Sinks Need a Particular Countertop Type – Since an undermount sink demands a great deal of strength, it is not suitable for all types of surfaces.
If your countertop is outdated, it is most likely composed of laminate or tile. Unfortunately, these materials have numerous weak points that could make effectively mounting the sink very challenging.
Furthermore, undermount sinks work well with materials like marble, granite, soapstone, or concrete. If you do not, however, already have this form of counter, you should replace it with your sink.
Undermount Sinks Tend to Be on the Costly Side – Undermount sinks are typically more expensive than regular sinks, including drop-in versions. An undermount sink typically costs around $400. Other expenses, meanwhile, must be considered.
You must take into account whether you want a more expensive sink, which can cost up to $1,000 or more. You should also budget for any countertop replacements required to assure the sink's security, in addition to labor charges to have a specialist mount your new sink.
Keep in mind that your installation professional will need to drill a specific hole in your countertop. This makes purchasing a new sink in the future more difficult, henceforth get a decent-quality undermount sink the very first time to avoid future difficulties.
Differences Between An Undermount Vs Drop In Sink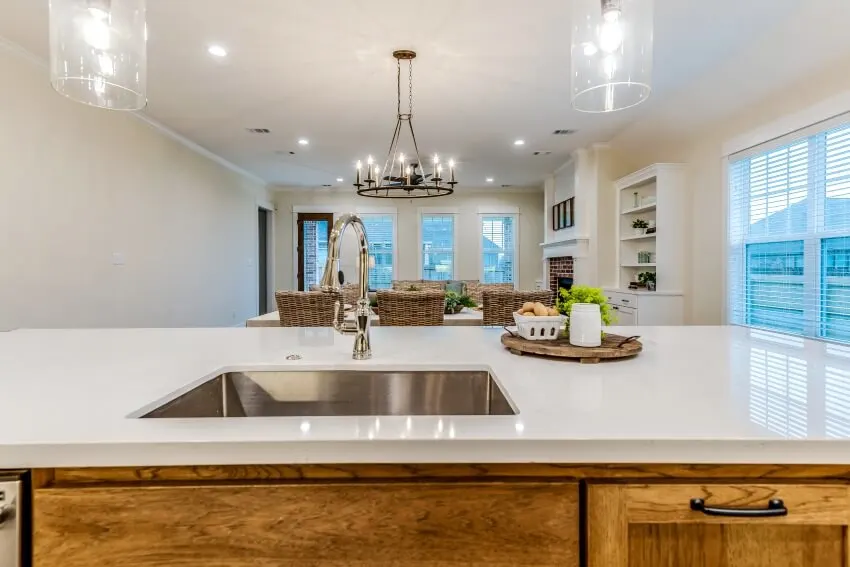 Counter Space – Because there is no visible, protruding lip of the sink, an undermount sink may be the better solution for a kitchen with minimal counter space or small bathroom vanity. Indeed, an undermount sink frees up valuable counter space.
Nevertheless, drop-in sinks may not be suitable for kitchen or bathroom counters with space limitations because the perimeter sink lip will reduce counter surface area. The standard drop-in lip is about a half-inch in width at most, but with space limitations, you may find it to be a problem.
Cleaning – Cleaning issues exist with both drop-in and undermount sinks. Others claim that drop-in sinks are the ideal choice since they allow easy access to all areas of the sink for cleaning. Nevertheless, filth tends to develop around the caulking line where the sink touches the counter in both types of sinks.
The caulked gap between an undermount sink rim and a counter might be difficult to clean. This area is more prone to bacterial growth and might have to be replaced and removed every several years.
Undermount sinks, on the other hand, make cleaning the counter surface easier because food can be easily swept and tossed right into the sink.
Maintenance – Maintenance specifications are determined by the sink material instead of the mounting arrangement. For instance, maintaining a stainless steel drop-in sink is the same as maintaining a stainless steel undermount sink. The same applies to any other sink material.
The primary distinction is during the counter-to-sink transition. Undermount sinks enable a seamless wipe-down of countertops, with unwanted crumbs just dropping into the sink. To prevent filth accumulation, the gap between the sink as well as the bottom of the counter must be wiped out frequently.
Although drop-in sinks do not allow for similar flawless wiping off the countertop surface, the transition between sink and counter is fairly straightforward to maintain.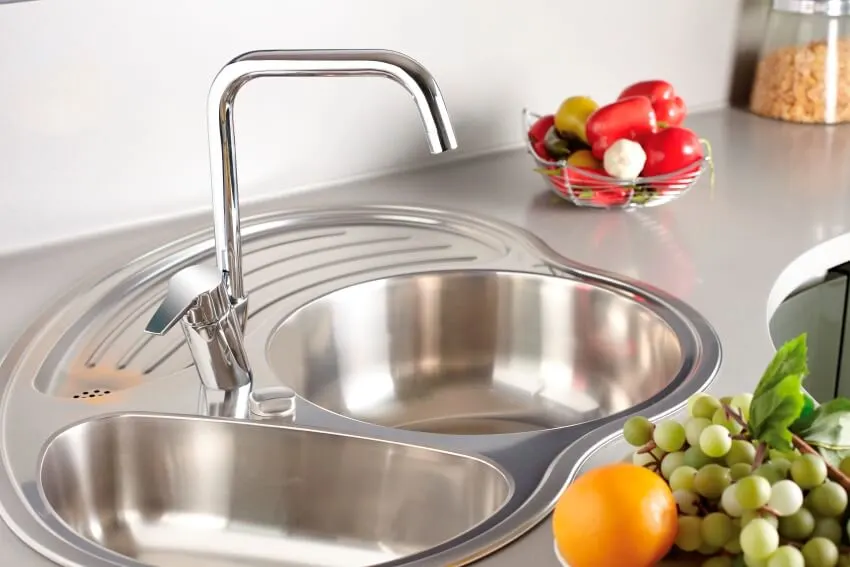 Cost – Undermount sinks are a trendy alternative that was once more pricey than drop-in sinks. Nevertheless, the installation has become increasingly affordable now that more variations are accessible and they have gained popularity among homeowners and experts.
Drop-in sinks, on the other hand, are less expensive, more adaptable to a multitude of countertop materials, and may be mounted by a DIY enthusiast without the assistance of a professional.
If cost is the most important consideration when choosing between these two types of sinks, drop-in sinks might be the superior choice.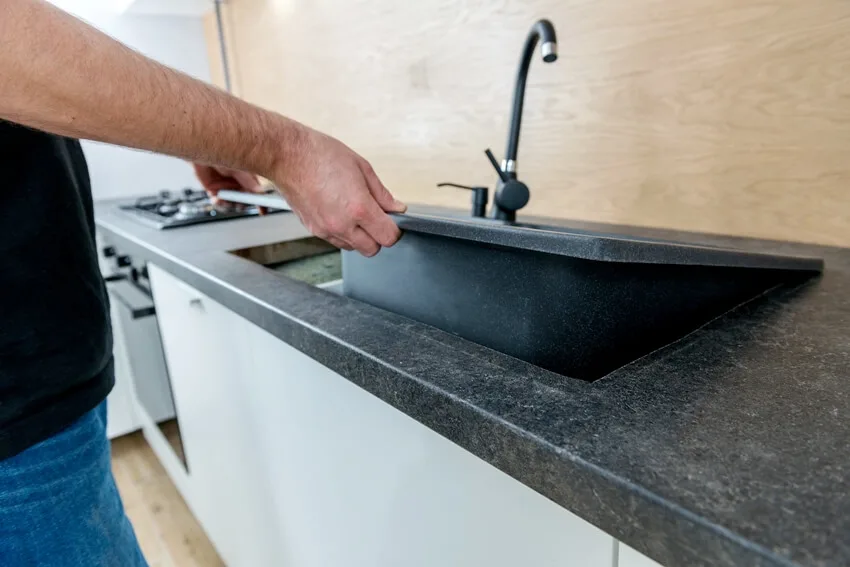 Installation – Drop-in sinks are mounted from above, whereas undermount sinks must be fitted from the underside. Aside from that, the fundamental principle remains the same. Sinks are secured to countertops using mounting brackets, and the seam between the sink and countertop is sealed with caulk.
The items surrounding the sink are the most noticeable installation variations. An undermount counter should be prepared differently than a drop-in countertop.
The sides that contain the holes of an undermount sink would require a greater level of finishing. In addition, access holes in the countertop are required for the faucet as well as the other accessories.
It is indeed unusual, but not impossible, to switch between the two mounting systems during a remodeling because of these reasons.
Is It Better To Have Undermount Or Drop-In Sink?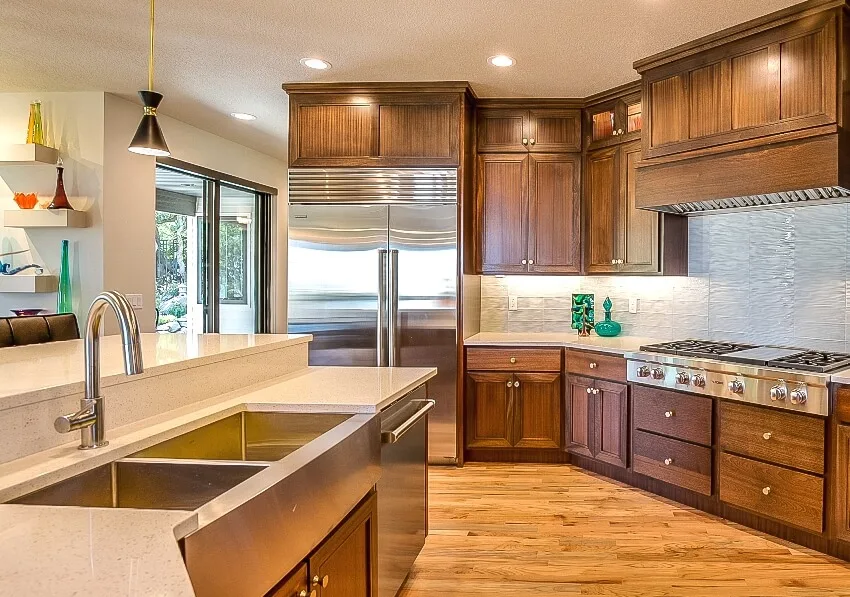 When compared to typical drop-in sinks, undermount sinks undoubtedly provide a more personalized, high-end style and vibe The undermount sink, as a feature of a highly regarded designer kitchen, can be considered to be more valuable to prospective purchasers than a drop-in sink.
Nevertheless, in general, drop-in sinks offer more affordable options than undermount sinks. The undermount sink is the costlier option and has an expensive installation. Because of the complexities of their installation specifications, undermount sinks are constructed to different standards, making them a more premium selection.
However, to sum it up, the type of sink you want is entirely up to you. Undermount sinks are ideal for homeowners who want to accentuate their solid-body worktops with a sleek, modern style while keeping resale value in mind.
Drop-in sinks, on the other hand, are preferable for individuals who prefer a more conventional style, have a limited budget, or have a laminate surface.
Truly, both of these sinks are quite a great option. It will just depend on your needs and preferences.
For more related ideas, visit our guide on single vs double kitchen sink on this page.