In this laminate kitchen cabinets design guide you'll see its benefits, different types, colors, costs, lifespan, how to choose laminate cabinets, cleaning tips, and painting ideas.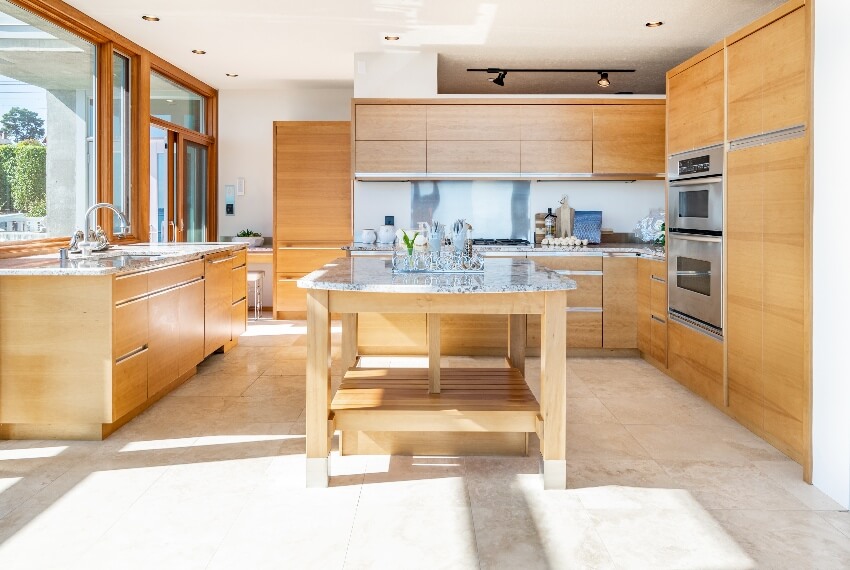 If you are planning to renovate your kitchen, purchasing new cabinets could be a significant and expensive option. Flat-panel doors and Euro-style cabinets are becoming increasingly fashionable nowadays, but luckily there are some more practical and intriguing options for homeowners trying to save funds on a full remodel.
Instead of changing the kitchen cabinets entirely, homeowners are seeking alternatives that allow them to overlay their current cabinets and doors with a synthetic finish. Laminate is an excellent cabinet covering material that can be applied to the surface of wood or panels to help transform their look.
Kitchen cabinets can occupy more than 30% of the standard kitchen remodeling cost. If you desire to cut some renovation costs, you may want to consider using laminate kitchen cabinets.
What Are Laminate Cabinets?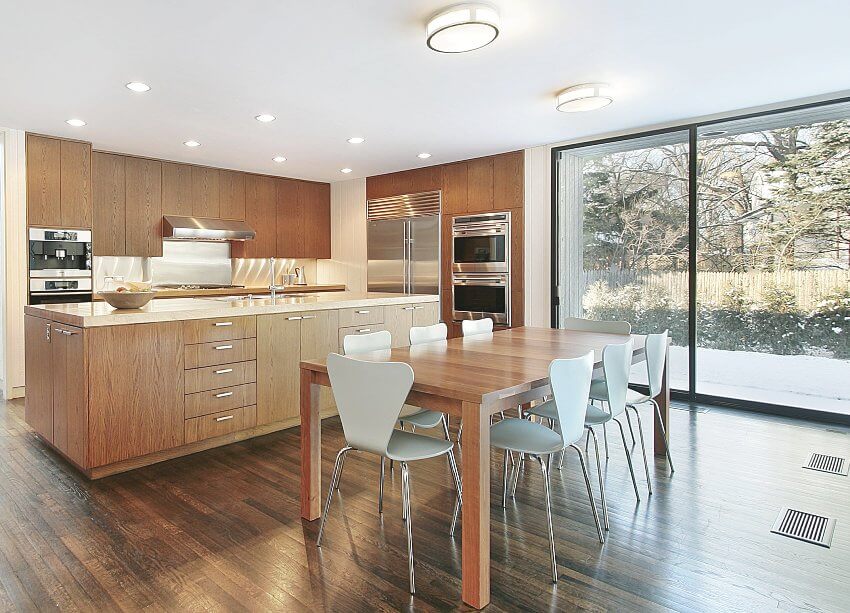 The laminate surface that is used to cover kitchen cabinets is technically a synthetic material that is usually made out of compacted wooden fiberboard. Depending on the grade of laminate employed, the laminate covering might vary greatly.
In general, it is a surface component that is formed by compressing paper and resin firmly under pressure and heat. Laminate is available in both high-pressure and low-pressure versions. The highest grade of the two is high-pressure laminate.
Low-pressure laminate, like melamine, is normally applied on lower-cost kitchen cabinetry but is less resilient than high-pressure laminate. It is also available in limited colors, making it less desirable to homeowners who want a broad range of color selections.
A high-pressure laminate, on the other hand, that is produced under 1400 PSI, will provide a higher-quality and longer-lasting product that will not chip and break as easily as a low-pressure laminate. However, they are quite more costly than the low-pressure ones.
The Benefits Of Laminate Cabinets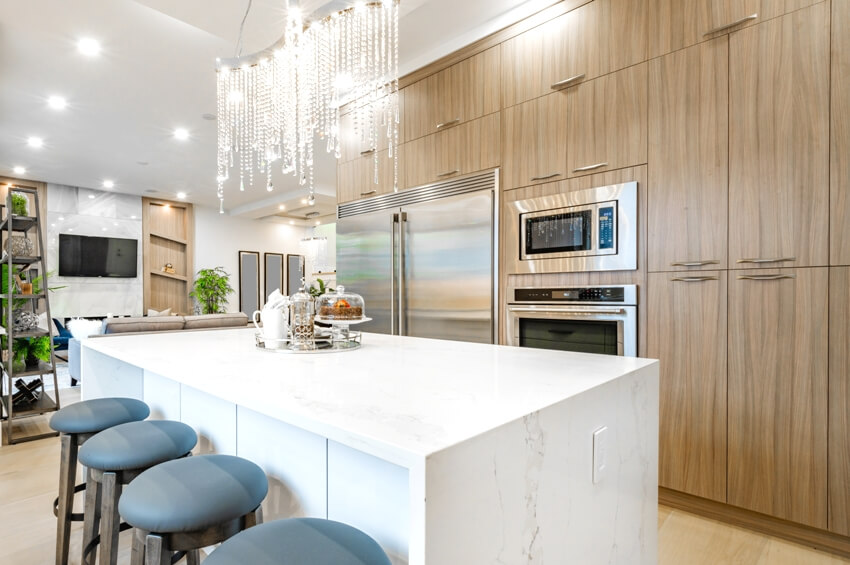 Aside from its inexpensive cost, one of the key benefits of utilizing laminate is that it is a robust material that will withstand the intensive activity of the normal kitchen. It does not deform over time, as hardwood does, and it is impervious to discoloration.
Furthermore, laminate keeps staining color equally, hence every cabinet in your kitchen will be precisely identical. Laminate, particularly the high-pressure variant, is also obtainable in a broad range of colors, patterns, and door types.
This allows laminate cabinets to be utilized in both conventional and modernized kitchens, depending on your personal style and preferences.
When it pertains to laminate cabinets, you will undoubtedly have a variety of styles to select from. Laminate is highly matched with modern or contemporary kitchen layouts overall. Nevertheless, types that resemble classic and ancient cabinet designs are also offered.
Laminate cabinets might be a terrific option for your kitchen cabinet if you are searching for a versatile, sturdy, and low-cost substitute to wood cabinets, especially if you are eyeing a minimalist or modern aesthetic appearance for your kitchen.
Types Of Laminate Kitchen Cabinets
Here's the most popular styles of laminate materials and finishes.
Matte Laminate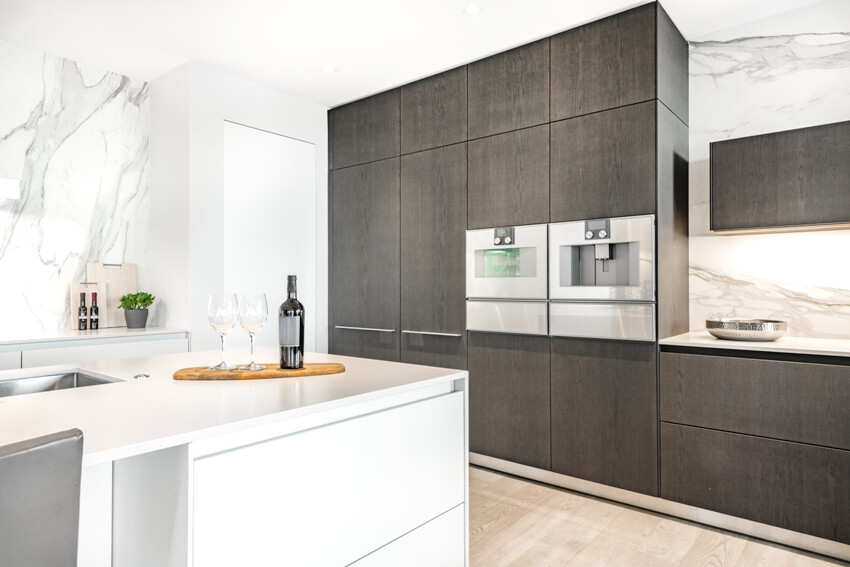 A laminate with a matte finish provides a moderate amount of reflectivity and a uniform, classic finish. Matte-finish laminates give a kitchen a sense of practicality and subtle grandeur.
The most significant feature of matte laminates is their increased resistance to scratches and dirt, making them very easy to wipe and maintain. Matte-texture laminates do not reveal dirt or stains. They are ideal for high-traffic zones such as kitchen cabinets.
Glossy Laminate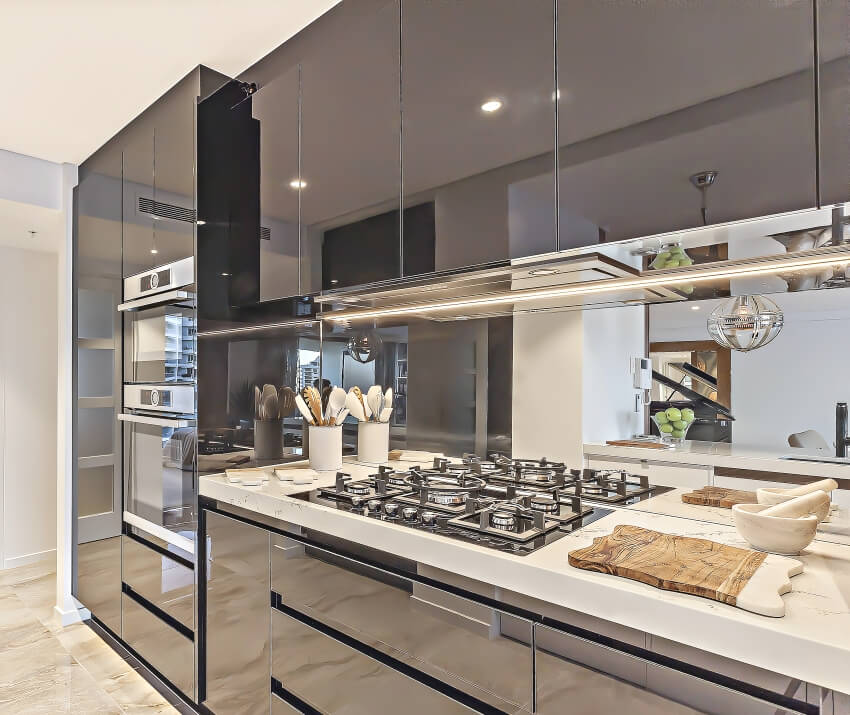 A glossy laminate treatment delivers a nice mirror-like luster to it. Due to its capability to reflect light, it brings a sophisticated aesthetic to the kitchen cabinets and enhances brightness to the whole space.
Gloss-finish laminates are wonderful for compact kitchens since they make the space appear bigger than it is. Unfortunately, they are vulnerable to scratches, and they require more frequent cleaning and maintenance because they reveal markings and smudges easily.
Textured Laminate
Textured laminate is a simple way to add a touch of complexity to a minimalistic kitchen. Textures that mimic the impression and characteristics of materials such as solid wood are best suited for kitchen cabinets, providing depth to the overall aesthetic.
A heavily textured surface is extremely scratch-resistant. Nonetheless, one drawback of employing texture laminates is that deeply textured laminates can easily retain dirt and grease, making cleaning and maintenance challenges.
Multi-Colored Laminate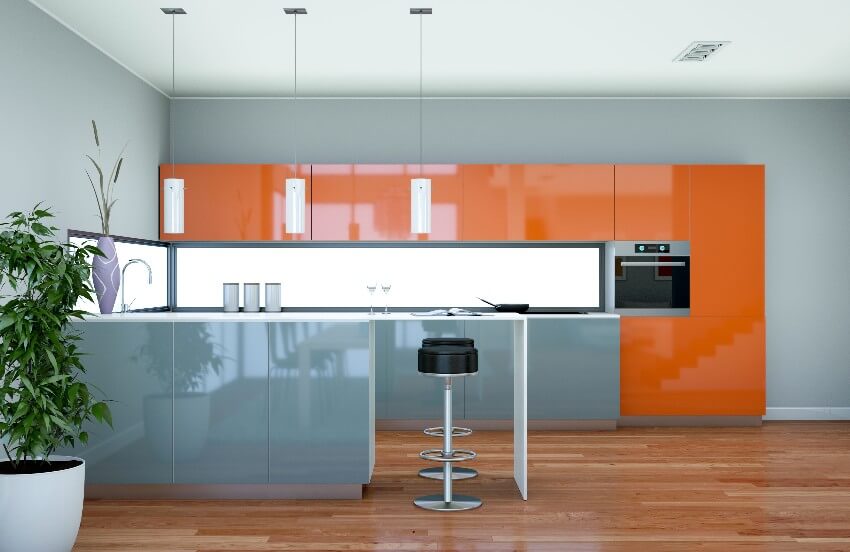 Multi-colored laminates can be used to bring brightness and sparkle to the kitchen space. You can execute it by merging two or three varying colors on your kitchen cabinets.
Pick colors that complement each other very well — maybe a bolder color like hot yellow for a pop of color as well as white to maintain the area feeling spacious and vibrant. Adding gray accents is also clever: they contribute depth to the overall design.
Fire-Resistant Laminate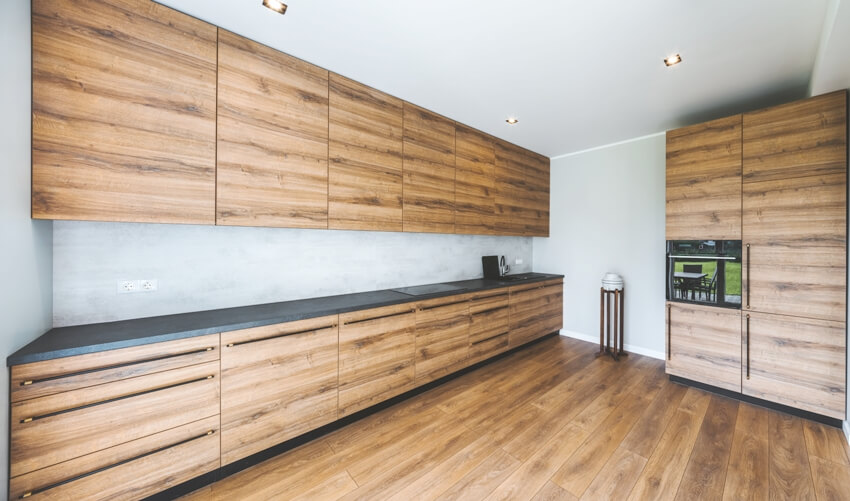 You can consider adding fire-resistant laminates for your kitchen cabinets to increase safety in your kitchen. Because they are coated with specialized chemicals, these laminates can reduce smoke releases in the event of a fire. They do not emit hazardous smoke, and the temperature increase of the laminate is delayed.
Metallic Laminate
You can take into account adding a laminate with a metallic finish for a streamlined, futuristic design in your kitchen cabinets. The luster of metal laminates adds a uniqueness to it that readily adds a premium aesthetic to your kitchen.
These are more costly than standard laminate finishes and come in limited color selections, such as copper, silver, and rose gold.
Antibacterial Laminate
Antibacterial laminates can help you maintain a high degree of sanitation in your kitchen by inhibiting the development of microorganisms. These are constructed of unique antimicrobial additions that make them resistant to mold, insects, and many bacteria.
As a result, these laminates' antiseptic and antibacterial capabilities hinder the formation and spread of different microorganisms. This is indeed a great option for your kitchen cabinets.
Fingerprint-Resistant Laminate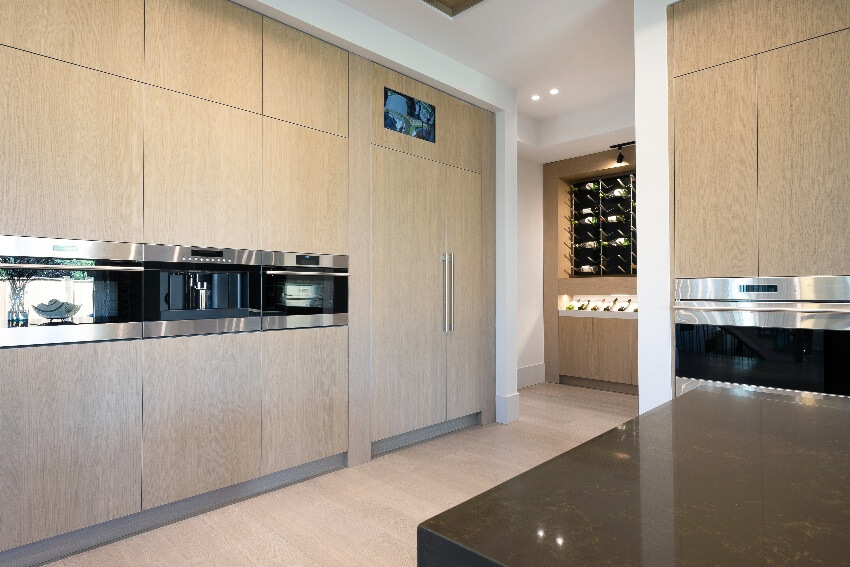 Fingerprint-, dust-, heat-, and scratch-resistance are all desirable features of fingerprint-resistant laminates. This type of laminate kitchen cabinet has a low-reflective surface that does not display grease streaks or marks. It is also simple to maintain since all contaminants on the surface can be easily eliminated.
Acrylic Laminate
Laminates with an acrylic finish will provide your kitchen cabinet with a luxurious modern appeal. These are extremely durable and have a reflecting great gloss finish that comes in a variety of colors. Acrylic finish laminates are water-resistant and very impervious to UV light degradation.
The disadvantages of adopting acrylic finish laminates are that they are quite expensive, susceptible to scratches, and require constant cleaning due to the continual presence of fingerprints.
Laminate Cabinet Colors
Here are some laminated cabinets color ideas.
White Laminate Kitchen Cabinets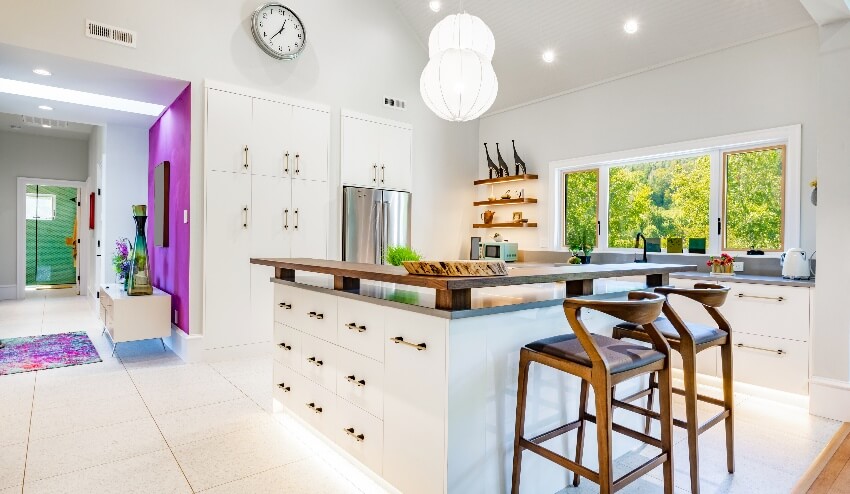 White laminate kitchen cabinets match very well with any design, whether it is modern, classic, trendy, colorful. They can also be used as a subtle backdrop to draw attention to all of your distinctive kitchen elements and décor.
Choosing white laminate kitchen cabinets can help to simplify the remainder of the decision-making phase. You will not have to worry about which countertops will complement, if your wall paint colors will conflict, or what kind of equipment to install on your cabinet knobs if you have white laminate cabinets.
White laminate kitchen cabinets capture and reflect light, making your kitchen appear more spacious and clean than it is. If your kitchen is on the small side, white laminate cabinets can provide the idea of greater space. Truly, this inexpensive process can make your kitchen look larger.
For white cabinets, laminate is arguably the best cabinet exterior material. White is the most common laminate cabinet color, but it also has the highest likelihood of showing fingerprints.
Indeed, low-maintenance kitchen cabinets will always be your best friend. Wooden cabinets that have been painted white are difficult to clean, and it is prone to warping and other issues. But these will not make you worried if your white wood cabinet is laminated.
Gray Laminate Kitchen Cabinets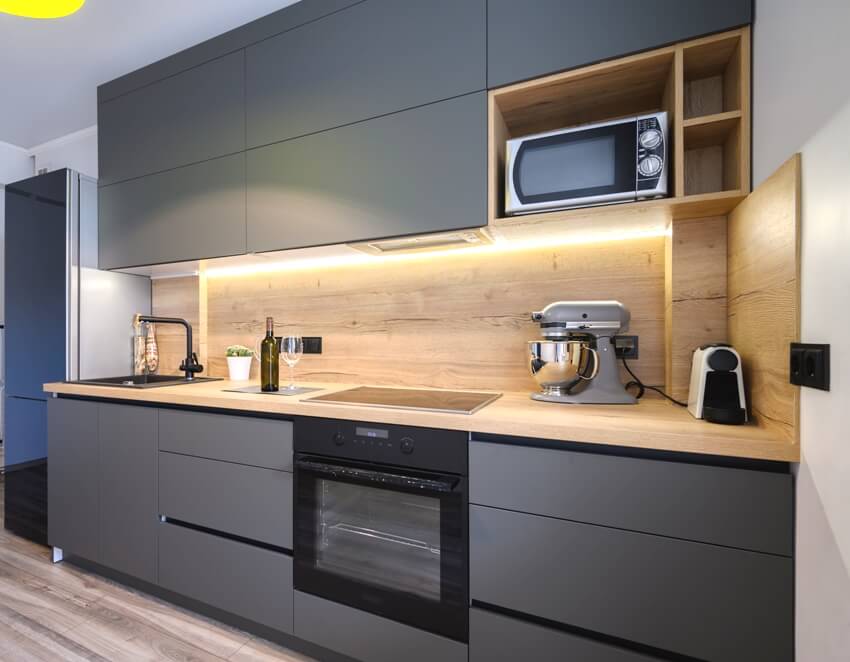 Gray kitchen cabinets look great with laminate. Working with a gray palette can give stylish results. Gray cabinets can give your kitchen a refined look.
Gray laminate kitchen cabinets provide a pristine aesthetic while adding beauty to your kitchen. They do not end up making a room appear gloomy.
Gray is a wonderful middle ground between white and black. You may cover the filth in your kitchen or produce a bold statement with gray if you want a unique design trend.
Gray laminate kitchen cabinets go well with marble, single-layer, laminate, and hardwood countertops. Whatever your idea for your kitchen, gray laminate cabinets can be the neutral centerpiece that ties it all together and pairs well with statement decorations. Read more about laminate kitchen countertops here.

Laminate Kitchen Cabinet Doors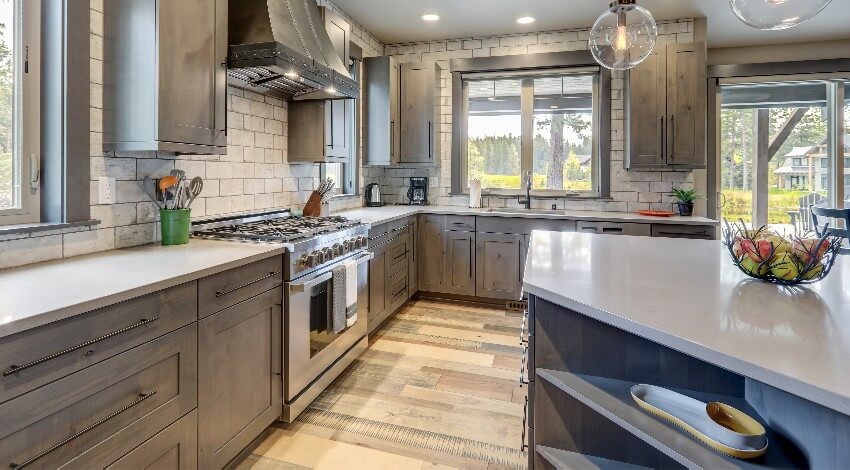 Kitchen cabinets are subjected to a great deal of wear and tear. Hence, your kitchen cabinet doors must be made to last as they constantly deal with several household members opening and closing them dozens of times per day. Laminate solutions provide you with the long-lasting quality you need.
Laminate doors are created by layering composite material on top of particleboard or medium-density fiberboard (MDF). Laminate, unlike wooden doors and cabinets, will not distort or degrade over time. It is also more stain-resistant. Each cabinet and door can survive for 30 years or more if properly maintained. Get more details about MDF cabinet doors here.

When designing or upgrading a kitchen, pure wood cabinets and doors are usually the most expensive option. Installing laminate kitchen cabinet doors helps cut expenses when undertaking upgrades on a limited budget. It is also a low-cost solution to replace your kitchen cabinet doors.
Wood leftovers and excess lumber are regularly used to make the base of laminate doors. As a result, laminate cabinet doors, like glass doors, are a more environmentally friendly alternative than real wood doors.
High-pressure laminate kitchen cabinet doors are available in about any color you can imagine. Furthermore, some of the design choices appear to be made of actual wood. However, staining or sealing are not required to keep these products in good condition.
Those who want to live a more ecologically beneficial and sustainable lifestyle would welcome the option of laminate doors. This type of door does not require manufacturers to cut down trees or use materials to fabricate and deliver them.
Furthermore, you do not need to arrange complementary cabinets on top and bottom, as with any other cabinet design combination. Laminate cabinets allow for greater versatility and innovation.
Numerous people opt for a streamlined design, with white cabinets above and a dark color underneath. There are also a plethora of knobs and pulls to choose from.
However, due to the particular manner laminate doors are constructed, the seams of the brown underlying particle board might be seen, which is sometimes described as a disadvantage of choosing laminate. It is not a major concern though.
How to Choose Laminate for Kitchen Cabinets
Select Laminate Colors Very Carefully
Keep in mind that the colors you choose will have a big impact on the entire look of your kitchen, so give it your best shot and make the perfect decision. For instance, that lovely red laminate kitchen cabinet you noticed in your colleague's huge home may make your compact kitchen appear even smaller.
Decide on your color choice depending on the size of your kitchen, the quantity of natural light accessible, your cooking manner, and, of course, your personal preference.
Understand that while white and light colors make your kitchen appear larger, they are also more difficult to maintain clean. Furthermore, take into account that scratches are significantly more obvious on dark surfaces than on bright ones.
Select High-Pressure Laminates
High-pressure laminates are attached to the substrate under intense pressure and heat. They have a substantially longer lifespan than low-pressure laminates. This is particularly crucial in the kitchen, where all materials must be impervious to water and heat.
However, even when utilizing a high-pressure laminate, persistent exposure to water and high humidity is not recommended.
Antibacterial and Fire-Resistant Laminates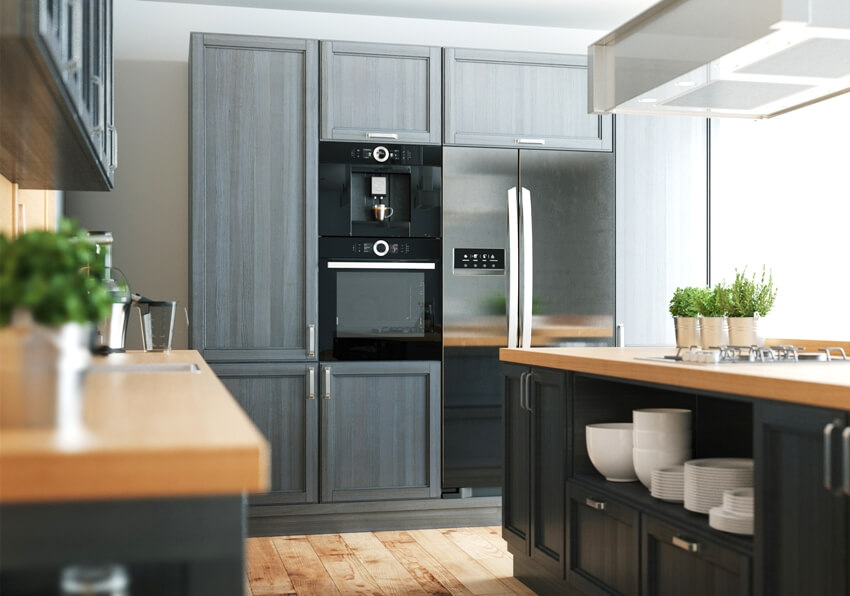 Ensure that the products you purchase have fire-resistant and antibacterial qualities to guarantee longevity and sanitation. Fire-resistant surfaces do not readily cause fires.
Aside from that, they are more resistant to heat and fumes. Antibacterial surfaces inhibit the development of pathogens and bacteria, which is a great benefit in any kitchen.
Laminate Edge Banding
Your cabinets will normally have an edge-banded finish, irrespective of the laminate you chose for your kitchen cabinet. Edge bands are narrow pieces of laminate that are intended to polish the uncovered sides of your shutters, giving them a sleek aesthetic while also increasing the structural sturdiness of your shutters.
The edge band protects the shutters' surfaces, shielding the underlying materials from dampness. The thickness and color of the edge band laminate sheet are chosen to complement the width and color of the shutter.
Laminate Kitchen Cabinet Cost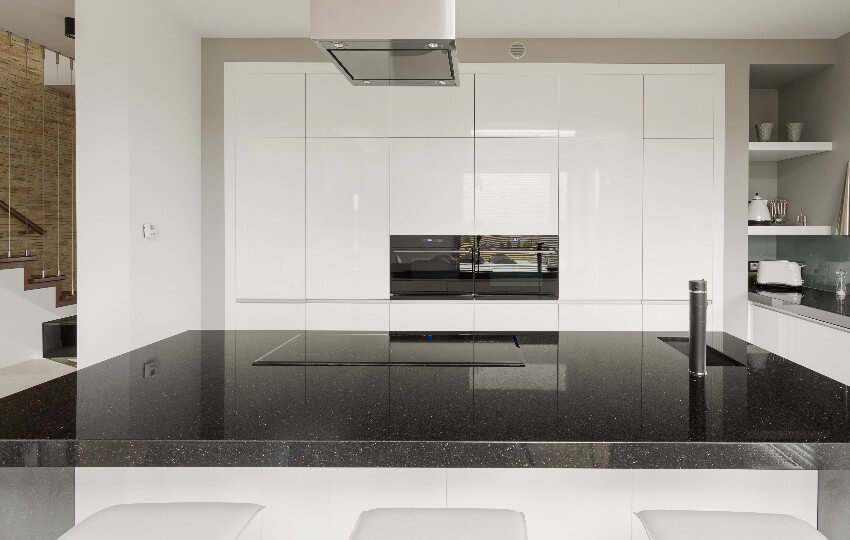 Laminate kitchen cabinets are not made of real wood. They are created by pasting a photographic laminate sheet on top of an MDF (Medium Density Fiberboard) HDF (High-Density Fiber) layer.
The standard cost of laminate kitchen cabinets goes around $5,000 to $8,000. Exceptionally superior laminate cabinets might cost around $10,000 to $15,000.
On the lower end of the spectrum, laminate kitchen cabinets may be purchased for $4,000. It is nearly equivalent to wood veneers and is a less expensive alternative to wood. It is a synthetic material that is applied on particleboard using both high and low pressure.
How Much Does It Cost To Laminate Kitchen Cabinets?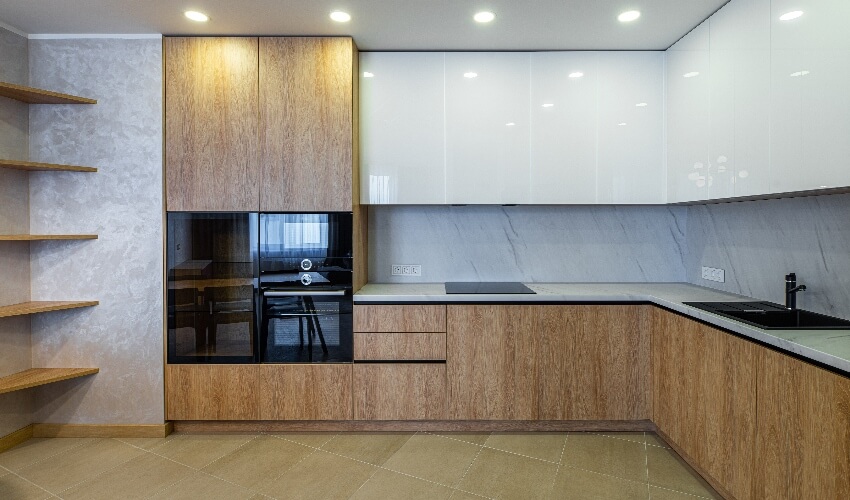 If you have your current wood cabinet, you can laminate it if you want. The cost of laminating a standard 10-foot-by-12-foot kitchen cabinet averages from $1,000 to $3,000.
Genuine wood veneer costs around $2,500 to $6,000 per square foot. A major project with a high-quality wooden veneer might cost $7,000 to $9,000 or more.
Laminating your existing cabinets might cost from around $1,000 to $14,000 or higher, contingent on the quality of the materials used and the size of your kitchen cabinet. Laminating is typically more affordable than replacing your cabinets but more costly than refinishing.
How Long Do Laminate Kitchen Cabinets Last?
Laminate kitchen cabinets have a lifespan of 30 to 50 years. High-pressure laminates are an excellent option for kitchen cabinets, but they can be costly.
Indeed, laminate kitchen cabinets are simpler to maintain than wooden cabinets and have a longer lifespan than real wood cabinets and cabinet doors. They are susceptible to scratches, on the negative side.
You may believe that your old laminate cabinets are beyond replacement after decades of use, but fortunately, they can be refaced. The old laminate has to be taken, and the underneath wood will need to be cleaned and sanded smooth.
Thus, expect a slightly increased cost owing to the added work. Yes, as long as your laminate cabinets are not in utter deterioration, they can be refaced just like any other typical cabinet. Read more about our laminate kitchen cabinets refacing guide for a related article.
How To Clean Laminate Kitchen Cabinets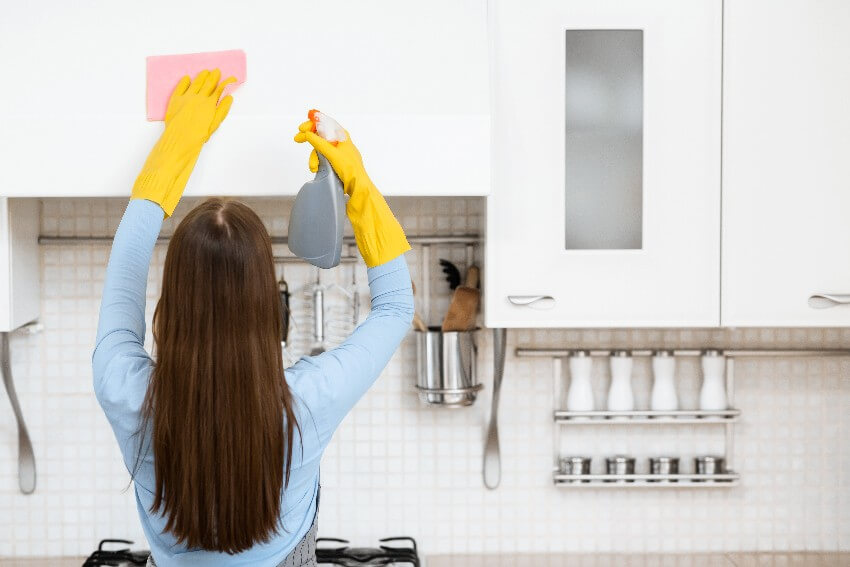 One of the most appealing aspects of laminate kitchen cabinets is their ease of maintenance. Unlike wood, laminate does not quickly accumulate grease and fingerprints. It is also resistant to distortion and fading.
You merely have to perform a few basic guidelines to keep your laminate kitchen cabinets and doors looking eye-pleasing:
• Weekly, clean the cabinet doors and surfaces with a normal duster or vacuum. Wipe them down with a delicate washcloth or a microfiber cleaning towel. Look for any grease or particles that can be wiped off the doors and corners.
• A combination of dishwashing soap and water is usually appropriate for thorough cleaning on occasion. Do not over-soak the high-pressure laminate with water, and do not rub it too forcefully.
Wipe down the tough stains and other areas that require cleaning to eliminate stains or crumbs. You might also try spraying it with a mixture of water and white vinegar.
• If you need to treat a particularly difficult location, mix a smooth, light paste of water and baking soda. To eliminate the discoloration, carefully wipe this on the door. On your cabinet doors, do not use anything more aggressive than this mixture.
Take note, never use any harsh chemicals like bleach or any acid-based cleaning solutions (like muriatic acid) as these will gradually harm your laminate surface.
How To Clean Grease Off Laminate Kitchen Cabinets
• If your laminate kitchen cabinets have developed a layer of grease, you might have to clean them more thoroughly. Combine 1 cup of white vinegar and 2 cups of slightly heated water in a mixing bowl. Squeeze out a clean towel after soaking it in this solution for 3 to 5 minutes. Wipe the grease off your laminate kitchen cabinets with this towel.
• If any greasy or muddy areas persist after wiping down your laminate kitchen cabinets, pour a dab of pure white vinegar onto a towel and wipe out these areas once more. You may also blast those greasy and muddy spots with white vinegar using a spray bottle.
• Warm water should be used to rinse your laminate kitchen cabinet, and a soft towel should be used to dry it. Fill a bowl or pail partially with warm and clean water. To remove any residual vinegar, soak a clean towel in water and wipe down your cabinets. Using a soft cloth, dry your cabinets.
Best Cleaner For Laminate Kitchen Cabinets
If you are only dealing with just a little amount of dust in your laminate kitchen cabinets, dusting it using a dry soft cloth or vacuum should do the trick.
If your cabinets are constantly stained with food spills, a mild dishwashing soap, water, and soft cloth would be enough to clean it properly.
However, if you are normally dealing with thick grime and grease, baking soda and vinegar would be the most ideal cleaner for your laminate kitchen cabinets. Even so, since vinegar is an acidic component, applying it persistently onto your laminate cabinets might eventually make the surface thinner.
Hence, we believe that the best and safest cleaner for laminate kitchen cabinets is mild dishwashing soap. You just have to look out for dish soap brands that promise to remove grease. Plus, you should apply it onto your cabinet surface purely. Do not dilute it.
Can You Paint Laminate Kitchen Cabinets?
Yes, you can paint laminate kitchen cabinets. However, since the laminate surface is non-porous, it might be a bit more difficult for the paint to adhere properly. But here are some steps you can try to make sure that paint adheres to your laminate kitchen cabinets.
• Initially, check to see if your laminate is in great condition. Painting will not repair flaking or cracking. Afterward, thoroughly clean your cabinets.
Laminate cabinets, particularly in the kitchen, can hold a collection of greasy filth that prevents even the best type of paint from adhering. Simply spray it with a safe cleaning solution and wipe it down with a damp rag, making sure to get into all the nooks between surfaces.
• The next is a two-part process that includes a primer layer of chalky finish paint and one or two protective coatings of satin enamel paint.
• Keep your cabinet doors in place and apply your initial layer of chalky finish paint to the front of the cabinet doors. Next, using a gentle paintbrush, go into any areas that the roller could not reach, such as the door inlays. Detach any knobs or pulls from your doors and store them in a container for later reattachment.
• Remove the doors and put them on their backsides to allow the paint to dry completely. Then, proceed to the cabinet frames and paint them in the same manner: roll the big flat surfaces and use the paintbrush to get into any tight spots or corners.
• Detach the laminate cabinet hinges and continue adding chalk paint to the borders of the cabinet doors with a paintbrush.
• After all of the paint has dried, scrutinize it for uneven streaks, undesired brushwork, or other flaws in the layer of the chalk paint. You can smooth these down softly with sandpaper.
• Lastly, paint over everything with satin enamel paint in the same manner. It may take two coats to achieve a uniform and sleek finish. Then, roll and brush along the direction of the wood-like grain to avert paint buildup in the corner points.
How To Update Laminate Kitchen Cabinets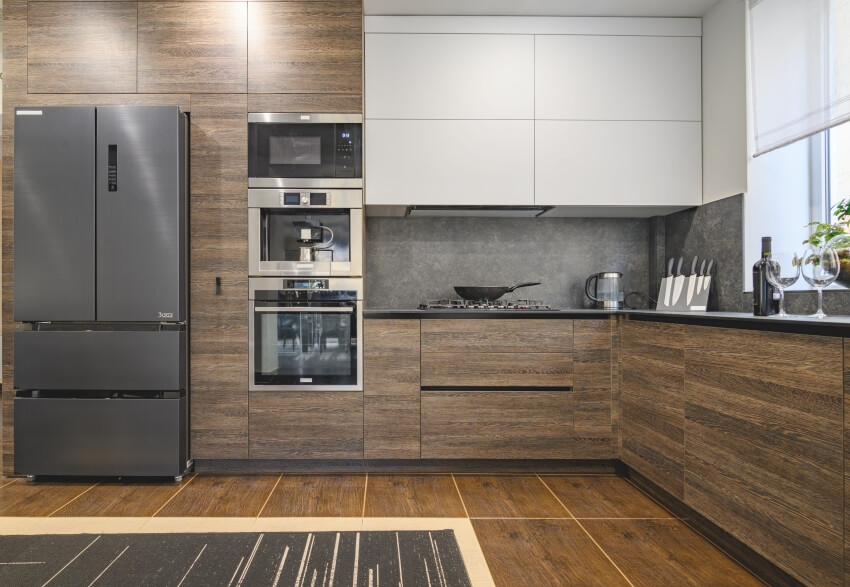 You can update your laminate kitchen cabinets in 3 simple ways:
1. Painting. The simplest method to update the appearance of laminate cabinets is to paint them. However, since the surface is slippery, you cannot just paint them as you would do with wood cabinets. Hence, if you want to do this updating method, read the previous section in this article under the subtitle, "Can You Paint Laminate Kitchen Cabinets?".
2. Try replacing the cabinet doors. A cabinet builder can build new doors that perfectly suit your current cabinets by using your previous doors as a reference. Or, if you have wooden doors, repaint them to complement the laminate on the cabinet foundation or pick a complementary color for a stunning effect. You can also keep them in their original wood finish and let the laminate on the base offer a splash of color to the room.
3. Replace the cabinet hardware. It is indeed a smart idea to purchase some new hardware items and bring them home to install on your cabinets.
Is Laminate Good For Kitchen Cabinets?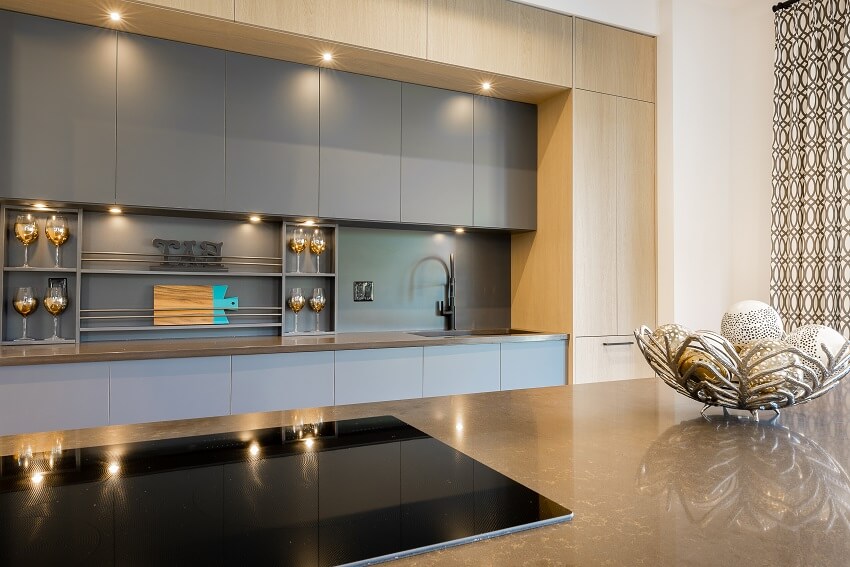 Yes. Laminate cabinets have proven that they can be a better option for your new kitchen than wood cabinets. Laminates, especially the high-pressure ones, can be a really good choice for your kitchen cabinets as they can last for decades and are more affordable than hardwood varieties.
Visit our peel and stick laminate for cabinets guide for more related content.