Here we share our cypress kitchen cabinets guide including what this material is, its natural wood traits, how it's used for cabinet door designs, painting, and cypress wood finishes.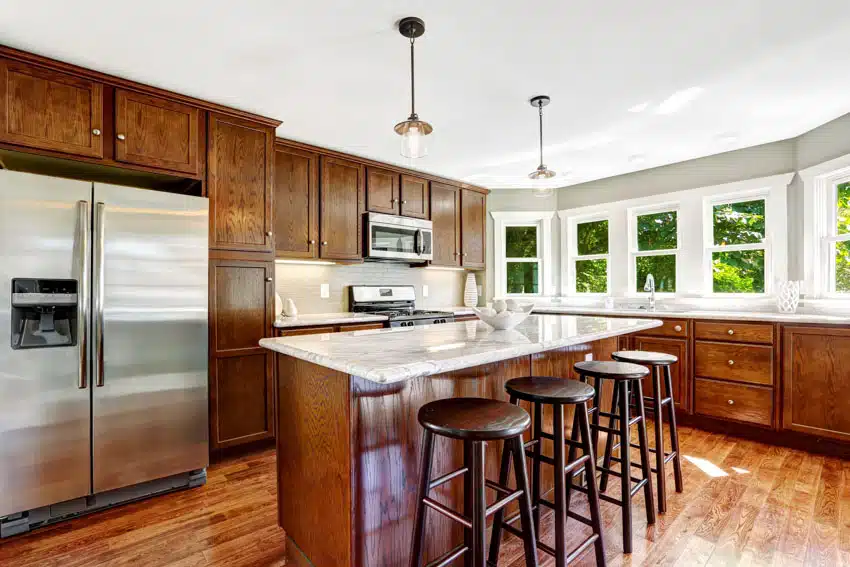 Showcasing the best features of wood furniture, the cypress kitchen cabinets are a sensible investment as it is made from one of the most coveted wood species. Cypress wood lumber is categorized as a softwood, thus, light in weight and has that soft golden or yellowish brown where the sapwood is nearly white in color.
At the same time, cypress wood has the properties of hardwood, strong, tightly grained, and stable. Aside from these unique characteristics of cypress wood, there are other benefits of choosing cypress kitchen cabinets.
Read on to know more about the characteristics that make the cypress kitchen cabinets a great choice for the next kitchen renovation.
What Are Cypress Wood Cabinets?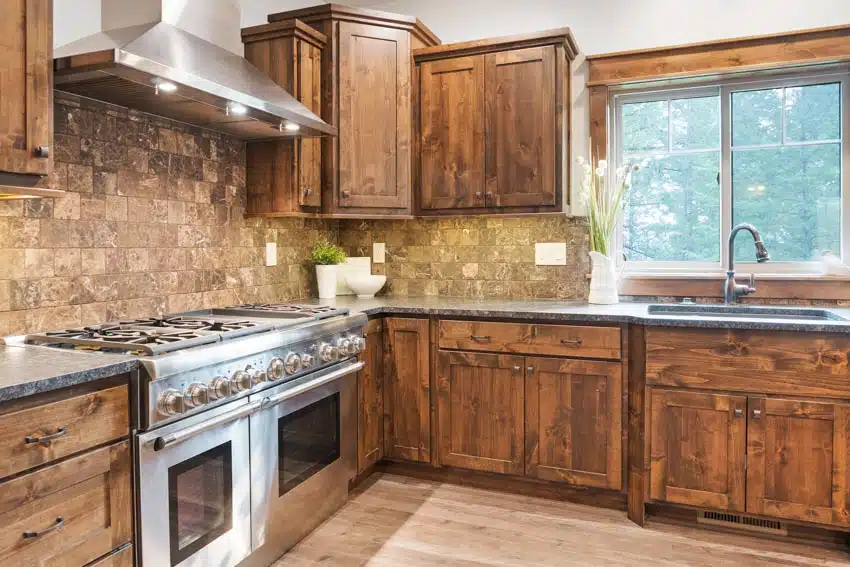 Cypress wood cabinets are made from the softwood cypress tree characterized by its golden (yellowish brown) to almost white hues. There are some cypress wood cabinets that showcase dark pockets and voids, which likely result from cypress lumber, also called pecky cypress, that has been attacked by fungi.
This dark pocket creates a unique pattern that people find attractive, thus, making the pecky cypress a valuable type of cypress wood lumber. Salvaged cypress that is taken from riverbeds or also known as sinker cypress will have a slightly warmer and darker color.
Furniture made from cypress wood will have a tight straight graining with medium to coarse texture and it takes stains and sealants very well. When planning to install a cypress outdoor kitchen cabinet an oil-based stain will protect the wood better than your standard polyurethane varnish for indoors.
Durability of Furniture Pieces Made of Cypress
Cypress wood cabinets are durable as they are attractive. The lumber is strong where it is hard like maple and ash but light as pinewood. This makes cypress wood cabinets an ideal choice as wall cabinets and medium-density wall backing.
Due to these unique features, cypress wood has been an excellent structural material since ancient times, used to make ships, docks and piers. The natural ability of cypress wood to ward off insect attacks and its natural oils creates a barrier preventing rot due to prolonged exposure to water and dampness.
Furthermore, Cypress wood has a Janka hardness of 430-550 lbf and is classified as semi-hardwood. The cabinets made from cypress wood can last up to 40 years. When sourced from the heartwood or an old-growth tree, properly cared cabinets can last up to 100 years.
The older the tree the better it is aesthetically. Old trees that have been around for at least close to a century or more are considered old-growth. It is among the types of wood grain patterns that are tight and boasts rich colors. Knots are also fewer.
This puts a premium price tag. Almost a century to wait before harvest? In some cases, a tree this old is protected so not only can't it be cut, those that have already been harvested are out there. Finding them is even harder and they should be more expensive.
Natural Cypress Kitchen Cabinets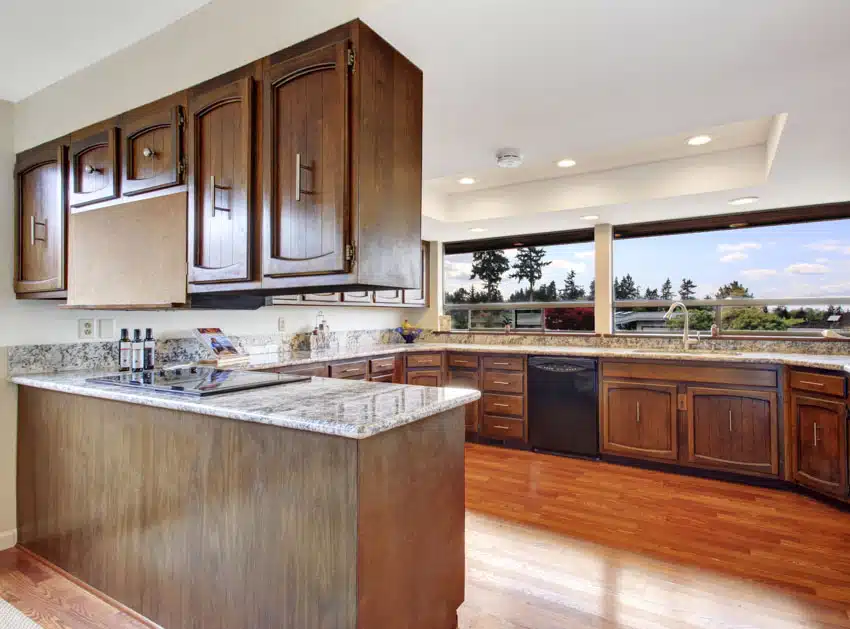 While there are a variety of shades and purities, authentic cypress wood types of kitchen cabinet materials will appear to have straight grain with medium to coarse surface texture. When purchasing wood for furniture, unfinished wood will have a greasy feel. This natural preservative is called cypressene.
If a kitchen cabinet needs more support and stability, choose lumber with fewer knots. Bald cypress a type of cypress species valued for its naturally decay-resistant lumber is distinguished by its sour odor.
Cypress Cabinet Doors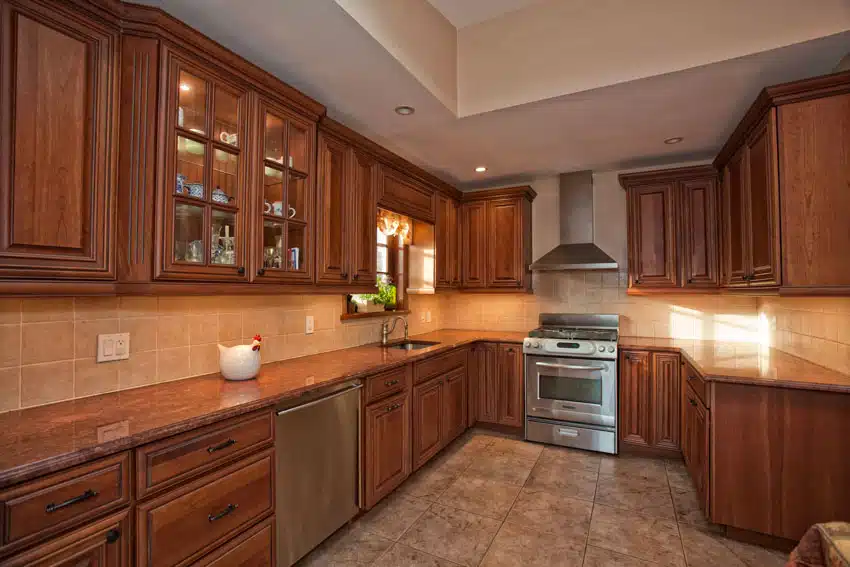 Replacing or specifying cypress cabinet doors is a great way to benefit from the features of cypress wood cabinets in your kitchen without having a major overhaul. From salvaged to sinker cypress cabinet doors, their durability adds value to a kitchen storage extending service life while having that eye-catching furniture.
They can be stained or painted but choosing a clear stained or varnish showcases the natural beauty of cypress wood. Customized sizes and styles are also available which can be stained or painted to match an existing style or look.
Cypress Cabinet Finishes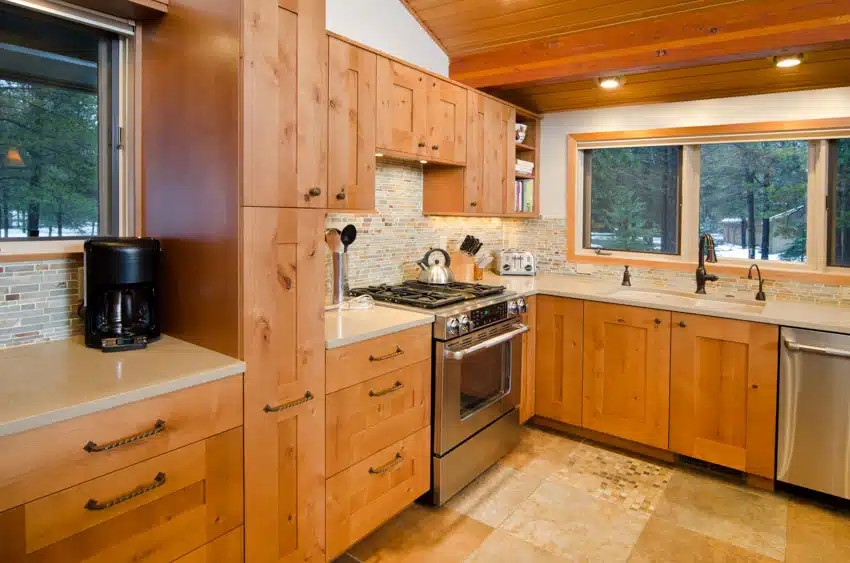 With its pale wood and straight graining, cypress cabinets already showcase an attractive natural look. When used outdoors, cypress types of furniture styles can withstand the elements even without a layer of protective coating.
An untreated cypress cabinet matures into a silver-gray, where the weathered wood can be an attractive feature. However, adding a surface finish enhances the grain and protects the surface from damage, especially when used in busy spaces such as the kitchen.
For outdoor staining, an opaque stain lasts better than your standard oil-based stains and for indoor cypress cabinets, a coat of polyurethane varnish can protect the surface from damage. There are many types of cabinet finishes and a stain and sealer in one is a great choice.
Painting Cypress Kitchen Cabinets
Seldom are cypress kitchen cabinets painted as the natural honey color and straight graining are much-sought quality in wood furniture. Though worn out and tired cypress wood surfaces are reasonable enough to paint over the worn-down surface to further protect the wood while achieving a cleaner and more updated look.
Like staining cypress wood, painting cypress kitchen cabinets needs proper preparation prior to the actual application. A high-quality 100% latex or acrylic is recommended for cypress wood surfaces as types of paints with water-sensitive polymers can absorb moisture creating an area in the furniture to swell or create damage to the solid wood.
When applying the surface treatment, always follow the manufacturer's recommendations to achieve the best results. Don't forget to prime all sides and edges of the wood siding.
Are Cypress Cabinets Expensive?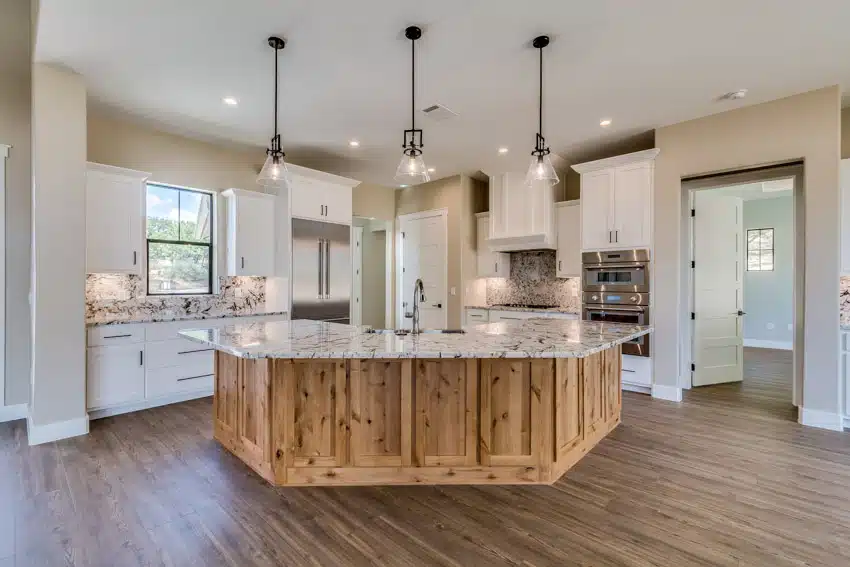 Aside from its desirable qualities, cypress cabinets actually fall as a mid-ranged priced wood factor that has increased the prices of some cypress wood lumber mainly due to two factors.
One is that cypress trees where the lumber is sourced from are slow-growing trees and this means the accumulated time to produce the lumber makes them costly. Another reason is the increased demand for cypress cabinets thus the higher the demand the higher the price.
The pricing for rough-sawn cypress lumber can vary depending on the condition. Typically, a single board foot can be anywhere from $2 to $6. For $4.00 per board foot, the Pecky cypress wood can be purchased. The condition of the wood is due to a fungus infection that affects older trees.
Other Factors:
Availability: The availability of growing areas also affects the pricing. The wood grows naturally on swamps and marshlands along the Eastern coast of the United States. Ironically, urban development takes over these lands and thus destroys the ecosystem that this wood requires.
Slow Harvest: It does not take long to cut down a tree and mill it into usable lumber, but it takes a cypress tree around 30 years to reach commercial maturity. The resources it takes to grow a cypress tree and keep it growing and healthy for 30 years makes the wood more expensive.
Time: A cypress tree takes three decades before it can be considered commercially viable. The price for maintenance of a plantation will no doubt be factored in when evaluating its price tag. In the wild, the seeds of the tree can't germinate underwater and it takes a special set of circumstances to happen before any sprouting is expected.
Unsustainability: The tree is special and it does not easily suffer from rotting and it is water resistant too. These factors make it attractive for buyers. But again, because of the limited space to grow, the supply is dwindling fast. With less supply available, the price goes up.
Demand For Antique Cypress Millwork: Along with the above reasons, more and more people living in finer homes along the coast are looking for and collecting antique cypress millwork to display in their residences. Again, as the demand goes up and supplies decline, the cost will also rise.
How to Clean Cypress-Made Cabinets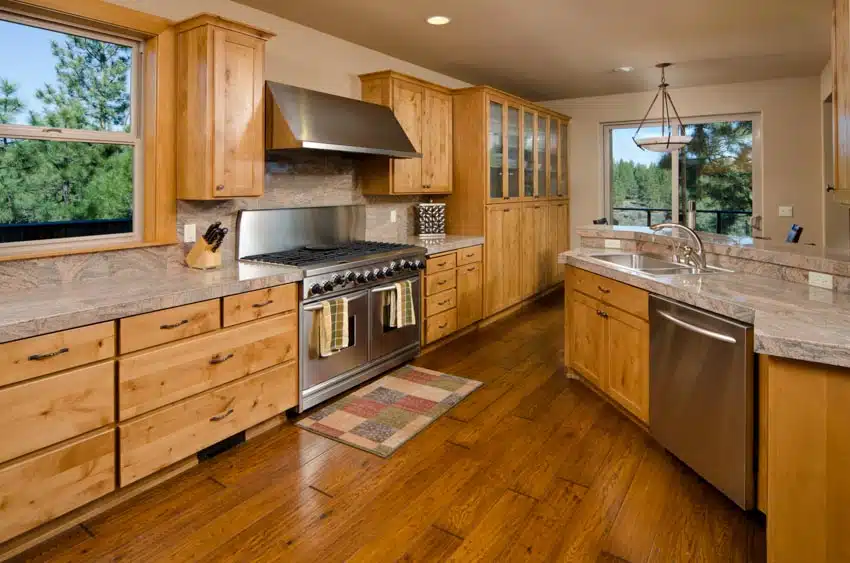 Wooden cabinets are unmatched by their natural beauty and like any other material, maintenance is needed to keep them looking good and prolong their structural integrity. Spills from food should be cleaned at once to prevent the food matter from seeping through the wood grain that can discolor the surface.
Spot cleaning is an easy way to keep the gorgeous wood surface but removing grime and debris that have accumulated over time from crevices can be more challenging.
A quality cleaning product that's strong enough to remove stubborn dirt but at the same time is safe so as not to remove the protective finish of the wood. visit this page if you are cleaning cabinets before painting.

Things Needed:
• Quality Cleaning Agent
• Small Scrubbing Brush
• Several Dry Cloths
• Water in Spray Bottle or Pan
Steps:
1. Dilute the cleaning agent in the spray bottle or pan according to the manufacturer's instructions. To check if the cleaning agent is safe to use, apply the solution to a concealed section of the cabinet. Check if there is a change in color or staining.
2. For hard-to-remove stains use the cleaning agent diluted in warm water. Use a small brush to remove stubborn dirt on corners and crevices.
3. After brushing the corners, let the solution sit on the hard-to-remove areas for a few minutes.
4. Spray the cabinet surface with the solution then wipe each section to remove the grease.
5. Repeat the process if needed.
See more related content in our article about honey oak cabinets on this page.