Welcome to our ultimate guide of quartz countertops including the pros and cons, pictures, kitchen design ideas and much more.

Quartz countertops are often confused with the natural stone. The common misconception about quartz is that it's 100% made of pure natural quartz, but in reality, they are man made and are composed of other materials as well.
What is Quartz?
Pure quartz, also known as Rock Crystal, is a type of colorless hard mineral that is quarried from the earth in the form of slabs, while quartz that is often referred to when speaking of countertops, is a type of engineered stone.
It is made up of more than 90% natural materials which is 93% crushed quartz powder and 7% binders which are either polymeric based or cement based, plus a type of epoxy resin.
The addition of binders and resins holds the crushed particles together and reinforces the strength of the material. Thus, it's also known as engineered stone or compound stone because of its material composition.
Quartz is very hard and has a granite like surface. Man made pigments are then added to this mixture to give the engineered stone different colors. It's also manufactured to look like natural stone. It closely resembles granite, marble and limestone, but gives the benefit of a harder and more durable finishing material.
Because these countertops are engineered, it can be produced in any color through the use of pigments. It comes in different colors, from neutrals like white, beige, browns, grays and blacks to subtle hues of blue, green, pink or darker shades of red, gold or charcoal.
The surface also has veining and speckling similar to marble and granite. Its appearance is also dependent on how it's ground.
Finely ground material produces an engineered stone with a very smooth surface, while coarsely ground material produces a flecked appearance. In addition to that, other types of materials like glass and stone can be incorporated in the make up of quartz to give it a more unique look.
The Origin of Quartz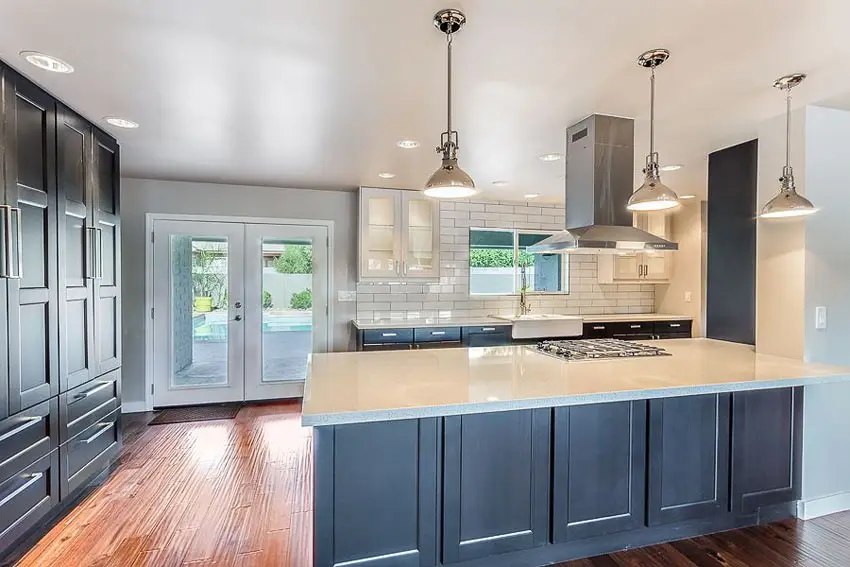 Pure quartz is the most abundant mineral in earth, while also being one of the hardest. More than 50 years ago, manufactures saw its great potential to be used as a surface material for interior applications.
Combining the natural inherent properties of the pure mineral along with some artificial materials led to the production of one of the most durable countertop surfaces available in the market. It is the only man made material that is at par with the durability and strength of natural stone countertops.
Marcello Toncelli invented the very first quartz which was hand poured into mini slabs of 12 inches by 29 inches.There are different brands of the stone in the market but the patent for this material is owned by the Italian company, Breton who started manufacturing the product in the early 1960's.
Breton invented the process of engineering quartz by pressing natural stone powder and polymer resins together. Up to this date, Breton continues to by the leading supplier of it and compound stone making equipment in the market.
Using the material for countertops quickly gained its popularity in European kitchens and then spread into the United States. Silestone and Caesarstone are the most well known brands for countertops.
Other popular brands of these countertops are Cambria, DuPont, Zodiaq, Celador, LG Viatera, Avanza and Technistone. These companies try to manufacture their own specific line, colors and patterns to differentiate their brand from others.
The Pros of Quartz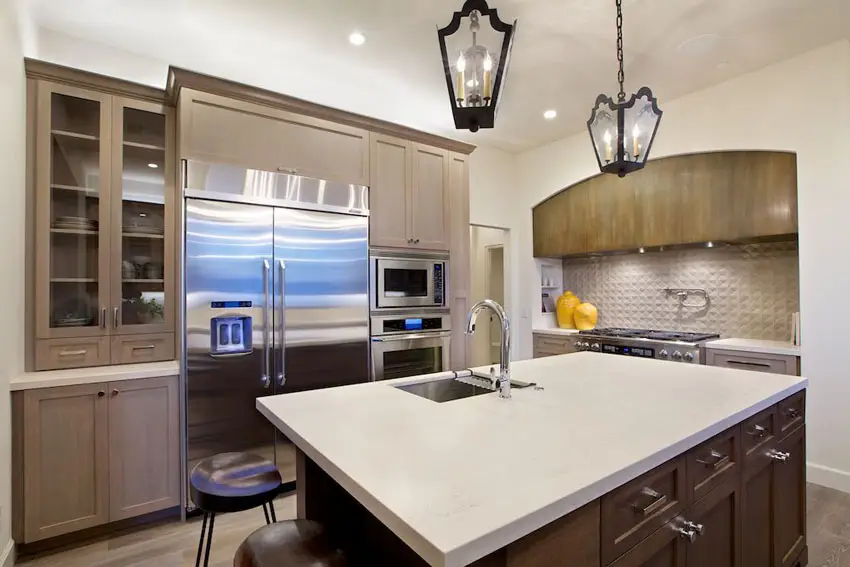 Aesthetics – Quartz has a beauty that resembles natural stone. Its three dimensional appearance and natural luster makes it appealing for most homeowners.
High durability – As mentioned earlier, pure it's inherently hard and combining it with resin binders reinforces it strength and durability making it one of the most trustable countertop surfaces in the market.
Performance wise, it's on par with concrete and granite. It is more forgiving compared to natural stone and won't crack or chip easily. It makes a good work surface.
Scratch resistant – It resists surface damages like dents, cracks and chips. It can be used as a cutting surface as it won't be affected by knife marks. Abrasive pads are also not harmful.

Heat resistant – It is heat resistant, but only for a short period of time. It won't get easily damaged when it gets in sudden contact with hot pans or pots and hot serving dishes are also not harmful to its surface. However, this is only up to a point. Exposing it too long to high temperatures can cause potential damage.
Low porosity – It has a low absorption rate of 0.5 % and it is the same as a porcelain tile. The countertops are impenetrable by any type of moisture and liquids due to the resin binders that make up their surface. With natural stone countertops, spilled water and other liquids need to be immediately wiped
Stain resistant – It is nonporous thus it resists staining much better than natural stones like granite or marble. It stand up to spilled liquids like water, juice, oil, wine, coffee and even alcoholic beverages.
Antimicrobial – Countertops limit bacterial growth because there is no chance for water to build up, penetrate and seep into the material's body and surface.
In addition to that, these countertops do not require grout for installation and we all know that grout lines and seams are the most vulnerable parts of countertops because it allows dirt and grime to get stuck within the gaps.
Consequently, odor causing molds and mildews are prevented and viruses or bacteria are not harbored.
Low maintenance – Daily upkeep for these surfaces requires minimal effort. All you need is piece of damp cloth and a mild soap and water solution. Gentle scrubbing is all you need to remove stains.
No need for resealing – Natural stone needs to be sealed before use and undergo period treatment to ensure that is properly protected from liquid spills and water that might seep into its surface.
There is no need for such as it is impervious to water and moisture. Consequently, this tantamounts to significant savings in terms of maintenance too.
Uniform appearance – Unlike natural stone which usually has an inconsistent color because it is quarried in slabs, it has a consistent and uniform color all throughout.
Granite, for example, needs to be bought from the same batch to ensure that the color is book matched, but for engineered stone, there is an even color and a smooth transition.
This material is perfect to use for waterfall island countertops and it is also the best countertop option for homeowners who are very particular when it comes to blemishes and natural imperfections.
Texture is also consistent. The manufacturing process is controlled that is why it is nearly perfect.
Long lasting – Provided that it's properly cared for and well maintained, it can last for decades. Stone suppliers and manufacturers typically include a 10 to 15 year warranty for countertops, while some even include a lifetime warranty.
Versatility – Countertops generally have a contemporary look but it offers versatility when it comes to mixing and matching for a well balanced kitchen design.
It can be used in a variety of design applications and can match almost any design style, whether it may be traditional, transitional, contemporary or modern. It is available in a wide array of colors and offers diversity when it comes to patterns.
Flexibility and high customizability – It is one of the most design friendly countertop material options in the market. Since quartz is man made, it is highly customizable and can be used to produce any shape, size or form.
Fabricators can bend or curve the material easily, thus edgings, curved countertops or sinkholes are not problematic areas compared with natural stone countertops. It can even be cut into standard tile sizes for easier installation and can be used for both floor and wall application.
Can be installed in one piece – Some manufacturers offer continuous runs of the countertops with little to no visible seams. This remains true even for the standard size slabs which typically have a size of 60 by 120 inches. There are no visible seams as the addition of resins allow for cleaner cuts.
The Cons of Quartz
Can get quite expensive – Compared to other countertops materials like concrete, wood, laminate, it is more expensive.While compared to natural stone options, the price point of is almost close to granite.
DIY countertop materials usually run below or about $10 per square foot , but it's generally more expensive and can amount to $80 to $140 per square foot including the installation.
Not suitable for outdoor use – It's only meant for indoor use. Some manufacturers void the warranty if it is installed outdoors or in an uncovered area.
Exposure to direct sunlight can cause potential damage – It is sensitive to UV rays, resulting to changes in color once regularly exposed to the heat of the sun. In addition to that, excessive heat and sun can cause countertops to split and warp over time.
Cannot take extreme heat – It is heat resistant but it has a limitation. This is due to a plastic resin that is used in manufacturing quartz.
According to some manufacturers, the material can handle up to 300 degrees Fahrenheit of temperature. Although it won't get easily harmed by hot pans, leaving it too long above the counter can eventually result to surface cracks.
Just to be sure, make use of a hot pad or trivet for pots and pans to protect your surfaces.
Quartz Colors

One of the primary benefits that quartz countertops can offer is the wide diversity of colors, patterns and finishes that it can offer. Being a type of engineered tone, it comes is a wide array of colors which are produced by adding pigments to the resin and powdered stone mixture.
Most of the colors come from the inherent color of the stone, but through the addition of colorants and pigments, the tones and shades can be adjusted.
The opportunity to customize more colors allows manufacturers to develop their own distinct line of countertops. And this range is continuously developing as the brands strive to offer newer and fresher options for today's homeowners.
Another notable attribute of its colors is that they are more consistent compared to natural stone. Natural stone like granite is quarried in slabs and each of the slabs is different.
Each batch has a unique color, thus matching can sometimes be quite difficult as the surfaces can show little differences in color. The uniformity and consistency of its colors also allows homeowners and designers to try on different design applications.
It comes in a broad spectrum of colors, but the colors have different names depending on the supplier. Colors for countertops have leaned towards natural shades and earth tones like grays, browns, tans and greens.
Neutrals like bright whites, creamy beiges and black are also some of the popular options. It is also available in subtle hues and pastels like blue or rose, to rich darker shades like red, green, gold or copper. Other brands also offer bright and bold colors which complement contemporary kitchen settings.
Here are some popular colors based on the available brands:
White Quartz

White is one of the most well loved countertop colors. Just like any other natural stone material, white quartz countertops are very versatile and flexible when it comes to design applications.
Being considered as a fail proof color, they go well with all design styles, whether it may be traditional, classic, transitional, contemporary or modern.
Unlike with natural stone options wherein pure white materials are hard to come by, quartz countertops are available in a plain, solid white color. It's also available in different tones which range from the brightest ultra white to creamy off white tones.
The patterns are also diverse, some contain soft to dramatic veining patterns, while other variants have fine flecks or metallic specks of minerals. This variation in pattern and texture allows homeowners to create a more interesting "all white" palette for their kitchens.
When used as a kitchen countertop, it gives off a luminous and bright appearance which makes spaces appear more airy, clean and spacious. It is a classic choice that adds elegance and sophistication to luxurious kitchen settings.
When pairing with white cabinets, make sure to choose something which has veining or flecks so as to to break the monotony of the space. However, you can still go with a solid white if you are aiming for that flawless, streamlined, minimalist look.
White and other light colored quartz are also recommended for use in small kitchens as they tend to create an illusion of space and a more open environment.
These countertops also look extra striking when paired with dark colored cabinetry. Alternatively, it can be used with other cabinetry colors to achieve a stark contrast.
For more white quartz countertops pictures and ideas check out our gallery page.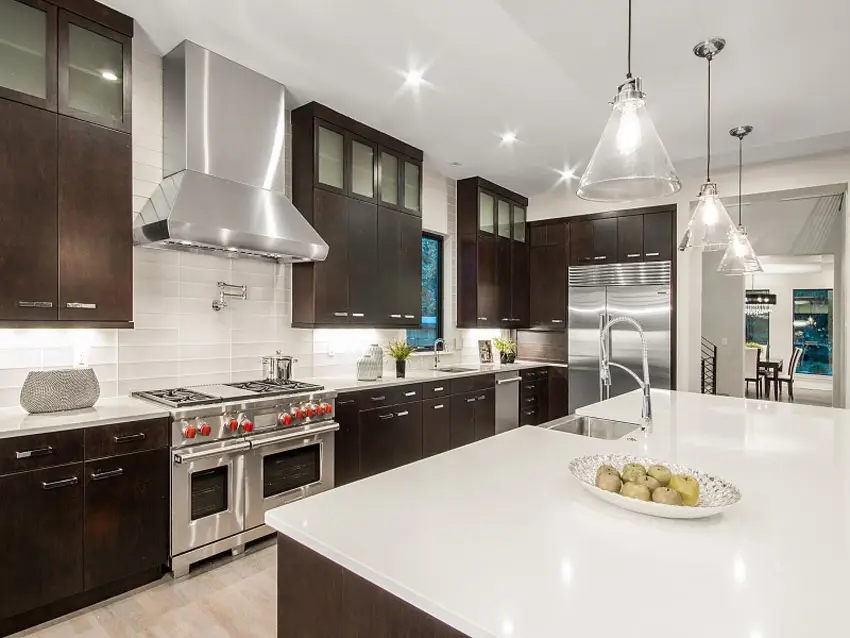 Here are some examples of white quartz:
Caesarstone
Montblanc – looks like marble,features a white colored base with gray veins
White Attica – has a white base with minimal gray veins
Alpine Mist – looks like marble, white base with beige veins
Fresh Concrete – mimics the appearance of fine white concrete countertop with white and warm specks
Pure white – has a solid color, according to Caesarstone it is the cleanest, purest, densest white
Intense white – features a bright white base with metallic and frost flecks
Silestone
Yukon Blanco – features a plain white appearance, purest and brightest white Silestone quartz
Cambria
Annicca- resembles natural marble, features a white colored base with gray veins
Beige Quartz

Beige quartz countertops are the perfect alternative to white. If you find white too plain or dull, you can go with beige as it has a yellow tinge which produces the perfect balance of cool and warm undertones. Beige quartz is also versatile when it comes to design application as it is also a neutral color.
Although it can be used for both traditional and modern designs, it's more suited for classic inspired settings. Try pairing beige with wooden cabinetry or distressed cabinets for that traditional elegance and flair.
Here are some examples of beige quartz :
Caesarstone
Creme Brule- has a creamy beige base with warm tan fleck and crystallized minerals
Frosty Carrina – creamy beige base with very subtle soft veins
Silestone
Capri Limestone – solid creamy beige color
Lusso – mimics the appearance of marble, cream colored base with soft gray veins
Tigris Sand – beige colored base with very light white flecks
Cambria
Kelvingrove – has an exotic appearance, soft beige to very light taupe base with pale taupe and cool bluish gray veins
Black Quartz

Black quartz renders a dramatic appearance and gives an added depth and dimension to a space. Compared to light colors, black is more noticeable in a space and creates a bold statement. One advantage is that it tends to hide dirt well compared to light colored countertops.
Black countertops are more suited for contemporary kitchens that feature white cabinetry. This classic pairing is one of the timeless cabinetry and countertop color combinations which proves to never go out of style.
Most brands offer a design which has a unique shimmering effect caused by luminous flecks that look extra stunning under lighting. They look super elegant and stylish when used in kitchens.
Here are some examples of black quartz :
Caesarstone
Vanilla noir – looks like marble, black base with dramatic white veins
Jet black – solid black color with subtle charcoal flecks, perfect for modern kitchens
Silestone
Marquina – black background with solid, large white veins
Iconic Black – solid colored in plain jet black
Cambria
Cambria Black – has a dark charcoal base with medium black flecks and fine white specks
Gray Quartz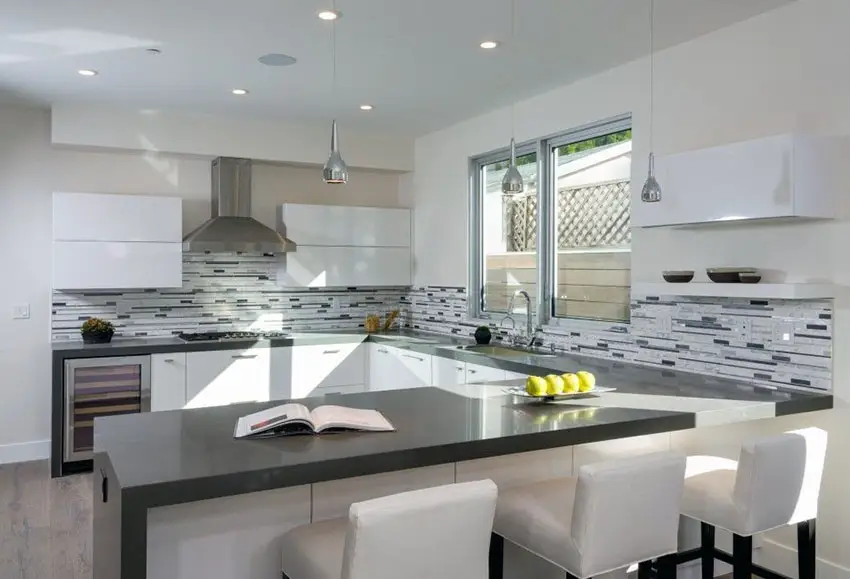 Considered as the new neutral for the modern kitchen design scene, gray countertops are well loved because of the quiet strength that they lend to spaces. With the right shade, gray creates a dramatic effect that isn't overwhelming.
Gray quartz countertops are very versatile as it can be paired with both light and dark colored cabinetry. If you do not like the softness of beige and the brightness of white, gray countertops can be a perfect substitute in creating contrast with dark cabinetry.
While if you are looking for the perfect countertop to complement light wood, cool gray options are can be explored. They can also be used to enhance the color of natural solid wood cabinetry by highlighting its undertones.
Here are some examples of gray quartz :
Caesarstone
Rugged or Sleek Concrete – resembles a natural concrete slab
Piatra Gray – resembles gray marble with white veins
Turbine gray – features a cool gray base with swirling veins of white, warm gray and light gray
Silestone
Ink – granite like quartz with a gray base accentuated by warm charcoal specks and fine white grains
Cambria
Carrick – features a medium gray body with soft swirling medium gray veins
Queen Anne – has a marble like appearance that is cool gray in color with soft white veins
Brown and Gold Quartz

Earth colored quartz include a number of different shades which range for, tans, browns, sand to gold, yellow and honey. Brown and gold countertops project warmth which makes kitchens more inviting, homelike and welcoming.
Brown quartz also is also more natural looking, and also lends coziness to a kitchen especially when paired with wooden cabinetry.
Brown and gold are your best bet if you want to create a monochromatic color scheme for your kitchen. Using the same shade of cabinetry and countertop produces a design that is tied together cohesively. Brown complements the inherent color of wood, while gold helps enhance its undertones.
Brown and gold countertops are the perfect colors for classic kitchen schemes. It complements the rustic style, country inspired and contemporary kitchens.
Here are some examples of earth tone quartz :
Caesarstone
Tuscan dawn – showcases a taupe base with light, creamy white thick veins
Wild Rice – looks like natural granite, mid brown base with charcoal flecks and soft white veins
Silestone
Coral Clay – has a taupe background with small white specks and very light gray flecks
Kona Beige and Mediterranean – similar look to granite, sand colored base with dramatic mottling of brown, beige and taupe undertones
Toffee – a solid colored offering in taupe color, perfect for contemporary settings
Sienna Ridge – granite look with a light brown base highlighted by white and dark specks
Santa Fe Brown – solid colored in tan with a plain surface
Cambria
Brescon Brown – a type of granite looking stone with a sand colored base accentuated with tan undertones and mineral specks of frost white crystals and flecks of black
Cambrian Gold – granite characteristics with a honey colored base that has mineral flecks of gold
New Brighton – resembles the appearance of a brown marble with white veins
Green, Blue and Red Quartz

Red, blue and green countertops are less common in kitchens, but these unique colors can instantly transform your kitchen into a striking statement. These colors tend to make kitchen spaces more lively and offer an interesting pop of color to a space.
Typically, these unique colors are used for modern settings, while the ultra deep and dark versions are sometimes used for rich traditional kitchens.
Ideally, exotic colored quartz should be paired with light colored cabinets so that they do not compete with other in a space.
Here are some examples of green, blue and red quartz :
Caesarstone
Red Shimmer – features an intense red base with sparkling flecks of silver and white
Blue Agate – has a very unique looking pattern which looks like a mosaic, a premium type with ocean blues, turquoise, pearl and sapphire.
Silestone
Stellar marine – royal blue

Eros Stellar – red

Green Fun – apple green
Cambria
Bala Blue – has a granite like appearance that features a bold royal blue color with specks
Bristol Blue -features a midnight blue base with a distinct pattern of silver and white flecks that resembles a starry night
Cardigan red – has a granite like appearance which is dark red in color with metallic flecks
Quartz Patterns
Aside from the wide array of colors, they are also available in different patterns which simulate the appearance of natural stones like marble and granite. Some countertops also look like cement or concrete.
Depending on how it was produced, it can have veins, flecks or a plain solid color. Finely ground quartz shows a smooth texture and look, while coarsely ground has a flecked appearance.
Choosing the pattern will greatly depend on the aesthetic attribute you want to stand out in your kitchen. You can go with subtle veins and soft flecks if you want your countertops to harmoniously blend into the color palette of your kitchen.
But if you want it to stand and serve as a bold focal point for your kitchen, opt for countertops with dramatic and exotic patterns. Also, choose a simple cabinetry design to go with to make sure that the two elements do not compete with each other.
Prefab Quartz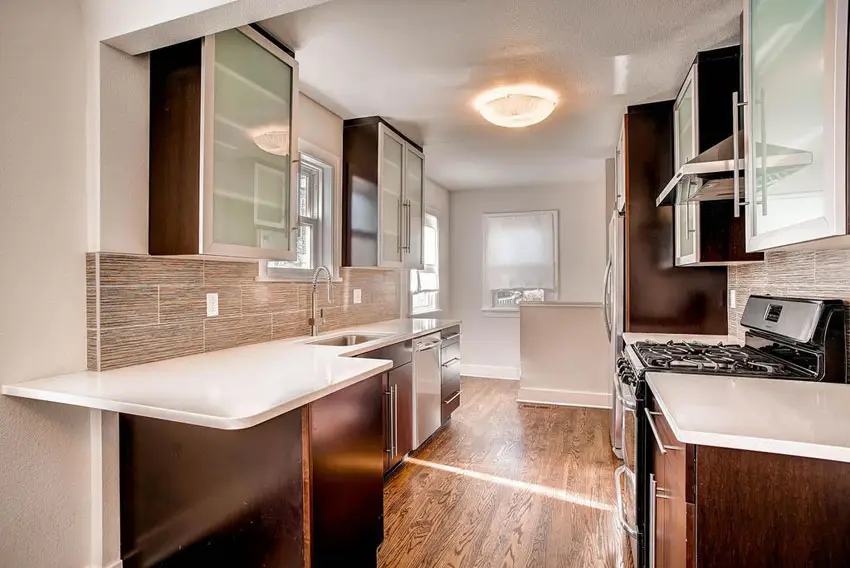 Prefabricated countertops are ready made and precut countertops which have finished edges. These finished slabs are ready for installation, compared to custom countertops which still need to undergo manufacturing.
Some people assume that they are low quality but this is not true. The same material that is used in custom cut projects is used in prefabricated countertops. In the same way that prefabricated granite countertops are made of real granite and prefabricated marble countertops are made of real marble.
It does not affect the quality of the material at all. You get the same durable, hard surface, but only shorten the waiting period for production and custom fabrication.
Custom fabricated countertops typically come with a lead time – meaning you need to wait for weeks to get your countertops because they still need to go through production, cutting according to specification, edging and finishing.
Prefabricated countertops can be installed easily. Most suppliers have it on stock and can be delivered in a short period of time once ordered.
Manufacturers typically offer prefabricated countertops which can be modified during installation. This means that the slab comes in a standard size in a specific color and pattern and then is cut according to the required size on the job site and fitted for installation.
Unlike custom quartz countertops where the homeowner or clients have the choice to add an edge style and finish before production, prefabricated slabs are only available in specific colors or finish and usually come in limited edging designs.
It's typically available in different standard edging types which include the eased edge, bullnose edge, mitered edge and bullnose edge.

The most common sizes for prefabricated quartz countertops are 108 inches x 26 inches x 2 centimeters or 108 inches x 26 inches x 3 centimeters.
Some suppliers offer it in 110 inches x 25.5 inches x ¾ inch thick for countertops, 110 inches x 36 inches x ¾ inch thick, or 110 inches x 42 inches x ¾ inch thick, or 110 inches x 52 inches x ¾ inch thick for islands and 110 inches x 4 inches x ¾ inch thick or 110 inches x 7 inches x ¾ inch thick for backsplashes.
Some manufacturers also offer it in two standard thicknesses: 2 centimeter and 3 centimeter thick countertops.
Prefabricated countertops are the right fit for customers who have kitchen countertops that fall into standard sizes. It lessens the labor costs and reduces the installation time.
The average price including installation is $30 to $50 per square foot, depending on the size, color, design and brand of the material.
Engineered Quartz

Quartz countertops are often called engineered stone countertops, compound stone countertops or engineered quartz countertops because they are fabricated from a mixture of natural silicone dioxide a mixture of synthetic materials like resin binders and pigments.
They are often confused with Quartzite, a type of natural stone material also used for countertops, that is why some manufacturers often refer to quartz as "engineered quartz" in order to avoid the confusion.
Quartzite is a form of metamorphic rock that is created when sandstone is subjected to extreme pressure and heat. Quartzite is also generally available in white to gray colors which have a tinge of pink and red which comes from iron oxides in the stone. Engineered, on the other hand, comes in more diverse color options.
Edges
Countertop edgings do more than just improving the aesthetics of kitchen counters. The shape of your countertop edges have functional benefits which can affect safety and maintenance. And since countertops are the most used parts of kitchen spaces, its shape and edges matter.
Even the slightest detail in the kitchen counts to ensure work efficiency, to optimize functionality and to create a well balanced design aesthetic.
The edging profile or edging treatment is the shape the kitchen countertop ends take. There are several edging profiles for countertops and this can be applied to natural stone and engineered stone surfaces and materials.
Basic edge treatments can be done to 2 and 3 centimeter thick slabs. However for the more ornate designs, manufacturers would require a thicker slab or else the profile will not show.
Edge upgrades cost more and add about $20 to $36 per linear foot to your material cost. This is mainly because they are more complicated to make and requires more time for polishing.
Standard edgings such as the eased edge, bullnose edge and the bevel edge typically come with the installation cost.
Aside from the basic countertop edges, some manufacturer offer their own signature patterns and specialty edge treatments to produce a more unique countertop design. These edge profiles are more intricate and ornate but can potentially add to the cost of your material.
As mentioned, countertop edgings are essential in terms of safety. A completely square countertop or a countertop with sharp edges can be quite dangerous. It poses the potential risk of little children bumping their heads into the counter ends or user bumping their waist along the corners.
Countertop fabricators will typically provide a small rounded edge or "kerf" to countertop edges to reduce this risk. Even if a homeowner prefers a truly square profile, manufacturers will still try to refined the corners a bit not only for safety concerns but to reduce chipping and breakage as well.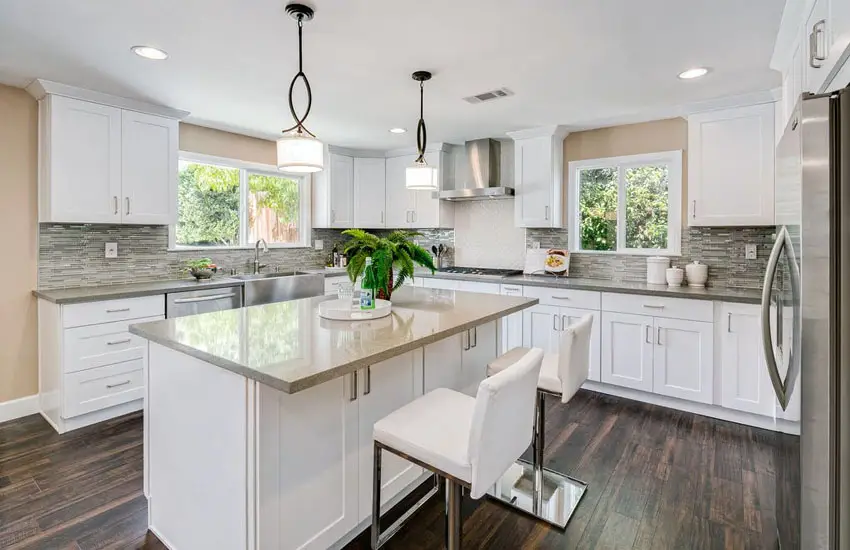 Here are some of the different examples of basic edge treatments along with their variations:
Eased or straight edge – Also known as the flat edge and straight edge, an eased edge is the most basic type of edge that gives the countertop a smooth edge finish. The profile is square but has a very small eased top edge just enough to eliminate sharp corners.
An eased edge shows the full thickness of the material. This is a standard edging that manufacturers give to quartz countertops and typically has no extra cost involved.
This type of edge profile is the simplest but works well for any design design style, especially modern and contemporary settings which conform to a more angular and streamlined look.
Beveled edge – The bevel edge is characterized by a 45 degree cut at the edge of the countertop material. The depth of the cut for bevel edge counters can be modified and adjusted based on the homeowners preference in order to highlight the pattern with dynamics or to expose the pattern of the stone more.
This type of edge treatment has different variations depending on the sizes – it can be a half inch bevel , a ¾ inch beveled edge or a full inch bevel. The half inch beveled edge is a type of angular edging but offers a more subtle look.
The ¾ inch beveled edge has a slightly deeper cut than the ½ inch bevel. Looking at it from the sides, the ¾ inch bevel has a longer pitch or top half and a shorter rise or the lower half.
The full inch bevel extends the pitch longer to create a one inch long 45 degree cut. This type of edge treatment combines both strong lines and graceful movement to produce an elegant countertop design.
Double bevel edge – The double bevel edge is a variation of the bevel edge. Instead of having just one surface cut, both the top and the bottom part of the edges are treated with a small 45 degree angle cut. This gives the material an extra character compared to the double radius edge.
Double radius edge – The double radius edge is almost similar to an eased cut edge, but has a more prominent curved profile on the edge.
Looking at it sideways, this type of edge profile takes a rounded square form. This design is also simple, minimal and works best for most kitchen styles.
Bullnose edge – The bullnose edge gives the countertop a rounded and completely smooth edges. This is one of the most popular edging profiles used and is considered a classic in the kitchen design scene.
This is also another type of basic edging design and is considered an alternative for those who find flat or eased edges too straight, formal or stiff.
Just like the eased edge, bullnose edges show the full thickness of the material and can be used for most kitchen design styles, whether traditional, transitional or contemporary.
Half bullnose edge – Also known as the demi bullnose edge, the half bullnose edge shows a half round or half circle profile. The top part of the material is rounded and flattens at the bottom.
This edging treatment highlights and shows off the stone more through a curved lines. You can use this type of edge treatment if you want to show off the thickness of your stone.
Bevel bullnose edge – The bevel bullnose edge is a combination of the beveled edge and the bullnose edge so its profile takes on a 45 degree cut smooth edge. The slight slope at the bottom part displays the cross section of the stone.
This just adds a graceful element to the standard bevelled edge. The bevel bullnose edge can be used for both contemporary and classic inspired kitchen designs.
Ogee edge – The ogee edge features a concave arch that transitions to a convex arch, so essentially it takes the shape of the letter "S". This small "S" shaped is cut into the front of the stone, but the bottom part has a straight, flat edge.
This type of edge profile is perfect if you want to add a classic flair and a more ornate decor to your countertops. The dramatic curves of the ogee edge is highly suited for paneled or plain cabinetry.
Double ogee edge – A double ogee edge features the profile of a bullnose edge but above the curve part is a decorate inward dip.
This is one of the most intricate types of countertop edge treatments and works well for classic and traditional inspired kitchens which have an extra luxurious, opulent and dramatic look.
Ogee bullnose edge – The ogee bullnose edge combines the top half of an ogee which transitions into a bullnose. It is characterized by a more prominent "S" shaped profile but slightly elongate.
Essentially, it is a more expanded version of the ogee edge. This is also highly decorative and ornate, perfect for classic inspired kitchen styles. Pair this type of edging with quartz countertops that have veining patterns or that look like marble to create a luxurious overall look for your kitchen.
Stepped half bullnose edge – A stepped half bullnose edge features a slightly raised ledge that is placed above a regular bullnose profile.
This type of edge profile adds more interest to your countertop design compared to the standard bullnose edge. It also shows the full thickness of your stone but adds a bit of character.
Triple pencil edge – The triple pencil edge profile is one of the most decorative edging types. It features three levels of pencil shaped edges that cascade down the front edge of a countertop.
You can use this edge profile if you want your countertop to stand out in the space as it greatly draws attention towards the material. This can be paired with a quartz that look like marble to add drama to the overall look of a kitchen.
It is also highly suited for classic and traditional kitchen styles. The triple pencil edge may also cost you some extra because it is more complicated to make compared to other edge types.
Thickness

Countertop materials are typically available in two general sizes, 3 centimeters or 1 ¼ inch thick and 2 centimeters or ¾ inches. The standard thickness for quartz slabs is 1 ¼ inch but it comes in other thicknesses such as ½ inch, ¾ inch and 1 ½ inch.
Cambria, one of the most popular brands of quartz, offers 1 centimeter thick slabs which are usually used for creating layered edging profiles.
When it comes to countertop thickness, regardless of the material, the general rule of thumb observed is : 2 centimeters thick for bathroom counters and 3 centimeters for kitchen countertops.
However, this can vary depending on several factors like: the overall look you want to achieve for your kitchen, your budget, the application and installation.
3 Centimeter thick countertops
Thicker slabs are more durable and easier to install compared to thinner variants. Although higher in price, 3 centimeter thick slabs provide a more effective long term value because it is stronger and less prone to breaking and has improved performance in heavy use areas.
It is also easier to transport and handle. Choosing thicker slabs with few seams can increase the value of your countertops.
The thicker the slab, the more noticeable it is, and the more prominent the colors and pattern are, serving as a stunning focal point in the space.
Slabs that are 2 centimeters or less in thickness typically require a plywood substrate for installation and added support such as wood to reinforce its strength. This is strongly recommended especially for countertop overhangs in kitchens and bars.
2 Centimeter thick countertops
Thinner slabs have a sleeker and cleaner look. This is appropriate for modern and contemporary designs which have an ultra streamlined aesthetic.They are typically used for other applications such as backsplashes, wall coverings, shower areas, bathrooms, etc.
Two centimeter thick slabs often need an additional support but thinner variants often feature their own built in reinforcement. This helps prevent breakage and gives the countertop extra strength.
Finishes

Countertop and surface materials typically come in different finishes. Each type of finish produces a different effect to the overall look of your kitchen while rendering their own positive and negative attributes.
The strength of the material does not depend on its finish. Regardless of what you choose, the material remains to be strong and durable.
Natural stones typically have more than two finishes such as honed, polished, brushed, leathered, flamed and tooled. But for quartz countertops, the two main finishes are polished and honed.
Polished Finish
Polishing is a type of process that subjects natural stone or engineered stone to a series of polishing wheels and pads which buff and grind the material to smoothen the surface.
They have a highly reflective surface and is characterized by their glossy and shiny appearance. The texture for polished countertops is very smooth and makes a good working counter.
Polishing is considered to be the finest finish available in the market as it's opulent, elegant and rich. It's mirror-like shine renders a sophistication and classiness to spaces making it a popular choice for both traditional and modern kitchen settings.
They reflect light well and show off the beauty of quartz more. In addition to that, polishing gives quartz a more vibrant and richer color.
It's easier to clean because of its smooth, flawless surface and repels moisture well. Reflective surfaces tend to show smudges and fingerprints less.
Honed Finish
Honing is a process which involves grinding the surface of a material into a smooth, consistent, flat surface. Before the material gets too shiny, the process is interrupted, leaving the material a soft, satin appearance. Honing also removes bumps and ridges in the material's surface.
Unlike polished quartz which have a shiny and glossy appearance, honed quartz has no shine and has a matte surface that leaves no reflection. The color of honed is lighter than polished quartz.
It can either have low sheen or no sheen at all. The surface is very smooth to the touch and is also suitable for working counters.
It resembles the look of concrete, slate and limestone. It captures the beauty of natural stone but offers a more durable and harder material.
Because it is a softer and more natural look, honed countertops evoke a casual vibe and suit contemporary and modern designs well. The relaxed feel that it renders to kitchen spaces make the ambiance more cozy and inviting.
It looks exquisite under LED cabinet lighting because the lighting is not as overwhelming or pronounced. Honed is less common than polished yet homeowners love its subtle appearance.
It's available in different colors, depending on the brand and manufacturer. Caesarstone, for example, offers three colors for their honed finish and each variant resembles natural stone materials.
Misty Carrera simulates the appearance of natural marble. Desert Limestone, on the other hand, looks like limestone, while the last variant, Pebble, is characterized by a distinct gray color that resembles concrete.
For the brand Silestone, they offer multiple finishes and the honed finish is often referred to as a suede finish.
Honed countertops require more maintenance compared to polished countertops. Fingerprints, smudges, spots and grease are more noticeable on honed surfaces, thus occasional wiping is required.
Seams and joints are also more visible, but this can be minimized by asking your manufacturer to produce one full slab that fits your design requirements.
Which one is better, polished or honed finish?
Both finishes have their own advantages and disadvantages, while each one renders a specific character to the overall look of your kitchen space. It really depends on your own personal preference in style and your kitchen's existing conditions and your home's overall decor.
As mentioned earlier, the durability and hardness of quartz countertops is not affected by its finish. Whether polished or honed, you still get the same high performance countertops offer.
You can weigh your options based on these guidelines and carefully choose which one is the best for your home.
Bathroom Quartz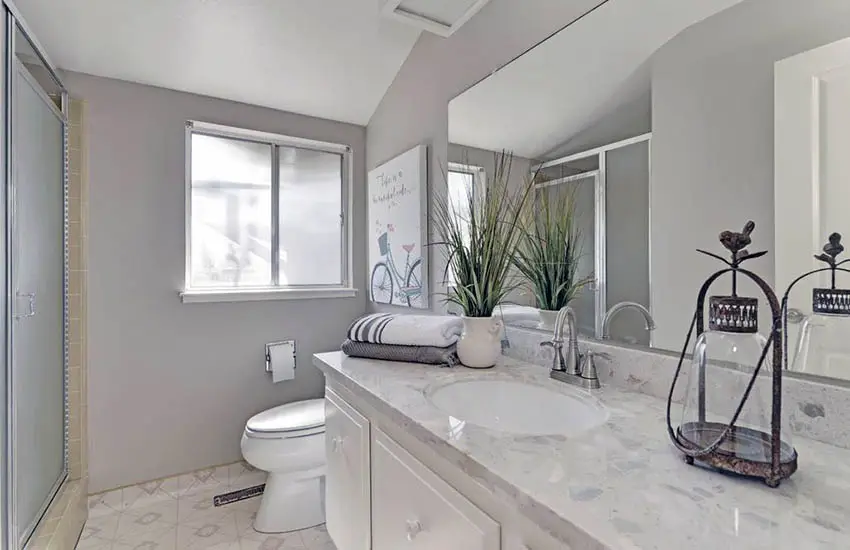 These countertops are not only a practical and excellent choice for kitchens but for bathrooms as they can stand up to higher levels of moisture and humidity because it is a non-porous material, impervious to water.
Bathroom quartz countertops are not susceptible to molds and mildew and is also sanitary to use. In addition to that, they don't need to be resealed for protection. So you don't have to worry about upkeep and high maintenance procedures.
Quartz countertops can withstand daily wear and tear, as they are highly durable, resilient and long lasting. Aside from that, it can also be used for different applications in the bathroom, like a backsplash, accent or a tub finishing material.
In addition they are beautiful, allowing you to create a visually pleasing bathroom design that is elegant, stylish and stunning.
The wide variety of colors and patterns enables you to design the right bathroom countertop which will fit with the overall aesthetic of your bathroom.
Quartz That Looks Like Marble

The most notable quality of quartz is it's close resemblance to natural stone materials like marble and granite, but it captures the distinct elegance and beauty of natural stone without the need for high maintenance.
The advantage of using marble-like countertops is that it allows you to bring in a luxurious feel to your kitchen, without sacrificing quality and durability, making it a very practical choice for homeowners as it is non porous and won't stain.
One big difference that the two materials have is that real marble is cool to the touch, and of course, engineered stone isn't. But these countertops make up for this lack by providing a harder and more durable surface.
White marble is a classic choice for traditional luxurious kitchens. And since it is widely in demand, all manufacturers offer this design. Most white style countertops look like marble.
Different brands offer these that have a bright white or creamy beige base color which is accentuated with dramatic gray veining patterns.
Some feature soft cool gray veins, while others showcase heavy thick veins which make the countertop more prominent in a kitchen space.
Most of these white marble looking countertops are similar to carrara marble. Aside from white, marble likecountertops are also offered in different colors like brown, black and other earth tones.
Manufacturers like Silestone, MSI and Zodiaq have several design options which mimic the natural appearance of marble.
Caesarstone also offer marble like countertops and they closely look like the real thing. Cambria has their own line of "marble series" which offer a diverse collection of colors and patterns.
Here are some examples that look like marble: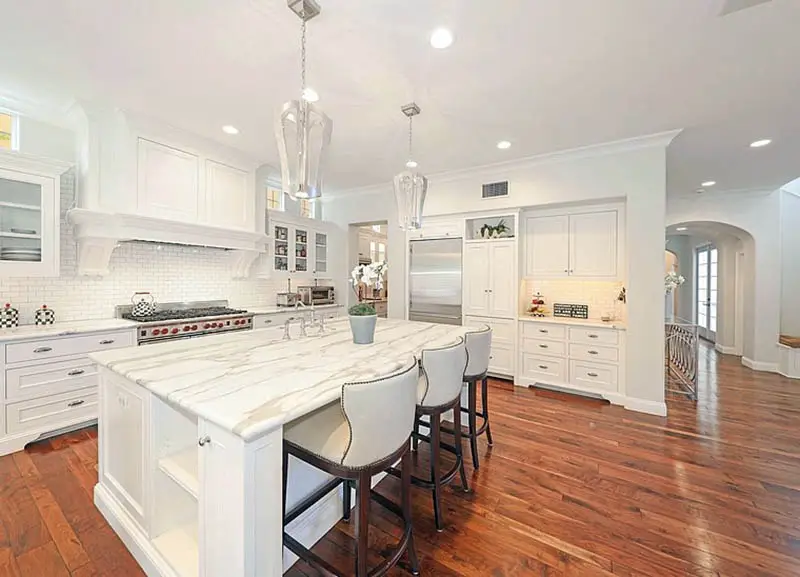 • Products that look like white marble with gray veins:
Lagoon by Silestone
Calacatta Gold by Silestone – See more pictures of Calacatta here.

Torquay by Cambria
Calcatta Nuvo by Caesarstone
Noble Grey by Caesarstone
Statuario Maximus by Caesarstone (more prominent veins)
Statuario Nuvo by Caesarstone (softer veins)
Carrara Grigio by MSI
Cashmere Carrara by MSI
Calcutta Grey by Quartzmaster
Coarse Carrara by Zodiaq
• Products that look like earth colored marble with white veins (brown or golden base):
Tuscan Dawn by Caesarstone
New Brighton by Cambria
• Countertops that look like black marble with white veins:
Vanilla Noir by Caesarstone
Marquina by Silestone
• Counters that look like gray marble with white veins :
Clareanne by Cambria
Queen Anne by Cambria
Ella by Cambria (soft gray with fine dark gray veins)
When used for kitchens, these materials that look like marble bring elegance, sophistication and a luxurious feel.
Quartz Cost

Countertops cost per square foot and average cost

The price of quartz can go anywhere from $50 to $100 per square foot for the material alone, depending on the brand, color and design. On the average, the material cost of quartz countertops us about $75 per square foot, excluding the installation.
The cost of low quality quartz can run from $50 to $60 per square foot. Mid quality quartz is usually priced $60 to $70 per square foot, while high end quality quartz is typically $70 to $100 per square foot.
The cost of installing countertops
The installation cost of quartz countertops can run anywhere from $150 to $180 per square foot, depending on the finish, number of slabs and the edging design.
For a countertop that measures 25 square foot, the price for the material and installation can cost a homeowner between $1200 to $2700 for the whole project.
Aside from the quartz surface material and the cost of installation, some additional factors which are included to the total cost of the project are : the edging design and fabrication, the leveling of the material, seam jointing and cutouts for the fixtures and sink.
The support for the countertop material is usually not included, so you have to check your existing kitchen conditions in order to meet the supplier's requirements.
The edging treatment, on the other hand, is usually included to the material cost, as long as the design is basic and standard. Specialty edge profiles usually incur extra costs.
Quartz price vs granite countertops

Granite is the most popular natural stone material and remains to be well loved by most homeowners because of its beauty and durability.
Quartz, on the other hand, is almost similar to granite when it comes to performance and aesthetics, but they differ when it comes to their material composition as quartz is man made.
Quartz is a little more expensive than granite. The price can range $80 to $140 per square foot including the installation. Granite costs $30 to $150 per square foot, but high end granite costs more and can amount to $175 per square foot.
Thus, the average price for installed granite is $60 per square foot, compared to installed counters which can amount to $75.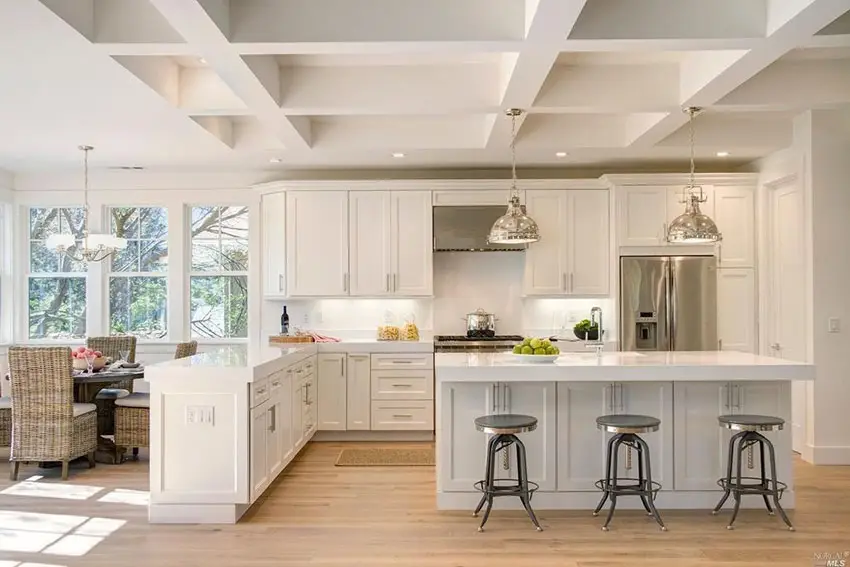 What Factors affect the cost of quartz countertops?
Grade of quartz – It comes in a variety of colors, designs and styles. Although each brand has a specific classification for their own offerings, it can be generally categorized as standard, premium or designer.
Standard grade is usually plain and comes in a solid color. Premium and designer are specialty designs which have richer patterns and color. Some suppliers also offer products at a low price if their design is discontinued.
The nature of the project – The nature of the project also affects the cost of the countertops because it determines the complexity of the fabrication.
Simple kitchen layouts which fall under standard slab sizes will typically need a single slab with no seams, thus it is easier to install.
Surfaces with more cuts are more laborious to install. Countertops with multiple seams, cutouts for the fixtures and a specialty edges are also more expensive.
Brand and source of the material – While there are many different brands and manufacturers the quality that they offer is the same, the prices that they have differ. Some brands are also considered to be more high end than the others.
Installation – DIY or hire a professional? The type of installation that you need for kitchen countertop is dependent on the nature of the project.
Simple kitchen countertops which use single slabs can be undertaken as a DIY project using prefabricated countertops, thus saving costs in terms of labor. However DIY installation is only recommended if you are skilled and experienced.
Professional installation will usually take about 30% to 50% of the total project cost, depending on other factors.
Where to buy quartz?
It is usually available in most local home improvement stores and kitchen design showrooms or specialty stone suppliers. Ideally, look for a store which manufacturers the material, handles the cutting, edging, fabrication, finishing, design and installation.
Buying your countertops from trusted suppliers will ensure that you get the best quality of material and that the installation is handled carefully by skilled professionals.
Suppliers usually offer their clients a small sample of the material so you can get an idea of the actual color and pattern.
You can also use the material sample to see if it matches the color of your existing cabinets. However, it is is best to see the actual slab before purchasing.
Best Quartz to Use for Countertops

When looking to buy you'll come across several brands of the material. Regardless of the brand, all quartz countertops follow the same original process that the Breton company started over 50 years ago.
Since Bretonstone technology holds the patent to the machines, they have granted 52 brands the license to manufacture quartz countertops according to their standards.
The quality of the material is the same for all brands. All products have that distinct material composition, hardness, durability, low porosity and resistance to stains, scratch and heat.
The only difference that each brand has is the size of the slab, warranty, price, edging treatment, color, names and designs.Colors and pattern like striations, veins, flecks, streaks differ in each brand as they can freely customize how each type of quartz looks like.
Each color also has a specific name, depending on what the manufacturer gives it. A pure white slab for example is known as Pure White for Caesarstone, but Yukon Blanco for Silestone, although both have the same appearance.
Edge profiles also differ for each brand since this is usually done at the factory rather than added by the fabricator. Some brands only offer three standard edging designs, while other have more intricate and diverse edging treatments.
The slab size also differs for each brand. Some manufacturers also offer prefabricated countertops which come in precut standard sizes. With all the difference in designs and sizes, the prices for each brand also vary.
In addition to that, they also come with a warranty from the supplier and each brand offer different lengths, terms and limitations for each material purchased.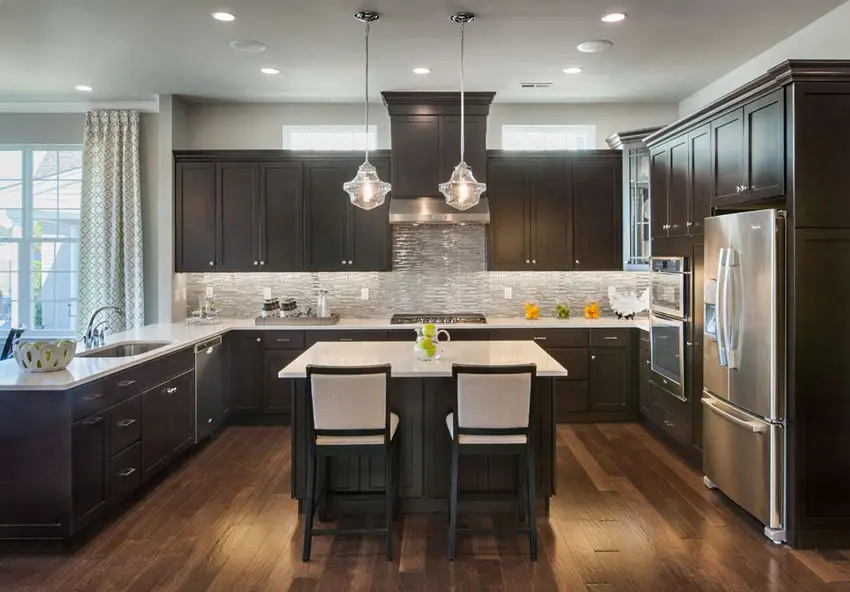 Most Popular Brands:
Caesarstone – Caesarstone is a stone surface manufacturer from Israel. It was originally manufactured to replace the terrazzo tile industry which was popular before in this country.
Caesarstone has 53 colors, 8 edge type and three textures namely smooth, matte and satin. It offers two type of slab thicknesses and has a 56.6 inch by 120 inch standard slab size. All Caesarstone materials come with a lifetime warranty.
Caesarstone is known for producing products which have a natural stone like appearance. The edge of Caesarstone among other brands is that it offers a premium line that incorporates semi precious tones in its surface to produce exotic looking designs.
This is known as the "Concetto Collection" which is composed of ten one of a kind designs that have petrified wood, agate, dumortierite and tiger's eye.
Another notable series is the Motivo Collection which offers rich textures and embossed patterns like lace or crocodile skin. This finishes are perfect if you want to make your kitchen the main attraction of your home.
Silestone – Silestone is a brand of the Italian company Cosentino which is based in Almeria, Spain. Overall, Silestone has the most number of colors among the three brands, 142 designs to choose from, to be exact.
It offers 15 types of edging and is available in in smooth, suede and volcano finish. The suede finish is characterized by small pores while the volcano finish is characterized by big pores.
When it comes to sizing, Silestone comes in a standard slab size of 55 inches by 120 inches, while the humbo slab is 63 inches by 128 inches. It has three different types of thicknesses, namely 1.2 centimeters, 2 centimeters and 3 centimeters. Unlike the two other popular brands, Silestone has a limited warranty of 25 years.
What sets Silestone apart from other brands is that it offers bold and vibrant solid colors such as reds, greens, oranges and blues which are perfect for modern kitchen settings.
Silestone offers mixing and matching of colors, style and finish of their products to produce a full personalized material to fit one's taste in style and existing home decor.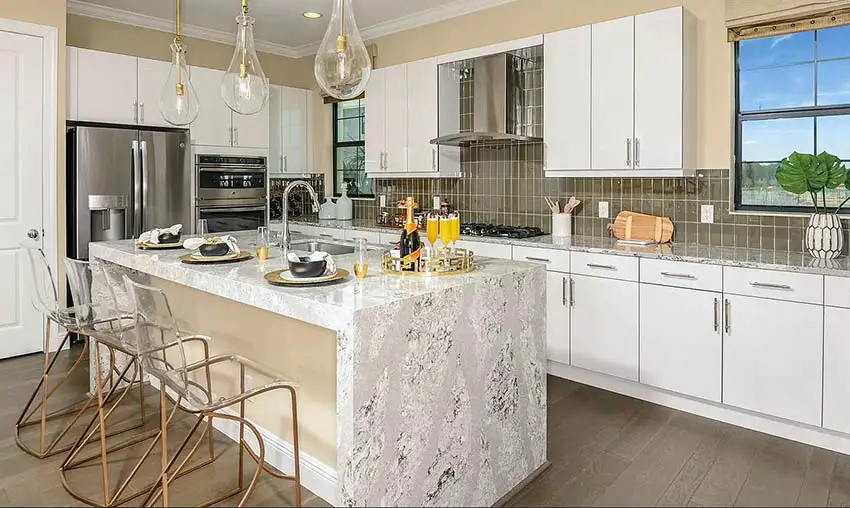 Cambria – Cambria is a US based company that started producing stone surfaces in the year 2000. The biggest selling point of Cambria countertops is that it offers the widest range of colors, designs, edge treatments and slab sizes. Cambria has 133 colors and design, 19 edge profiles available and comes in fine, mixed and heavy finishes.
In addition to that, Cambria has the most natural looking patterns. Aside from that, it also allows the material to be tailored according to one's personal taste, giving homeowners more room for experimentation when it comes to design.
The standard slab sizes for Cambria countertops is 55.5 inches by 122 inches, while the jumbo slabs are 65.5 inches by 132 inches. The thickness for the slabs range from 1 centimeters, 2 centimeters and 3 centimeters.
It also comes with a lifetime warranty, however Cambria is not available in local home improvement stores and can only be purchased from authorized architects, builders and designers.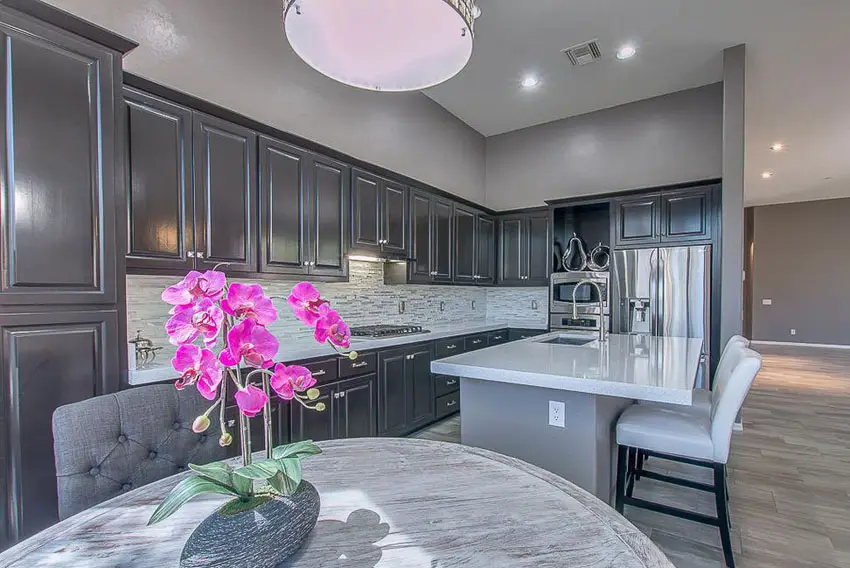 Other notable brands:
Zodiaq – Zodiaq is made by DuPont, the company that invented the solid surface Corian. Zodiac's offerings come in 54 different designs and colors and come in a standard size of 63 inches x 120 inches, with thicknesses of 2 centimeters and 3 centimeters.
LG Viatera – LG Viatera is produced by the popular South Korean company LG which makes appliances, electronics, chemicals and equipment. LG Viatera has 64 different designs and colors.
Pental – Pental is another US based distributor. It is a private label line in Seattle which produces cheaper surfaces that are at par with the high quality of other brands. It has three collections namely: inspire collection, natural collection and classic collection.
Daltile One – Daltile is a company which produces ceramic, porcelain and glass tiles. Daltile offers 38 different colors and design at a lower price.
Installation

Should you DIY or hire a professional for installation?
Unlike tile countertops, installation is best left to the professionals because of the labor intensive process it entails. Hiring a professional installer to do the job for your ensures a high quality of work and a longer lasting countertop.
Although not as delicate and fragile as natural stone, it can be quite difficult to handle because of their weight. Slabs are very heavy and an extra helping hand is needed during installation.
If not properly handled, it can crack. Look for certified installers to make sure that your countertops are installed perfectly.
Slabs can be cut into different sizes, but it cannot be put back together again. So make sure that everything is properly measured before installation.Ideally, the countertop must be precisely measured and cut into a precise size and shape. If ever some adjustments need to be done, the use of a wet saw is required.
Countertops may still count as reasonable "do it yourself" projects provided that the homeowner is skilled enough and armed with the right tools and equipments. The slab must be precisely prefabricated in the right shape and size before installation.
Most homeowners do not have the right tools to cut and polish surfaces so buying pre fabricated slabs is the best bet for DIYers.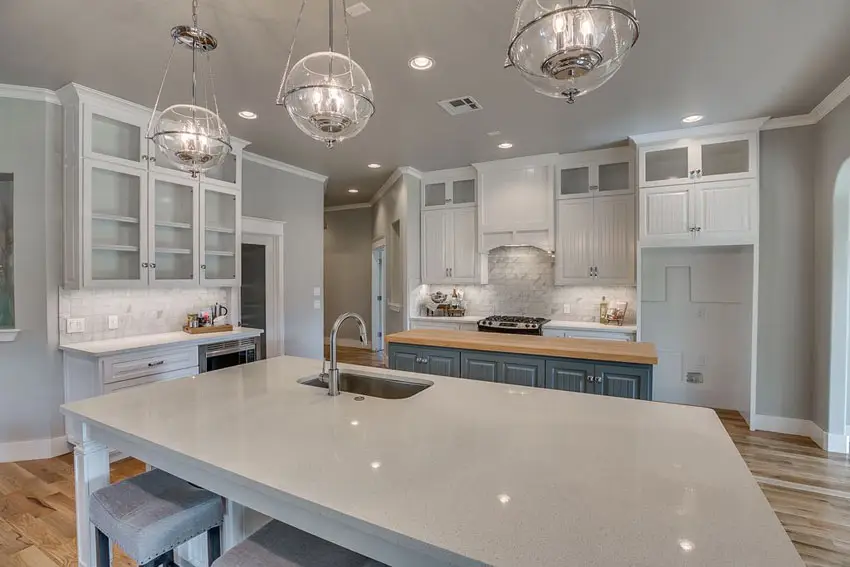 Installing Countertops
There are most important factor to consider when installing quartz countertops is the base cabinets below it. Since they are extremely heavy, the base cabinets for your kitchen must be strong enough and ready to bear the weight.
That is why most suppliers recommend a sturdy solid base like woof or reinforcement to be able to support stone countertops.
Materials for installing

Prefabricated slab

Silicone sealant

Caulk

Construction adhesive
Tools for installing

Measuring tape

Level

Painter's tape or masking tape

Caulking gun

Diamond blade

Circular saw

Spray bottle

Goggles

Work gloves
Steps to install countertops
• Prepare the area. If you kitchen cabinets are newly installed, wait for the paint to completely dry first before installing.
Prepare everything you need before hand and make sure that all materials and tools are at hand to save on time, effort and money.
Analyze the existing site conditions in your kitchen and strategically plan demolition works (if there is any), mobilization and material deliveries. In addition to that, shut off the water supply if you will be installing a new sink and faucet.
• Measure the area. Using a tape measure, carefully measure the space to determine the exact size of the slab that needs to be installed.
You can draw a simple diagram of your kitchen counter layout then indicate the taken measurements in the drawing.
Make sure that the measurement is accurate, while taking into consideration the size of the backsplash and the space needed for it during installation. In addition to that, note down the sink size and the hole needed for its installation.
Once the measurements are complete, you can either buy a pre fabricated slab with the perfect size or buy a slab which is bigger and then cut it down to the required shape and size.
It is more recommended to buy a prefabricated slab since it lessens the work and ensures a more perfectly fitting countertop.
The stone can be cut into sections to make installation easier, but keep in mind that the least number of seams should be used. For L shaped kitchens, it can be cut into two pieces at a 90 degree angle.
You may ask your supplier to get the best recommendation for the material and also, you can request the manufacturer to cut the surface sink hole before delivery.
• Cut the countertop. This step is optional, because as mentioned above, you can either buy a prefabricated slab to eliminate cutting. However if you decide to go the other way, mark the material using painter's tape on areas where it needs to be cut.
Before cutting your material, put on safety gloves and goggles to protect yourself from any dust or debris.
Attach the diamond blade to the saw. On one end of the material, spray some water to the material using a spray bottle to get it damp.
Keeping the material wet during cutting is a critical step because it prevents the dust from accumulating and covering the mark you made while keeping the heat from burning the material.
Run the saw into the material as you follow the mark. Push down as you go forward and carefully do this without hurrying. Taking your time will ensure a straighter and more accurate cut.
Once finished, double check the materials and measure all sides to make sure that the size is correct and accurate. In addition to that, make the necessary cut outs for the sink or any built in appliances like a hob or cooktop.
• Dry lay your material. Dry laying will help you determine if it fits the base cabinets well or if adjustments still have to made.
Aside from that, it also gives you a general idea on how your kitchen countertop will look like. Simply place the pieces above the countertop and check the alignments and do the necessary adjustments. After dry laying, remove the pieces and set aside.
• Protect the edges of kitchen cabinets. Use painter's tape to cover the edges of the kitchen cabinets to prevent damage. This step needs to be done before the application of adhesive so as to prevent it from slipping in the cabinet faces.
• Install the countertop. Apply construction adhesive to the top and edges of the base cabinets and then carefully place the countertop on top.
Leave enough room for the backsplash material. Put firm pressure over the countertop to make sure that it adheres completely to the base cabinets, then use a level to make sure that the countertop is placed properly. Always double check if your material is properly aligned with the base cabinets.
• Apply silcone. Using clear silicone (or any silicone sealant which matches the color of your countertops), seal the joints by running the silicone gun carefully along the seams and edges of the countertop. Wipe off any excess and allow to dry.
You can also line the edges with painter's tape to protect the surface of your countertop and to make cleanup easier.
Allow the countertop to dry for 24 to 36 hours.
• Install the kitchen sink. Carefully place the sink above the countertop (this is for overmount sinks). If using an undermount sink, you may want to reverse the steps and install the sink first before installing the kitchen counters.
Once the sink is properly fitted, run caulking around the edges of the sink. Connect the drain and install the faucet and other fittings. Once finished, you can now turn on your water supply and your countertop is now ready for use.
How to Care for Quartz

Maintaining quartz countertops is easy. The resin binders that make up the stone gives it a stain resistant, non porous and durable surface.
And since it does not get damaged easily, it is guaranteed to last for years while maintaining its pleasing appearance.
Maintaining the surface involves daily cleaning and deep cleaning. Daily cleaning is the basic routine that you do on a day to day basis to keep your counters sanitary and free from dirt and spills.
Deep cleaning refers to periodic maintenance which is done at regular intervals, like once a month, to keep the surface's natural sheen and glossy appearance.
How to prevent heat damage
As mentioned before, the heat resisting abilities of the material is limited. Despite its durability, it is always beneficial to take several precautionary measures to prolong the lifespan of your countertop.
Never place hot pots, pans and skillets directly above the countertops. Use hot pads, trivets or a small plate for holding hot kitchen utensils to protect your quartz countertops. Also place sufficient protection for heated appliances.
How to prevent cuts and scratches
The same thing goes for scratches. Although quartz is generally scratch resistant, it is also beneficial to take precautionary measures when using knives and other sharp utensils in the kitchen.
Using quartz countertops as a work counter and as a cutting board may not be harmful to the surface itself, but it may cause your cutting utensils and blades to dull over time.
It is better to use cutting boards during food preparation to protect both your countertop and kitchen tools.
How to Clean Quartz
Materials Needed :
Mild dish detergent or soap

Glass cleaner

Water

Degreasing cleaner

Vinegar
Tools Needed :
Soft cloth

Paper towel

Non abrasive sponge

Plastic putty knife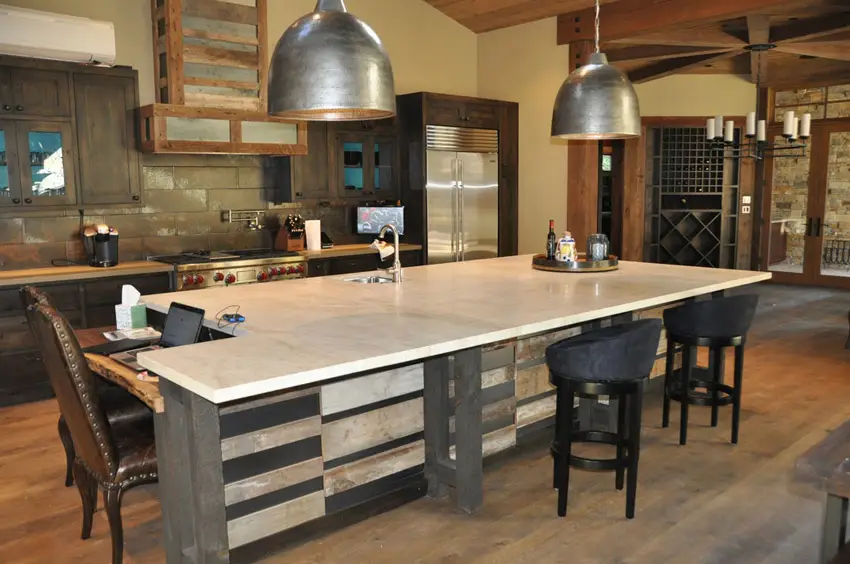 Daily Maintenance for Quartz

In general, always remember that "preventive maintenance is key". Giving immediate attention to spills and daily wiping are the basic maintenance requirements.
The best cleaner for basic and routine daily cleaning is a mild soap and warm water solution.
Other alternatives for daily cleaning solution is a mixture of household vinegar and water. Mix 25 percent of vinegar with 75 percent of water in a spray bottle. Simply wipe the countertop with the solution using a soft damp cloth, then rinse with warm water.
Deep cleaning quartz

Periodic maintenance for includes deep cleaning. This must be done at regular intervals to ensure the quality, appearance and lifespan.
Spraying a generous amount of non abrasive surface cleaner or a non abrasive detergent soap and letting it sit for 10 mins in the countertop will help you do the trick. Once finished, make sure to wipe any residue with a soft sponge.
Disinfecting countertops
Kitchen countertops always come in contact with raw meat, poultry, seafood and fish. To make sure that they do not harbor any harmful bacteria, make sure to disinfect them on a daily basis. Use paper towels to wipe up any residue, moisture and debris.
Spray the countertop with a multi surface antibacterial spray cleaner and allow to sit for a few minutes. Wipe the countertop using a clean paper towel, making sure that no residue is left. Alternatively bleach free disinfectant wipes can also be used as a quicker fix.
Cleaning stains and chemicals
Although it will resist stains, it is important to wipe up spills or clean up messes immediately before they start to dry.
Liquid spills. Liquids such as wine, tea, vinegar, soda, lemon juice, coffee are not harmful. But strong dyes, solvents and chemicals can possibly cause permanent discoloration to the surface.
To prevent any permanent damage, immediately wipe any spilled liquid as soon as possible with a clean, damp cloth.
Tough stains. Heavy and persistent stains can be addressed through the use of adhesive removers which can be scrubbed to the surface of the countertop and rinsed with water.
Dried spills can be cleaned with the use of a quality glass or surface cleaner and a non abrasive sponge.
Citrus cleaners like "Goo Goo Gone" can also remove tough stains. Just spray it onto the affected part, let sit for 10 minutes, wipe with a clean cloth then rinse with warm water.
Alternatively, isopropyl rubbing alcohol or denatured alcohol can also be used for cleaning tough stains. Pour some isopropyl alcohol to a piece of wet rag then rub it onto the stain. Rinse the counter thoroughly with warm water.
Grease and oils. Cooking grease and oils may be removed using a degreasing product. Most degreasing products come with specific instructions from the manufacturer, just make sure that you follow them.
Alternatively, disinfectant wipes can also be used, but just make sure that they are bleach free and rinsed immediately afterwards.
Permanent marker stains. Permanent marker stains are a common problem for households with little children. Ink and permanent marker stains can be cleaned using a piece of moist cloth and a commercial degreaser or cleanser, such as "Goo Goo Gone".
Rub the stain with the cloth and product then rinse thoroughly with warm water. However, if you want be extra protective, you can use placemats or kraft paper to prevent your kids from writing directly on the surface.
Other products and build ups. Gum, food, paint and other types of products can be removed by scraping gently using a plastic putty knife. Again, this must be done before they dry and harden up.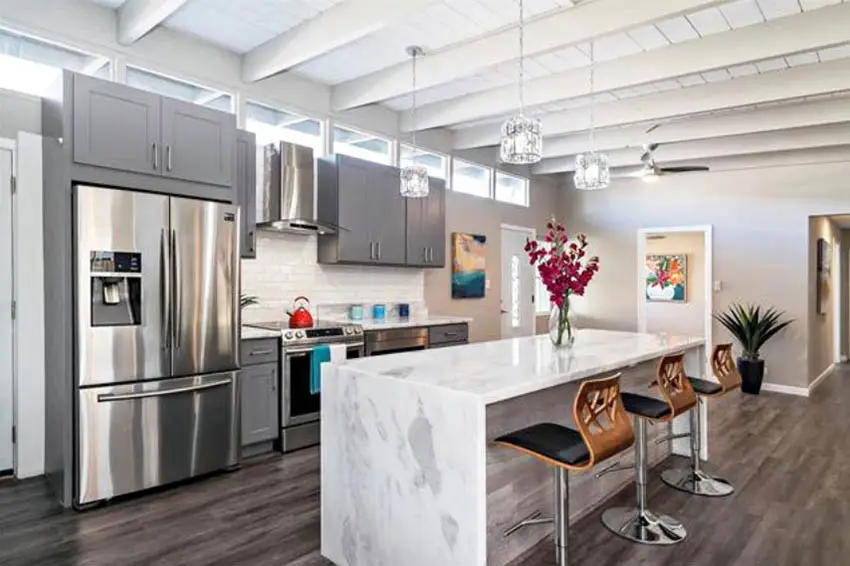 What to avoid when cleaning quartz

Avoid using scouring pads to heavily scrub as it can dull the surface. Avoid cleaning agents and products which contain topical liquids, oil based soaps and tarnish as it can decrease the natural glossiness and surface sheen.
Harsh chemicals and products like turpentine, nail polish remover, drain cleaner and dishwasher rinsing agents are also not advisable because it could break down and disintegrate the bonds between the resins and the stone.
High ph substances such as concentrated bleach or oven cleaners are extremely harmful. Highly acidic and highly alkaline substances must also be completely avoided, however, milder alkaline solutions like diluted bleach are occasionally tolerable.
Ammonia based cleaners are also harmful because it can cause the color of highly pigmented materials to fade over time.
Oil based soaps are also considered a no-no since any residue left behind the countertops surface causes it to dull and reduce its natural shine.
In the event of exposure to one of these substances, immediately and thoroughly rinse the affected part with water.
Make sure that the cleaner and product you use is compatible with the type and brand you have installed. You can always ask the manufacturer regarding maintenance guidelines to preserve the quality.

How to Polish Quartz
Materials Needed :
Mild soap or detergent

Water

Window cleaner
Tools Needed :
Soft cloth or microfiber cloth

Paper towel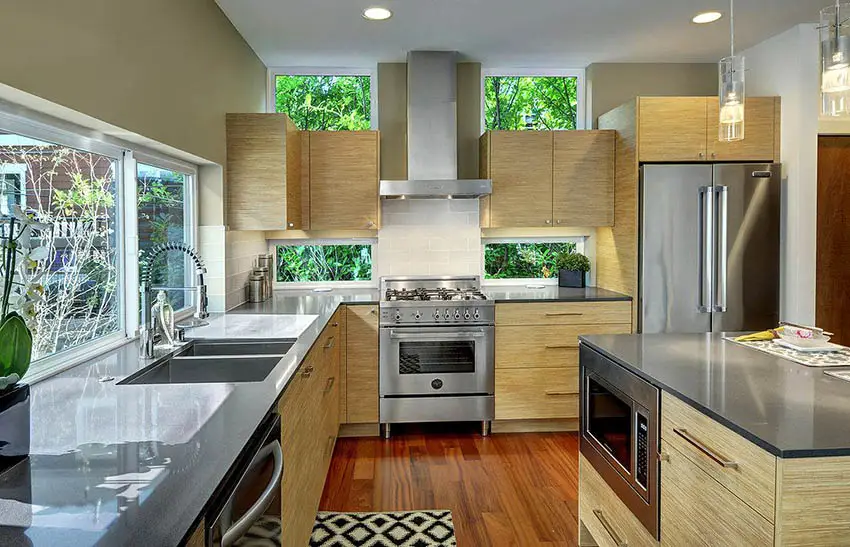 Steps for Polishing Quartz

Clean the countertop. Using any of the cleaners mentioned above, such as the "mild detergent soap and water solution" or the "vinegar and water solution", gently wipe and scrub down your surface
Although scratch resistant, it is better not to use an abrasive pad as it can leave streaks in the polish or residues in the surface of the countertop. If the stain is persistent, leave the cleaning solution to sit for several minutes to allow the tough stains to break down.
There is no need to worry about scratching the surface while wiping as it is not a delicate and sensitive material. Just make sure that the countertop is thoroughly clean before doing anything else.
Rinse the countertop thoroughly. Streaking is usually caused by soap and food residue that is left on the surface. And since they are nonporous,any liquid or food spilled does not penetrate into the material but instead leaves a film on the surface.
To ensure that no cleaning solution and residue is left behind, it has to be thoroughly rinsed with water.
Using a spray bottle, liberally apply water to the countertop and allow it to soak. Then, use a sponge to gently scrub. Wipe off the water with clean, dry cloth, making sure that no streaks are formed.
Alternatively, a squeegee can be used to achieve a streak free shine. You can double check your surface for streaks once it gets completely dry.
Spray the countertop with window cleaner. You are probably wondering why use a window cleaner in cleaning countertops. Well for starters, window cleaners are multi purpose cleaning agents and do a highly satisfying job when it comes to grease cutting.
As we all know, kitchen countertops are filled with grease as they get constantly used for cooking and food prep on a day to day basis. Grease can build up and eventually form an invisible film. This cooking film can be removed through the use of a trusted window cleaner.
Spray a minimal amount of window cleaner over the countertop surface. Make sure not to over spray and apply on what is needed to make sure that any excess is removed easily.
Wipe the whole countertop surface with a soft cloth and do this is a left to right direction, then go over the top to bottom. After this, use a piece of paper towel to make sure that no cloth fibers or lint is left behind.
Window cleaners leave a shiny and streak free area. It dries quickly too and requires minimal effort to apply. Alternatively, natural and organic window cleaners which are chemical free can be used as they function the same way, but has no risk of chemical contamination.
Is it okay to use or add more polish or use sealer?
While some natural stone countertops need sealers for extra protection against moisture and bacteria build up, these do not need sealing or resealing at all.
The products are also polished by manufacturing companies before installation. They usually use a sealing surface polish to keep it shiny and lustrous.
Adding more polish will do your countertop no good as it will ironically create a more dull finish due to potential product build up.
Engineered stone has to be mechanically polished and using any unapproved product to improve its shine will only damage your quartz countertop.
Related Kitchen Design Posts You May Like:
Granite Countertops – Kitchen Remodel Cost – Types of Kitchen Countertops