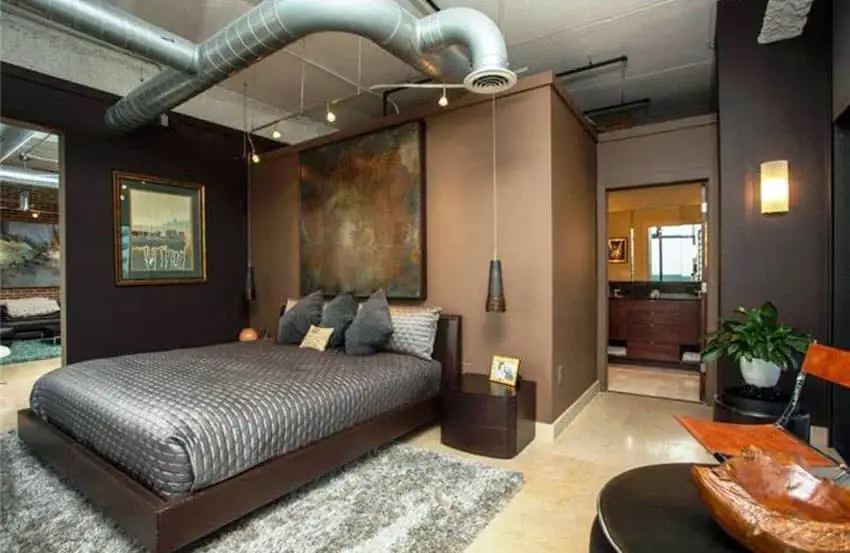 Here we have our gallery of masculine bedroom ideas. The best design for any space is an interior which reflects the personality and addresses the personality and needs of its user. Although I believe that there is no gender when it comes to design, I also believe that each gender has specific needs and habits which also has to be considered during the design process. For most males, function reigns supreme when it comes to interiors, making contemporary/modern design a popular choice.
One of the most common characteristics of masculine bedroom ideas would be their use of raw / rough textures. The masculine bedroom pictured above shows a great way to subtly incorporate it in the design, creating a modern industrial look.
With a color scheme inspired by rust, you will find 2 shades of browns used on the walls, and accents of orange. Although most surfaces are smooth for practical purposes, it adds a large art piece above the headboard which is an image of a rusty metal sheet. This way, we are able to add that raw texture, without having to actually use a rusty metal sheet. The exposed pipes and tubes on the ceiling also add to the industrial feel of the space, which is complemented by the silver satin bed sheets.
There are many ways and different styles we can use to create a masculine bedroom design, and here are some important points to consider when designing men's bedroom:
Colors: While colors have no specific gender it caters to, and is really a matter of preference, statistical data on men's color preference will give you an idea on colors typically favored by men. Using this as a guide, one can conclude that most men prefer darker, more muted colors than bolder and more vibrant hues.
When designing, remember to keep a balance between light and dark colors, and also, it is better to keep major surfaces more basic/muted so that it's easier to redecorate in the future. If you would like to use bright colors, it is better to limit its use on accent pieces.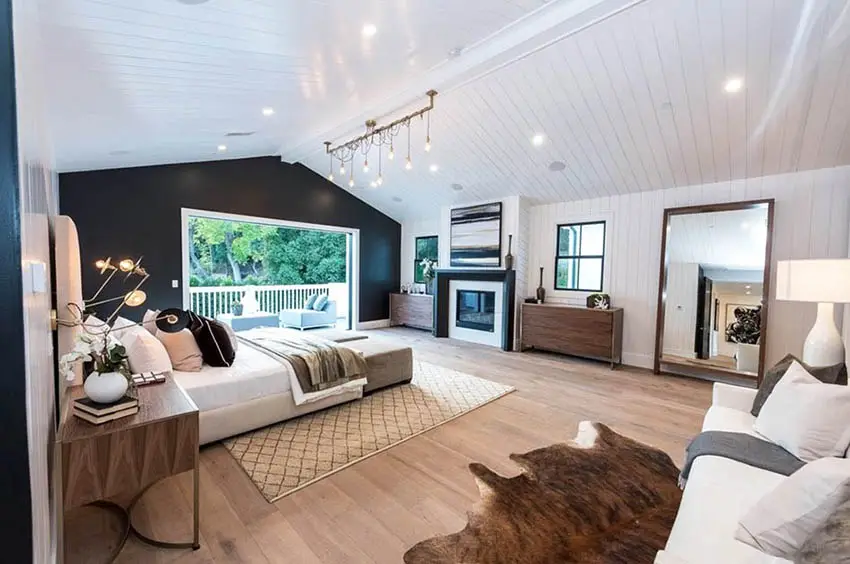 Decoration: A more masculine bedroom goes a little easier with decoration and tends to be more utilitarian. No unnecessary frills or decorations, and should be easy to maintain.
You can also incorporate the interests and hobbies of the user into the decoration of the space – men would enjoy utilitarian decoration or any displays which help reflect their personalities and interests. For example, those who loves sports might want to display some sport paraphernalia, plaques or awards.
Those who love music might want a guitar hanging on the wall, or whatever music-related item. Bedrooms are our private lair, and the best design is a design which gives a peek into our personalities.
Patterns & Textures: Men usually prefer a simpler, more functional design, and so they also prefer simpler patterns, and more natural textures. If you observe, most furniture pieces they prefer has simple geometries and plain-colored fabrics.
When using patterns, natural designs, geometric designs and natural textures are most-preferred, making sure to add enough plain surfaces to balance out the patterns and textures used.
Lighting: Create a cozy yet mysterious appeal to any bedroom by adding accent lights which emphasizes interior architecture or furniture details. Warm colors gives a casual and relaxing vibe, which is preferred by most males. You can also use color-changing LEDs to match the colors according to your mood and create a different ambiance each time.
When designing bedrooms for men, always remember that less is more. You don't need to cover all surfaces with patterns and decoration – negative spaces are also needed to keep a balanced looked.
Also, it is important to note that while keeping it simple is good, you should not be afraid to try and combine different colors, textures and finishes to achieve the look you want. Always remember that it is most important to provide the needs and reflect the personality of its user, so if they want to be bolder, you should not be afraid to do so.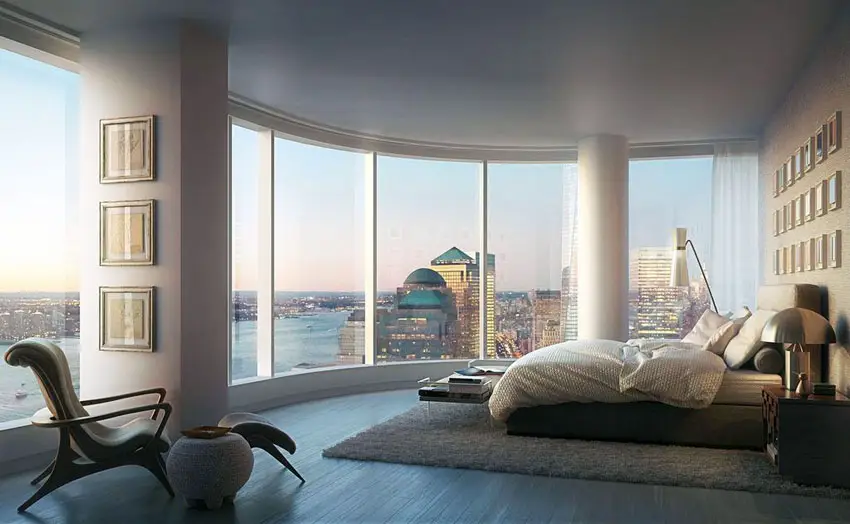 Gorgeous panoramic city view already gives this bedroom a 5-star hotel appeal. Combined with the simple yet sophisticated combination of colors and materials, this bedroom gives an elegant yet laid-back appeal typical of masculine bedroom designs.
Dark wengue wood flooring sets a nice dark base in contrast with the white walls and white shag rug. Adding a hint of texture on the accent wall using a woven wallpaper creates an elegant background canvas. The bed keeps it simple and modern with its taupe leather upholstery and washed-out colors for the bed sheets.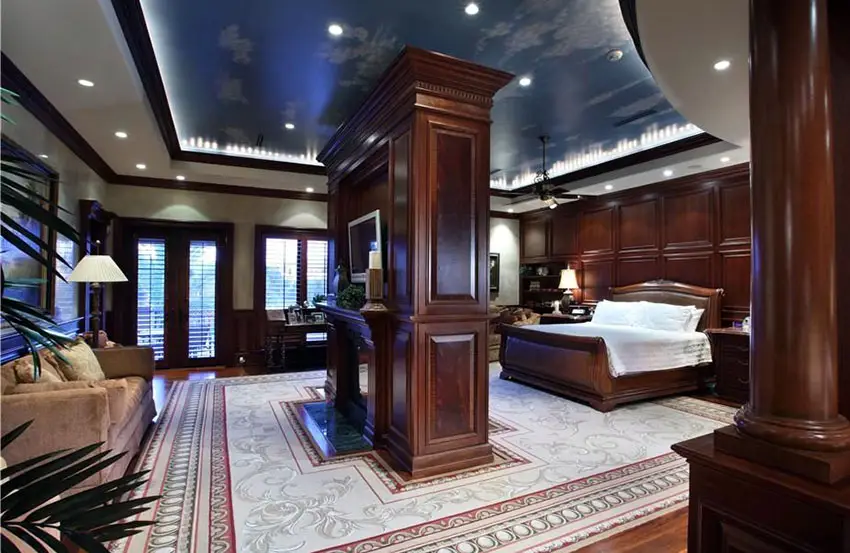 Both impressive and intimidating, this bedroom definitely exudes a very lavish and luxurious feel. Wooden wall panels, wooden columns, door & window frames, as well as wooden loose furniture pieces uses solid Mahogany polished to perfection.
A large custom area rug helps frame the area and help the furniture pieces pop out from the Mahogany flooring. The very colonial style of the interiors exudes a very formal and masculine charm.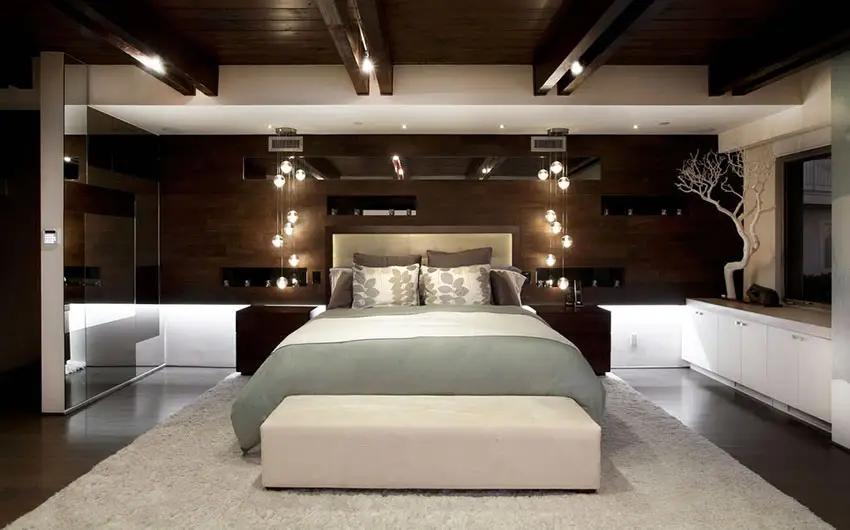 A great example of a modern bedroom that will appeal to a very wide demographic. Just like most masculine bedroom ideas, it makes use of bold contrasts to create design full of impact. Dark oak flooring, wall panels and ceiling planks make up most of the general surface, while the other parts of the walls and ceiling are painted in white.
The bed is framed by a large white area rug ti make it stand out, and its bed uses dark oak wood for a more uniform look. The bed sheets are a soft sage green and beige, making it appealing to both men and women.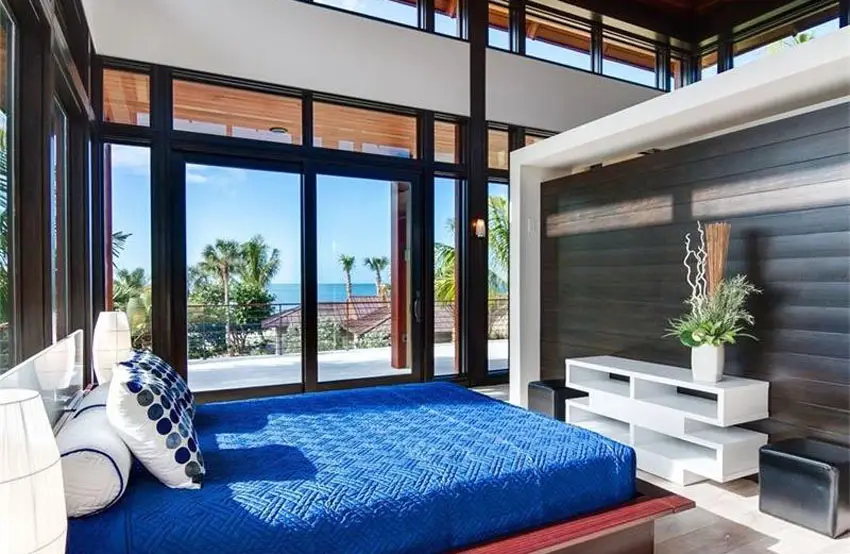 According to surveys, blue is the most popular color for both men and women, making it a popular accent color choice for interiors. This tropical resthouse bedroom makes use of royal blue bed covers to give it a refreshing fee to match the surrounding beach area.
Most of the walls are covered with large windows and doors, making the room look bright. The use of simple silhouettes and dark colors also helps add a masculine vibe to the space.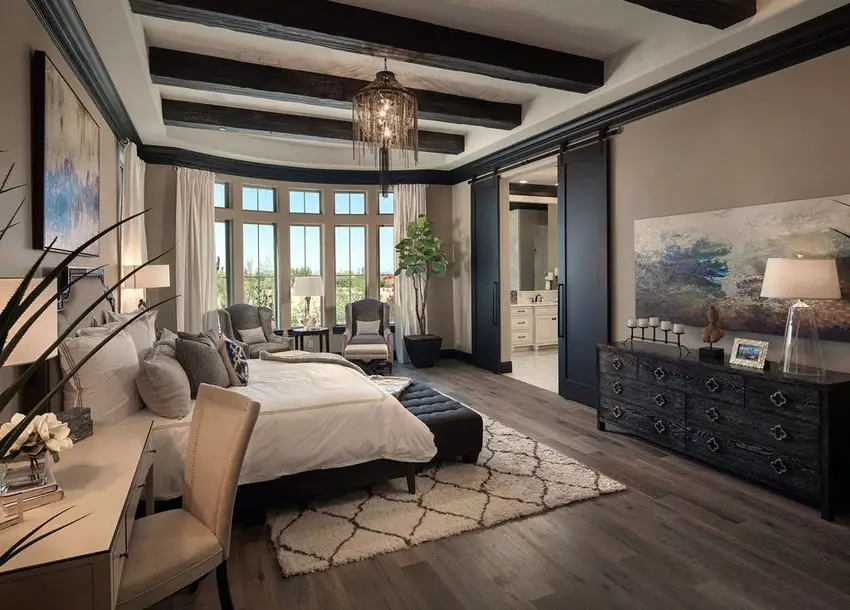 Going for a bolder contrast combination to achieve a masculine look, the bedroom pictured above exudes elegance and class that will be well-loved by most people. Focusing on natural colors and textures, it somehow gives a subtle rustic vibe, but keeps a clean & polished look associated with more classic designs.
Flooring is a nice weathered oak finish, walls are in mocha brown, and wood us mostly in wengue finish. The other furniture pieces also keeps a neutral tone, with an accent of blue, the most popular color for both men & women.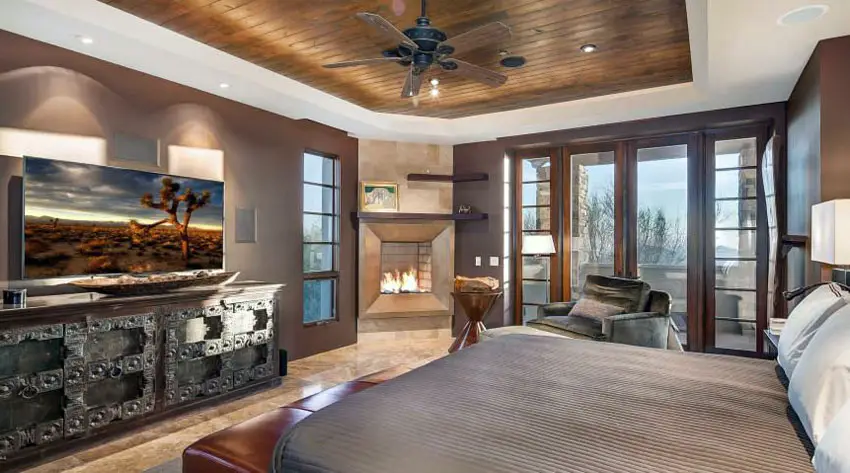 This classic style bedroom gives a very gentlemanly feel with its neutral color scheme and earthy colors. It combines elegant finishes like marble for the floors and wood planks for the ceiling, with plainer finishes like the mocha brown paint on the walls. The combination creates a balance so it doesn't look to heavy or intimidating.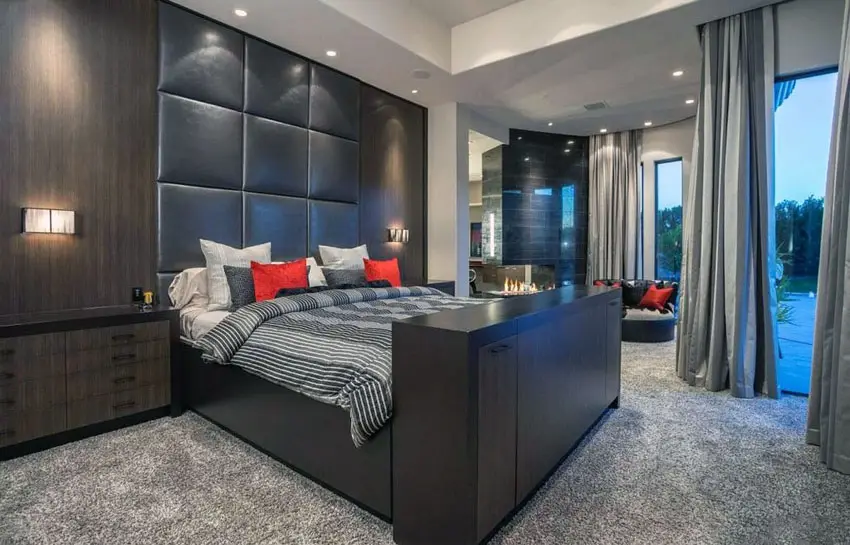 Simple geometries and dark, elegant finishes meet in this masculine bedroom design. Walls are mostly white, but is given some hints of texture with the use of dark walnut wood veneers & a dark gray floor to ceiling upholstered headboard which helps bring your eyes to the bed.
The other wood finishes combines lacquered wengue and dark walnut for that dark and elegant ambiance, while the loose pile carpet floors helps soften up the look.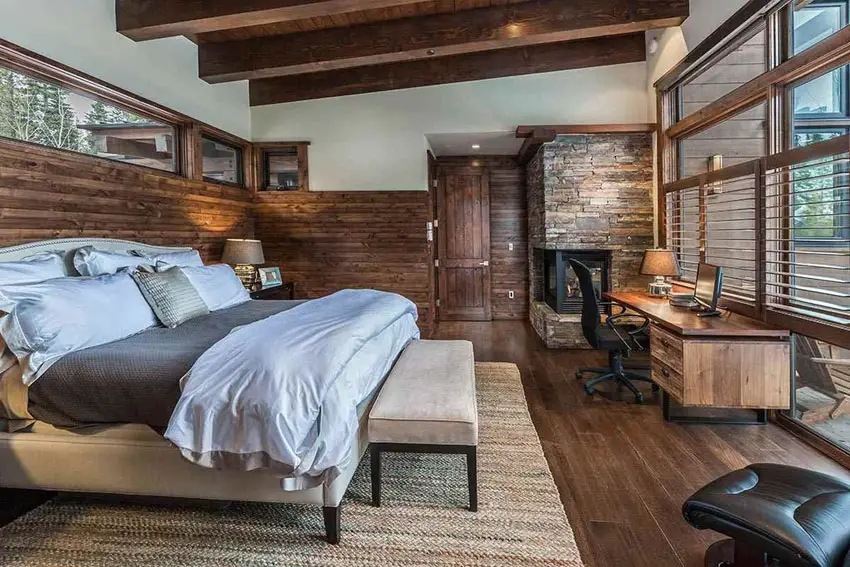 Inspired by classic wood cabins, this modern bedroom exudes the classy charisma of masculine bedrooms and the rustic charm of wood cabins. Cream-colored walls were combined with horizontal wood paneling and faux stone masonry to achieve that earthy color and texture on its surface.
The use of wood on walls tend to make the space dark, so it uses large floor to ceiling windows to compensate. Furniture pieces also use earthy colors, like the oatmeal-colored upholstery of the bed and bench, the golden walnut desk, as well as the jute rug which helps add texture and frames the bed area.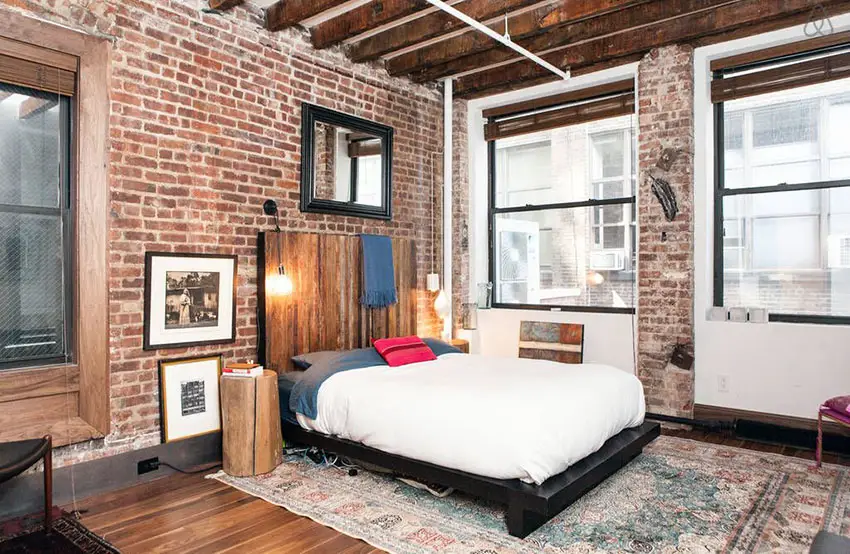 This charming bedroom definitely plays around with different textures and patterns to achieve this very casual and masculine bedroom design. By combining raw textures such as aged bricks, weathered wood ceiling beams, weathered wood headboard, walnut flooring and a classic tapestry, it creates a wonderful medley of textures balanced out by the smoother, plainer finishes.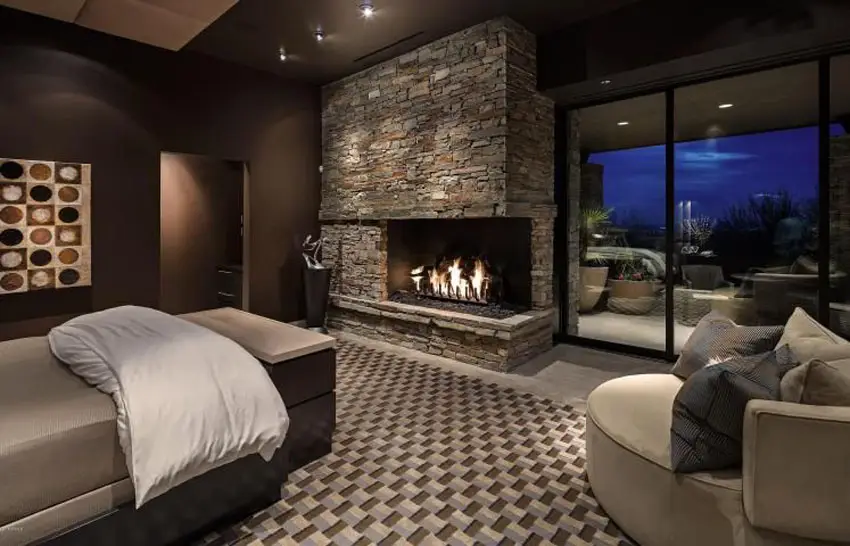 To create a very cozy and laid-back ambiance, this masculine bedroom design focuses on the use of dark neutral colors and earthy textures. Dark brown walls keep the room very dark and mysterious, while the stone-clad fireplaces adds texture and a romantic ambiance to the space. On the other hand, the simple round lounge chairs with various pillows adds a more casual appeal to the space.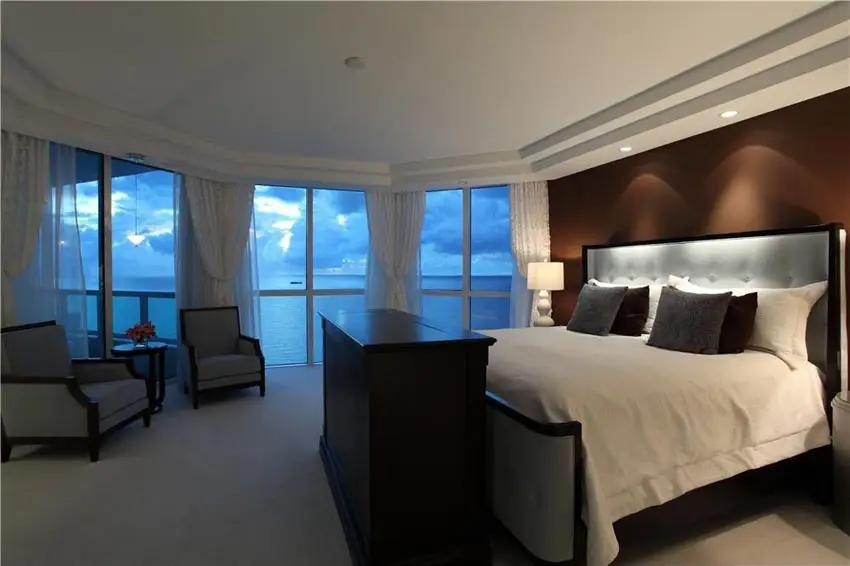 The gorgeous panoramic view of this bedroom is definitely a scene-stealer already, so the bedroom goes for a simpler look and softer colors to help emphasize the scenery. The accent wall was painted in a rust-toned brown, adding a pop of warm color to the neutral-colored space. Floors are white carpet tiles, and furniture pieces simple combine wengue wood with gray and white fabrics to let the nature take center-stage.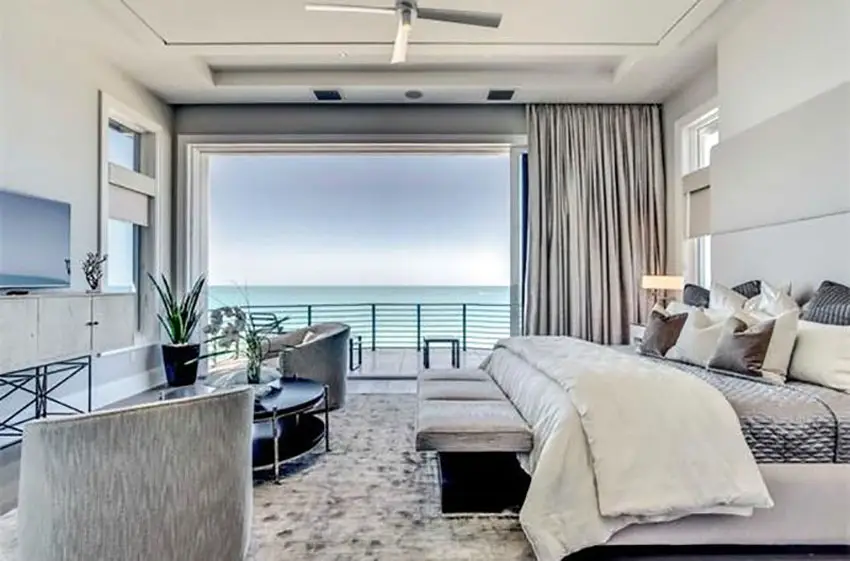 You don't always have to use dark colors to create a masculine bedroom, and this is a great example of such. This bright, well-lit beachside bedroom has a light and refreshing vibe, but retains a masculine appeal. It uses simple geometries for its furniture pieces, add adds accents of light gray and brown to add variety to the various shades of white used in the bedroom.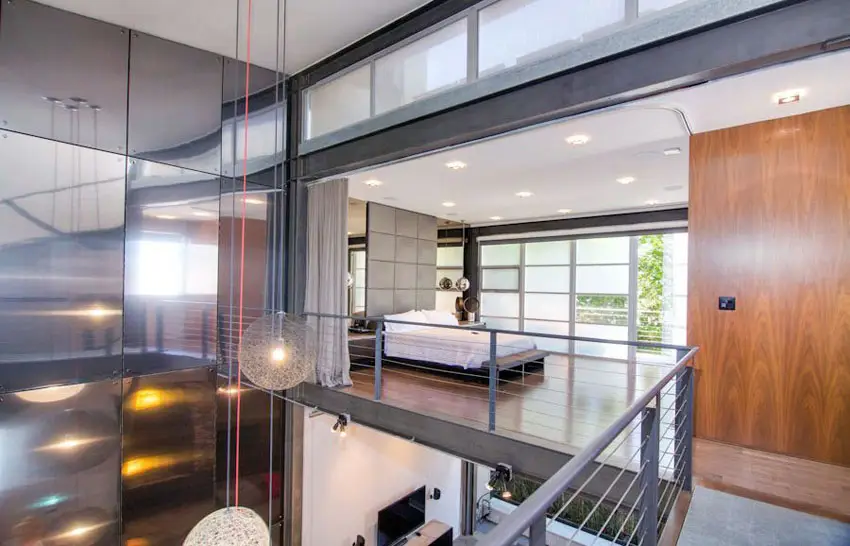 This gorgeous loft bedroom was designed to match the industrial style interior architecture of the house. Placed on a loft floor open to the dining area, it gives a refreshing & open feeling, but can also provide privacy by drawing the curtains.
To make the ceiling look higher, it combines floor-to-ceiling mirrors and floor-to-ceiling headboard to create an illusion of a high ceiling, and also add accent to the bed. The use of brown tones matches the general color scheme of the house, which gives it a very manly vibe.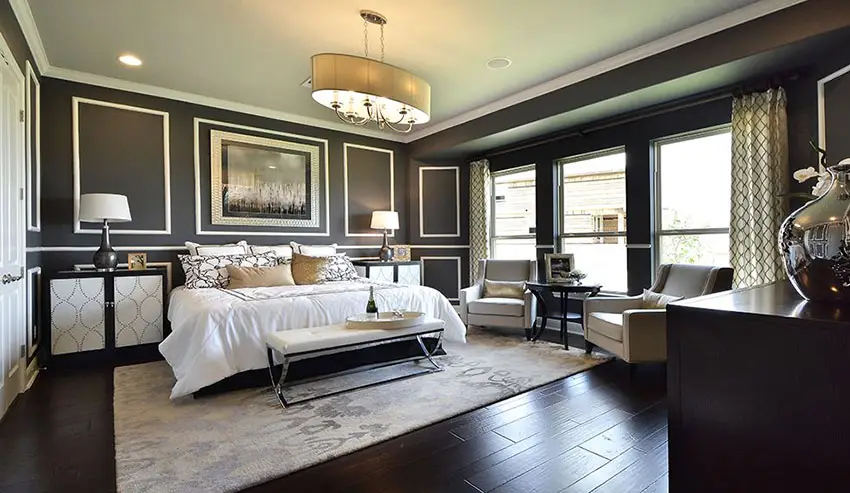 A classic-transitional bedroom design with a masculine touch, it plays with dark contrasts, putting together shades of white and creams with dark wengue. The bold combination creates a wonderful balance and an elegant look for the bedroom.
Dark wengue flooring, combined paneled walls painted in dark gray with white moldings give this bedroom a classic-inspired appeal. The furniture pieces are classic-inspired too, using dark wengue wood finish and white upholstery for a consistent color combination.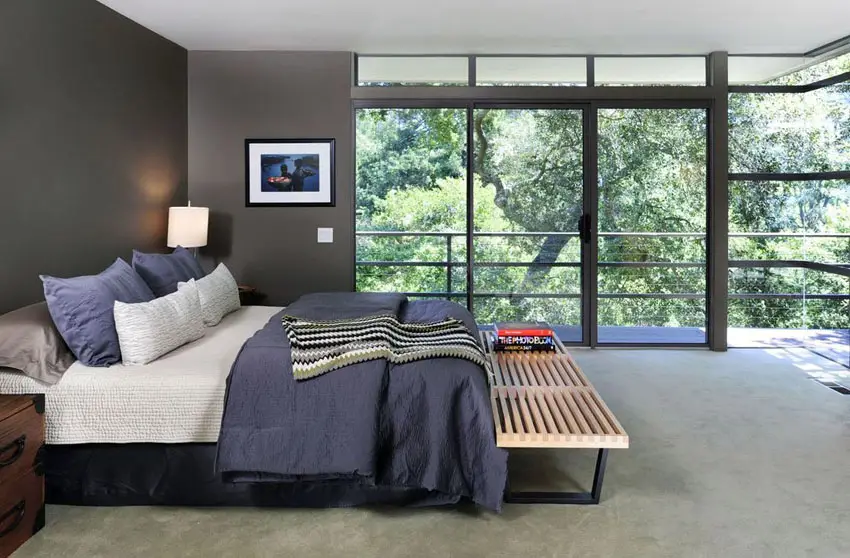 This modern bedroom gets its masculine appeal because of its sheer simplicity. Plain dark gray walls were combined with raw concrete floors to create a dark canvas, while the large doors and windows adds bright illumination and brings in the greens from the nature. The bed is metal-framed with no headboard and uses a combination of grays, creams and white fabrics for a very casual look.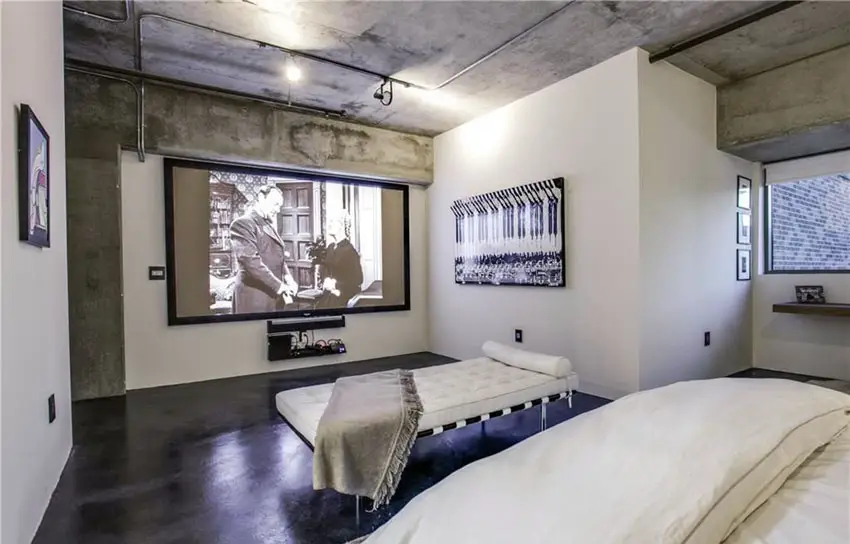 Modern meets industrial in this masculine bedroom design. You will see a combination of black epoxy floors, white walls and raw concrete columns and beams. This combination of smooth/clean surfaces with rough/raw finishes creates a visual balance and gives a very casual, masculine feel.
You will see that the other furniture pieces in the room are white, and the accessories are in black and white as well to keep with the color scheme.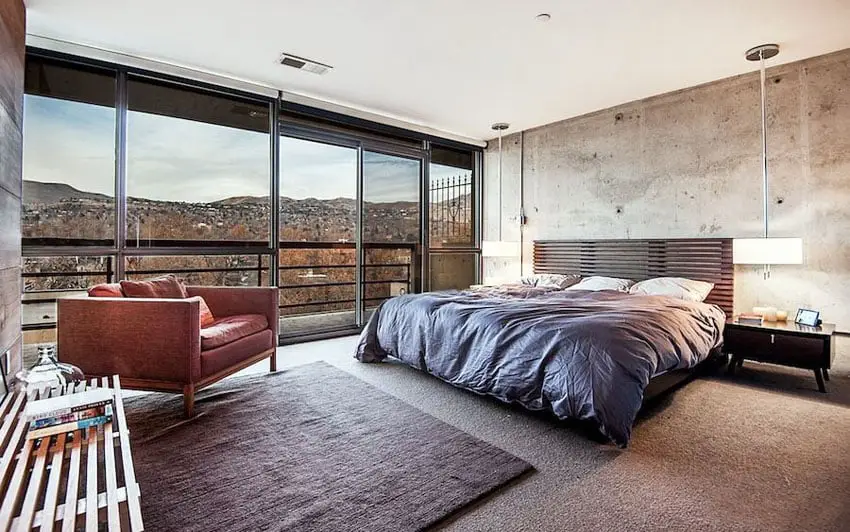 This gorgeous bedroom design combines various colors and textures to achieve this look. Concrete walls were combined with light beige carpet flooring for that contrast of hard and soft. The bed has a simple geometric form and horizontal lines which adds an interesting pattern to its headboard. It uses dark wengue finish for the bed and the side tables to match with the window frames.
You will also see a rust-colored armchair on the side, adding a subtle touch of warm color to the bedroom. We hope you enjoyed our gallery of masculine bedroom ideas, make sure to follow us on social media to see when we publish more masculine bedroom ideas.
Related Bedroom Design Galleries You May Like:
Luxury Master Bedrooms – Bedrooms with Wood Floors – Modern Bedroom Ideas – Loft Bedroom Ideas