Below we share a variety of creative bedroom corner ideas for design inspiration.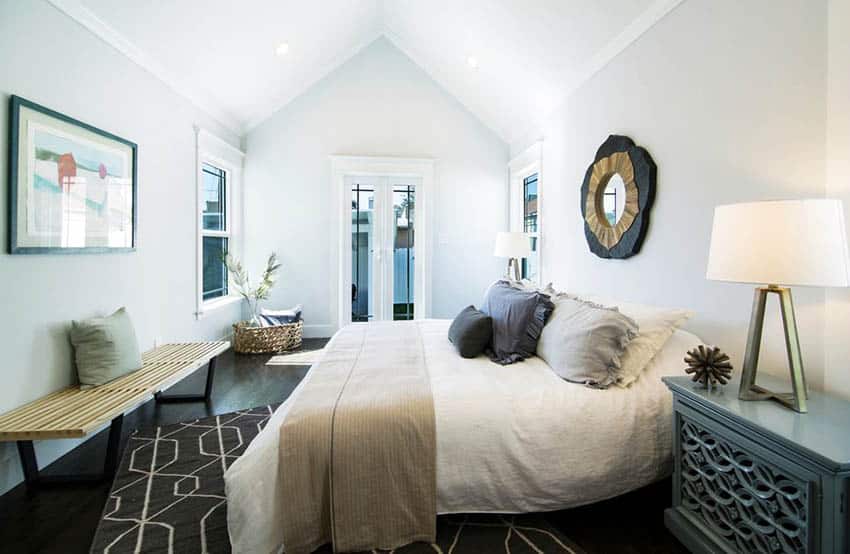 Designers see corners as an opportunity for creativity, a problem to be solved. Awkward, small, empty corners are indeed a problem. But they offer so much opportunity, especially in a bedroom. See the many ways in which you can create an amazing bedroom corner and put that wasted space to good use.
In a small house that might not net much privacy, a bedroom corner can become an escape from the rest of the people that you live with. This is especially true in places like apartments that you shared with friends or college dorms that share a common space but have separate bedrooms. You may want to use the space for a multi-purpose room, such as a guest bedroom and office combination.
For starters you can try finding a comfortable overstuffed chair, place it in the corner, add a lamp, a basket for your favorite books or magazines, and a nice potted plant.
Armchairs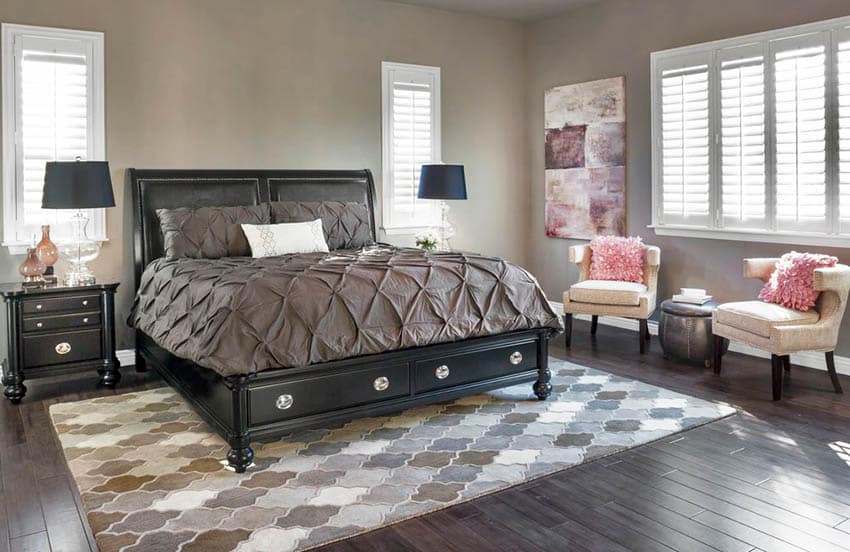 Armchairs are probably one of the best ways to decorate the corner of a bedroom. There are many different styles to choose from so you can get the one that fits your own unique personality. For an even bigger aesthetically pleasing impact, hang a painting or print on the wall behind the chair and match it with throw pillows on the chairs.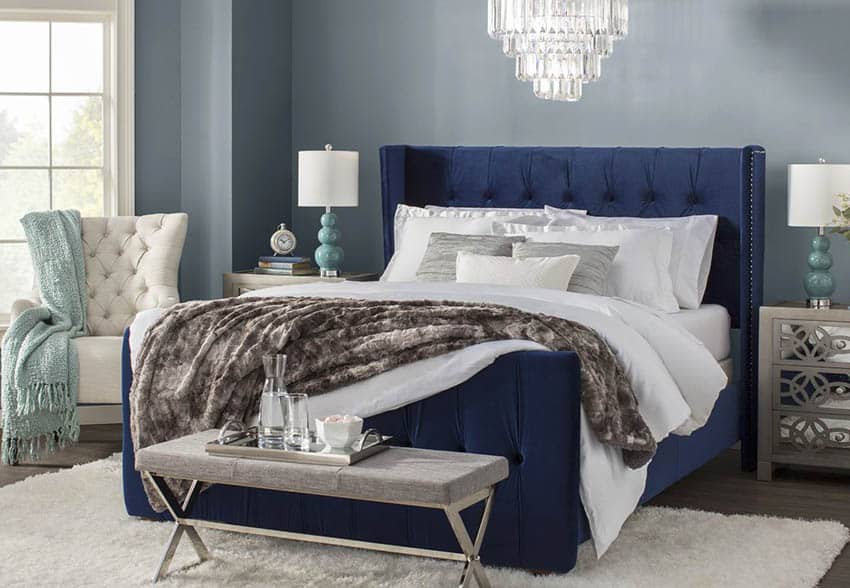 The tufted wing back chair shown in the picture above creates a cozy corner for curling up with a book while enjoying the natural light from the window.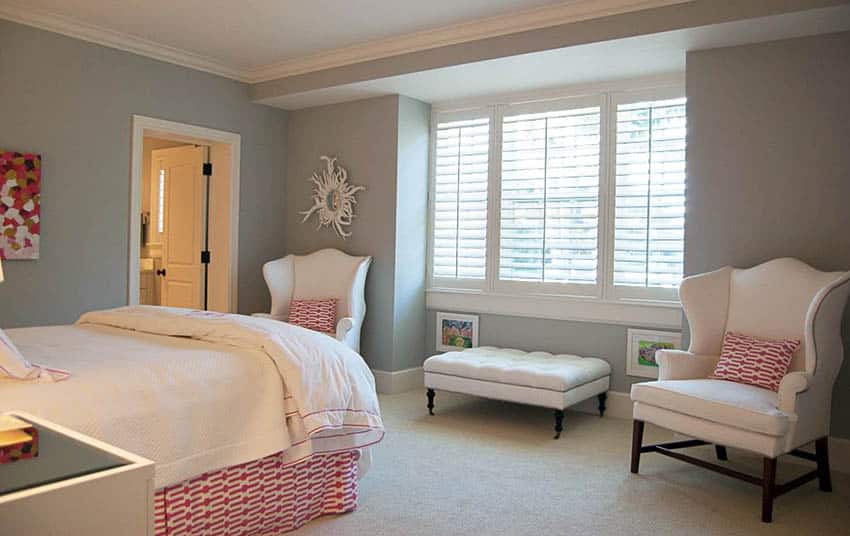 Add an upholstered occasional chair with a small lumbar pillow for comfort and an extra pop of color. A small tabletop lamp will add the right amount of task lighting for working. An overhead mini-chandelier would be a great statement piece and give you good general lighting. Top off the look with a framed mirror, artwork or some special photographs.
Potted Plant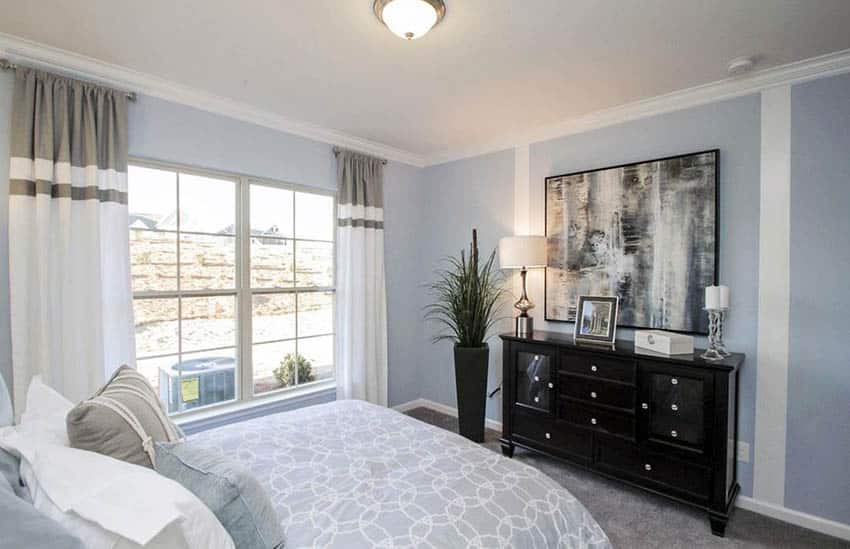 Add some artwork on the wall above the chair, drape an oversized chunky knitted throw over the chair, and toss on some decorative throw pillows for extra pizazz and comfort. A small side table will hold a drink and a small plate of cookies for midnight snacks. To make your corner nook look polished, place a small throw rug under the edge of the chair.
Wainscoting
One cool way to spruce up a bedroom design is by adding decorative wainscoting to the walls. Not only will it add character and style to the room it can brighten up the room and act as a great contrast to the primary paint color.
Caddy Corner Mirror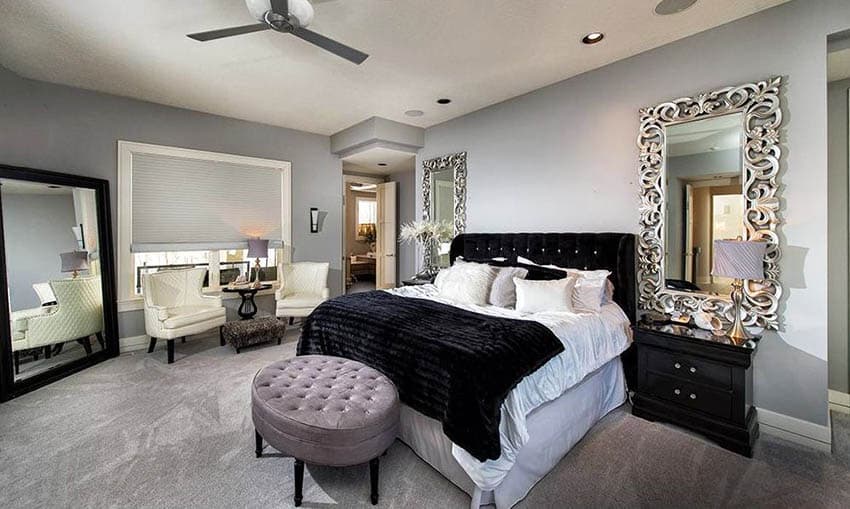 This bedroom features a large mirror positioned caddy corner to the walls. It can function as a dressing mirror or a decorative piece. Two useful things about a mirror is it's reflective, so it will help brighten a space and make the room appear larger than it actually is.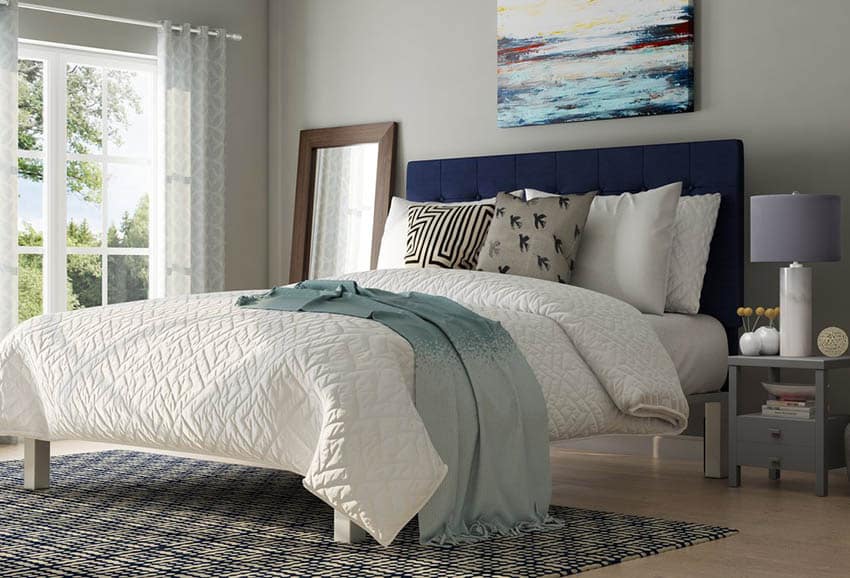 A corner provides a fantastic space for a small dressing area. A full-length stand mirror will next cozily in the corner and give you an out of the way space to check your look before you leave your room. Add a small table topped with a small plant and a few of your favorite decorative objects. A larger potted plant on the other side of the mirror next to a small basket that contains your favorite last-minute accessories completes the look. Instead of a potted plant on the floor, you can have a small ottoman on which to sit and put on your socks or tame your hair.
Corner Desk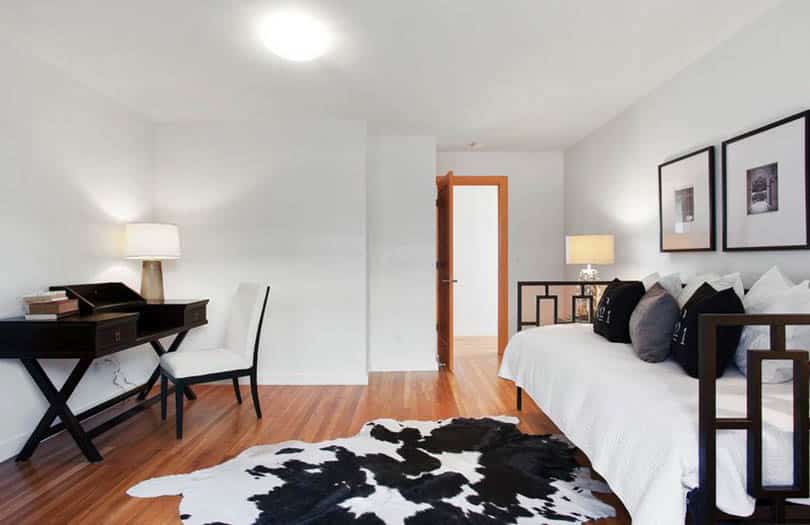 If you need somewhere to work instead of somewhere to relax, take a look at the humble corner desk. There are so many great corner desks out there, from simple and modern to ornate, and in every color and material, you are sure to find a corner desk that matches your aesthetic. For an elegant, minimalist desk that is perfect for writing or putting on make-up, look to a wall-mounted corner desk. The look stays clean and crisp because there are no legs.
A corner desk is an effective way to create a multipurpose bedroom and office. You can add a daybed for when you have guests staying over, or provide you with comfy seating when not used as a bed.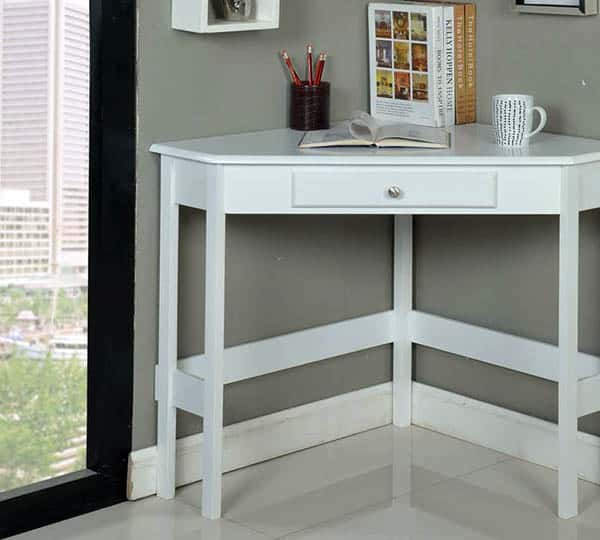 For smaller spaces a desk that was designed to fit a corner may be a good choice. The small writing desk above provides just enough room to create a reading or writing nook when needed.
If you need a desk that will allow you to work on a laptop, consider a corner desk with built-in shelving and drawers or put shelving up on the wall above the desk to hold the various items needed for your work.
The key to not turning your bedroom into an office is to keep your work supplies put away when not in use. Top your desk with a small potted plant instead of pencil cups and stow away your laptop when not in use. This corner needs to match the rest of your bedroom so you don't feel like you are bringing your work to bed with you.
Corner Shelving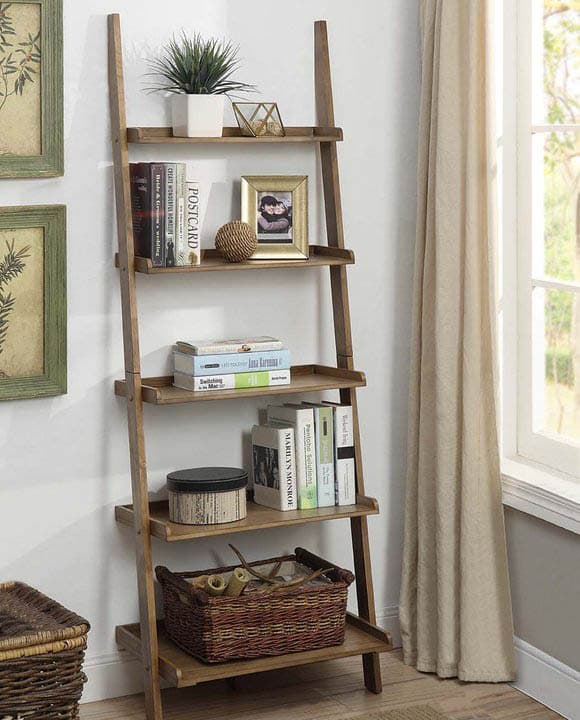 Corner shelving is a great way to add extra storage in an out of the way area.The stylish ladder shelving shown above has a tiered design that progressively gets smaller with each shelf going up.
Adding floating shelving that is shaped to fit in a corner gives a modern, clean-lined look. You can take this shelving all the way to the ceiling or only install a few shelves at eye level. Add your favorite books or baskets of hair accessories and jewelry and a few decorative items to finish the look. A pile of oversized throw pillows on the floor gives you a space for lounging and adds texture and color.
End Tables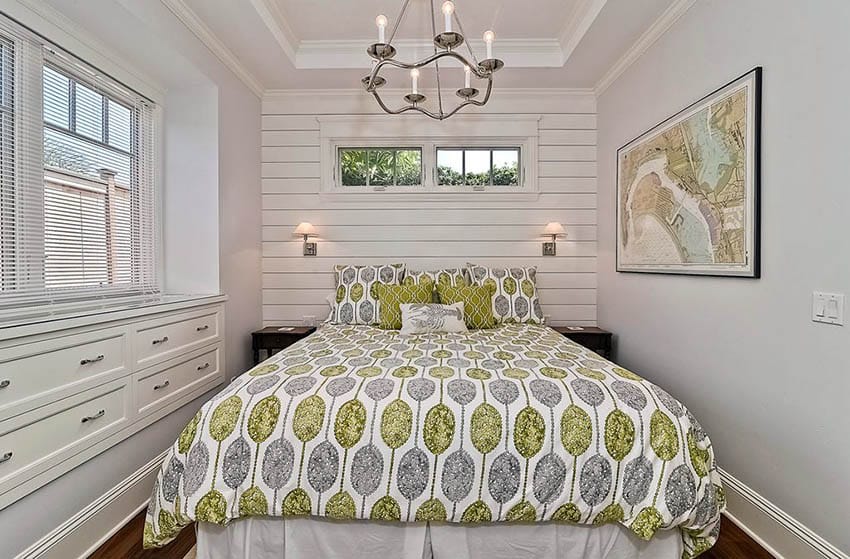 For those with a small guest bedroom adding end tables to the corners on either side of the bed may be an effective use of space. This not only decorates bare corners, but provides some function for those using the bed.
Comfy Ottoman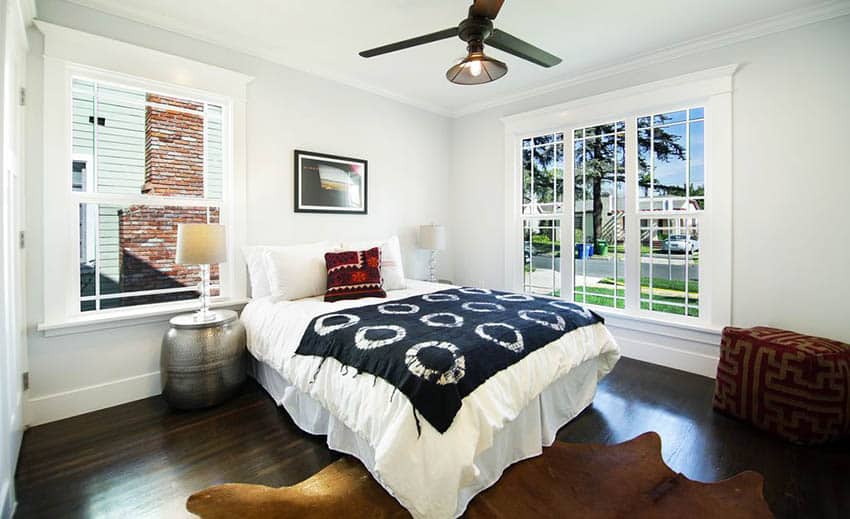 Adding a comfy ottoman to a corner can offer a spot to sit and help enhance your room's decor. Tie it together by matching some of the ottoman's colors with other accent pieces and decor.
Hanging Chair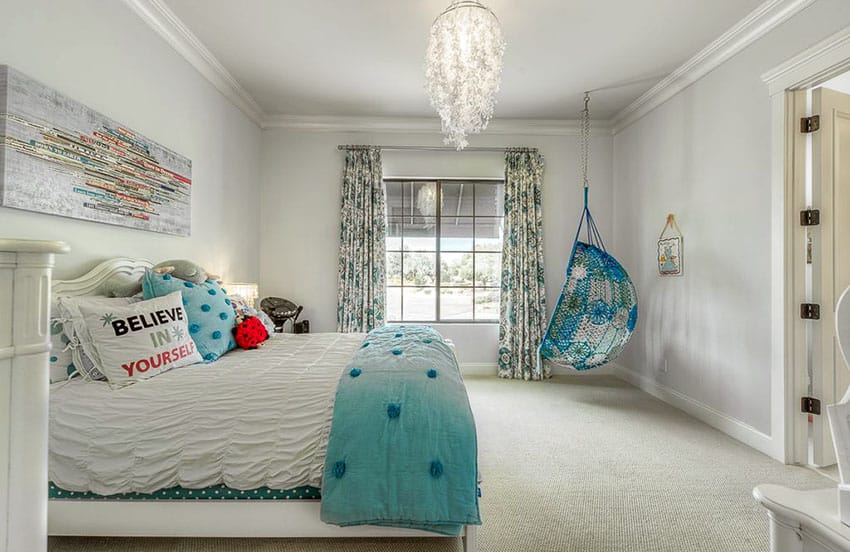 A sure fire way to add some fun to your bedroom is by installing a hanging chair. There are models that hang from the ceiling as well as types that hang from their own support frame giving you plenty of possibilities to choose from.
Hanging Lights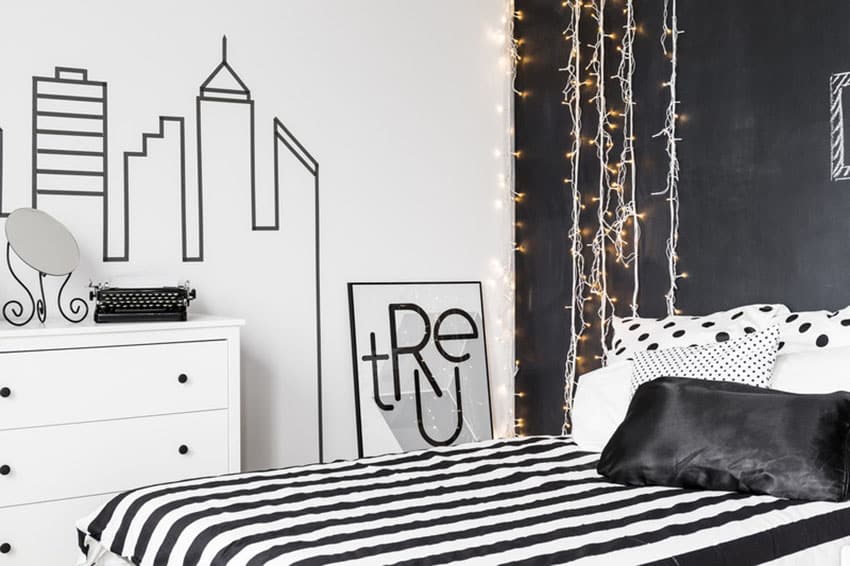 Hanging strands of lights from the corner of your room's ceiling is a creative way to enhance the ambiance of your space. You can find light strands as inexpensive as white Christmas lights to more decorative globe lights to get just the look you want.
Decorative Vase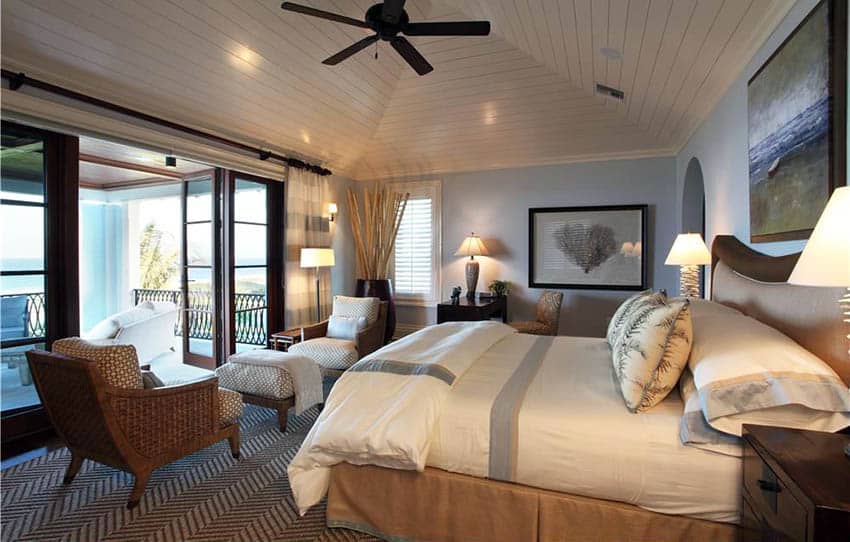 If you don't need your corner to be functional, then make it purely decorative! A massive glass vase filled with long, natural branches or bamboo is a great anchor for the space. Surround it with mirrors and art placed on the wall on either side of the corner.
For something a little extra, install a large floating shelf and set up a coffee bar. There is nothing quite like waking up and making coffee to enjoy in bed on a slow Sunday morning or get a quick start on a hectic weekday morning.
If you look at your corner with a little bit of creativity and think about a function that you need in your room, you will find a way to fill that seemingly useless little space. Check out our page covering bedroom layout ideas for more ways to creatively decorate your space.