Welcome to our guide to master bedroom size, including our dimensions guide for bedroom sizes with attached bathroom and bedroom sizes for king bed.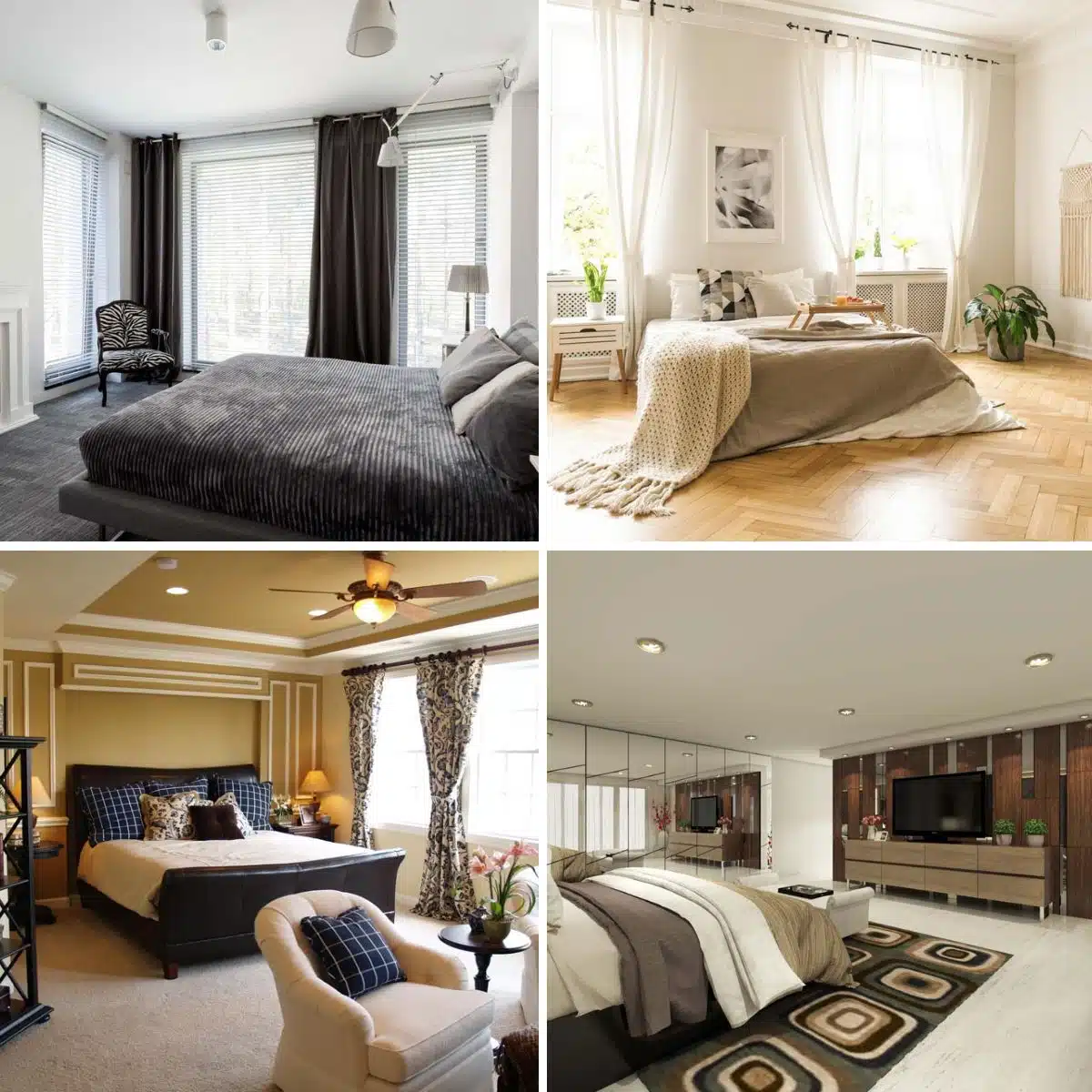 The master bedroom, or the primary room, is often considered one of the essential rooms in a home because it allows homeowners to rest and relax after their day and spend a significant amount of their time together. Size is a crucial factor that will affect the functionality of this bedroom.
A well-designed and adequately sized master bedroom can provide a quiet and restful retreat. On the other hand, a cramped one can make it difficult to enjoy this space entirely. This makes it essential to consider and remember all factors relating to the ideal size for a master bedroom.
Standard Master Bedroom Size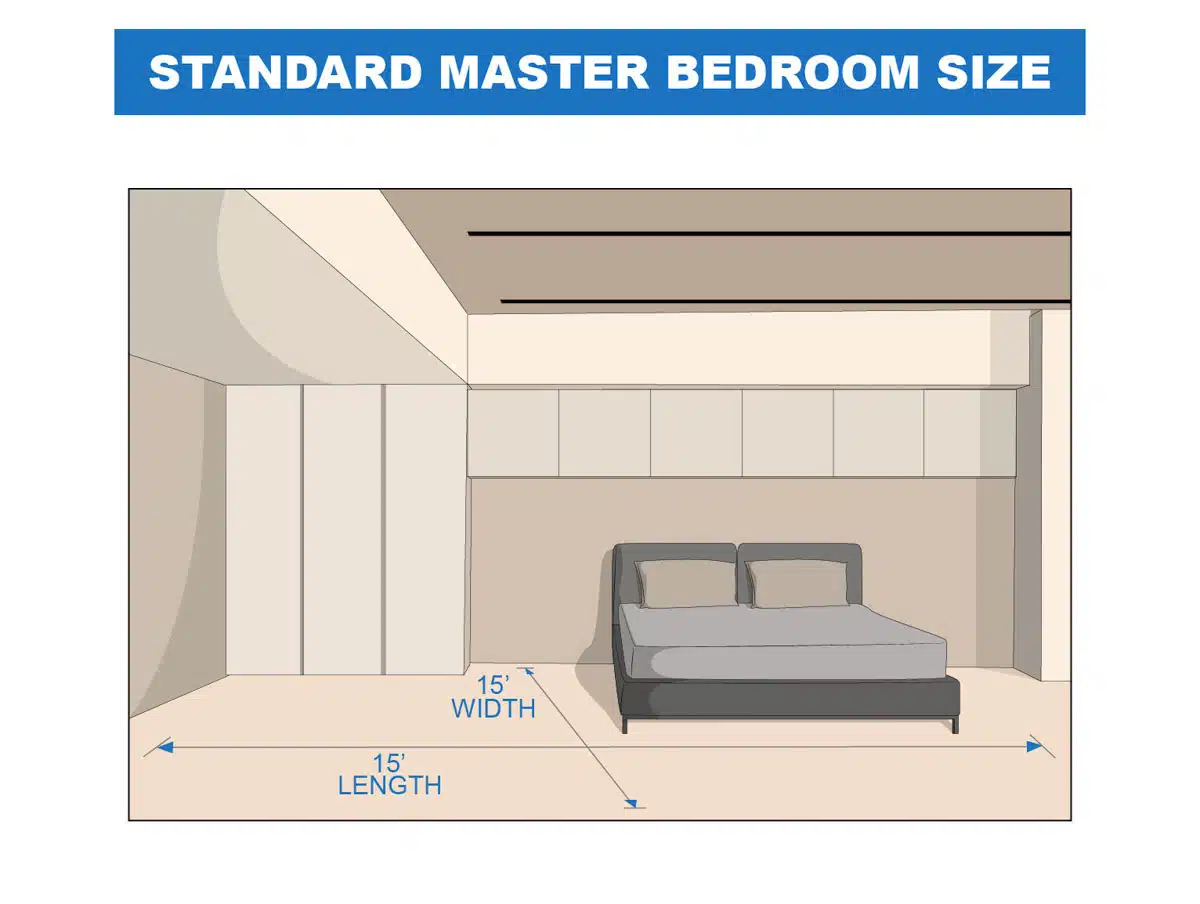 The standard size for a master bedroom can change depending on diverse factors, such as the location, local building codes, and the overall size of the house or apartment. Sometimes, the most significant factor in determining the master bedroom size is the homeowner's preference.
With this, the general guideline mostly dictates that the standard master bedroom size is typically regarded to be around 225 square feet or about 15 by 15 feet. This size allows enough space to comfortably accommodate furniture such as a king-size bed, a couple of nightstands, dressers, and other chosen bedroom furniture like a vanity or a small loveseat.
Some homeowners will prefer a larger or smaller master bedroom, depending on their needs and preferences. Ultimately, the size of the bedroom should be suitable for its intended use, which is sleeping, and still provide a cozy and calming space for its occupants.
Master Suite Bedroom Size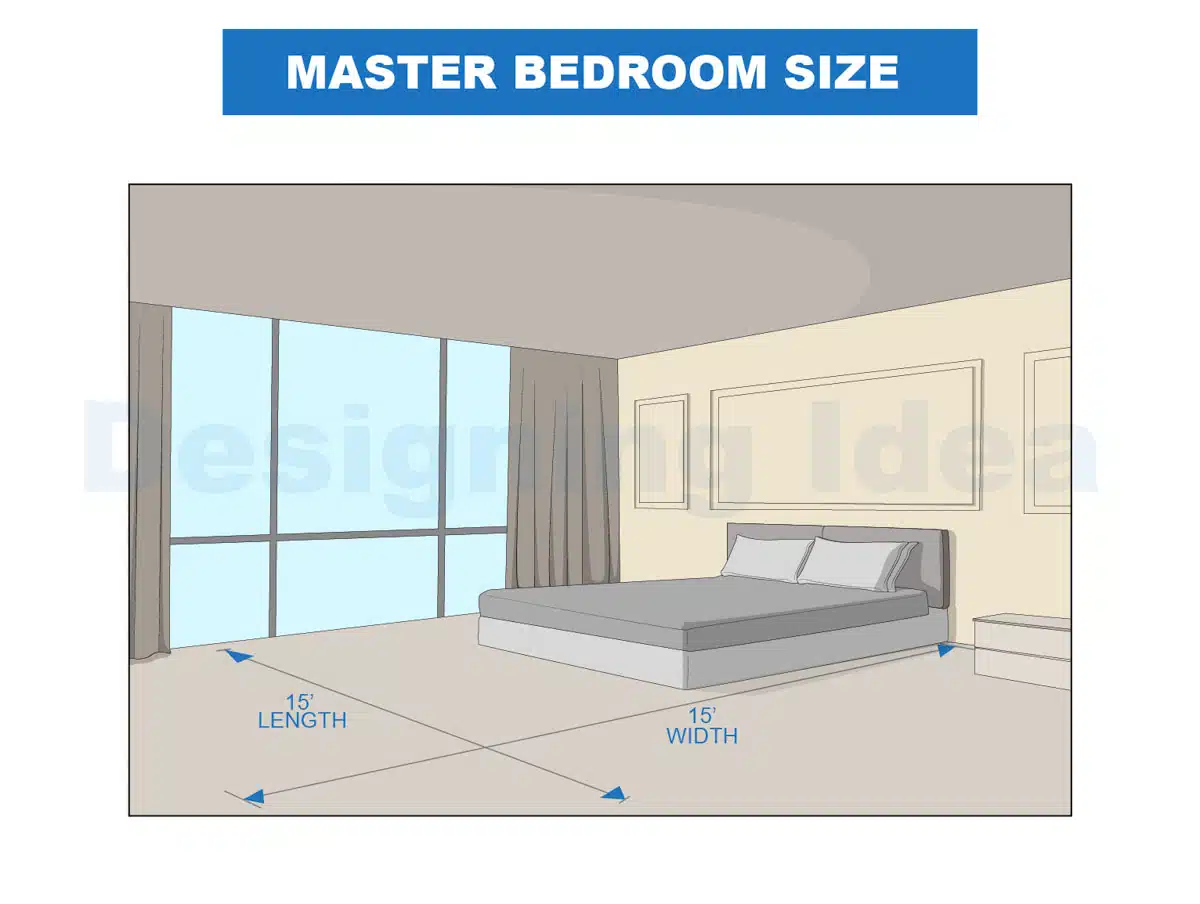 Although the typical master is 225 square feet or about 15 by 15 feet, it is crucial to understand that not everyone will need to follow this benchmark. People living in high-rise apartments will have smaller masters or en-suites, while bigger homes usually mean bigger rooms, bathrooms, and closets.
Other than the standard, there is a different set size, from the minimum master bedroom to the more extensive master bedrooms.
Large Sizes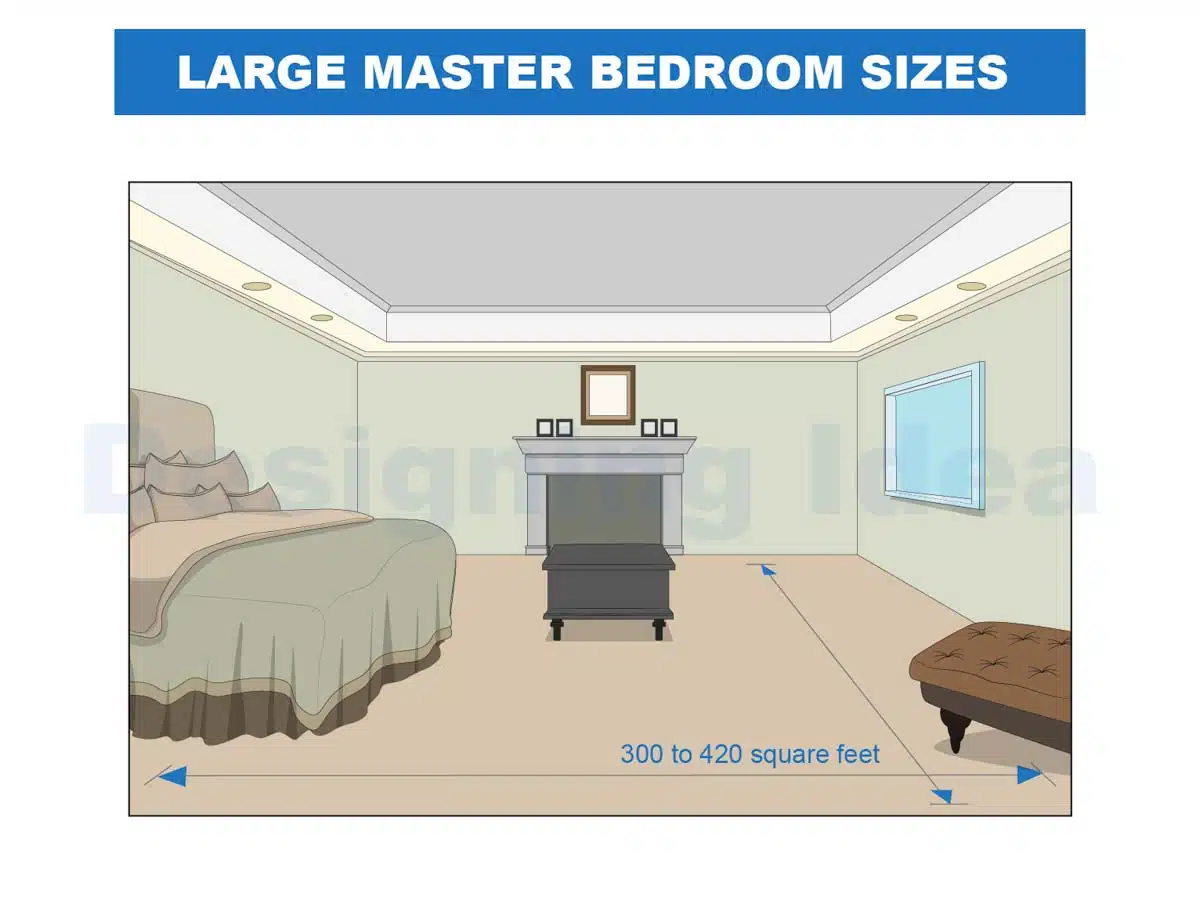 One master bedroom will provide any homeowners with the luxury and bigger space they want when opting for a larger room. A large master bedroom typically ranges from 300 to 420 square feet or around 28 to 39 square meters or even more, depending on the home or apartment size.
With a large master bedroom, it can accommodate a king-size bed and additional furniture, like a seating area, a desk, or even a full fireplace. With the extra space, storage options are also varied, and they can easily fit a walk-in closet or a dressing area.
A larger room can also provide privacy and seclusion, giving homeowners the space to unwind. More oversized master bedrooms can also be designed with luxurious features, like high ceilings, crown molding, and custom lighting fixtures.
How the bedroom lighting is controlled, like in all rooms, needs to be planned carefully. General light, whether from a pendant or concealed LED lighting, should be controlled separately from the lower-level lighting of shelving, picture lights and lamps. – Inspired by Light: A Design Guide to Transforming the Home, Sally Storey
It has its benefits, but it also has its drawbacks; more oversized master bedrooms will come with higher maintenance and added heating and cooling costs. A large master bedroom can be an elegant addition to a bigger home, but assessing the trade-offs and drawbacks is vital before deciding on a particular size.
Small Size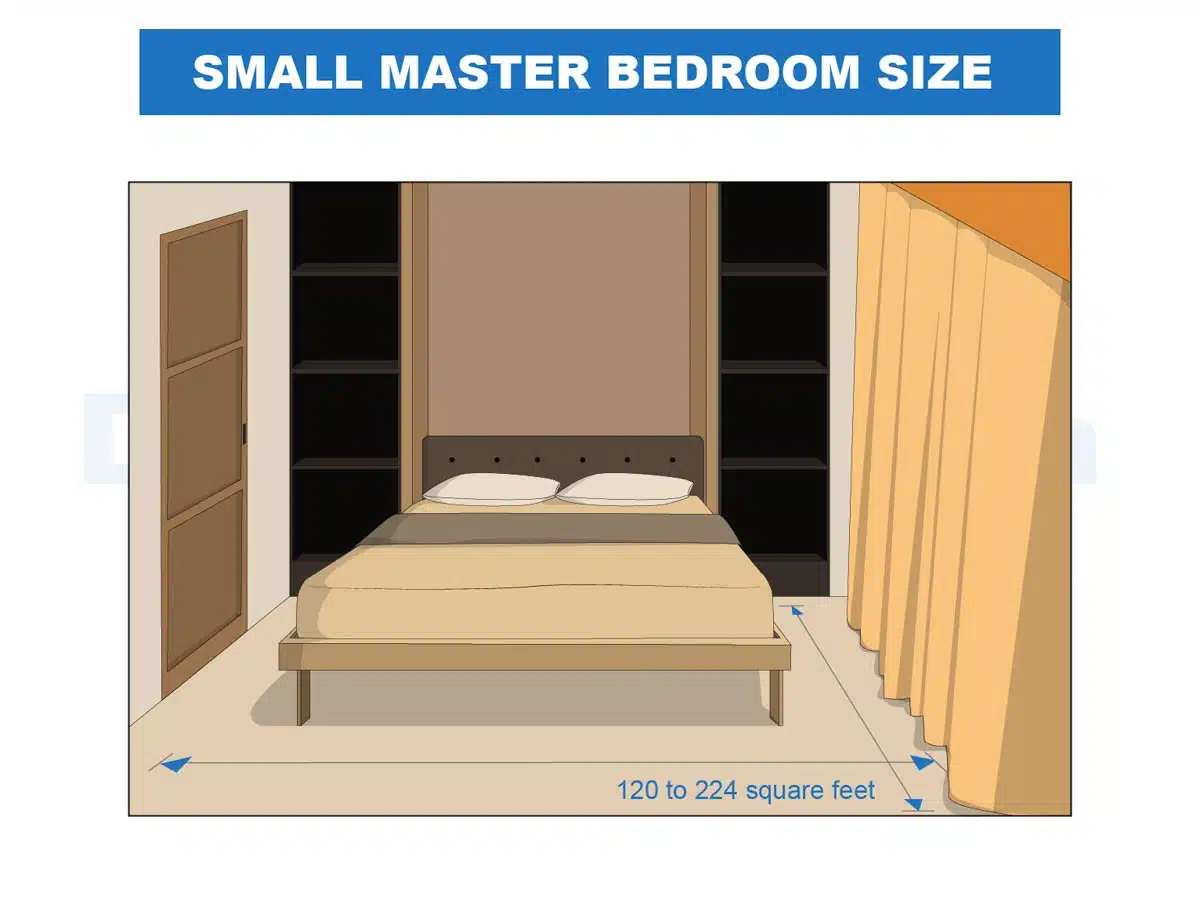 A small master bedroom can present some challenges but can still be comfortable and functional if appropriately designed. A small master bedroom is typically around 120 to 224 square feet or about 11 to 21 square meters. This size of the bedroom is generally seen in apartments on buildings or smaller homes.
To make the most of a small master bedroom, it is crucial to innovate and focus on space-saving solutions and clever design choices. This can include using a queen or full-size bed instead of a king-size bed to save up on floor space.
The room can utilize wall-mounted nightstands and lighting fixtures to save floor space. Storage options are also maximized and innovated to keep the space organized and clutter-free.
Such storage is built-in closet systems, under-the-bed storage, and multi-functional furniture pieces like a table that can be folded, which can optimize storage in a small area.
One way to make a small bedroom seem bigger is to experiment with proper lighting, and color choices can also help to create the illusion of more space in a small master bedroom. This will include using a lighter paint color to open the space up and absorb light from the window.
A small master bedroom may not present as much space as a larger one. However, it can still provide homeowners with a comfortable space with meticulous planning and furniture layout.
Minimum Size For Primary Bedroom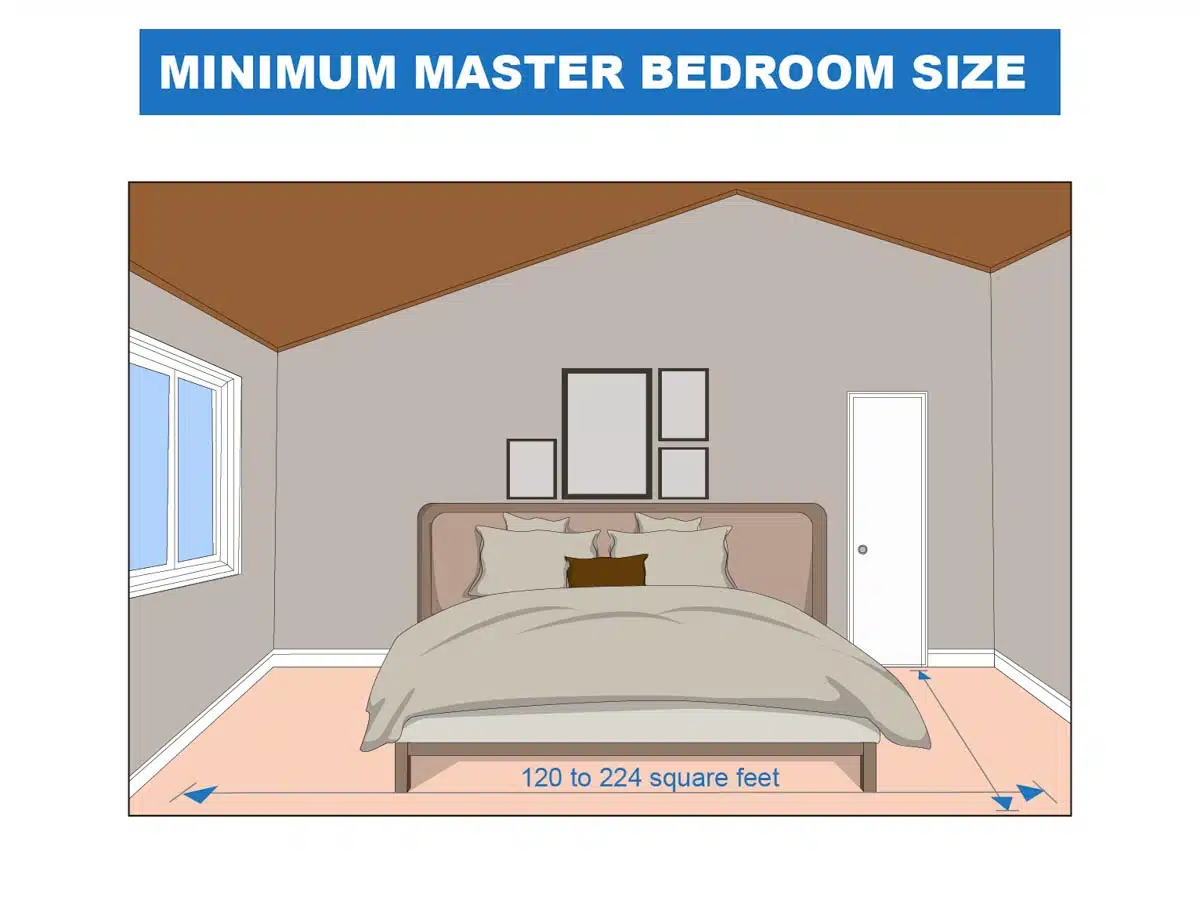 The minimum size for a master bedroom can vary depending on local building codes and regulations. The International Residential Code, or the IRC, generally sets a minimum size of 70 square feet or about 6.5 square meters for a bedroom, including the closet.
If two people stay in the room, add 50 square feet to the minimum to get a new size of 120 square feet or 11 square meters. However, this minimum size requirement may vary depending on a state's location and specific building codes.
Although there is a minimum size of 70 square feet as the legal requirement, it is essential to remember that this bedroom size can be small for some homeowners. This minimum size is likely only suitable for one person and will only fit a twin or full-size bed, with little to no room for additional furniture.
To provide the coveted function and comfort of a master bedroom, it is recommended to go for a larger size of at least 150 to 200 square feet or about 14 to 19 square meters, a size that can accommodate a queen or even a king-size bed, dressers, or two nightstands.
Size of Bedroom with Attached Bathroom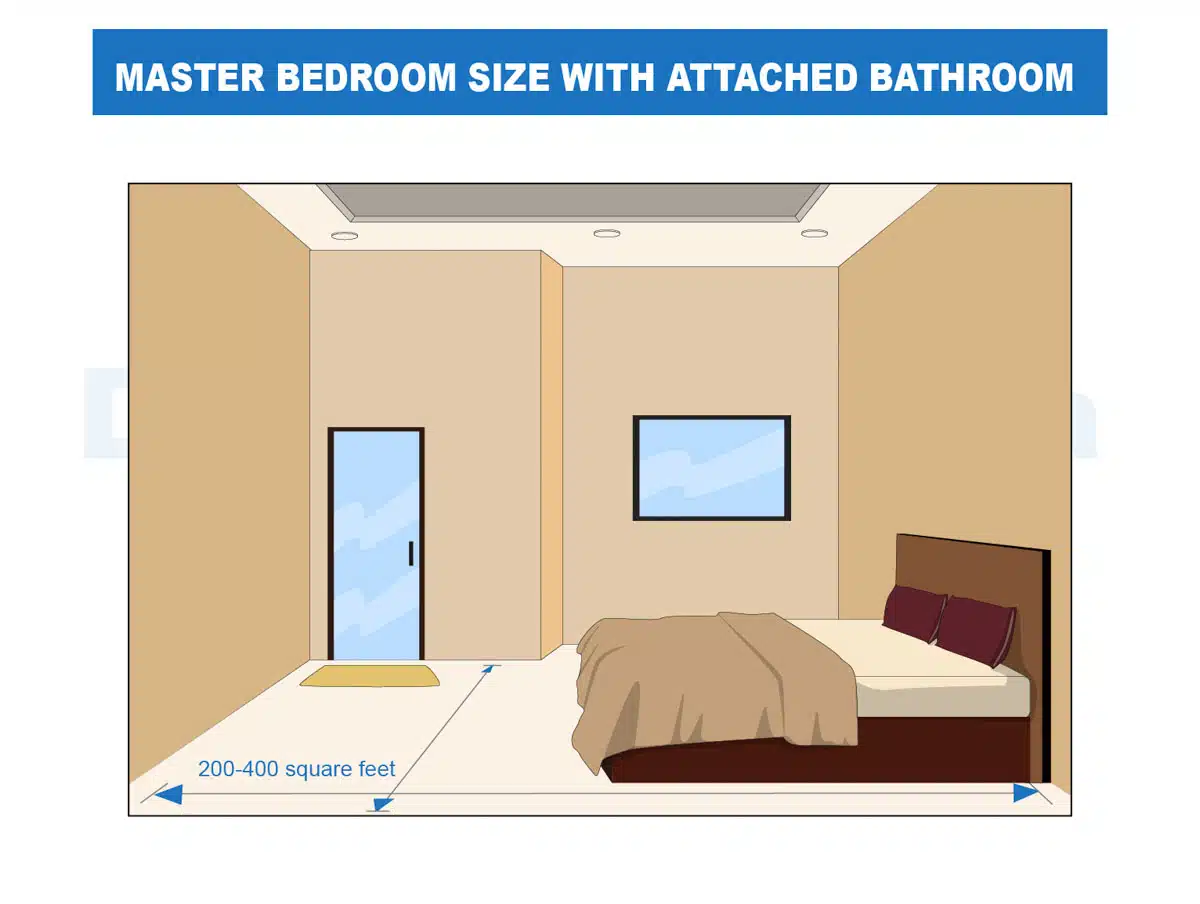 The size of a master bedroom with an attached bathroom will differ depending on factors like the general size of the house or apartment, the homeowner's personal preferences, and their budget. A typical range for a master bedroom with an attached bathroom can be 200 to 400 square feet or about 19 to 37 square meters.
Small masters will have around 40 square feet or 4 square meters. Average masters will have bathroom sizes ranging from 50 to 100 square feet or 5 to 9 square meters. In contrast, larger masters will have a spacious bathroom of 110 to 200 square feet or 10 to 19 square meters.
It is essential to consider the layout and design of the master suite before adding an en-suite. Options will include making the bathroom may be connected directly to the bedroom, or there may be a separate dressing area or closet.
Bedroom Measurements for King Bed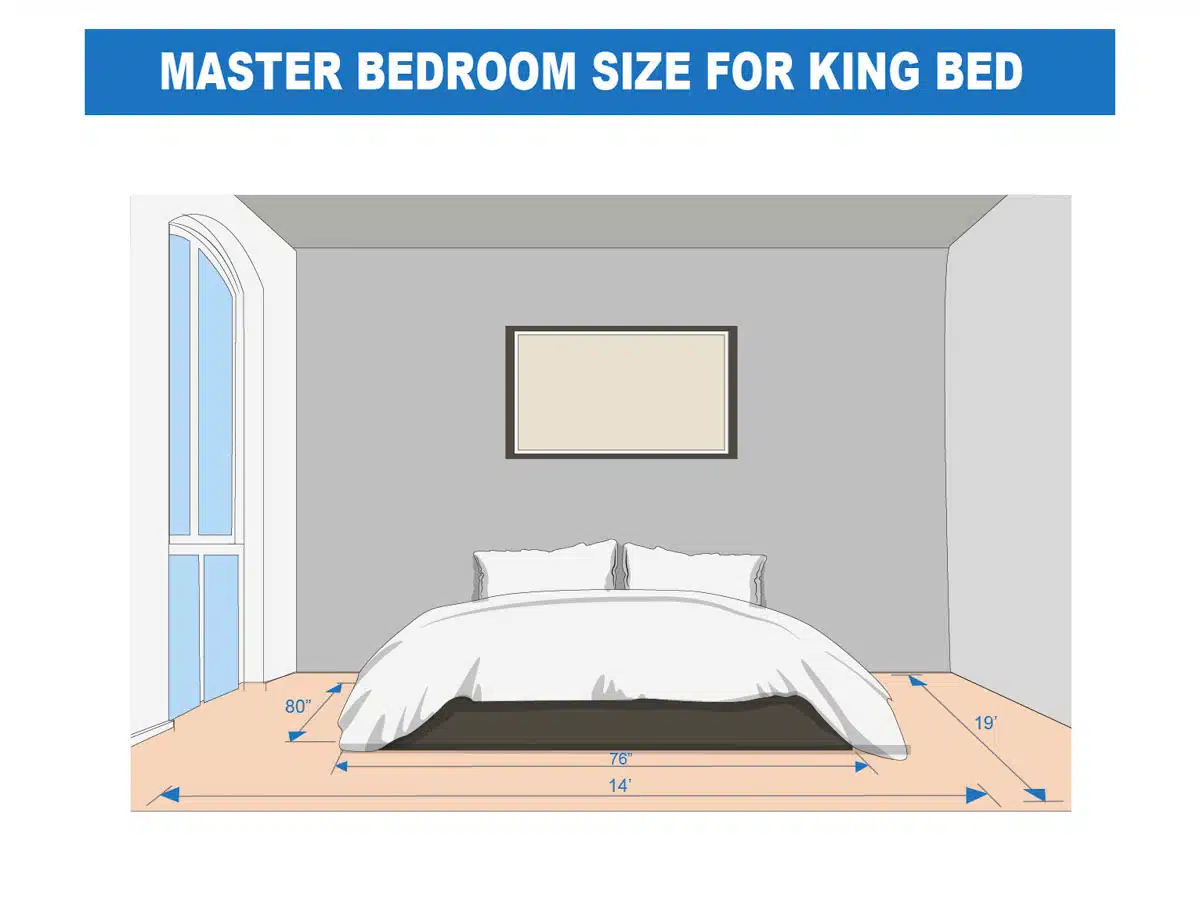 A king-size bed is 80 by 76 inches or around 203 by 193 centimeters. Overall, for this bed size, the minimum clearance space needed around the bed ranges from 30 to 36 inches or approximately 76 to 91 centimeters.
This makes the ideal size for a master bedroom with a king-size bed, typically around 14 feet by 19 feet or about 266 square feet or 24.7 square meters. This allows for enough space for the bed, nightstands, and other furniture and a comfortable amount of walking space around the bed.
It's also worth noting that some bed styles may require more space. Take four-poster beds, which require more clearance around them, while a platform bed may require less.
Size of Average Primary Bedroom with Bathroom and Walk-in Closet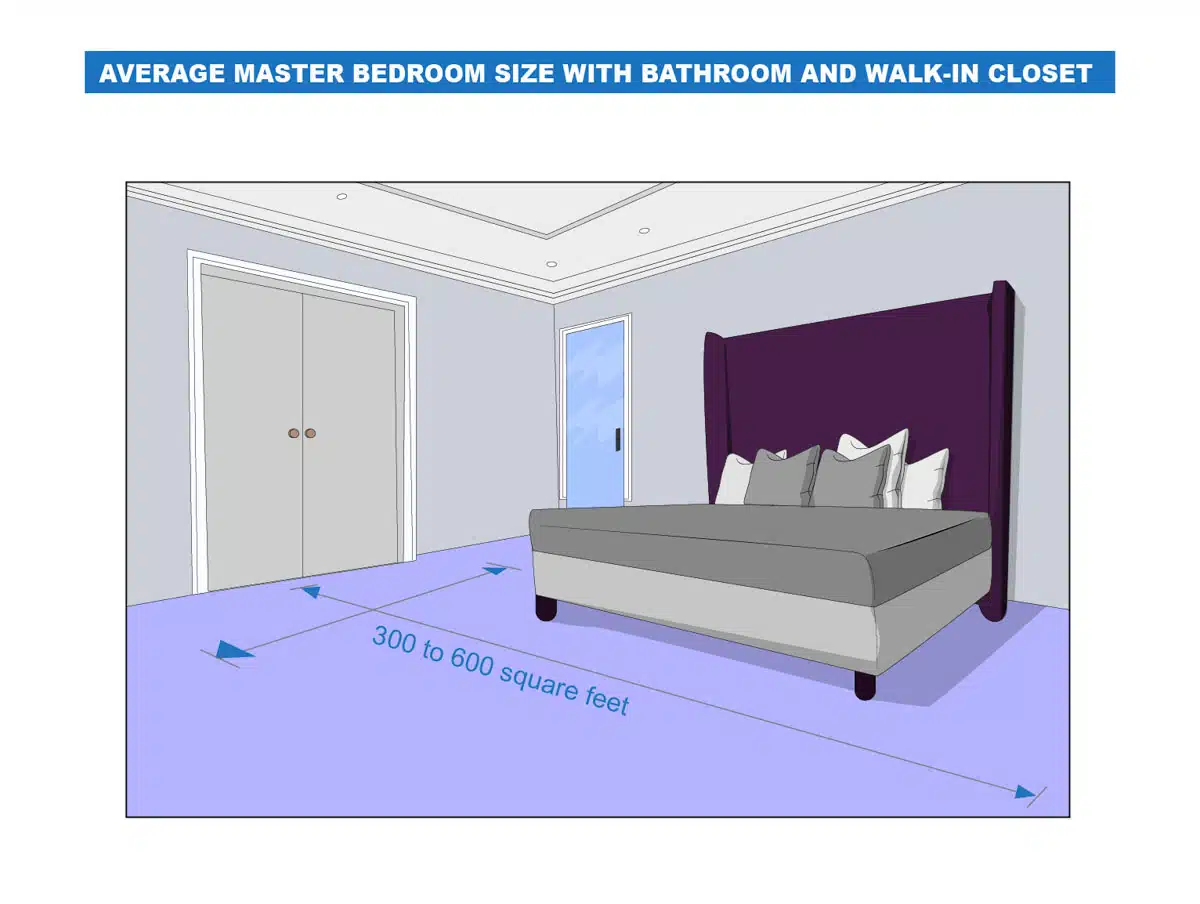 Like masters with bathrooms, the average size of a master bedroom with a bathroom and walk-in closet can vary depending on the room location, whether the homeowner lives in a large home or an apartment, and other factors. Nevertheless, a typical range for a master suite with a bathroom and walk-in closet can be between 300 to 600 square feet or 27 to 55 square meters.
It's vital to mention that personal preferences and homeowner budget limitations can also influence the size of the master bedroom and the closet and bath combined. Some homeowners will prioritize a more sizable bedroom and bathroom over a walk-in closet, while others may prioritize storage space over oversized types of bathtub.
What is a Good Size Bedroom?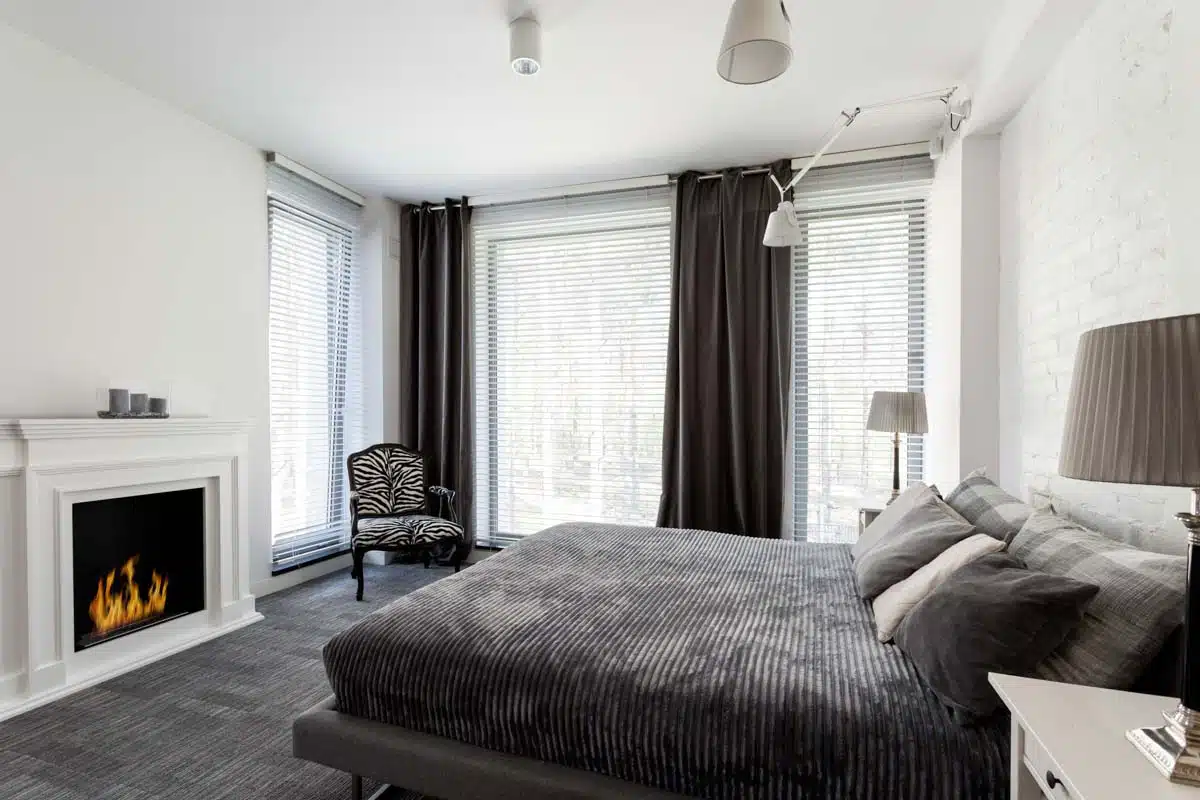 The ideal size for a master bedroom can vary depending on personal preferences, home size, and others. But one can always follow the standard of 225 square feet or about 15 by 15 feet. This size will be big enough for a king bed and other smaller furniture.
The layout of the room will also be a factor in room size. Some homeowners may also prefer added features, such as a reading slash seating area or even a fireplace, which can impact the room's overall size.
Some homeowners will not want an oversized master bedroom since it is not practical or desirable for them. With that said, depending on the size of the mattress, it may not be practical to move around the room in a small space easily.
How Big Should a Master Be?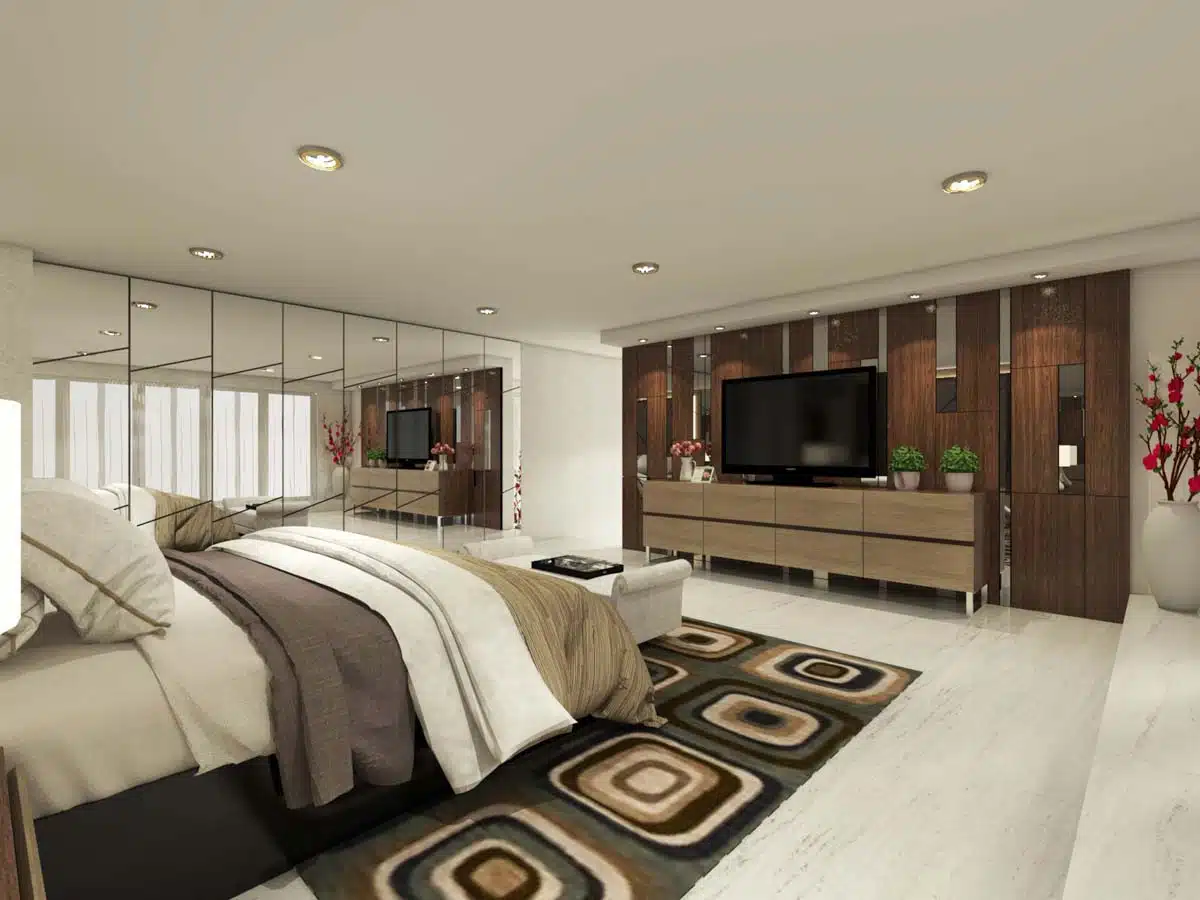 How big a master's bedroom should be will depend on the homeowner's preferences, from how big it should be to the furniture, materials, and layout of the room. However, in the most practical sense of the word, the best and "perfect" size for masters is a room around 200 to 250 square feet.
This example size will fit a King size mattress effortlessly and allows the addition of furniture from a small seating space to vanity to dressers.
Did we cover all the questions and provide the information you needed? In the comments, share your experience with room sizes and the look and feel of different mattresses that work best for your home. For more related articles, visit the best paint finishes for bedrooms here.