Welcome to our guide to master bedroom size including our dimensions guide for bedroom sizes with attached bathroom and bedroom sizes for king bed.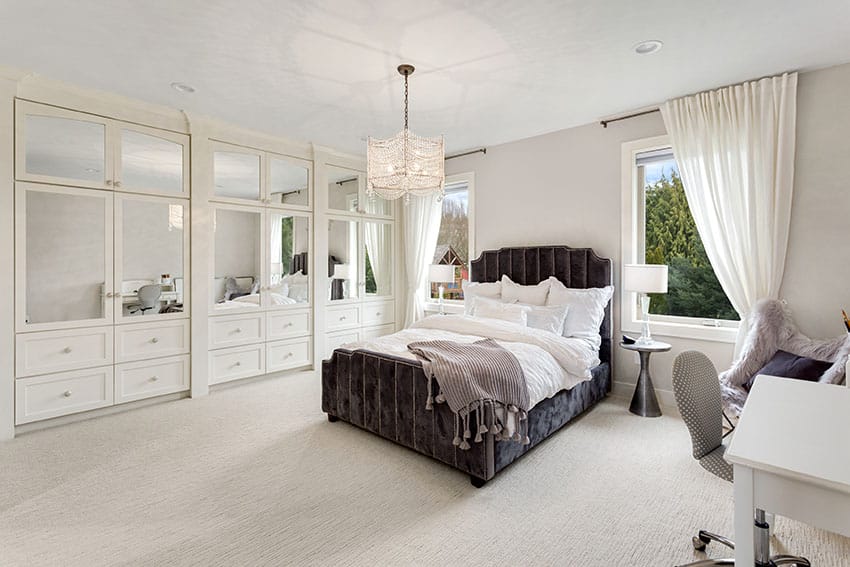 Master bedrooms are a necessity in modern homes. Certainly, creating the right sized master bedroom is a solution that provides homeowners with the space they need.
Constructing or upgrading a home or room necessitates organized planning and implementation. And yes, one of the most important rooms that need to be focused on is the master bedroom.
Remember, you'll spend most of your relaxing, resting, and sleeping time in your master bedroom. That's why it's crucial to get the most ideal size and atmosphere depending on your needs and preferences.
What is a Good Size Master Bedroom?
A well-designed standard master bedroom must have a measurement of at least 15 feet on every side. The size of it must be sufficient to yield a measurement of 200-250 square feet of space.
These are the basic measurements that are already good for every homeowner's needs. A conventional king-size bed must fit in a master bedroom with this size.
How Big Should a Master Bedroom Be?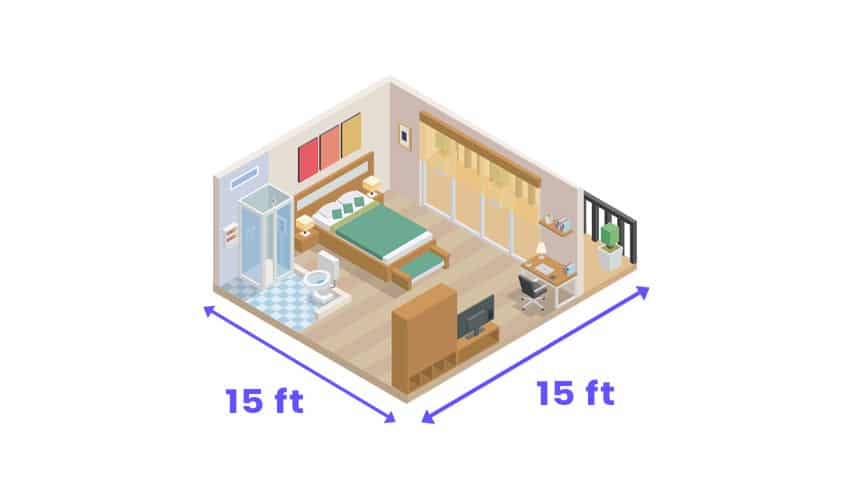 The standard size of a master bedroom should have at least 15 feet on every side as it'll yield 200 to 250 square feet of overall space. This is the ideal size of a master bedroom.
However, you can always go for a more spacious master bedroom. Larger selections usually have 16-20 feet on every size. That measurement can yield a measurement of 300-350 square feet of space.
Adding extra space can be beneficial as this allows you to incorporate the extra furniture you want. It will also allow you to create room for additional storage spaces.
Another question is, can you go for a larger master bedroom?
The answer is, yes. You always have the option to create one with a measurement that's greater than 350 square feet. This space must have 20 feet of every size. But, you have to make sure that your property is capable of acquiring a larger-sized master bedroom.
Larger-sized master bedrooms are only ideal for houses that have a living space of at least 3,500 square feet or more. This would be perfect for houses with lots of household members and also for families that are fond of organizing gatherings and reunions.
Adding another dimension, when creating or renovating a master bedroom, it's also essential to consider the storage spaces in it. Storage space can incorporate a cabinet that also provides space for several people at a time. You may also add a walk-in layout in the closet.
Average Master Bedroom Size
The size of an average master bedroom in the United States has a measurement of 309 square feet.
This is the standard size of an average master bedroom that's inside a house with a floor space measurement of 2,500 square feet.
However, the size of average master bedrooms may still vary. It'll still depend on the overall size of the house.
Large Master Bedroom Sizes
Large-sized master bedrooms usually have around 20 feet on every side of the room. This produces about 300-350 square feet of room. Large master bedrooms do have more storage spaces. It is mainly for people that have so many things needed to store.
Houses that have a total measurement of 2,000-2,999 square feet should have a master bedroom of 271 square feet. It's normally 14%% bigger than the other rooms.
Furthermore, houses that have a total measurement of 3,000 square feet or more have a master bedroom size of 411 square feet, which is 43% bigger than the other rooms.
Small Master Bedroom Size
The minimum size of a small master bedroom is generally around 224 square feet. This small master bedroom is sufficient enough to have a 42-square foot king-size bed in it.
Don't worry, because you'll still have a lot of space to move around. Spaces for bathroom and other storage areas would be a challenge though.
On the other hand, there are several ways on how you can make your small master bedroom look more spacious. Below are the steps you can try:
Make sure to choose the correct color scheme that works well in enhancing the space of your master bedroom.

Put proper lighting in your room.

You may use spotlights or lampshades for particular areas in the room. You can put brighter lights on the whole bedroom. Read more about types of lighting fixtures here.

Ascertain that the upholstery used in the room has the shade of the base hue. Use contrasting colors to emphasize each side of the room.

Use furniture that doesn't draw that much attention. Make sure that your room can accommodate it properly.

Use drapers that are shorter and the wallpapers must be lighter.

Choose the best bed linen. Lighter colors and simpler designs are some of the best options

Keep your things organized and put up some decorations.
Master Bedroom Size with Attached Bathroom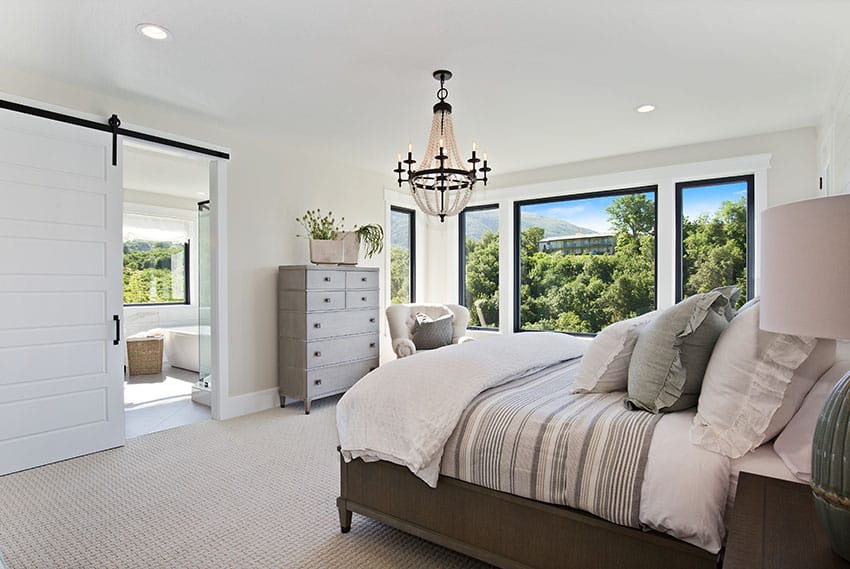 Every master bedroom, no matter what size it is, should have a master bathroom attached to it. The bathroom should at least have a size of 160 square feet. It must have sufficient room for at least 2 people to accommodate their hygienic needs. Read more about bathroom sizes here.
A small-sized master bedroom normally has a bathroom that measures 40 square feet. An average-sized master bedroom has a bathroom with a size of 50-100 square feet. A large-sized master bedroom normally has a bathroom that has a size of 110-200 square feet and above.
Sometimes, the master bedroom closet is located in the master bathroom. However, you need to plan your storage area properly to determine an excellent space that will suit your needs.
Master Bedroom Size for King Bed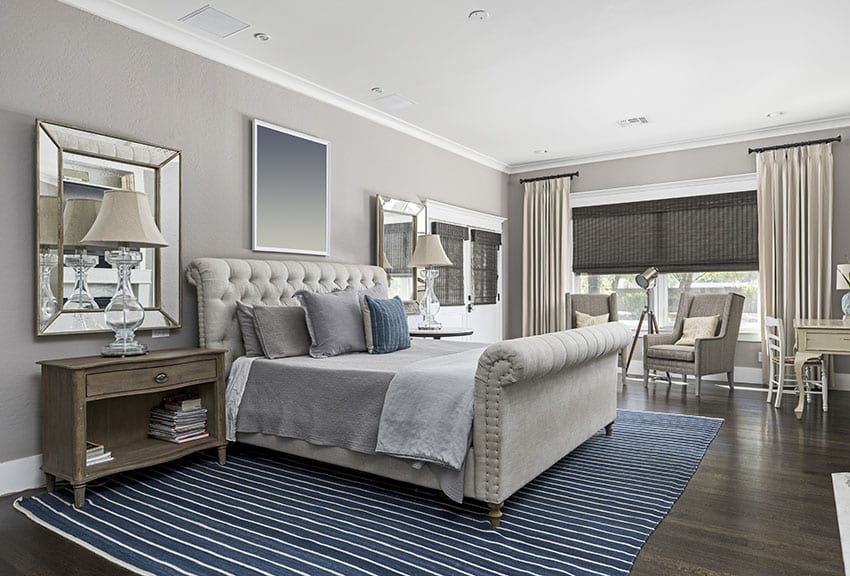 A king-sized bed already fits in either small, average, or large-sized master bedrooms. It can already fit in master bedrooms with sizes 200 to 350 square feet.
For more related article visit best paint finishes for bedroom here.