In this guide we share brown paint colors for bedrooms featuring ideas for light to dark brown colors, the best brown paint to use, and the best colors that go with brown bedrooms.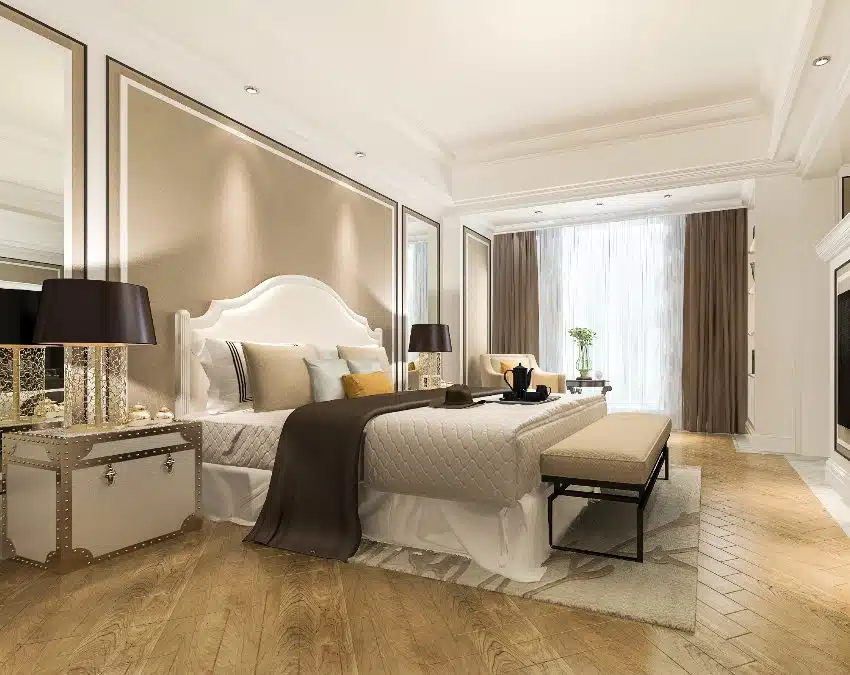 Brown is a color that's often overlooked when it comes to importance but also a highly regarded option nonetheless. It is considered a safe choice even though it doesn't easily stand out and steal the spotlight. You won't have to worry about the color appearing boring too since the color's earthy hue is both rich and relaxing to experience.
A popular neutral color, brown is recognized as a warm color that usually has a green undertone balancing the color and giving it a cooler element to it. While green may be the most popular undertone though, it can also be mixed with other colors as an undertone.
Because of the sense of relaxation and calming vibes that the color offers, it is an excellent color option for bedrooms and living rooms. The depth of the color can be applied to the walls, curtains, bed sheets, decor, and accents. And you can have access to the different shades of brown based on your preference, depending on the undertone incorporated that can lean either towards warm or cool shades.
If you've settled on using brown as part of the color palette for your bedroom, there are so many ways you can integrate the color creatively to produce the ambiance you want your bedroom to have by using different shades of brown and matching it with different colors.
Brown Bedroom Paint Ideas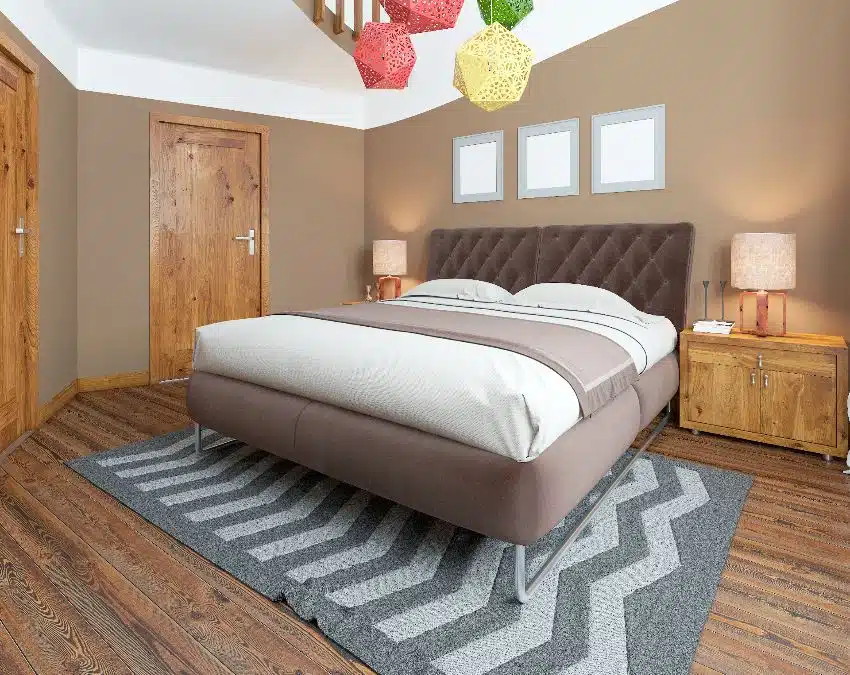 There are many ideas you can incorporate in the color brown, depending on the feel you want to dominate every time you enter your room. The color easily has a safe and welcoming feel to it but it also offers a touch of simplicity, elegance, and sophistication.
Here are some color brown ideas you can consider for your bedroom.
• Earthy and Natural – Choose a chocolate brown shade for your bedroom if you want to add friendly and earthy energy to your room. While this is perfect for your living room since it offers a welcoming atmosphere great for space where you gather and entertain guests, it can also be a good option for the bedroom.
• Rustic Flair – For a rustic feel, you can choose light brown for your bedroom walls, curtains, and beds for a more nostalgic feel to it. If you have lighter elements such as flooring, ceiling panels and bed coverings, you can try darker brown rustic bedroom paint colors.

• Subtle Brown Ambiance – If you go for a rich medium brown with a subtle yellow undertone, you can produce a subtle atmosphere that will be the ideal option if you're not too sure about the color in the first place. It matches well with colors with warm tints and is ideal for bedrooms with large windows that feature natural light.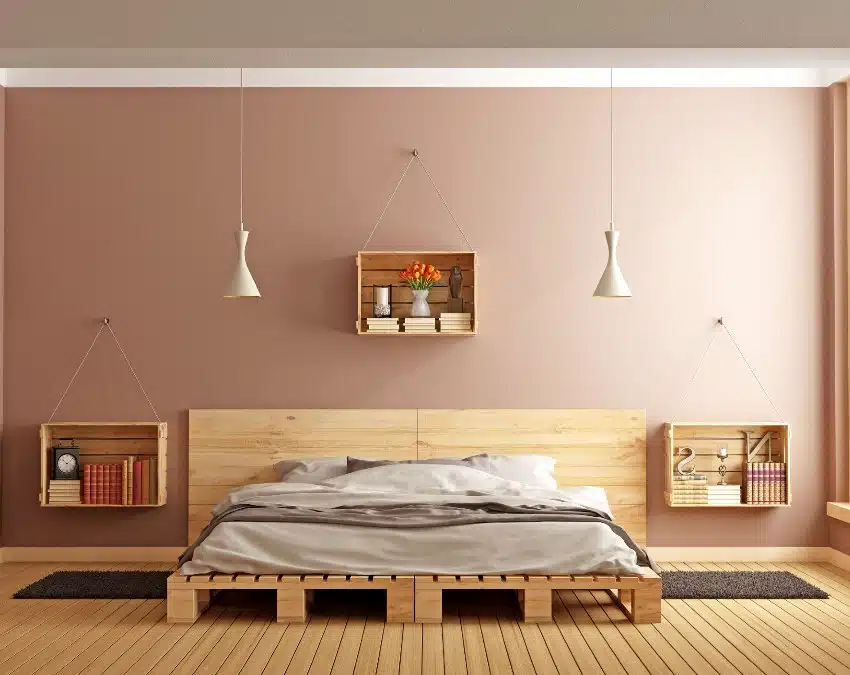 • Brown Modern Style – Tan brown is the ideal shade for a modern bedroom color, especially if it has a subtle pink undertone. The combination of tan and rose pink can introduce a cozy autumn ambiance to your bedroom that will make you want to stay longer.

• Elegant & Glam Brown Look – If you're going for elegance and glamor, walnut brown and espresso brown are great colors to look into.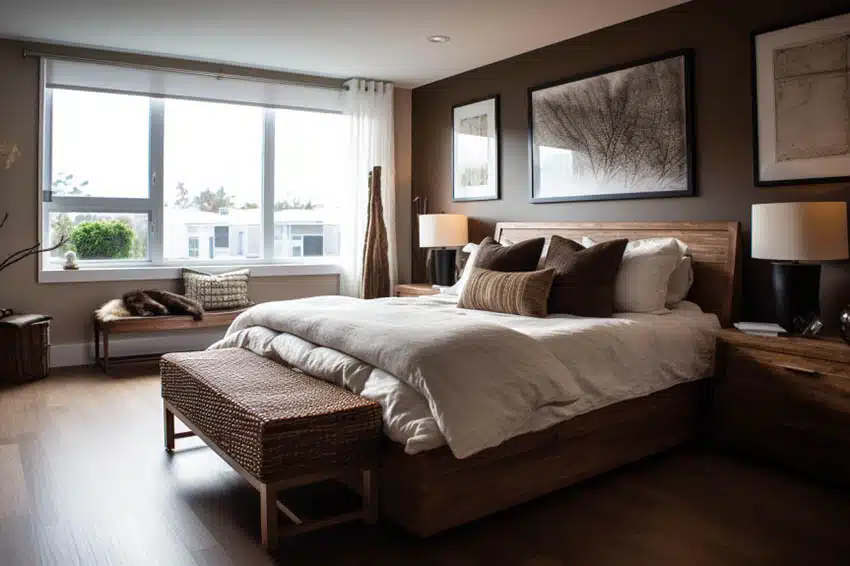 Walnut brown has an excellent balance between light and dark brown and would be the ideal option if you want to mimic wooden aesthetics. Espresso brown is a dark brown hue and will also be a bold addition to your bedroom ideal for an accent wall.
More than these bedroom ideas you can use other design elements and colors that go with brown.
Here are some tips and ideas you can try out in sprucing up your bedroom using this shade.
• Add a patterned and textured earthy-colored wallpaper as an accent wall
• Include chocolate leather sofas, if you have enough space, in your bedroom
• For a more spacious feel, explore textural brown paint options
• Consider mixing and matching two different paint colors of brown into the walls, ceiling, and floors
• Use a wooden panel ceiling for a rich and more vintage wooden feel
Light Brown Colors For Bedroom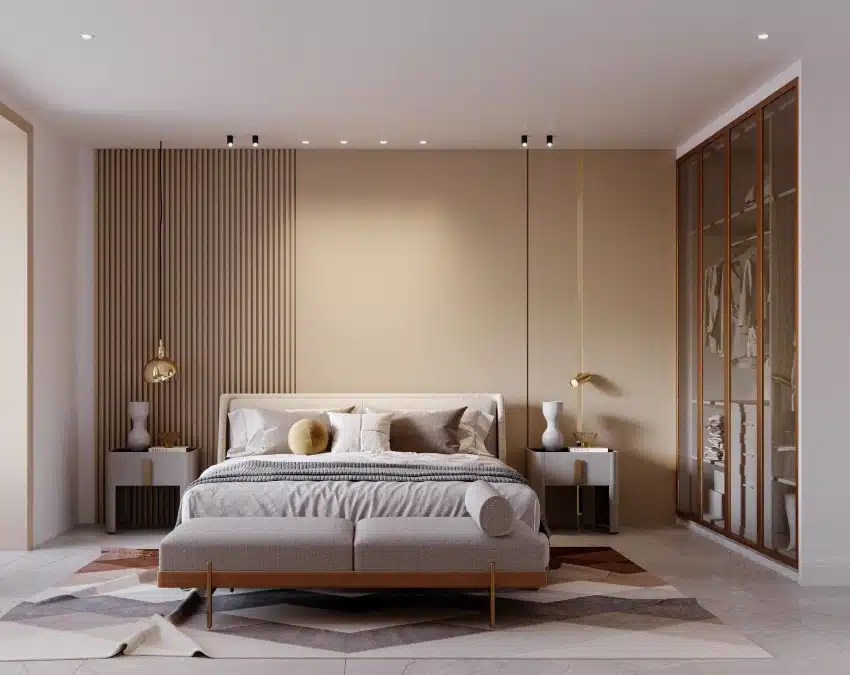 Light brown is an incredible color to consider, especially if you are going for a rustic-style bedroom. It is a safe choice you can use for your curtains and walls and be mixed and matched with darker shades of brown or other compatible colors.
Besides the rustic vibe, it can also introduce a cozy and industrial ambiance if you want that style in your bedroom. Light brown paint colors with dark furniture can help achieve the look without making the space feel too dark.

Lighter than medium brown but darker than white and cream, light brown is a good choice if you want to add warmth and brightness to your bedroom. Some of the popular light brown options are the following.
Beige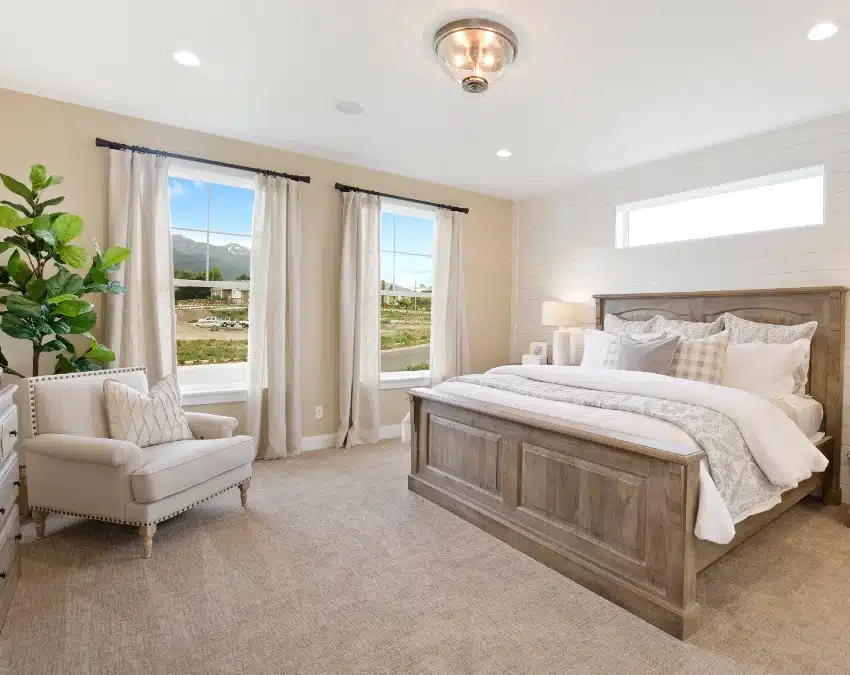 The beige color is simply a much brighter and airier light brown that adds a traditional neutral touch to your bedroom. It has a yellow undertone, turning this light brown shade into a warm color in a subtle way.
It can also be a great option for a neutral bedroom that offers a relaxing vibe and is excellent to be paired with lighter shades of colors. And the Benjamin Moore Grant Beige is an excellent light brown shade you can use.
Light Brown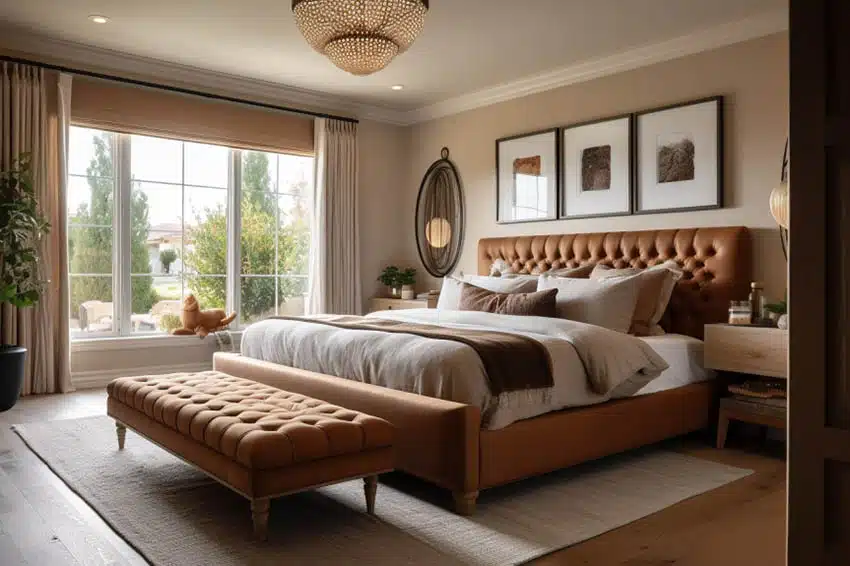 You can also go for a safe light brown color, offering a perfect neutral shade that is richer and has more depth compare to beige and tan.
This color option is safe and uplifting compared to the bold and attention-seeking dark brown, and also very flexible and versatile since it can be used for different decorating styles. Farrow & Ball Buff is a good light brown paint to consider if you want to add a softer touch to your room.
Tan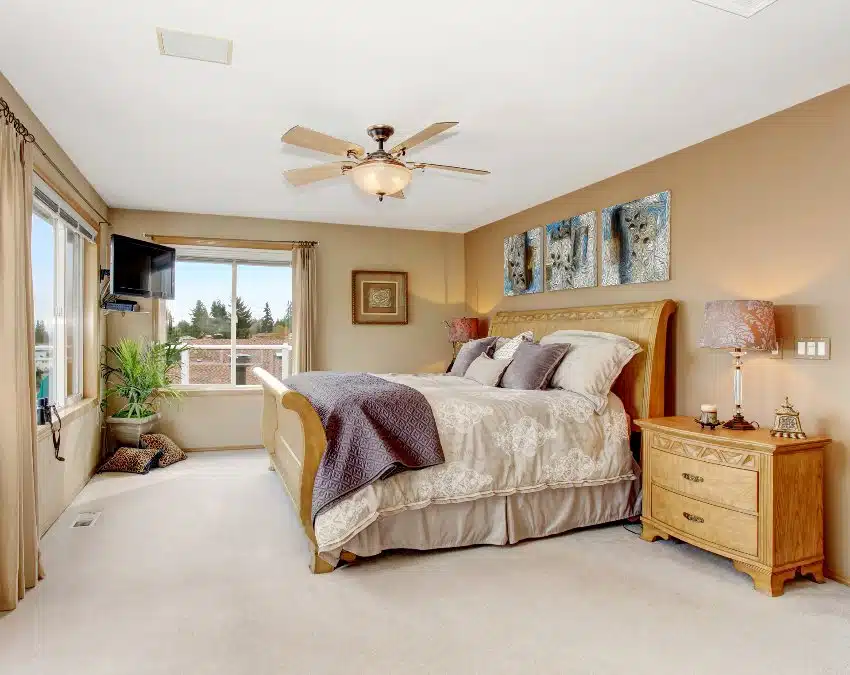 Another light brown color you can use for your bedroom is tan and it can support a cozy autumn touch to a room.
Choose a warmer and softer tan like the Sherwin-Williams Ligonier Tan that offers a welcoming neutral palette and is ideal for a farmhouse style, if that's what you're going for in your bedroom. See more pictures in our gallery featuring tan bedroom ideas here.
Light Gray Brown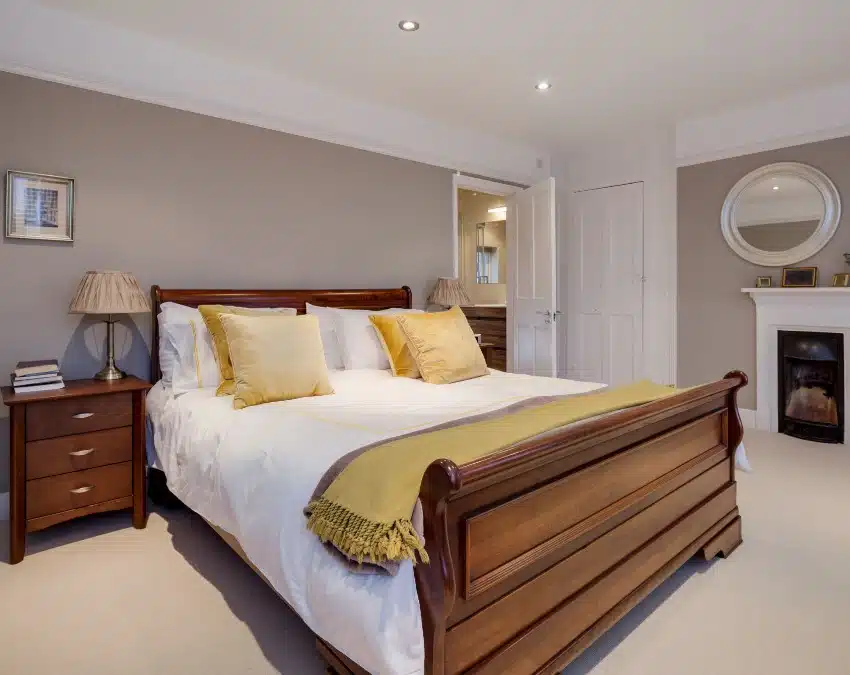 This mixed shade is a light brown color and its darker version of this color will be a dark gray option with a deep gray undertone. With a touch of a gray undertone, gray-brown can be added to a modern and contemporary bedroom or an industrial one.
It is an incredible color to match with light greige or white for a cleaner and minimalistic feel to it. And Kelly-Moore's Zebra Finch is a neutral and safe gray brown you can try out.
Dark Brown Colors For Bedroom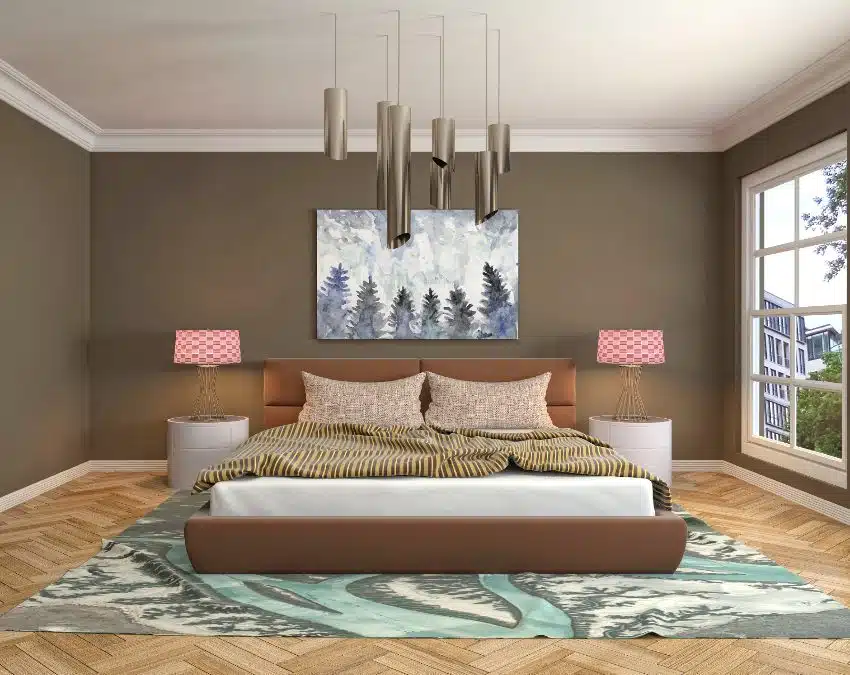 Going to the other side of the spectrum, dark brown is a bold and eye-catchy color option you can choose for your bedroom. A darker brown color can be perfect for a bedroom dominated by light-colored elements, from the furniture to the carpets and curtains. Its rich and deep color can add texture and character to your bedroom and be used for a bold accent wall.
Some of the dark brown colors you can consider are the following.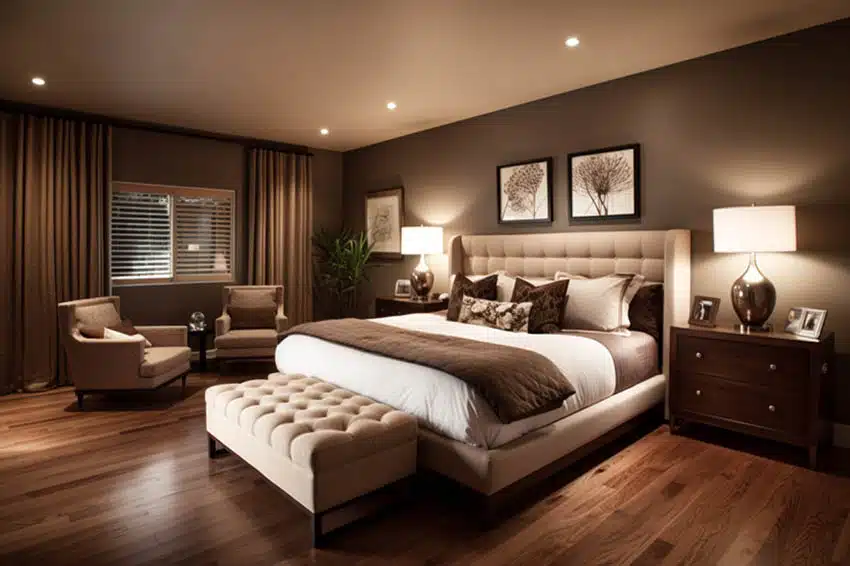 • Medium Brown – If you want a nice balance between light brown and dark brown, a medium brown with a soft yellow undertone is a great option to explore. Excellently paired with other warm colors, medium brown is perfect for bedrooms with a lot of natural light.
Compatible with nearly all bedroom styles you can choose, the color will look stunning when paired with authentic and rich wood accents. And Magnolia's Elemental is an elegant medium brown paint you can use.
• Dark Brown – For added sophistication and elegance, straight-up dark brown makes an incredible addition to the room.
A rich and deep dark brown color like Tanner's Brown of Farrow & Ball will look bold and elegant, as well as add comfort and a welcoming feel to it. The best color pairs for this dark shade are bright neutrals and rich colors.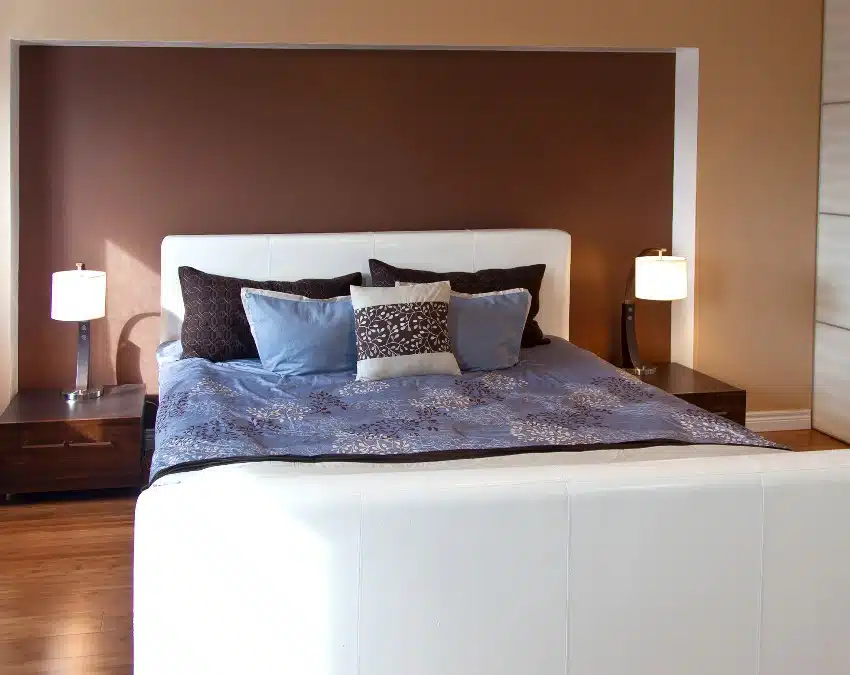 • Espresso Brown – This deep and dark brown color helps make the room feel larger while at the same time maintaining its rich and cozy feel, making it ideal for small spaces This is why it is a good option for a bedroom since the color will make you want to stay in it.
• Green Brown – Featuring lots of green undertones, this mixed color can be a reminder of a soldier's uniform or a cup of freshly brewed tea. This nature-inspired color has an earthy shade that matches well with pale purple, blue, and mustard yellow.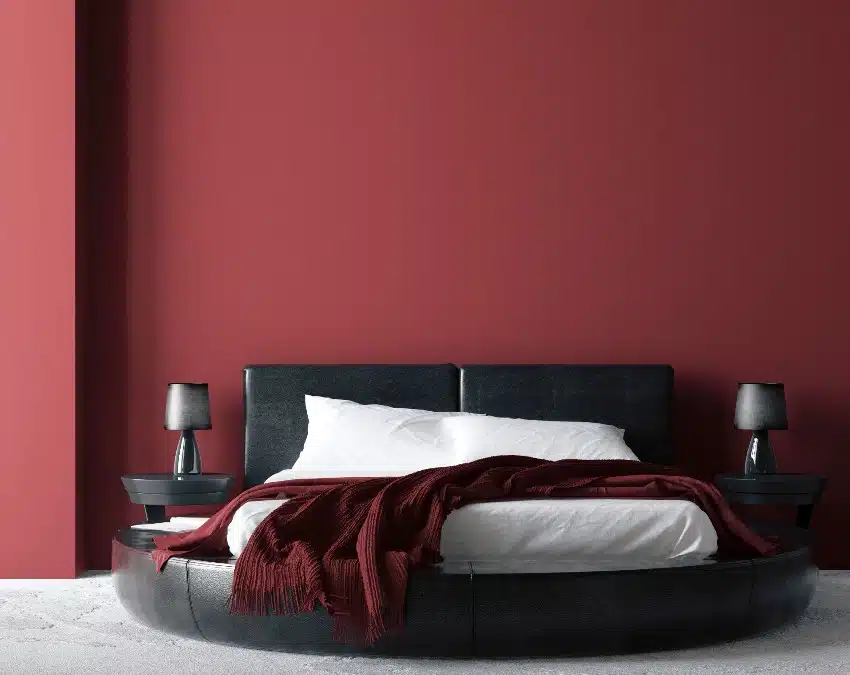 • Red Brown – Considered to be a bold color option, this mixed color features more personality compared to other shades of brown.
This color can easily remind you of reddish-brown bricks or the reddish-brown of a mahogany tree, depending on the hue you've chosen to use. Ideal for classic and traditional styles, this red bedroom color combination offers a sophisticated touch to your bedroom.
Best Brown Paint Colors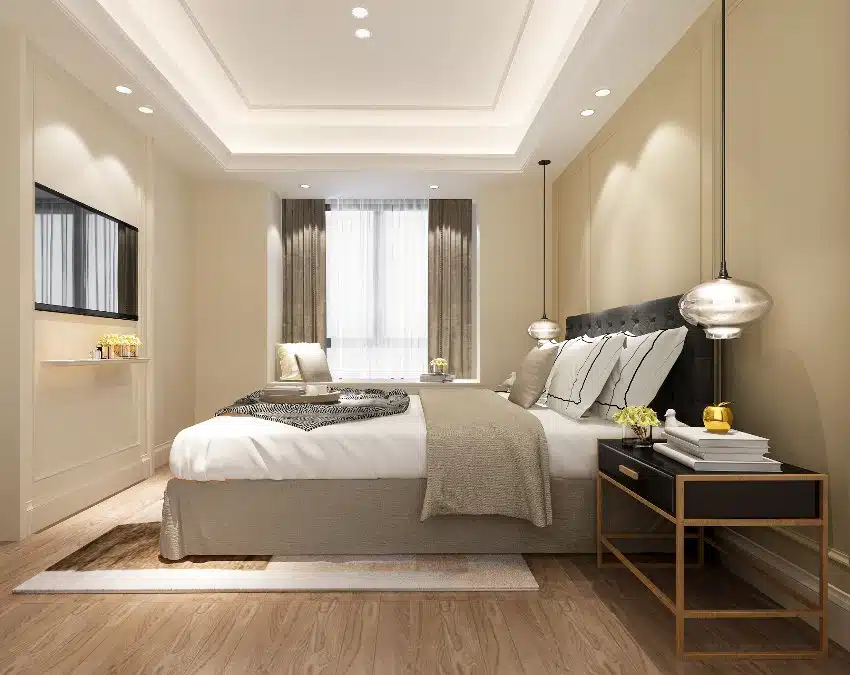 If you're looking for the best brown paint color to use for your bedroom, there are many factors to consider but ultimately, you will have to prioritize on the style and feel you want the bedroom to showcase.
While it's true that it can be a bit overwhelming since you have many brown paint choices to explore, it will be way easier if you know what you want and you have a vision of the ambiance you want your bedroom to inspire.
Given the case that you don't have a clear vision of what you want but still prefer brown for your bedroom, here are some of the best brown paint colors you can consider, with varying shades of brown: Beige – Benjamin Moore Grant Beige (HC-83) Light Brown – Farrow & Ball Buff (No. 20) Tan – Sherwin-Williams Ligonier Tan (SW 7717) Light Gray Brown – Kelly-Moore Zebra Finch (KM4934) Dark Gray Brown – Benjamin Moore Middlebury Brown (HC-68)

Mink Brown – Benjamin Moore Mink (2112-10)
Medium Brown – Magnolia Elemental

Chocolate Brown – Benjamin Moore Appalachian Brown (2115-10) Dark Brown – Farrow & Ball Tanner's Brown (No.255)

Espresso Brown – Sherwin-Williams Espresso (SW 2736) Green Brown – Glidden Khaki Green (60YY 33/130) Red Brown – Benjamin Moore Charlton Brown (CW 265) Farrow & Ball Etruscan Red (No.56)
What Colors Go With Brown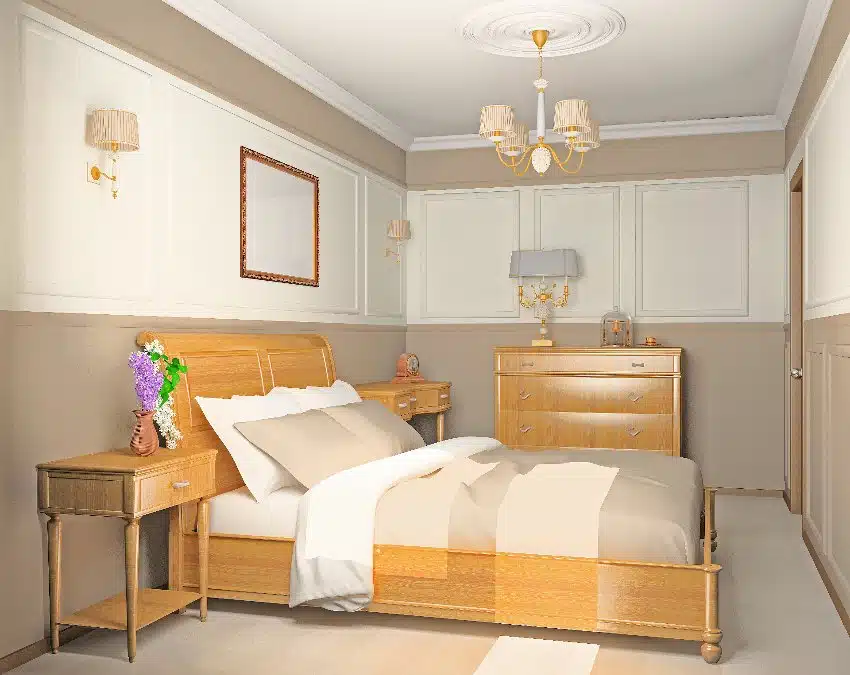 In sprucing up your bedroom using the color brown, you need to be able to mix and match with other colors that will look good with it.
While going for a monochromatic color scheme is an option you can consider, you can also explore other color options and paint finishes to match your favorite brown shade. Some of these compatible colors are the following:
Neutral Colors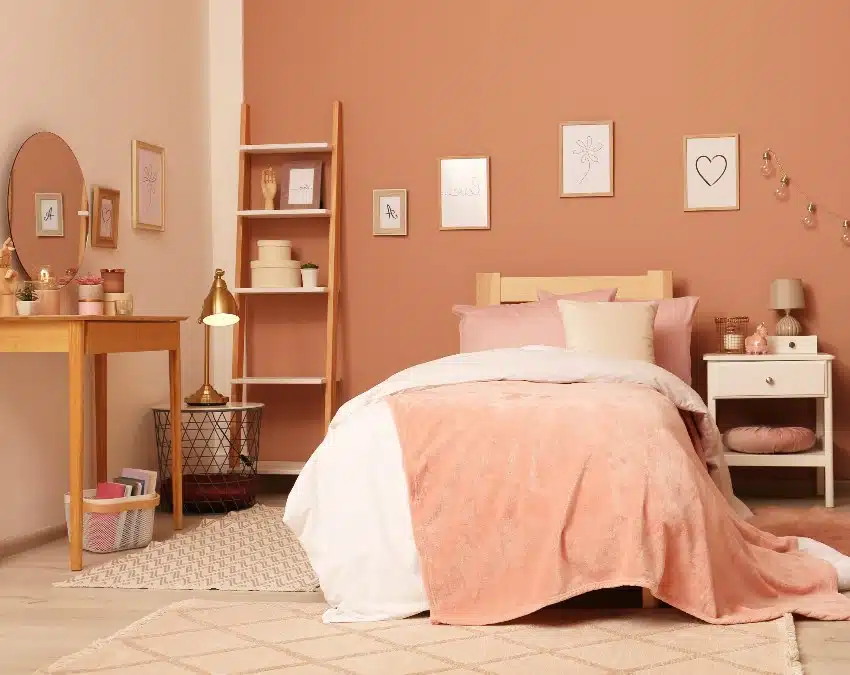 Because brown is a neutral color, it is not something new to pair with its similar neutral colors. You can choose straightforward white for a more minimalistic touch perfect for modern and contemporary styles.
You can also check out cream or beige if you lean more toward traditional, classic, and vintage looks for your bedroom.
Pink to Red
These colors have a warm undertone that will fit perfectly with the shade of brown, whether you choose a cool or warm undertone. This warm hue represents love and warmth, pink colors can be used to accent the brown background you've chosen.
Fuschia pink can be a popping color in your bedroom. This is similar to what red can offer your bedroom but only bolder and darker. Cherry red is a bold color option but when added with brown can produce a vintage and rustic ambiance.
Yellow and Gold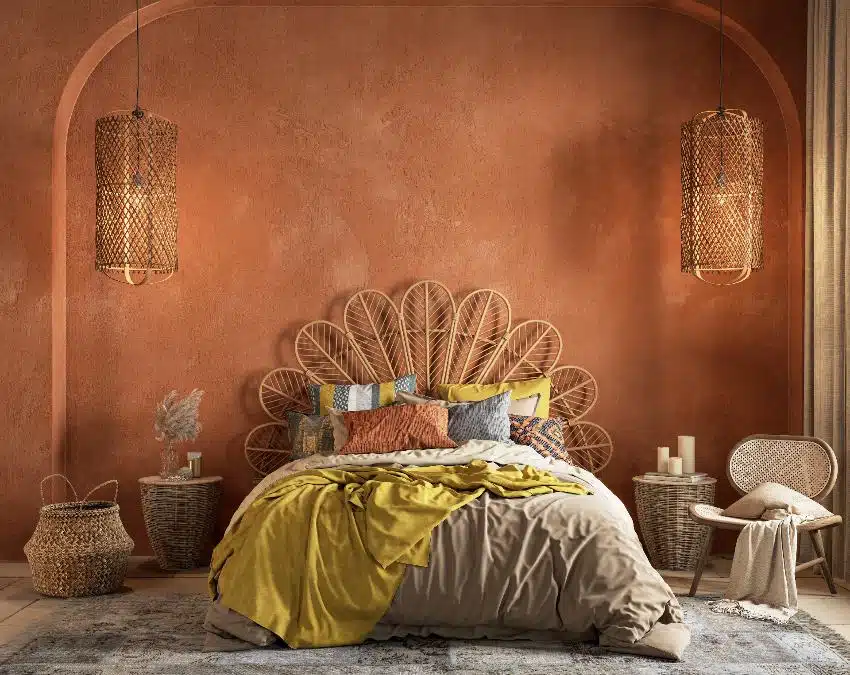 Mixing up yellow or gold with brown makes a stunning combination and depending on the shades can produce a specific style for your bedroom.
A bright yellow can produce a trendy and quirky look while a mustard yellow can turn your bedroom into a vintage and rustic one. Meanwhile, adding the gold color to the mix offers a luxurious and regal touch.
Orange
This vibrant color represents vitality and ambition. While perfect for cool-headed and calm people though, it might be a triggering color for temperamental people. When orange is paired with the color brown, you can have a trendy and popping ambiance for your bedroom.
Blue
If you choose a brown shade that offers too much warmth, blue can balance that out by adding a cooling factor to the mix. This cool color can easily uplift brown and add depth and texture to your bedroom.
Green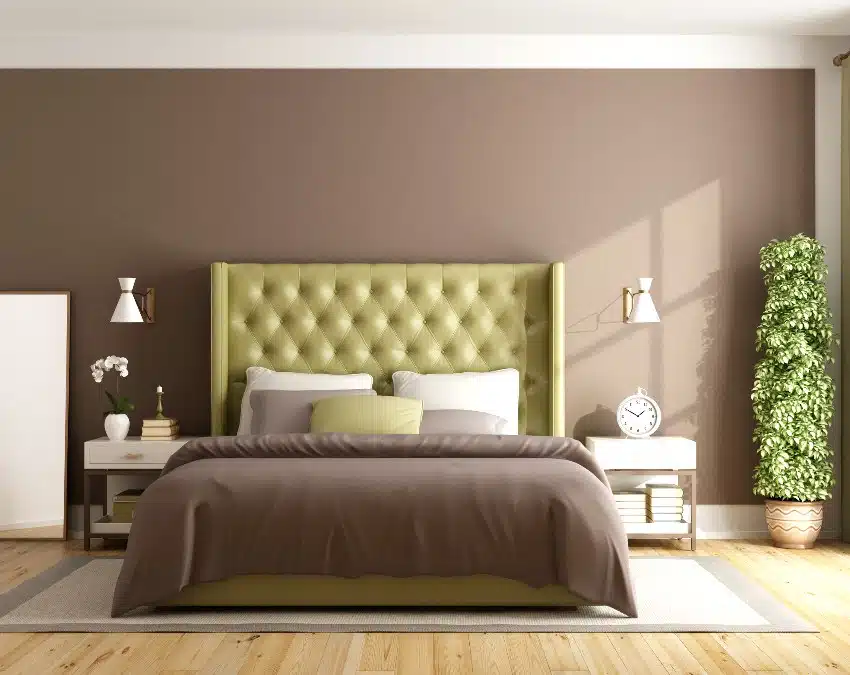 A green color is one of the go-to pairings for brown, especially since this match is the color of nature. Using this color with brown for your bedroom will create a peaceful and relaxing ambiance perfect for sleep and rest. It will also be a good choice for kids' bedrooms since the color incites knowledge and learning.
---
How to Choose Brown Colors for the Bedroom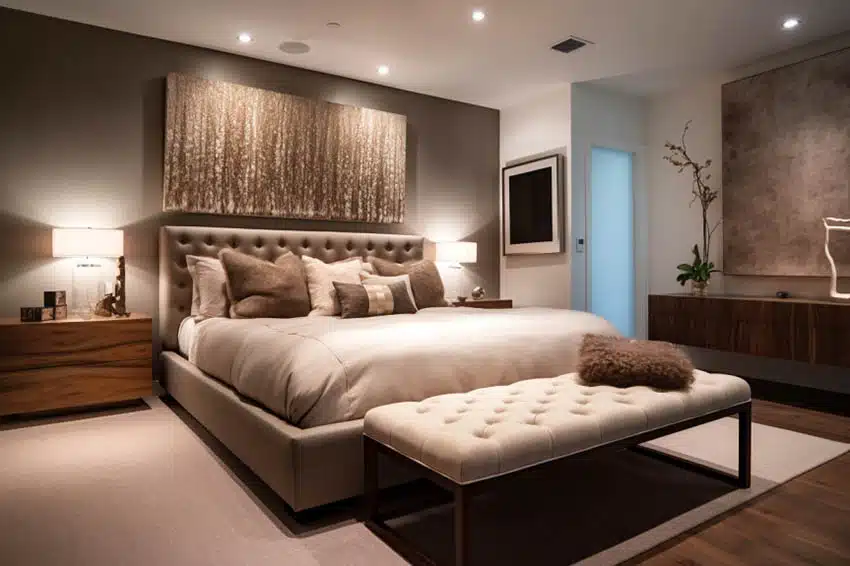 We asked interior designer Jennifer Eldridge how to choose brown colors for the bedroom and here's her advice:
Shades of brown in the bedroom can give you a natural, earthy, and cozy atmosphere, and you can achieve many different moods depending on the tint or tone of the color.
One option is to manipulate light browns or tans to give your bedroom a classic, neutral style that pairs very nicely with white and creates a blank canvas for pops of color and exciting decor.
Some brown colors have higher gray tones, which can be more aesthetically pleasing for the bedroom and are complemented by rich wood tones, iron, or rustic pottery.
All colors can have a green, yellow, blue, or red undertone; brown is no exception. If you are looking for a cooler woodsy color, choose a brown with a green undertone.
Dark brown brings a cozy, luxurious, and historical style to the bedroom through wainscotting and detailed crown molding. Pair it with white or other light and bright colors to offset the darkness.
As I discussed before, the warm or cool tones of a brown color largely affect the room's style. Golden brown or rust are beautiful additions to the bedroom, especially when paired with golden, mustard yellows or white. Add some medium brown leather accents and light wood for a complete scheme.
Cool browns offer modernity and freshness to the bedroom while still bringing the warmth that white or gray cannot provide. Pair it with whites, creams, and raw wood architectural elements to create a sophisticated and soothing environment.
The color brown is all about natural and earthy elements. Therefore, accent your bedroom with brown knitted blankets, baskets, neutral pottery, and varying textures in area rugs, bedding, or throw pillows.
Although it is not the most prominent color choice for a bedroom, brown can create a soothing, natural oasis that will make you never want to leave the bedroom.