Here we share our paint colors for bedroom with dark furniture guide including the best shades for walls, for spaces with dark brown pieces, and tips on how to brighten these areas.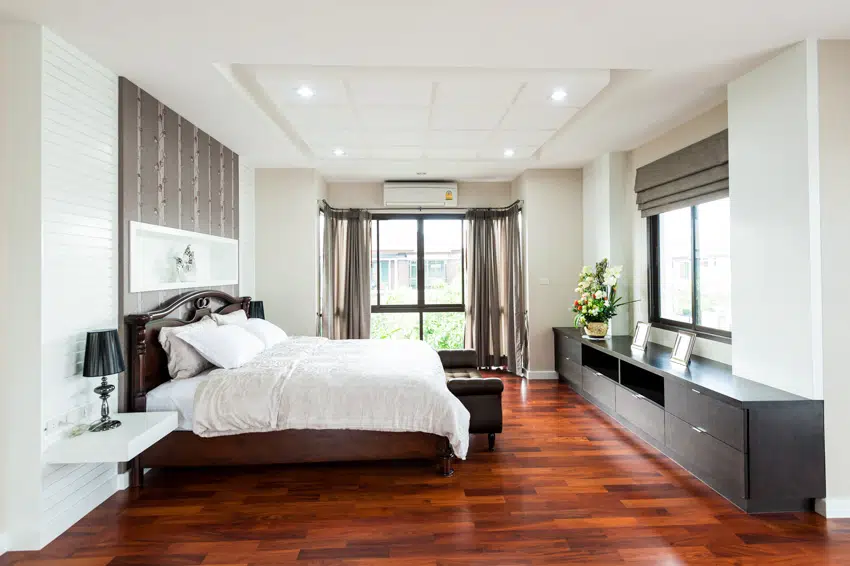 Painting the bedroom in the right color not only makes it more pleasant to the eyes. It can also promote a more restful place to enjoy quiet evenings and facilitate better sleep.
However, if one has dark bedroom furniture, the paint color options may not be as extensive as one would like. Nevertheless, you can always consider soft, warm, and bright paint colors for bedroom with dark furniture.
What Wall Color Goes Best with Dark Wood Furniture?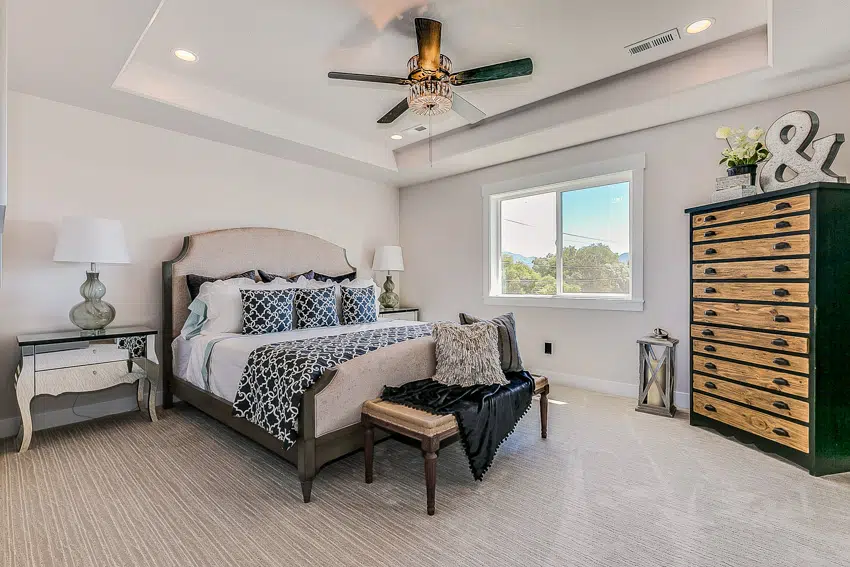 Dark-colored elements can add depth and warmth to any living space, including the bedroom. It can also keep the room cozy, neat, and orderly while giving a sense of rich ambiance for a more relaxing time.
However, mixing dark wood furniture with other colors in the bedroom can be a daunting task for many. Painting the bedroom wall in colorful and bright paint can amplify the dark wood's richness.
Using the same hue with a different shade can also create a dingy bedroom. Hence, the perfect paint colors to use on the walls of a bedroom with dark wood furniture are the following.
White Painting the bedroom walls white is the most straightforward solution one can do. It provides an excellent contrast to the chocolatey grains of dark wood furniture.
White walls and dark wood furniture work to create a warm ambiance while conveying elegance in the room. Read more about our guide on Ipe wood furniture here.
Light Gray One can think of light gray as an off-white color, giving the bedroom a classic look without appearing dingy.
The best part about using this paint color is that it is cooler to the eyes than white while creating a rustic feel.
Beige
With rosy hints, beige can produce a warm and soft ambiance to the bedroom.
Beige colors work best with dark brown wooden pieces of furniture because of the wood's natural red or orange undertones.
It is also elegant to have, especially if one's bedroom has matching gray or brown curtains.
Grayish Blue Not all shades of blue will work to complement the dark wood furniture in one's bedroom.
The best hue is grayish blue, bringing with it a more relaxing and cooler vibe suitable for improving the bedroom's functionality.
The addition of gray pigments provides a transitory effect to the wood's dark colors.
Light Brown Like grayish blue, light brown can also provide a remarkable continuity between the bedroom wall and the dark wood furniture.
Brown has a slightly warm vibe, giving the bedroom a soft glow that can make resting and sleeping more pleasant. It is also the perfect choice for fans of earth colors.
Light Yellow Painting the bedroom walls in lemon or sunflower yellow will have the room screaming.
Toning down the yellow a little bit can create a warm and welcoming living space, perfect for complementing the natural yellow undertones of dark wood furniture.
Sage Green This paint color has a cool grayish tinge, making it suitable for complementing the rich colors of dark wood furniture in the bedroom.
Drawing inspiration from aromatic herbs, painting the bedroom walls sage green will create a calm and fresh ambiance to make one's sleep more relaxing.
Read more about our guide on colors that go with green here.
What Color Should I Paint My Bedroom with Dark Brown Furniture?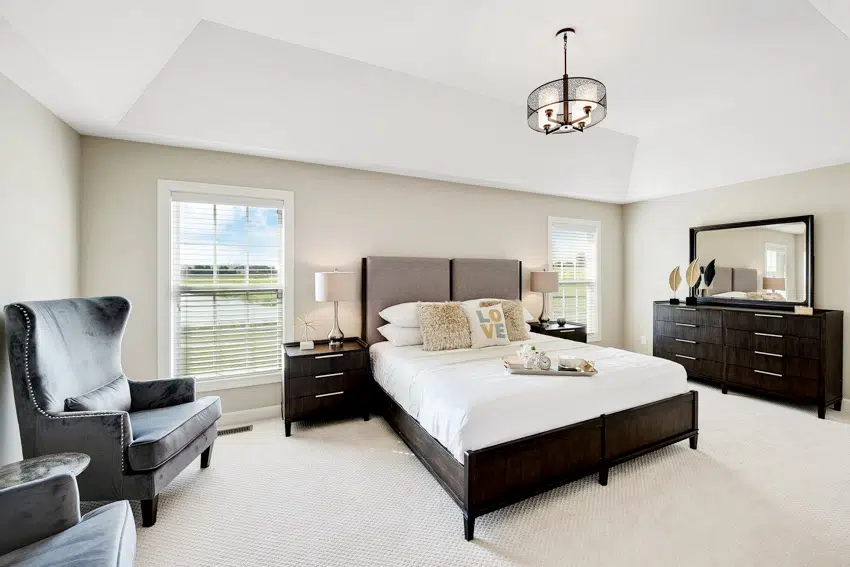 Other than the paint colors already mentioned in the preceding section, one might also be interested in the following hues to paint their bedrooms with dark brown furniture.
Creamy Tan One can consider this paint color option as a version of off-white. It is not loud and maintains the neutrality of its base color, white.
The hints of brown also make the color complementary to dark brown furniture.
Warm Peach Pale yellows like peach are always a welcome paint color for bedrooms with dark brown furniture.
It has a warm and inviting vibe without amplifying the richness of dark brown. Warm peach is often complimented by shades of pink.

Dusty Pink The reddish undertone of pink makes it a great partner for dark brown furniture without creating an outrageous atmosphere.
The dusty hue also neutralizes any feminizing effects pink may have on the bedroom.
Powder Blue Any light shade will complement dark brown furniture.
Powder blue is an excellent choice to give one's bedroom a cooler and more relaxing vibe. Its soft hue conveys a calm and tranquil environment, perfect for any bedroom.
Light Green Like sage green, lighter shades of green can give a bedroom with dark brown furniture an earthy feel.
It is also soft on the eyes, preventing any strain one may already feel from the reddish undertone of the furniture.
Soft Copper The reddish-brown hue of copper can complement dark brown furniture by creating a transitory effect.
The soft copper color is not as bright as red or as dark as chocolate while imparting a rustic vibe to the bedroom.
How Can I Brighten Up My Bedroom with Dark Furniture?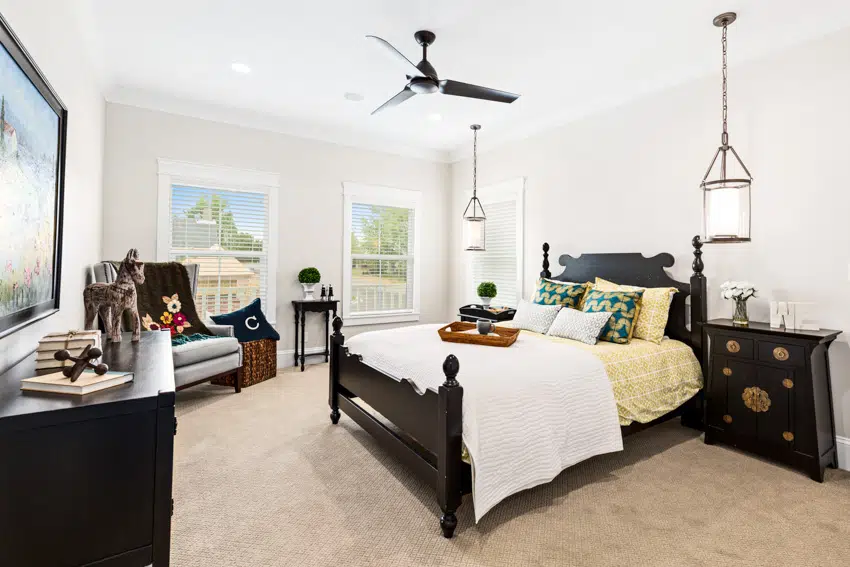 Having dark furniture in the bedroom can add depth and character to the room. Unfortunately, too many dark-colored pieces of furniture can also make the bedroom less appealing.
Here are a few tips one can observe to brighten up a bedroom with dark furniture.
Paint the Walls White or Any Light Color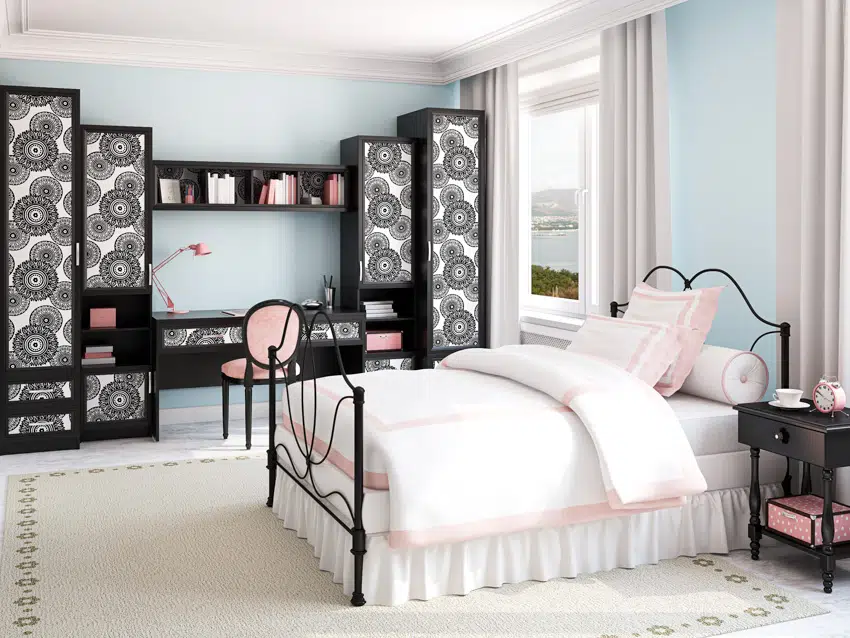 Painting the walls is one of the easiest, although less practical, ways to brighten a bedroom with dark furniture.
Any light-colored neutral hue will help soften dark colors, allowing the furniture to stand out without being obnoxious.
Use Complementary-colored Drapery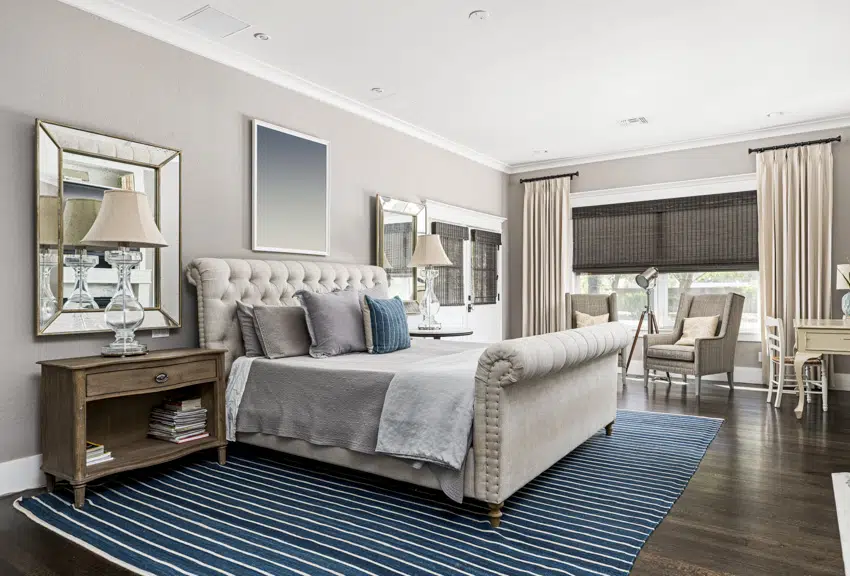 A more affordable option to lightening a bedroom with dark furniture is using light-colored drapery, such as a light yellow or light orange curtain to go with dark purple loungers and deep blue beds.
The colors must always complement the hues of the dark furniture to strike a balance. Read more about our guide on drapes vs curtains here.
Place an Accent Chair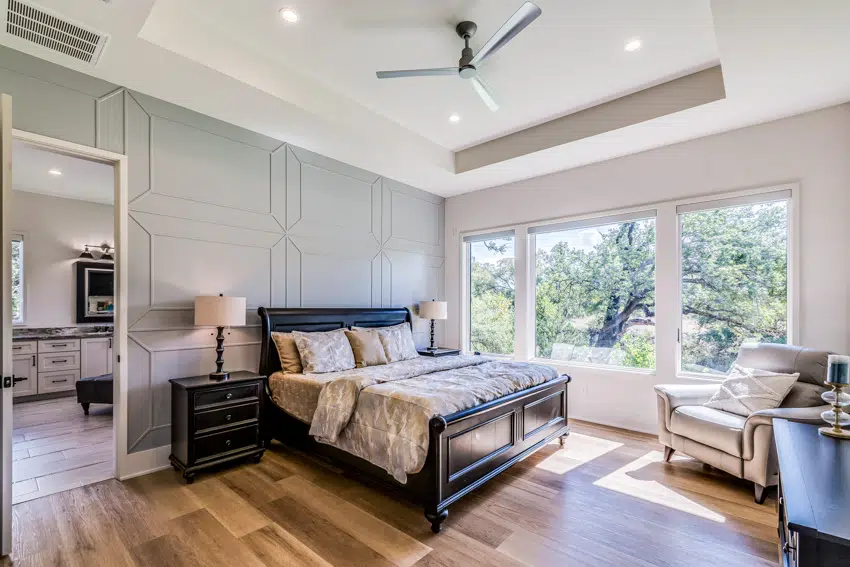 Functional and budget-friendly, an accent chair is always an excellent addition to any room. Choosing the right accent chair color not only complements dark furniture. It can also brighten the bedroom.
For example, an orange chair should fit nicely in a grayish-blue bedroom with a deep blue-colored bed.
Invest in Good Lighting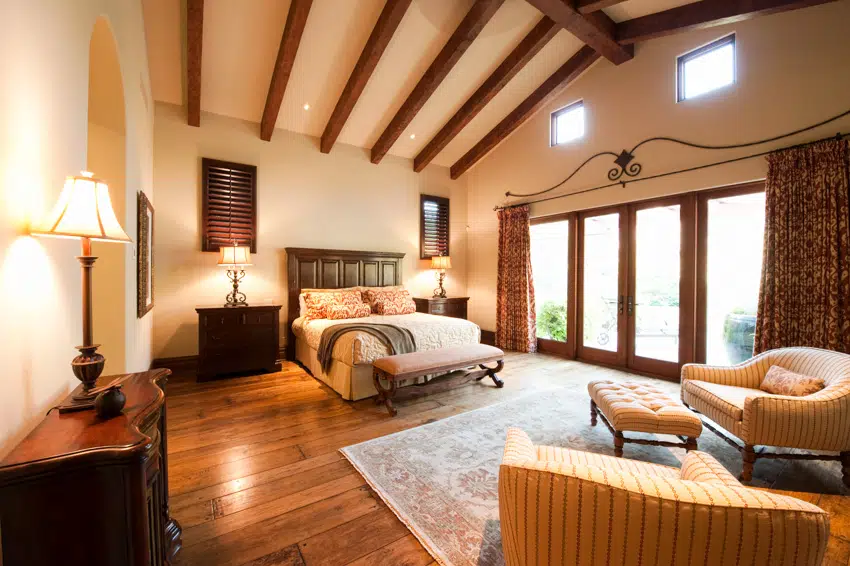 While bright light can impact one's circadian rhythm necessary for falling asleep, adequate lighting can brighten up a bedroom with dark furniture. One can always choose dimming light fixtures, ensuring one has effective control of the brightness settings.
The best paint colors for a bedroom with dark furniture are lighter shades of the same color family or paler versions of complementary colors. White and its different shades are always an easy choice. If one decides to go for more color, lighter shades are an absolute must.
See more related content in our article about the different bedroom paint colors on this page.