Here's our pantry cabinet sizes guide including standard kitchen pantry cabinet dimensions, shelf spacing, popular furniture brand dimensions, and pantry door sizes.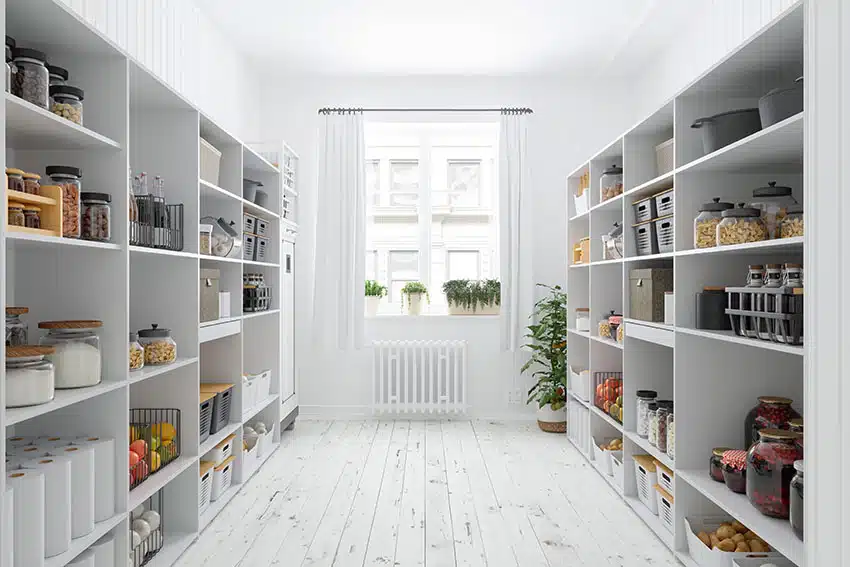 One of the most versatile storage any household can have is a pantry. Big or small, a pantry can store anything from food to cookware and even small appliances. They come with a lot of add-ons and features like roll-out trays which can offer a lot of extra space even for smaller kitchens.
Cabinet pantry will vary according to the specifications and what the homeowners are looking for. Sizes will also depend on the cabinet organizers and door style, finishes, and style of the pantry cabinet.
There are large and tall pantry cabinets perfect for bigger homes, while minimum shelving for a pantry corner is also there for smaller spaces.
Standard Kitchen Pantry Cabinet Sizes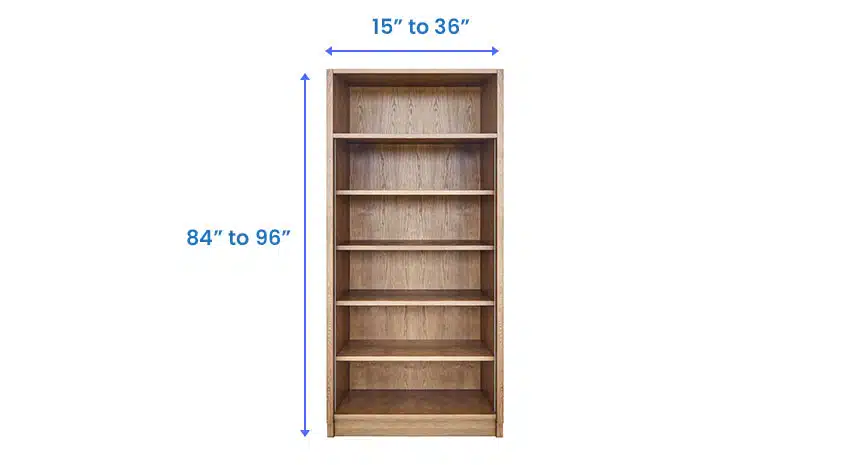 Pantry cabinets are a considerable investment for any home since most of them will be available custom, sometimes requiring a higher price than expected.
In terms of sizes, there is no one set standard size for pantry cabinets and what it has is a range of available sizes for the width to the depth, ensuring that no matter what a homeowner requires, there will be a good chance that they can find one that will tick all the boxes in their list.
The standard width from side to side will dictate how thick a pantry cabinet is available in sizes ranging from the smaller 15 inches or 38 centimeters to the much wider 36 inches or 91 centimeters.
Heights will also be available in many sizes, with some taller than others ranging from the standard 84 inches or 231 centimeters to 96 inches or 244 centimeters.
What Is The Minimum Width Of A Pantry?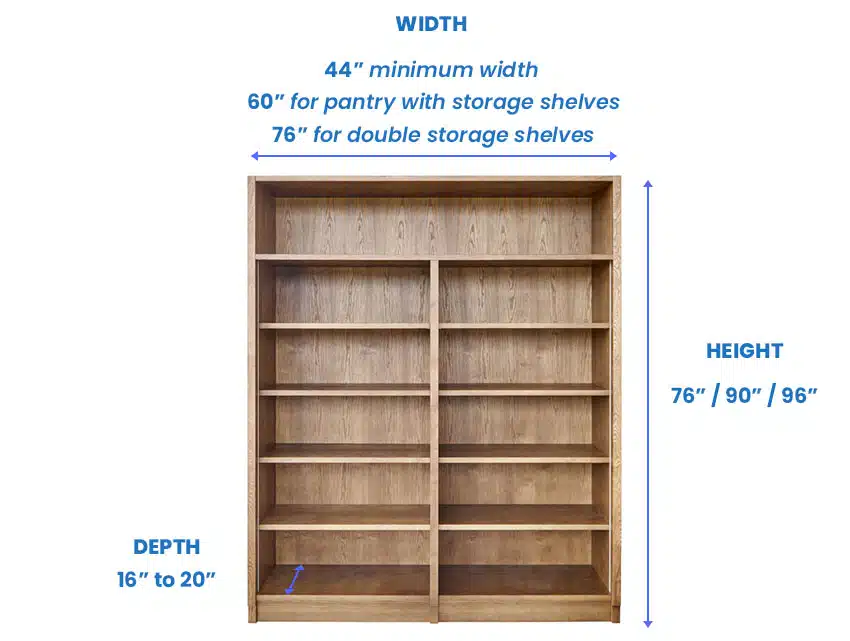 Although a pantry can be small or as large as anyone wants it to be, it has a minimum set aisle width of 44 inches or 112 centimeters. This will ensure that the average person can easily move in and out and around the pantry.
Suppose the homeowner has a pantry on one side and not on the other. In that case, the recommended space will go up to 60 inches or 152 centimeters wide, and this number will increase to 76 inches or 193 centimeters if the pantry has storage shelves on both sides.
It is essential to ensure that these minimum dimensions are met in order to ensure that the pantry is not too cramped and functional.
Full Height Pantry Cabinet
Tall pantry cabinets are the most appropriate option for a more elevated kitchen. These taller pantry cabinets give everything to homeowners, from extra storage spaces to aesthetics to concealing appliances like fridges.
Taller heights cabinets will come with a dimension of 84 inches or around 213 centimeters; taller ones are available at 90 inches or 229 centimeters, while even taller ones are available at 96 inches or 244 centimeters.
To fill up gaps between a pantry cabinet and the ceiling, crowns or decorative moldings are often utilized to fill this gap up. Usually, the height of pantry cabinets has limited options than the width of a pantry cabinet from side to side.
Pantry Cabinet Depth
Another critical dimension to consider when selecting the perfect pantry cabinet other than the height and width is the pantry cabinet's depth. Depth is an important consideration since it will dictate how easy items are to access in a specific pantry cabinet.
More often than not, the standard depth is anywhere between 16 to 20 inches or around 41 to 51 centimeters. Anything higher than this, especially for upper shelves, will find stuff getting pushed back on the back of the pantry cabinet and forgotten.
This is a disadvantage of most taller pantry cabinets, but there is more than one variation in shelving units to choose from, giving all homeowners options to get the perfect one for their homes. Read more about deep pantry organization on this page.
Pantry Cabinet Shelf Spacing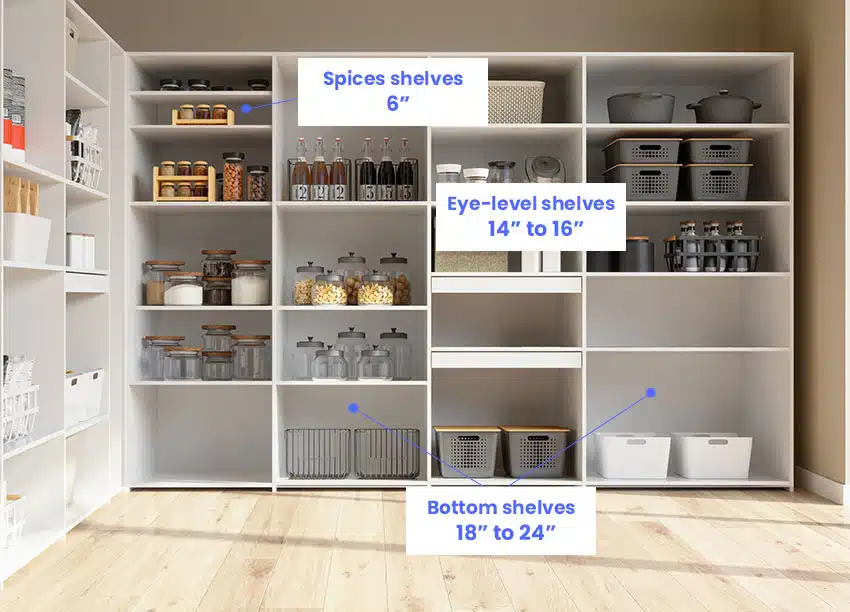 Another dimension factor when looking for the perfect pantry cabinet is the spacing between the shelves. Custom pantry cabinets will not have this problem since they can easily demand the space they need.
More or less, bottom shelves start with 16 to 20 inches deep or around 41 to 51 centimeters deep, and they will be spaced 18 to 24 inches or 46 to 61 centimeters apart.
For pantry shelves that are at an eye-level, a spacing of 14 to 16 inches or 36 to 41 centimeters will allow taller canisters and cereal boxes to fit in. At the same time, shelving for spices will only need around 6 inches or 15 centimeters of space.
Kraftmaid Pantry Cabinet Sizes
KraftMaid is one of the most trustworthy brands when it comes to kitchen cabinets, and that has been the case going on over 40 years.
There are many cabinetry options they allow homeowners to peruse. Still, their wall cabinets for the pantry will usually be available with a height anywhere from the smaller 12 inches or 30 centimeters to the taller 96 inches or 244 centimeters.
Widths will vary and have more options depending on a specific shelf style, from 12 inches or 30 centimeters to thicker ones at 36 inches or 91 centimeters. The depths are pretty standard and will usually vary with two: 12 or 24 inches or 30 or 61 centimeters.
American Woodmark Pantry Cabinet Sizes
Another reliable brand is American Woodmark, which offers a lot of options and not just pantry cabinets in their arsenal of kitchen fixtures products. They have everything from range hoods to tall cabinets utilized for a variety of rooms, from the bath to the kitchen.
Pantry cabinet height will often range in four sizes: 84, 90, 93, and 96 inches or approximately 213, 229, 236, and 244 centimeters. Depth will vary with two options: 12 to 24 inches or 30 to 61 centimeters. Width, on the other hand, will offer a lot of sizes for any homeowners looking for the perfect fit for their pantry size.
IKEA Pantry Cabinet Sizes
IKEA is another brand that offers variety, ranges, affordability, and style for pantry cabinets. They are available with many heights and widths options to fit virtually any kitchen size. It is also highly customizable, and homeowners can decide how they want the cabinet to look on the inside.
Heights will vary with a standard 80 to 96 inches or 203 to 244 centimeters. Widths from side to side usually range from 12 to 47 inches or 30 to 119 centimeters. In contrast, depths are standard throughout, with a shallow 15 inches or 38 centimeters to a deeper 24 inches or 61 centimeters.
Fabuwood Pantry Cabinet Sizes
Besides KraftMaid or IKEA, there is also Fabuwood for all homeowner's cabinetry needs. This brand offers a variety of pantry colors, allowing different styles and choices when it comes to their size catalog. The cabinet door itself usually determines their sizes.
The overhead pantry cabinet will have a height of 30 inches or around 76 centimeters. Single door widths will range from 9 to 21 inches or 23 to 53 centimeters. In contrast, double doors will have a width of 27 to 36 inches or 69 to 91 centimeters.
Pantry Cabinet Door Sizes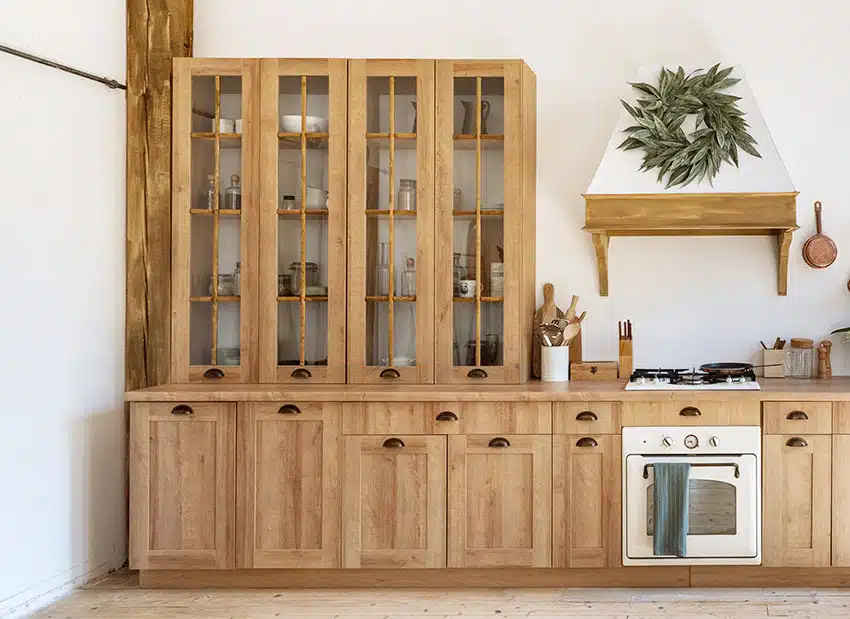 Depending on the height and width of a specific pantry cabinet, it will follow the height and width of the pantry cabinet door to go with it, give or take a few centimeters on the difference in measurement. Most will have doors that are 84 to 96 inches or 213 to 244 centimeters high.
At the same time, widths can vary depending if it is a smaller 15 inches or 38 centimeters or the broader 30 to 36 inches or 76 to 91 centimeters pantry cabinets.
Visit our guide to walk-in pantry dimensions for more related content.