Here's our range hood dimensions guide, including standard hood sizes for different ranges and how to measure under cabinet range hoods.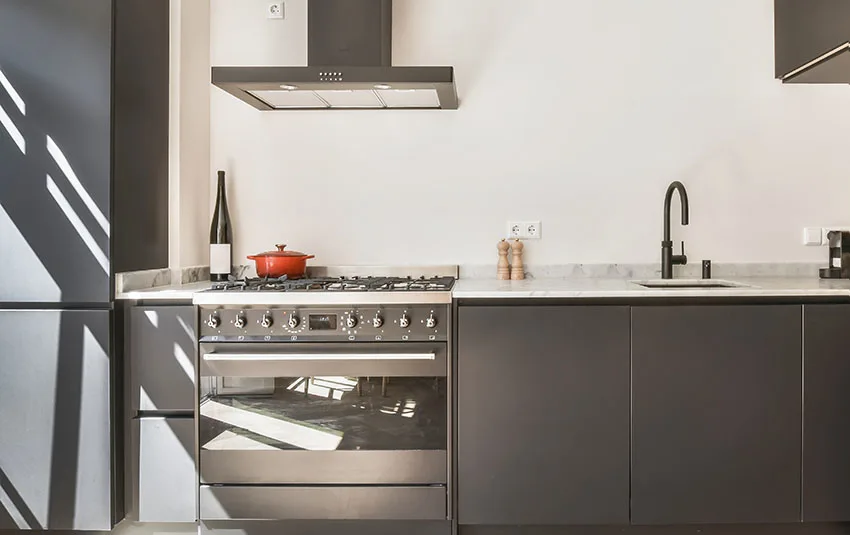 It can be time consuming to clean regularly used kitchen appliances and cabinets. Removing the greasy deposits covering all the cabinets and counters is difficult, particularly around the cooking zone.
Thankfully, a range hood helps filter out airborne grease and contaminants before they settle and causes severe cleaning difficulties. It's far simpler to push the power switch on the range hood and block the grease in its path than spending hours washing kitchen surfaces.
Range hoods are a must-have feature for every kitchen, whether rebuilding or updating. They're the best way to eliminate kitchen grease, moisture, and heat. It's crucial to know your range hood's correct dimensions to ensure it will work efficiently.
What are the various dimensions of a range hood? Read on to find out more details about range hood dimensions.
Standard Range Hood Dimensions
The standard dimensions of range hoods are typically 24″, 30″, or 36″ wide. The hood is precisely the same width as the cooktop.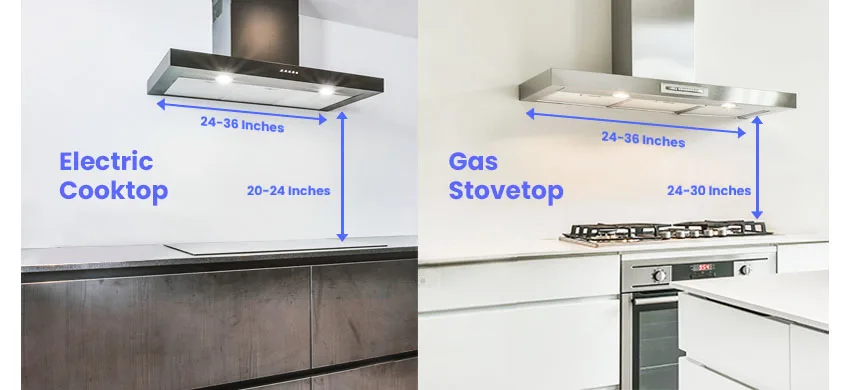 The most popular dimensions of range hoods are 30 inches or 36 inches wide. The range hood must be 20 to 24 inches away from the electric cooktop for maximum effectiveness.
The range hood should also be installed 24 to 30 inches away from the stove if you have a gas stovetop.
Hood Size for 36-inch Range
For a 36-inch range, a 36-inch range hood is typically selected by most homeowners. However, a 42-inch range hood is always the ideal option. It's best to add an extra allotment.
Hood Size for 30-inch Range
The 30-inch range is the most preferred option by the majority of people. For a 30′′ range, a 36-inch range hood provides the most significant coverage. At most range hood manufacturers, 36′′ range hoods are by far the most common size since it's also the most practical.
Range Hood Size Requirements
To give you a much clearer idea of what size of range hood you will need, take a look at some of these range hood size requirements:

Range Hood Size for a 24-inch Range
A 30′′ range hood would be an excellent size option for a 24′′ range; however, such a small range is uncommon in today's kitchens.
Range Hood Size for a 42-inch Range
A 48-inch hood offers excellent coverage for a 42-inch stove. However, if you have a 42-inch range, you may want to consider a 54-inch range hood, according to your cooking habit.
Upsize your range hood if you often use intense heat, grilling, boiling, works, or other forms of cooking that produce a lot of grease or smoke.

Range Hood Size for a 48-inch Range
We highly suggest a 54 or 60-inch range hood on 48-inch kitchen ranges to ensure maximum coverage. In this case, you won't have any disappointments with your range hood selection.
Assuming you don't cook frequently, a 54-inch range hood will suffice. If you cook frequently or use a lot of heat or smoke, a 60-inch range hood will be useful.
Range Hood Size for a 54-inch Range
Selecting a 54 or 60-inch range hood with 54-inch kitchen ranges is highly recommended. For any range hood size, you have to remember that you have sufficient power (CFM), but this is particularly critical for the bigger hoods. How many CFMs do you need – Source: Proline.

What Size Range Hood Do I Need?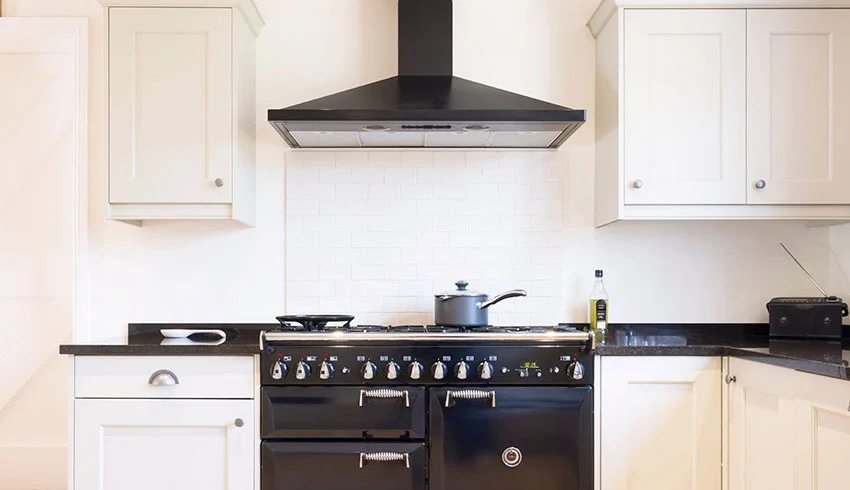 Talking about indoor range hoods, remember that the coverage of your stovetop or cooktop is the most crucial factor to take into account when choosing a range hood size.
Your wall-mounted range hood must extend 3 inches past your cooktop upon every side to optimize performance.
Island hoods need more range cover. Every side must reach 3 to 6 inches beyond your cooktop.
Island hoods, unlike wall-mounted hoods, are vulnerable to the air in your kitchen in all directions. You'll need extra coverage to ventilate and filter grease, grime, and other pollutants outside your house.
If you have a 30-inch range, for instance, a 36-inch wall-mounted range hood, which is 3 inches longer on each side than the range, is much more ideal. With remarkable efficiency, it will vent harmful pollutants out of your kitchen to avoid potential problems.
If you're building an island hood above a 3-inch range, the optimum length is 42 inches, 6 inches on each side beyond the cooktop.
If you want to put in an outdoor range hood, it must be bigger than an inside range hood. Outdoor burners create more hazardous pollutants than indoor burners because they generate more extreme heat.
To exhaust and fan out these excess pollutants, make your hood 6 to 12 inches bigger on every side than your stovetop. For instance, if you have a 36-inch outdoor range, the ideal range hood size is 48 to 60 inches. The larger fan blower will help prevent buildup and odors.

Read more about types of kitchen layouts on this page for more design ideas.

How to Measure Under Cabinet Range Hood
Calculate the Width. The width of your cooktop should be measured. Opt for a range hood that matches that width as a minimum requirement. Alternatively, you may choose one size bigger on each side and 3 inches wider.
Identify the Minimum Height. For under cabinet range hood installations, start measuring from the top underneath the cabinet. Measure this spot to your stovetop.
Microwave Range Hood Dimensions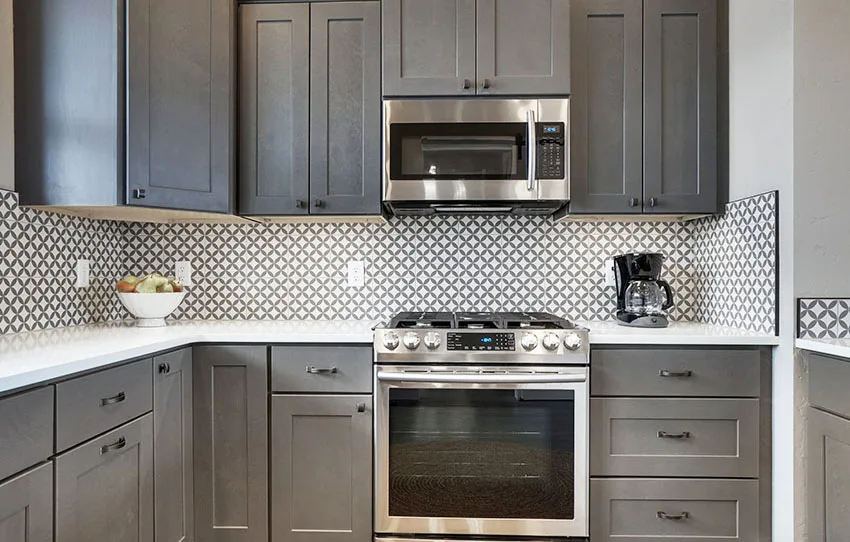 Over-the-range microwaves open the counter area while venting kitchen smells from beneath the range hood.
Microwaves come in a variety of sizes, ranging from 0.8 cubic feet for small versions to 2.1 cubic feet for full-sized ones.
Widths will typically be around 30 inches to fit the average range width below and the conventional cabinet breadth where the microwave will be installed.
The majority of over-the-range microwaves stand about 17 inches tall. The depth of a closed-door can vary from 15 to 18 inches.
The open-door depths will vary from 42 to 45 inches, but due to the standardized breadth of over-the-range microwaves, all variants will have the same swing-out radius.
Over-the-range microwaves will likely reach over the tops of your cabinetry. Built-in microwave drawers, intended to fit directly into existing cabinets, are an excellent option for a perfectly seamless fit.
See more related content in our article about the types of kitchen hoods on this page.