Here we share tips on how to decorate kitchen counters including creative decor pieces to give your interior design tons of character.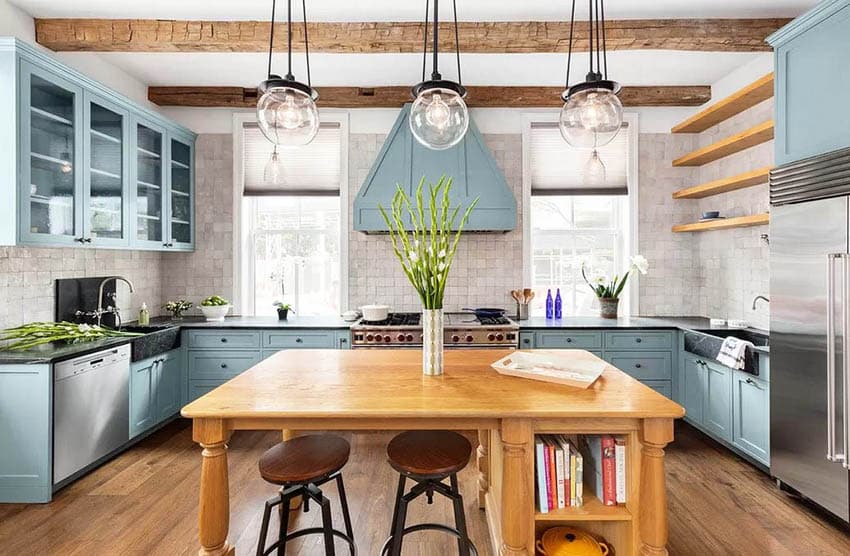 Accessories may be small but they are one of the first things that get noticed in a space. Whether in a bedroom, living room or kitchen, the accessories that you use in styling creates a big impact on the overall look of the interior. Most homeowners use these items along with other furniture and furnishings, to express their taste, to add a personal touch or to heighten visual interest and create a distinct design aesthetic.
There are hundreds of items which you can use to style a kitchen countertop. To come up with the best options to use, both functionality and style must be considered. Practical items such as appliances, storage bottles and canisters , of course, win in terms of functionality, but that doesn't mean that you can't style your kitchen counters with decorative items like indoor plants, artwork and photos. After all, interior design and styling is an art.
What to Put on Kitchen Counters
Below, we've rounded up a list of items you can use in styling your kitchen counter, along with some tips on how you can arrange them in the space. Mix and match a few of these things to create your own stunning kitchen design.
Fresh Fruit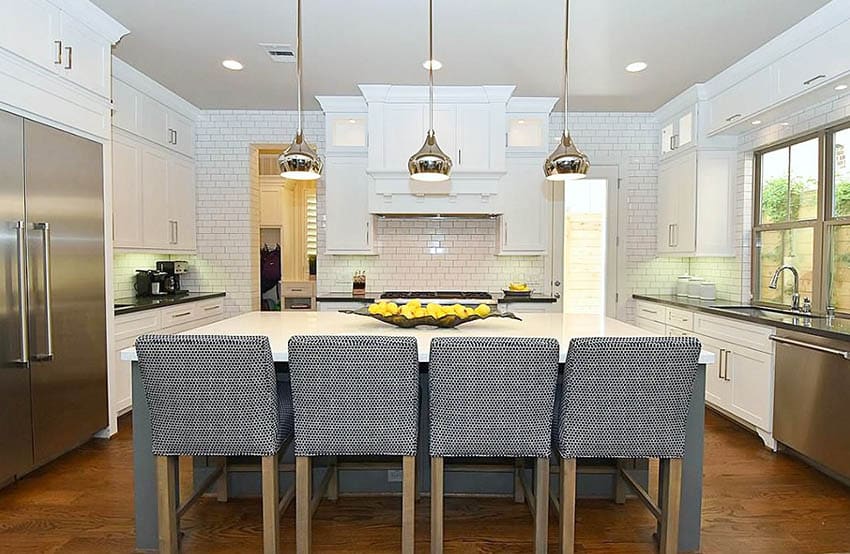 Since most fruit does not require refrigeration and can be left in room temperature, why not place it in a decorative dish and place it on top of your kitchen counter or island. Fresh fruit placed in a beautiful bowl o looks great on a kitchen counter since they bring in a splash of color to the space — the cheery bright yellow color of the lemon, the energizing green hue of lime, the sunny color of oranges and the appetizing red color of apples.
Fruit can also bring in a refreshing touch and a different feel to a kitchen. In fact, it can help soften the look of a space that is dominated by hard surfaces like natural stone countertops, tile backsplash and wooden cabinets.
Cookbooks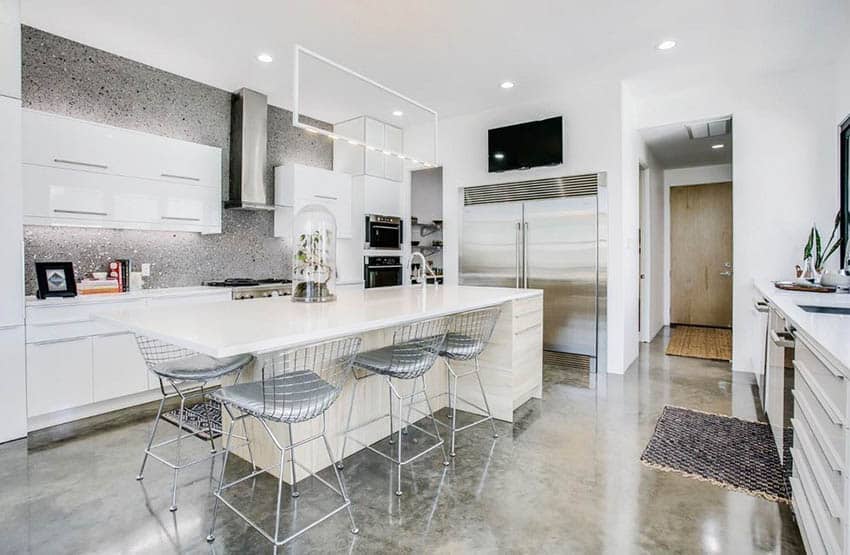 The best places to keep cookbooks is the kitchen because you can access them anytime you need to look for a recipe when preparing a meal. Stack a couple of hardbound cookbooks and coffee table books in the corner of a counter or lay them flat, horizontally or vertically. You can also use bookends, vintage wood cases or wire storage baskets if you want to amp up your presentation.
A collection of books is also one of the easiest ways to add personality to your kitchen. If you love Asian Cuisine, add a couple of books with an oriental touch. In addition, displaying books can also add a bit of color to a space. You can keep them color coordinated with the rest of your scheme, or go the opposite way by using them as an accent in a neutral space.
Cutting Boards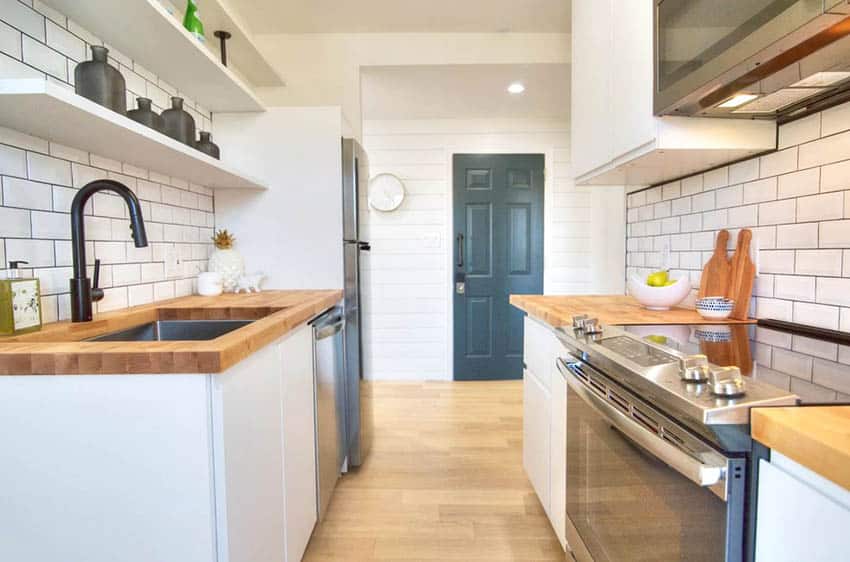 The best thing about cutting boards is that they are already an essential and common part of your kitchen. Aside from being functional and practical, cutting boards can be used as a decor to provide a unique aesthetic touch to a kitchen.
Collect a variety of types and shapes of boards and stack them together on the counter. Alternatively, you can lean them against the kitchen's backsplash. You can also look for different materials like wood and marble, as they can create visual contrast with the rest of the finishes in the space. Wood cutting boards can render a warm touch to an all white kitchen counter, while the wood grains can add textures that contrast beautifully with smooth natural stone countertops.
Plants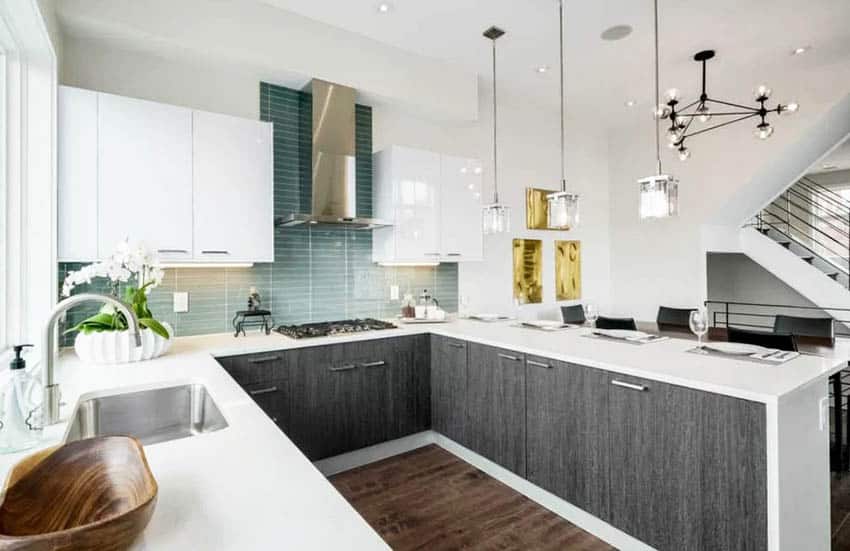 It's amazing how a single potted plant can bring in a refreshing touch to a space. It is also one of the easiest ways you can try if you want an organic feel to your home. You can either use one plant or use several plants throughout your kitchen counter and make them the accent of your space.
Choose from a variety of indoor plants which you can display in a stylish pot or planter. You can also opt for plant species that are low maintenance and will survive even if they do not get exposed to direct sunlight. Alternatively,fresh herbs can also be grown on pots and may be kept on top of the kitchen counter. Fresh herbs are very practical decors since you can use them anytime you need to when you are cooking.
There is also a wide variety of planters and pots which you can choose from in different stores. They come in different shapes, sizes and materials which can surely fit any kitchen style.
Fresh Flowers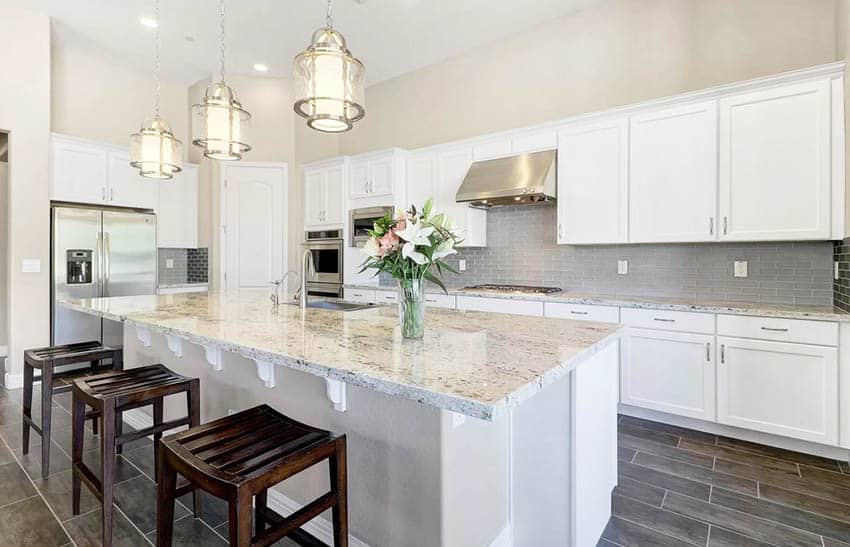 Aside from fresh plants, a colorful bouquet of fresh flowers can also bring in an organic and refreshing touch on a kitchen counter. Fresh flowers render a soft, subtle touch of color to a space and feel all natural.
Though they wilt faster and need to be replaced more often, no other decor can match the beauty of fresh flowers on a decorative vase.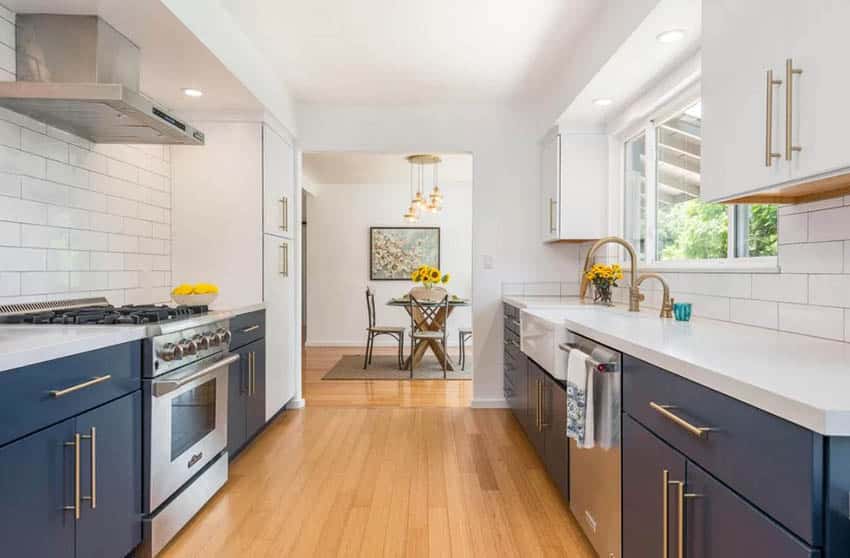 Put them in a nice vase and create your own unique bunch while experimenting with colors. Alternatively, you can customize a bouquet which is color coordinated with the rest of your kitchen's palette. Switch them up weekly so you have a new kitchen counter decor regularly. You can also try out different vases to change the look of your fresh flowers.
Pieces of Art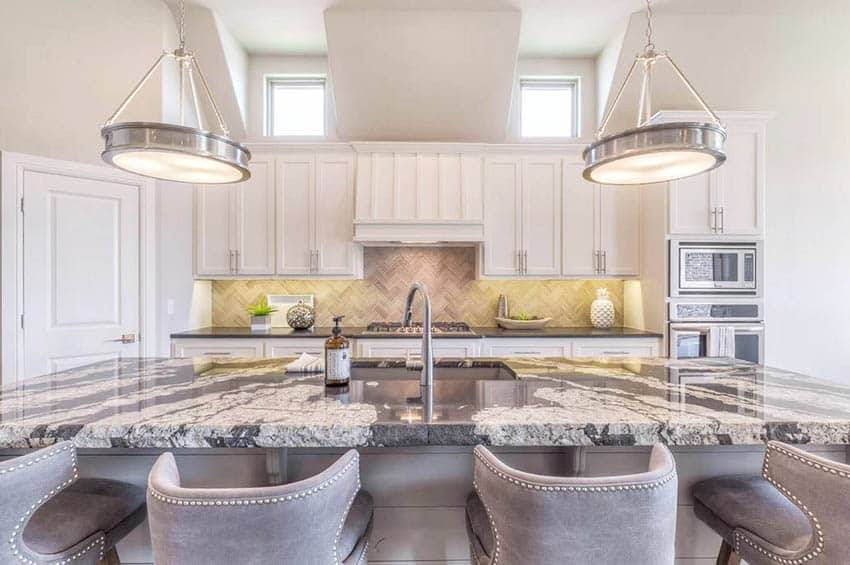 Most of us probably think that the kitchen is one of the most unreal places to display art. Contrary to this, Art and small pieces of artwork are definitely one of the best things to display in a kitchen counter as they can add a unique personality to a space.
Small pieces of art like framed canvases and paintings, dainty sculptures, decorative vases and jars can be used as an accent piece on top of a kitchen counter or the bar counter. Small paintings can be leaned against a wall or at the end of a counter. Paintings may be displayed as a single piece or can be displayed as a series, as long as they are not that big. Small pieces of sculpture or vases, on the other hand, are best layered into other types of decor and can serve as the focal pouint of the counter.
Handmade Soaps
Handmade soaps in different shapes, sizes and scents are typically displayed in the bathroom, however, they can also be used as a charming decor in the kitchen counter. A couple pieces of handmade soaps may be stored in a big jar or a dainty decorative dish and placed near the kitchen sink. This type of decor is very practical since it can be used to wash your hands or to add an interesting aroma to your kitchen too.
Handmade soaps are also a great way to personalize a kitchen counter space and can be easily made at home according to your own needs, taste and preference.
Stylish Small Appliances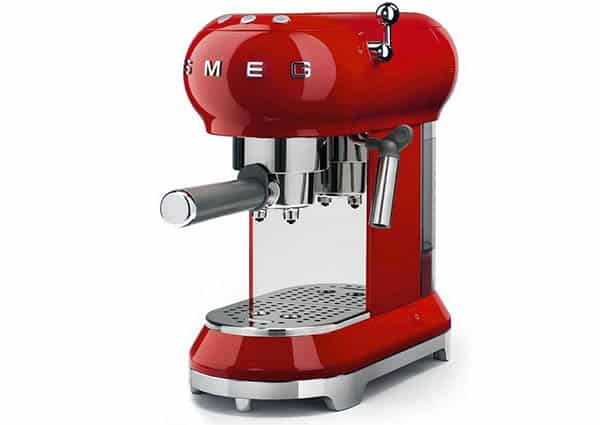 See this retro espresso coffee maker at Amazon
Nowadays, kitchen appliances come in different colors and styles and most of them can be showcased as a stunning feature of the kitchen. Pick stylish small appliances which are worthy to be displayed on your kitchen counter, like a bright fire truck red mixer or a charming mint green colored bread toaster.
Most home appliance manufacturers also produce different "series" of appliances which match a specific design style and aesthetic. Smeg, for example, specialized in retro inspired appliances like refrigerators, toasters, blenders and kettles that come in a myriad of bright hues and mellow pastel colors. You can choose from sweet baby pink, cherry lemon yellow, classic white, stylish copper and vintage bright red among others, to fit the style and color palette of your kitchen. Another popular brand, KitchenAid, produces mixers that come in different colors.
Displaying your appliances on the kitchen counter is a neat design trick especially if you want to save on storage space. Having appliances at hand on the kitchen counter gives you easy access to most used items like coffee makers, blenders and stand mixers, without having the need to dig in the cabinet. Just make sure to tuck the cord neatly behind the appliance so your kitchen counter doesn't look cluttered.
Matching Canisters & Storage Jars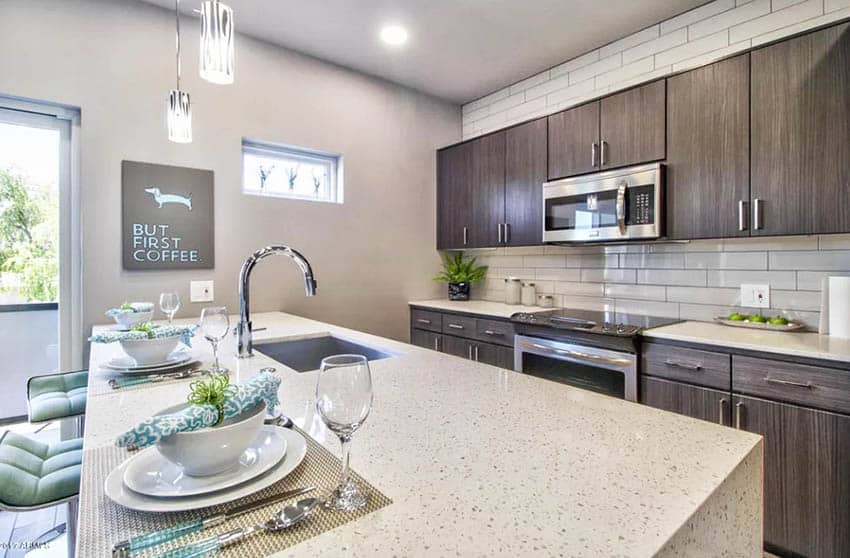 Matching canisters and beautiful storage jars like mason jars are also one of the best items to use when decorating kitchen counters. These practical items also help in keeping your space well organized as they can be used to store everyday essentials and staples like flour, sugar and other spices.
Keeping storage jars in the kitchen counter also helps with the work efficiency in your kitchen. By keeping regularly used items at hand, you do not have to scourge through the cabinets to find something. In the same way, scooping ingredients out of a jar is much easier than getting them out of bags.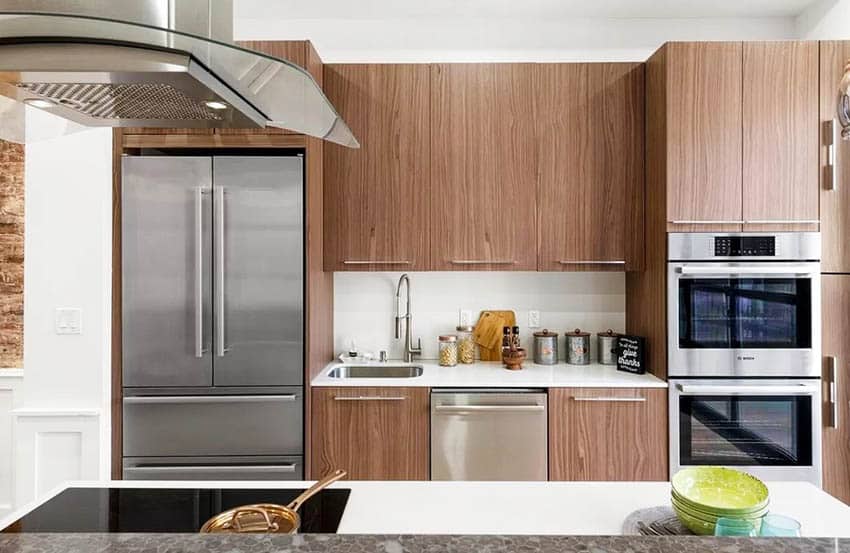 In displaying matching containers on the kitchen counter, you can either layer them or line them up, if you want a more uniformed look. There are also a lot of options you can choose from when it comes to the style of canisters and storage jars. In our opinion, you can never go wrong with the glass ones as they fit in any kitchen design style and theme.
Spice Rack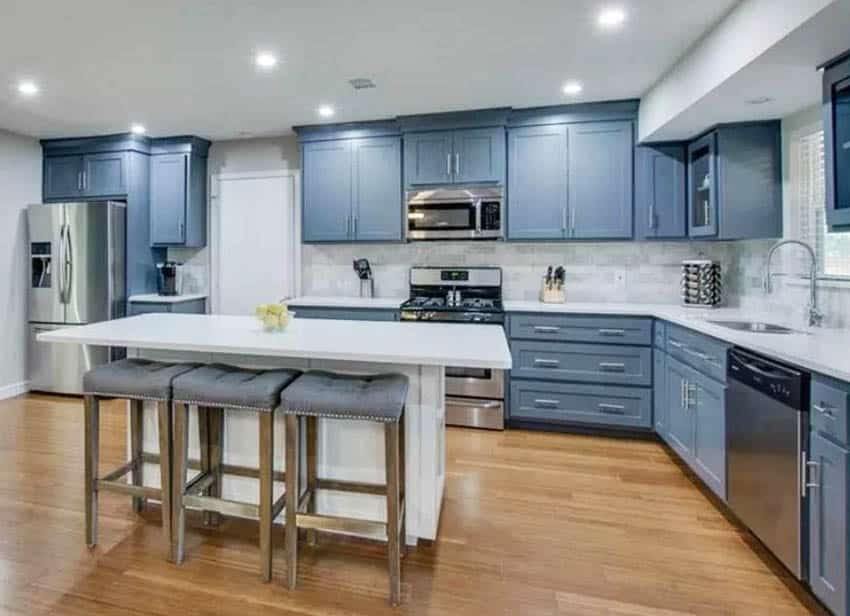 Just like storage jars and canisters, spice racks are also another type of item you can display on your kitchen counter. Different spices stored in stylish little containers are just satisfying to look at, and o0f course, they prevent your workspace from looking like a cluttered mess.
Wine Tray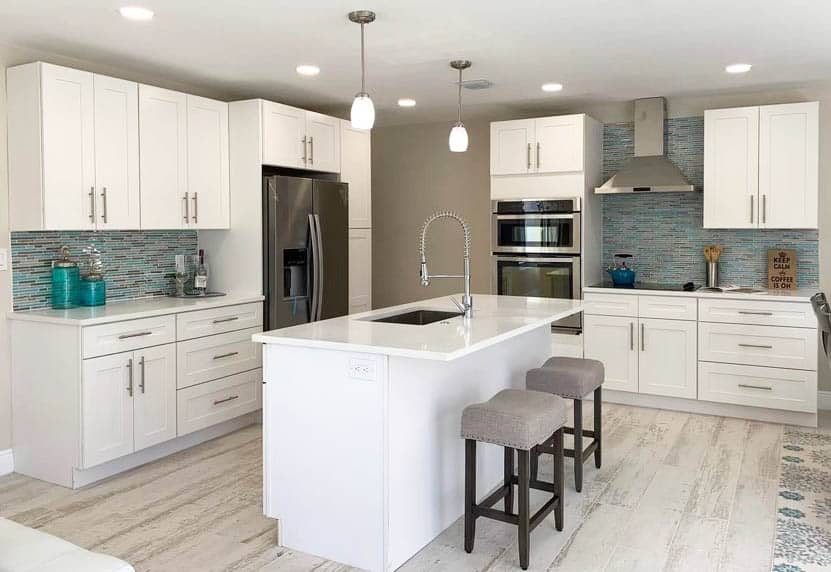 A decorative wood tray for wine and glasses can make an attractive decor piece and keep your favorite bottle within easy reach while entertaining. There's a wide range of decorative wine trays to choose from. See more kitchen bar decor ideas here.
Decorative Signs & Family Photos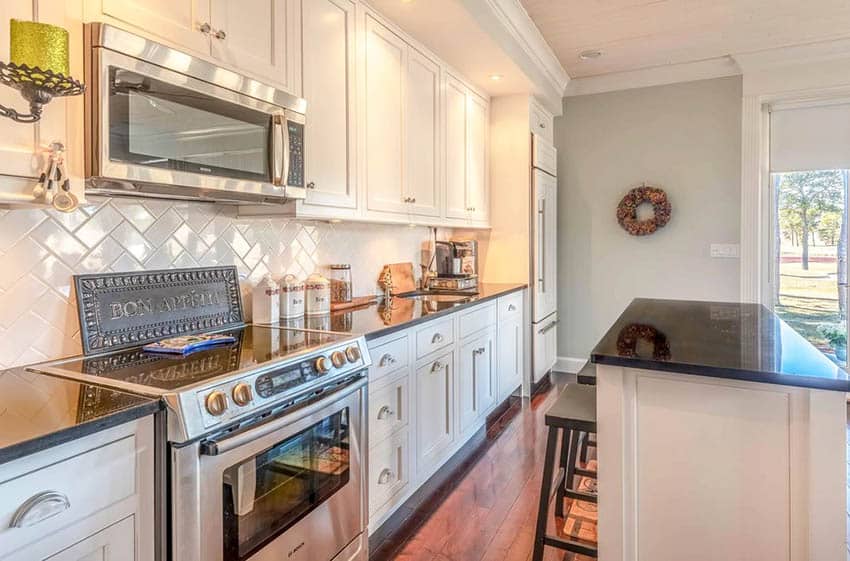 Decorative signs can bring your own personality in to the space with creative messages. A sign with your own favorite topic such as 'coffee or 'bon appetite' can add character.
Putting a framed family photo or two on the kitchen counter is another great way to personalize the space. You can print out black and white family photos and keep them in decorative frames. However, do not get too carried away when styling your kitchen counter with these. If you plan to display photos, opt for not more than 3 frames and keep them in one area to avoid creating cluttered kitchen countertops.
Coffee Station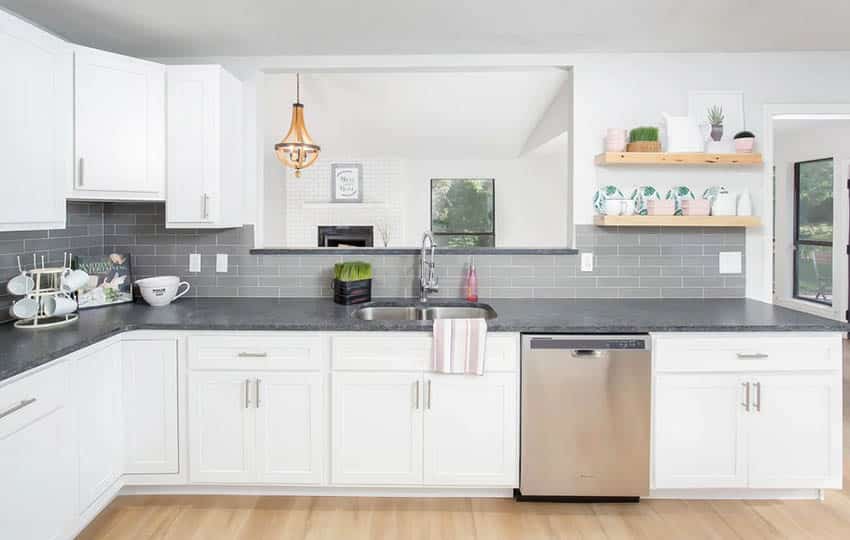 Coffee stations are a simple yet smart and practical way to style your kitchen countertops. Most of us jump start our day with a good cup of coffee, so why not set up a little coffee station which will help you create the perfect brew easily and quickly? Simply gather supplies such as coffee cups, mugs, saucers and teaspoons, along with your trusty coffee maker or electric tea kettle, in one corner. Put essential ingredients such as ground coffee, sugar and creamer in glass canisters and jars. You can also add in some tea making supplies if you want.
Styling a coffee station can be done in so many different ways. If you are working with a theme in your kitchen, you can look for appliances and canisters for your coffee essentials, which will match your motif. There are thousands of accessories which you can put in your coffee station that are available in the market, and there is no doubt that setting up one in your kitchen counter will be easy.
Tea Towels & Napkins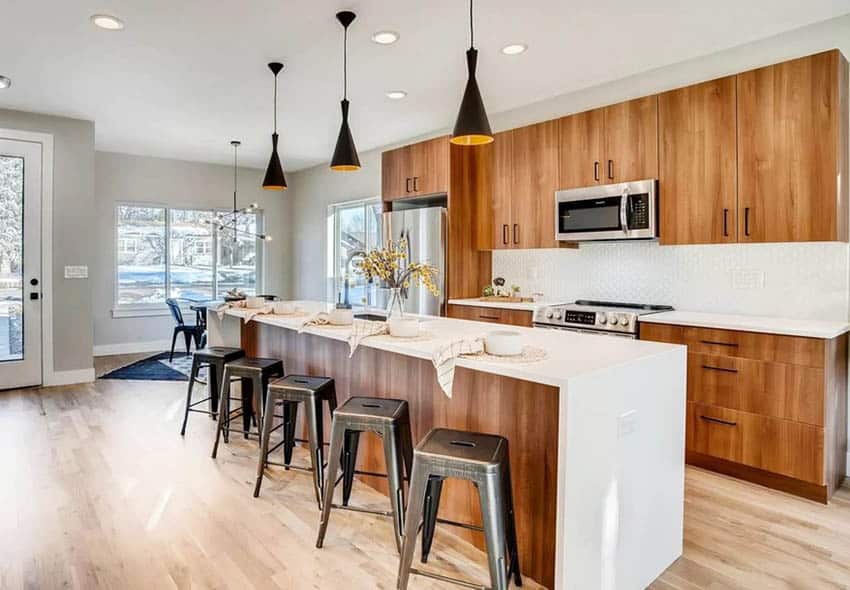 In a kitchen that is dominated by hard elements like stone countertops, tile backsplashes and stainless steel appliances, it is good to have a decor which will soften up the look of the space a bit. Tea towels and pretty napkins can be used as a decor for kitchen counters if you want to bring in a delicate touch to a kitchen.
Roll color coordinated napkins and put them in a tray on top of a kitchen counter. You could also create a full place setting with towels on an eat-in dining island countertop.
Tea towels, on the other hand, can be hang using metal hooks like brass, stainless steel or copper — depending on the existing style of your kitchen. There are also ready made hanging racks which you can purchase in stores, but instead of mounting them to a wall, why not lean them instead. DIY racks can also be made as an alternative as you can customize the finished product according to your own taste and requirements. For even more interior designs check out our gallery of kitchen staging ideas.