Here we share our beige kitchen ideas including cabinets, countertops & backsplash in a variety of design styles.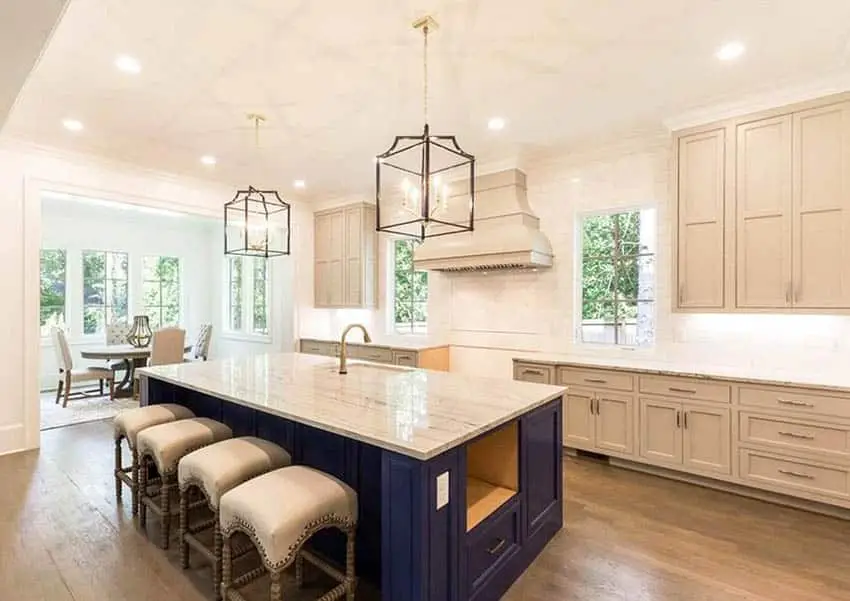 If white doesn't suit your taste or aesthetic goals, beige is a great alternative for your kitchens. Both are very versatile and timeless, so it should work on any style and can look good with most of the available kitchen finishes. Beige kitchens tend to look more inviting because of the warm tones in the color. The additional pigment also makes dirt less visible on its surface, so it's also advantageous for ease of maintenance. Beige kitchens also look good paired with wood as it enhances and complements the warm tones of the wood.
Since beige is a light, neutral color, it easily goes well with any color your pair it with, especially those with warmer undertones, such as browns/wood finishes, and other earthy colors, so there's quite a lot of colors you can choose for your walls, floors and kitchens. White walls combined with beige kitchen cabinets typically look great, as it emphasizes a subtle contrast between the two colors, and at the same time, keeps the ambiance bright. Shades of gray would also work well with beige kitchen cabinets, especially the warmer-toned grays, and will yield a more contemporary look. The array of possible beige kitchen ideas and color schemes you can create are endless – as beige is a neutral color, you will find that it looks good with most of the colors, whether cool or warm!
In the image featured above the kitchen has white walls and white marble countertops, paired with light beige kitchen cabinets for a subtle contrast. To give it a more contemporary flair, the base cabinet of the kitchen island was painted in a dark blue color to create a bold focal point in the space. An easy way to update the look of your classic style kitchens is by changing the color scheme into a more contemporary style. The easiest colors to use would be white and beige tones as it instantly makes the whole space brighter.
If you have existing cabinets you don't want to re-finish, you try to add beige into other parts of the kitchen, such as the backsplash or the countertop. There are many natural stones and synthetic materials in beige you can choose from. Most popularly used in kitchens are beige marble, limestone, granite, quartz and solid surface. You can also explore adding a touch of beige to your flooring, like using beige-colored ceramic tiles, or using a beige-toned laminate or wood flooring. You can also experiment with finishes to add a variety of textures – perhaps try a glossy beige laminate for your cabinets? Or a matte beige countertop material? As beige is a really versatile color, the possibilities are endless!
Below are some great examples of kitchens with a beige color scheme you may take inspiration from: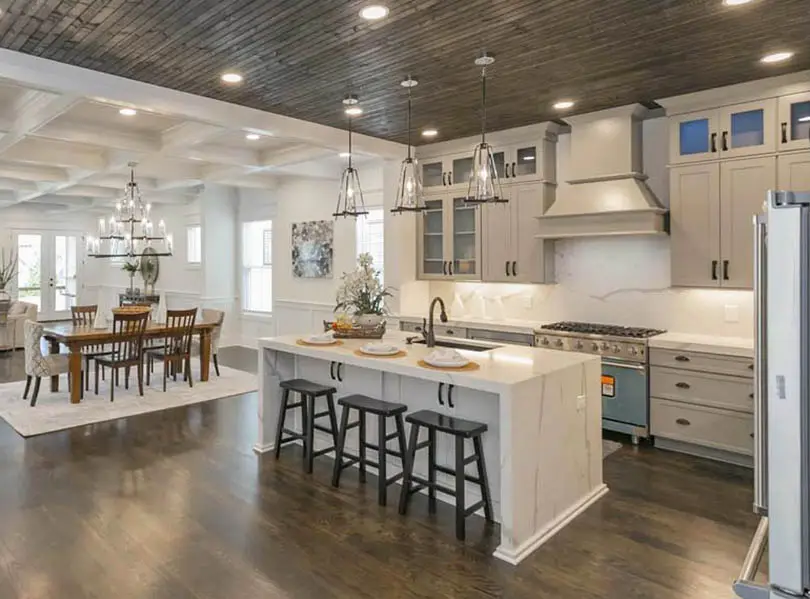 This open kitchen plan features bold walnut floors and walnut wood slats on the ceiling. White walls and white countertops help tone down the bold wood finishes and create a more harmonious ambiance to the space. The wall kitchen cabinets were painted in a soft oatmeal color, a very subtle beige tone that brings a little bit of warmth to contrast with the white marble backsplash and the flat white wall paint.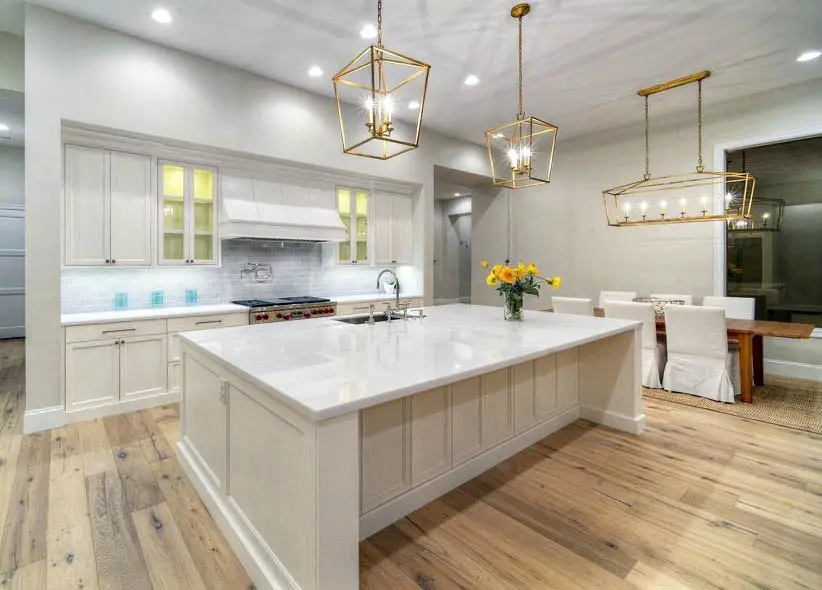 This spacious kitchen features natural oak floors and oatmeal-colored walls matched with off-white kitchen cabinets. The yellow tones are further accentuated in this space through the use of gold metal lamps and yellow accent lighting inside the cabinets.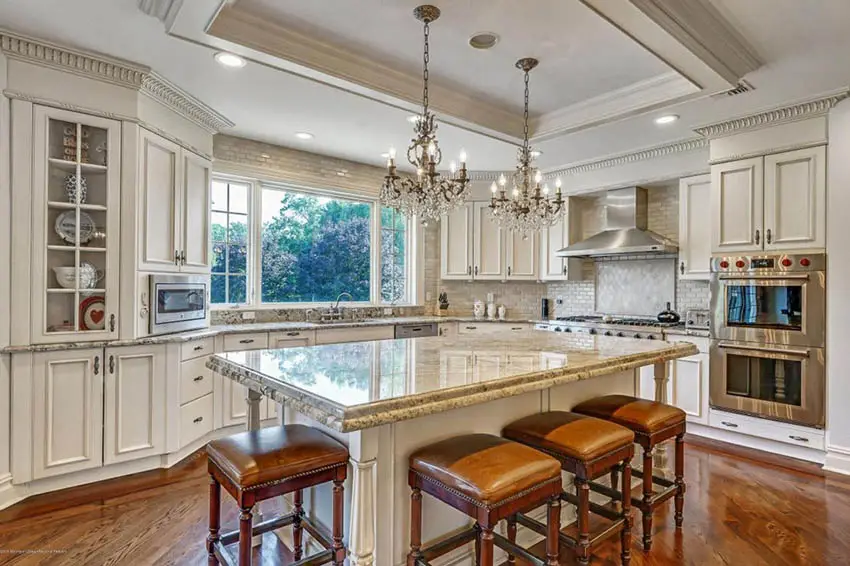 Detailed cornices, moldings and decorative posts are just some of the details you'll find in this classic style kitchen. The kitchen cabinets are in an off-white color to help tone down the mahogany flooring, while a beige granite countertop was used, giving this kitchen a very elegant look.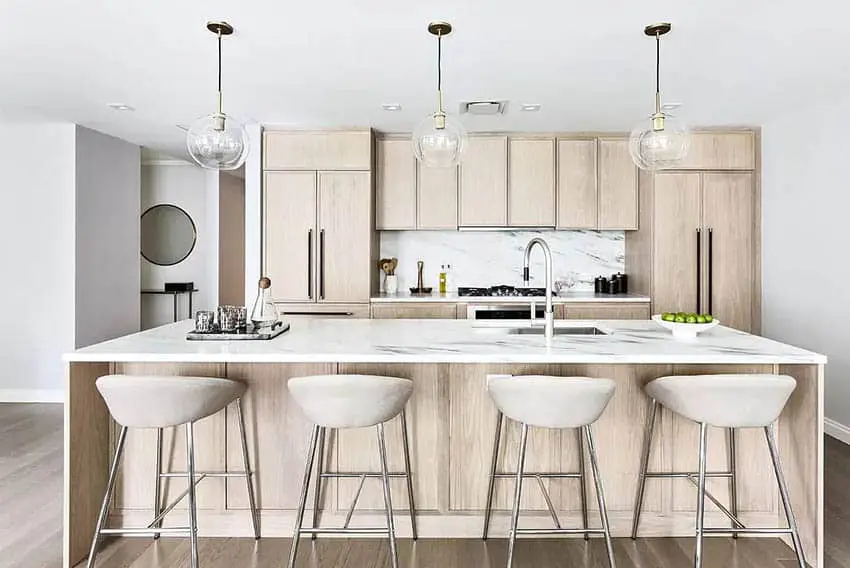 This modern kitchen design uses light beige wood veneer cabinets combined with a white quartz countertop and backsplash to create a light and inviting layout.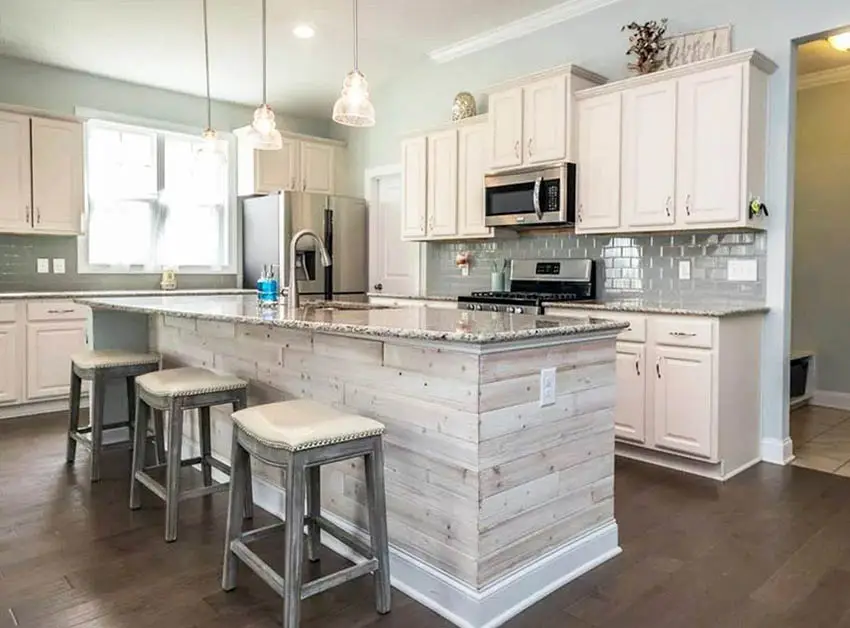 This contemporary kitchen has a unique approach of updating the look of this kitchen. The kitchen cabinets are standard cream-colored and topped with beige granite. The addition of gray subway tiles on the backsplash, however, updates the whole look and adds a bit of flair without overpowering the rest of the other finishes in the space.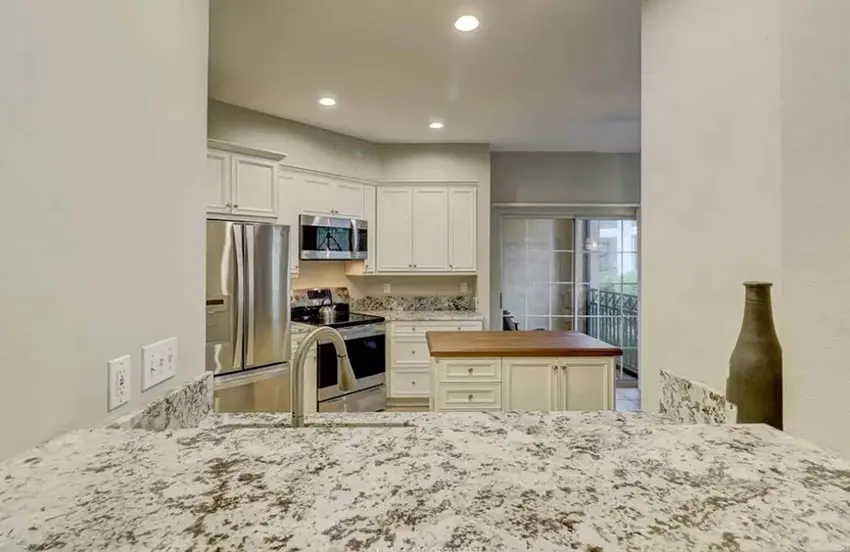 Sometimes, changing the wall color is easier than changing the existing finishes of your kitchen (especially when your kitchen is still in perfect condition!). In this case, because the kitchen cabinets are already white, the walls were painted in a very light beige color to create a warmer, homier ambiance to the kitchen.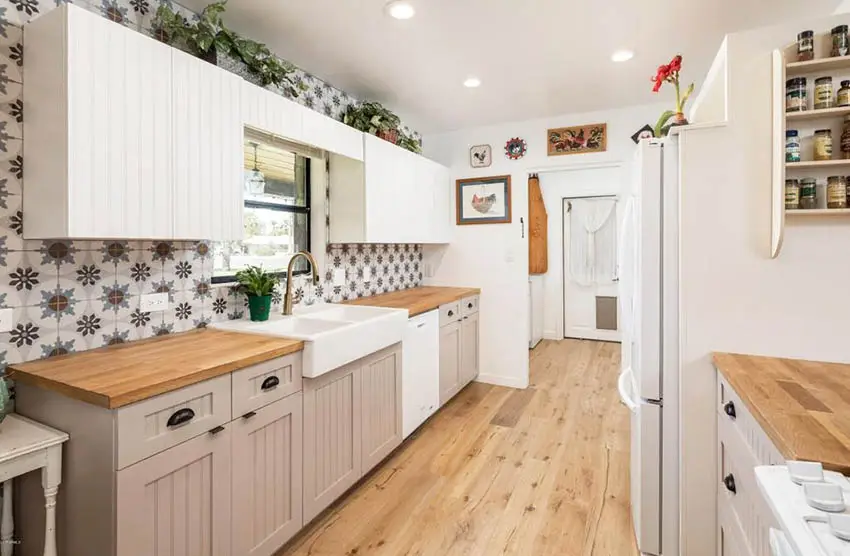 The beadboard panels and the brass hardware used in the cabinets in this galley kitchen definite gives it a country-style look, but in combination with colorful patterned tiles on the walls, Oak flooring and a matching butcher's block countertop, it definitely gives off a more contemporary appeal. The kitchen cabinet base was painted in a dark beige color, contrasting with the white overhead cabinets. A subtle touch that makes the overall look more unique.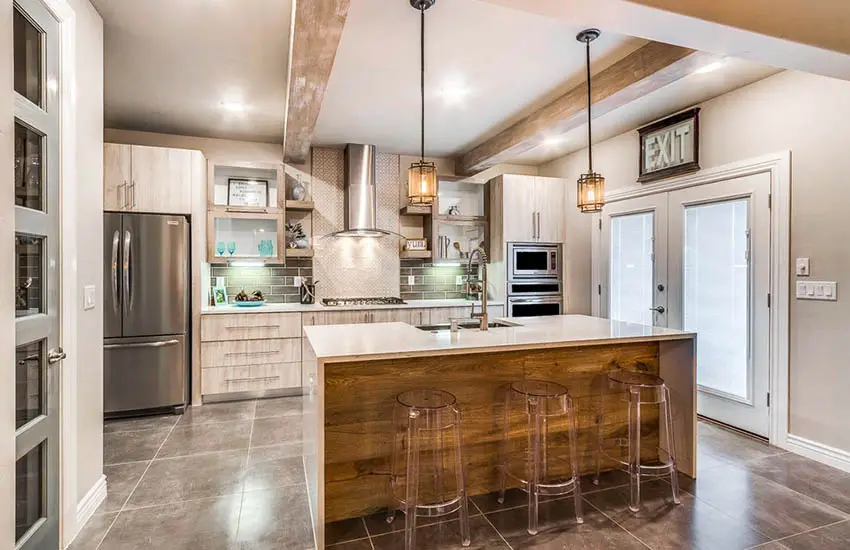 The color scheme of this modern kitchen space uses different shades of beige – a beige stained wood finish for the cabinets and beige-painted walls. Gray backsplash tiles were used to give it a more modern look, and dark beige ceramic tiles was the material of choice for the flooring for ease of maintenance.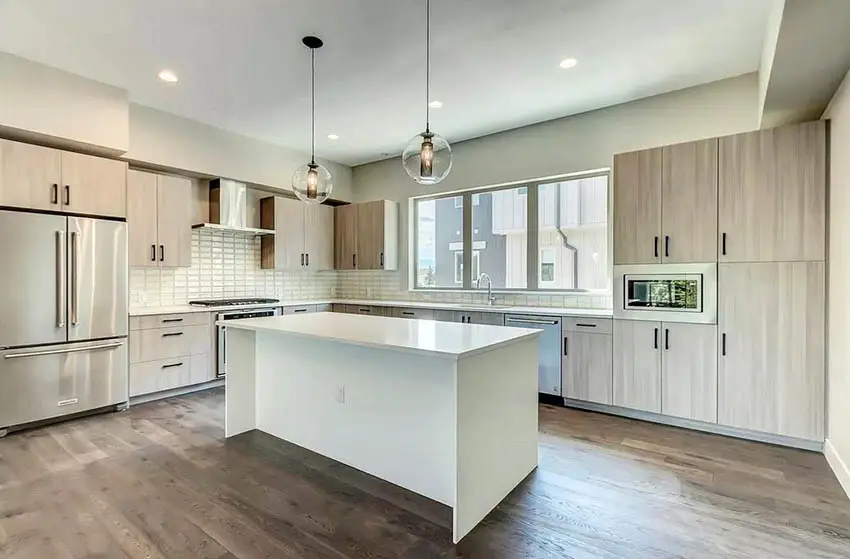 Another material alternative to painted cabinets would be laminates or veneers. This modern kitchen features a beige-washed Ash laminate used on all of the kitchen cabinets, giving it a clean and soft color that definitely looks fresh and updated.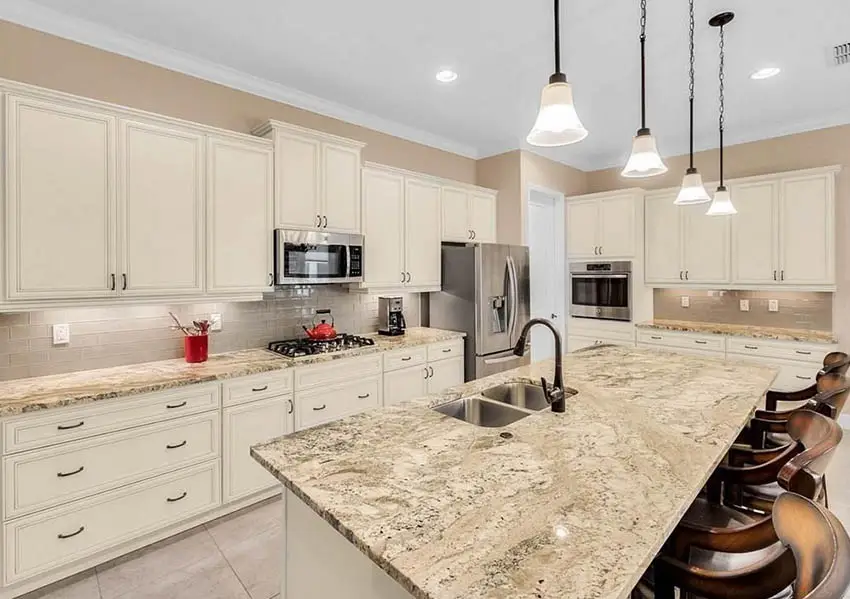 This classic style kitchen as all-white kitchen cabinets paired with beige marble countertops and beige glass backsplash tiles. The walls were also painted a dark shade of beige for a bit of contrast.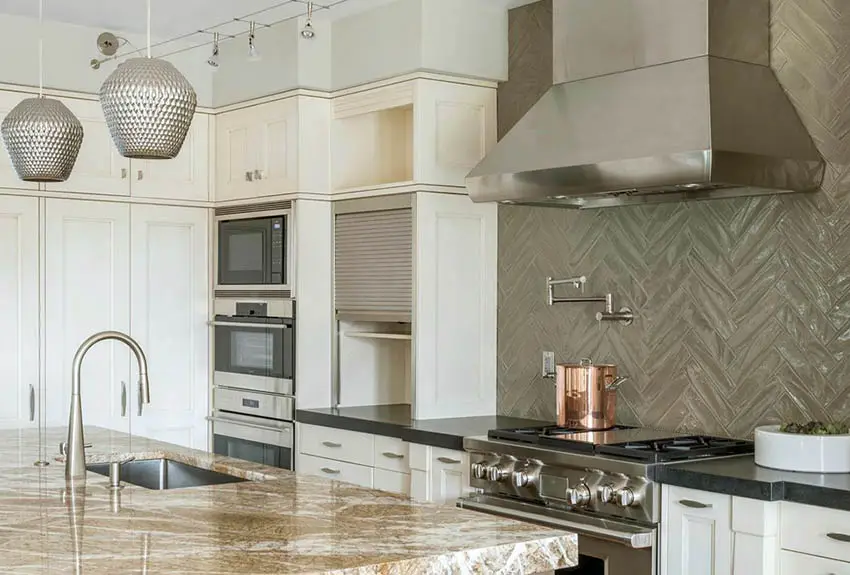 A little bit of texture and pattern was incorporated into this classic style kitchen by using dark beige herringbone pattern ceramic tiles for the backsplash. The unique gold and white countertop used on the kitchen also adds to the variety of colors and textures in the space.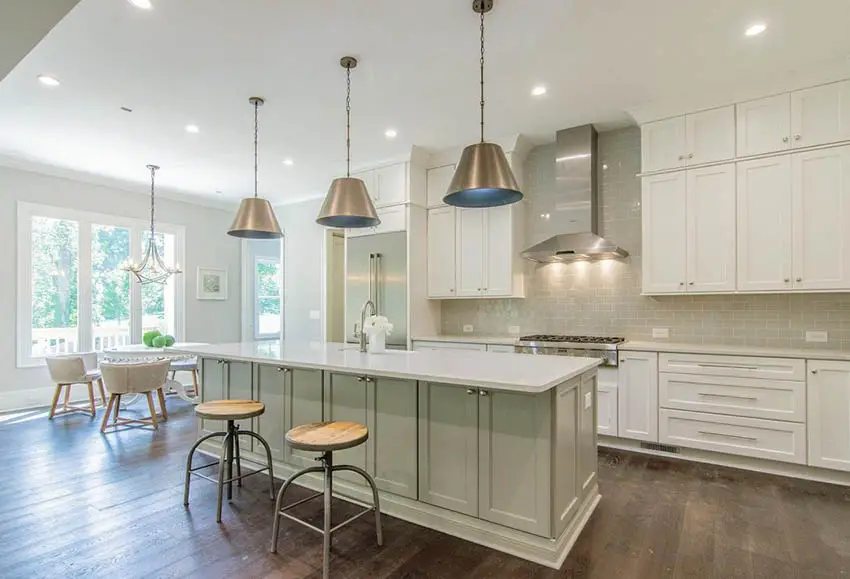 If you want a more subtle use of beige in your kitchen, you can use this example. A light ecru shade was used on the kitchen island for a very subtle contrast, and a similar-toned beige subway tiles was also used for the backsplash. A simple yet well-coordinated look.
The use of wheat beige paint on the small kitchen island in this all-white kitchen adds a subtly homey vibe to the space and helps break-out the plainness of white surfaces without taking too much attention.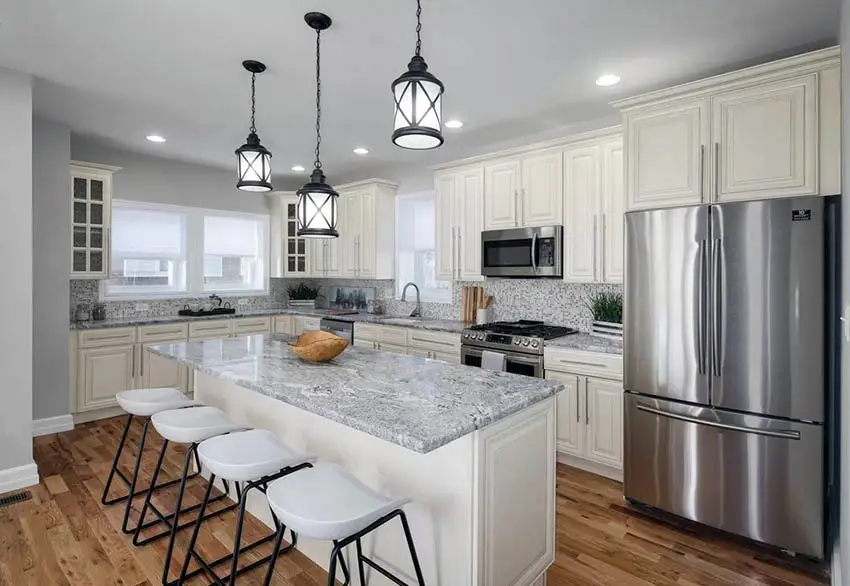 Because the gray walls, paired with the gray countertop and backsplash has cool tones, the kitchen cabinets were painted with a light beige color to bring more warmth to the space and balance out the cool tones. It helps create a balance of cool tones (walls, backsplash and countertop) and warm tones (cabinets and flooring).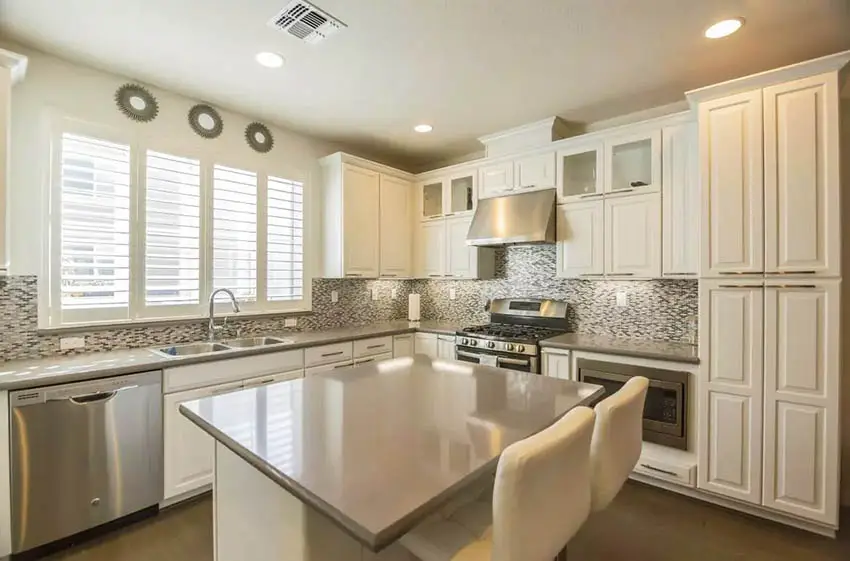 Because the beige mosaic tiles on the backsplash already has a bold pattern, plain beige solid surface countertop was used for the all the countertop surfaces to help tone it it down.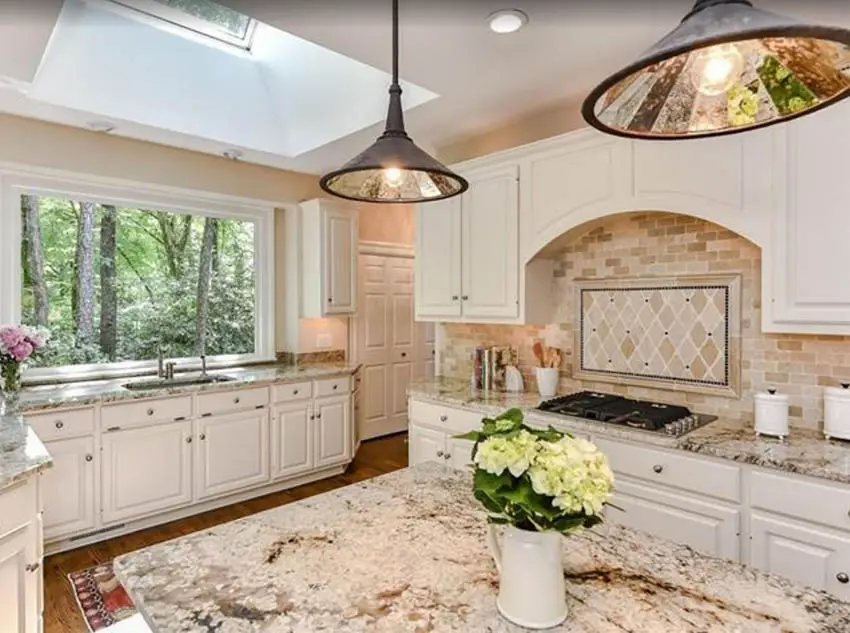 Granite is a really classic material for traditional kitchens, as it is a very sturdy material. The travertine stone used on the backsplash also adds more texture and pattern variety to the space, while still maintaining its traditional appeal.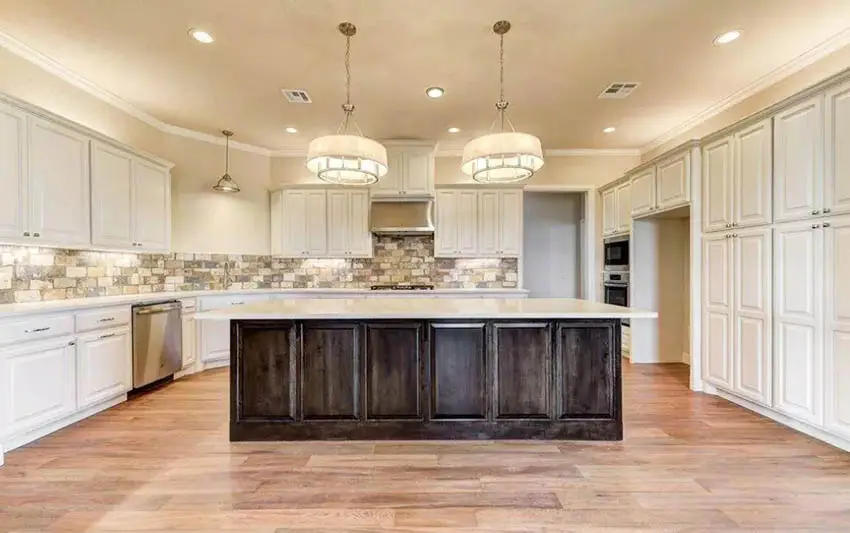 The soft beige paint used on the walls adds a touch of softness to this all-white kitchen. The use of warm lighting also helps in creating a warmer ambiance in this large kitchen space.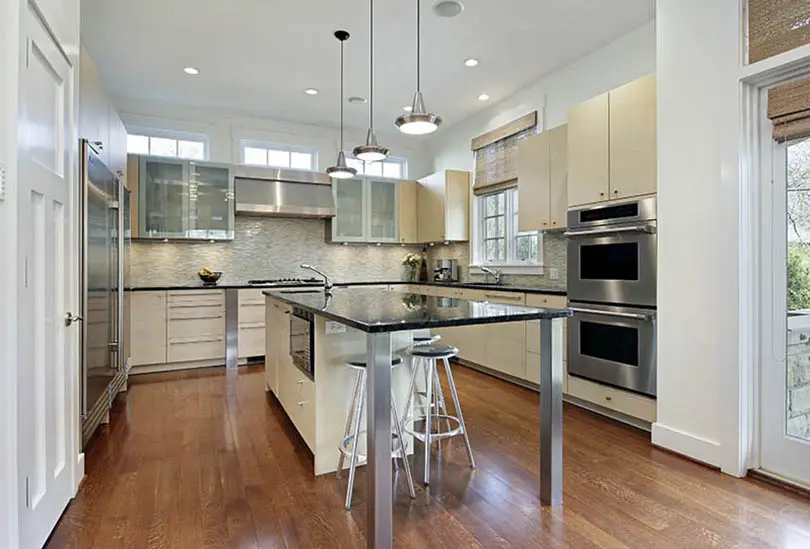 Most modern houses has all white walls and moldings like this. You might want to add a bit of variety by using light beige laminated panels for your cabinets instead of white, to add bit of variety and it give it a little contrast. A light beige color will help give warmth to the space, while still keep the kitchen look bright and modern-looking.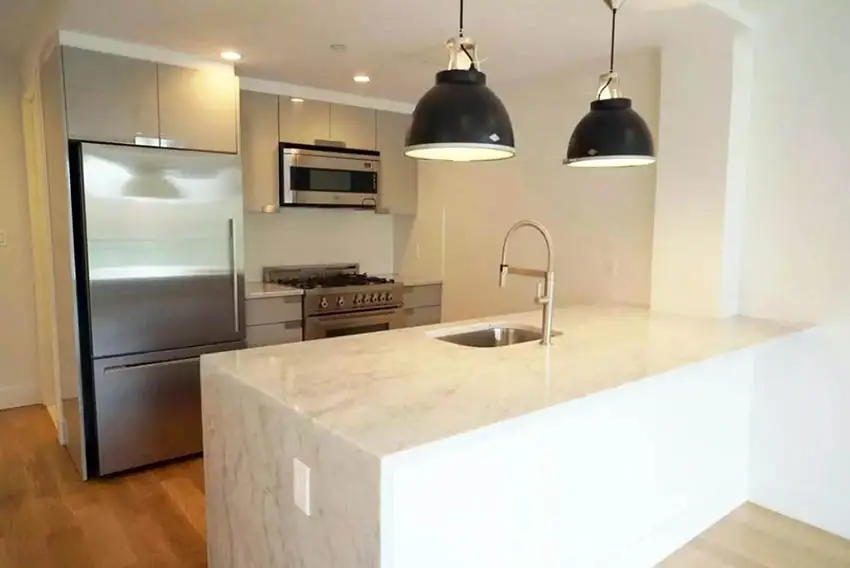 If you want a more contemporary look, consider using a matte sand beige laminate for your kitchen cabinets. The matte surface definitely looks very modern, and would look good with your shiny, stainless steel appliances, too!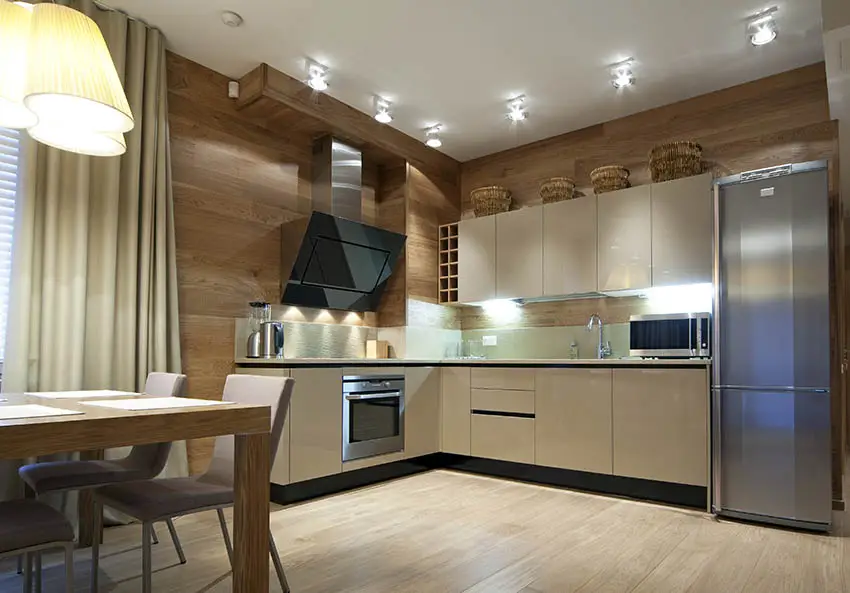 Plain white glossy laminates would've stood-out too much placed against these wood-paneled walls, but using a light warm beige laminate was able to pull the light maple flooring and the walnut wall panels together, by helping transition the two colors.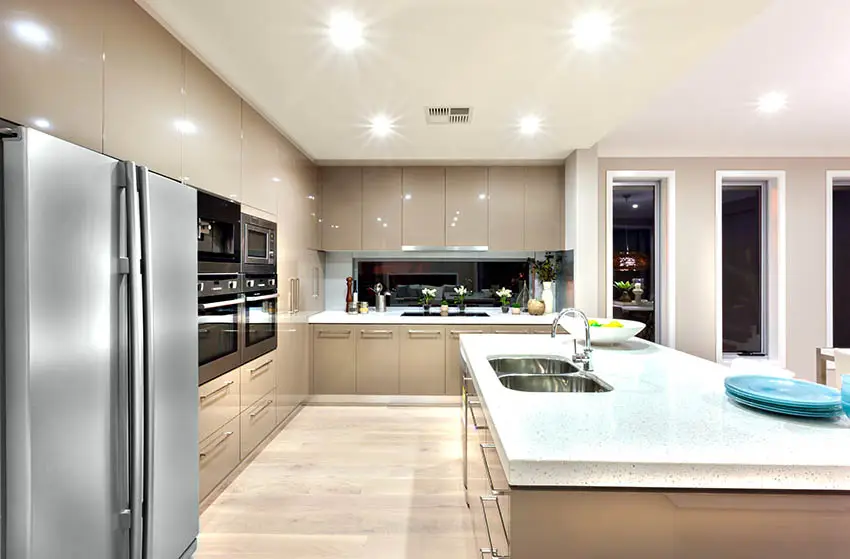 The white quartz countertop definitely pops against the glossy beige laminates of these kitchen cabinets! Many beige kitchen ideas match their interior color with the paint used on the rest of the house, creating a cohesive look throughout the open space plan.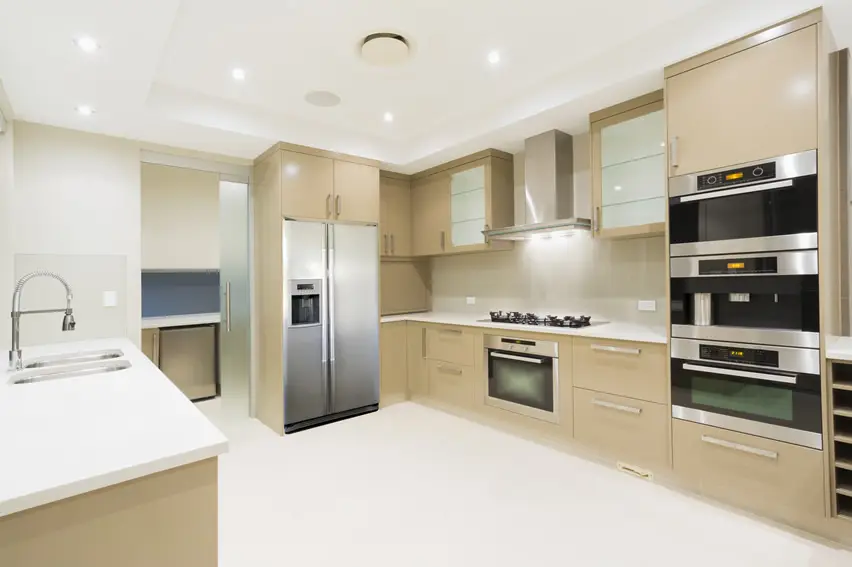 This kitchen uses a really bright white flooring material, and to tone it down, the walls were painted in off-white and the laminates used were in a yellow beige color to help add a bit of color to the space while keeping the neutral color scheme.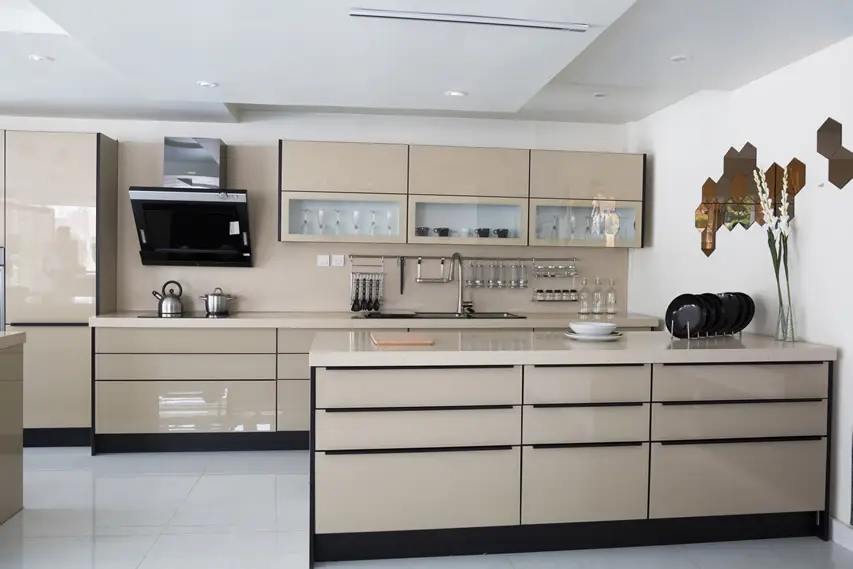 Warm beige tones paired with black accents / hardware creates a very elegant & chic contemporary look. This example uses beige on both the cabinet/drawer faces, as well as the countertops and backsplash. It sues black edgebands for the laminated boards, as well as black hardware to give a bold contrast that gives a unique elegant vibe to the space.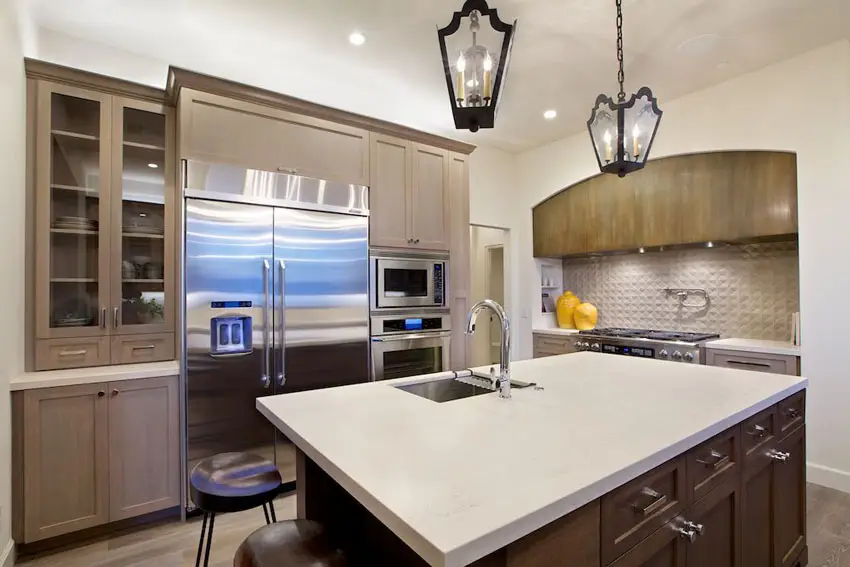 If you have existing light-toned natural wood cabinets, you can use a light beige stain to give your kitchen a fresh new look! This example used a matte light beige wash/stain on its entire wall cabinet, updating the look of the kitchen to a more contemporary feel.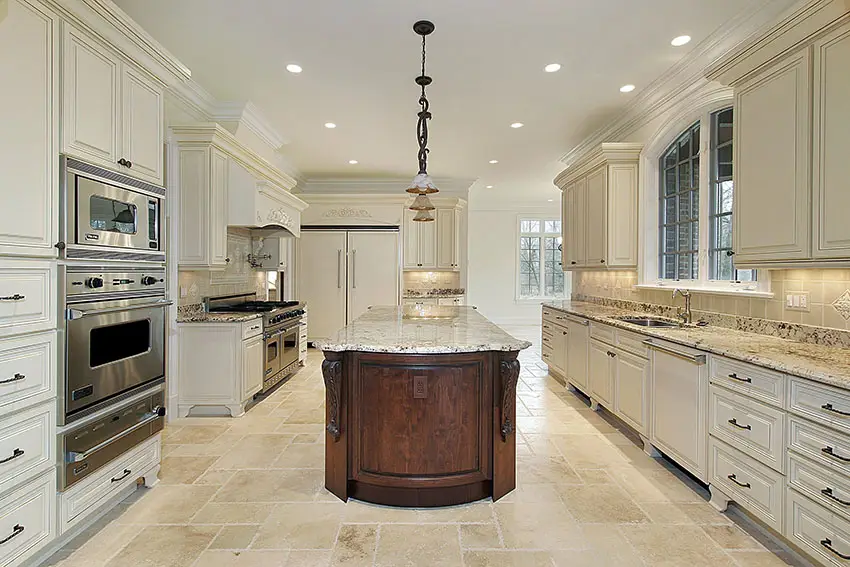 This traditional style kitchen has gorgeous beige travertine flooring throughout the space, which definitely adds a nice warm contrast to the all-white kitchen cabinets. The backsplash also uses the same material for a more coordinated combination of finishes. See more pictures of related antique white cabinets here.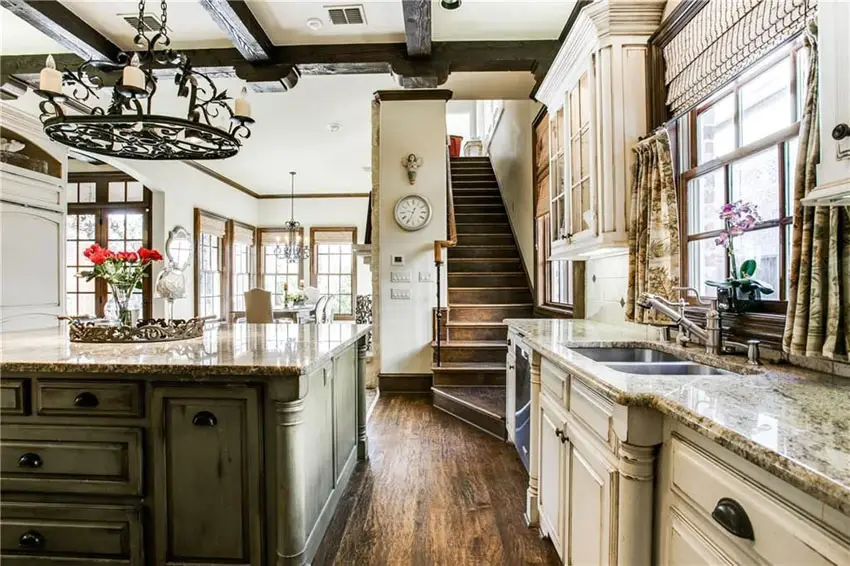 Traditional kitchens look the best paired with classic beige granite with bullnose edges. It definitely brings out a timeless classic vibe to your kitchen, and is definitely a material that will last you ages! This kitchen with contrasting islands offers a variety of finishes and textures to create visual interest and a feeling of luxury.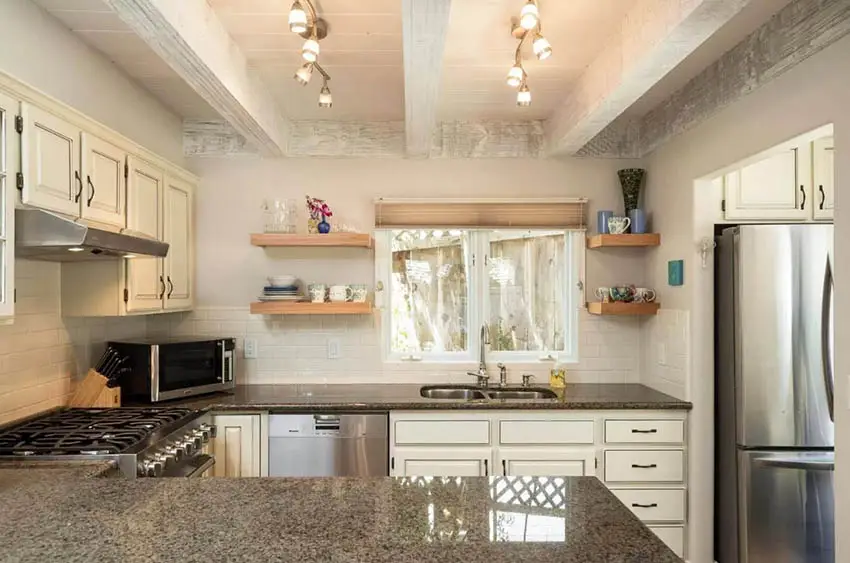 For this small kitchen, instead of the usual black granite or white marble countertop, it instead uses dark beige quartz for its countertop, to give it a different vibe than most kitchens.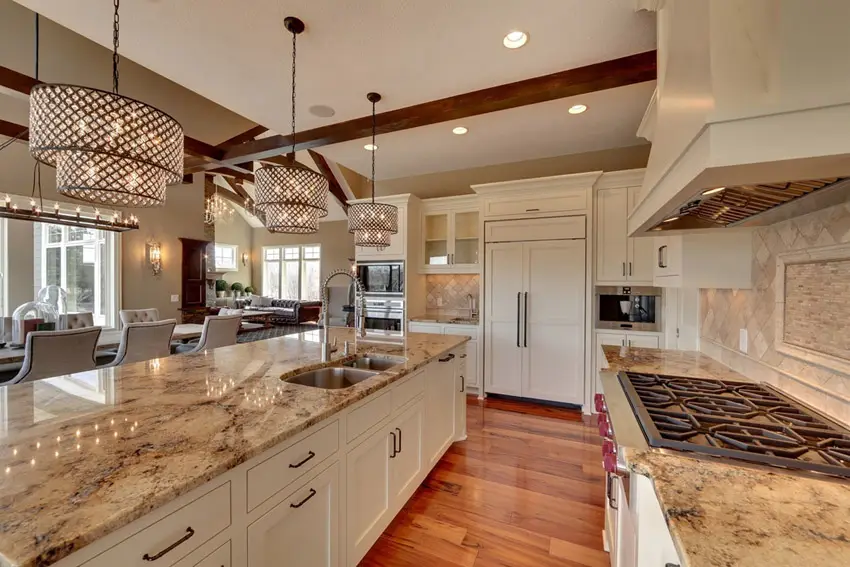 Because of the open floor plan, this kitchen shares the same color of beige wall paint with the dining and living area. The plain white kitchen cabinets looks great placed against the beige walls, and also complements the travertine tiles used on the backsplash.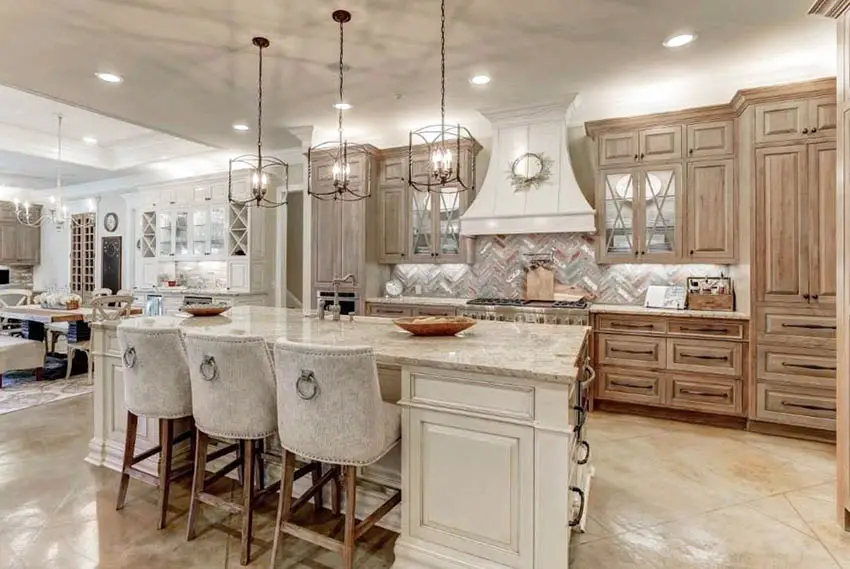 Beige wash finish on kitchen cabinets, paired light beige ceramic tiles on the floor help amplify the rustic appeal of this classic kitchen space. Paired with other traditional furniture pieces and accessories, it successfully creates a modern-rustic vibe.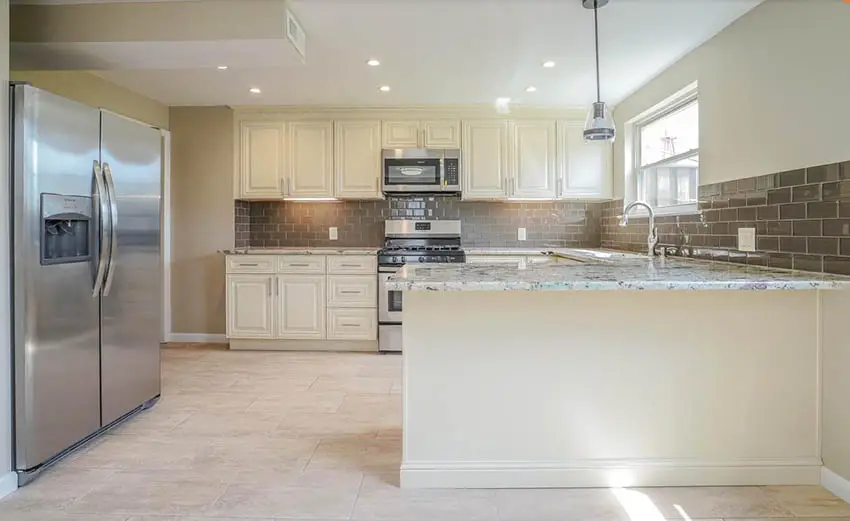 One of the more simple beige kitchen ideas is to add beige-colored backsplash tiles above the countertops. This example uses glossy beige subway tiles to add both texture and color to the all-white kitchen.
For more related ideas check out our gallery of cream kitchen cabinets.