Welcome to our gallery featuring beautiful traditional kitchen cabinets including design ideas for colors, door types, hardware and styles.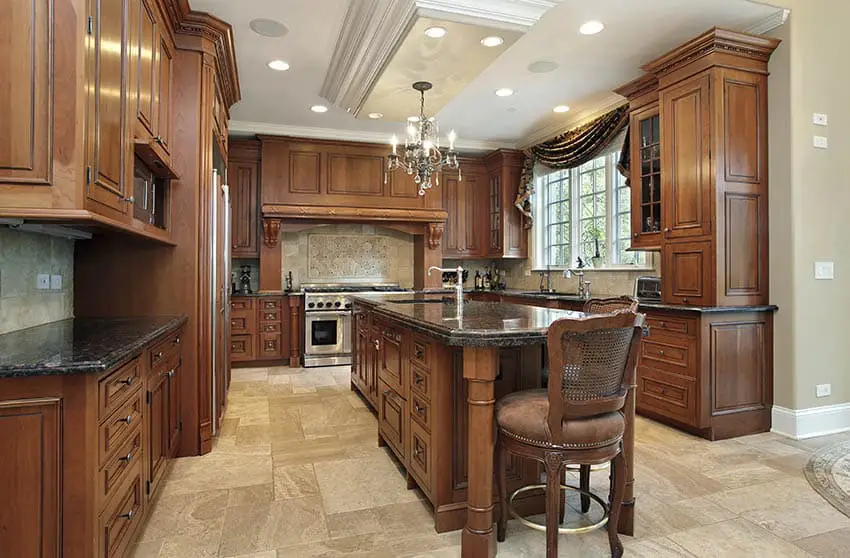 This style is best known for its grandiose design. Although historical in nature, it continues to be one of the most well-loved styles by homeowners and designers alike, because of its timeless appeal and classic beauty.
Traditional kitchens project the elegance and luxury of historical American and European homes of the 18th, 19th, and early 20th centuries. The rich, classical ambiance and elegance of Traditional kitchen styles are highly reflected through its stunning cabinetry and woodwork. Every single piece of detail found in these cabinets are true masterpieces and are worth showcasing in any home.

Below, we explore some of the key design features to help you decide whether their historic beauty is the right fit for your home. (Visit this page for more types of kitchen cabinet ideas)
Traditional Kitchen Cabinet Styles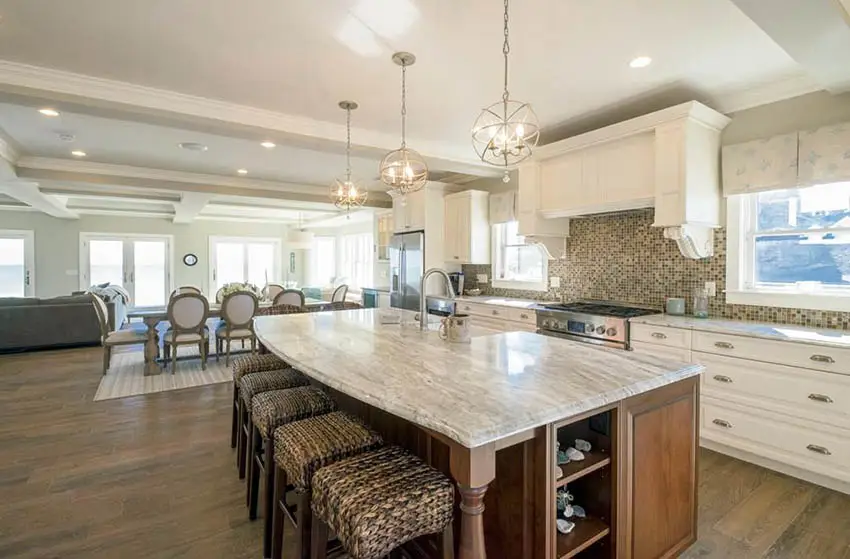 This style is an umbrella term for many different period styles. It encompasses different classic cabinet designs that have their own signature iconic looks – depending on the year or century it originated.
The traditional kitchen cabinet style includes Antique style , Cottage style, Country style, Log Home, Arts and Crafts, Craftsman style, Mission style, Early American style, French Country, Old World style, Rustic style, Shaker style, Colonial style, Tudor style and Victorian style. It can also include styles that have cultural influences, such as the Italian style, Mexican style, and Tuscan style.
Traditional Kitchen Cabinets Design
Characteristics of Traditional kitchen cabinets design
In general, this cabinet style is known for its warm and classic appeal. It is characterized by a heightened style and meticulous attention to detail, which is reflected through the use of English and French design elements.
These cabinets look more 'heavy" and bulkier compared to their modern counterparts, mainly because they are dominantly made up of wood. It is more textured, thus projecting a rustic appeal and more time-worn vibe. Traditional cabinets also have an aged appearance, which make it feel homely and cozy.

Compared to modern and contemporary kitchen cabinets, traditional cabinets look more "mature" and project a sense of formality. It follows a strict type of aesthetic, yet projects a well lived in feel.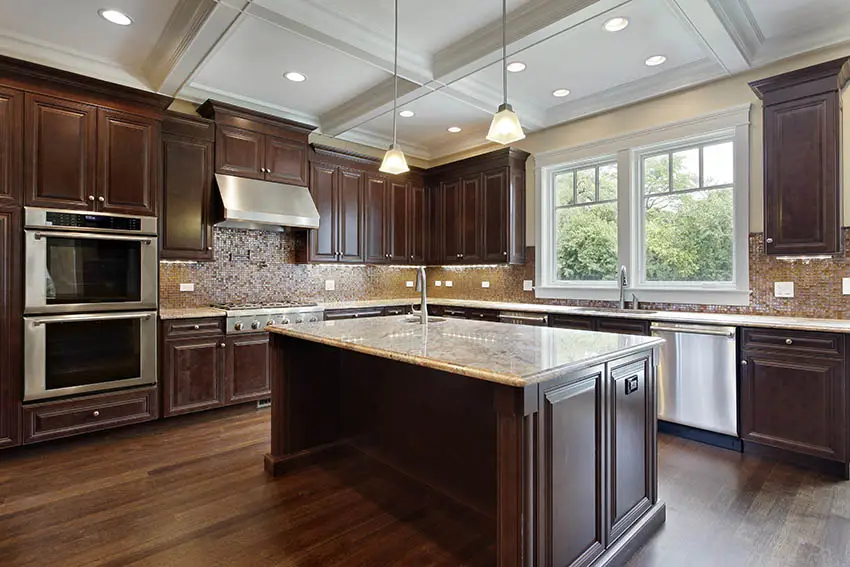 In summary, here are some other distinct characteristics of traditional kitchen cabinets:
Timeless look – These cabinets have a time tested design that dates back to the earlier times. Its timeless look is also one of its greatest advantage, as it does not go out of fashion and is proven to last for decades.
Attention to detail – This cabinet style focuses on ornamentation through the use of decorative details and accessories such as moldings, trims, appliques and carvings.
Use of natural materials such as rich woods – They are well known for their abundant use of natural materials such as solid wood in rich finishes.
Neutral palette and earthy colors – Unlike modern cabinets, which are geared toward bold and vibrant hues, traditional cabinets make use of a"classic color palette" that is comprised of warm and cool neutrals and earth colors.
Made to resemble antique furniture – To project a more homelike vibe, a traditional cabinet is often designed to resemble antique furniture. Furniture details such as carved legs, post, and feet are often added to base cabinets.
Layering of texture, color and detail – To stay true to its elaborate aesthetic, traditional kitchen cabinets put a premium on layering design elements. Unlike modern options, which have a very sleek and smooth appearance, traditional cabinets are more textured. The layering of finishes, such as adding glaze over paint, is also common as it gives more depth, drama and dimension to the design of the cabinetry.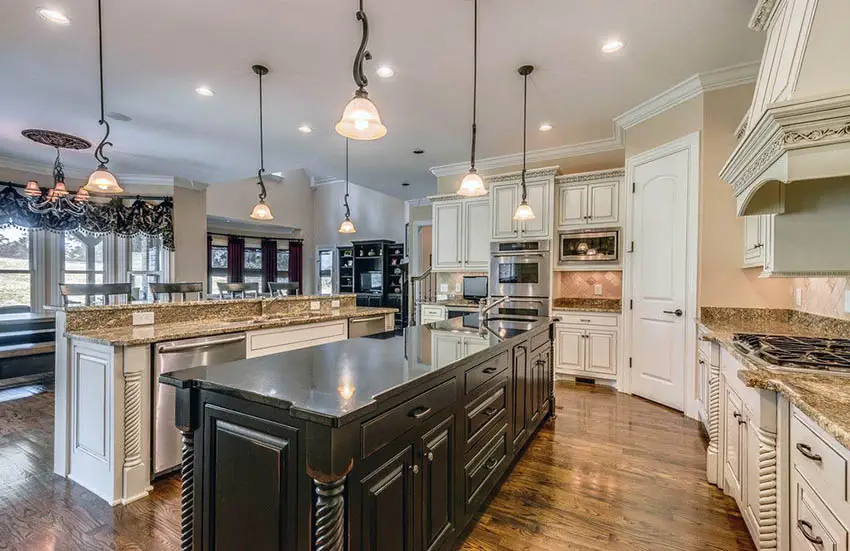 This traditional design features antique white kitchen cabinets with a dark island for a dramatic contrast with two types of countertops.
Materials for Traditional Kitchen Cabinets
The traditional kitchen style aims to bring the outdoors in the home through the use of natural materials like solid wood in their rich, natural finish. These woods are often carved to add textures and ornamentation to their appearance.

Here are some examples of wood used for this style.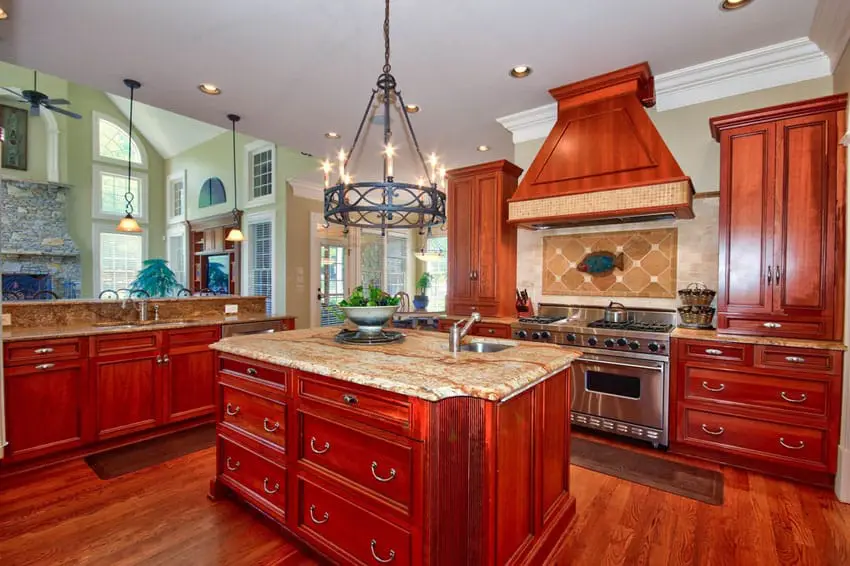 Cherry – Cherry is arguably the best type of wood for traditional cabinetry. Its distinct deep reddish brown color and fine-graining pattern suit the richness and luxurious aesthetics of a traditional design. Cherry wood is prized for aging gracefully as it natural colors take on different tones over time, offering different looks throughout its lifespan.
Cherry cabinets are highly durable and can last for decades. They look best in a natural finish but can be enhanced with a clear wood stain to make their undertones more prominent. See our gallery of cherry wood kitchens here.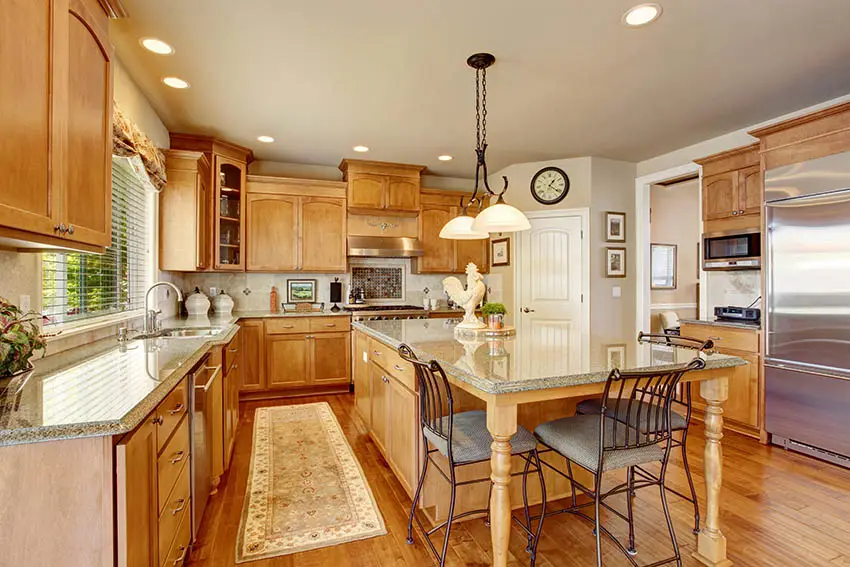 Oak – Oak wood is primarily known for its distinctive golden hue, but its color ranges from white to pinkish tones with occasional streaks of green, yellow and black, depending on the mineral deposits present in the wood. Its natural warm color is perfectly suited to the rich aesthetics of traditional cabinetry.
In addition, oak is durable, long-lasting, and resilient. Two of the most popular species of oak used in traditional kitchen cabinetry are Red Oak and White Oak. Red oak has a slightly reddish and yellowish undertone, a more prominent graining pattern. It is less inexpensive compared to other types of wood. White oak, on the other hand, has a more golden color and a subtle graining pattern. This is typically quartersawn and used in custom traditional kitchen cabinetry.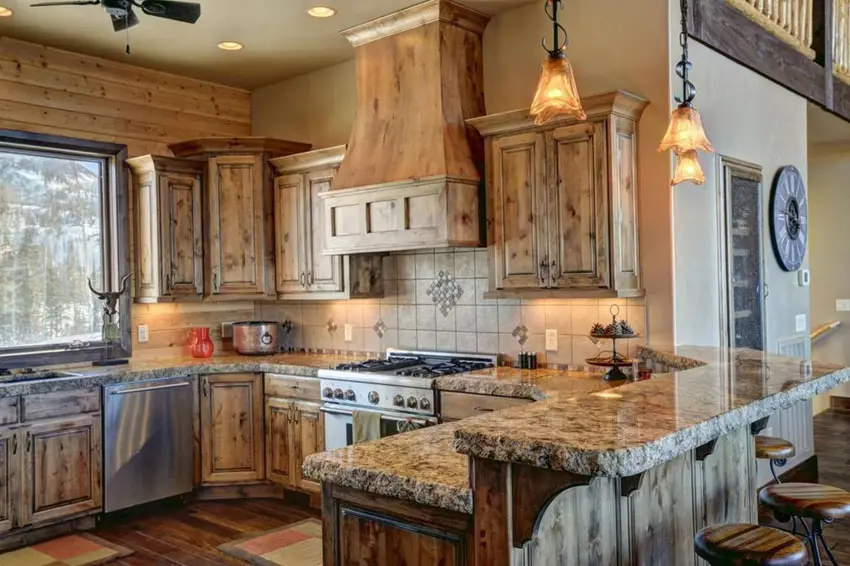 Pine – Pine is characterized by its knotty appearance and pale yellow color. If your taste does not fit rich, deep and dark-colored woods, then pine kitchen cabinetry is one of the options you can explore.
Pine is a type of softwood and is inherently prone to dents. That is why, before being manufactured into furniture or cabinetry, pine is typically subjected to pressure treatment to reinforce its strength and durability.
Pine is best left in its raw, light color but it can also be stained to achieve a darker hue. Some popular species of pine used for a traditional design are Eastern white pine and Western white pine.
Other species of wood used for traditional cabinets are hickory, maple, alder, teak, walnut, birch, ash, and maple.
Finishes for Traditional Kitchen Cabinets

Another key facet of traditional kitchen cabinet design is their aged, antique look. Getting the time-worn look for these cabinets does not mean that you need to source wood that dates back to the 18th century.
The weathered characteristic of this type of cabinetry is achieved through different finishing techniques, which produce a classic, old-world appeal. Here are some common finishes for traditional cabinets: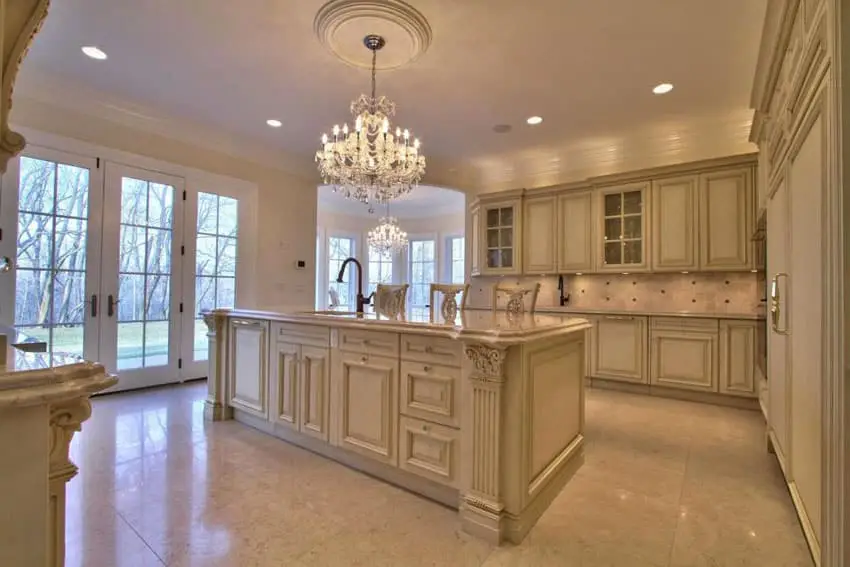 Glazing – If you love the look of patina for your traditional kitchen cabinets, glazing is your best bet. The glazed finish is a premium type of cabinet finish that produces a classic, time-worn look.
Glazes are transparent or semi-transparent liquids that are typically hand-wiped over the cabinet's surface after staining or painting. This instantly transforms them into an aged look but also adds a glossy shine to traditional cabinets.
Glazing is also best used for highlighting decorative details and carvings, such as moldings and trims, because it creates a shadow effect. It comes in two general forms, namely white glaze and dark glaze.
White glaze is typically applied for white-painted cabinets, while dark glaze is used for dark-stained cabinets. However, white cabinets can be applied with dark glaze if you want a more antiqued look.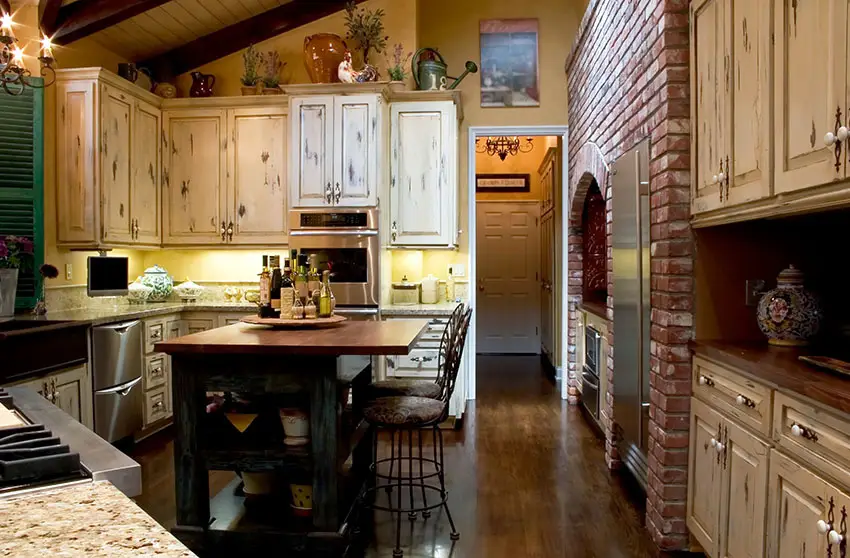 Distressing – Distressing is a type of faux finishing technique that gives traditional kitchen cabinetry a weathered, antiqued look. The distressed finish subjects the primary cabinet material, such as wood, to repetitive sanding and beating to create a worn-out texture.
After such, primer or paint is added then a top coat of antiquing glaze is placed on the cabinet's surface. Opt for the distressed finish if you want a more laid-back vibe for your cabinets. Read more about how to paint cabinets to look antique here.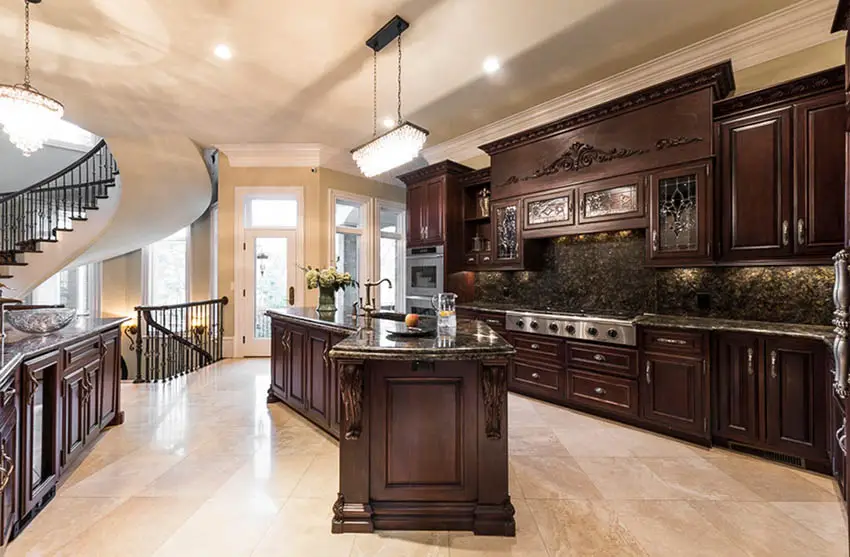 Lacquering – Lacquering provides an extremely high gloss finish. Lacquer is a type of protective finishing material that is made up of shellac and ranges from a clear to colored wood colors.
When lacquer dries, the result is an extremely hard and durable surface. You can use lacquering if you want to stick with the original appearance of your cabinets but want to give it a sheen.
Staining – Staining is typically used if you want to show off the natural beauty of wooden cabinets. It can also enhance the color and bring out the graining pattern of traditional wooden kitchen cabinets.
Stains come in different tones, such as transparent ones, which show off the natural color of wood, and solid color stains, which can change the color of wood and help hide its imperfections. Opt for stained traditional kitchen cabinets if you want a more handcrafted look" for your kitchen.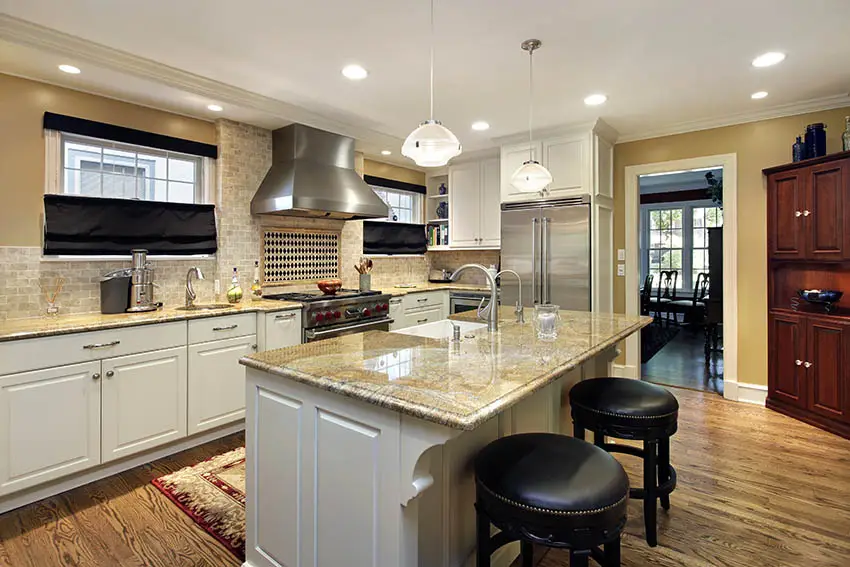 Painting – Paint is a popular finish for "do-it-yourself projects". Painting is typically used if you want to hide the graining pattern of wood cabinets. However, if you want some of the natural grains to show through, traditional cabinets can be whitewashed.
Paint can also be used to give traditional kitchen cabinets a whole new color or a lighter and more subdued appeal compared to rich wood. Common paint colors for traditional cabinets are mostly neutrals like white, off-white, beige, cream, and sand.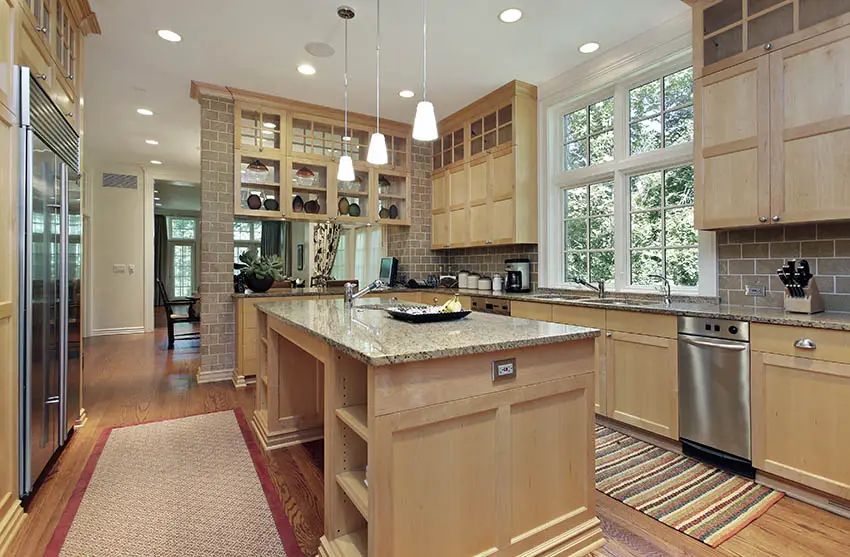 Unfinished – For a more rustic look, wooden traditional kitchen cabinets can also be left in their natural unfinished state. Other materials which can be used to enhance the natural color of wood are shellac, varnish and oil-based or water based polyurethane.
Hardware Styles for Traditional Kitchen Cabinets
Hardware for traditional kitchen cabinets is more ornate and detailed as compared to modern ones, which are usually plain, simple, and streamlined. These hardware options are available in a variety of designs that match period styles like the craftsman style, Victorian style, country, cottage, or colonial.
They typically have decorative details such as engravings and motifs in geometric, floral, leaves, or scroll forms. The shapes are also more graceful rather than angular and straight. Common materials for traditional kitchen cabinet hardware are wood and metals like brass, iron, copper, and bronze.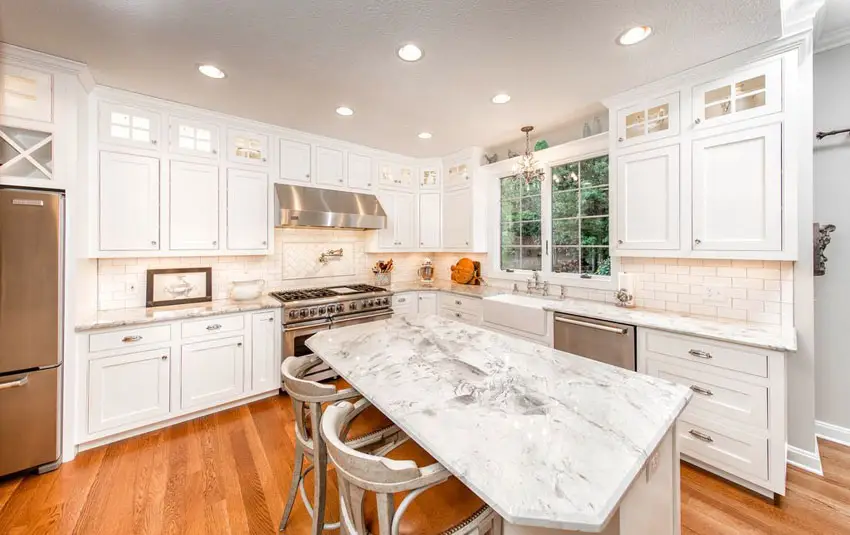 Here are some common types of cabinet hardware for traditional kitchen cabinet designs: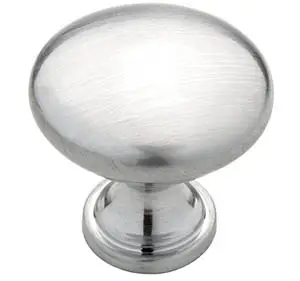 Door Knobs – Cabinet door knobs are typically old-fashioned and are considered to be a classic hardware design. These are typically small in size and are usually round or square-shaped.
Knobs come in many different materials such as , metal, wood, or glass. If you want to deviate from the natural coziness of wood, you can get a more industrial appeal by using metal hardware. Wood knobs are also the perfect choice if you want a simple type of hardware that matches the material and color of your cabinets. It is best paired with mixed wood cabinetry and old-world furniture-style cabinets.
(Chrome cabinet knob)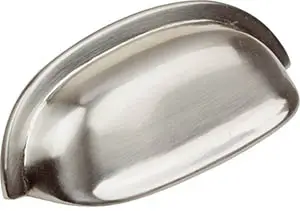 Cups and bin pulls – Cups and bin pulls are also known as "half moon pulls" because of their semi circular shape. Cup and bin pulls are mounted with the open end facing downward, thus they can only be operated from one direction. Cup bins and pulls are typically used for drawers.
Opt for this type of hardware if you do not want a very strict, formal look and want to provide a fresh flair to traditional cabinets.
(Satin nickel cup pull)
Drop pulls – Drop pulls are a type of cabinet hardware that have a hanging handle, rather than being fixed. Drop pulls are commonly found in traditional furniture and can be used with raised panel cabinets, inset cabinetry or leaded glass insert cabinetry. Cup and bin pulls have a very simple look which is perfect for toning down ornate cabinets. It is best paired with classic beige or white traditional kitchen cabinets. Opt for this type of hardware if you want to create a furniture-like feel to your cabinets or if you want to add a feminine touch to your kitchen design.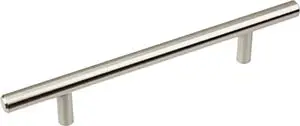 Bar pulls – Bar pulls can be long or short and are available in an assortment of sizes and finishes. A bar pull can modernize your traditional kitchen and give it a more contemporary look. These types of door hardware are often used on flat panel cabinet doors. However, they also look great on Shaker-style cabinetry.
(Stainless steel bar pull)
Decorative wire pulls – In general, wire pulls are cabinet pulls that have simple, rounded edges with no overhangs at the sides. Its profile is like a slim, shortened letter "C". Wire pulls come in more decorative forms, which fit the traditional design aesthetic. Accented wire pulls typically have decorative details like beading, fluted ellipses, or a birdcage pattern.
Overall, decorative hand pulls offer simplicity, yet they do not lack elegance. Opt for decorative wire pulls if you want to add just the right amount of embellishment to your traditional cabinets without being too overwhelming. Accented wire pulls are best paired with glazed and distressed cabinets with a generous amount of architectural details like fluting, reeding and decorative columns.
Hardware with decorative back plates – Some hardware includes a decorative backplate for added ornamentation and decorative interest. Knobs with decorative back plates are more ornamental rather than functional.
This type of cabinet hardware also adds a furniture-like feel to traditional cabinets while rendering a strong statement to the space. Opt for knobs with decorative back plates if you want a "dressy' touch , and a formal old-world feel for traditional kitchen cabinet hinges, doors, and drawers. It is best paired with glazed and stained furniture style traditional cabinetry.
Common finishes of cabinet hardware for traditional kitchen cabinet designs: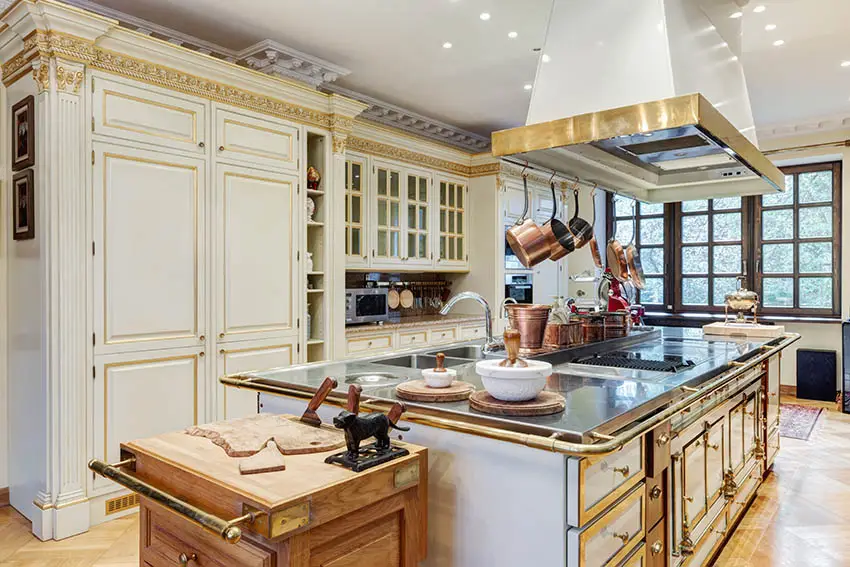 To complete that aged look, traditional kitchen cabinets must be paired with not only the right design of cabinet hardware but also the right color and finish.
In general, the hardware for these cabinets has an antique finish. Here are some popular traditional cabinet hardware materials and finishes:
Antique Brass – Antique brass is characterized by a classic, aged look. Antique brass hardware is very durable as it is made up of different materials like lead crystal and pewter. Antique brass hardware is very sophisticated and its warm color with a hint of yellow tinge is best paired with light-colored cabinetry. The color of antique brass hardware also stands out more in white and beige-colored cabinets.
Old Antique – Old antique cabinet hardware has a very unique deep brown color. This hardware finish projects a time-worn, old-world appeal which makes it perfect for traditional cabinet design. Old antique hardware can also cohesively tie all the decorative elements in a traditional kitchen. Old antique cabinet hardware is best suited with light-colored cabinetry and can be paired with matching crown moldings or decorative trims.
Old Copper – Old copper cabinet hardware also has an antique look that is reminiscent of old copper pots and pans. Old copper has a stand-out color that is characterized by a unique reddish tone. Old copper cabinet hardware works best on white, beige and light-colored traditional cabinets. If you also want to bring together the design of your traditional kitchen, try matching old copper hardware with the same color of faucet and other fixtures.
Venetian Bronze – Darker than oil-rubbed bronze, Venetian bronze cabinet hardware has a very dark color, which is almost close to black but has accents of brown or bronze. It blends well with dark-colored cabinets, but brings in an interesting contrast when paired with light-colored cabinetry. Opt for this type of hardware finish if you want a rustic, country appeal.
Oil rubbed bronze – Oil-rubbed bronze simulates the appearance of aged bronze through the use of chemicals. Oil-rubbed bronze has a very dark color, which ranges from deep chocolate brown to dark gray with copper undertones. It differs from the Venetian bronze finish as it has a lighter color, less oil surface and a matte finish. Oil-rubbed bronze cabinet hardware is best suited with distressed white, beige, or light-colored cabinetry. Overall, it brings sophistication and elegance to traditional cabinet designs.
Antique Iron – Antique iron cabinet hardware also has a very unique color, but its appearance is completely weathered as it is filled with imperfections. One stand-out attribute of antique iron cabinet hardware is that it takes on different colors, both light and dark, depending on the lighting conditions of the space. Antique iron is also very strong and sturdy. It works best for cabinet designs with a country theme or rustic vibe.
Black – Black cabinet hardware matches different cabinet styles, including traditional settings. It creates a strong statement but does not compete with the ornate beauty of traditional cabinets. It is best paired with light-colored traditional cabinetry such as white, beige and light wood. However, it can also be used to offset dark-colored cabinets.
Design Elements of Traditional Kitchen Cabinets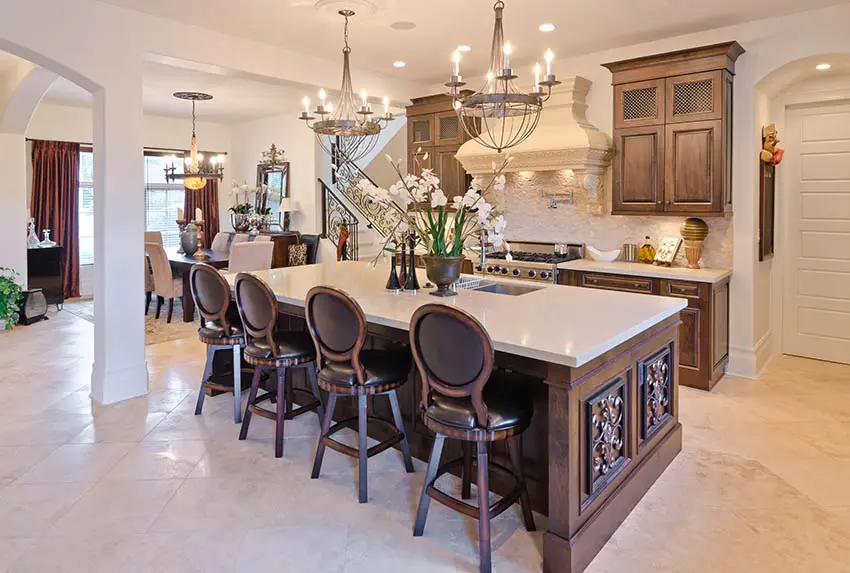 The signature look of traditional cabinets is created with strict attention to detail. Carvings and other wood details enhance the overall look of a kitchen while adding depth, texture, and character to the cabinetry design.
With so many options and designs to choose from, it is easy to get carried away with using too many decorative embellishments to adorn your cabinets. But choosing the right one will help you compose a well-balanced, uncluttered, and less overwhelming traditional cabinetry design.
Details used for traditional style cabinets:
Moldings – Moldings are ornamentations that are used to highlight the shape or outline of furniture or cabinetry. Moldings are typically placed around the perimeter of the cabinetry – the top, bottom, and sides. Alternatively, it can also be added to the wall or ceiling. Molding comes in different shapes or profiles, sizes, and thicknesses.
These include base moldings, which are decorative features that run along the bottom part of the base cabinets, where the wall meets the floor. Another type is the crown molding, which is placed on top of the overhead cabinets where the wall meets the ceiling. Lastly, there are decorative trims, which are embellishments that can be placed anywhere along the cabinetry.

Crown moldings bridge the space between the wall cabinets and the ceiling, thus producing a more seamless transition. And since the gap is void, there is no room for collecting dust on top of your overhead cabinets.
Valance – Valances are decorative details that are placed on the upper portion of a cabinet, hood, or window. Just like in curtains and window treatments, a valance functions as a frame, and it is commonly used to connect or bridge the overhead cabinets on the left and right part of the sink to provide continuity and a smooth transition in the design.
Valances take on many shapes, but the most popular design is the arched valance. To add a more interesting visual feature, valances are usually dressed up with carvings and other decorative trims.
Corbels – By its architectural definition, a corbel is any structural piece of material such as stone, metal, or wood that protrudes from a wall, used to support weight. Essentially, they function and look like brackets. In terms of traditional cabinetry design, a kitchen corbel is typically added just for its aesthetical function, giving an appearance that they are supporting something to keep it up.
Corbels are usually rounded or squared, while their more intricate designs include graceful scrolls. In traditional cabinet design, corbels are usually placed underneath a decorative hood, below the base cabinet, or under an island overhang.
Wooden hoods – Wooden kitchen hoods are wooden architectural features that are used to cover a range hood. Range hoods are typically made of metal, and to fit the traditional kitchen setting more, this wooden detail is added to create consistency in terms of the material and overall look.
In some cases, a wooden hood also hides ducting and pipes which are used for the exhaust system. Wooden hoods can either be plain or highly decorative and may take on many shapes such as a simple box-like cabinet or a tapered shape. This usually runs from the ceiling down to the termination of the range hood.
Legs and Posts – Legs and posts are column-like structures that are typically square in shape and used to support the weight of a kitchen island countertop, peninsula, or seating area. In some cases, these details are also applied on the ends of base cabinets for an added artistic flair.
Legs and posts also tend to give your cabinets and islands a "furniture-like" feel. Legs and posts also take the shape of a rounded column, scroll, or turned legs. Depending on the period's style inspiration, legs and posts are typically adorned with intricately carved motifs. Some of its popular styles are reeded, fluted, twisted, mission, arts and crafts, cabriole, ball turned, and carved cabriole.
Feet – Feet are an enhancement added to legs and posts to give them a more artistic feel. This decorative detail has a low profile and can be added under the base cabinets as support or under the islands. Some popular examples of feet styles are bun feet, pad foot, square or tapered feet, ring turned, tulip or the Queen Anne feet.
Reeding and Fluting – Also known as "gadrooning", reeding and fluting is a type of architectural detail that is composed of a series of vertical, rounded, convex ridges or concave grooves. Reeding is the linear convex accent, while fluting is the concave accent. These decorative details are typically applied on the surface of a column, leg or post. In traditional cabinetry design, reeding and fluting are typically added on freestanding center islands, peninsulas, or on the sides of base cabinet ends.
Appliques or Onlays – Appliques and onlays are pieces of carved decorative woodwork that are added on the cabinet's surface. These are highly ornamental and usually take the form of different motifs like the fleur de lis, scrolls, leaves, flowers or swirls. Their main function is to bring an added touch of flamboyance to the kitchen.
In traditional cabinetry, appliques, and onlays are typically attached to cabinet doors and faces, on top of the refrigerator or in valances, but practically they can be used almost anywhere. Applique and onlays can be bought ready-made from specialty suppliers and woodwork specialists, but they can also be made to order or customized by millwork suppliers and cabinetmakers. Some suppliers offer this in a self-bonding variant, which allows for easy and quick installation.

Wainscot panels – Wainscot panels are typically used as a wall treatment in classic traditional design, but it can also be used to add a sophisticated flair to cabinetry. Paneling for cabinetry design is not only added on the cabinet door faces, but it can also be used to adorn the back of cabinets or an island. Combined with other details like decorative legs and posts, this can give your cabinetry a more "furniture-like" look.
Traditional Style Kitchen Cabinet Doors
Traditional kitchen cabinets focus on ornamentation and a heightened style. Unlike modern cabinets, which typically make use of plain flat panel and slab-style doors, traditional cabinets have raised and recessed panel doors. Here are some popular cabinet door designs found in traditional kitchens: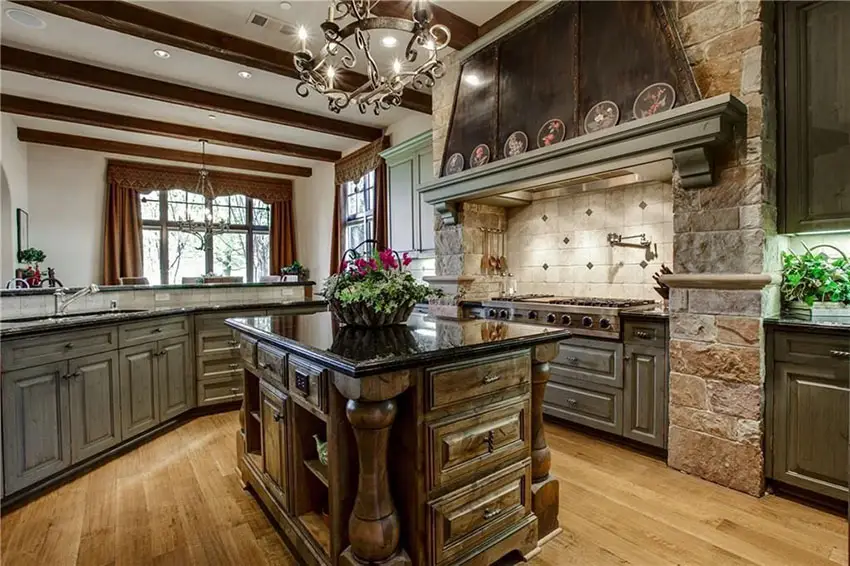 Raised panel designs – The raised panel cabinet door has a center panel that is raised above the rest of the cabinet door which is ornamented by a recessed border, contour or profile. The appearance of raised panel cabinet doors vary depending on the specific period style that prevails in the kitchen. Raised panel cabinet doors are more detailed compared to their counterpart, the recessed panel door.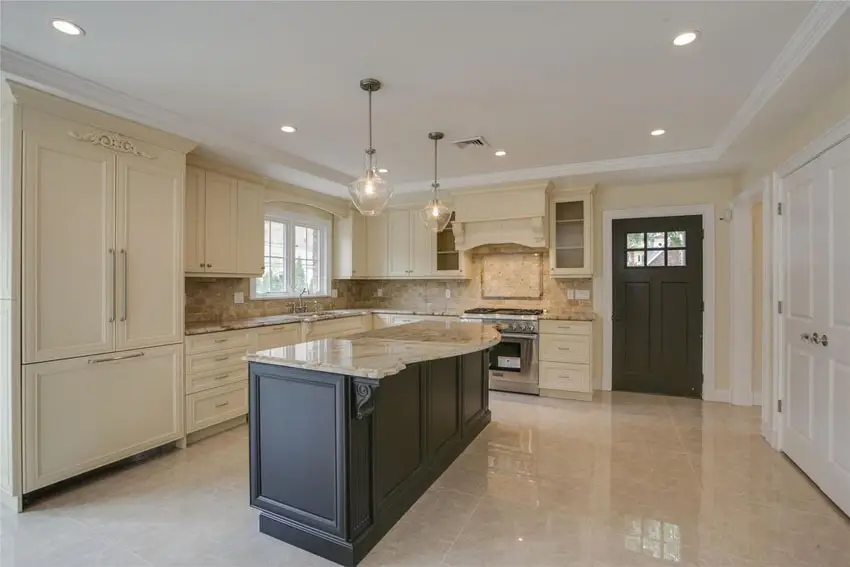 The cream kitchen cabinets featured in this space provide a warmer feel than a brighter white finish. Paired with a contrasting dark wood island, it provides visual interest to the design.
Recessed panel designs– Recessed panel doors are characterized by a center panel that is recessed below the rest of the cabinet door. The recessed panel is also decorated with a surrounding raised border, contour, or profile. Compared to raised panel doors, the recessed cabinet door has a more sleek appearance.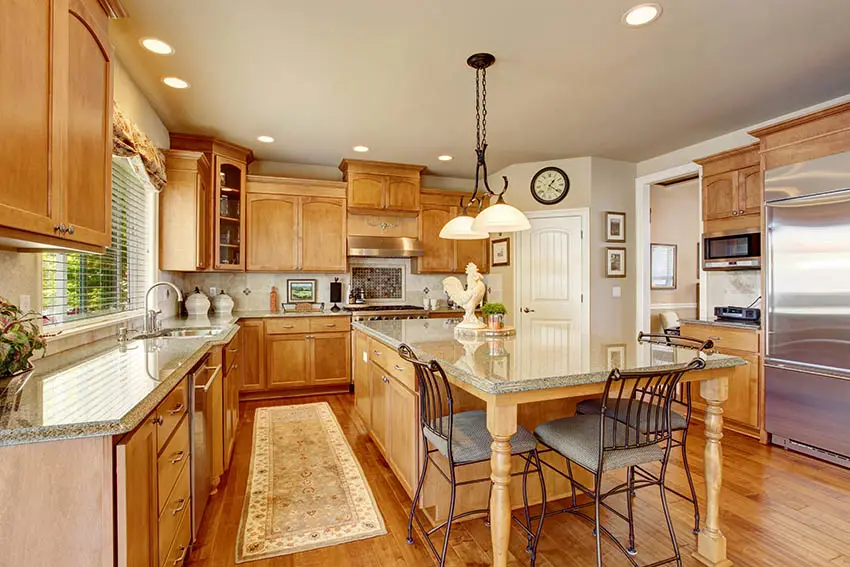 Cathedral cabinet door design – The cathedral cabinet door design is a variation of the raised panel door that is accentuated with a raised arch. The cathedral cabinet design can either have a single arch, which is found at the top part of the cabinet door panel, or a double arch, which is found both at the top and bottom part of the cabinet door panel.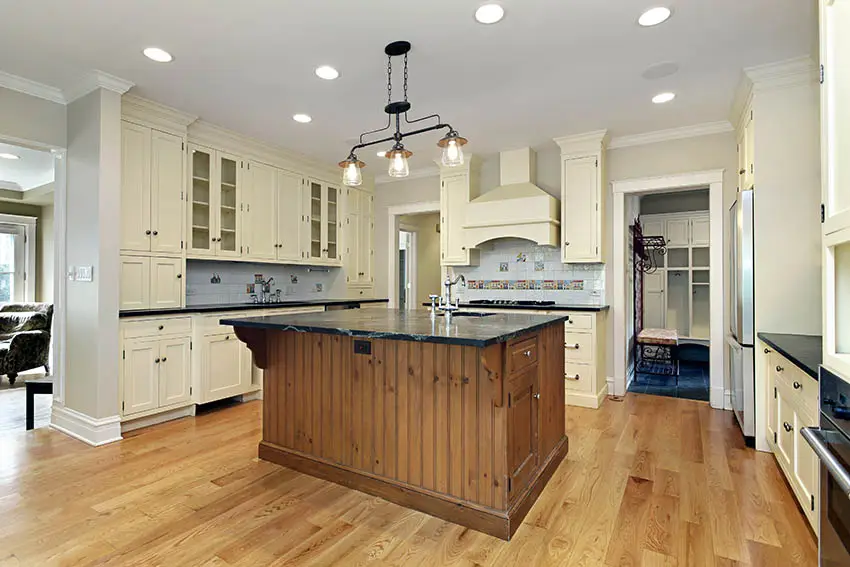 Mullion and Accent – Mullion and accent doors are typically used to break the monotony of solid wood cabinet doors. It provides a way to introduce mixed materials into a space that is dominated by natural wood. Accent doors are used to highlight a specific part of the kitchen. Some popular traditional-style accent doors include glass panels, engraved glass, textured glass, leaded glass, and wooden carvings.

Mullion cabinet doors have a resemblance to "mullion windows," which are made up of horizontal and vertical styles that separate glass panes. Its overall look is somewhat inspired by the French window design. Stylized forms of mullions are curved, arched, and diamond. Mullion cabinet doors project elegance and embody a classic and timeless sophistication. It can be used for a variety of traditional kitchen styles.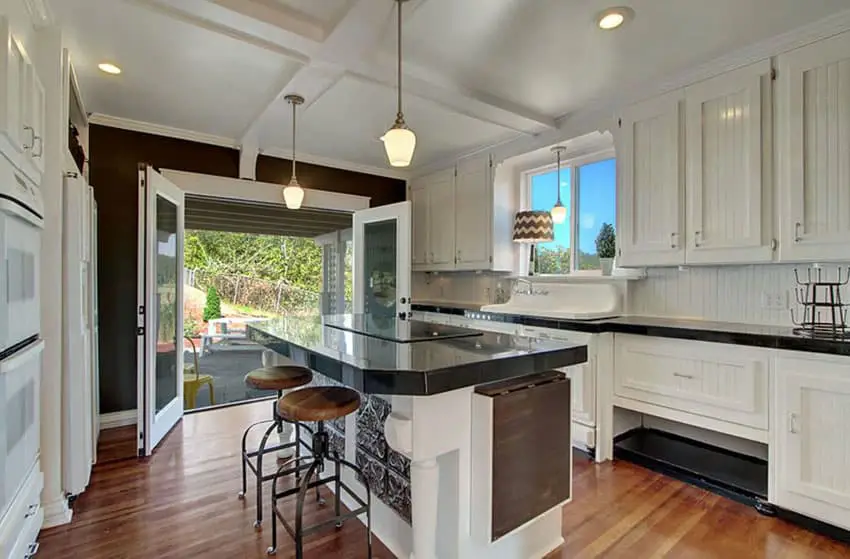 Beadboard cabinet door – The beadboard cabinet door design is typically used in traditional settings that have a country, farmhouse, or cottage charm. By definition, a beadboard is a row of narrow wood planks that are lined up vertically, separated by little ridges called "beads".
Beadboard panels are typically used as a wall treatment but also look exquisite as a cabinet door detail. Beadboard cabinet doors may be used for traditional cabinets if you want to add a rustic vibe to a space, making it feel more homelike and cozy.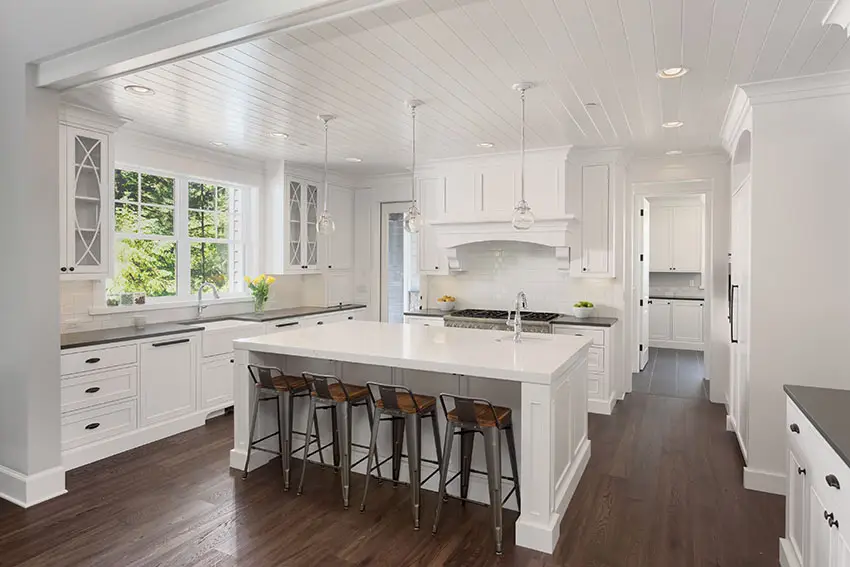 Shaker cabinet door – One of the most iconic looks in kitchen cabinetry, the Shaker style originated in the 1770s during the American colonial era. It is generally characterized by a simple design that has clean lines, is made up of quality wood, has a sturdy build and is utilitarian in nature. Despite its historical origin, Shaker-style kitchen cabinets offer flexibility in terms of design as they can be used for both traditional and contemporary settings.
The signature look of Shaker-style kitchen cabinets is characterized by a five-piece flat paneled door with rail frames. Shaker-style kitchen cabinets put emphasis on functionality more than aesthetics which is why no ornamentation or decorative details can be found in its design.
Once you've determined what styles and elements you want in our design, you can bring your ideas to life by using kitchen cabinet design software. This can help you finalize your plans before hiring an expensive interior designer or allow you to create a design to your exact specifications. The software can also provide you with different looks quickly once you have created a layout.
White Traditional Kitchen Cabinets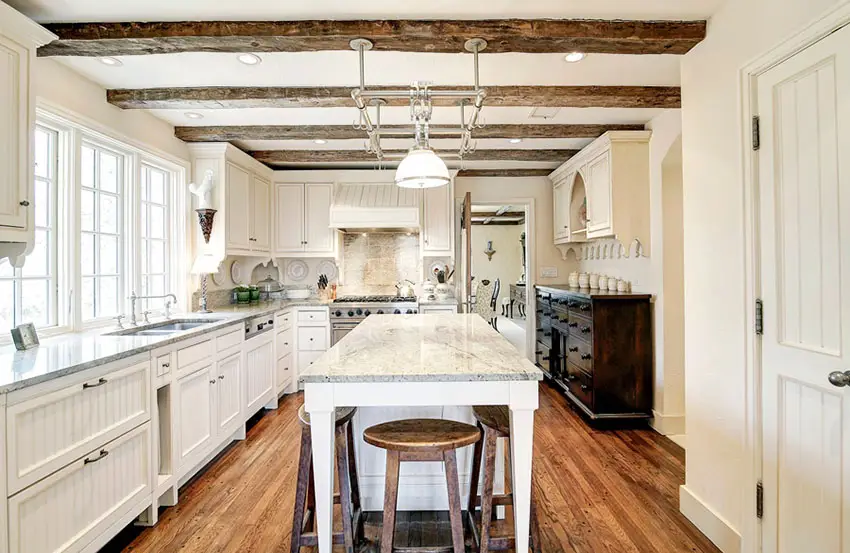 As a substitute for the richness of natural wood, white is also used as a primary paint color for traditional kitchen cabinets. This is the best color for homeowners who do not like the heavy look of wood finish traditional cabinets, but instead want to create a lighter and brighter ambiance.
White traditional kitchen cabinets also project a classic, timeless look. It can be paired with almost any countertop color, whether light or dark. It goes well with any wall color and flooring material. White traditional cabinets provide more room for design experimentation as they work like a blank canvas, which allows you to introduce different elements in the space.
In some cases, traditional white cabinets are substituted with another light color which has a warmer tone, which is beige. Beige is also a neutral color, but compared to the bright, crisp color of white, it has a slightly yellowish undertone. It projects the perfect balance of cool and warm and also offers flexibility in terms of mixing and matching other elements in the kitchen design.
Contrary to the belief that the color white can be dull or boring, traditional white kitchen cabinets exactly project the opposite. White traditional kitchen cabinets also offer a visually interesting look as it is highlighted with decorative details that add depth and character to its overall look. The layering of textures, through the use of finishing materials, also gives white traditional cabinets a unique appearance. Some of the popular finishes used for traditional white kitchen cabinets are distressing, antiquing, weathering, and glazing.
As mentioned earlier, distressing is a faux finishing technique that gives kitchen cabinets a more aged appearance. Distressed white cabinets are the perfect addition to traditional kitchen settings because they help enhance the "lived in" or rustic vibe. You can use distressed white kitchen cabinets if you want to project a more laid-back vibe, compared to the formality of rich dark wood traditional cabinetry.
Traditional Painted Kitchen Cabinets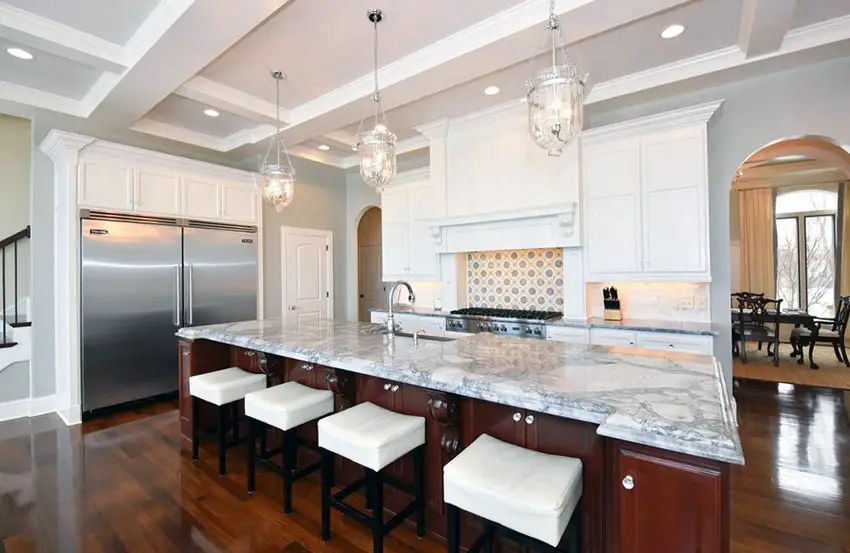 Traditional kitchen cabinets are geared towards a classic color palette, which are composed of neutrals like white, beige, and shades of brown. These colors are also often referred to as "earth colors." The colors for traditional kitchen cabinets range from warm tones like cherry to lighter hues like white.
Brown is often reflected in traditional kitchen cabinets through the use of wood as the primary material for construction. The colors for the wooden cabinetry are generally darker to show signs of wear and tear. Deep and dark-colored wood also projects richness and a luxurious feel.
Wood for traditional kitchen cabinets is typically in its natural color, enhanced by stains to show its graining pattern more, but in some cases, wood is also painted to give it an entirely different look.
Painting wooden kitchen cabinets entirely covers up their natural knots and grains, thus producing a softer and fresher look. Wood finish kitchen cabinets are abundantly used in traditional kitchen settings such as the Craftsman style, rustic style, country style, Victorian, and log cabin kitchens.
Traditional painted kitchen cabinets often make use of neutrals like white, beiges, and cream. Soft, muted colors like light grays, and taupes are also commonly used for traditional kitchen settings. In some cases, pastels like soft yellows are also used in Traditional kitchen settings, such as the cottage style, to add charm and a more laid-back vibe.