Welcome to our ultimate guide of kitchen pantry door ideas including popular types & styles for your interior design.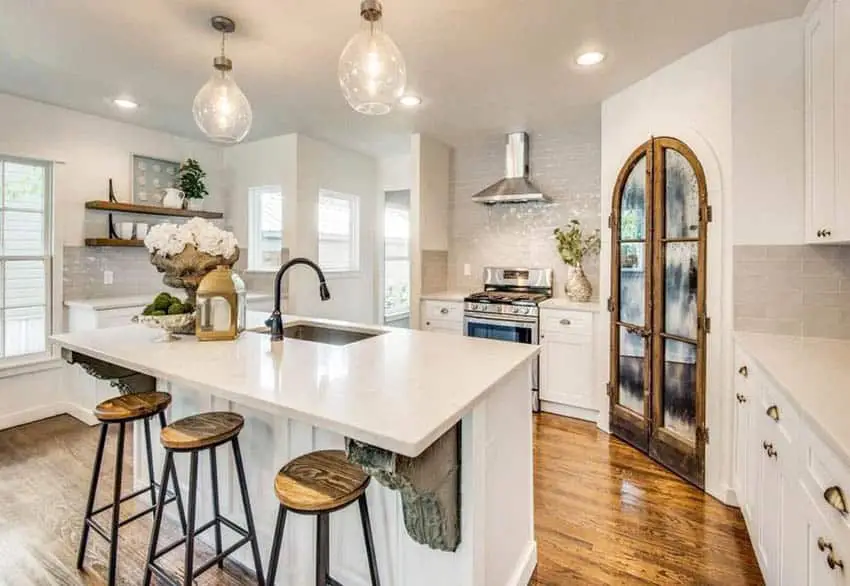 It is easy to overlook the pantry door when it comes to kitchen design, but this single element can actually bring a bold statement in your home. Just like all the other decor you have in a house, a pantry door carries your personal style and reflects your home's overall vibe.
Whether your pantry is small or as big as a walk in closet, there are a lot of pantry door designs which can make it stunning. From rustic wooden doors to sleek glass doors, you can be sure that there is a specific style which will work for any type of pantry you have at home.
The picture above features a timeless antique wooden door that perfectly matches the wooden bar stools and hardwood flooring of its luxurious kitchen design. Together, they create a very warm and inviting space.
Below, we give you our very own guide on kitchen pantry doors along with some of the best designs and decorating ideas to help you choose and create the right one which will make your pantry entrance worth remembering.
Wood Doors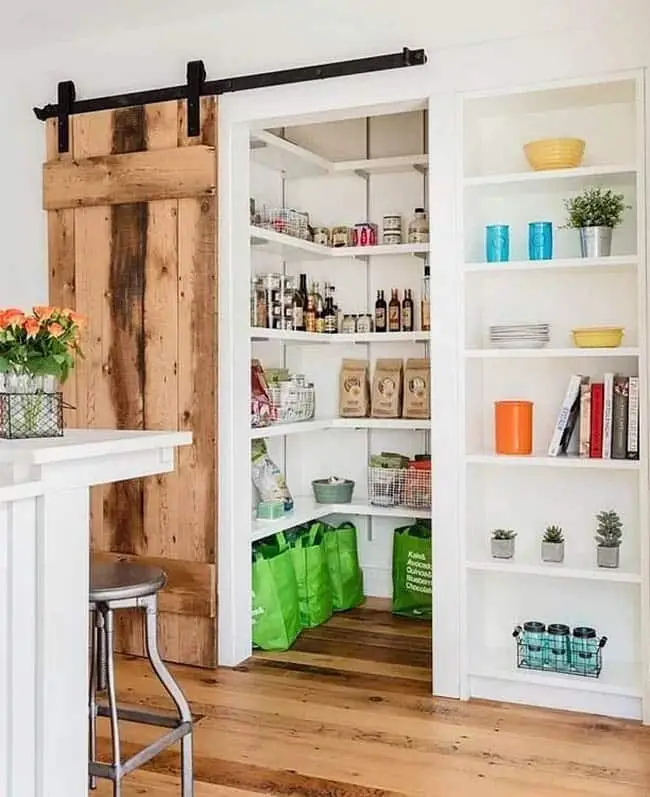 This stunning barn style pantry door brings in a rustic charm to this cottage style kitchen. Using the same type of wood for the door and the flooring also ties the palette and theme of the space gracefully.
Wood is the most popular type of material used in pantry doors. Wood doors are available in different species like Maple, Walnut, Cherry, White oak, Red Oak, Poplar, Alder, Pine and Birch.
Other alternatives to solid wood pantry doors are plywood and MDF (Medium Density Fiberboard). The latter are less expensive options, but they can help you achieve the same natural warmth and can help you attain the distinct beauty that solid wood doors have.
Wood pantry doors come in a variety of styles and types. They can operate differently, using hinges for swinging, rollers and tracks for sliding, pocket door recesses and pivot hinges.
They can be easily customized into any design — they can be constructed as solid slabs with paneled designs or they may be fitted with glass panels and inserts.
Basically, you can customize wood doors in any way you like, depending on your requirements, needs and the existing style of your kitchen.
When it comes to the finishes, wood pantry doors can be treated with wood stain or varnish if you want to highlight its graining pattern. While if you want a solid color, you can treat it with a fresh coat of paint.
Other finishes which can be tried out for wood is distressing and weathering, which is popular in traditional and rustic kitchens. There are other numerous options which you can explore when it comes to the special finishes for wooden doors.
The main reason as to why homeowners and designers are drawn to wood pantry doors is because they have a distinct natural warmth and beauty that no other material can possess.
Their warm undertones can render an inviting feel to a space. In addition, wood pantry doors can fit in a wide array of kitchen design styles, whether it may be traditional, classic, rustic, farmhouse, transitional, contemporary or modern.
Wood Types & Styles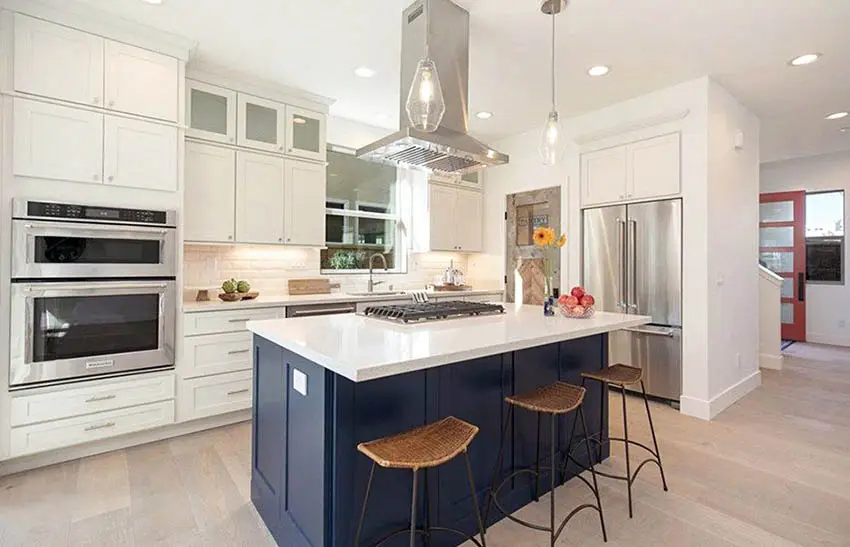 This Contemporary kitchen makes use of a rustic wooden pantry door in natural finish. Combined with the white cabinetry and the contrasting Navy blue kitchen island, they create a harmonious neutral color palette which reflects a formal yet cozy vibe.
Single Door
Single doors are the most common type of pantry doors used in homes. As the name suggests, a single door makes use of one door panel which operates by swinging. Single doors must be installed in such a way that they swing outward into your kitchen — the same way as to how a standard kitchen cabinet door is installed.
On the average a single pantry door that is made up of wood costs around $60. Most cabinet makers and door suppliers offer stylish options which match most kitchen cabinet design styles. You can find ready made single pantry doors in wood or wood with glass inserts.
Alternatively, you can also have the design customized to fit your exact design preference and specification, however, this will set you back a little more when it comes to cost.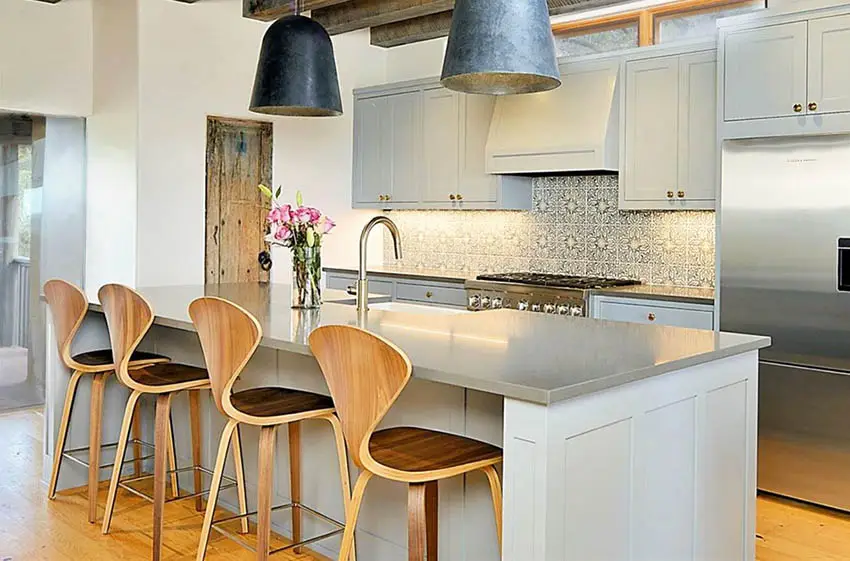 The pantry door also offers the perfect way to marry two styles in a space. This cozy kitchen, for example, makes use of a mix of contemporary style cabinetry, mid century modern furniture and a rustic wooden door.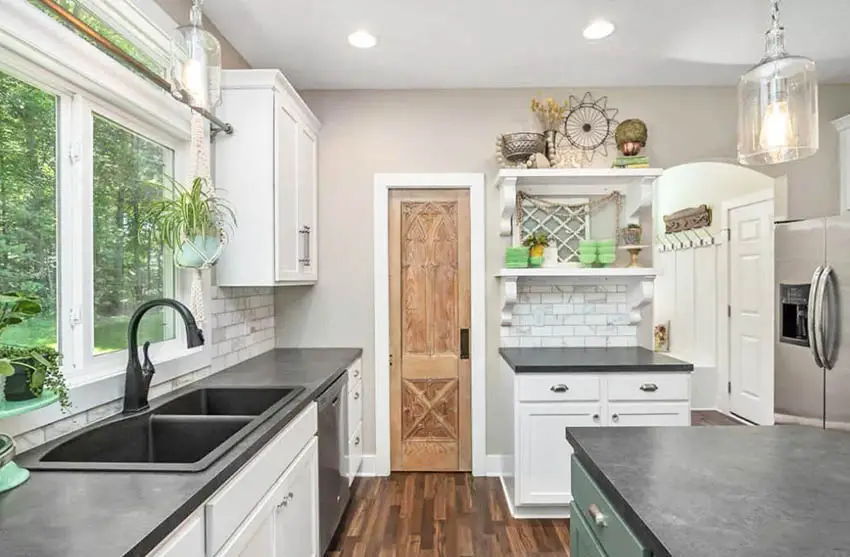 If you have a wooden door which has heavy architectural details, it is best to treat it with a clear stain or leave it unpainted so the carvings get more noticed. If you have it painted in a bold solid color, the paint color itself can overpower the intricate design details on the door.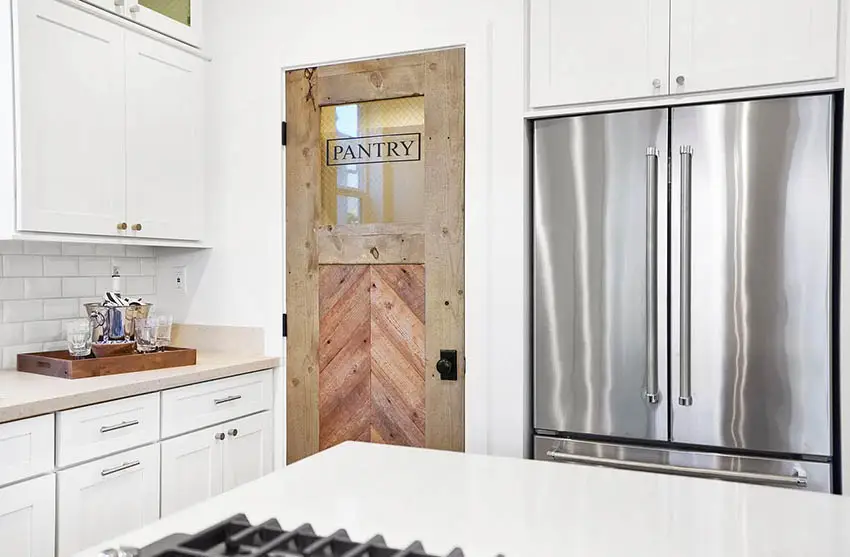 Wooden pantry doors look best in their natural finish. The natural knots and grains of this beautiful unfinished farmhouse inspired wooden door contrasts so well with the white walls and shaker style kitchen cabinets.
Double Doors
Double pantry doors consist of two independent panels which are placed side by side and hinged on each side of the doorway. They open independently either by swinging or sliding. Double doors are also known as a double leaf door, french door or french window.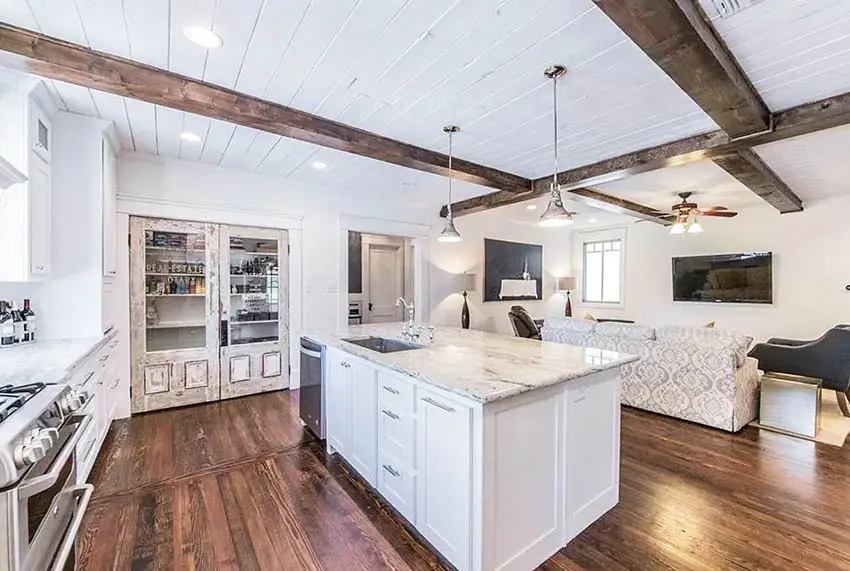 This rustic open kitchen has antique sliding double pantry doors that have clear glass panels.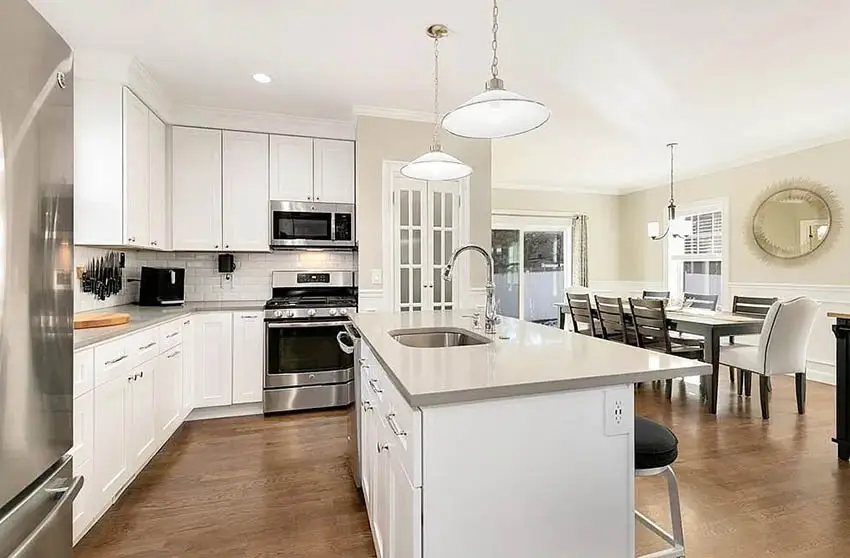 Instead of using a single door, standard sized openings can also accommodate a double leaf door. This is extra useful if you want to increase the efficiency in the space. The pantry above makes use of French style double doors that have frosted glass panels.
Glass Doors
Aside from adding lighting, using windows and taking advantage of natural light, one of the easiest ways to make a kitchen more cheery and bright is by using reflective surfaces and glass finishes.
In kitchens, glass is more commonly used as a splash board material and in cabinet doors, but you can pull off with a pantry door as well.
Glass pantry doors are perfect for small kitchens because they can make the room feel bigger. Glass doors can also create an airy vibe throughout your kitchen. It is also an ideal choice if you want to maintain visual connection in the space and at the same time, separate your pantry from the rest of the kitchen and make it stand out.
For pantry doors, there are several types of glass top to choose from such as clear glass, frosted glass, textured glass or etched glass.
Graphic coat glass or back painted glass is also another option if you want to add a touch of color to your pantry. The type of glass you choose will ultimately depend on what you want to achieve in space.
Clear glass doors, for example, are a good choice if you do not mind having your pantry completely exposed and you want light to pass through it.
Frosted glass, on the other hand, is more suitable if you want to conceal the items inside but still maintain a "bright, airy" look. Whichever type you choose, glass pantry doors can help elevate the overall look of your space.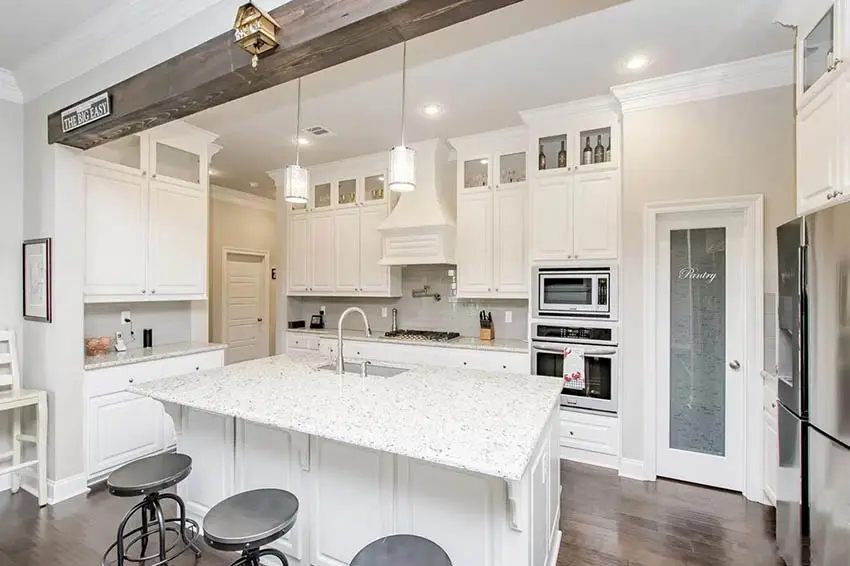 Frosted glass with etched details and lettering are used as the main decor for this lovely kitchen's pantry door. It brightens up the space and allows the pantry to stand out a little bit more than the rest of the cabinetry.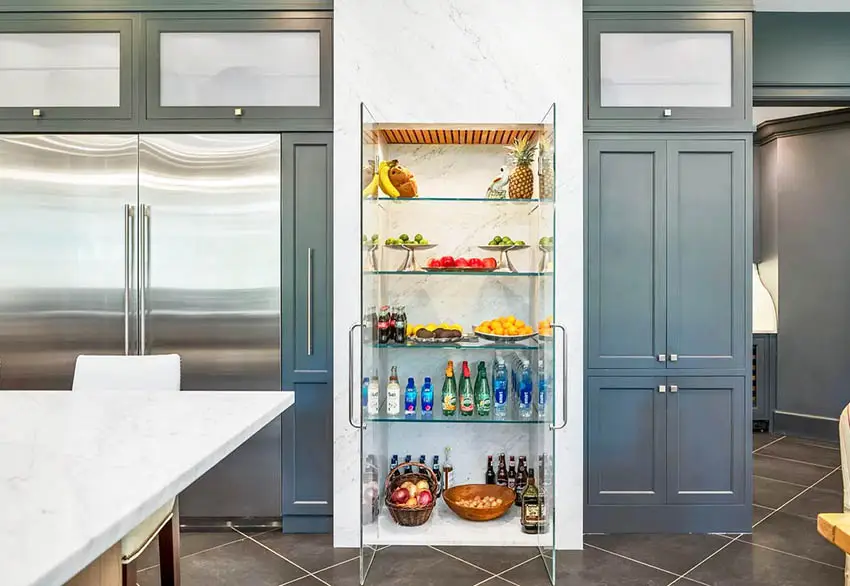 Frameless glass doors are ideal for modern and contemporary kitchens, such as the one above, because they have a seamless and streamlined design.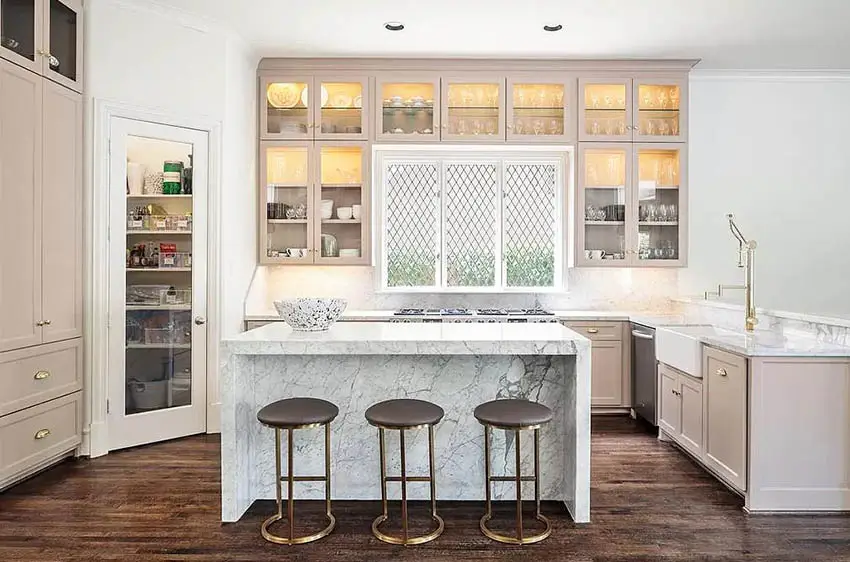 The clear glass panel of this pantry door gives us a peek of the well organized storage within. It also matched so well with the rest of the glass kitchen cabinets in the space.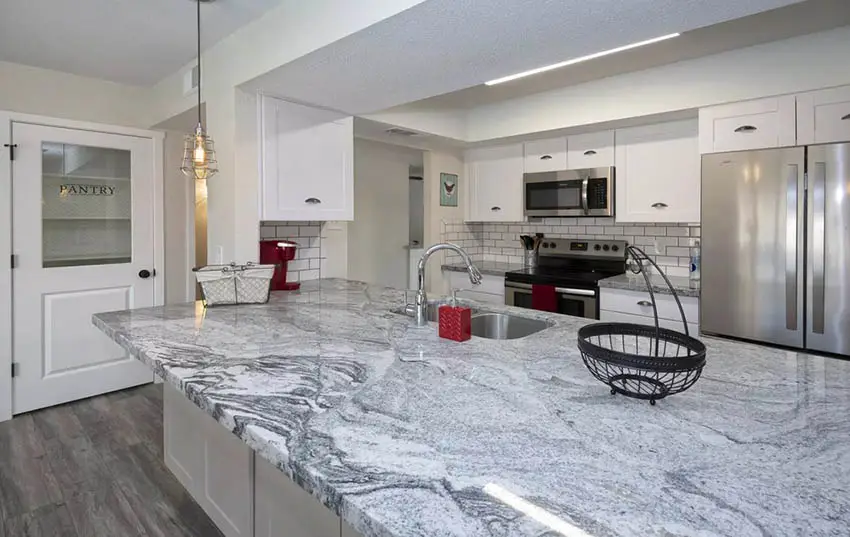 This glass pantry door helps maintain continuity in the overall airy design and serene color palette of this contemporary kitchen.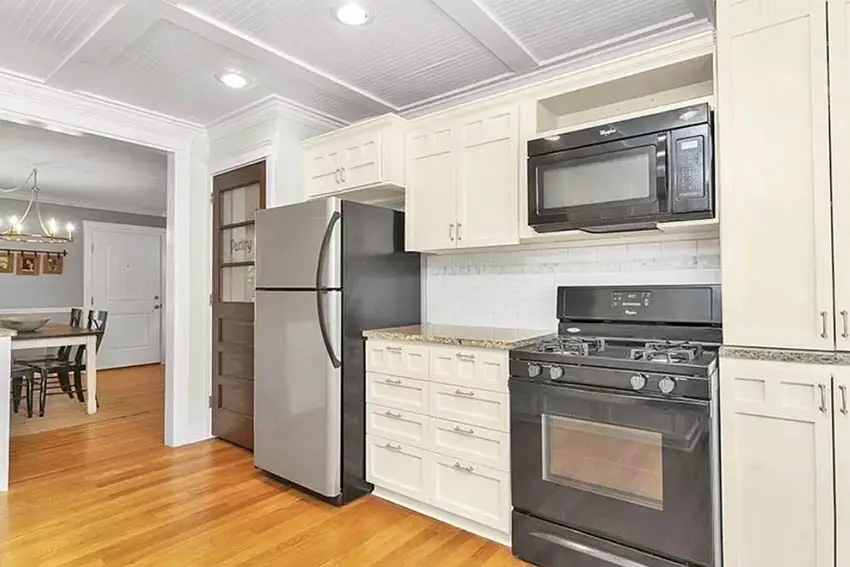 The contrasting dark brown color of this glass door gives a subtle twist to the beige cabinetry of this traditional kitchen.
Frosted Glass
The main difference between clear and frosted glass is their level of transparency. Clear glass pantry doors are fully transparent, while frosted glass pantry doors are semi opaque and somewhat "blurry".
Frosted glass doors are perfect if you want to conceal what's inside your pantry without having to sacrifice that bright and airy feel that glass finishes bring.
You can buy ready made frosted glass panels for your pantry doors or DIY one at home using frosted glass films. The latter is somewhat like a "sticker" which has an adhesive and can be attached to the backside of the glass to create a frosted effect.
Frosted glass doors have a very interesting visual appeal. They can be used if you want to project a casual look in your kitchen or if you want to make it look more spacious, bright and airy.
These types of pantry doors suit a lot of design styles too and can be used in both traditional, transitional,modern and contemporary settings.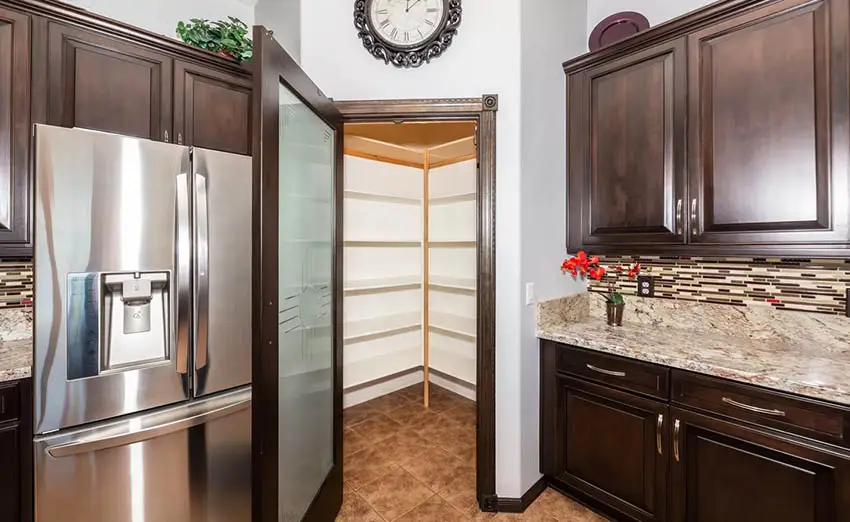 Frosted glass pantry doors help make kitchen storage private but keeps it interesting. In this particular design, the frosted glass door also gives a refreshing visual break from the heaviness of the dark wooden cabinets.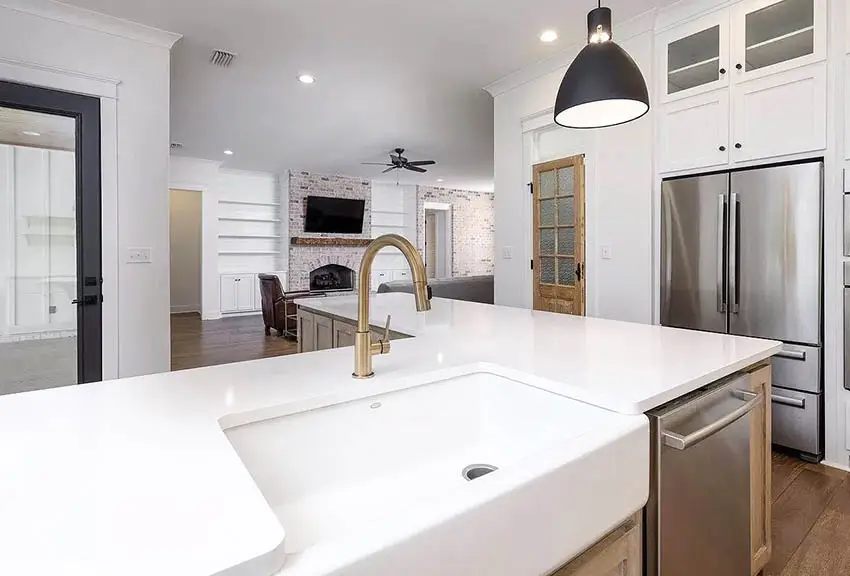 This French style pantry door makes use of decorative textured glass and wood in natural finish. It gives a natural, inviting and warm feel to the space.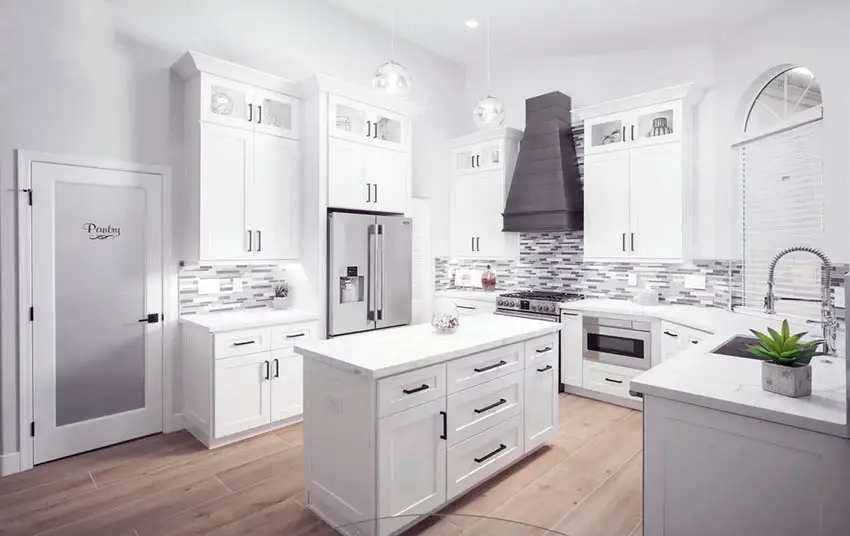 A glass pantry door is the perfect accessory to an all white kitchen because it helps echo a bright and airy feel into the space.
Sliding Doors
For homeowners who want to maximize their space, another great option to use for kitchen pantries are sliding doors. Unlike swinging doors, sliding doors do not take up much floor space because they operate by sliding or rolling on tracks.
These types of doors are very efficient too, since they do not obstruct and disrupt the workflow of your kitchen in any way.
Although more commonly linked with barn style doors, sliding doors come in a lot of styles and designs. They can be customized in all sorts of ways to fit any kitchen setting.
They come in single and double panel designs too. You can buy ready made sliding pantry doors or have one customized by a professional door supplier or a master kitchen cabinet maker.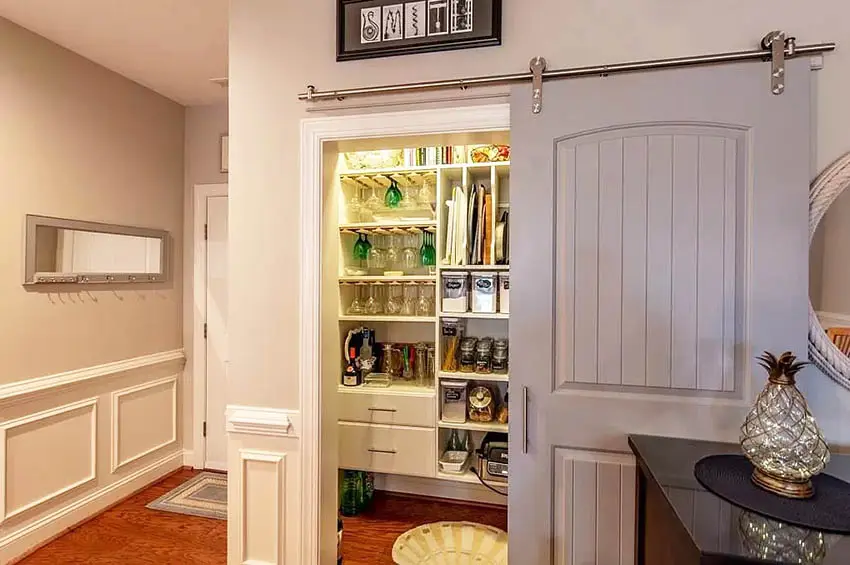 Simple yet charming, this wooden sliding pantry door features a bead board detail and stainless steel door hardware.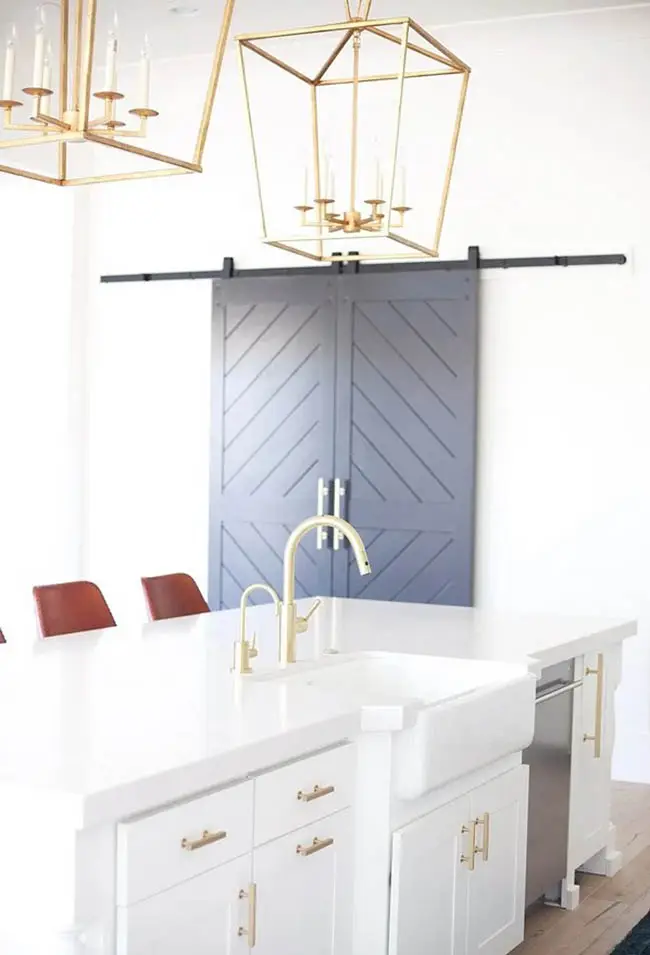 The geometric design of this double sliding pantry door lends an eye catching visual element in this serene kitchen.
Barn Door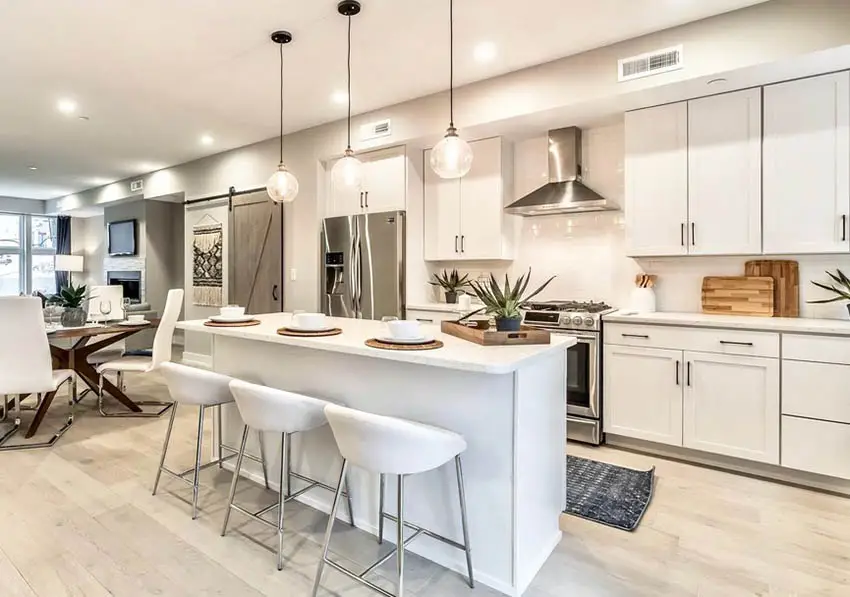 The subtle gray hue of this sliding barn door pantry help it blend harmoniously in this modern style kitchen.
Barn style doors have become one of the most popular types of doors used in pantries. Before, barn style doors were once believed to be a short lived trend that will soon be forgotten in the kitchen design scene, but as years passed, they have proven themselves to be an iconic and classic design element that boasts of impressive versatility and timelessness.
Barn doors are mounted on sliding tracks and open by sliding and shut by pulling back. Barn style pantry doors are perfect for small homes and kitchens since they don't have to take up valuable floor space when opened.
They do not obstruct the kitchen in any way, which in return, make the work flow easier and more efficient. Barn style pantry doors are also very ideal if your pantry has shallow shelves
Tantamount to the "farmhouse style", barn style doors possess a strong homey appeal and country vibe. If you want a door that is simple yet appealing and has a distinct vintage flair. This type of pantry doors are also a perfect choice if you want to add a rustic charm to your kitchen.
Although sliding barn doors are the perfect match for farmhouse, traditional, rustic, country and Scandinavian style kitchens, they can also work in contemporary and modern kitchen settings.
Some cabinet door suppliers and manufacturers offer modern barn style pantry doors which have simpler and more streamlined designs and a sleeker finish.
Some popular types or barn doors include single barn style doors, double barn style doors, swinging barn style doors and sliding barn style pantry doors . For the door styles and designs, the popular versions are modern barn style doors and traditional barn style doors.
This type of pantry door is usually sold as a complete kit and is readily available in local home improvement stores like Home Depot. But if you want to save more, you can make one as a DIY project.
They can be easily built from scratch using a large piece of plywood, a sliding mechanism, a barn door hardware kit and a paint color of your choice.
There are tons of tutorials and easy to follow instructional videos which are available online that will teach you how to build a barn style pantry door easily.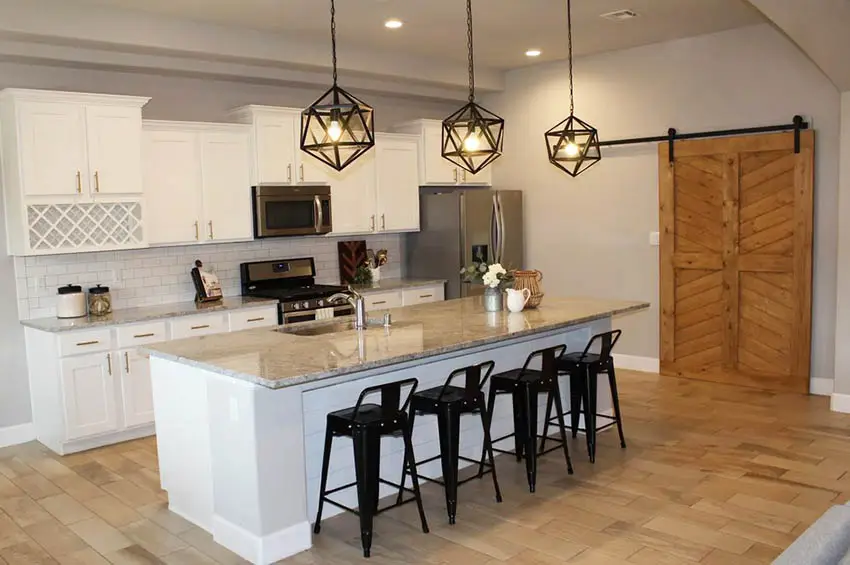 This barn door pantry exudes a heaping helping of country charm that works very well in this timeless kitchen setting.
Bifold Door
Also known as a "folding door", a bifold door is a type of door which opens by sliding and folding back in a series of panels or sections. They are sometimes referred to as "concertina" doors because they resemble a musical instrument of the same name. When closed a bifold door stacks up against a wall..
Bifold doors are typically used as room dividers, but nowadays you can find them in kitchen pantries too. Bifold pantry doors are very convenient if you are trying to make the most out of your kitchen space.
Two panel bifold doors usually pull open from the center and give you a full view of your pantry in one quick motion, while at the same time leaves the space unobstructed.
They offer full flexibility since they can be opened either inwards or outwards. Bifold doors are not only sturdy but also very unique and attractive.
Bifold doors come in a variety of materials such as wood, aluminum or pvc, while some have glass panels. Typically, bifold doors generally come in pairs but they can have up to seven panels. You can buy them in kits with all the fittings and tracking included.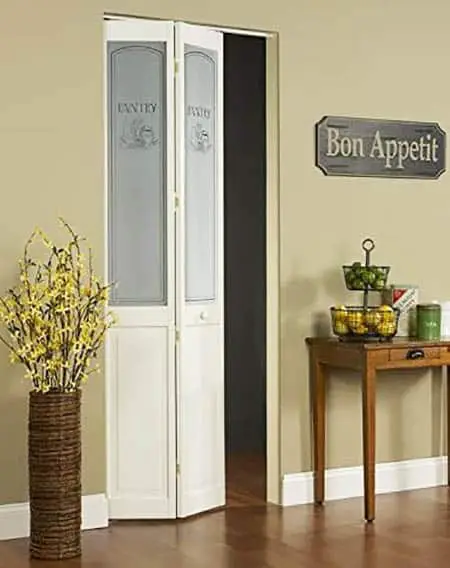 PINECROFT Half Glass Bifold Interior Door
This elegant bifold door is made with solid wood and tempered glass with an etched design. The glass design allows light to filtrate into the space while enhancing the beauty of your home.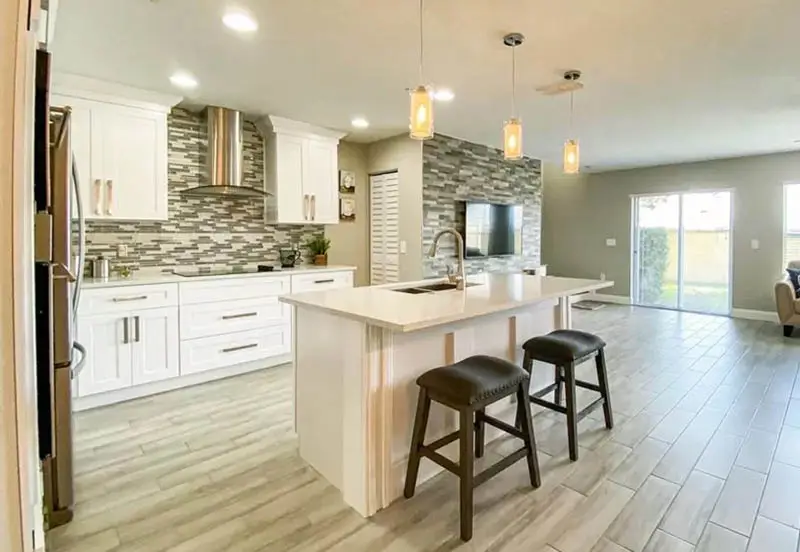 Bifold doors are perfect for small openings and compact pantries. this particular design has louvers which allow ventilation.
Sliding Pocket Door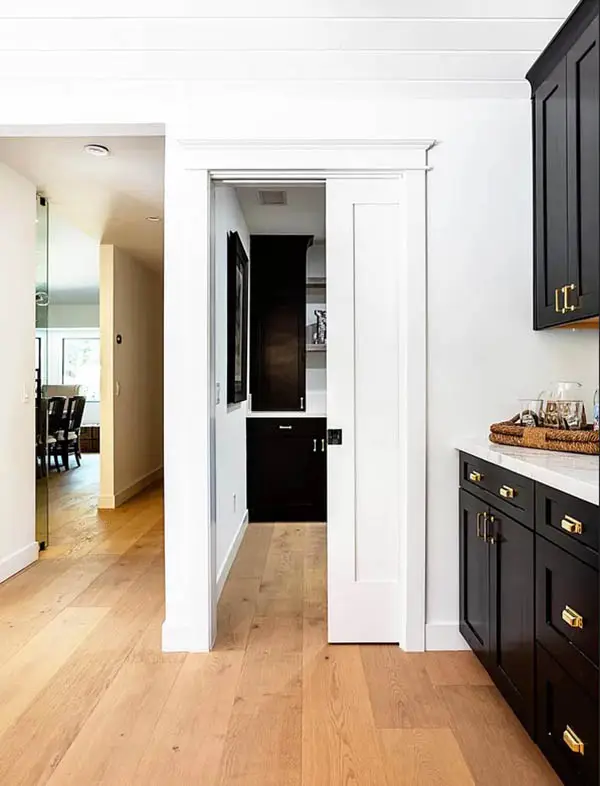 Another space saving pantry door style are pocket doors. A pocket door is a type of sliding door that "disappears" into the space inside the wall, when fully opened.
They are hung from the top and travel along an overhead track and rollers. Pocket doors may either be single or double, depending on how wide the opening of the pantry is.
Pocket doors are popular in small homes because they are excellent space savers. Unlike other types, they have a very practical design and do not obstruct the workflow of a kitchen in any way.
Pocket doors come in a variety of styles, materials and designs. As mentioned, they come in single and double door versions. You can find them in wood and glass, and it comes in different variations which match any interior design style.
Some popular designs of pocket doors include full wood panel pocket doors and framed glass pocket doors with clear or frosted glass.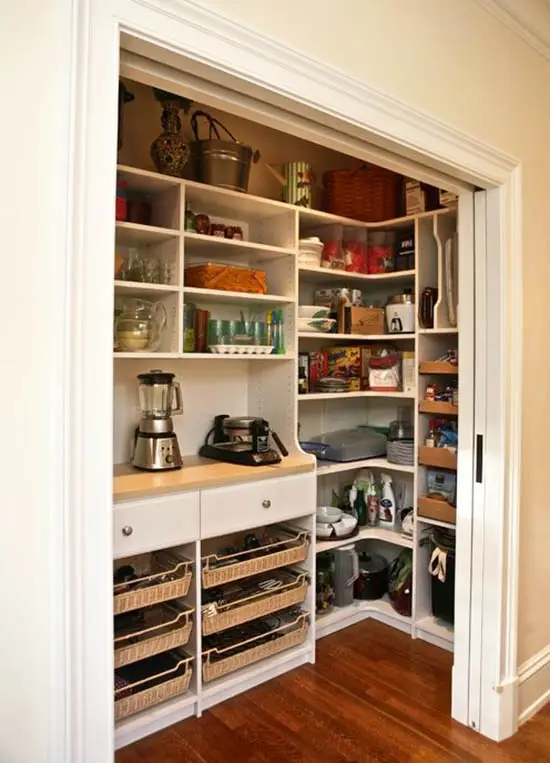 This pantry closet provides maximum , unobstructed storage space because of the use of smart shelving and pocket sliding doors.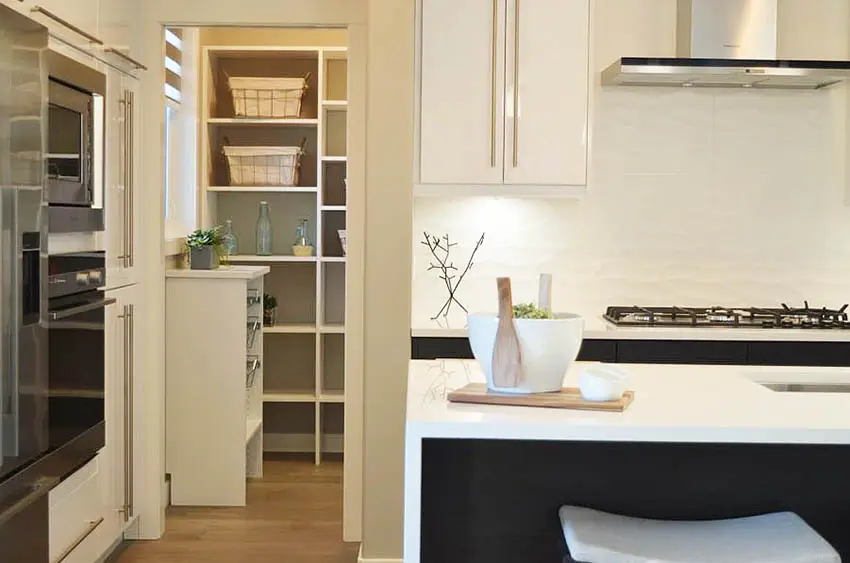 This picture shows a kitchen pantry with sliding pocket door slid in to the wall which works well in layouts with limited space.
Farmhouse Doors
Farmhouse style kitchens have a simple yet elegant design,having a laid back vibe, a great inviting feel and a warm homely look. Because of its casual appeal, it is easy to find the perfect door design which will match this style – whether a little bit distressed, rustic or simply in natural wood finish.
The most common farmhouse pantry door design is the weathered or distressed finish. Also used in giving new doors a bit of an antique look, the distressing technique can instantly transform any existing door into a rustic piece. To complement the time worn look, you can use matching hardware or add distressed signs for that extra country feel.
Barn style doors are also typically used in farmhouse style kitchens and pantries because they greatly complement a rustic country aesthetic.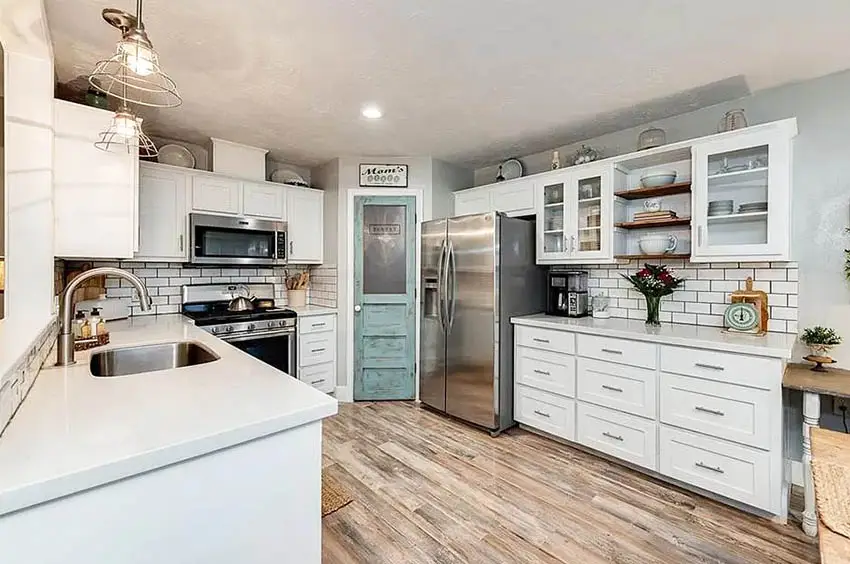 Mellow color palettes best reflect the farmhouse charm. In this homey farmhouse style kitchen, the pantry door is painted with a soft powder blue shade and is treated in a distressed finish to give it a bit of rustic touch.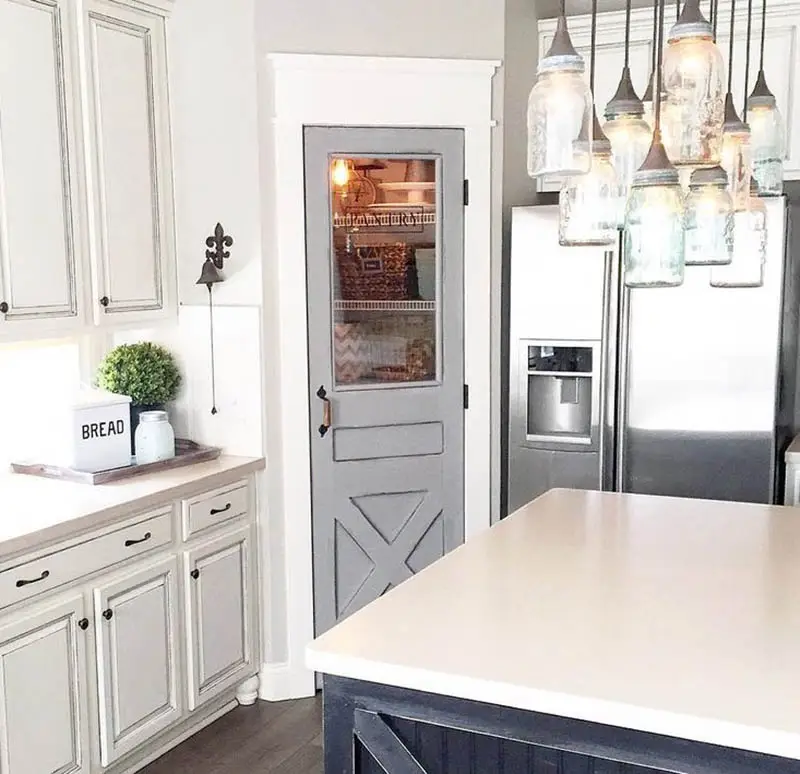 A pantry door does not always have to be painted in a bright color to be noticeable in a space. This wooden farmhouse style door, for example, lends a subtle statement to a kitchen dominated by distressed white kitchen cabinets and stainless steel appliances.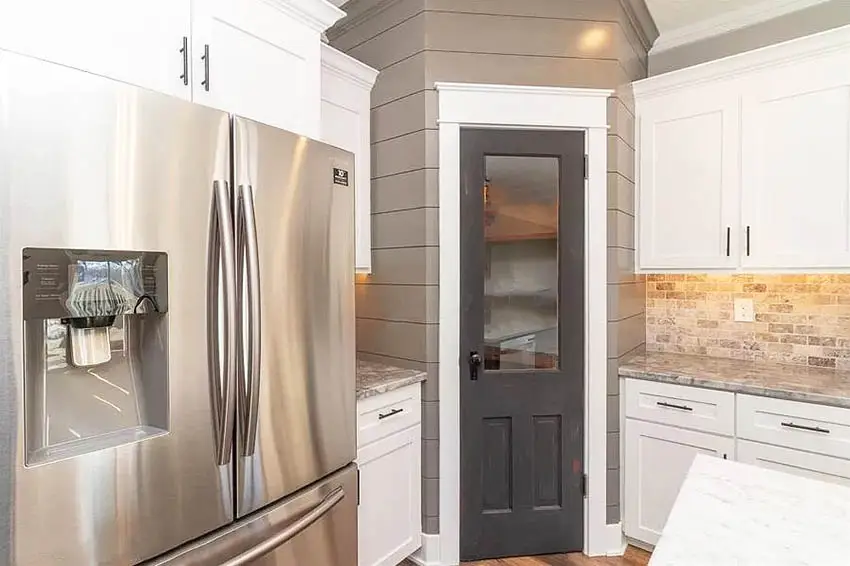 The dark gray color of this Farmhouse inspired door cohesively ties the neutral color scheme of this space and complements the stainless steel appliances such as the stove, refrigerator, oven, metal hardware, gray granite counter top and the natural tile backslash.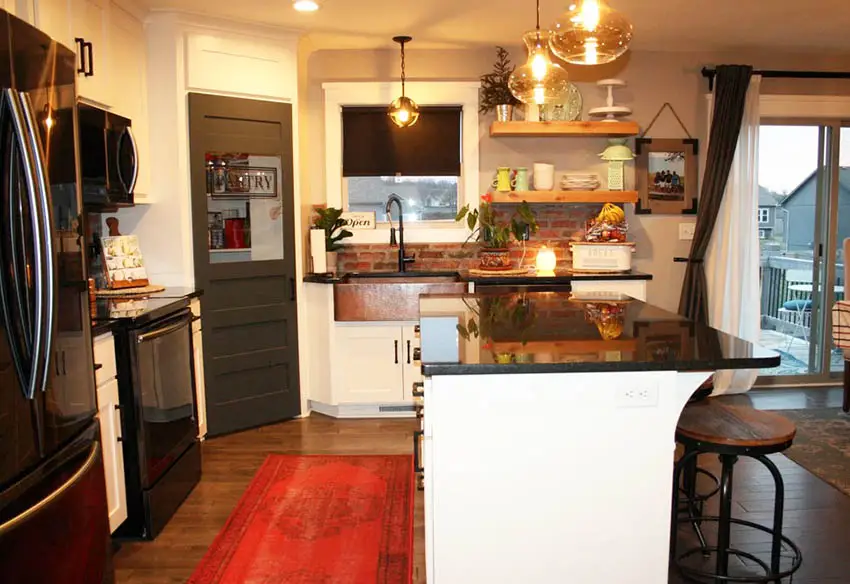 This rustic farmhouse kitchen features a dark gray door with window.
Antique Door
Another stunning design to try out for pantries is the antique door. Boasting of an old world charm and a timeless appeal, antique pantry doors can make even small pantries stand out in a space.
Although more commonly found in traditional and rustic kitchen designs, antique doors can also be used in pantries that have a modern or contemporary setting. If you want to add a focal point to your kitchen or a conversational piece, this is the way to go.
Genuine antique doors can be quite challenging to find, however, you can still pull off the same look for your pantry door using special finishing materials.
One option would be to use reclaimed wood and pair it with black iron or antique hardware. Another option is to use a distressing painting technique to give your door an aged and weathered look.
Distressing can be done easily by painting an existing wooden door with regular white or off white paint, then abrading it with a rough material such as sandpaper or steel wool. This is typically coated with wood stain then sealed off with polyurethane for protection.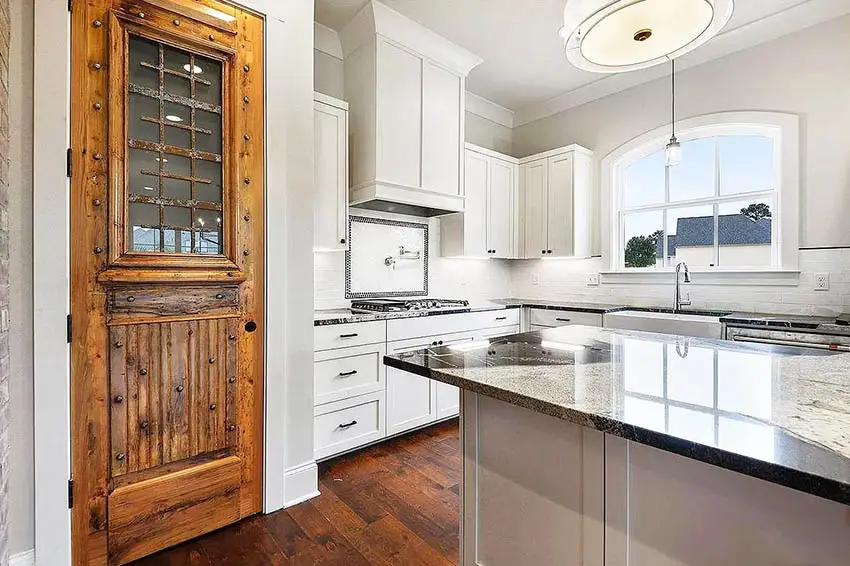 An antique pantry door can create a strong statement in a space. In this all white kitchen setting, the stunning design of the solid wood door which is accentuated with timeworn metal hardware serves as the main feature.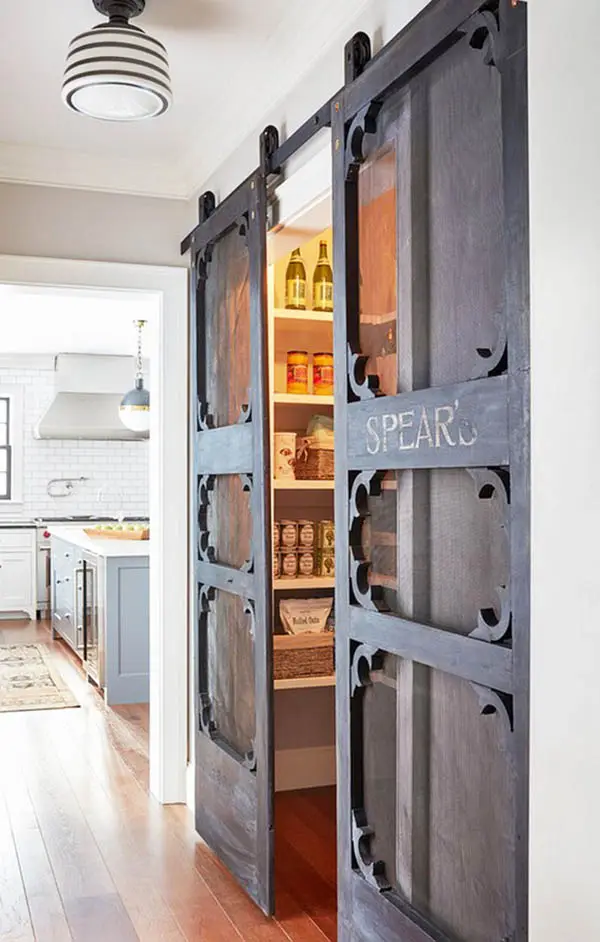 This beautiful antique pantry screen door has a carved frame and mesh panels which enable just the right amount of light to pass through the pantry.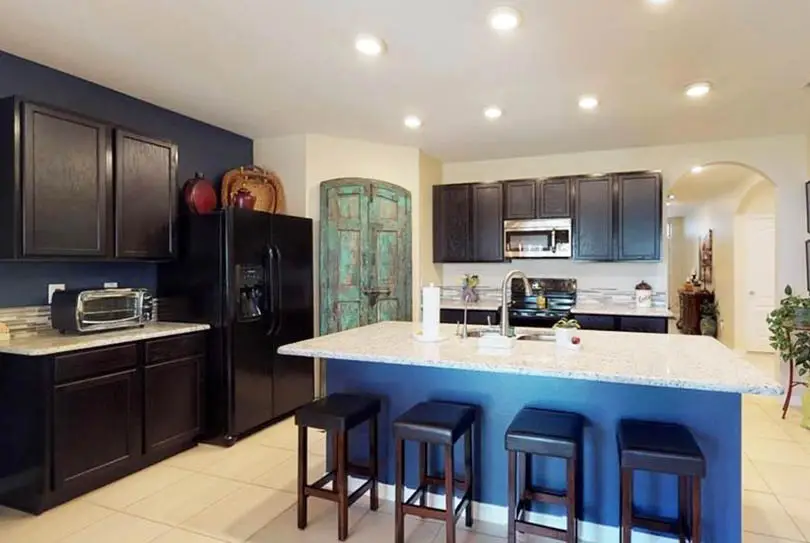 Antique doors do not have to match the rest of a color scheme too. In this kitchen dominated by dark brown wooden cabinets, a weathered light green double door brings in a refreshing contrast while softening the warm tones in the space.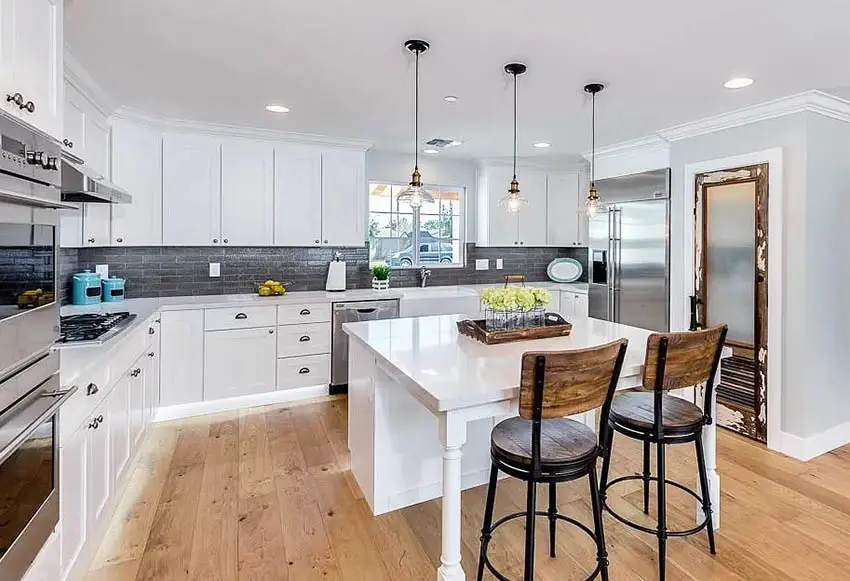 An effective way to pull off an antique pantry door is to have a matching design element which will tie it to the space. In this contemporary kitchen, the Antique distressed wooden door is paired with wooden bar stools and a wooden tray centerpiece.
French Doors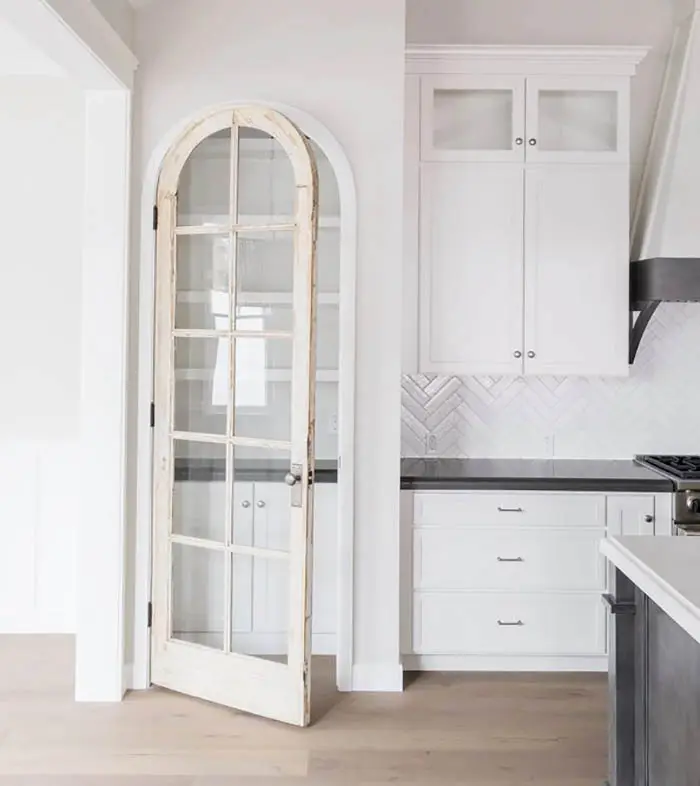 One of the most popular styles of double doors are French doors. Traditionally, french doors were used in openings or doorways leading to balconies, but soon their design was adapted into cabinetry door design.
French pantry doors, much like french doors, are a pair of doors with glass panels from the top to the bottom part of the door.. The glazing allows light to pass through inside.
French doors can be used as a statement piece in a modern kitchen setting. The timeless French door, in the example above, contrasts beautifully with the Contemporary design elements surrounding it.
The clear glass panels of the door also pair well with the white cabinetry as it helps enhance the brightness and airy feel in the space.
Nowadays, French pantry doors come in different variations of the basic design. Some come with solid wood frames, others with plywood or MDF.
Popular designs include the traditional French door which has glass panes extending throughout its length, some modified designs come with glass panes on the top and a solid panel on the bottom part. The glass also comes in several types like clear, frosted or etched.
Double doors can be used for both large and small pantries. In some spaces and settings, double doors are more efficient to be used compared to a full sized door.
A full sized single door can sometimes interrupt and obstruct the flow of your kitchen. Replacing a single door with a set of double doors can improve the overall function of your kitchen.
Although historic in origin and more commonly found in kitchens with traditional inspirations, French and double doors can be used in almost any style of pantry, whether classic, country, contemporary or modern.
As mentioned, this type of door comes in different variations and you can have it customized in any design you want. For more modern kitchen settings, use double doors which have a more streamlined look and a more sleek appearance.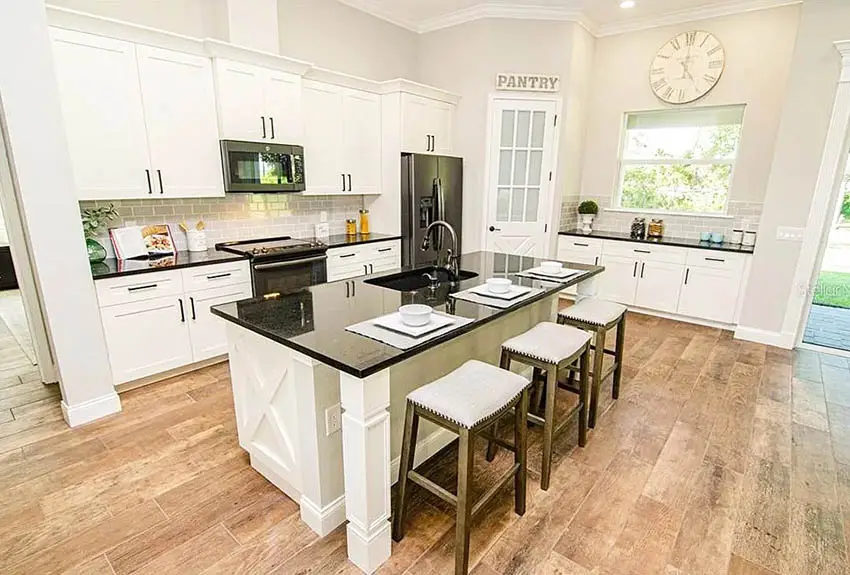 An effortless yet effective design trick to direct attention to your pantry without overdrawing from the beauty of custom cabinetry is to use frosted glass panels and a simple wooden sign above the door.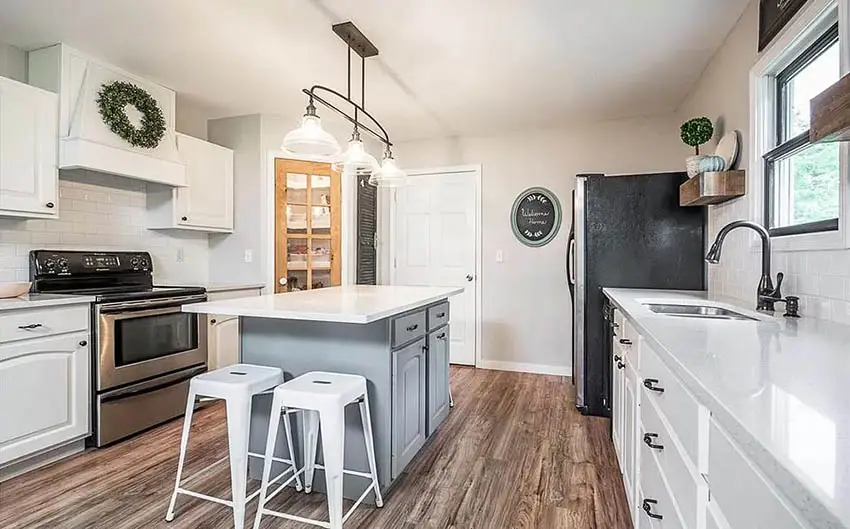 The simple natural wood finish of this French pantry door breaks up the neutrality of this Farmhouse style kitchen.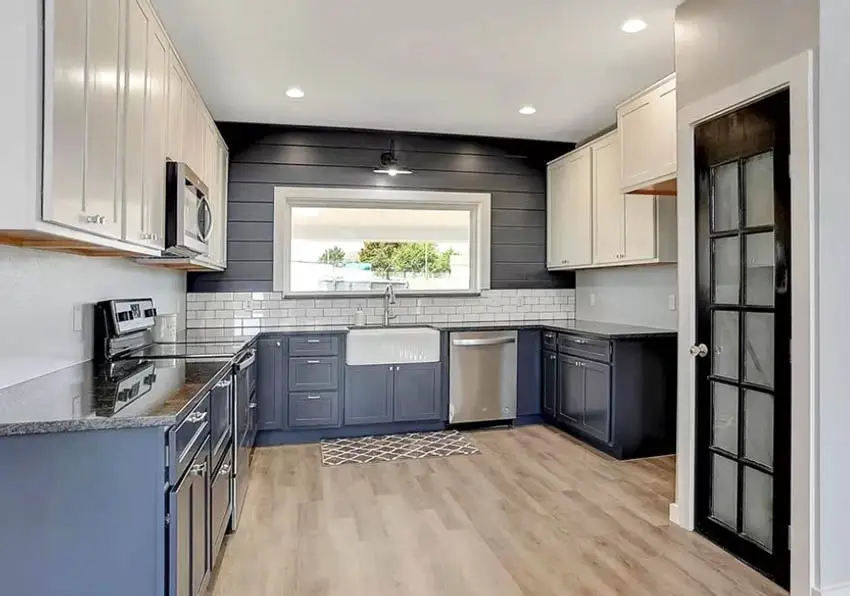 The black paint on this French style door adds contrast and definition to this contemporary gray and white kitchen.
Chalkboard Paint Door
In many kitchens, chalkboards are an essential part of the design of the space since they help keep track of things at home. Fortunately, you can turn any flat surface into your own personal notepad using only paint.
Chalkboard paint is one of the easiest, most practical and most effective ways to add function to a pantry door. In addition, it also adds some interest and visual appeal to the style of your kitchen.
It is also the perfect way to personalize your kitchen and pantry — you can either write down your grocery list on it, put in some recipes, jot down your menu, slip in a reminder, a heartwarming quote or an inspiring message. Kids would love the idea too, since they have a space at home where they can express their creativity freely.
Any type of door can be turned into a chalkboard using special chalkboard paint. This popular DIY material can be applied easily using materials which are readily available in home improvement stores. All you need is to apply 2 coats of chalkboard paint into your door using a paint brush or roller brush and let it dry.
Chalkboard paint doors are perfect for neutral tone kitchens since they create visual contrast. They are also the perfect accessory for farmhouse kitchens, but since they are considered a classic, they work as a great addition to a modern kitchen setting too.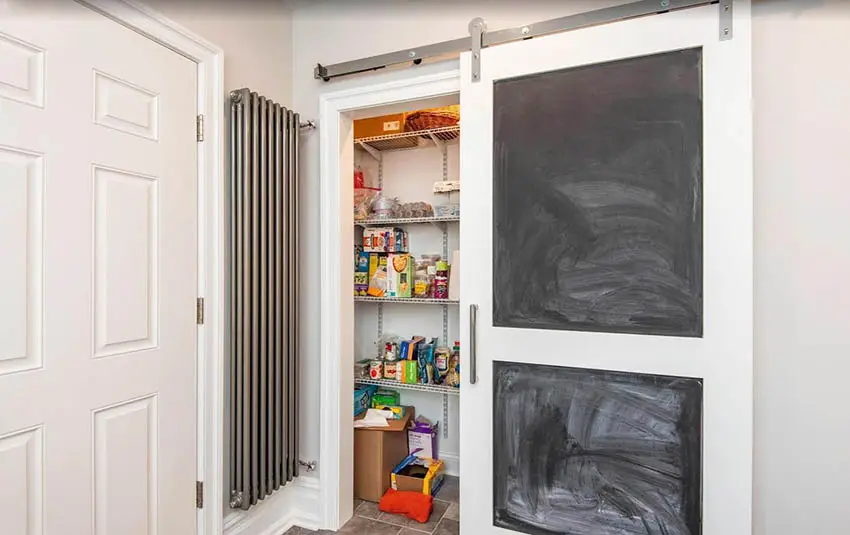 This pantry cabinet makes use of a chalkboard painted sliding door with modern brushed metal hardware. Despite the simplicity of its design, it still stands out in the space.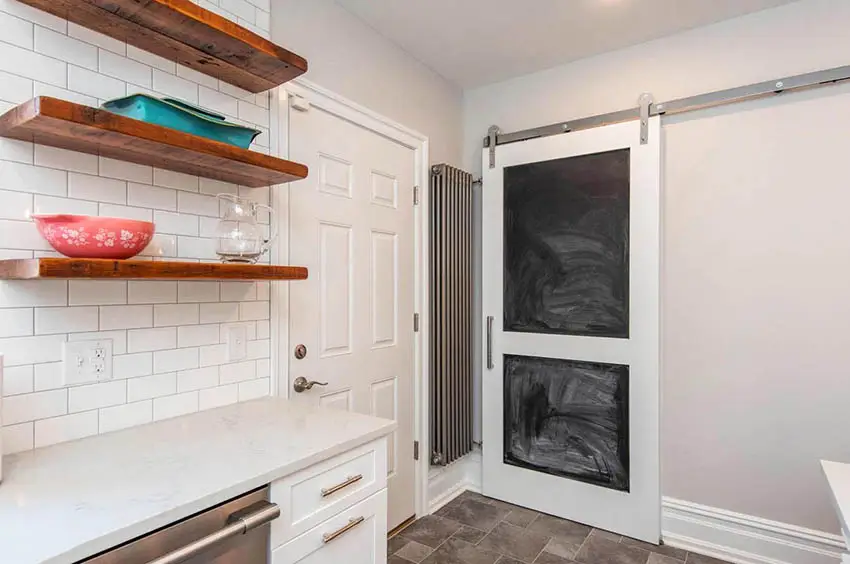 Contemporary barn style doors, such as this one, have simpler designs compared to the traditional ones. This particular design has sliding door center panels which are coated with chalkboard paint – a simple yet effective way to elevate the style of a painted door.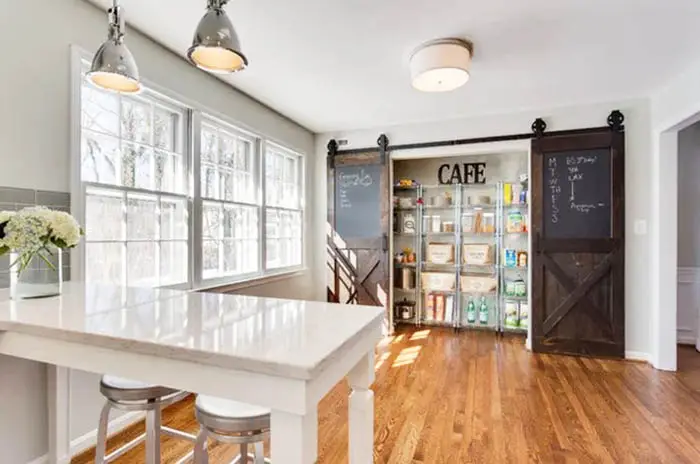 A pantry offers a great way to showcase your personal interest. Inspired by a charming cafe, this warm and inviting pantry is adorned with a pair of dark solid wood sliding barn style doors. The top panels are treated with chalkboard paint that serves as a memo board for daily schedules and other notes.
Pantry Screen Doors
Screen doors are more commonly found in restaurant kitchens, but they can also be used as a stunning pantry door. Screen doors are best known for their efficiency and ease when it comes to use. Screen doors can be opened easily, even when your hands are full, they allow plenty of air movement and ventilation too.
When it comes to the design and appearance, screen doors have decorative cutouts in the door panel, instead of having a solid slab. The openings on the door do not only amp up the look of a pantry, but they also allow you to easily see through them and have a full glimpse of your stock shelves.
These screen doors can make awesome additions to kitchens because they offer a unique design. Depending on the style of your kitchen and your preference, you can choose from a simple off the shelf style or opt for a custom made screen door with intricate patterns.
If you have the right power tools at home, you can also build your own screen pantry door from scratch. Even beginners can try their hand at DIY screen doors because it is lightweight and has simple joinery. You can also re purpose an existing door and turn it into a screen door if you want to give your pantry an upgrade.
Interior screen doors are perfect for vintage and country style kitchens because of their old fashioned charm and antique vibe. Other popular variations of screen doors used in pantries are wire screen doors and shoji screens.
Wire screen doors, as their name suggests, are made up of a framed wire mesh panel. They have a bit of industrial flair to them.
Shoji screens, on the other hand, are famous in Japanese households and are more commonly used in Asian inspired interiors. This type of screen door is a sliding panel with a framed translucent screen.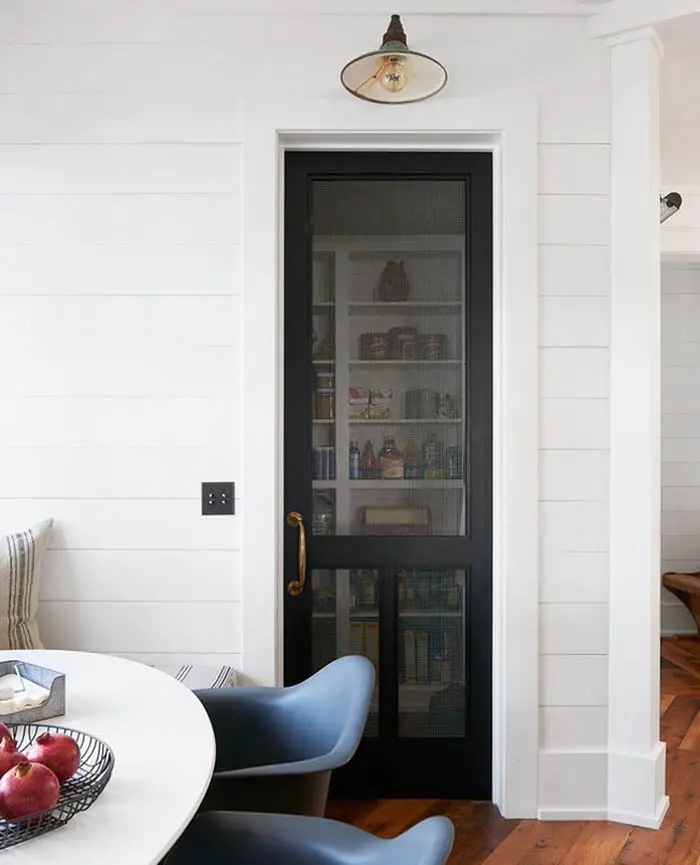 This contrasting black screen door gives just the right amount of transparency to make the space feel airy.
Kitchen with Hidden Pantry
A pantry does not always have to look like it's purposely built. In the same way, it does not have to be a separate room or isolated from the rest of the kitchen. One option would be to build it as a part of the kitchen cabinetry and seamlessly blend it into the space.
One of the most effective design tricks to use in building a hidden pantry is to use a matching pantry door which is similar to the rest of the overhead and under kitchen cabinets. This produces a very flawless flow of cabinets without drawing away from the overall design of the space.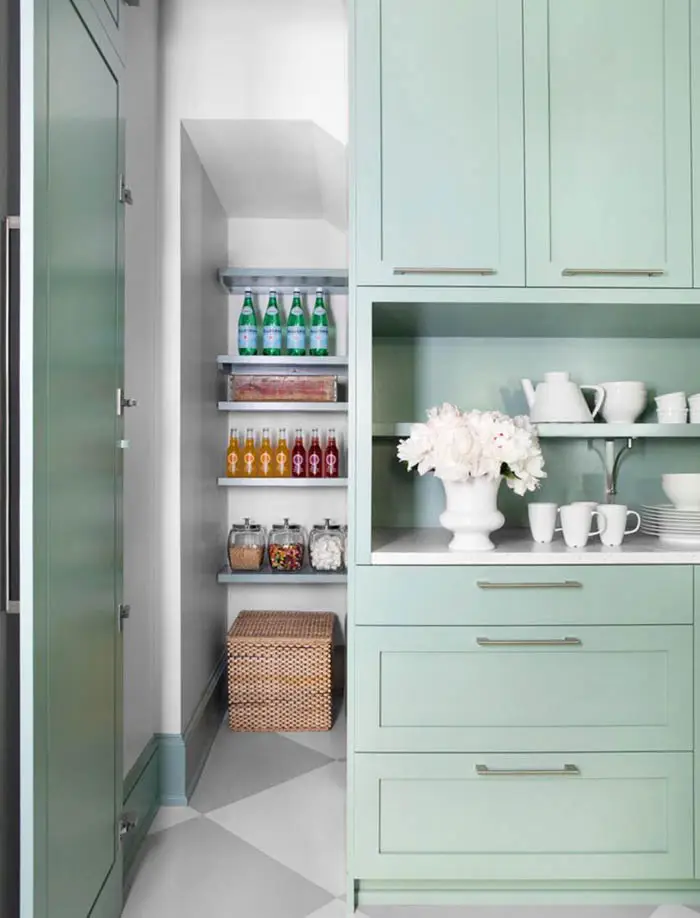 Another way to build a hidden pantry is to convert a small corner in your kitchen into a storage space using built in shelves. This dainty kitchen does just that by transforming the small awkward corner into a beverage stock shelf.
Using matching sea foam green paint for both the cabinetry and the pantry shelves echoes an ultra refreshing vibe in the space.
DIY Door
You can also create a DIY pantry door if you want to give it a more personal touch. When it comes to DIY door designs, the sky is your limit — you can put anything you want that matches your needs, design preference and individual style.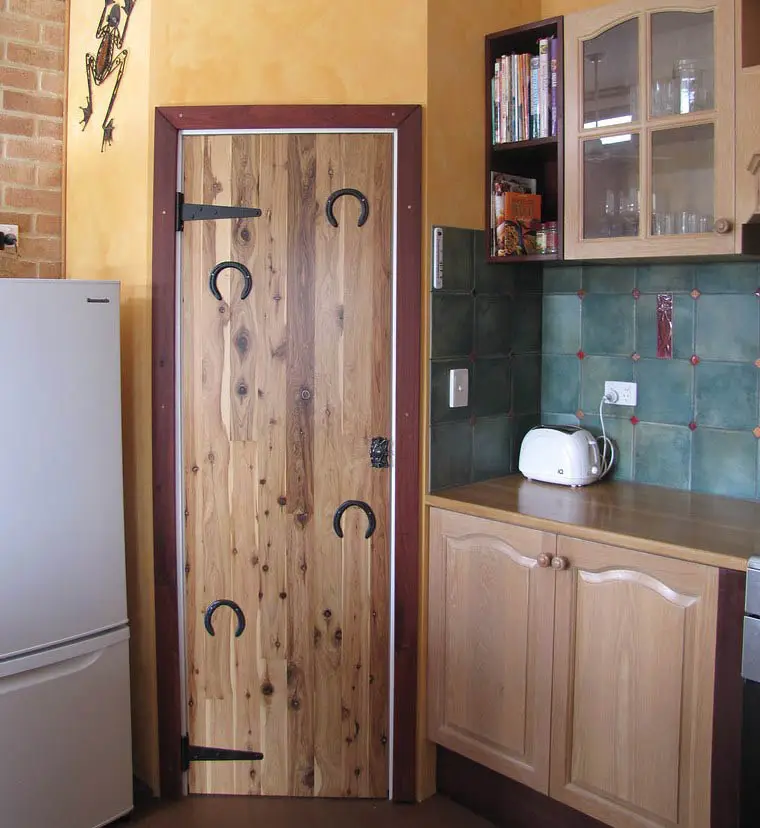 This solid wood pantry door is adorned with horse shoe ornaments to give it a more rustic and country appeal. Matching black iron hardware complete its warm, pastoral look.
Door Organizer
Aside from hiding everything inside the pantry, a pantry door can also provide additional storage in a kitchen. Doors with shelving help maximize space and come very handy in small kitchens and compact pantries.
One of the easiest ways to add storage to a door is by incorporating some shelves into it. You can either use ready made wire baskets, smart holders or mount DIY built in shelves at the interior part of a pantry door.
From shallow shelves which can be used to hold small things like spices to bigger ledges which can carry matching canisters and storage jars — there are numerous designs which you can choose from.
You can opt for individual shelves or maximize the space and go for multi shelf storage systems. Either way, doors with built in shelves will help you keep your pantry well organized without having to worry about wasting precious space.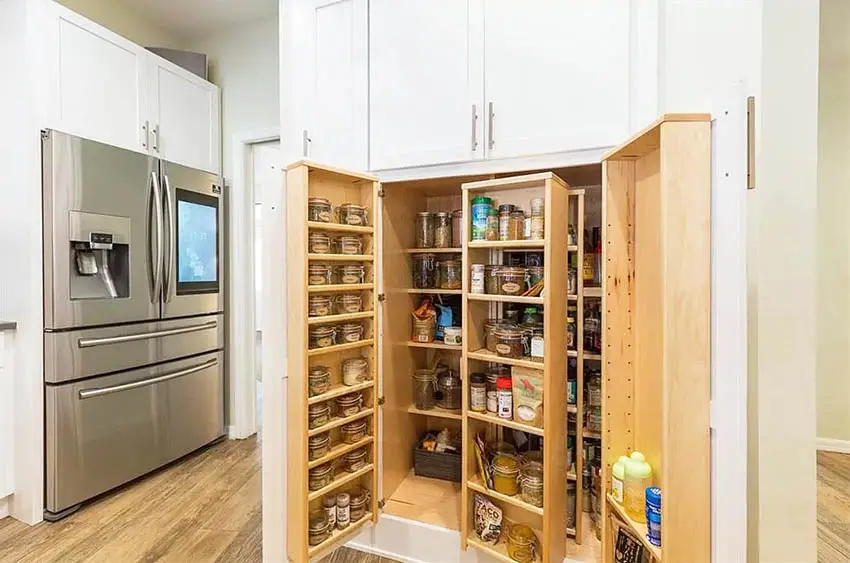 Using custom built pantry door organizers help you make the most out of your space. This pantry shown above instantly doubled up the storage space using tiers of wooden shelves built in on the double doors.
With different bins and expanding storage you have room for extra utensils, baking goods, seasonings, cutting board and dry goods.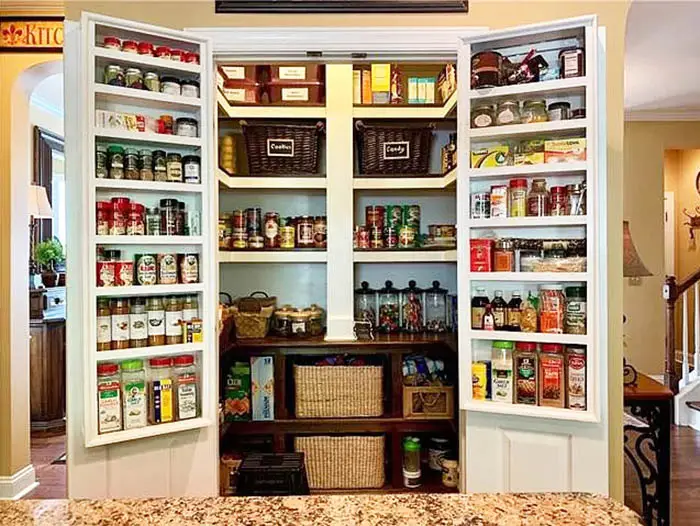 A pantry can easily look too cluttered if you put too much stuff on it, but with the use of built in door organizers you can prevent such mess and preserve your kitchen's wall space. Bottom shelves offers space for bigger size items, or storage for essentials in boxes or bags.
Thus pantry cabinet shown above is just satisfying to look at because of how organized it is. The built in shelves attached to the double doors also serve as a spice rack — a perfect feature for homeowners who have passion for cooking.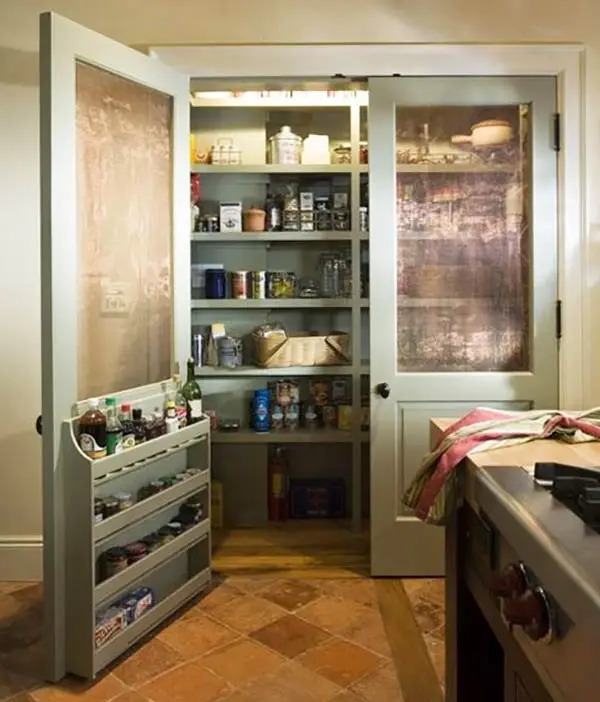 Even if you do not have a full solid door, you can still put some built in organizers by utilizing the bottom part of it. This screen door has tiers of shelves mounted halfway down its height which serves as an additional storage for bottles and condiments.
Door Signs
Adding a sign to your pantry door gives it more charm and appeal. There are several effective ways to do this — by adding a decal, using etched glass or by simply lettering using paint. Here are some great ideas to add your own personality you can try: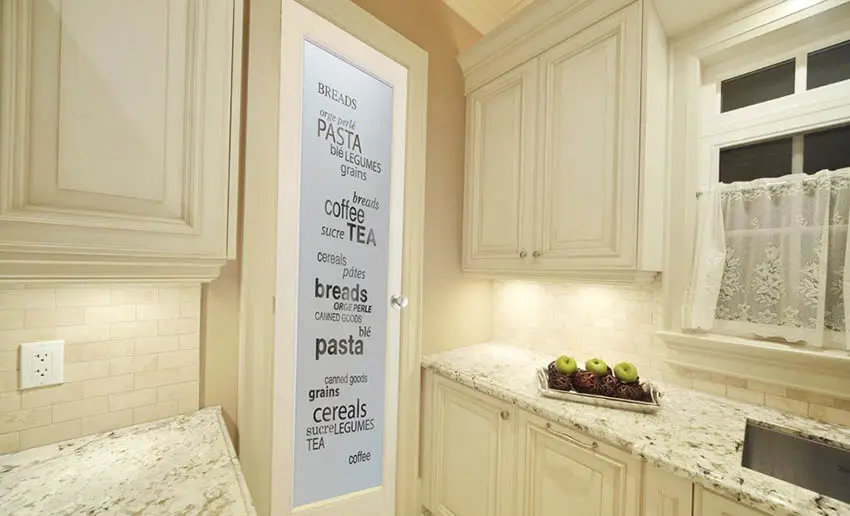 Rather than putting a door sign which says "pantry", you can try out something different and get more creative with the design.
This door, for example, makes use of a frosted glass panel with etched lettering of common pantry goods, giving it a more warm homelike touch.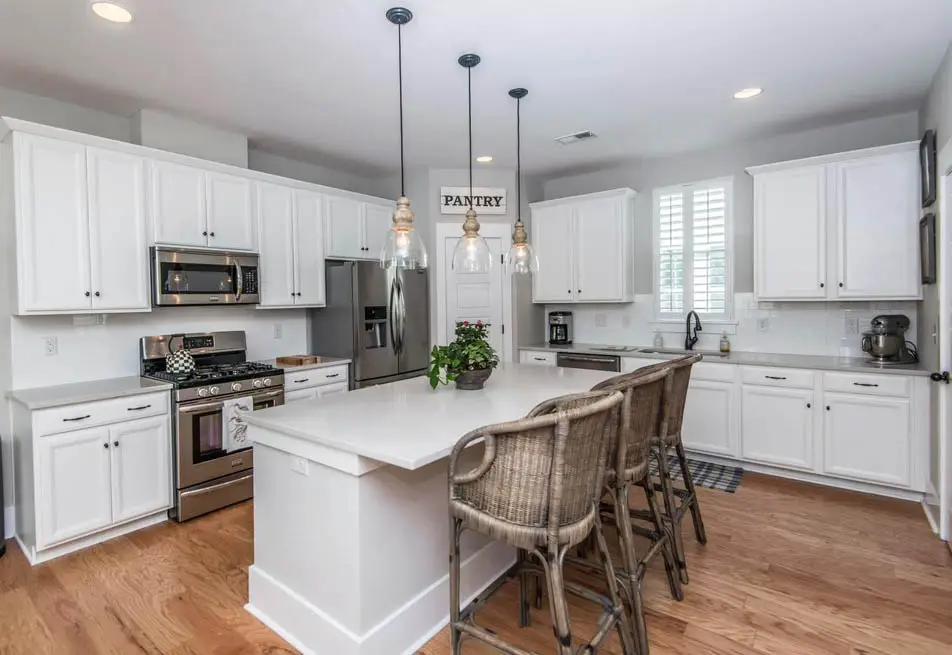 If you do not want to put the sign directly on your pantry door, another way to do it is to hand a simple signage on top of it. This farmhouse style kitchen,.
For example, makes use of a wooden door sign which is painted in white and brown to match the color palette of the rest of the space.
Door Designs
Using glass pantry doors offer a lot of design flexibility and versatility because you can try out different finishes to make it more unique and visually attractive.
Sandblasting, etching, texturing and adding decals are some of the techniques which can be used to achieve different kitchen designs.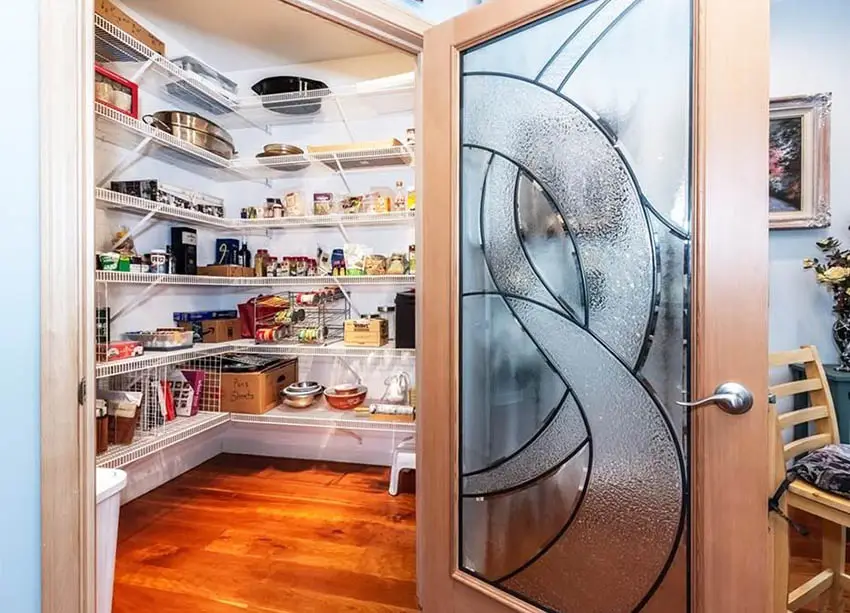 This contemporary walk-in pantry makes use of a textured glass door with a unique geometric pattern. The pantry glass design is outlined in black to give it a bit of highlight and accent.
The corner shelving provides easier organization with room to access food containers, jars, cans, snacks and spices.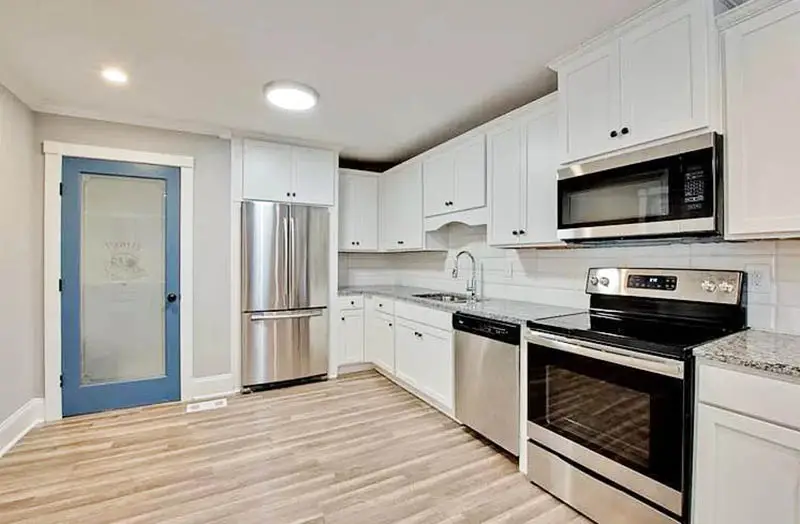 Blue paint makes this simple door the focal point of this contemporary white kitchen. It is also adorned with a frosted glass center panel that has an etched border and door sign.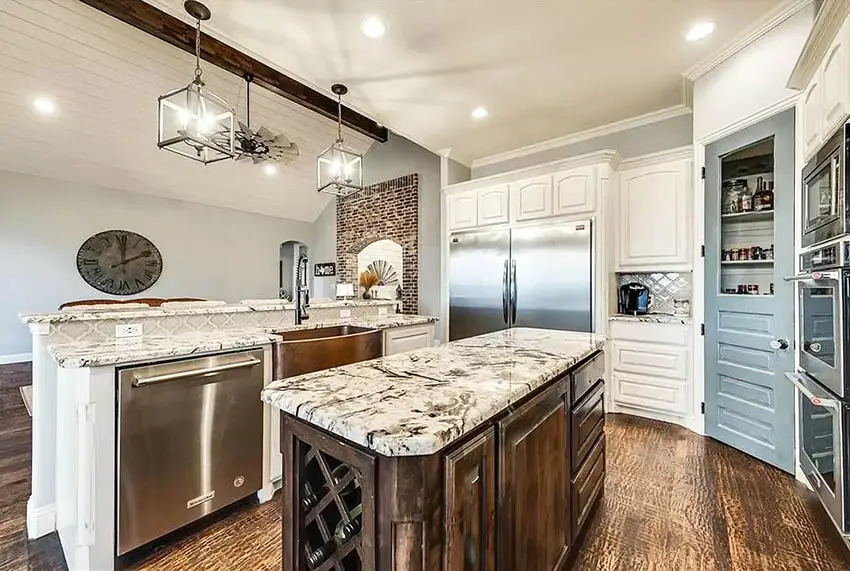 A light shade of powder blue contrasts the door with the rest of the space. The combination of this cool hue with the warm tones in the kitchen adds a refreshing touch to a very rustic setting.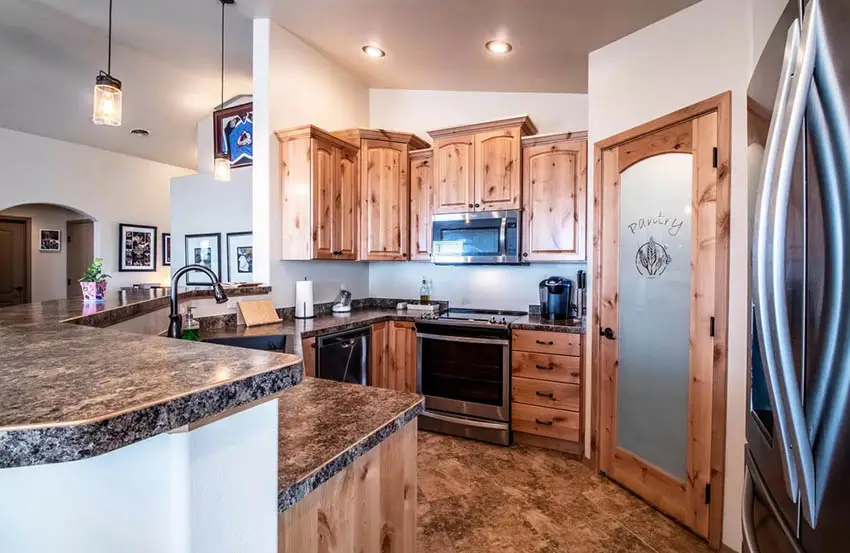 A simple door sign etched in the frosted glass door distinguishes the pantry from the rest of the space without being too overwhelming. It blends just right in the space while also adding a bit of homespun touch to the decor.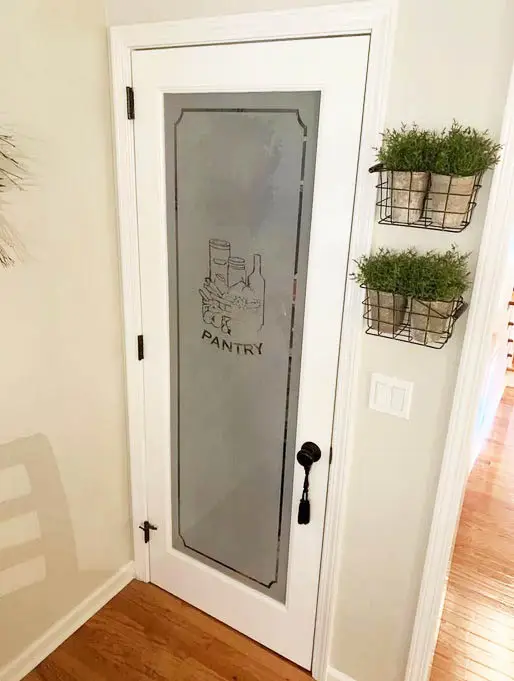 For pantries which are separate from the kitchen, a door sign is essential since it distinguishes it from other similar small areas in the house, like a powder room or closet.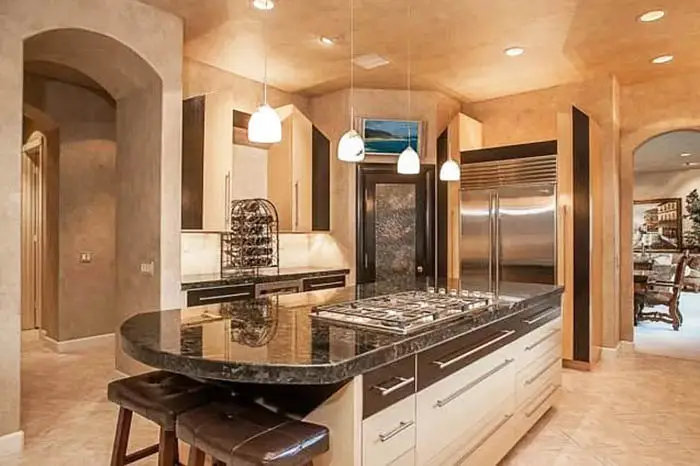 This large contemporary kitchen makes use of a glass paneled pantry door which is finished in dark brown. The dark color of the door picks up the rest of the warm tones in the space and blends harmoniously with it.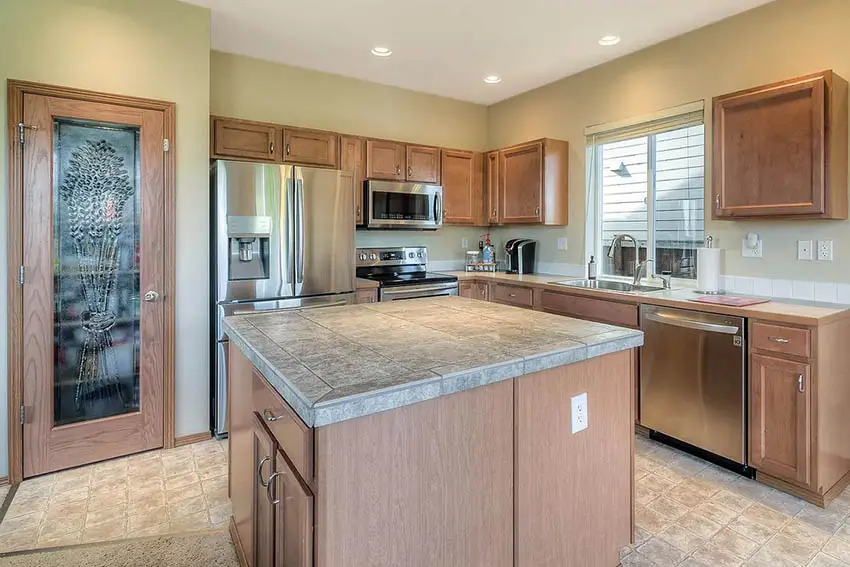 This etched glass door matches with the rest of the cabinetry, but still manages to stand out in the space because of the simple etched grain design.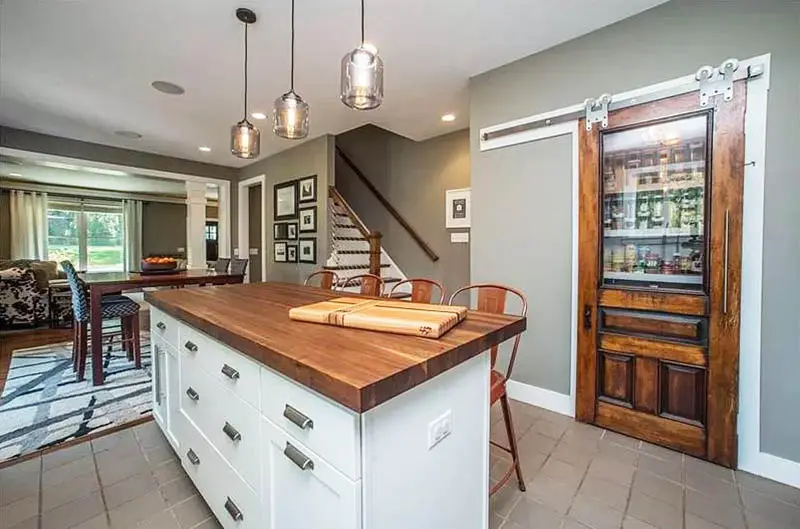 This solid wood barn style door lends itself as the center of attraction because of its natural warm tones and well defined metal hardware.
Dutch Door
Dutch doors are also another type of pantry door that is leaned towards the traditional style. Also known as "stable doors" or "half doors", a dutch door is a type of door that is divided into two and operates in such a way that the bottom half may remain closed while the top half opens. It is also sometimes referred to as a " double hung door".
Just like barn style doors, dutch pantry doors boast of a strong historic charm and "homelike" appeal. They are more commonly found in kitchens that have a farmhouse, traditional, rustic or country style.
However, there are modern adaptations of this door style which fit a more contemporary setting. Instead of the traditional details, modern dutch doors feature a more simple and clean appearance.
This type of door can also be customized in any way you want. Using mixed materials such as wood and glass inserts are another way to make dutch style pantry doors more interesting.
For more related types of interior doors check out our gallery page.