In this cement tile backsplash gallery, you'll find vital information on the product, its use in kitchen projects, the different designs, and its suitability for bathroom showers.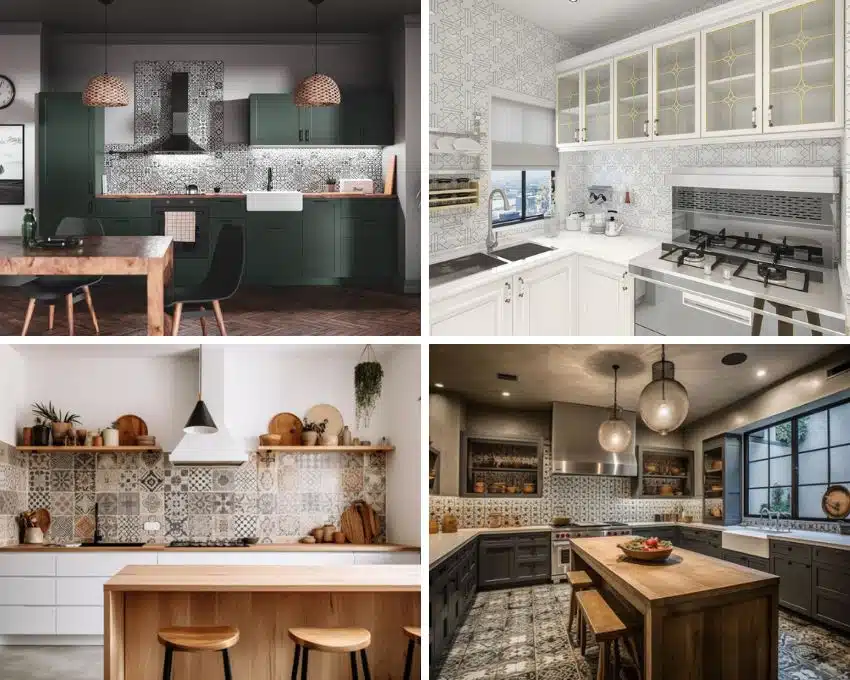 It is really hard nowadays to add style and uniqueness to our living spaces since our world right now is full of cookie-cutter homes as well as mass-produced decor and accessories. But what if we told you that just a minor customization to your bathroom or kitchen can give you a whole new experience? This is where cement tile material backsplashes come into play.
This design treasure has been present for a long time in home projects, though its immediate increase has made it to the top once again. In fact, cement tile backsplashes are believed to be a unique and eye-pleasing way to add flair to the entire house.
Cement tile backsplashes are available in a wide array of design options, and they are exceptional when it comes to daily wear and tear. Let us have a closer look at the aesthetics and features of a cement tile backsplash.
What Is Cement Tile?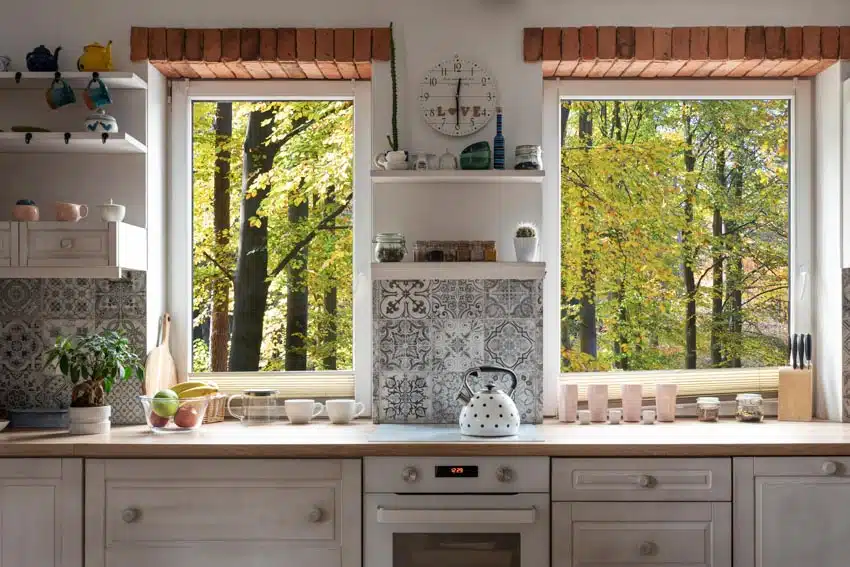 Cement tiles have been used as decorative tiles for centuries. They are made out of sand, cement, and pigments that are compressed and solidified under great pressure.
It also includes marble powder deposited into metallic molds and strengthened by concrete solution. Moreover, these tiles have a large thermal mass; they work as efficient insulators.
Moreover, cement tiles are made out of a combination of materials that are hydraulic pressed. This method creates a durable backsplash tile capable of enduring daily abuse, henceforth making them a great option for remodel projects in high-traffic areas.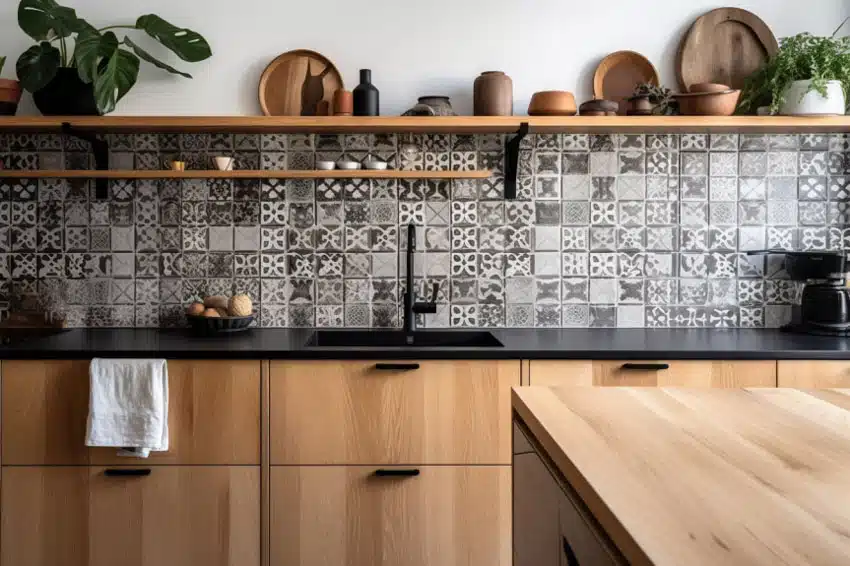 Cement tiles have unique patterns and designs as they are usually created by overlaying pigmented cement on top of a cement layer.
The patterns may vary from minimalist, geometric, to elaborate floral designs as well as colors that can be mixed and coordinated to produce distinct styles. Plus, cement tiles often have matte finish, adding a tactile sensation.
Lastly, cement tiles are usually eco-friendly, They do not emit toxic chemicals and do not contribute to landfills as they are made out of natural materials. They are also easy to keep clean and maintain which is great for use in a commercial business, and they can be sealed to prevent stains and moisture damage.
Cement Tile Kitchen Backsplash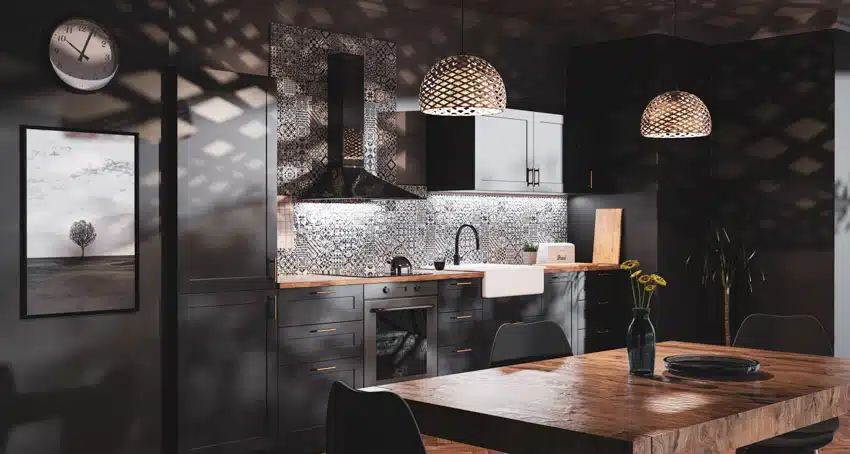 Cement tiles are an ideal option for kitchen backsplashes due to their capability to add charm and produce dynamic patterns. From modern to rustic and vintage to industrial, cement tile kitchen backsplashes are quite a favorite by many homeowners.
Because of their high efficiency and robustness, your kitchen walls will surely be preserved against spills and splashes.
Furthermore, cement tile backsplashes can further improve the overall appearance of the kitchen. They promote warmth and comfort as they are usually made of natural materials, which also make them long-lasting and environment-friendly.
Many designers opt for cement tile backsplashes as they differ considerably from regular ceramic tiles as these backsplash tiles are usually composed of a hard-wearing mixture of mineral powder, sand, and pigment.
They can withstand the daily rigors of the kitchen, making them an excellent choice for various businesses and design companies that require versatile materials.
The versatility of cement tile backsplashes are another plus, which allows homeowners to customize their backsplashes according to their preferred style or flair,providing a unique experience.
For example, a multicolored cement tile kitchen backsplash renovation project can add a splash of uniqueness and color to a basic-style kitchen. Depending on the desired size and quality, these tiles are an excellent choice for homeowners looking to enhance their kitchen's aesthetic.
However, a solid-colored cement tile kitchen backsplash can create much-needed balance as well as a neutral backdrop for an overly styled or decorated kitchen.
On a slightly negative note, one reason why some homeowners do not pick cement tile backsplashes is because it demands professional installation; accurate placement and grouting of the mosaic layout is quite crucial.
This is because cement tiles are on the heavier side and need specialized treatment during the installation process to prevent damage. Hiring a seasoned professional for the job ensures the tiles are properly installed and maintained.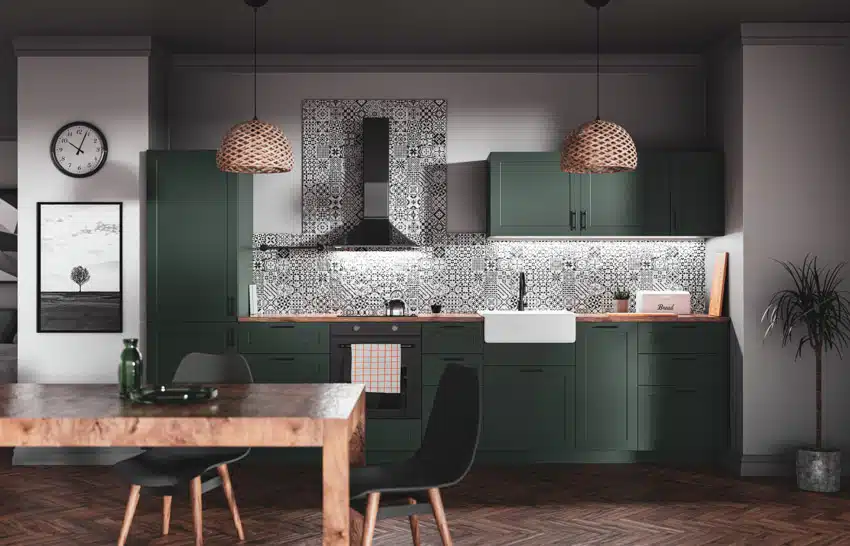 Cement tiles are an exceptional solution if you wish to generate a wide variety of backsplash patterns and designs. As aforementioned, they are quite long-lasting, easy to maintain, and obtainable in a wide array of colors. Hence, they can match practically any kitchen decor.
Thoughtfully designed, a backsplash can be a dramatic focal point for your kitchen. – Kitchen Ideas That Work, Beth Veillette
Among the most valuable benefits of cement tiles is that they can be customized. Thus, homeowners who have this specific type of design, pattern, or theme may be achieved using these backsplash tiles.
What can you achieve using these tiles? Well, here are the following backsplash designs you might want to try:
Patterned Cement Tile

Truly, patterned cement tile backsplashes have a one-of-a-kind design style that can bring vibrancy, complexity, and utmost uniqueness to your well-loved kitchen. Patterned cement tiles are obtainable in an array of design schemes and color combinations, which usually span from complex floral patterns to striking geometric themes.
This capability of patterned cement tiles allows homeowners and designers to customize their own backsplash and enhance the overall decor and ambiance of the kitchen.
In addition, patterned cement tile backsplashes, due to their eye-catching color and appearance, can function as a focal point within the kitchen space. A distinctive patterned cement tile backsplash design can captivate every homeowner and guest's eyes.
To give you an idea, here are some of the patterned cement tile backsplash designs that you might want to give a try:
• Floral or Nature-Inspired Design: Nature-themed patterns made out of cement tiles normally produce floral and naturalistic accents. The designs that are common in this patterned variety are leaves, flowers, vines, and other natural elements.
• Geometric Pattern: These patterns can be formed using cement tiles, which normally add great complexity and interest. Geometric patterns can either produce different shapes and lines, and they can either be minimalist or complex.
• Patchwork Pattern: Cement tiles that are laid in patchwork patterns usually combine multiple designs and colors that are haphazardly arranged. This patterned design is a unique way to make kitchen backsplashes appear more energetic.
• Subway Tile Design: These patterns are among the most iconic backsplash designs, so without a doubt, they can also be made with cement tiles! A subway tile kitchen backsplash design is timeless, which uses rectangle tiles arranged in a brick style.
• Mediterranean Pattern: Last but not the least, cement tiles that are in Mediterranean patterns use colorful and elaborate designs that are inspired by the ancient Mediterranean architecture, as the name states.
Nonetheless, you have to keep in mind that patterned cement tile backsplashes should be handled and installed by a qualified professional installer to make sure that the placement of the tiles are precisely installed.
In fact, patterned cement tiles require meticulous preparation to ensure that the patterns align perfectly and generate a cohesive overall look. Proper grouting is also necessary to avert water damage and prolong the lifespan of the backsplash. These tiles are not only elegant but also easy to install and affordable, making them an excellent choice for kitchens and bathrooms.
Modern Cement Tile
Modern cement tile backsplashes are another simply decorative set of tiles that use cement and pigment. However, this type of cement tile backsplash uses certain types of materials such as crushed glass or marble dust to highlight its modern appearance.
If you have a minimalist modern kitchen, this type of cement tile backsplash may be the best pick!
There are certain variants of modern cement tile backsplashes that use geometric designs, vibrant colors, and artistic elements that make the meal-prepping area eye-catching and striking. One popular geometric design is the hexagon, which adds an interesting visual element to any room.
Nevertheless, these elegant tile backsplashes can either be installed to completely cover a wall or create a focal point using small pieces of tiles.
Moroccan Cement Tile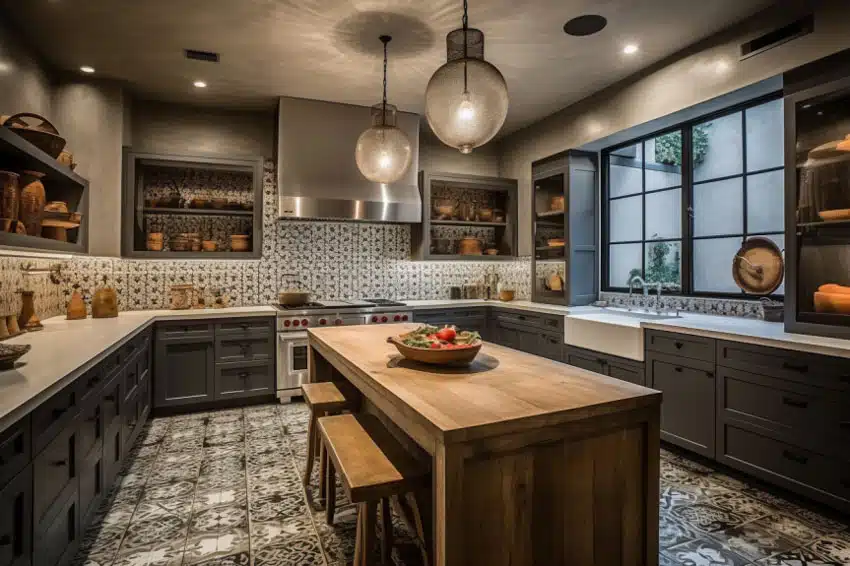 As the name indicates, Moroccan cement tiles originated in Morocco, although you can also find them in certain parts of Fez and Spain.
Moroccan cement tiles are widely recognized for their eye-pleasing designs and hues that produce brilliance. These tiles are manufactured by means of handcrafting cement tiles using the traditional Moroccan tile-making technique.
Adding another dimension, Moroccan cement tiles are quite one-of-a-kind due to their highly intricate patterns as well as gorgeous jewel-toned colors.
You can also see them in various geometrical designs like hexagons, rectangles, triangles, squares, stars, diamonds, and crosses.

They are usually mixed and matched along with a balanced color palette, creating artistic backsplashes that capture the eyes and interest of your guests.
Ultimately, Moroccan cement tiles are also called "encaustic", which involves multi-layering various pigments on top of one another.
Can This Tile Be Used In A Shower?
Yes, cement tiles can be used in a shower! In fact, it is a suitable location. Most of the cement tiles are water-resistant, which aids in keeping the walls and floors dry while adding a sophisticated touch at the same time, especially when a large format tile shower made of cement is used.
However, to ensure that no severe water damage will happen, it is still a wise move to add proper grout sealing to avoid ruining the substrate.
In addition, you have to constantly maintain the tiles to make sure that they are always in top condition and that the grout is always tidy and free of molds.
Do You Need a Backer Board For Cement Wall Tile?
Generally speaking, yes, you need a backer board for cement tile, but you have to make sure that it is waterproof and durable. Usually, backer boards are meant to provide a firm and level surface so that the cement tiles can adhere properly as well as resist moisture and mold formation.
However, it would be wise to consistently adhere to the manufacturer's guidelines. Always use the correct type of backer board to ensure that the application is smooth and precise.
Plus, make sure to prepare the substrate well; it should be free of dirt before you install the backer board and cement wall tiles.
See more related content in our article about stacked stone backsplash on this page.