See kitchens with cream granite countertops including why you should use them, different designs, colors, types, and what shade goes with cream cabinets.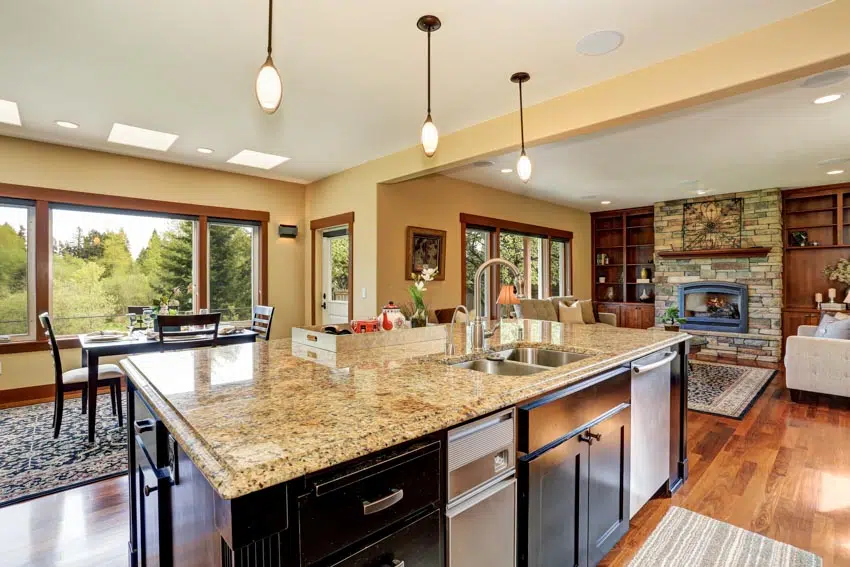 These versatile countertops are perfect for various areas in your home, from the kitchen to the bathroom, and can be incorporated into various design styles using different products.
There are tons of countertop materials to choose from for your next kitchen upgrade project. There's quartz, marble, wood, tile, concrete, ceramic, limestone and many other natural and engineered stones.
However, if you're hoping to achieve something that's natural and classic but at the same time, something that's durable and can withstand the test of time, granite may be a little more up in your alley. Expert contractors often recommend granite for its numerous benefits and offer services to help you choose and install the perfect countertops.
Why Use Cream Color Granite Countertops For Your Kitchen?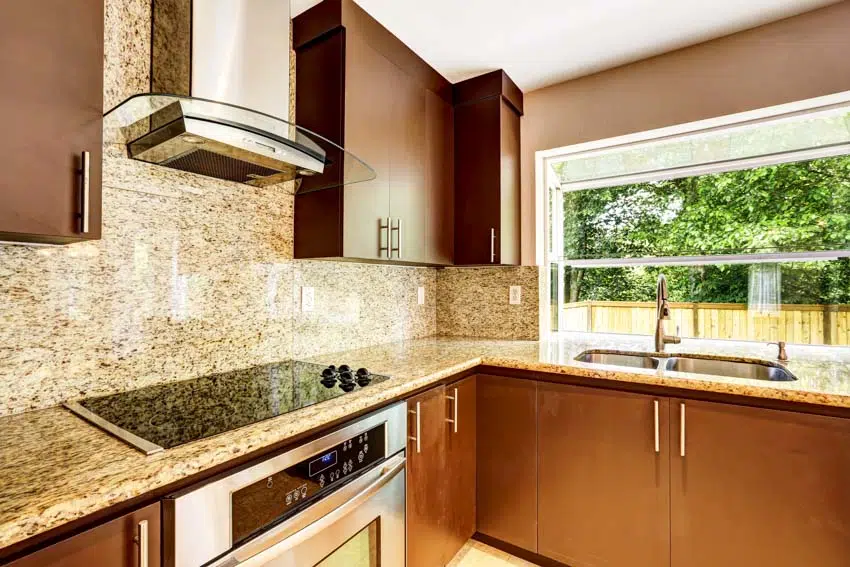 Cream granite in particular is quite prized. It is highly durable and has all of the great traits of the igneous rock that's been formed out of volcanic activity – but it comes in a unique neutral color. What you ultimately come up with is an extremely tough rock with the added touch of something that looks very soft and light.
Cream granite is unrivaled when it comes to durability so you can be assured that you're investing in something that will last you for generations or for entire lifetimes, even. It is also visually dramatic and can whip up a ton of artistic inspiration for your kitchen.
And given the fact that granite is a natural stone and a viable investment, it also means that having it in the kitchen can easily increase your home's resale value further down the road. It commands a much higher resale value compared to kitchen countertops that are made out of, say, porcelain or ceramic tiles, for example.
It is highly heat resistant. What this translates to in the kitchen is that you wouldn't have to worry too much about accidentally placing something hot on its surface as it won't damage it at all.
Obviously, the expert recommendation is that you still use heat-resistant trivets and the like to further protect it but should you forget to do so, cream granite will not get damaged nor will it crack.
Its surface is scratch resistant. Even if it's extremely smooth and polished, it scores quite high on the Mohs scale of hardness. It ranks at a range of 6 to 7 out of a maximum hardness of 10.
That makes it highly durable and it also means that any accidental impact with knives and other sharp objects in the kitchen wouldn't be an issue at all. And of course, cream granite is highly hygienic. Unlike the typical tile material which has joint connections and grout lines, granite has none.
This means that there are fewer instances and risks of water puddling up on your surfaces as there are no crevices for them to stay on. This also means that you get fewer bacteria and other unwanted stuff on your food during the preparation process in the kitchen.
With proper maintenance and cleaning, your cream granite countertops will continue to be a beautiful and functional addition to your home, where you can enjoy preparing meals and using various products in a bacteria-free environment.

Cream Granite Countertop Colors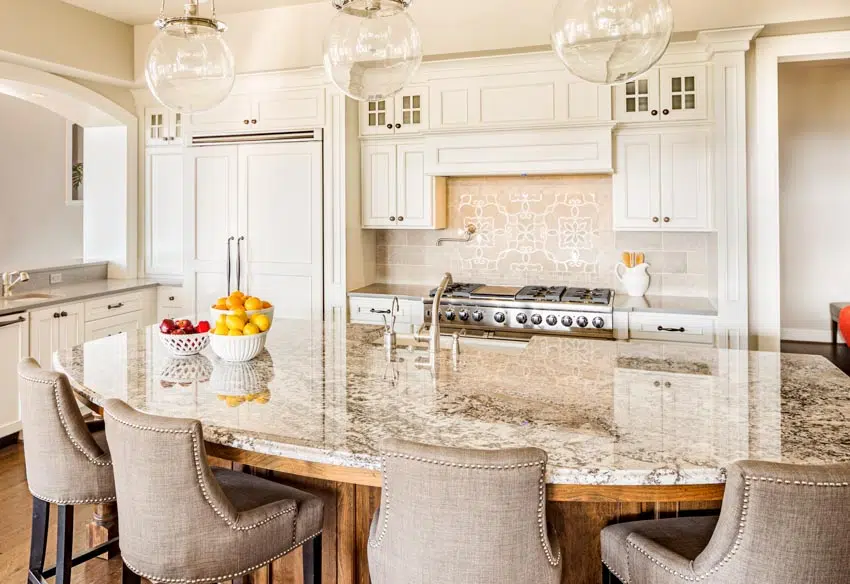 Cream isn't merely restricted to bathroom countertops; it's an excellent option for any top surfaces during a remodel or renovation. In construction projects involving kitchens, you'll be surprised to know that cream granite comes in a wide variety of colors, including white, which is one of the most popular choices for countertops and appliances.
However, white cream is slowly gaining some popularity. This is because of the fact that as opposed to an all-white granite color, cream white is less light and any marks or stains which are common in the kitchen wouldn't be as visible versus all-white granite countertops in the kitchen.
Cream white granite countertops usually offers grains and minimal patterns. It's a neutral and creamy background that allows you to play up the rest of the other elements in your kitchen for design or for aesthetic value.
It's sophisticated and quite unique and definitely something worth your time to consider during a renovation or remodel.
Types Of Cream Colored Granite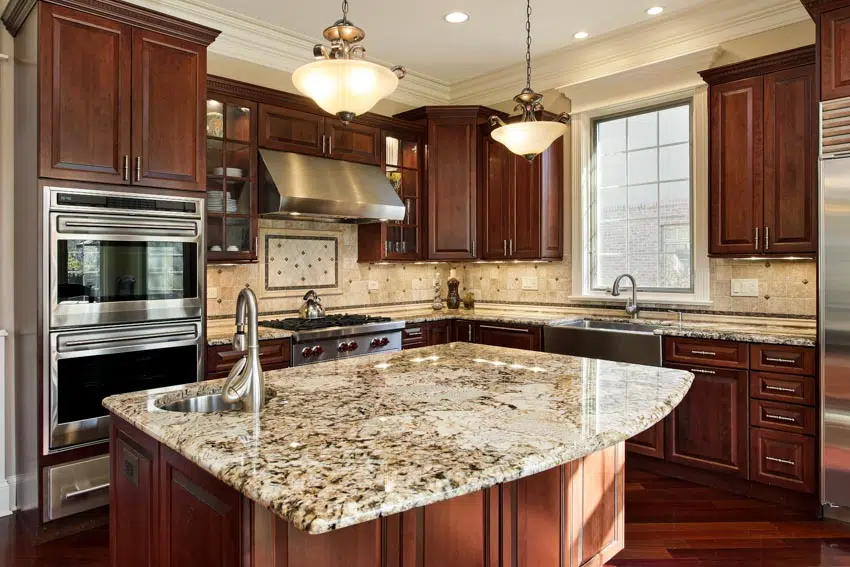 Here are some of the most popular cream-colored granite options to consider when looking around for countertop materials during a kitchen remodel or construction:
Colonial Cream Granite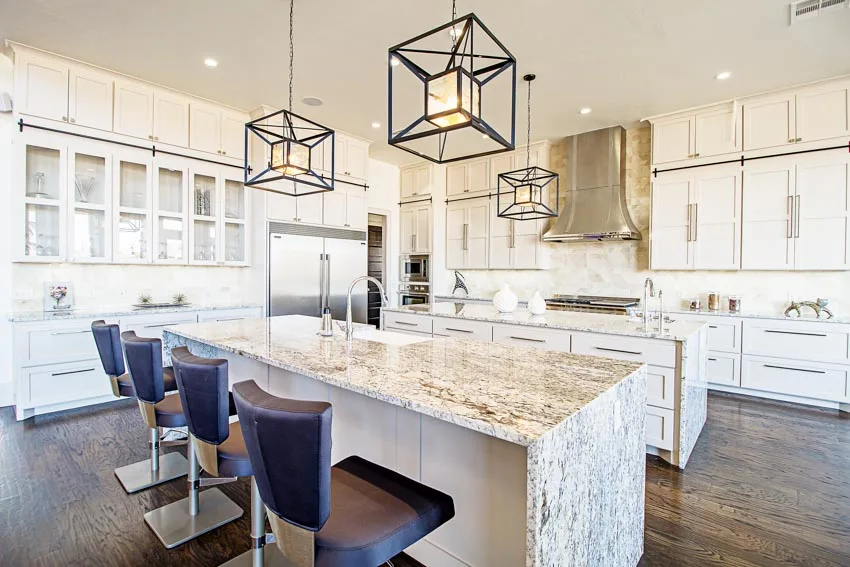 This type of cream granite color is elegant and absolutely beautiful. If you have a kitchen countertop made out of this color, you wouldn't need a lot of extra elements to create an overall design that's visually dramatic.
This material usually has brown and golden flecks all throughout the surface and has the appearance of a veined pattern.
This is made possible because of the yellow minerals in the material alongside medium to large-sized grains of brown and ivory white. The final look it delivers is unlike any other material you'll be able to get your hands on.
Colonial cream granite is highly suitable as a countertop material for your kitchen. It has little to no maintenance required but on the other hand, it provides a refined and sophisticated appearance. Pair that along with the intrinsic strength and durability of granite and you have a material that's pretty much hard to beat.
Royal Cream Granite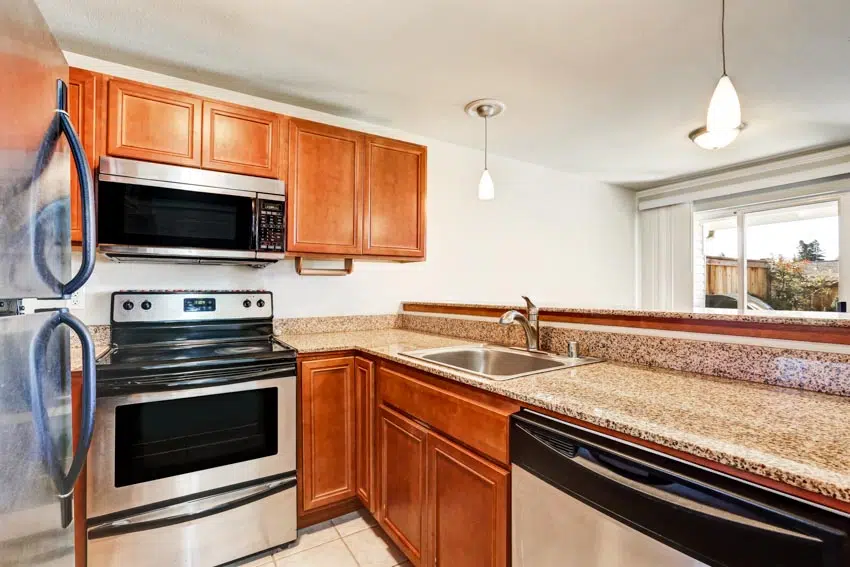 Royal cream granite provides a sense of warmth and energetic positivity in your kitchen space. It all depends on what your preferences are but the thing is, you can actually play it up if you want to achieve a modern and chic look or you can play it down if you want to go for something more traditional and antique looking.
This type of cream granite will be able to adjust accordingly as it can easily blend in with the rest of the surroundings, both exterior and interior, with little to no effort at all.
It can be used as a beautiful element for house furniture items such as tables and sofas. It can withstand extremely high temperatures, which is a definite plus in the kitchen, and of course, it is resistant to acidic substances and scratches as well.
Ivory Cream Granite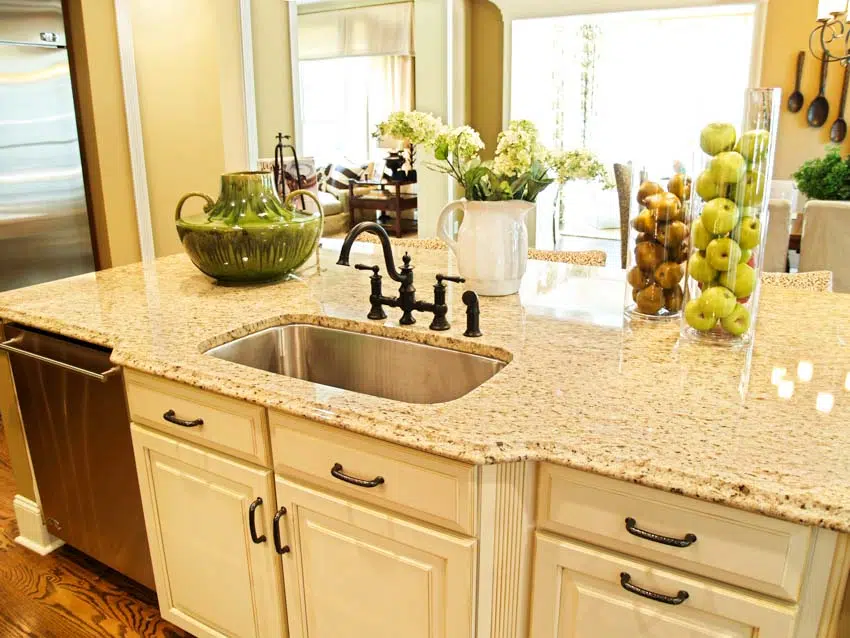 Ivory cream granite is more on the yellowish side of the color spectrum and is quarried in the southern parts of India. It is best known for its yellow-brown complexion. Its versatility allows it to match various interior designs and furniture items, such as sofas and other decorative pieces.
It's quite light, although there are flecks of black-colored particles peppered all throughout its predominantly cream-colored background. This material is scratch resistant and comes in other subtle variants such as Antico Cream and Venice Cream granite.
Kashmir Cream Granite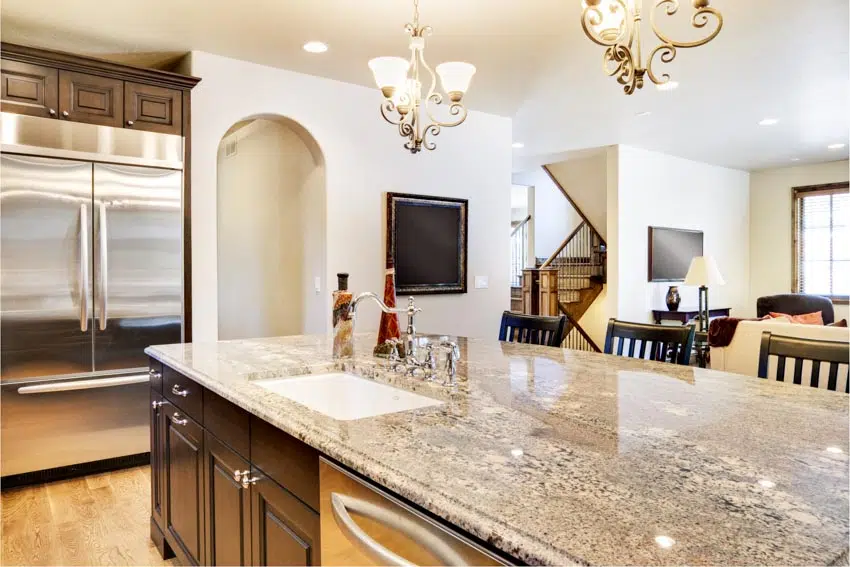 Kashmir cream granite is another popular cream granite variation that hails from Kashmir, India. It is mainly cream-colored but it has elements of peach injected in wave-like patterns. Another variation of Kashmir cream granite is that there may be black flecks visible all over its surfaces.
This amalgamation of colors can give the granite surface a look of soft sand and other subtle hues that remind you of a shoreline.
It delivers a look that's highly dramatic but at the same time, also soft and subdued. And the best part in all of this is that it can come with a lot of patterns, sizes, colors, finishes, and so on!
Its elegant appearance can complement both the exterior and interior of a house, as well as enhance the overall appeal of furniture items.

Millennium Cream Granite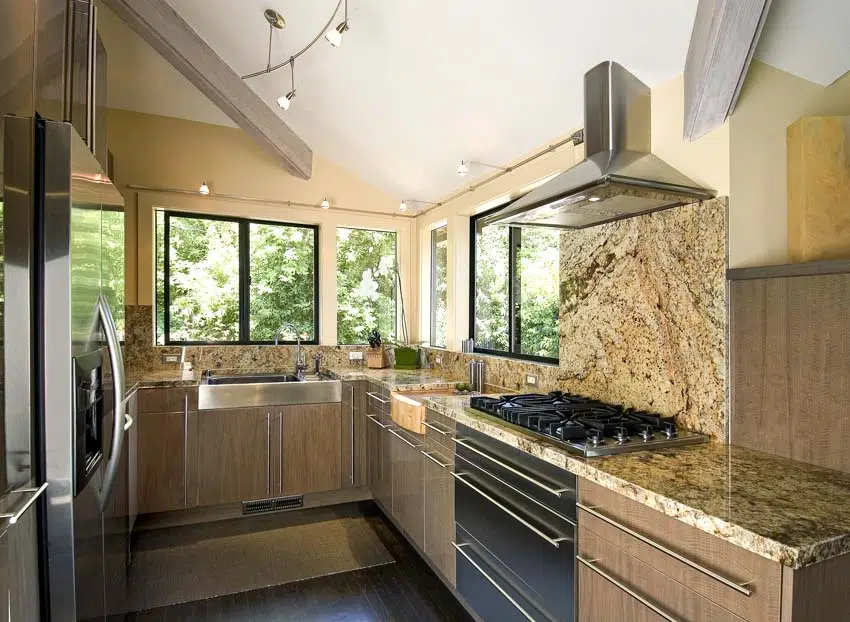 Millennium cream granite is exclusively imported out of India. It has a cream base but comes with a rich spotting of gold flecks and is usually best with either a honed, polished, or leathered finish.
It's one of the most durable of all of the cream granite types and is particularly highly recommended as a countertop material. Because of its interesting patterns and gold flecks, millennium cream granite comes in high demand, particularly for artistic or design-centric projects in the home, enhancing both the interior and exterior spaces as well as furniture items like sofas.
It hails from a lot of names from millennium beige, to millennium cream, to millennium gold, to Tasman Taupe, to Amarillo Rio, and so on and so forth. It comes in all of these varieties with the nuance being in the color of the flecks and the veining in its undertones.
Giallo Cream Granite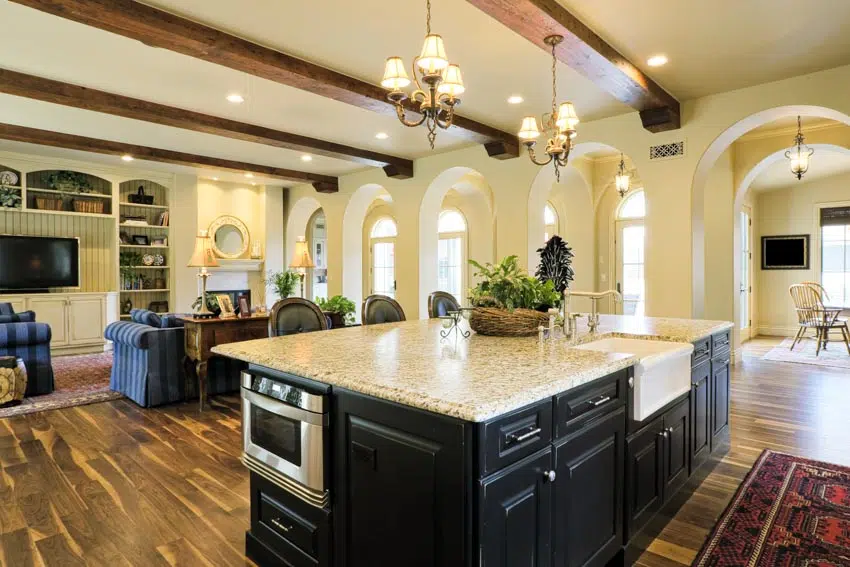 Giallo cream granite is quarried from the northernmost parts of Brazil in a small town called Espirito Santo.This visually stunning granite is an excellent addition to the interior and exterior of a house, providing a harmonious touch to various furniture items and elements within the space.
It's a particularly large bedrock so supply is consistent and prolific. It has a creamy white background with veins all throughout the surface, making it a stylish and quality choice for tables and countertops in any living room or kitchen area.
The vein colors may vary from brown to dark gray which can make the surface really interesting and this brings in a sense of character and uniqueness to it. This granite is so durable that it's even recommended for use as a flooring material. If you have any questions about the right choice for your space, don't hesitate to consult with an expert.
Delicatus Cream Granite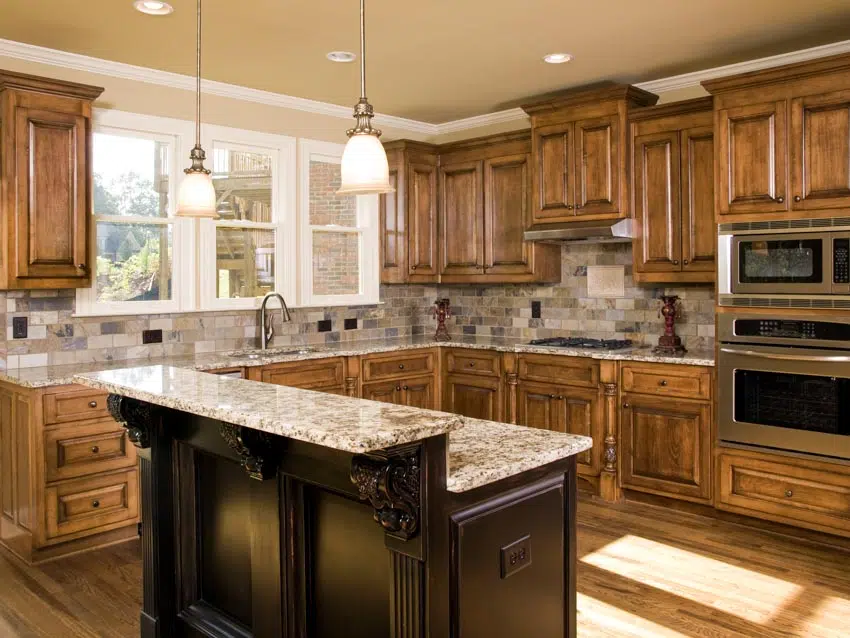 Delicatus cream granite is a type of cream granite that's predominantly white. It looks extremely light and clean but in its background is usually a wide assortment of black biotite crystals. They can be in flecks, spots, veins, or even waves, depending on the style of natural stone slab you get.
Every single one is unique and interesting in its own rights. It is one of the most popular cream choices for granite types of kitchen countertops because of its highly singular look and design.
If you want something that's particularly more on the lighter side, then delicatus cream granite is the one to consider for your countertop material in the kitchen.
Typhoon Bordeaux Granite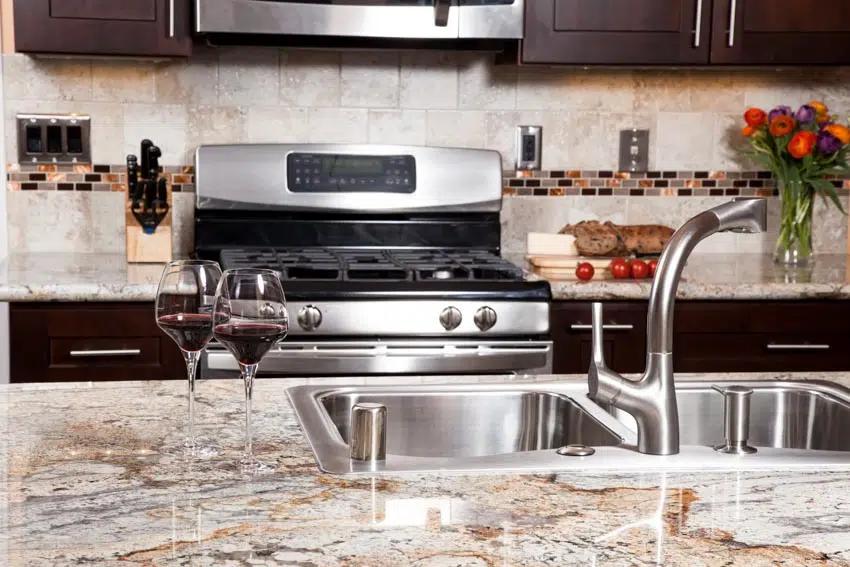 Typhoon Bordeaux granite is a particularly impressive cream granite variation. It has an amazing color design that's interesting and highly unique.
There isn't a specific color to it as it all varies on the type of slab you get but it can range from a rich tapestry of greys, burgundies, beige, whites, and golds.
These colors usually decorate the granite's surface in swirls, veins, or even just flecks of mineral particles. If you want to go with a granite material that's anchored or grounded in nature and delivers a look that's very earthy and organic, then Typhoon Bordeaux granite is definitely one of the best materials for you to consider at the end of the day.
Arctic Cream Granite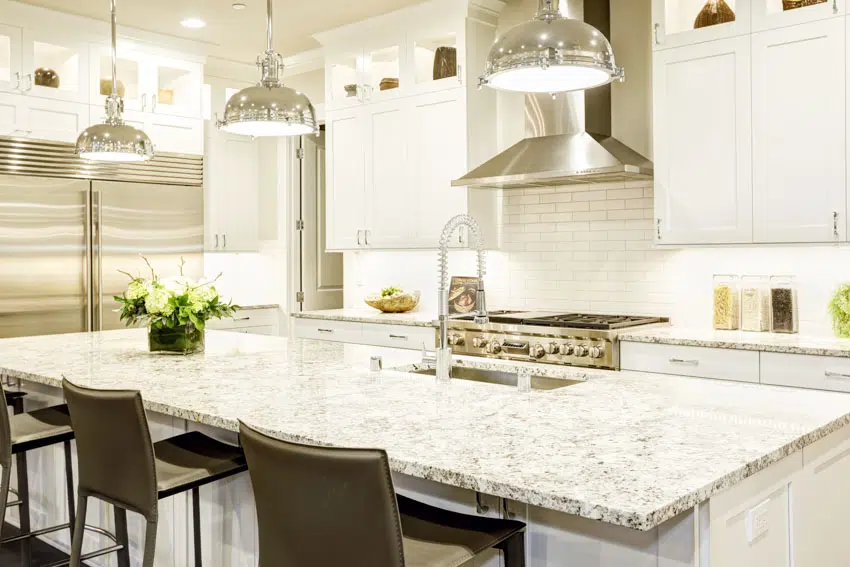 Arctic cream granite is a material that's exclusively imported from Brazil. It boasts a creamy base or background and has beige spots peppered all over it that range from light to dark.
It also has interesting elements of ivory veined with black streaks that overall dictate its unique pattern and overall look. What you ultimately end up with is a natural stone that offers great strength, quality and durability while looking absolutely unique and sophisticated in your kitchen space.
Antico Cream Granite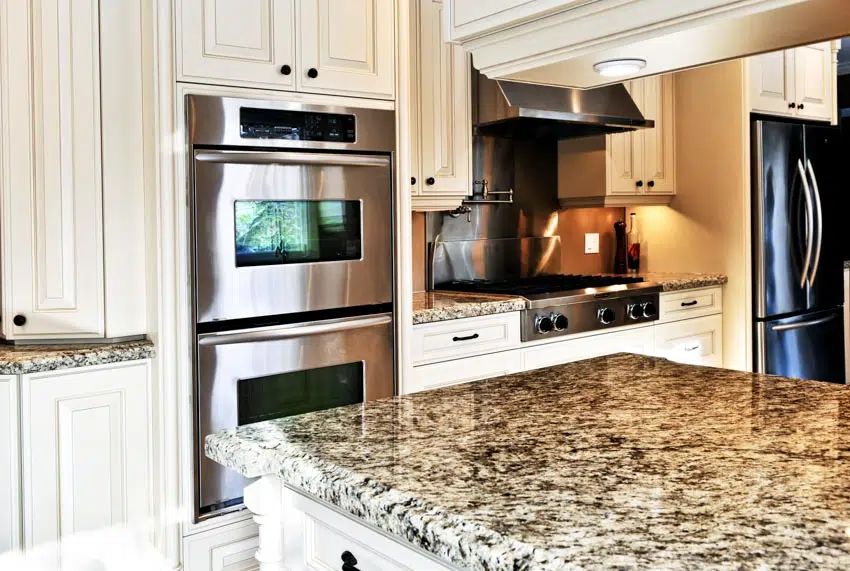 If the look you're after is something that's a little more on the cooler side of things, Bianco Antico cream granite might just be it. Although predominantly white and cream, antico cream granite stands out because of its touches of light grey along with some brown and the occasional gold.
It looks highly impressive as a countertop but it doesn't actually stop just there. Antico cream is great when installed as a backsplash or even as a flooring material in your kitchen.
If you want to come up with a highly posh and cohesive overall design, it's a great material to play around with as it can blend in quite well with the rest of the color schemes you might think about injecting into your kitchen.
Whites and greys are neutrals through and through so if you want to play with a bold accent wall, for example, you can be assured that your antico cream granite definitely won't clash with it.
What Color Granite Goes With Cream Cabinets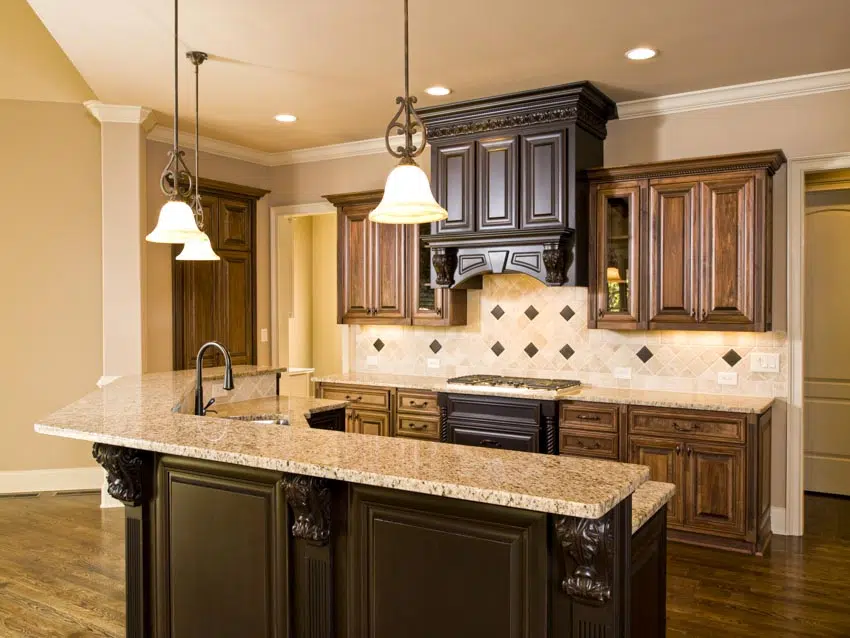 Cream cabinets are pretty fluid. If you want to pair them up with some granite in your kitchen, then you're in for a real treat. Here are some granite colors to consider.
Beige: Beige granite countertops are something that's timeless and classic. It can pair well with any type of cabinet color but complements beautiful cream kitchen cabinets particularly well.
When paired together, you get a kitchen look that's both airy and elegant and something that makes it really inviting for you and for the rest of the family to hang around in especially when at home.
Black: Although it's a bit more dramatic, we'll go as far as saying that black is kind of the new white. It goes with literally anything and everything – including your cream-colored kitchen cabinets.
Black isn't really technically a color, but more of an absence of once. It can make your cream-colored cabinets pop and be the star of the show. Black granite countertops are also modern and sleek and can really make a statement in your kitchen space.
Blue: You might think that this is an unlikely pairing but the truth is that blue granite actually pairs very well with cream cabinets.
The look that this creates is something cool and serene in your kitchen space. It's also a really great way to more or less add in a pop of color without going overboard with the design scheme.
Brown: Brown granite is another attractive and interesting pairing with cream-colored kitchen cabinets. It has earthy tones in it that are rich and can complement the base creaminess of the cabinets in all of the best ways.
It's also a fairly versatile color to consider and can easily pivot from modern to traditional design styles depending on the elements that you include in the setup.
Cherry: Cherry-colored granite is highly complementary when paired with cream-colored cabinets. This is because cherry granite can come in light or dark depending on what slab you actually opt to bring in.
This can add dimensionality and depth to your kitchen. The dark cherry tones are also great in inviting cohesiveness into your overall kitchen design.
Gold: Gold-colored granite is great with cream cabinets because they are more or less under the same color spectrum. They have the same yellowish undertones which is basically a guarantee that they will never clash with each other. They are one of the easiest pairings you can ever come up with.
And given the fact that the kitchen is ideally a place that's inviting and looks sunny, golden-colored granite can deliver just that as it has qualities that can reflect light and make the kitchen look bigger and brighter than it actually is.
Grey: Grey-colored granite paired up with cream cabinets is a look that's both neutral enough to pair easily with literally anything that you can think of throwing in alongside it but also modern enough to make your kitchen look chic and easily versatile and adaptable to any design you might see fit for it.
More than that, grey granite is a cheaper option compared to the other types of granite out there so not only are you getting something attractive for your kitchen, but it's also something that won't strain your budget too much in the process.
Green: Green is the color of life and nature. This is exactly what you are injecting into your kitchen space when you opt for a green-colored granite countertop. It goes well and doesn't clash with your cream cabinets and ultimately, you get to create a look that's soothing and fresh on the eyes.
Orange: Orange is an energetic color and is interestingly associated with food. This makes it perfect as a kitchen countertop color. When paired with cream cabinets, it brings in an attractive-looking contrast of colors that can make your kitchen stand out and look a little more inviting. It also makes your kitchen space appear brighter and more open.
Pink: Although not a common color, pink granite can be a real treat to have in your kitchen. They pair well with your cream cabinets and it's a great way to have a pop of color without making it too tacky because the cream in the cabinets can subdue the pinks.
Purple: Purple is the color of royalty and luxury and this is exactly the type of vibe that you're bringing into your kitchen. It's a versatile color and although it can be a little bit on the loud side, it can work well with relatively neutral cream-colored cabinets.
If you want to make a statement and want to come up with a kitchen look that's electric and just way out there, purple granite is definitely the way to go.
Red: Red, of course, is a primary color and can go with literally anything, especially with cream cabinets. This combination is sophisticated and elegant. If you want to create a look that's unique and a guaranteed standout, red granite is one to look out for.
See more related content in our article about granite backsplash ideas on this page.