Find out the different lazy susan alternatives, with adjustable shelves, super susan, corner drawers, recycle center, and a void corner.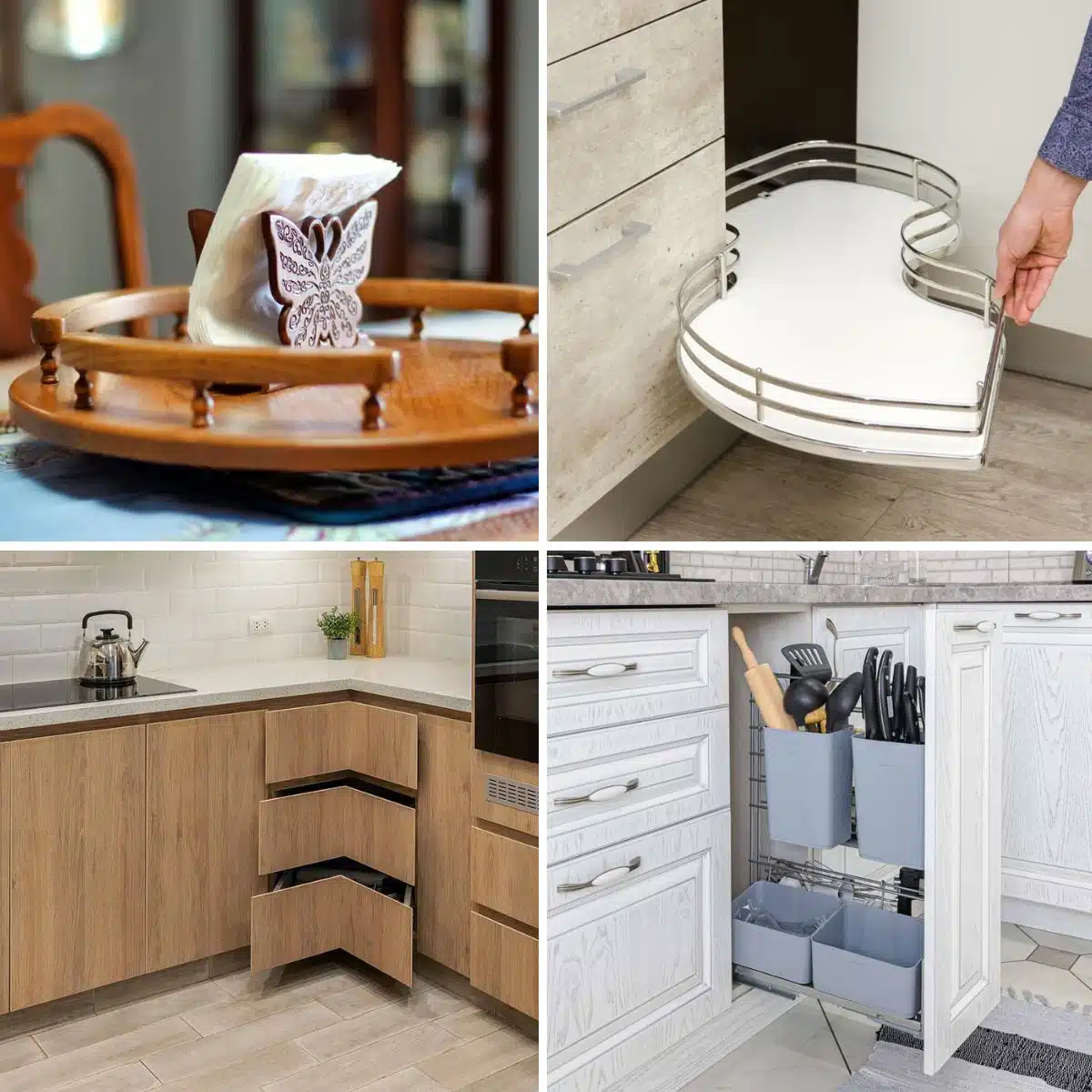 The famous, iconic Lazy Susan is no doubt the most popular of all kitchen cabinet accessories – there's a plethora of speculation and myths surrounding its invention and background; however, many agree on one thing: it offers some serious convenience when you need to access items with a twirl quickly.
Yet despite that fact, not everyone is the proud owner; in actuality, plenty have had terrible experiences, which is why some steer clear of them when planning their dream kitchen
Don't miss out on our extraordinary selections of incredible alternatives to the traditional Lazy Susan. We have it all, from pantry pivots with plenty of power to well-liked favorites. It's time to check us out if you're looking for a way to get your kitchen in ship shape.
Lazy Susan Replacement Ideas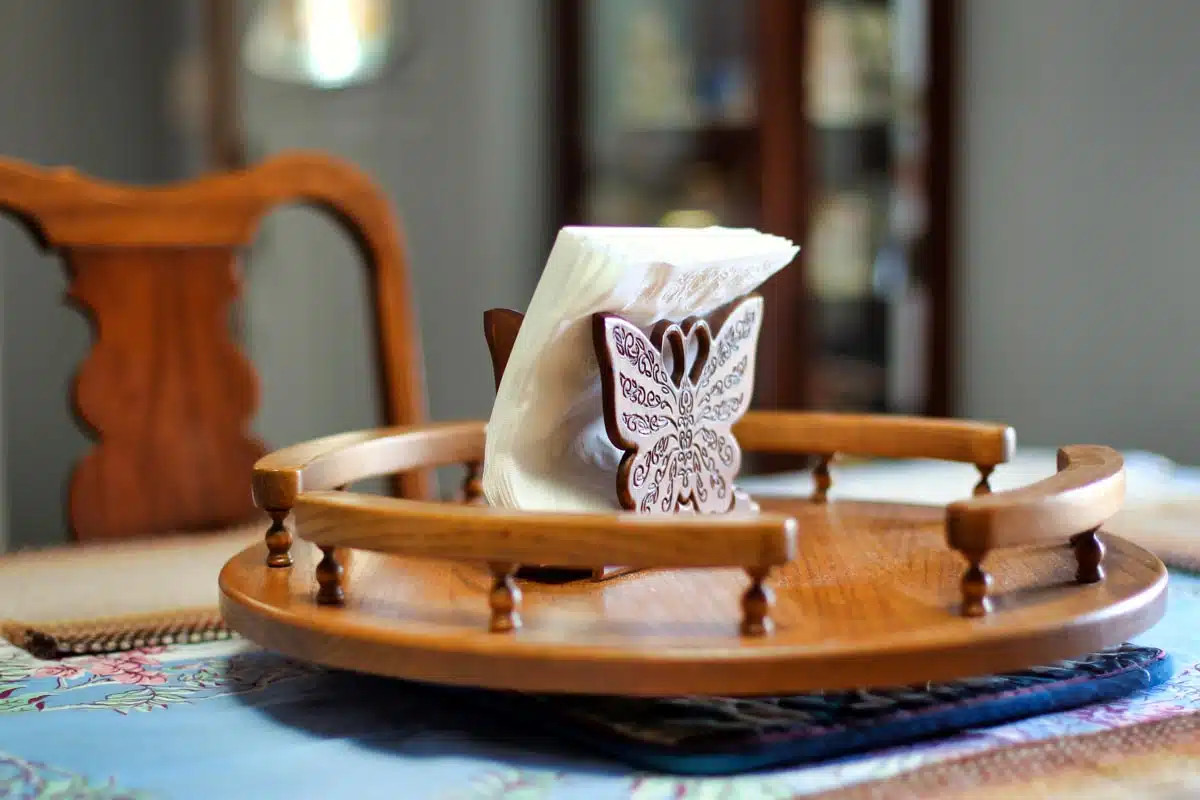 Here we share the different alternatives to using a lazy susan.
Installing Shelves with Adjustable Height
It may look like you're in a pickle – with all your stuff and need of something to fit the look of your home just right. Well, have no fear; adjustable shelves hold the perfect solution for you – and they don't take up too much space either. From towering bookcases reaching as tall as can be to those hard-to-fit corners that seem impossible – adjustable height shelving has got you covered.
Fixed shelves attach much the same way as the rest of the carcass and can add a lot of strength to the bookcase. On the other hand, adjustable shelves allow flexibility. – Woodworking For Dummies, Jeff Strong
Not to mention, compared to figuring out how exactly a Lazy Susan is going to squeeze into that cupboard corner – adjustable heights give you endless possibilities.
Making Use of a Super Susan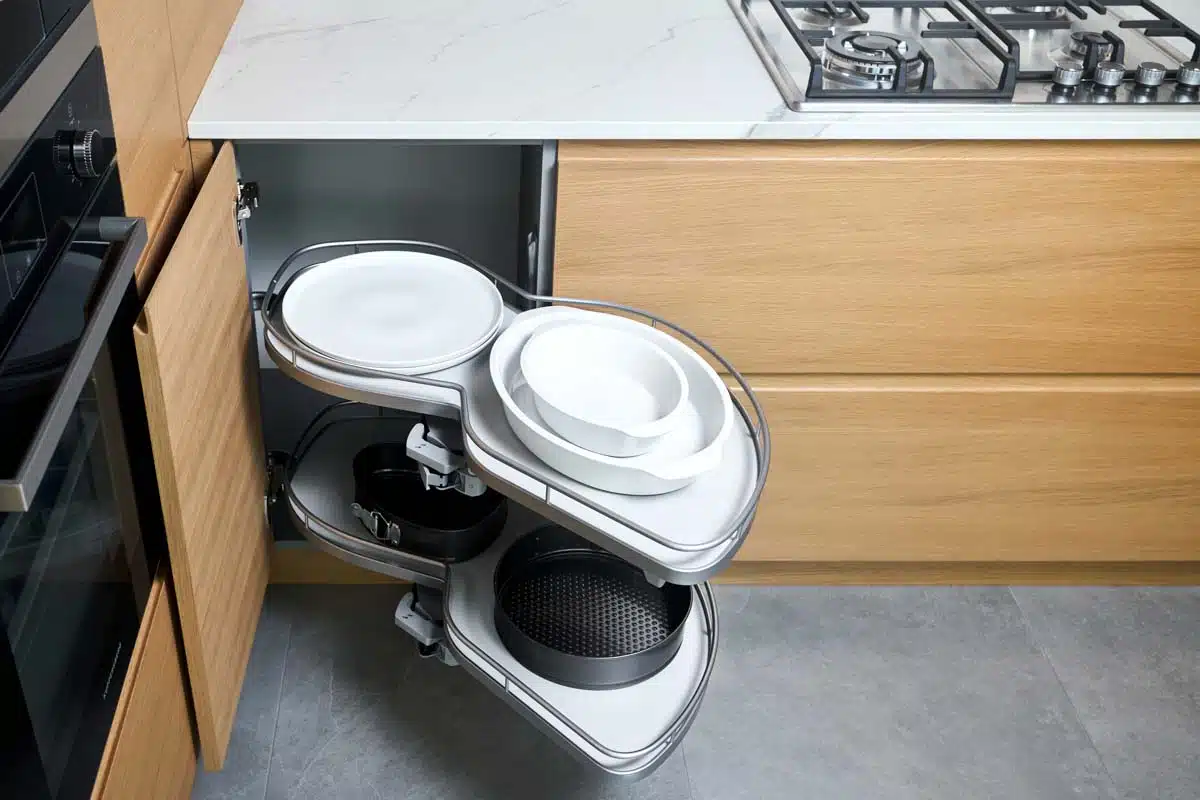 This modern alternative really means that we can say goodbye to those old-style pole and shaft systems from corner cabinets. Finally, we have a proper way to store our things without taking up too much room. You can really call it boosting your storage space to the max here.
Indeed, Super Susan is a spunky slimming sensation that is the perfect fit for any area of your house – it helps you make the most out of whatever room you have. Irked by those pesky poles taking up so much space? With this revolutionary invention around, you can hug goodbye to headaches and give yourself an organized storage situation that'll be sure to turn heads.
Applying Corner Drawers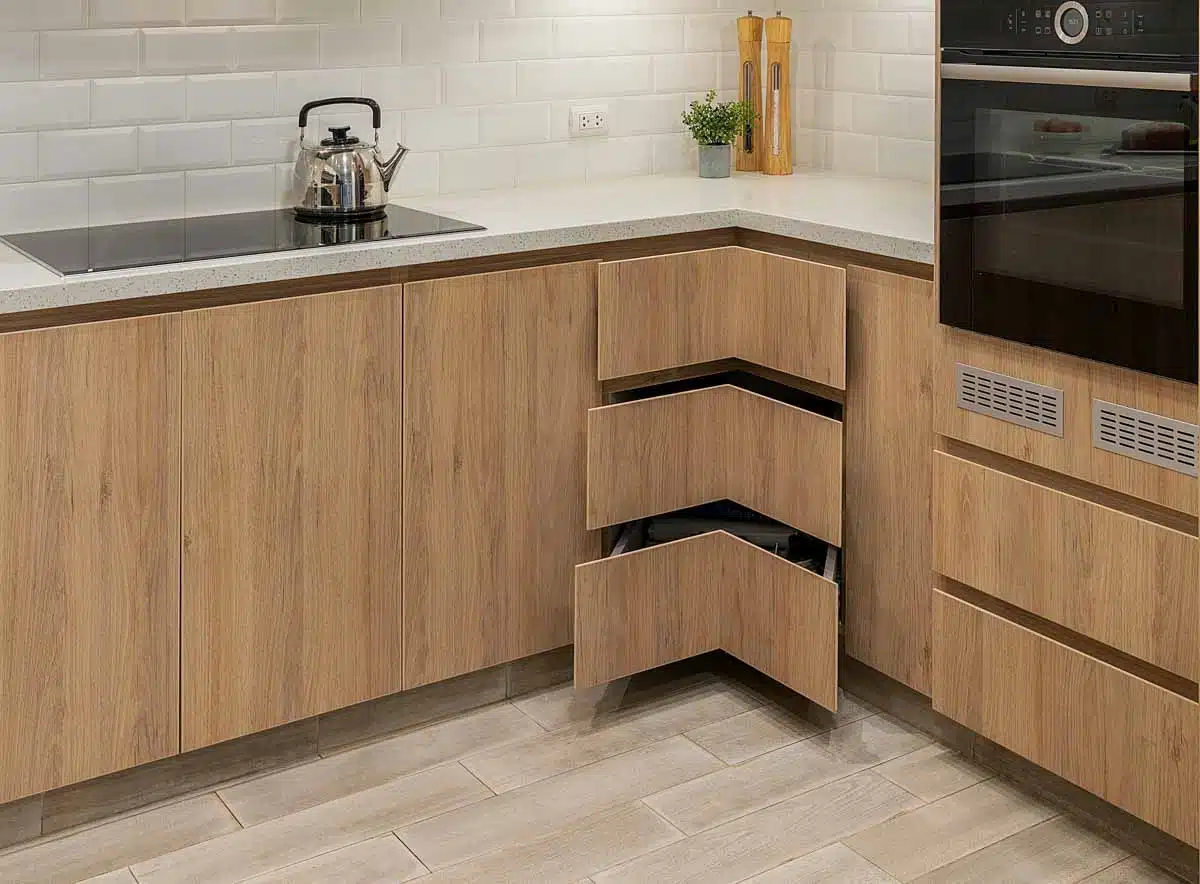 These Lazy Susan alternatives aren't the cheapest on the market, but they're truly worth it. The ergonomics alone stand out from its competitors, and you can quickly reach all of your kitchen items with ease.
Alas, there is a catch –you need to get them installed if you're building something new; if you already have an existing kitchen set up, then unfortunately, they won't cut it. No worries, though—it's not too much of a problem.
Getting these corner drawers into your kitchen requires some serious real estate, so it's important to leave enough space for door swings. If you want this revamp done right, there are no cutting corners – the only way to go about it is to enlist a knowledgeable kitchen and bath designer. To avoid any drama during redesigning, DIY-ing just won't do.
Constructing a Magic Corner Pull-Out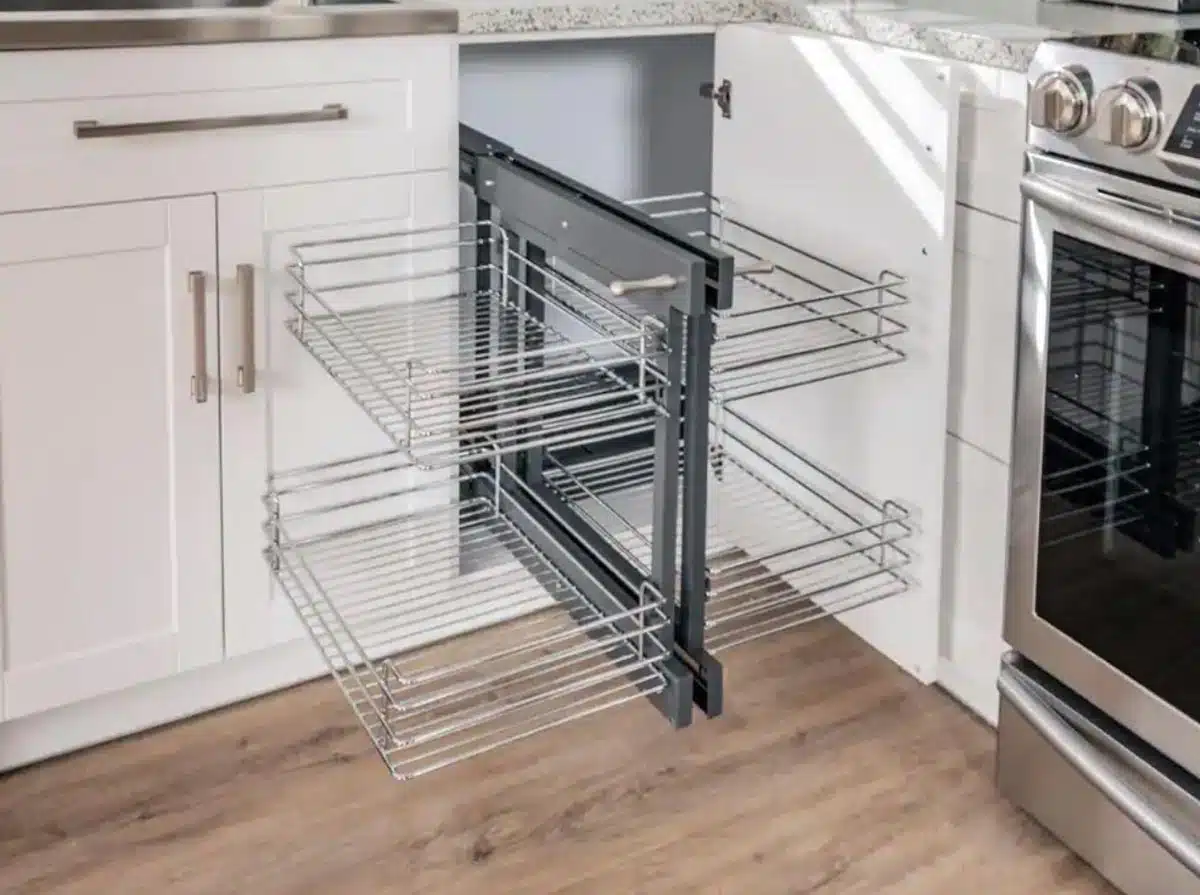 See this corner pull out at Home Depot [sponsored link]
Creating something special in your home? Look no further than the corner pull-out: a simple – yet stunning – addition to any room. This marvelous feature not only adds storage and style, it creates an exceptional atmosphere of tranquility.
A magic corner pull out works by having a shelf with wire trays that, when extended, opens outward one after the other. Some manufacturers provide these products with a weight limit up to 66 pounds makign them useful for heavier ceramic items and cookware.
If you're lucky enough to get your hands on one of those magic corner pull-outs, it's almost like having Pandora's box right in the kitchen. You can easily open and close them up with virtually no effort, so they're truly practical. Plus, think of all that space you'll have — totally worth it for any kitchen remodel or build.
However, when it comes down to getting everything just right, conferring with an experienced kitchen designer is a must; proper clearance really makes all the difference in this case.
Adding a Turning Spice Rack
See this lazy susan spice rack at Amazon [sponsored link]
Rather than use a large Lazy Susan, you can miniturize it with a smaller portable unit. It is true that incorporating a unique blend of flavor and flair, Lazy Susan's spice rack is an essential kitchen accessory for an easygoing host.
You can forget the regular Lazy Susan and consider this if you're looking for kitchen cabinet alternatives. The Lazy Susan spice rack makes use of precious space by letting you store both your pans and spices in one compact spot.
You can say goodbye to ingredient clutter and say hello to convenience with a design that's as ergonomic as it is efficient–stacking your stuff so it uses almost every square inch. Small kitchens will especially love this alternative since they can organize their gear without wasting storage capacity.
Installing a LeMans Corner Pull-Out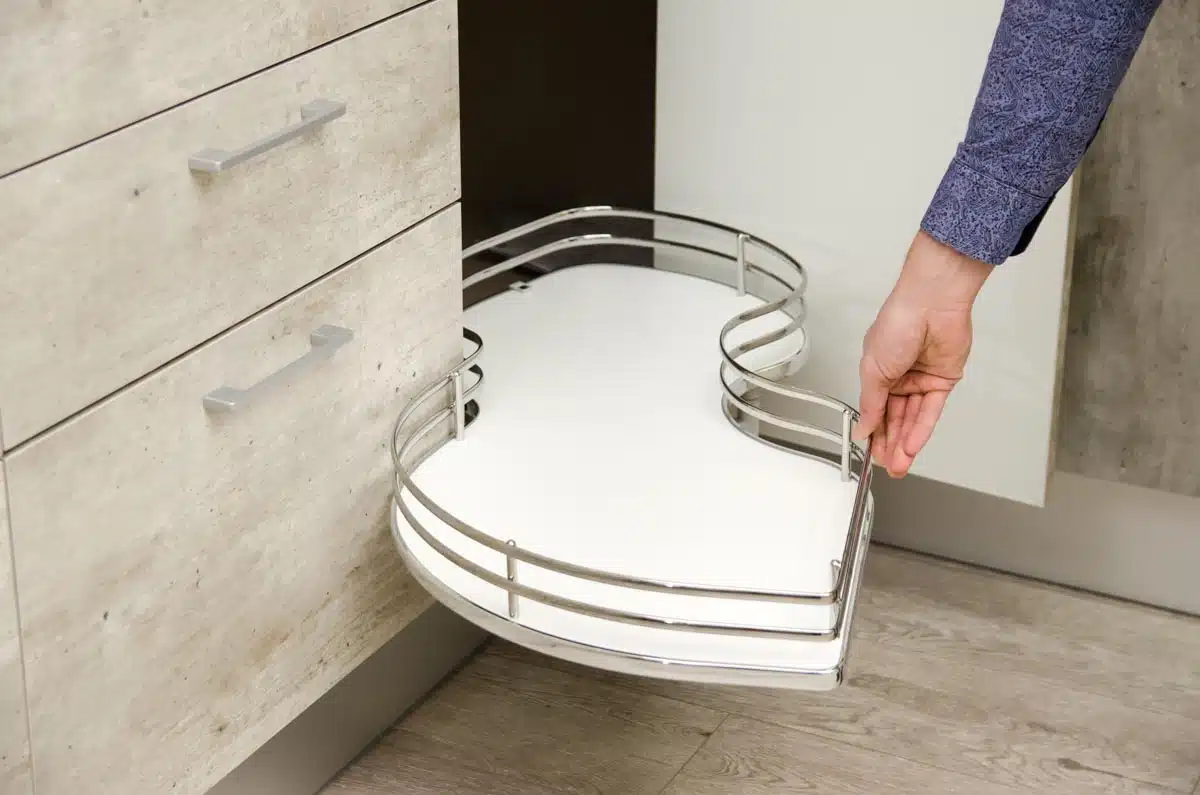 The LeMans corner pull-outs are a heavy hitter when it comes to weight capacity and provide an effortless opening, letting you take out each shelf independently on glides.
Plus, the newer versions today come with a soft close – no big deal but super convenient. You don't have to worry about your stored objects wobbling either because most of these models flaunt smooth, straight-shelf bottoms.
When it comes to designing your kitchen, making sure the LeMans corner pull-out is in a spot that won't cause collisions when the opening is something you definitely don't want to overlook. You'll need careful planning between you and your professional kitchen designer so everything rolls out smoothly and properly.
Blind Corner Pull Out
If you are struggling to find a convenient spot for your kitchen knick-knacks and recycling, this blind corner pullout has got you covered. Its unique design uses straight brackets that hold bins for an assortment of different items.

Indeed, this Lazy Susan alternative is the perfect place to keep those pesky cans, bottles, paper, and more. This is a godsend for anyone who's tight on space or just wants their items sorted in style.
Corner Recycling Center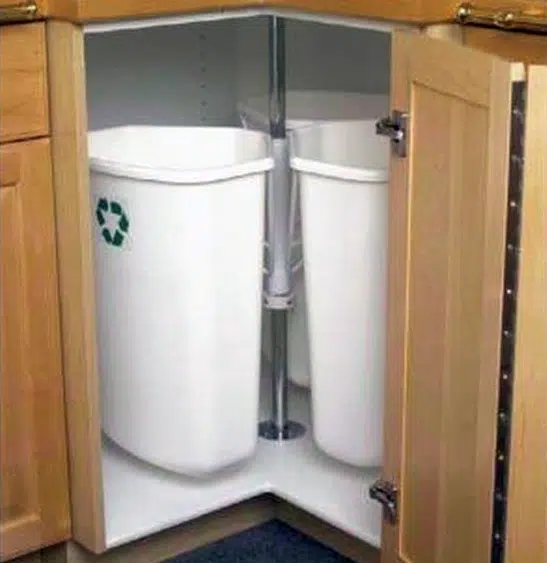 See this rotary corner recycling unit at Amazon [sponsored link]
For those looking for a more practical alternative to the Lazy Susan to keep things from falling and getting lost, a corner recycling center may be just what you need. This unit can be purchased and installed as a rotary or pull-out model, depending on your personal preferences.
Once installed, the rotary product can be used as a recycle bin and trash can that utilizes the corner space perfectly. Spin the bins to access the one you wish to use at the time.
Toe-Kick Drawers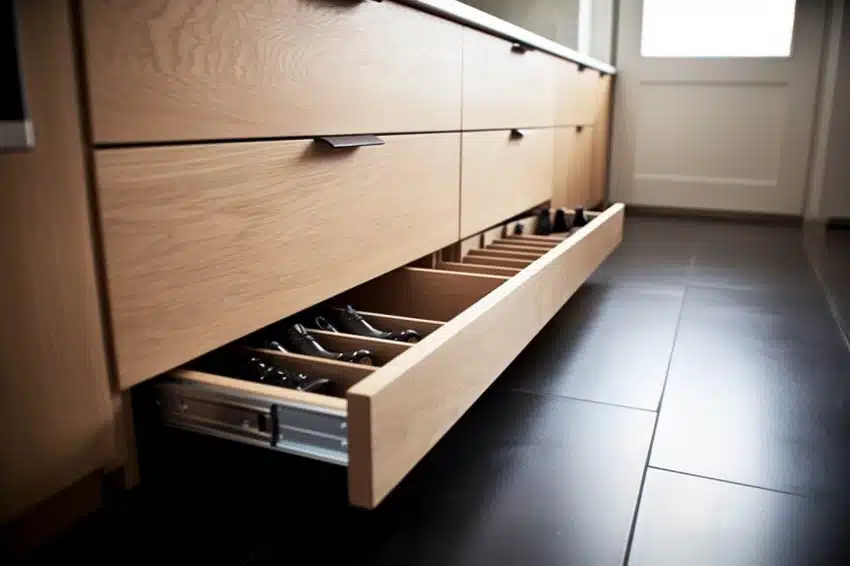 This ingenious invention adds a storage drawer that's installed at the very base of your kitchen cabinet frame.
The height of this space is generally about 3″ to 4″, and the drawer supports a typical depth of about 16″. The hardware can be installed similarly to a regular cabinet drawer and can be found with both ball-bearing glides or roller slides.
Toe kick drawers provide just the right amount of space for flat items like serving trays, baking sheets, towels, placemats, linens, and other low profile products.
Using a Void Corner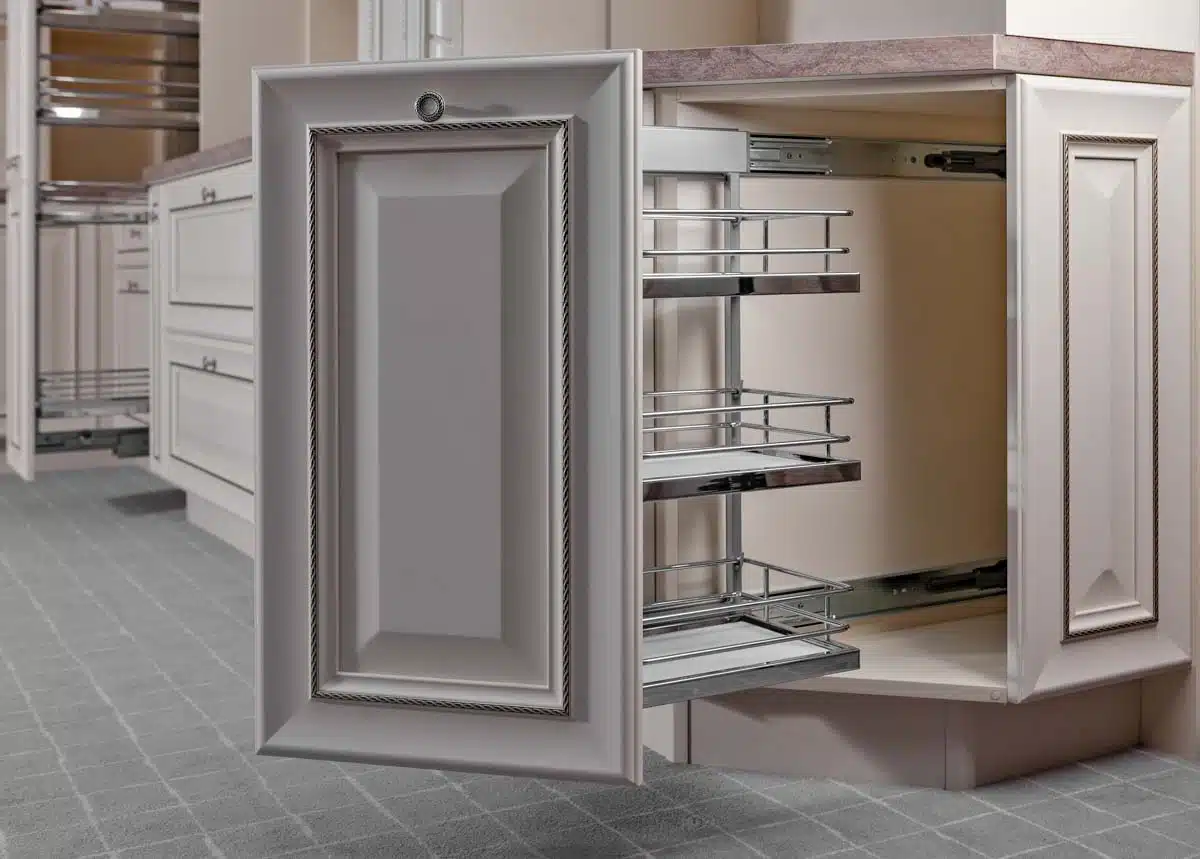 Blocking out a corner in a remodel might be more contentious than installing a Lazy Susan, but a void corner is worth considering for some spaces. Sacrificing access to the nook could bring other advantages, too: earning yourself bigger drawers or banishing that deep dark abyss into which things can vanish without a trace.
Don't count it out just yet – leaving a corner empty can really make the design and space pop, and this is where a void corner is a great alternative.
See more related content in our article about lazy susan dimensions on this page.