This gallery features beautiful cherry wood kitchens in contemporary, modern, rustic and traditional design styles. Kitchens with cherry wood cabinets offer a warm and luxurious look and match well with a variety of different countertop materials and finishes.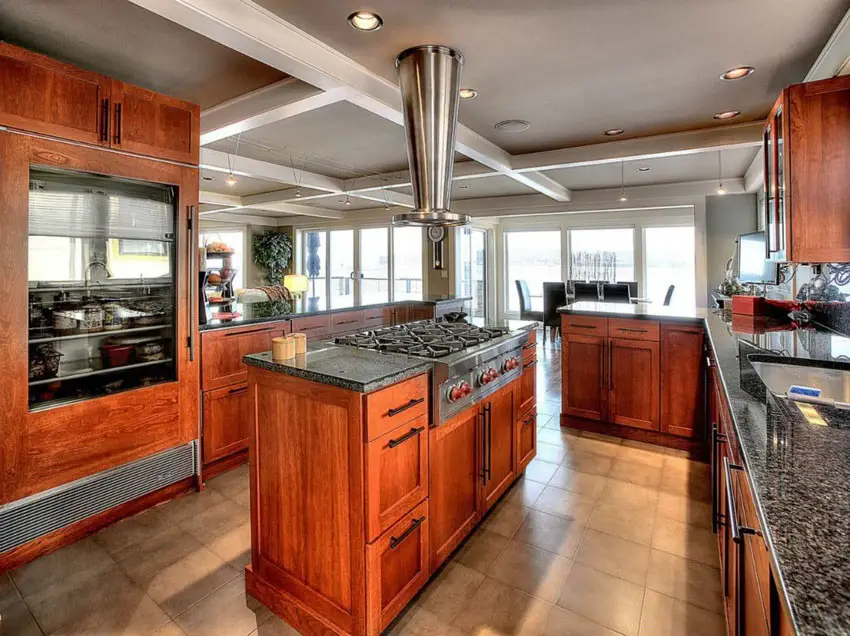 This kitchen is directly open to the dining and the living area, separated only by base cabinet counters which acts as the partition between other common areas and the kitchen. The result is a bright and light-looking kitchen, despite using solid cherry wood cabinets topped with black granite.
The natural wood grains and texture of the solid cherry wood cabinets, combined with black drawer and cabinet pulls, creates a more raw, industrial feel to the space, while keeping its elegant silhouette.
Cherry Wood Kitchens with Cabinets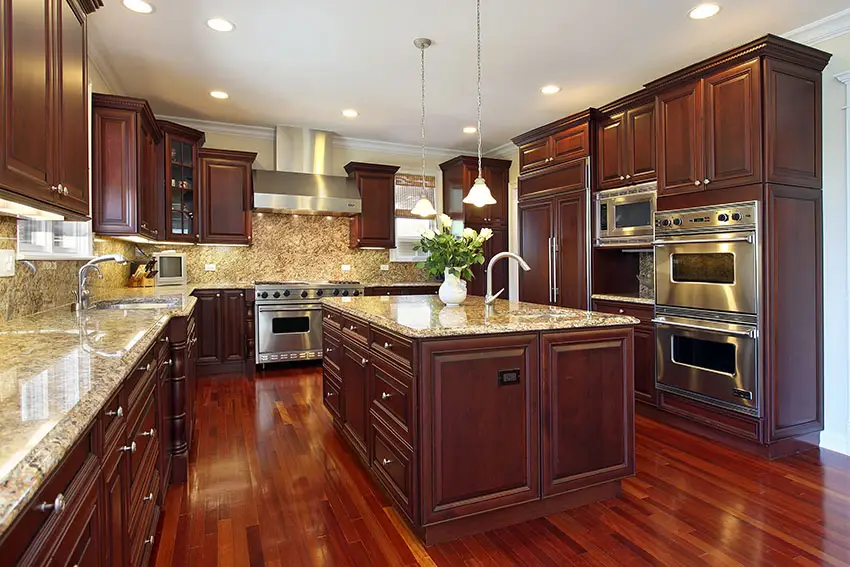 Cherry wood kitchen cabinets are beautiful and ideally suited for those looking for a warm and elegant kitchen space. With their rich wood tones, cherry wood is often used in furniture and cabinets.
The wood can be stained, or left to naturally darker over time. Since the wood readily accepts a finish there are many different cherry wood colors used with cabinetry.
Cherry wood comes primarily from the US or Canada and often has beautiful characteristics that make it highly sought after. This beauty does come at a cost, making cherry cabinets one of the more expensive choices.
Availability is also a concern, as they are not frequently found in big box retailers. Therefore one must seek out an experienced custom cabinet builder to get the job done. Typically cherry wood cabinets can increase costs over regular birch cabinets by 20-25% or more.
There are other options for those looking to avoid spending the higher price for cherry wood kitchen cabinets. One is to purchase a high quality cabinet and stain them with cherry. The stain will penetrate the grain of the wood to give you the cherry look you desire.
Another way to get a similar look is through glazing. Glazing your cabinets cherry is a process where a glaze coating is applied to the wood to produce an aged or distressed look. Both glaze and stain are popular choices that will allow you to cut costs and get the look you want for your cherry wood kitchen cabinets.
In the picture above the floors of this kitchen use solid cherry wood floors, so the kitchen opts for a darker cherry wood finish for its paneled kitchen cabinets, creating a subtle contrast between the two materials.
Cornice details, vintage pulls and cream granite on the counters and the backsplash all combine to create a very elegant feel to this kitchen, creating a timelessly beautiful kitchen design.
Pros and Cons of Kitchens with Cherry Hardwood Material
There is no denying that cherry wood kitchen cabinets exude in elegance and stunning visual appeal, but aside from possessing exquisite aesthetics, cherry wood is also an archetype of practical functionality.
There are a number of reasons as to why cherry wood makes a sensible choice for kitchen cabinetry. First is durability. Although not as resilient as oak, cherry wood is strong enough for long term use. It is known for having a medium level of strength – heavy, hard and can keep up with the wear and tear of everyday use.
When it comes to cost, cherry wood kitchen cabinets are somewhere in the middle price range. They are not expensive and not that cheap either. Among dark woods, cherry wood is more affordable than ebony and mahogany while compared to maple or oak, they cost more. However they prove to be good investments, returning practical advantages in the long run. It is also widely available in the market and can be purchased from online shops, exclusive wood suppliers and cabinet manufacturers.
Going back to the primary reason as to why homeowners love cherry kitchen cabinets, aesthetic value is one of the positive attributes of this high quality wood. It comes in an elegant rich color and deep undertones that bring a luxurious look to kitchens. This richness also introduces a distinctive warmth to interiors, producing a cozy ambiance and making spaces more inviting. Consequently, this welcoming atmosphere makes guests feel at home.
Its beauty also increases as it ages, this being one of its most unique qualities. Since cherry wood is light sensitive, its rich reddish color darkens with age developing a lustrous patina that deepens with age. This beautiful evolution of color is one of the most sought after qualities of the cherry wood kitchen cabinets. Also, cherry wood kitchen cabinets have a timeless appeal.
It is traditional but it is guaranteed to never go out of style. It is versatile and works well with various design concepts. Cherry wood cabinets can easily match any type of kitchen decor and any design inspiration, whether it may be traditional, country, rustic, contemporary or modern.
Depending on the type of millwork it employs, cherry wood cabinets can easily tie the prevailing look and style of a space. Its look is flexible enough to match with different color schemes. In addition to that, cherry wood cabinets can also function as focal pieces not only for a kitchen, but for a whole house as well.
There are still a few drawbacks to using cherry wood cabinetry, but still its positive features outweigh the negative ones. Just like any other type of wood, it is prone to termite attacks, however this can be addressed by employing preventive measures like treatments and termite proofing.
Also, it is not water resistant. To keep water from seeping through your kitchen cabinetry, make sure to wipe any spills immediately so that it does not produce any stain.
Lastly, although strong and sturdy enough, there is still a tendency for it to be scratched over time. All of these disadvantages can be prevented with proper maintenance, treatments and care to ensure that your cherry wood cabinets are in good shape. (Visit this page to see our full gallery of kitchen cabinet styles)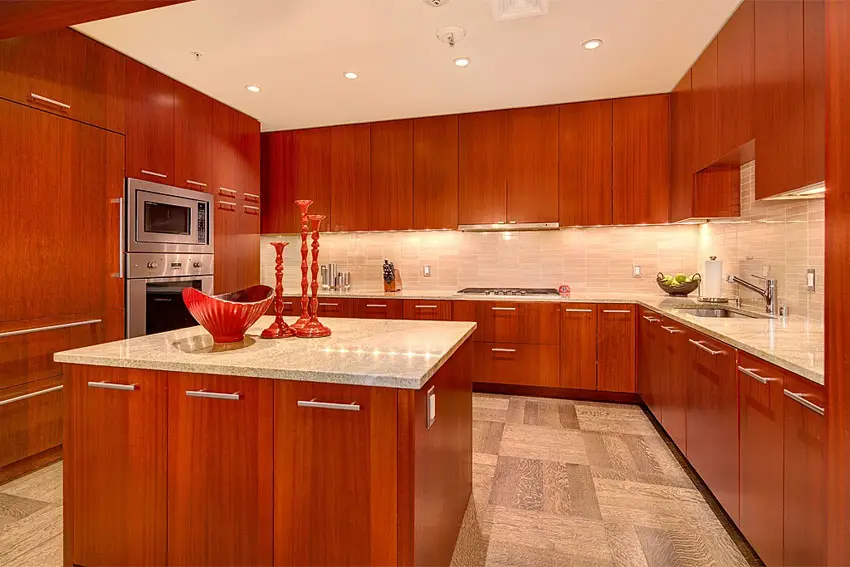 A large, contemporary kitchen which definitely maximizes all available wall space to create this kitchen design.
At one side of the wall is a full-height pantry storage/cabinet with built-in refrigerator and oven tower. It uses cherry wood laminates all over, and the flat profile of the cabinets definitely gives it that clean, modern look.
To help tone down the reds from the cabinet finish, the countertop materials is of light cream quartz, while the backsplash is cream-colored glass tiles.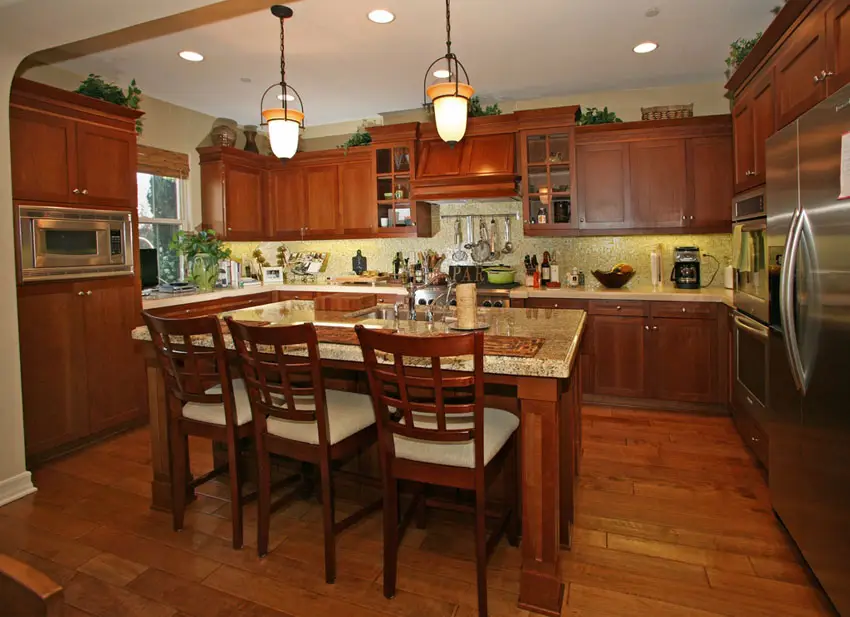 This is a country style kitchen which uses simple paneled kitchen cabinets in dark cherry wood finish. The elegant detailing of the cabinets gives it a elegant, yet modern appeal due to its clean, straight lines. In the middle is a kitchen island which also doubles as a bar/dining space.
The countertop materials used are cream granite for the kitchen island, and cream quartz for the base cabinets. Meanwhile, the backsplash is adorned with light yellow mosaic tiles, adding texture and a soft pop of color to the surface.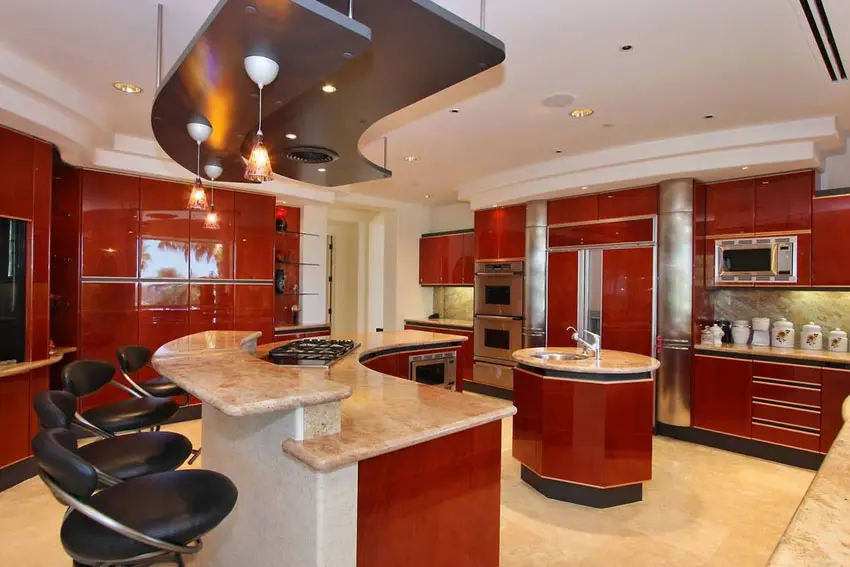 A spacious full-sized kitchen with a unique layout and combination of finishes. It uses high-gloss cherry wood laminates which definitely stands out from the cream colored floors and white walls.
This is combines with cream granite for both the countertops and backsplash, as well as some matte black and brushed stainless steel finishes, giving it that contemporary feel.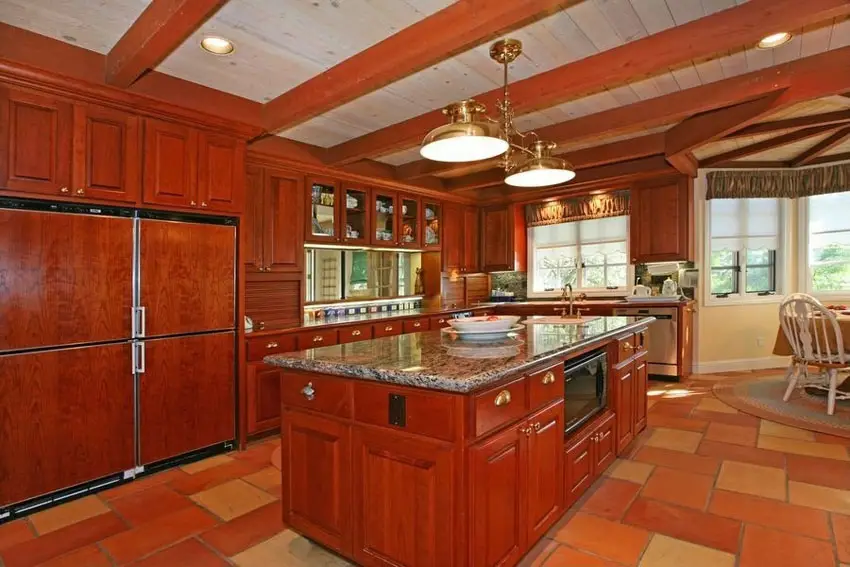 This is another country-inspired kitchen space with open floor plan which uses solid wood paneled cherry wood cabinet doors topped with thick slabs of gray granite.
It has exposed ceiling wood trusses with the same cherry wood finish, while the planks used on the ceiling boards is of white-washed finish, helping neutralize and tone down the orange and yellow tones of the wood and floor finishes.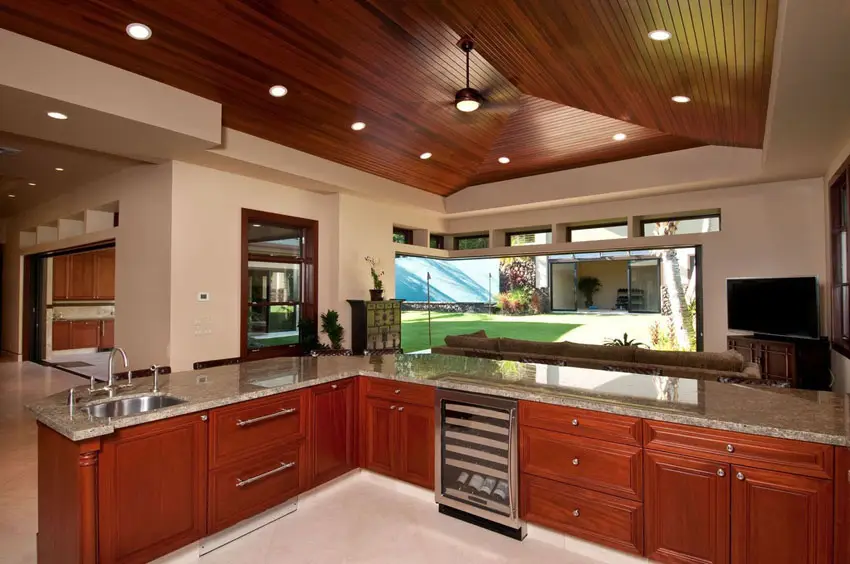 This spacious kitchen exudes a casual elegant appeal, with its use of solid cherry wood kitchen cabinets topped with beige granite.
The open layout of the kitchen helps it make the space look brighter and more spacious, while the high, gabled ceiling is a perfect match to the kitchen cabinets, using planks of cherry wood, which also adds texture to the other wise plan and simple surfaces of the interiors.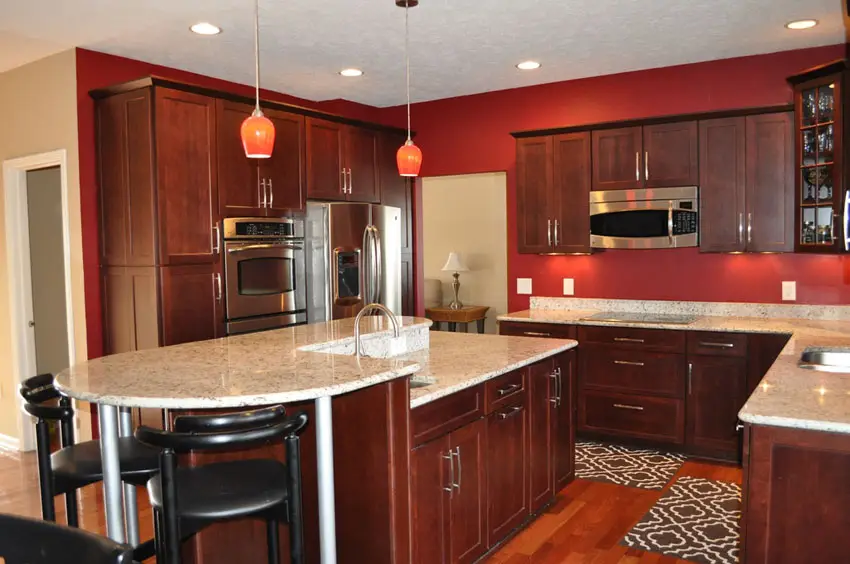 This is a kitchen which goes for a bold red color scheme, making stand out from the rest of the neutral-colored surfaces. The walls were painted in brick red, while the kitchen cabinets were laminated in a dark cherry wood finish, which also has a red undertone.
To help balance out the colors, the counter top used is cream-colored granite, adding a neutral surface to the space while helping tone down the boldness of the red tones.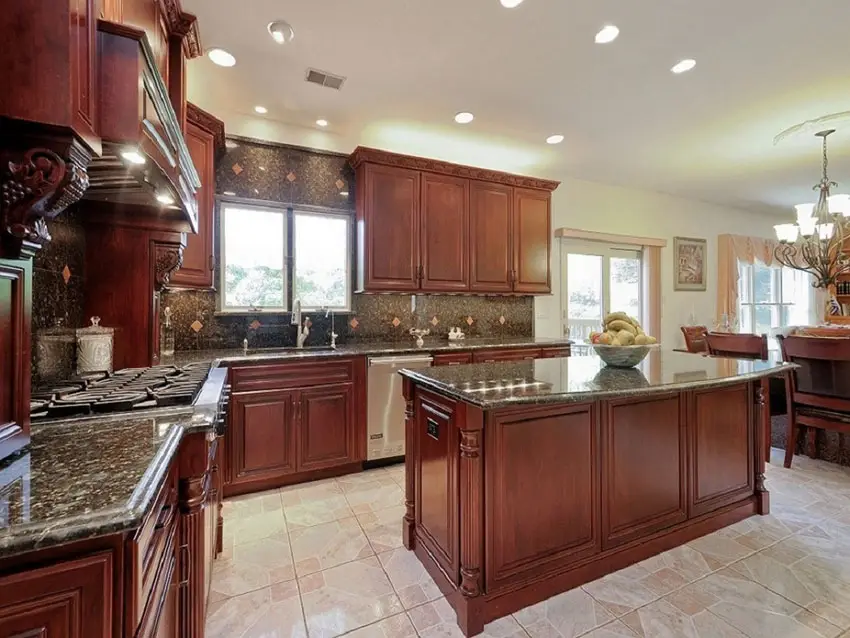 A classic style kitchen with traditional detailing looks even more elegant as it uses solid dark cherry wood for all its cabinets, combined with black granite counters and backsplash.
Despite the classic look, it also applies some modern touches to it like under-cabinet lights to help illuminate the working space.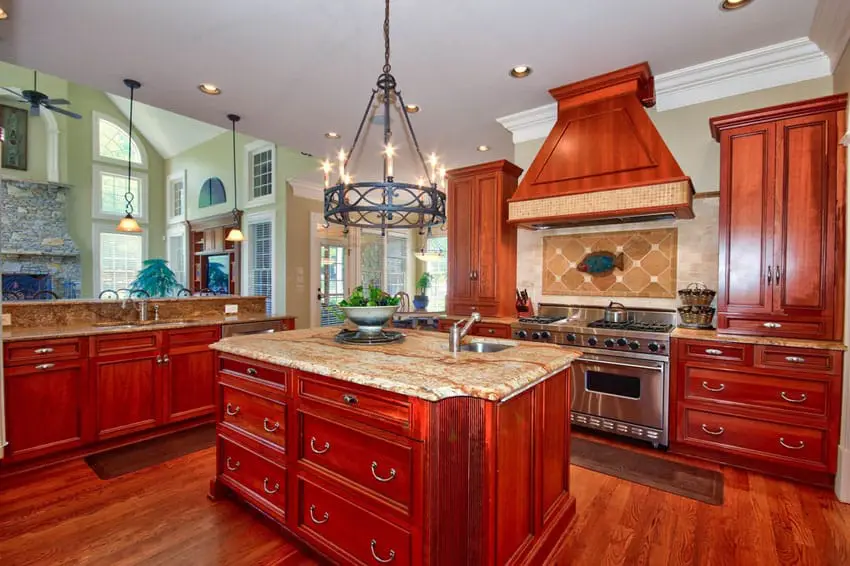 A classic style kitchen going for a bold all-wood look. Floors are engineered cherry wood, while the kitchen cabinets are of gorgeous paneled cherry wood, paired with cream lime stone.
The undertones combined together looks a bit more orange, and therefore perfectly matching with the cream & orange tiles used on the backsplash.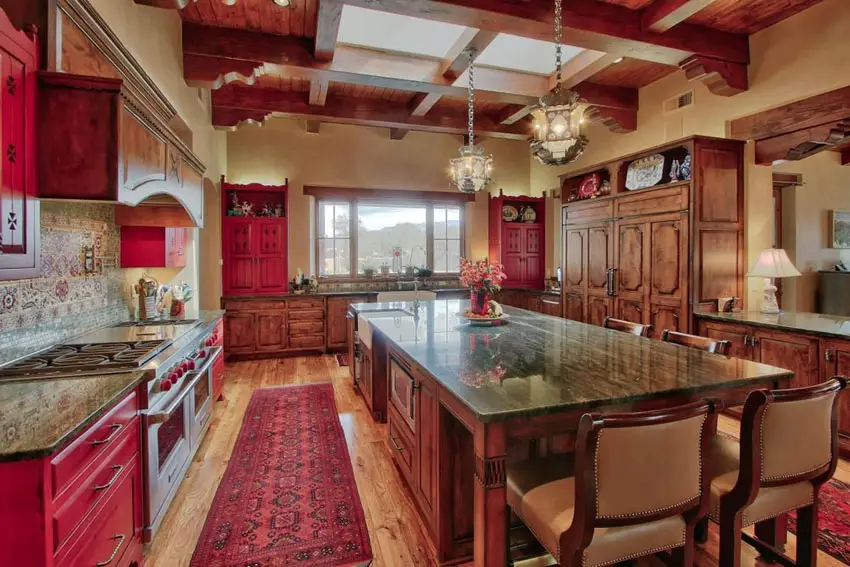 A very unique rustic country style kitchen which has a a variety of wood finishes. Floors are solid golden oak, while the exposed ceiling trusses with wood planks are solid teak.
The skylight provides excellent illumination to the space, helping make the colors of the kitchen cabinets pop out. The cabinets is a combination of dark oak and red-stained cherry wood.
There is also a massive kitchen island counter in the middle of the kitchen with dark oak base and black soapstone counter top.
Kitchen Paint Colors with Cherry Cabinets
The natural rich deep color of cherry cabinets make way for a lot of possibilities in terms of design. Thanks to its red undertones, formulating the right color scheme to go with it can go anywhere from enhancing its luxurious look to toning down its richness.
There are several wall paint colors that can be explored to match dark cherry kitchen cabinets – from a crisp white color, to subdued neutrals, mellow pastels and rich shades. The right color will entirely depend on the look you want to achieve and the aesthetic attribute you want to stand out, whether it may be contrast or harmony.
Choosing the right paint color to go with your cherry cabinets can help you produce a kitchen design that is cohesive and stunningly attractive as well. Below we give you some paint color choices to help you decide which one is the best for your cherry cabinets: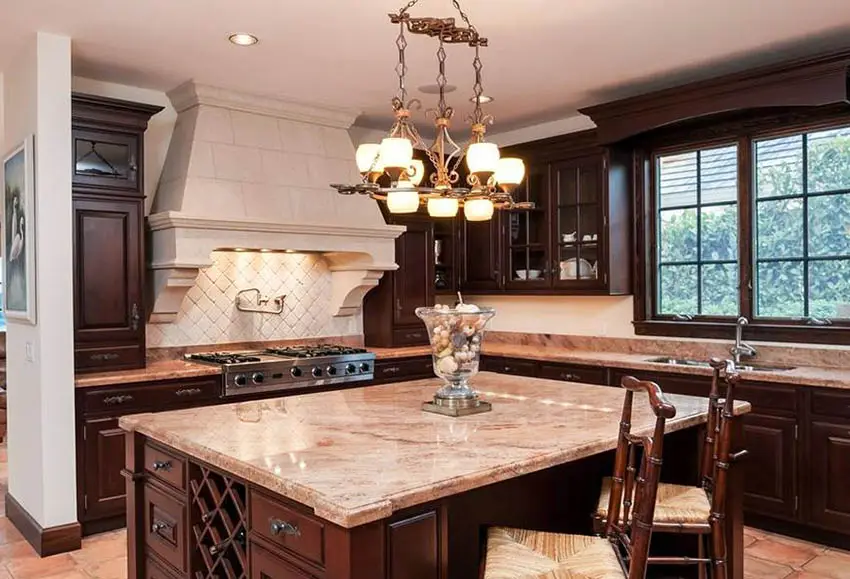 Neutrals – Neutral colors are colors which are not reflected in the color wheel. This includes black, white, shades of gray and brown. It is also referred to as earth tones, the reason being they are dominantly found in nature.
This sometimes include, greens and golden yellow as well. These colors are popular not only in interior design because they can go well with anything. Mixing and matching is the least of your worries when you go with a neutral color palette for your home.
When paired with cherry cabinets, a neutral colored wall greatly enhances warm undertones, making the space more inviting. It serves a subtle backdrop for the dark reddish color of cherry wood and does not compete with its richness. Also, it makes the wood look cleaner and brighter.
Gray – The color gray, being considered as the new alternative for white, works well with cherry cabinets because it creates a dramatic effect, yet it is still subdued and not overwhelming.
It is also the perfect substitute for those who find white or beige too plain and boring because gray lends a quiet strength to spaces. On the other hand, warmer neutral colors like golden yellow, light honey or a mellow butter shade, all add warmth to cherry cabinets.
This is perfect if you want to add a bit of color and introduce some cheery ambiance to your kitchen without creating too much drama.
Brown – Shades of brown, such as sand, tan or light mocha are perfect if you want to go with a monochromatic color scheme. These colors complement the inherent color of wood and its natural coziness, making the space more "homey" and inviting.
However, when choosing a shade of brown for your paint, do go with a dark shade because this will camouflage your cherry cabinets Cherry cabinets are a true beauty in itself, the last thing that you would want to do is to hide that.
Remember that in creating a visually pleasing monochromatic scheme, the shades of the color must be well balanced to create some dimension.
For the neutral colors, avoid black because it is too dark and might clash with the reddish undertones of cherry cabinets. This combination has the tendency to produce a design that is too heavy for the eyes and might feel too cramped.
White – White is considered to be the most versatile color as it goes well with anything. Aside from that, white walls have a timeless look which will surely never go out of style no matter what your decor is. This wall color works effectively well with both light and dark kitchen cabinets, including dark cherry wood.
White walls are perfect for creating a stark contrast between dark cherry cabinets. If your kitchen is small, this will aid in making your space appear bigger, more open and airy. Also it instantly brightens up a space, thus creating a perfect balance with the richness of cherry cabinetry.
The color white comes in different tones which one can explore. Ultra white walls and dark cherry cabinets are workable if you want to combine classic and contemporary.
If you do not like the striking look of bright white walls and cherry cabinets, you can always choose another shade. Beige, creams, off whites and those with warm undertones also work exceptionally well with dark cherry cabinetry.
Pastels – Light colors are the ideal choice if you want to add a bit of color to your color palette. It introduces color without committing to the intensity of vivid hues.
These pastel colors may either have cool or warm undertones in them. Pastel colors with cool undertones are light blue, light green and cool gray, while those with warm undertones are peach, light yellow. The cool undertones uplift the grains in the cabinets which makes the wood appear brighter.
Aside from pastels, you can always tone down a specific shade of color into a more subdued and muted one. Say green for example, can be mellowed into a sage green color. This provides for more options in decorating your kitchen.
Just like white, pastel colors create an illusion of a much bigger space. When used with dark cherry cabinets, the look is more balanced. The richness of the wood also pops out more.
So use these colors if you want to make your cherry cabinetry as the main focal point of your kitchen. In addition to that, light colors also create a livelier mood in the kitchen.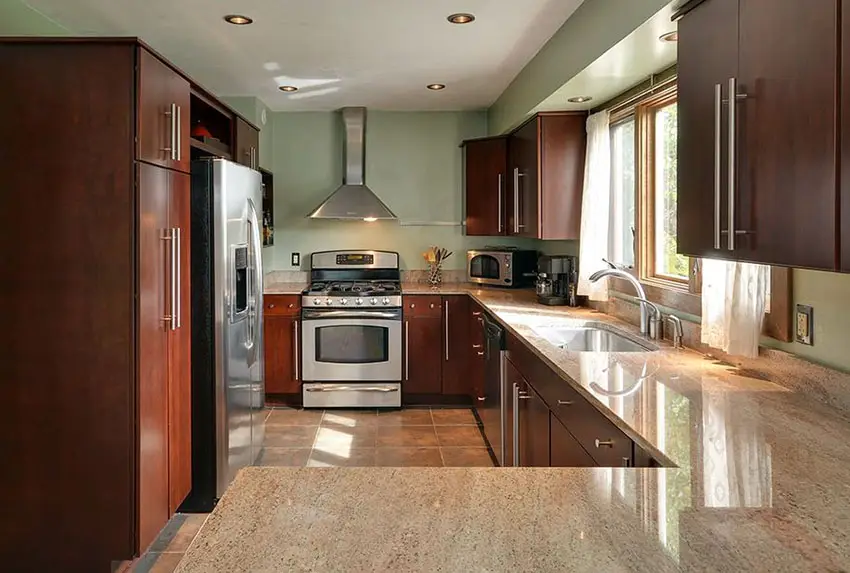 Green – To create a stunning contrast between the walls of your kitchen and dark cherry cabinetry, try to go with its complementary color. Based on the color wheel, complementary colors are those which are found opposite to each other.
The complementary color for red is green, and since cherry cabinets have a dominant reddish color, shades of green work well in creating contrast. The result of this combination is a visually interesting design that is full of depth. This also makes the color of the wood look brighter and its grain to pop out more.
Different shades of green can also be explored, depending on the effect you want to achieve for your kitchen.
Deep and dark greens like forest green, hunter green and olive green are perfect for enhancing drama in the space, while muted shades like sage green and moss green helps tone down the richness of cherry cabinets.
Mellow shades like tea green and celadon green, introduce a hint of color and creates a more subtle effect that allows the beauty of cherry cabinets to stand out.
Some additional tips in selecting the right wall color for cherry cabinets:
– Determine if you want to blend or contrast. This is the first step that you need to do in choosing the right paint color to match your cherry kitchen cabinets. Contrast adds depth and drama to a space, while to blend is to create a harmonious look. Both design principles help create a stunning kitchen design.
– Use the color wheel as your guide to creating stunning color schemes for your cherry cabinets. Knowing a few color basics will help you produce an effective and attractive color palette not only for your kitchen, but for your home.
The color wheel is an effective decorative tool which can help you eliminate the guesswork in choosing the right color of paint for your walls. Through this you can explore a complementary scheme – if you want to create contrast, or an analogous scheme – if you want to blend harmoniously.
– You can never go wrong with a monochromatic color scheme. A monochromatic color scheme is all about finding the right balance and using the correct shades for each visual element for your kitchen.
Since cherry cabinets are dark, you may choose a lighter shade of brown for your flooring, and a light tan color for the walls.
– Avoid red. Since red is the primary undertone of cherry cabinets, matching it with a red wall may overwhelm the space. Although they belong to the same color group, there is a tendency for cherry cabinets and red walls to compete for attention.
Also, avoid colors which are too vivid and bright as they can overpower your cabinetry color. Orange, pink and purple also do not go well with cherry cabinetry.
– Consider all the other elements in your kitchen. The color of your walls is one of the major colors that is prevalent in your kitchen.
Make sure to choose a paint color that will unite all the other elements in your design aesthetically. This includes the appliances, flooring material, countertop, hardware, accessories, furnishings, furniture, etc.
In summary:
Complementary Colors (green) = contrast, drama, makes cherry color pop
Neutrals (browns) = blending, enhances warmness
Pastels or Light Colors = tones down the color of cherry wood
White = makes cherry cabinets appear cleaner and brighter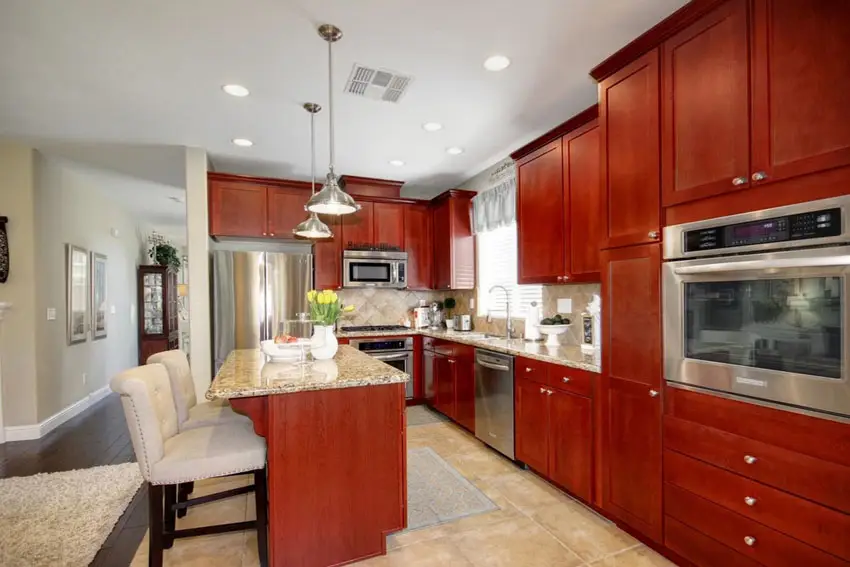 Going for a more modern look, this kitchen uses a more simple kitchen cabinet profile, and a cleaner, more uniform finish, achieved by using cherry wood laminates. Pair with cream-colored granite and stone backsplash tiles, the resulting look is well-balanced, yet elegant.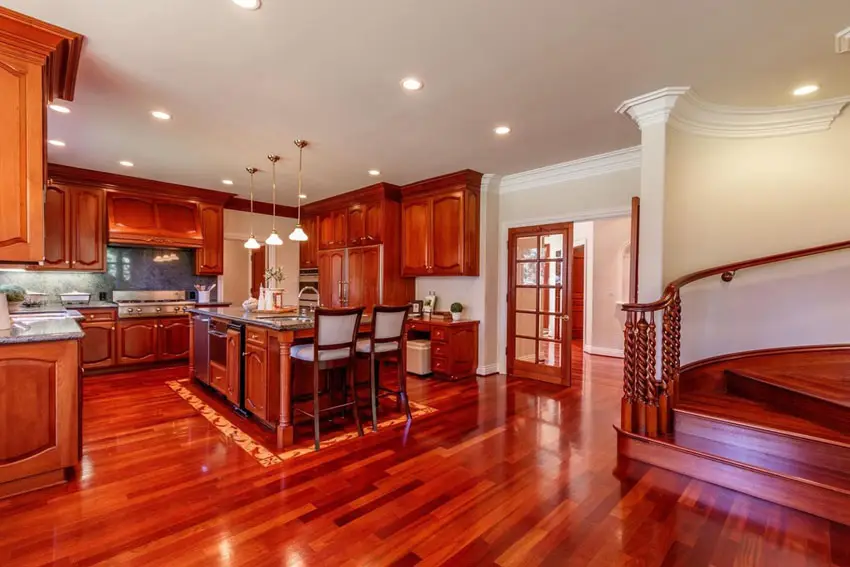 Classic Spanish architectural details of the house was also brought into the kitchen design to match. It has a rather bold and heavy look to it, since the floors are polished cherry wood, and the kitchen cabinets, as well as doors and the stairs are also in solid cherry wood.
The paneled cabinets gives the kitchen an elegant look, especially paired with gray granite counters and backsplash.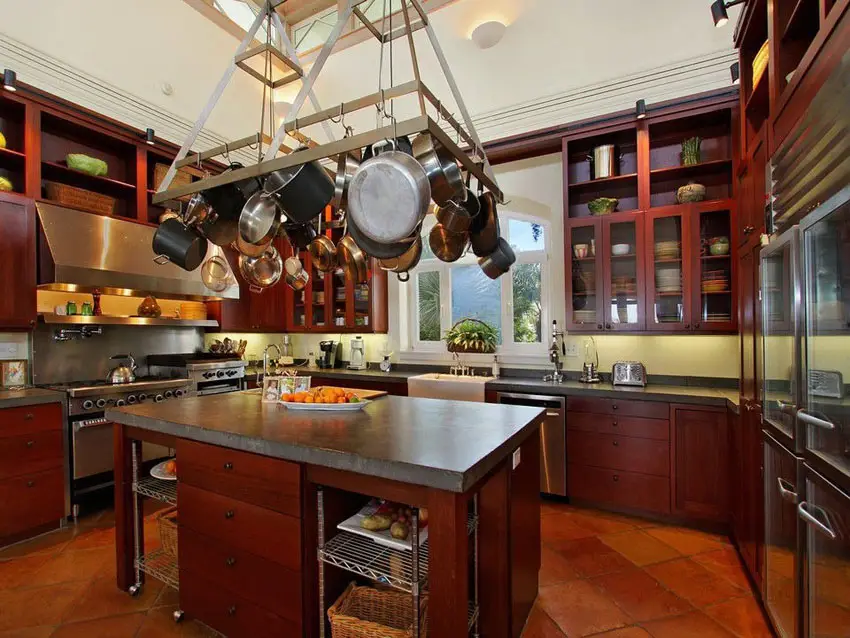 A modern rustic-inspired kitchen perfectly combines both modern and rustic/industrial design elements. Floors are antique terracotta red tiles, giving it a rough, rustic appeal.
Kitchen cabinets are made of solid cherry with straight, clean edges for a perfect modern look. The overhead shelves maximizes the high ceiling, occupying most available wall space and is in a combination of open shelves and cabinets.
Concrete countertops add a raw, industrial feel to the space, even enhanced by the use of an overhead pot rack placed right above the kitchen island.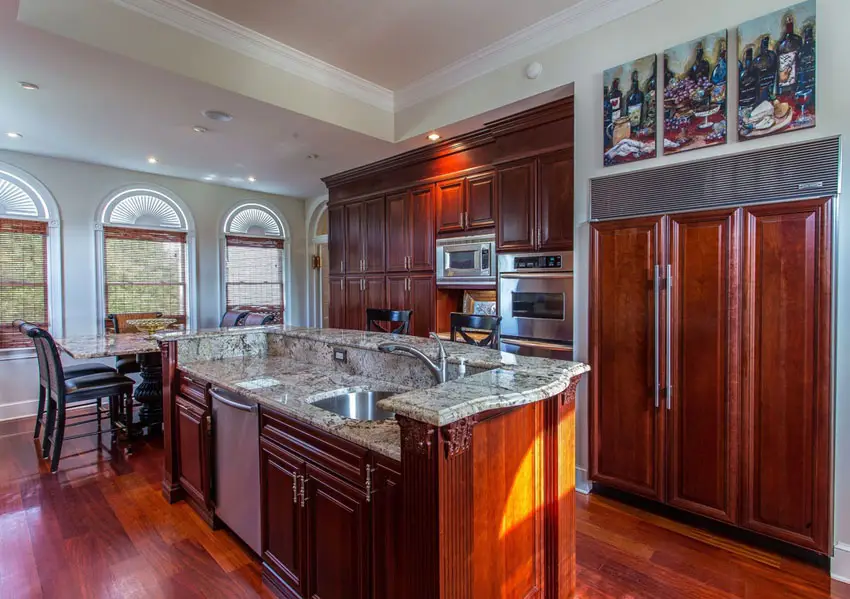 Elegant panel details and neo-classic motifs characterize this all-cherry wood kitchen. The kitchen connects directly to a small dining area with darker wengue-finished wood.
You will see that the kitchen maximizes the available wall space and the ceiling height, using most of it as storage space/cabinets, leaving most of the countertop space at the kitchen island and the other side of the kitchen.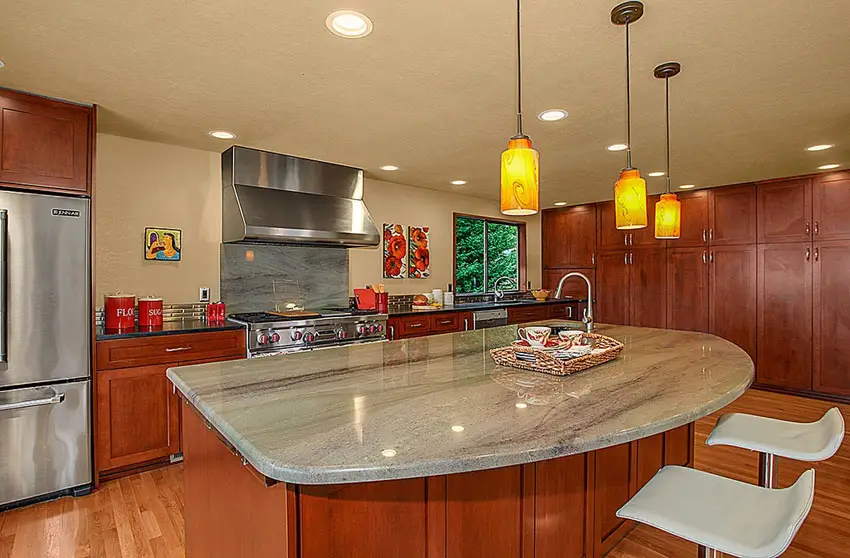 A rather spacious modern kitchen which uses simple paneled kitchen cabinets in solid cherry wood, topped with solid black granite.
One side of the kitchen has pantry cabinets with full floor-to-ceiling height, and one wall with just base cabinets and no overhead cabinets, helping make the kitchen look less heavy.
There is a large kitchen island in the middle which provides much preparation surface, and is topped with gray soapstone.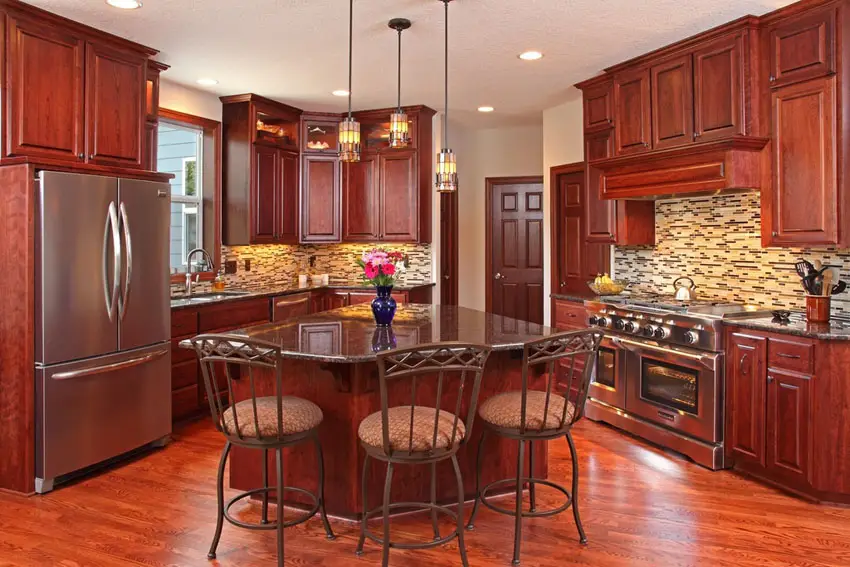 This kitchen space is placed in an odd corner of the room, resulting in a unique kitchen shape/layout. Solid cherry wood planks adorn the floors, while walls were painted in off-white to help tone down the wood color.
The kitchen uses elegant paneled doors in solid cherry wood, topped with dark red granite. On its backsplash is yellow and brown mosaic glass tiles, creating pattern and texture to the surface. The kitchen island in the middle has quite an odd shape, as it follows the shape of the room.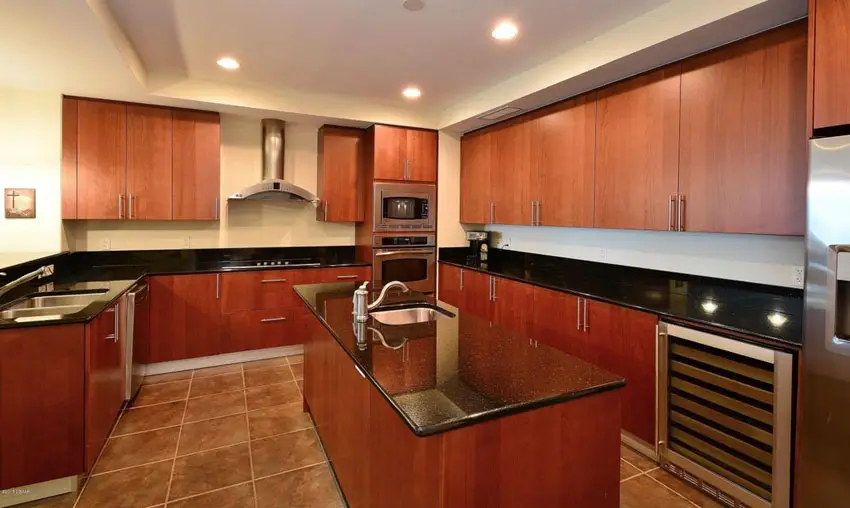 This is a modern kitchen which uses modular kitchen cabinets with clean, strain lines, creating a very polished and elegant feel. The kitchen cabinets were laminated in a light cherry wood finish, topped with black granite.
This is combined with modern cabinet/drawer pulls in brushed stainless steel finish, completing the modern look of the kitchen.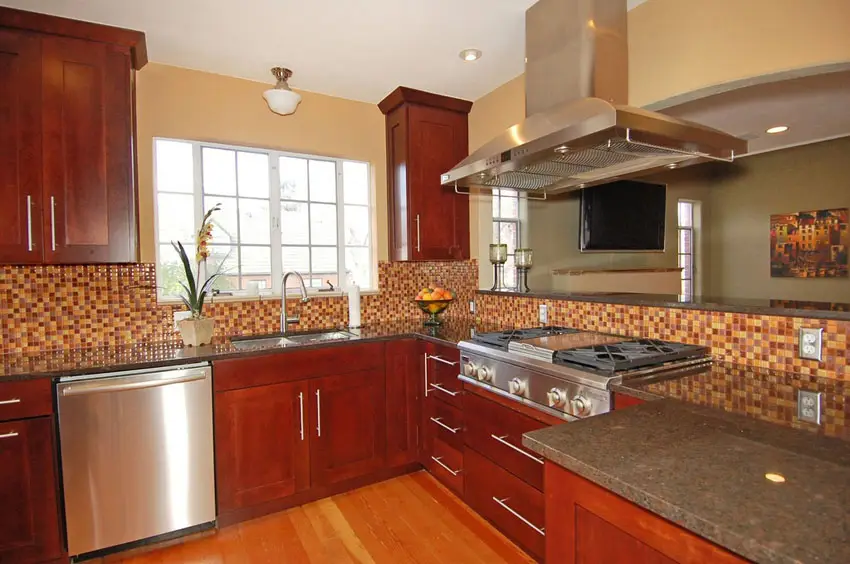 A quaint kitchen which uses dark cherry-wood stained kitchen cabinets with simple panel details, creating a modern look.
The base cabinets uses gray granite for he countertop and mosaic tiles in a combination of yellows and reds for the backsplash. These cabinets were placed against golden yellow walls and light cherry wood floors, creating a really warm atmosphere in the kitchen.
Matching Cabinets Made of Cherry and Granite Countertops
With so many options to choose from, picking the right granite countertop color for your cherry cabinets can be quite confusing.
However, the right type of granite color to match with cherry cabinets would greatly depend on the look you envision for your kitchen and the effect you want to achieve.
As each type and color of granite gives off a different character, you can either contrast, blend, complement or enhance. No matter which one of these you choose to achieve for your kitchen, the result will still be a stunning design that is attractive and appealing.
Below, we give you some examples of granite countertop colors that go well with cherry colored cabinets.
Contrast with light colored granite – Light colored granite are those that fall under a white to creamy beige tones. Contrary to the belief that these colors may sometimes makes spaces look dull or plain, a white or beige granite countertop can actually brighten up a kitchen if paired with dark cabinets. They give off a timeless look and classic flair that will surely last for years.
Light granite colors are the perfect choice for lightening up a kitchen that is already dominated with dark red cherry cabinets. Since cherry wood are a bit rich, some homeowners opt for a light colored countertop to make the space less overwhelming. This color is perfect too, if you want to make small kitchens appear bigger.
Light colored granite also come in different patterns and most work well with the fine graining of cherry wood. When choosing for the right type of light colored granite to go with cherry cabinets, select those that have a veining pattern that is similar to marble because these do not have a "busy pattern" that is too heavy for the eyes.
Also, light colored granite work excellently in bringing balance to kitchens with cherry cabinets. It's important to give emphasis to creating contrast as it is one of the elements in kitchen design.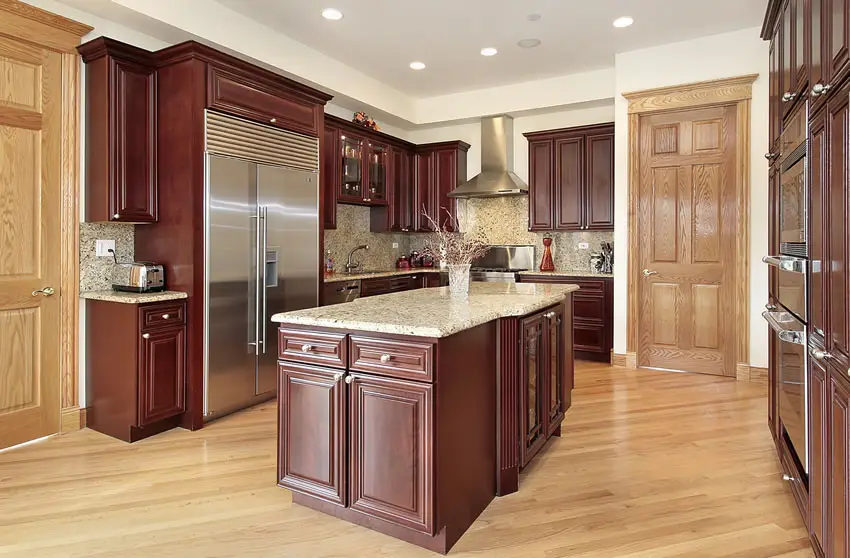 Here are some examples of light colored granite with go best with cherry kitchen cabinets:
Kashmir White – Kashmir white granite is one of the most popular kind of white granite in the market. It has a signature "salt and pepper "look that is characterized by flecks of gray ash quartz, dark mica and white feldspar.
In some variants, Kashmir White granite has a tinge of dark burgundy color which comes from the presence of garnet. This red undertone makes it an appropriate match to the warm color of cherry cabinets.
Also, the overall light color of a Kashmir white countertop brightens a space by toning down the richness of cherry cabinets.
Valley White Granite – Valley white granite is a type of granite that resembles the looks of marble. With graceful veining patterns that look like flowing water and a white background with soft grey veins, burgundy flecks and metallic minerals, this provides a sense of luxury o kitchen spaces.
The softness of its color and the simplicity of its pattern is an excellent match to the deep color of cherry cabinets.
Also, the presence of burgundy specks in its surface matches the red undertones in cherry wood. Using this type of countertop tones down the richness of cherry cabinets while producing a space that is bright, airy and welcoming.
Gold Antique – Also known as Paradise Gold granite, gold antique granite is characterized by an off white background with yellow speckling and golden brown undertones.
This type of granite is a perfect match for cherry cabinets because it creates balance between the light and dark hues. Aside from that, its mellow color instantly lightens up a room.
Go with gold antique granite if you want a timeless countertop option for your cherry cabinets as it brings classic elegance to a space.
Blend with earth colored granite – Earth colored granite are the perfect complement to cherry cabinets because they bring in a sense of natural coziness to a space. This is also highly appropriate if you want to achieve a monochromatic color scheme for your kitchen.
Earth colored granite are those that have a dominant color of shades of brown. Tan or Brown granite have a rich earth tones varying from light tan, sienna to dark browns.
This type of granite usually have streaks and speckles of black minerals that highlight an earthy or sandy base. Light brown granite are also a great match for this type of kitchen cabinetry. When paired together, it creates a space that is ultra-warm, "homey" and inviting.
Here are some examples of earth colored granite with go best with cherry kitchen cabinets:
Santa Cecilia Granite – Although classified as form of beige granite, Santa Cecilia granite is predominantly brown in color.
Originating from Brazil, this type of granite has a beige and honey colored background that is accentuated with specks of tan, gold and burgundy with dark gray veins.
The warm color of Santa Cecilia granite blends nicely with the natural color of cherry cabinets, creating a harmonious yet attractive combination.
Almond Gold – Almond gold granite is characterized by a warm brownish base color that is highlighted by peach spots, burgundy flecks and quartz. The combination of these colors and its veining pattern produces perfect match to cherry cabinet.
This duo also makes it easy to incorporate other elements into the design – such as accessories or flowers. It also works well if you want to introduce splash of color to your kitchen.
Ivory Brown – Also known as ivory gold or shivakashi ivory granite, ivory brown granite is characterized by peach, burgundy and quartz clusters over a light gray background.
This type of granite originated from India and has a medium grained appearance and is predominantly pinkish beige in color. Compared to other earth toned granites that are mentioned here, the ivory granite has a lighter color because its base is primarily a cream hue.
It makes a great match because its veining pattern complements the rich red tones and graining pattern of cherry cabinets. Also, its light color gives balance while its brown undertones creates harmonious blend of colors.
The predominant cream base of ivory brown granite also gives kitchens a more open feel, making them appear more spacious and bright. It is also easier to add accessories to this countertop and cabinet color/material combination.
Tan Brown Granite – Tan brown granite is also known as chestnut brown or copper antique granite. This type of brown granite has a rich pattern and a consistent color of dark red, black and brown all throughout. Among the examples of earth tone granite mentioned here, tan brown granite has the darkest color.
The beauty of tan brown granite is that its color changes all throughout the day, depending on its exposure to lighting. Under bright lights, the light brown and red tones become more vivid and visible, while with less lighting, its dark brown base becomes more prevalent.
The rich undertones of dark brown and deep red makes the color of cherry cabinets pop out more, making it the perfect match that isn't too over dramatic.
This combination is best paired with a light backsplash material which acts as a complementary visual element that makes both the countertop and cabinets stand out. Stainless steel appliances also gives this duo a more attractive look.
Enhance cherry cabinets with dark colored granite – Dark colored granite are mostly composed of blacks and dark browns.
Although best paired with light to mid colored wooden cabinets, dark colored granite can be still be used with dark and deep colored cabinets to achieve more drama in a space. Dark colored granite also makes kitchens look more warm, homey and inviting.
The combination of dark colored granite and cherry cabinets is less popular compared to the light colored and earth toned ones.
However, this is an excellent choice if you want to add more dimension and depth to your kitchens design. When paired with a dark countertop, the undertones of cherry cabinets pop out more, thus creating an overall look that is more rich and elegant looking.
It may be a bit tricky to pull off compared to other color palettes but with the right granite pattern, it will work out perfectly to produce a rich and visually interesting kitchen design.
Do not go for veining patterns which are too edgy or busy as it can sometimes result into a visual chaos. Make sure to choose the pattern wisely so as not to make your kitchen overwhelming or too heavy looking.
The combination of a dark countertop and cherry cabinets is more suitable for large kitchens, because it has the tendency to make a small space look more cramped and heavy.
Here are some dark colored granite options which you can use to match cherry cabinets:
Cosmic Black Granite – Also known as the matrix black granite, this type of dark colored granite is characterized by black – dark charcoal base with long swirls of white, patches of amber and burgundy.
It comes in other variations, where quartz pockets are also visible, making the stone more sophisticated. This countertop brings natural elegance and a classic beauty to kitchens.
Cosmic black granite gives an interesting amount of depth and contrast to cherry cabinets. It is dramatic but not too overdone nor dragging. The combination of cosmic black granite and cherry cabinets are more fitting for large kitchens.
This also offers more ease in matching appliances and other furnishings as they go well with most finishes. A great accent color which works for this combination is brushed nickel cabinet pulls and stainless steel appliances as it matches the silver veining in the granite's surface.
Black Forest Granite – Black forest Granite is a stunning dark colored granite that has a black base with patches of white, amber and burgundy throughout its surface.
Just like cosmic black granite, black forest granite works well with cherry cabinets because of the added visual contrast. Choose stainless steel appliances and brushed silver handles to go with this countertop and cabinet combination.
Go extra luxurious with gold granite – Although gold granite may sometimes be classified as a light colored beige granite or a brown granite, they differ differently from the rest in terms of character. Gold granite are known for bringing luxury and warmth and brightness to a space.
Also known as yellow granite, gold granite countertops have rich tones of honey, yellow or gold. This type of granite usually has a pattern of elegant veining in mixtures of red, burgundy, black or mineral crystallizations of mica, feldspar or quartz.
The combination of flecks of color against a golden honey colored background give it's visually pleasing attributes that elegantly suits dark colored kitchen cabinetry.
Here are some gold colored granite options which you can use to match cherry cabinets:
Venetian Gold Granite – The venetian gold granite has a dominant golden tone, composed of deep red, amber, gray, brown flecks and light veining pattern over a creamy beige background.
Just like most granite types that are mentioned here, the presence of red flecks make it a perfect match for the red undertones in the grains of cherry wood.
The interesting combination of Venetian gold granite and rich cherry cabinets produce an overall kitchen setting that is naturally cozy, warm and welcoming.
Complement cherry cabinets with green colored granite – In reference to the color wheel, a complimentary color scheme is composed of two colors which are located opposite each other.
Since cherry cabinets have red undertones, the right complementary color that goes with it is green – so it is just fitting that green granite presents another workable countertop option that matches cherry cabinets which can help you produce a stunning kitchen design.
Compared to other combinations, this is a bit more challenging to pull off. As some may instantly associate a green and red color combination to something that evokes a Christmas feel.
However, this works wonders in creating a kitchen setting that is rich, elegant and unique. Green granite is stunning focal point in itself, so there is no reason why you should veer away from it.
The key to combining a green countertop with a reddish cherry cabinet is to choose the right pattern and the addition of a neutralizing element.
Always look for the right undertones in the granites pattern, like red or burgundy flecks, as this matches the colors of cherry cabinets. Do not go too heavy on the patterns, unless you want to create visual drama.
And always add a neutralizing element to balance your green countertop and cherry red cabinets – whether this may be a light color for the walls, floor or accessories.
Here are some green granite options which you can use to match your cherry cabinets:
Hawaiian Green Granite – Characterized by an olive green base color with grayish undertones, yellowish striations, dark pink and burgundy flecks, this type of granite is known for its rich unique appearance.
When paired with cherry cabinets, it results to a stark contrast that displays elegance and sophistication.
Some more tips to help you choose the right granite countertop to match your cherry cabinets:
– Consider additional elements such as lighting, appliances, flooring and backsplash material to produce a cohesive and well balanced kitchen design.
– Both wood and granite have undertones of color present in them. Cherry cabinets, for example have red undertones, fir and oak have a tinge of orange while pine and bamboo appear a bit yellowish. These secondary colors may be used as a guide in matching different elements in your kitchen.
– What to avoid: red cherry cabinets on red countertops are a clashing combination. Try to avoid this color as it tends to overpower the natural beauty of the wood.
Going for a more polished modern industrial look, this kitchen combines two different wood finishes for its cabinetry. Overhead and full-sizes cabinets were laminated in cherry wood to match the flooring finish, while the base cabinets, including the kitchen island's uses a dark oak wood finish.
To help tone down and neutralize the seemingly clashing combination of wood finishes, white granite was used on the countertop and the backsplash, creating a neutral-colored surface in between. Accentuating the kitchen cabinets are brush stainless steel track lights, giving this kitchen an industrial look.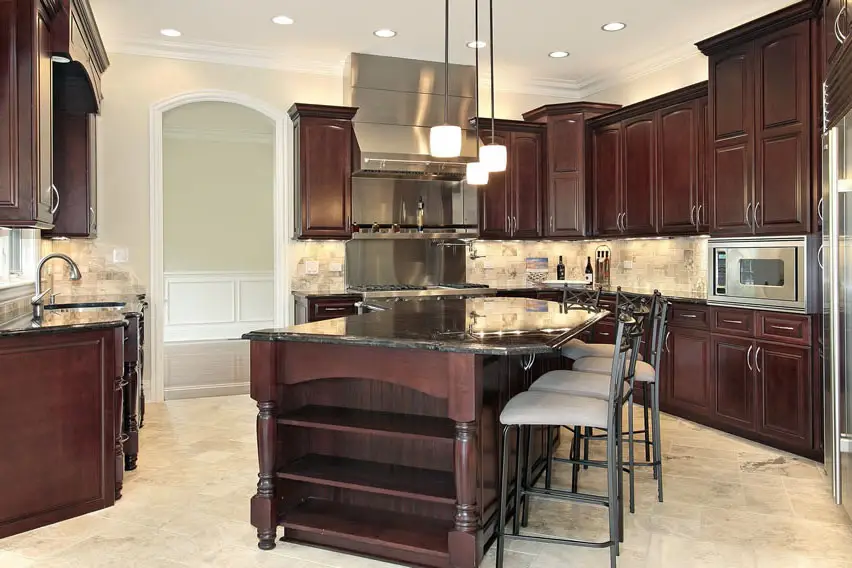 Going for a more elegant and classy look, this kitchen makes use of traditional style kitchen with turned wood details and dark cherry wood finish, topped with black soapstone.
The kitchen cabinets is definitely produces a stark contrast placed against the light cream painted walls, cream stones floors and the matching stone backsplash tiles.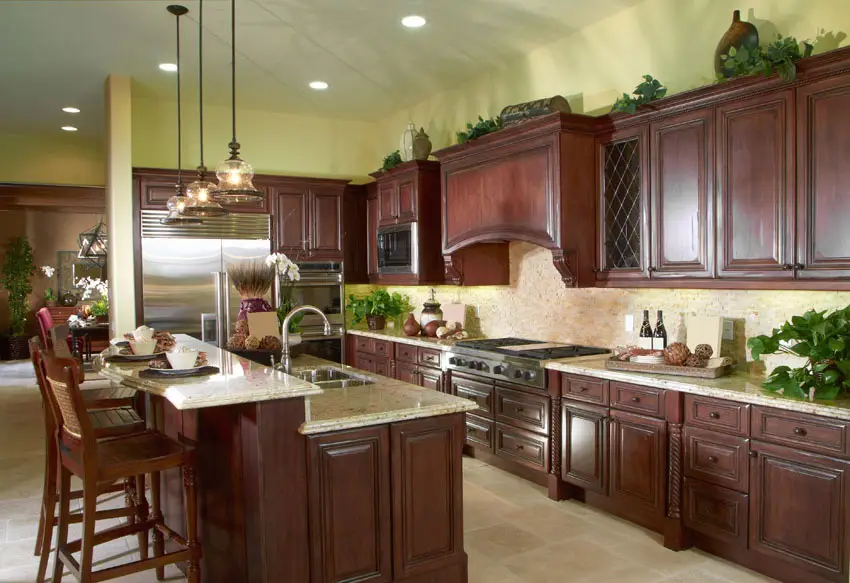 Cherry wood kitchens look amazing with a country-style kitchen design. This kitchen features a country style with more Spanish provincial inspirations, using turned wood details and other Spanish-inspired motifs.
The kitchen cabinets are elegantly paneled with matching wood pulls, and finished in a dark cherry wood color, matching the barstool finish. For the countertop, yellow granite was used and the backsplash uses a similarly toned yellow mosaic tiles.
The kitchen is placed against light yellow walls and pale oatmeal stone floors, creating a light and warm ambiance to the kitchen.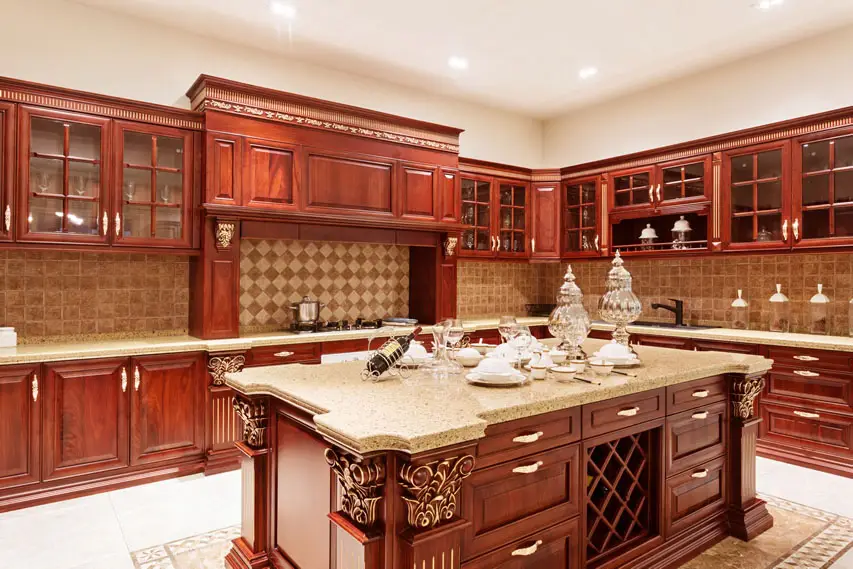 Cherry wood kitchens are often paired with a custom traditional style cabinets that look warm and elegant. These cabinets feature classical motifs which add a touch of gold finish to the carving details, bringing a more elegant and luxurious appeal to the design.
To add to the gold detailing are gold finished pulls, which stands out against the perfectly polished cherry wood cabinets. Helping neutralize the red tones of the wood are the cream-colored walls, white floors and the yellow-cream quartz slab used on the countertops.
Related Kitchen Design Galleries You May Like:
Kitchen Island Ideas – Dark Wood Kitchens – Kitchens With White Cabinets