Here are our best kitchen floor ideas on a budget including pros and cons for each type.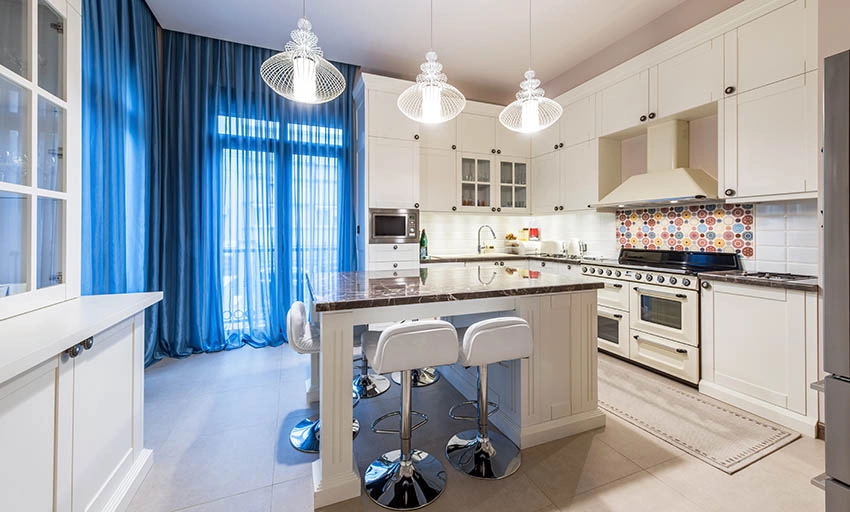 Ah, the kitchen. The workhorse of the house, the budget-eater when it comes to renovations, the room where people gather to chat and nibble while you finish up that holiday turkey. It needs flooring that can stand up to whatever you throw at it and that flooring needs to last. If you are on a budget, you might think that you can't afford flooring that is both beautiful and durable. But, with so many great options available now, you can find affordable flooring that will last a long time.
Cork flooring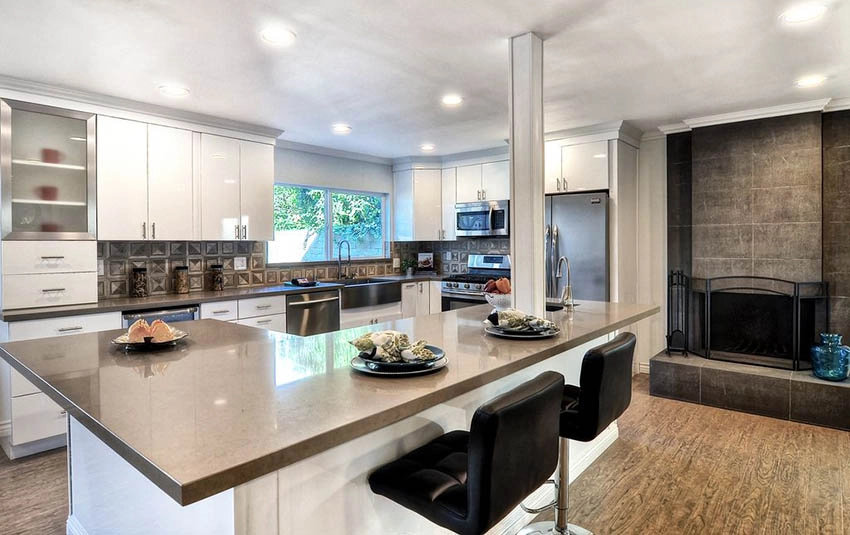 Cork. Cork might be at the higher end of budget-friendly flooring, but hear me out. You might have to go to more than one place, but you can find cork for around $3.00 per square foot if you are patient. Cork is gorgeous, and I might be a little biased because I have it in my own home, but it is truly beautiful.
Durability? Cork has it and then some. It is easy to clean, just sweep it and mop it before it can stain. I can stain because it is porous, but that can be easily prevented with sealant. You can also check off the environmentally-friendly box as cork is simply bark that is peeled from the tree without damaging it and put together with natural resins in most cases, as always, check with manufacturer as corks from China often contain carcinogens.
Cork flooring is hypoallergenic and even has antimicrobial properties and naturally repels most creepy crawlies, making in a perfect choice for kitchens. Cork can be refinished if need be, I've had my cork for 10 years, we are hard on our floors, and it has yet to need refinishing.
It is a great insulator, making it a double-budget buster by helping keep your heating and cooling costs down. But perhaps the best thing about cork, aside from how lovely it is to look at, is how lovely it is to stand on. Cork feels kind of soft and springy, is easy on your knees, is lower impact to walk on that ceramic or wood, and feels great for those super long cooking sessions. So, while it may be at the higher end of budget initially, the savings in energy and the fact that you'll never have to replace it add even more bang for your buck.
Vinyl flooring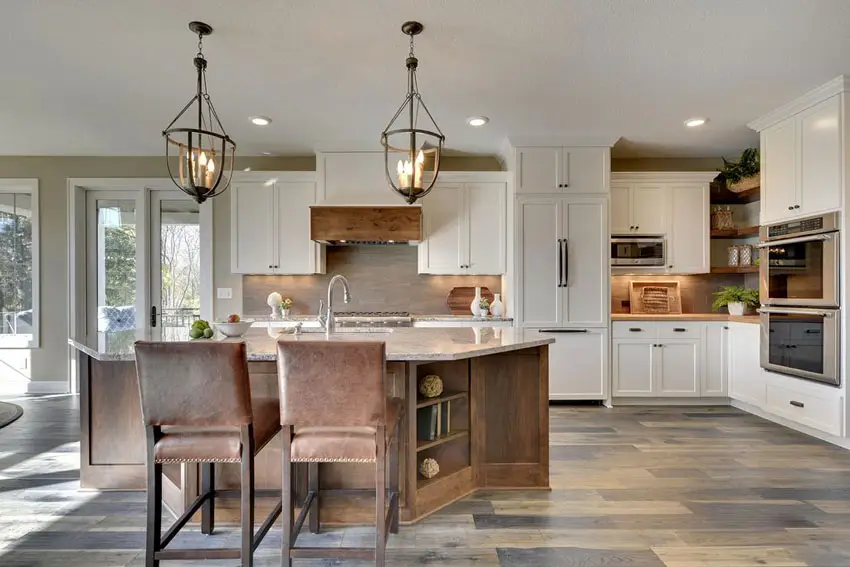 The old stand-by of vinyl flooring, always budget friendly, not always awesome. But that was then, new vinyl flooring has come a long way since the 1970's, or even the 1990's. You can find vinyl staring at about $0.50 per square foot. Vinyl gets bonus points for not needing an underlayment, you can put it right over the sub floor.
Vinyl flooring comes in sheets, planks, and even peel and stick tiles and is super easy to install on your own. Vinyl flooring comes in every single color you can imagine and several colors you didn't even know existed! Patterns, too! It can look like wood, vintage tile, marble, granite, and even Lego's. It is one of the most easily customized options out there and a favorite of even high-end designers because of how flexible it is in terms of creating a look.
Vinyl is easy to care for, just mop it with a mild soap and water. Watch out for pets though, vinyl can be easily scratched and gouged. But it is so budget-friendly, it would be nothing to replace a plank or two if needed.
Hickory wood flooring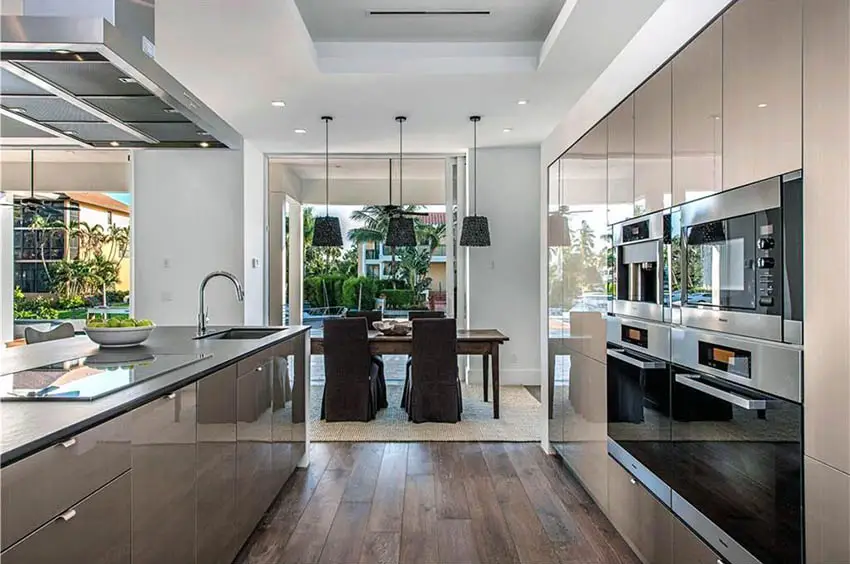 One of the more surprising options for budget-friendly kitchen flooring is Hickory wood. Hardwood isn't typically thought of as budget-friendly, but this wood is available for less than $3 per square foot. Because of the density and hardness of Hickory, it is long-wearing and durable.
The grain pattern of Hickory is unforgettable, highly textured, and highlighted by whatever finish you chose. Hickory can be reddish, light tan, and even dark, rich brown, making it a shoe-in no matter what your decorating style is. Shop around to find the best price, your efforts will be rewarded when you outfit your budget-friendly kitchen in a gorgeous hardwood floor.
Ceramic tiles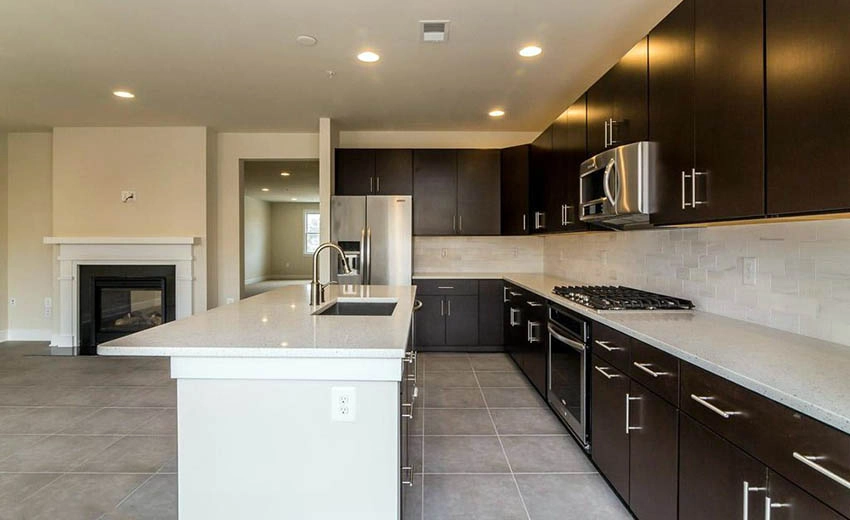 You can find attractive looking budget ceramic tiles in a wide variety of colors, shapes and designs. These tiles are durable and can be cleaned by using a mild detergent and water. Budget ceramic tiles can be found for around $1.00 per square foot and up.
Using ceramic tiles in the kitchen are great because they can withstand spills, and heavy foot traffic. Additionally, they don't absorb odors or bacteria making them useful for large families or homes with pets. A downside to using ceramic tiles is the grout joints can be difficult to clean unless you take special care to seal them properly.
Laminate flooring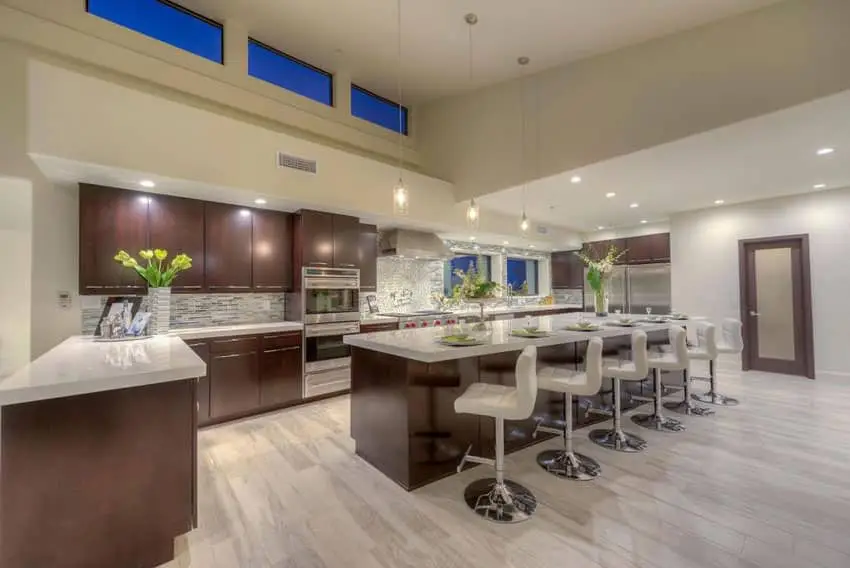 Laminate flooring is made from a hard resin that is not the most durable of materials to use in the kitchen. However, while laminate flooring is plenty durable against scratching and wear, it can be susceptible to water damage. This can happen when water flows between the plank seams and can create buckling and warping. To avoid this one must use care not to wet mop laminate flooring or allow standing water to accumulate.
For those willing to invest a little more money there is a type of "water-resistant" laminate floor material that may provide better protection against a wet environment. For a normal budget friendly laminate floor the average cost per foot is around $1.10 a linear foot. For the more durable water resistant type it can cost $3.00 a ft or more.
Working with a budget can be frustrating, you might feel that your choices are limited and you can't have the floor of your dreams. But with such a broad range of materials available at our disposal, a small budget doesn't have to mean limits.
Are you going to get those granite tile floors on a budget? No, and considering how easily granite tiles can chip and stain, it is a double-budget buster that you don't want to deal with anyway. The options listed here are the only budget-friendly flooring surfaces available, but when you consider longevity and style, these are the best options. Not only are they inexpensive when you purchase them, they will last for at least a decade, usually longer, if they are properly cared for, meaning replacement costs are limited.
Bamboo flooring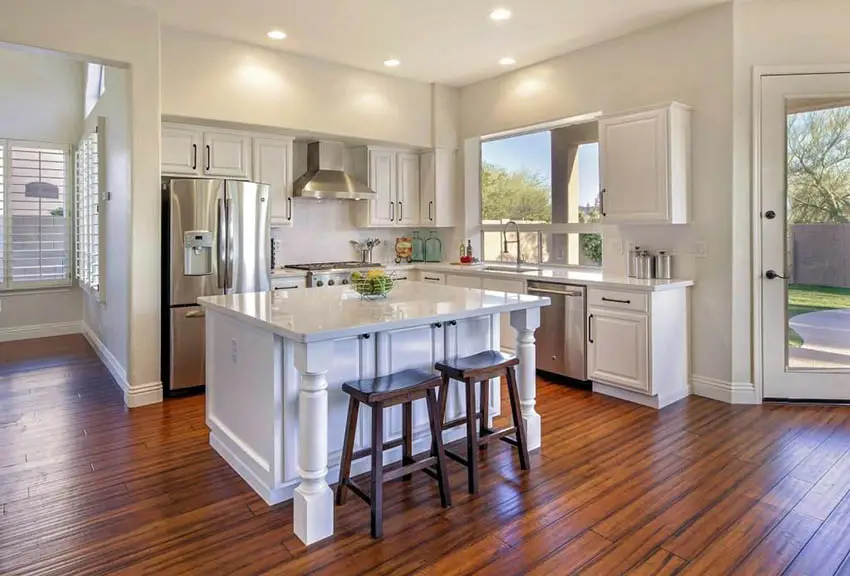 Bamboo is an inexpensive flooring material that makes a great choice because it's a renewable resource. Since bamboo is a type of grass it can grow back quickly after being harvested making it an eco-friendly choice for flooring. Not to mention bamboo flooring is very cheaply priced and can be found for as little as $2.00 per square foot.
Bamboo flooring is also easy to install with edges that click together making it a good choice for the DIY'er. Bamboo doesn't do well when wet, so you must take care to promptly clean spills and avoid furniture that may cause excessive scratching. Felt pads can be used to help protect bamboo flooring and help them maintain their natural appearance.
Related Interior Design Articles You May Like:
Types of Flooring Materials – Best floors for Dogs – Eco Friendly Flooring