Find out all about motorized curtains including what they are, the different types, pros and cons, curtain rods, and the cost required for motorized curtain systems.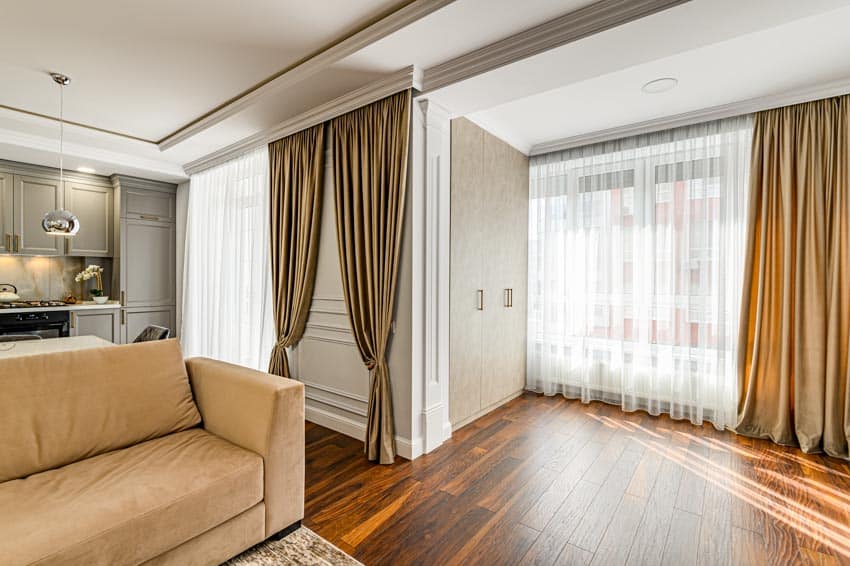 We all have curtains in our homes. They're an excellent addition for a few reasons including helping to add some insulation as well as a comfortable touch to any room. Not to mention, curtains are another decor piece you can use to showcase your own personal style.
If those curtains are motorized curtains too, you get to take advantage of a whole host of additional benefits including everything from style to convenience. These types of curtains offer a lot of the same benefits while giving you a hands-off approach to controlling how much light you let in a room.
What Are Motorized Curtains?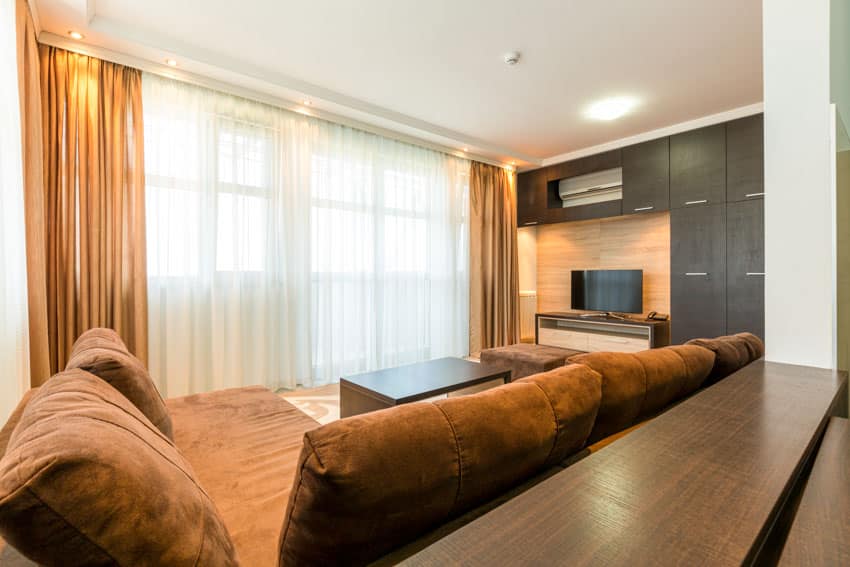 At first glance, a motorized curtain fills all of the same requirements you'd have of a traditional curtain set. They work to block light as you'd like, and they come in almost all of the same styles as traditional curtains.
The only designs that don't lend themselves well to motorization are grommet and rod pocket curtains. This still gives you plenty of options and you can play with different fabrics, colors, and patterns as well.
Where motorized curtains differ from traditional curtains is in how they move. Traditional curtains are moved manually through methods such as pushing them to the side, pulling a drawstring, or twisting a rod.
If you want to let in more sunlight or close a set of motorized curtains, all you must do is press a button. This way, you can adjust your curtains without moving from the comfort of your seat or even when you aren't right there.
Since there are a few different types of motorized curtains, you can take advantage of additional benefits such as safety features or extra insulation depending on the exact model you opt for.
One common concern when it comes to motorized curtain systems is the sound. Given that the system runs with a motor, many assume that motorized curtains make a loud sound when they're running.
Thanks to modern innovations, though, this is rarely a problem. As a matter of fact, the systems running quietly are usually one of the priorities in designing these systems since they're meant to offer convenience without being intrusive or unappealing amongst your decor.
All in all, motorized types of curtains offer you all the benefits of traditional curtains with the addition of modern technology. They're made to offer you more control over the environment in your home at the literal press of a button.
Types Of Motorized Curtain Systems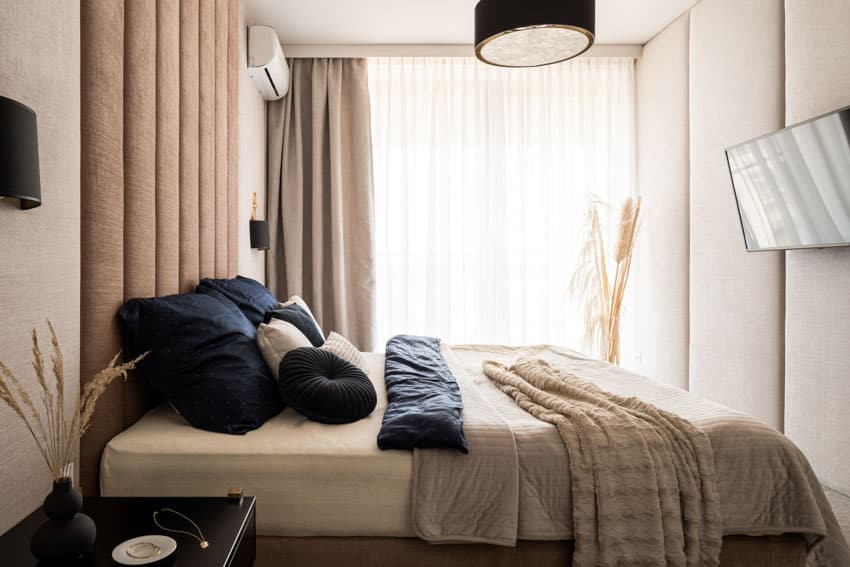 Just like buying standard curtains, you have a lot of different options for the type of motorized curtains you'd like in your home. This includes;
• Cellular automatic curtains,
• Fire-resistant automated curtains,
• Light-filtering automatic curtains, and;
• Zonal automated curtains
Cellular automatic curtains are great when you need a little bit of extra insulation. In fact, if you're feeling chilly and close the cellular automatic curtains in a room, it won't take long before you start to notice the temperature creeping upward.
Fire-resistant automated curtains offer the exact safety benefit that the name promises. Faced with flames, these types of curtains won't catch, helping to reduce the damage a fire can do and hopefully limit its spread.
Light-filtering curtains focus on letting limited light in. These aren't necessarily as all-encompassing as black-out curtains but do their job in at least dimming the light coming through your windows. This is great if you have light sensitivities or just need a little peace during the day because you work a night shift.
Zonal automated curtains are similar to light-filtering curtains. They'll also filter out the light but they'll work to help block some of the sounds outside of your home as well.
As the name zonal suggests, though, these are usually used to control light and sound in certain areas rather than completely insulating a room the way soundproofing might.
Motorized Curtains Pros and Cons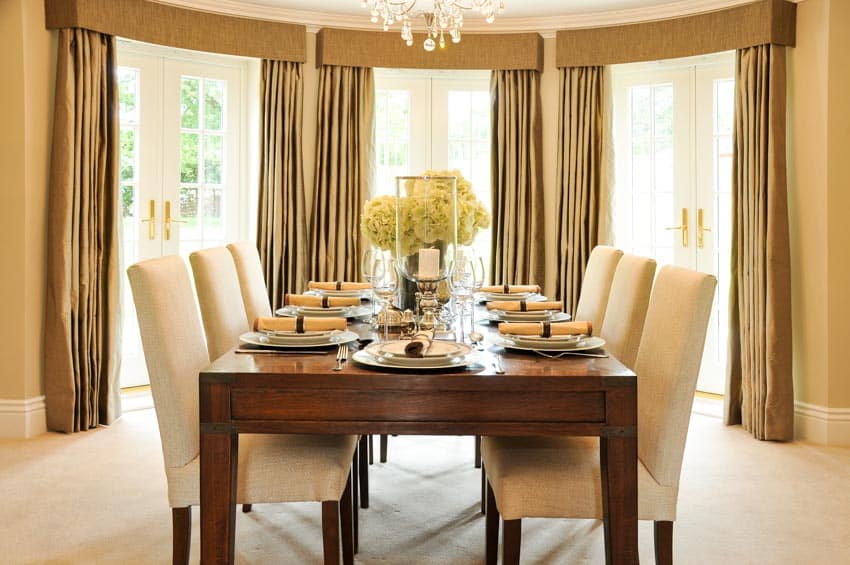 Here we share the advantages and disadvantages of motorized curtains.
Motorized Curtain Pros
Simplicity: There are quite a few benefits that you can take advantage of when you're using motorized curtains. One that comes to mind first for many is convenience.
This is the primary draw of motorized curtains – they do all the work for you! If you want to open or close the curtains or blinds to change the lighting in a room, all it takes is the press of a button.
This automated design helps when you aren't directly in the room either. Did you forget to close the blinds before you left? A remote system will give you control over your home even when you aren't there.
Remote control: These two functions also open the door to a host of other benefits. For instance, the ability to close your shades from afar can give you a greater sense of privacy and security.
Save on energy costs – Similarly, having motorized blinds or curtains on your windows can actually help you save on energy expenditure as well since they help add some insulation too. Without strings, these types of window blinds are safer for kids and pets too.
Block harmful UV rays: More aesthetically, the sun can have some unexpected effects if you have a habit of forgetting to leave your blinds open when you didn't mean to. These UV rays can damage your decor.
Sun shining on a painting or even a leather couch can cause them to pale over time. With a motorized curtain, you won't get caught forgetting to give your decor a break. At least, you'll be able to fix it in seconds.
Many options: Finally, motorized curtains bring a lot of their own aesthetic and comfort appeal just like regular curtains. Even though they're more high-tech than the average curtains, they come in a variety of designs, allowing you to match your decor and tastes with your new curtains perfectly.
Motorized Curtain Cons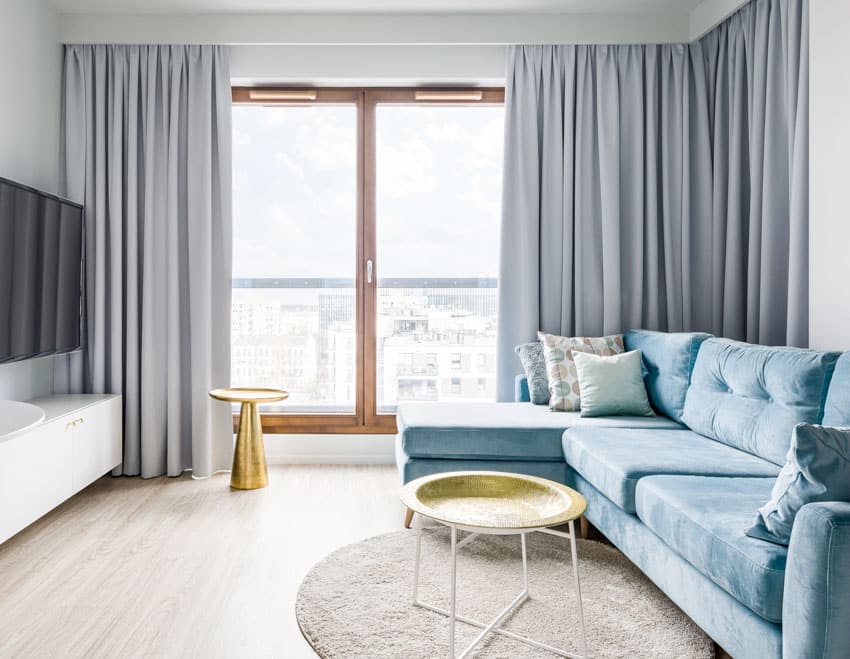 Cost: There are a few drawbacks to motorized curtains in the home. One of the first things people think about is the expense of adding any sort of automatic technology to their home.
While motorized curtains are becoming more affordable, they do still have a higher upfront investment than a standard set of curtains or blinds you would operate manually.
Malfunctions: You might also run into occasional issues with troubleshooting the technology. Just like any other automated item in your home, there's a chance of malfunction or even a problem like a user error.
Luckily, these systems are often improving upon their designs and many manufacturers offer options like warranties and customer service lines. There's also a wealth of information available online to help you troubleshoot common problems.
Installation problems – Some homeowners are intimidated by the installation process for motorized curtains as well. While it's a bit easier when you're used to a DIY project, you can always turn to the instruction manual for help. While it's a bit different from installing the standard set of curtains thanks to the motorized component, the installation process isn't as intimidating as it seems.
Motorized Blackout Curtains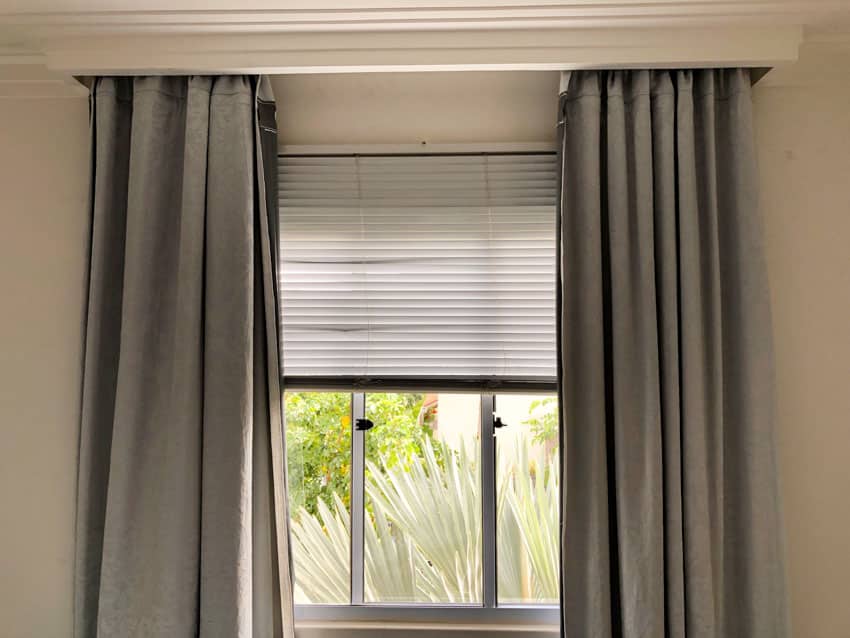 One of the basic functions associated with curtains is their use for blocking light. It's why you might keep your curtains drawn when you want to sleep in or raise them when you want more natural light in a room.
If you really need to sleep in or happen to work nights, you know that some curtains just don't block out enough light. If you want a room to stay dark even during the brightest parts of the day, one of the most foolproof choices is blackout curtains. These types of curtains are specifically designed to help block out as much incoming light from a room as possible.
You aren't limited to traditional blackout curtains either. You can bring them into the 21st century by adding them to a motorized curtain system. Not to mention, that gives you control over your blackout curtains before you even get out of bed. You can even use a motorized curtain system to darken or brighten a room before you even step inside.
Motorized Curtains Cost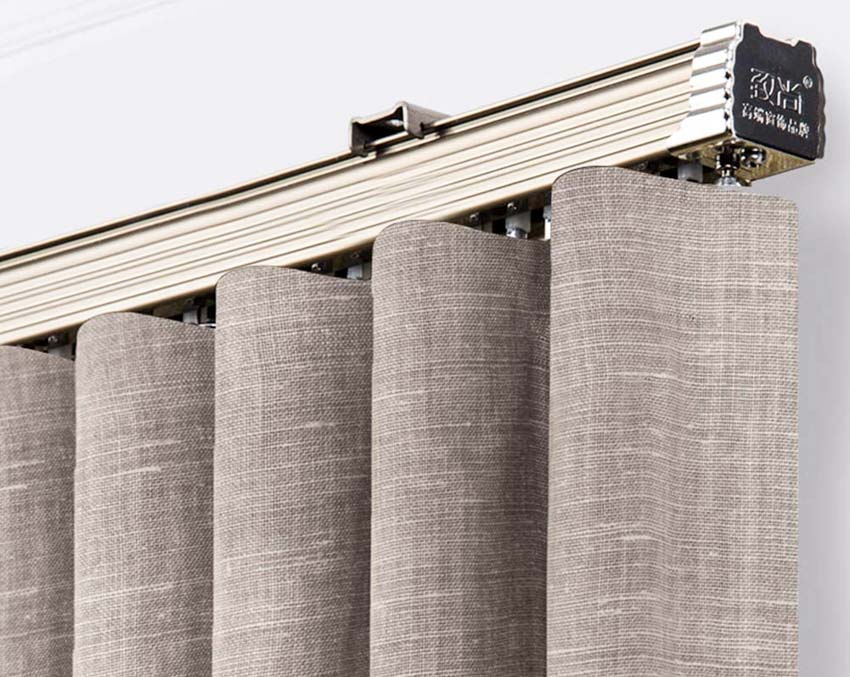 See this curtain railing set at Amazon [sponsored link]
Motorized curtains can vary based on a few concepts to pay attention to. In general, though, you can expect to pay an average range of $350 to $700 for motorized curtains.
Generally, most homeowners end up paying around $500 for one of these systems. This cost includes both the mechanism housing the motor as well as the curtains themselves. It also takes installation costs into account.
We can break this price down further to each of the components here. To start, the curtains themselves vary in price the most. Some blinds and curtains cost less than $100 up to closer to $200.
The second part of the cost comes down to the motor itself. This is what powers your curtains and what moves them when you press a command on your remote or in an app. A basic motor costs an average of about $250 to $300, depending on the model you choose.
When it comes to installation cost, you can find a curtain or blind installation that's less than $100. However, don't forget that more work comes with a higher cost estimate.
Adding one motorized blind is going to cost much less than adding them to every room in your home. The size of your windows and, again, the types of window shades you choose can alter this cost a bit.
How To Control Automatic Curtains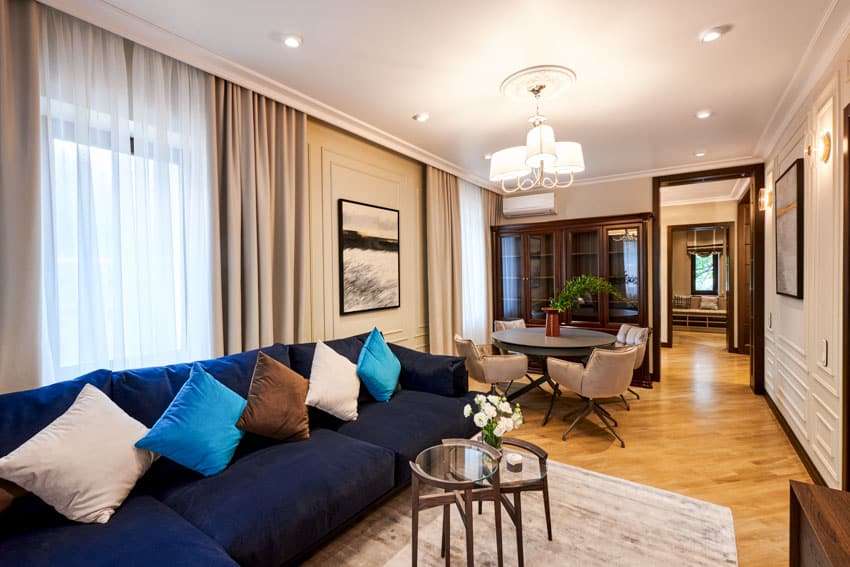 How you control your automatic curtains system can vary depending on the model you choose. At the baseline, most models include a remote with a motorized curtain system that you can use to control your curtains the same way you might use a remote on your TV.
Usually, these remotes are rather self-explanatory. After all, they're made to be easy to use and easy to reference at a glance. If you run into any trouble, though, most manufacturers include a section in the manual on how to operate any controllers like remotes.
More modern, high-end motorized curtains don't stop there, though, and give you control of your curtains through an app. This gives you a few added benefits. For one, you don't have to worry as much about keeping track of a small remote. This is great since if you've ever owned a TV, you know how quickly and easily these controllers can slip away.
In addition, an app offers a wider range of access than a remote since you can control the blinds this way from practically anywhere. Motorized curtains with app control options can help give you more control over your home even if you're out and about.
This means if you leave your blinds open and only remember in the middle of grocery shopping or at work, you can simply pull out your phone and make the change. Some models may have additional options for controlling your motorized curtains such as a mounted wall switch or other sources of commands.
What Is A Motorized Curtain Rod?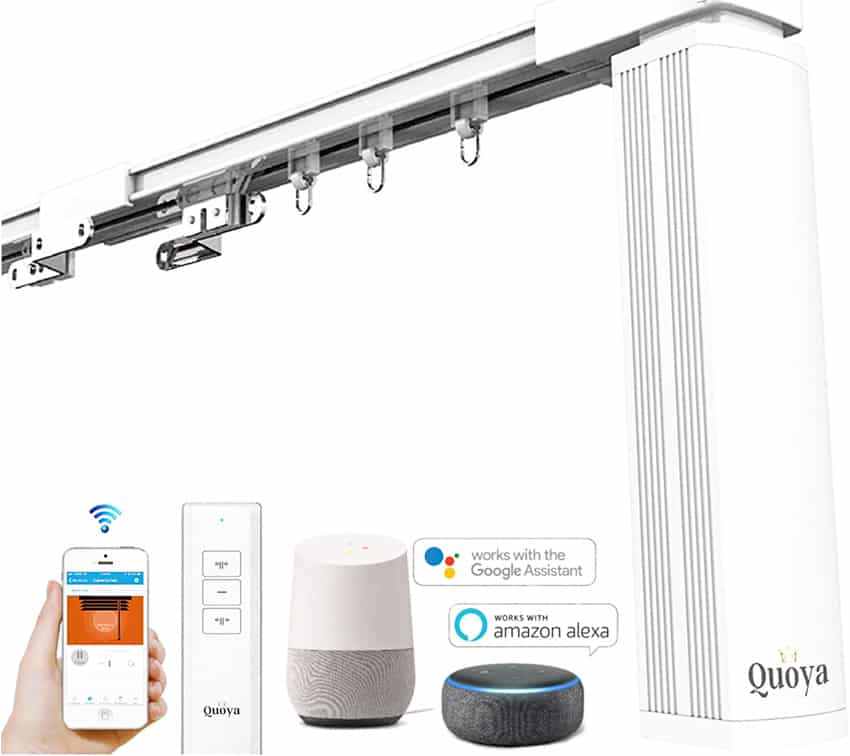 See this smart curtain set at Amazon [sponsored link]
There are a few different ways that a motorized curtain might be designed. However, one of the most common methods is using a motorized curtain rod. In this type of design, the motorized part of your curtain system is the rod and this is where the motor is housed.
This means that when you press the button to open or close your curtains, the motor housed within the curtain rod activates. As a result, your curtain either opens or closes, depending on your command. This motor is only actively running when your curtains are physically moving, meaning the motor doesn't use that level of power consistently.
There are a few reasons why this type of motorization is so popular. Mainly, it's discreet. The motor is slim, so you won't find the curtain rod sizes much bulkier than any other curtain rod you might install. This, of course, makes installation easier and it has an obvious aesthetic appeal too.
Overall, motorized curtains can bring a lot of modern appeal to your home. It gives you all the functional and aesthetic appeal of traditional curtains but with the added benefit of extra control on your part while minimizing effort. Once they're installed, they'll do whatever you need at just the press of a button.
See more related content in our article about the different curtain fabric types on this page.