Find out all about matte kitchen cabinets including what they are, their pros and cons, if a matte cabinet finish is good to use, cleaning tips, and if gloss cabinets are better.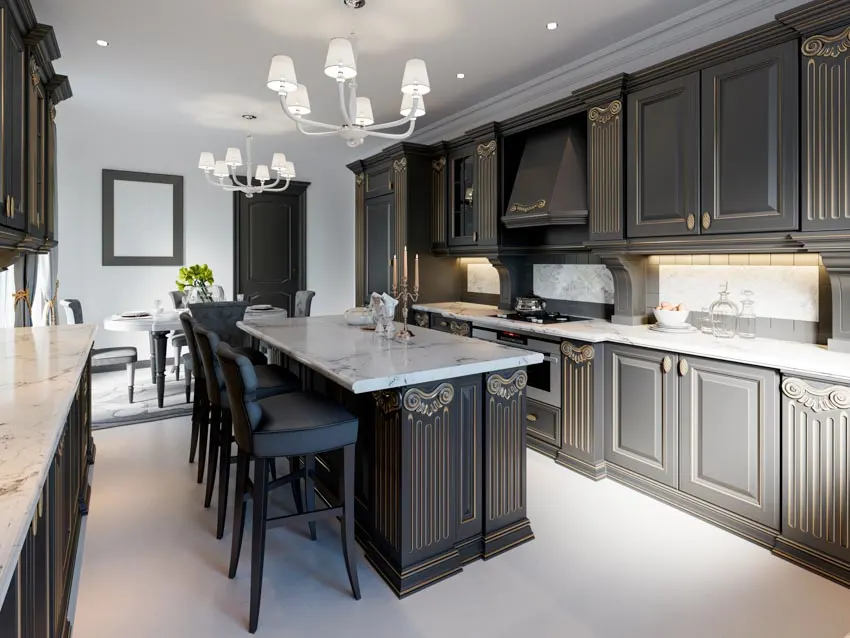 One integral element in kitchen cabinets is color, but it is their finish that gives them a vastly different look regardless of the material. Matte kitchen cabinets are versatile since they go well with many design styles.
What Are Matte Kitchen Cabinets?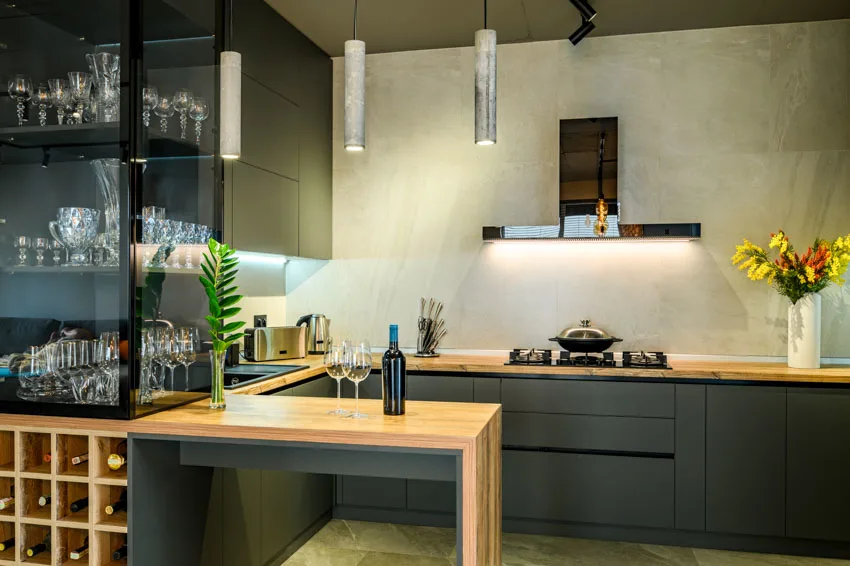 Around five years ago, matte kitchen cabinets started a trend that has taken the kitchen design world by storm. This finish is considered chic and contemporary. Larger kitchen and open floor plans are drawn to matte cabinet finishes since it offers a stunning, sleek look that adds a level of sophistication to the space.
Matte kitchen cabinets are a more modern piece of functional decor you can incorporate into your kitchen, often noted for the elegant finish they can offer. Visually, this finish is the exact opposite of a high-gloss finish, giving you a less reflective surface.
This finish comes with a few different benefits aside from its modern appeal. For one, it doesn't show smudges and stains as quickly as gloss kitchen cabinets. This makes them a great choice for high-traffic kitchens or homes with children or pets. Many find the soft texture a matte finish has on cabinets appealing as well.
Even among matte finishes, it's worth noting there's still a lot of variation. This means that each kitchen with matte cabinets can still have a one-of-a-kind appearance. However, a kitchen with a matte finish will give the color of these cabinets a consistent looking finish across all of the cabinets, like one solid surface because the finish looks flatter and has low light reflectivity.
Matte finishes are more solid and shine-free since they absorb light. Matte black kitchen cabinets, in particular, possess a texture that is smooth to the touch and produces a satin, soft feel that has a subtle and natural appearance.
Matte Cabinet Pros and Cons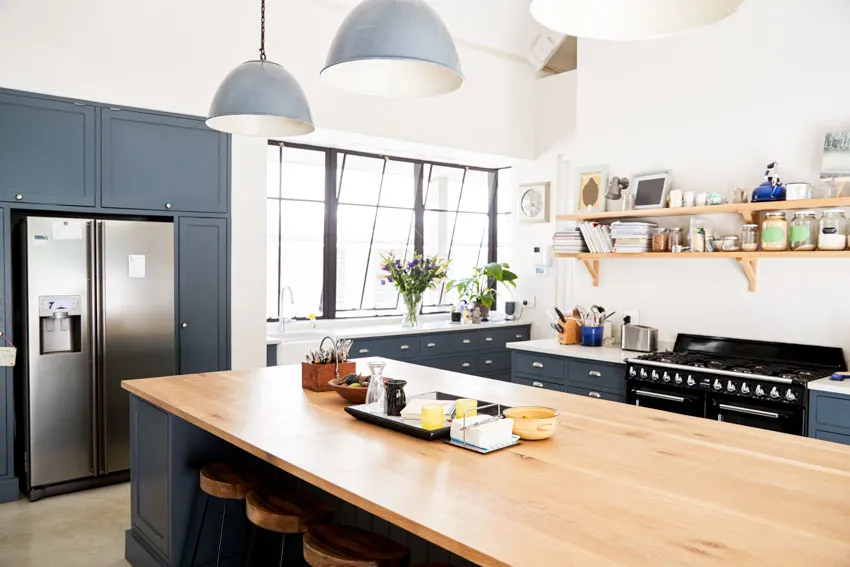 Here we share the advantages and disadvantages of matte kitchen cabinets.
Pros of Matte Cabinets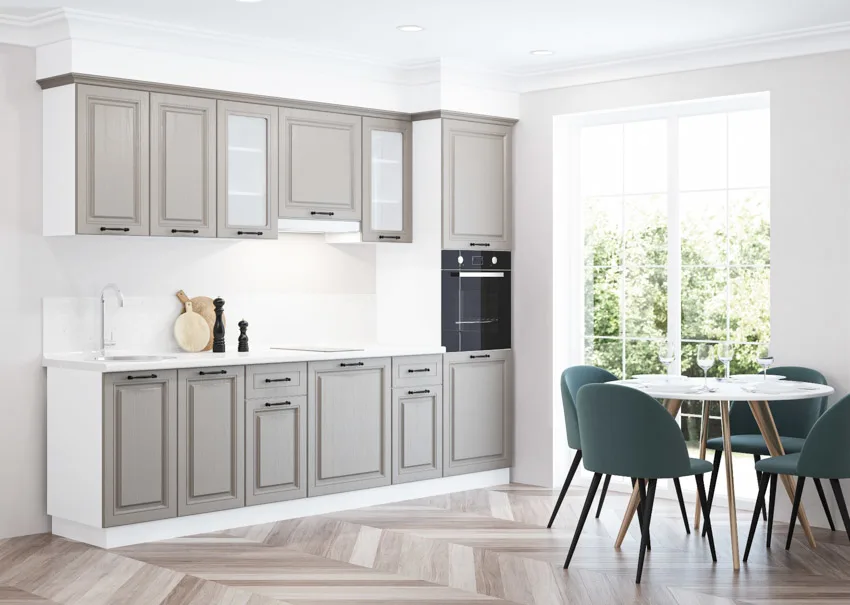 • Matte finish cabinets are becoming popular nowadays in the design of the kitchen after years of glossy finish cabinets had dominated the design trend.
• The elegant look of a matte finish gives off a sense of luxury and its durability reduces the wear and tear from all the use of your cabinets.
• Since matte finish does not reflect light as gloss does, they mask the appearance of imperfections making them less prominent. It initially works as a camouflage to hide smudges, bumps, scratches, and everyday dirt than polished or glossy finish cabinets.
• As mentioned before, matte finish cabinets are soft to the touch and offer warmth that other finishes don`t have. Matte finish cabinets feature a unique elegance and add depth and texture to your kitchen.
• Matte cabinets also enhance the look of your kitchen by adding an extra layer of texture to the design concept. It compliments well with other high-gloss decorative elements like the fixtures, appliances, and most types of kitchen countertops. Matte finish is available in more colors than high-gloss finish.
The use of matte lacquer cabinets or paint for cabinets will give you a matte finish which when applied with traditional tools, would conceal the marks of brushstrokes and the texture of the roller.
Cons of Cabinets with Matte Finish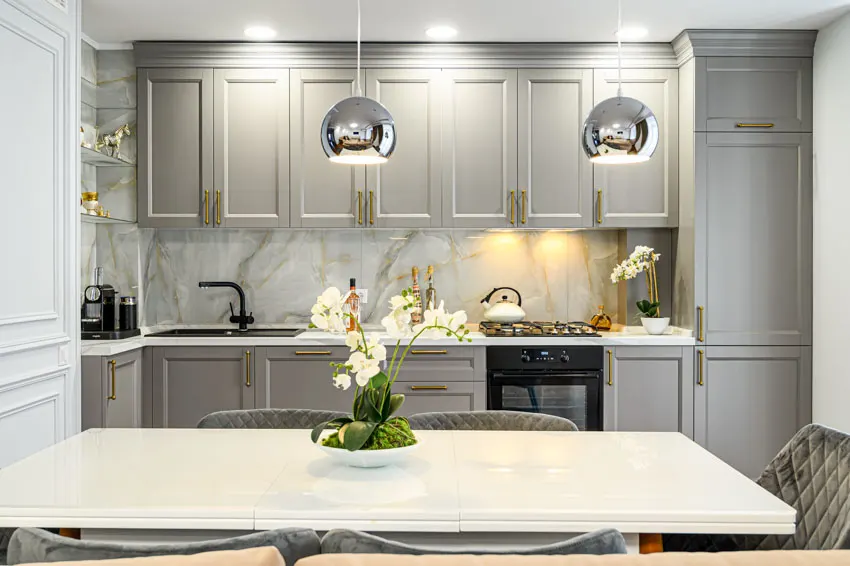 • Since matte finish cabinets absorb light instead of reflecting it give an opaque appearance which will not help to make your small kitchen feel any bigger. It also offers a muted look that does not really pop.
• A matte kitchen cabinet finish with a textured surface will be harder to clean since the textured surface tends to hold onto dirt. Whether your matte surface is textured or smooth, greasy fingerprints and grime will be harder to eliminate completely without leaving smudges behind since the matte finish is more susceptible to streaking and absorption of stains.
• Matte finishes only hide most stains, but it does not really make it resistant to them. Matte cabinets can be a bit tougher to clean precisely because you cannot always see the imperfections as easily.
Types of Matte Finish Cupboards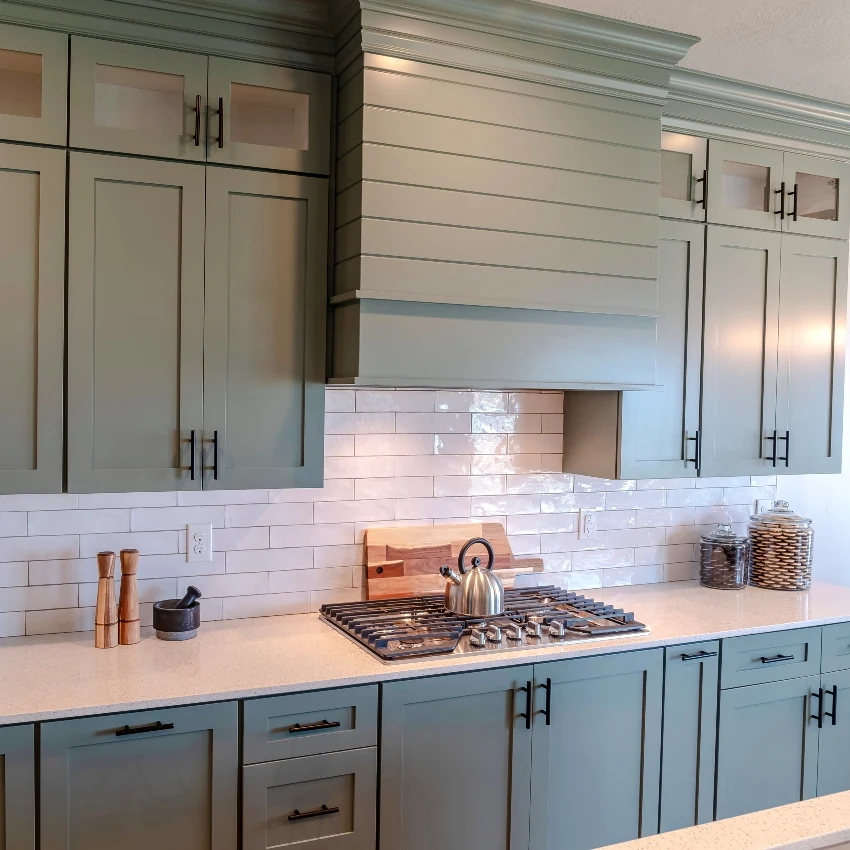 There are a few different types of matte finishes you can choose from when you're considering matte finish cabinets. If you have cabinets you'd like to add a matte finish to, you primarily have to choose between opting for lacquer or paint.
Matte Lacquer Cabinets
Lacquer finishes on kitchen cabinets offer more than just a matte finish visually. They can also help to add some chip-resistance and water-resistance as well. This is particularly useful in a kitchen where the counters will see more use and regular exposure to moisture. Lacquer also boasts the benefit of drying rather quickly.
Matte Painted Cabinets
An option to add a matte finish to already existing kitchen cabinets is to use matte paint on them. Paint differs slightly from lacquer because paint often comes in a wider variety of colors and doesn't always offer the same protective coating lacquer does.
There are a few brands you can rely on when you're looking for matte cabinet paint too. Brands like Benjamin Moore, Sherwin Williams, and Beyond Paint all offer matte finishes that are safe for your cabinets.
Is Matte Finish Good for Cabinets?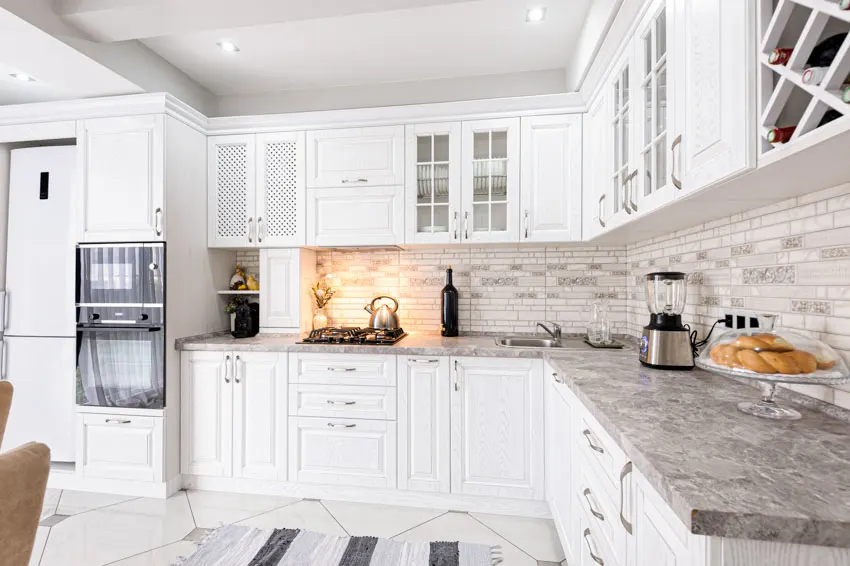 Matte finish kitchen cabinets offer a warmer feel than its sleek high gloss contemporaries. They offer a stylish, country-style or 'flat' finish that works well and really enhances traditional designs, such as Shaker style cabinet doors. The simplicity of Shaker style's cut and design add depth and can create contrast in the design concept.
Given the subtlety and more muted appearance of matte finish kitchen cabinets, combining two matte color finishes can be a way to add contrast that would very well blend with other materials and surfaces and creating a focal point. They work perfectly as a striking backdrop, complementing eye-catching pieces in your kitchen.
There are also many types of materials that are available for matte finish kitchen cabinets such as matte laminate, matte lacquer, matte glass, and matte satin lacquer. Matte finish works with a wider range of properties and may be more naturally suited to the aesthetic of your kitchen.
Matte finish kitchen cabinets could be a perfect choice if you have a busy dining and kitchen area, or if there are children and pets at home because of the benefit of these cabinets to be highly scratch resistant.
When you consider all these features, it goes to show that a matte finish for kitchen cabinets could be seen as a more versatile choice.
How Do You Clean Matte Style Cabinets?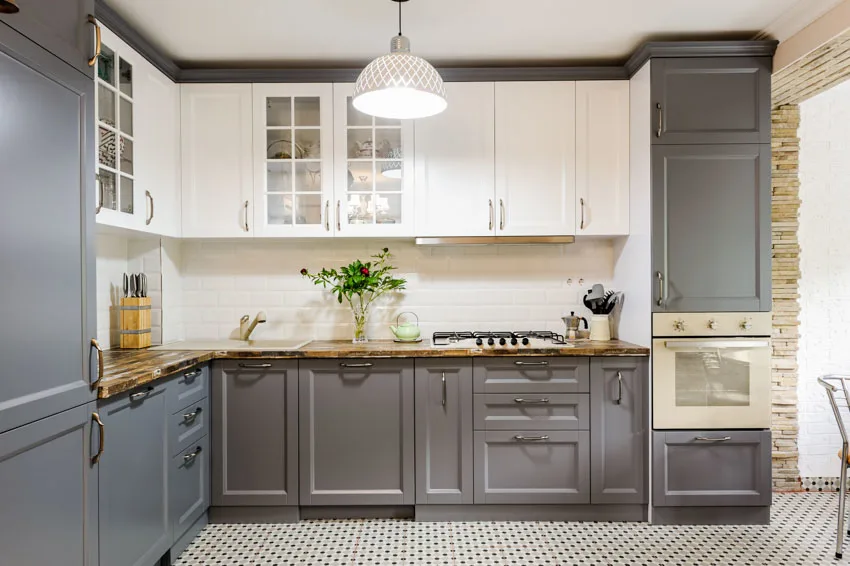 The good news is that matte cabinets are exceptionally easy to clean. For day-to-day messes in your kitchen like a splash of food, it's perfectly safe to reach for mild soap and water.
However, you'll want to be careful not to leave a soapy residue behind which can affect both the appearance of your cabinet as well as leave an unpleasant tactile sensation behind. To skip this residue mess, make sure to follow up your cleaning with a soft rag dampened with warm water to effectively rinse away any leftover soap. You can use another, dry cloth to dry the surface.
Even if you don't see a mess, it's a good idea to get into the habit of wiping down your cabinets regularly. To keep them in top shape, don't forget to clean any hardware like hinges or handles, especially since the handles are frequently touched.
Keep in mind that it is always easier to clean matte surfaces with materials that have a smooth matte finish. There are different eco-friendly ways to clean matte finish kitchen cabinets with ingredients such as vinegar, baking soda, or dish soap that are readily available in your kitchen.
Use microfiber cloths to clean the surface of your matte kitchen cabinets in order not to scratch the surface and it will help keep your kitchen looking sharp.
• Method 1: Using warm water and dish soap or vegetable-based soaps
Oily fingerprints and smudges build-up on your matte kitchen cabinets can easily be removed by using soapy water. You can clean your matte finish kitchen cupboards by using dish soap or vegetable-based soap.
Dish soap: Fill a spray bottle with hot water and add a drop of soap, stir well until the soap is dissolved.
Vegetable-based soap: Mix half a cup of liquid vegetable soap with half-gallon of warm water-to-hot water. For a stronger solution, increase the soap by 1/4 cup.
Application: Soak a soft cloth in the soapy mixture and wipe down the matt surfaces, hinges, and handles. Using the microfiber cloth, rinse the kitchen doors and wipe again with a new dry cloth to remove the excess moisture.
• Method 2: Using white vinegar mixture
Vinegar is a remarkably valuable kitchen ingredient to use in cleaning all surfaces and stains. It is also amazingly effective in cleaning matte finish kitchen doors and removing built-up grease, finger marks, and oily smudges.
Mixture: Mix half a cup of white vinegar in a half gallon of warm water.
Application: Wipe the kitchen doors with a clean cloth or sponge soaked in the vinegar mixture. You can also fill a spray bottle with the mixture and spray it directly onto the kitchen doors. Then rinse them with warm water with a new clean cloth and dry your cabinet with a dry soft cloth. Make sure that you allow the cabinets to dry fully.
• Method 3: Using baking soda and vinegar
Mixing baking soda and vinegar works excellently in cleaning an oven, microwave, air fryer, and even a dishwasher as well as stubborn dirt and grease on matte kitchen cabinet doors.
Mixture: Mix into a paste vinegar and baking soda
Application: Douse a clean cloth with it. Dab the soaked cloth on the surface of the matte cabinet doors. Allow the paste to sit for a few minutes before rubbing it lightly on the surface and then lift off the grime. Next is rinse the surface with clean water and dry cloth.
• Method 4: Using dishwashing detergent and vinegar
Mixture: Mix equal parts of vinegar and distilled water. Add ⅛ cup of the dishwashing detergent. Stir the mixture well. Fill a spray bottle with vinegar-soapy water.
Application: Spray the mixture on the matte cabinet doors and scrub them using a clean cloth, repeating the process until the surface of the cabinet doors is fully clean. Rinse the surface with warm water and a clean, soft cloth. Using a new clean cloth, wipe the surface and let them dry.
How to Get Greasy Fingerprints Off Matte Colored Cabinets
While matte kitchen cabinets typically stand up to messes rather well, you're likely to run into tougher messes from time to time in your kitchen. Things like stuck-on food, splattered sauces, or even greasy fingerprints may not come off with soap and water alone.
In this case, reach in your cabinet and grab a bit of vinegar. You can mix about a half cup of vinegar with a half-gallon of warm water. You can use this to clean your cupboards with many of the same steps we just went over just substituting your vinegar solution for soap and water.
If the mess is particularly stubborn, make a paste out of vinegar and baking soda to clean with, and then rinse off. It's best to patch test this on a less visible part of the cabinet before committing to it.
Are Matte Or Gloss Cabinets Better?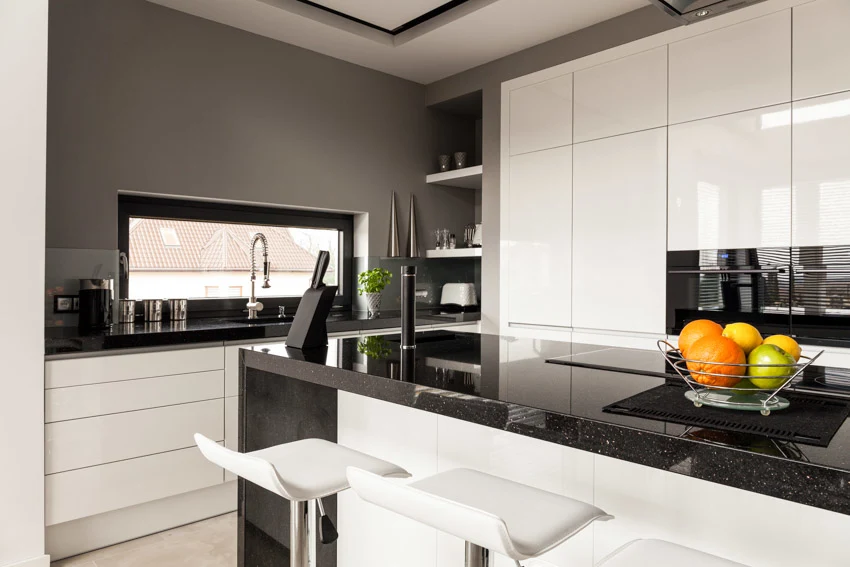 The finish of your cabinets can dramatically affect the way your kitchen looks, and they can dictate their durability and how well they function.
You also need to consider the amount of cleaning these cabinets would need. Imperfections can show up on gloss surfaces quite easily, however, gloss surfaces are quite easy to clean. On the other hand, matte finish cabinets are highly scratch resistant, and fingermarks or smudges are far less noticeable
Both matte and gloss finish offers a chic and contemporary appearance. Matte finishes are elegant, understated, and absorb light, while gloss gives a lustrous look and reflects light creating the illusion of more space.
There are a few key differences to consider when comparing gloss kitchen cabinets to matte kitchen cabinets. The biggest difference is whether they have a finish that's flat or with a high gloss. There are some options with a lower gloss that is still present such as semi-gloss options. Satin finishes are close to matte but have a bit of gloss.
A glossy finish is attractive and it can make the space look bigger because it reflects light. If you opt for matte finish cabinets, this lack of gloss helps to not show every smudge and mess. This means you'll likely spend a lot less time trying to wash away fingerprints. While not as light-catching, matte cabinets are often noted for their sense of luxury as well.
One complaint against matte cabinets is that when fingerprints do show up, they're hard to clean off. Yet, you can combat this problem with the cleaning methods we discussed earlier.
All in all, both have their advantages aesthetically but matte kitchen cabinets tend to pull ahead when it comes to maintenance. If you don't want to worry as much about every streak or smudge showing up, matte kitchen cabinets are a great choice since they won't show as much.
This is especially helpful in a high-traffic area like a kitchen and it's extra helpful in busy homes with pets or children where it's hard to avoid the occasional mess.
No matter what material your cabinets are made of, both matte and glossy finishes could be perfect for the beautiful heart of your home. The decision will depend purely on aesthetics and your personal preferences.
See more related content in our article about high gloss kitchen cabinets on this page.