Here we share our guide on how to make kitchen cabinets look glossy including the materials needed, glossy paint ideas, and what glossy cabinet finish to consider.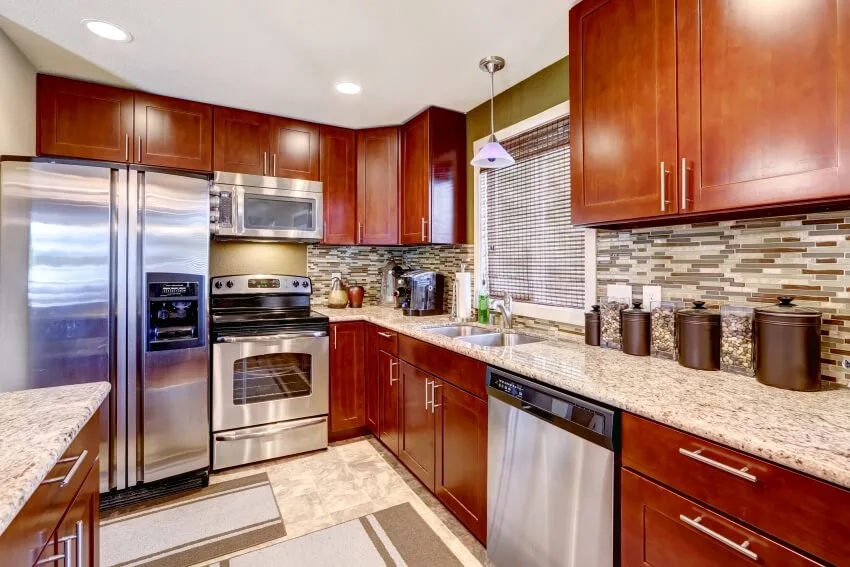 Kitchen cabinets make up the bulk of a kitchen space, and unfortunately, they collect the most grease and grime. Your kitchen is the heart of your home and should reflect your design style. Keeping your cabinets looking fresh and clean doesn't mean an entire renovation.
However, it does matter what type of cabinets you have when you decide to upgrade their look. One of the easiest and budget-friendly ways to spiff up your kitchen cabinets is to make them look glossy.
A glossy finish reflects cleanliness and brightens up a kitchen. Gloss finishes are also easier to wipe clean. You can choose several methods to make kitchen cabinets look glossy; cleaning and polishing existing cabinets, adding a coat of clear gloss finish to painted cabinets, or painting a new color and adding loss as a topcoat.
This guide provides information about what materials you will need, paint and gloss choices, and ways to restore a gloss finish on your kitchen cabinets.
Materials Needed
Several steps to make kitchen cabinets look glossy involve a simple clean and polish method or a new finish. Below are a few tips and supplies you will need for each method.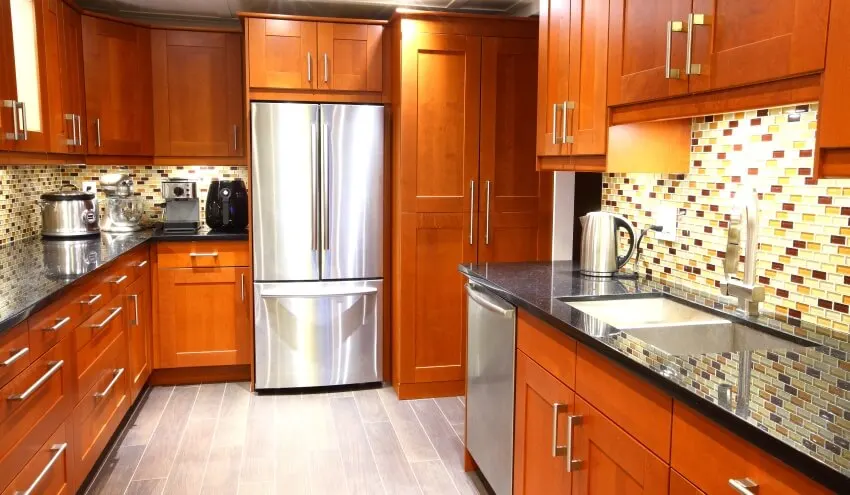 Cleaning For Renewed Shine
Cabinets accumulate grease, dust, food particles, spills, and every other possible type of dirt, being the busiest room in a home. The very first step to refreshing your cabinets is always cleaning. It's essential to remove the layer of dirt, grime, caked-on spills and grease.
While many brands of cabinet cleaners are available, the least toxic, least expensive, and least abrasive is a mixture of hot water, white vinegar, and dish soap.* (Read about how to restore the gloss on kitchen cabinets in the last section.)
If you have natural wood cabinets, restoring the shine may be as easy as cleaning the cabinets with hot water and Murphy's Oil Soap.
• White vinegar
• Dish soap
• Hot water
• Murphy's Oil Soap
*If you choose to apply a fresh, clear gloss coating, you still need to remove all dirt and grease from the cabinets.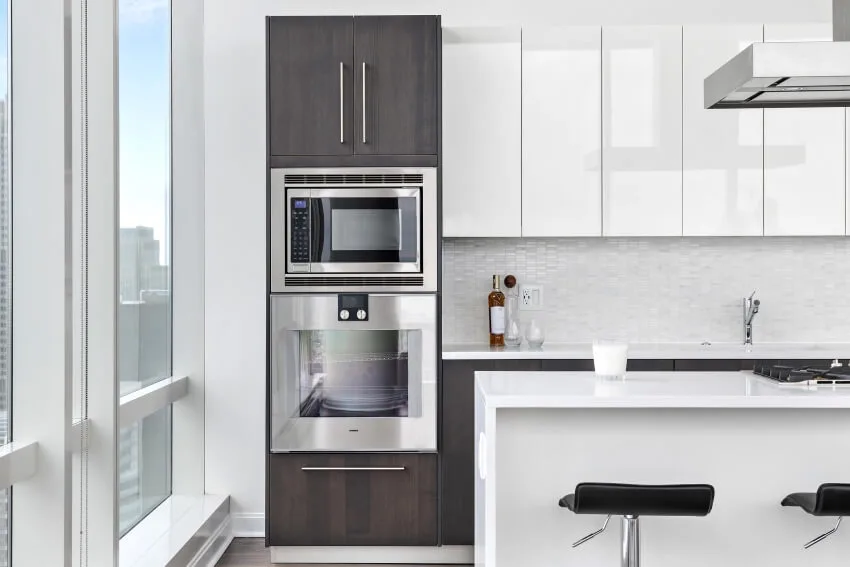 Painting your kitchen cabinets with a latex or gloss paint or painting and then sealing with a clear gloss finish means a thorough cleaning, some gentle sanding, filling in holes or indents, and removing the cabinets and hardware.
While some homeowners choose to use glossy spray paint, this method is very messy. Spray paint gets into everything, even when covered with plastic. Painting with a brush is easier and just as effective as spraying.
Once cleaned, though, you will have to use a professional degreaser spray to get all the grease in the nooks and crannies off so the paint and gloss coating will not peel.
• Degreaser spray
• Latex primer
• Water-based enamel paint or clear gloss
• Power drill or screwdriver
• Clean, dry rags
• Foam sanding block
• Paint tray
• Paintbrushes
What Gloss For Cabinets?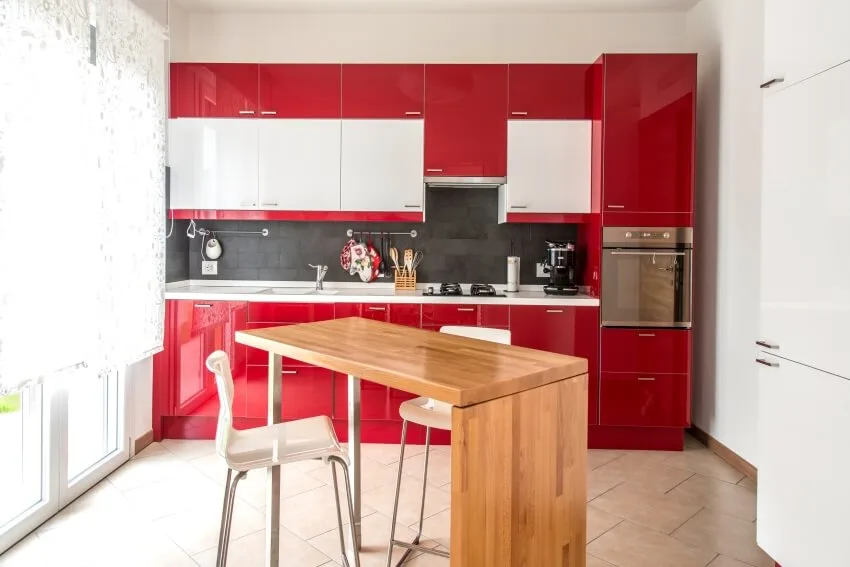 A glossy finish for kitchen cabinets provides a sleek look for your kitchen and adds depth to the color of the cabinets.
Whether you paint a clear acrylic gloss over your existing cabinets or paint them and then apply the gloss, Varathane offers a 200061H Water-Based Ultimate Polyurethane finish leaving a high-gloss sheen for painted cabinets.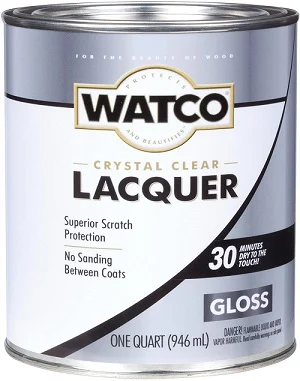 See this Watco 63041 Lacquer Clear Wood Finish at Amazon [sponsored link]
Watco 63041 Lacquer Clear Wood Finish is for stained wood cabinets. These are only two samples of clear gloss finishes. Be sure to find out if the gloss finish is non-yellowing. Some clear gloss finishes may fade to an unwanted yellow tint.
High Gloss Cabinet Paint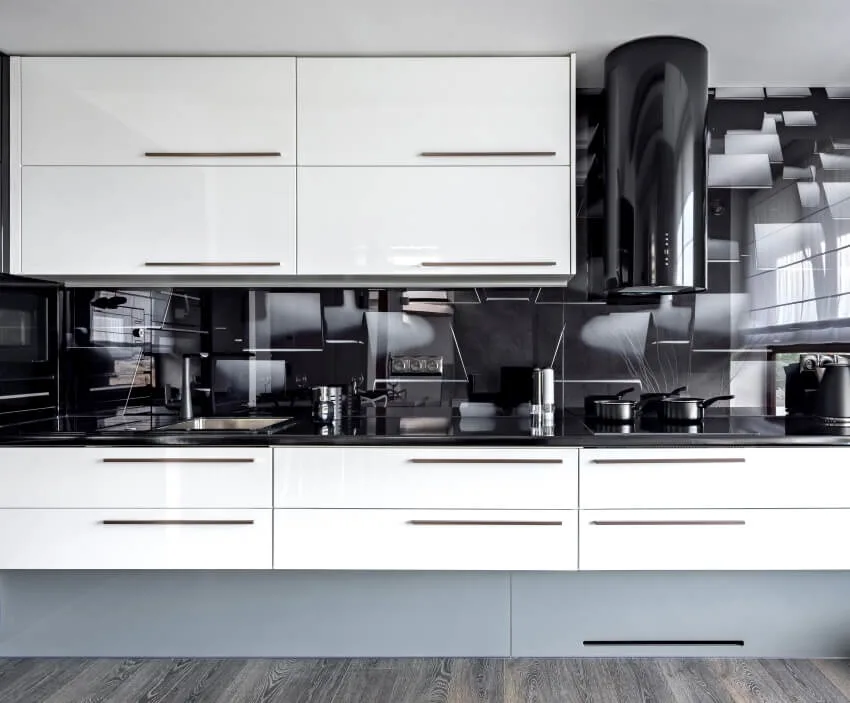 Choose high-gloss, latex paint if you're concerned about leaving paintbrush marks when painting kitchen cabinets. High-gloss, oil-based cabinet paints will show lines easily, while latex paint creates a smoother surface.
Gloss cabinet paint reflects light, enhances the kitchen cabinet's base color and makes a kitchen area look more prominent. High gloss cabinet paint is durable, easy to clean, and resists moisture.
You may need to tape of remove knobs, pulls, hinges and other hardware. Use a ziplock bag to hold the screws and put them an the hardware in a safe place so you can find them later.
There is no surface preparation for painting natural wood except cleaning and light sanding with a foam sanding block. If you have any cabinet damage you can apply putty and smooth it down with fine grit sandpaper.
Typically two coats of high gloss paint are needed. However, if painting particleboard cabinets that have a painted topcoat, cleaning and preparation is more involved.
The cabinets will need to be cleaned with a rag using a solution of 1 cup of white vinegar, ¼ cup of dish soap and 32 ounces of hot water, allowed to dry, and then cleaned with a commercial degreaser.
After the cabinets are completely dry, a light sanding is all that's needed. Stripping isn't recommended as it can break down the particleboard or MDF (medium-density fiberboard) and weaken the surface.
Be sure to set up a location to paint the cabinets and allow for the manufacturer's recommended drying time. Glossy latex paint that isn't completely dry can lead to scuffs and indents.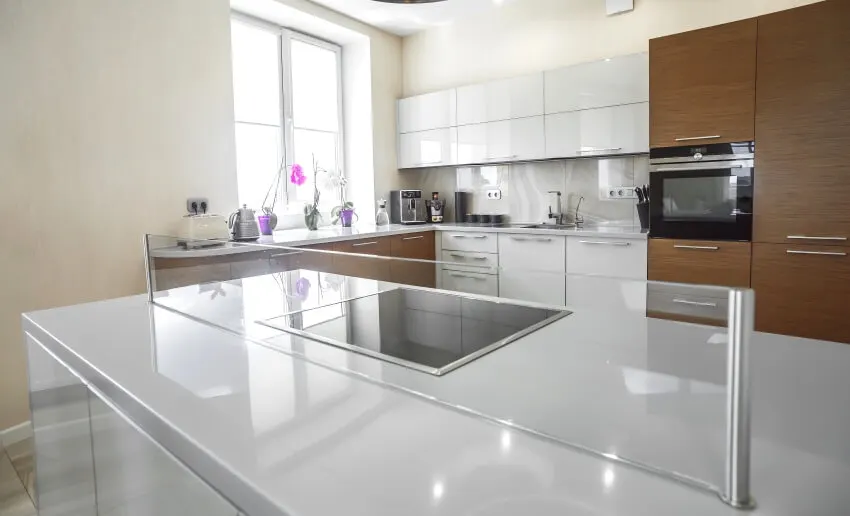 When you shop for paintbrushes, choose high-quality synthetic brushes made for latex paint and gloss.
The best sizes for painting kitchen cabinets are 3 to 4-inch straight-end brushes for the cabinet panels and 2.5 to 3-inch angled brushes for the corners and frames.
Use long strokes of paint and allow it to settle and dry completely before applying a second coat. After your new shiny finish is dry if you removed the hardware you can install all of the knobs, pills and hinges to the cabinetry.

Steps To Make Cabinets Look Glossy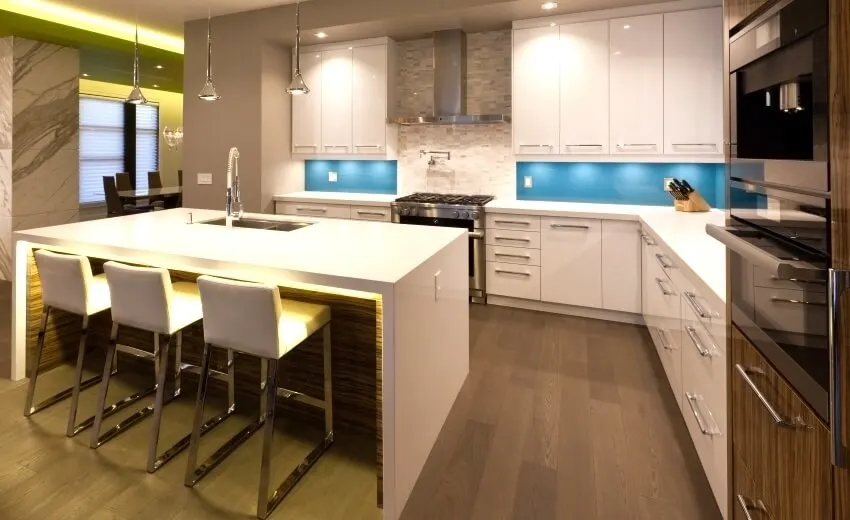 As mentioned previously, natural wood cabinets may only need a good cleaning to restore their glossy finish. The tried and true Murphy's Oil Soap method is the best for removing dirt and grease and leaving a nice shine.
Still, you could shop for wood cabinet cleaners with polish included. Be aware that heavy use of the cleaners may leave behind polish that creates streaks.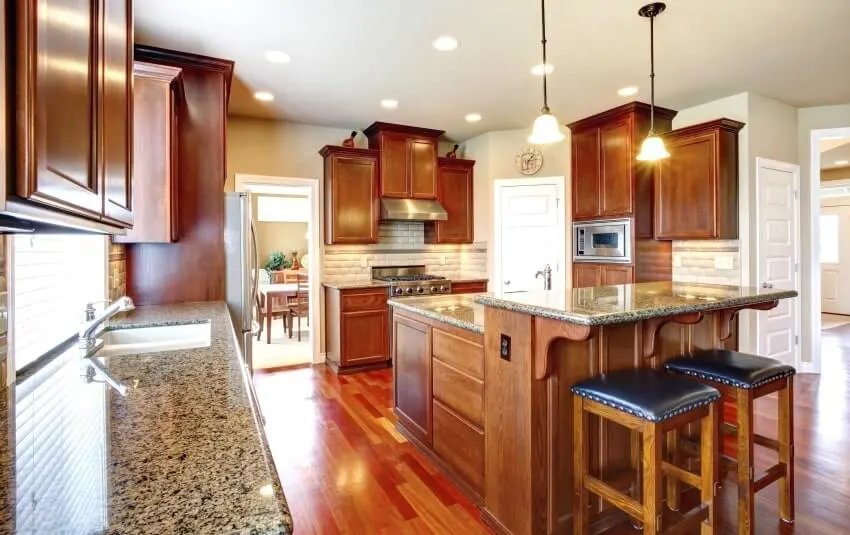 Particleboard and MDF kitchen cabinets typically have a thin coating of paint. The best way to restore gloss or shine is by cleaning them.
The mixture of vinegar, dish soap, and hot water works well with a microfiber cloth, and if there are stubborn stains, a bit of baking soda sprinkled on the cloth can help remove the deeper dirt or stain.
Never use an abrasive cleanser—the surface will be damaged, leaving behind ugly patches of exposed particleboard. If the cabinet color includes a pattern, it'll be challenging to recreate the finish.
Once the cabinets are dry, use a clean microfiber cloth to wipe the surface and restore the original sheen.
Visit our guide to acrylic kitchen cabinets for more related content.