Here we share our frosted glass kitchen cabinets resource including the benefits, door styles, different glass inserts, and what kitchen design goes with frosted glass doors.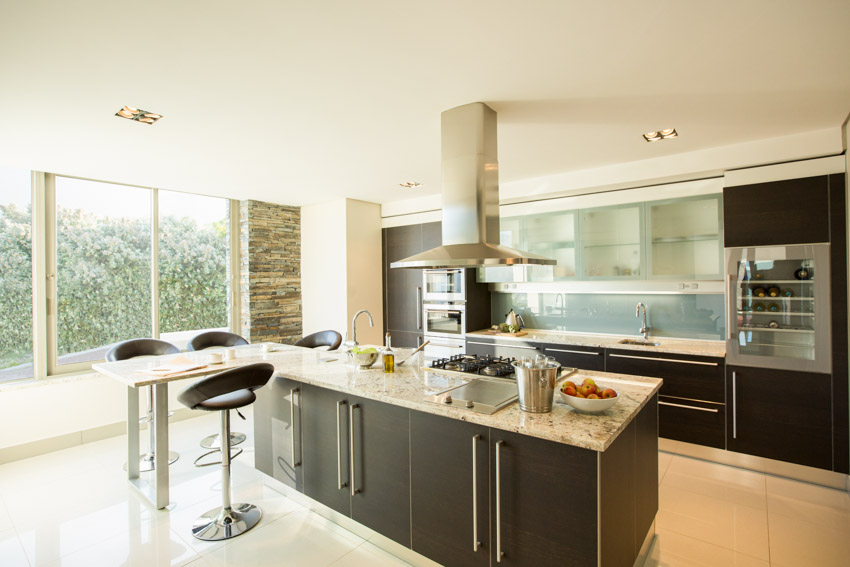 Upgrading the kitchen is an endless pursuit and, honestly, something that many homeowners like. When home renovations are discussed, the first area of focus is often the kitchen space.
It's because this is where the household spends the most time. If you want a significant upgrade in your kitchen's design without really going overboard with the changes, you might want to start with your kitchen cabinets.
You don't have to remove your kitchen cabinets or reconstruct them from scratch completely. There are more ways to change it than just laying on a fresh coat of paint and changing the hardware. You can switch it up by changing the traditional cabinet doors to frosted glass ones.
You'll see that it will transform your kitchen altogether. It's a surprising change but something that you might welcome, especially if you're keen on modernizing your kitchen space.
Frosted Glass Cabinet Benefits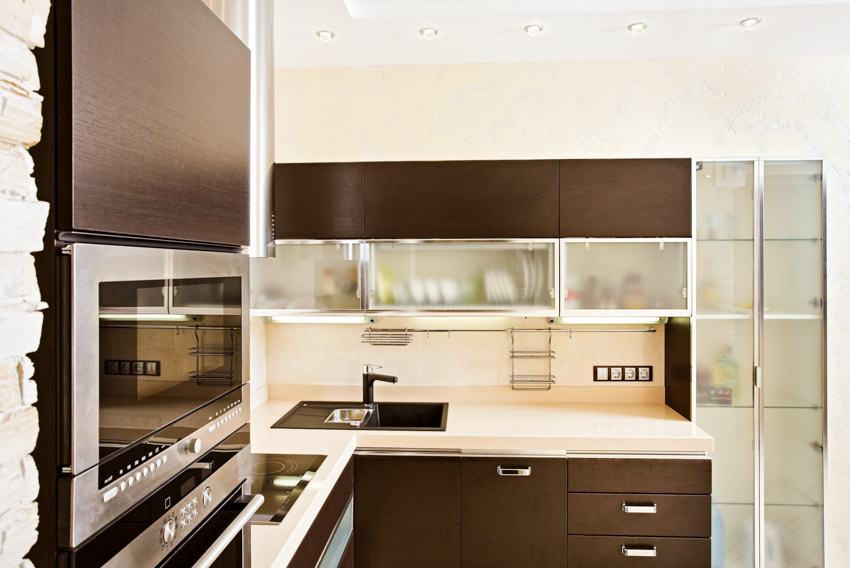 Frosted glass cabinets are readily available and come in flat panels and regular versions. Whatever your kitchen style, color scheme, or design, you can rest assured that frosted glass cabinet doors can completely elevate the look.
They also come in many styles so it doesn't matter if you're going for something that looks modern, traditional, or a little bit of both. There's bound to be a frosted glass cabinet type available in your nearest home store or online.
It's easier to see your kitchenware: As opposed to wooden types of kitchen cabinets, glass-front ones have a certain level of transparency that allows you to peer in and see exactly what's inside.
Frosted glass doesn't let you see entirely through but you do get to see clear silhouettes of the glassware that you happen to be storing inside of your cabinets.
You don't need to open your cabinet doors to know what's inside them. On top of all of this, they're a great way for you to display your glassware and other stuff that you might want to put up without putting them at risk of getting dusty or breaking.
They're effortless to clean: Glass is a surface that's highly resistant to stains. It is also waterproof making them incredibly easy to clean. You have to give them a basic wipe-down, and you're pretty much good to go.
The kitchen is a humid space, and your cabinet doors may be prone to steam, other types of moisture, and even grease splatters. Spray on some basic glass cleaner on the surface, wipe it down, and it's spic and span again.
Since they're so versatile, you can also find frosted glass backsplash. These have the same qualities and can give a contemporary feel to the design.
They're timeless and elegant while at the same time, extremely versatile: This is why frosted glass cabinets are a good bet for your kitchen space at any time of the day and for any kitchen style you may have. If you feel like they may be for you, here are some cabinet door styles you can acquaint yourself with.
Frosted Glass Cabinet Door Styles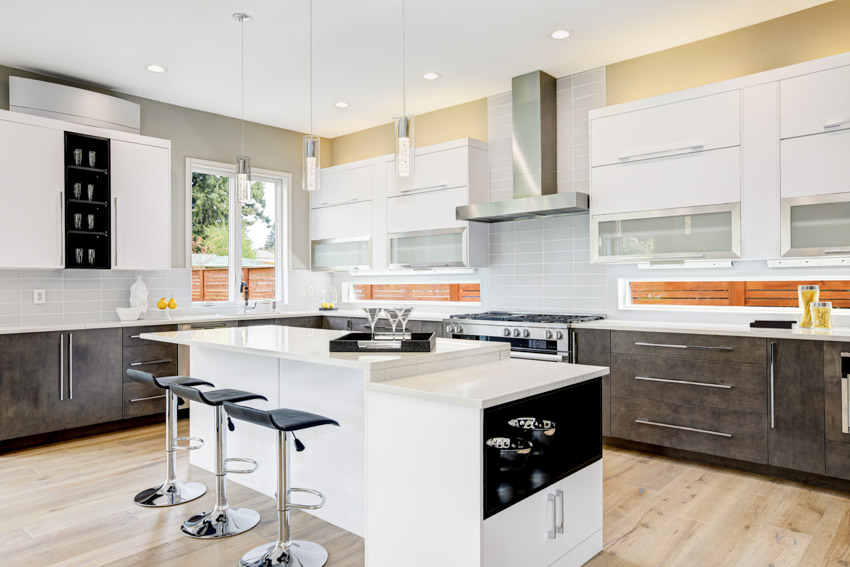 Frosted glass is a type of class that is more transparent but not exactly completely clear. It has a distinct appearance that makes it stand out from the clear glass. Interestingly, there is more than just one type of frosted glass.
Acid Etched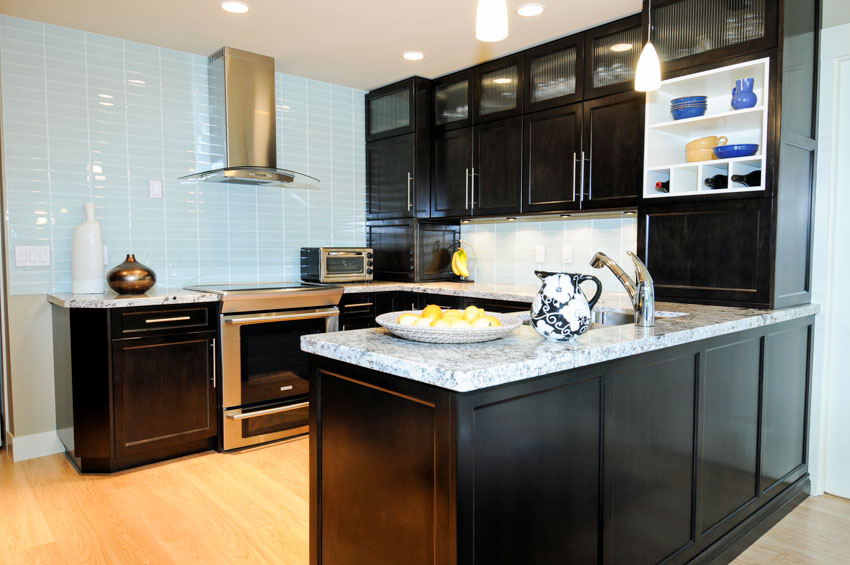 Acid etched glass is referred to as French embossed glass. It is one of the earliest types of frosted glass produced, dating back to the renaissance period. This type of frosted glass is produced because glass artisans would put hydrochloric acid on the glass.
This effect on the glass's appearance is similar to that of applying heated fluorite on the surface. The acid then sort of melts the glass until it achieves a somewhat transparent appearance. The overall effect looks and feels flawless.
This results in high-quality surfaces and the glass artisan gets to control what level of obscurity they give the glass surface depending on the result that they would like to get. Acid etched glass can be further personalized by getting patterns carved into them or even by getting them painted.
They are a less expensive frosted glass option, they have smoother surfaces, and are relatively easy to maintain at the end of the day.In addition to kitchen cabinets, you can frequently find acid etched designs used for different types of kitchen pantry doors.

The only downside to this type of frosted glass is that it is created in risky conditions and created abroad resulting in fewer design options for you to choose from.
Sandblasted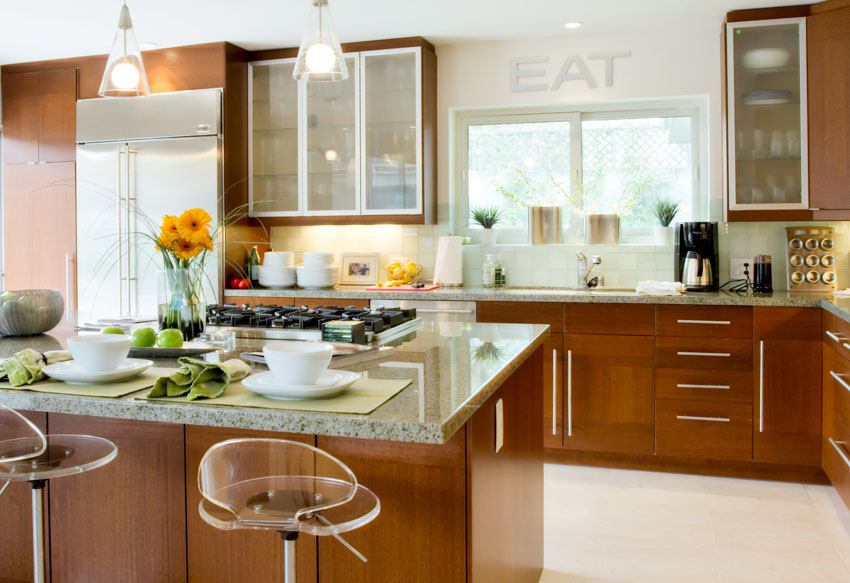 Sandblasted frosted glass is created by bombarding the glass surface with grit and other similar abrasives at extremely high pressures. It's an exciting and highly technical approach to glass decoration and is usually custom-made.
However, there are a lot of generic designs that are widely available. The thing about sandblasted frosted glass is that it has different levels of opacity and gradients. It offers something so much more than acid etched frosted glass ever could.
It's far more durable and doesn't tend to peel or chip over time. It is also more customizable where you get to control or dictate the brightness level of the glass.
A downside to this cabinet door is that it can be a bit hard to clean. Debris and grease from the kitchen can easily settle in the sandblasted areas, and you would have to put in extra care and effort in cleaning the surfaces. Still, it makes for beautiful cabinet doors and is worth considering.
Applied Translucent Film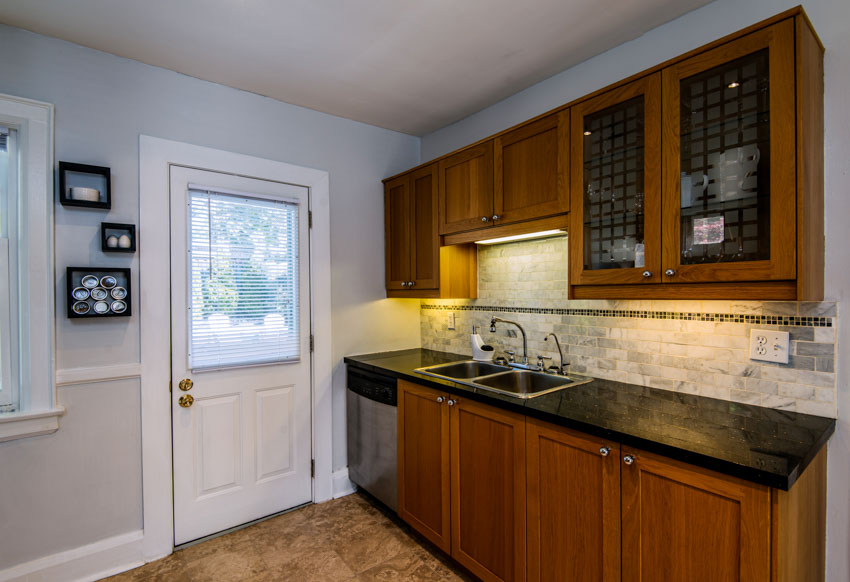 Translucent film or translucent laminated frosted glass is interesting because it stays together even if it breaks. This makes it extra safe if you happen to have any mishaps or accidents in the kitchen that could lead to your cabinet doors failing.
The glass is usually encapsulated in between two or more layers of PVB or polyvinyl butyral. Another film option would be EVA or ethylene vinyl acetate. Heat and pressure are applied to the glass surfaces, along with the layers of film.
This makes the film layers adhere and bind to the glass. This results in a layer of transparent shielding that gives the glass its frosted effect.
Silkscreen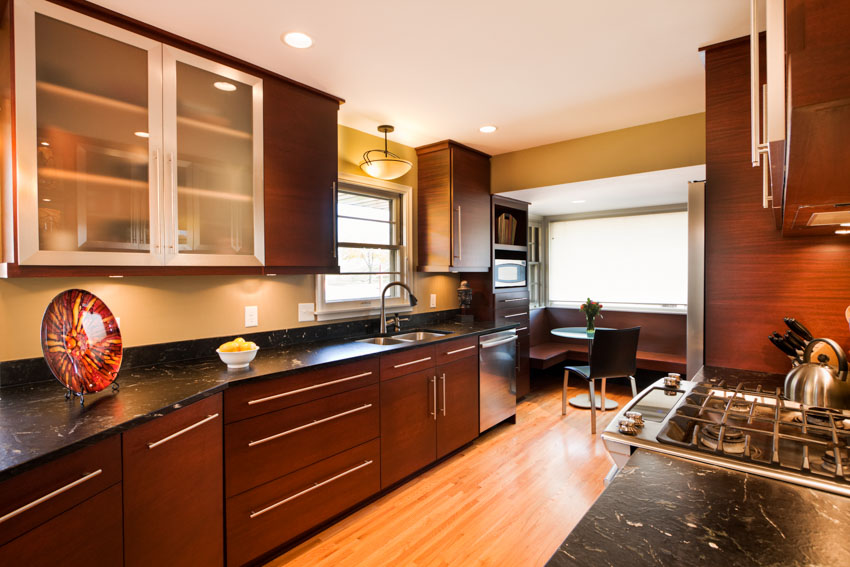 Silkscreen glass is another type of frosted glass that was formed due to the application of ceramic frit on the glass surface. Ceramic frit is a type of paint, and it produces a particular pattern on the glass. This is great for applications wherein unique patterns and colors are required.
This works because raw powdered ingredients are usually mixed in and melted together, applied onto the glass, and then cooled out. This results in a long-lasting adherence to the substance on the glass and further reinforces the surface.
If your kitchen gets a lot of sunlight, having frosted glass cabinets made of silkscreen glass can offer the added benefits of UV protection for the insides of your cabinets. If you have food items and other kitchenware that you don't want to receive sun damage due to overexposure, this is an excellent option for you to consider having.
Frosted Glass Inserts For Kitchen Cabinets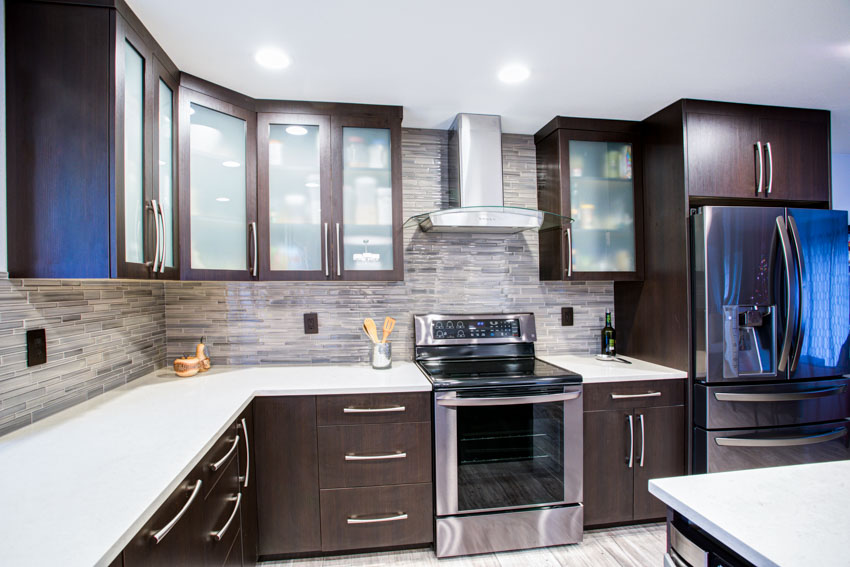 If you want to transform your kitchen cabinet doors but don't have that much budget for a complete replacement of the doors, you can opt for frosted glass inserts instead.
It can be a DIY project you can take on and the end results are something customized, beautiful, elegant, and expensive looking. It's a great way to breathe new life into your wooden cabinet doors.
Remove your cabinet doors: Start off by getting your cabinet doors removed. Pay attention to the types of cabinet hardware being used; make sure that you put them in a designated space, or even a plastic bag or something, and make sure that they are carefully labeled. This will make your reassembly so much easier later on.
Measure out your cabinet doors: Keep an eye out for the tongue-and-groove joints of your cabinet doors. Measure out the inside groove of the doors, and take note of the width and the length. Grooves can be anywhere from ½ inch to ¼ inch in width and depth.
Mark your doors: Mark out the back side of your cabinet doors. Check out the depth of the grooves from the inside and make sure that you mark them out using a carpenter's square.
Cut out your panels: With a circular saw, cut out the depths that you have initially measured. You can use a clamp to secure the cabinet door to your work surface so that you can safely proceed with the circular saw.
Remove the main wood panel: Use a chisel to pry the wood panels free from the frame. Once they've been removed, measure their dimensions. These are the exact dimensions you will need for your frosted glass inserts. You can buy your glass sheets in bulk and score them into size and shape as needed or get them precut from the store. This is why it's essential to take note of the dimensions.
Apply silicone: Do this to the interior sides of the cabinet door frames. Then you can press your frosted glass sheet inserts into place, and allow it to completely dry before you reinstall your cabinet doors.
What Kitchen Design Goes With Frosted Glass Doors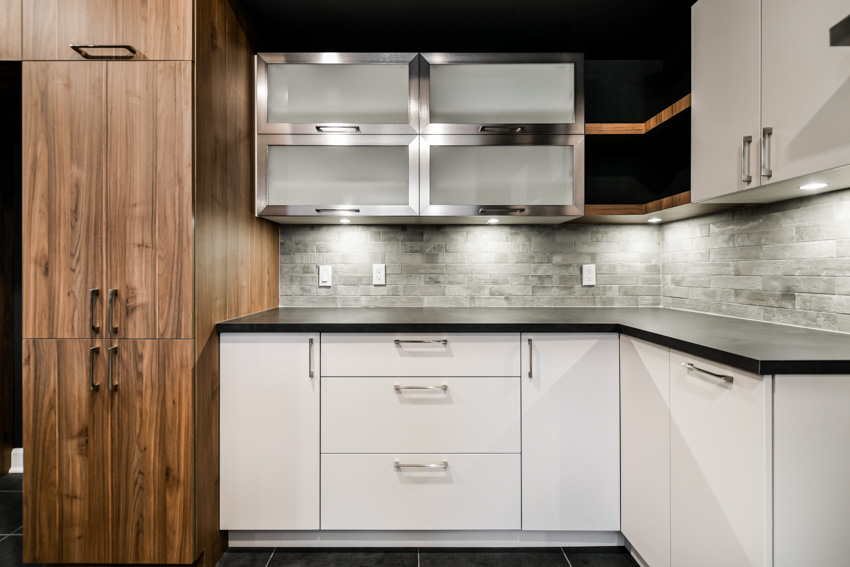 Frosted glass doors, interestingly, can work with whatever kitchen design or style. It can be traditional, modern, or a little bit of both, and you can rest assured that your frosted glass doors will be able to morph right into whatever design you are currently working with.
If you're considering contemporary or modern kitchen designs, you can opt for full frosted glass doors. If you want to keep it classic and traditional, you can opt for frosted glass inserts. Either way, you can rest assured that it can go with whatever aesthetic you may have in mind.
The thing about frosted glass is that it can also come with etchings and patterns. Patterned frosted glass is more traditional and classic, especially when the patterns and etchings are ornate.
They can be floral, geometric, or even lattice-designed. Plain surfaces are sleeker and more sophisticated looking; you can opt for that if that's the end result you're after.
How To Style Glass Kitchen Cabinets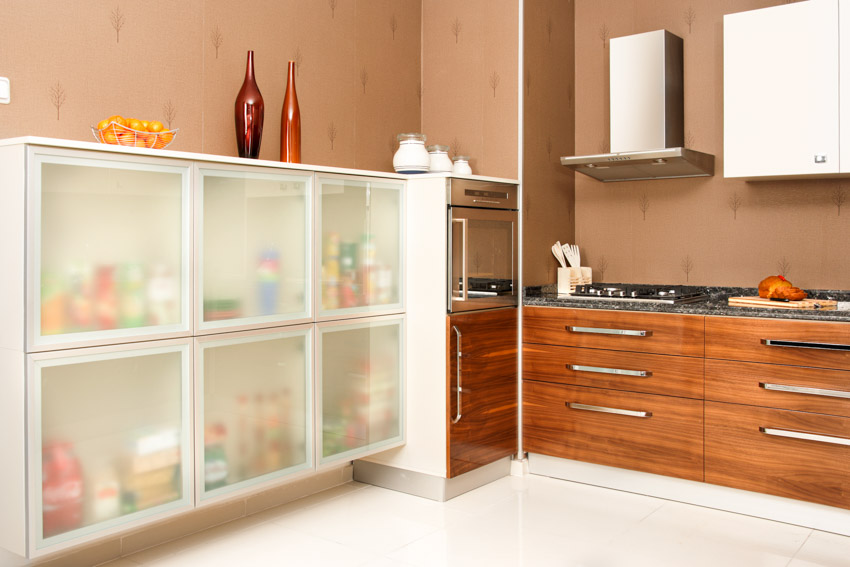 When it comes to styling your glass kitchen cabinets, anything goes, really. It all depends on the kind of look or aesthetic you are trying to achieve.
They can be a bit intimidating initially, but when you consider everything you plan to put inside those cabinets, it makes it a little easier to envision what the end result will look like.
Here are some simple tips and tricks for properly styling your glass kitchen cabinets.
Choose a color palette: It all depends on what the rest of your kitchen looks like. As a general rule of thumb, it would be best to stick to only one or two colors. This will give your kitchen a more cohesive feel, and it wouldn't look too busy.
Of course, neutrals always work best as they don't clash with anything but if you want to be a bit bolder with your color choices, pay attention to the undertones of your kitchen walls and the color of the rest of your appliances as well. Stick to a couple of accent colors or so, and you can't go wrong with the color palette.
Aim for balance: When placing items inside your glass cabinets, look at how it looks from the outside looking in. Shift things around and rearrange them. Ensure one side doesn't look too heavy compared to the others. Sometimes, it can boil down to simple tasks of how high you're stacking your dishes and other glassware inside the cabinets.
Pay attention to your oversized items such as jugs, kitchen appliances such as certain types of blenders, big bowls, and the like. Sectioning them all off to one side can make your kitchen design asymmetrical. Scatter them out and match them with your stacked glassware to look a little more uniform in height.
Make sure that you keep it functional all throughout: As much as we'd like to keep our kitchen cabinets aesthetic, we need to remember that function should always trump form overall. Keep the items that you frequently use reasonably within reach for easy access, while you can keep the seldom used items high up and farther out of reach.
Keep the decorative and oversized items that you seldom use higher up the shelf. On the other hand, make it a point to keep the daily and frequently used items on the lower shelves so that you can easily reach out and grab them with no issues.
Envision yourself working in the kitchen and keep a mental note of the items you would need to grab all the time. Some extra thought on the placement of your cabinet items can make all of the difference in the world.
How To Add Frosted Glass To Kitchen Cabinets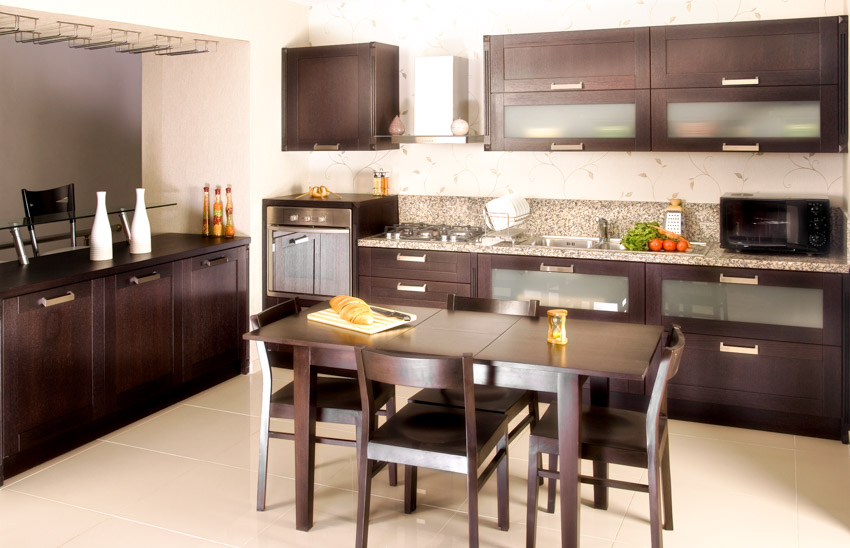 Adding frosted glass to your existing kitchen cabinets is easy to do. You can opt to get it done professionally by removing your cabinet doors altogether and getting frameless frosted glass doors professionally installed.
This can cost a little more but is definitely well worth the cost if you're looking for a complete kitchen cabinet overhaul. This is the best way to go if you have the budget for it. There are a lot of contractors who can get this done in a short amount of time. Although it's a little more expensive, it can be done within a day or so with little to no hassle at all.
Another route to explore would be glass inserts. The kitchen cabinet doors will look a little more traditional since you will be retaining the mainframe that's keeping the cabinet doors together, but it can work if you aren't shooting for an overly modern-looking kitchen.
This is an option that you can opt to do yourself. We've detailed the entire process of getting glass inserts installed above. The benefit of this particular option is that you get the benefits of having a little more transparency in your cabinet doors without shelling out too much money.
You will need a few basic handyman skills to get this done, so make sure that you get it down pat before proceeding. If you aren't that confident that this is something that you can do yourself, you can opt to hire this task out.
It's great because you can still repaint the glass door frames in any color you want. If you're repainting your entire kitchen, you can reinvigorate how your cabinet doors look by applying a fresh coat or so of your desired color.
See more related content in our article about teak kitchen cabinets on this page.