This picture gallery of kitchen sitting area ideas features bay windows, kitchen nooks, fireplace sitting areas, coffee sitting areas, breakfast bars, and other exciting dining options.

Kitchens have always been a multi-purpose space in the house. While some people might regard it as simply a place where meals are prepared, for most families, the kitchen often serves more purposes than cooking. Often, it's a place where the family find themselves gathered to cook, dine or even just catch up with each other.
For this purpose, the design of the kitchen has evolved to adapt to such practices. For example, kitchens from older houses are often separate from the rest of the house, as people used to have servants to prepare their meals for them.
Kitchen Sitting Area Designs

In the modern era, people usually prepare food for themselves, hence the kitchen would either be in an open plan, or placed right next to the dining or living area.
Bar or counter seating also evolved for this purpose; the desire to dine right after a meal is prepared in a location that is very accessible from the kitchen and at the same time be able to prepare meals while entertaining guests.
For people with bigger spaces, more creative / varied options for kitchen sitting areas have evolved. Some people use living room furniture, or a banquette style seating that feels more relaxed & comfortable than formal dining spaces.
For coffee/tea lovers and people who like to spend their time slowly in the morning or afternoon, a cozy coffee area with comfortable lounge chairs is the norm. Basically, anything is possible and there is no wrong answer – anything that responds to your lifestyle is the best design solution.
Below are some creative kitchen sitting area ideas:
Sitting Area In Kitchen Instead Of Table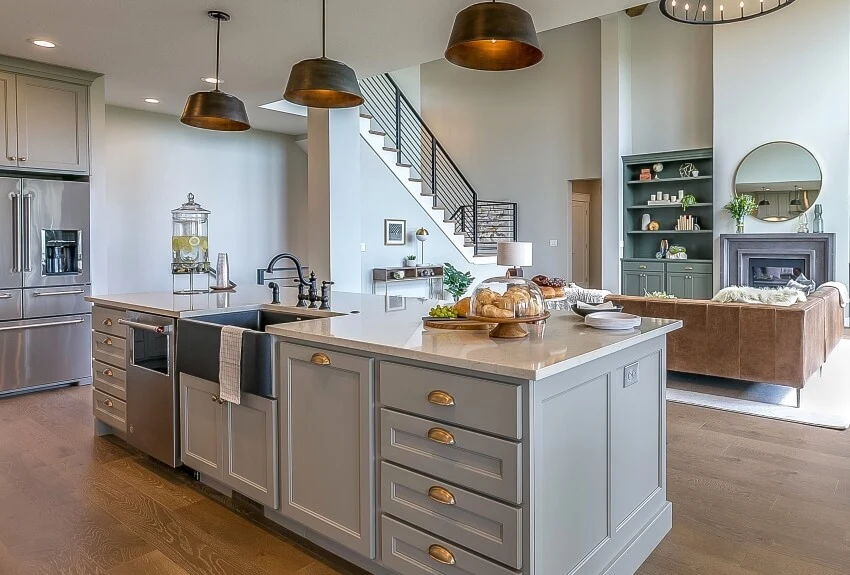 People often visually separate the kitchen from the living area using bar counters. This hides some of the mess from the kitchen, and at the same time, keeps everyone visible even as you run about in the kitchen. Parents would find this layout the best, especially if they have young children they want to keep their eyes on. ​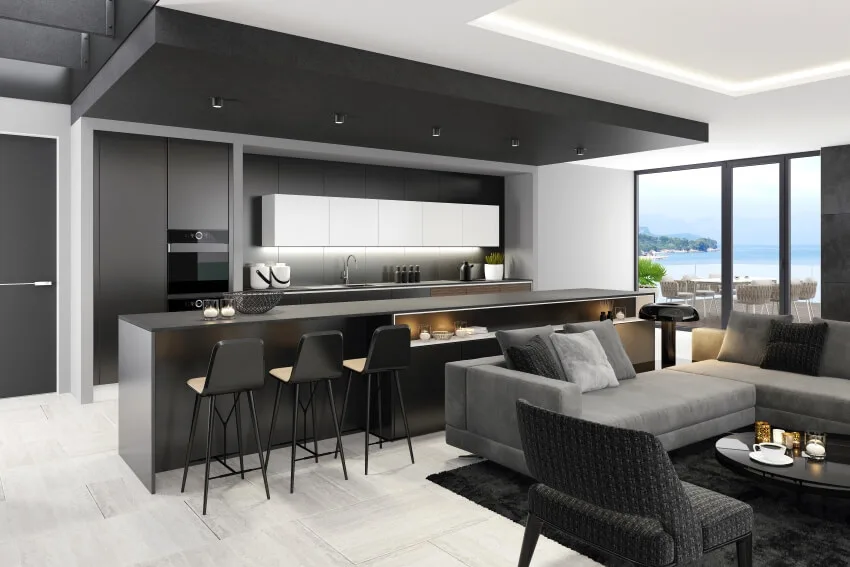 Having a living area or a cozy sitting area is perfect for people who love inviting guests over and people who enjoy conversations. This way you can prepare your food while talking to your guests. You don't have to be invisible, and this kind of kitchen layout gives a more welcoming and casual vibe.
Coffee Sitting Area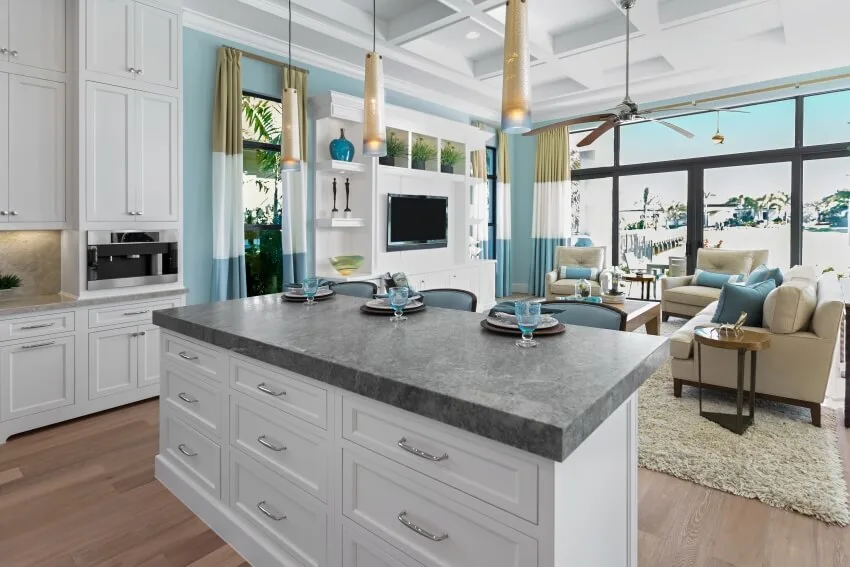 If you have a corner of space to spare in your kitchen, why not put a cozy coffee sitting area? Adding sofas and lounge chairs with a small coffee table is a good way to have a small area where you can lounge with your coffee, or even for your children or guests to sit on as you prepare food.
This layout allows you to interact with your guests even if you're in the kitchen. For this design, the pristine white cabinets give a very clean and modern image that complements the contemporary sitting area while the accents of blue and yellow brightens up the space and gives it a young, nautical look.
Cozy Corner Seat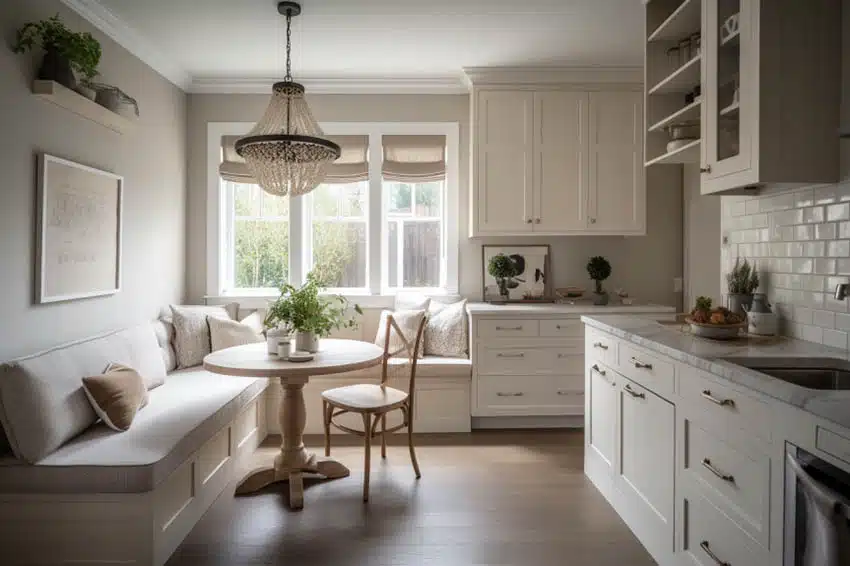 To create a cozy sitting area focus on bringing in comfortable seating options. If you already have seating make sure they have soft cushions and select fabrics and styles the reinforce the design theme of your space.
Just because the space is cozy doesn't mean it should feel small. Increase the appearance of the space by using a lighter color palette combined with plenty of warm lighting. Play close attention to the measurements of the space and don't overcrowd the area with a table and chairs that are too big for the layout.
Open Plan Design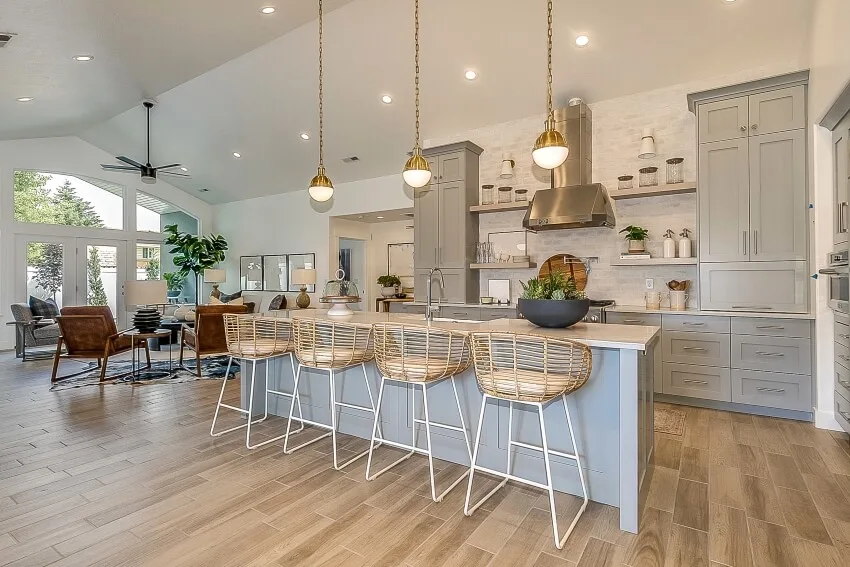 This is an open-plan kitchen with a sitting area at the side. A kitchen island has been used to define the space of the kitchen, along with some wicker counter stools.
At the side is a sitting area with a couple of lounge chairs where you can have a relaxing time drinking coffee, tea, and some snacks.
The combination of neutral colors and the pops of greens from the plants give the floor plan a very laid-back vibe. Fill the empty corner areas of large seating spaces with products like a vase and flowers, lamp, or plants.

Sitting Area Off Kitchen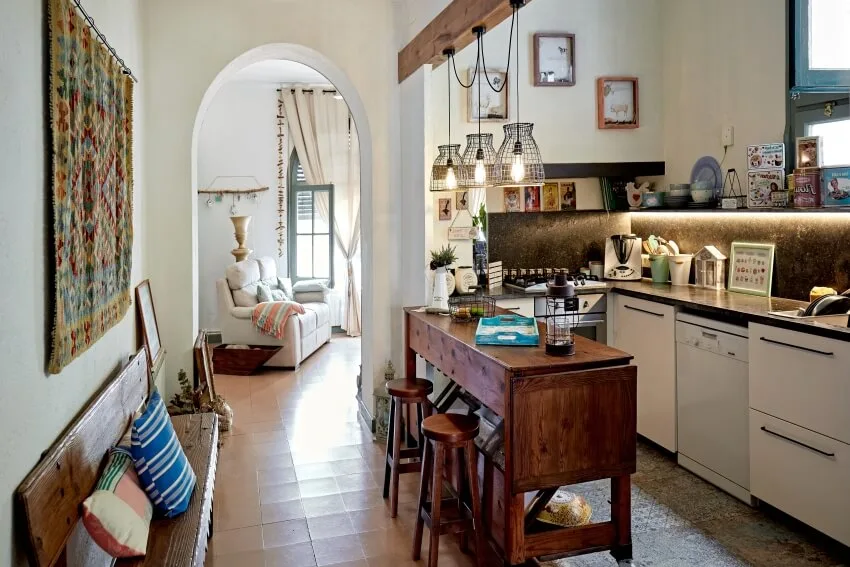 For a small kitchen like this design, a small bench was placed just parallel to the kitchen. Despite the limited space, the addition of the antique wooden bench adds a nice sitting space.
You can even sit there as you wait for your pot to boil! The antique table used as a bar counter and the bench complement each other and create a modern-kitsch look.
Open Plan Kitchen With Seating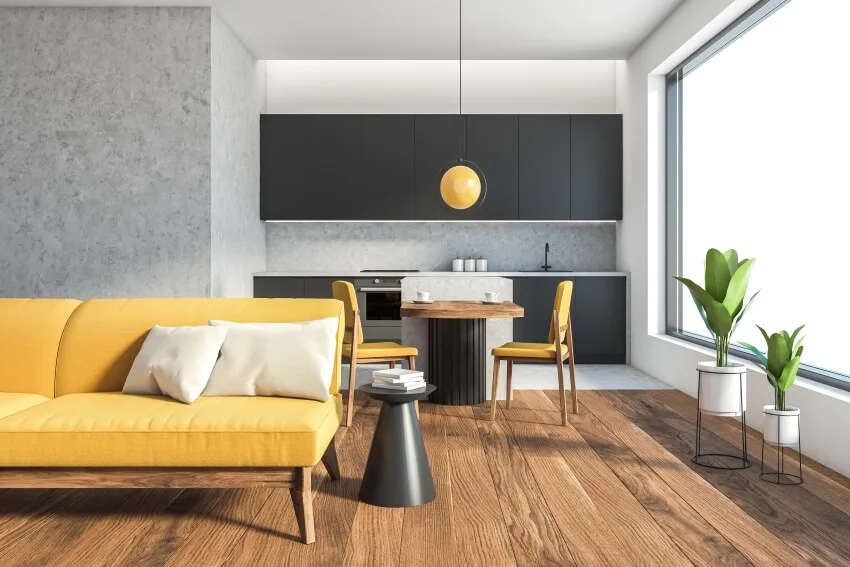 For most modern apartments, space can be very limited, and it is usually the kitchen that is designed to be compact to leave you more living space. These often use open plans, like in this design.
You'll see that this modern galley kitchen has a small kitchen island in which a small dining area is also connected, creating a compact kitchen and dining area. The living area with the bright yellow sofa is also just across the kitchen.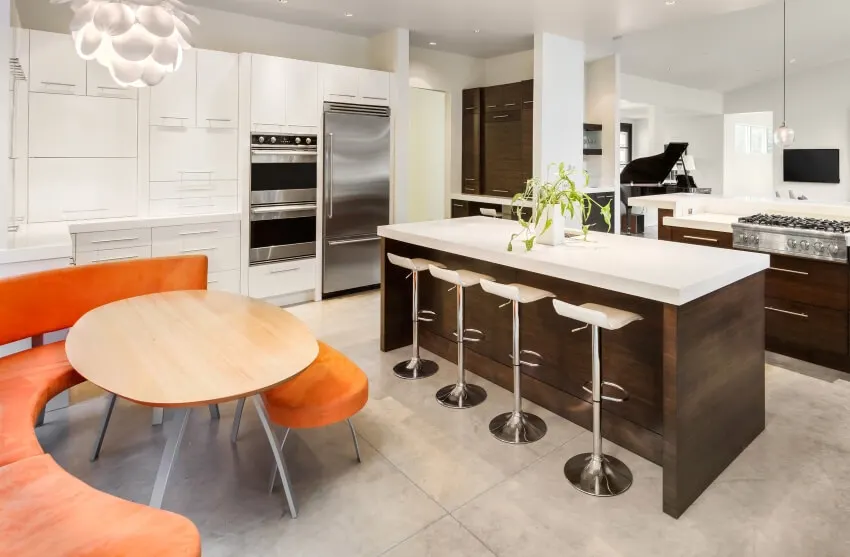 This contemporary kitchen space offers an open concept design. The room layout features a large dining island, breakfast bar island with built-in range and interesting Scandinavian table style and upholstered bench.
Bay Window In Kitchen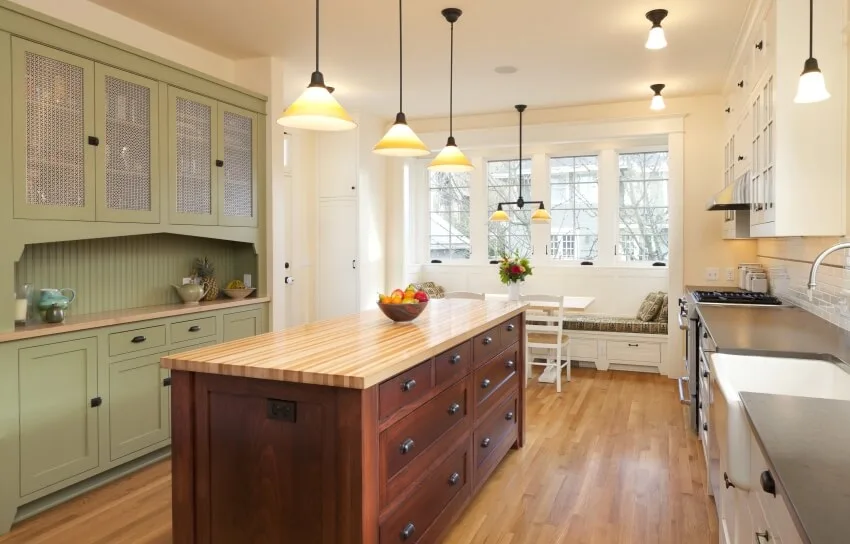 Having a bay window is quite uncommon in newer builds, but if you have an older home with a bay window in your kitchen, you might want it as a cozy breakfast nook, lounge and dining space.
Like in this modern kitchen space, the small bay window was installed with built-in benches and a small dining table, making it the perfect spot to lounge in the morning, reading newspapers while having a warm cup of coffee.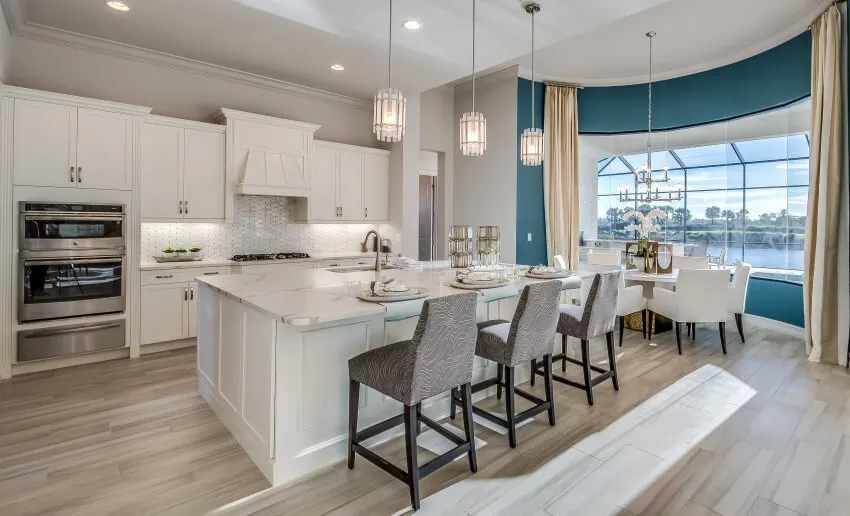 If you have an irregular-shaped bay window like this example, you can also add a small, informal dining area to the space. For this design, a round table was used so that it follows the shape of the semi-rounded bay window. It uses cozy armchairs for the dining chairs for a more lounge style and relaxing look.
Kitchen With Fireplace Sitting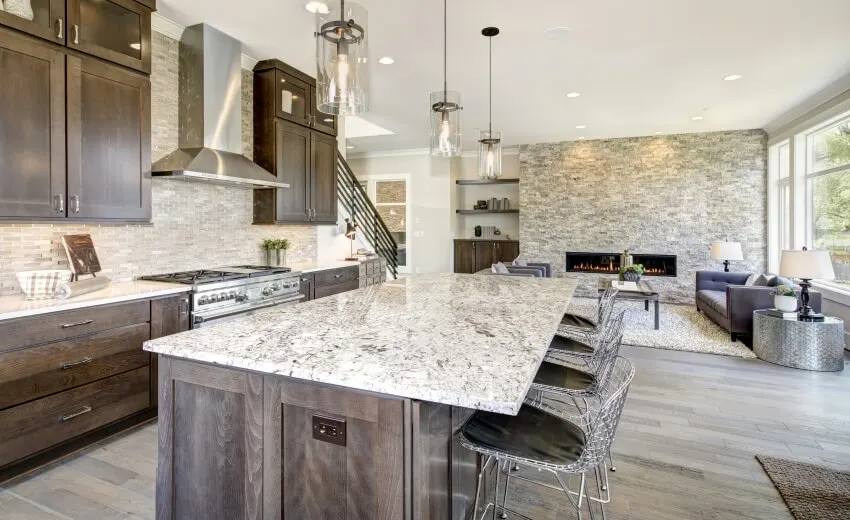 This rustic-modern kitchen is right across a small living space with a modern electric fireplace. The warm combination of natural materials on the kitchen cabinet wood, stones, and walls creates a cozy atmosphere.
Because this is an open-plan kitchen, having a well-coordinated color palette is essential to create a look that is cohesive. You can frame and designate the seating area with a large area rug.

Kitchen Nook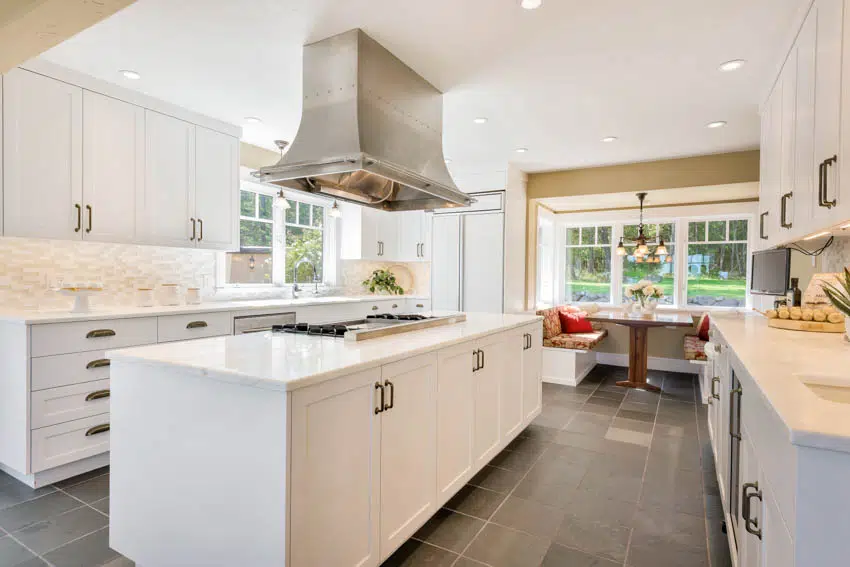 A kitchen with built-in dining nook is the perfect place to take in the backyard views. With custom bench seating and a pedestal table family members and guests can eat in the kitchen and enjoy the view of flowers and plants through the large windows. This design has a small flay screen television for those who get tired of the view.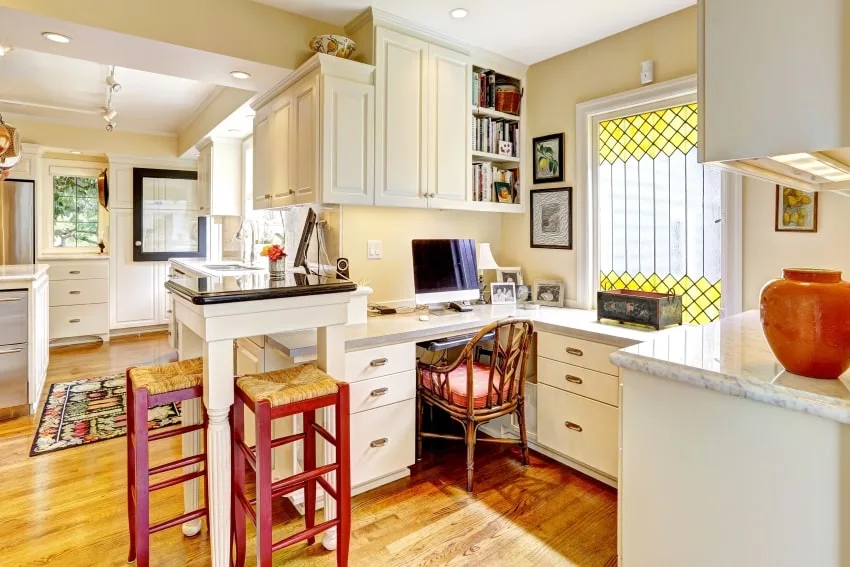 Some families may not need a fancy lounge or sitting area in their kitchen, however, a small office nook for the multi-taskers might interest them.
Oftentimes, things other than "food" gets one in the kitchen, so why not add a little workspace nook in the corner so you can also do your household budget, lookup information, pay bills, etc within close access?
Visit our gallery of window seat design styles for more kitchen sitting area ideas.