Here we share details about arts and crafts kitchen design including details such as it cabinet doors, hardware, lighting, backsplash, countertops, and arts & crafts remodeling ideas.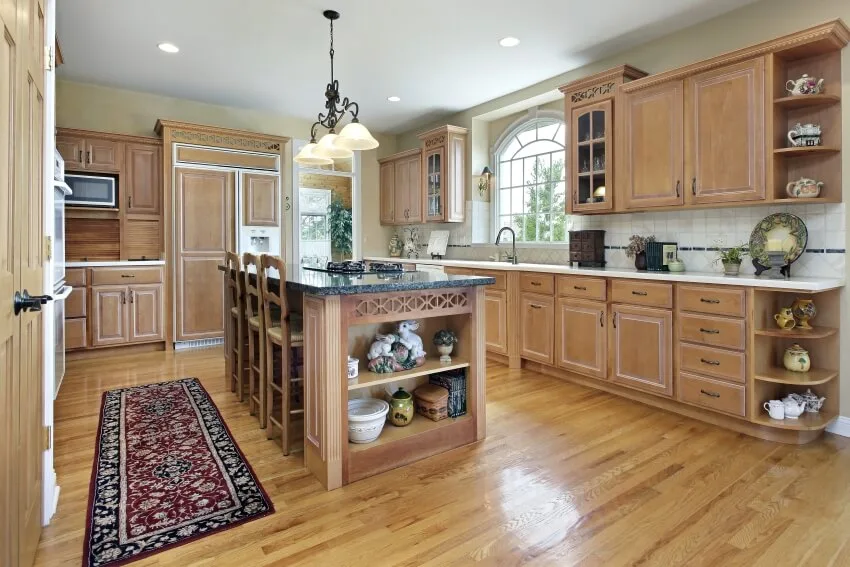 The Arts & Crafts kitchen progressed much beyond its simple, utilitarian roots in the Victorian era during a 40-year time-frame. It had evolved into an efficient meal production and cleaning station by the end of the era, with dry and cold storage, specialized preparation sections, continuous flow of water, power, and even hygienic waste disposal.
A sense of style is essential for a family home. Numerous families choose arts and crafts kitchen design because it allows them to express their creativity while also complementing the dimensions and architectural aesthetic of the space.
What Is An Arts And Crafts Kitchen?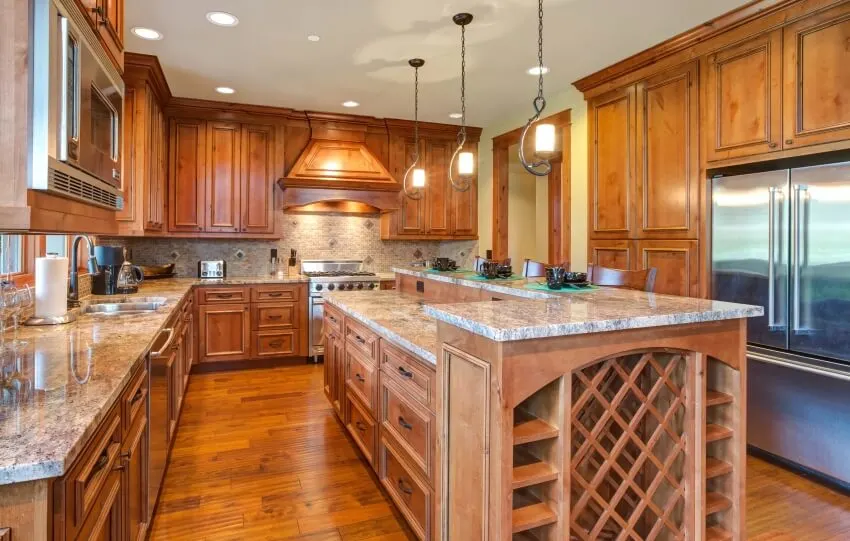 One of the most iconic kitchen designs is arts and crafts kitchens, which feature rich wood treatments, panels, and integrated storage. They frequently feature an organic motif, with natural resources and a soothing, earthy color palette.
Arts and crafts kitchens are ideal for those who desire a mix of traditional and modern. The cozy ambiance created by this kitchen is appealing to many home buyers.
The arts and crafts kitchen style, also known as the craftsman style, was inspired by simple characteristics of nature such as natural lighting, wood flooring, and rustic-themed walls and countertops.
A kitchen created in the arts and crafts style may no longer include a wood-burning stove, but the basic design concepts remain. In the early twentieth century, arts and crafts kitchen designs became widespread. This kitchen style emerged as a result of the industrial revolution's mechanical means of producing elaborate furniture.
The Arts and Crafts Movement promoted the use of natural materials created by carpenters and craftsmen. The movement emphasizes genuineness, balance, and minimalism. This aesthetic has increasingly regained favor.
Interior designers usually pick earthy colors for the walls in arts and crafts kitchen layouts such as taupe, beige, and sage green. In this kitchen, embellishments are kept simple, but whenever they are included, they are typically strategically arranged to achieve a particular impact.
This design is for someone who prefers a natural, less ostentatious kitchen. Moreover, as the name implies, it exemplifies excellent craftsmanship. This kitchen's interior features attractive, personalized accents while remaining subtle.
Arts And Crafts Kitchen Cabinets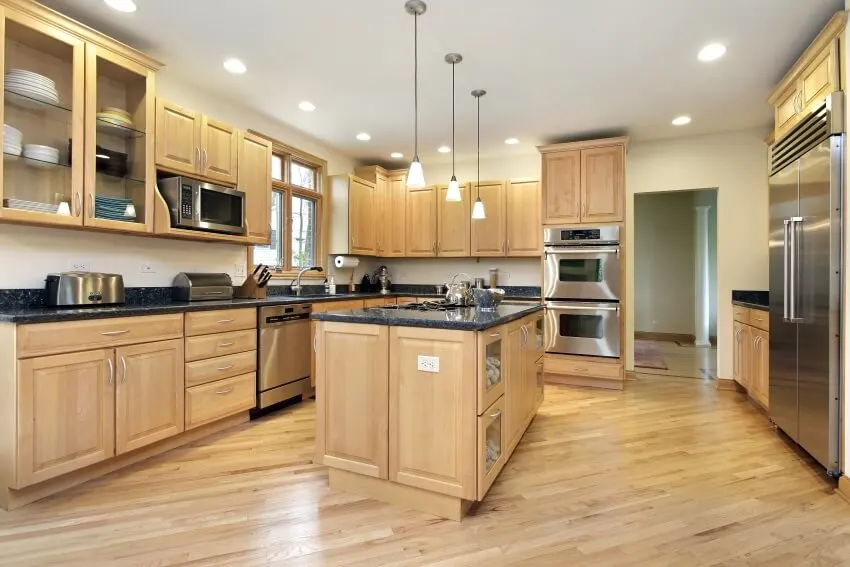 Straightforward, clean lines and minimal decoration characterize arts and crafts kitchen cabinets. An arts-and-crafts kitchen's major element is natural wood. As a result, arts and crafts cabinets are constructed of strong, long-lasting wood.
Although the original arts and crafts kitchens were specially established from scratch, the cost of replicating this appearance today can be extremely expensive for many homeowners. Prefabricated solid wood cabinets can fit perfectly in this kitchen, particularly for homeowners who desire a classic, high-quality aesthetic but are on a budget.
Cabinets are frequently made of beech, oak, birch, maple, or cherry. The wood could be left natural or painted, although some of the grain may be apparent. Gray cabinets are also an option for homeowners who wish to maintain a neutral color design without going with an all-white kitchen.
Numerous possibilities are available by combining similar cold or warm hues with the base gray. Hardwood veneer is also an option, but some designers look for types with more realistic accents.
Arts and Crafts Cabinet Doors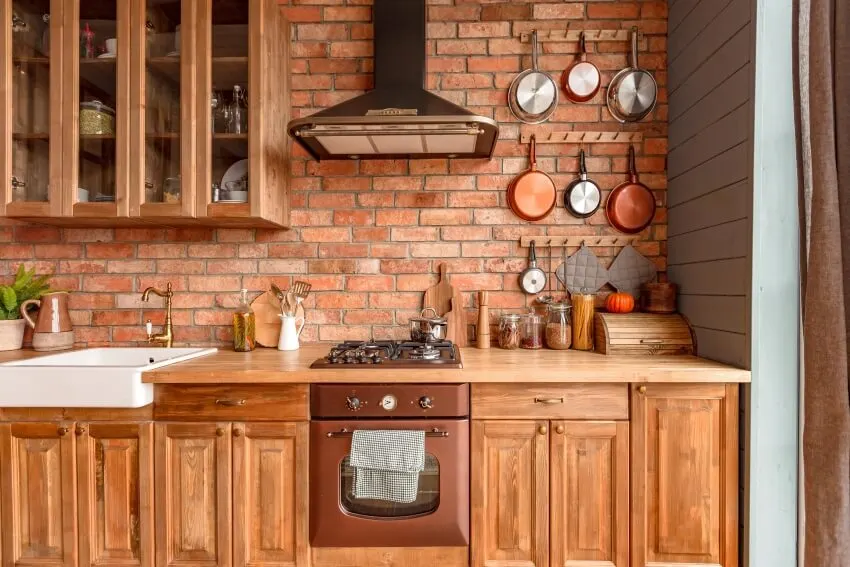 Arts and crafts cabinet door designs are inspired by the patterns found on vintage furniture and window shutters. Attractive clean lines and precise straight angles are trademarks of this style. Quarter-sawn oak and cherry are frequently utilized as well, but it is also possible to utilize glass in the cabinet doors.
In addition, arts and crafts kitchen cabinet doors usually include simple architectural aspects like square or straight corners. Flat panel doors, raised panel doors, and recessed panel doors are examples of widely known arts and crafts kitchen cabinet door styles.
Flat panel doors offer a simple, unadorned appearance. Instead of being recessed or raised, this arts and crafts cabinet door style features a flat center panel. It gives wooden kitchen cabinets a clean and streamlined look and may be utilized in traditional, eclectic, and even modern kitchen setups.
Recessed panel doors are also very popular in arts and crafts kitchen cabinets. They are less decorative than raised panel doors, which suit elaborate vintage kitchen designs.
This craftsman-style kitchen cabinet door design features a central panel that is slightly lower than the remainder of the kitchen cabinet parts. A recessed panel door is normally used in the famous Shaker-style kitchen cabinet layout.
Raised panel cabinets are ideal for emphasizing the distinctive features of the wood texture and appearance of arts and crafts cabinets. In the case of raised panel cabinet doors, the middle portion of the door is slightly elevated, adding a layer of complexity. Raised panel doors are not all the same, with some having a plain framing and others having a staggered pattern.
Arts And Crafts Kitchen Cabinet Hardware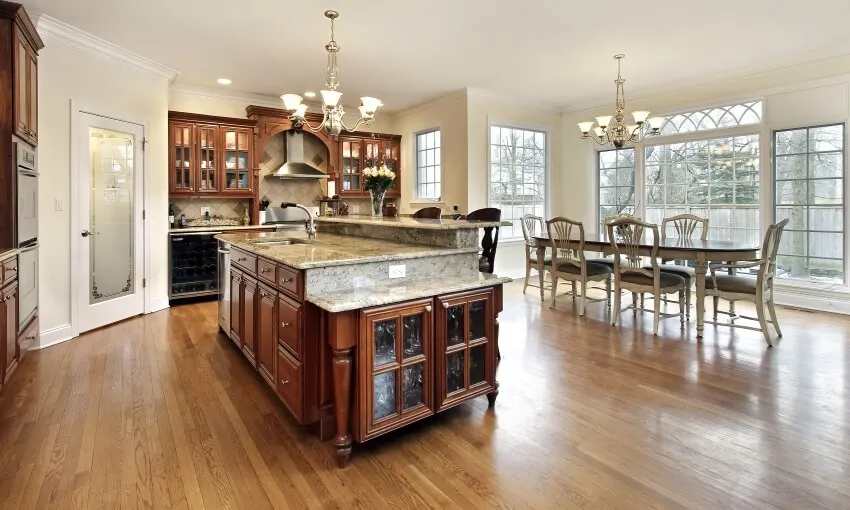 Arts and crafts kitchen cabinet hardware usually has an ancient, old-world, and minimalist style. Apart from providing a rich and warm color, they generally have a very plain or worn appearance.
As a matter of practice, arts and crafts kitchen cabinet hardware should not be overly flashy, particularly when it pertains to patterns and finishes. Hardware pieces for arts and crafts kitchen cabinets typically have a bold dark color with a warm finish.
They also look great with natural wooden cabinets. Oil-rubbed bronze, weathered brass, mellow patinas, and deep-colored brushed antiques are all trademarks of the cabinet hardware used for arts and crafts kitchen cabinets.
Cabinet Handles
Cabinet handles for arts and crafts kitchen cabinets are usually large and thick in order to be more comfortable to grasp. Metal-made cabinet pulls and handles are more commonly used than ceramic, wood, or plastic.
Arts and crafts cabinet handles usually have bolder features and more defined lines than standard kitchen cabinet handles.
They usually have a huge backplate with geometrical patterns such as a series of carved-out squares as well as a projecting rectangular or round knob in the center. Others have a permanent rectangular backplate featuring a drop handle or a suspended hanging pull.
Knobs
Knobs are the most basic form of cabinet hardware since they are the most straightforward to install. They take on many shapes such as oval, round, and square. Arts and crafts kitchen cabinet knobs are often dark in tone, with little to no adornment.
Certain vintage knobs suitable for this kitchen cabinet style might have artistic characteristics such as curves around the perimeter of the knob. Others may have textured lines or patterns.
Cup And Bin Pulls
Cup and bin pulls are associated with the arts and crafts kitchen cabinet style. Because of their antique elegance and retro feel, they are ideal cabinet hardware for arts and crafts kitchen cabinets. These features are distinguished by their half-moon or semi-circular form.
The opening side of this kitchen cabinet hardware is positioned downward and can only be used from one side. Cups and bin pulls are commonly utilized for drawers rather than swing cabinet doors. Ultimately, they give vintage arts and crafts kitchen cabinet pulls and handles an unique design.
Handcrafted Hardware
Handmade cabinet pulls, knobs, and locks are examples of artisan hardware. These are typically constructed of dark metals with an antiqued finish.
Farmhouse door hardware is a common type of artisan hardware. They feature a classic style and are typically black, making them excellent for arts and crafts kitchen cabinets.
Arts And Crafts Kitchen Countertops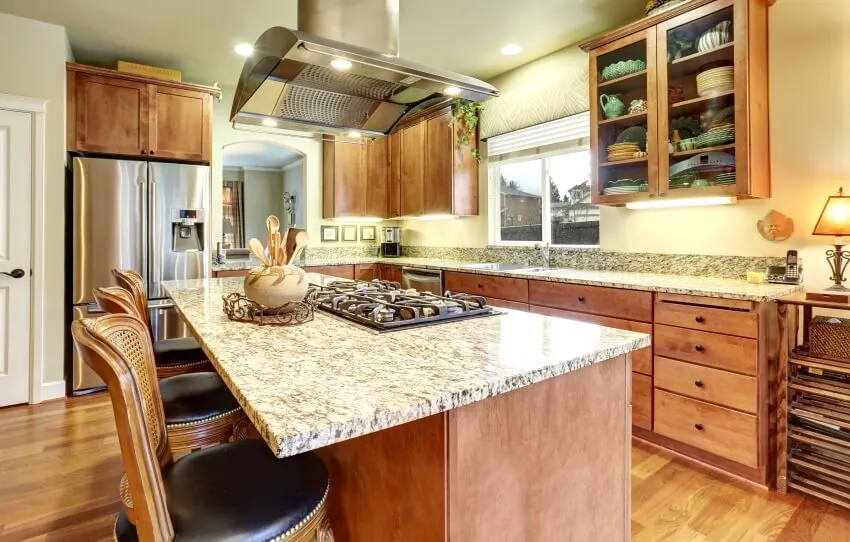 There are various countertop design options for arts and crafts kitchen designs. Quartz, granite, and other natural stone materials are frequently used. Typically, white or beige countertops are used. Dark colors are normally avoided as they make the kitchen appear more formal.
Materials for countertops that combine arts and crafts style usually include warm and rich colors. The correlation between the dark cherry wood and the slate-like tones, for instance, should be slight. The design concept is not flashy and should incorporate natural colors and patterns.
Natural countertop stones such as granite and quartzite, add a contemporary touch to a classic appearance. Santa-Cecilia and Giallo granite are warm, richly colored stones that complement arts and crafts décor.
Furthermore, Imperial Gold marble complements the oak accents and cabinetry. They are also frequently used in arts and crafts design. Imperial Gold marble is a pale sand-colored natural stone with white, gray, yellow, and pinkish undertones.
Soapstone is also a good choice for arts and crafts kitchen countertops since it is a tough, non-porous material that achieves oxidation over time. It can be finished to a high gloss or left in its natural matte condition.
For more than a century, the Appalachians have been mining soapstone as well as slate. The fact that it is sourced locally may appeal to numerous homeowners who desire to employ natural materials.
Another natural, organic-feeling countertop choice is wood. Black walnut, solid maple, and bamboo were popular woods for unique arts and crafts kitchen countertops. It can also be utilized as a kitchen island countertop accent.
Arts And Crafts Kitchen Backsplash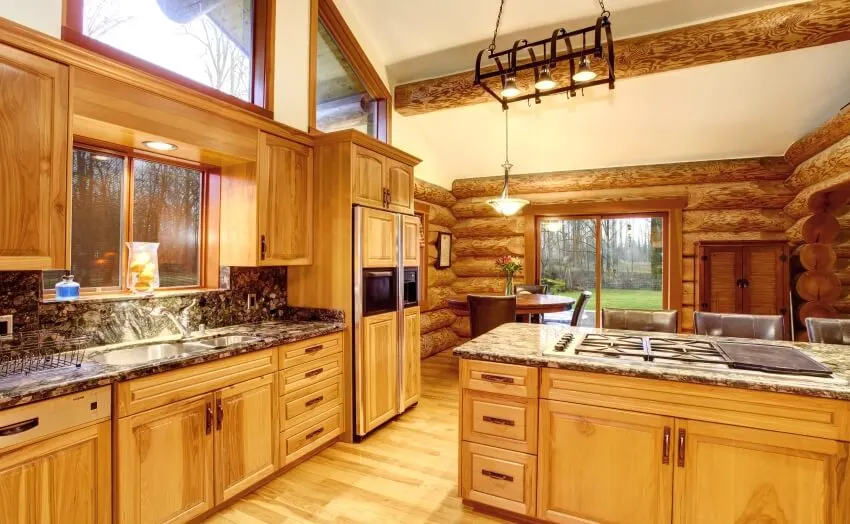 Backsplashes are an important part of adding color to your kitchen. Even though an arts and crafts kitchen lacks adornment, the types of backsplash are frequently made of intricately designed tiles.
Grays, greens, blues, and other earth tones will highlight the remainder of the color palette. To give the place a customized appearance, several homeowners pick hand-painted tiles that represent landscapes from nature.
Some arts and crafts kitchens that are mostly rustic-themed might contain tile backsplash that are irregular and earthy, constructed with handmade molds. Because much of the area is finished in wood and stone, adding tile is a great way to add color and texture.
The backsplash can also be made of natural stone. Slate comes in a variety of hues and textures, while soapstone and granite offer earthy tones that complement the rest of the kitchen décor.
Arts And Crafts Kitchen Lighting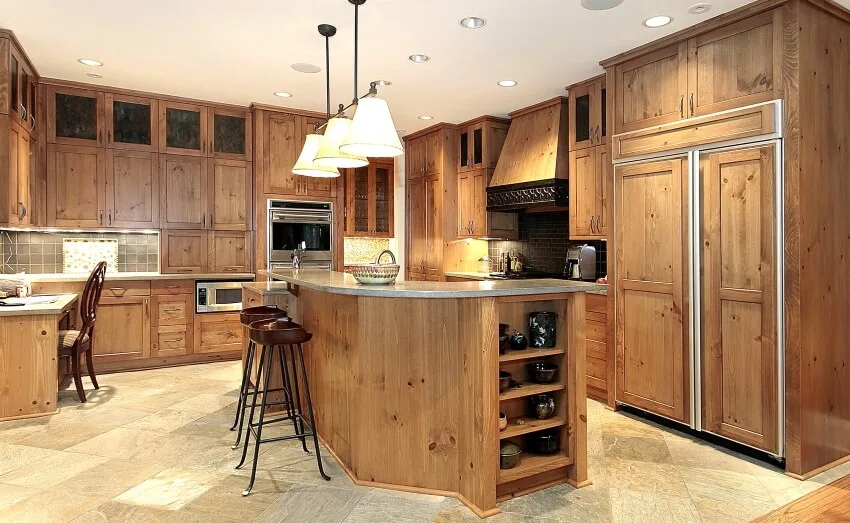 Natural lighting is critical in an arts and crafts kitchen. Windows are frequently prevalent in this style of kitchen design to allow as much natural lighting as possible. These kitchens have a lot of double-hung, awnings, as well as casement windows with wood trimmings.
Glass is a necessary component for the added ambient lighting. This type of glass that should be applied in arts and crafts kitchens must be made of decorative glass with geometric patterns, black lines, or solid colors.
To generate a cozy ambiance, there would be no recessed lighting; instead, pendant or flush-mounted light fixtures are employed. Depending on the homeowner's preferences, antique bronze, etched glass, or Tiffany glass are all viable choices.
Another alternative is to use industrial or prairie-style light sources as the central focus of the kitchen. Depending on the homeowner's preferences, lighting can be more modernized or traditional.
Arts And Crafts Kitchen Remodel Ideas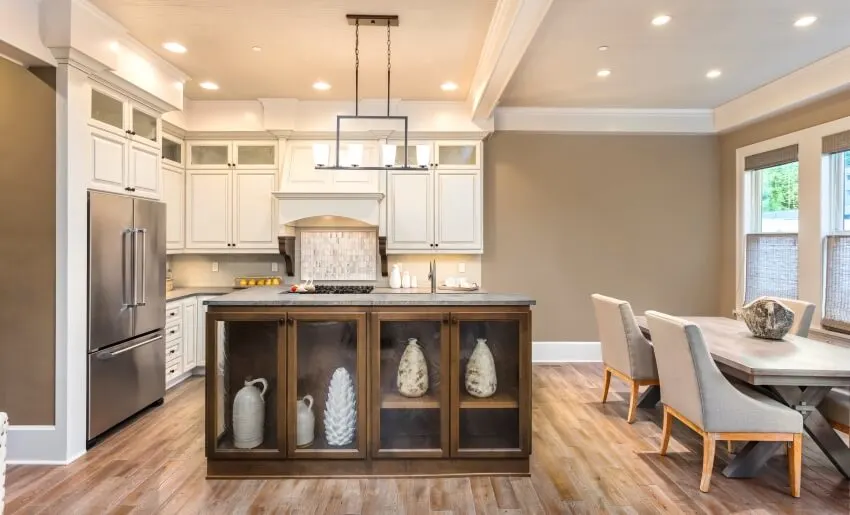 Freshen the Ambiance with White Paint – A white color design may instantly refresh an arts and crafts kitchen. It is also considerably easier to accomplish than you might think.
You do not have to break everything apart and start over. The easy application of white paint can be simply achieved to renew the walls and cabinet doors.
Install a Striking Backsplash – Invest in a tile backsplash. The stylistic variety and texture of a polished Carrara marble subway tile are recommended. A herringbone pattern would also look great.
Include Unusual Features – Be daring with your design. For example, you can install a wood-made range or paint cabinets using bold colors. Hence, you will be eager to prepare meals and create moments in this space for a long time.
Use Patterned Floors – Do not overlook the flooring in your remodeling adventure. If your arts and crafts kitchen does not have rich wood floors, you can replace them with patterned tile floors.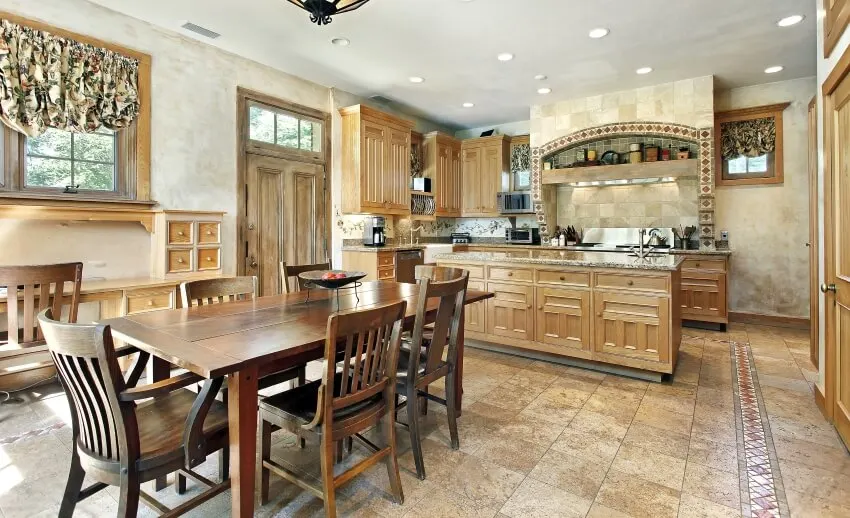 Incorporate More Wooden Elements – Wood is earthy and inviting. It has the potential to be slightly heavy, especially if applied too heavily without additional aspects to balance it off.
As a result, whitewashed upper cabinets might be used to balance off the complexity of dark wood stains.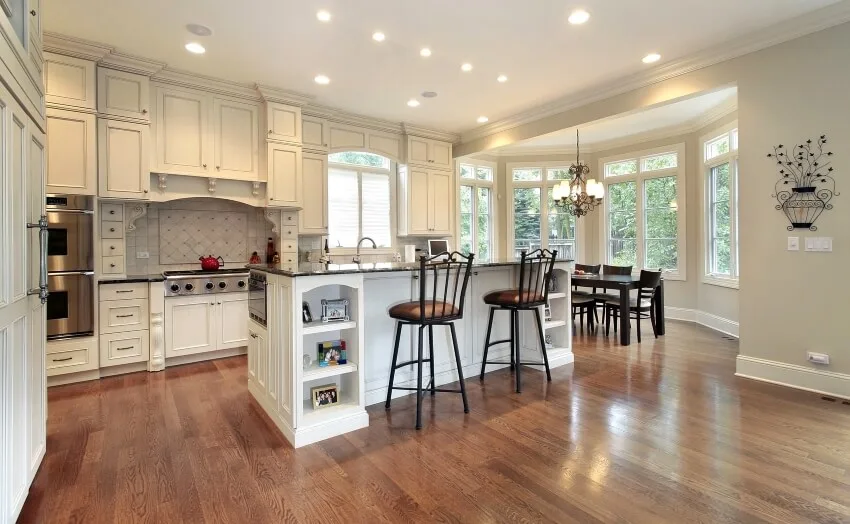 Mix Wood with White Accents – Combining cabinet finishes is among the most effective methods to update a traditional kitchen.
Upgrade Your Hardware – Drawer handles might be little in size, but they make a tremendous difference in terms of style. Updated handles and other hardware pieces help modernize the whole space.
For more related content visit our craftsman kitchen ideas gallery here.