Here's our guide to the best kitchen wall colors with white cabinets including a variety of wall paint color recommendations like white, gray, light yellow, and more.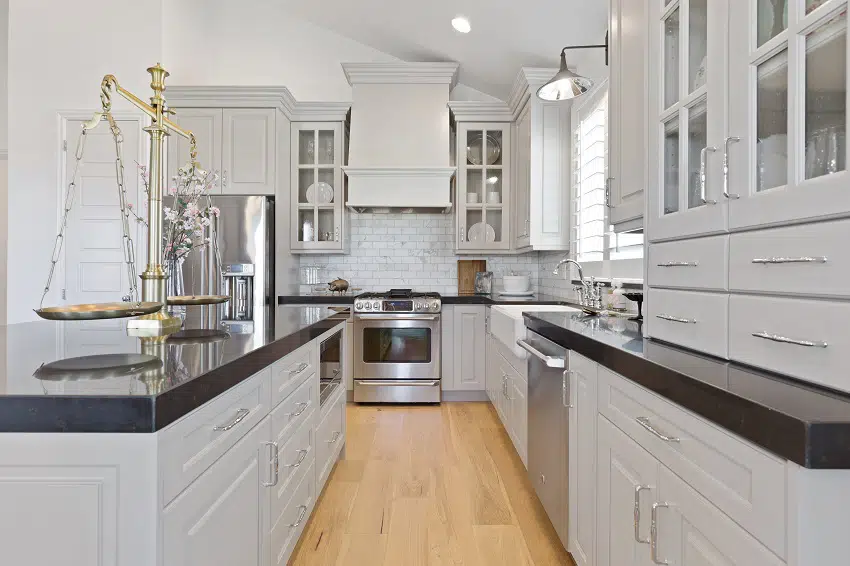 If there's one thing that interior designers stand by, it would have to be the fact that you can never really go wrong with white kitchen cabinets. Choosing colors for your kitchen wall paint can be a really huge task to take on as it can influence the overall look and feel of your home's kitchen area.
Most would recommend that earthy colors go well with white kitchen cabinets. If you don't want to go down that route, it also wouldn't be wrong to prefer bright colors and to mix and match wall paints in different areas of the kitchen.
The right kitchen wall paint can have a lot of advantages. They can complement your lighting fixtures, reflect sunlight, and give your kitchen that bright and lively feel to it.

What Colors Go With A White Kitchen?
| Color | Reason |
| --- | --- |
| Navy blue | A classic and elegant design can be created by pairing white with the versatile navy blue color. |
| Brown | A white kitchen might benefit from the natural warmth and earthiness that brown can bring. |
| White | A space can be made tidy and cheerful by using the timeless and traditional color white. |
| Light yellow | A delicate, gentle color like light yellow can bring warmth and brightness. |
| Blue and light gray | In a white kitchen, the colors blue and light gray can have a relaxing and pleasant impact. |
| Black and brown | With a white kitchen, black and brown can produce a chic and contemporary appearance. |
| Green and brown | A white kitchen can feel more natural and earthy by incorporating green and brown. |
| Red | A white kitchen might benefit from the warmth and vitality that red can bring. |
Neutral and warm colors. Technically speaking, any color out there can be tagged or considered as neutral or friendly with the right kind of warmth or tint.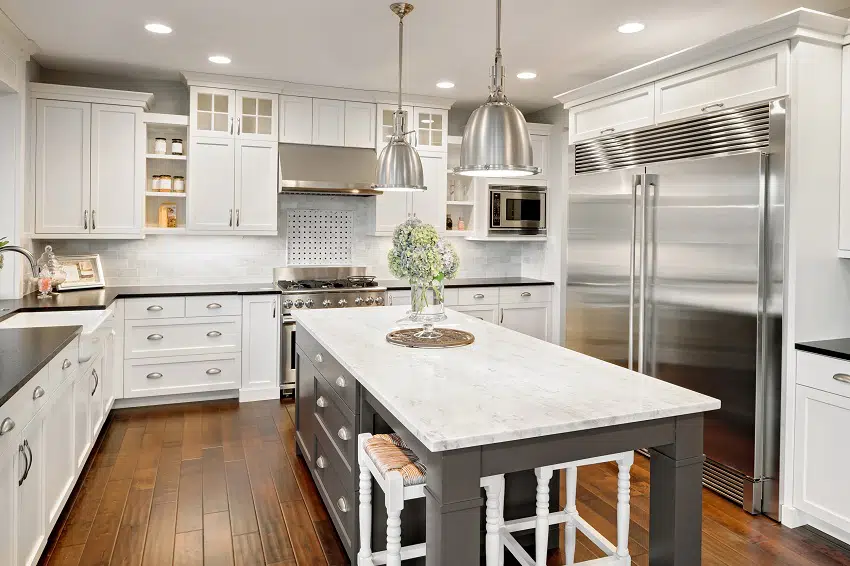 This depends on the type of neutrals you choose. Neutrals are the best way to go if you aren't entirely decided on the wall paint colors for your kitchen walls.
A great way to spice up the look of your kitchen is to pair some whites with neutrals and with a few shades of reds, oranges or yellows. If you feel like this combination can turn out to be a little too warm for your taste, you can always tone it down with light shades of blue or green to balance it out.
Red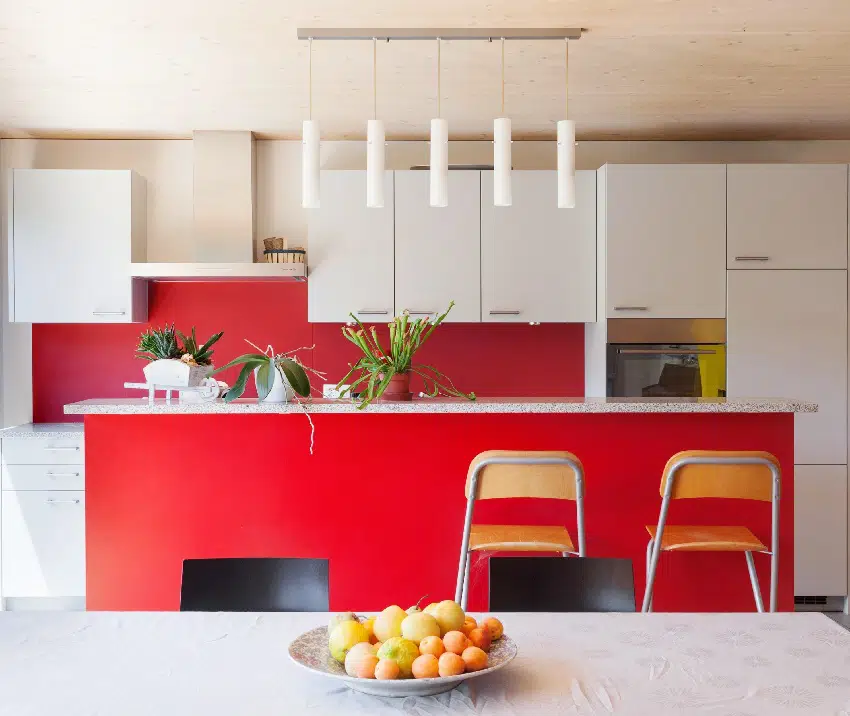 This isn't a common choice for most people but it can really make your white kitchen space stand out. If you want to avoid mixing colors and would like to opt for a more monochromatic look, then red is definitely the way to go.
It can make your kitchen look sophisticated and classy. In a white kitchen, a red accent wall can provide the perfect focal point.
Brown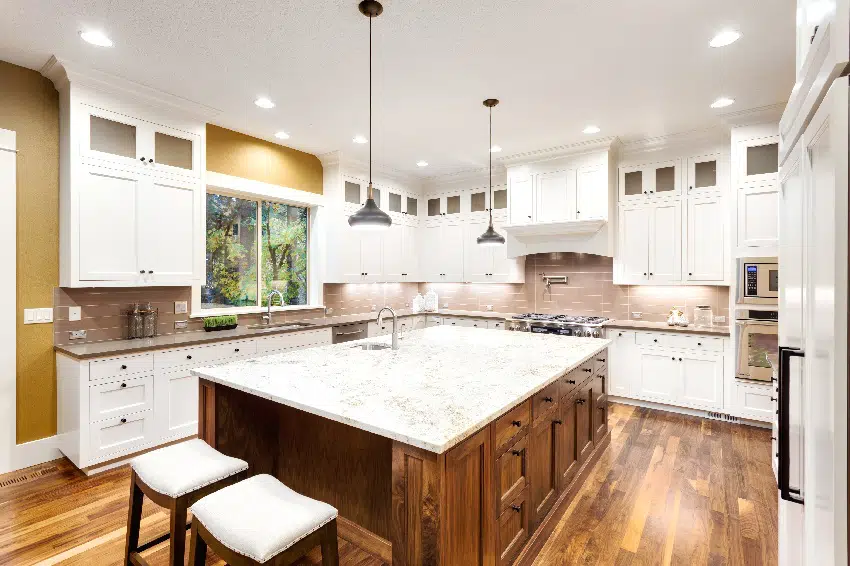 This can perfectly complement a white kitchen. Contrary to the notion that browns can be a bit dull or monotonous, you can mix things up by adding colors to your kitchen accessories and other pieces that could break up the dullness.
White
White on white may sound a bit overkill but it's actually the safest way to go for kitchen wall colors if you don't know where to start. A white on white kitchen can bring out a look that is airy and classy at the same time.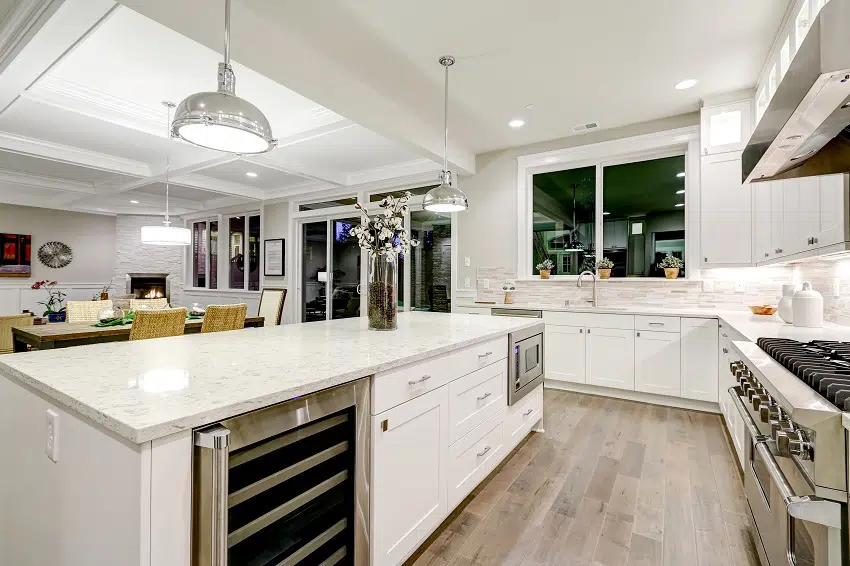 It makes your kitchen look larger than it actually is and it has a very clean look to it that actually makes staying in the kitchen quite inviting.
Light yellow
Yellow shades in a white kitchen can really make your space pop. It can work perfectly with wooden or brown colored floors.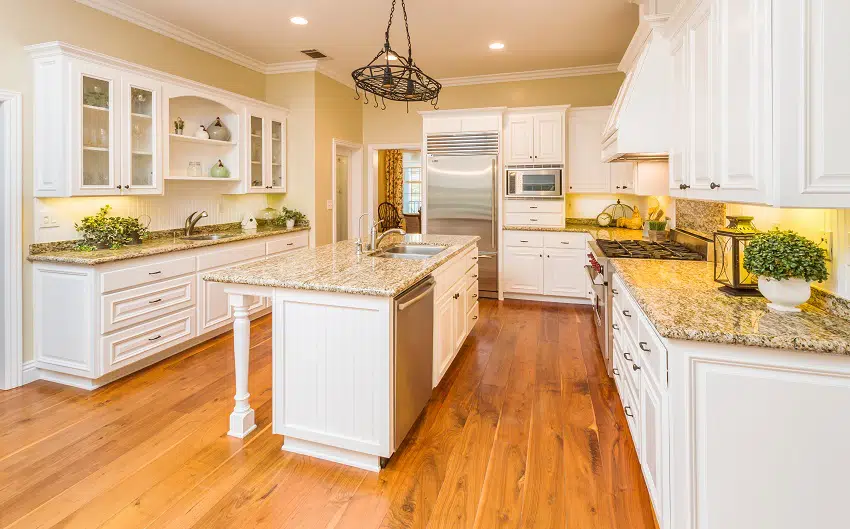 Yellow reflects light, bringing ambiance into your entire kitchen space. You can spice it up with a few vintage accents such as blue or turquoise to really bring out the classic, homey atmosphere.
Blue and light gray
One of the best ways to update your kitchen area is to mix it up with multiple colors. The right combination of blues and grays in a white kitchen can make your kitchen look both modern and sophisticated.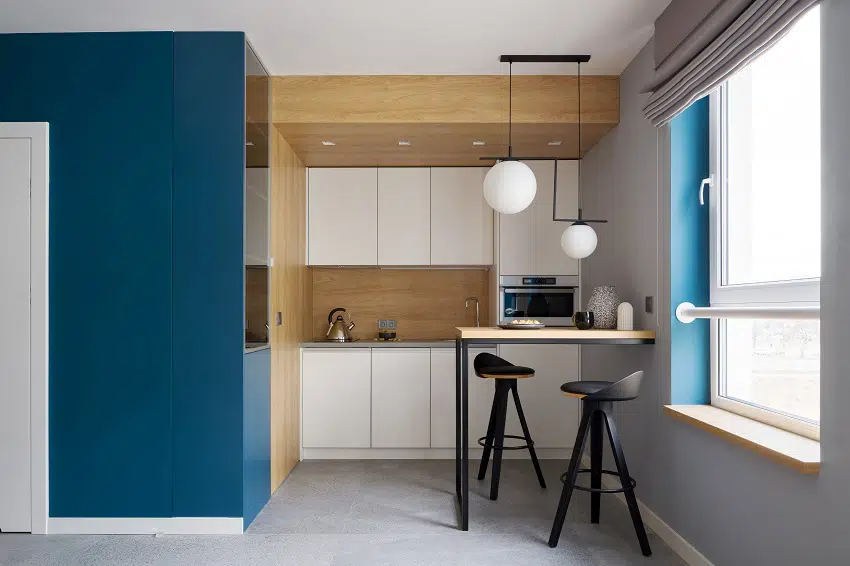 This works best for a kitchen that gets tons of natural lighting. The white kitchen brings in a stark contrast against the blues and the grays. This works best with any type of tiling, too.
Black and brown
These are perfect colors if you're trying to update an entirely white kitchen. This results in a bold color that is both welcoming and classy.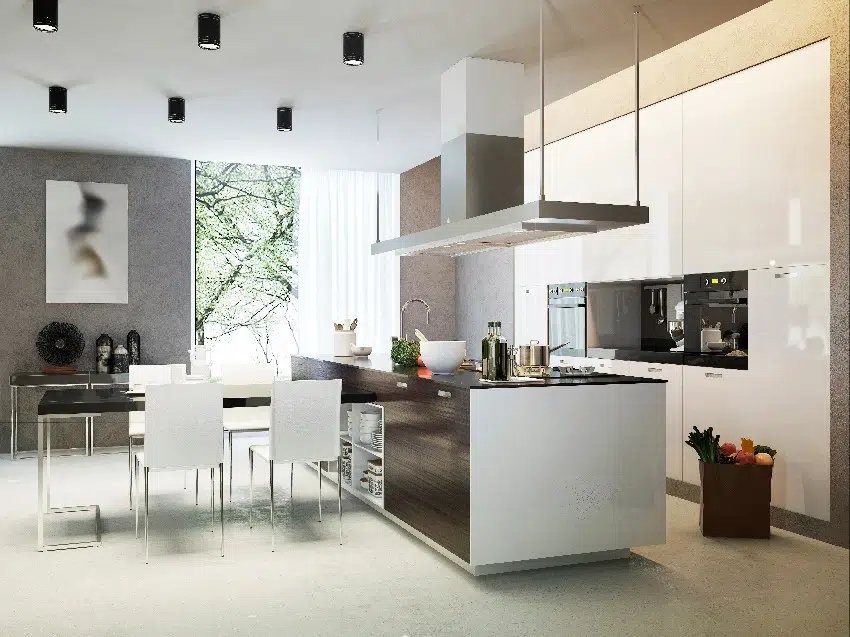 It's the perfect set of contradictions as it can make your kitchen feel cozy and casual as well. When going for this combination, you need to make sure that the kitchen gets access to an ample amount of natural light.
Green and brown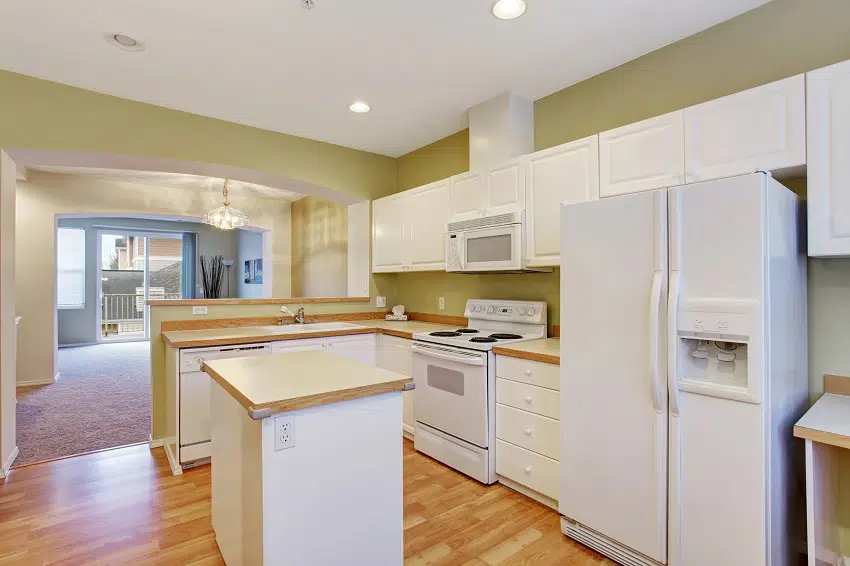 Green might initially sound like a bad idea for your kitchen but with some whites, it can easily convert your kitchen into the focal point of the house. What's great about combining greens and browns in a white kitchen is that it can result in both a colorful and ambient look.
Painting the kitchen countertops green can make your greens and whites transition smoothly, wrapping up the overall look of the kitchen.
Navy blue
Navy blue combined with a white kitchen can result in a slightly rugged but charming appearance in space. The contrast it brings in can make the space interesting.
With the proper placements on the walls or on the accessories, it can create a harmonious look for the kitchen. Navy blue looks best against stark white tiles or walls.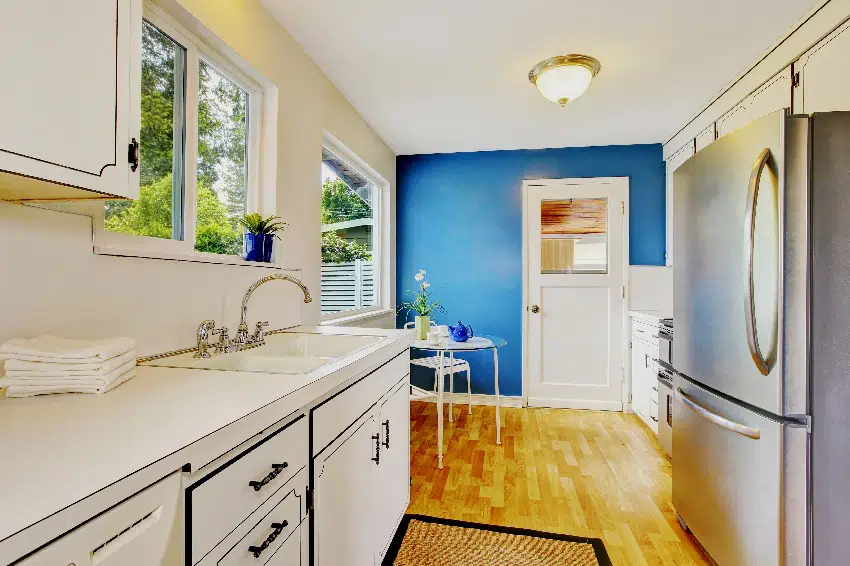 You can add in interesting pieces to cut off the monotony. A well-placed chandelier certainly would be a good consideration.
Best Wall Color For Kitchen With Off White Cabinets
Off white – kitchen cabinets are usually laminated and they can range from subtle grays to subdued yellows to bone colors. As easy-going as these cabinets may seem, the thing is, they can be a real designing challenge for the kitchen as a whole.
This is mainly because your wall paint options are far more limited as opposed to if the cabinets come in truer white colors.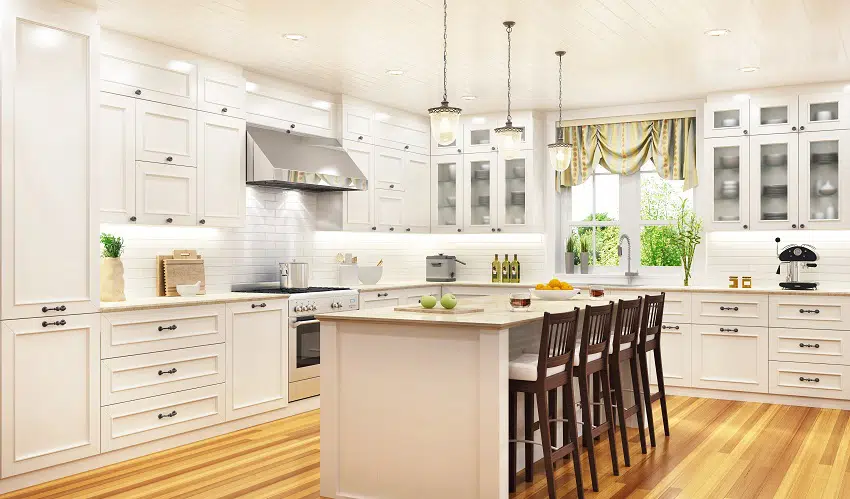 If you're going for a kitchen design overhaul, the best advice would be to replace the cabinets overall but if that isn't an option due to costs or timelines, it would be best to just go ahead and update your wall colors.
An easy way to go about with this would be a tone on tone color matching with the off white cabinets. This is great because you can easily transition to shades of yellow or gray depending on how warm or cool your off white cabinet tones may be.
Once you've selected your undertone, it can make it pretty easy to work on your wall colors from there on out. Go for 2 to 3 shades darker than your off white cabinet undertones to really make the color combination work.
Bright colors – If you want to go for something more colorful, bright wall colors aren't so bad either. Bright colors such as lime or turmeric can really make a statement in your kitchen.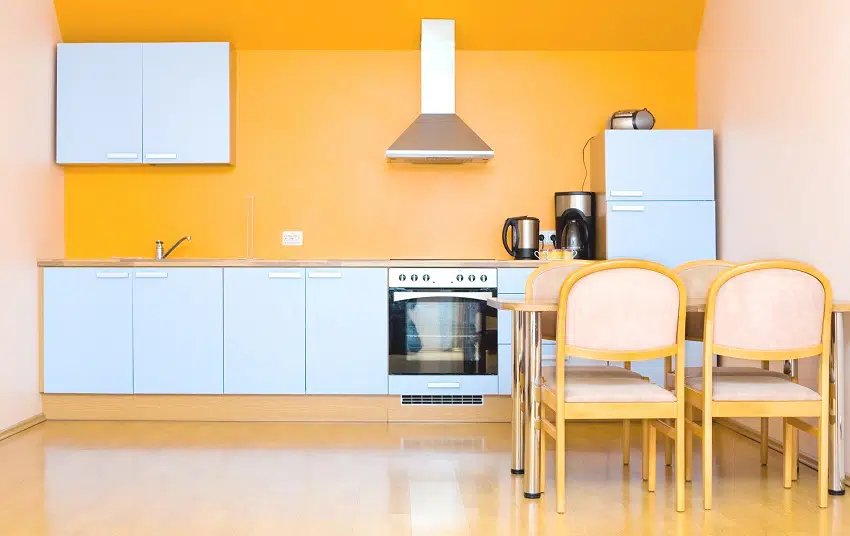 Despite the stark contrast, the pale underlying color tones can limit visual conflict. Vibrant colors in controlled dosages can work well with your kitchen and can provide a certain continuity to the space.
Final word About Choosing Kitchen Wall Paint Colors With White Cabinets
Dark colors are discouraged as they have been known to not be conducive in working up an appetite. Same thing goes with colors such as purple, violet, blue and green.
In addition, black absolutely does not work well with white kitchen cabinets but the rest is pretty much negotiable.
Whatever your preferences may be, the best colors would always be the ones that work best according to the personality and taste of the homeowner. So all in all, it really is based on your own prerogative.
For more related kitchen wall colors with white cabinets ideas, check out our gallery of kitchen colors with gray cabinets.