This comparison of laminate cabinets vs wood shares the different types of wood & laminate designs, durability, cost, and differences in appearance & maintenance.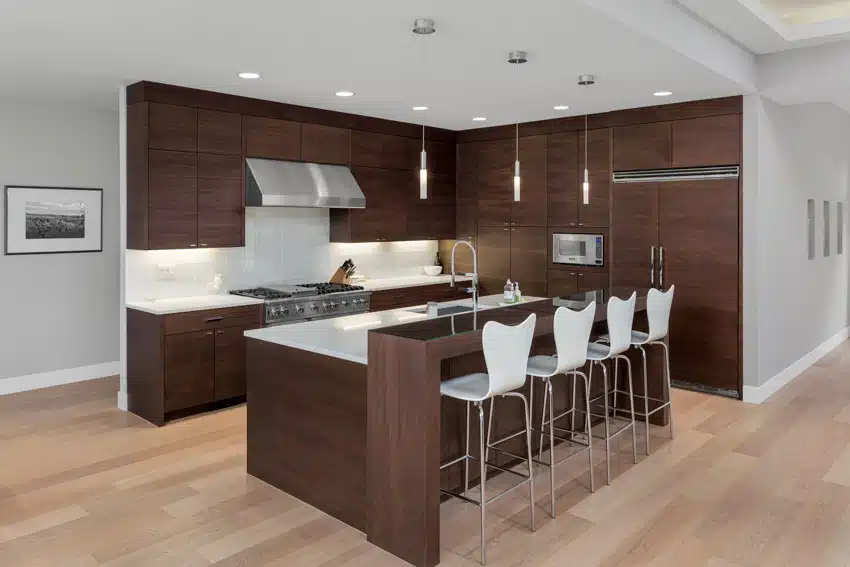 Since time immemorial, wood has always been a preferred material when it comes to furniture. The organic material showcases alluring textures and colors on every surface.
With our natural affinity towards nature, wooden cabinets, from classic profiles to the modern aesthetic, remain a popular option compared to industrial-made materials. Meanwhile, with the advancement of the manufacturing process, we see a tick in the popularity of engineered wood rivaling natural materials.
Laminate cabinets simulate the look and sometimes even feel like real wood and are the perfect alternative for homeowners who love the look of wood who but are looking for an affordable option. Learn more about the differences between laminate and wood cabinets for the next cabinet renovation and installation.
What Are Laminated Cabinets?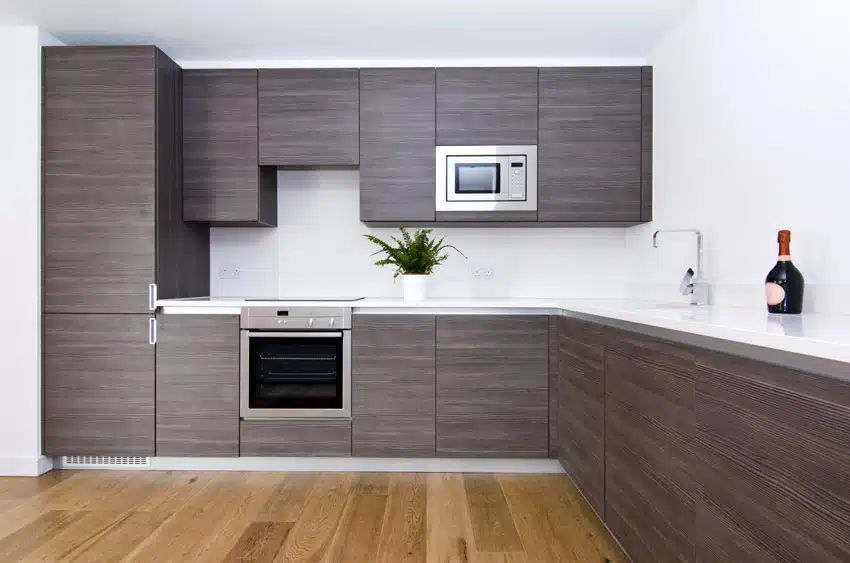 From the name itself, laminate cabinets are engineered wood assembled using laminate wood, and like other types of engineered wood, laminate wood composes of veneers. In the furniture industry, laminate wood is also called HPL or High-Pressure Laminate.
The most popular laminated cabinets are usually made from MDF or medium-density fiberboard or particleboard, where a laminated layer provides protection for the cabinet's surface. The standard thickness of laminate wood made for furniture is .8 mm and can range from .6mm – 1.2mm depending on the quality and usage.
Laminated wood composed of wood veneers is glued together in a parallel direction. Defining its structural integrity, laminate wood has a core board, a very durable and dense inner layer usually made from compressed wood fiber. The usual density for core boards ranges from 750 – 880 kg/m3.
Sandwiching the core board is the decorative layer and the melamine wear layer. The decorative layer, as the name implies, provides the simulated wood color and graining and is protected by the melamine wear layer is the final layer on top of the wood that protects the wood from stains, fading, and scratches.
High-quality laminate wood usually has an aluminum oxide integrated into the melamine wear layer to further increase the toughness of the material.
Since laminate cabinets are made from fabricated materials, they can come in various sizes and designs. Knots and other defects typically found in solid wood cabinets are not present in laminate cabinets, thus giving them a more stable and uniform composition.
Laminate Cabinet Design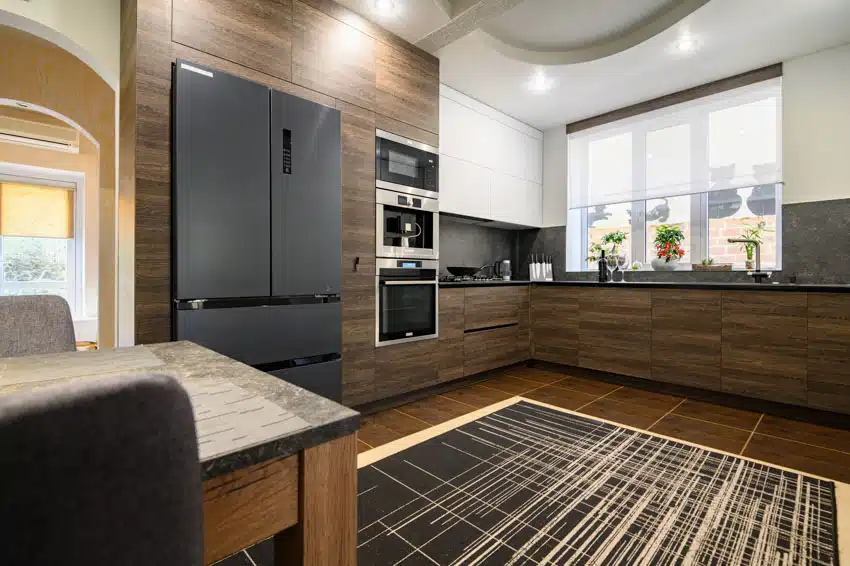 Laminate cabinet designs suit well in contemporary and modern interiors, which come in a wide range of designs and configurations.
However, manufacturers that provide traditional profiles are also available. High-end laminate cabinets integrate antibacterial and heat-resistant properties.
Pair your laminate base cabinets with quartz countertops, and you get an elegant-looking kitchen island that can pass off as a pricey ensemble.
Here's some of the different laminate cabinet style variations:
High-Pressure Laminate (HPL): This is considered the most durable type of laminated wood material, and it is made of a very hard and durable surface that can resist denting and staining. Laminated wood made from HPL is usually used in commercial and industrial cabinets.
Thermofoil: Thermofoil is fast becoming a popular choice as it is an affordable and easy-to-maintain option that simulates the look of solid wood. This type of laminate is made from a vinyl material that is heated and wrapped around a particleboard or MDF (medium-density fiberboard) substrate.
Laminate Veneer: This laminate is made from a thin layer of wood applied to a particleboard or MDF substrate. See pictures of veneer kitchen cabinets here.

Acrylic Laminate: This type of laminate is made from a plastic material that is applied to a substrate. It has that contemporary look and often comes in a glossy finish. For a more modern appearance, acrylic laminate cabinets are a great option.
3D Laminate: This type of laminate is made from a process that adds a 3D texture to the surface of the laminate, making it look more like natural wood or stone.
What Are Wood Cabinets?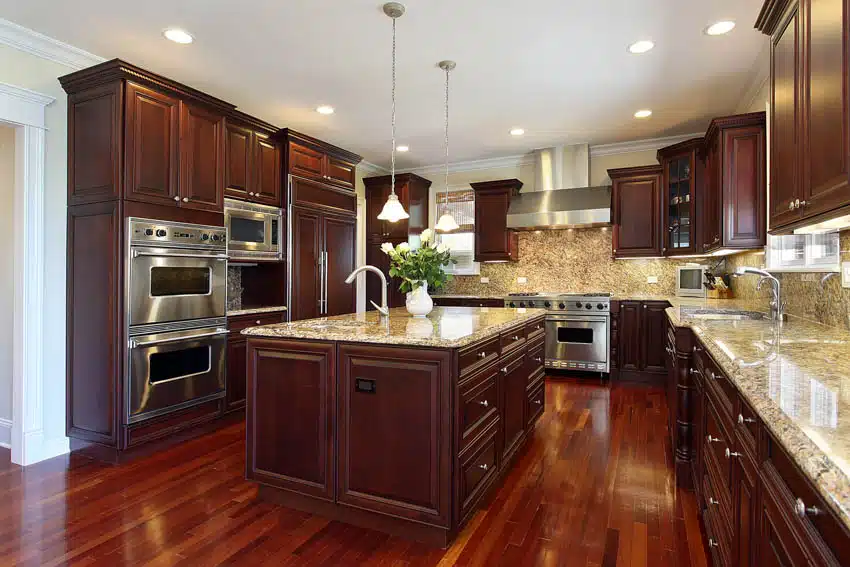 Wood cabinets are made from solid natural wood lumber that can be crafted by hand or mass-produced by machine manufacturing. The remarkable strength of wood cabinets makes them a favored material when it comes to cabinets.
The average service life of wood cabinets can last 40 to 80 years. Common wood species preferred for wood cabinets are oak, maple, mahogany, hickory, ash, cedar, pine, cherry, birch, and alder.
Since wood cabinets are made from natural wood, every cabinet design is unique when it comes to texture and graining. This unique appearance and longevity, like wooden floors, can potentially increase a property's value over time.
Wood Cabinet Design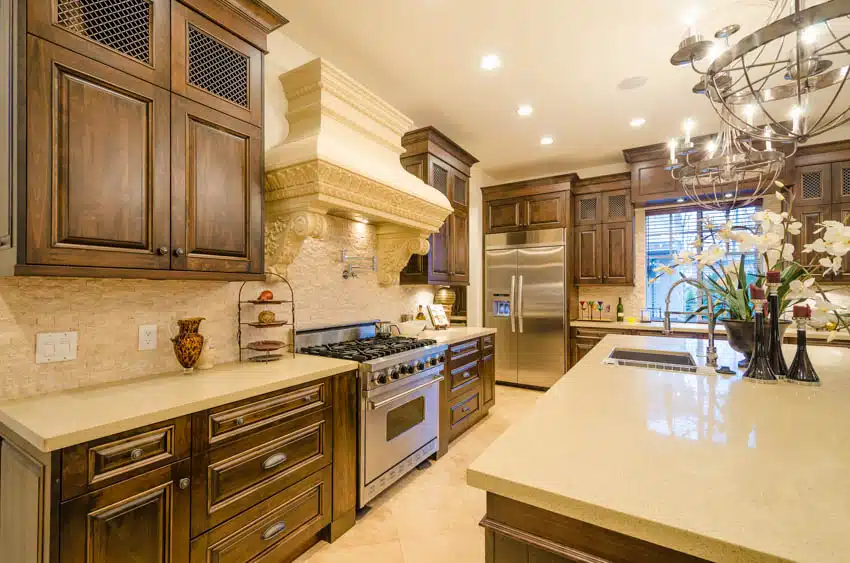 There is a plethora of design options to choose from when it comes to wood cabinets, both bespoke and factory-assembled. Wood cabinet design depends on the main function of wood cabinets; for instance, cabinets made from hardwood are made to withstand heavy usage.
Hardwood: Cabinets made from hardwood, such as oak, maple, and cherry, are known for their durability and natural beauty. Hardwood cabinets can be resurfaced, finished, and stained periodically to maintain or change their appearance.
A variety of stains in finishes are available to improve the color and texture of hardwood cabinets. Hardwood cabinets are also preferred for the kitchen and other wet areas as it has more stable lumber.
Softwood: Cabinets made from softwood, such as pine and cedar, are also popular. They are less expensive than hardwood and have a rustic, natural appearance.
Bespoke or Custom-made: Custom solid wood kitchen cabinets can be made from any type of wood and are built to the specific dimensions and design of a room. Custom-made wood cabinets are crafted by skilled carpenters adding the cost and are a long time make compared to laminated cabinets.
Unfinished: These types of cabinets come without any surface finish. The paint and stain depend on the customer and are less expensive than a fully finished wood cabinet.
Reclaimed wood: A trending option for solid wood cabinets is that they are made from reclaimed wood. These types of cabinets are made from reclaimed wood, meaning that the wood used is salvaged from old buildings, barns, or other structures.
Cabinets made from reclaimed wood showcase a unique vintage look and usually leave a patina finish (depending on the wood specie).
Laminate Cabinets Vs Wood Durability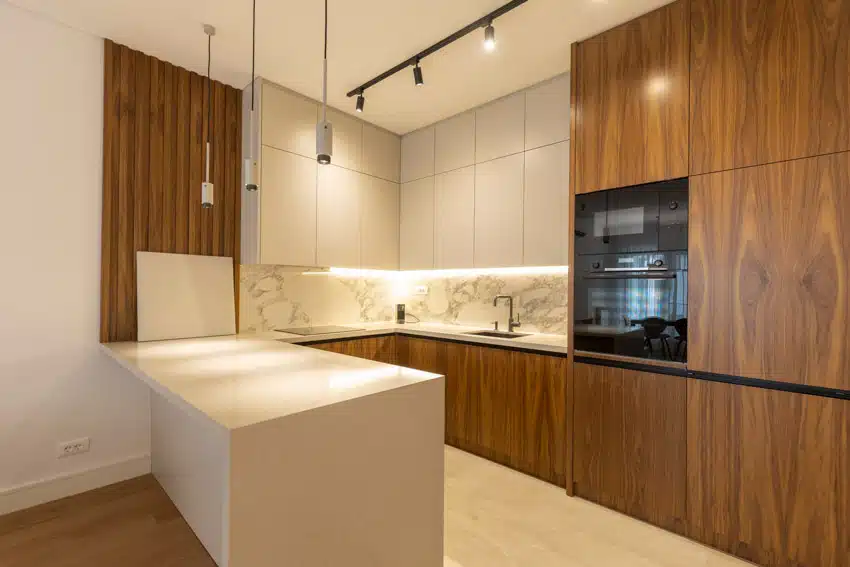 Solid wood is perceived to be more durable than its synthetic counterpart, but studies have records shown that high-quality laminate wood is 13% to 43% more durable than solid wood. Laminate wood has also performed better than natural wood in properties such as malleability and flexural strength.
Although, when laminate wood is fabricated as furniture, such as a cabinet, problems occur when edges or corners lift over time due to humidity or blunt impacts during usage. Moisture and water can seep through these openings causing further damage to the laminate cabinet.
Moreover, laminate cabinets that are low to mid-priced typically include particleboard shelves and jambs. Particleboard is less durable compared to wood cabinets with the usual plywood shelving and door jambs, which are more robust than particleboards.
How Long Do Laminated Wood Cabinets Last Compared To Wood?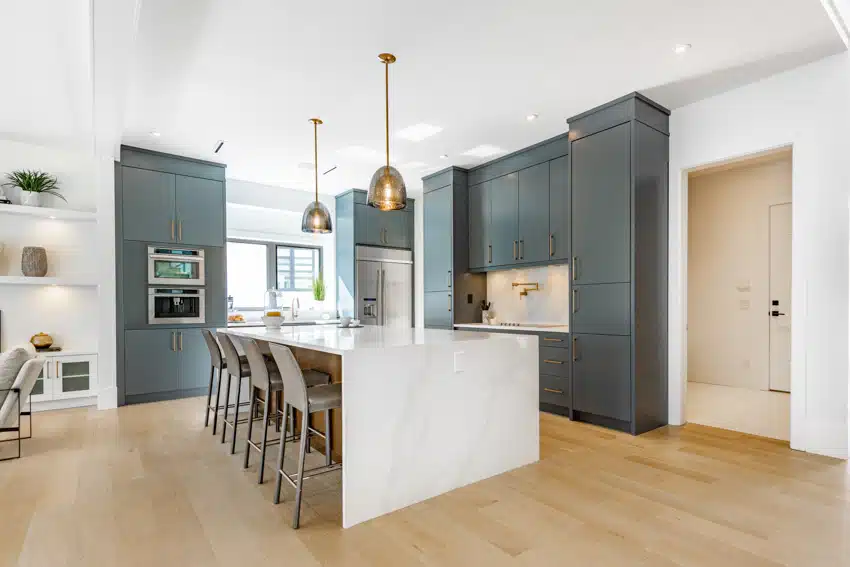 The longevity between laminate and wood durability depends on factors such as quality, function, and how well it is maintained. One of the downsides of laminate cabinets is that the edges and corners can lift easily, caused by humidity and damage due to prolonged use.
While laminated cabinets typically can resist dents and scratches, the synthetic material can still receive minor damage. These small indents can open up the protective layer and are exacerbated by water and moisture.
Standing water on the surface can also warp off laminated cabinets. Solid wood, on the other hand, can be sanded down typically every 10 to 20 years removing visible dents or scratches. Moreover, some wood species are virtually waterproof and have natural oils that prevent water or moisture from seeping through.
Engineered Wood Cabinets Vs Wood Cost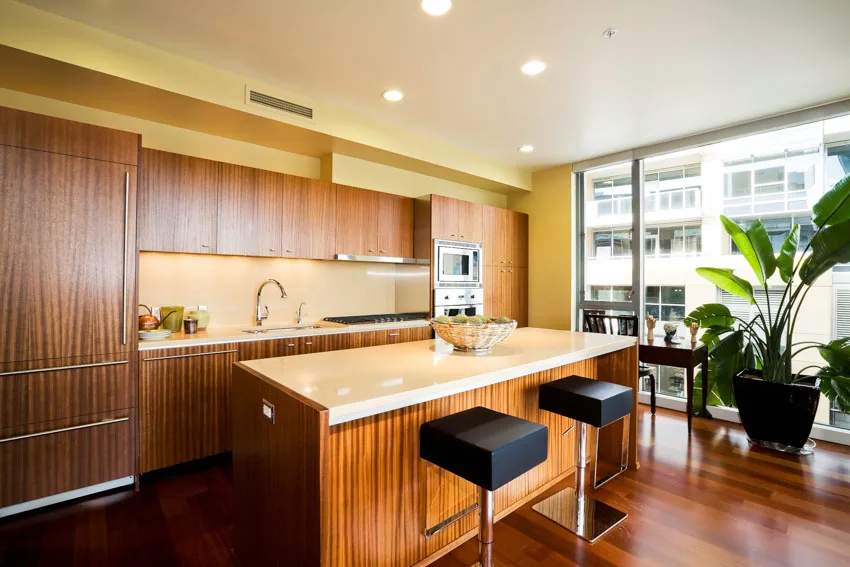 The price is usually determining whether laminate or wood cabinets are the best options. With less upfront costs, a laminated cabinet is a more viable option as you get the natural aesthetic of wood. In addition, transportation and assembly cost less with laminated cabinets compared to solid wood cabinets. Exotic wood variations are also available with laminated cabinet designs.
However, while laminated cabinets come with a lower price point, solid wood cabinets are considered cost-effective as the furniture has a longer service life. Factors that can affect the price of solid wood cabinets include wood specie, quality of wood, and if it is customized, preassembled, or come from a machine-manufactured source.
The cost of hardwood cabinets comes mainly from the materials used. Hardwood lumber can cost around $6 to $12 per square foot fewer installation costs. Exotic wood costs more than locally grown species. Laminated wood, meanwhile, ranges from $0.70 to $2 per square foot with fewer installation costs. The price of laminated wood will also depend on the quality of the print layer.
Breakdown of Costs:
Hardwood Wood Cabinets
• Labor and Materials: Average cost is from $150 to $700 per linear foot
• Material: Average at $6 to $12 per square feet
• Refinishing Costs: $3 to $8 per square foot
Framed cabinets also cost more than frameless cabinets. The average cost of framed cabinets cost around $5,000 to $20,000 or more. Frameless cabinets, in the meantime, costs $6,000 to $30,000 or more.
Laminated Wood Cabinets
• Labor and Materials: From $50 to $200 per linear foot
• Material: Average at $.70 to $2 per square foot
• Refacing: $80 to $100 per linear foot
Differences Between Laminate And Wood Cabinets
Appearance: Wood cabinets still look more natural compared to their synthetic counterpart as natural variations, defects, and coloring are richer and tend to look warmer. Laminate cabinets usually have unusual uniform graining, and colors look more muted compared to their natural alternative.
Aesthetics and Psychological Impact: A study highlights that while laminated wood is made to simulate the look of natural wood, it lacks the stress-reducing effects of natural wood. Natural wood also showcases a warmer and cozier aesthetic, while laminated wood is perceived as modern and contemporary.
Cost: Laminated wood is significantly more affordable than solid wood. Other factors affecting the price of laminated and solid wood are the brand and manufacturer.
Service Life: Due to the possible defects, particularly on the edges and corners of laminated cabinets, their service life can range from 15 to 30 years, while solid cabinets can last from 30 to 80 years, depending on the wood lumber specie.
Installation: With a lighter mass and a wide range of prefabricated parts available, laminated cabinets are easier to install. Additional treatments and preparation are also needed for natural wood.
For instance, placing the solid wood lumber into the room where the cabinets are to be installed helps the wood fibers to settle, preventing warping or shrinking in the future.
Moisture resistance: Natural wood can warp, split, or rot if it is exposed to moisture for prolonged periods. On the other hand, laminate is more resistant to moisture and less likely to be damaged by spills or humidity.
Environmental Impact: A great advantage of solid wood cabinets over laminated wood is that the material can be used and recycled. The biodegradable properties of nature also make it easier to dispose of.
There are types of laminated cabinets that can be recycled depending on the main contents. Due to the use of glue and other chemicals in the manufacturing process of laminated cabinets can potentially release harmful fumes in an indoor setting over time.
Maintenance: Laminated wood cabinets' synthetic top layer can withstand dents and scratches, is virtually waterproof, and can usually take many cleaning agents. Simply wiping the laminate kitchen cabinets with a damp cloth can remove stains and accumulated debris.
No need for refinishing or sanding down the surface of laminated wood cabinets. While solid wood is easy to clean, solid wood cabinets are relatively easy to maintain. Touching up the surface with wax or polish can help prevent damage.
Is It Worth Buying HPL Cabinets Or Wood?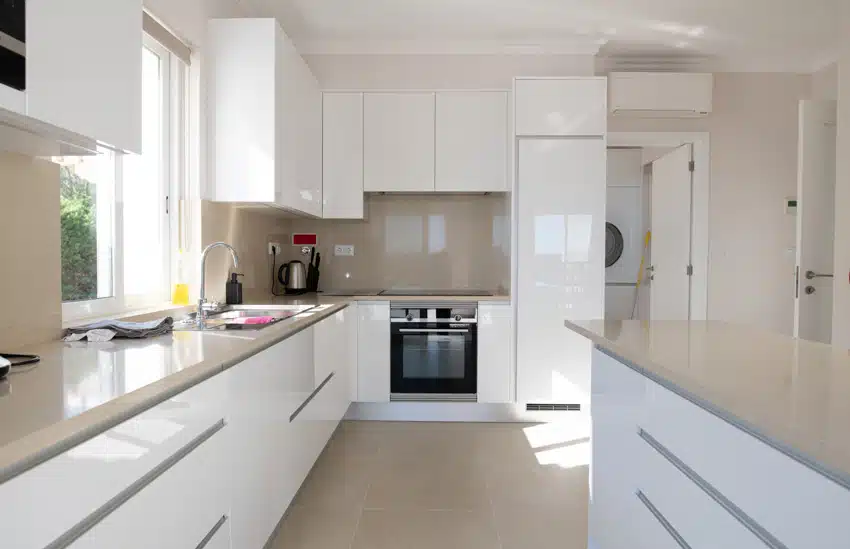 It depends mainly on factors such as length of tenure, budget, and other priorities. Solid wood cabinets are a sound investment for homeowners looking for longer storage furniture. Wood cabinets are also preferred over-engineered cabinets, especially in a kitchen interior, for potential buyers.
They can appreciate over time, especially when cabinets are made from exotic or hard-to-source wood species. On the other hand, laminate cabinets are a practical choice due to budget and time constraints.
When storage cabinets need to be installed quickly in a property, laminated cabinets are a more viable choice. For temporary tenure, laminated cabinets are also a practical choice, as it is easier to assemble or dismantle when needed.
See more related content in our article about pressed wood cabinets on this page.