This gallery of MDF kitchen cabinets features what they are, if it's a good material, different MDF cabinet grades, and the pros and cons of this material.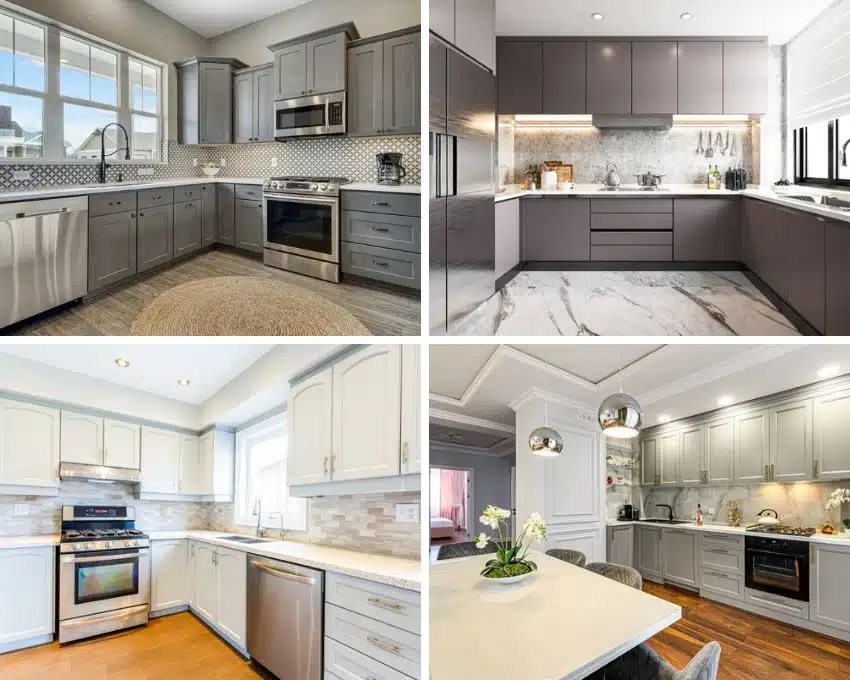 If you are planning a small-budget kitchen makeover, you have presumably considered medium-density fiberboard (MDF) cabinets. These kitchen cabinets are less durable than genuine wooden kitchen cabinets, but also more affordable.
Choosing cabinets is a major undertaking. The process can be intimidating with so many door types, colors, finishes, and materials to pick from.
The paint, hardware, appliances, as well as the countertop you select for your kitchen, can all be determined by the kitchen cabinet material you end up choosing. Continue reading to learn more about this material and whether it is a viable selection for your kitchen renovation.
What Are MDF Cabinets?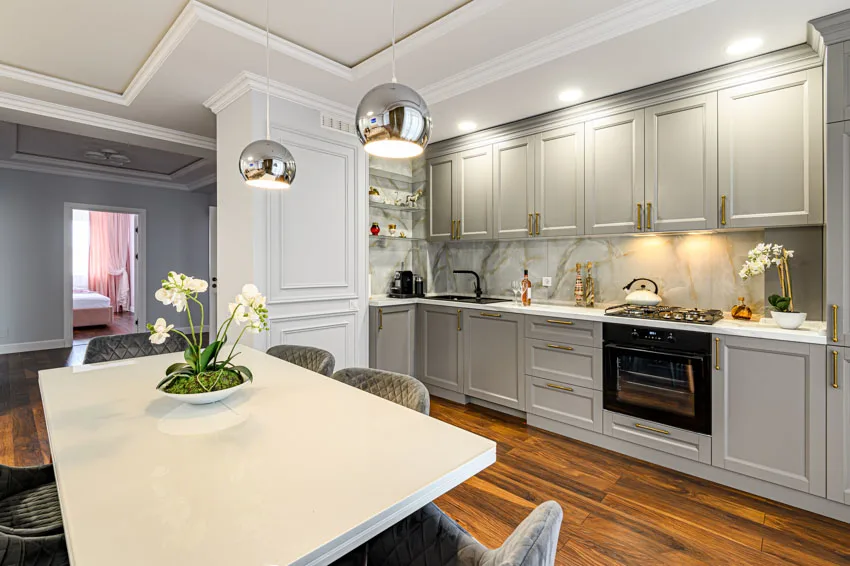 MDF (Medium Density Fiberboard) is an engineered composite composed of soft and hardwood residuals such as sawdust that are bonded together with glue or resins. It is significantly heavier than most woods due to the materials and manufacturing method, but it also has a smooth finish that is ideal for painted cabinets.
Moreover, this material is comparable to plywood. It employs compacted wood fibers and glue, whereas plywood uses thin layers of wood bonded together with pressure and adhesive. Wood chips are collected, cleaned, and sent into a device called a defibrillator, which employs rotating disks to break the wood chips down to little fibers before being used to manufacture this material.
After adding wax and resin, the fibers become dry and puffy. The puffy fibers are then grouped into mats and crushed by heat and pressure to make dense layers of material that can be found at your local construction hardware shop.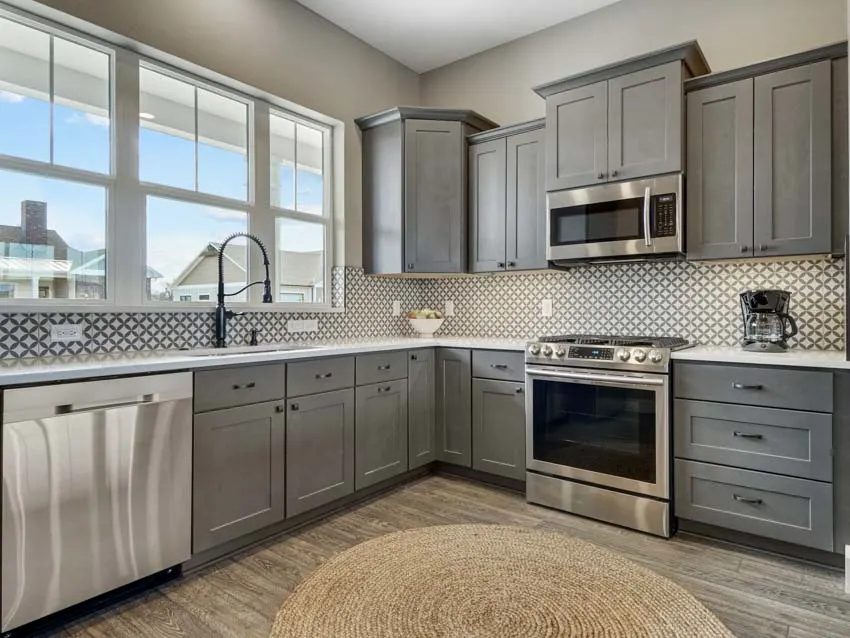 MDF is denser than hardwood and has a much smoother, grain-free finish. As a result, it is an excellent choice for manufacturing painted kitchen cabinet doors. The material may be manufactured using high-speed CNC (Computer Numerical Control) cutting equipment to generate a number of distinct 3-D profiles ideal for cabinet doors due to its solidity and constant construction.
In addition, this material is very standardized and seamless surface allows for a high-end painted finish, whereas solid wood doors are more difficult to obtain a glass-like painted finish due to deep grain and knots creating rough regions that paint emphasizes.
It is also more resistant to fluctuations in temperature and humidity. Furthermore, the resins that bind the wood fibers together make the material resistant to pests and other insects.
When MDF is compared to other types of engineered wood it is often considered a level above plywood in terms of density, strength & durability. Due to this strength it can be used for the same applications as solid wood. – interior designer Rachel Razal-Padilla
Is MDF Good For Cabinets?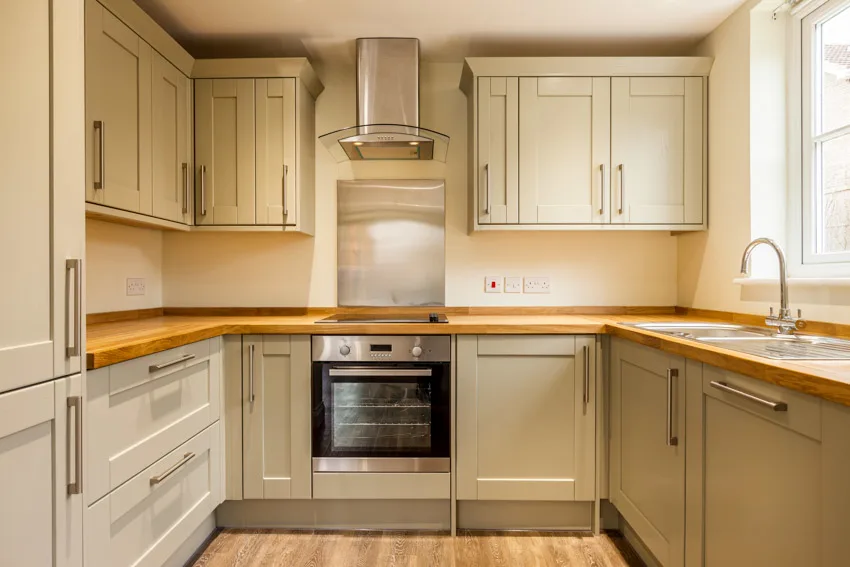 Yes. MDF is commonly used to build kitchen cabinets. A number of factors contribute to this. This material, for example, does not warp or crack. It is constructed of fine particles, thus there is no visible grain. This is perfect for painting the cabinets since it results in a smoother and nicer finish.
Furthermore, due to the structure of the material, it may be cut and drilled in a variety of ways without being damaged. It is also a good substrate to attach to, which is why it is so prevalent in kitchen cabinets.
As a result, it is the ideal material for a beautiful, long-lasting painted surface, as well as other alternative treatments such as thermo-foil or oil-based polyurethanes.
Another reason why this cabinet material is among the good types of kitchen cabinet materials is that it can incredibly withstand temperature and humidity fluctuations. Unlike real wood, it does not deform or crack when conditions and humidity change. This is also among the main reasons for using the material as door central panels in painted cabinets.
Cabinet Grade MDF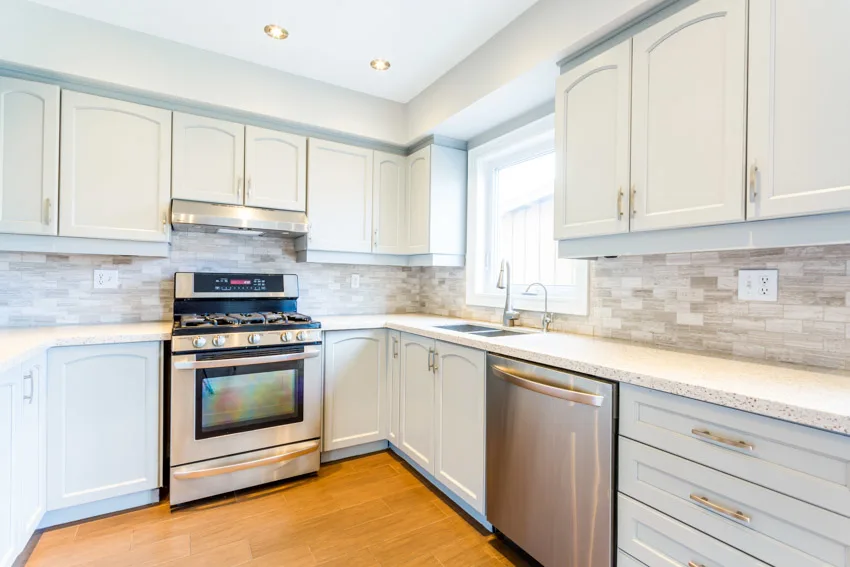 Most MDFs for kitchen cabinets are classified into three types: lightweight, standard-grade, and high-density.
Standard-grade MDF is constructed from wood fibers and synthetic resin glue. Lightweight MDF has the same properties as the conventional type, but it is lighter and marginally weaker.
However, the wood fibers in high-density MDF are substantially more densely packed. It also has considerably higher-quality wood fibers, which helps the material maintain a seamless and uniform finish in comparison to standard-grade, which might appear soft and fragile.
MDF Doors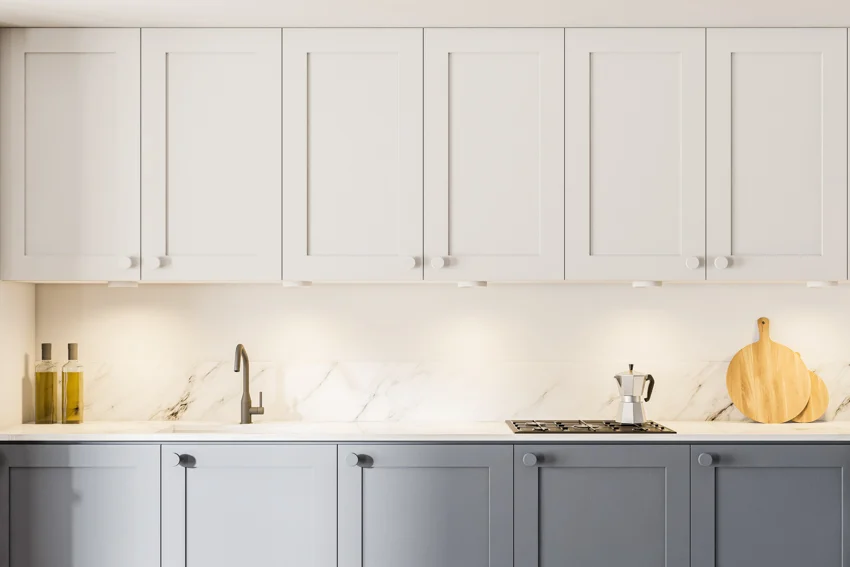 Solid MDF cabinet doors are chosen by homeowners for their durability, price, aesthetics, and ease of maintenance. The resilience of this material is a considerable advantage, particularly in kitchens, which frequently experience dramatic and rapid variations in temperature and humidity.
It allows for more complete customization of cabinet doors. Specialized types of this material are designed to build beautiful, long-lasting cabinet doors. Because of the diversity of styles available, cabinet doors manufactured with this material are a dependable alternative in many homes.
It is being used in a variety of residential and commercial building projects. It really shines in solid colors, especially white. Even after all these years, white remains the most popular hue.
Although real types of wood grain patterns influence color absorption and provide an uneven appearance or fade with time, the material's homogeneous texture and finish make it a strong foundation and an even canvas.
For classic aesthetics such as a white kitchen, a cabinet door made from this material with a painted finish or firm thermofoil surface can not only provide the desired style but is also more cost-efficient.
MDF Doors Pros and Cons
MDF is a fantastic option if you are searching for kitchen cabinet and cabinet doors with the following properties:
Resistant to Moisture and Heat: MDF, like real wood, expands and contracts in reaction to temperature fluctuations. Nevertheless, unlike wood, these contractions do not cause these cabinets to distort over time. That means these cabinets and doors will retain their form and strength regardless of how many pastries you bake, noodles you prepare, or how often you cook any food.
Provides a Seamless Surface for Paint: If you want to paint your new cabinet doors or cabinet fronts, this material would be an excellent choice. This is due to the fact that it is made up of small particles that do not produce the texture or look of the wood grain.
Every moment, the result would be an extremely smooth finish. Painting these cabinet doors or cabinet fronts provides an infinite color palette from which to pick.
Cost-Effective Cabinet and Door Option: Another advantage of using this material over solid wood is the lower cost. This material, because it is man-made, provides high-quality finishes at a lower cost than genuine wood. Furthermore, because of their durability and low-maintenance finishes, these solutions will survive a long time and will not take considerable time or money for maintenance.
Very Customizable: Because of the composition of this material, they may be trimmed and shaped in a variety of ways without causing damage to the material. Unfinished MDF cabinet doors and cabinet fronts are available in a variety of forms.
Some examples are the classic raised square and recessed panel, a more contemporary and sleeker Shaker style, as well as a modern slab design. It also implies that products made of this material are available in a multitude of sizes, particularly larger-than-average sizes.
How Long Do Cabinets Made Of MDF Last?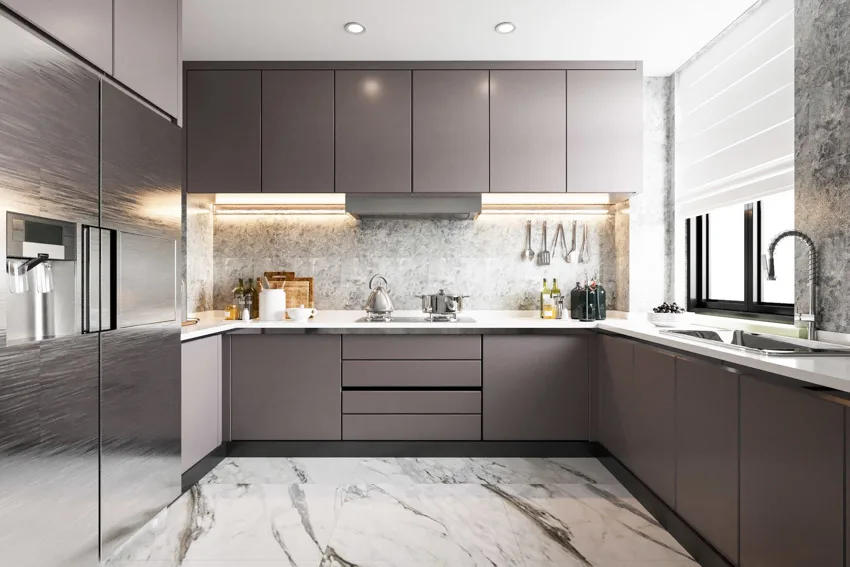 If MDF cabinets are treated properly, they should last for more than 25 years. However, because of its flat surface, painted MDF might be subject to dents and scratches once the finish is applied to the cabinet, which can affect its longevity.
With that said, no one wants to mistreat their MDF kitchen cabinet and cabinet doors, thus using this material instead of wood for cabinet doors will not be a disadvantage. Water damage is the most serious concern with MDF. Water will always strive to make its way into any surface, even if only on a molecular level, and once there, it will propagate.
As a result, it is critical to keep your cabinets dry at all times. They may grow soggy and dissolve if exposed to a significant amount of liquid or level of humidity. Keep these things in your mind so you will maximize the use of your cabinets and ensure that they will last for a very long time.
Painting MDF-Style Cabinets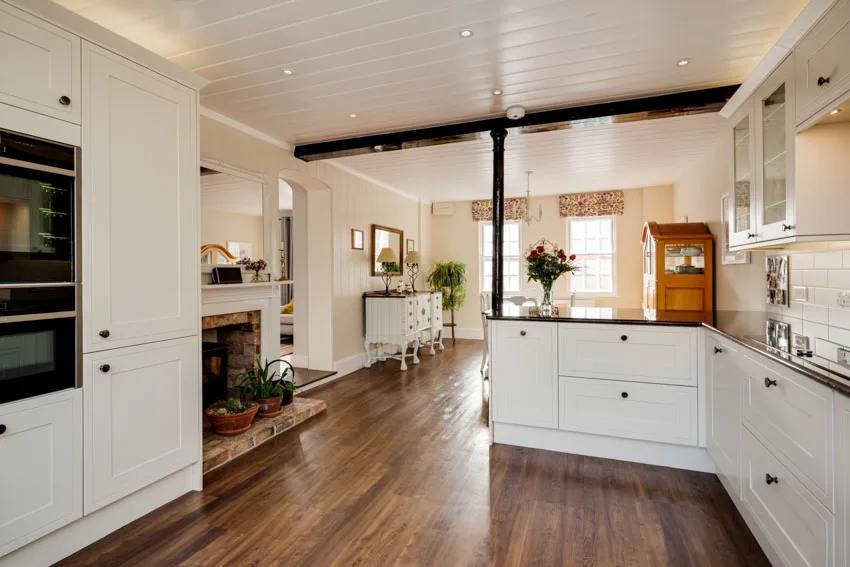 It is totally possible to paint MDF cabinets. Because the borders are often porous, you only need to seal them first. This material is a composite material composed of sawdust, wax, and resin that is compressed together under intense temperature and pressure to produce counterfeit hardwood boards with high-porosity edges.
However, these surfaces are usually smooth right out of the factory, making painting a breeze. You can use a solvent-based primer and oil-based paint when painting these cabinets. No water-based or acrylic latex primers or paints should be used.
The boards can absorb moisture from these products, causing them to swell and get degraded. Nonetheless, the following are the proper steps required to paint these cabinets:
· Start Sanding the MDF Cabinets: The smooth finish of this material makes it an unsuitable surface for paint adherence. The primer and paint will adhere better if the surface is roughed up with medium-grit sandpaper. After sanding, use a dry or sticky cloth to wipe away the dust from the panel. Water should not be used since it will destroy the material and leave it unusable.
· Apply a Primer: After sanding and cleaning the MDF panels, a layer of primer will assist in sealing the cabinet doors. It is critical to use an oil- or alcohol-based solvent primer since the fibers will accumulate water-based priming, prompting the kitchen cabinets to expand.
· Start Painting the MDF Cabinets: Since the panels have been primed, you can start painting the cabinets using water-based paint, but oil or lacquer-based paint products are also excellent choices for an MDF cabinet finish.
Polished paint ensures that the cabinet doors can be cleaned once they are finished. Leave two coats of paint to dry on the cabinet doors before mounting hardware.
Take Note: If you want a gleaming kitchen cabinet, choose a shellac finish. Shellac is a resin produced by the female lac insect, which is found in Thailand and India.
Shellac not only adds a glossy surface to your cabinets, but it also helps to protect the material and resists dents and other potential damage.
Best Paint For MDF Kitchen Cabinets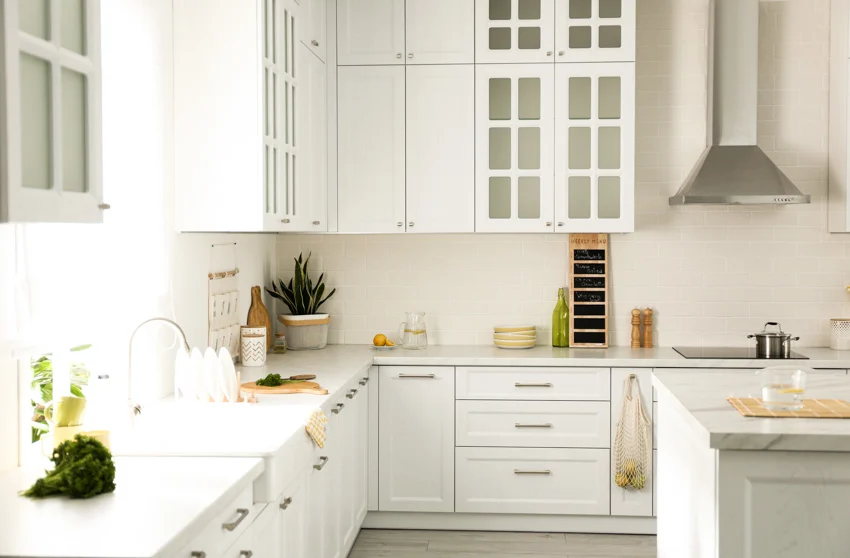 You can always choose to paint MDF with acrylic paint of any quality and achieve excellent results. Because acrylic paint is chemically based, it does not contain water, which may enter the pores and cause it to expand. Furthermore, the ideal acrylic cabinet paint will produce the best effects on any MDF wood.
Most acrylic paints are quick-drying and use a polymeric emulsion to convey the color. They can be thinned with water, but this presents the risk of moisture once more. Hence, search for acrylic paints that are not water-based and are ready to be applied without the need for a thinner.
Other than acrylic paint, there are several other possibilities for MDF painting. One of the most typical suggestions for painting this material is to use oil-based paints. They are rather popular, and they will work with the solvent-based primer underneath.
Oil-based paints, on the other hand, necessitate the use of paint thinner as well as the use of such paint thinner to clean brushes as well as trays. They also transport strong chemical fumes that necessitate constant ventilation.
Certain individuals use latex paints, but most latex-based paints are water-based, which raises the risk of overly expanding or splintering wherever the primer is not thick enough.
On a positive note, these paints have very little odor and vapor emissions and are simple to apply, so they remain an alternative, particularly for non-water-based latex paints. But, in general, latex paint is not always the best option for these cabinets.
Can You Stain Cabinets Made Of MDF?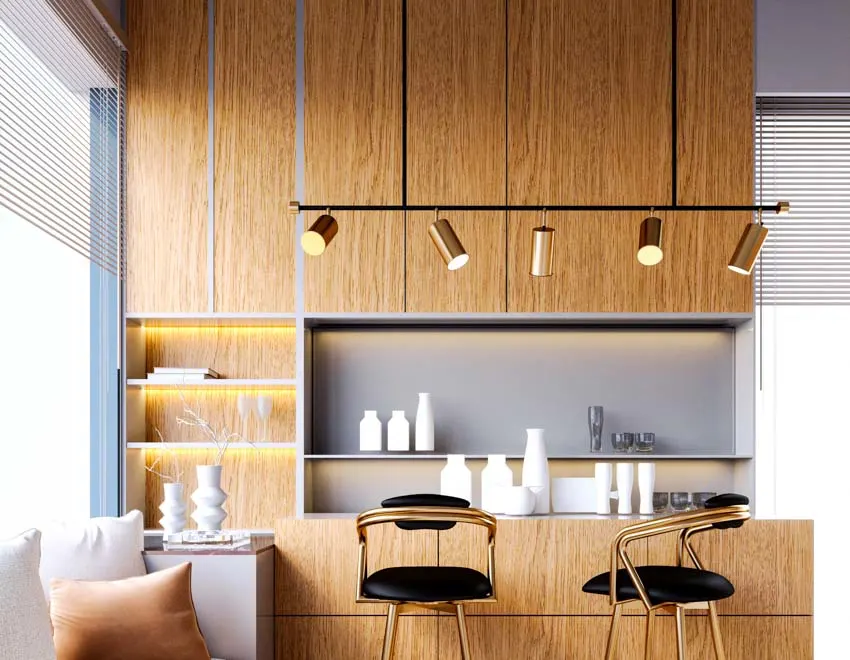 Yes, MDF can absorb wood stains. However, the finished appearance of a stained component is not as attractive as genuine wood. This is due to the lack of wood grain in this material.
It also does not soak up stains as effectively as genuine wood. In any event, for the greatest results, you can add a polyurethane layer above the stain. Anyhow, you can enhance the aesthetic and overall condition of your MDF furniture by staining it with a dark or light-colored wood stain.
MDF Vs Wood Cabinets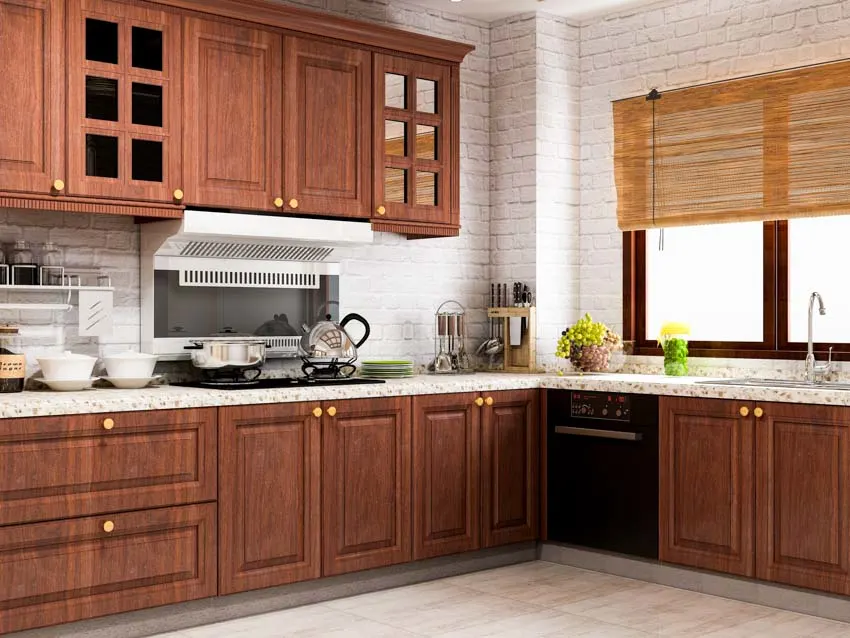 Solid wood, according to most experts, is more durable, more stable, and lasts much longer than MDF. It is regarded as a less costly and flimsier substitute for real wood. However, both solid wood and MDF offer benefits and drawbacks.
MDF is sometimes alluded to as "engineered wood," while solid wood is utilized for cabinet box building. It is used for specific components such as cabinet door central panels, whereas solid wood is employed for the entire cabinet construction.
When it comes to kitchen cabinets, both real wood and MDF are noteworthy. It provides a clean consistency, whereas genuine wood delivers a solid, sturdy, and long-lasting finish.
Compared to solid wood, this cabinet material is more impervious to temperature fluctuations and humidity. Real wood swells and contracts horizontally and vertically whenever temperatures and humidity change. As a consequence, cracks at the seams are probable in painted cabinets as well as solid wood elements.
Unlike real wood, it does not bend or crack when temperature conditions and humidity change. Indeed, this is one of the chief factors that it is used as door central panels in painted cabinets.
In the contest involving solid wood and MDF, there is no actual front runner. Neither is a better product than the other. Each has perks and disadvantages. It clearly surpasses genuine wood when used in cabinet doors for painted kitchen cabinets.
Therefore, Mother Nature's genuine wood will constantly be the best option for kitchen cabinets due to its unique grain patterns, knots, as well as pinholes. MDF central panels, on the other hand, are essential to prevent cracks in the painted finish at the joints of your 5-piece cabinet doors.
Both cabinet materials are excellent, yet neither can be declared the final winner. This is due to the fact that they both have advantages and disadvantages. There are times when one is superior to the other. However, for cabinet doors, we highly recommend this material. It has a lot more advantages than solid wood.
MDF Vs Plywood Cabinets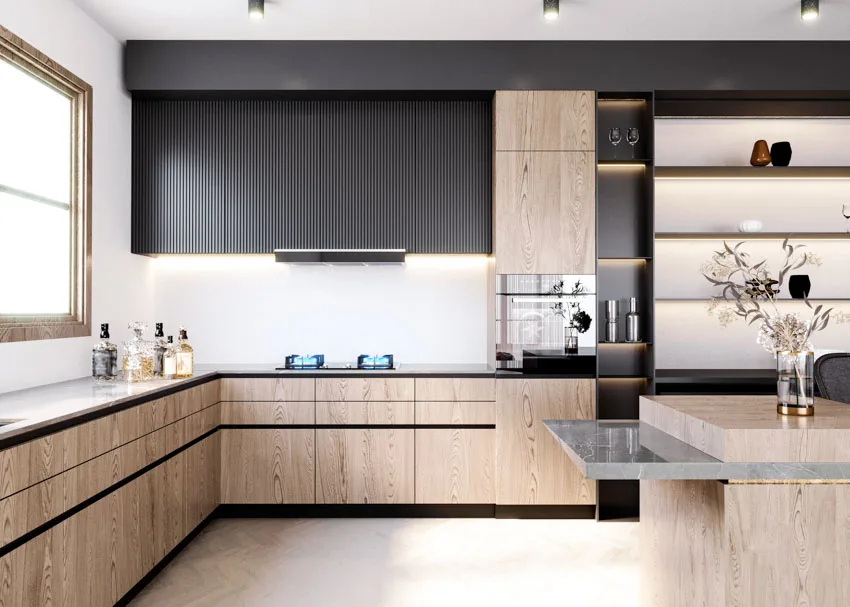 Plywood cabinets are particularly durable because of the varying grain patterns in each piece of ply. Thus, plywood kitchen cabinets are significantly less prone than MDF cabinets to be ruined during shipping and transportation.
Once constructed, the strength and durability differences between plywood and MDF are negligible. They are both tough enough to withstand the abuse that a kitchen can dish out. It is the ability to withstand the journey from supplier to your home, where plywood beats this particular material.
Several cabinet installers choose plywood cabinets over MDF because they are easier to work with. Because plywood is stronger per pound of material than this material, manufacturers can use less material to get the same durability.
Some forms of MDF wood, on the other hand, are far more durable than plywood. Some of them are usually primed and ready to be painted, with no bends or warps. In terms of value for money, it is more pricey than particleboard but less costly to replace than plywood.
One of its strongest points is its manufacturing production method, which is similar to recycling, therefore making MDF wood saves trees. It is resistant to some insects because of the chemicals used in its manufacturing. Because of its high density, it is suitable for a wide range of wood projects.
See more related content in our article about lacquer kitchen cabinets on this page.