The essential guide to acrylic kitchen cabinets including what they are, different types, how much they cost, pros and cons, and their advantage over wood kitchen cabinets.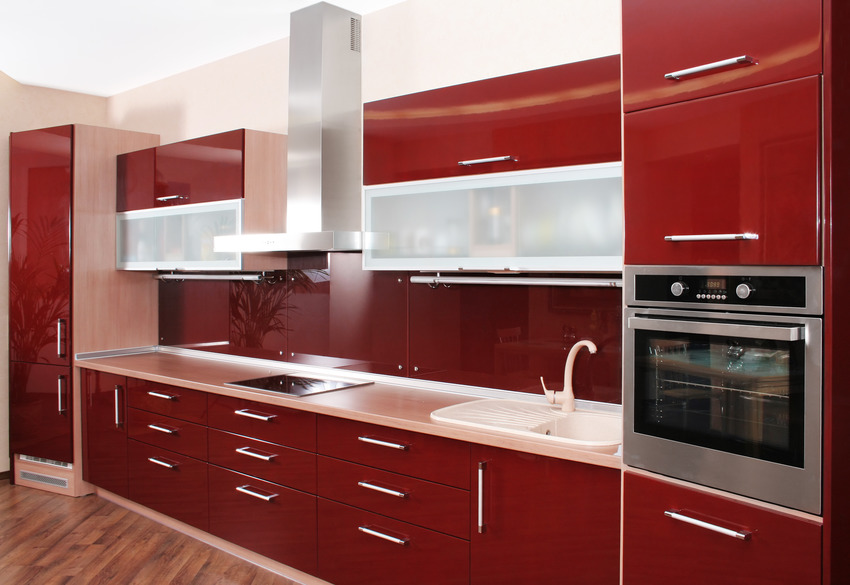 Kitchen cabinets are the most dominant feature in the kitchen, which is simultaneously the central hub of the home. Since they are subjected to daily wear and tear, it is important to pick out the best finish so that they always remain in their best condition.
Paints, wood stains, laminates, and veneers are some of the most common material choices for kitchen cabinet finishes. Each comes with its own practical benefits. However, one of the most durable and reliable options on the market is acrylic.
Below, we take a look at the impressive characteristics of acrylic kitchen cabinets, their cost, and how they fare compared to the other kitchen paint options. Read on to learn why they are an excellent choice for your home kitchen.
What Is Acrylic?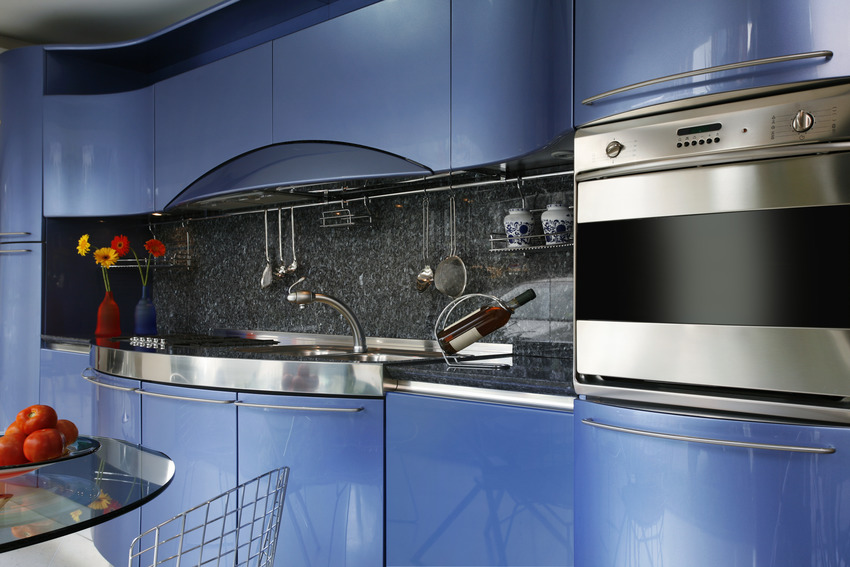 Acrylic is a type of non-toxic finish that gives kitchen cabinets a reflective, high gloss surface and extremely smooth texture. It is essentially a synthetic material that is produced in sheet form.
This premium kitchen cabinet finish is similar to lacquer, which is highly regarded for its premium, mirror-like finish. Acrylic sheets are also available in a wide range of colors and sizes. Read more about our article on lacquer kitchen cabinets here.
Acrylic is extremely durable; it is shatter-proof and resistant to both cracks and chipping. In fact, it is said to be 17 times stronger than glass. Its unparalleled durability comes from hard, high-quality plastic resins.
Acrylic finish is typically used as an alternative to glass or laminate because of its remarkable visual appeal. Known for their sleek finish and crisp look, acrylic kitchen cabinets are commonly present in most modern home kitchens.
Acrylic Finish Kitchen Cabinets
Acrylic kitchen cabinets have two main types, namely solid acrylic doors and acrylic-faced doors.
Solid acrylic doors are made entirely of acrylic finish, giving the cabinets a more vivid and vibrant look. On the other hand, acrylic-faced doors are made up of acrylic sheets attached to an MDF board using an adhesive. The sheets are then coated with a protective layer to seal all of their edges.
Overall, solid acrylic doors are more expensive than acrylic-faced doors.
Acrylic Kitchen Cabinets Pros And Cons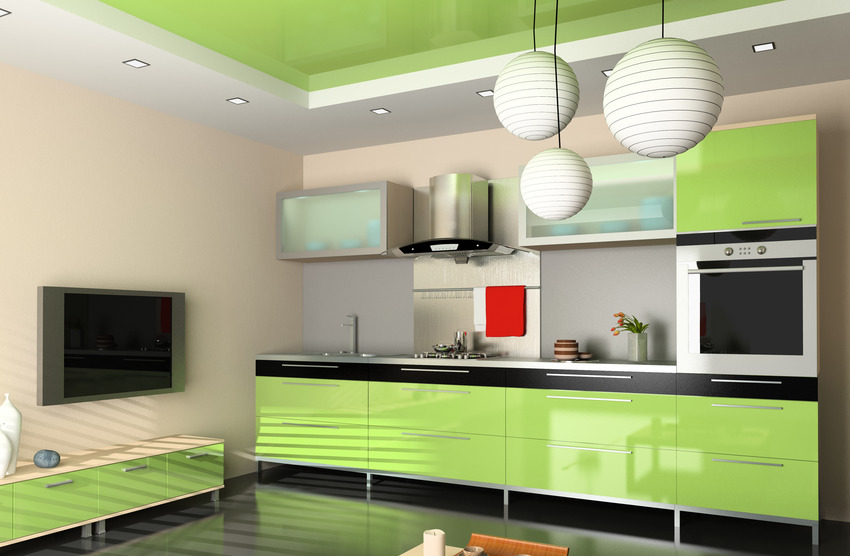 Without a doubt, acrylic is a worthy investment you can make for your home. Aside from the unique, sophisticated look that it can render to a space, it comes with other impressive benefits.
However, just like any other finishing material, there are also several drawbacks to it.
Pros of Acrylic Kitchen Cabinets
Here are some of the advantages of acrylic kitchen cabinets.
Durability – Acrylic is well-known for its remarkable durability and reliability. It can withstand wear tear, making it highly suitable for kitchen cabinet applications. Moreover, acrylic is also scratch- and UV light-resistant.
Waterproof – Unlike the other cabinet finishes, acrylic is waterproof. This means they do not require any type of special treatment or sealant as extra protection. Acrylic can also be used for both interior and exterior applications.
Long lifespan – Because of the durability of the finish, acrylic kitchen cabinets tend to last long. Its appearance, gloss, and color will not fade easily over time.
Easy to clean – One of the most practical benefits that acrylic kitchen cabinets have to offer is that they are very low maintenance. For proper cleaning and maintenance, all you need to do is to wipe it down with a soft cloth and use some mild soap and water to clean it.
Aesthetics – One of the major reasons why people are drawn to acrylic kitchen cabinets is due to their interesting visual appeal. Most high-end kitchens make use of a premium high gloss finish. Typically, acrylic is their go-to finishing material.
It creates a very elegant atmosphere, while also creating an illusion of space because of its highly reflective surface. This is the perfect choice if you want to make your kitchen cabinets the focal point of your home. It also contrasts beautifully with a variety of backsplash options. Read more about the various types of kitchen backsplash here.
Available in a wide variety of colors – Acrylic finishes come in a wide variety of colors which range from versatile neutrals to bright lively hues. This makes it an ideal option for those who want to maximize customization.
Whether your kitchen has a traditional or modern interior theme, you can surely find the right acrylic color which will complement your interior style and color scheme.
UV-resistant – Acrylic has excellent UV resistance. This means that acrylic cabinet doors can also be installed outdoors, making them a perfect choice for patio kitchens. Its color will not fade nor change even when exposed to direct sunlight.
Lightweight – Acrylic, as a construction material, is lightweight and can be machined, fabricated, and glued.
Cons Of Acrylic Kitchen Cabinets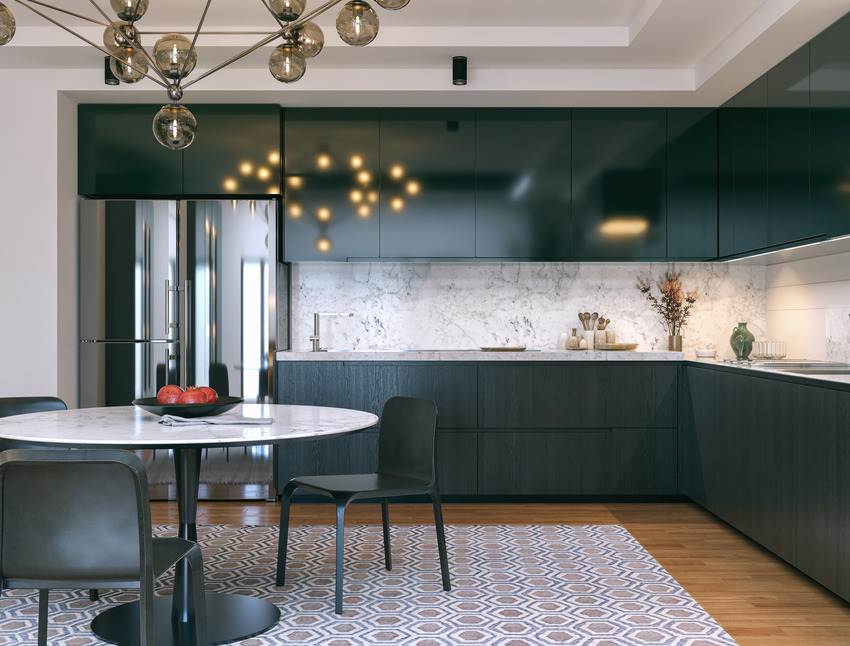 Here are some of the disadvantages of acrylic kitchen cabinets.
Visibility of stain and dirt – Due to the extremely glossy surface of acrylic kitchen cabinets, dirt, stains, and fingerprints tend to be more noticeable. Thus, they are quite high maintenance compared to the other kitchen cabinet finishes like paint or wood stain.
Expensive – Overall, acrylic is more expensive compared to the other kitchen cabinet finishes because it is also considered a premium finish.
Difficult to replace – If the need to replace one of your acrylic kitchen cabinet doors arises, it might be difficult to do so. After several years, it will be quite challenging to perfectly match the shade of your existing acrylic kitchen cabinets.
In some cases, the best solution to maintain a seamless look is to replace all the cabinets entirely.
Installation – DIY is not an option and installation is best left to the experts. Acrylic sheets sometimes do not adhere easily to their cabinet base. To ensure proper application, it would be best to hire a professional to do the job.
High Gloss Acrylic Kitchen Cabinets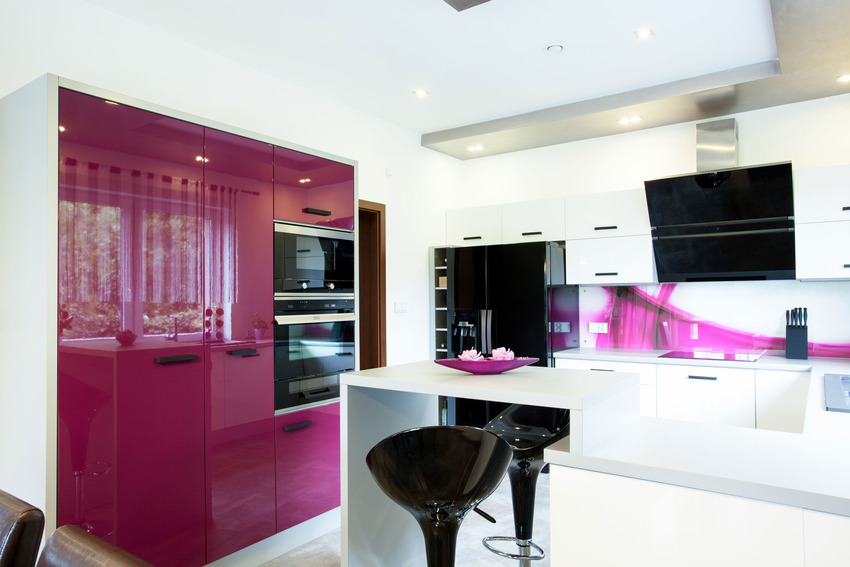 High gloss acrylic kitchen cabinets are popular choices for most modern and European-style kitchens. This type of acrylic finish has a mirror-like semblance and an ultra-shiny appearance that is perfect for a clean and seamless look. See more high gloss kitchen cabinets here.
This is perfect if you want to create an illusion of space in your kitchen because it reflects light very well, making the area appear bigger and more open.
Aside from high gloss finish, acrylic kitchen cabinets are also available in other types of finishes including, matte, semi-gloss, and decorative finish.
White Acrylic Kitchen Cabinets
White remains to be a popular color choice for most kitchen cabinet designs. Regardless of the style, finish, and material, white kitchen cabinets are considered to be a fail-proof choice because of the design flexibility and timelessness they offer.
White kitchen cabinets, in general, tend to never go out style. The minimalist and crisp aesthetics of white acrylic kitchen cabinets make them a leading choice for modern kitchens. They also pair well with any interior theme and color scheme.
Among the color choices for acrylic kitchen cabinets, white offers the most design flexibility and versatility. It works like a blank canvas which presents unlimited mix and match options for styling.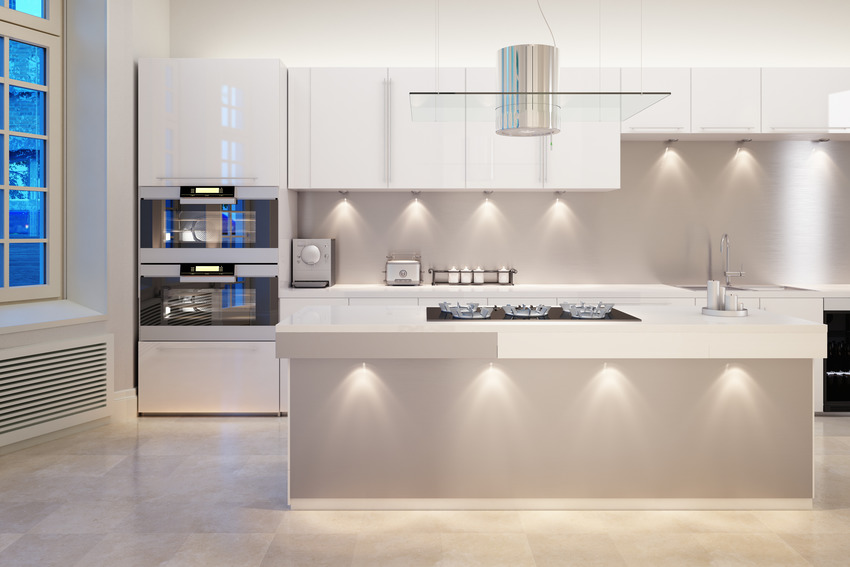 It goes well with any backsplash color, blends harmoniously with different countertop choices, wall paints, flooring, and appliances. But it can also stand out remarkably in the space if you contrast it with other design elements.
Aside from contrast, you can also create a stylish, seamless monochromatic palette with white acrylic kitchen cabinets. Moreover, they can be a perfect backdrop to introduce a splash of accent colors into the space.
While white may seem too dull or boring, white acrylic kitchen cabinets can make any interior visually interesting because of their high gloss, reflective finish.
White acrylic kitchen cabinets can also make a space feel more vibrant, creating a bright, spacious, and inviting atmosphere. It can help enhance the lighting too as it tends to reflect light well. In effect, this can also help create an illusion of a bigger space, making it highly suitable for small kitchens.
Acrylic Paint For Kitchen Cabinets
There are mainly three types of paint, namely oil-based paints, latex-based paint, and acrylic paints. However, oil-based paints are starting to be phased out in the last fifteen years.
When doing home improvement projects, consider using acrylic and latex paints.
The main difference between the two is that latex paints are water-based while acrylic paints are chemical-based.
Acrylic-based paints are made up of pigments suspended in acrylic resin and an acrylic polymer solution. Acrylic paint also dries very quickly.
Because they are chemical-based, they become resistant to water when dry. They do not mix well with oil-based paints and are more challenging to apply in bigger areas.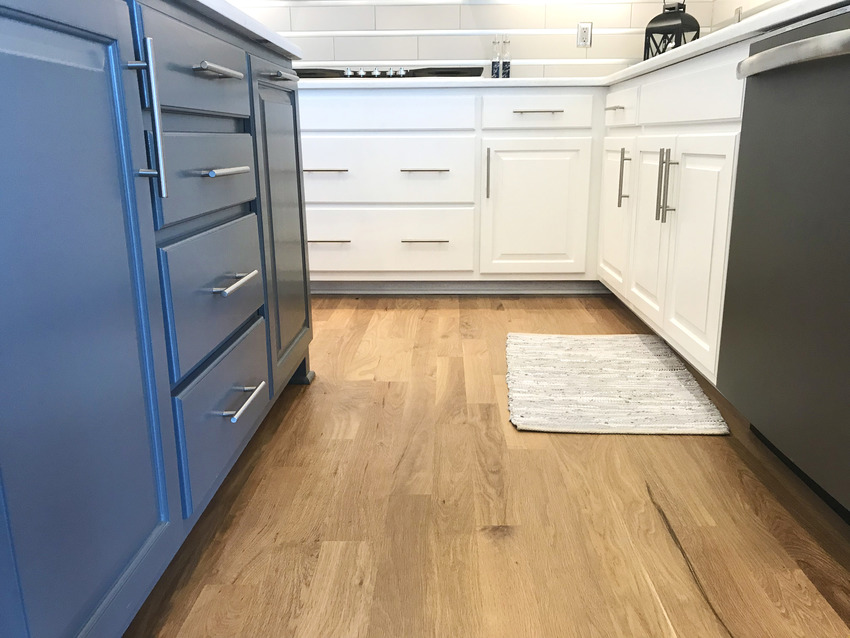 The components that make up acrylic paints made them more elastic as well. Greater elasticity means the paint expands and contracts better when the temperatures fluctuate. This means that acrylic paint will not flake nor crack even when exposed to extreme heat or cold, making them excellent for kitchen cabinet applications.
Acrylic paints are ideal finish materials for wooden kitchen cabinets. They strongly adhere to wood and are peel-resistant. Although more expensive than the other types of paints, acrylic paints are extremely durable.
You can find acrylic paint for kitchen cabinets in local home improvement stores and hardware stores. Popular brands like Behr, Sherwin Williams, and Valspar all carry 100% acrylic paints in their product line and manufacture them in a wide range of colors.
When using acrylic paints as a finishing for kitchen cabinets, make sure to apply at least 3 coats for extra durability.
Acrylic Kitchen Cabinet Doors
Acrylic cabinet doors are typically used in European-style kitchens and are commonly offered by modular kitchen suppliers.
They are produced in an extensive range of colors and finishes⁠—from vibrant reds, electric blues, bright oranges to neutrals like various shades of black, white, and brown. They are also available in several finish options, including high gloss, semi-gloss, matte, and wood-like finish.
Modular kitchen suppliers and cabinet manufacturers typically make acrylic kitchen cabinet doors using an MDF base material. However, they can also be used with plywood or solid wood cabinet frame.
Cost Of Acrylic Kitchen Cabinets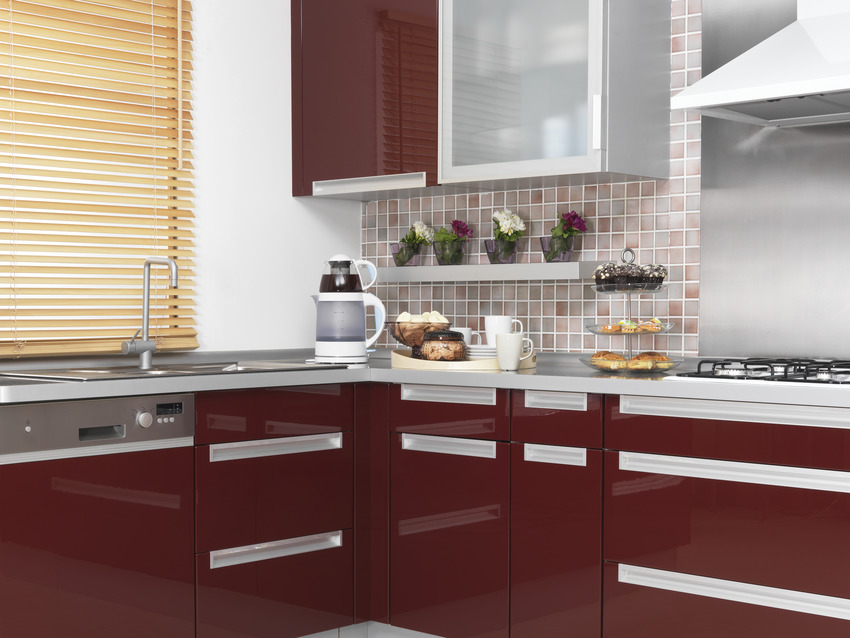 The price of acrylic kitchen cabinets ranges between $5,000 and $20,000 for the materials and installation. The overall cost of the project will vary greatly depending on the base material or the carcass of the kitchen cabinet.
Since acrylic finish comes in sheets, it can be applied to MDF, metal, or even wood. Typically, acrylic kitchen cabinets with an MDF substrate are cheaper than those with a solid wood base.
In general, acrylic finish is more expensive than wood veneers and laminates. But while it is considered a premium finish, it is still often less expensive than real wood or solid wood and stainless steel kitchen cabinets.
Acrylic vs Wood Kitchen Cabinets
Before we take a look at the comparison of the qualities of acrylic and wood kitchen cabinets, let us first differentiate them in terms of their use in kitchen cabinet construction.
The carcass or the main framework and body of a kitchen cabinet is typically made of solid wood or wood-like materials. This can be hardwood, particleboard, plywood, or fiberboard.
The carcass serves as the base where the finishing material is applied. The finishing material includes paint, stain, lacquer, veneer, laminate, varnish, or acrylic.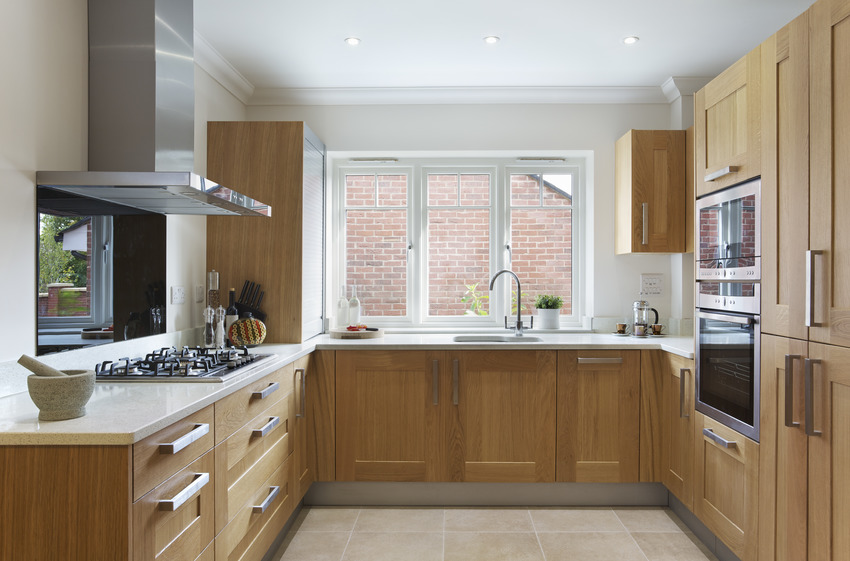 In short, wood is often used as a base material for a kitchen cabinet, whereas acrylic is a type of finish applied on top of the base material. Depending on your personal preference, you can combine both materials to ensure the best quality of your kitchen cabinets.
Real wood or solid wood kitchen cabinets are arguably the most durable material for kitchen cabinets. However, the level of durability of solid wood kitchen cabinets will greatly depend on the type of wood species used.
Hardwoods like hickory and maple are naturally resistant to denting and scratching, as compared to softwoods. Still, softwoods are generally durable and can withstand wear and tear better compared to other kitchen cabinet materials like fiberboard and particle boards.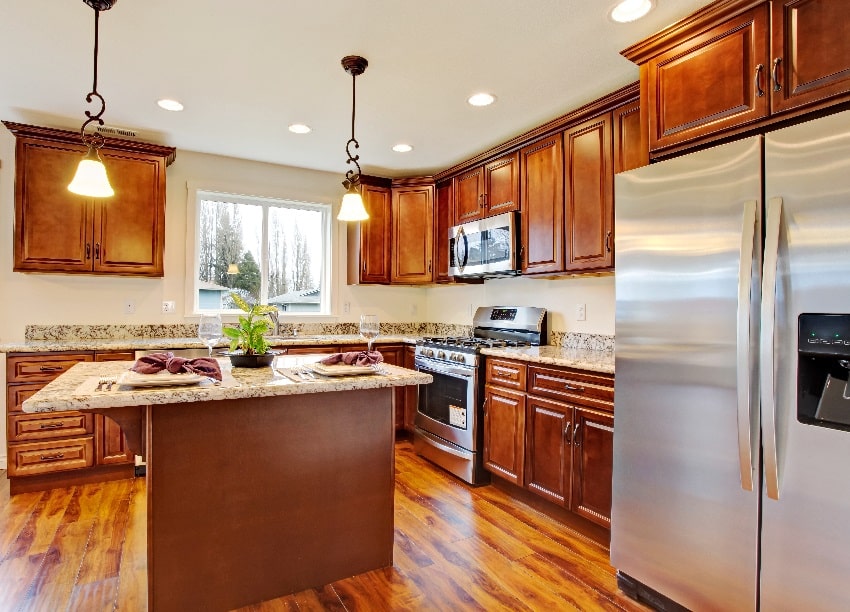 However, like any other wood material, they are prone to molds, expanding, rotting, and warping. But overall they tend to be long-lasting, which can last you for decades.
Solid wood is not only durable but also has a distinct natural beauty which adds a warm and ad inviting feel to a space. While they are considered to be the best kitchen cabinet case materials, they tend to be expensive.
Acrylic kitchen cabinets with a solid wood base are also very durable. Since solid wood is already naturally resilient on its own, adding a top coat of a sturdy finish like acrylic will reinforce its durability and enhance its quality.
This will also counter the weaknesses of solid wood like being prone to moisture damage. Acrylic finish can help protect wood from moisture, which in turn prevents the kitchen cabinets from warping or expanding over time.
Check out our guide on the various types of kitchen cabinet materials for more related content.