In this guide to PVC kitchen cabinets you'll find their design types, modern & modular PVC options, doors, finishes, cost, and how PVC cabinets compare to wood & melamine.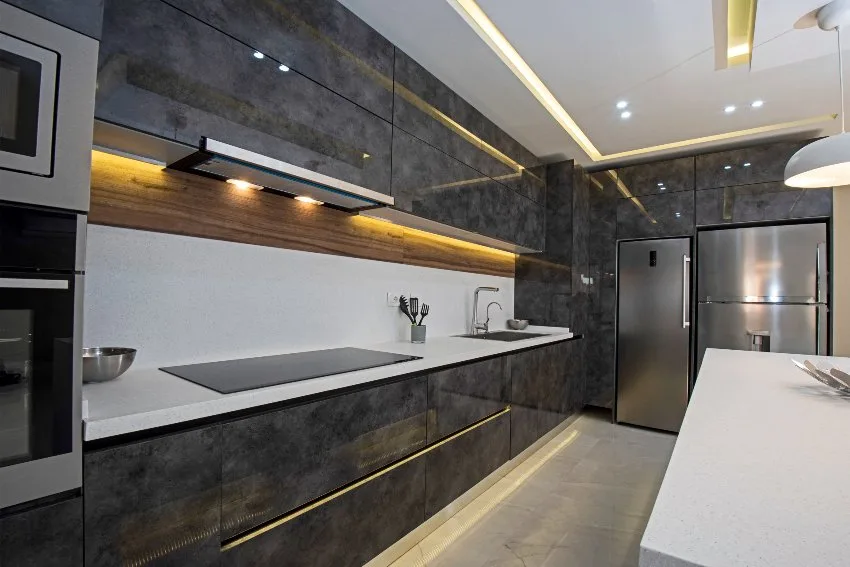 If you're kitchen cabinets are appearing shabby or old-fashioned it may be time for an update. Cabinets play an essential role in the kitchen's overall appearance and can make a big impression in the home. But what kitchen cabinet materials are sturdy, durable, and appropriate to meet all the requirements?
As prices of kitchen remodels are increasing, many homeowners are looking for inexpensive, and easier to install kitchen cabinet options. With the popularity of modular kitchens, there are an assortment of materials being used for cabinetry. We have observed a growing trend in interior design, which takes the form of PVC kitchen cabinets.
What Are PVC Cabinets?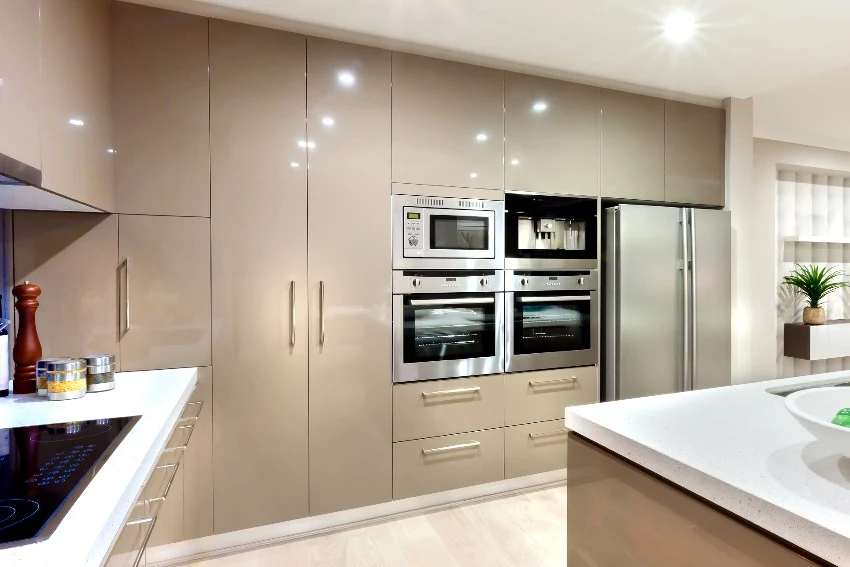 The first thing that comes to mind when discussing polyvinyl chloride (PVC) material is pipes or plumbing materials. However, because of its durability and supply simplicity, PVC has many different applications today. With the rise of modular kitchens, PVC has also grown in favor of material for kitchen cabinets.
PVC kitchen cabinet materials are constructed with plastic composite sheets. The industry offers two types of PVC kitchen cabinets: hollow boards and foam. The hollow board option is lighter, more inexpensive, and as the name implies, it is hollow. On the other hand, PVC foam boards are thicker, making them more durable.
Pros and Cons of PVC Kitchen Cabinets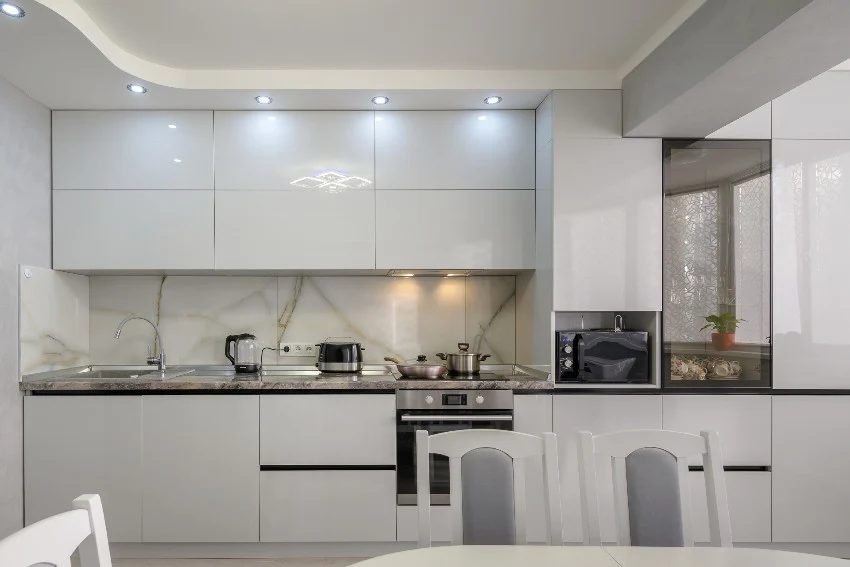 Before you decide on PVC as your chosen material for kitchen cabinets, consider the following benefits and drawbacks.
Pros of PVC Cabinets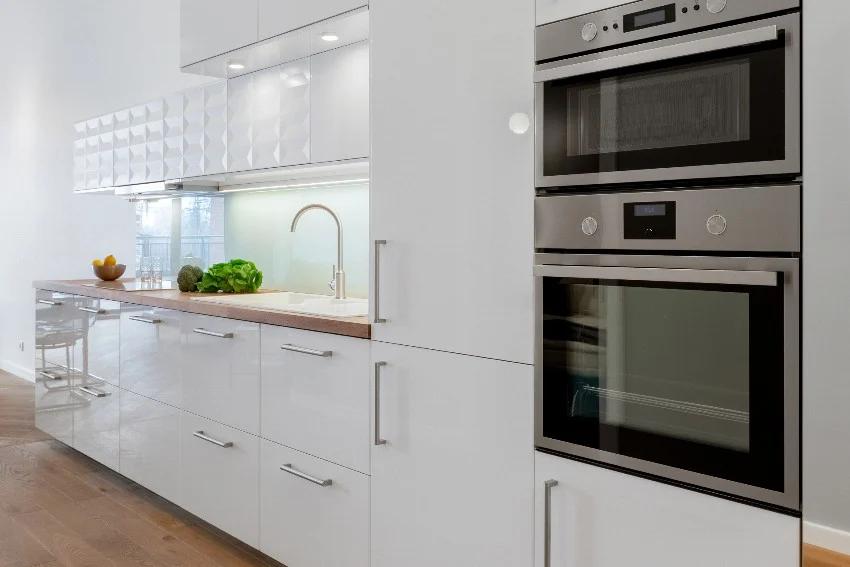 Economical – PVC materials are cost-effective and less expensive than hardwood cabinets. Hollow PVC boards are even cheaper than foam boards if you are searching for an inexpensive cabinet for a temporary kitchen or anything similar.
Simple to install – PVC material for cabinets is available in various colors and ready-made boards. These ready-to-fit boards are lightweight and straightforward to install in your kitchen.
Minimal maintenance – PVC, mostly made of plastic, can be cleaned up after spills or splatters. As a result of not absorbing liquids or oils, it is remarkably stain-resistant. PVC cabinets are straightforward to clean and durable. As a result, PVC needs practically minimal maintenance.
Termite-resistant – You won't have to worry about termites or insects ruining your cabinets if you use PVC. PVC cabinets are termite and rot-free since no wood is in their construction.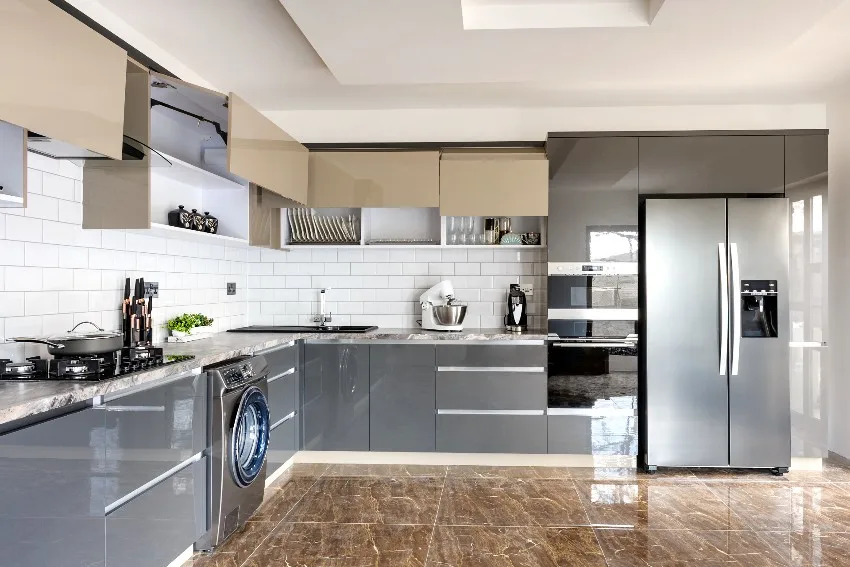 Strong and durable – PVC foam boards are stronger and more durable than other PVC products. These materials are also rot-proof, waterproof, oil-proof, and corrosion-resistant, which adds to their general toughness.
Lightweight – PVC materials are very light and manageable compared to natural wood cabinets' weight. Comparatively speaking to traditional wood cabinets, transporting, setting up, and taking them out is a snap.
Cons of PVC Cabinets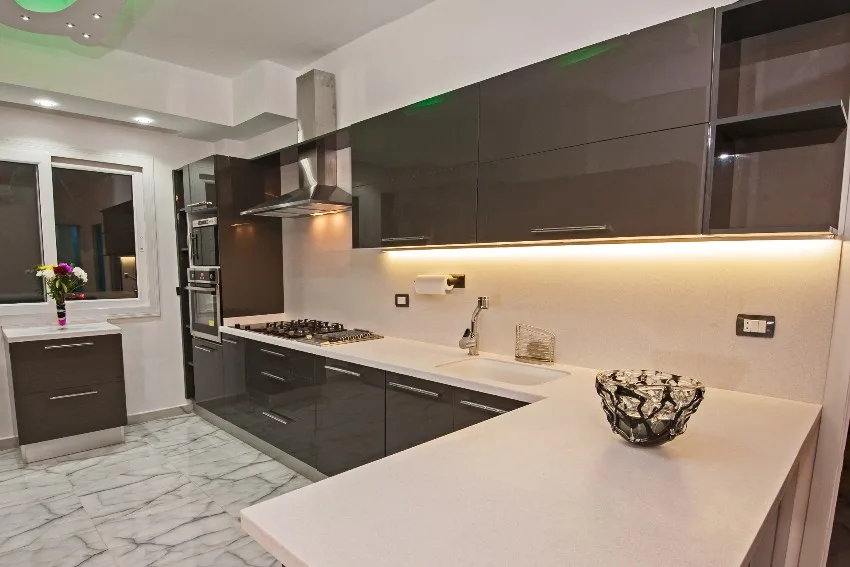 PVC kitchen cabinets offer numerous benefits, but they also have some drawbacks.
Low hardware compatibility – PVC boards are simple to install and operate, but their cabinet hardware can be challenging. These PVC boards tend to droop over time due to the screws and hinges utilized to connect them. Thus, PVC boards' holding power is inferior to other materials like plywood or natural wood.
Low fire resistance – Kitchen cabinets made of PVC board have poor thermal and fire resistance. As a result, you must take great caution while installing PVC cabinets in your kitchen. PVC is less heat and fire-resistant than wood cabinets with sealant, especially in the case of hollow PVC boards.
Prone to scratches – Since PVC cabinets are plastic, they are prone to scratches and cuts. A nick or split in PVC materials cannot be fixed and is permanent. You would need to replace the whole board if your PVC kitchen cabinet had a big scratch.
May droop with time – Regarding the durability of PVC kitchen designs, consider foam board over hollow PVC since it can bear more significant weight. If not properly cared for or maintained, the harm might be irreparable.
Types of Designs for PVC Type Cabinets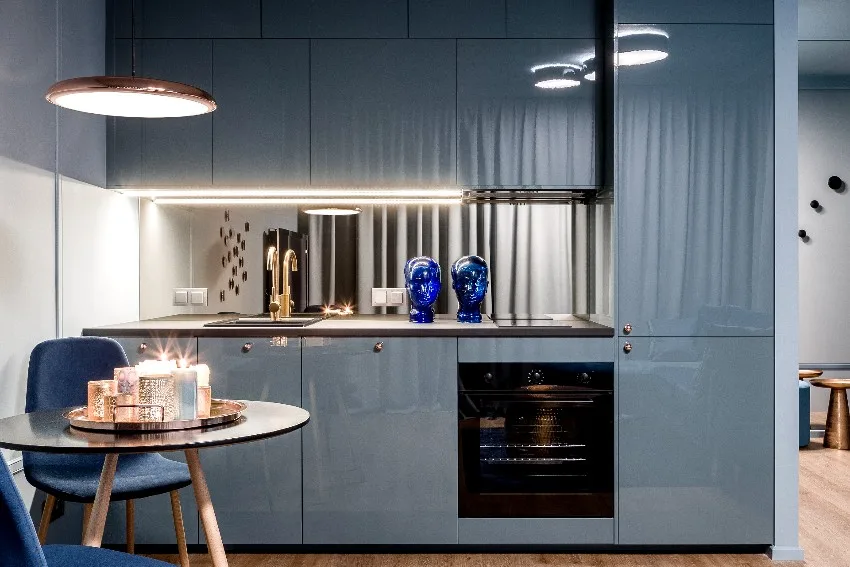 There are two kinds of PVC for kitchen cabinets:
• PVC foam boards
• PVC hollow boards
As the name indicates, PVC hollow boards are hollow inside, but PVC foam boards are sturdier and thicker. While both forms of PVC material may have the same glossy/matte appearance, PVC hollow boards have limited heat resistance and can droop much too fast, owing to a lack of strength.
PVC hollow boards are exceedingly light and straightforward to install, but because of their lower durability, they work best for temporary construction. Foam PVC boards rival even wood cabinets in terms of strength and longevity.
PVC hollow boards are lightweight and the more affordable choice between the two. Unfortunately, they are neither fire, termite, nor moisture-resistant and have limited heat resistance.
Although more costly, PVC foam boards are heat-insulated and more robust than hollow boards. Foam board-based PVC kitchen cabinets are a superior alternative for your kitchen cabinets since they are more dependable and durable.
PVC Cabinet Doors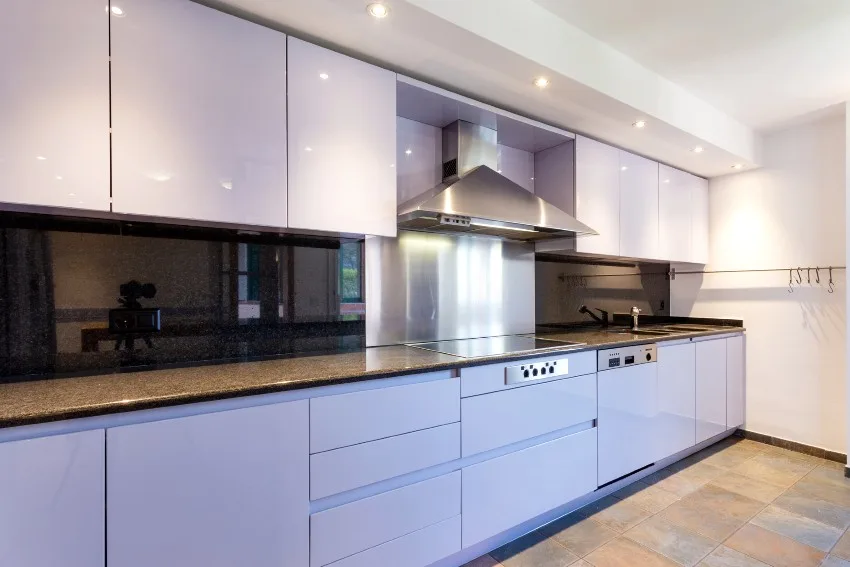 PVC coating has gained popularity since the 1990s. At that time, the wood doors were problematic because of their propensity to discolor and shatter at the seams.
The lack of seams in the PVC cabinet doors has always been an advantage. Due to their reasonable pricing and attractive design, PVC cabinet doors are always in demand among homeowners and the kitchen cabinet door industry.
The PVC cabinet doors are easy to clean because of their seamless construction and smooth covering. Homeowners may rapidly clean them with a wet cloth or a Windex-like cleanser.
However, the PVC-coated cabinet doors have the drawback of notwithstanding high-heat sources particularly well. These cabinet door manufacturers often have "tight" design guidelines that cupboard fabricators and suppliers follow when creating, selling, and installing cabinets.
Modern PVC Board Cabinets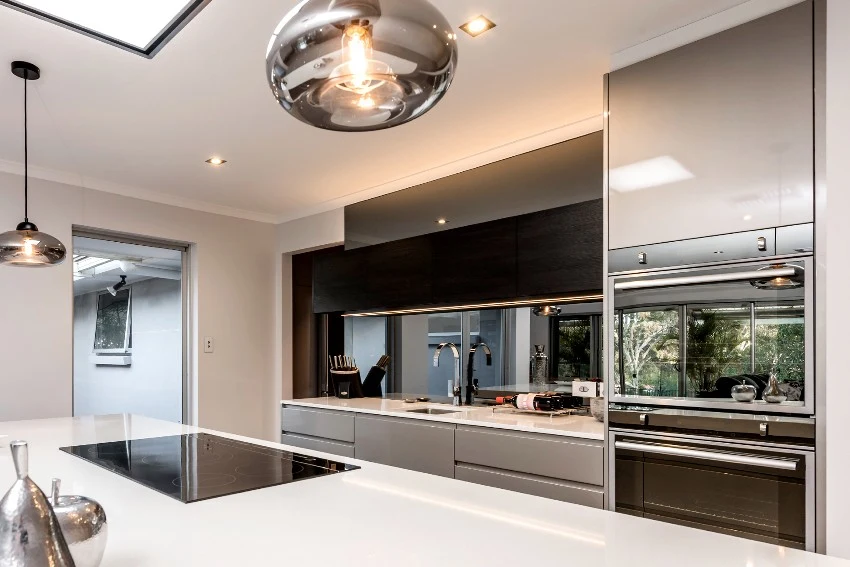 Particularly in rental flats, modern PVC kitchen cabinets are growing in popularity. Laminates made of PVC are another current method to employ PVC in your kitchen.
Here, the ornamental PVC laminate surface finish is on top of a plywood-like material that serves as the primary cabinet's construction. PVC laminates are sheets of laminate created by compressing PVC, thin layers of paper, and resin at high temperatures and pressures.
PVC laminates can bend 90 degrees and are pretty flexible. They may thus be utilized around edges for a seamless appearance without border banding. They are enduring and relatively simple to clean.
Modern PVC laminates have matte, glossy surfaces resembling metal, stone, or wood. They resist termites, heat, rust, dampness, and corrosion. Laminate cabinets are more affordable, ideal for humid environments, and suitable for kitchen designs and cabinets.
PVC Modular Cabinets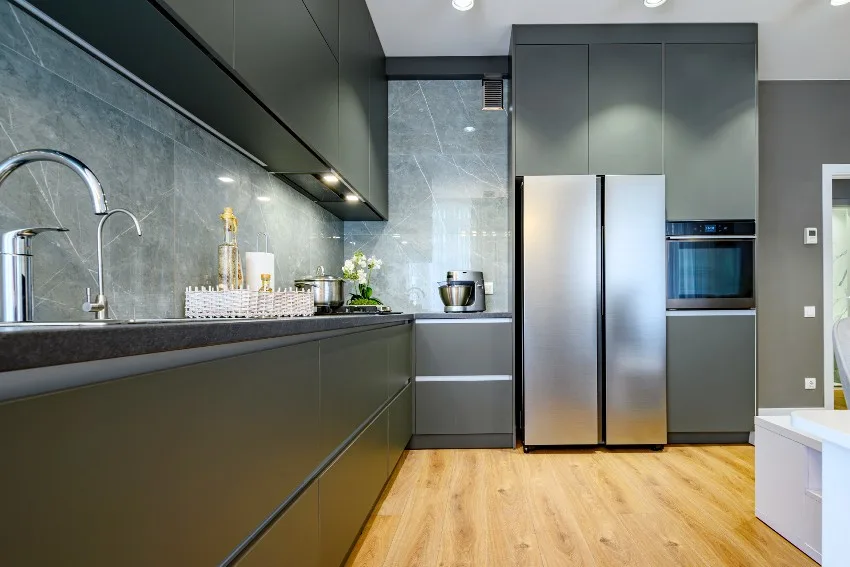 PVC kitchen cabinets are your best option if you seek a modular kitchen design that combines practicality and beauty seamlessly. Modular kitchen PVC cabinets have been popular and will continue to be so for a long time.
Here is a summary of the popular PVC modular kitchen designs on the market.
• Straight line: The washing area, gas chimney, and other kitchen equipment may all fit in a one-wall straight-line kitchen design.
• L-Shaped: This popular kitchen design makes careful and effective use of corner fixtures. It provides you with a lot of workspace and room for PVC cabinets.
• U-shaped: The best kitchen layout is U-shaped, with three countertops on each side for you to use.
• Island: In addition to the storage offered by the PVC cabinets, the kitchen island gives you additional storage.
• Peninsula: This open kitchen design has a wall separating the dining and living areas from the kitchen.
• Parallel: Two distinct countertops are positioned parallel to one another, preferably one for cooking and appliances and the other for chopping and washing. This is also referred to as a galley kitchen.

Finishes Used in Kitchen Cabinets Made of PVC
The two finishes most often used for kitchen cabinets are PVC and acrylic. Due to their exceptional features, selecting one over the other for any interior work remains challenging.
Laminated PVC Finish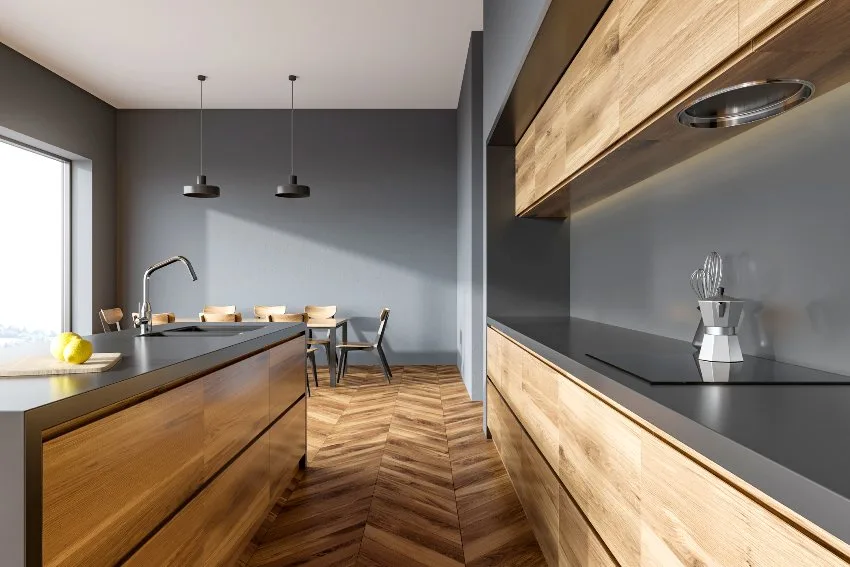 This multi-layered material, most often used to finish modular kitchen cabinets, is created in factories by pressing thin layers of flat paper and plastic resins together under intense pressure and heat.
However, although having a shiny surface, PVC laminates are not as reflective as acrylic, giving the finished product a more muted appearance.
PVC laminates are incredibly affordable, making them the perfect choice for those on a tight budget. Compared to acrylic, PVC laminates can tolerate normal wear and tear more readily. Thus, they don't need much care and are simple to clean with a soft, wet cloth soaked in a moderate detergent.
PVC laminates are flexible and resistant to corrosion, termites, scratches, stains, and water. Due to these factors, PVC laminates outperform acrylic cabinets in terms of toughness and longevity.
Acrylic Finish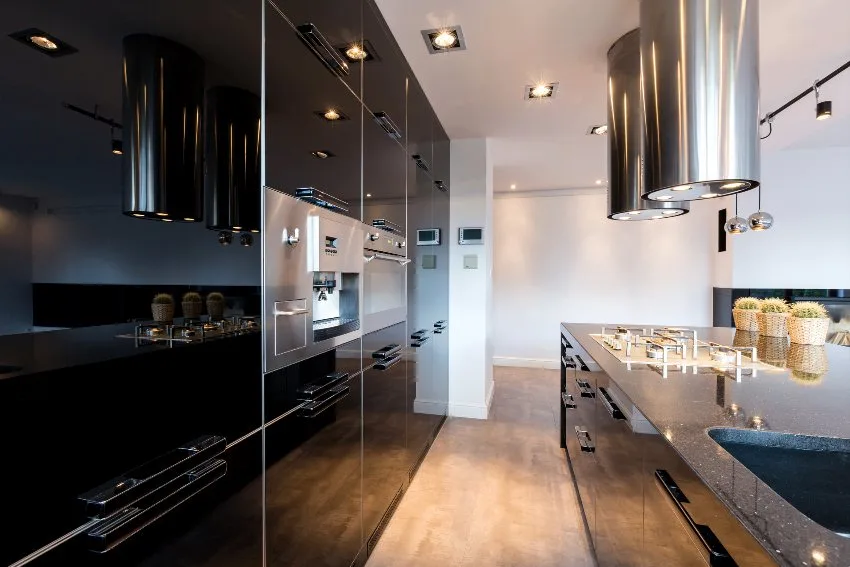 The acrylic finish, made of plastic resins, has a highly reflecting, glossy surface that gives the cabinets a dazzling sheen and a mirror-like appearance. Additionally, it retains its luster for years and comes in various colors.
However, because of color differences, updating these finishes might take a lot of work. It costs more than a PVC laminate finish because of this.
PVC and acrylic coatings compare well in many areas. Acrylic finishing, a high-gloss alternative, is more aesthetically pleasing than PVC laminates.
There is no disputing, however, that PVC laminates are less expensive than acrylic coatings. Therefore, choosing a finish will require you to consider three things: the aesthetic you want, your capacity to maintain it, and the affordability.
PVC Foam Cabinet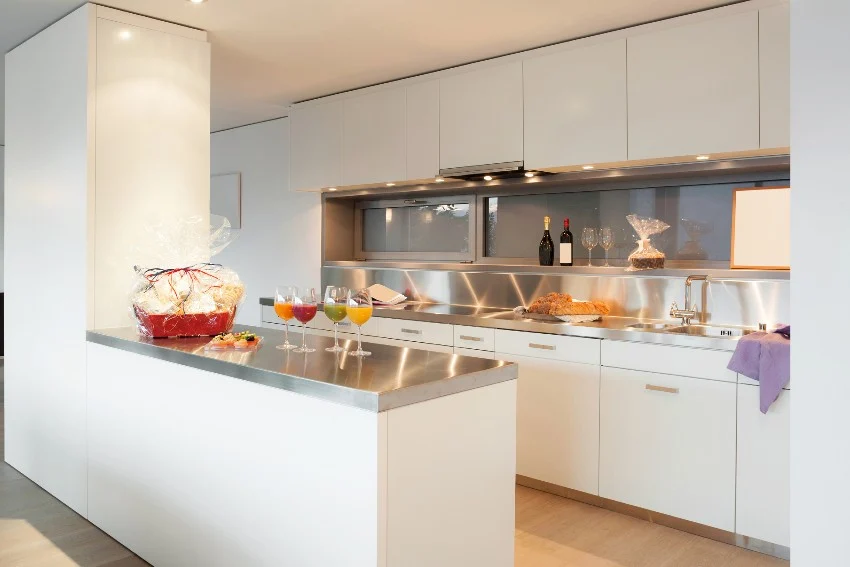 Foam boards are highly suitable when picking PVC cabinet designs for your kitchen. Foam boards are often heat-insulated and fire-resistant. It is also said to be non-toxic, anti-chemical, and corrosion-resistant.
PVC foam boards weigh relatively little. Therefore, it is straightforward, and handling and shipping are less demanding. It is simple to drill, saw, screw, bend, glue, and nail, just like plywood.
PVC foam boards can withstand dampness. Due to its low water absorption capacity, it is simple to maintain. The best feature of PVC foam boards is that they come in matte and glossy surfaces that may be utilized right away for kitchen storage cabinets.
The kitchen cabinets made of foam PVC are more robust and sturdy than wooden ones. Foam board-based PVC kitchens are a dependable and exceptional material for kitchen cabinets.
PVC Outdoor Cabinets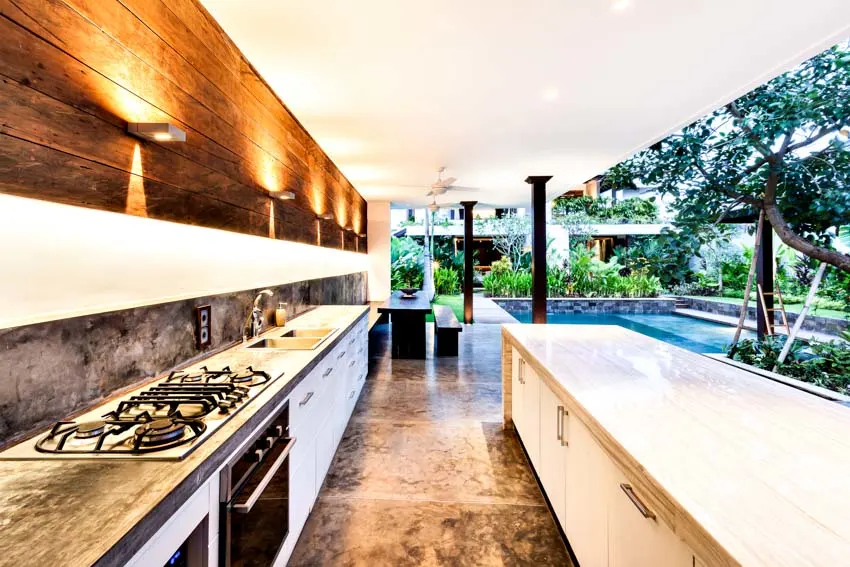 If you want to use your outdoor kitchen cabinets for many years to come, you must pick materials that can endure the rigors of an outside setting. PVC is one of the more recent materials used for outdoor kitchen cabinets.
PVC is completely waterproof and will not rust or discolor. However, cheaper PVC or vinyl kitchen cabinets may distort when temperatures change dramatically and are vulnerable to color fading from extended UV exposure.
You should choose a premium brand if you use PVC cabinets for your outdoor kitchen design. Some manufacturers use cutting-edge high-density technology that flawlessly mimics genuine wood's natural color and feel without the upkeep and degradation associated with wood cabinetry.
The only thing you need to do to clean them is using a hose or pressure washer since they are entirely waterproof. They are also resistant to sun, rain, ocean, and snow.
PVC Over Wood Cabinets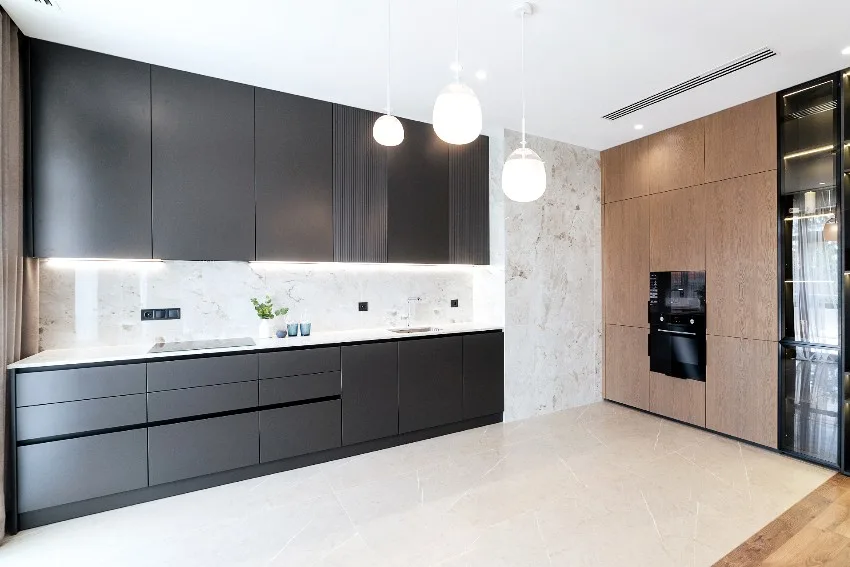 Wooden kitchen cabinets are progressively being replaced with PVC foam boards nowadays. Compared to hardwood cabinets, they are less expensive, and replacements are more uncomplicated.
Solid wood is more costly, more challenging to install, prone to dampness, and more difficult to repair. Hardwood boards offer more colors, designs, and textures than PVC boards.
PVC over wood cabinets may bond together using specific products. Many polyurethane adhesives and sealants may be employed, providing a more powerful, longer-lasting bond than a hot glue solution.
Another long-term solution is to bind the PVC over the wooden components mechanically. By far, mechanically attaching the two materials is the most long-lasting approach to getting PVC and wood to bind.
Installation Costs for PVC-Made Cabinets
PVC kitchen cabinet designs are a cost-effective alternative to other regularly used modular kitchen cabinet materials. For semi-custom and stock types, PVC kitchen cabinets typically cost between $160 and $380 per linear. Custom cabinets may cost up to $1,000 per linear foot.
The least expensive solutions are often pre-assembled or stock cabinets. The typical price per linear foot may vary from $100-$180. The optimum kitchen cabinets for a standard 10 x 12-foot or 10 x 10-foot room are pre-assembled PVC cabinets.
Homeowners with a bigger budget might consider custom cabinetry. You may enhance your custom kitchen's décor by working with PVC kitchen cabinet designers to incorporate outstanding features. You may reduce the cost if you undertake a DIY project using PVC.
Painting PVC Cupboards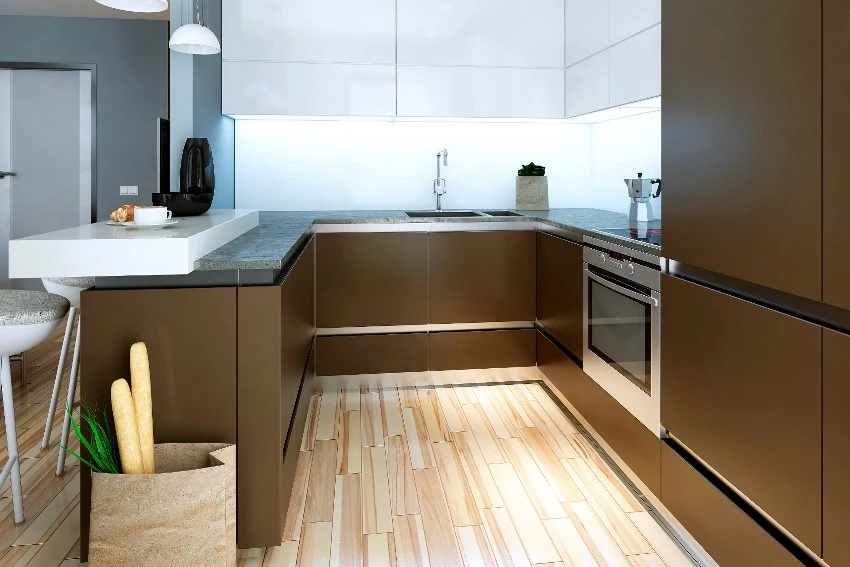 Your PVC cabinets will appear as good as new while saving you thousands of dollars by being cleaned and painted. For simple instructions on painting PVC kitchen cabinets, refer to the following:
1. Break it down. Use a screwdriver to disassemble the cabinets, NOT a hammer. Before you begin removing screws, take a photo of how the cabinets and drawers appeared.
2. Scrub the surfaces. Clean the surface of the cabinet doors and drawer fronts thoroughly.
3. Scuff and sand. Sand any cabinet surfaces completed using 220-grit sandpaper to improve the paint adhering to the PVC cabinet.
4. Use a primer. You may use various primers on PVC, but oil-based primers are the most secure option. Give the cabinet parts at least an hour or two to dry.
5. Time to paint the kitchen cabinets. Consider long-lasting acrylic latex paint in the color of your choice when deciding to paint kitchen cabinets.
6. Apply a clear coat if necessary. To add this extra layer of protection, give a light coating of clear polyurethane varnish to the PVC cabinet surfaces.
7. Rebuild your PVC kitchen cabinets. Using a screwdriver, replace each item you removed. Make use of the earlier photos you shot for help!
Kitchen Cabinets PVC Vs. Wood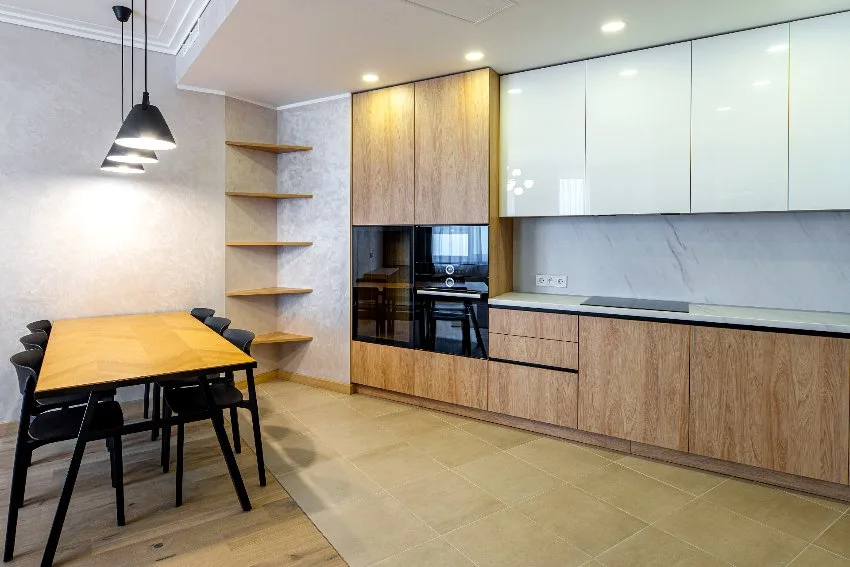 PVC kitchen cabinets are preferable over wood cabinets due to their price, durability, and ease of supply. Wood, if not properly kept, attracts termites.
PVC material may also tolerate significant heat damage and some amounts of surface degradation. Maintenance of PVC cabinets, drawers, shelves, and so on is simple and easy to clean.
On the other hand, wood lends a contemporary but refined aspect to the kitchen; it exudes elegance and invites nature into the house. It is fashionable and beautiful, providing a sense of royalty to the kitchen.
But unlike PVC, the most significant drawback of wood is upkeep. Natural wood may deteriorate when exposed to excessive moisture, especially in humid environments. Unique solutions or oils are also required to maintain the surface appearance.
Melamine Vs. PVC Cabinets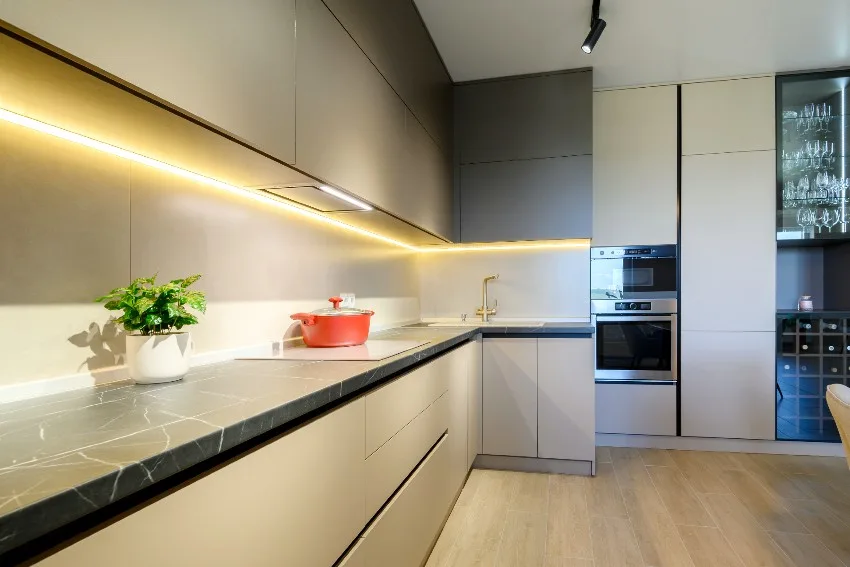 PVC is one of the most significant polymer materials since it has endless applications in various industries. PVC is flexible, resistant to high temperatures, chemically stable, and simple to clean.
In addition to being used widely in homes. It also makes partitions, protective coatings, furniture, doors, and windows, as well as in manufacturing land and water vehicles.
Melamine is a polymeric substance that has widespread use in the plastics industry because of its distinctive manufacturing techniques. One coating used to cover wood products like MDF is low-pressure melamine. See melamine kitchen cabinets pros and cons here.
These coatings shield MDF from various elements, including moisture, heat, and scratches. The drawback of high-pressure laminates is their extreme stiffness and fragility. This veneer material cannot have a glossy appearance.
Are Polyvinyl Chloride Cabinets Safe?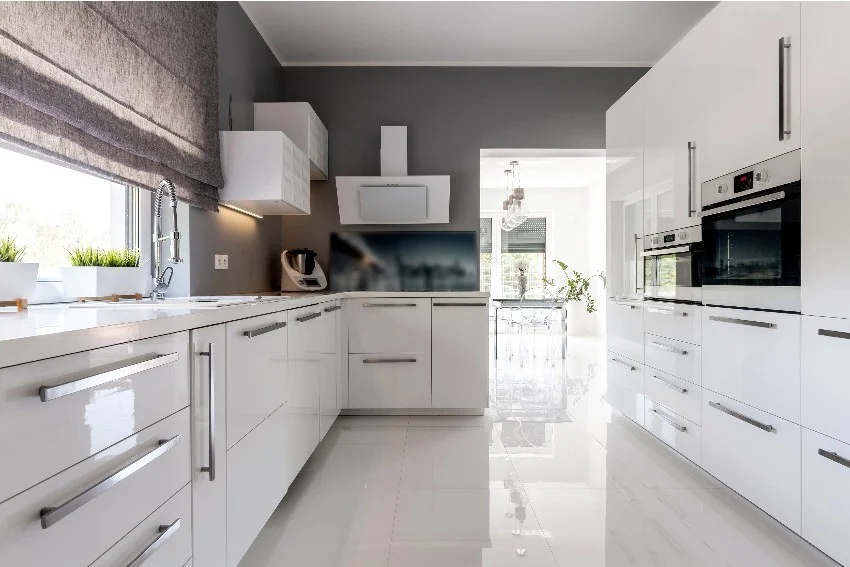 People often wonder whether PVC materials are safe in the kitchen since they are plastic. You must ensure that your family is safe while preparing food and drinks. The good news is that PVC is a non-toxic material, and germs will not stick to it or seep into its fibers since it doesn't absorb liquids.
PVC foam boards are non-toxic, chemically and corrosion-resistant, and suitable for kitchen cabinets. It is a sturdy substance that can withstand the abrasion that often occurs in kitchens.
PVC is unquestionably one of the most outstanding options for your kitchen cabinets. It has a contemporary appearance, is available in various colors and designs, is safe, budget-friendly, and provides long-term sustainability.
Visit our gallery of lacquer kitchen cabinets for more design ideas.