See wrap around kitchen island designs with seating, shelves, siding, and ideas on how much space you need for your kitchen island.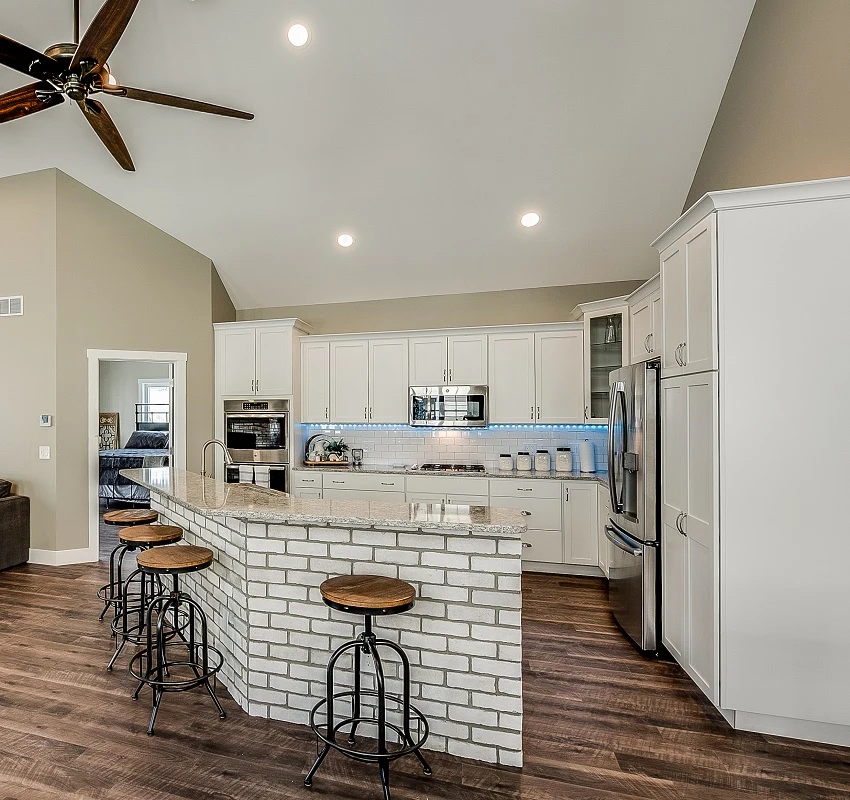 Any home's kitchen is a great focus spot. Aside from being a favorite area for breakfast with the household as everybody gears up for the day, the kitchen is a popular gathering spot for visitors during gatherings and other social events as well.
As the activities happen, it appears like everybody will end up in the kitchen for chat and food. Many individuals use their kitchen for non-food tasks as well, such as doing schoolwork, paying bills, and filling out paperwork at the kitchen table.
Installing a wrap-around kitchen island may increase the value and functionality of a home significantly. If you find yourself spending more time preparing and eating meals, as well as entertaining friends, family, and neighbors with snacks and beverages, this is a great suggestion.
What Is A Wrap-Around Kitchen Island?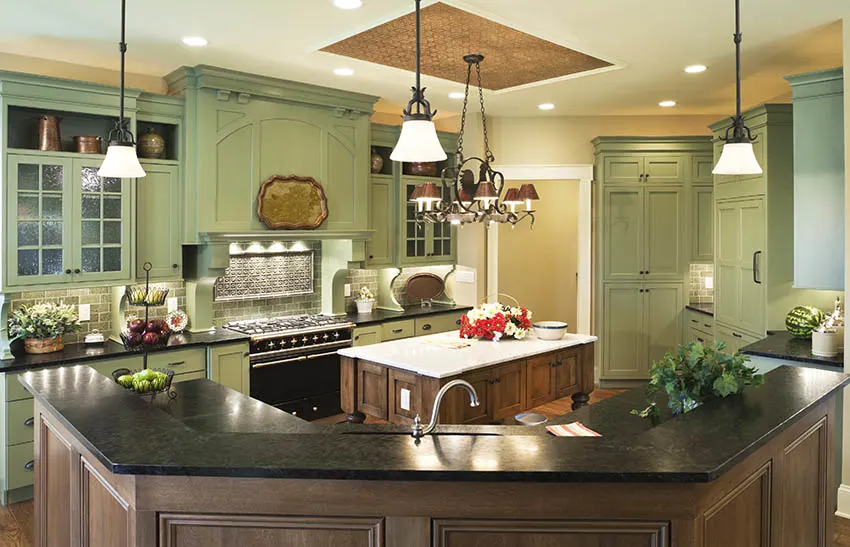 A wrap-around kitchen island expands your counter surface while also providing additional storage space in the shape of compartments for commonly used equipment.
This is ideal if your spice shelf is overflowing and you're always putting containers on the counter since you can keep your most commonly used herbs in the compartments -where you're cooking your meals.
When the island isn't being used for preparing meals, it's a fantastic spot for people to assemble for snacks or meals.
If you're more interested in entertaining than in having extra space to prepare meals, a wrap-around kitchen island will undoubtedly suit your needs. In a wrap-around kitchen island, you can use stools or seats.
Kitchen Island With Wrap-Around Seating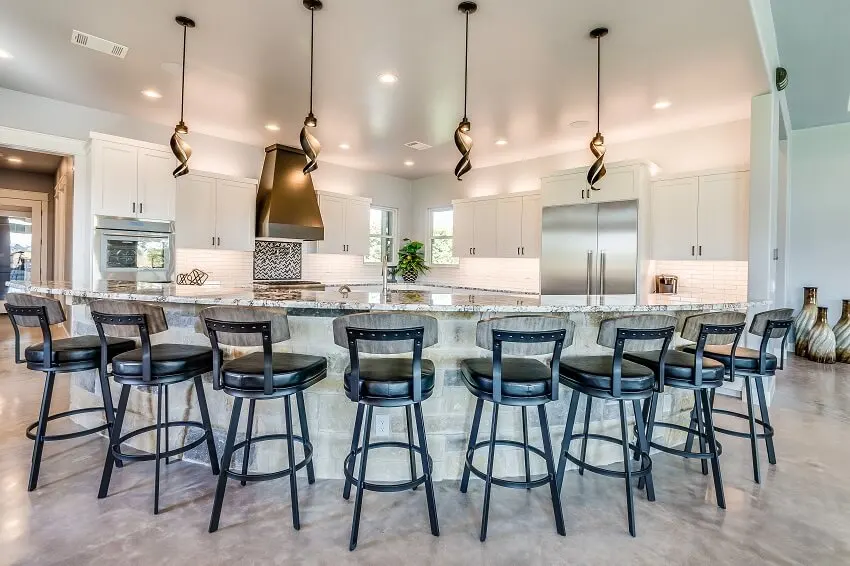 A kitchen island with wrap-around seating allows tiny houses, condos, or quarters to have seats when a large dining table is not possible. Seating for your wrap-around kitchen island will be determined by the amount of available area and your entertainment manner.
If your wrap-around kitchen island is sizable, full-sized chairs can be used for sitting. Compact wrap-around kitchen islands might only be able to serve two people.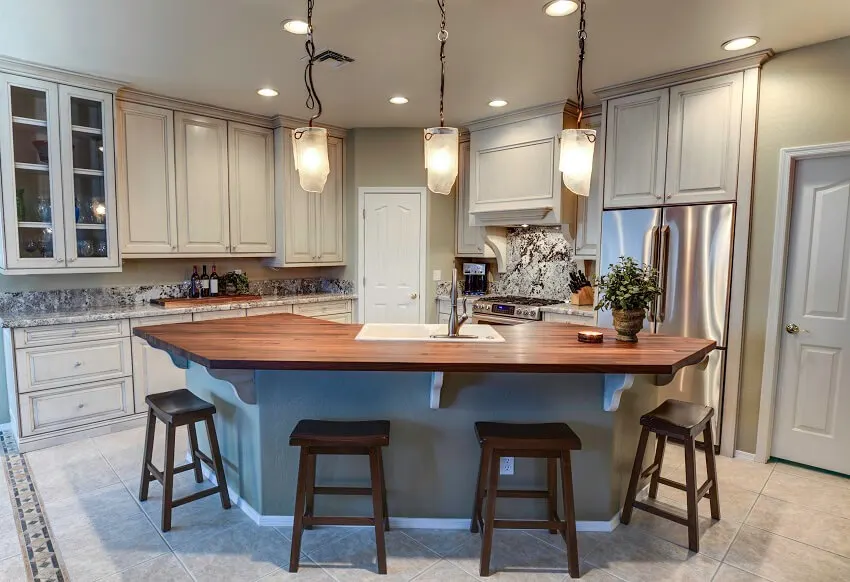 In many kitchens, the wrap-around kitchen island serves as more of a decorative feature than a place to sit. It would be beneficial to examine your area to determine where your kitchen island should be placed. Decide how much room you want your guests to have while choosing their seats.
Kitchen Island With Wrap-Around Shelf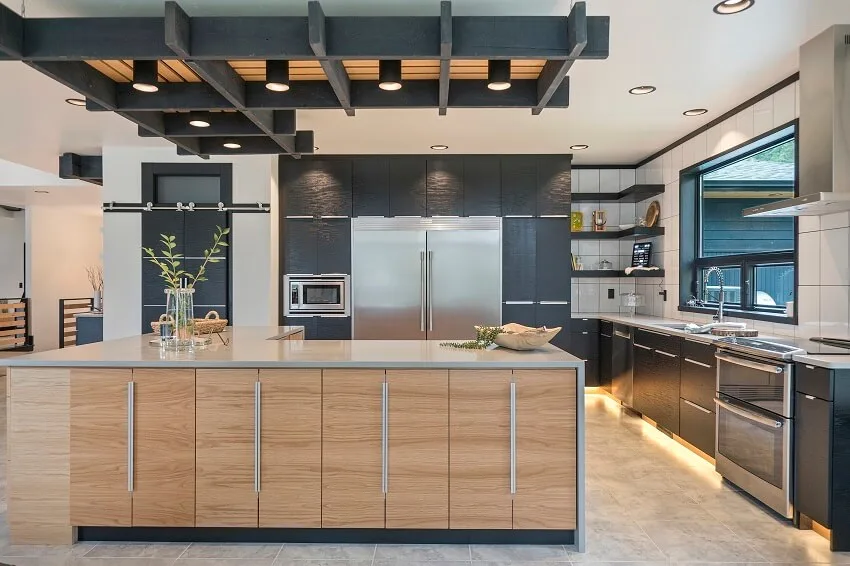 A kitchen island with open wrap-around shelves provides an excellent advantage to create a stunning display that would capture the show and become the visual centerpiece of your kitchen.
The creative and unique aspect might come from the shape and curves of the kitchen island design with open shelves, or it could come from how you use this extra space.
An exquisite wine shelf or perhaps a customized arrangement that flaunts their personal small collection of enticing treats is a terrific idea for foodies.
Some choose to take the unconventional route and stack firewood on these open shelves, creating a really one-of-a-kind ornamental item.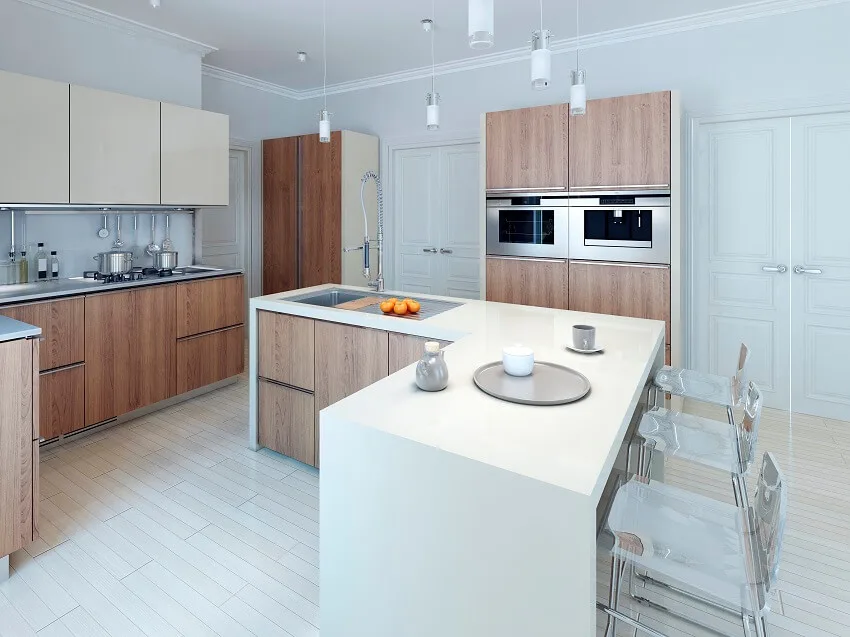 If your kitchen is too small, you shouldn't have to consider giving up on having a gorgeous kitchen island with wrap-around shelves.
Open shelves may be found on even the smallest kitchen islands, and they appear to elegantly enhance the fresh and natural ambiance of your kitchen.
Kitchen Island with Wrap-around Siding
Here are some kitchen islands with wrap-around siding design types.
Shiplap Kitchen Wrap-Around Island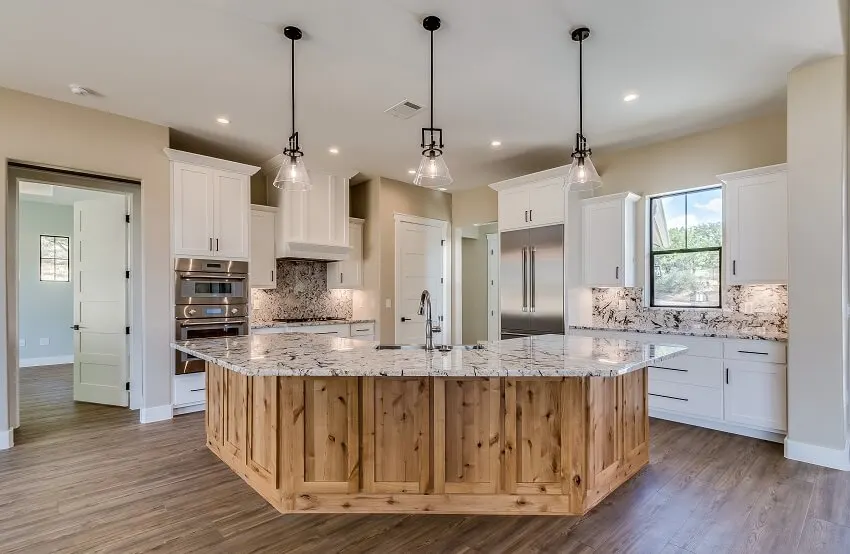 Wrap-around kitchen islands are usually stunning, but the majority of homeowners are focusing on the top and yet they overlook the fact that the sidings may be customized as well. This creative use of shiplap provides a lot of rustic charm and a vibrant appearance without drawing excessive attention to itself.
On this side of the island, you may also install noticeable plug sockets. You don't have to sacrifice functionality just because you're using shiplap.
This would be a great location to work from home or for the kids to plug in their computers after school and finish their schoolwork. Read more on our shiplap kitchen design ideas for more related content.
Beadboard Kitchen Wrap-around Island
To provide your kitchen with the traditional, vintage vibe of country design kitchens, beadboards are commonly attached to cabinetry, backsplashes, and sidewalls.
The siding on wrap-around kitchen islands are yet another area of installation that has lately gained appreciation.
Beadboard sidings for wrap-around kitchen islands can be acquired from the market and they can be attached to the construction as a personal task.
The ideal option for attaching beadboard to a kitchen island is determined by your spending plan, desired finish, and installation area.
Incorporating beadboard to wrap-around kitchen islands is simple and inexpensive, but it still offers your kitchen a sophisticated country-style impression after application. See our gallery of beadboard kitchen islands here.

Kitchen Island Or Wrap-Around Bar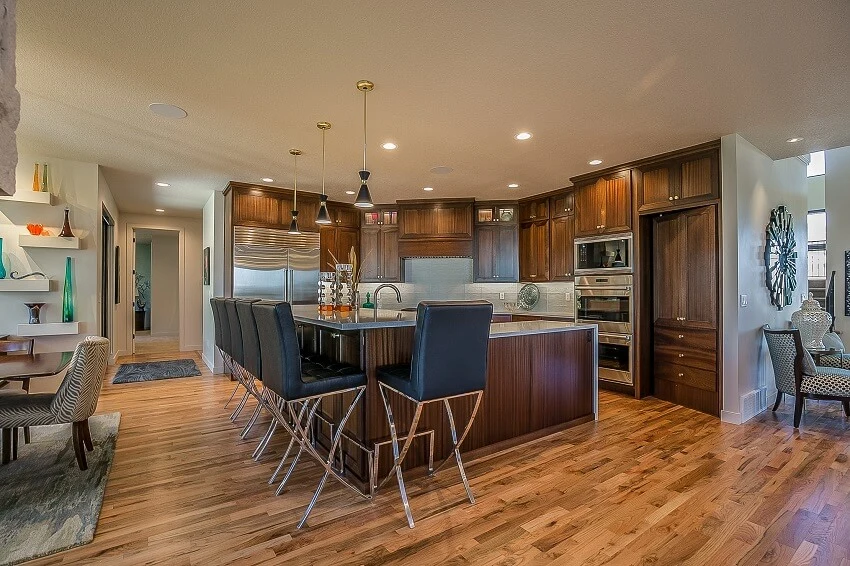 Though both types of kitchen additions can provide additional counter space and usefulness, kitchen islands and wrap-around bars have their own set of advantages.
Kitchen Island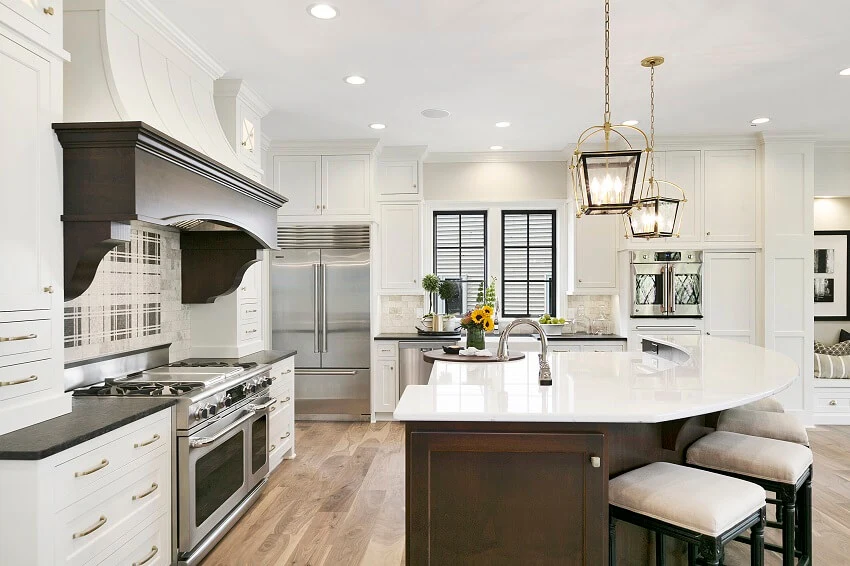 Kitchen islands provide a lot more in terms of storage, cooking space, and maybe even electrical outlets for small equipment.
They are mostly large boxes that can accommodate a variety of extra pans, flatware, appliances, and other kitchen items.
Storage locations can be found on the edges of a kitchen island and also right on top of it. Containers and cookware can be hung over an island, and shelves and hooks could be attached to the kitchen island's edges without taking up valuable counter space.
Wrap-Around Bar
If you want to accommodate a larger group, a wrap-around bar is a great option. Based on the scale of your kitchen, these countertops might offer considerably more surface space than an island.
If entertaining is your top priority when it comes to kitchen renovation, the wraparound bar would be the better option.
A wrap-around bar may also support a larger number of people than a kitchen island. You may serve meals much like you would at a neighborhood diner's counter, which is very handy when you have a big household to support or a huge number of visitors to host.
Open Or Closed Off Design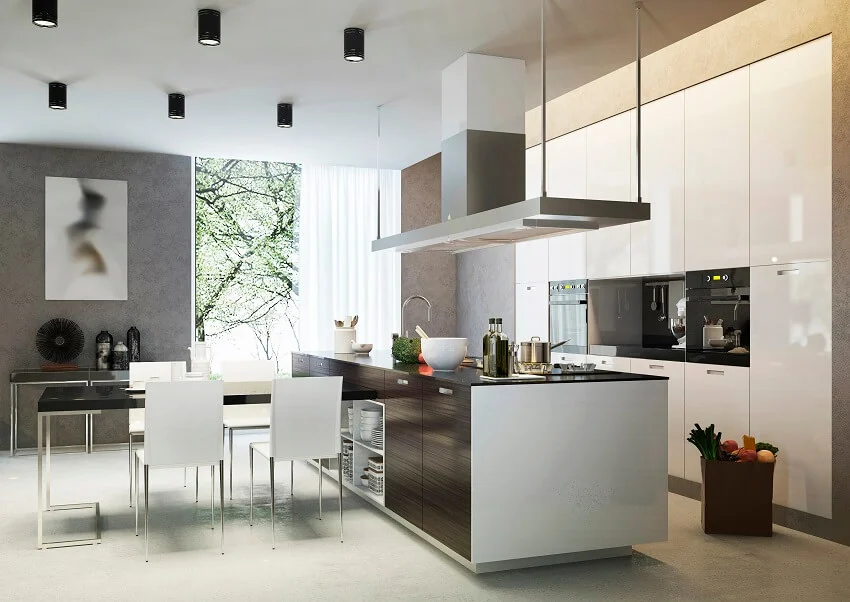 There are two important distinctions between a kitchen island and a wraparound bar: the one that provides open flow in your kitchen and the one that closes off things.
Because the kitchen island is naturally separated from the rest of the kitchen, you can still roam smoothly along opposite sides.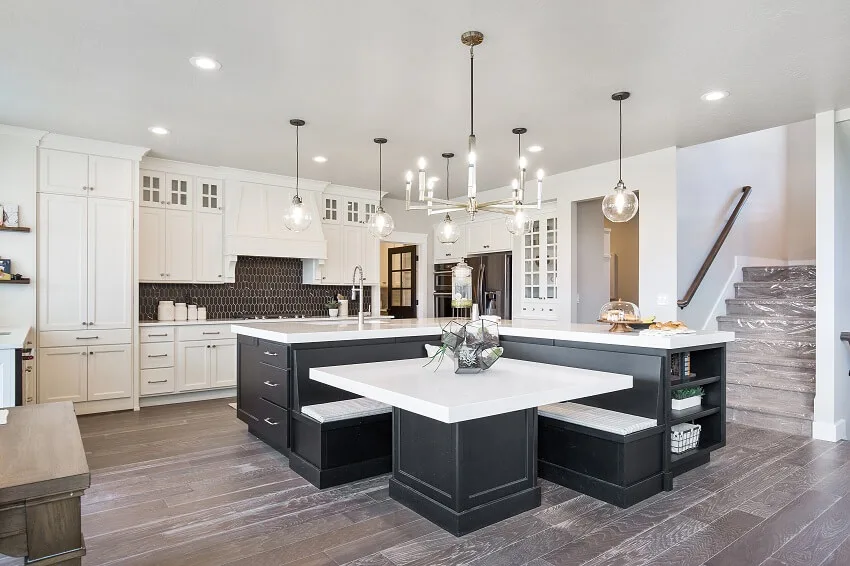 Visitors aren't crowded in, and you have additional entertainment alternatives. However, in a bustling kitchen, the island may take up important counter space.
An island that is too huge might be problematic, while one that is too little would appear odd.
How Much Space Is Needed For A Wrap-around Kitchen Island?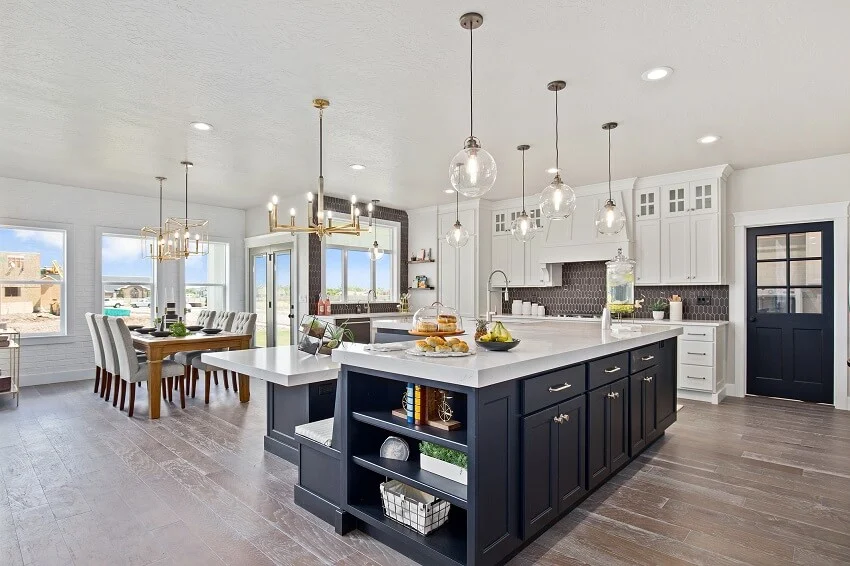 The clearance zone should be at least one meter wide. It is also advised that work aisles should be approximately 42 to 48 inches wide. Allow ample space all over the island and throughout the kitchen for easy and safe mobility.
Visit our kitchen island size guidelines to get the right size and dimensions for your kitchen design layout.