On this page we share beadboard kitchen island design ideas including a variety of styles.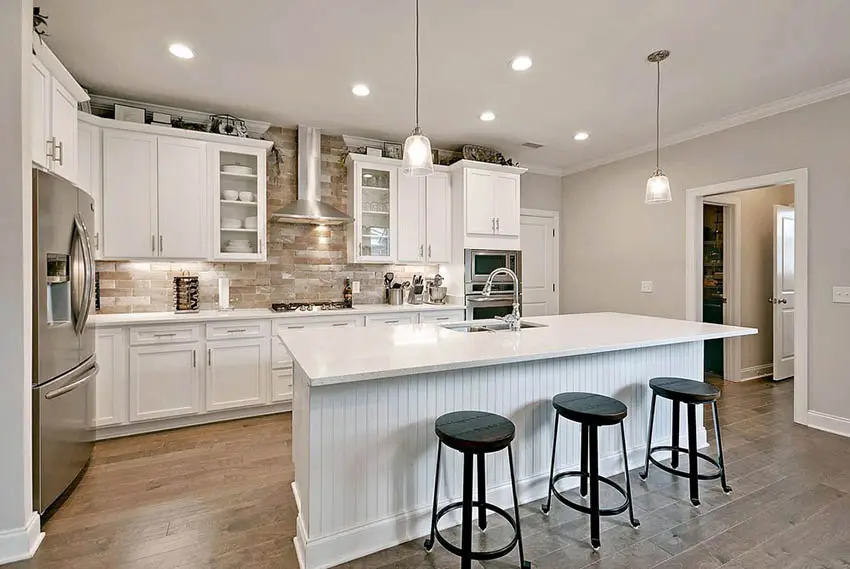 Beadboards are commonly found in country homes and has long been a favorite nostalgic detail of such design styles. In contemporary kitchens, beadboards are often applied to cabinets backsplash and walls, to give their kitchen that classic, rustic feel of country style kitchens. Another area of application which has been gaining popularity recently, is on kitchen islands. Adding beadboard to kitchen islands is easy, budget-friendly, yet still gives the same, subtle country-style feel to your kitchen after installation.
In the picture above the classic paneling style of the kitchen cabinets provide a country-style feel. By adding vertical beadboard on the kitchen island completes the design.
How to Install Beadboard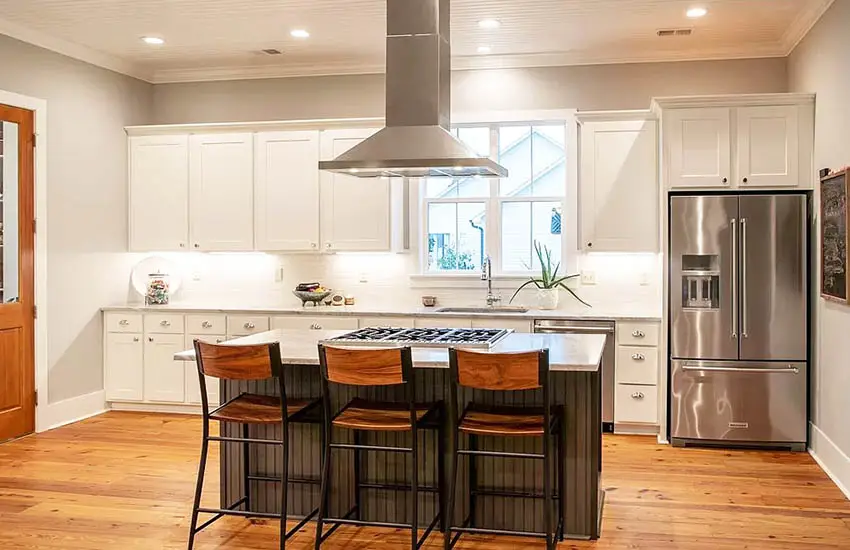 Steps and methods in installing beadboard to kitchen islands would vary depending on the surface of application – is it an existing kitchen island? is there paneling or molding? etc. But for DIY newbies, here's a basic outline of steps in installing beadboards:
Measure the area of application for your kitchen island
Purchase your beadboard from your local builder store – If there's relatively low humidity in your area and you don't expect the surface to get too wet, we recommend using MDF beadboard panels. MDF beadboards usually come pre-painted, so it will save you time from sanding and doing a base coat. They're also easy to cut and has smoother edges so it's an easy material for beginners.
Purchase adhesives and finishing materials – liquid nails, finishing nails, sandpaper, caulk, moldings (baseboards, cornerstrips, etc, if needed), paint
Cut your boards to size. Note that 1-1/2 wide panels are usually easier to miter around the corner and are usually proportional to existing moldings and frames.
Make sure the application surface is clean – sand surface as needed, especially if it has existing glossy paint
Add a generous amount of liquid nails on the back of your cut MDF beadboards and apply to the surface of the kitchen island
Use finishing nails to secure them in place. Make sure the nail heads are embedded into the MDF panels properly.
Caulk the exposed edges/corners and the finishing nail holes.
Sand and paint to finish.
What is Beadboard Made Out Of?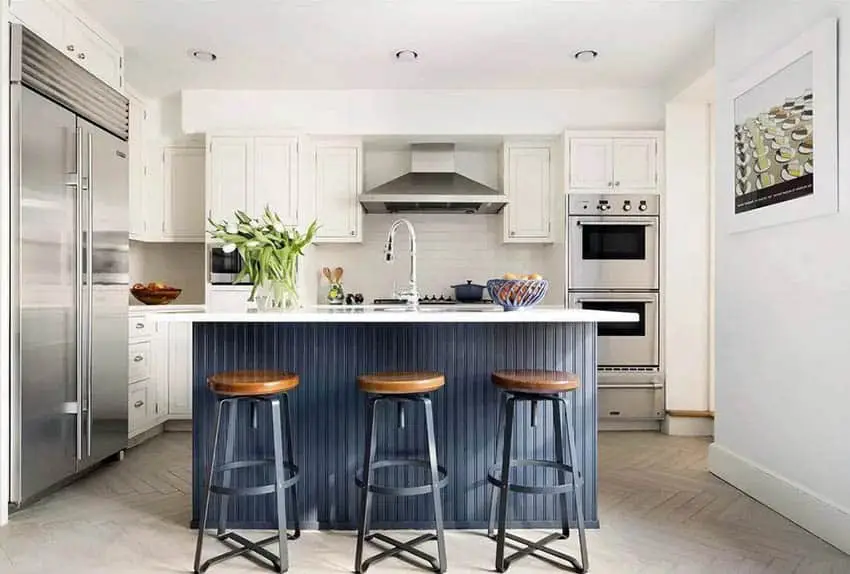 When you go to a builder's store, you might be surprised by the variety of materials beadboard panels come in. Traditionally, beadboard kitchen cabinets are made from solid wood, but there are currently many wood alternatives you can choose from. For kitchen islands, beadboard panels can be purchased that can be nailed to the structure as a DIY project. The best material for adding beadboard to a kitchen island depends on your budget, finish preference and area of application.
How Much Does Beadboard Cost?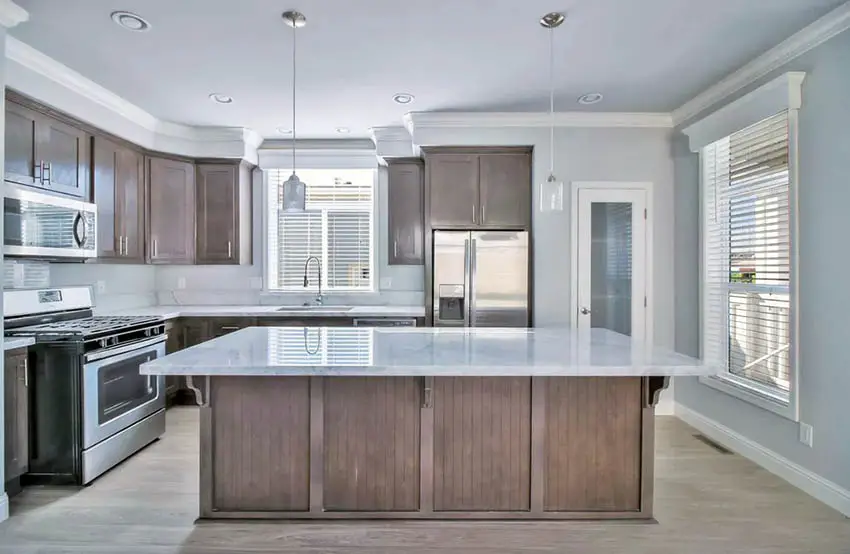 Solid wood beadboards can cost anywhere from $1 per square foot, upwards, depending on the wood specie and finishing. Solid wood beadboard panels can be bought unfinished, pre-treated (for termites and moisture-resistance), ready-to-paint, pre-painted or pre-finished. Depending on your specification, cost per square foot can go up. This is the material of choice if you want natural wood colors and a high-end look. Natural wood also tends to give more texture and a warmer feel to spaces.
If you feel that solid wood is too expensive and labor-intensive, a popular alternative are MDF beadboards. They usually only cost between $0.50 to $0.75 per square foot, and comes ready-to-paint or pre-painted. This material is best for newbie DIY-ers, and for painted beadboard looks.
If you're not painting your beadboard and would like a more wood-like alternative, consider using ply-bead panels, which are basically plywood beadboard panels. It offers wood-like textures at a lower cost, starting at $0.50 per square foot or $16 per 4′ x 8′ panels.
For areas with moisture or high humidity, vinyl or PVC beadboards are usually used. They are lightweight and easy to clean and maintain, however, it is also good to consider that it is prone to impact damage and warping. Interlocking PVC beadboard panels usually cost around $0.75 to $2 per square foot.
Another material suitable for moist areas and outdoor applications are fiber cement beadboards. This material has better durability & weather resistance than vinyl/PVC, and is a more eco-friendly alternative to PVC. Fiber Cement beaded boards from known brands such can cost $7.45 up to $12.35 per square foot.
How Do You Paint Beadboard?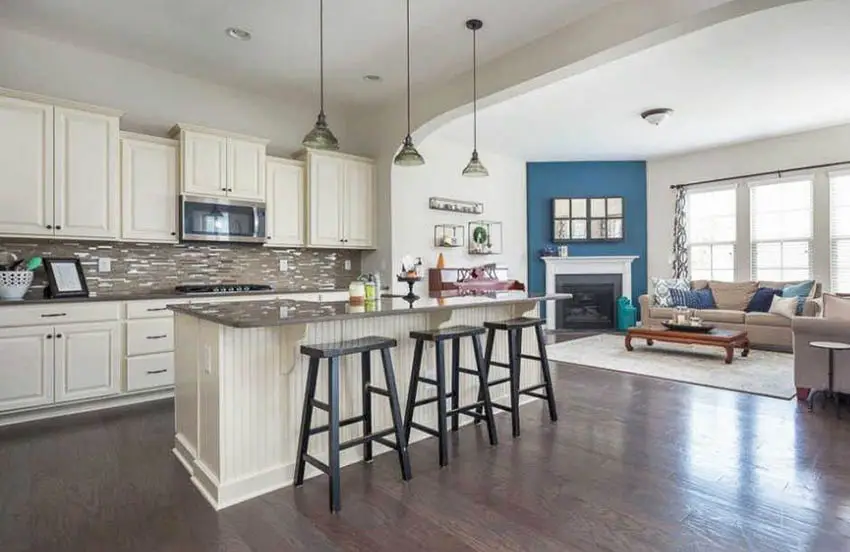 Appropriate paint is determined by the type of beadboard material you are using. Pre-primed MDF and Fiber Cement boards are usually the easiest to paint/work with. For other materials, they are also available pre-finished/painted. But if you want to paint them on your own, consult the material specialist for best paint recommendation for your specific material.
If you have existing cabinetry in your kitchen, you can just add the beadboard panels on the front side of the kitchen island like in this example above. For best results make sure the paint job blends it in well with the existing cabinets.
Other factors to consider:
Aside from material cost, another factor you need to consider would be installation cost. Depending on your material, the installation cost will vary. If you need to finish or paint your beadboard, that is also another labor cost to factor in, so keep that in mind when selecting your beadboard material – a pre-finished board might cost more per square foot, but might save you time and money if you factor in finishing costs. Installation of beadboard usually cost $4-$6 per square foot.
Pictures of Beadboard Kitchen Islands
Below are some kitchen islands with beadboard panels installed for your inspiration: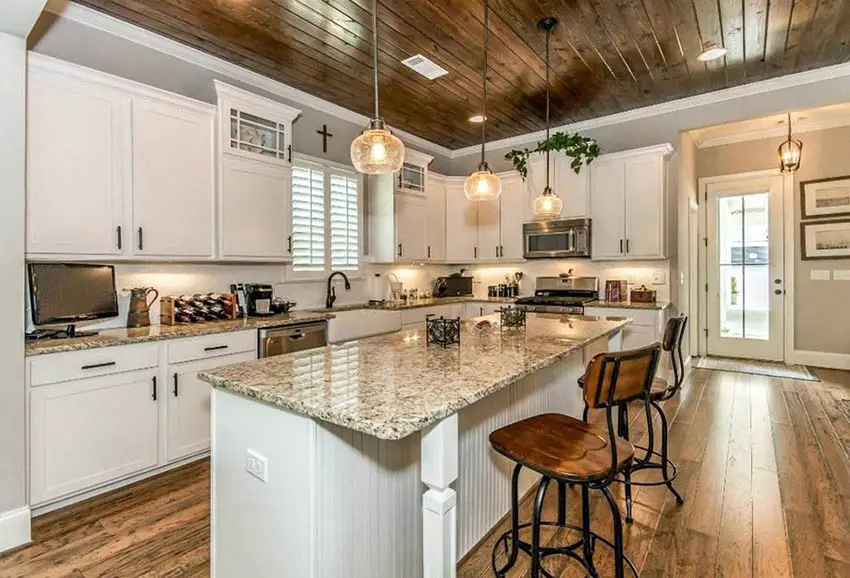 The narrow beadboard panels used in this l-shaped country kitchen design with island gives a subtle texture to the surface, helping complete this simple and soft-looking rustic style kitchen.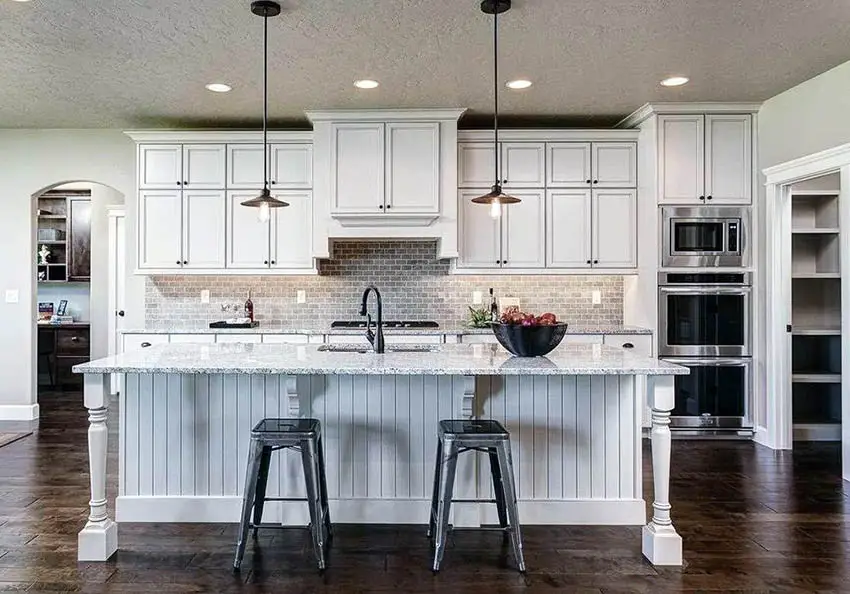 The vertical beadboard panels used on this large kitchen island adds a textural variety to the space. The vertical pattern is a nice contrast to the faux brick backsplash tiles.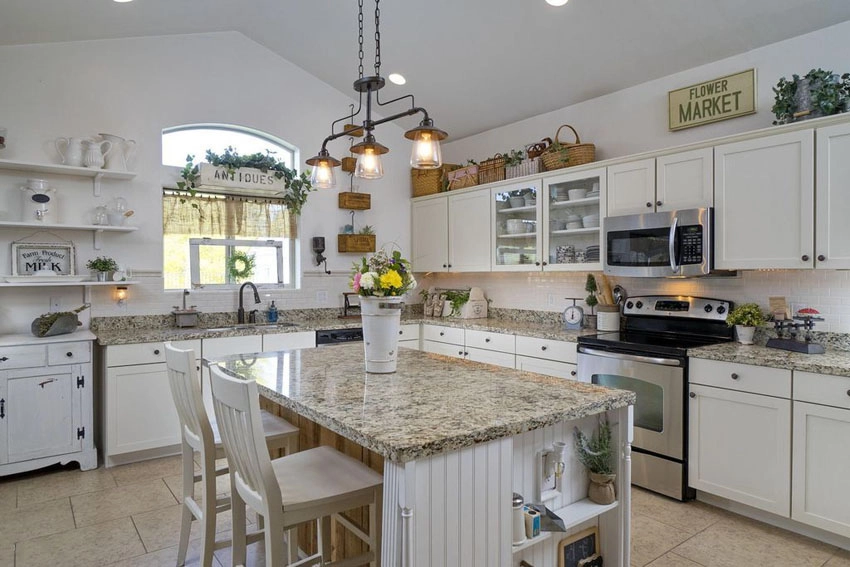 This kitchen with white cabinets and island is clad in beadboard panels, giving it a texture that stands out amidst the smooth surface of the counter cabinets. The beadboard, along with other small details in the kitchen such as pulls, furniture selection and accessories, definitely completes the country-style appeal of the space.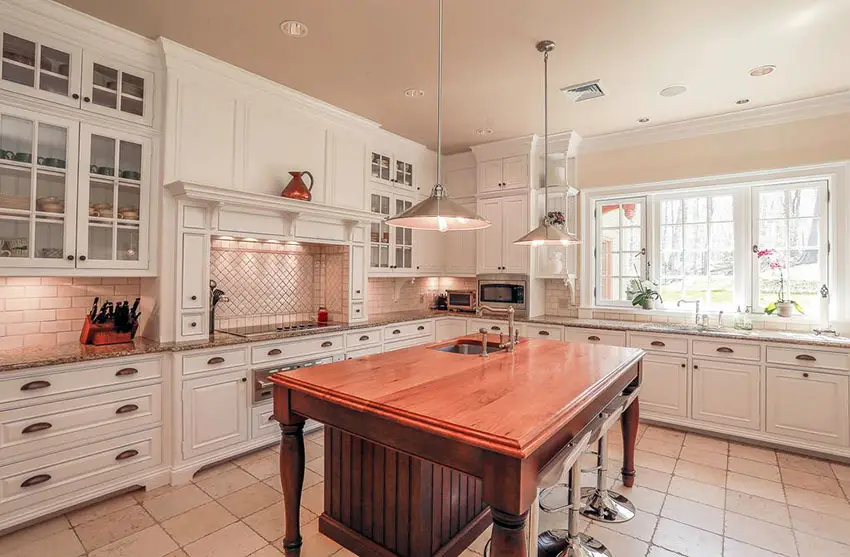 White is the most popular color used for beadboards, but they also come in a variety of colors and finishes. This example shows solid Mahogany beadboard underneath a solid Mahogany kitchen island. The natural Mahogany finish of the kitchen islands makes it stand-out against the all-white kitchen cabinets.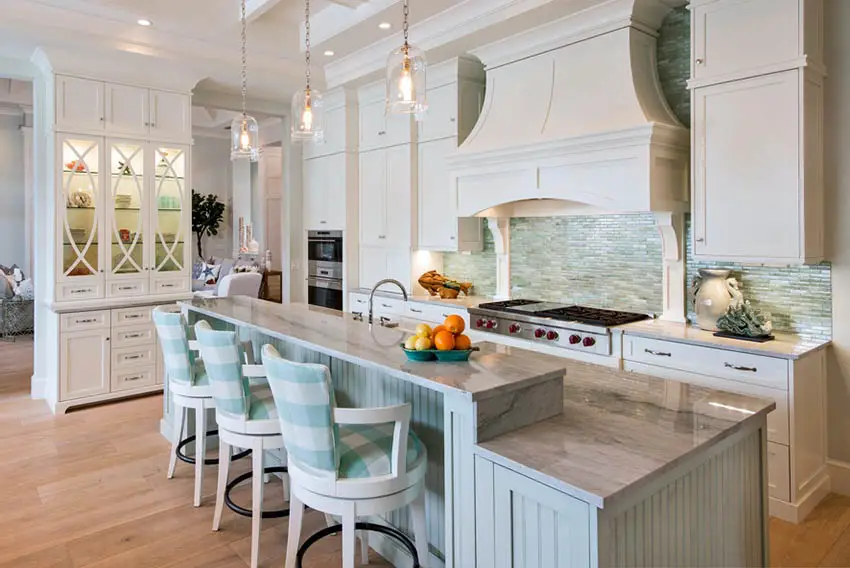 The use of light sage green on the kitchen island's beadboard body gives it a fresh and unique feel, making it a subtle stand-out in the kitchen design. It's a nice refreshing take on a classic look!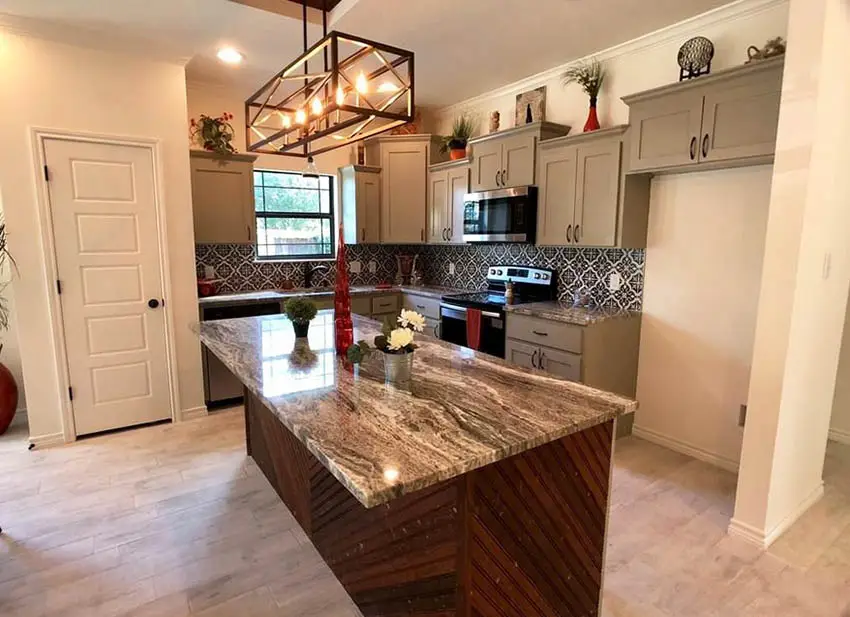 A rather unique application, this example is using natural oak beadboard panels on its kitchen island, but instead of the common vertical or horizontal application, it creates a chevron pattern, giving it a more contemporary feel and just fits right into the eclectic look of the kitchen.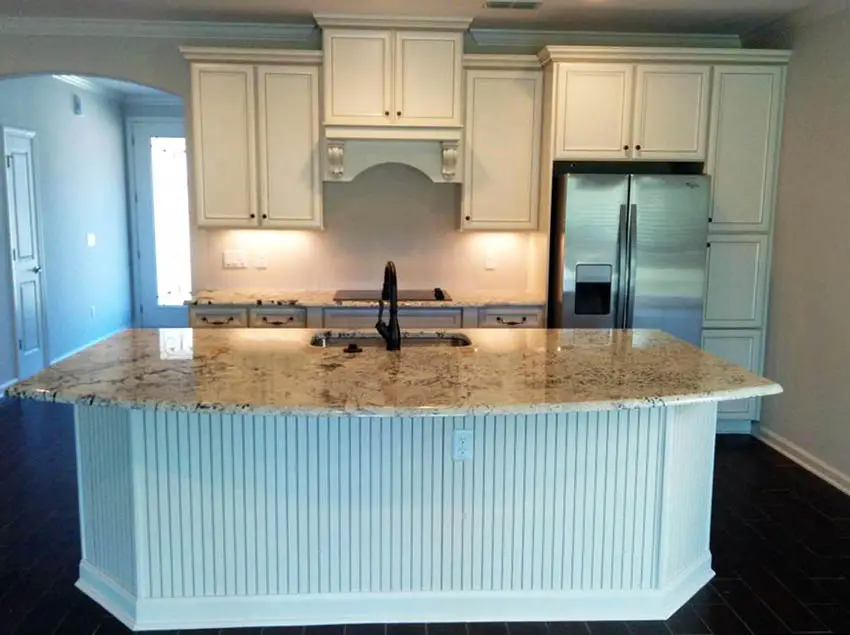 Beadboards ktichen islands also complement French style kitchen cabinets well. The narrow boards used in this example helps add a visual height to the space, and also adds more texture and pattern.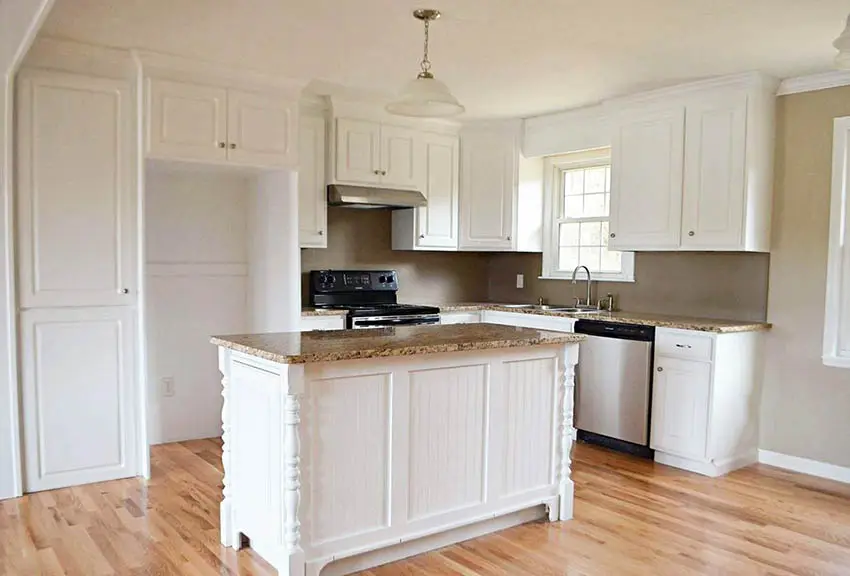 This small farmhouse kitchen design has an island with turned column details and beadboard panels make a great centerpiece in this small kitchen.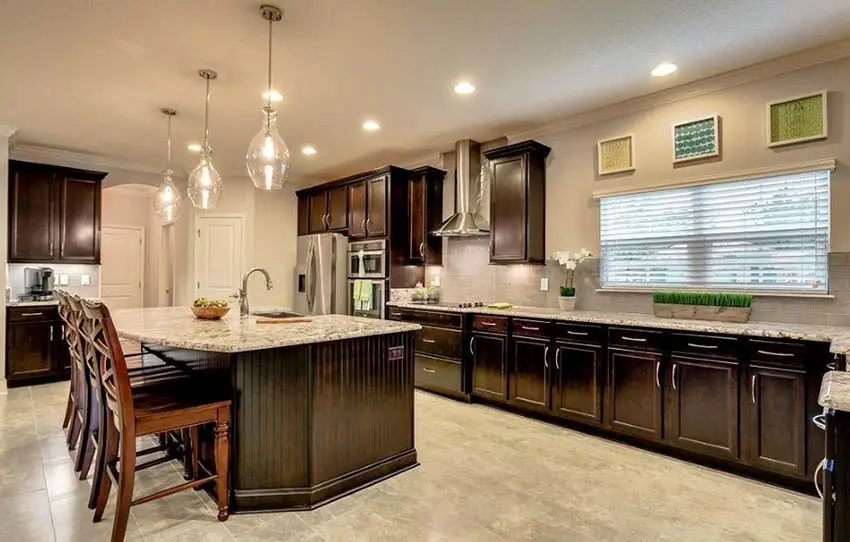 Dark oak beadboard panels blend seamplessly well with the rest of the dark oak cabinets of this kitchen. Ligth gray flooring, countertops and walls help tone down the dark tone of the wood and create a balanced look.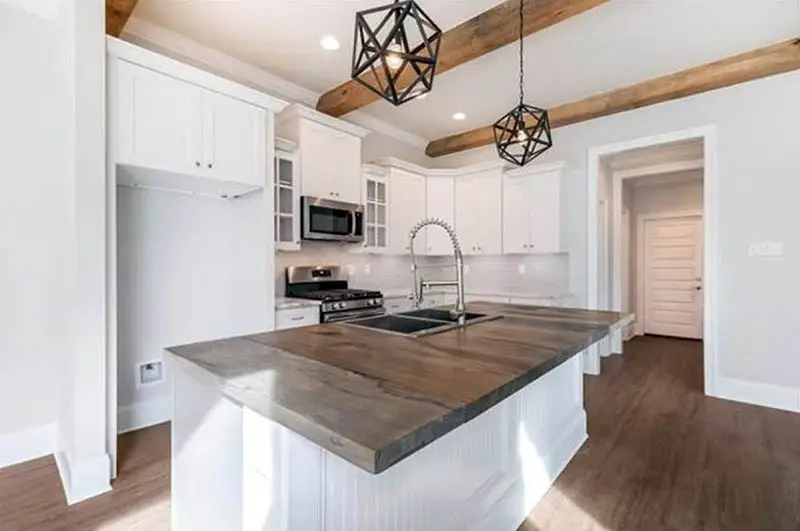 Beadboards can also be a nice rustic accent detail in contemporary style kitchens. The white beadboard panels applied to the kitchen island in this example helps complete that subtle rustic vibe the kitchen design is trying to achieve.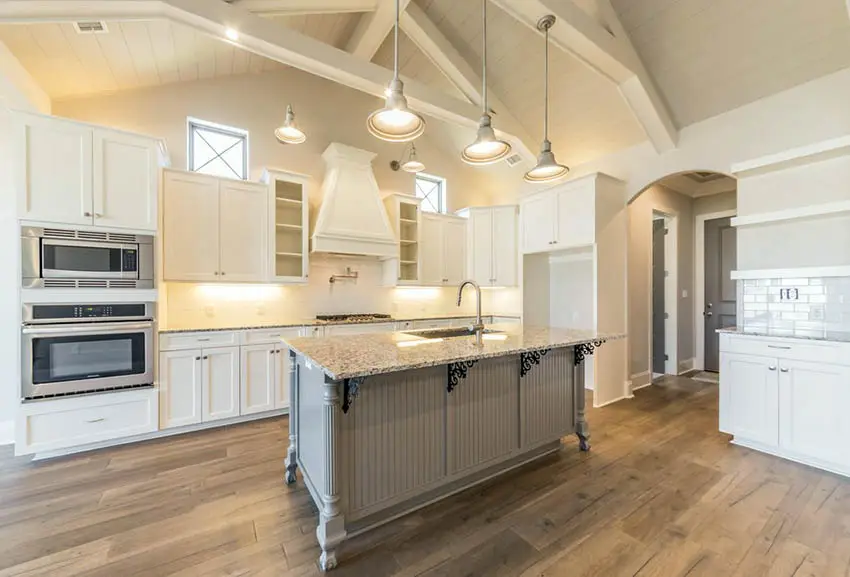 This gorgeous classic style kitchen definitely looks good on its own, but with the addition of the freestanding kitchen island, a focal point is added to the space. The white kitchen cabinets with granite countertops contrast well with the gray island. This kitchen island has beadboard detail, intricate iron brackets and colonettes that all complements the overall style and theme of the kitchen, but also has more texture that sets it apart, making it a really good accent piece.