Gallery of beautiful beadboard kitchen cabinets for a variety of design styles and layouts.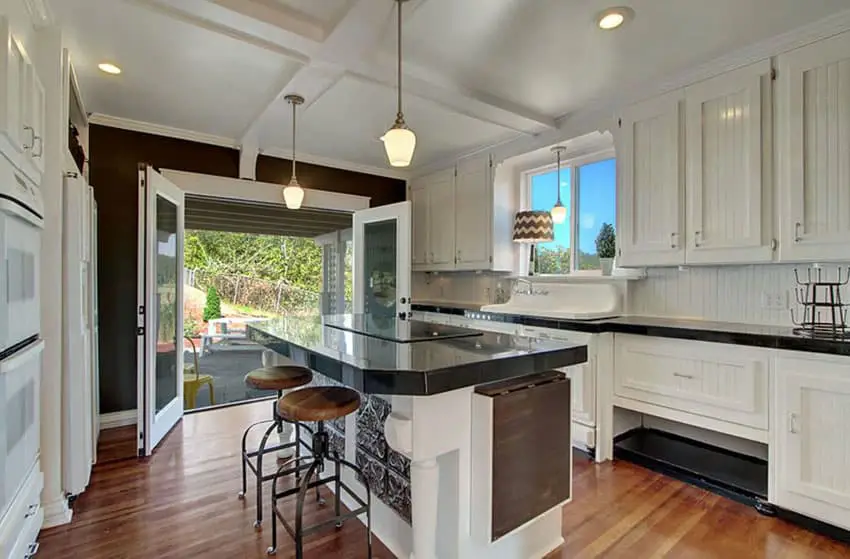 Beadboard cabinets are easily identified by how it looks: vertical slats of wood pieced together on their long side resulting in a bead-like connection. These are made from long wood slats which usually have a tongue and groove joinery. This was originally used for wainscoting on traditional houses, but has also made its way into cabinetry & other aspects of the interiors.
You can usually find beadboard cabinetry on French style homes, country-style homes, as well as beach-inspired interiors. Although beadboard was originally made from vertical wood planks, nowadays you can get faux beadboard panels the size of a whole plyboard with beadboard-like vertical slat pattern. This is perfect for those who are on a tighter budget and shorter timeline, and wants to achieve the rustic appeal it gives.
One of the most common applications for beadboards is on kitchen cabinets. Country and Cottage-style homes are regaining popularity recently, so beadboard cabinets are also making a comeback. The subtle addition of pattern and texture can instantly transform the look of any space, giving it an old-world rustic vibe. For more kitchen cabinets styles visit our gallery page.
Beadboard Cabinet Doors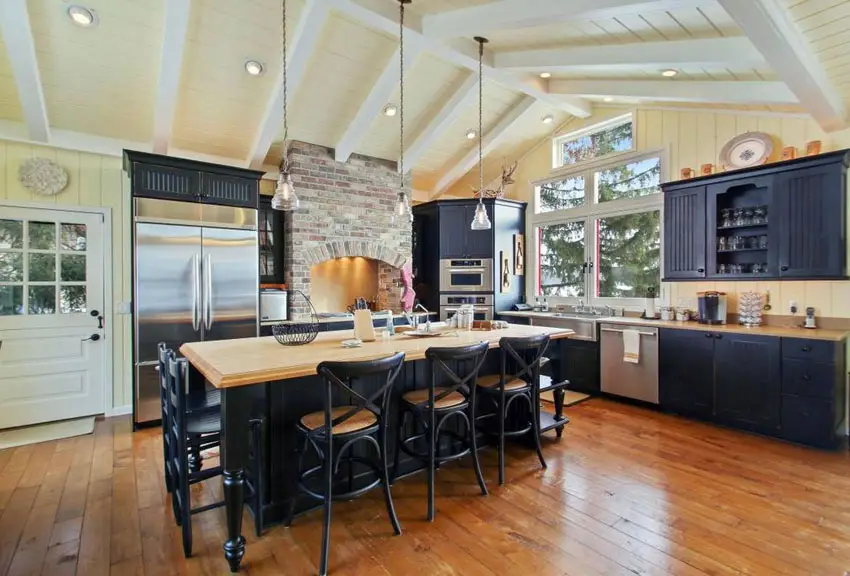 Depending on pre-existing conditions, beadboards are mainly applied on cabinet doors. The drawer faces and main carcass are usually plain or uses another paneling style. In this kitchen design, the cabinet doors are are beadboards, but the drawers and main carcass are plain/flat.
Because of the dark charcoal paint used on the cabinetry, this kitchen has a totally different vibe compared to white beadboard cabinets – it has a more masculine, rustic-contemporary feel.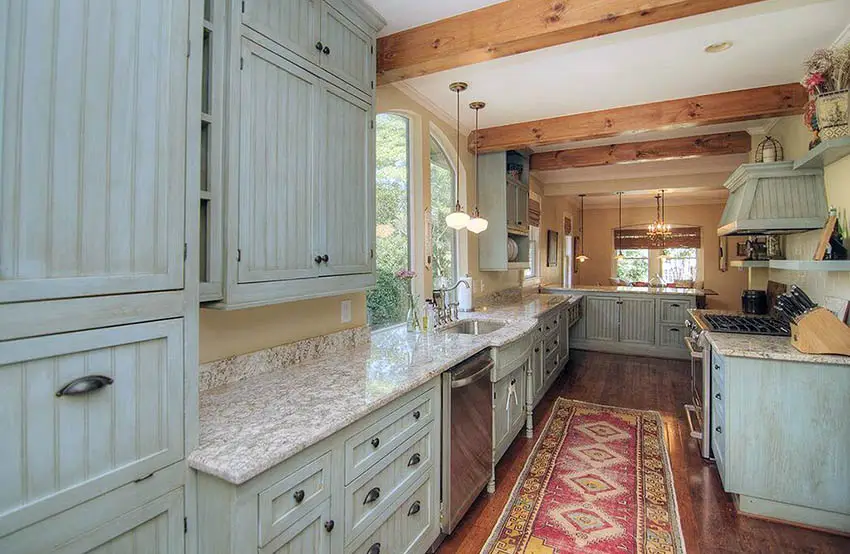 If you have existing beadboard kitchen cabinets and drawers, you can always freshen them up by re-sanding the wood and refinishing it with either stain/varnish or even paint.
In this example, a light wash of mint green color in antiqued finish was applied all over the cabinets to give the kitchen a rustic look. See more examples of kitchens with distressed cabinets here.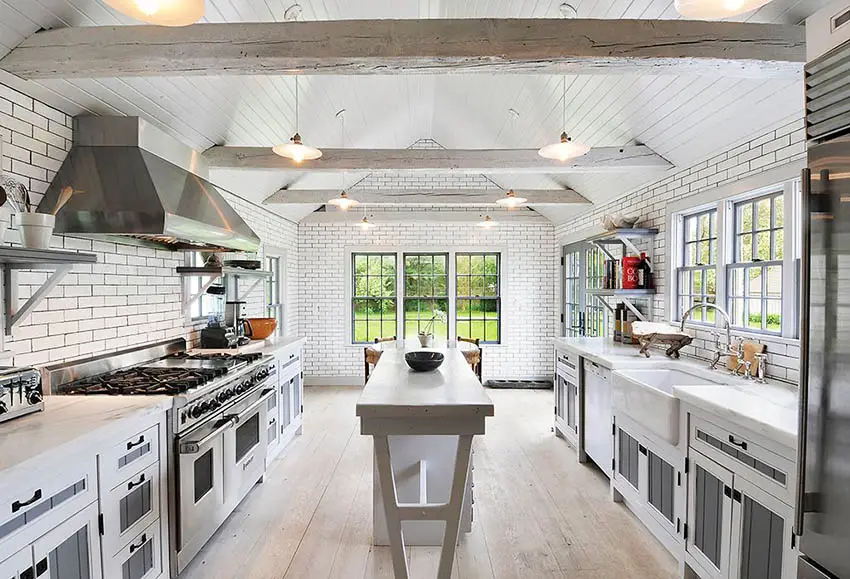 Modern beadboard-textured panels can now be bought in hardware stores. Some of them ship raw or primed beforehand, but some also ship already finished in a particular color.
This example has a very unique combination of white cabinet carcass and gray beadboard accent center, helping add depth and body to the design.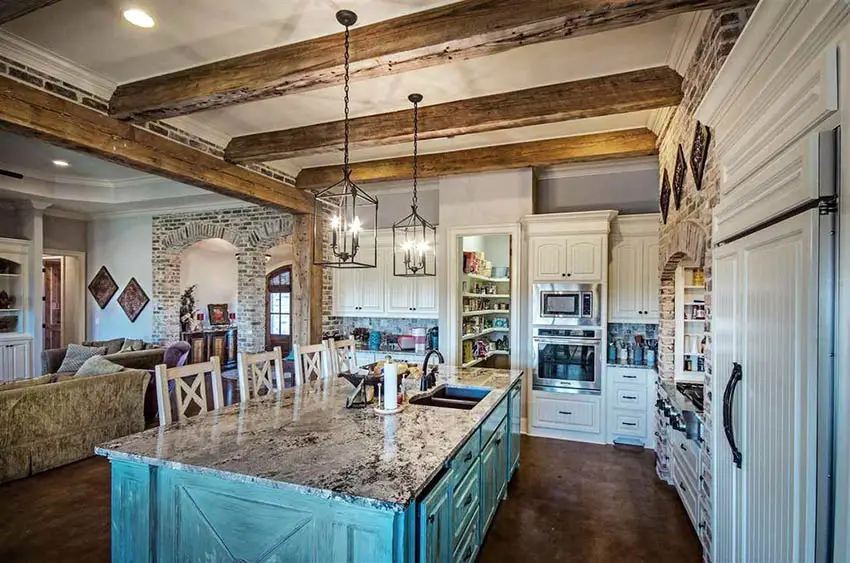 The architectural detail of the ceiling is given the center stage for this design, so the general look and finishes used on the kitchen was kept simple/neutral. Cabinets are plain white beadboard panels, combined with antique-finished island counter base cabinet and white granite counters.
This simple combination helps keep the kitchen elegant yet low-key, to help emphasize the solid wood beams on the ceiling.
White Beadboard
White beadboard cabinets are the easiest to use and style, because the white finish enables it to be more versatile – easily matching with both contemporary and classic interiors.
Additionally, the white finish helps make it look lighter/less heavy, making it easier to apply on small kitchen spaces.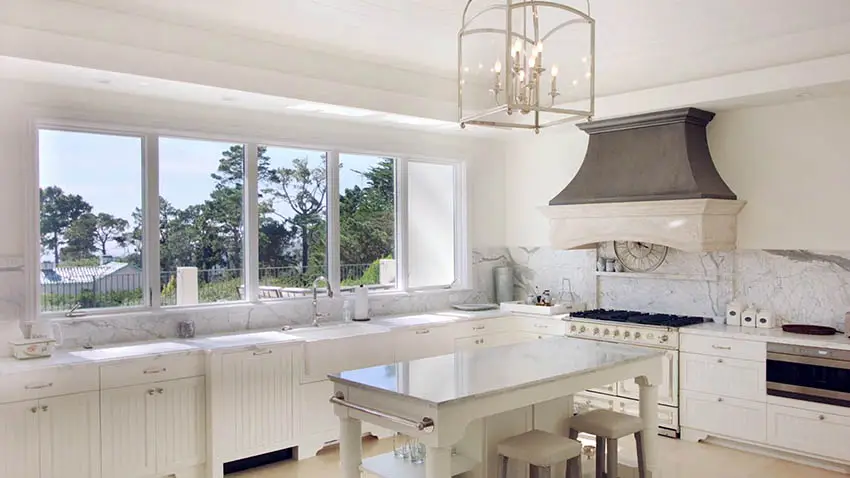 A transitional/contemporary kitchen with an all-white color scheme makes use of white beadboard cabinets to add texture and help keep the design from being bland and too modern.
Combined with the white carrara marble countertop and backsplash tiles, the result is a fresh-looking take on classic country style kitchens.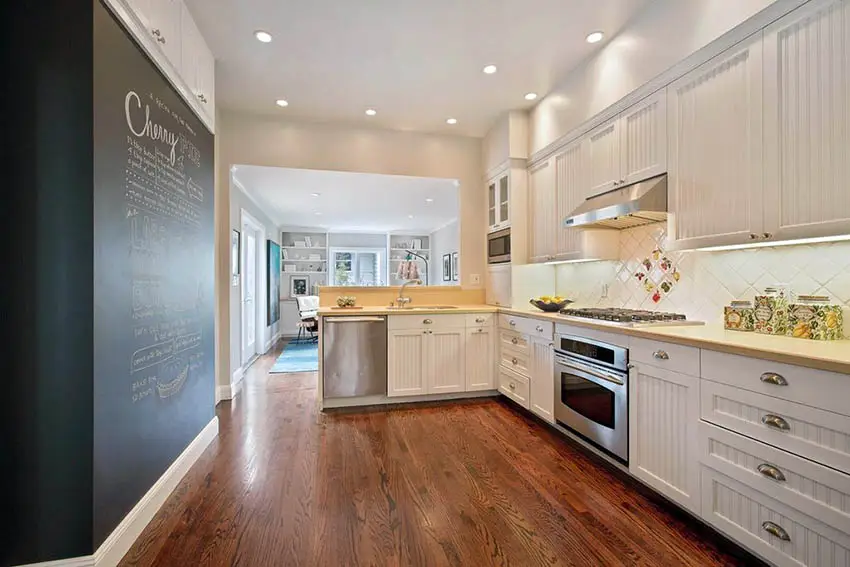 This l-shaped white kitchen with dark floors uses a very light finish on the kitchen cabinets, carcass & counters to make the kitchen appear lighter, allowing you to combine it with more modern pieces of furniture and accessories.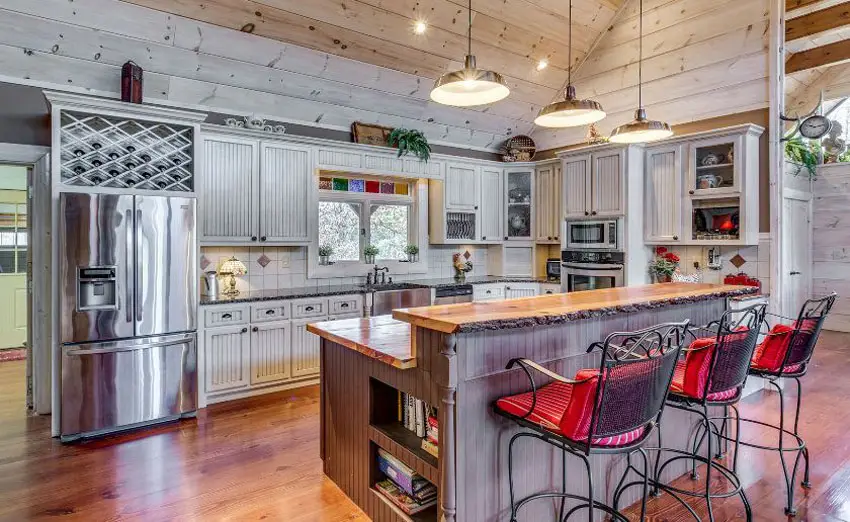 If clean/plain white finishes is not your cup of tea, you can also use a more rustic white color to give it a more aged appeal.
In this example, the beadboard cabinets were given a grayish undertone to match the wooden panels used on the ceiling of the kitchen. The storage island has shelving for organization of cookbooks and kitchen items.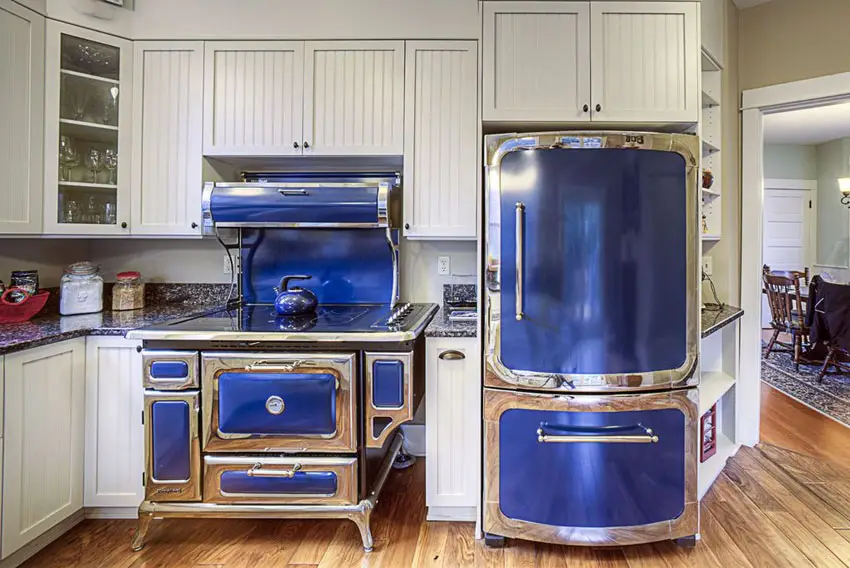 Vintage kitchen appliances already have busy detailing and attention-grabbing colors, so the beadboard kitchen cabinets were kept subtle and low-key, by using a plain white paint finish.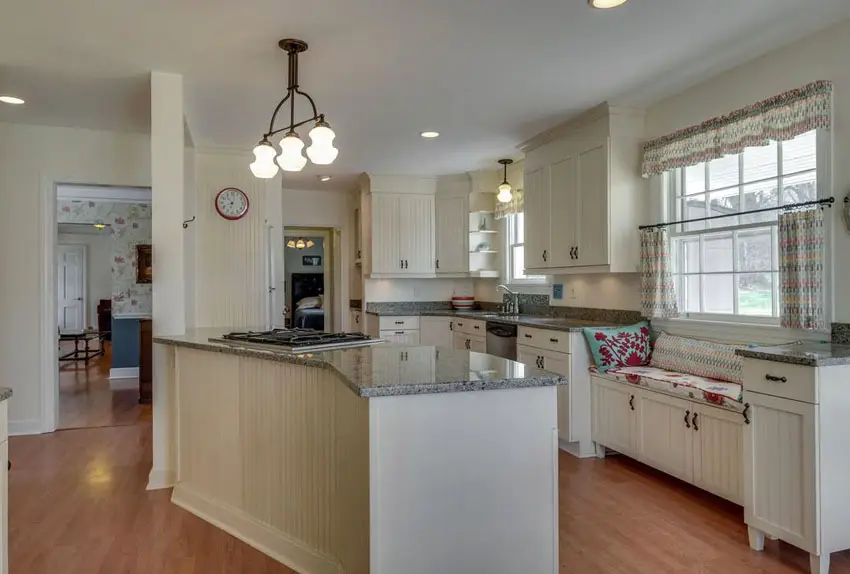 Sometimes, even subtle contrasts is enough to create a kitchen design which has more depth and texture. Because the walls of the space/interiors already uses a white finish, the beadboard kitchen cabinets uses a different white undertone to give it a little more contrast against the flat white walls.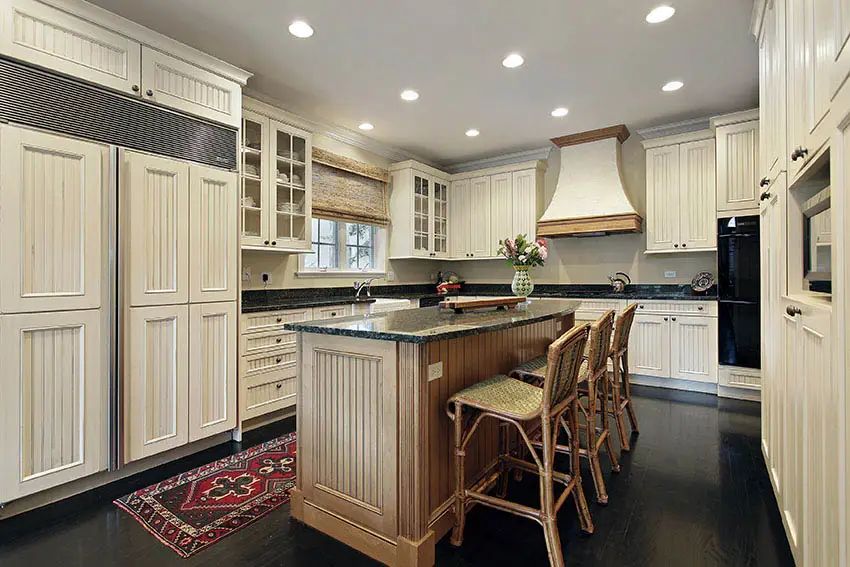 Dark granite countertops are really popular for kitchens, both contemporary and classic. They are adored as stains and minor damages are not as visible on its dark surface compared to lighter-colored countertops. In this example, black granite was used on all countertop surfaces.
Because the wooden floors were also tinted in ebony, the antique white kitchen with beadboard cabinets helps balance-out the dark colors and gives the kitchen a brighter glow.
Beadboard Kitchen Island
If replacing you current kitchen cabinets would require too much work or cost, you can also consider applying beadboard cabinets on the kitchen island. That way it will serve as an accent piece for added detail in the kitchen.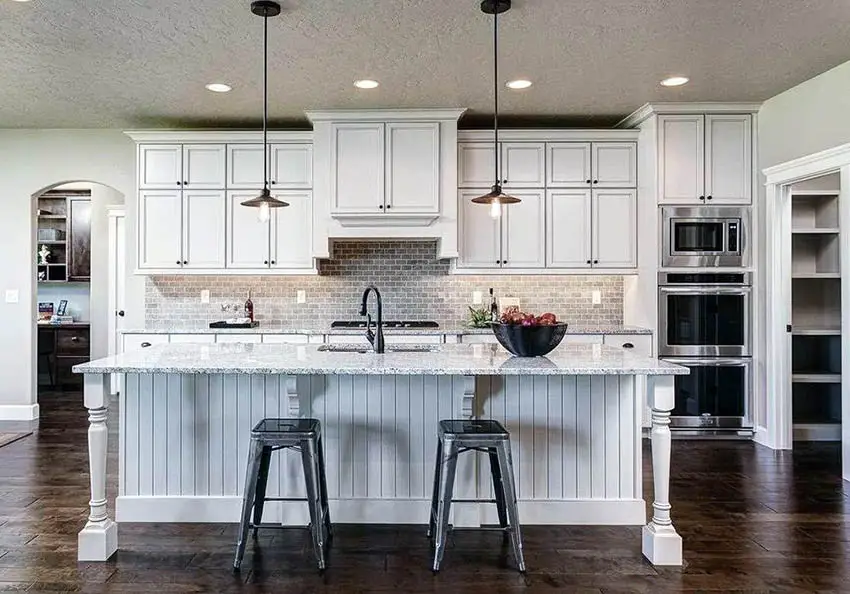 Placed in an open plan space, the beadboard kitchen island not only serves as an additional worktop and small dining space, but also as a "divider" between spaces.
The use of beadboard panels on the counter face gives the kitchen island an added texture and pattern, emphasizing the separation of the areas without having to use partitions.
The cool white palette used on the kitchen cabinets and counter help make this kitchen more flexible & easier to match with more modern furniture pieces.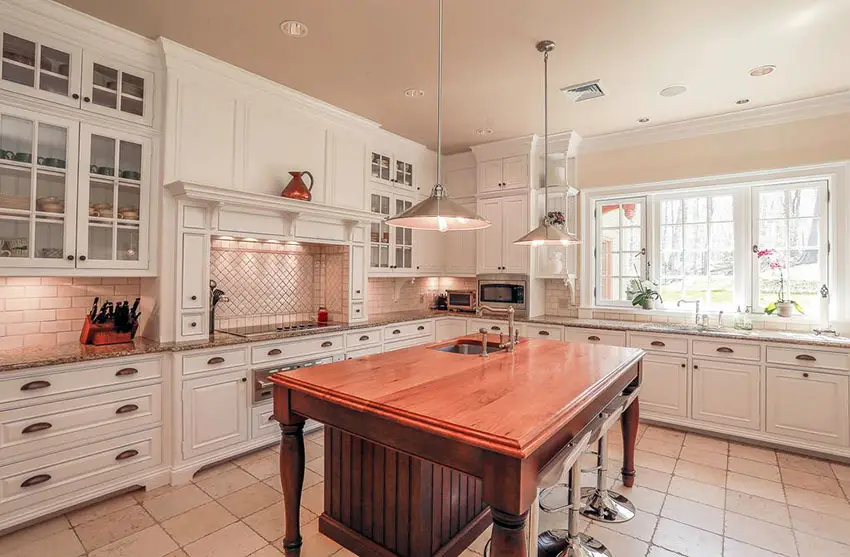 Subtlety is definitely not the goal for the beadboard application on this kitchen design. For one, the kitchen island has a natural Mahogany finish with wood top and wood legs, and only a little space for beadboard cabinets which was mostly placed to hide the plumbing of the sink.
The open design of the kitchen island makes it feel less bulky while its wooden finish stands out among the white kitchen cabinets on the walls.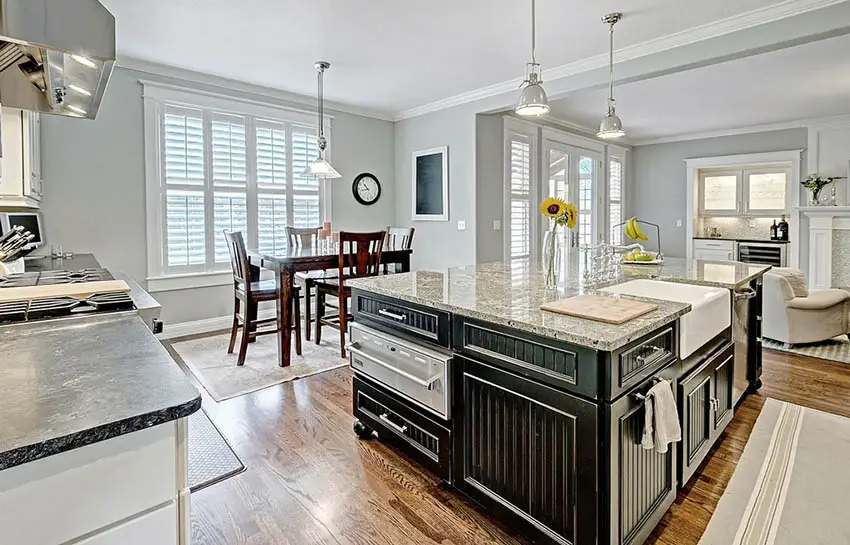 The use of black-painted beadboard cabinets on this massive kitchen island gives it a very retro industrial vibe that would go well with any current design style.
The dark finish of the cabinets makes the stainless steel appliances and pulls stand out, and also gives it a more sophisticated look.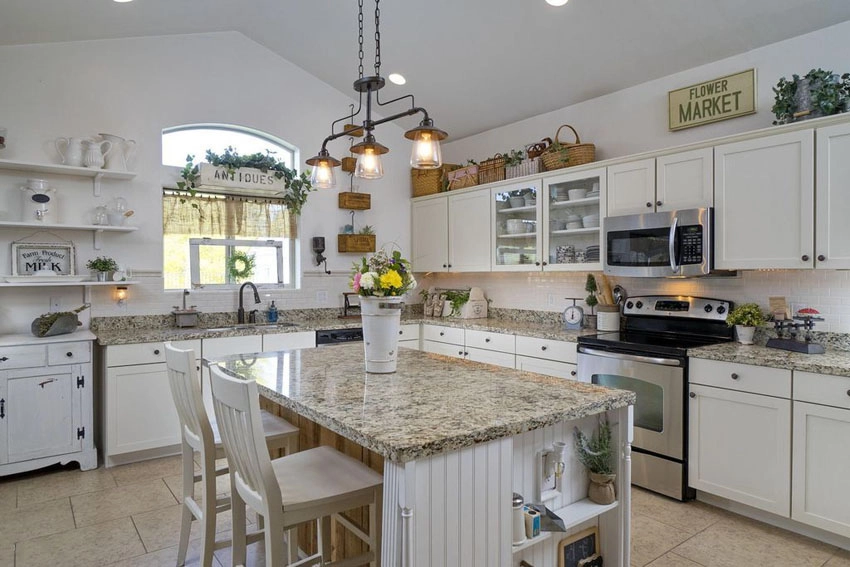 Beadboard cabinet doors and carcass was used for worktop kitchen island of this classic country style kitchen. The vertical grooves adds a subtle texture detail to the surface, making it stand out without taking too much of your attention.