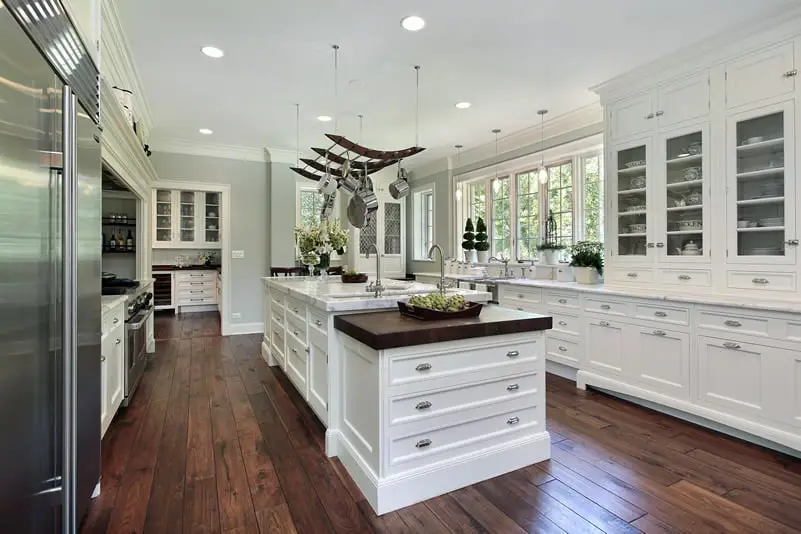 What does the ultimate kitchen look like to you? The luxury kitchen design ideas found on this page show you how homeowners, architects, and designers have combined form, and function to create their perfect dream kitchens. This kitchen image gallery consists of 3 pages. You can find (Kitchen Ideas Part 2) and (Custom Kitchen Cabinets Part 3) here.
There are many different features found in luxury kitchens. Some of the most desired elements of a dream kitchen include:
Custom kitchen cabinets
Islands (Often large with built-in stoves or sinks)
Eat-in sections (Attached to a peninsula or island)
Stainless steel appliances
Kitchen sinks (Crafted from stainless steel, marble/granite, or even polished or hammered copper)
Custom pendant & recessed lighting
Gas stoves (With multiple burners and high BTU power)
Hardwood or tile flooring
Tile back-splashes (In a variety of colors and textures)
Quartz or Granite counter tops
Glass fronted display cabinets and cupboards
If you're in the planning stages of remodeling there are a variety of kitchen design software programs that can help you add some of these elements to your space. Whether you're looking for ideas to create the perfect kitchen for culinary creativity, or as a beautiful gathering spot, you're sure to find something you love in the pictures on this page.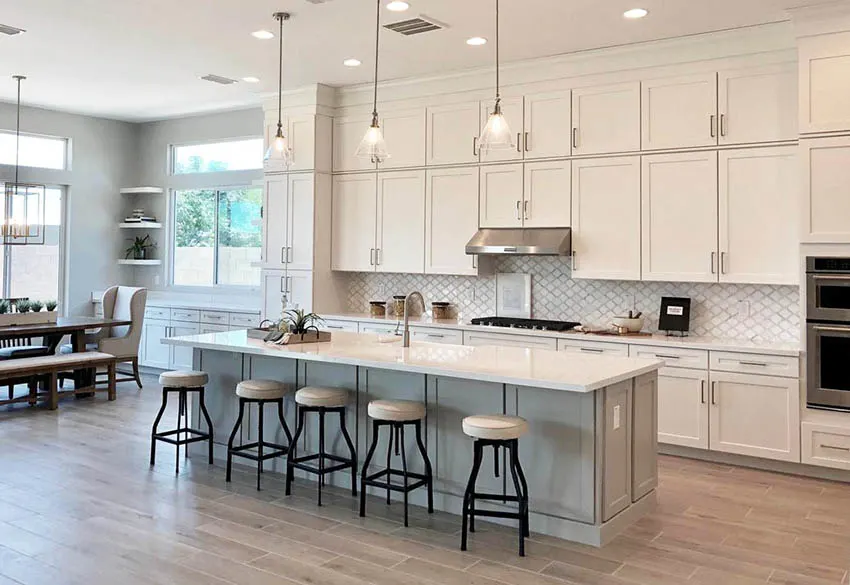 In the image above the sleek clean lines of this large galley kitchen are highlighted by its bright white motif. The rich sheen of the hardwood floor draws the eye and lends a feeling of warmth to the room. The dark wood of the floor stands in contrast to the crisp clean whiteness of the counters and cupboards and the soothing soft dove-grey of the kitchen walls. Glass fronted cupboard doors allow kitchenware to be displayed for effect and also allow for ease of location. The sturdy wooden island bar in the center anchors the room. The bar's white counter top provides a clean and inviting place for cooks to do their work.
Luxury Kitchens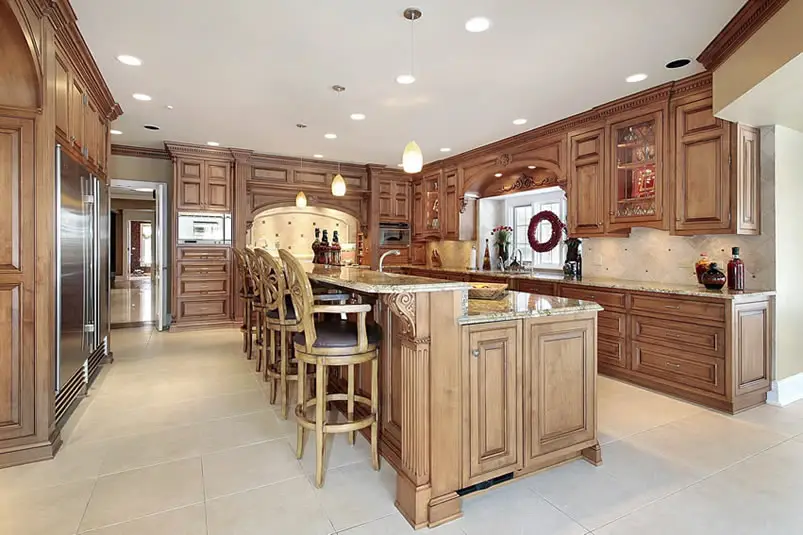 This large custom kitchen is rich in detail and elegance. The honey oak cabinetry is beautifully detailed and topped by light beige granite counters. The two level kitchen island offers plenty of dine-in seating from the wood bar stools. Recessed, under-counter, and pendant lighting offer plenty of illumination. high end touches such as an over-sized stainless steel refrigerator, oven and dual sinks allow the chef in the family plenty of opportunity to impress. Visit this page for additional kitchen island ideas for an assortment of styles.
Cherry wood kitchen
The rich red brown gleam of this luxury cherry wood kitchens floors and red mahogany cabinets has a warming effect on the whole room. The warm tones and smooth textures of cherry wood contrast with the cooler feel of the muted grey-brown marble counter tops and walls. The contemporary bright stainless steel appliances stand out nicely against the darker wood of the traditional dark wood cabinetry.
Pendant lights over the marble topped wooden island-bar cast a soft glow on the workspace. The rich colors and contrasts of the room give it a cozy and intimate feel that is easy on the eyes. The light cream walls and white ceiling helps balance-out the dark colors of the wood, as well as the beige granite countertops. Stainless steel finishes from the appliances are left exposed, giving a nice balance of colors and textures in the space.
White cabinets with black granite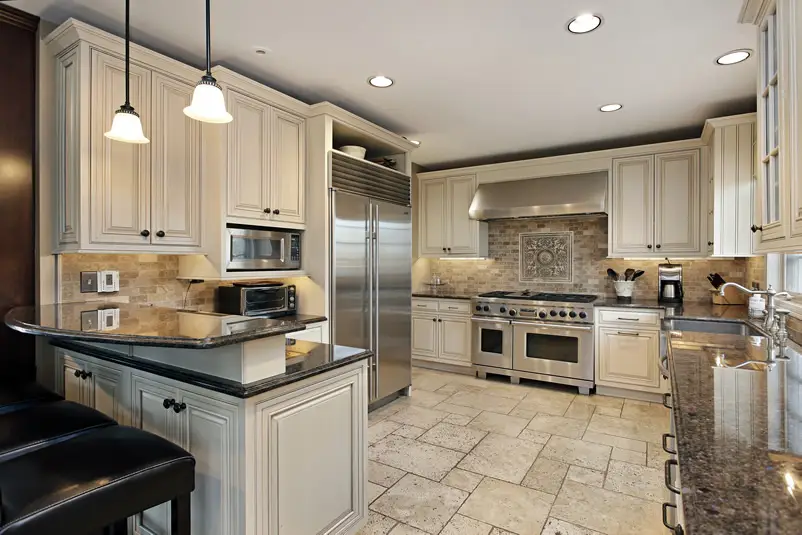 The white and cream tones of this traditional kitchen create a timeless yet fresh feel. Two pendulum lights adorned with elegant blossom shaped glass shades provide accent lighting for the rooms breakfast bar. Under the soft glow, the two tiered black-granite counters of the breakfast bar take on a cozy sheen. Additional storage space is available through discretely placed raised panel cabinets under the bar. Quirky, random touches such as a Versailles pattern for its grey tiled floors and a large mosaic backsplash over its range oven make this kitchen's design stand out from the norm.
Contemporary kitchen with wood flooring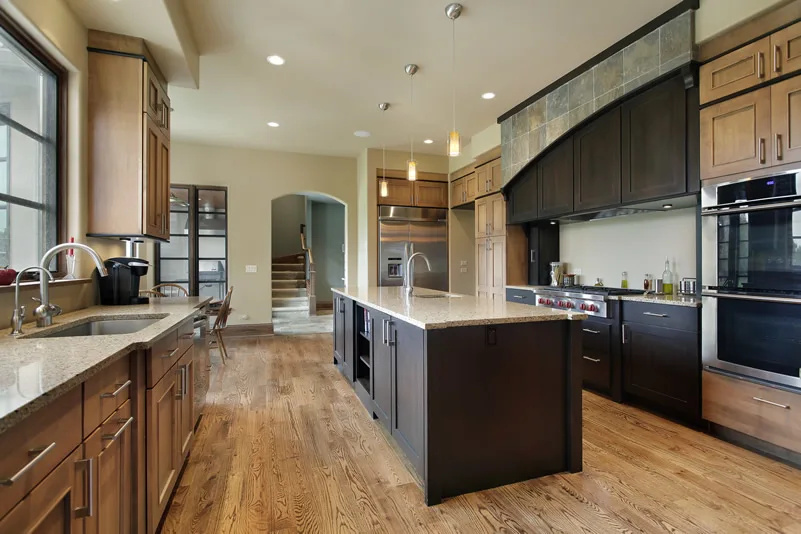 This room uses different colors and grades of wood for a stylish, contemporary design. The extensive use of light colored wood flooring and paneling lengthens this rooms dimensions and make it took lighter. The touches of darker wood used in the island bar and for some of the cabinets anchor the room's overall design and the eye-catching contrast lends a sense of liveliness to the room. The strategic placement of marble accents – from the soft off white of the counter tops and the jaunty grey marble tiled arch over the dark panel cabinets – lend the room a sense of sleekness and a warm shine.
Traditional white cabinets with dark countertops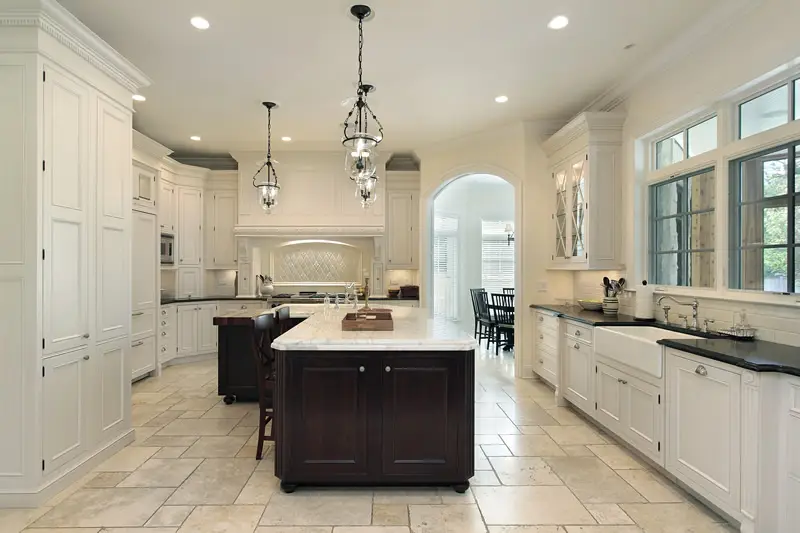 Old-fashioned rustic touches such as the three hanging pendulum lamps, the glass fronted cupboards, the arched doorway and casement windows lend a homey air to this sleek and contemporary kitchen. The white walls and white paneled cabinetry contribute to an overall atmosphere that feels clean, bright and airy. An L-shaped island bar of dark wood topped with creamy marble serves as the rooms focal point as well as both a work counter and a breakfast bar. The seemingly random pattern of the floor tiles marble grey and cream and off white lends an air of fun to the overall design.
Upscale kitchen with white cabinet island and dark countertop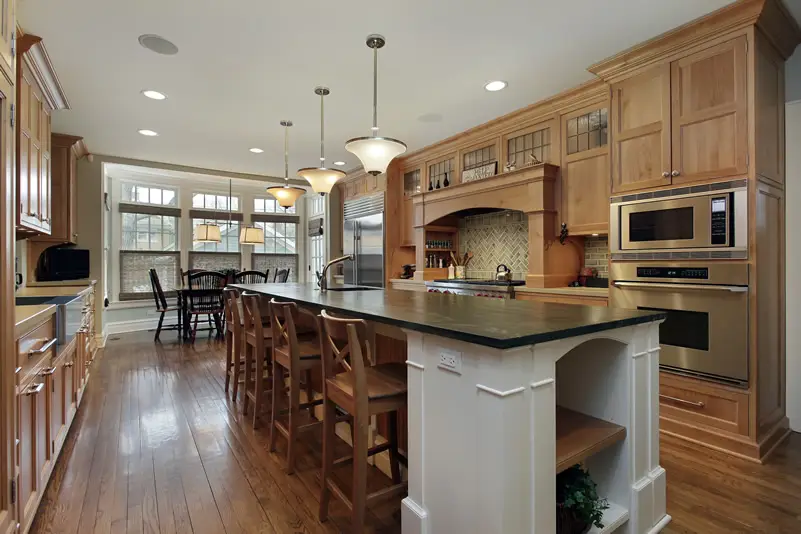 This luxury kitchen takes full advantage of some of the best features of a traditional kitchen. The warm, homey details are set off nicely by the extensive use of light wood on the floors, cabinetry and even the furniture. The sleek dark counter of the island bar with cross back wooden chairs provides a nice counterpoint to the overall design of the kitchen. The cabinets display a tasteful love for detail with their raised panel doors and decorative inserts provide plenty of storage. Build in counters and appliance nooks keep the space from seeming cluttered. A slight indent on the far wall allows room for an inviting, airy breakfast nook facing the windows.
Luxury kitchen with white cabinets and white quartz counters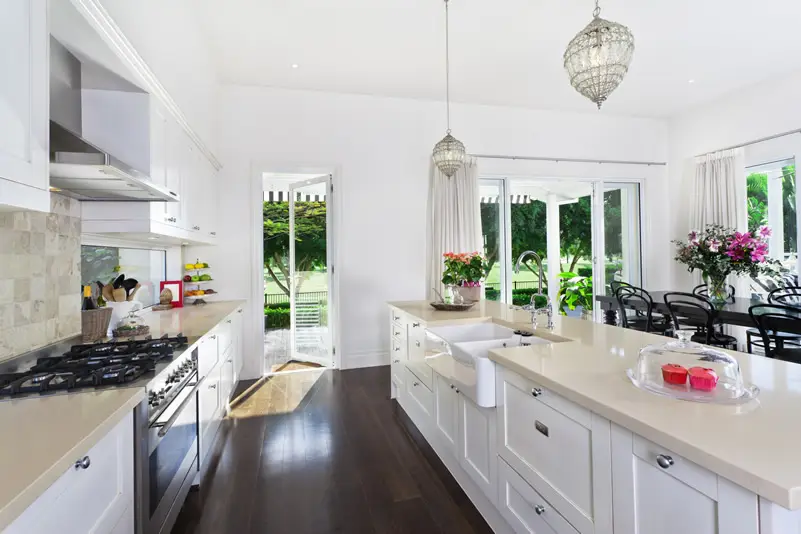 Bright and affluent are the first words that come to mind when looking at this luxury kitchen. One's eyes can't help but be drawn to the French doors and windows leading out to and looking into the garden. The clean lines of this kitchen are highlighted by a color scheme that utilizes shades of cream and white. White cabinets paired with white quartz countertops look beautiful together. The dark hardwood floor, as well as the dark hardwood tables and chairs of the breakfast nook stand out in pleasant contrast with the rest of the room. The rustic gas burning stove and pendulum lamps add a touch of detail and complement the otherwise traditional room design.
Custom kitchen with solid wood cabinets and gray backsplash tile and marble counters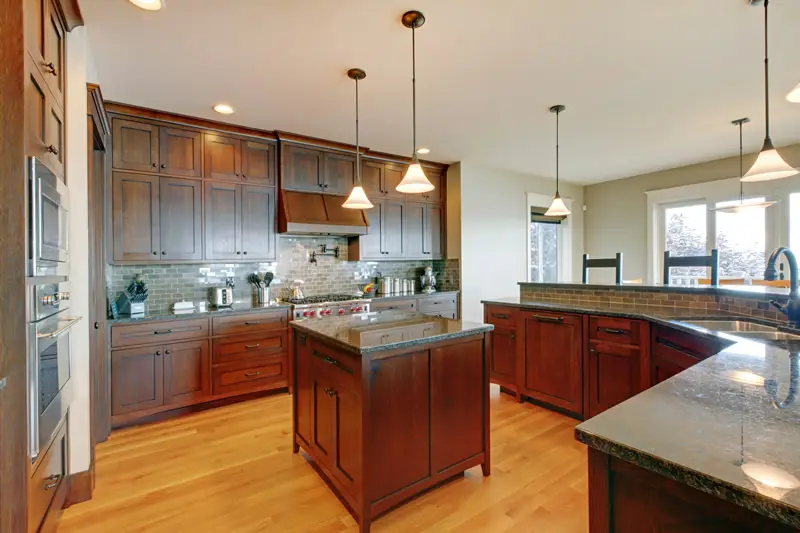 The soft golden sheen of this mostly wooden kitchen is set off nicely by the light of several pendulum lights with bell shades. The wooden counter topped by grey marble curves gently around a small center island bar built in a similar design. A backsplash of grey tiles adds a nice bit of detail to the kitchen walls. This kitchen design makes the most of a small space by tucking appliances such as a range, oven and microwave into their own nooks built into the surrounding cabinets. The lighter wood of the floor reflects the light to give the whole space a homey, airy feel.
White kitchen cabinets with black island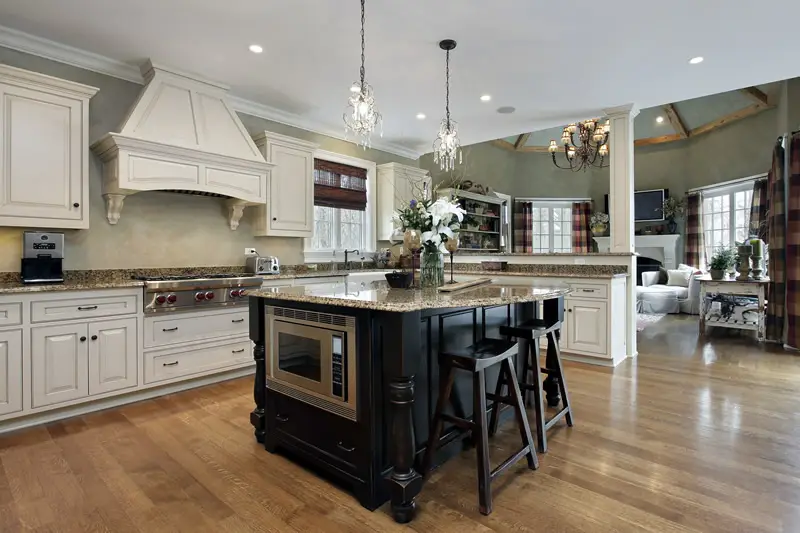 Cozy and unpretentious, the centerpiece of this l-shaped kitchen design is its dark wood island bar with a granite counter top. The sheen of the granite provides a nice clean contrast with the dark grain of it's hardwood base. A discrete microwave nook provides a unique way to store this appliance and keep it from taking up space in the counters. Old fashioned paneled cupboards and cabinets line the wall of the room for a homey feel. A white paneled oven hood provides an eye-catching bit of detail to the walls. A breakfast bar separates the kitchen from the living room without completely closing the kitchen off lending the set up an inviting feel.
Kitchen with light color wood cabinets and black granite countertops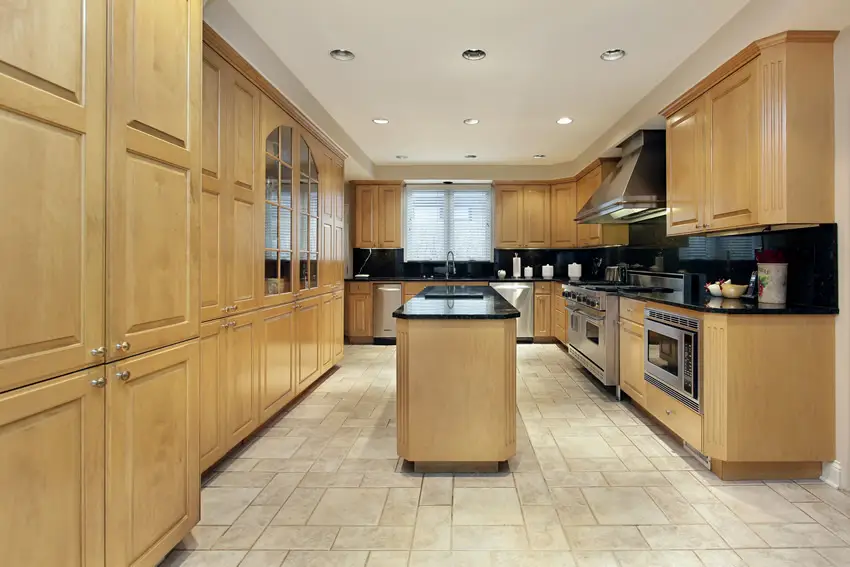 The charm of this kitchen is its simple styling and simplicity of finishes which stays consistent with its choice of colors. Yellow tones dominate the finished used in the space and it can be seen from the ceramic tiles, to the laminates used in the cabinet and even the off-white tones of the walls. The black granite countertop and splash board adds a bit of dark contrast to break the warm yellows, but is a nice touch in creating a balanced modern look.
Kitchen with white cabinets and butcher block island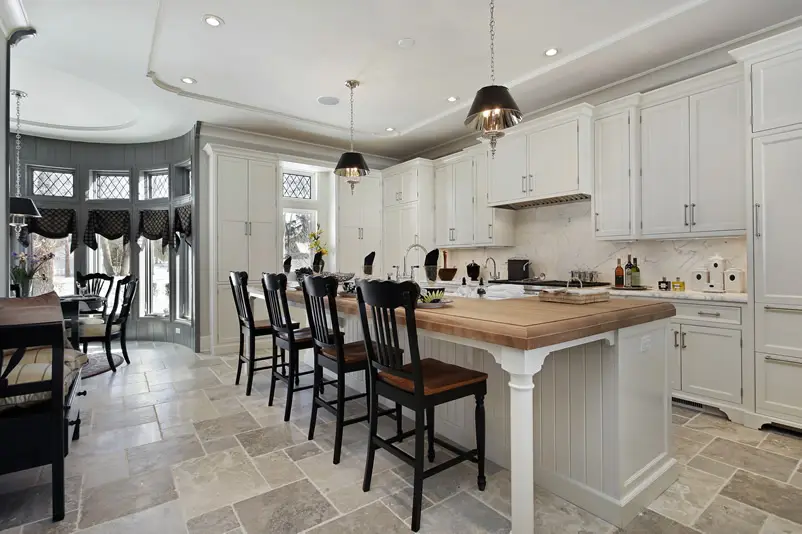 The clean and crisp white lines of this kitchen are set of nicely by discrete touches of darker materials. Pendulum lights with metallic bell shades and pinpoint lights on the ceiling cast a glow on the center island. The center island is an interesting combination wooden topped butcher block table and counter. Set off with dark wood square chair back bar stools the island provides a place where both work and socializing can be done. A bay window area houses a breakfast nook. Diamond patterned top windows are an eye-catching way of letting in natural lights while dark fabric jabots soften the glare from the larger windows.
Dark wood kitchen with white granite countertops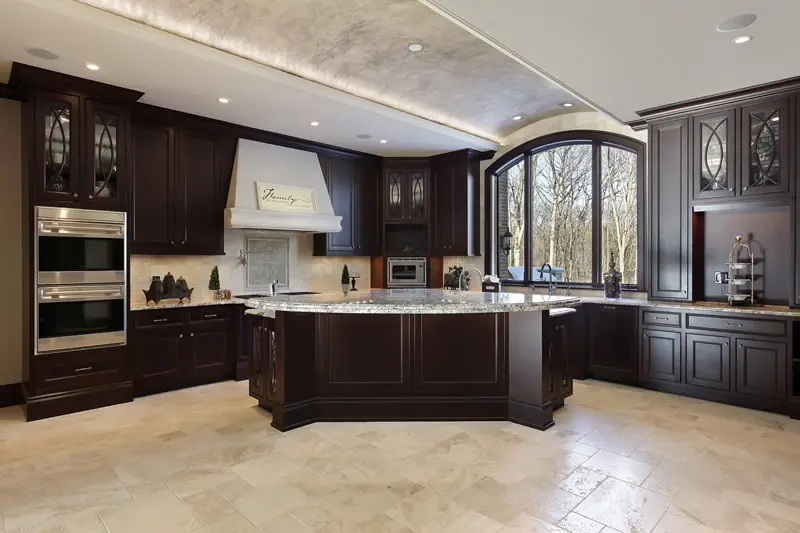 The dark wood cabinets and cupboards along the walls of this kitchen are set off nicely by the cream and grey tiles of its floor. Set in a herringbone patter, the tiles lend a clean and light air to what could have been a gloomy and dark kitchen. A strategically placed curved sliding glass window lets outside light shine on to this kitchens granite topped island bar for a nice reflective sheen. Decorative glass inlays in the paneled cabinets break up the monotony of the otherwise all dark wood paneled cabinetry. A mosaic inlayed backsplash and white marble oven hood are a cheerful touch to the work area.
Kitchens with White Cabinets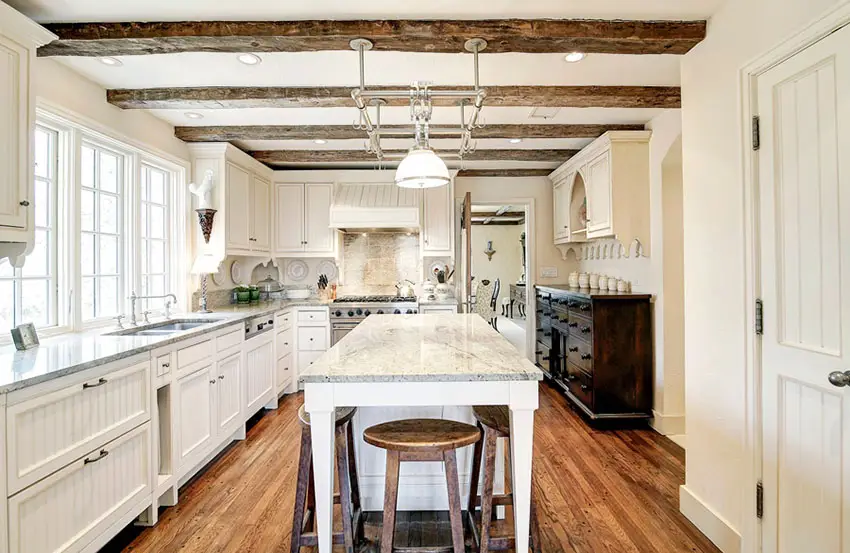 "White kitchen cabinets can stand the test of time". True enough, white is considered as a timeless and classic color which can never go out of style. Kitchen fads may come and go, but having white kitchens cabinets will enable your home to adapt to any trend, style and theme easily. This makes it a top choice for kitchen cabinet color.
There are a number of reasons and advantages as to why white proves to be the number one choice for kitchen cabinetry. One of which is that white kitchen cabinets offers a timeless and classic look. As mentioned earlier, it can never go outdated. White is a color of elegance and sophistication. When used in kitchen cabinets, it evokes a sense of visual serenity and class that no other color can encompass.
Another advantage is white kitchen cabinets are flexible. Generally, white is a color which can go with almost anything, the same remains true for white kitchen cabinets. You don't really have to worry much about what countertop would go best with it, or what wall color would complement it. Working with a white cabinetry color is like setting up your kitchen into a big canvass, where you can easily integrate splashes of color. By simply changing your accessories and design accents, you can completely give your kitchen a new look whenever you get tired of how it appears. Although some may consider it as a plain and boring color, one can not go wrong with using white kitchen cabinets. It works well for achieving a complementary, monochromatic or a contrasting color scheme for your kitchen.
White kitchen cabinets are also versatile when it comes to design styles. The design possibilities that it offers are endless. Whether you are aiming for that classic country kitchen or that ultra modern vibe, white cabinets are perfect. When paired with the right countertop color, proper millwork and finish, you can explore different design styles for your kitchen.
For example, if you are aiming for a classic look, you may opt to furnish your white kitchen cabinets with crown mouldings and panelling in distressed creamy white finish, then pair it off with a beautifully veined Carrara marble countertop. A cottage themed kitchen, on the other hand, may be achieved through white shaker style cabinets with a tile backsplash. If you want to achieve a modern kitchen, use high gloss ultra white kitchen cabinets and contrast it with a black galaxy granite countertop.
White kitchen cabinets evokes a clean, crisp look. It has positive vibes which represents purity and makes a space more inviting. Since it is the brightest color, it reflects lighting well making it appropriate to use for small kitchens. White kitchen cabinets can make small kitchens appear bigger. Light colors create an illusion of space making rooms feel open and airy. White kitchen cabinets are more reflective than dark colored cabinets, thus helping maximize the effect created by the flow of natural light.
An added design tip to consider for kitchens with white cabinets, make sure to combine varying textures all through the area to liven up the space. Choose the right finish for your countertops and cabinetry. Also, keep in mind that white comes in different shades too,ranging from the brightest ultra white to a snowy and creamy tone, so choose the perfect white for your cabinetry depending on the style you want to achieve.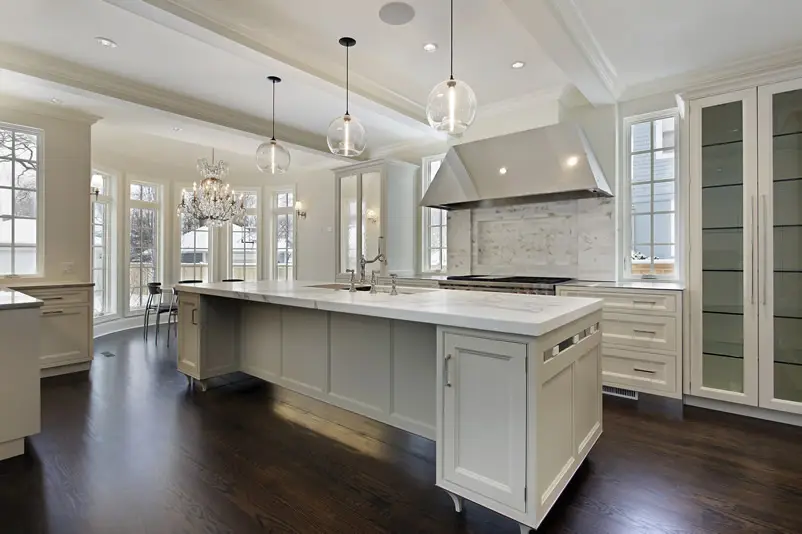 The pendulum lights with their clear curved shades and the ornate chandelier hanging over this chef's kitchen center island are an eye-catching bit of detail in what is otherwise a very simple design. Paned windows let in ample light to this kitchen with bay windows providing a cozy space for a breakfast nook. The sleek modern lines of the steel framed chairs in the breakfast nook fit in nicely with the more traditional paneled design of the rooms cupboards and drawers. The over-all light and airy feel of the room brings a soft sheen to the dark wood floors.
Luxury black and white kitchen with quartz and marble countertops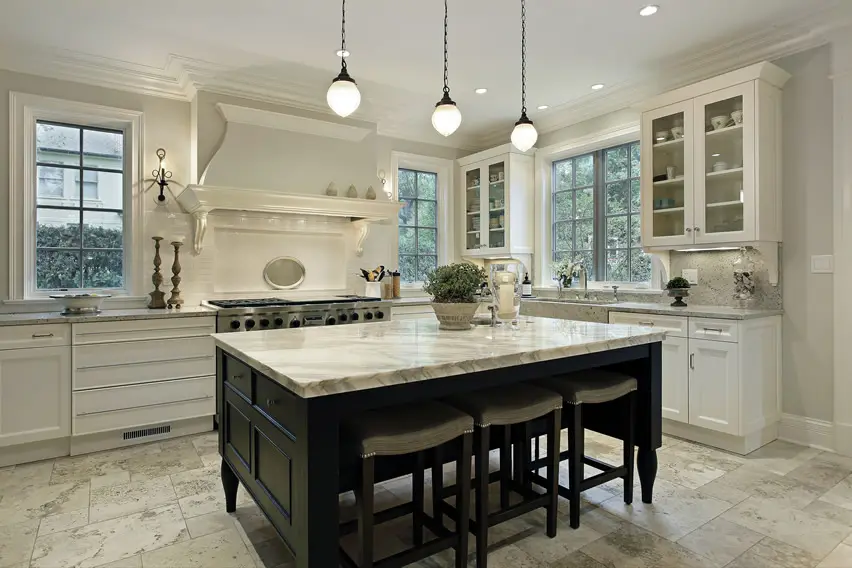 This bright and spacious kitchen uses white porcelain stone tiles in various square-cut sizes for its floors. The walls are painted in a light dove gray color with white moldings, doors and windows. Classic style kitchen cabinets are also in white. The main kitchen counter uses Gray Salt and Pepper marble counter top, while the island counter uses a gorgeous Super White Quartztite slab. The island counter stands out from the rest of the kitchen as its cabinets/legs are in black, with interesting black pendant lights lights hanging above.
White cabinet kitchen with wood countertops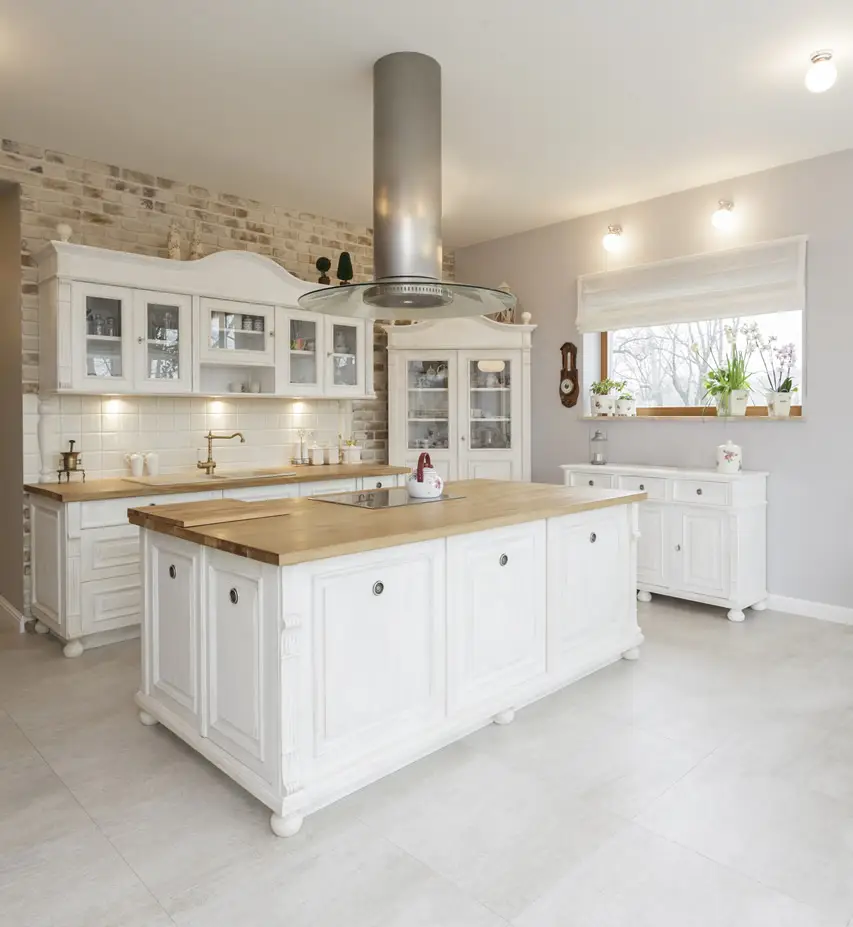 A country-inspired kitchen with a mix of classic elements and modern materials and finishes. Kitchen cabinets with moldings are all in white, with interesting silver pulls on the center. The counter tops are solid wood slabs, treated so it would not rot with prolonged water and moisture exposure. For the floors, 60×60 gray porcelain stone tiles were used, with matching gray walls. The wall behind the main kitchen counter stands out with its faux stone brick wallpaper and white tiled backsplash. The large butcher block island with stainless range hood makes an impressive centerpiece.
Black kitchen cabinets upper and white cabinets lower with a black cabinet island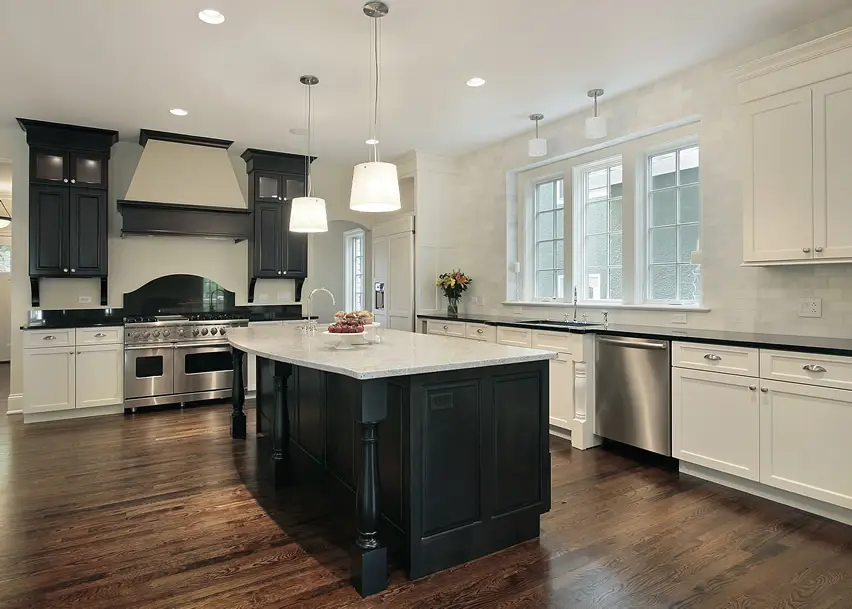 Dark wood floors and light walls serve as the backdrop for this open kitchen, and this combination of light and dark continues on its choice of colors for the kitchen cabinets and counters as it combines black and white cabinets and counters. White cabinets are topped with black granite counters while the black center island uses white granite countertop. The counter area with the cooking range goes even further by combining white kitchen cabinets with black overhead cabinets, black granite countertop and white tile backsplash.
Traditional kitchen with white cabinets and dark wood island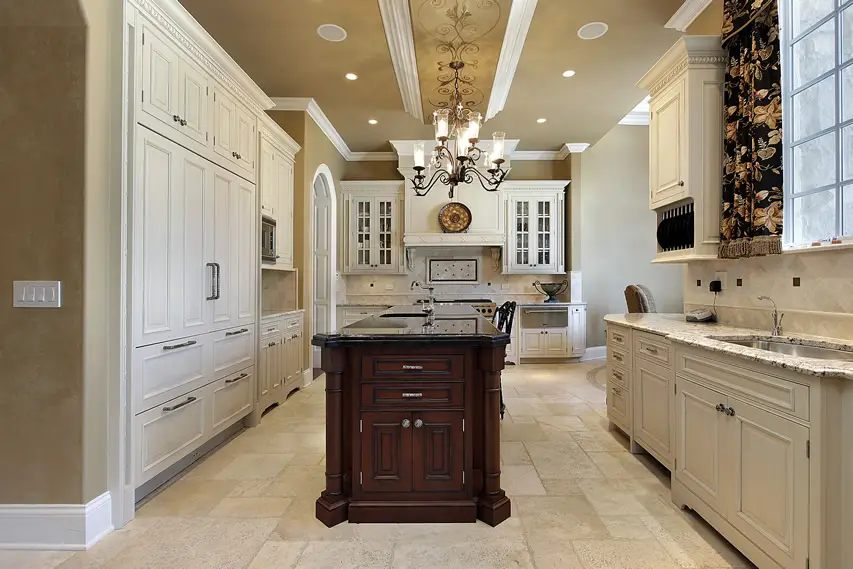 This kitchen space directly opens into the dining area and adapts a uniform beige paint color for both the walls and the ceiling with white moldings as accent. The white kitchen cabinets blends well with the beige walls and seamlessly matches with the moldings. A pair of wrought iron chandeliers hanging above the Walnut island counter adds to the traditional appeal of the space and adding a warm glow of light to the space.
White cabinet kitchen with oak cabinet island and beige granite countertop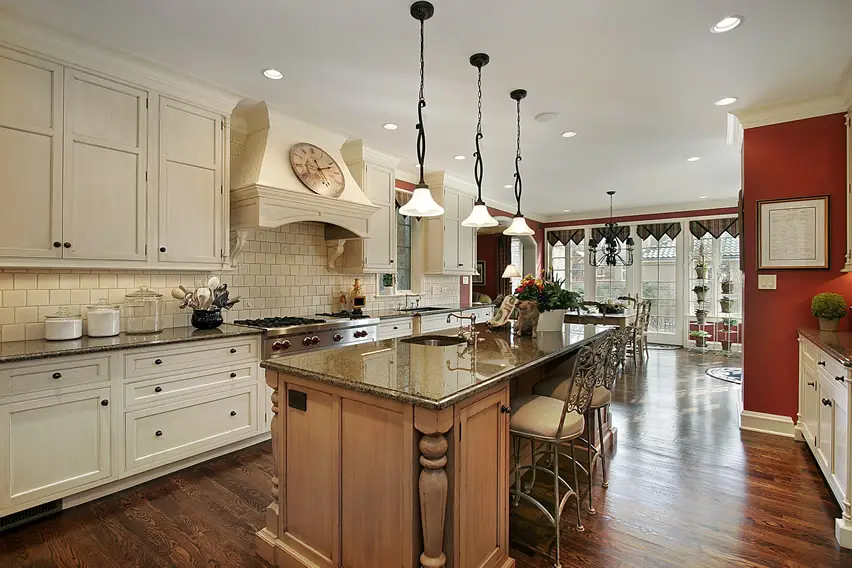 This kitchen preserves it romantic, classic appeal in its choice of colors and finishes. The large French doors lets in much light into the area, making the space appear large and brighter, while the red-painted walls separates the kitchen from the rest of the house. The main kitchen cabinets are in off-white with beige granite countertop, while the center island counter uses Natural Oak finish on its base cabinets and turned balusters. Above it are 3 pieces of pendant lamps with elegant bent metal designs, and a matching set of metal bar stools in a light gray color.
White cabinets kitchen with a black island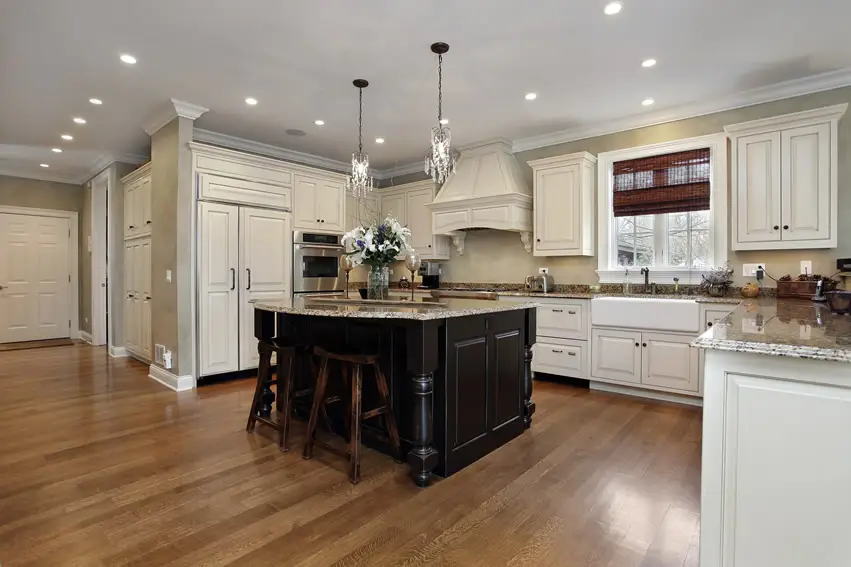 This large kitchen uses Oak wood floors in its natural color to help warm up the space. The walls are all painted in a warm gray tone, with white moldings and plain white ceiling. The kitchen cabinets are all in an off-white color and has paneling to give it a classic appeal, while the center island stands out from the rest of the kitchen with its use of wengue-stained wood for its base. All counters use a thin slab of a beige-colored salt and pepper countertop and uses oil-rubbed kitchen fixtures and a pair of crystal pendant lamps.
Traditional white cabinet kitchen with gray granite countertops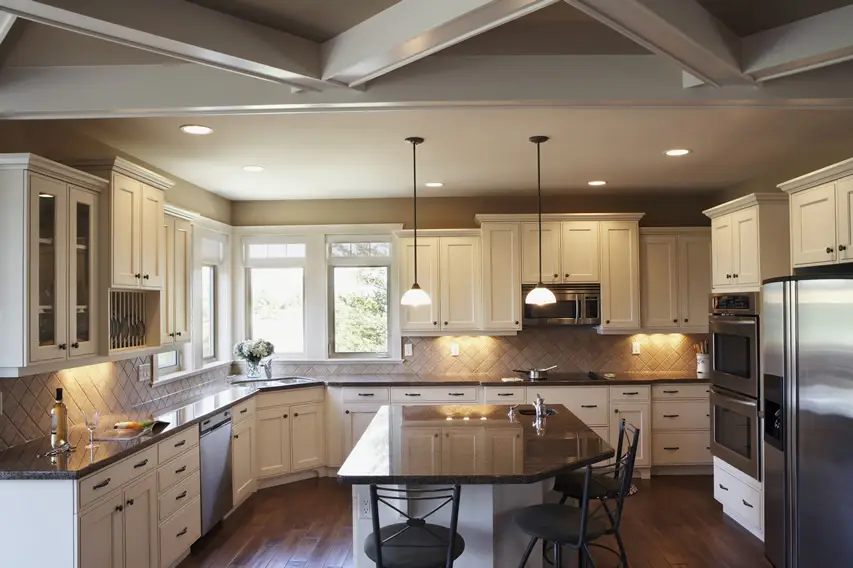 This simple kitchen design gives focus on the diagonal elements, mirroring the ceiling detail outside the kitchen area. Backsplash tiles are laid-out diagonally, and the island counter's corner was cut away to give it a diagonal element. The rest of the kitchen goes for the understated off-white cabinets with dark gray granite countertops and beige wall color.
Luxury kitchen with off white cabinets and large island with breakfast bar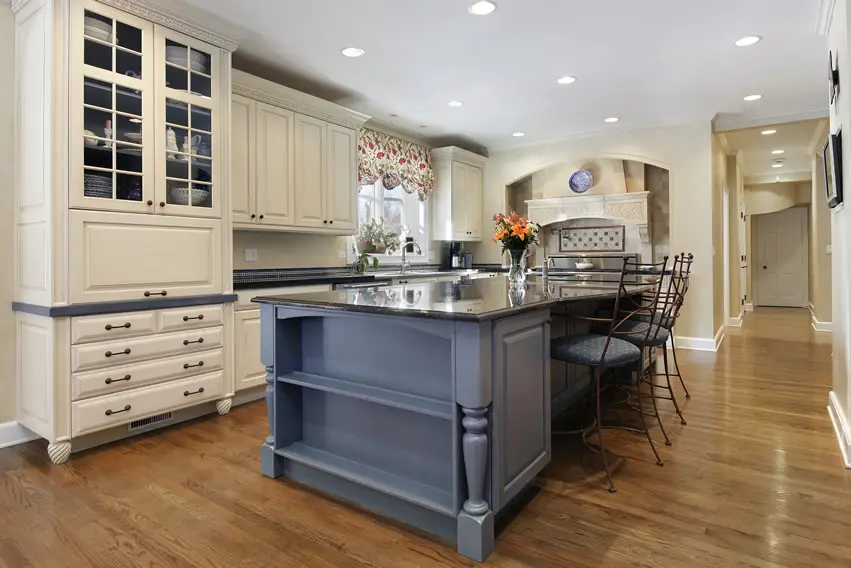 This kitchen experiments with different colors and textures. The floors are solid planks of Golden Oak, while the main kitchen counter has off-white cabinets, the island counter on the other hand, has indigo cabinets. Both are topped with black granite countertop, while the backsplash uses off-white ceramic tiles. Walls are in light cream with white moldings and ceiling, and the bar stools used are copper-colored metal.
Country kitchen with white cabinets and black countertops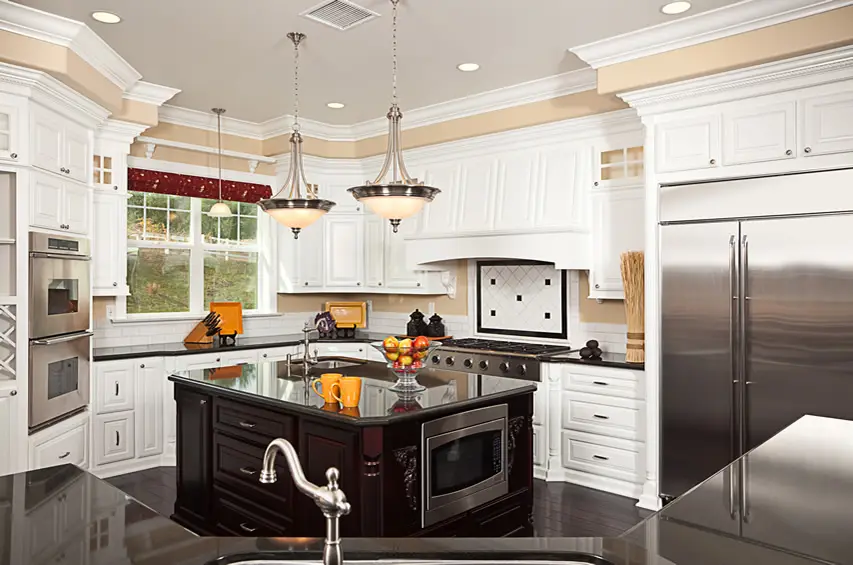 For this country style kitchen, the main cabinets are all in white with a Walnut center island. The countertop material is black polished granite, while the faucets and appliances are all stainless steel finish. The exposed parts of the walls are painted in a peach colored semi-gloss paint. The splashboard is white ceramic tiles in a brick layout, while the splashboard behind range combines black and white ceramic tiles in a diagonal layout. On top of the island counter has 2 pieces of elegant pendant lamps to complete the look.
Kitchens with Dark Cabinets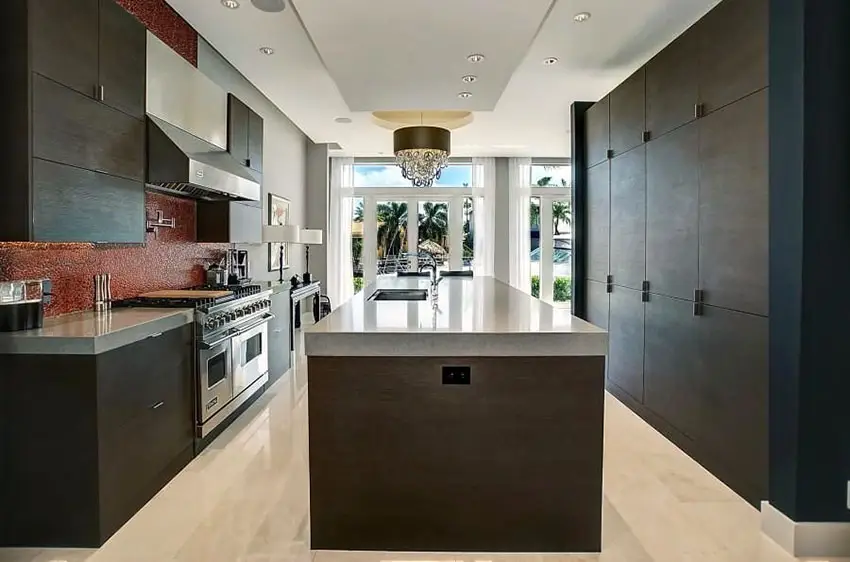 Though most homeowners choose white kitchen cabinets, not everyone prefers to go with this design trend. Dark colored kitchen cabinets are a top choice for those who are interested in trying out a new look, being a popular modern decor trend. Although it seems to go against the common perception that kitchens should be airy and bright, dark kitchen cabinets create dimension and drama within a space.
Just like white kitchen cabinets, there are also number of reasons and advantages as to why dark kitchen cabinets may work well for your home. One of which is that dark cabinets offer a rich and elegant look. It gives off drama to a space and works perfectly for luxury themed kitchens.
Dark cabinets add warmth to a space. Although it doesn't spark the lively feeling you get from white cabinets, it brings about a calm excitement. Deep colored wood cabinets, for example, make your kitchen more cozy and homey.
Dark cabinets are ideal for creating depth and contrast to a space that light colors cannot achieve. It adds variation and dimensionality to your kitchen.
Dark cabinets work well with traditional, contemporary and modern styles. Choosing the right dark cabinets will depend on the style you want to achieve. If you are opting for a modern look, pair a high gloss black or dark gray kitchen cabinets with a light colored solid surface countertop. You can make the space more contemporary by adding pops of color in your accessories.
While, if you are aiming for the traditional style, achieve that rich opulent look by finishing dark cherry or espresso cabinets with moldings, a marble countertop and hardwood floors. Super luxurious kitchens usually use black cabinets with a contrasting bright white countertop. Mediterranean kitchens can be achieved with a deep reddish cabinet color accentuated with earth tones.
The following design tips may also be considered in designing luxury kitchens with dark cabinets. In mixing and matching dark cabinets, figure out what will work cohesively with all the other aspects of your kitchen and the final look you are aiming for. White cabinets may be easy to pair with, but dark colored cabinets require more care to pull off because each different shade has a unique impact. Dark cabinets may either be a neutral black or gray, a rich wood stain color of Cherry, Mahogany or Espresso, a deep red, lavish purple or even midnight blue.
Also, as a general rule, balance off dark kitchen cabinets by selecting a lighter color for the walls, floor and the counter top. Choose a countertop with a light or neutral base color. This will lessen the heaviness of the look of your kitchen. Too much dark can sometimes be depressing, so add design elements which can liven up your kitchen.
For example, if using dark brown cabinets, pair it with a countertop that has golden shades. Dark cherry and walnut cabinets may be combined with light hardwood flooring. If you are on the more experimental side, you can try playing with the backsplash color and material — a pop of green graphic coat kitchen backsplash perfectly matched with dark charcoal cabinets can create a stunning modern kitchen.
Modern black cabinet kitchen with stainless countertop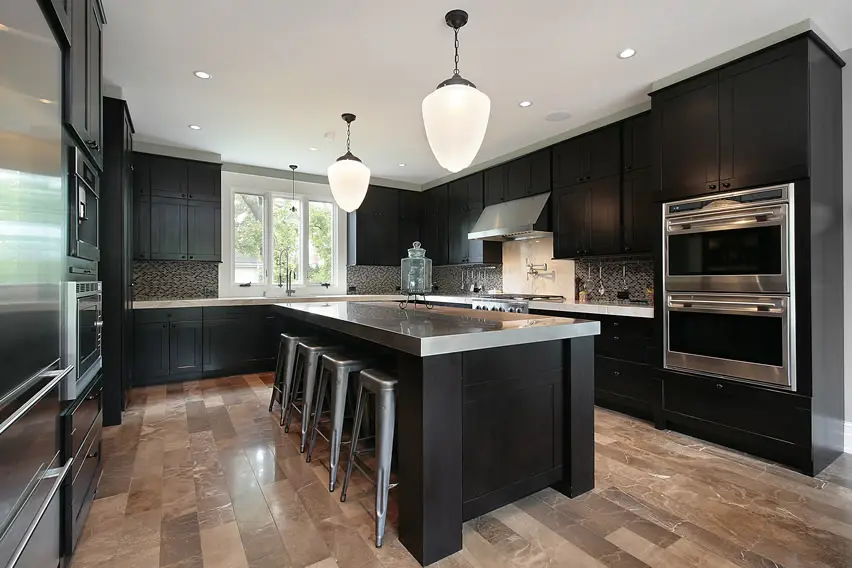 For this modern masculine kitchen, the kitchen cabinets are all in matte black with matching black door pulls. The main kitchen countertop uses white solid-surface, while the island counter uses stainless steel countertop, to match the rest of the appliances which are also in stainless steel. For the floors, porcelain stone tiles in beige tones were used and cut-out in long slabs as to mimic the size, look and layout of wooden flooring, without having to worry about damaging it when it gets wet.
Large kitchen with dark walnut cabinets and green granite countertops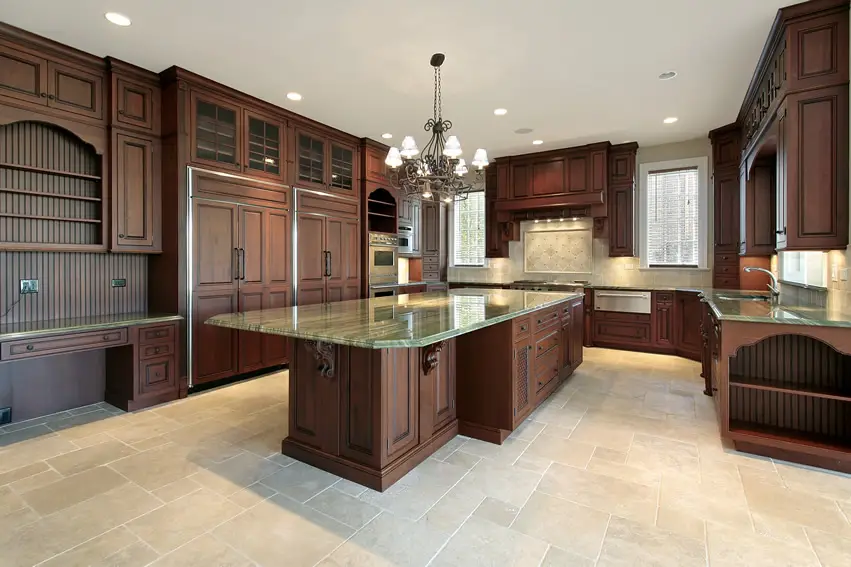 A spacious kitchen which uses natural stone tile floors in various square and rectangular cuts, combined with gorgeous solid Walnut cabinets and Jade Green Granite Countertops. The backsplash also uses stone tiles, while some parts of the walls and the cabinets have accent vertical slats of solid Walnut. The kitchen are has an iron chandelier to highlight its center island.
Mahogany kitchen cabinets with a light color granite counter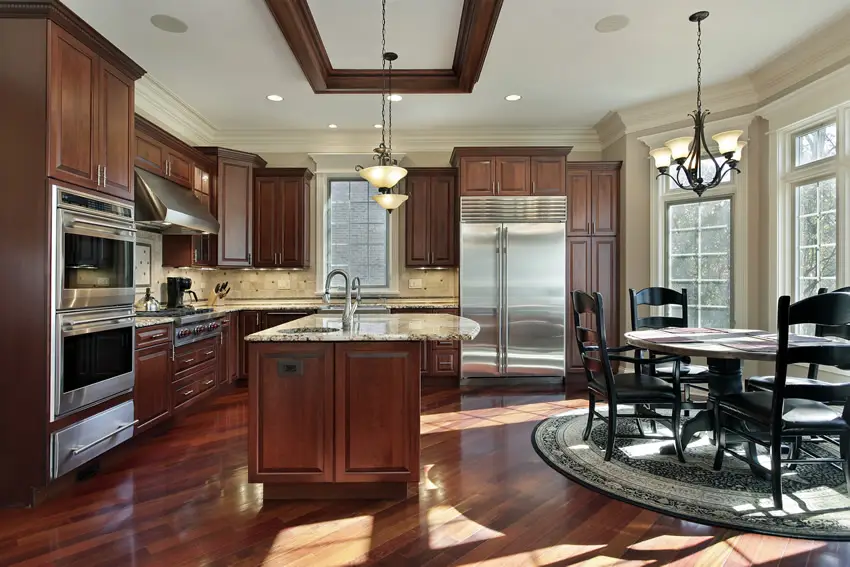 This gorgeous kitchen is all about the wood. Floor boards are solid pieces of red Mahogany, polished well to achieve that shine. It has matching sets of kitchen cabinets in red Mahogany and accent ceiling moldings. This is combined with the use of stainless steel appliances, cream granite counters and stone backsplash. The breakfast nook separates itself from the wood tones with its use of a circular area rug and black-stained wooden furniture pieces.
Modern design with dark kitchen cabinets and beige marble countertops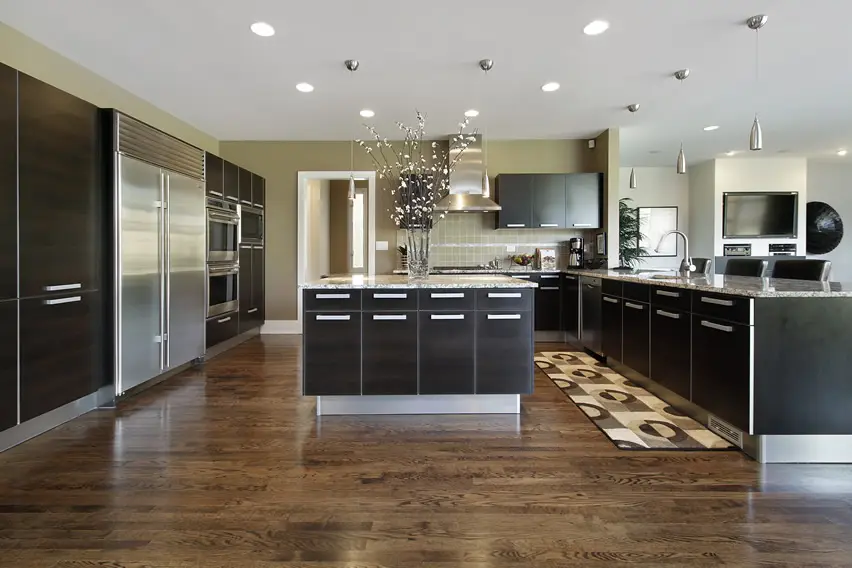 A large modern kitchen which plays with modern kitchen materials. For its floors, it uses golden oak solid tongue and groove floors with water-resistant coating, while the cabinets are laminated with ebony wood, with brushed stainless steel handles and even stainless steel pendant lights above the counters. The countertop uses beige marble, and the walls uses a matching beige color.
Walnut kitchen cabinets with light granite counters and wood counter island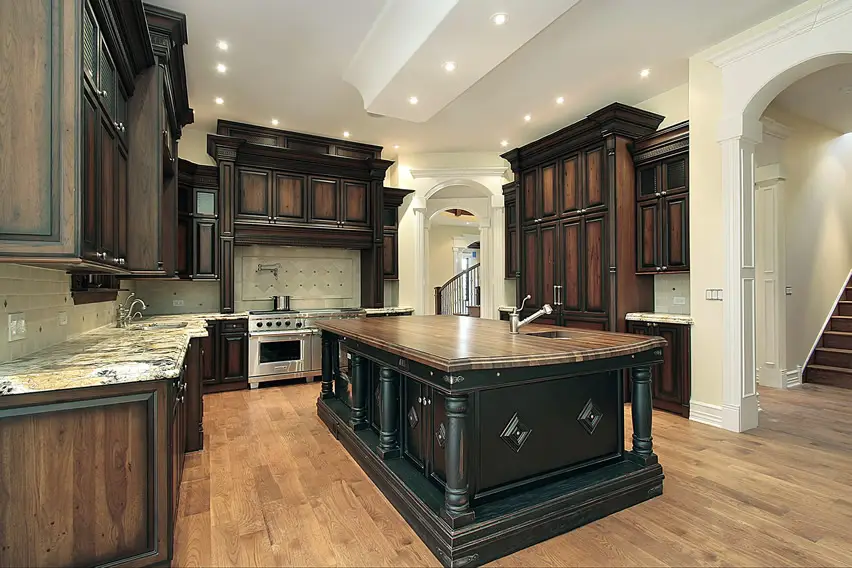 This luxury kitchen gives an grand feeling with its choice of finishes. For the kitchen counter cabinets, stained walnut was used, with detailed moldings and crowning, topped with Granite countertop. The center island counter goes for the darker, black-painted wood and is topped by solid wood slab. Splashboard uses ceramic tiles, while the floors are solid Ipswich Pine wood planks and the walls are painted in a very light cream color.
Modern black cabinet kitchen with wood countertops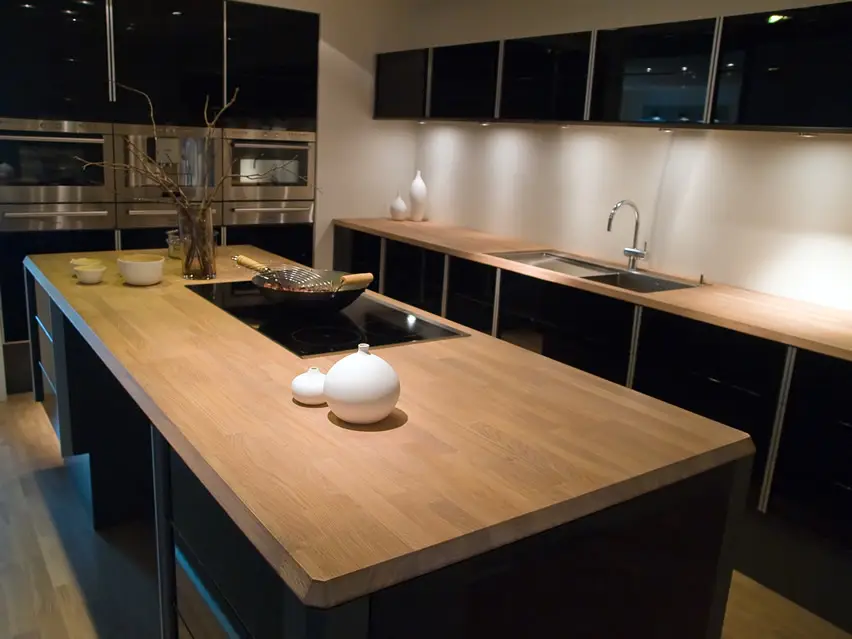 This modern kitchen design goes for the gloss and simplicity. The lower part of the kitchen counters are open shelves in black, with stainless steel supports, while the overhead cabinet doors has black graphicote glass with stainless steel handles. The countertop uses pale natural Oakwood, chamfered at an angle on its edges. It has a matching set of Engineered Oak wood floors, while the walls and ceiling are all kept in plain white paint.
Modern design with grey kitchen cabinets and stainless steel counter island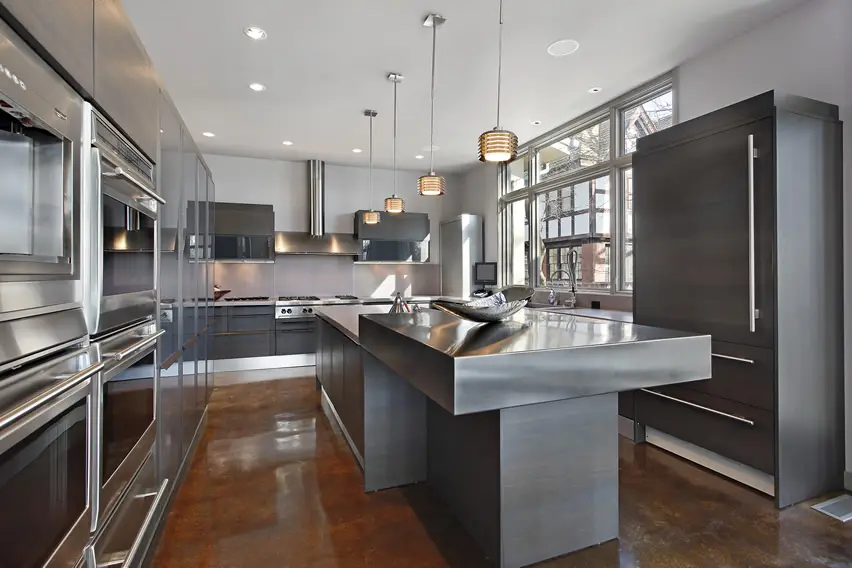 A modern kitchen design which experiments on different finishes but doesn't go overboard with too much variety of materials. Cabinets are all in a cool gray tone of laminates with stainless steel handles, with white solid-surface countertop. The island counter has a higher bar-height counter with a countertop clad in stainless steel. Walls are painted in light gray, while the floors is of colored polished concrete.
Kitchen Design Ideas
Oak cabinet kitchen with black island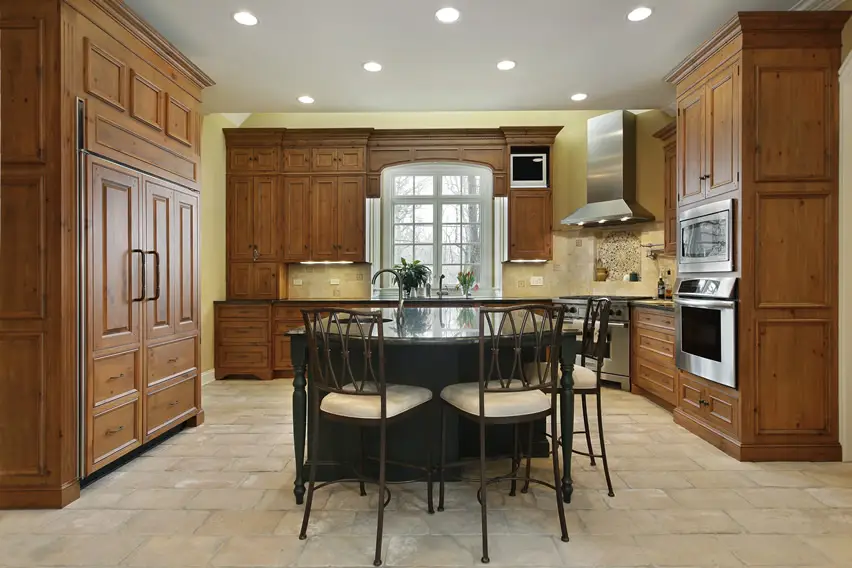 This kitchen gives off a country kitchen vibe with its natural stone tile floors set in a running bond pattern. The roughness of the floors is offset by the smooth Golden Oak cabinet doors and pale yellow walls, while the same floor material is used for the splashboard. The kitchen island sets itself apart from the rest of the layout with its black under counter cabinets, while the black Granite countertop keeps the look together as it is used in both the kitchen and the island counter.
Natural wood kitchen with breakfast bar island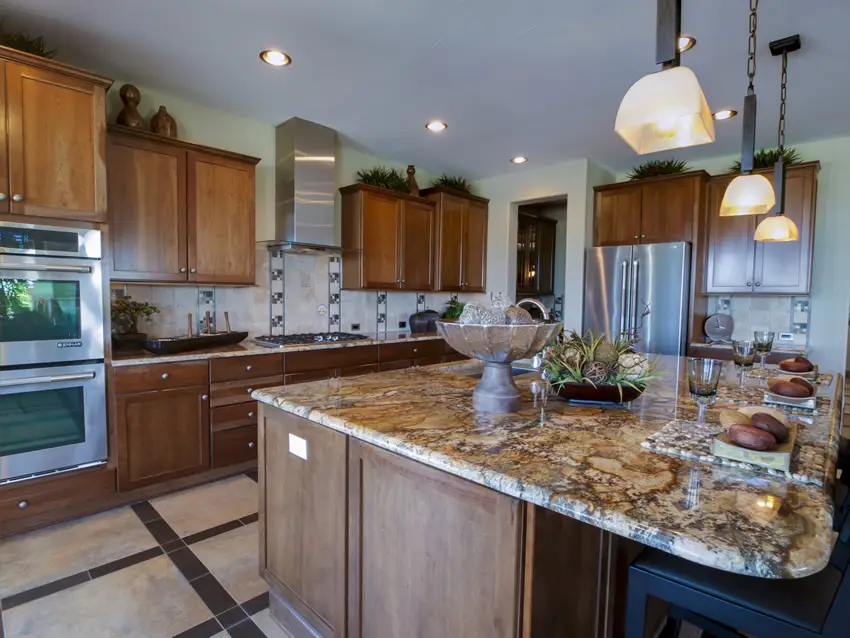 This spacious kitchen uses Golden Pecan wood kitchen cabinets, which gives the overall warm glow of the space. The countertops are polished natural stone in a warm beige tone, and the use of warm colors continues to the floors which uses natural ceramic slate tiles bordered with smaller mocha brown tiles. To counterbalance the warm colors, brushed stainless steel is the choice of finish for the hardware and the appliances in this kitchen. Luxury kitchen designs with breakfast bar seating such as this one are great for those with busy lifestyles or who love entertaining and being able to socialize with others while cooking or preparing food.
Kitchen with cherry cabinets with black granite countertops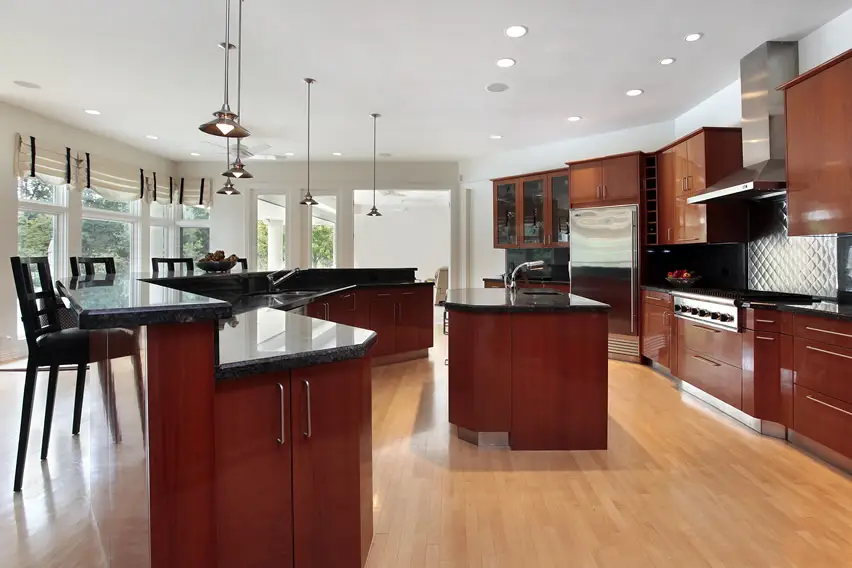 This modern kitchen plays with its large space with its irregular layout to make it more fun. The kitchen cabinets are devoid of ornamentation and moldings and uses glossy Cherry wood laminates, with stainless steel kick-space. The countertops are of borealis blue quartz for the bar counter and black granite for the main kitchen counters and its splashboard. Floors are engineered wood in natural oak and walls are kept in plain white to help brighten up the space.
Two tone cabinets with wood kitchen countertops on the island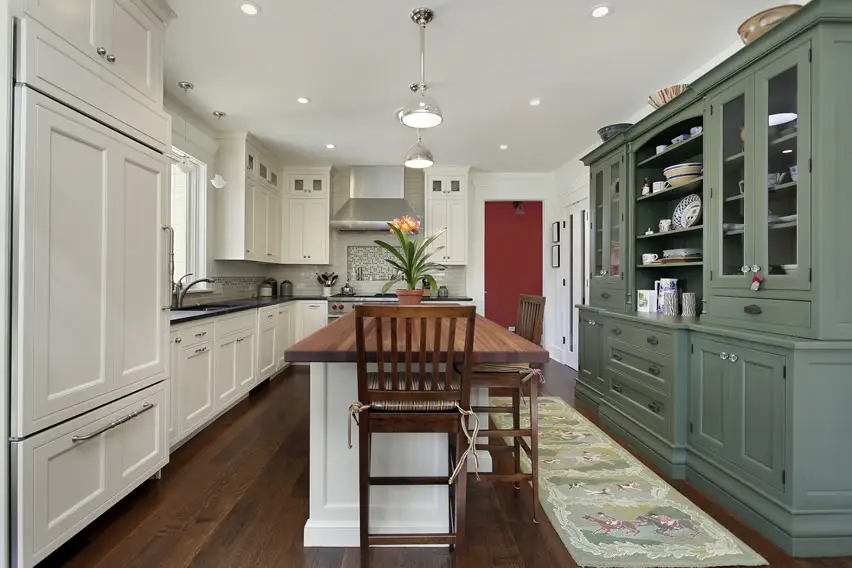 A kitchen with a mixture of classic and modern industrial elements. The paneled cabinets in off white and the china cabinet painted in a sage green color are combined with more modern elements such as brushed stainless steel appliances and an industrial style pendant light hanging above the island counter. These are paired with solid Mahogany wood floors, with a matching pair of Mahogany bar stools and solid Mahogany slab for the island's countertop.
Kitchen with mahogany cabinets and St. Cecilia Granite countertops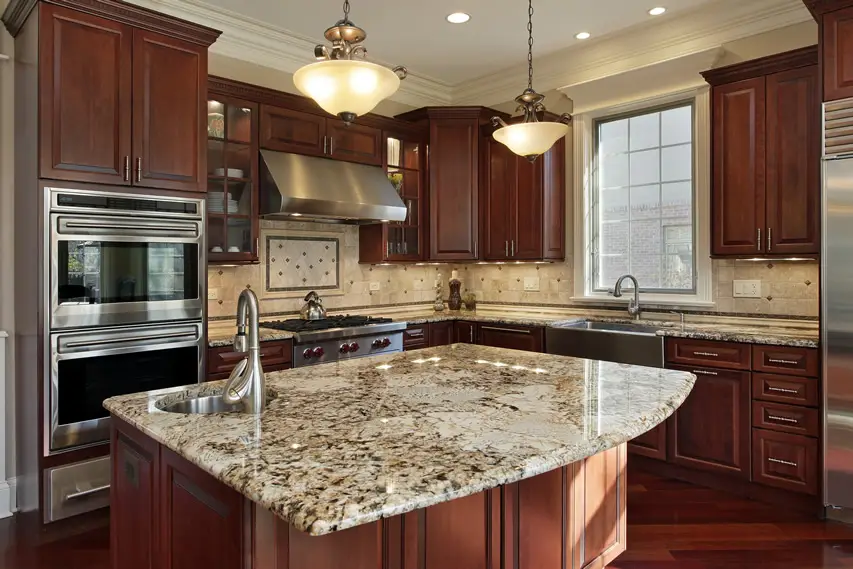 The stand-out feature of this kitchen would be its polished Giallo St. Cecilia Granite counter found on the island counter and the main kitchen counters. Its light color and smooth edges complements the red Mahogany kitchen cabinets well. Floors are of engineered wood in Mahogany, and for the backsplash, light beige ceramic tiles were used. Hanging over the island counter is a pair of pendant lamps in rubbed bronze with a warm white light to help keep the space illuminated and looking warm.
Dark brown kitchen cabinets with quartz countertop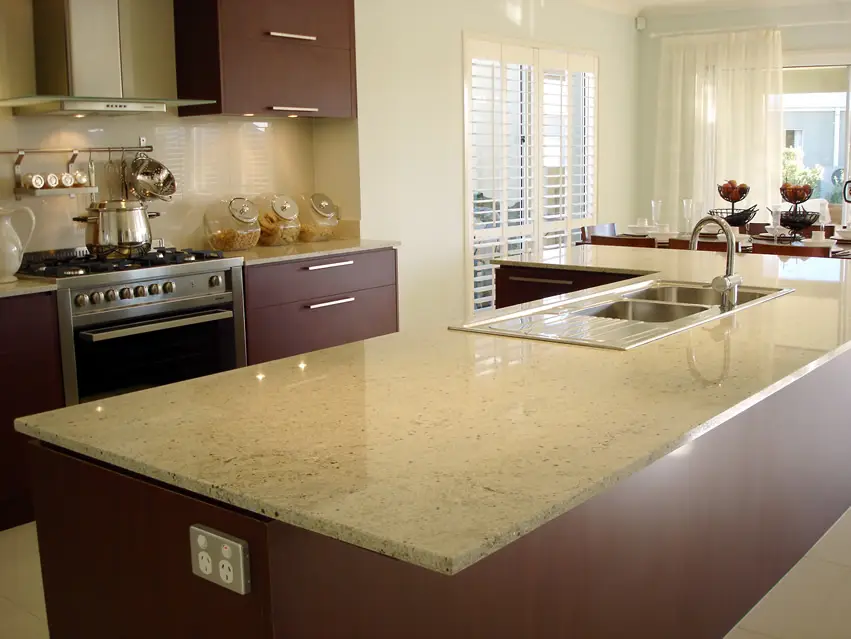 The use of the off-white quartz countertop as the choice for the kitchen counters helps make this modern kitchen appear brighter by helping reflect and bounce off light into the kitchen. Walls are low-key off-white, with laminated kitchen cabinets in dark brown. As for the backsplash, white graphicote glass was used for a clean and seamless finish.
Beautiful walnut kitchen cabinets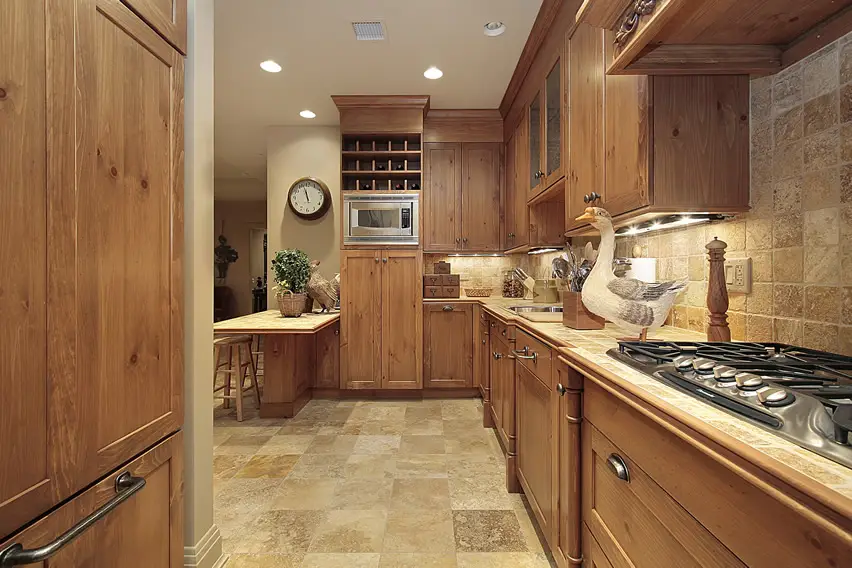 This lovely solid wood kitchen has a very warm and inviting feel to it. From its rustic natural stone tiles in various tones and colors, to the Natural Walnut kitchen cabinets and the tiled countertop. The warm white wall color also complements the walnut cabinets, and the wooden accessories and furniture pieces all in all gives this kitchen a rustic country look.
Dark kitchen cabinets with black galaxy granite countertops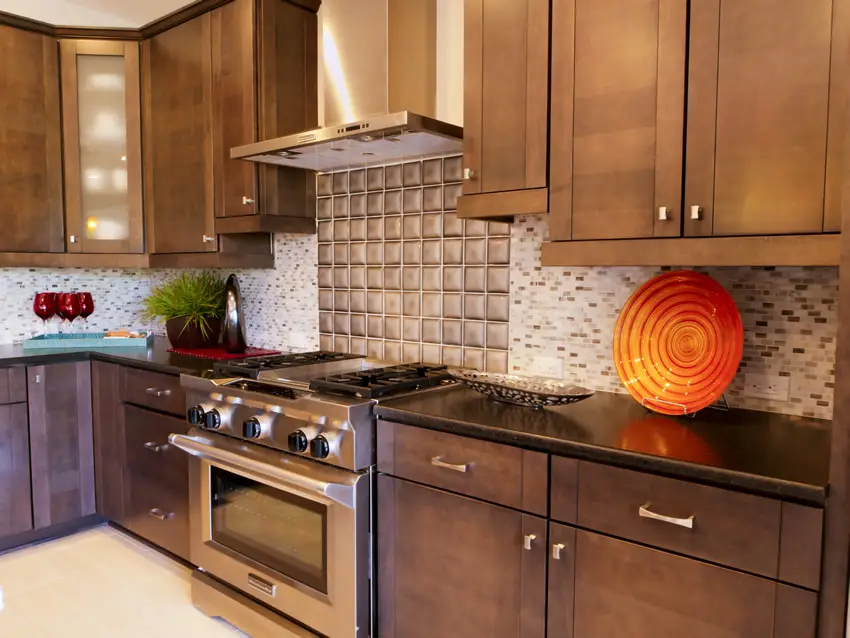 Many luxury kitchen design ideas start with high quality cabinets This modern kitchen uses unique paneled kitchen doors in a satin finish wengue color with attractive stainless steel hardware and black galaxy granite countertop. The floors are plain white and the backsplash uses stone mosaic tiles. The backsplash behind the range uses unique 3D ceramic tiles in a mocha brown color.
Kitchen with cherry cabinets and cherry wood island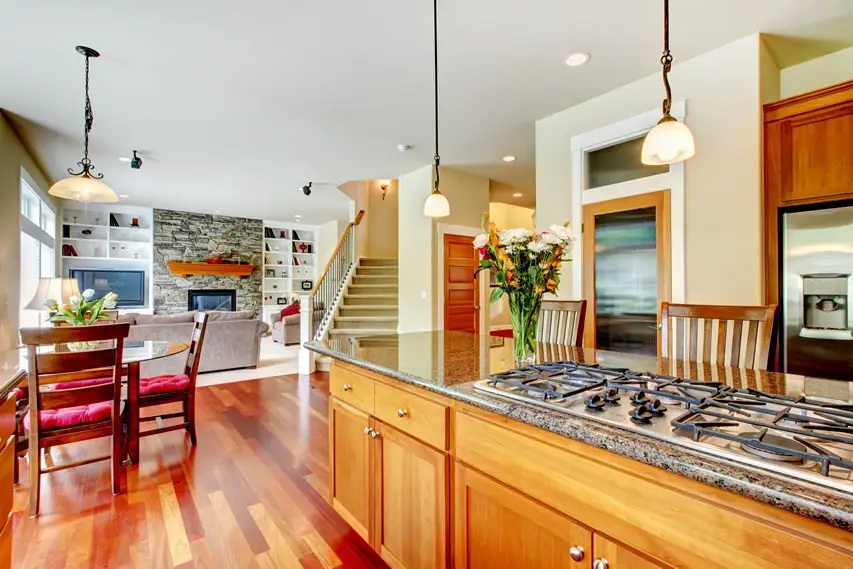 This open kitchen separates itself from the living area through the use of a different flooring material. The floors for the kitchen area uses Engineered Red Mahogany planks instead of ceramic tiles to visually segregate itself from the rest of the spaces despite having the same eggshell white color on its walls. The kitchen cabinets are of varnished Cherry wood topped with Giallo Fiorito Granite counters.
Kitchen with white cabinets and light beige granite countertops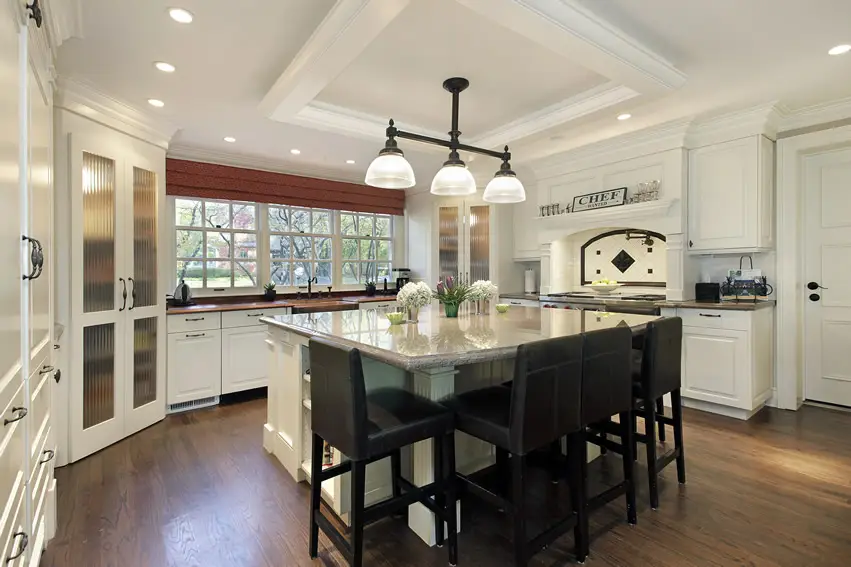 Kitchen cabinets in a simplified neo-classic style were used in this kitchen with white semi-gloss finish. The plain white color of the other surfaces helps bring out the grain of the gorgeous walnut floors for this kitchen, and make the enclosed space appear brighter. Since all cabinets are in white finish, this kitchen plays around with a variety of countertop finishes – the counter by the large window uses red granite, beside the cook range are beige granite counters and the island counter uses a light gray granite variation. The wengue-stained bar stools with dark brown leather upholstery adds to the contrast of colors in the space and contributes a welcomed addition of texture.
Kitchen design with white cabinets and black and white granite countertops
This kitchen also uses traditional-style cabinets with corbel ornamentation details and brush stainless steel pulls. Main kitchen cabinets are in white with salt and pepper granite countertop and light cream backsplash stone tiles. The island counter is painted in a shade of gray with purple undertones which matches the color of the wood slats of the ceiling. It adds a welcomed pop of color to the space and acts as the focal point of the kitchen.
White cabinet kitchen with golden oak island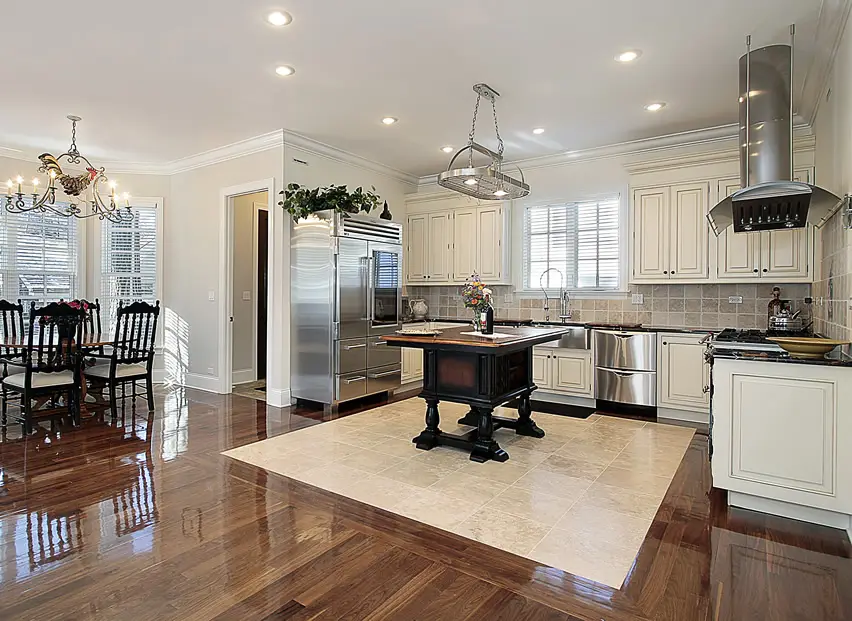 Instead of typical matte finish floors, this space uses high-gloss laminate floors which frames the light cream stone tiles used in the kitchen area. This brings your eyes into the dark wengue-stained table in the middle with a Golden Oak top, which serves as additional preparation area or a small serving table. Because of the open layout of the space, the off-white kitchen cabinets with black granite countertop and light cream stone backsplash tiles serves as a neutral background which will easily match any color which could be used for the other parts of the house.
Off-white kitchen with dark granite counters and peninsula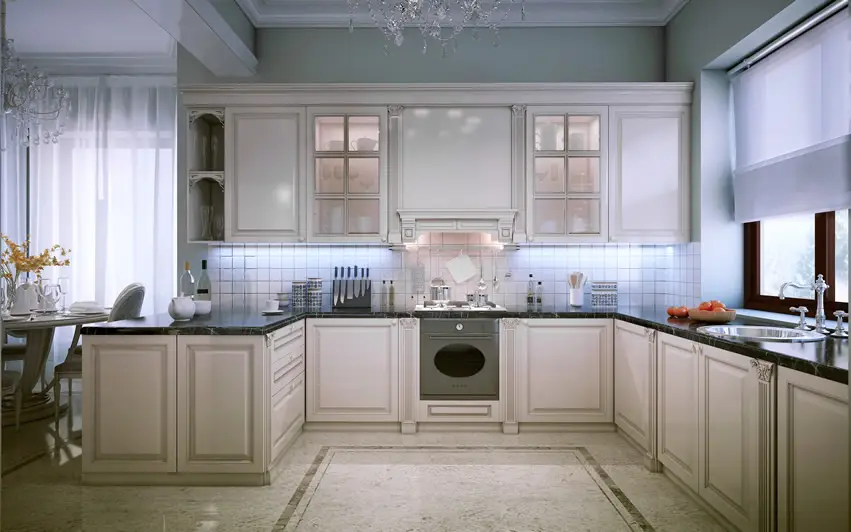 This kitchen gives off a classic yet fresh appeal. While the cabinetry gives off a classic antiqued look with its detailing and off-white color, the mint green paint gives a fresh and bright pop to this look. Floors are gorgeous marble tiles with brown border patterns, and the backsplash uses white ceramic tiles. For the countertop, dark blue granite was used and paired with stainless steel fixtures.
Modern layout with cream kitchen cabinets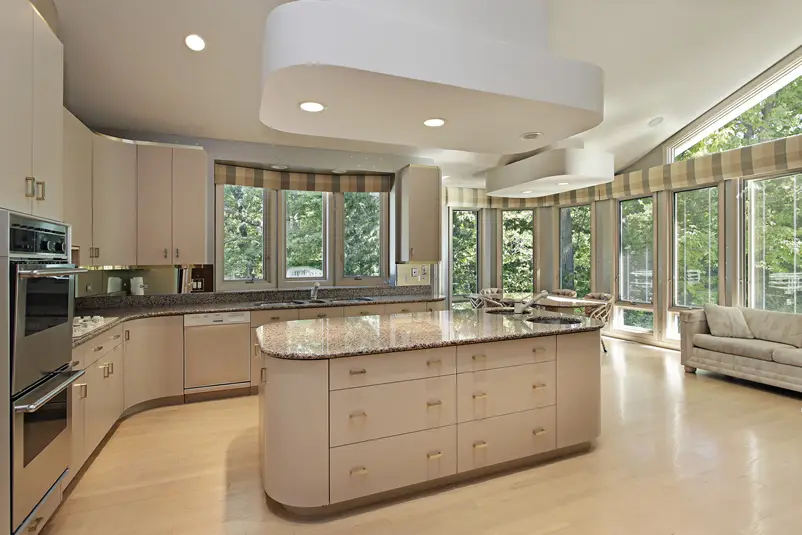 This modern cream kitchen eschews straight lines for gentle curves for a cocooning, cozy effect. The muted colors and uncluttered appearance of this room enhance the space. A wall of roof-to-floor French windows lets in the light and a sofa and a breakfast nook are apply placed to best enjoy the view. Detailing in muted shades of cream and grey along the top of the walls subtly draws one's eye. A marble topped island bar with discreetly placed drawers follows the gentle lines of this room. Even the floor reflects the rooms overall feeling of lightness with a creamy shine that is enhance by the soft pinpoint lights built into the ceiling.
Kitchen with wood floors, natural wood cabinets and Giallo St. Cecilia granite counters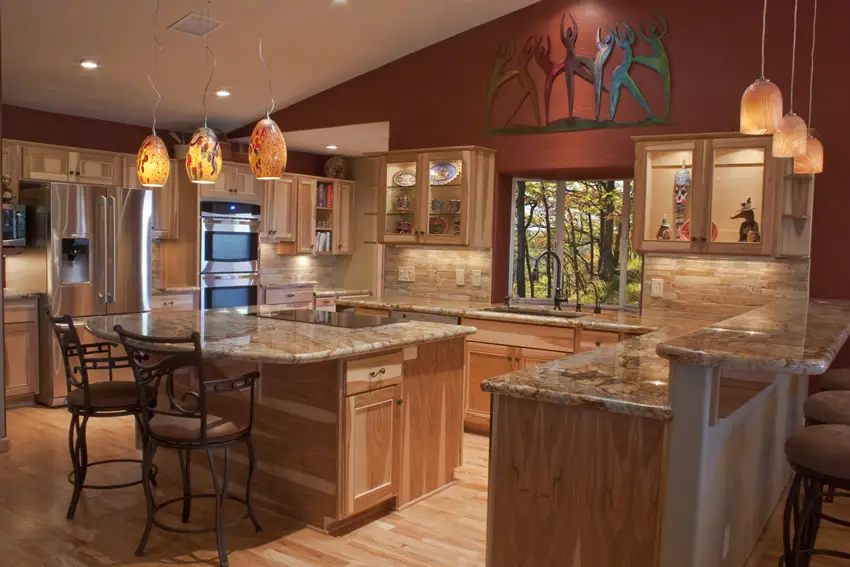 This kitchen not only has a very unique layout, but a unique choice of wall paint color and finishes as well. The walls are painted in a color similar to Marsala, with plain white ceilings, and the countertop is of a gorgeous slab of Giallo St. Cecilia. The backsplash uses ceramic tiles reminiscent of natural slate pieces and the kitchen cabinets uses unfinished and unstained natural wood.
Kitchen with curved layout design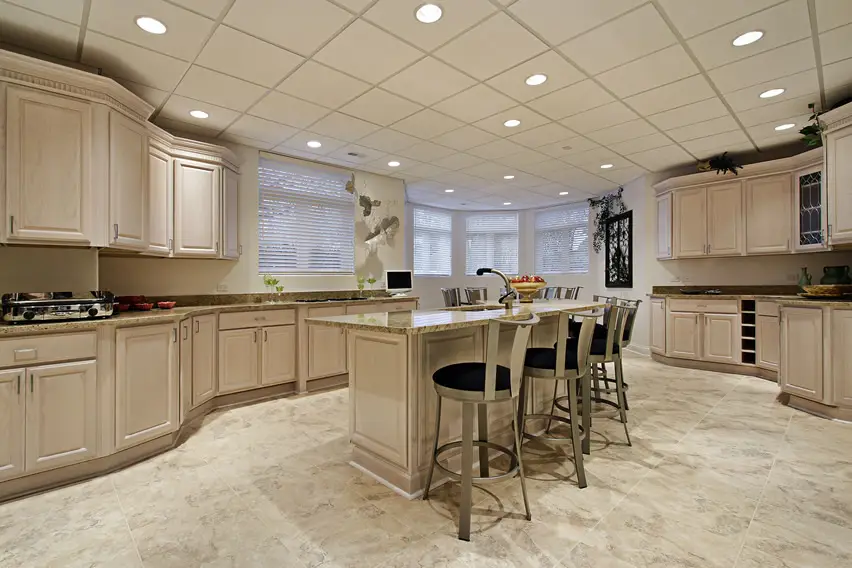 Many luxury kitchen design ideas start with unusual layouts. Despite the modern curved layout of this kitchen space, it opted to use traditional style kitchen cabinets with white-stained wood with visible graining. The cabinets closely matches the color of the the stone ceramic tile floors and also complements the beige granite countertops. It has a long center island which is able to accommodate 10 diners with its metal barstools with black velvet upholstered seats.
White cabinet kitchen island with black granite countertop and dark brown cabinets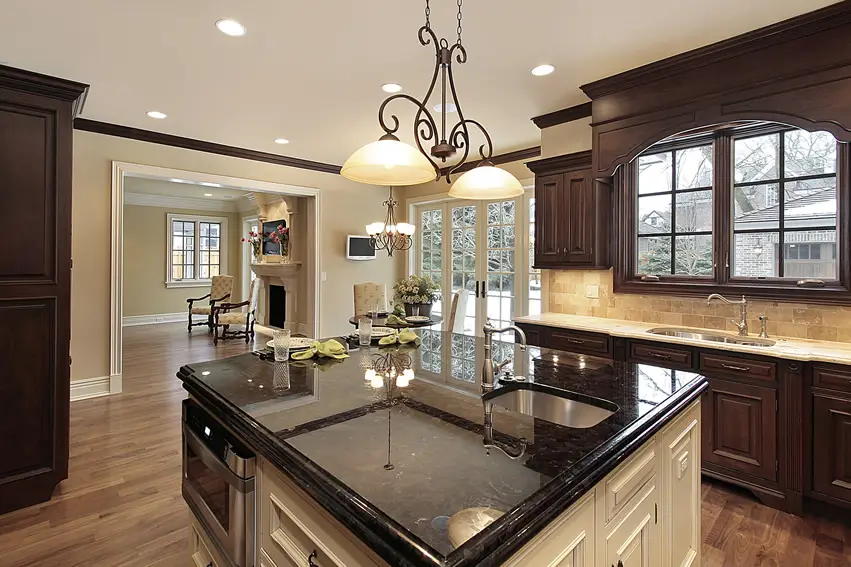 With gorgeous engineered wood floors and light cream walls, this kitchen retains the clean appeal of modern interiors despite the use of traditional style cabinets. The main cabinets are of solid Dark Walnut with molded details and is paired with light cream Granite countertop and sandstone tiles for the backsplash. The large square island counter however, is finished in white with a stand-out Blue Pearl granite countertop. This serves as a generous additional working space and a small dining space perfect for breakfast and quick snacks.
Craftsman kitchen with light wood cabinets and dark countertops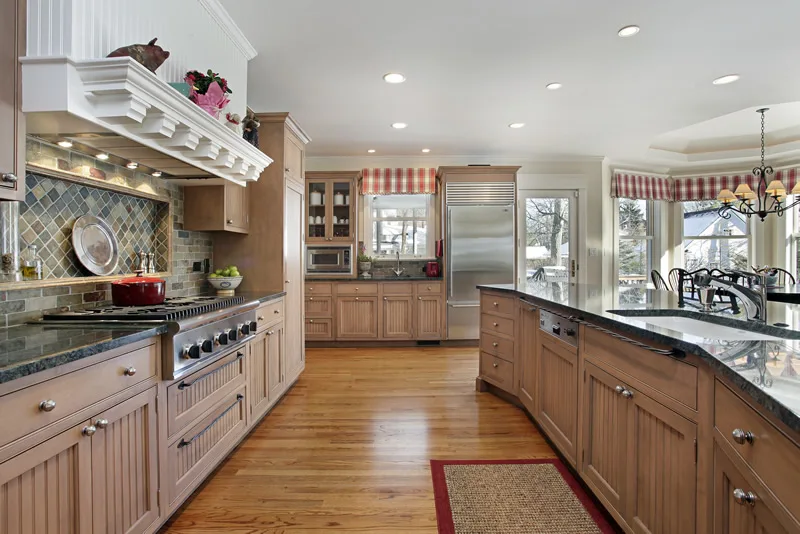 This craftsman kitchen's design offers plenty of eye catching little details while still providing an uncluttered work space. Colorful, stone-like, tiles in greyish blues and greens cover the wall in a diamond pattern. Knickknack shelves and ledges line both the walls and the molded oven apron. Red and white gingham patterned short curtains add a splash of color to the windows and match the small throw rug placed in front of the sink. Dark countertops over wooden drawers and cabinets offer plenty of work space without taking up floor space.
Contemporary kitchen with white cabinets, quartz countertops and wine storage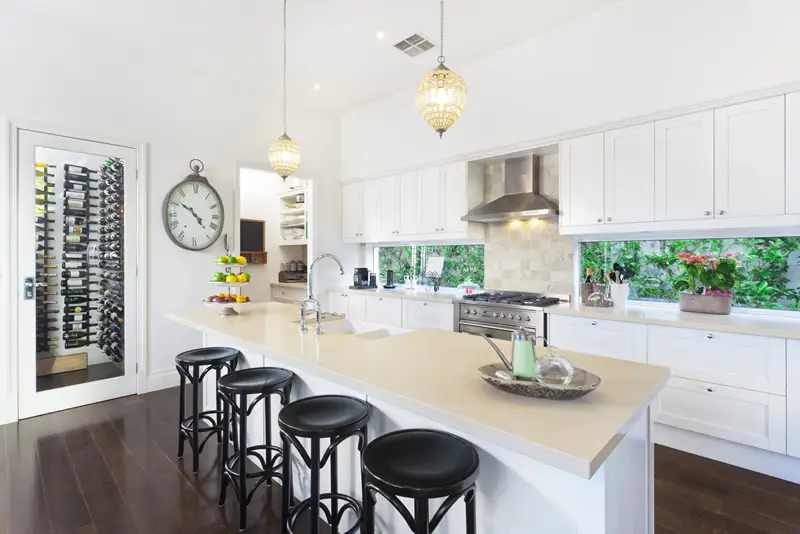 The centerpiece of this contemporary kitchen is its prominent wine storage rack. Discretely tucked into the far end of the room, the rack displays its wares proudly without taking up to much space or cluttering up this simple kitchen design. The mostly white and cream color scheme contrasts with its dark hardwood floor, giving it a deep sheen. The clean lines of this kitchen make the most of a small space and the long sleek island bar helps lengthen the room's dimensions. Small, long windows let in light and color through a break in the plain white cabinets.
Luxury kitchen with island and peninsula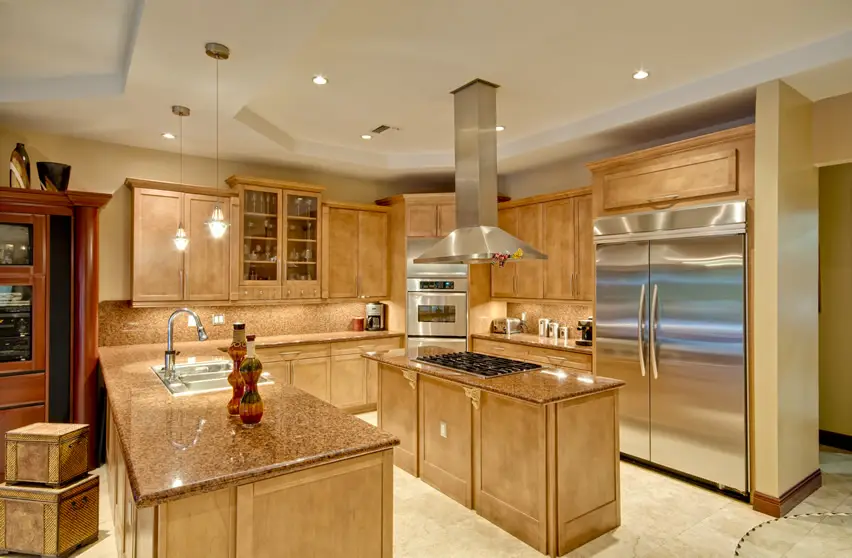 This lovely kitchen features travertine flooring with granite counter tops and a light wood finished cabinetry. The kitchen island is quite useful for food preparation and has an attractive stainless steel island range hood. Stainless appliances such as the large refrigerator, oven and stove top make a different impression. Hanging lamps and recessed lighting provide ample lighting and offer a warm glow.
Continue to Page 2 of kitchen designs.