Welcome to our gallery of black and white kitchen design ideas featuring contemporary, modern, farmhouse, traditional and rustic cabinets & finishes.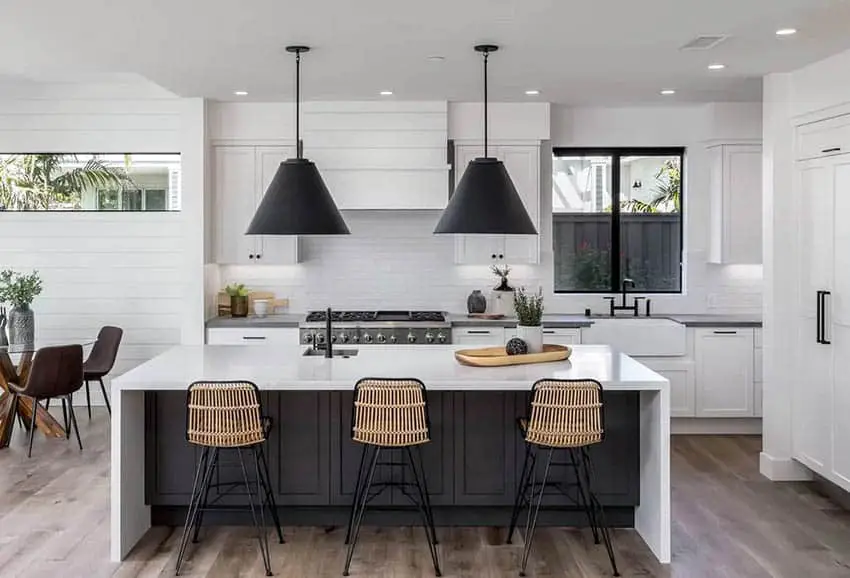 These days, you can have your kitchen in virtually any color and finish possible, but for some people, too many choices can be overwhelming. There's nothing bad with going back to basics – to your standard black and white combination. Not only is it easy, but it's a color combination that is timeless, versatile and will definitely never go out of style. It's a practical choice if you want your kitchen design to stay in-style for long.
The picture above is a contemporary kitchen design with black and white cabinets with updated finishes and materials. If you have a traditional style kitchen and want to give it a bit of an update, a little matte black paint on the kitchen island base could give it a more contemporary look. Use black hardware on your white cabinets and use modern lamps to amp up the look.
If you have existing wooden cabinets, it will be easy to repaint to match a black and white color scheme. Others might think that black and white is boring, but you can always play around with various tones (warm or cool whites, etc), textures (wood texture, smooth, pebbled) and finishes (matte, satin or gloss). Laminated cabinets also come in a variety of finishes, so you don't have to worry about being limited with options. Even black has different tones available! Play around with the available finishes and you'll be surprised with the many different combinations you can make.
Aside playing around with cabinet colors, there are also various counter top material choices available in black and white. If you want a smooth clean look, that is non-porous and easy to maintain, consider using solid surface, especially for large/long counters so you don't have to worry about joints. Quartz is also a good option, if you want a bit of pattern, but more low-key than natural stones. But if you have extra budget, you can always go for granite, marble, soapstone and other natural stones. A contrasting base and countertop color is popular these days – black cabinets with white top or vice versa. When choosing a material for you countertop, consider your budget, the size of the counter (natural stones tend to have size limitations) and style you are going for. Don't forget to consider the care & maintenance for the material you have chosen to ensure it will last long and remain mold-free!
If you already have white kitchen cabinets, another way to pull-off a black and white kitchen look is by using black built-in appliances or using black hardware to contrast with the white cabinetry. The result creates a subtle contrast, and you won't need as much effort as repainting cabinets will entail. Classic farmhouse style kitchen cabinets often have visible hardware (hinges and pulls). If they're still in good condition, you can also carefully paint them over with black, if replacement is not an option. Aside from that, you can also find kitchen fixtures in black, such as sinks, faucets and metal racks.
Below are a few great examples of black and white kitchen design ideas you can take inspiration from for your next home improvement project: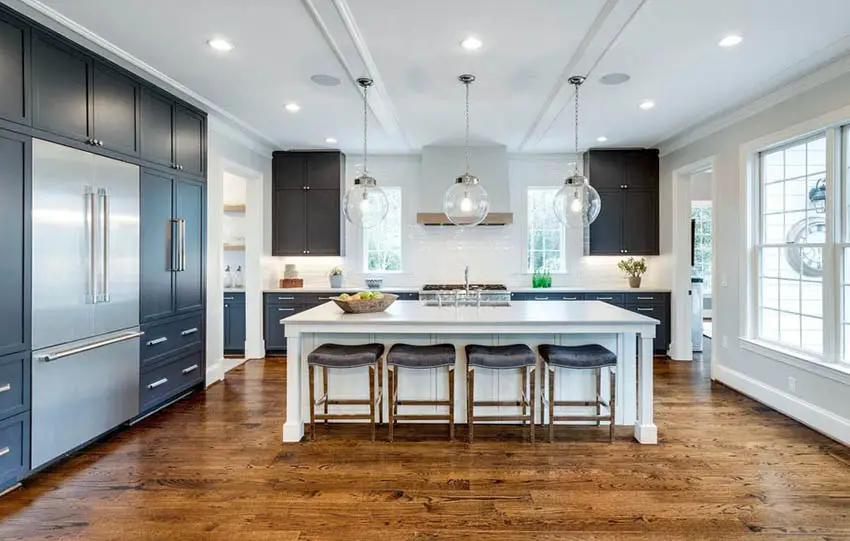 While most people have black-painted cabinets as accent, you can also have the black cabinets as you main cabinet color, and use white for your kitchen island for a more contemporary approach. If flat black is too dark for your tastes, you can explore using gunmetal shades, and soften it but pairing it with white or stainless steel hardware.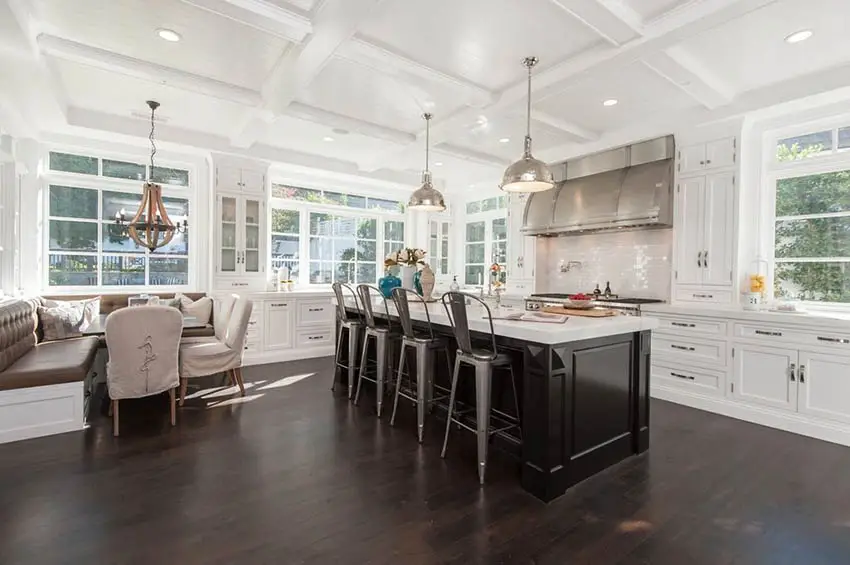 Stainless steel furniture and accessories also work well with black and white kitchen cabinets. The stainless steel accents give your kitchen a more industrial vibe, even if the cabinet style is more classic.
White Kitchen Black Hardware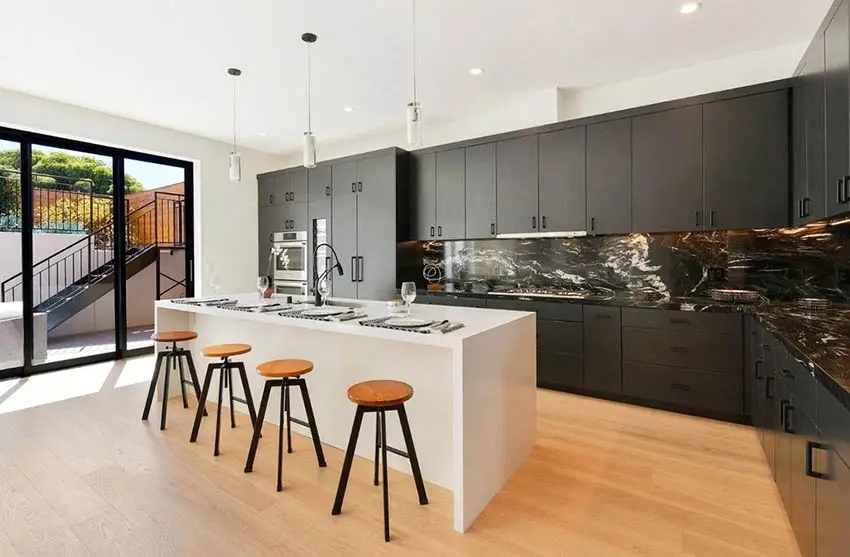 For modern modular kitchen cabinets, having matte black main cabinets with matching black hardware, combined with pure white kitchen island, gives a really refreshing and elegant contemporary look. The main cabinets and the kitchen island equally stands out, and the use of black marble with white streas gives a little textures to the counter surfaces.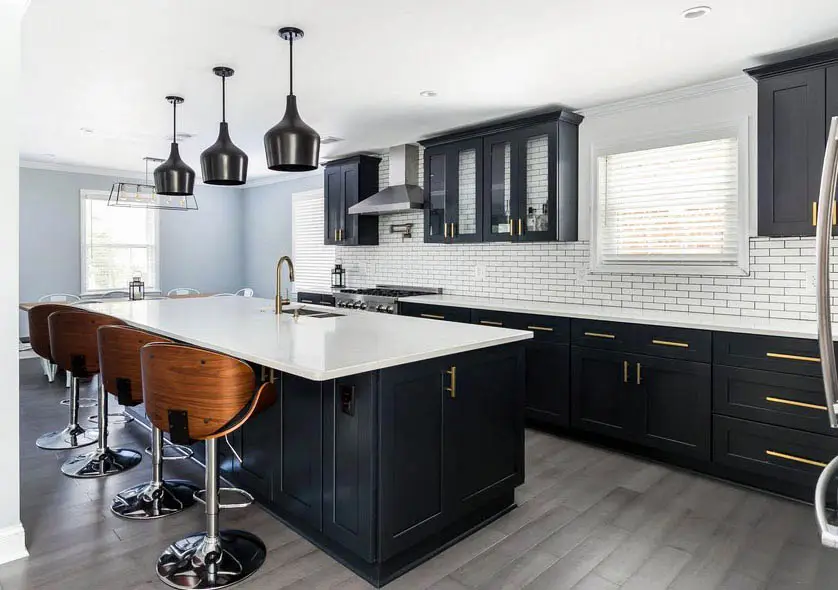 You can also have all-black kitchen cabinets, paired with white quartz countertop. Gold or brass hardware look great against the dark cabinets, and is a good alternative to stainless steel or black hardware.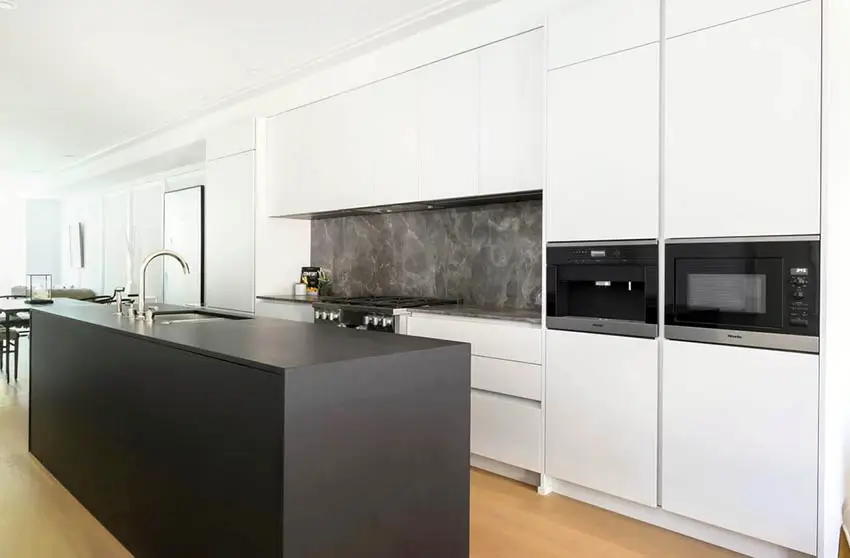 Some modern kitchen cabinets prefer the low-profiles designs, with no visible pulls, but instead uses push to open hardware. This creates a really clean look for the kitchen. In this example the main cabinets are white with black appliances and countertop. This is paired with flat black kitchen island which nicely complements the main cabinets.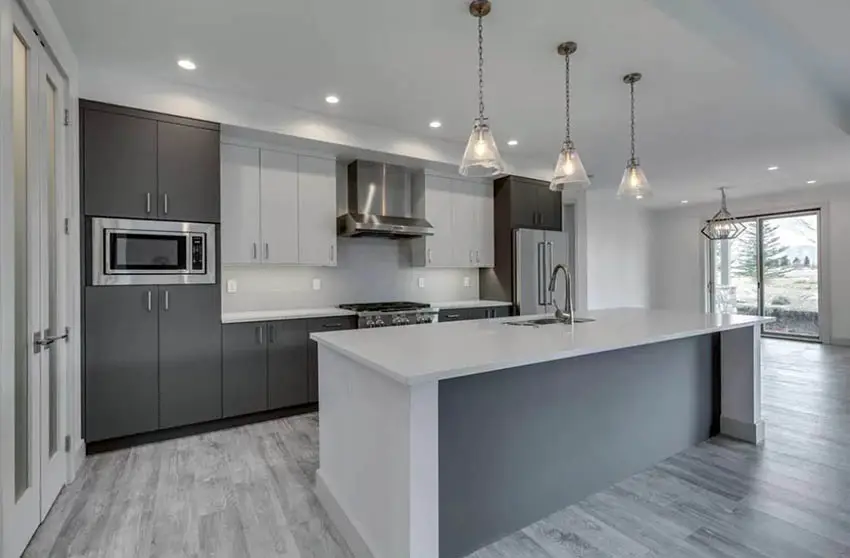 You can also mix your black cabinetry with white. In his example, overhead cabinets are in white, wile the rest is in gunmetal color. Paired with stainless steel hardware, creates a simple but stylish kitchen.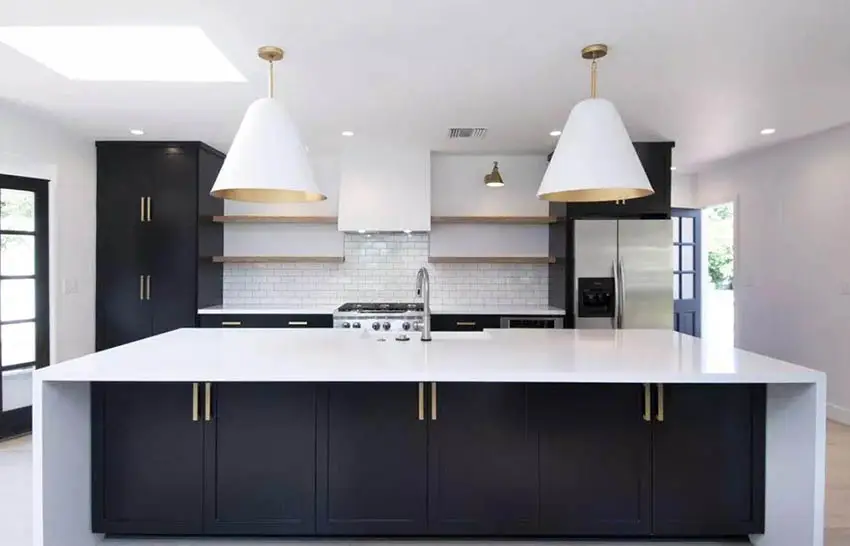 Pair deep black cabinets with clean white solid surface counters creates a really nice bold contrast. The addition of gold hardware and small wood shelves softens the over-all look, giving it a more homey vibe.
Modern Black and White Kitchen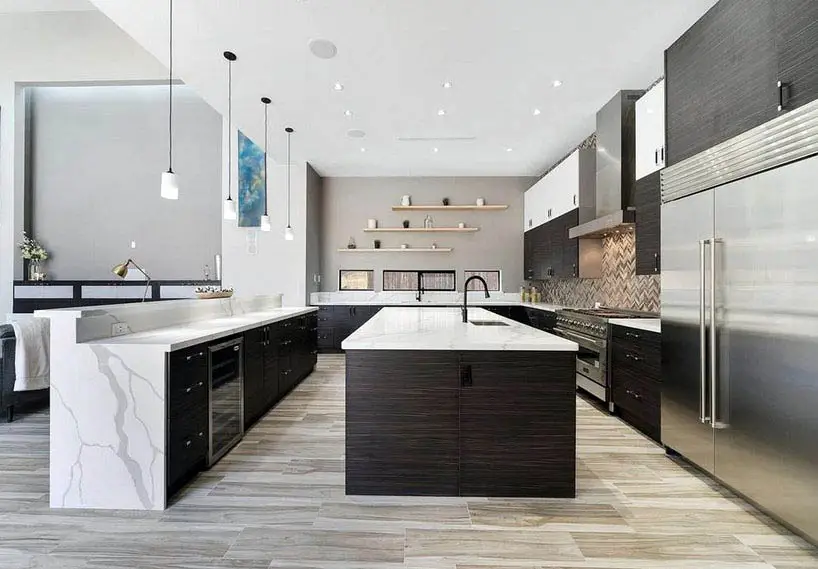 If you prefer more texture, there are many veneer and laminate options that has really dark/black finish, while keeping that natural wood texture visible. This is perfect for those who prefer a more natural feel to their kitchen.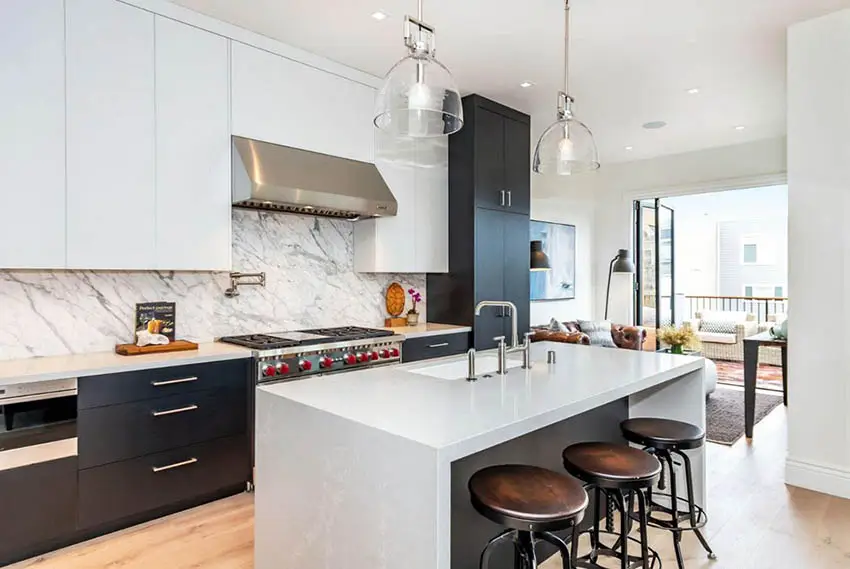 Combining hardware-less white overhead cabinets with black laminated cabinets for the base creates a nice balance for this kitchen. The marble backsplash also helps add a nice pattern to the surface to help counter the monotones.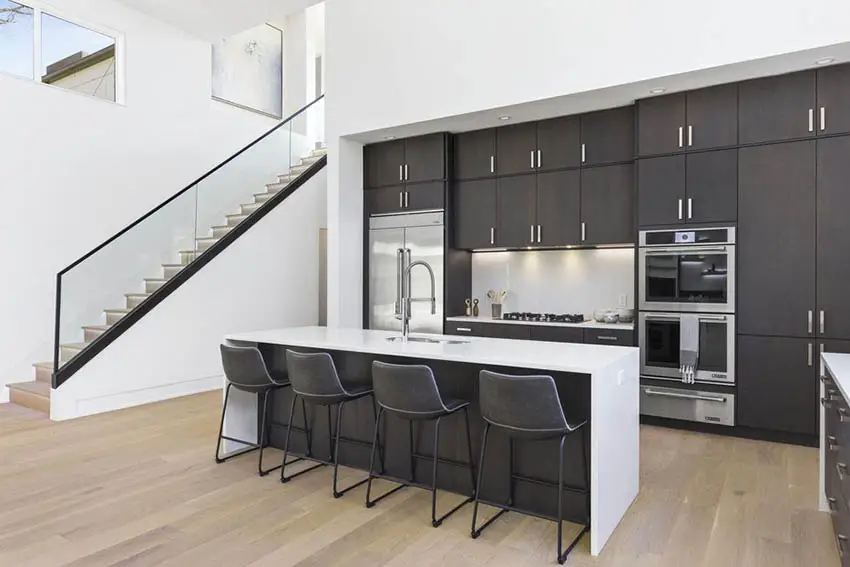 Modern homes usually have open plan and flat white wall paint all-over the interiors, so using black kitchen cabinets won't darken the ambiance of your kitchen. All-black kitchen cabinets pair nicely with white solid-surface countertop & backsplash.
Black and White Kitchen Backsplash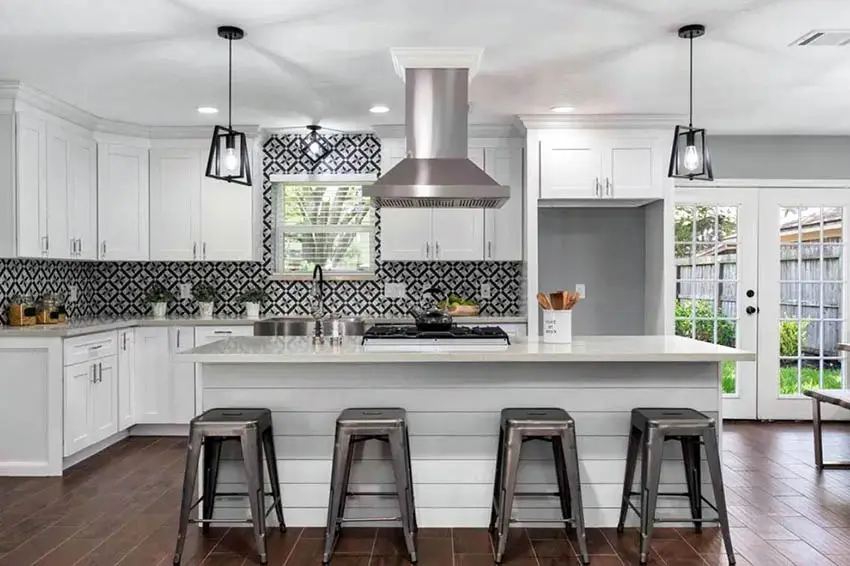 If painting your cabinets black or changing your countertop is out of the question, you can also use black for you backsplash material. This example uses patterned black and white ceramic tiles to give more life and texture to this small kitchen space.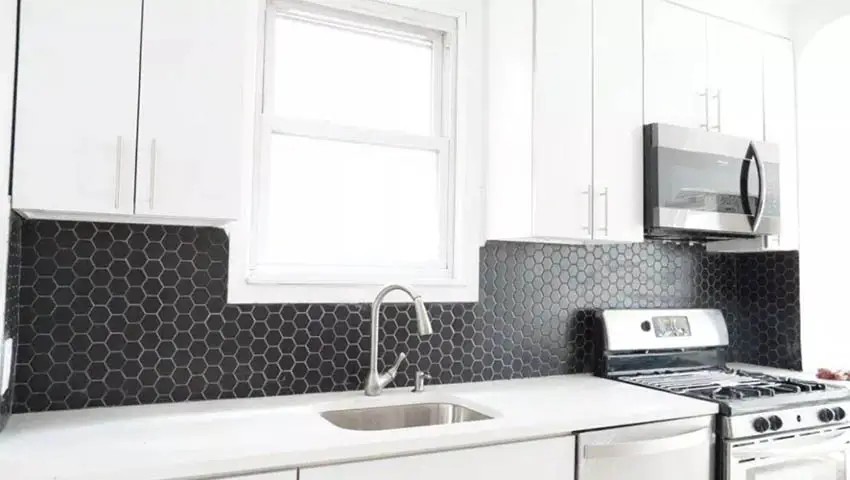 If bold patterns is not your style, you can go for a more subtle effect like this kitchen which uses all-black hexagonal mosaic tiles to pair with the all-white kitchen cabinets and countertop.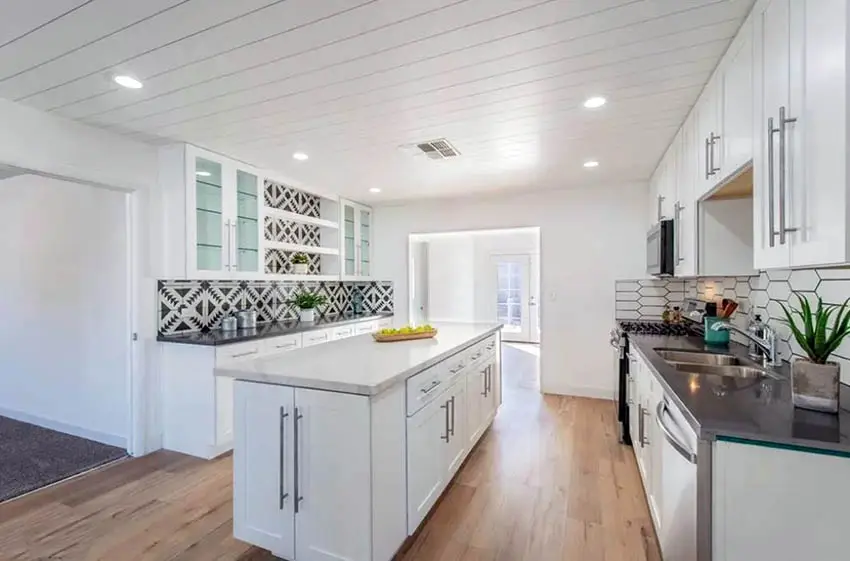 If you feel a little more bold, you can even use two different patterns of backsplash tiles to give more personality to your white kitchen cabinets!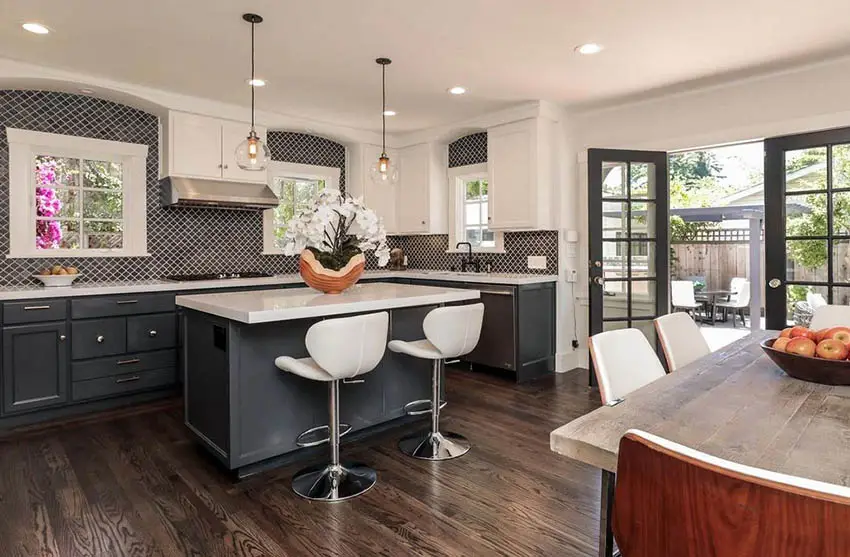 This classic style kitchen is an almost black, gunmetal gray with a few touches of white to soften the over-all look. White counters and overhead cabinets really balance out the dark cabinets. Black backsplash tile with white grout creates an interesting design feature that flows from counter to ceiling. See more gray and white kitchen ideas here.
White Kitchen Cabinets with Black Countertops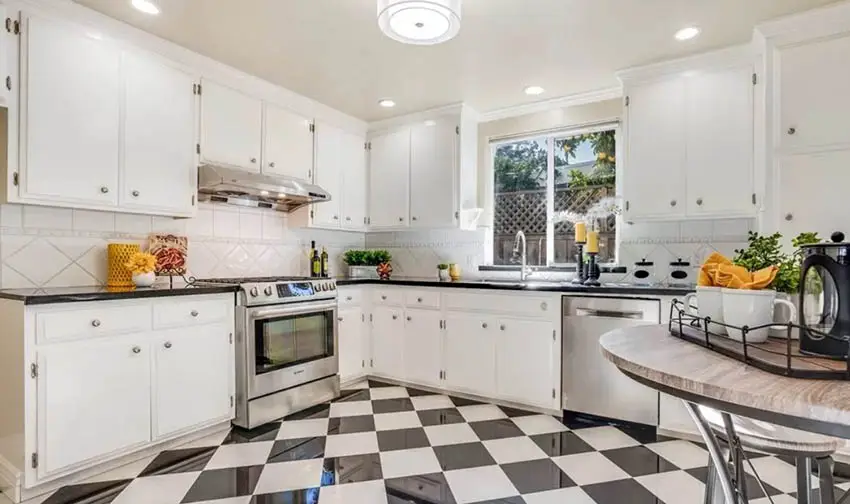 If you're feeling experimental, how about incorporating a retro-style checkerboard pattern tiles for your kitchen? This goes well with the white kitchen cabinets with black countertop, and will be sure to turn heads. See more kitchen countertop ideas with white cabinets here.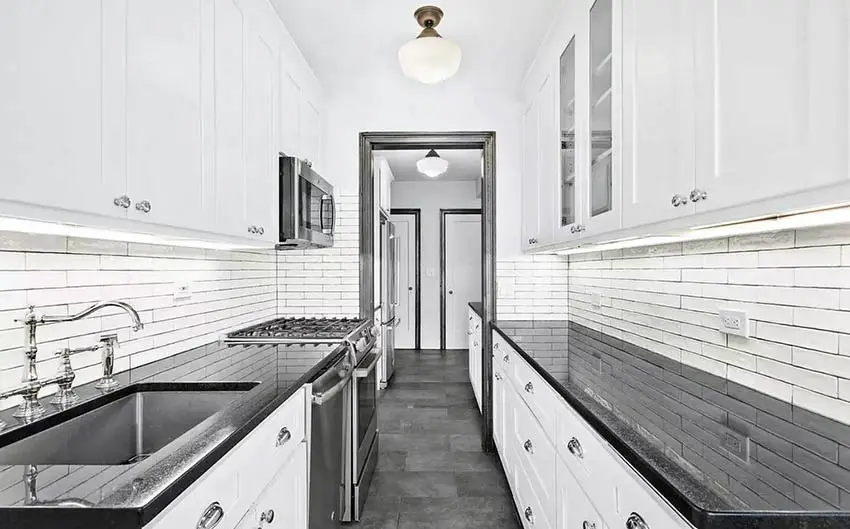 For galley kitchens, going too dark on you kitchen cabinets, especially if you already have dark floors, is a bad idea. An all white kitchen cabinet paired with black granite countertops provides a more subtle contrast perfect for small spaces.
White Kitchen Cabinets with Black Granite
Farmhouse style kitchens usually have white cabinets, so it's an easy base to use for a black and white kitchen. This example has all-white kitchen farmhouse style kitchen cabinets with stainless hardware, paired with black galaxy granite countertop.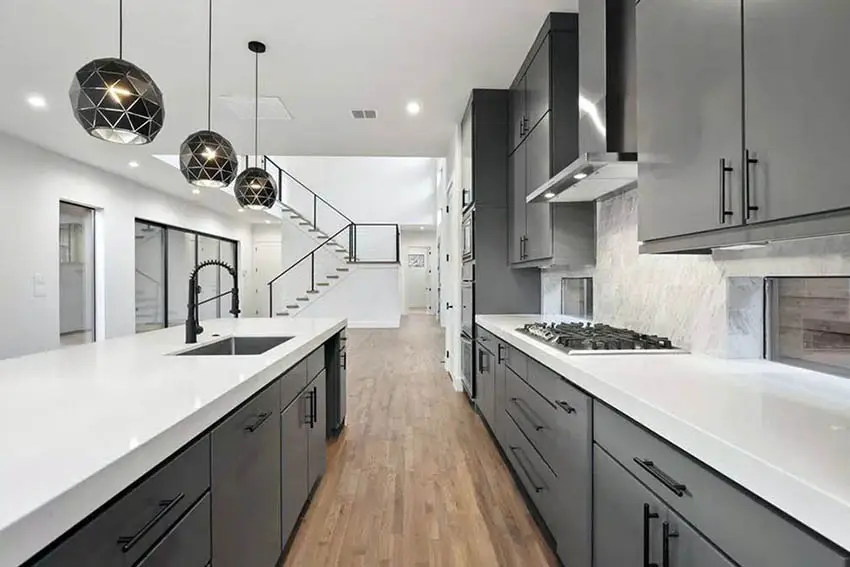 This modern kitchen goes for a slightly different approach to black and white kitchens. Instead of flat black cabinets, it uses gray-laminated cabinets with thick, white solid-surface countertops, and dark matte black hardware for added contrast.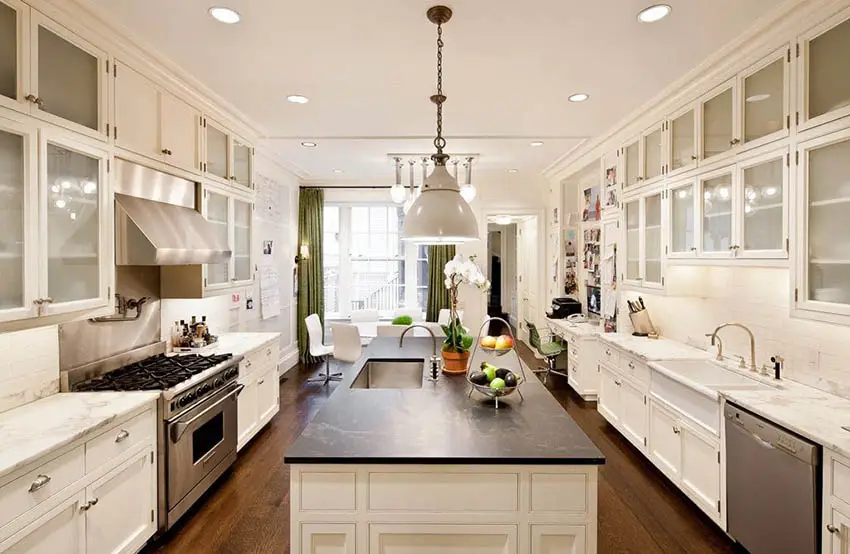 Sometimes, you don't even have to go all-out with your black and white scheme. This classic style kitchen only added the black element to its large kitchen island countertop, by using matte black soapstone, making it stand-out from the all-white cabinets and counters.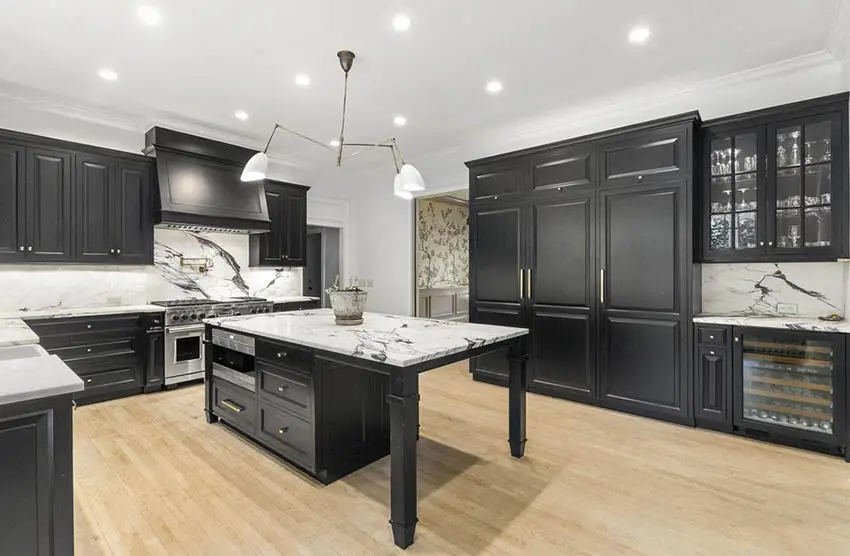 Give your traditional style kitchens an updated look by changing the cabinet colors to black and replacing countertops and backsplash with gorgeous White marble with bold black streaks.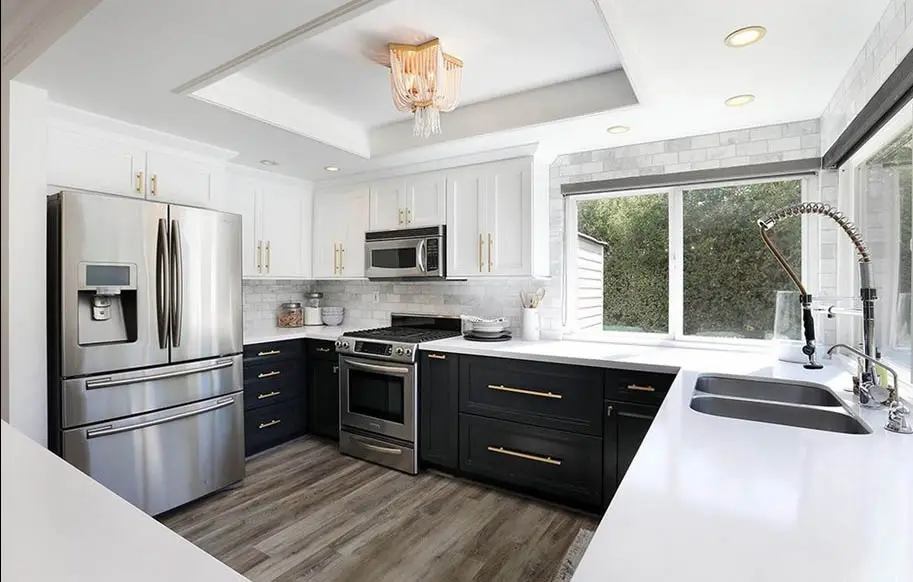 This closed kitchen combines black base cabinets with white overhead cabinets. Plain white solid-surface was the countertop of choice, to help balance out the carrara marble tiles used on the backsplash. The whole look is tied together by the the golden hardware consistently used on all cabinets and drawers.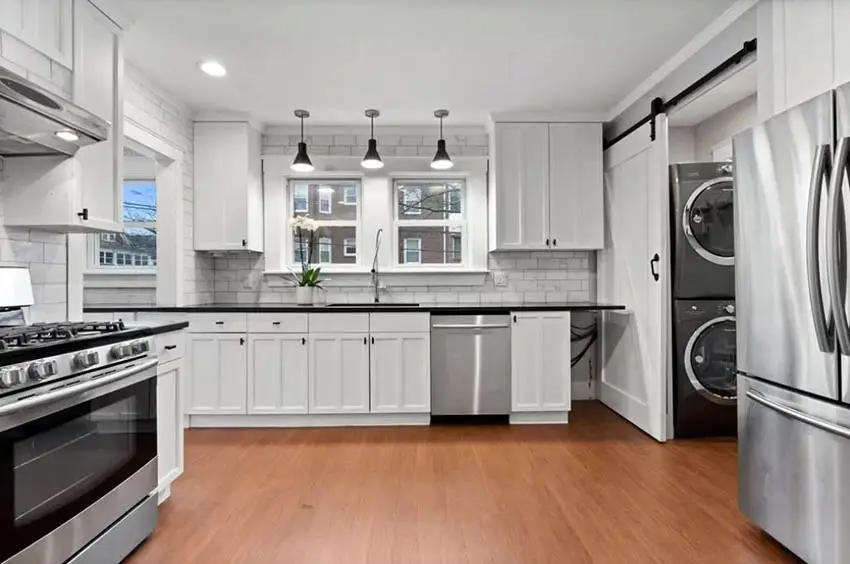 This is a contemporary approach to farmhouse style kitchen – it uses classic white kitchen cabinets paired with black countertop and white subway tiles for the backsplash. Small black hardware/pulls were use to add a little detail, and a barn sliding door was also an nice element added to complete the look.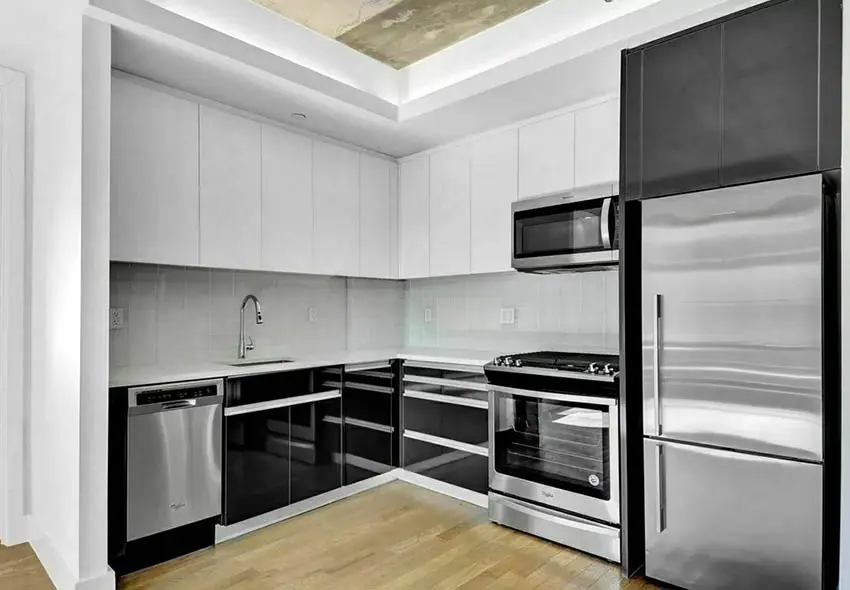 Because this small kitchen is very tight, glossy black laminates are used on the base cabinets, to help it reflect some light and create an illusion of more space. This is paired with matte white overhead cabinets for a clean & clutter-free look.
White Kitchen Black Appliances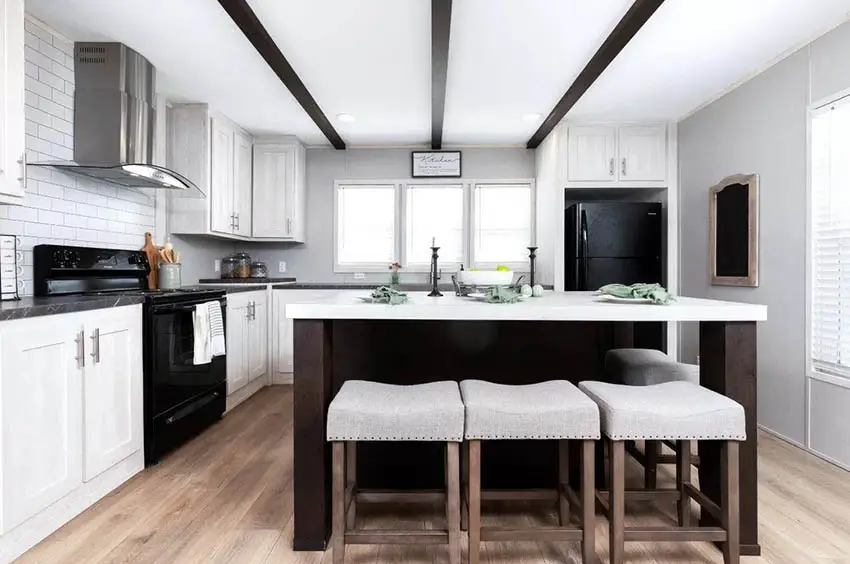 Using black appliances on all-white cabinets is another simple way to achieve the black and white look. This is especially practical if you're buying or moving into a house with no existing appliances yet. A contrasting kitchen island with a different color cabinet can be another creative way to give the design some visual interest.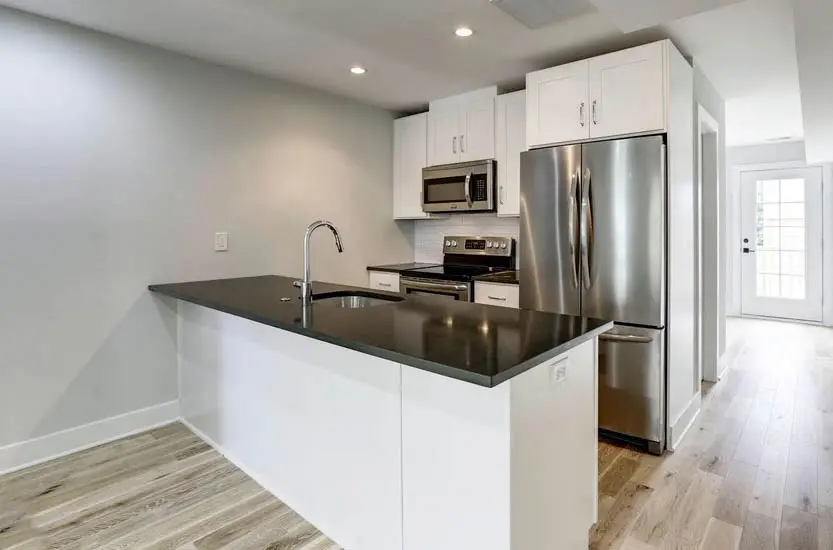 Because this is a small kitchen, the cabinets are in matte white and uses black granite countertop for a little contrast. For smaller layouts black and white kitchen design ideas that utilize white cabinetry can help the room appear larger and brighter.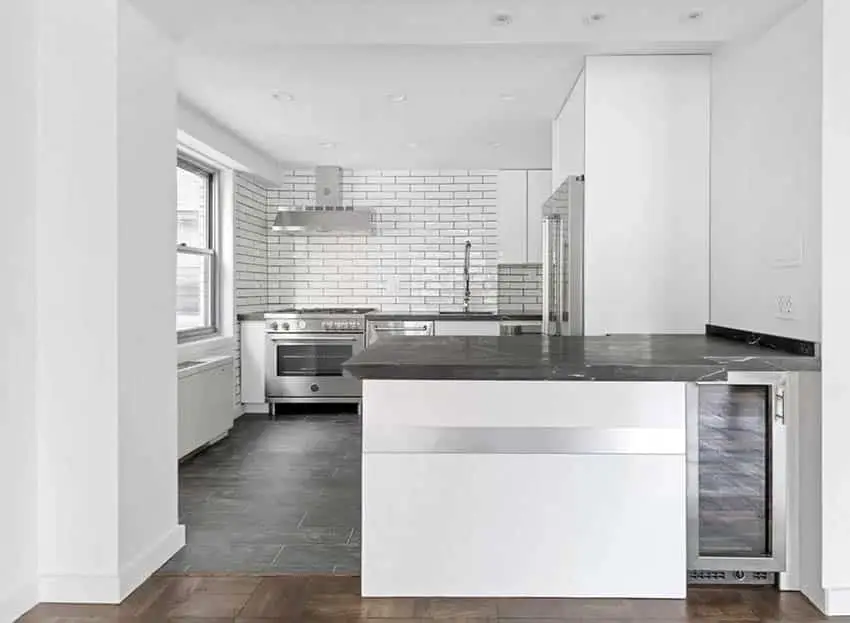 If you have dark-colored flooring, white base cabinets are recommended. Use black countertop material for a little contrast. In this example, black soapstone was used, so it looks a little softer.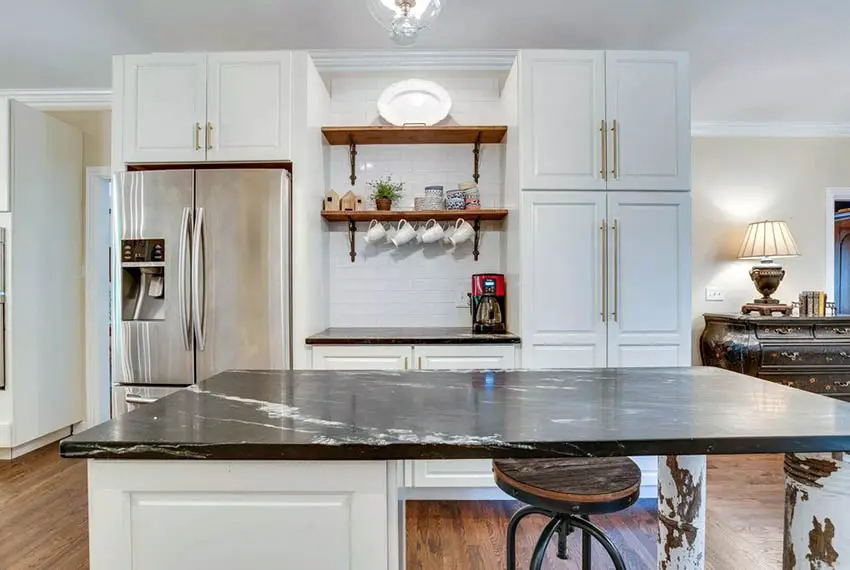 If most of your surfaces and cabinets are plain white, using black marble countertop would be a nice touch to give it a little more personality.
White Kitchen Cabinets and Black Island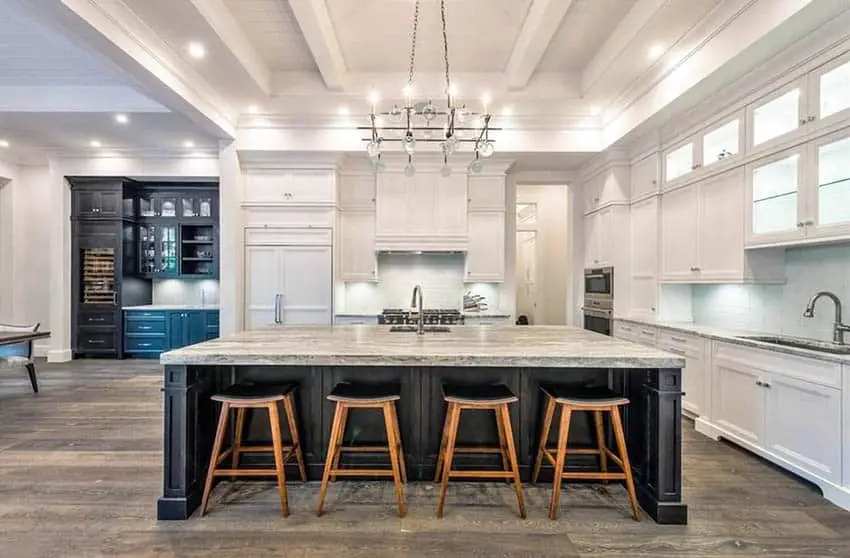 This is another example of a classic style black and white kitchen. In this design, only the massive kitchen island is in black. Instead of paint, however, a wood stain was used, and the method of application allowed the original wood color to peek through to give it a bit of texture.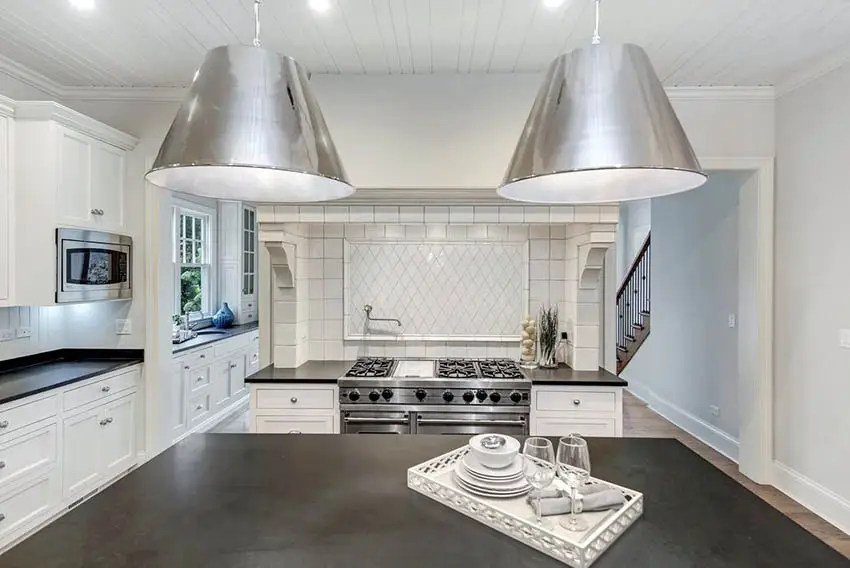 For this traditional style kitchen, the use of matte finish for the black countertop instantly gave it a modern upgrade. The soft matte countertop surfaces help tie the whole look together. Visit this page to see more white kitchen cabinets with dark countertops.