See if cedar countertops should be used for your kitchen or bathroom including why red cedar is the best option, different designs, and where cedar can be used.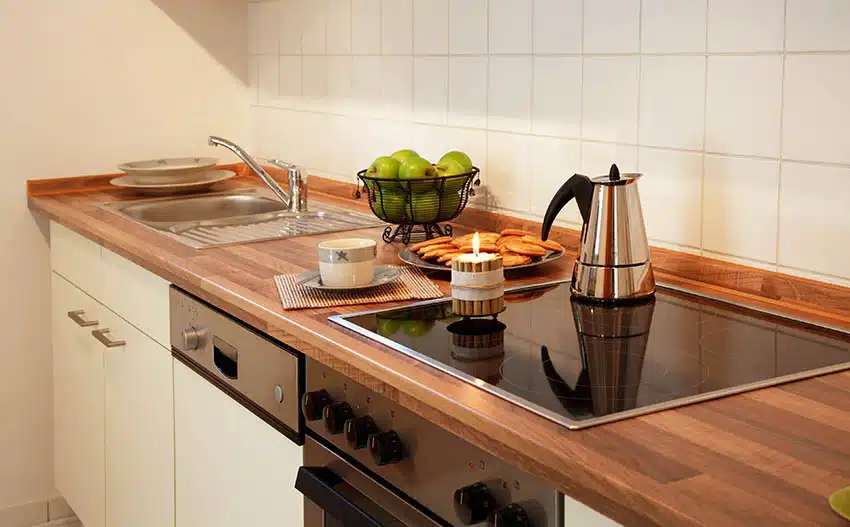 An elegant addition to your home, a cedar countertop is one of the popular elements you can include in your kitchen or bathroom. The material it's made from comes from cedar trees that grow both on the west and east coasts of the United States, where white cedar and red cedar grow respectively.
Cedar trees are also abundant in other parts of there world, where they can grow in Central and South America in the form of Spanish cedar and in Alaska in the form of yellow cedar.
With a slightly reddish color compared to cherry wood, it is aesthetically pleasing and also features a recognizable and refreshing scent. While most carry a pinkish-red color, there are also some with purple shades.
These blush tones are lost as the wood ages, turning the color gray or silver. This is because of the chemical reaction of the wood's oil with UV light and oxygen. The color it changes into is called a patina and cedar's patina of gray and silver can come quickly and dramatically.
Benefits of Cedar Wood Countertops
If you're considering a cedar countertop built in your home, here are some of the advantages you can enjoy.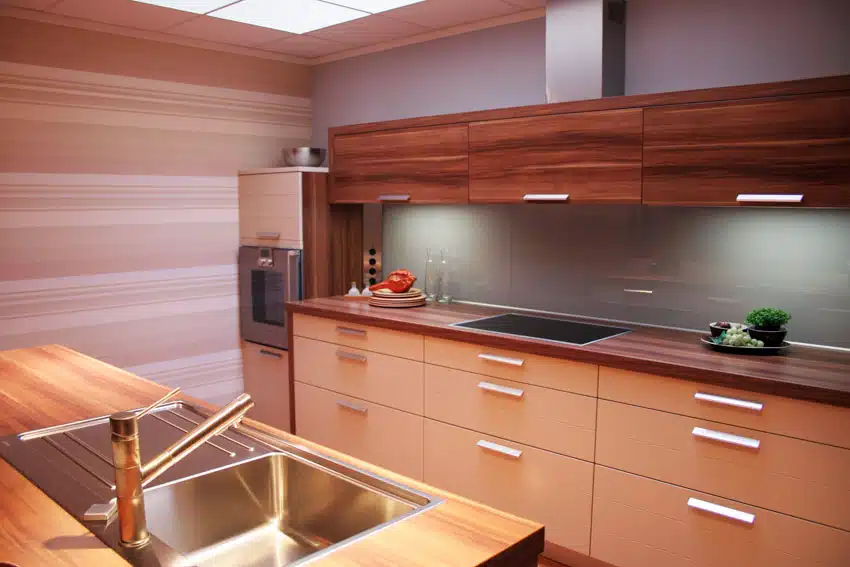 • Lightweight and excellent workability
• More durable compared to other softwood options and can easily withstand high temperatures with a low flame-spread rating and good insulating or thermal properties
• Stunning and eye-catchy aesthetics
• Low shrinking factor with high resistance to rotting
• Excellent performance in damping vibrations
• High availability since the wood is popular worldwide and found anywhere in the market
• Can come both at expensive and cheap costs so you have options
Besides all of these benefits though, you need to take into account these drawbacks and use the wood accordingly.
• Considered to be a sensitive wood
• Builds a patina over time due to chemical reaction
• May be considered a weak material for construction compared to other wood options
• Requires regular maintenance to preserve its quality
Types of Cedar Wood Countertops

There are many times of cedar trees you can get your wood from and they have their own corresponding durability. For an easy and quick glance at their differences, check out this table.
| | | |
| --- | --- | --- |
| Type of Cedar Wood | Place Available | Durability |
| Eastern Red Cedar | East coast of the U.S. | 900 Janka hardness rating |
| Western Red Cedar | West coast of the U.S. | 350 Janka hardness rating |
| Eastern White Cedar | East coast of the U.S. | 320 Janka hardness rating |
| Spanish Cedar | Central and South America | 580 Janka hardness rating |
| Yellow Cedar | Alaska | 600 Janka hardness rating |
Cedar wood is a softwood but if you're looking for the hardest type of cedar, you can focus on Eastern Red Cedar. Eastern and western red cedar, as well as eastern white cedar, are sustainable and found abundantly in the place where they grew.
Spanish and yellow cedar are both not recommended for harvesting as the former is considered vulnerable to extinction and the latter is known to currently face declining populations. Cedar wood, resistant to both insects and rotting, can be used both indoors and outdoors. For indoor applications, it is a popular option for tables, chests, and musical instruments.
For outdoor applications, you can use them for boats, as well as siding and decking. This means that if you're considering a countertop, it can be a great option for your kitchen or bathroom and even its outdoor counterpart.
Red Cedar Countertops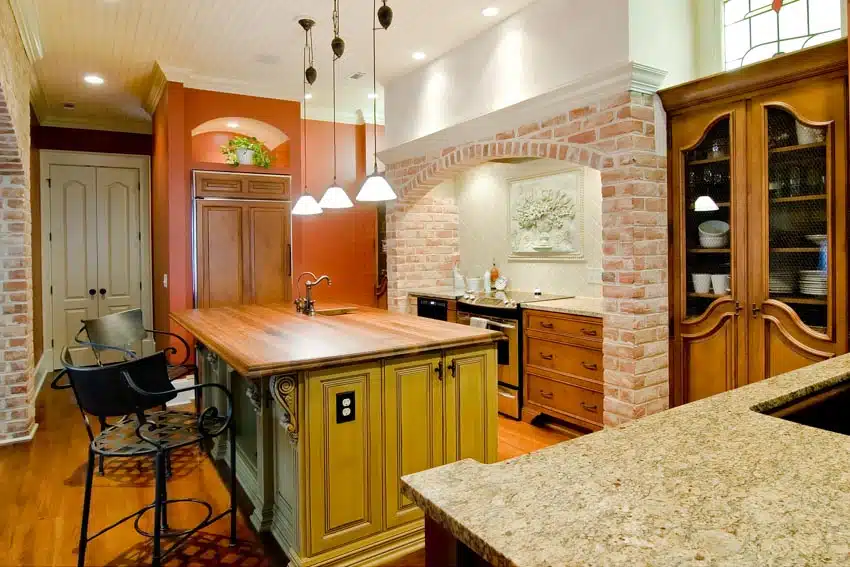 When taking into account the different durability of cedar wood species, the best consideration you can choose is a red cedar countertop. You can find a western or eastern red cedar but if you're going for durability and a longer lifespan for your countertops, choose the latter one since eastern red cedar is considerably stronger with the Janka hardness rating of 900.
This makes this type of cedar flexible to be used, for flooring to furniture, and other construction applications. Some of its common uses are flooring, closet siding, house siding, shingles, decking, hope chests, indoor molding, and outdoor furniture. You can also frequently find cedar wood cabinets where the wood is sourced.

Red cedar countertops feature stunning pinkish-red surfaces with occasional purple tinges. You might find hints of cream, brown, and amber hues throughout the wood.
Costing $3 to $6 per board foot, this is worth considering for your home. While cedar is a softwood, choosing a red cedar countertop can be possible since the material is not just durable but also pretty stable.
So whether you'll be making meal preparations on the countertop or placing your hygiene kit while you prepare for the day, your red cedar countertop can stand pretty well to daily wear and tear. Make sure though that the wood is protected from stains and moisture by sealing and finishing the material.
Cedar Wood Countertop Designs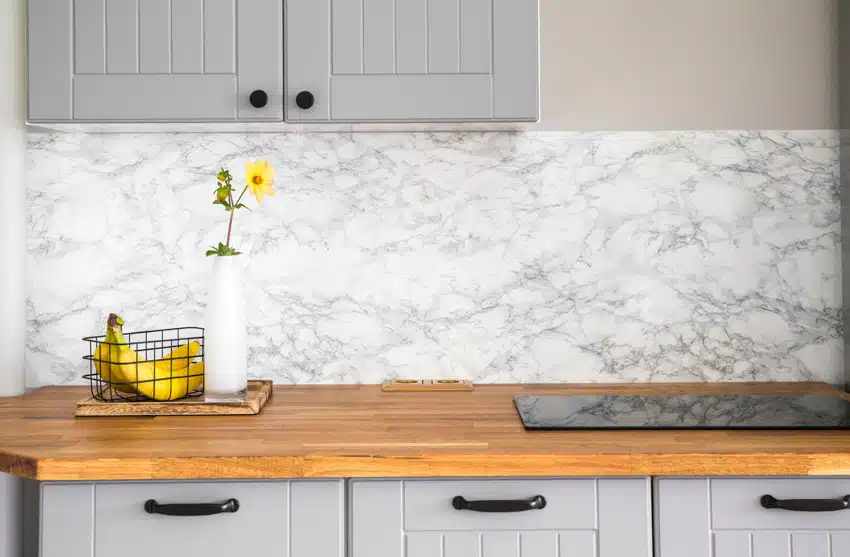 Getting or building cedar wood countertops for your home can be quite exciting, especially since there are many designs you can explore. Cedar wood is popular for its unique and rich color, in addition to its popular appealing aroma.
And considering it's a softwood, it is easy enough to shape, cut, and work with. This is why it is a desirable material for carpenters, woodworkers, and DIY enthusiasts.
If you're exploring the different designs you can use for your countertop, you can start with what form you want the wood to be in. Three of the most popular options are planks, slabs, and live edge, and they all come with their own charm and unique appeal.
Cedar Plank Countertop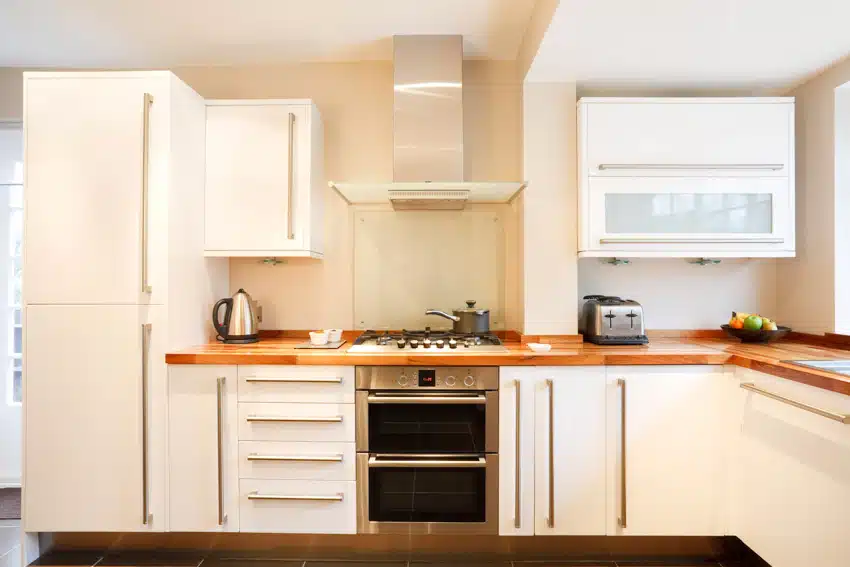 Choosing a cedar plank countertop means that you will need to work on wood boards that usually run a length of between 3 inches to 6 inches with a width of at least 3 inches.

You can choose the length you believe can work better for your countertop and if you want a clean and unbroken appearance, choose the full-length type.
The planks are glued together side by side in order to display the broadest area of the planks, along with sealing the material and finishing it with the preferred coating.
Cedar plank countertops provide a traditional look that's popular and safe to consider. With how the cedar planks are positioned, you get an elegant and smooth surface with a rich reddish, and subtle grain pattern.
The color offers a welcoming and warm look that will make you want to use the space and the general aesthetics will be a good addition to your home.
Cedar Slab Countertop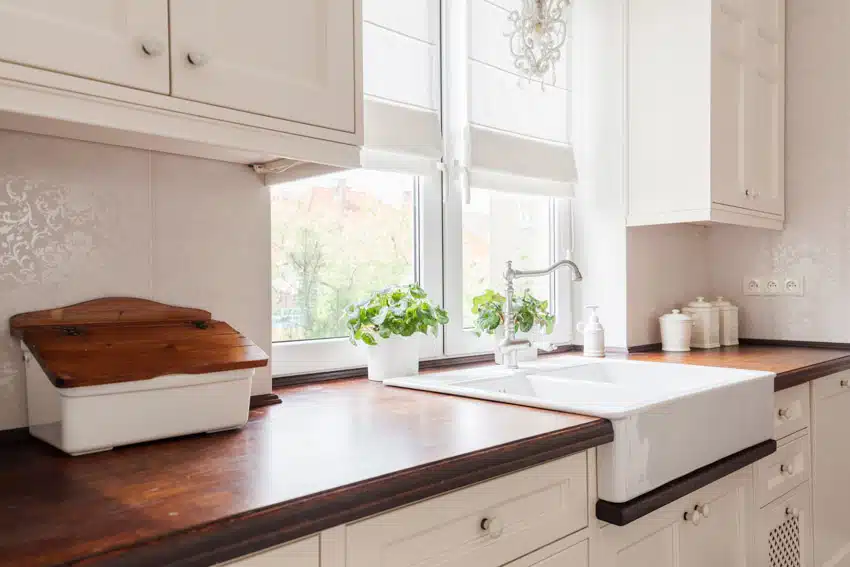 Another option you can go for is a cedar slab countertop, which features one solid piece of wood in varying sizes, depending on the manufacturer.
This form of cedar wood is much more authentic and rustic to look at and while it's heavier compared to planks, you only have to work on one material. It will also take you less time to install a cedar slab countertop since you won't have to stick the materials together one at a time.
The downside though is that it can be heavy so you might need a hand in installing your cedar slab countertop. For wood cedar slab countertops, you have two choices and that's either live edge or cut edge.
Live Edge Cedar Countertop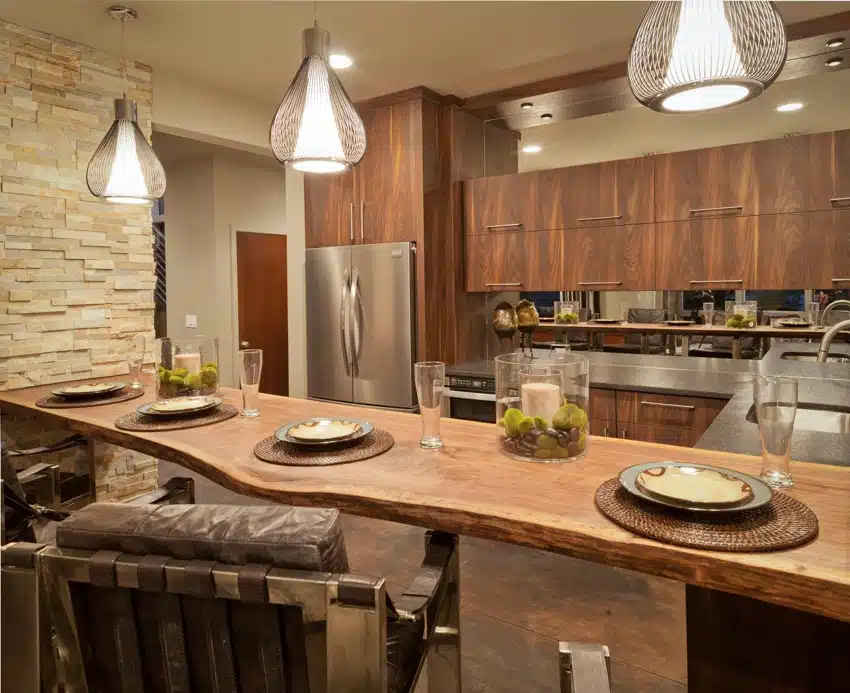 A live edge cedar countertop, compared to the seamless cut edge slab, features a more natural edge. This is achieved when the fabricator allows the natural contour and shape of the wood to remain (at least on 1 side of the cedar countertop).
If you want to keep a rustic style in your kitchen, the raw look of a cedar live edge wood countertops will work excellently with the welcoming feel of this aesthetics. This type of cedar can clearly offer the authentic wood vibe that will not just make your kitchen more refreshing and nature-oriented but also more high-end and legit, adding its own charm to the mix.
A live edge cedar often comes in a slab so if you choose to have this type of countertop, make sure you either have someone to help you with the installation or you hire professionals to do it for you.
Cedar Butcher Block Countertops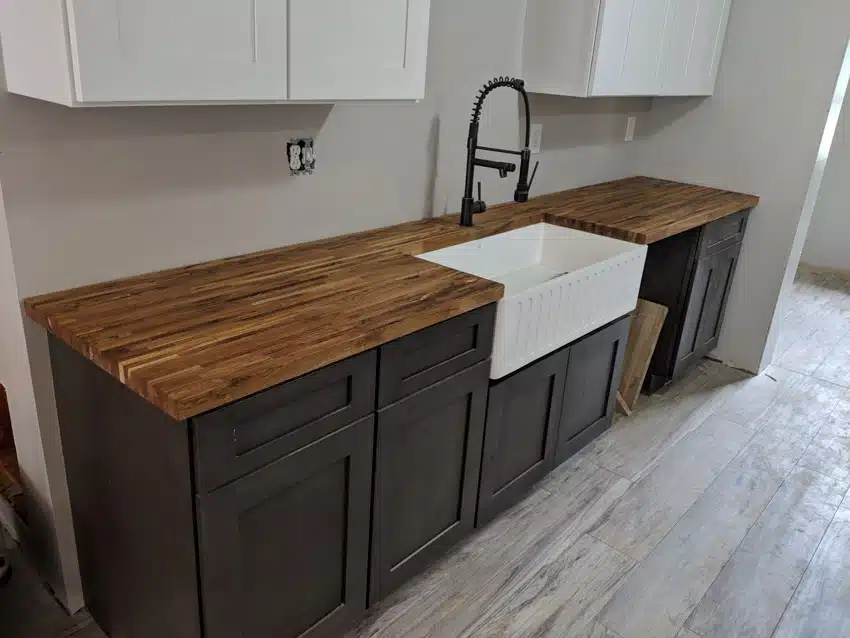 Another popular form that your cedar countertops can come in is butcher block, which is a cut style that was introduced by butchers in the 1880s and improved upon in the 1900s.
If you're going to use cedar butcher block countertops, the material is lightweight and so using it will not have many of the same weight issues of other countertop materials.

Working this form of cedar will be easy to work on since the butcher block is easy to move around and also won't dull the knife blade of your tools.
Cedar butcher blocks are more customizable and you can choose the thickness and sizes that would work well in the design you want the countertop to have.
Cedar Kitchen Countertops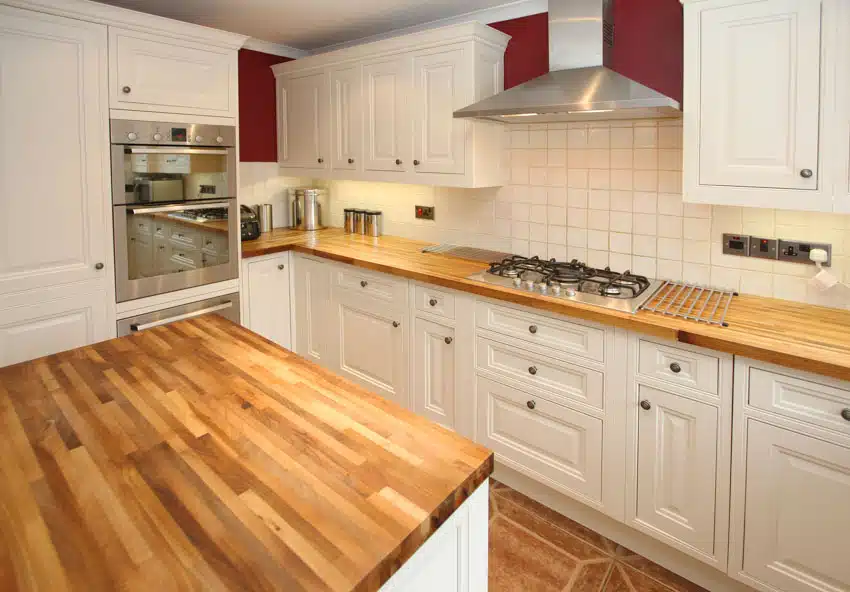 One of the common areas you can install your cedar countertops is the kitchen. But like many types of wood, cedar wood kitchen countertops are vulnerable to moisture that may result in rotting.
This means that if you're considering installing your cedar countertops in the kitchen, make sure that the material is properly sealed and finished to protect it from possible damage.
This is particularly important since your cedar kitchen countertops will be used for meal preparation and so will tend to have food splatters and oil splashes, as well as scratches from the use of knives.
Cedar countertops can be installed both for the indoor kitchen or outdoor kitchen, and yes, even with the possibility of being exposed to damaging elements including moisture and other weathering elements. The rich reddish color of the wood can be a stunning accent to your kitchen.
And if you want to maintain this color, seal the materials and add a layer of finishing. But if you want to benefit from the patina that forms in the countertop, have it bare and raw if you prefer that.
Cedar Bathroom Countertop
Similar to cedar countertops in the kitchen, you need to pay extra attention to the sealing of the material and finishing the surface for added protection.
You may even choose to add stain but make sure you know that the wood's dark reddish color may limit your options to the color of your cedar countertop.
If your bathroom follows either country or rustic style, a cedar countertop can also elevate the area and provide another layer of texture to the bathroom's visual value. You can relax much better if the aesthetics also offers a soothing ambiance to the space.
Outdoor Cedar Countertop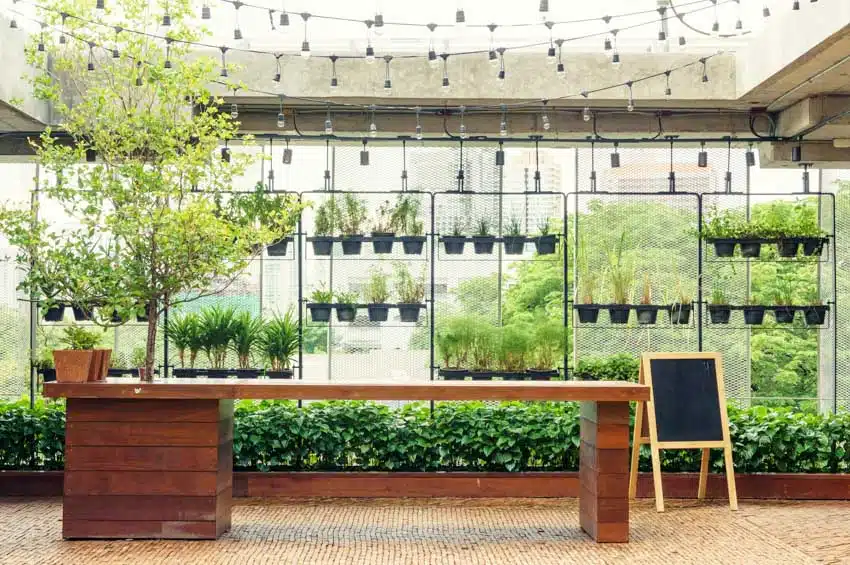 Cedar may be a softwood but the wood is popular for being durable enough to stand the standard daily wear and tear, in addition to the weather elements that can challenge the quality of your countertops.
In fact, this material is much more popular for wood types of outdoor furniture applications because of how weather-resistant cedar is. This is why if you have an outdoor kitchen, getting a cedar countertop may be a great option to consider.
Just like all other natural materials though, make sure that you know that the countertops will decay over time, especially when it is used outdoors.
Cedar Countertop Finish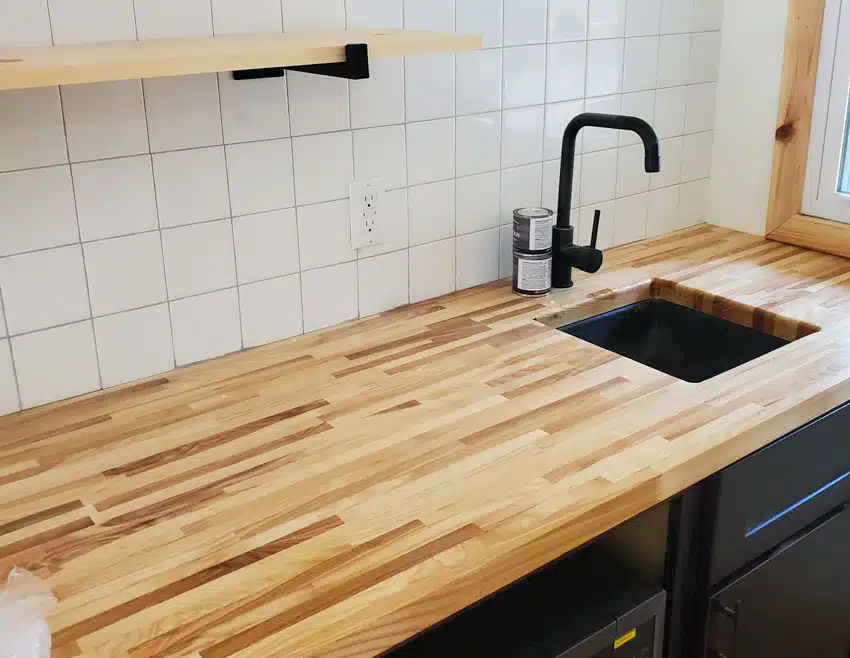 When dealing with a cedar countertop, applying a finish on the surface is one of the most important tasks you need to accomplish. And in choosing the ideal finish, there are several factors you will need to take into account
This is true, especially regarding how you plan to use the countertop and the aesthetics you want to produce using the countertop. There are two types of finishes you can consider for a cedar countertop.
These are surface finishes and penetrating finishes to use with cedar wood.

| | | |
| --- | --- | --- |
| Characteristics | Surface Finishes | Penetrating Finishes |
| Protective Mechanism | External layer of protection | Internal reinforced protection |
| Aesthetics | Thick layer coating | More natural-looking finish |
| Function | Better for indoors | Excellent for outdoors especially when sealed |
While the former superficially dries up and serves as a protective covering that looks relatively thick, the latter just as they are named are absorbed deeply into the wood and reinforces its durability from within with a more natural-looking finish. Polyurethane varnish is a surface finish while tung oil is a penetrating one.
Using wood finishes requires caution and for this task to be done easier, here are some of the tips you can follow:
• Meticulously read the manufacturer's instructions
• Wear protective gear, from gloves to glasses
• Make sure you work in a well-ventilated place (Use fans to optimize the circulation of the air) and away from the flame source (Like gas furnaces)
• Dispose of the rages you used in finishing your cedar countertops
• Re-oil the countertop monthly (if it's near the sink) and every other month (if it's away from the sink)
Best Finish For Cedar Countertop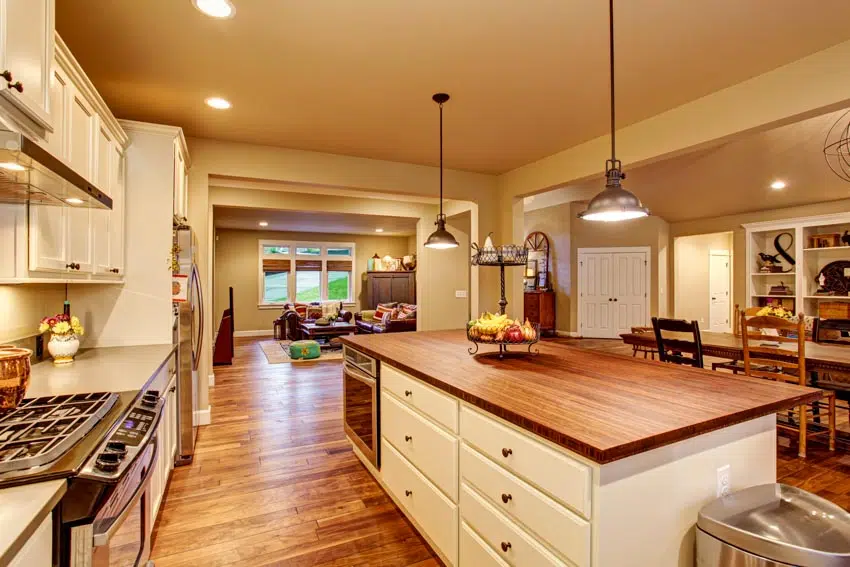 If you're going to work on a kitchen countertop, you need to choose wood countertop finishes that are safe for food contact. And if you're planning on using the countertop as a cutting surface, you will need something different and much more durable, and much more protective.
For a 100% food-safe finish, here are some finish options you can consider:
• Mineral Oil: These oil options naturally repel water, which is preferred when you're protecting cedar from moisture and possible rotting. This oil comes without odor, color, or taste, and is also considered as a deeply penetrating finish.
It means that it reinforces the material from the inside and guards it against cracking. Make sure you have enough budget to purchase this finish though because it can be expensive.
• Butcher Block Wax: This option includes a paraffin wax component that easily repels water, which makes it a good option for cedar countertops installed near the sink. Mostly considered food-safe, choose the ones meeting the FDA requirement for the food-safe finish.
• Tung Oil: The penetrating finish tung oil offers a natural and fresh look you would prefer for your rustic cedar countertop and it will also reinforce its durability if you choose to use it for chopping items.
It also dries fast and comes in 100% pure oil there will be no additives and solvents in the mix. Make sure though that the oil has completely penetrated the wood before using the countertop.
• Linseed Oil: Easy to use, this natural oil is a perfect option for softwood like cedar since it is deeply penetrating and supports both elasticity and toughness.
That means that your cedar countertops will be scratch-resistant, which is a good option for kitchen countertops since they are usually exposed to chopping and cutting tasks.
The oil also dries fast and will take between 12 to 18 hours for the finish to completely dry. In addition to that, it will also help improve the hue of the wood and allow the countertop to look more natural.
See more related content in our article about countertops that look like wood on this page.